Buttons can work wonders on fabrics, be it as badges for campaign sessions, or in a dress that makes the perfect style statement. 
But for creating the perfect buttons for any purpose, an efficient button-maker machine is a must. It will get the job done with minimal effort and can yield accurate results for a wide range of applications.  
So, it will be of great help to all, irrespective of whether they're DIYers who love to experiment with fabrics or owners of home-based businesses. 
However, given the availability of a ton of models out there, making the right choice becomes difficult. That's why we have put forward this guide to the 6 best button machine options to consider. We've also included a buyer's guide to help you make a well-informed decision. 
Without any further ado, let's start!
Best Button Maker Machine
Are you looking for the best button-making machine for your craft or business needs? Here is a list of the 8 best button-maker machines that will help you create high-quality buttons with ease: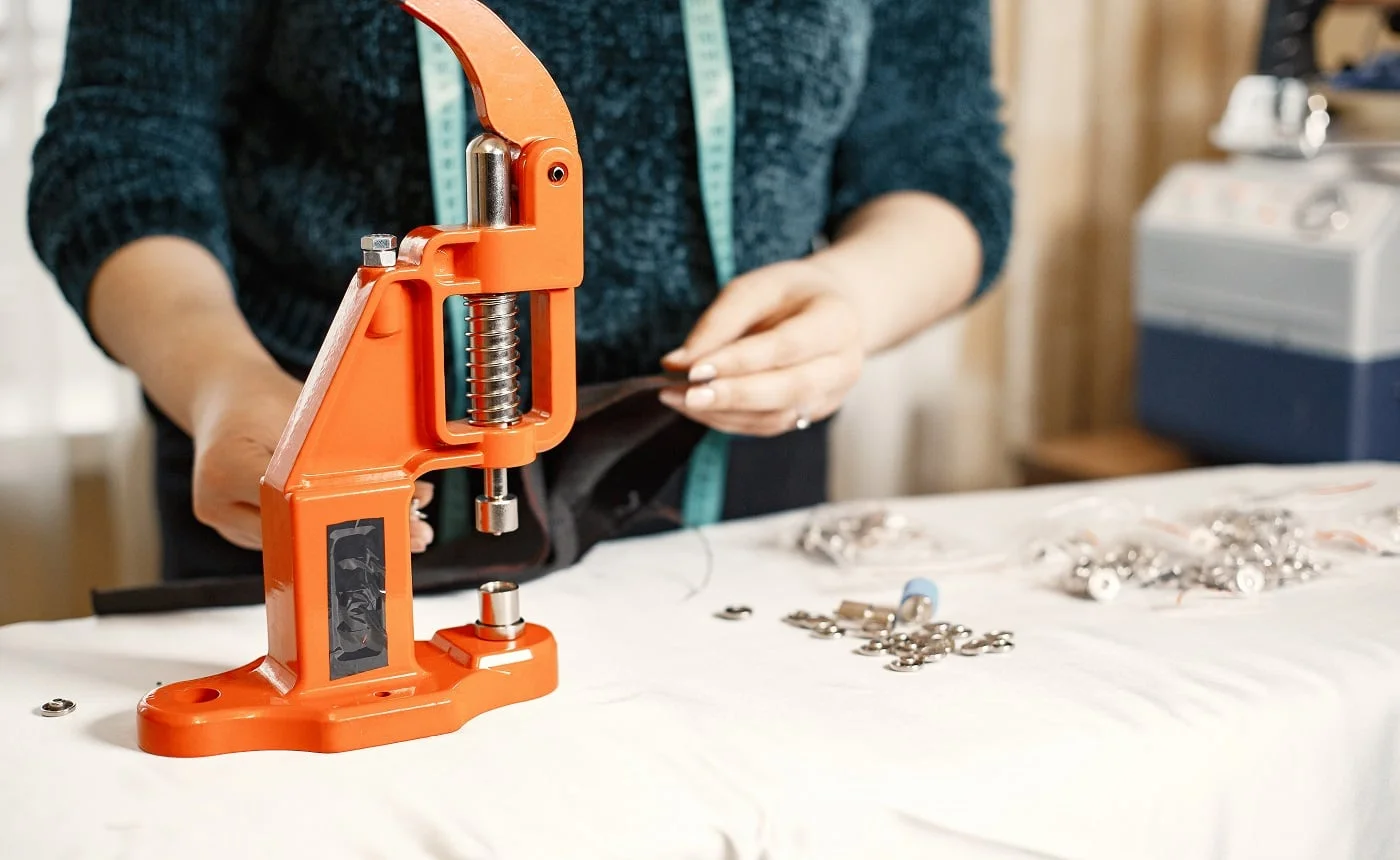 As we near the end of the list, here's the ChiButtons B400-75C-100 US. It is a good choice that has the reliability of a well-known brand and yields considerably accurate results. Although the design is slightly different from the models we've discussed so far, it comes with 500 button parts, making it ideal for DIYers who love making customized buttons.
Why Did We Like It?
First and foremost, this machine comes with a unique acrylic base featuring a convenient swivel mount. This helps to lock the molds in position so as to maintain significant accuracy every time. Another attractive feature is its compact and lightweight design. In fact, it's among the select few button-maker machines that are easy to handle and store. 
Moreover, its high-quality 25-mm die size is designed to achieve accurate button badges. Utilizing this die and the circle-cutter together will help you achieve great results with increased efficacy. The molds are interchangeable, allowing for more versatility in your projects. 
As far as the installation process is concerned, it will take less than 30 minutes. Sounds great, doesn't it? 
What Could've Been Better?
In the first few uses, getting the accurate shape might be difficult as the handle might not work properly. This may lead to a waste of 3 or 4 buttons before finally making a good one. 
Pros
Maintains accuracy

Easy to handle and store

Allows for versatility

Easy and quick installation
Cons
Handle might not work properly
If you are on the lookout for a heavy-duty machine that also offers greater convenience, this model from Vevor is the one to go for. Coming with a slew of top-notch features, it can be used to create the finest DIY badges that would appeal to all. You can even utilize it for making key chains and rope ties.
Sale
Why Did We Like It?
To begin with, the Vevor Button Maker uses a durable combination of solid aluminum and cast-iron material. This property makes it much sturdier and more long-lasting than the majority of its competitors out there. Plus, the mold base and steel handle enhances its strength and toughness further. 
Another feature that facilitates user convenience is the interchangeable button molds. This allows more control, allowing users to make buttons of different sizes. You would find this feature only in selective button maker machines. 
Furthermore, the unit comes with everything that's required for working with it. These include 1,000 pieces of 1-inch button parts, a transparent film, and a pinned back. A circle cutter is also added to enable precise measurement and cutting. 
Lastly, an easy-to-push handle ensures that you never have to apply too much pressure.
What Could've Been Better?
We have no complaints regarding the efficiency of this machine. However, we were slightly disappointed to find that it didn't come with an instruction manual. This initially made the installation a bit complicated, so we had to look online for help. 
Pros
More sturdy and long-lasting

Lets you make different-sized badges

Offers all the tools to start working

Easy-to-push handle
Cons
No instruction manual provided
Create lovely personalized button badges with this specialist from Seeutek. It can be your perfect badge-making companion for several occasions ranging from corporate gatherings to community activities. Plus, the brand offers a beneficial 100% quality assurance policy.
Sale
Why Did We Like It?
The Seeutek Button Maker Machine comes with interchangeable molds, which is a great advantage. Made of solid die-cast aluminum material and designed with precision, these molds can be used to make accurate badges every time. 
Besides, this machine gives you the advantage of a 58-mm die size, just like our previous pick.
We also found the upgraded metal slider made of stainless steel to be quite beneficial. It is very sturdy and rust-resistant and makes the base mold stabler. As such, you can make more accurately-sized buttons quickly. 
Long story short, all these features combine to make this machine a pro in button-making. 
What Could've Been Better?
We found the handle of this machine to be a bit stiff. So, we had to apply greater force to operate it compared to a few other models on the list. The grip of the handle was also not as comfortable as the others.
Pros
Interchangeable molds

Greater die-size

Sturdy and rust-resistant slide

Maintains accuracy
Execute your unique ideas quickly and consistently with the FASTTOBUY LYXM-DWM1. It has a wide variety of applications and comes with accurate features that help deliver perfect results each time. You can very well consider it as a one-stop solution for making buttons to suit various needs.
Why Did We Like It?
Creating exact prints of the logo, text, or image that you desire often becomes a challenge with ordinary button-maker machines. As a result, they produce partial results, deteriorating the look of your buttons.
But we can confidently say that you won't face this problem with the FASTTOBUY LYXM-DWM1. That's because it comes with 20 high-quality photographic papers that help form clear prints of the desired illustration. 
Furthermore, its structure is made of aluminum alloy casting, promising a sturdy, durable, and high-quality performance. Even the mold that comes with the product is quite durable and rust-resistant. 
Another noteworthy feature we observed was the spring lever featured in the circle cutter. It makes punching more comfortable and easy, saving time and giving you the absolute precision you desire. This feature also makes the machine easy to operate.  
What Could've Been Better?
Some customers have complained that the pictures for set-up in the instruction manual are slightly unclear, as the black and white printing makes them hard to understand. As a result, they found the installation process a bit confusing. 
Pros
Forms clear prints of badge illustrations

Makes punching comfortable and easy

Durable performance

Gives absolute precision
Cons
Pictures in the instructions manual are not clear
Add fun to your button-making sessions with this attractive and convenient model from Happizza. Its ergonomic design facilitates safe working with your kids to make lovely badges. On top of that, the package comes with 100 button parts, and the machine weighs a mere 3 lbs.
Why Did We Like It?
If durability is your primary lookout, then this machine is definitely among the best options you'll find out there. It uses a superior-grade plastic material and also adopts a sophisticated manufacturing procedure that enhances its durability. As such, you can rest assured that it will last for years to come. 
Beyond that, this model comes with an improved swivel mount functionality which enables a more efficient performance. It even helps in the accurate positioning of the molds to ensure that the badges and buttons come out exactly as desired. 
An exciting addition to the kit is a magic book featuring cartoons that appear and disappear alternately when you open it each time. This can spark your little one's imagination and the cartoon illustrations can also be helpful in making attractive kids' badges. 
What Could've Been Better?
Like some of our other recommendations, the instruction manual of this machine has the steps for set-up and usage mentioned very briefly. As such, it will take longer for beginners to get fully accustomed with its operation.
Pros
Highly durable

Helps in positioning molds accurately

More efficient performance

Magic book helpful for making kids' badges
Cons
Insufficient instructions for set-up and use
Making pin badge buttons for events or campaigns at short notice can be a cakewalk with this high-quality machine from Mophorn. It is also a great solution for those looking to grow their fabric business by delivering all orders on time. Weighing about 14 lbs., this machine comes with 500 button parts.
Why Did We Like It?
You will love the 25 mm die size that the machine offers, as it will widen your scope for creating unique and stylish badges to a great extent. This feature can even be used to make personalized creations conveniently. 
Operating the Mophorn Button Maker is pretty easy and requires the three following steps. 
Firstly, you need to put an iron sheet in the button mold and place the drawing you want to create on top of it. Then, add a plastic film covering on it, press the mold, and put it in the bottom card with a pin, and you're done. 
Another great feature is the beneficial stop functionality incorporated into the machine. It ensures perfect alignment between the upper and lower molds. 
What's more, this machine offers an impressive speed of 200 to 300 buttons per hour. Hence, you can complete a lot of work within a couple of hours.
What Could've Been Better?
This machine might create a slight rocking motion occasionally while pressing down the buttons due to a slightly thinner base. Nonetheless, it does its job well, delivering a smooth performance each time. 
Pros
Widens scope for creativity

Easy to operate

Maintains perfect alignment

Works at an Impressive speed
Cons
Creates a rocking motion sometimes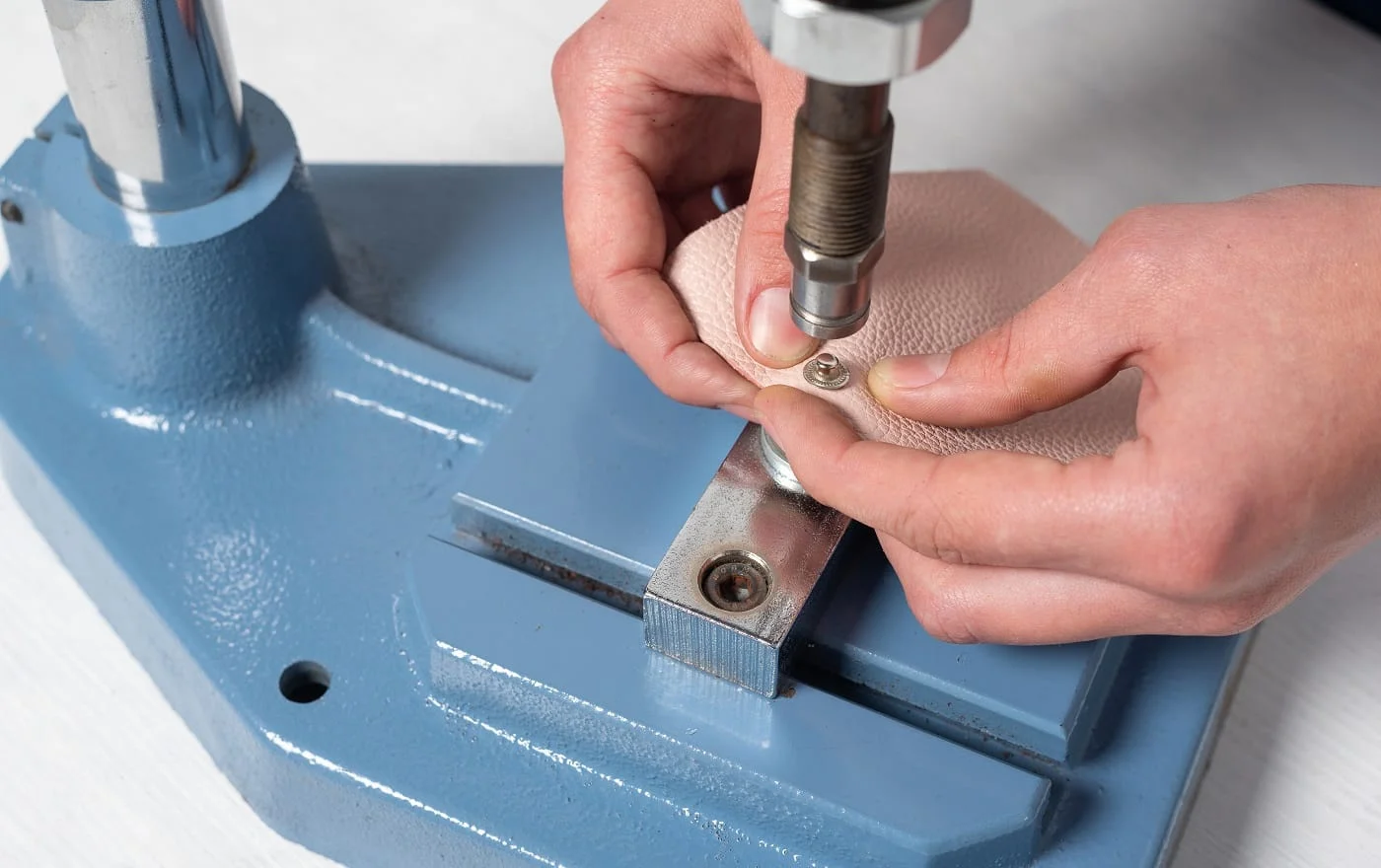 Button Maker Buyer's Guide
You would always want to ensure that the button maker machine you're purchasing is capable of delivering the result you desire. After all, just going through the details of the options at your disposal won't suffice. 
Considering some key features of button maker machines is important, as is keeping in mind your specific needs. So, let's take a look at some points that you need to take into account before taking a pick.
Material
Button makers should have a strong structure that can withstand the ravages of daily use. As such, considering the material used to build the product is important . Models made of stainless steel or cast iron are generally more rust-resistant, but those made of aluminum will also be quite durable. 
Now, the base of a button maker machine may not always be made of the same material as the rest of the structure. In that case, taking into account the material of the base is also important. Units with acrylic and plastic bases are fine for short-term use, but those with metal bases are more sturdy. 
Button Size
This is also a vital criterion to consider, as it will tell you the type of button machine most suitable for your purpose. Users owning fabric businesses generally require button sizes either larger than 3 inches or smaller than 1.5 inches. So, you should choose a machine that yields buttons of all sizes. 
Speed
Not all button maker machines have the same production rate. So, you should consider the rate that will be suitable for your work. Again, this will depend on the purpose for which you will be using it. 
For instance, if you need to cater to a number of orders, you will obviously need a faster machine. A unit with a speed of around 300 buttons per hour should be sufficient for such purposes. However, for small businesses and DIYers, a machine producing 50 buttons per hour will be sufficient. 
Accessories
Before purchasing a button maker, you should consider the accessories that you'll primarily need. While some machines have built-in cutters, there are others that don't come with one. A cutter is one of the basic tools, so in the latter case, you will have to buy it separately. 
Machine Size
The machine size suitable for you will depend on the storage space and whether you can make sufficient space for storage purposes. Going for a compact design is always better to ensure easy storage and portability. After all, you don't require a large space to produce small items as buttons!
Ease Of Use
Ensuring that the machine will be easy for you to use is always important. You should check the instructions for usage and installation mentioned in the product description. That way, you'll be able to understand how easy it is to use. Most machines available currently require no power or batteries to operate, so they are relatively easier to operate.
Button Making Machine FAQ
How does a button machine work?
A button machine is a device that is used to make custom buttons, typically using a metal die and plastic sheets to press the desired shape and design into the plastic.
The paper is then cut and the button is put together with a metal pin and backing. The button maker can also make magnets and keychains depending on the model.
What other items can be made using a button maker?
Other items that can be made with a button maker include magnets, keychains, and zipper pulls.
What is the maximum paper thickness that can be used with a button maker?
The maximum paper thickness that can be used with a button maker is typically 0.1mm–0.3mm.
What kind of paper is suitable for making buttons?
Suitable paper for making buttons includes cardstock, photo paper, and various other types of thick paper.
What is B.A.M. (Button and Magnet) technology?
B.A.M. (Button and Magnet) technology is a process that uses a button maker to produce buttons and magnets out of the same sheet of material. This technology is used to make buttons and magnets that are more durable and longer lasting.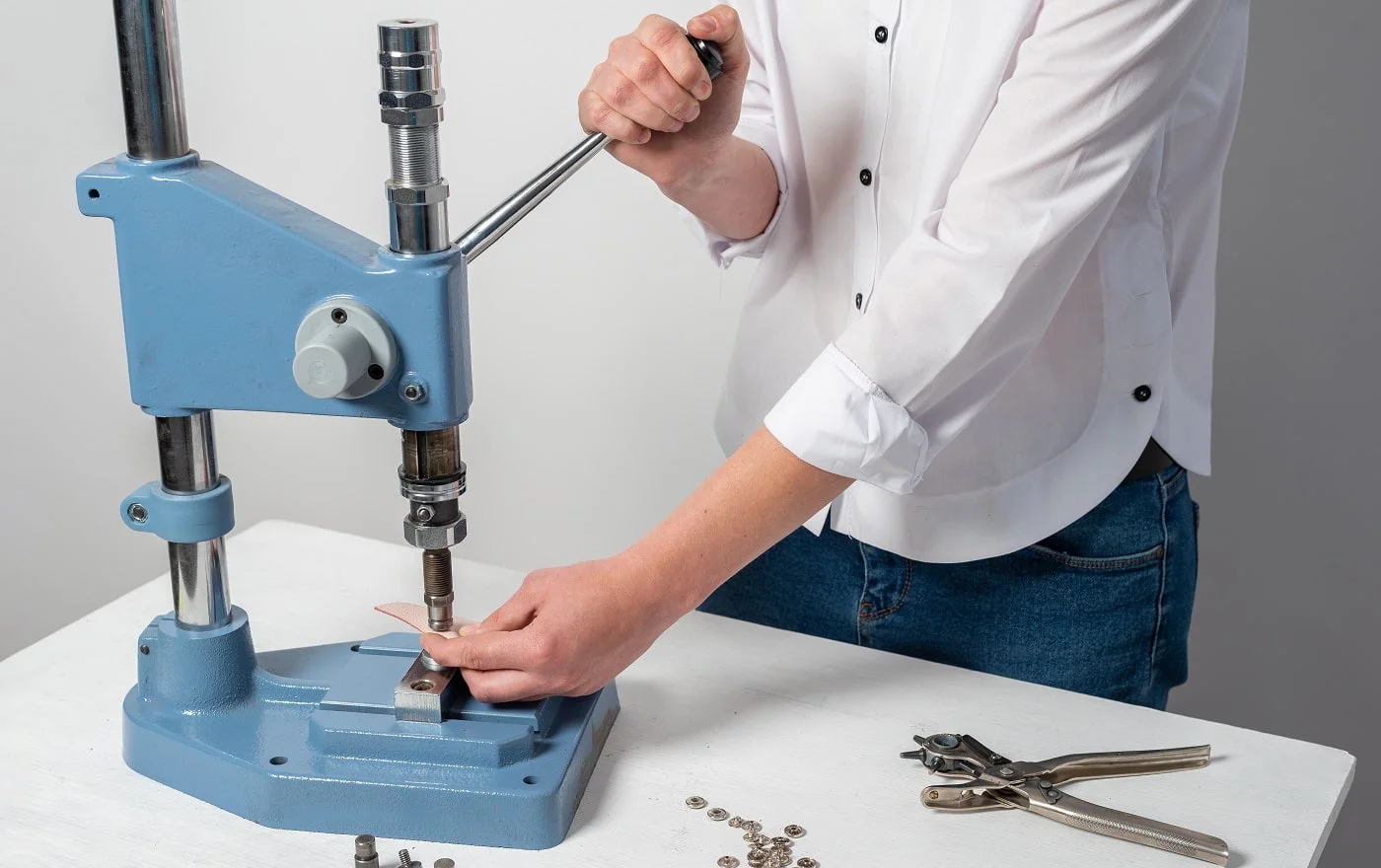 Best Button Machine Verdict
Buying a good button maker is important if you want to create attractive personalized buttons that would appeal to all. But make sure you don't proceed hastily and consider your needs. 
And With that, we've almost reached the end of our guide. But before bringing down the curtains, let's quickly take you through our favorites on the list. If you're a DIYer looking for a more budget-friendly model that would also perform well, ChiButtons B400 machine will be the right option to go for. 
However, the Seeutek Button Maker Machine will be a great choice if you are in the fabric business and are searching for a time-saving model. On the other hand, the Vevor Button Maker is a product that promises greater durability. 
That was all we have for you today. Do let us know about your verdict in the comments section below.
Related articles
Learn How To Print On Plastic Bags
How To Effectively Separate Colors For Screen Printing
9 Best Printers For Heat Transfer