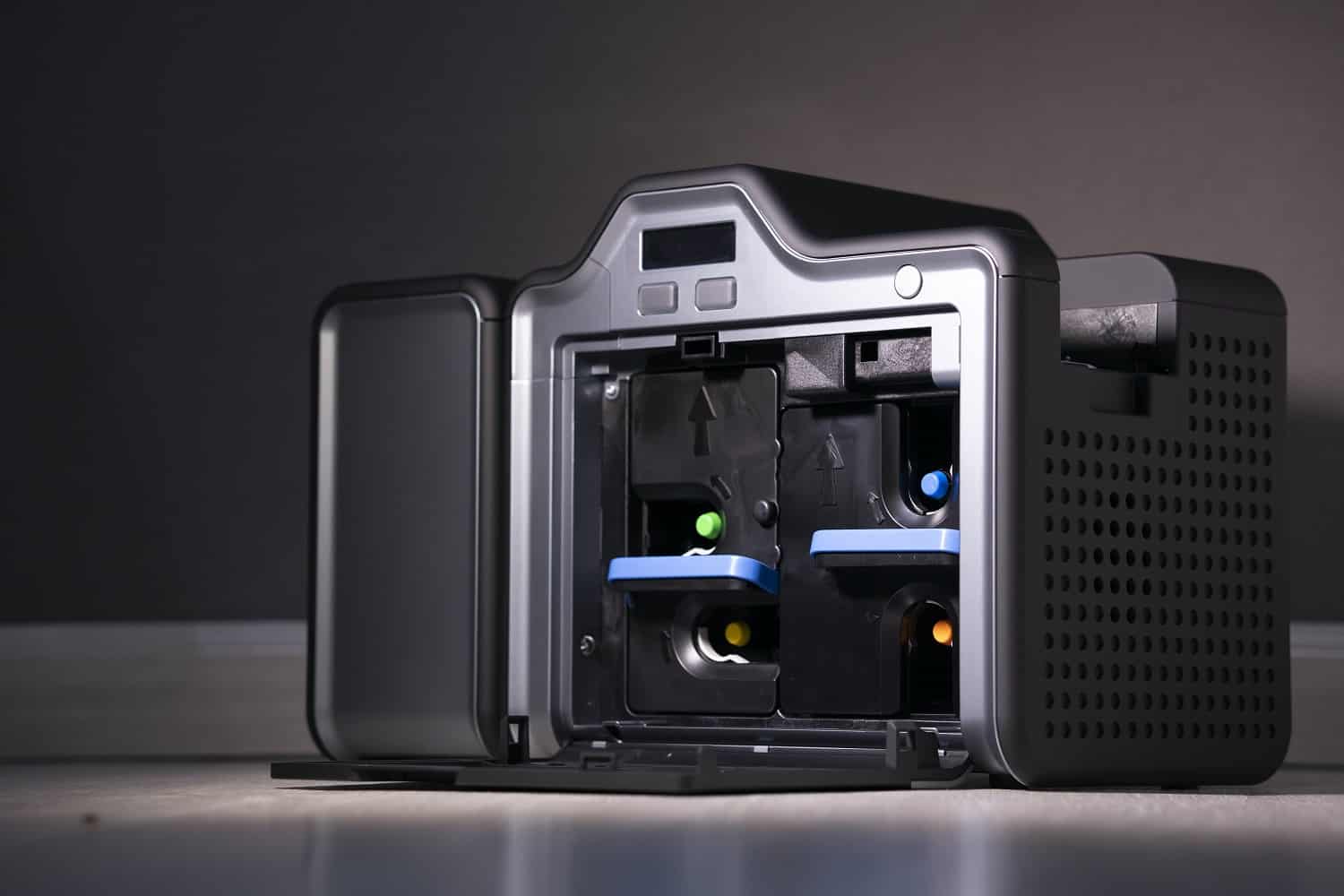 With increasing security concerns, the need for having ID cards have also increased. This is primarily the case with organizations that work with sensitive information. 
No matter what kind of workplace you are in, having an ID card is crucial. It allows you to enter the place and access information that is only meant for you. However, getting a vendor to print good quality IDs in bulk within a short time can be challenging. 
It's only in urgent situations like this that you realize the importance of having an ID card printer in the office. But, how can you pick one when each seems to be as good as the next? This is where we come in.
After careful research, we have put together this review on the 11 best ID card printers of 2022 available in the market. We've also included a nifty buyer's guide towards the end to further help your decision. 
So, without further ado, let's get into the details!
Best ID Card Printers
IMAGE
PRODUCT
DETAILS

Our Top Pick

Our Top Pick

Bodno Magicard Pronto

Takes 35 seconds for color prints and 7 seconds for monochrome
300 PVC cards included

VIEW LATEST PRICE →

Bodno Badgy100

25 card input capacity
Can print color IDs in 45 seconds

VIEW LATEST PRICE →

Bodno Fargo DTC1250e

251 PVC cards included 
Three-year warranty
Color prints in 16 seconds

VIEW LATEST PRICE →

Bodno Magicard Enduro 3e

Small carbon footprint
100 card input capacity

VIEW LATEST PRICE →

Bodno Badgy200

38 second printing time
Edge to edge printing technology

VIEW LATEST PRICE →

Fargo HDP5000

20 second printing time
50 pre-designed templates

VIEW LATEST PRICE →

Evolis Primacy PM1H0000RD

Three-year warranty
20 bar code options

VIEW LATEST PRICE →

ID Card Pros ID Maker

30 seconds per side
Four holographic overlays

VIEW LATEST PRICE →

Fargo DTC4250e

Eco-friendly printer
Password protected

VIEW LATEST PRICE →

Datacard ID Card Printer

100 card input
Ideal for Windows operating system

VIEW LATEST PRICE →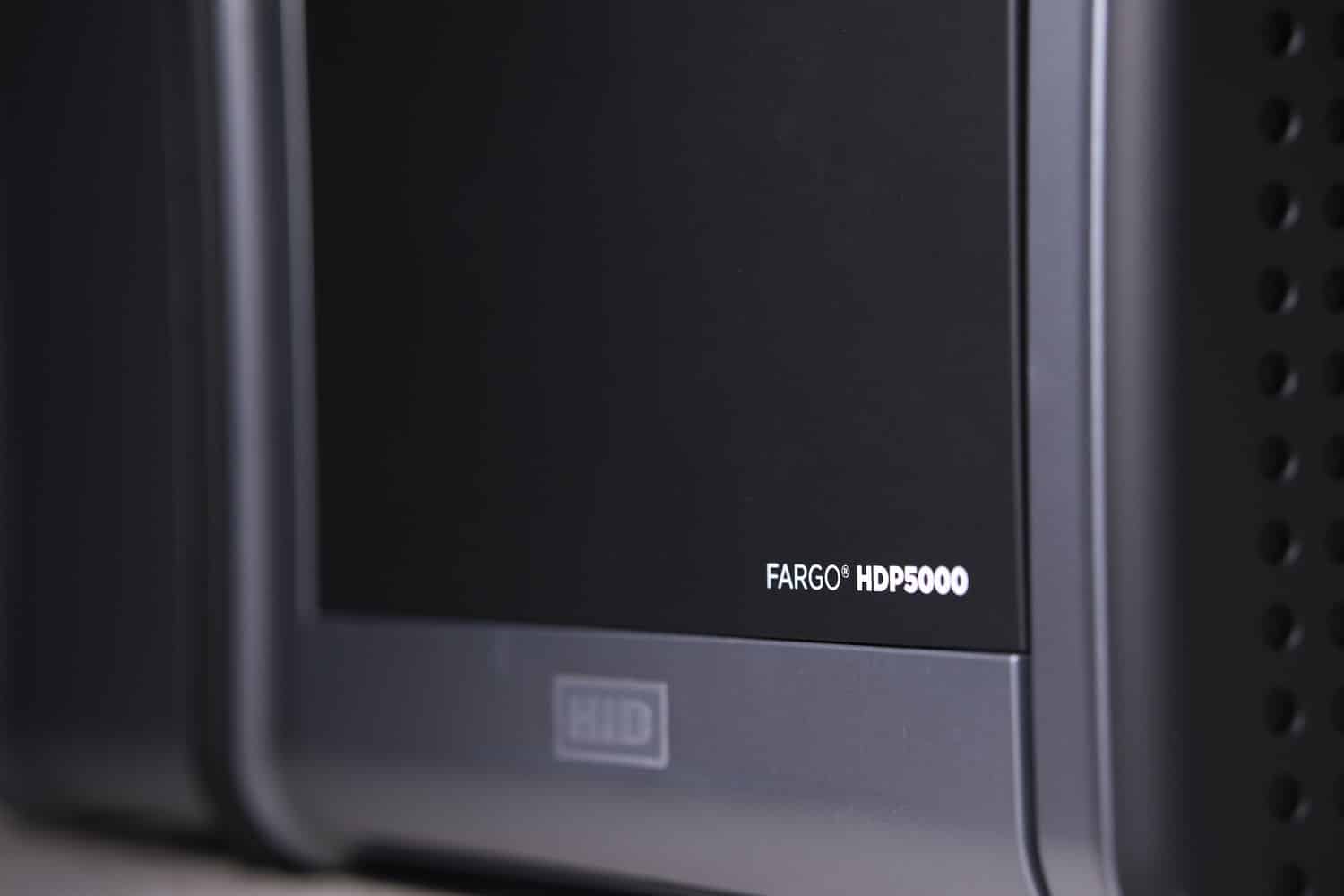 Bodno is a leading name in the world of high-quality office supplies, and Magicard Pronto is a great example of it. If you are looking to print a low volume of ID cards or need a printer for a small business, this is the ideal choice. It is a good product which comes with a bunch of accessories.
Why Did We Like It?
Well, first off, we were impressed with the number of accessories the printer includes in the package. Other than the printer itself, it comes with 300 PVC cards, a color ribbon, an ID camera, and the required software. That's not all; it gives you the option to choose between 4 Holo-Kote patterns for the cards to prevent unauthorized card copying.
Moreover, the machine is quite straightforward to use. It has a plug-and-play setup, and there is a USB and an ethernet port on the device to enable that. The software comes in five versions, each with its own set of upgrades. If you are looking for basic printing, the bronze software allows image browsing, a drag-and-drop interface, and an editor.
In a nutshell, this ID card printer is ideal for printing cards without taking too much time. It is also affordable and has a lot to offer which makes it quite the steal.
What Could've Been Better?
One significant issue with this printer is that the instructions for setting up the device are not clear. Many users have had problems installing various parts of the printer, like the ink roller, which has led to failed ID card printing. We urge you to take time out to understand the instructions.
Pros
Value for money

Fast printing

Comes with camera

Handy software
Cons
Poorly drafted instructions
When we said Bodno is a leading name for office supplies, we weren't kidding. Next on the list is another printer by the same brand. The Badgy100 allows you to print high-quality cards within a short time. The printer can be purchased with or without the camera.
Why Did We Like It?
The input capacity of the cards was what stood out for many other users and us too. It is quite convenient to be able to print 25 cards at a time. To make it even better, the machine can print colored cards in 45 seconds. These features make the device perfect for businesses that need to print in bulk.
In addition to the features mentioned above, it has a lot to offer. Setup is effortless and beginner-friendly so that it can be used by novice users as well. Moreover, it includes software compatible with PC and Mac, thus eliminating the need for additional downloads.
You will appreciate that all the hardware is covered with a two-year warranty. The software, on the other hand, comes with a lifetime warranty. Plus, Bodno is known for its responsive support team that is always eager to help.
What Could've Been Better?
For the price demanded, it offers excellent value. However, one thing to be wary of is that the printing is not as high quality when using other cards. For this purpose, we recommend only using the cards that come with the set or by the same brand.
Pros
Fast printing time

Easy to understand software

Can print in bulk

Great customer support team
Cons
Can only use cards from the same brand
With each one as good as the next, it was tough for us to pick just one Bodno printer to review. That is why next on the list is the Fargo DTC1250e. This one is a bit higher up in the price range compared to the previous ones but worth the money.
Why Did We Like It?
Much like the other Bodno printers on the list, this one comes with a full set of accessories as well. It has 251 PVC cards that are perfect for printing professional cards in no time. Additionally, it has an input capacity of 100 cards and can print 30 at a time. With only 16 seconds per card needed, this is great for bulk printing.
Besides ID cards, it is great to print any type of cards like healthcare and loyalty cards because of its bulk printing ability. Another significant aspect is that everything that comes in the box is all you need, and a three-year warranty covers them. 
This particular unit includes bronze software that offers features like image browsing, drag-and-drop, and photo editor. However, you can also pick the silver software, which has a few more upgrades, such as password protection.
What Could've Been Better?
Overall, this is an excellent buy as it has all the essential features needed for high-quality card printing. The only issue is that like most Bodno products, it's a bit pricey. Moreover, it only allows single-side card printing.
Pros
Superfast printing speed

Card input capacity is great

Includes necessary accessories

Three-year warranty

Easy to understand software
Cons
A bit pricey

Only single side printing is possible
Next on this list is the Bodno Magicard Enduro 3e, which is a bit of an upgrade from the Magicard Pronto. And while it may be an upgrade, it is a small and handy device that can be utilized in any medium to large-sized business. Let's have a look at some of its features.
Why Did We Like It?
The company takes pride in having a small carbon footprint, and that is impressive. The Magicard Enduro 3e is a compact device that only weighs 9.7 lbs. However, it has prominent features to offer. While the printing time is still 37 seconds, this is better than the Pronto because of its large card input capacity.
Additionally, it is straightforward to set up and use, thanks to the simple instructions and necessary accessories in the box. The box includes an easy-to-understand bronze addition software that allows you to design, print, and code any type of ID. Moreover, you can also add an extra layer of security using one of four pre-designed watermarks.
This device is compatible with both Windows and MAC. It also has USB and ethernet ports to operate the printer smoothly. In addition, the software will allow you to save card designs for re-printing. 
What Could've Been Better?
It was a bit challenging to find something wrong with this product. Functionality wise it works great and also has great reviews to support it. However, the price is a bit high, and it only has single-sided printing.
Pros
Easy to set up

Has Hole-Kote security feature

Lightweight and compact

Large card input capacity
Like the Magicard Pronto had an updated version, Bodno manufactured the Badgy200, which is like an upgrade from the Badgy100. It has some improved features but maintains being in the low-mid price range. Moreover, it is a compact machine that can print cards with utmost perfection.
Why Did We Like It?
The Badgy200 is a small, lightweight machine ideal for small businesses; what's not to like? One of the best things about this device is that it works just as efficiently as any high-end device but for more than half the price. The printer comes in a box containing everything a small to medium-sized business needs to start printing.
In the box, you will find 100 PVC cards (which is an upgrade from 50 cards in the Badgy100 kit). Additionally, it has a 25 card input capacity and a printing speed of 38 seconds per card. If you need a printer to shell out about 1000 cards per year, this is the one to consider. 
Even the bronze addition of the Bodno software is easy to understand and gives access to many templates used in various cards.
What Could've Been Better?
Functionality-wise, it works efficiently. However, setting up the printer is a bit challenging. Unlike other Bodno products, users seem to have trouble getting the ink ribbon to calibrate with the device. However, it's a minor issue that the responsive customer support team can solve.
Pros
Simple software

Input capacity is high

Affordable

Faster prints
If you are looking for a high-end ID card printer, we recommend checking this one out. The Fargo HDP5000 is a compact yet efficient printer with a ton of features. It is an excellent product for small to medium-sized businesses and can print a variety of cards.
Why Did We Like It?
Straight off the bat, we were impressed with the variety of colors, templates, and shades it has to offer. This printer gives you the flexibility to creatively experiment with how the card should look. Although this is for single-sided prints, you can opt for dual-sided printing as well.
The device's printing speed is 20 seconds per side, and the input capacity is 100 PVC cards. This is particularly beneficial for businesses with an urgent demand for cards in bulk, like libraries and clubs. In addition to this, it has an inbuilt USB port, an ethernet port, and an easy-to-read LED screen.
We were pretty impressed that the printer can encode data, making it ideal for printing contactless cards and magnetic stripe. The accompanying software is user-friendly, with many templates to choose from. Plus, you can create and save designs using your own photos and logos.
What Could've Been Better?
Finding something wrong with this printer was an arduous task. And, (much to our relief) we failed. However, we are concerned with the price. Plus despite being high in the price range, it is more suited for small-scale use only. 
Pros
Variety of templates and designs available

Can encode data for certain cards

End-to-end printing

Software is user-friendly
Cons
Can be out of budget for some
Next on the list is the Evolis Primacy printer, which is quite similar to the Fargo HDP5000 printer. This one, too, is an excellent buy for small to medium-sized businesses with mid-ranged volumes of printing to deal with. It comes with a box full of accessories which are all you need to operate the printer.
Why Did We Like It?
If you are a small-sized business and do not want to hire an external vendor for printing, this printer is worth considering. The Evolis Primacy printer offers high-quality dual-sided color printing. Each side takes about 23 seconds to print, and the printer has a 100 card capacity. 
Additionally, the printer comes with a color ribbon and design software compatible with most operating systems. If you are looking to make library or membership cards that need barcodes, the Evolis software has 20 templates to choose from. Moreover, it also has many design templates for all types of cards.
You will appreciate that the printer is easy to use, thanks to USB and ethernet ports and a simple design. Plus, the setup is pretty simple as a member of the support team walks you through it.
What Could've Been Better?
Among the glowing reviews regarding this printer, it was challenging to find something wrong. However, we did find the font colors to be a bit different from what we picked. It is not a massive difference but definitely took us by surprise. 
Pros
Produces high-quality prints in less time

Easy to set up

User-friendly software

Ideal for small businesses
Cons
Font colors are a bit off
If you are looking for an efficient printer that prioritizes security over design, then take a look at this one. The ID Card pros' ID maker can print professional-quality cards with heightened security. Let's have a look at some of the other features this printer has to offer.
Why Did We Like It?
Regardless of the kind of business, an ID card is a necessity. In some places, it only gives access into the workplace, but for some, it is a doorway to sensitive information meant for their eyes only. This is why this printer is so popular, as it considers the security aspect of ID cards.
The company knows that low-quality ID cards do not perform with consistent efficiency. This is why it produces high-quality cards that are clean and crisp. Additionally, it takes about 30 seconds to print each side, making it easy to print at a faster rate. 
The best part is that it has four holographic overlays, which can add an extra layer of security over the card. Not only does this reduce the chance of forgery, but the printing is done in a clean manner which does not hamper your personal information that's printed.
What Could've Been Better?
While this is a popular printer in the industry, it does seem to have some minor flaws. First of all, the software is not compatible with MAC, which is not a big issue but quite surprising. And secondly, it is not great for bulk printing since each card has to put in manually. 
Pros
Best to create high-security cards

High-quality ink and PVC card

Fast printing time

Easy to set up and use

Does not jam
Cons
Software not compatible with MAC

Manually have to feed the card in
Next on this list is yet another Fargo printer, only this time is a bit more heavy-duty. The Fargo DTC4250e is aimed for commercial use and hence has a sleek design meant to suit offices. It produces high-quality cards with clean text and accurate colors that help printing logos for brands.
Why Did We Like It?
In our opinion, this is quite the printer to consider for commercial use. It has many features that are aimed to benefit large workplaces and people. Since security is a big concern in most companies, this printer takes care of that. It can encode, create and secure any data which is needed when creating personalized ID cards.
We were also impressed that despite catering to bigger businesses, It consumes less energy and uses eco-friendly refill ribbons. Moreover, the machine can be password protected, which helps keep information secure. That's not all; it has an input of 200 PVC cards and an output of 100, which makes it great for bulk printing.
Other than the features mentioned above, the printer has some standard features like easy-to-use software with various templates and designs. It is also straightforward to use as it has a smart screen that clearly displays necessary information.
What Could've Been Better?
This Fargo printer is very highly recommended by many businesses that see mid-range volumes of printing. And although it meets all expectations in terms of quality, it does not have a camera. It is not a necessity but the inclusion can make things more convenient.
Pros
Consume low energy

Best in the market for security cards

Easy to set up

Can handle bulk printing
The printer by Datacard ID is pretty much like the others we have reviewed so far. It produces high-quality ID cards and can cater to the printing needs of small to medium-sized businesses. The printer comes with a complete kit that has everything needed to print the card.
Why Did We Like It?
This printer by Datacard ID may seem like a simple product but has tons to offer. One of the reasons this one is popular in the market is because of its dual printing feature. It can print on both sides of a PVC card. All you need to do is flip it over once it comes out of the printer. 
Moreover, it is pretty fast as well. For color prints, it takes about 24 seconds and 7 seconds for monochrome. The colors are accurately printed on the card and the printer has edge-to-edge technology, ensuring there are no gaps in the printing. It comes with a color ribbon which has a topcoat color for extra protection.
In addition to this, it comes with a software that gives access to designs and image editors. It is compatible with Windows only and updates itself as and when Windows does, so you do not have to buy new software.
What Could've Been Better?
One of the most significant issues with this product is not regarding the printer but the software. The software is only compatible with Windows, which puts MAC users at a disadvantage. Moreover, the color ribbon can only print 500 cards initially. Only after replacing the ribbon and cards, can unlimited cards be printed.
Pros
Can print on both sides

Fast printing speeds

Topcoat in color ribbons protects the card

Edge-to-edge printing ability
And finally, we have the Zebra ZXP printer by Bodno. For low/medium range volumes for printing, this is the ideal product to consider. It can produce high-quality cards with clean designs that are easy to read. Moreover, it is very beginner-friendly and easy to use. Let's have a closer look.
Why Did We Like It?
This is an excellent investment for small businesses looking for a high-end printer. The color quality is rich, and the ribbons are very easy to install. All you need to do is load them into the printer, and it's ready to be used. This is very convenient when replacing the color ribbons as well.
Moreover, the machine is relatively fast and does not jam when printing. It takes close to 6 seconds for monochrome cards, and for colored, it's 20 seconds. The printer comes with 200 PVC cards with an input capacity of 100 and an output capacity of 45. It is the perfect printer for library and club cards.
Lastly, the printer can automatically print on both sides. So printing company ID cards or transport ID cards are much more manageable when this is around. Additionally, it comes with software that helps the printing process.
What Could've Been Better?
One consistent complaint with the printer is the software. Many users felt that the software is a bit disappointing since it does not have many features. To avoid this, we recommend getting the silver edition of the software. Also, a MAC driver needs to be downloaded before using the software.
Pros
High printing speeds

Automatic dual side printing

Ideal for small/medium businesses

High-quality PVC cards and ink
Cons
Need to download MAC driver
ID Card Printer Buyer's Guide
Now that we are done with the product reviews; let's talk about why we choose these. 
When buying ID card printers, there are certain factors to look out for. The printers in this list meet most of those factors, which is why they have been featured. If you're wondering what those factors are, we are here to tell you just that.
So, buckle up, and let's dive into it!
Speed
One of the most critical factors to look at is the speed at which the printer can generate output. The only thing worse than not having any printer is to have a printer that cannot keep up with the number of cards required. 
Ideally, you should be looking at about 5-7 seconds for monochrome printing and 20-30 seconds for color prints. However, it is entirely dependent on the kind of volume you will be seeing, and based on that, you can zero in on the speed. 
Print Quantity
This factor is closely related to speed. The main aim is to have a printer that can keep up with the requirement. 
The best thing to do is get an idea of how many ID cards you could be printing. Will the volume be low like it is for loyalty cards or high like it is for company ID cards? Calculate beforehand and then pick a printer. 
Technology
Currently, there are two types to choose from – DTC and reverse technology. Direct-To-Card technology (DTC) is when the image is directly transferred to the PVC card. In reverse technology, the image first goes on a clear film and then printed on the card using heat and pressure.
They are both popular as they have their own set of advantages. However, DTC is the faster method.
Space
Take a look around the place where the printer is supposed to be. How much space do you have for the printer? Keep that space in mind when looking for one. Plus, since the printer will be used often, it will help keep it in an accessible area.
Color
Some printers come with a YMCKT (yellow, magenta, cyan, black, and topcoat) ink ribbon, and others allow you to print in any color. Figure out the needs of the business and ID card before picking the printer. 
Additional features
Since ID cards are mainly used for security purposes, it is essential to look out for features that can protect your information. If the ID card you intend to print needs to be secure, look for one that can encode, create and secure data. Also, having a password-protected machine will add a layer of protection.
Verdict
And there you have it: a comprehensive review of the 11 best ID card printers. We aim to help you get a better idea of what to purchase, so we hope this has been an informative read. 
Before we leave, we would like to reiterate our favorites to make things a bit easier. If you are looking for a printer for commercial use and can arrange an external camera, the Fargo DTC4250e is the one to go for. 
However, for more routine and low-volume use, the Bodno Badgy100 is ideal. On that note, we shall now say goodbye, but we promise to be back with many more informative reviews and guides.
See you next time!
Related Articles
13 Best Printer For Screen Printing Transparencies [Buyer's Guide]
8 Best Laser And Inkjet Printers For Envelopes
5 Best Printers for Heat Transfers 
5 Best Printers for Art Prints and Artists Today
The Best A1 Printer Plotters | Best 24" Printers Reviewed
10 Best Printers for Giclee Prints & Archival Prints
Simply the Best 11×17 Printers for Architects
The Best A2 Photo Printer Today | Epson P800 vs Canon Pro 1000
4 of the Best Large Format Printers for Photographers Today
The 3 Best 4×6 Printers for Studio Use Right Now
Learn How To Print On Plastic Bags
How To Effectively Separate Colors For Screen Printing
13 Best Printer For Screen Printing Transparencies 
9 Best Printers For Heat Transfer
11 Best Printers For Cardstock
5 Best Screen Printing Machine
5 Best Screen Printing Machine