Who doesn't like to laze around in a cozy living room during the chilling winter? It is the best way to spend a winter evening.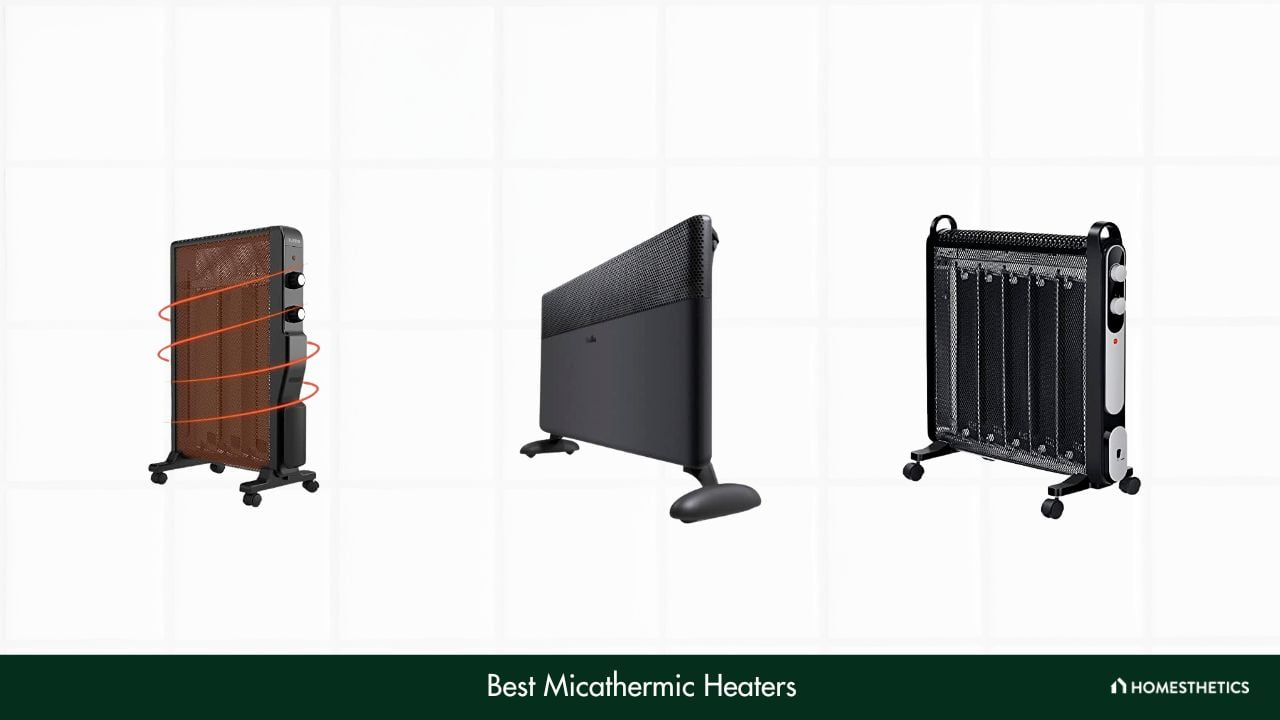 However, keeping the chill out from large and open spaces like living rooms can be a bit tricky. Owing to their open floor plans, they tend to get chilly than your bedroom. While old fireplaces and furnaces work well to warm up living room space, they also bring the risks of fire hazards. 
And that's why micathermic heaters are so much better. But, the question is - which micathermic heater to choose? There are so many good products out there that feeling a little overwhelmed is only natural. So, we're here to help you.
In this article, we'll discuss and review five of the best micathermic heaters currently available on the market. So, without any further ado, let us get on with it! 
What Is a Micathermic Heater?
A micathermic heater is an electric heater that uses a combination of convection and radiant heat to quickly and efficiently warm a room. The heater consists of a metal element, usually made of mica, which is heated by electricity. The metal element radiates heat, while the surrounding air is heated by convection. Micathermic heaters are often used as a more efficient alternative to traditional convection heaters.
Best Micathermic Heaters 
Are you looking for an efficient and cost-effective way to heat up a room? Look no further than micathermic heaters! Micathermic heaters are a great way to quickly warm up a space without spending too much. They are easy to use and a great way to reduce your energy costs. Here is the list of the 5 best micathermic heaters!
1. De'Longhi - Best for Large Open Spaces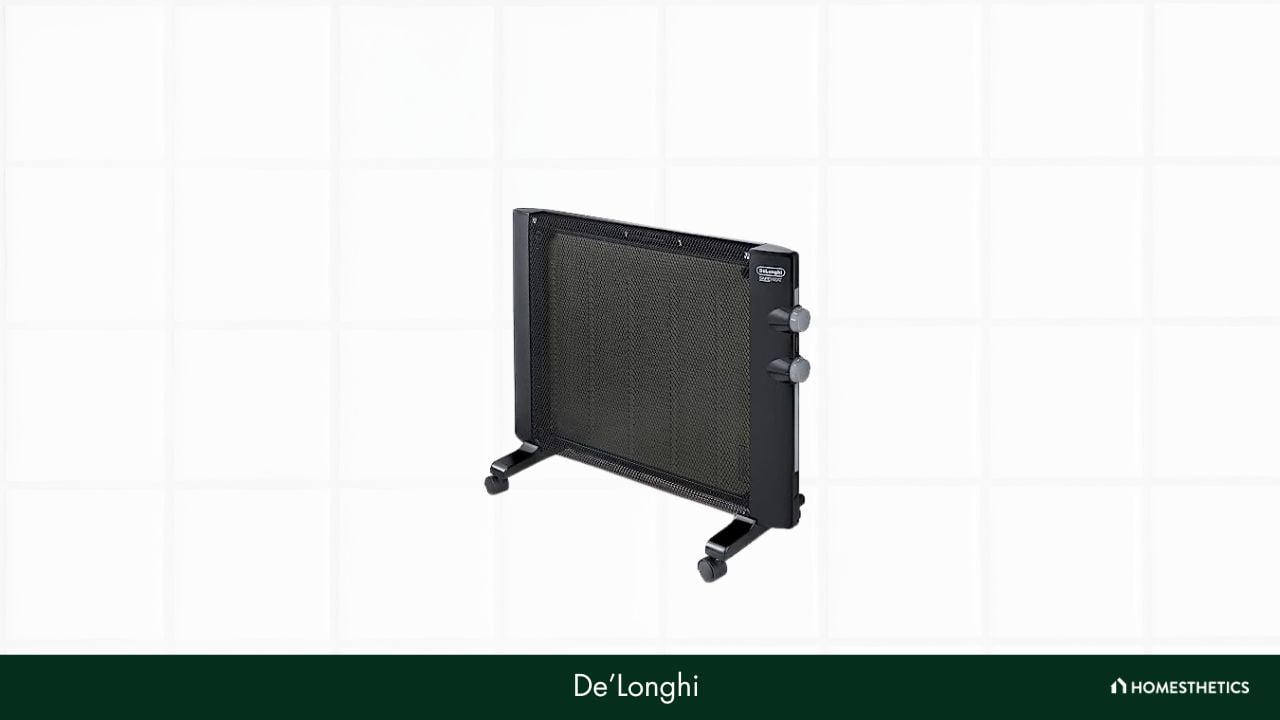 This micathermic heater from De'Longhi is a powerful corded model with a sleek and lightweight design. Its compact design makes it convenient to carry around the house. Whether it's your living room or bedroom, this heater will help you warm and cozy no matter what. So, place it wherever you want and stay snuggly and warm.
This product comes with the DeLonghi HMP1500 mica panel heaters that produce 1500 watts of radiant heat. It works wonderfully in large open spaces, like your living room or dining spaces. Furthermore, the high heat capacity of this model is ideal for even heat distribution across any living room design having an open floor plan. 
On top of this, it comes with easy mounting options. You can mount it on the wall or floor depending on the available space in your room. It also has a sleek design, making it easily portable and convenient to use. So, place it in your office or the dining room, and enjoy a warm and cozy day. 
What's more, this DeLonghi micathermic heater comes with multiple personalized heat settings. The adjustable thermostat of the heater makes it so much easier to set the desired temperature as per your heating needs. Furthermore, the mica panel has no fans and offers a super-quiet performance. So, now you can enjoy a peaceful slumber without worrying about getting cold. 
Please do note that this is the only product on this list that comes with a 3-year warranty, which greatly recommends this product when compared to the very limited 1-year and 3-month warranties of the heaters here.
Even though the micathermic heater works beautifully in large and open spaces, it tends to overheat small spaces and might trigger the overheat alarm. Moreover, the heater tends to get overly hot and melt the plastic cords in small and confined areas. So, we recommend you only use this model in large spaces with ample room for heat distribution. 
Dimensions: 27 x 10 x 22 inches | Thermostat: Yes | Wattage: 1500 | Heat Capacity: 5118 BTU / 171 Sq. | Mountable: Yes | Tip-over Protection: Yes | Warranty: 3 years
2. TURBRO - Best for Fast Heating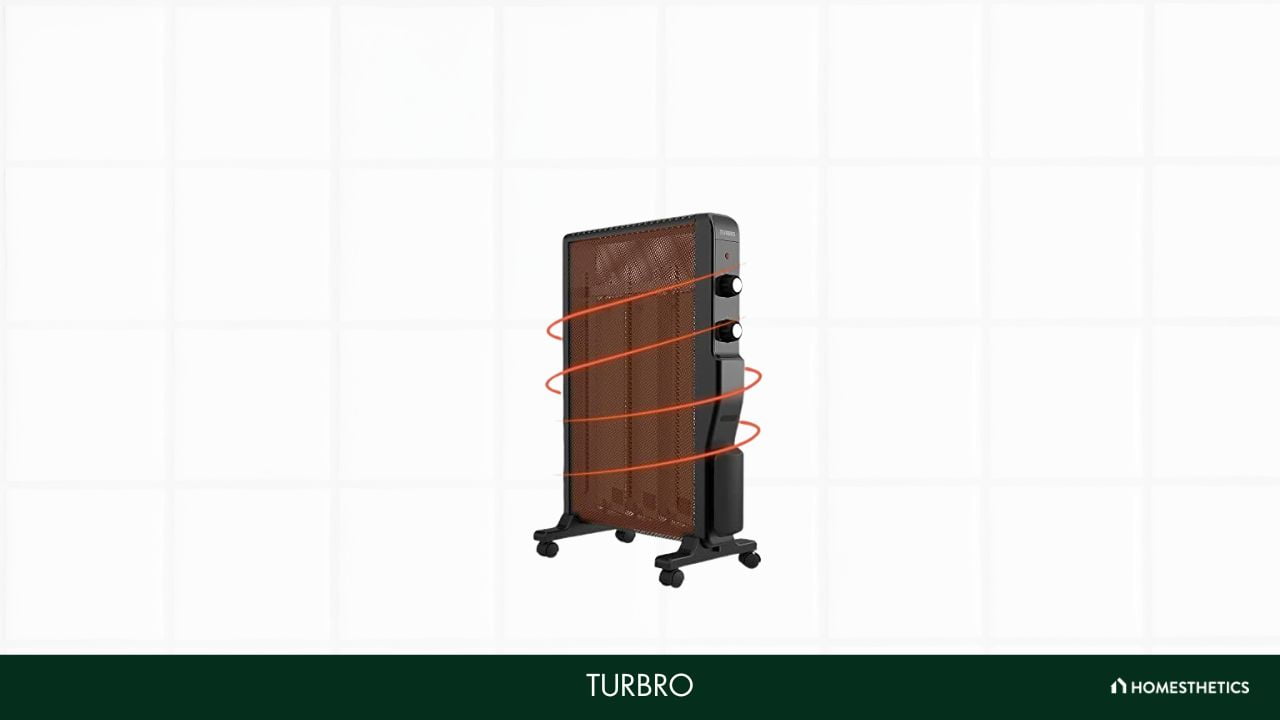 Next up on our list, we have the Turbro HR1500-B micathermic heater with fast-heating technology. This unit can warm up your room within 30 seconds, no matter how cold it is. Keeping the chill out of your living room has never been easier, so you can enjoy cozy and comfortable winter evenings with this heater. 
The mica panel of the heater emits FIR or far infrared rays for fast and effective heat production. It can blow hot air in all directions for effective three-dimensional heating, unlike traditional radiant heaters that blow air only in one direction. Also, the heater is ideal for super-fast heating, and you can feel the room warming up within 30 seconds of turning it on.
What's more, it comes with two easily customizable heat settings. The thermostat has a temperature adjustment so that you can set it to the desired level without any hassle. Not only that, but the heater also has a sleek design, making it portable. It is also perfect if you're looking for the best micathermic heaters that offer quiet comfort without any noisy fans. 
On top of this, it is super-safe to use because of its overheating and tip-over protection settings, which help to prevent any major accidents. So, you need not worry about burning down the house or electrocuting yourself with this micathermic heater. 
The major drawback of this micathermic heater is its lack of energy efficiency. So, if you use this heater regularly, get ready to pay a hefty electric bill at the end of the month. In fact, many customers have complained that their electric bills have quadrupled after using this heater for a month. Hence, it might not be the best option if you prioritize energy efficiency.  
Dimensions: 17.7 x 10.6 x 26.2 inches | Thermostat: Yes | Wattage: 1500 | Heat Capacity: 5118 BTU / 171 Sq. | Mountable: No | Tip-over Protection: Yes | Warranty: 1 years
3. BALLU - Best Energy Efficient Heater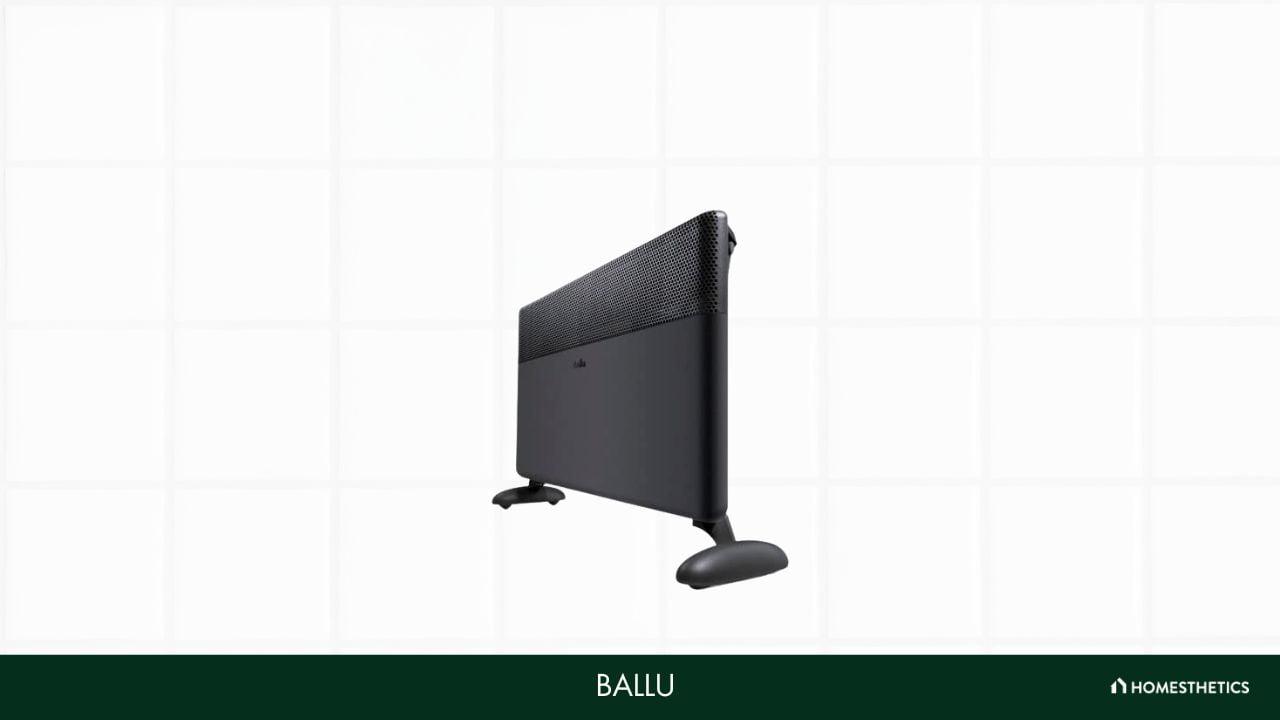 In 3rd place we have the prettiest convection panel heather on the list, we bring you the superb micathermic heater from the Ballu Apollo collection. It is a completely safe convection heater with a programmable thermostat, digital display, and supposedly, a 100% conversion efficiency through a patented hedgehog heating element made of aerospace aluminum. 
Ballu states that this can start making a difference in your room in less than 60 seconds, that it consumes 20% less energy and that is extremely quiet, and indeed, quiet it is, in our tests, it has been the quietest out of the bunch.
The high heating capacity of this convection heater is pretty impressive. The built-in mica heating element emits electromagnetic rays to blow hot air. Also, these electromagnetic far-infrared rays are ideal for three-dimensional heating. Thus, this micathermic heater is ideal for the even distribution of hot air across the room. 
Moreover, this product can naturally warm up your room, all the while without consuming ambient moisture. What's more, it doesn't have any fans, so it won't circulate any allergens or dust particles across the space. Hence, you won't feel any discomfort or dryness while breathing in the warm air from this heater. 
Furthermore, there's no need to worry about any serious fire hazard if you choose to install this micathermic heater in your home. It comes with safety features, such as tip-over protection, overheat protection, and anti-shock protection. So, no more damaged electric circuits or flying electrical sparks. 
Although the micathermic heater is ideal for heating up large and open spaces, understanding the instruction manual can be a real struggle. Many customers have found it very difficult to make the heater work even after following the instructions. Also, the customer service is not up to the mark.
Dimensions: 25.2 x 4.3 x 16.5 inches | Thermostat: Yes, Programmable | Wattage: 1500 | Heat Capacity: 5118 BTU / 171 Sq. | Mountable: Yes | Tip-over Protection: Yes | Warranty: 1 year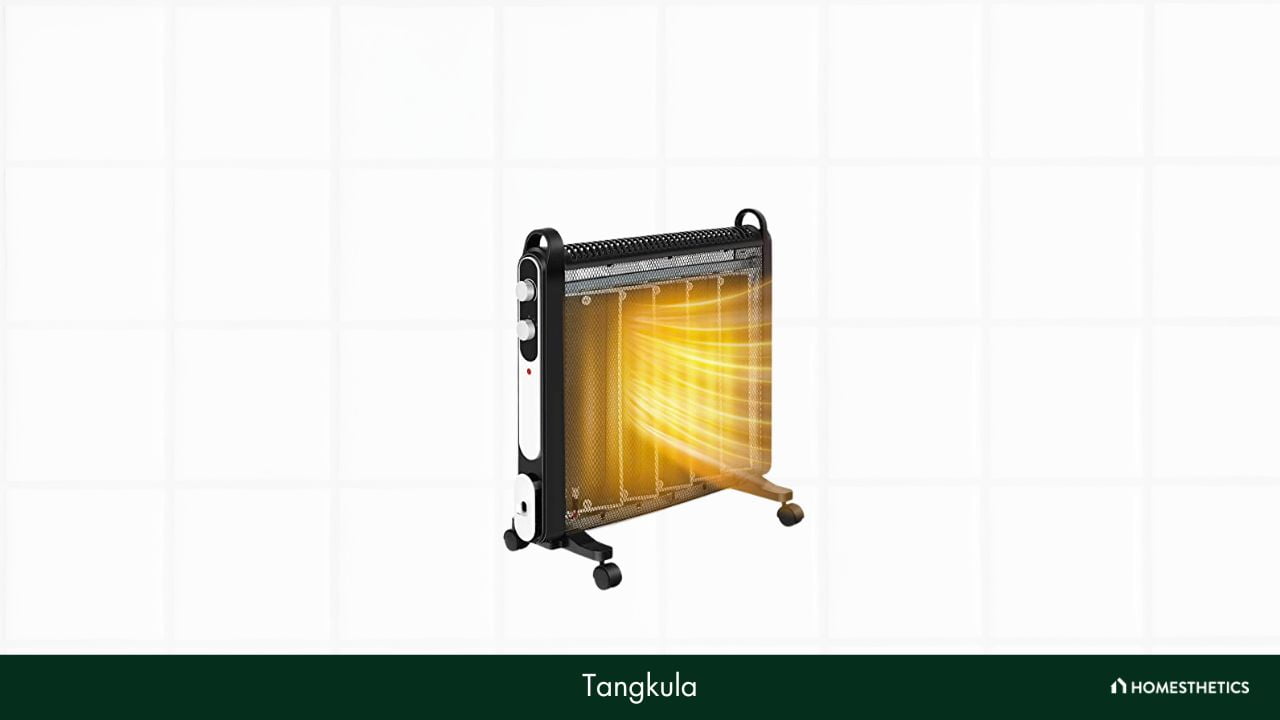 Next up, we have the micathermic space heater from Tangkula with an adjustable thermostat and two convenient heat settings. This micathermic heater works beautifully for heating up large rooms. It also has a design that ensures safety, so you don't have to worry about any fire hazards or electrical sparks. Overall, this mica space heater can be ideal for keeping your rooms warm. 
With this space heater, you get to personalize your warmth. It comes with an adjustable thermostat that has a customizable heat knob that you can use to adjust the temperature any way you want. Also, you get to set the power at 900 watts or 1500 watts, which makes it further flexible. 
What's more, the heater emits electromagnetic waves to heat the surrounding air in your room. This effective far infrared heating follows the principles of convection and radiation heating principles, which is far superior to any oil-filled radiator. What's more, the three-dimensional heating quality makes it so much easier to distribute the heat evenly.
Not only that, but it's also very portable; the unit has two handles at its top and four wheels at the bottom, making it extremely easy to move around. Plus, it is designed to ensure maximum safety, with tip-over and overheat protection features that help prevent electric or fire hazards. 
This is one of the few items in the world that comes with only a 3-month warranty; it's not a typo—no, it's not 3 years, it's 3 months. This mica space heater may not be your ideal option if you're looking to cut down the electric bills. In fact, it's not the most energy-efficient heater available on the market. Moreover, setting it up might be a problem if you have limited floor space as it doesn't come with a wall-mounting option.  
Dimensions: 25 x 10 x 25.5 inches | Thermostat: Yes | Wattage: 1500 | Heat Capacity: 5118 BTU / 171 Sq. | Mountable: No | Tip-over Protection: Yes | Warranty: 3 months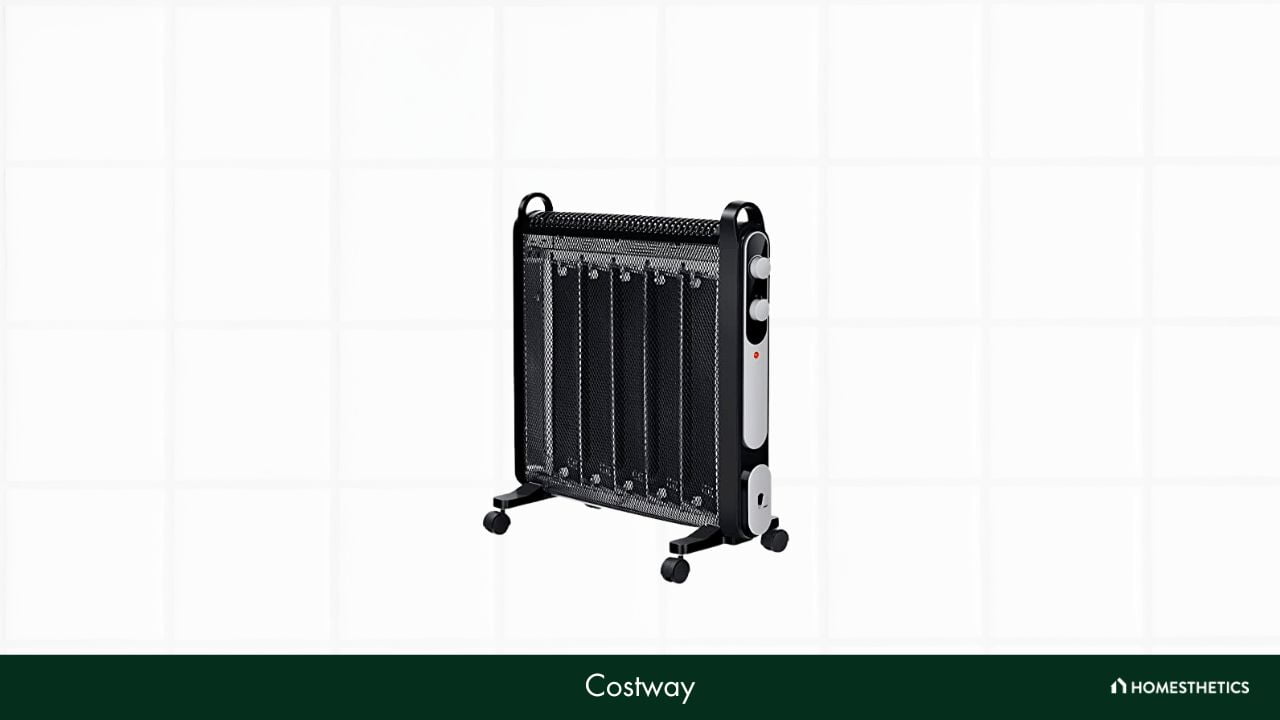 As we come to the end of our list, we bring you the micathermic heater from Costway that has an energy-saving design, making it an ideal option if you want the heater to consume less electricity. It also has two heat settings to set the temperature settings as per your requirements. Hence, it is one of the best micathermic panel heaters to offer efficient heating.
The three-dimensional heating makes this mica space heater different from conventional oil-filled heaters. It blows warm air in all directions to warm up the entire room with the utmost efficiency. Also, it doesn't consume the moisture from the air. Hence, it warms up your room naturally without any drying. 
Furthermore, you can easily adjust the heat settings to control the functions of the standard electric heating element of this micathermic heater. It comes with two heat settings that allow effective temperature control. What's more, you can also choose the power settings as per your needs. Thus, you can set the exact temperature using the adjustable thermostat without much hassle. 
On top of this, it has an energy-saving design that can help you cut down your electricity bills. The heater gets automatically cut off once it reaches the temperature you've selected. Thus, it consumes much less electricity. Furthermore, the heater also comes with an overheat protection system and tip-over protection to ensure safety. 
Even though the micathermic heater is great for warming up your living room, its longevity can be a serious issue. It has been known to stop working and heating properly after a few weeks. Moreover, it offers poor value for your money as it is not suitable for long-term uses. So, it's better to be careful while purchasing this product.  
Dimensions: 25.5 x 25 x 10 inches | Thermostat: Yes | Wattage: 1500 | Heat Capacity: 5118 BTU / 171 Sq. | Mountable: No | Tip-over Protection: Yes | Warranty: 1 year
Best Micathermic Heaters Comparison Table
| Product | Dimensions | Thermostat | Wattage | Heat Capacity | Mountable | Tip-over Protection | Warranty |
| --- | --- | --- | --- | --- | --- | --- | --- |
| De'Longhi | 27 x 10 x 22 inches | Yes | 1500W | 5118 BTU / 171 Sq Ft | Yes | Yes | 3 years |
| Turbro | 17.7 x 10.6 x 26.2 inches | Yes | 1500W | 5118 BTU / 171 Sq Ft | No | Yes | 1 year |
| Ballu | 25.2 x 4.3 x 16.5 inches | Yes, Programmable | 1500W | 5118 BTU / 171 Sq Ft | Yes | Yes | 1 year |
| Tangkula | 25 x 10 x 25.5 inches | Yes | 1500W | 5118 BTU / 171 Sq Ft | No | Yes | 3 months |
| Costway | 25.5 x 25 x 10 inches | Yes | 1500W | 5118 BTU / 171 Sq Ft | No | Yes | 1 year |
Micathermic Heaters Buying Guide
Modern micathermic heaters come with tons of features and functions. So, it can get a bit confusing to choose the best heaters if you don't know what to look for in the product. You can consider certain factors to make a well-informed purchase decision. 
And in this buyer's guide, we'll highlight some of these features to help you narrow down your purchase decision. Let's take a look! 
1. Heating Capacity 
Generally speaking, micathermic heaters have a higher heat output than conventional heaters. So, switching to micathermic electric heaters from oil-filled radiant heaters is always a good choice. However, not all micathermic heaters come with the best heating capacity. Most micathermic heaters work well in large spaces because of their high heat capacity. 
They produce heat following convection and radiation principles distributed evenly across any ample open space due to three-dimensional heating. Also, the far-infrared heating of these space heaters ensures that the room gets warmed up quickly and efficiently. 
Furthermore, the electromagnetic rays heat the surrounding air without consuming moisture, unlike propane heaters. So, you get to enjoy personalized, natural warmth without your throat drying up. 
2. Energy Efficiency 
Energy efficiency is an essential factor to consider when you're purchasing electric heaters. It is always best to go for a heater that can fulfill your heating needs without making your electricity bills skyrocket. Furthermore, energy efficiency can help you in maintaining your carbon footprint on the environment. 
In this context, it's safe to say that micathermic heaters tend to consume more energy than traditional heaters. But, there are some quite amazing energy-efficient designs of these convection heaters. 
For instance, with models like BALLU Apollo NCA2-B, you can effectively save energy and cut down the electricity bills while fulfilling your heating requirements. So, we suggest you always consider energy efficiency before making your final purchase decision. 
3. Safety Features 
When you're setting up a micathermic heater, you don't want to encounter flying electrical sparks or fire hazards. So, checking the safety features of the machine is always a good idea before purchasing it. 
As you know, micathermic heaters warm up your entire room quickly and efficiently due to their high heat output. But, they also tend to get overheated when used for a long time. Under such circumstances, the overheating sensor and the overheating protection work wonders. 
The sensor sets off an alarm to let you know that the heater is getting overheated. At the same time, the overheat protection feature prevents the heater from melting its electrical plastic cords due to overheating. 
Furthermore, the automatic tip-over protection cuts off the power supply once the heater reaches the set temperature. So, always look for these safety features before choosing the best micathermic heaters. 
4. Easy Adjustability 
Adjustability is another important feature to consider when purchasing a micathermic heater. You want a heater that can meet your heating needs and comes with easy temperature control. 
Naturally, your heating needs will vary based on the temperature of the room during different times of the year. Hence, choosing a heater that comes with personalized heat settings makes the work so much easier. 
Most micathermic heaters have a thermostat that allows you to set the exact temperature as per your requirements. You can simply turn the thermostat knob to adjust the heater temperature. What's more, with the customizable heat settings, you can have total control over the heat output. 
5. Easy Installation
When it comes to choosing the right micathermic heater, it is best to go for a model that's easy to install. You don't want to waste hundreds of dollars on hiring professional experts to simply install a heater. Hence, a heater that comes with the benefit of tool-free installation might be your best option. 
Also, try to look for space heaters that can be mounted on the floor or wall. In that way, even if you have limited floor space, you can mount the heater on the wall without wasting any space. 
What's more, some heaters have a wall-mounting kit included in the box. So, you don't have to worry about contacting a professional to set up the heater on your wall. 
6. Performance Quality 
If you want a cozy and peaceful slumber, you need a micathermic heater that's super quiet. Micathermic heaters are usually known for their quiet performance because they don't have fans. So, the quiet performance of these heaters is an important character that adds to their quality. 
Moreover, as micathermic heaters do not have any fans, they don't spread dust particles or allergens across the room. They also warm up your room naturally without consuming moisture and drying up the air. 
These features signify the performance quality of micathermic heaters. Hence, it's best to go through all these performance parameters before making any final purchase decision. 
7. Affordability 
Micathermic heaters are available in various price ranges, so affordability is an important criterion to consider when choosing the best heater. It's not necessary that all expensive heaters will fulfill your heating requirements. Hence, it's best to check the price tag of the heater before you purchase it.
Besides that, consider whether your chosen micathermic space heater is offering good value for your money. There's no point in investing hundreds of dollars in a machine if it breaks down only after a few weeks. Hence, it's best to go for a product that's affordable and offers good value for money. 
What is the ideal heat coverage area of a micathermic heater?
A good micathermic heater like the De'Longhi HMP1500 should have an average heat coverage of around 170-200 square feet or so. The heat coverage area depends more on the even heat distribution of the heater than its heat output. So, the better the heat distribution of a heater, the more will be its heat coverage area.
How long does it take to warm up the room using a micathermic heater?
Micathermic heaters are fast and efficient in warming up rooms. Their three-dimensional heating quality can heat your room within seconds. You can feel the room warming up after 30 to 60 seconds of turning on the heater. So, just give it a few seconds, and you'll feel the air in your room warming up.
How to ensure easy portability of the heater?
Portable heaters are always easy to use as you can move them around the house wherever you need them. To ensure the easy portability of micathermic heaters, it's best to choose a model that has a slim design and comes with wheels at the bottom. The wheels and the slim design will help you easily move the heater around.
Is a wall-mounted set up preferable to floor mounting?
While mounting up a heater on the wall helps to save floor space, the high heat output can affect the wall structure. Thus, if you have enough floor space, it might be better to set up the micathermic heater on your floor so that the high heat output doesn't influence the wall. On wheels, you also have extra mobility if need be.
Conclusion
Choosing the best micathermic heaters can be a bit overwhelming because you have so many good models available on the market. That said, after going through our article, we hope you're better aware of the bestselling micathermic heaters. 
If you ask us about our top favorites, it'll be the DeLonghi and the TURBRO models for their high heat output and efficient heating. And at the same time, the BALLU micathermic heater is arguably the most energy-efficient model on this list. 
However, these are just our recommendations. You can always pull up your sleeves and dig in to do some more research before making any final purchase decision. 
And on that note, we'll sign off. Take care, and we'll see you next time! 
Related Articles
13 Most Energy-Efficient Space Heaters 
19 Best Pedestal Fans Reviewed
Best Portable Air Conditioner and Heater Combos
What Size Tankless Water Heater Do I Need?
Ceramic VS Infrared Space Heaters | What's the Difference?