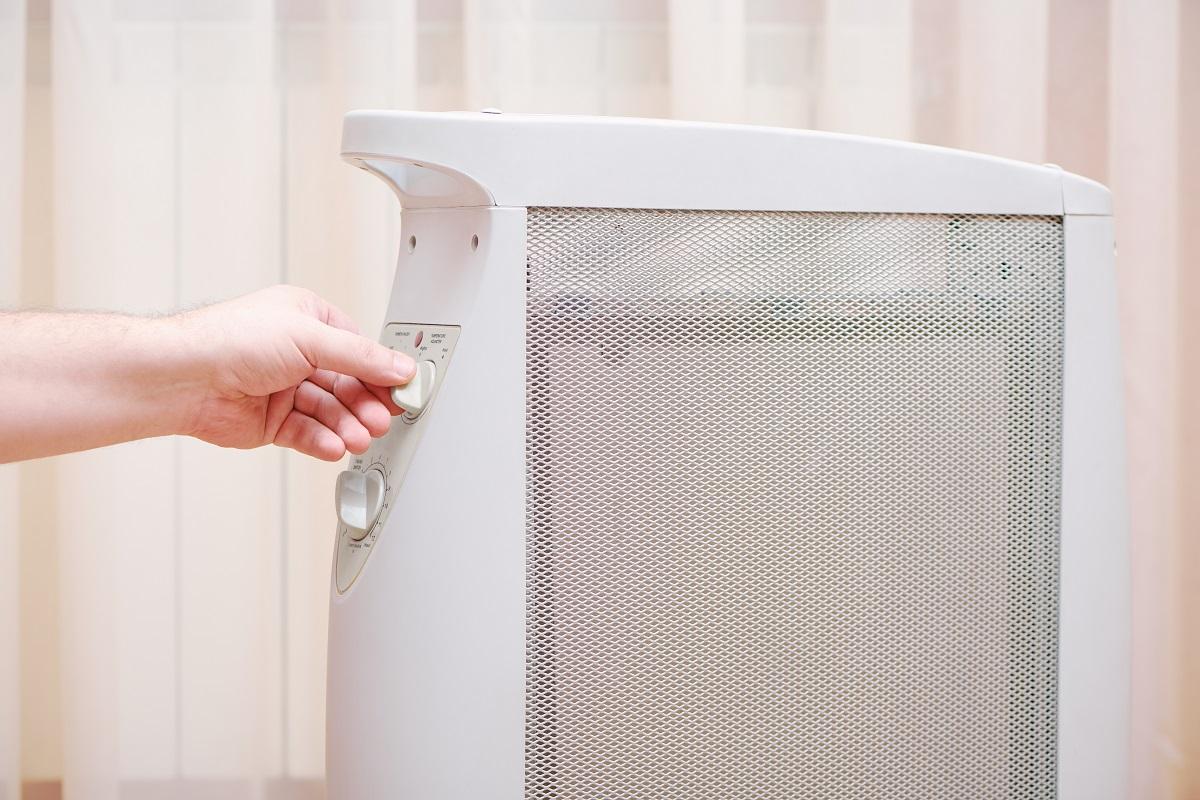 Taking a shower in the bathroom in December can feel like quite a task. But not when you have the right portable bathroom heater. 
During the winter months, your bathroom might feel colder than the rest of the house. That is not a very pleasant experience, meaning that your bathroom would feel unwelcoming at most times. 
You can install the best space heaters to combat this situation. People are slowly shifting from natural gas space heaters to more portable variants. 
But the problem actually arises when you visit the market and feel bombarded with a plethora of choices. To make your task easy, we decided to compile this guide with the top 13 products that you can try. 
You will find a detailed round-up of the best products with a buyer's guide at the end. Without any more delay, let's dive right in!
Portable Bathroom Heaters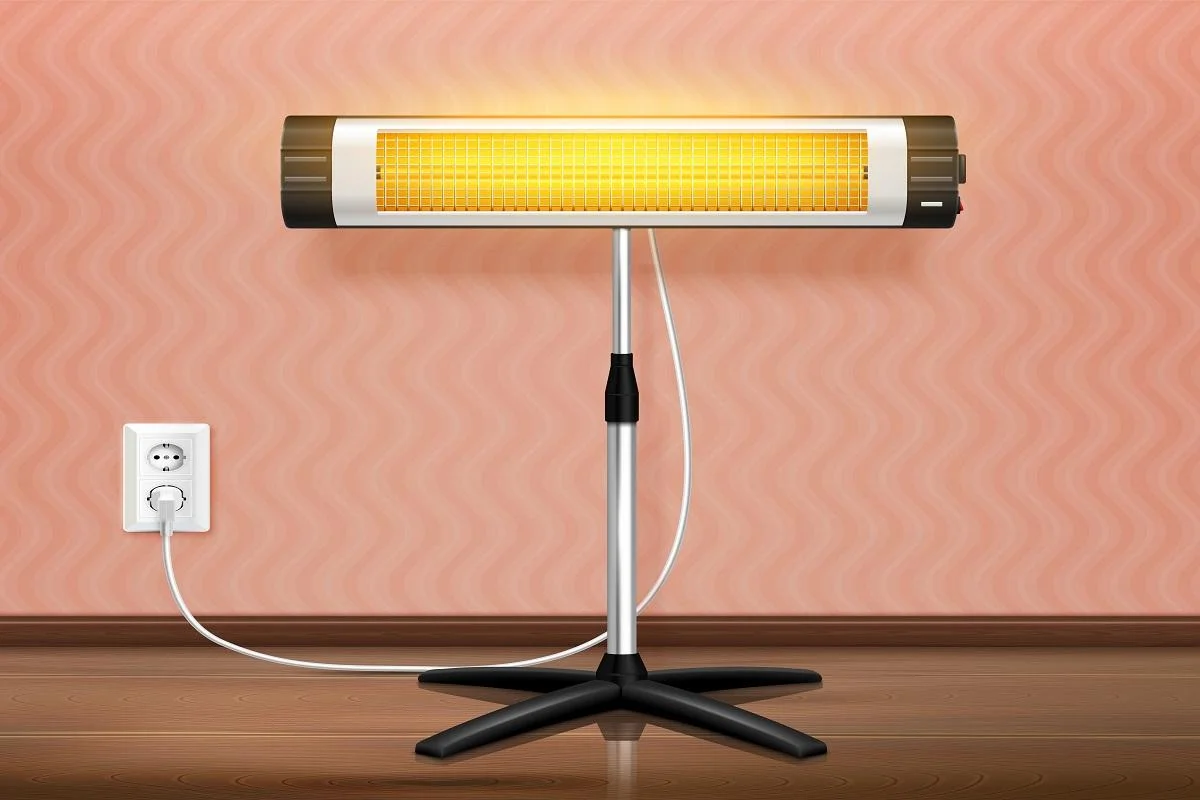 If you are on the lookout for excellent compact bathroom heaters, it is best that you try the GiveBest 905. The heat output capacity of this bathroom heater is nothing short of incredible; rest assured, there will be no dearth of warm air once you install it. 
Sale
Why Did We Like It?
What stood out for us about this bathroom heater is that it comes with multiple heat settings. You can either put it on 1500W or 750W, depending on the exact temperature outside. 
Once you set the temperature range, the heater will automatically turn off when the built-in thermostat reaches the correct value. As you can understand, it is pretty energy efficient and includes the best overheating protection. 
It is ideal that you use the adjustable thermostat feature to keep the temperature of the room comfortable at all times. Moreover, it is important to note that this is one of those portable heaters that hardly makes any noise when switched on. The noise level does not go above 45 decibels, meaning it would sound like humming. 
To sum it up, this portable space heater is a great buy because it is compact and highly energy-efficient.  
What Could've Been Better?
As a bathroom space heater, this option is actually a great one as it ensures that the bathroom air is warm at all times. However, keep in mind that it is not good for large spaces for which you might need to install a central heating system. 
Pros
Effective heating element

Lasts for a long time

Saves electricity

Easy to carry
Cons
Not meant for large areas
When it comes to checking out the best bathroom heaters, there's no way you can miss out on the Lasko CD08200. This ceramic space heater is designed to keep your bathroom warm in all weather conditions. Hence, it is suitable for both small and big bathrooms. 
Why Did We Like It?
The heating power of this bathroom heater is incredible and functions quickly. If switched on before entering the shower, you will see that the bathroom is completely heated up by the time you get out. The heating speed is pretty fast, and it is one of the best bathroom technologies if you like a spa setup. 
Now, to be the best bathroom heater, a device does not need to be big. Just like this space heater, it can be small and mighty. The Lasko CD08200 is compact and comes with adjustable heat settings. But keep in mind that even if it looks small, it can generate a good amount of heat. 
Additionally, unlike many portable bathroom heaters, this one is easy to assemble. You need to simply unpack it and plug it directly into a power source. Not to mention, using it is pretty straightforward too. There's only one button, and you can adjust the heat settings with it. 
What Could've Been Better?
If we are being picky, we have to say that we were not really happy with the size of the cable. Unless the charging point is nearby, you will see that the cord is short, and that might make the device fall. In that case, it is best to get an extension cord. 
Pros
Provides fast heating

Durable item

Heating variation

Works well with an exhaust fan
Next, we have one of the best bathroom heaters called the BEYOND BREEZE BNT-15L. Because of its great performance and excellent customer service, this item enjoys much popularity across the world. Once you buy it, this electric heater will surely make your winter nights more comfortable. 
Why Did We Like It?
Finding the right ceramic heater is not an easy task. And once you use this item, we are sure you are not going to look any further. 
This bathroom heater will make you feel comfortable after you are done taking a bath. When you start using it, you will notice that it heats up small bathrooms in a few minutes and large bathrooms in under 15 minutes. The electric coil ensures that it heats up the space fast and offers consistent heating. 
Furthermore, this electric fan heater does not compromise safety. It comes with overheat protection technology, and you can rest assured that there are no risks involved. 
There is an automatic overheat protection device installed in it. In case it gets too heated up, the overheat protection function will turn off the device immediately.  
What Could've Been Better?
It is one of those bathroom heaters that make a lot of noise when switched on and many people have trouble dealing with this issue. However, its performance is incredible, and you can always put on some music to drown the humming sound of this fan heater.
Pros
Safe to use

Heats up fast

Lasts for a long time

Well designed
The design of this device is noteworthy and will go with all kinds of bathroom furniture. Be it small rooms or big ones; the Dreo DR-HSH004 will ensure that you enjoy hot air in winter by distributing heat evenly. Means, you will feel comfortable even during the cold months of the year. 
Sale
Why Did We Like It?
When winter is knocking on your door, it is an absolute must to try this good space heater. This ceramic heater is compact in size and will effectively heat up any space irrespective of where you put it. 
We really loved how this portable heater comes with a hidden handle that makes it easier for you to carry it around. On top of that, it has an adjustable built-in thermostat and touch control technology that makes this electric heater super easy to use. 
Not only that, this fan heater is pretty noiseless, and you will hardly feel its presence when it is switched on. This ceramic heater is designed keeping the comfort of users in mind. 
What's more, you can rest assured that there are no risks involved in using the product. The heating power is adjustable, and there are overheat protection mechanisms, ensuring that the device does not get too heated up and cause a fire.  
What Could've Been Better?
Though the product exhibits an excellent heating element, we were not really impressed with the kind of packaging it had. On receiving the item, we noticed that the box in which it was delivered was tapered. From a brand as good as this one, we expected better, 
Pros
Compact in size

Comes with heat protection

Simple to use

Detailed user manual included
For the ones who are looking for bathroom heaters that can effectively make winter more comfortable, the Antarctic Star 3618-B is their best bet. It is one of those ceramic heaters that provide quick heat and is also super convenient to use. We are not surprised that so many people love it. 
Sale
Why Did We Like It?
A bathroom heater should always be good at ensuring that the space heats evenly and this device aces this function. It is one of the best bathroom heaters to provide quick heating and is super simple to carry around. There's a small handle by the side, and you can take it anywhere you wish to. 
Apart from that, it is pretty suitable for small rooms and bathrooms. The size of this bathroom heater is small, and it will hardly occupy any floor space if you decide to keep it on the ground. So, even if you do not have a very large space, you can keep this device anywhere. 
Also, it comes with adjustable heat settings. There are 3 modes that let you decide which temperature would work best for you. 
Long story short, this device is highly energy-efficient, and there would be no hefty electric bill by the end of the month.  
What Could've Been Better?
After using it for a week, we noticed that the switches on this portable bathroom heater are a little stiff. We complained to their customer support team and requested a replacement. They quickly resolved the issue, and we got a replacement in a week's time. 
Pros
Provides even heating

Lasts for long

Sturdy construction

Suitable for use in all areas
Up next, we have the R.W.FLAME bathroom heater, which is pretty popular for providing heating all year round. You can simply use it as a fan during summer and as a heater when it gets cold. It is good at heating up any space quickly without fail. 
Why Did We Like It?
The best bathroom heaters are not ones that can be used only in the bathrooms. For example, this product is suited to be used in your living room or your home office too. It is pretty compact in size, and the attached handles make it one of the best portable bathroom heaters that you can get your hands on. 
Unlike most other space heaters, you will forget that it is even switched on after a while because it hardly makes any noise. The sound it produces is less than 40 decibels and will create no distractions while you work or sleep. So, it can be a good companion throughout the year. 
What is more, is that it comes with in-built heat protection technology that ensures that the device automatically tips off the moment it gets overheated. This will ensure that you or other members of your family do not have to face any adverse impacts of a bathroom heater getting overheated.  
What Could've Been Better?
Unless you have used portable heaters before, you might feel a little challenged to use this as there's hardly any user instruction. The manual is not at all detailed, and you might have to look up the internet for help with installation and operation. 
Pros
Makes very little noise

Compact

Good safety features

Suitable for all weathers
Cons
User instructions not detailed
If you are on the lookout for a cute space heater that is portable and energy-efficient, it is best that you try the BabyExo Space Heater. With this, you will be able to enjoy a night of good sleep and say goodbye to chilly nights. When the room is adequately heated, the device gets turned off automatically. 
Sale
Why Did We Like It?
The first thing to come to our mind when talking about this bathroom heater is its design. It is simply stylish and one of the best-looking heating units that we had the opportunity to try. With 4 plastic non-skid legs, this item can be placed anywhere and will surely enhance and add to the decor. 
Moreover, this is a great space heater when it comes to saving energy. It comes with PTC ceramic heating technology and a high-speed fan that ensures that your indoor space is heated up in seconds and the electric consumption is less. 
What is more, is that its safety features are top-notch! In case the device gets overheated or accidentally falls over, it will get automatically turned off. So, you can rest assured that there will be no risks in using this product.  
What Could've Been Better?
On the downside, this product makes quite some noise when switched on. If you are planning to work or sleep when it is turned on, it can be a bit of a problem. However, to drown the sound, you can put on some music. We would suggest that you keep this factor in mind before you make the purchase. 
Pros
Excellent design

High energy efficiency

Good safety features

Lasts long
Up next, we have one of the best convection heaters that you can try: the Potulas Space Heater. When you are trying to make a room in an old house warm during winter or make your office space more comfortable, this ceiling heater can be a great buy. 
Why Did We Like It?
This item is high on energy efficiency and helps you ensure that you do not have to pay hefty electric bills by the month-end. If you are using it in small rooms, you can put it on low heat and save a considerable amount of energy. For a bigger room, however, you have to put it on high heat. 
Apart from that, you do not have to wait for a long time for this device to work its wonders. It comes equipped with PTC ceramic technology and a high-speed fan that helps to spread the heat fast in the rooms. And this ensures that the sound it produces is minimum. 
Furthermore, this powerful heater is suitable for use in all kinds of spaces. You just need to ensure that the space is enclosed and the exhaust fan (if any) is switched off. It is no doubt a compact wall heater, but it can easily heat up small to medium-sized rooms.  
What Could've Been Better?
Despite its brilliant performance, we were not very pleased with the fact that it uses plastic grates. If you are sensitive to the smell of plastic, this might not really work for you. For home products, odor is a major factor, and you should take note of this aspect. 
Pros
Helps save energy

Suitable for use in all areas

Durable

Does not make noise
Do you hate chilly winter evenings in your garage and office? With the Luwior LWIH002, you will no longer face this trouble. Once you start using this bathroom heater, you will not be required to put on layers of winter clothing to avoid the cold. This ceramic heater will drive the cold away efficiently. 
Why Did We Like It?
This is one of those portable heaters that can work well as ceiling heaters too. With the high-quality thermostat system, you can rest assured that once you switch it on, the temperature in the room will be optimum. You can use the thermostat knob to adjust the temperature according to your requirement. 
On top of that, you would be happy to know that this is one of those space heaters that can heat up your room in a few seconds. Within 30 seconds, a bathroom of 200 square feet can be easily heated up. Because the fan comes with high-speed functioning, there will be no unwanted noise. 
Apart from that, you do not need to worry about the safety of your pets or kids when using this product. Even if someone accidentally trips over it, the device gets automatically turned off.  
What Could've Been Better?
After using it for a few weeks, we noticed that the plug got too heated up. There is no risk for safety hazards, but in case you end up touching it, you might feel uncomfortable. We hope the manufacturer fixes this issue soon. 
Pros
Included all safety technology

High longevity

Heats up rooms quickly

Easy to carry
If you have a thing for good designs, there's no way you can miss out on the F.EASY.D Space Heater. This space heater will help you enjoy a warm and comfortable winter with your loved ones. And the super cute design of this bathroom heater will surely turn some eyeballs. 
Sale
Why Did We Like It?
It does not make sense to invest hefty amounts in buying heaters that can function only in bathrooms. This one can be used in bedrooms, office spaces, and garages too. In short, this is good for small to medium-sized rooms and will help you warm them up efficiently. 
Moving on, the design, as we have already mentioned, is pretty attractive and will surely add some charm to your desk. Not only does it look good, but it also comes with excellent fire safety features. The construction is done entirely in fire-resistant material, and there are additional tip-off protective measures too. 
It is one of those electric heaters that will help you enjoy warm winter evenings without occupying much space in your house. The compact and sturdy design helps you place the device anywhere you like and is best suited for indoor use.  
What Could've Been Better?
We have no complaints about how well it performed. However, its packaging could definitely have been better. The styrofoam layers in the package were a bit less, and we were worried that the product was damaged during transit. Luckily that wasn't the case. 
Pros
Suitable for all types of spaces

Durable construction

Includes safety mechanisms

Occupies very little space
Cons
Packaging needs improvement
We are almost reaching the end of our list, and next up, we have the Yeslike Space Heater. This item can be used as a wall-mounted heater or as a ceiling heater. Whichever way you choose to use it, rest assured that it will provide the best heating conditions during the cold winter months. 
Why Did We Like It?
It is understandable if you do not like to wait for hours for the room to get heated up after you switch on the bathroom ceiling heaters. This device will help you get the room heated up in a few minutes. Because of the PTC ceramic heating element, this space heater displays great thermal efficiency. 
Moreover, you can choose to place this item anywhere you please, and it will provide 360-degree heating. This is possible because of the oscillating technology that enables it to dissipate heat in multiple directions. 
Apart from that, we have to score this product a full ten for its high-quality construction. There are no exposed blades that can affect your safety. And the construction is sturdy enough to make sure that the product lasts for a few years.  
What Could've Been Better?
Despite it being pretty sturdy, we were not very happy with the fact that it does not come with an automatic thermostat. So, in case the heat gets too much, it won't become less automatic, and you would have to adjust it manually. And when you have to do this at night, it might feel a bit hectic. 
Pros
Great build

Excellent customer support team

Highly efficient

Lasts for a long time
Cons
No automatic thermostat present
SWEETFULL S710 bathroom heater is one bathroom heater that does not make noise even when you put it on high heat mode. The unique noise reduction technology is what makes it stand out among its contemporaries. To know more about this product, keep reading!
Why Did We Like It?
Not all portable heaters are actually easy to carry, and some of them are quite bulky. But not this item, thanks to its compact size as there's an additional handle that enables you to carry it wherever you like. 
Other than that, you will not have to worry about your carpet catching fire when using this item. It is constructed of fireproof material and comes with added heat protection facilities that provide good coverage even if the device tips over. 
Furthermore, this ceramic space heater is exceptional when it comes to generating and retaining heat. Once you switch it on, the room will be warm for a long time. In other words, you can expect a medium-sized room to turn warm within a few minutes.  
What Could've Been Better?
Unfortunately, this bathroom heater comes with a short cable. Unless you place it close to a power source, there's a good chance that your device might topple and fall. To prevent such problems, consider using an extension cord. 
Pros
Easy to carry

Well-designed

Overheat protection

Provides quick heating
There was no way we were going to wrap up our list without having mentioned the Ordenando Space Heater. During the cold winter months, this space heater can turn your rooms considerably warm and comfortable. Plus, it works its magic within a few minutes. 
Why Did We Like It?
Unlike many other standard space heaters, this device comes with double protection to ensure that you face no risks. In case your device gets knocked over accidentally or in case of overheating, it will immediately shut off.  
Moreover, it scores a perfect ten on ease of use. It is compact in size, hardly occupying any floor space, meaning it can go well in offices, garages, and definitely bathrooms.
Apart from that, you have the option of easily controlling the heat that this device produces. When the days are too cold, you can turn the heat up a notch to feel comfortable. Similarly, when the days are a little warm, you can turn down the heat and save excess energy consumption.  
What Could've Been Better?
The only problem that we faced when using the item was that their customer support team was not very responsive. We reached out to them with some queries, and it was weeks before they got back to us. Honestly, we expected a faster response from them. 
Pros
Easy to use

Lasts for a long time

Adjustable heating function

Compact size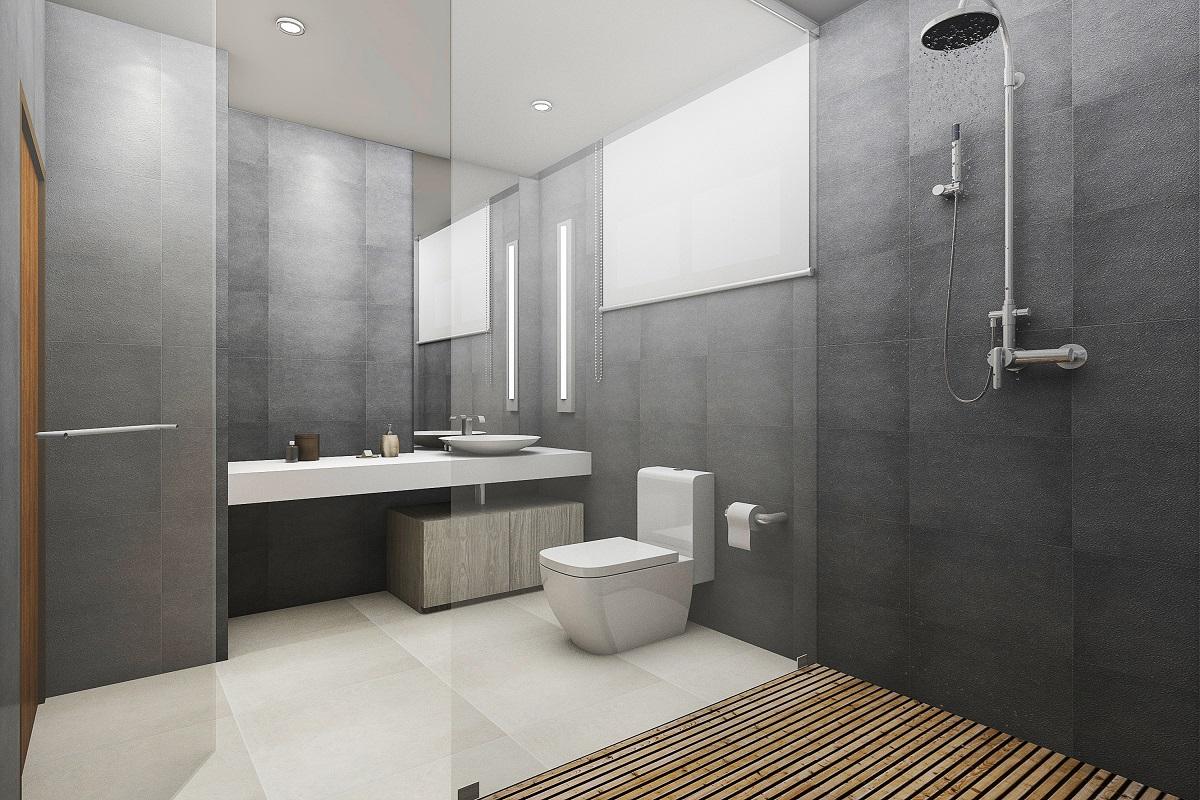 Portable Bathroom Heater Buying Guide
Now that we have given a detailed round-up of the top 13 bathroom heaters that you can try, were you able to decide which one to go for? We understand that deciding which bathroom ceiling heaters would be the best bet is difficult. 
And in order to make the right choice, you need to look beyond the heating element and consider a few other factors. Let's quickly take a look at them. 
1. Safety Is Crucial
To opt for the best bathroom heaters or space heaters, it is essential that you pay special attention to safety. Electricity and water are not the best of friends, and when opting for wall-mounted heaters, you need to make sure that protective measures are in place.
It is best that you put the bathroom heaters as far from the shower or any other water source as possible. And make sure that the plug of your device complies with the ALCI Safe Plug standards. It should get turned off automatically when it gets too heated up or gets overturned for some reason.  
2. Energy Efficiency
There's an ongoing debate about whether ceramic heaters are better than infrared heaters. According to us, the best bathroom heater is one that is energy efficient. 
There's no point investing in bathroom heaters that will generate a hefty electric bill by the end of the month. You need to ensure that the heater warms only as much as needed. 
These days, most space heaters come with adjustable thermostats which will help you cut down usage costs significantly. 
3. Noiseless Operation
After a long day at work, when you are relaxing in a hot bath, you would not like the bathroom heaters to make noise, right? Just because you focus on the heating element, do not forget about comfort. 
Be it Pelonis space heaters or regular bathroom heaters; you need to ensure that they offer soundless operation. The best bathroom heaters come with PTC technology and a high-speed fan that would keep the noise at a minimum.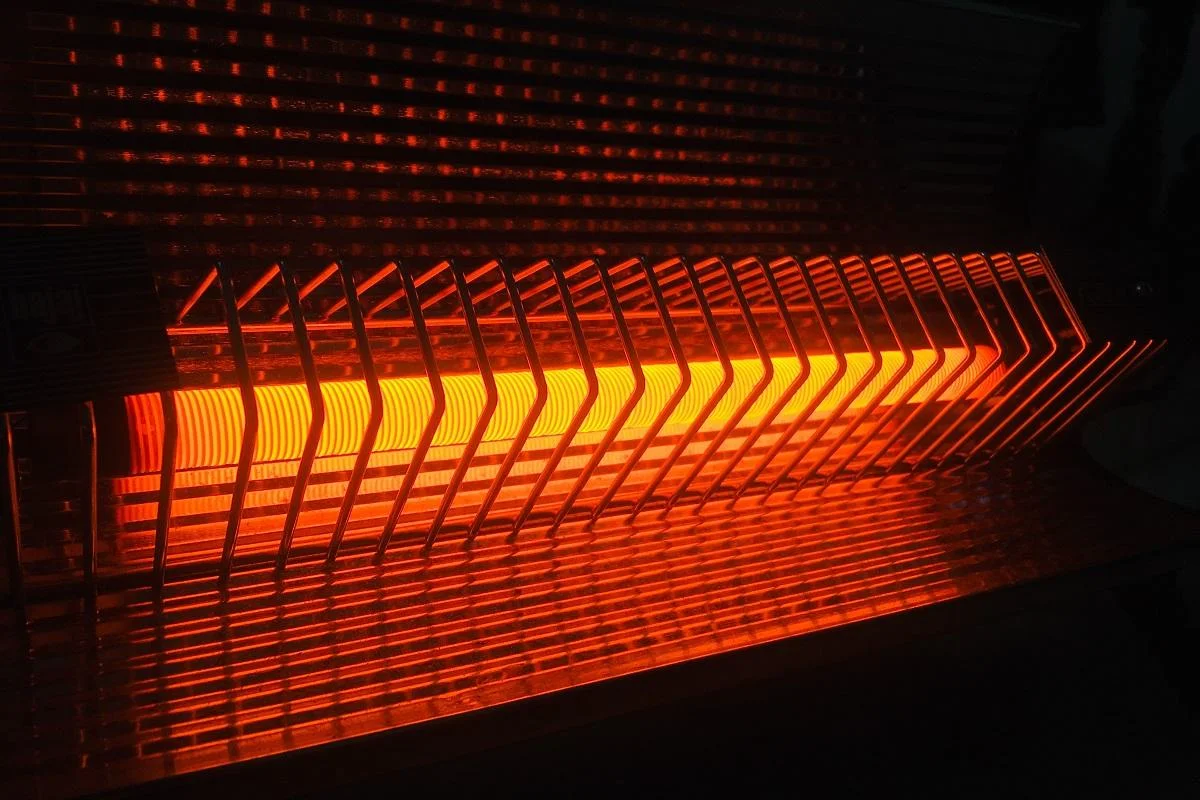 Verdict
That's all we have for you folks!
We hope you had a great time knowing about the best portable bathroom heaters that are available out there. They are pretty different from wall-mounted heaters and electric baseboard heaters as they are not permanently fixed into the electrical circuit of your home.  
Before we say goodbye, we would like to let you in on our favorites. The GiveBest 905 takes the award for being our favorite model. But for fast heating, we recommend that you give the Lasko CD08200 a try. 
In conclusion, bathroom heaters are an absolute must during winter. If you have any other suggestions, feel free to mention them in the comments section below. 
Keep a watch on this space for more exciting reads. Until next time, see you soon!
Related Link
7 Types of Water Heaters Explained in Detail
9 Best Indoor Natural Gas Space Heaters
9 Best Pelonis Space Heater Reviews Right Now
10 Best 240v Electric Garage Heater To Consider
13 Best Oil-Filled Radiator Heater
Best Portable Air Conditioner and Heater Combos
13 Best Electric and Propane Heaters for Garage
13 Most Energy-Efficient Space Heaters
11 Best Bathroom Exhaust Fans With Light And Heater
What Size Tankless Water Heater Do I Need?
Ceramic VS Infrared Space Heaters