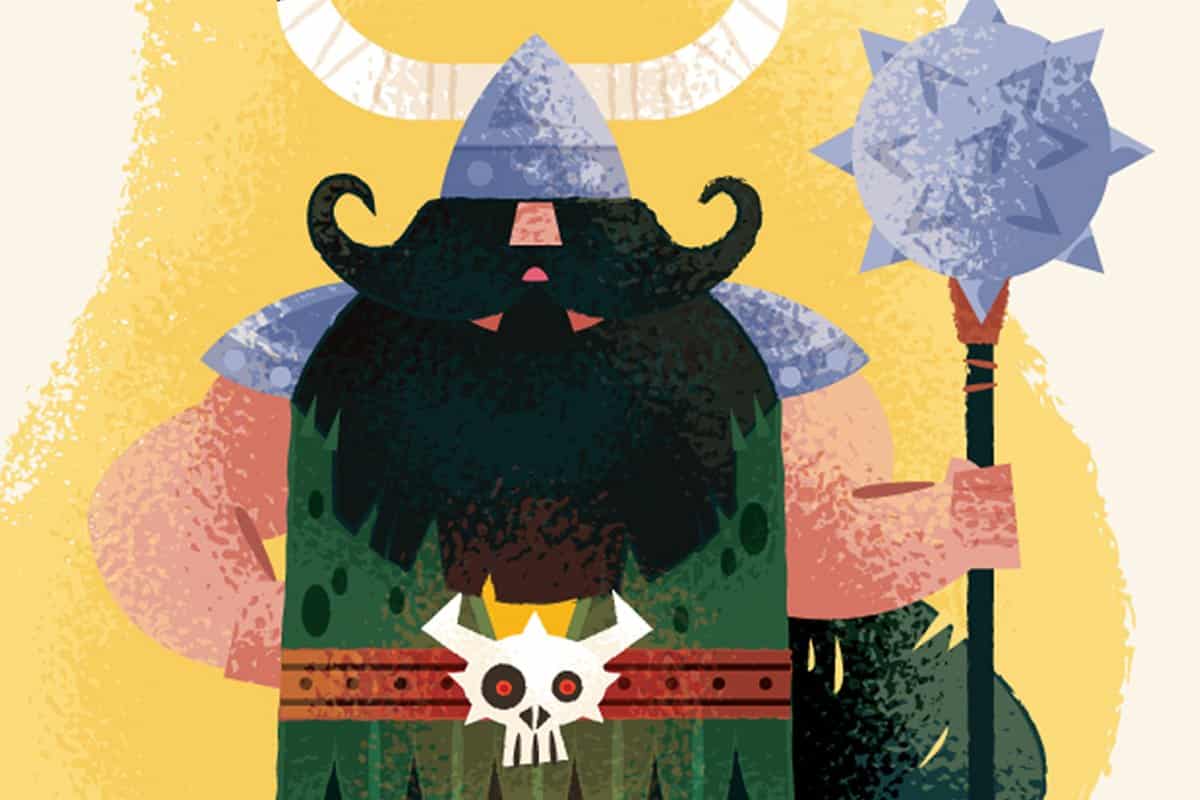 The mobile app Procreate is a creative application which has become a popular choice among digital artists.
This is not just a drawing tool, but will help to bring your tablet to life. The designs that were previously possible to be created only on the graphics monitor or the desktop computer can be made now on your iPad.
There are some stunning third-party brush sets that you can download for Procreate which have been made by different creators. The brushes are designed in a unique way so it can emulate various media, such as pencils, inks, and paints. Few of the brush sets can be downloaded for free, while you have to purchase the brush packs which are of high quality.
The wide range of available brushes, make it possible for you to create projects with different styles, strokes, textures, and forms. This guide will cover all the types of brushes which you need for sketching, drawing, lettering, painting, or more.
Without further ado, let's look into the best of  80 Procreate sets of brushes!
Best Procreate Brushes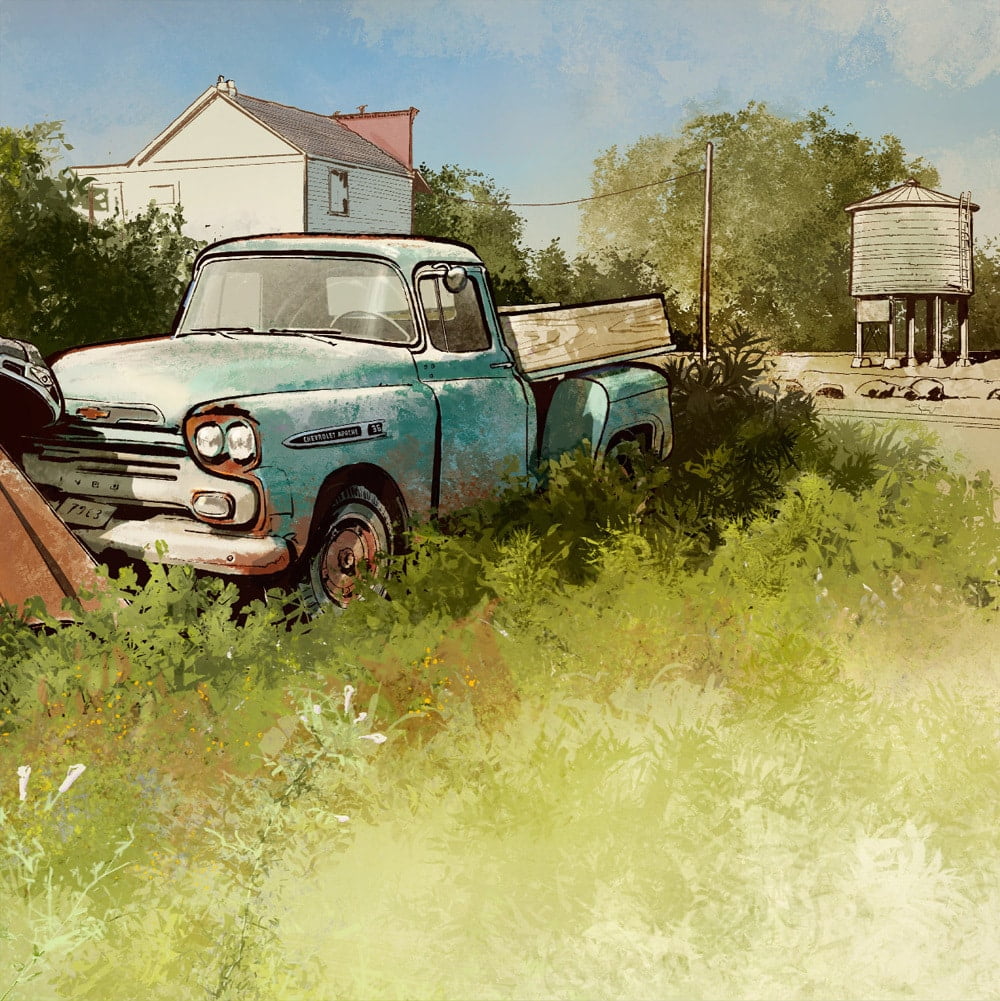 This comes in a set of 42 brushes and is suitable if you don't like a mess while working (who does?). And you prefer the look of pastel and charcoal.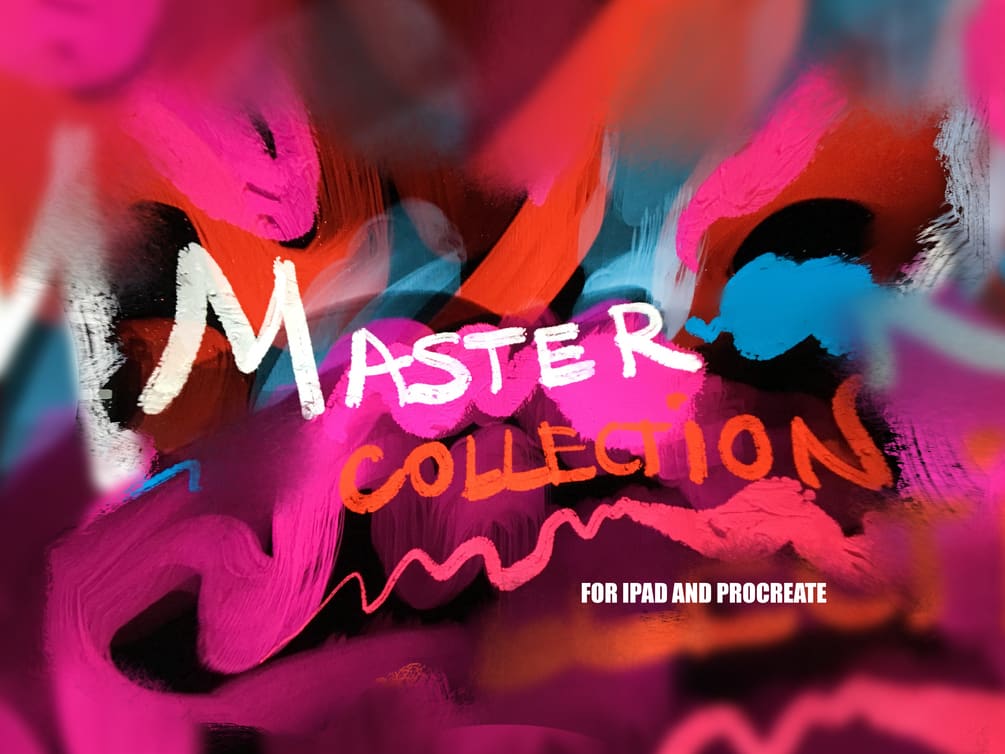 These paid brushes provide a dirty look to the pastel or charcoal which have been applied lightly. You can also find different textures of chalk. Moreover, these custom brushes give a shine to the heavily used pastels that give a full-coverage.
Irrespective of your drawing style the brushes are perfect for use in illustration and concept art.
If you want to have the same effect as watercolor techniques (Salting, drops, washes, sponging and wet on wet) used in real-life, then get this set of 50 brushes.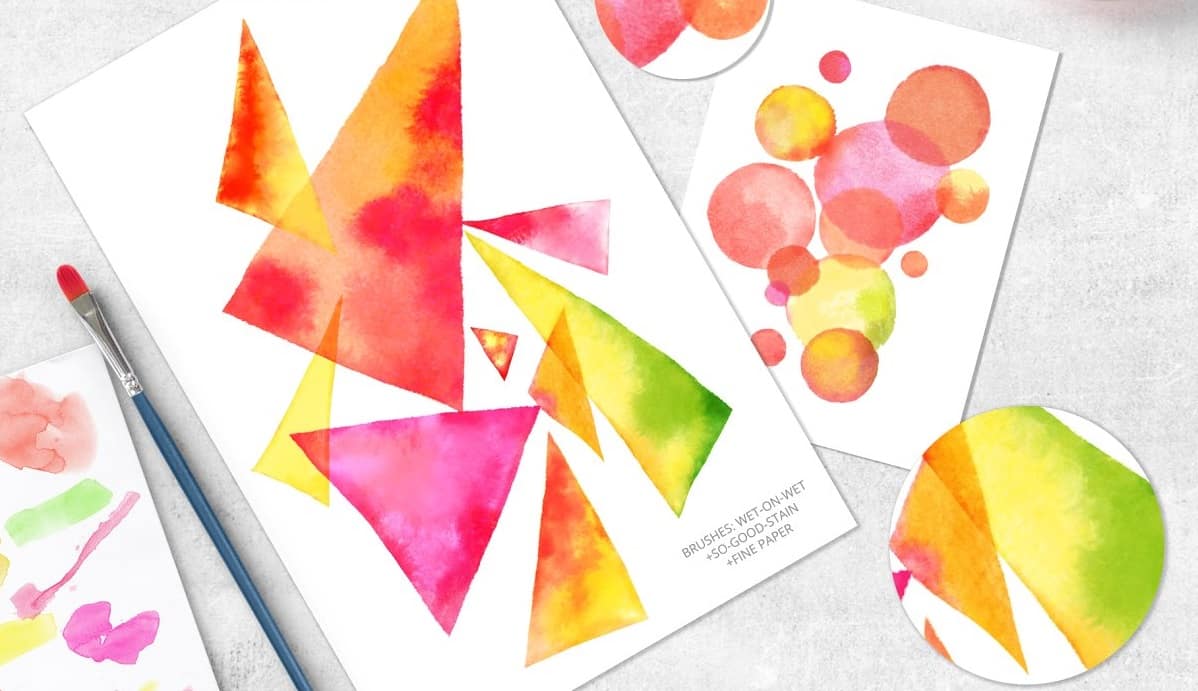 You can select different brushes to help you adjust with the amount of water that is preferred in the brush. It will help you to control the texture of the brushes.
The final texture can be further played with to adjust the level of opacity. There are few brushes which can also emulate the look of watercolor on different kinds of paper, this is a paid brush set.
If you're looking to try out different kinds of brushes for Procreate, then you should get this megapack of 450+ brushes.
Will be a good investment if you love the look of the traditional art mediums, and you want to try digital drawing. These brushes tend to closely imitate the look of the physical art mediums like pastel, oil, graphite, paint, and ink.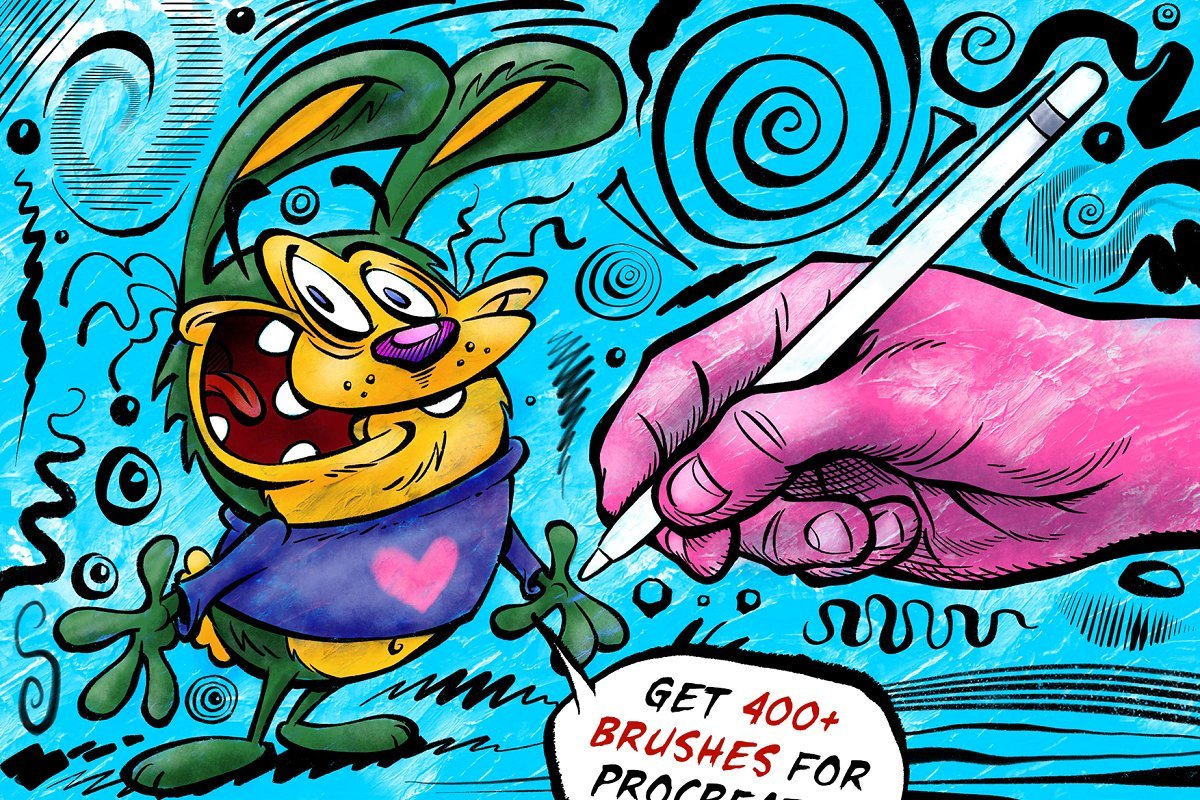 With some practice, you have the chance to find the Apple pencil to be a more comfortable option than the traditional mediums. They also tend to work in the same fashion.
When you purchase this megapack, it also includes the updates to the collection and brushes of artists. This gives you the privilege to work with top-quality and up-to-date brushes.
If you're looking towards drawing different storybook illustrations, then purchasing this set of 20 brushes will be a great option.
This set includes all different types of brushes that you would require for illustration such as:
For subtle detailing, you have the super skinny brushes
For inking and drawing, you have the pen-like brushes and the thinner pencils
For creating stunning backgrounds with highlights, shadows, and texture you have brushes with a thick texture
For painting hair, you have three custom brushes
As you keep learning to use these brushes to your advantage, you'll be to make some different strokes in your artwork.
You can get this natural fiber brush to give an appearance of paint to your canvas. If you prefer the look of acrylic painting or oil, then get this brush to look at your work on Procreate.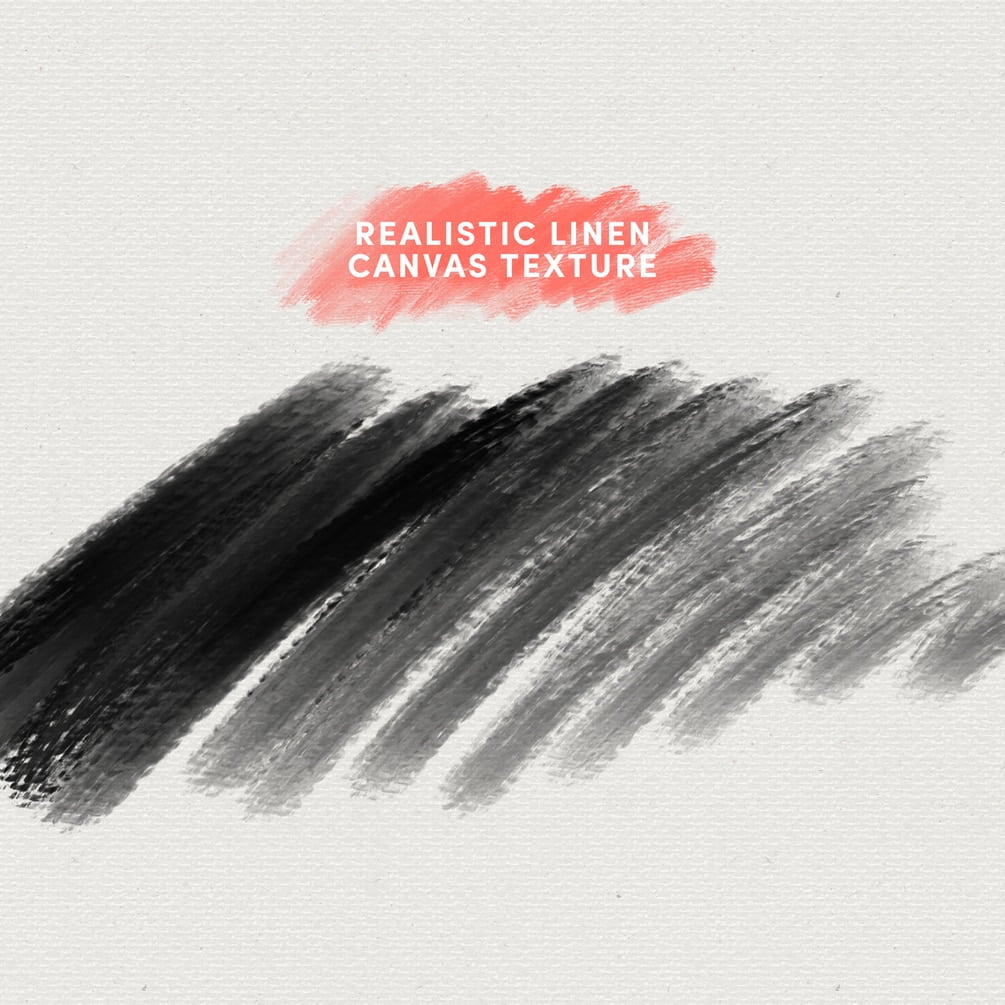 This brush is free of cost, while you can also get it by making a small donation.
Get this set of 10 Procreate brushes if you're looking to create some stunning, painterly illustrations with different kinds of textures, from busy and scratchy to well-blended and smooth.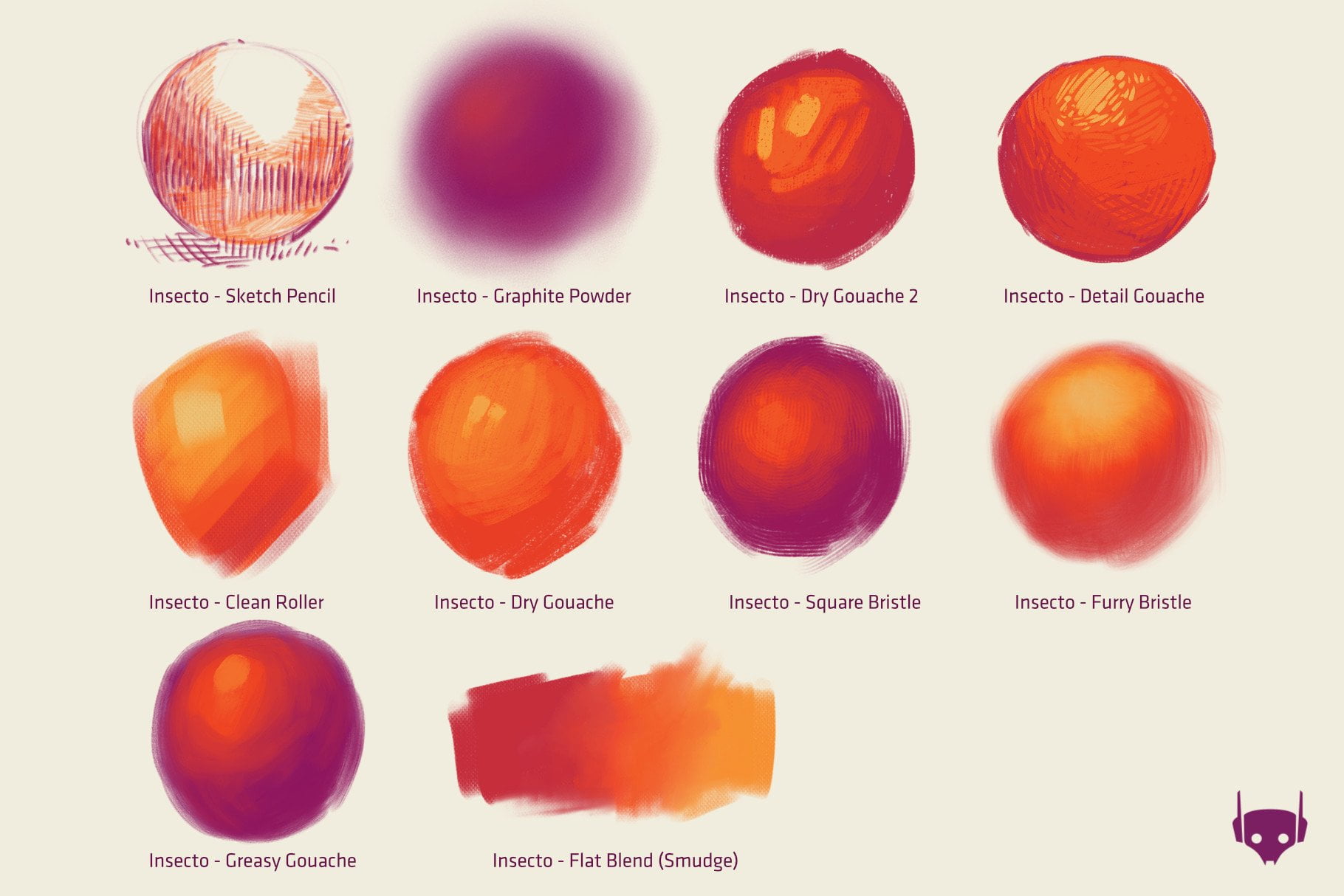 These brushes can appear like graphite and gouache as you can use it in different textures and sizes.
Get this set of 8 highly textured brushes for your digital painting to help you create some scratchy, fun, and gritty layers.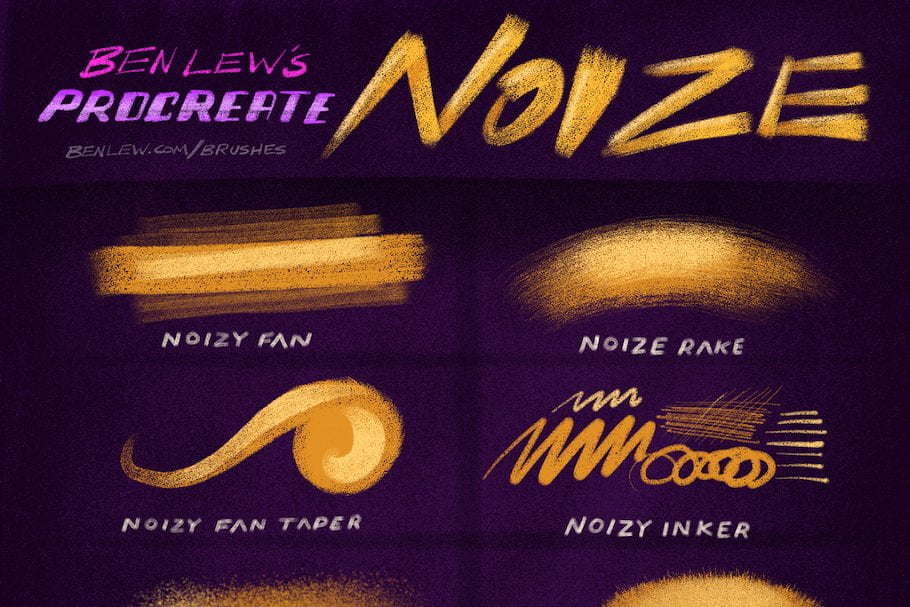 These eight brushes come in different textures; some appear like splatter spray paint while some appear like chalk. The set is suitable for illustration work or concept art, when you want to create a texture of stone or concrete, or if you're looking for softer shapes.
If you have recently shifted from Photoshop to Procreate, then this set is perfect for you. The brushes available in this pack are similar to the ones in Photoshop so you can easily get adjusted to using them.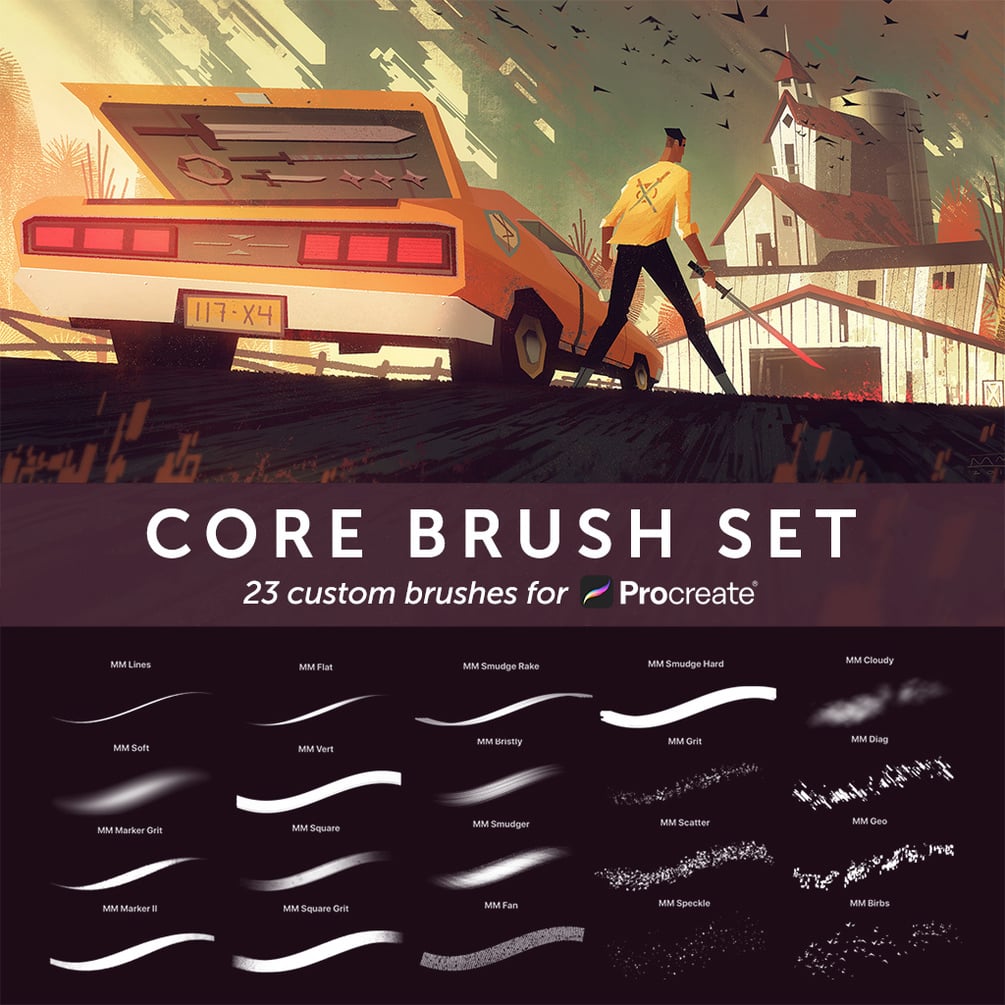 You'll get a few cool scatter brushes to give a unique detail to your artwork, as well as line brushes and primary markers with various textures. The artist also provides you with guidance on how the different brushes can be used.
If you're want to get into digital sketching, then this set of 30 brushes will be perfect for your use.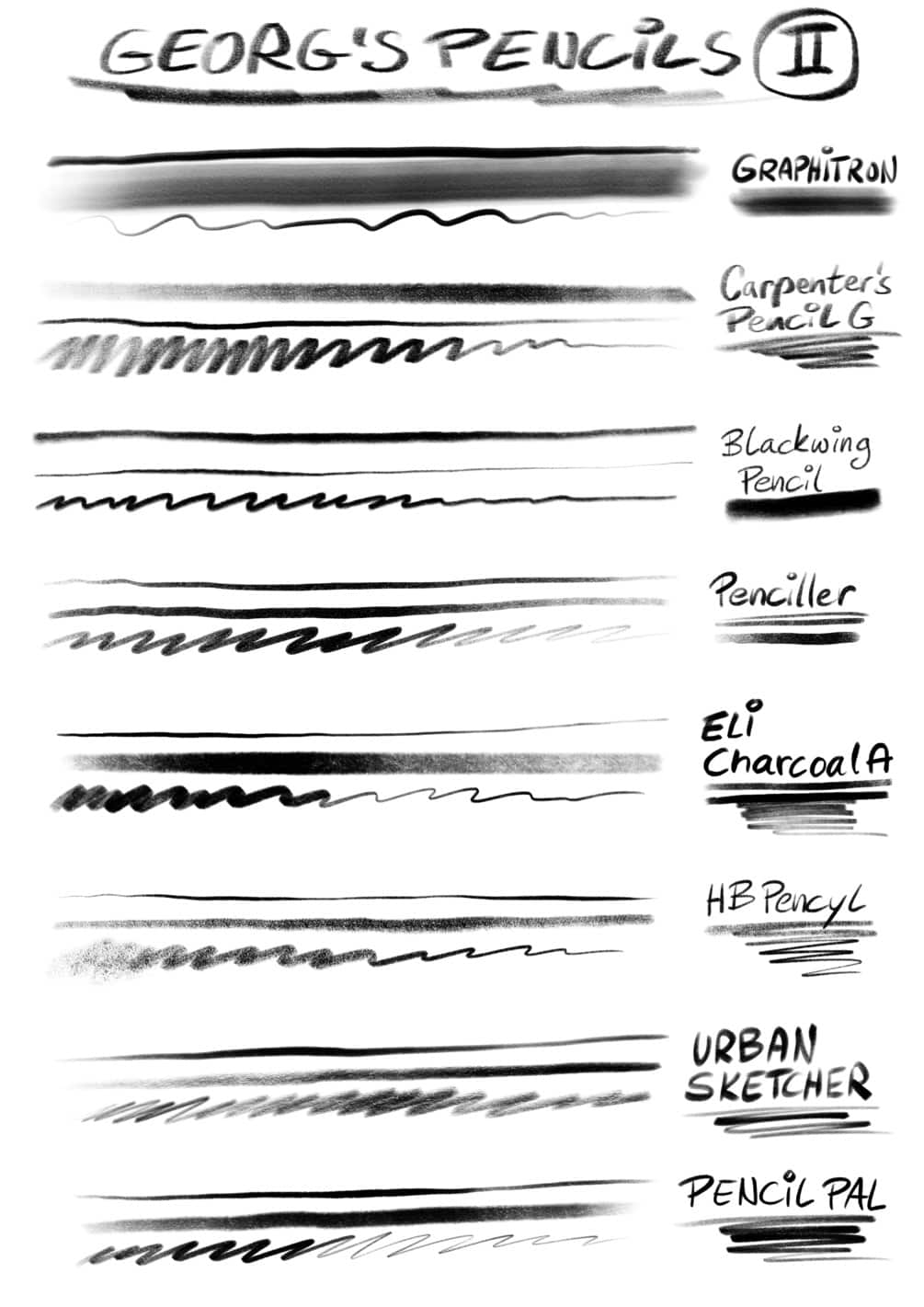 This set is excellent for creating base sketches and for your sketching practice, as the charcoal and graphite pencils can be used in different sizes.
You can also use these brushes to create sketches with intricate details in a charcoal or graphite style.
Here you'll get a set of 20 brushes for pencil drawing and inking, which makes it perfect for any artwork. This is a well-built set, as the different brushes can also be blended easily.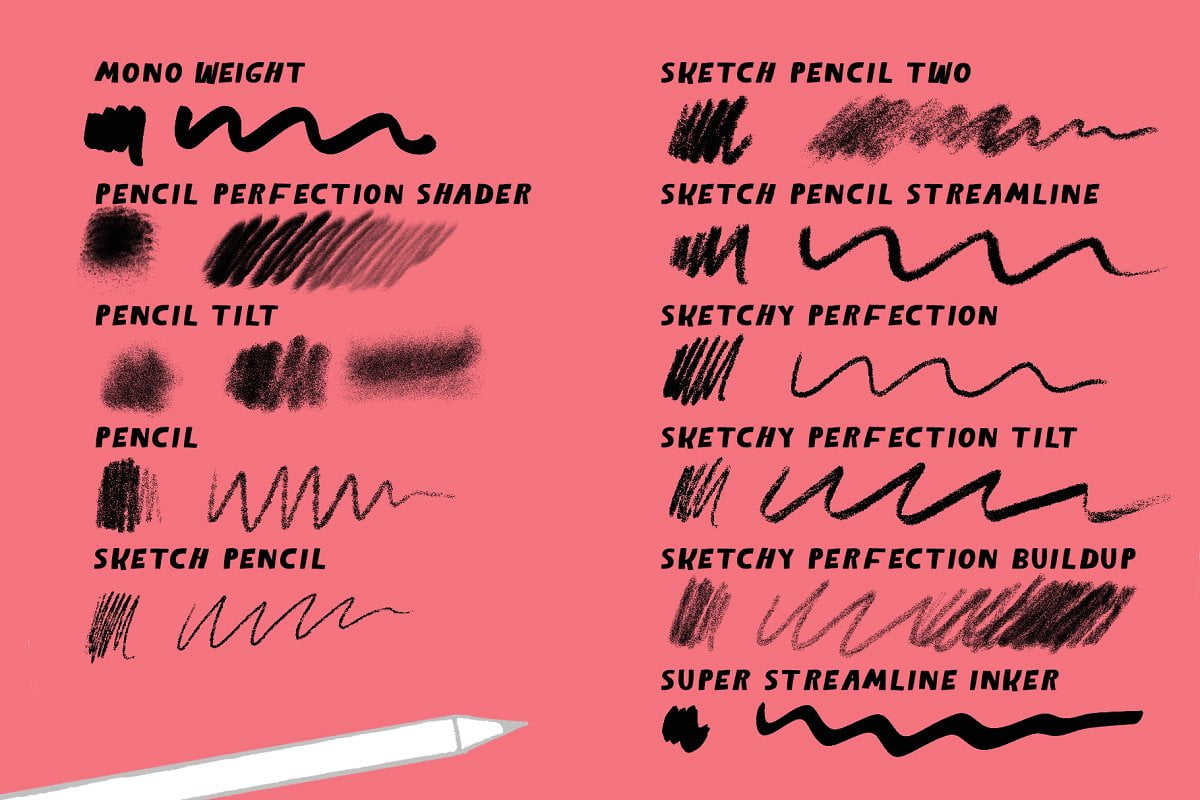 You can use them for your complete drawings, for the base sketches, or to add small details to your entire piece.
This set of 16 brushes have quite a competitive edge to them. It gives you the look of charcoal that is perfectly blended, which is challenging to get without getting your work smudged in real life.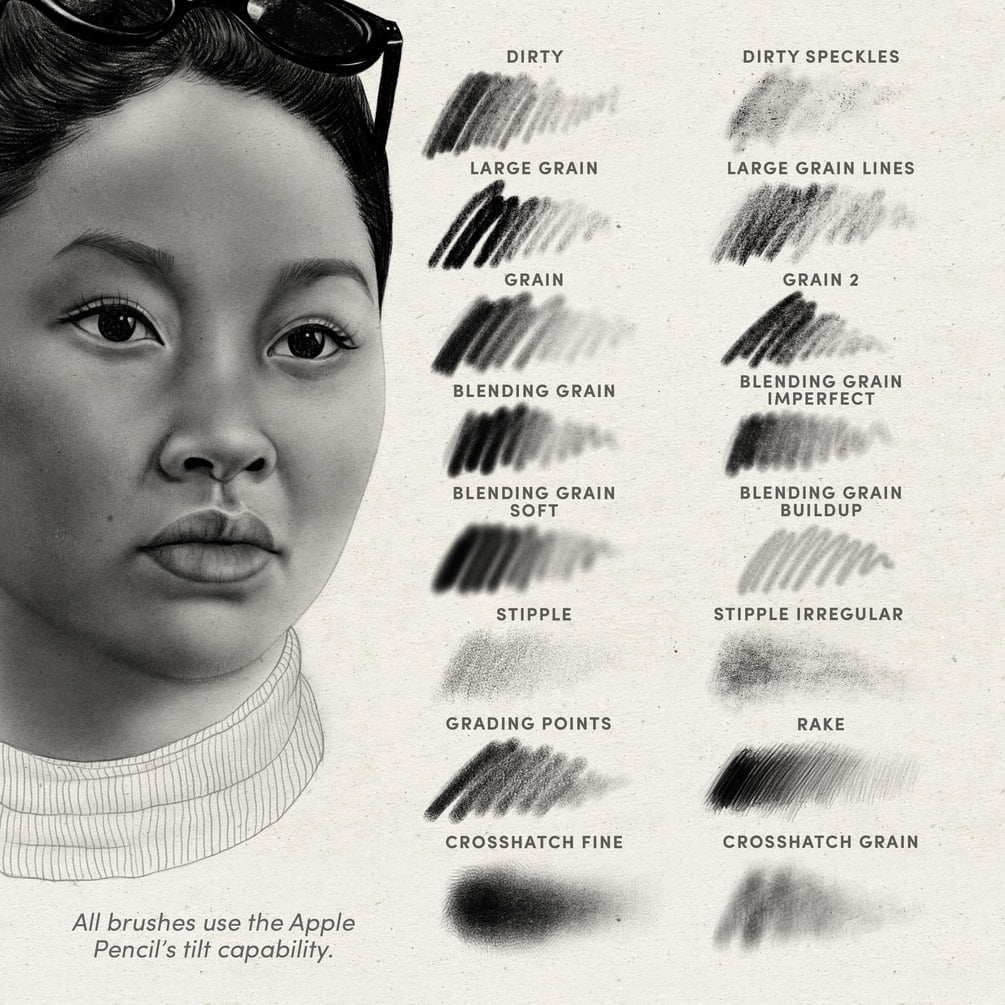 If you like to blend your work, then you'll love this set!
Custom designed for sketching, the brushes that are given in this set can be compared to just any number of pencils that are available in the standard drawing pack.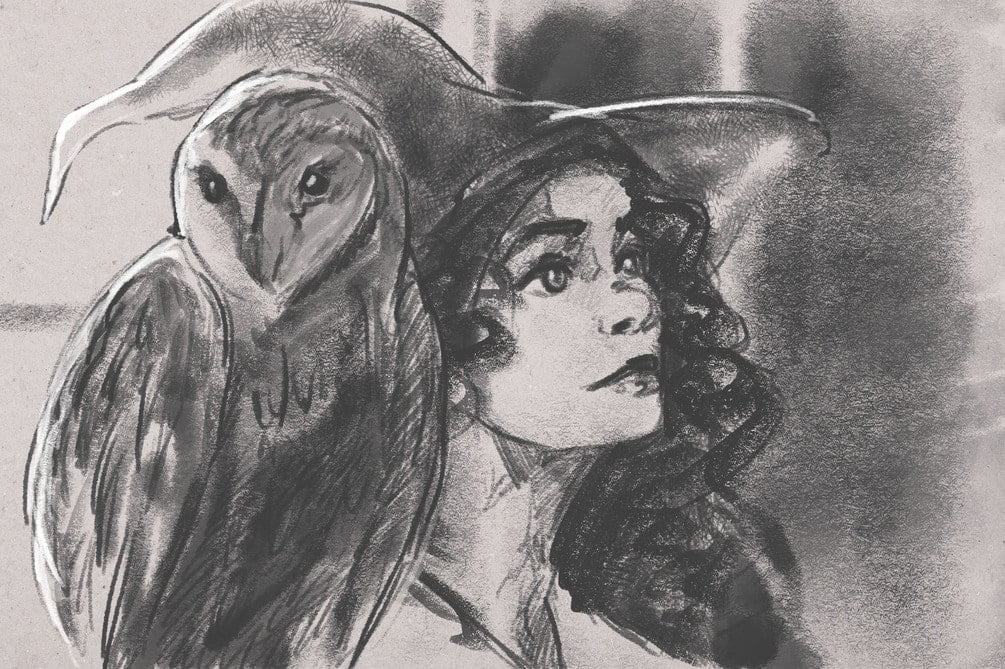 The set also comes with brushes for adding an excess amount of pressure to create deep values and for cross-hatching with the Apple pencil.
These brushes can help you improve your shading skills and to save time.
This megapack of 68 gouache brushes has all that will be required by you to add perfect textures and details in your illustrations.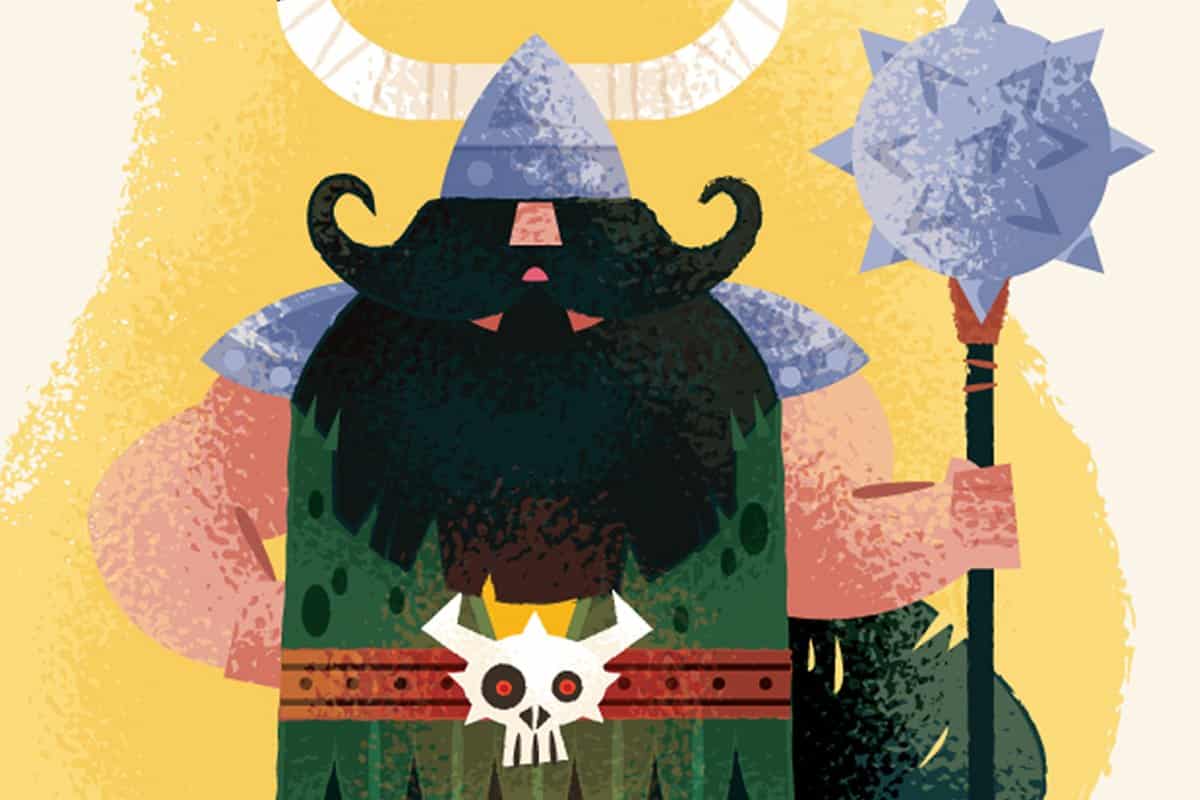 It allows you to select your level of opacity to create the acrylic look, dried gouache, or watercolor-like appearance. You can choose to create an entire illustration with just these brushes, or you can mix them with other mediums.
This natural media brushes come in a set of 15, which gives your work a traditional, artistic appearance that you'll generally find in the acrylic or oil paintings.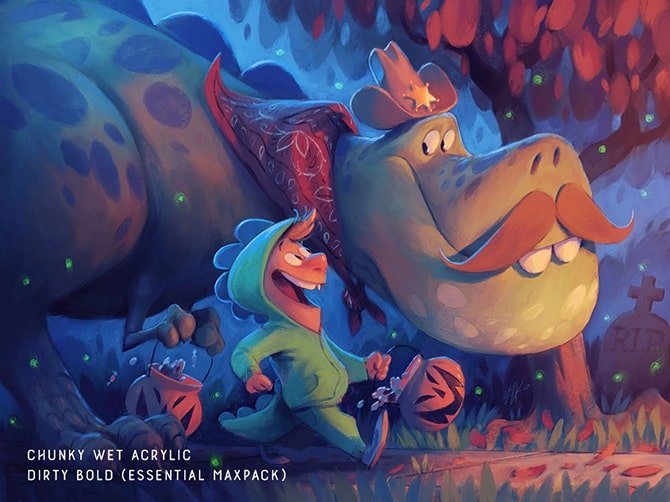 Besides, you'll also get five smudge brushes for lifelike blending and for adding textures. These brushes can be used for creating broad strokes that will give your work full-coverage. You can also add fine details to provide an edge of realism in your work.
This set will be perfect for pastel artists and painters who are switching to Procreate.
This basic set made especially for painting with a gouache-style. It will be perfect if you're new to using the digital gouache style.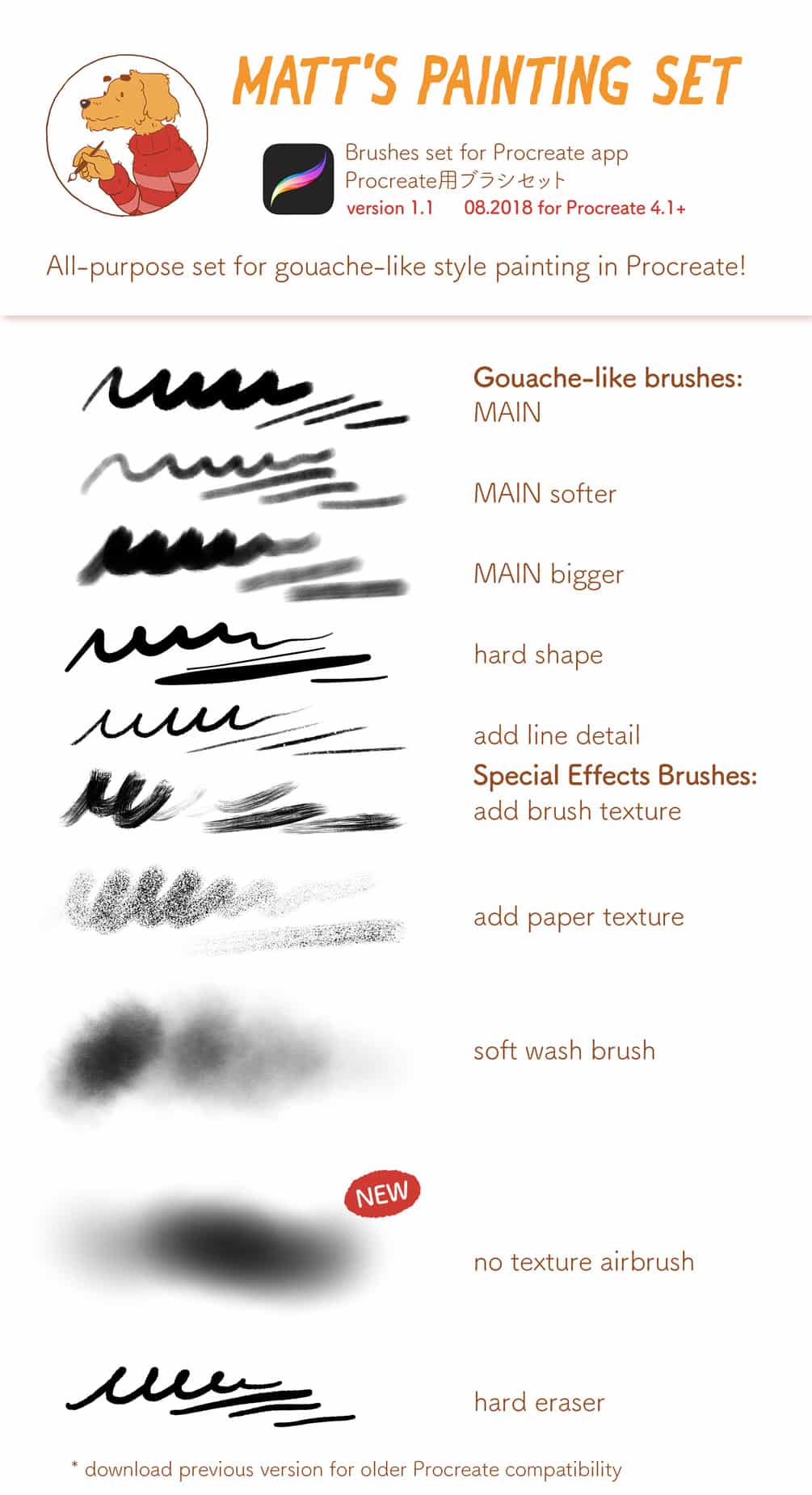 It has ten brushes that will help you try different things like:
To apply color in large areas using different textures.
Use smaller brushes to add details.
Play with your brush strokes by using the fun texture brushes.
The brushes give a unique look of an oil painting, that is completed with a characteristic of chunky blending and canvas texture that you'll usually get with a palette knife or a paintbrush.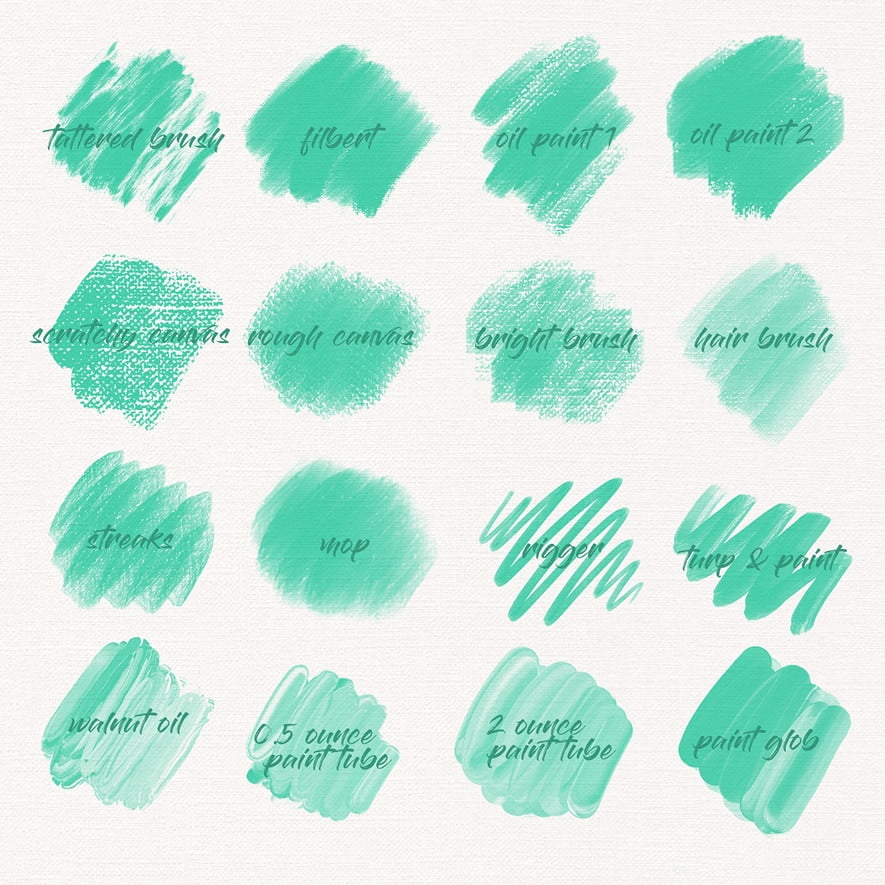 You also have an option to blend smoothly if that's what you prefer. The pack contains different brushes which are similar to the traditional oil painting brushes and the ones used for different canvas textures.
Learning to draw portraits accurately will require a reasonable amount of time, especially when you're shifting from the traditional medium to digital art. But this set of 20 brushes will make your work a lot easier.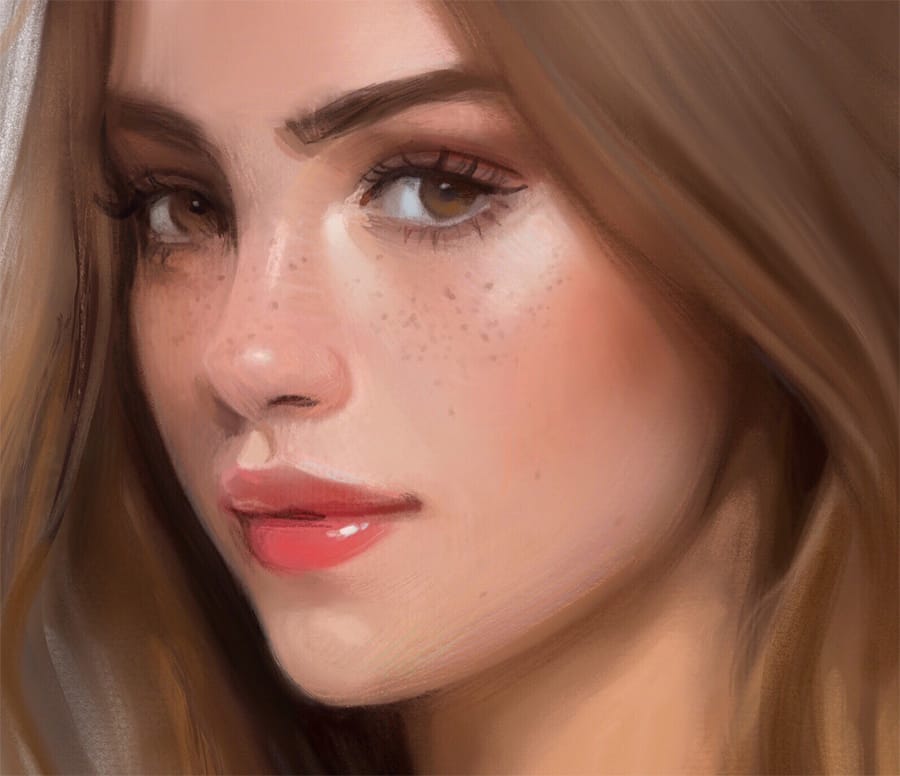 By using these brushes, you can create the textures for the eyelashes, freckles, hair, and skin quite seamlessly. It also includes few custom brushes for blocking and blending of colors in your portraits.
Airbrushing your illustration work will give it a smooth, soft, and a smoky effect. You can try this set of custom style brushes for creating a classical airbrushed look.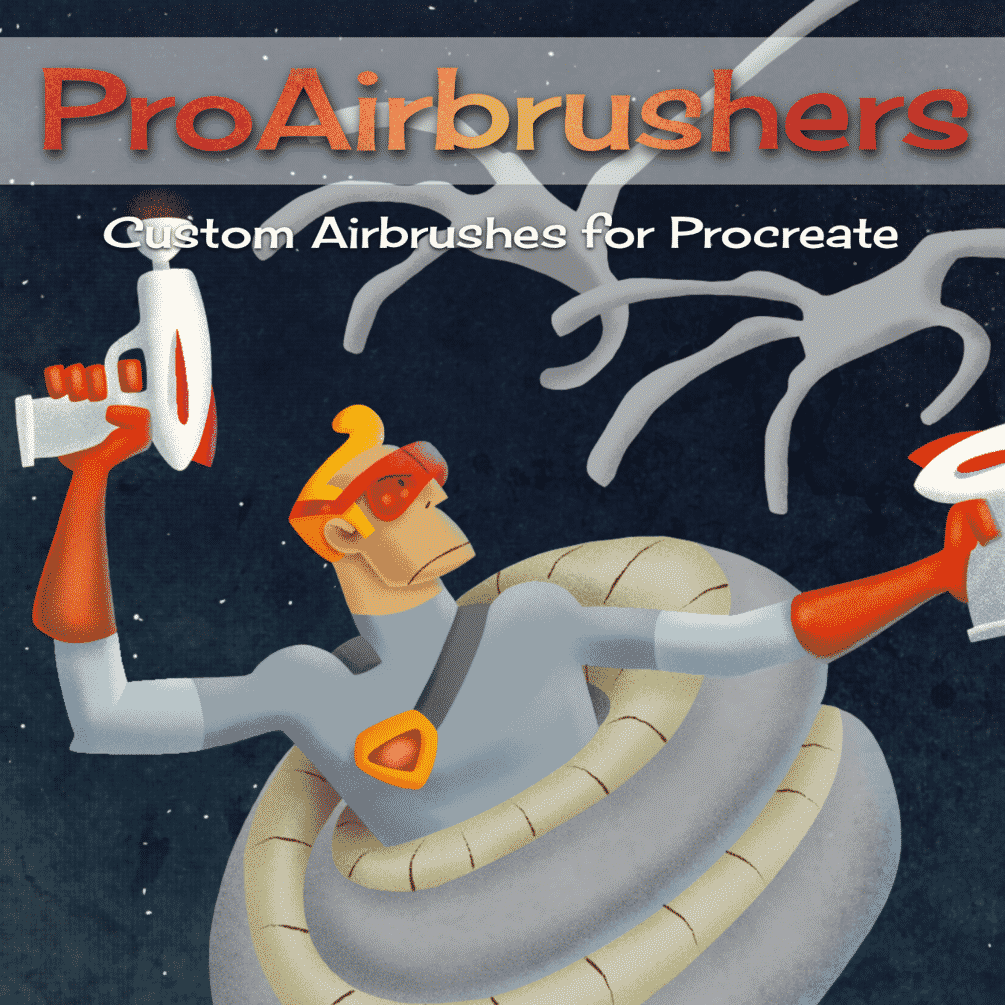 You can use just this set of brushes to create a texture for your drawings, or you can mix it with other brushes.
This massive pack of 130 brushes has been specially designed for inking purposes. Whether you're a novice in illustration or a cartoonist and seasoned illustrator, you'll get all that is required for blocking in and inking of color.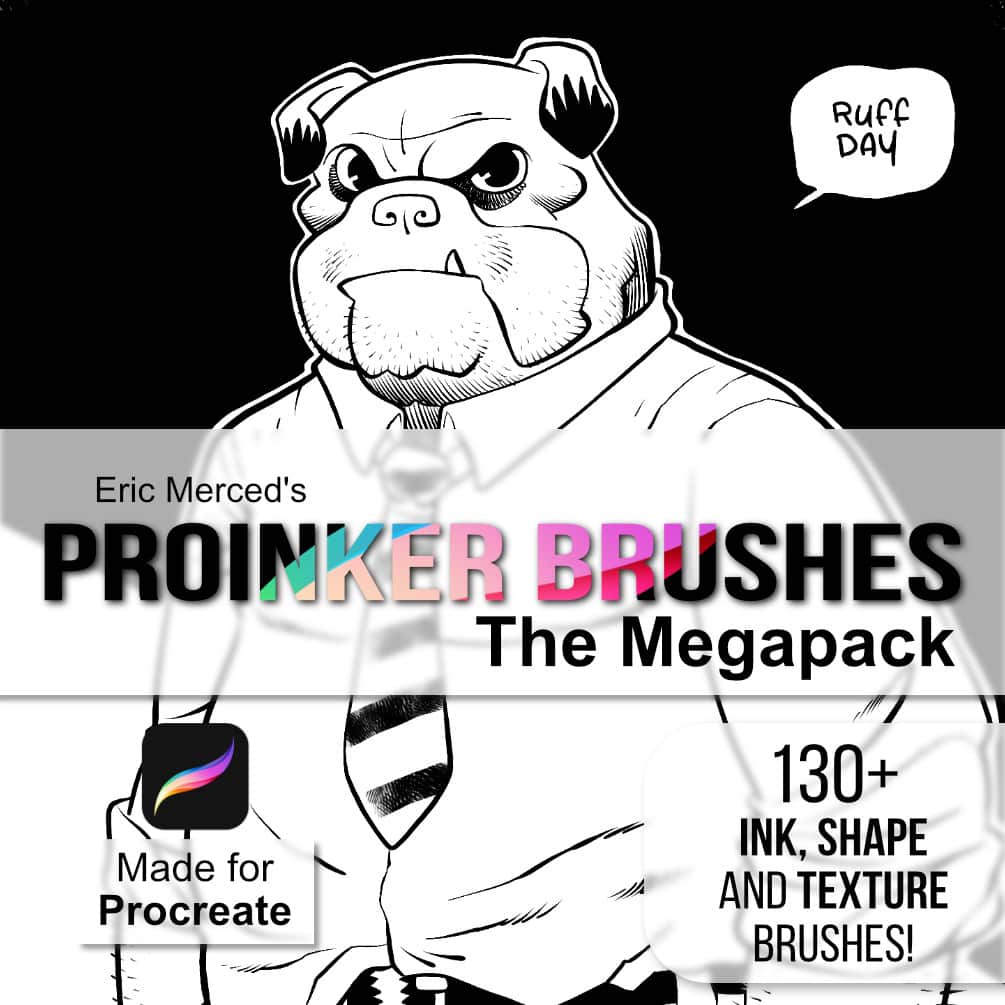 When you get this pack, you can try exploring the brushes one at a time to understand the different line qualities and textures of them. Getting just this pack will be sufficient for your inking requirements.
Out of all the premium packs, this is the most affordable one. It is perfect for charcoal, pastel, or chalk-style drawings. The textures of these brushes are fantastic as they add in a lot of life to your pieces.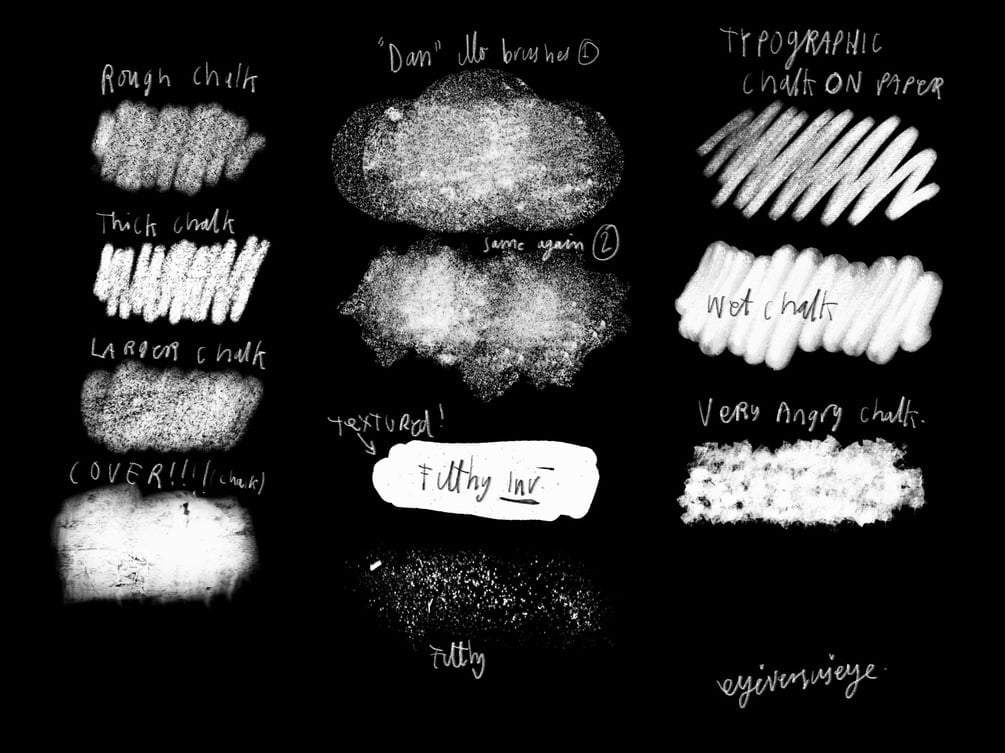 From the set of 15 brushes, you can choose to recreate any texture that you can see in the real-life chalk pastels.
If you like using pens with fine-tipped ink, then you'll enjoy the fine liner brush, which emulates the design of the 0.6 technical pens.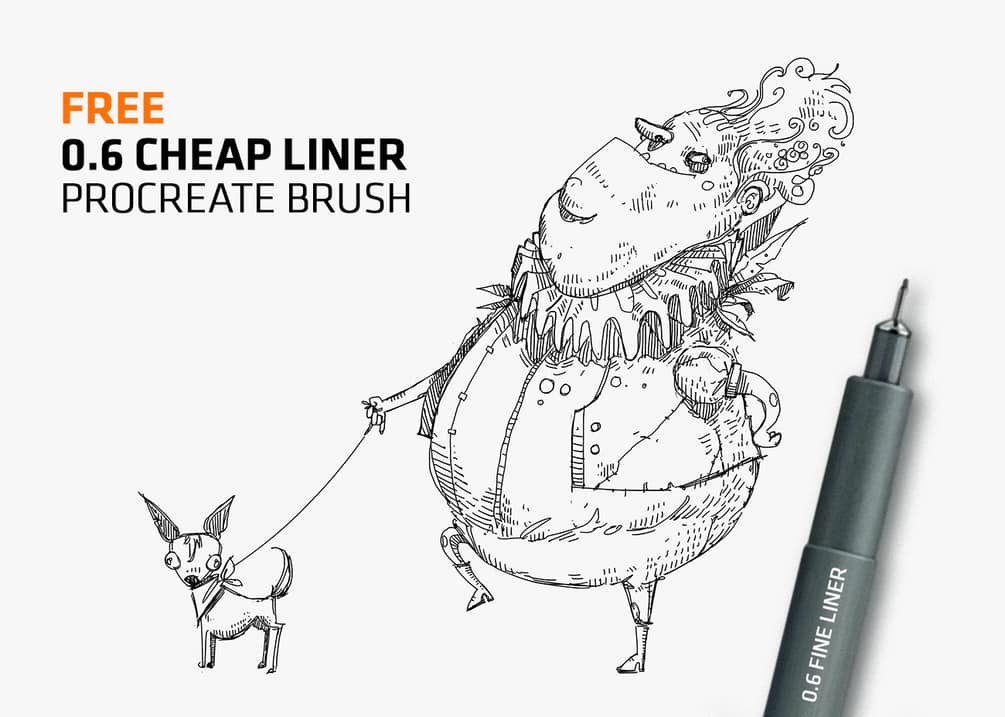 If you're creating a piece of 300dpi or more substantial, then this detail brush will be perfect as it works best with documents of a high-resolution.
If you're a fan of the Manga, then you'll love this pack, as it will help you create the dynamic-looking pages of Manga right from scratch.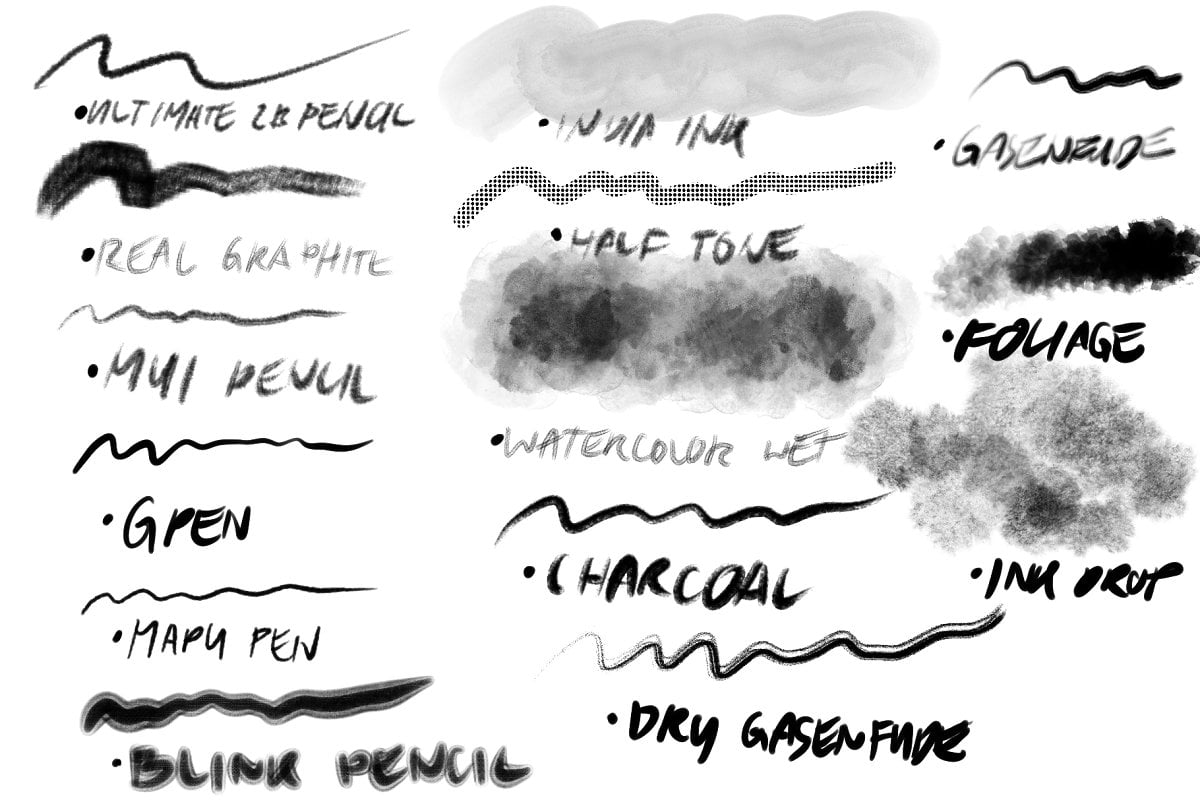 All of the brushes in this pack have been tailor-made for coloring, texturing, drawing and inking traditional Manga. You'll be getting brushes which mimic watercolor, graphite, and charcoal perfectly along with brushes that give a unique texture for foliage.
If you're a painter looking to get the same texture, layering effects and brush strokes in Procreate, then this pack will be perfect for you. Just like oil paint, these 25 brushes also help you push and mix different colors on your canvas.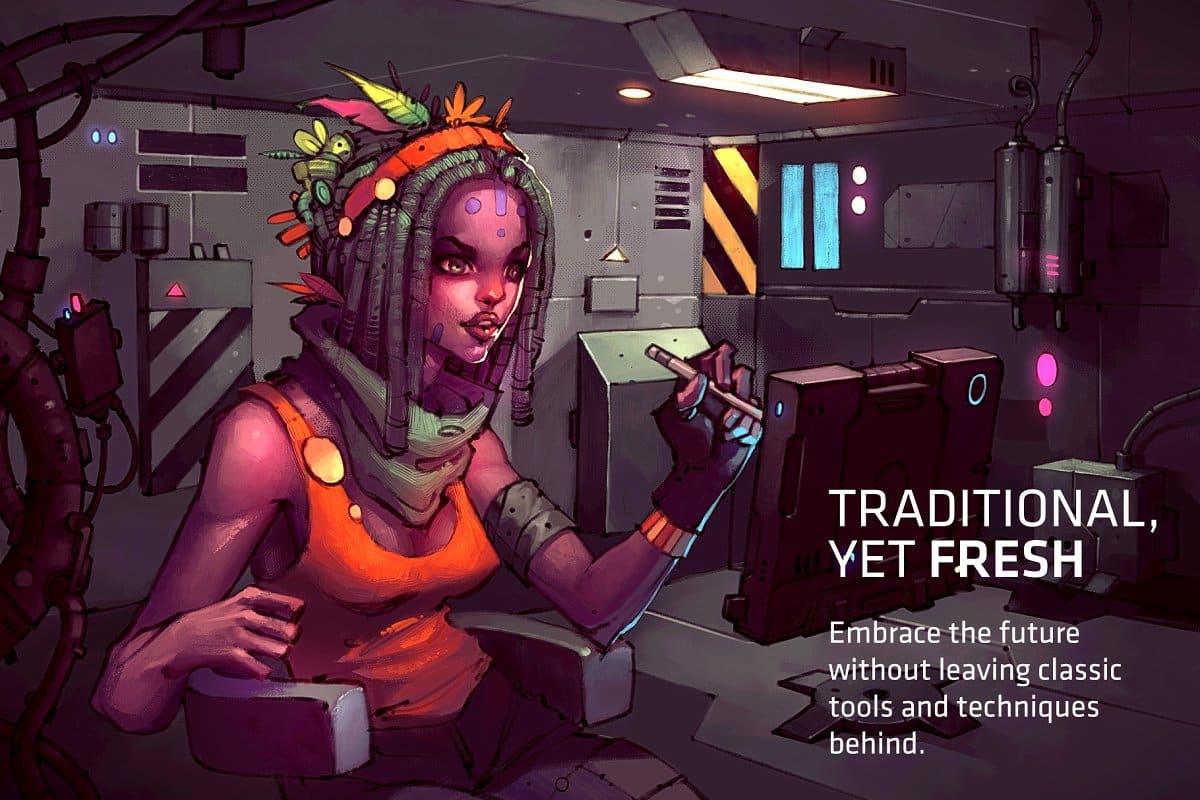 You can choose to use dry brushes for a  dusty and lighter texture, or chunky strokes with brushes loaded with paint. This pack can be used for your complete painting, and it also comes with a pastel painting brush for creating the base sketches. By using this pack in your artwork, it gives your piece the appearance of traditional mediums.
This pack of 52 brushes will help you add any texture that you want in your work with a spark of life adds an extra dimension. The different textures available can be used for fur, wood, smoke, particles, denim, stone, cross-hatching, various dry brushes, and other surfaces which you can use in different manners.

It will be a perfect package if you want to add just texture without having to draw everything with hand or for giving a touch of roughness to your piece.
The 50 pieces of markers in this pack will make you feel like you're working with the natural material. There are different textures and marker 'tips' like a classic fine tip, chisel, or the brush pen that you can experiment within this pack.
You can select the brushes that give perfect color coverage or the drier and inky markers, which are best for texture. There is a tutorial which comes with this pack along with a user guide of 17 pages on Procreate; highlights the benefits for you to get this brush pack!
These 15 brushes have been made with a unique design for illustration work. It captures the mid-century aesthetics of American illustration.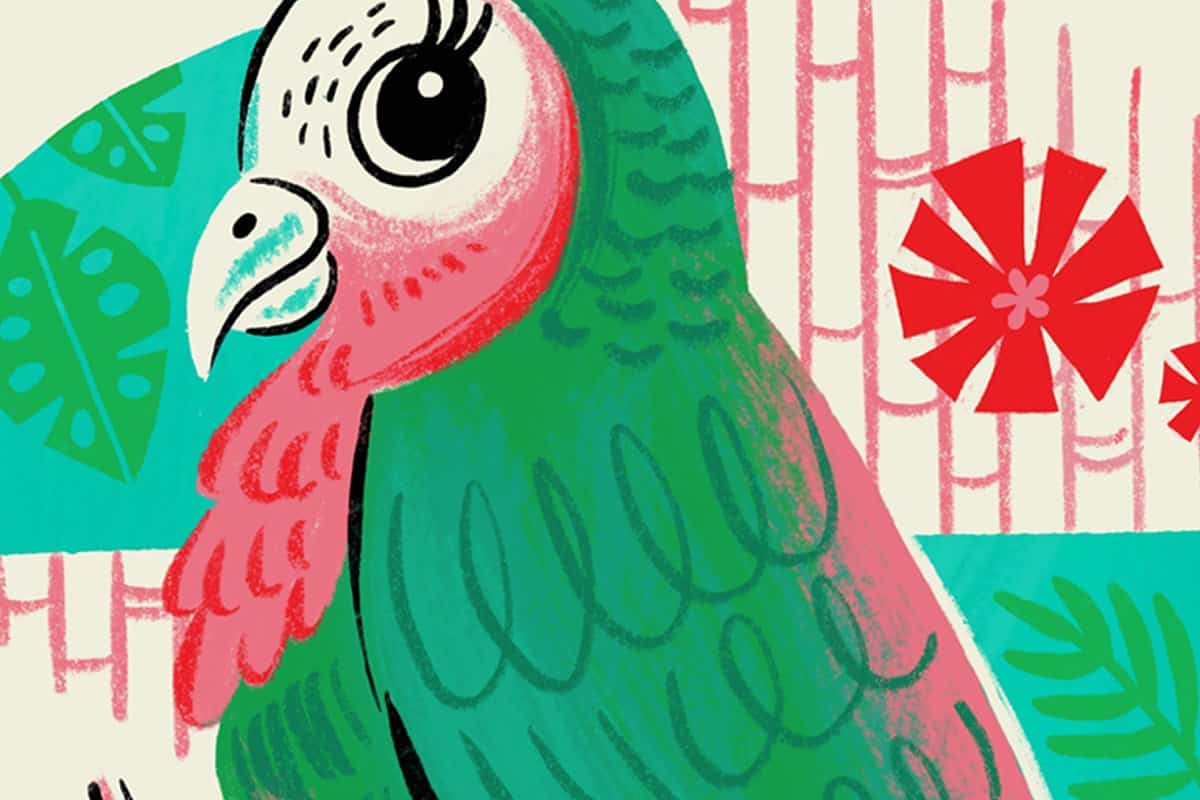 The brushes can be used to give your work a retro and vintage finish. They are perfect for comics, logos, ads, children's book illustration, while the possibilities have no limit. The entire appearance of your art can change by using just a few of these brushes. So, do give it a try!
Are you a fan of the alcohol art markers?
If you love the radiance and opacity of the alcohol markers, then we're sure you'll love this set of 28 markers for your digital work.
To help you get the authentic marker to look as it comes with a free tutorial. As you follow the tutorial and practice along, you'll get better in using them for cartooning, illustrations, and whatever you want to create.
Using markers might not always give you a smooth finish, but this set allows you to try out different levels of coverage and texture, which is an added benefit.
These markers give your work a very realistic outlook, which makes it challenging to understand whether it's made from Copic markers or not.
Do you want to recreate the look of any vintage superhero?
Then you should give this set of 15 brushes a try! This pack comes with many brushes that have different dot pattern usually found in the old comic books and a pair of inking brushes.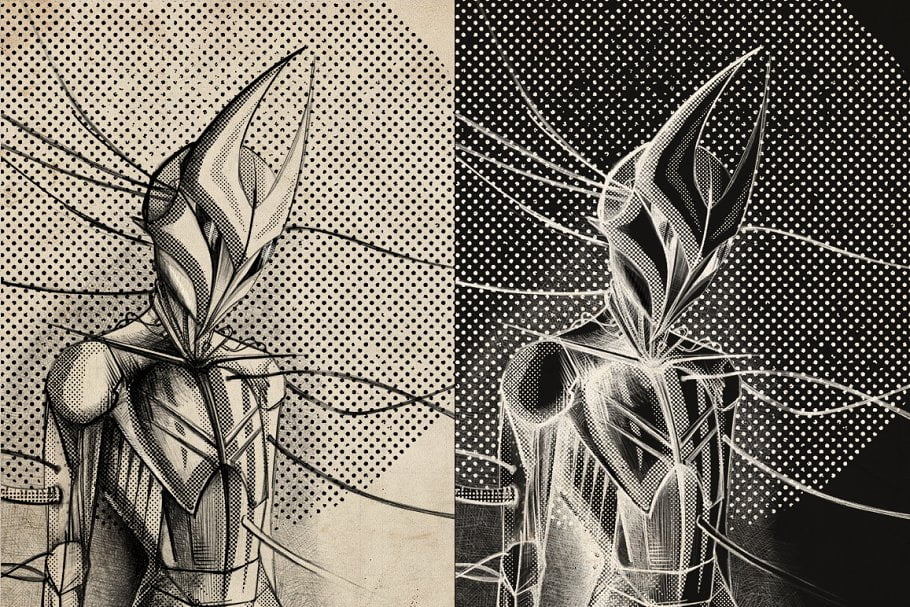 You can play with the bright colors if you want a punchy and classic appearance of a comic strip, or for a dark look, you can choose the black, white and grey tones. You can create an entire piece of work by just using these colors or, if you want different styles, then try mixing them with other brushes.
This is an unusual set; it comes with ten stamp brushes and six roller brushes. If you want to give your piece a crisp monotype appearance, or grungy texture than getting this is a good option for you.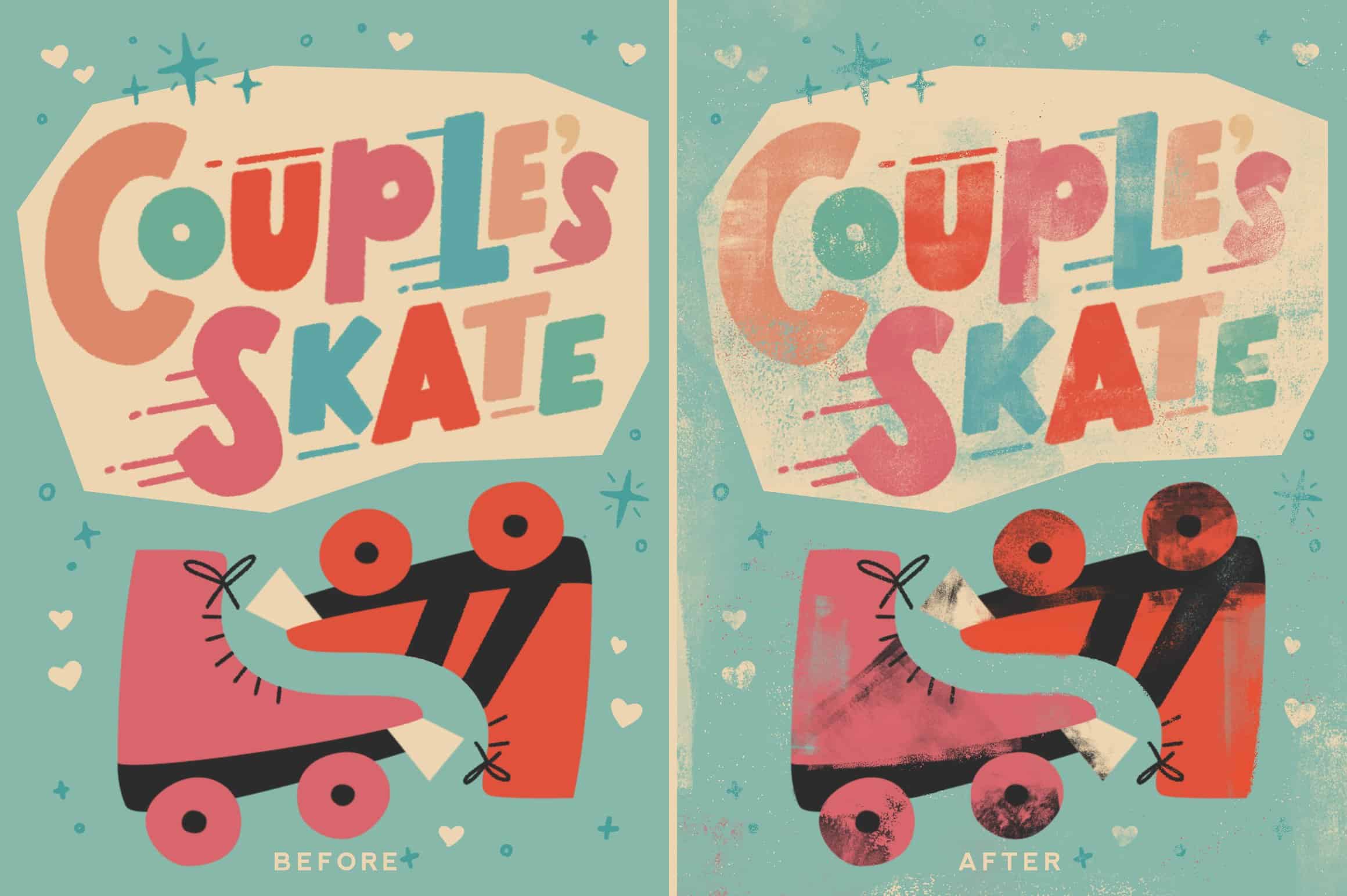 Once you learn how to use them, you will be able to understand the range of variety available in these brushes. There are few roller brushes which apply more ink, while some apply less, depending on the look you want to create.
Using the stamp brushes make the work appear like it has been made by applying ink with a monotyping technique, block, or sponge.
When you use a fine-tipped pen, and you opt for a dense texture, then cross-hatching by hand can consume a lot of your time.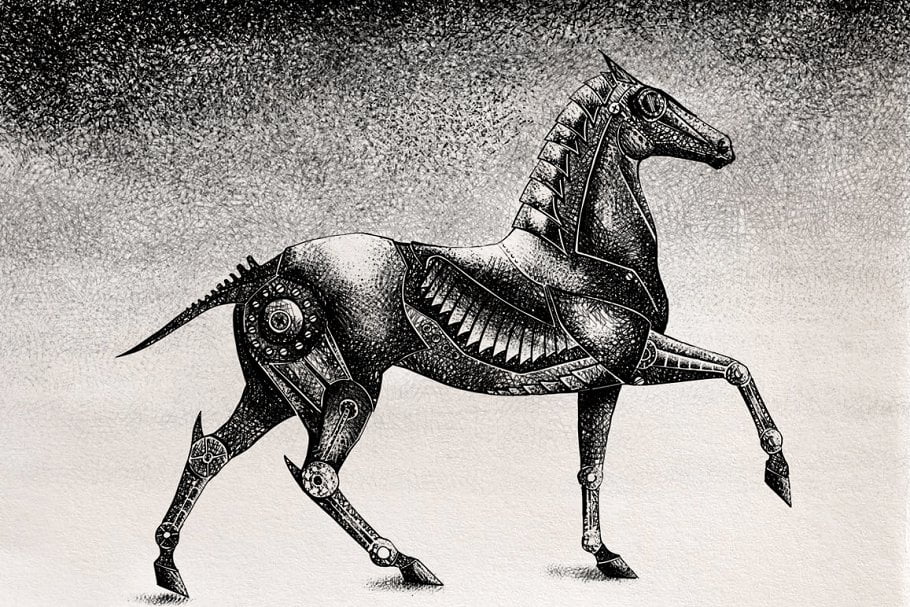 By using these 15 brushes, you can make cross-hatching appear pretty straightforward. These brushes will help you to create scratchy shadows using different line qualities, textures, and styles for cross-hatching in your drawings.
If you want to make drawings using a mixed media style within a few seconds, then you'll enjoy using this set of brushes.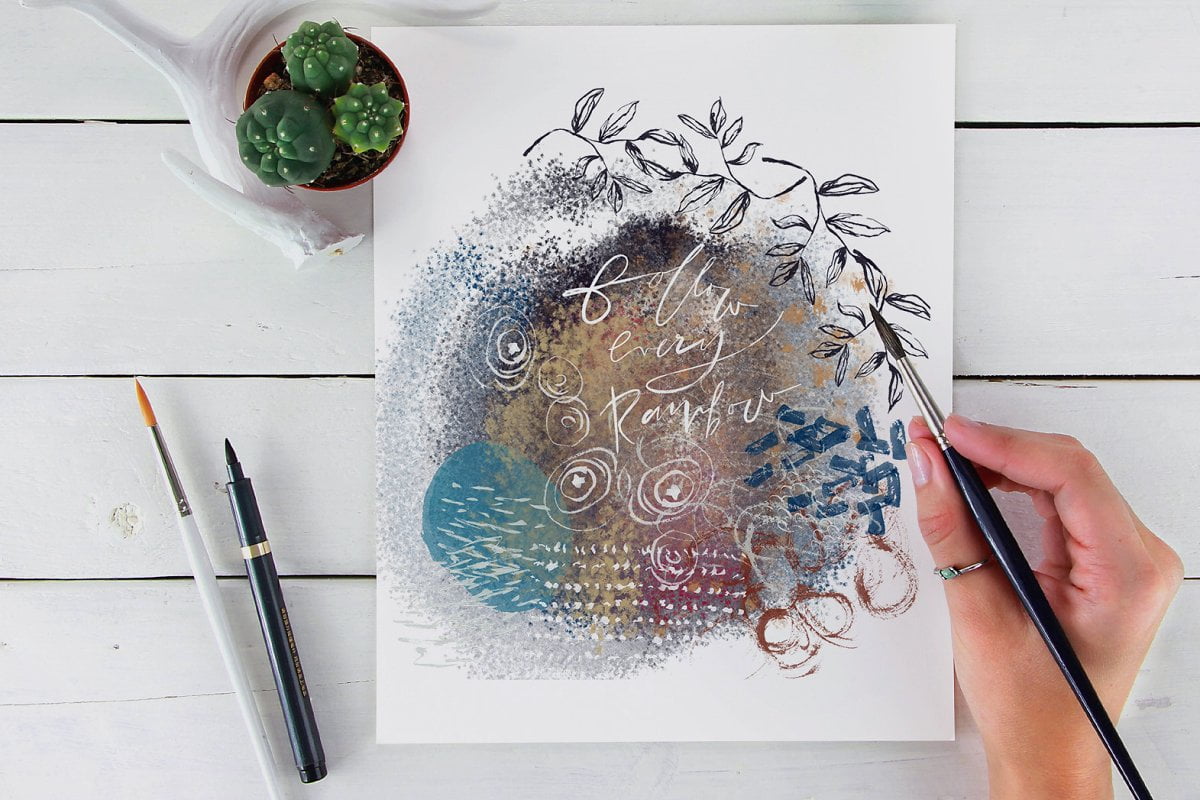 This massive kit has 150 brushes, out of which 137 of them are stamp brushes. It will help you to quickly add whatever you want like different branches, paint splatters, branches, dashes, dots, swirls, scribbles, leaves, cross-hatching, and several others.
This pack has been designed for comic book drawings, so it comes with a unique brush setting. Even though procreate has several great brushes, but it can get difficult to figure the right settings for your work.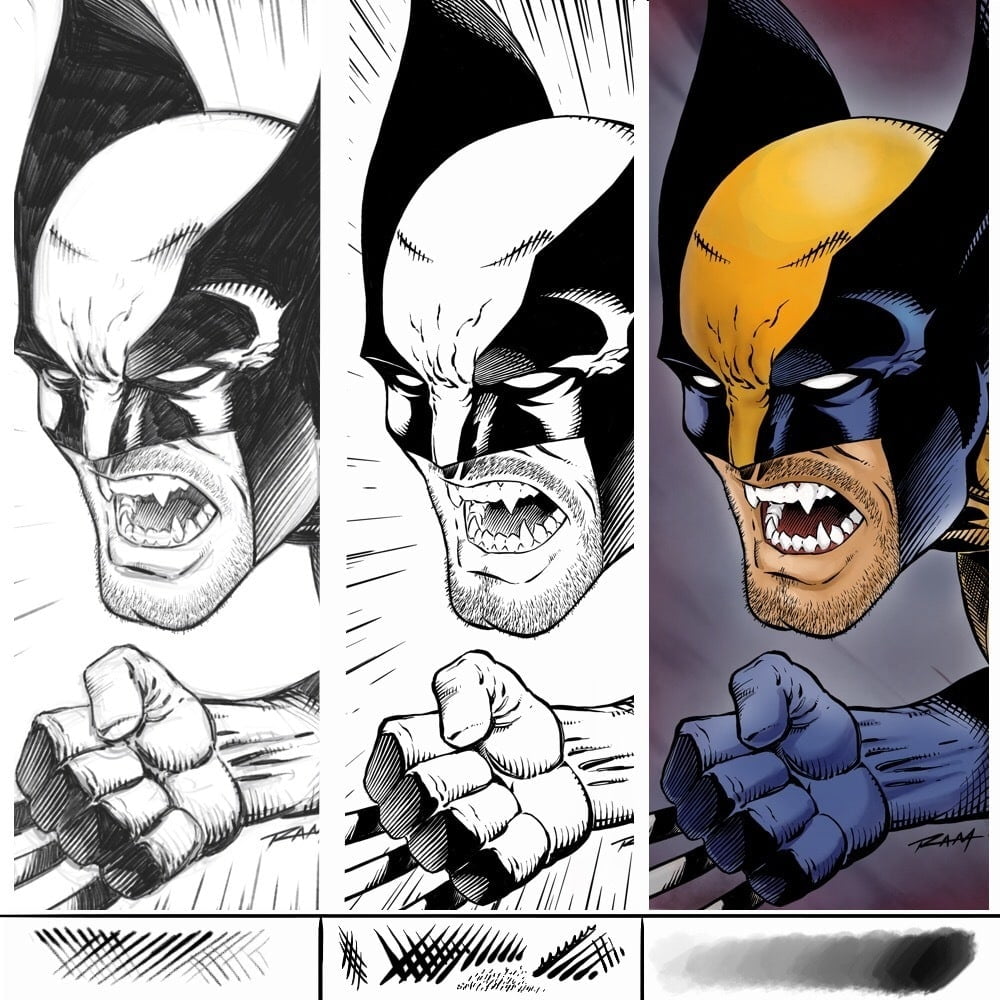 If you like drawing cartoons or comics, you should get this artist's set up to help you seamlessly draw, ink and color. This will be a high starting point to work classically, while you can change the settings later in Procreate.
This digital pack emulates the traditional drawing set, and it includes brushes for graphic pencils and traditional charcoal in Procreate.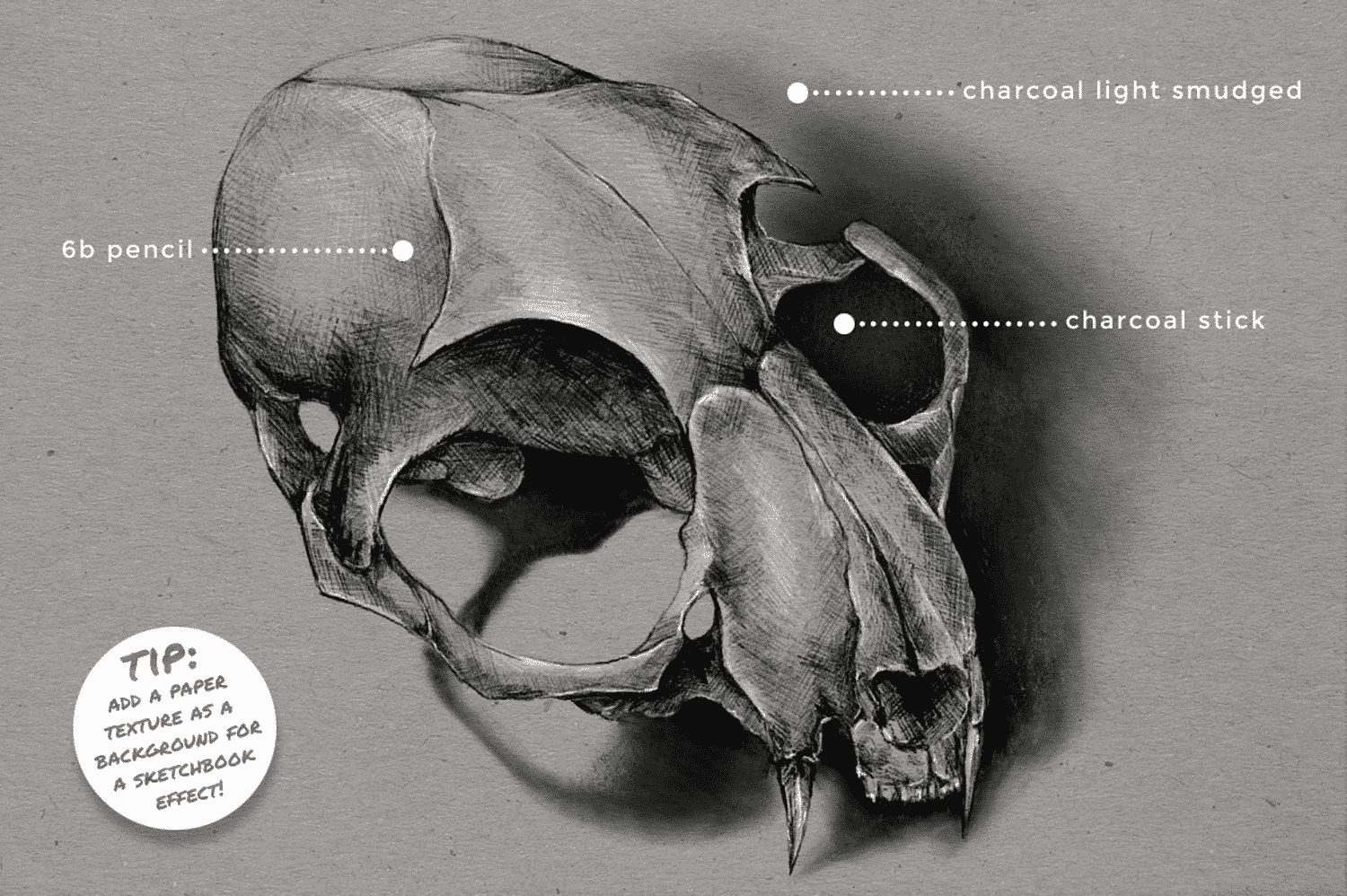 Using these brushes will help you avoid smudging, while you get the look of different types of charcoal and pencils for a realistic appearance. These brushes will be perfect if you want to create traditional-style charcoal and graphite drawings or to add some real deep shades to your work.
Getting this pack will help you to master different qualities and textures of charcoal, which might be tedious while using traditional charcoal.
Learning to draw hair can be time-consuming and difficult; even the artist who has mastered the art will tell you the same. But using these brushes can help you save time and make the process more straightforward.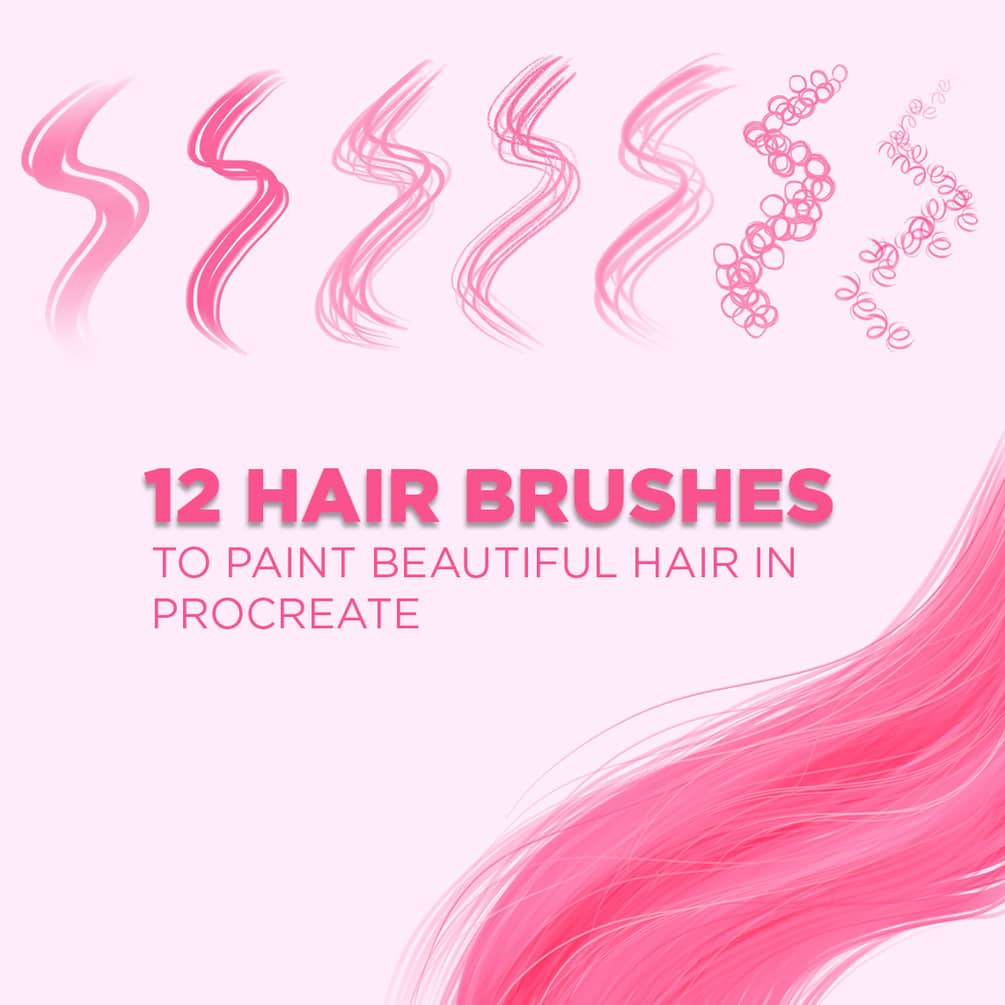 This pack gives you the option to draw different types of hairstyles, while there are also brushes to help you add highlights or tendrils and make the drawing appear real. If you want curls, then there are brushes to for that too! Getting this pack will fulfill your needs for hair rendering as you draw an animal, a wig, or a human.
This pack of 16 brushes will help you to make your portraits and to capture the different skin tones.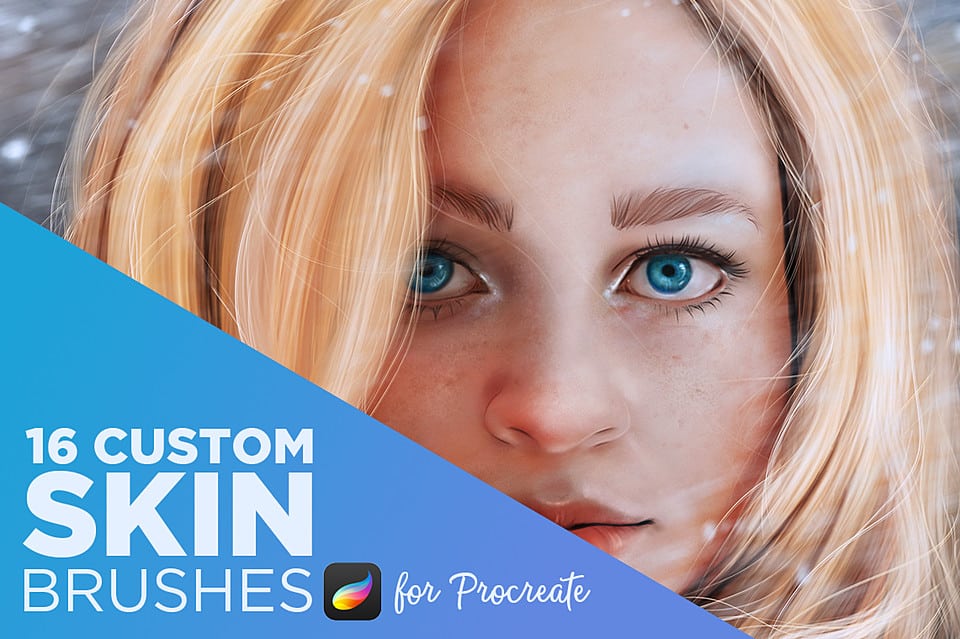 For creating a smooth-looking skin, you can use the high-quality brushes while for setting up a portrait opt for the essential brush. The pack also includes some special brushes to help you render the eyes and hair quickly.
Mastering the art of making portraits can get a little tricky, and making the eyes can get a bit difficult.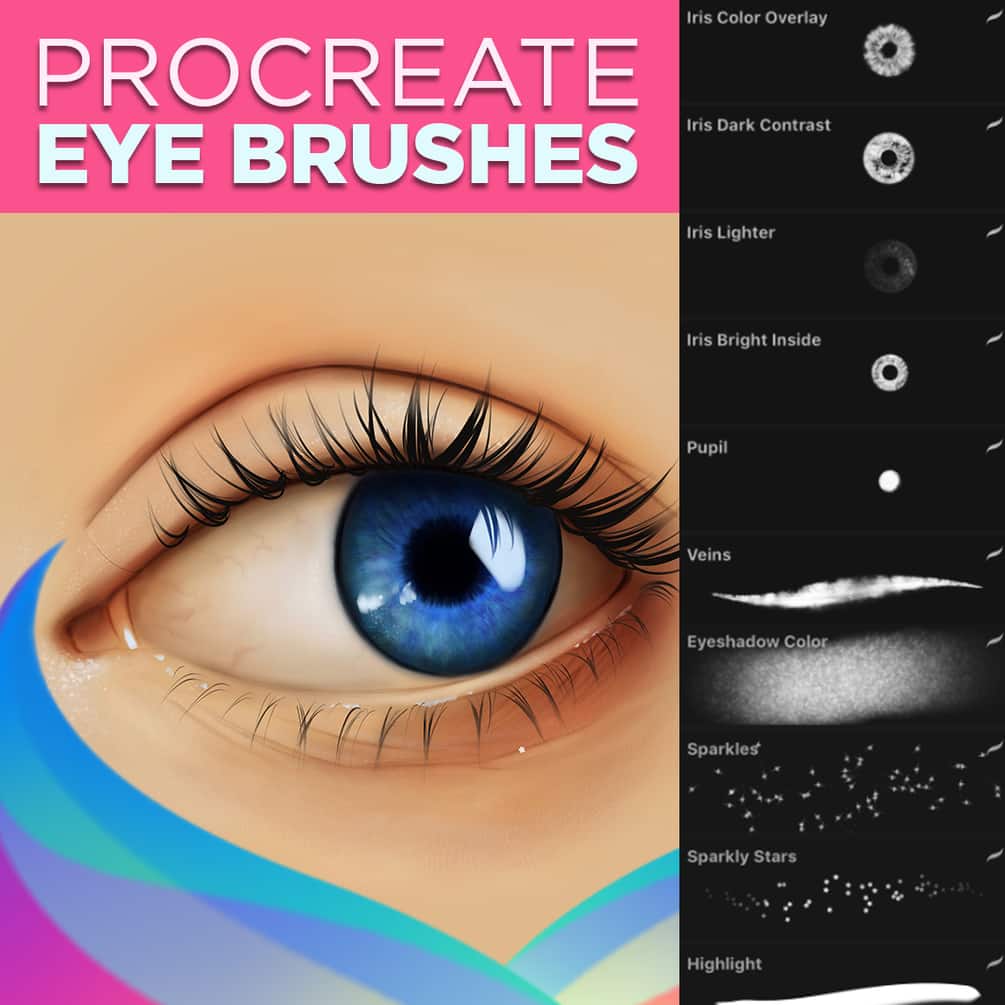 Getting this pack will help you to render the eyes more easily and quickly. The different innovative stamp brushes will help you layer the iris within a few seconds. Eventually, you can explore the other brushes to add a spark of life to the eye by adding veins and eyeshadow.
Learning to draw fur can be as tricky as drawing hair, but having good brushes will simplify the process. If you're into drawing furry fantasy creatures or animals, then you should give this pack a try.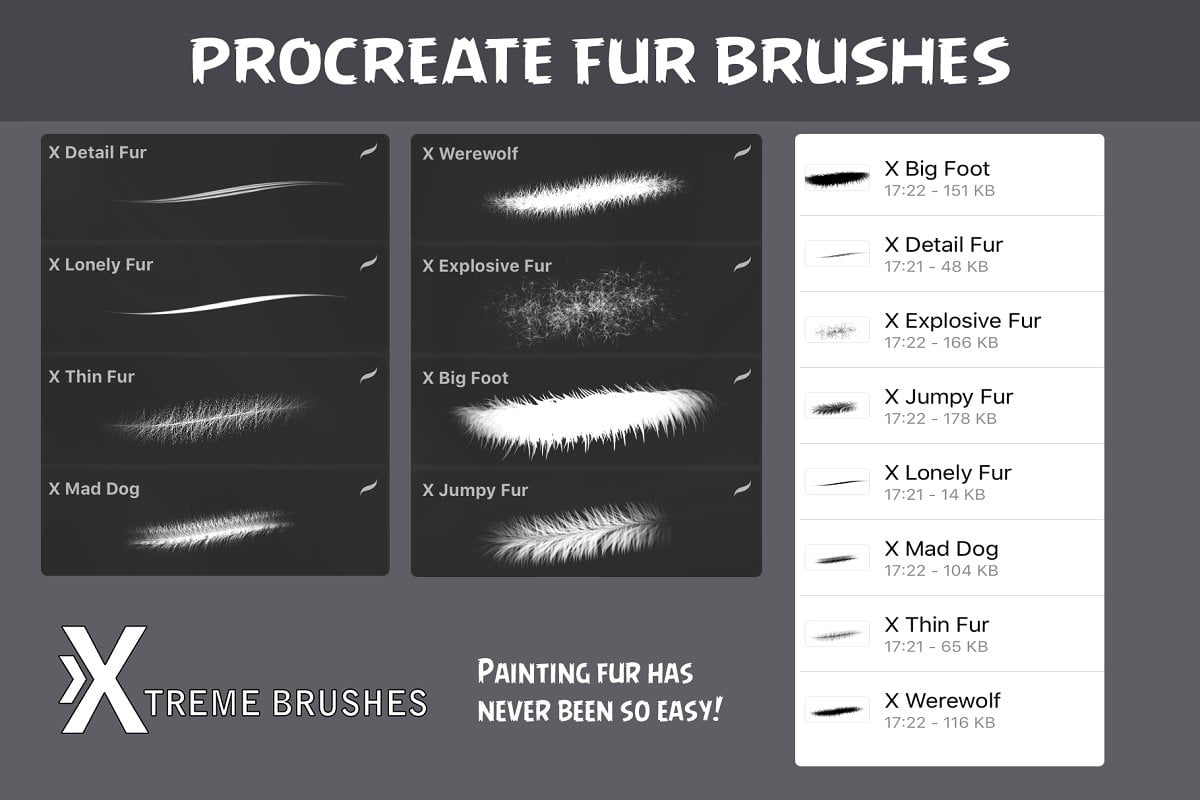 This pack of 8 brushes is a stunning combination for drawing fur with a mix of lifelike fur and cartoony fur. It comes along with options for choosing a brush to create coarse fur, porous fur, thick fur, matted fur, messy fur, and brushes which help you add strands of hair to make the coat appear polished.
This set of unique brushes focus on creating pixelated drawings with the right geometry. The 20 brushes in this pack pair up with the shape tool in Procreate to help you draw perfect pixelated squares, triangles, and circles.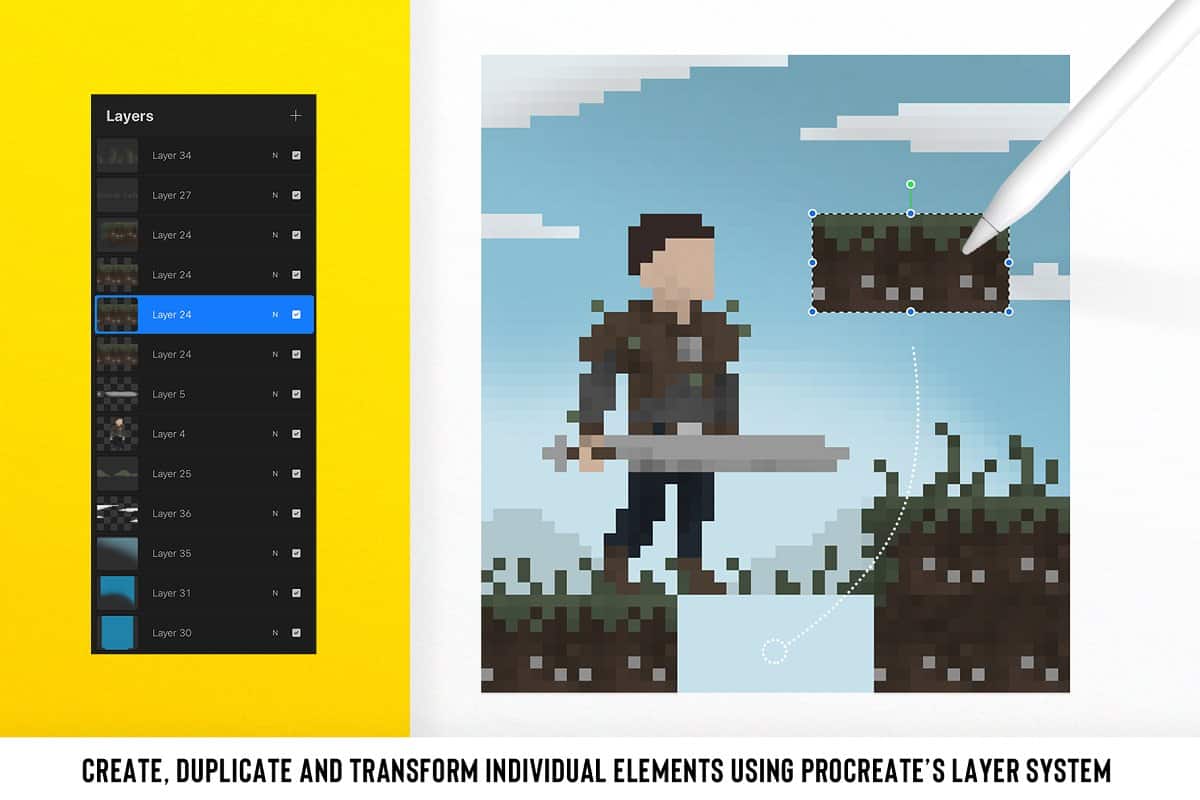 The set also has pixel brushes with variation in opacity level, shading and blending brushes, and brushes for dirt, bricks, dots, and more. Overall, this helps you add a slight texture to your pixelated drawings.
This single piece of light effect brush helps you to add an instant glow to your artwork. The possibilities of the way this brush can be used are endless, even though it might appear dull.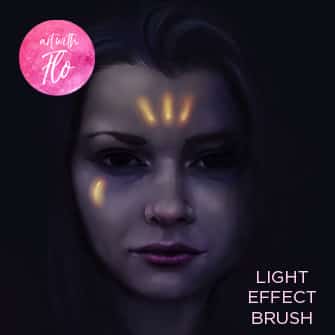 This brush will help you add a bioluminescence effect to different environments and fantasy characters, and it also creates dramatic lighting in your work.
Price: Free
This is a small marker set with just three brushes which comes in three variants. They have different 'tips' such as translucent flat tip, opaque flat tip, and the round tip for creating layers that give the marker effect. It also helps you to create different types of line quality.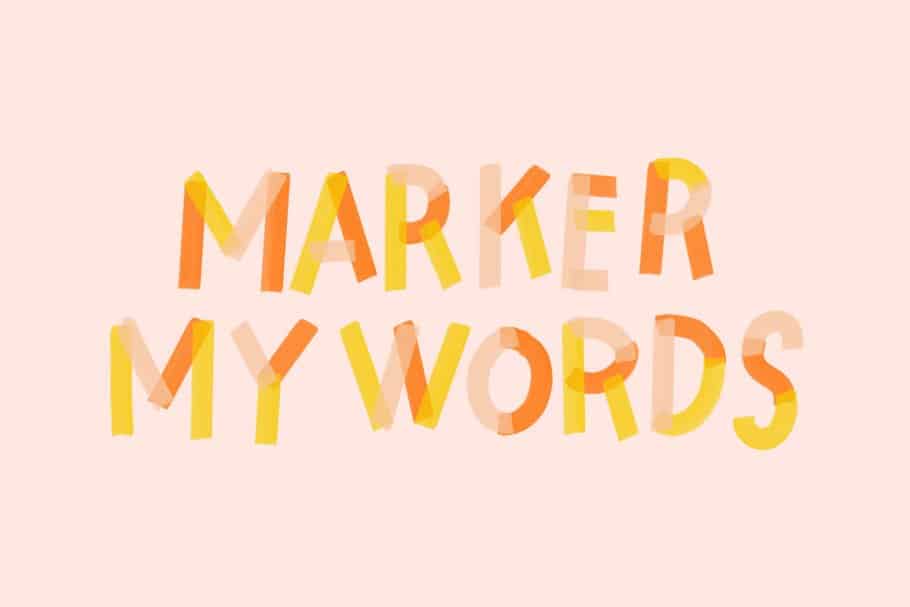 As you get comfortable using this set, you can then get the larger packs of marker brushes, and mix them to create some fantastic pieces of art.
Just like the Prismacolors, which are high-quality color pencils, this set of 11 brushes also provides you with different textures similar to the traditional medium.
Try these versatile brushes in your Procreate art to add some new and colorful lines.
This set of 3 brushes can blend with literally anything, and it appears just like a line made with a marker on a toothy page.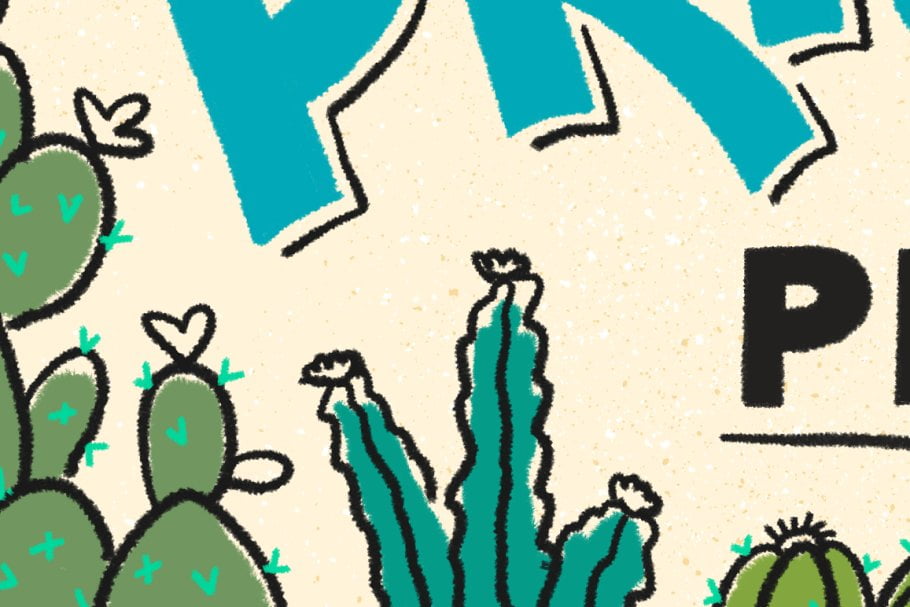 It comes in three different styles, such as:
Prickly
Pricklier
Prickliest
You can select the type you want depending on the texture that you're creating for your illustrations.
If you're a fan of the Tombow brush, then you'll enjoy using this set. These brushes were created to work and look just like the Tombow brush pen. It is perfect for doodling and lettering, as they feel very flowy and smooth while it is being used.
When you have this set in your toolbox, then your linework and doodling will turn out to be great.
If you're looking to create a piece of art with some fun messiness, then get this pack of 20 brushes which will help you get paint splatter marks with a realistic appearance.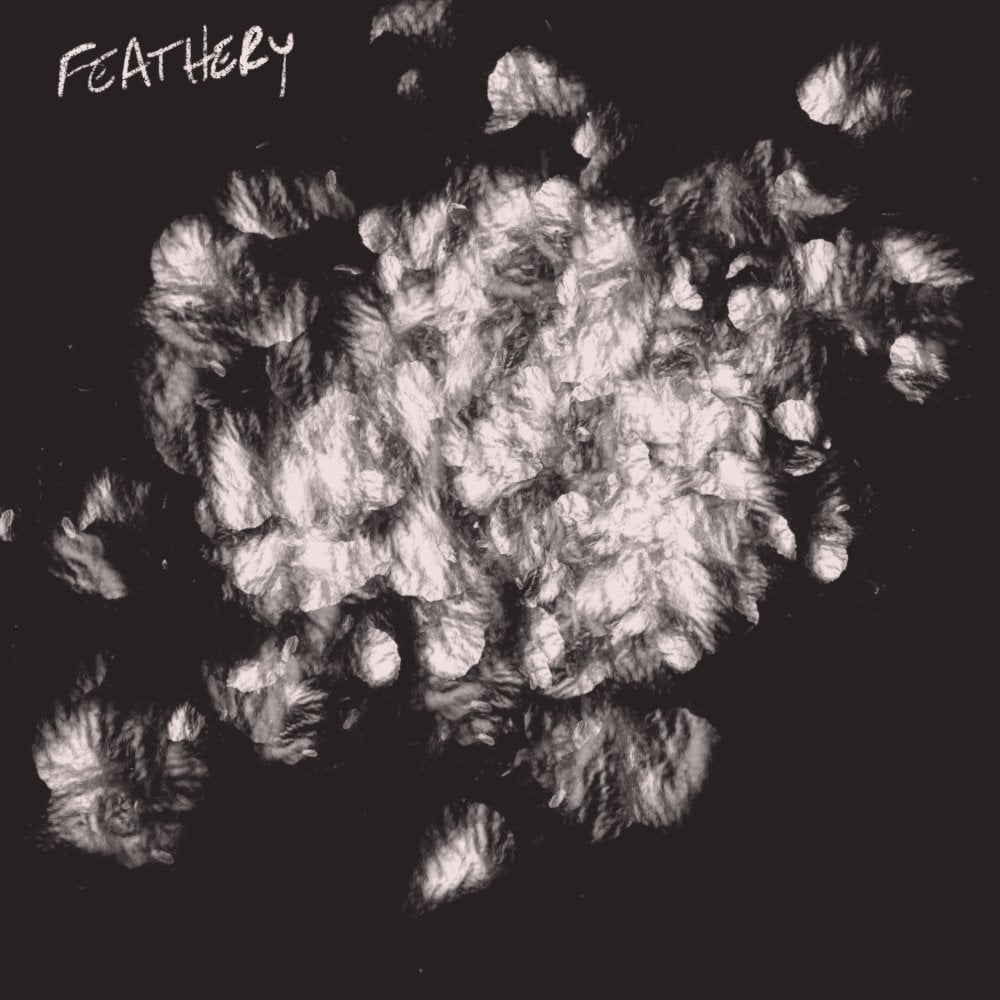 These brushes come in a variety of splatter densities, opacity and sizes. Few of them tend to look like a spray bottle has been used to apply watered-down paint, while some of them are compressed and opaque speckles.
Some of the brushes help to create a look as though you have applied paint using a dry brush and some appear like huge, loose droplets.
Use these brushes to create a sense of movement in your illustrations.
This set of 17 ink brushes will help you create some fun textures with different levels of splatter. You can draw backgrounds by using a few of the ink wash brushes and create fine lines with the pair of ink drawing brushes.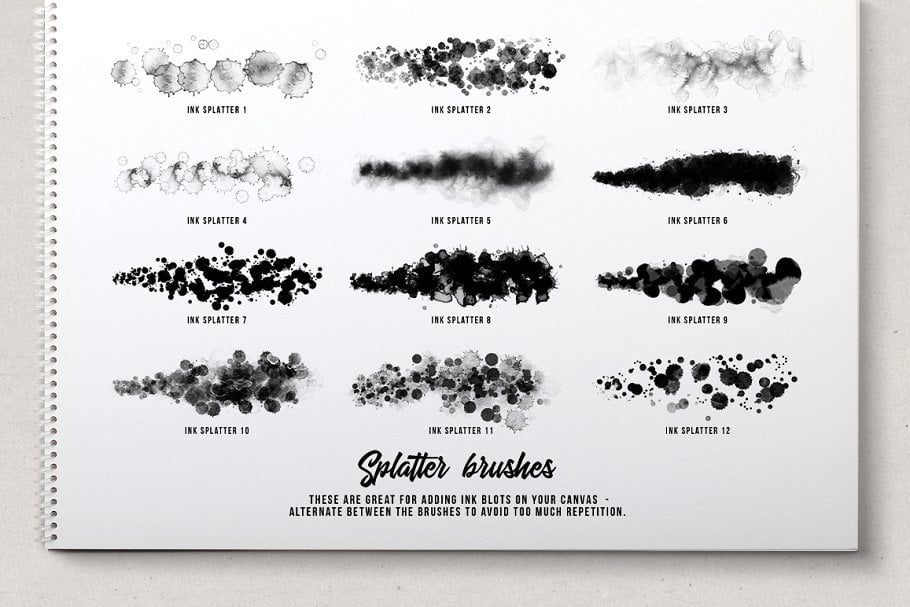 These brushes help you to make perfect ink artwork as you can also use them to add a messy or a drippy quality to your illustrations, drawings, and paintings.
It is a set of 11 tailor-made pastel, pencil, marker, and ink brushes. It will help you create some fantastic calligraphy or other artworks that you want to make; stylistic scrawling or print lettering for logos, comics and anything else which you can make digitally.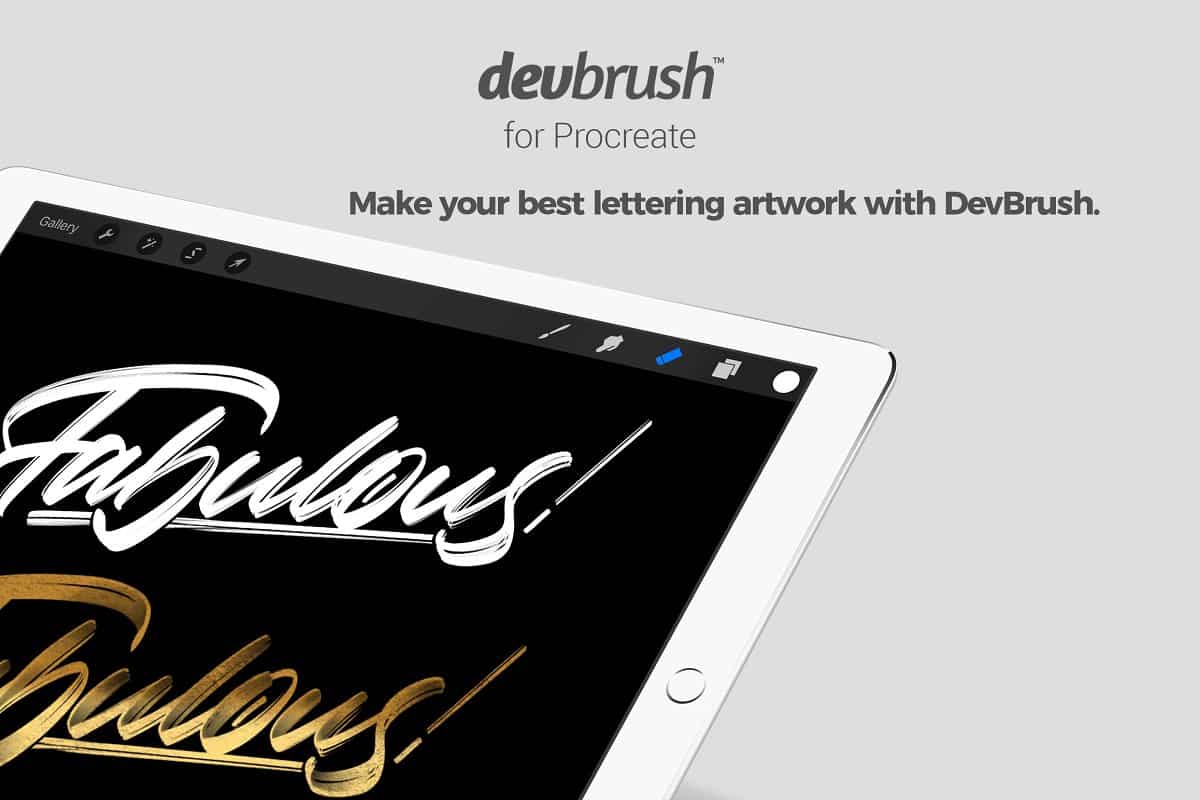 The brushes are sensitive to tilt, and they are super flowy so that you can manipulate the lines quickly. It can also be used for sketching, doodling, or drawing.
If you're new to using Procreate, then this might not be the most feasible option for you as the price is slightly on the heavier side.
By using this brush pack, you can get any paint texture or brush stroke. This pack has several brushes for smudging, dry brushing paint, for applying solid colors and for literally everything that you will require to work as a master in Procreate.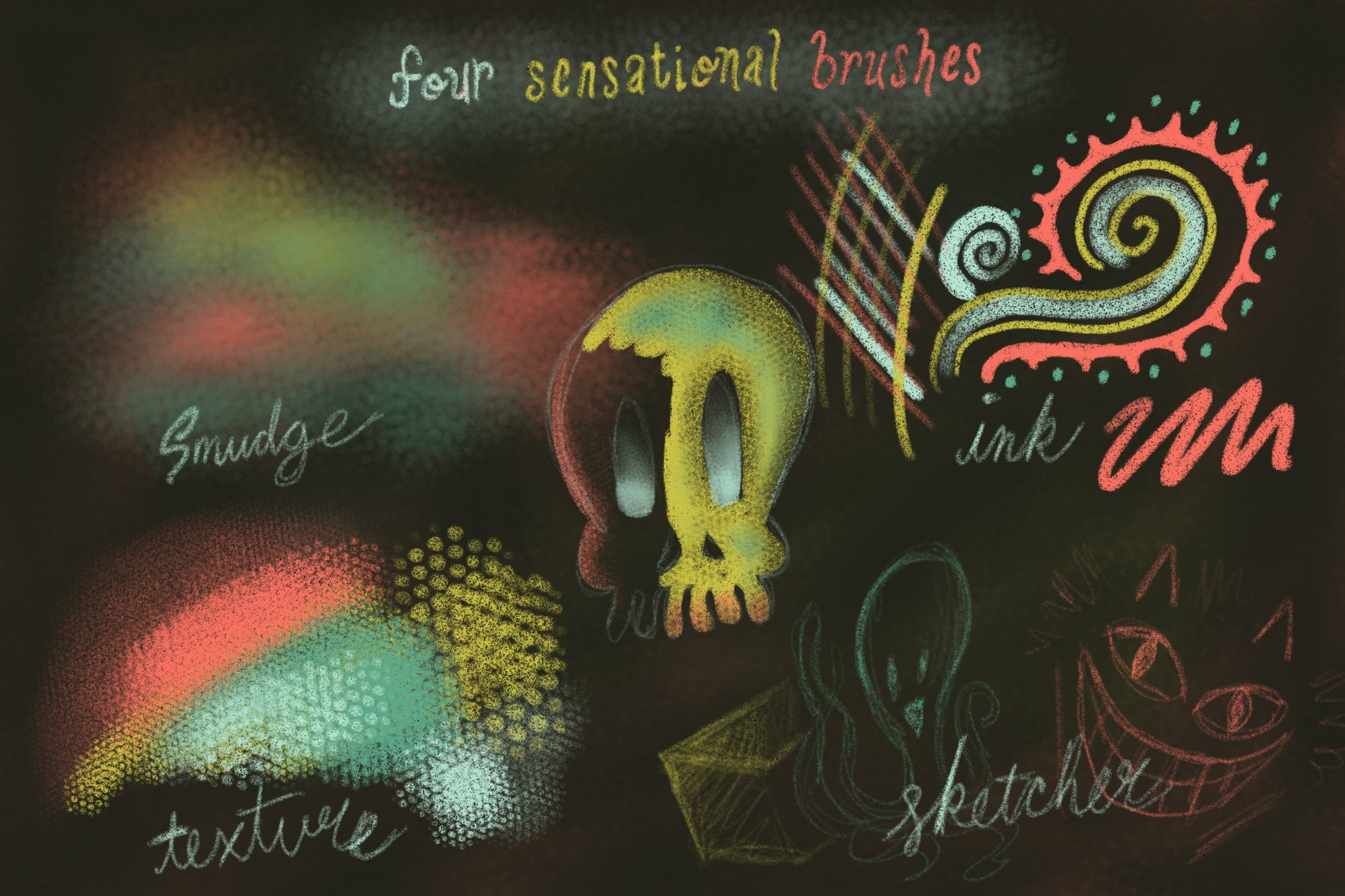 You can also use them in your illustration to create a fuzzy and soft look.
This set of 18 brushes are tilt and pressure-sensitive, so you can use them as a real brush to help you get the same design just like the ones in real life.
The brushes come in different shapes and are generally used for oil painting. You can also have a variety of textures by selecting smooth, dry, or wet paints.
When you use these brushes, the canvas also tends to shine to look at a realistic painting. It is an excellent option for digital painters shifting from an oil background.
Price: $9
Blending and smudging comprise of a large part of creating beautiful artwork, irrespective of whether you're using traditional mediums or Procreate.
This comes in a set of 18 brushes which is perfect of smudging, blending and creating pieces with smudgy textures. Using these brushes can alter the mood of the entire piece by changing the look of the color gradients.
You can get this fantastic pack of art markers, water brushes, and ink; it will be of great use for illustrators. You can use them for your illustration work or for designing different characters and creatures.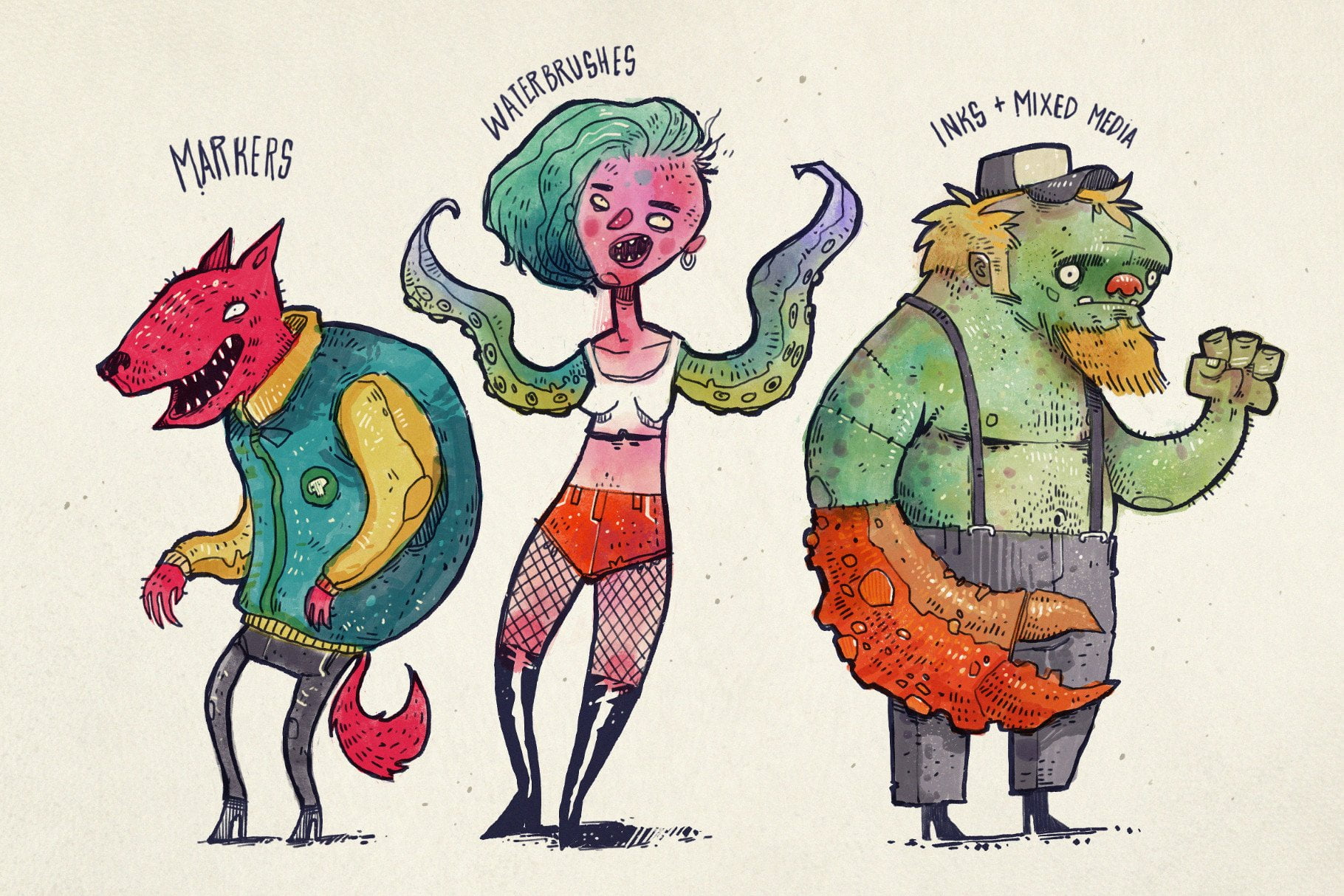 These marker brushes emulate different ink saturation levels and marker tips. The other brushes mimic textures like dry water brush effects, salting with watercolor and sponging.
You will also get some variety of fine pens which can be used for any sketching or drawing that you would want to do digitally.
This pack has ten custom-designed shadings, and stippling brushes can be used to add shadows and grainy textures to your work. This list includes brushes that have different densities and grain qualities which can be used for every design.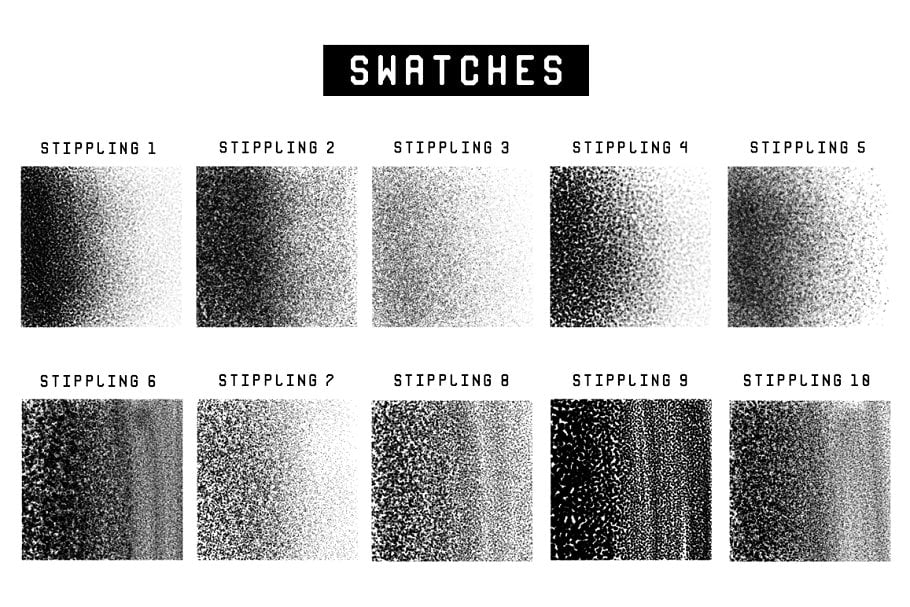 You can try these brushes to add a faraway, distressed, or a faded look to your different illustrations. You can also use them to add stars to your night sky.
This massive bundle comes with brushes for graphite, paint, marker, ink, pencil, and every material that you can think is included. You get the option of several painting brushes and around 50 colors to select from the set.
As you download this, you'll also get different texture brushes to choose according to your preference, which will help you to apply paint using various thickness and styles.
There are plenty of opportunities waiting for you as you get this bundle.
If you get this free set of 3 simple brushes, then you will probably feel like using this set every time you're creating art on Procreate.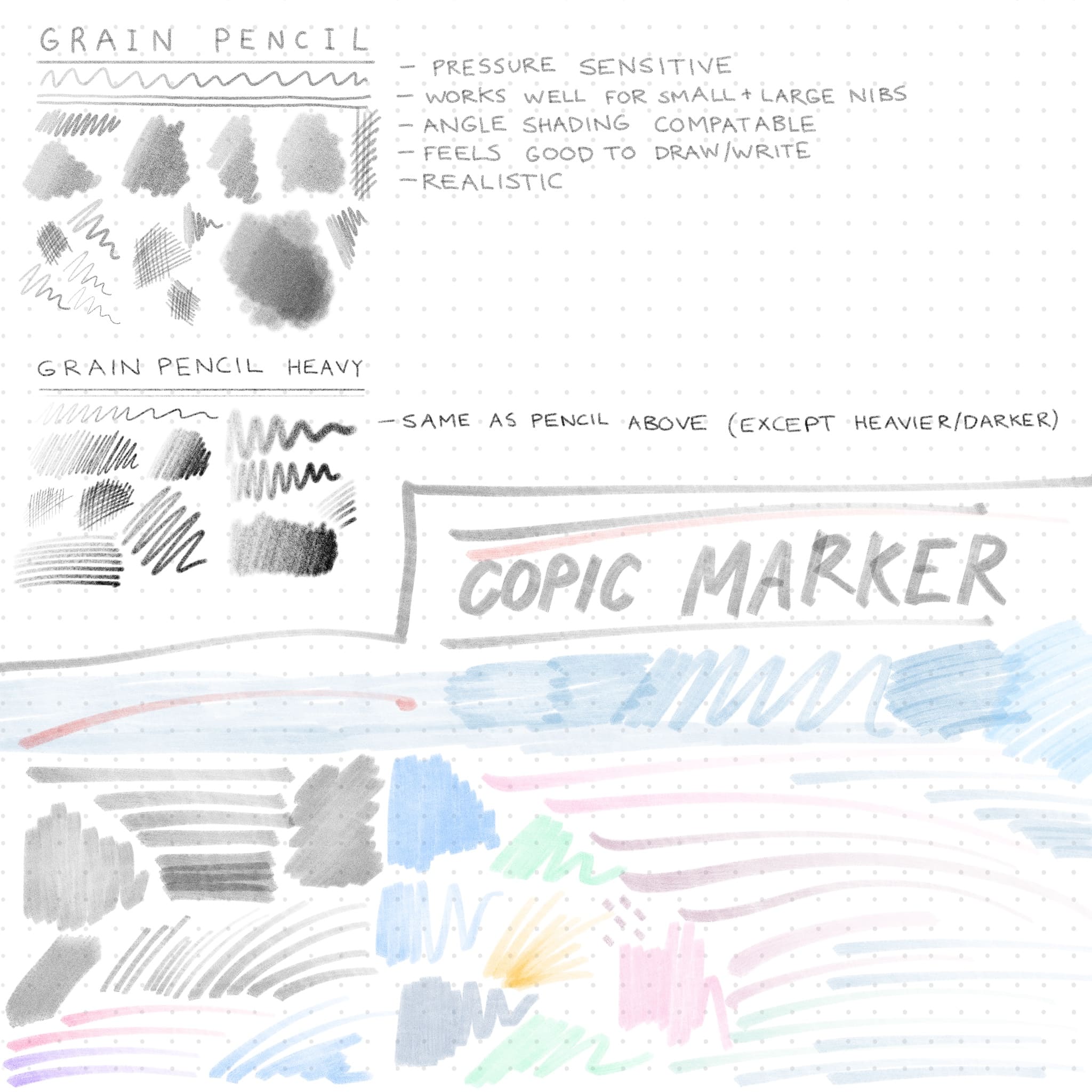 This pack comes with a dense grain pencil, a grain pencil, and a Copic marker. It a fantastic mix to help you unleash your creative power. This basic set is a good option for you when you're a beginner, or you are looking towards branching out from the default settings  Procreate.
This set of 48 media brushes will give your work a watery finish, by making it appear like there is a splash of water and give it a watercolor effect. These features go beyond the tools that are available on Procreate.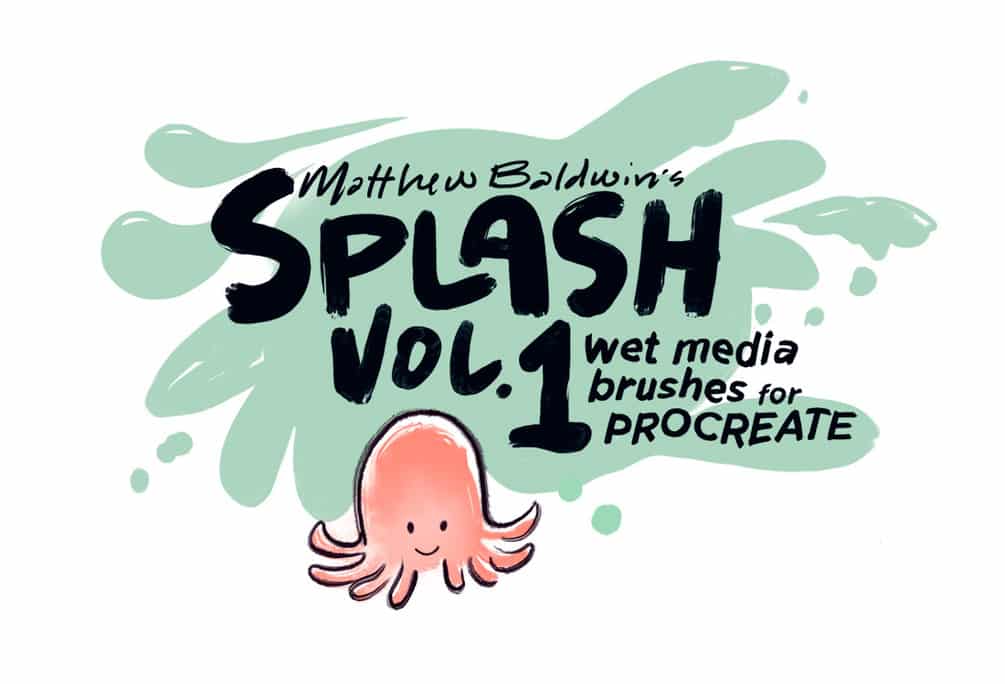 It is a free pack, but donating will help you to fund the brush projects in the future.
This brush kit by Milo Garret is ideal for helping you create neon signs which appear like it has been handwritten in real life. Using these brushes will help to give your work a stunning glowing appearance. In this set, you'll get around 12 brushes for neon writing, along with a brush to create effects and three light pen brushes to add life to your artwork.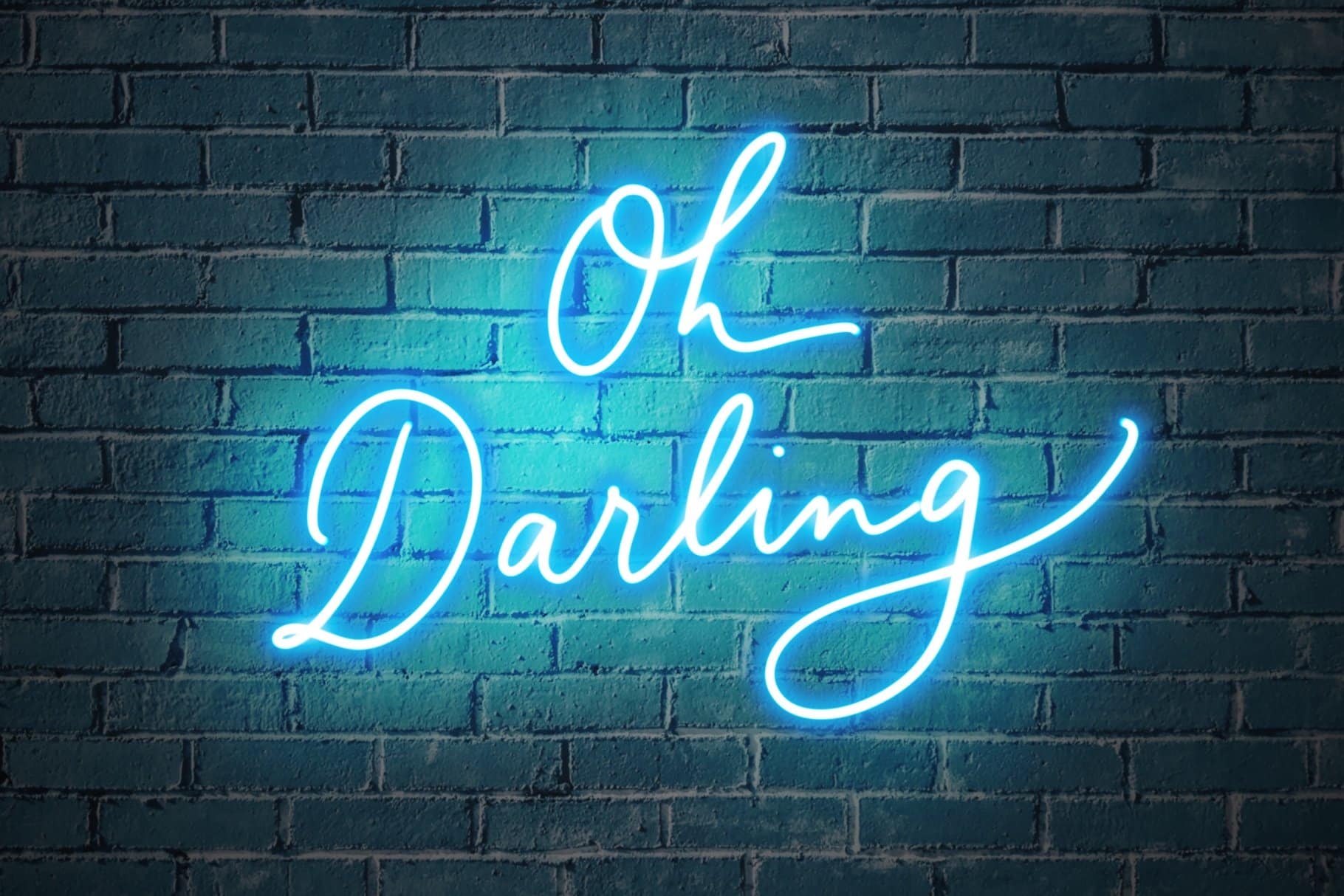 The list doesn't end there as you get a bonus of 19 ready-to-use background images.
The collection by Studio Burg is a fantastic package, as it offers a selection of brushes that will help you in your basic graphic design and illustration requirements.
To help you select your desired signature, this pack also comes with a pencil, pen, and paintbrushes.
This texturific bundle by Lisa Bardot has 14pastels, 14 liners, and 30 shaders. The different textures in these brushes will help you create different art styles and effects without needing to use a traditional pen and paper.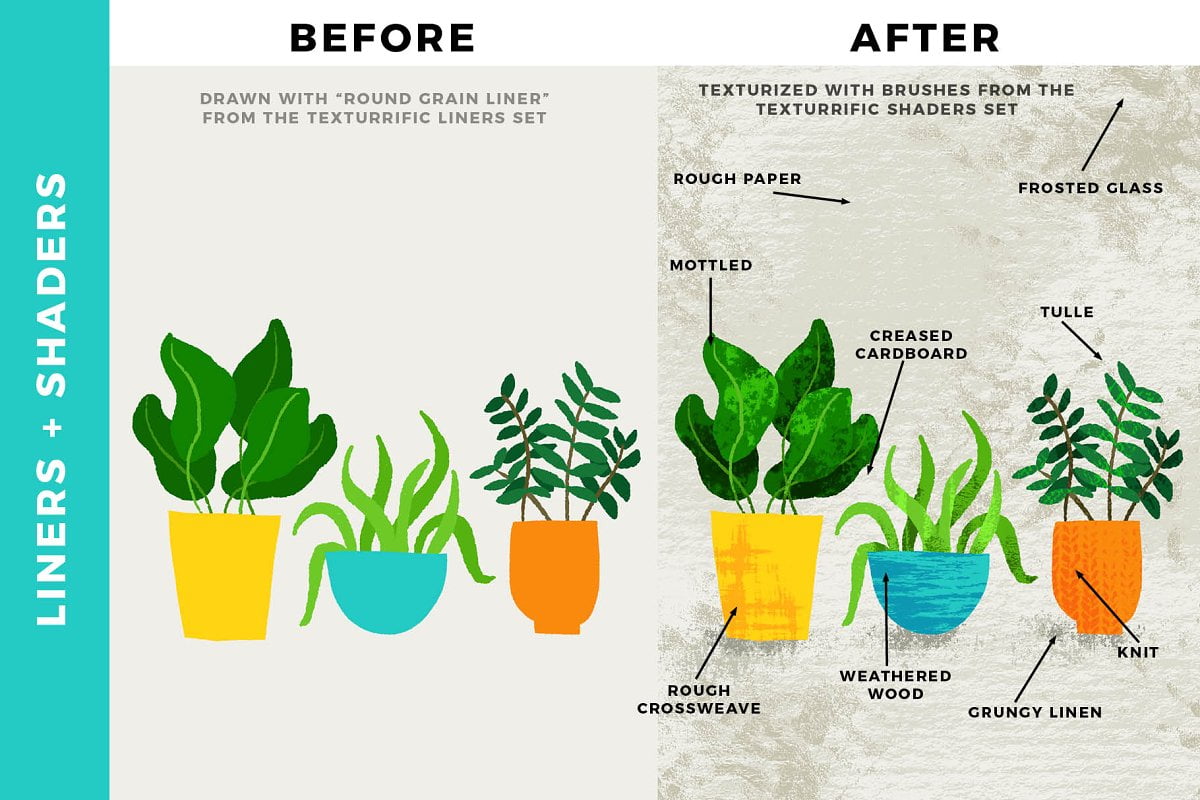 All of the 58 brushes in this set are made with different varieties of high resolution, texture sources, and they are also pressure sensitive.
This set is perfect if you're into comic illustration. When you get this pack, it will be an ideal addition to your collection of creating illustrations on Procreate; it includes the SFX additions and inking brushes from the '50s. Mark has created this set to pay tribute to Will Elder the reputed comic book illustrator of American origin.
This collection of brushes has been inspired by the old faithful of the artist Ian Bernard. Once you get this set, you'll feel like using them every time you start lettering. The brushes have varying textures which give your work a textured or a solid finish depending on the look you want to create.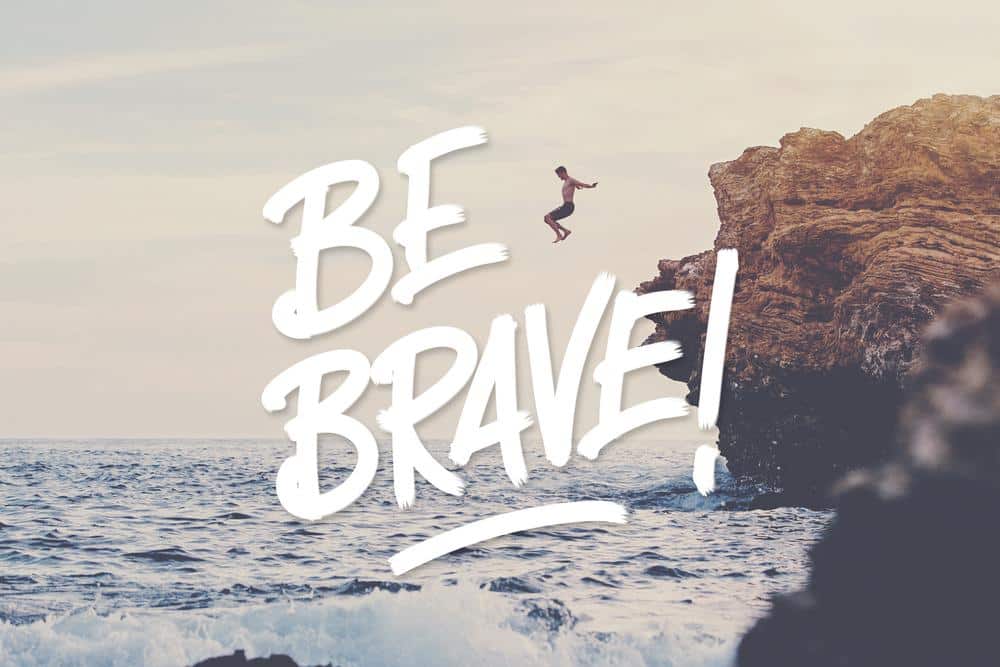 The vegetation brush set by Matthew Baldwin will help you to instantly set the scene right and create a painterly effect, which will make your job as a concept artist much more comfortable. Baldwin has ensured that these brushes can help you to get any type and style of stroke, which usually concept artists try to master all the time.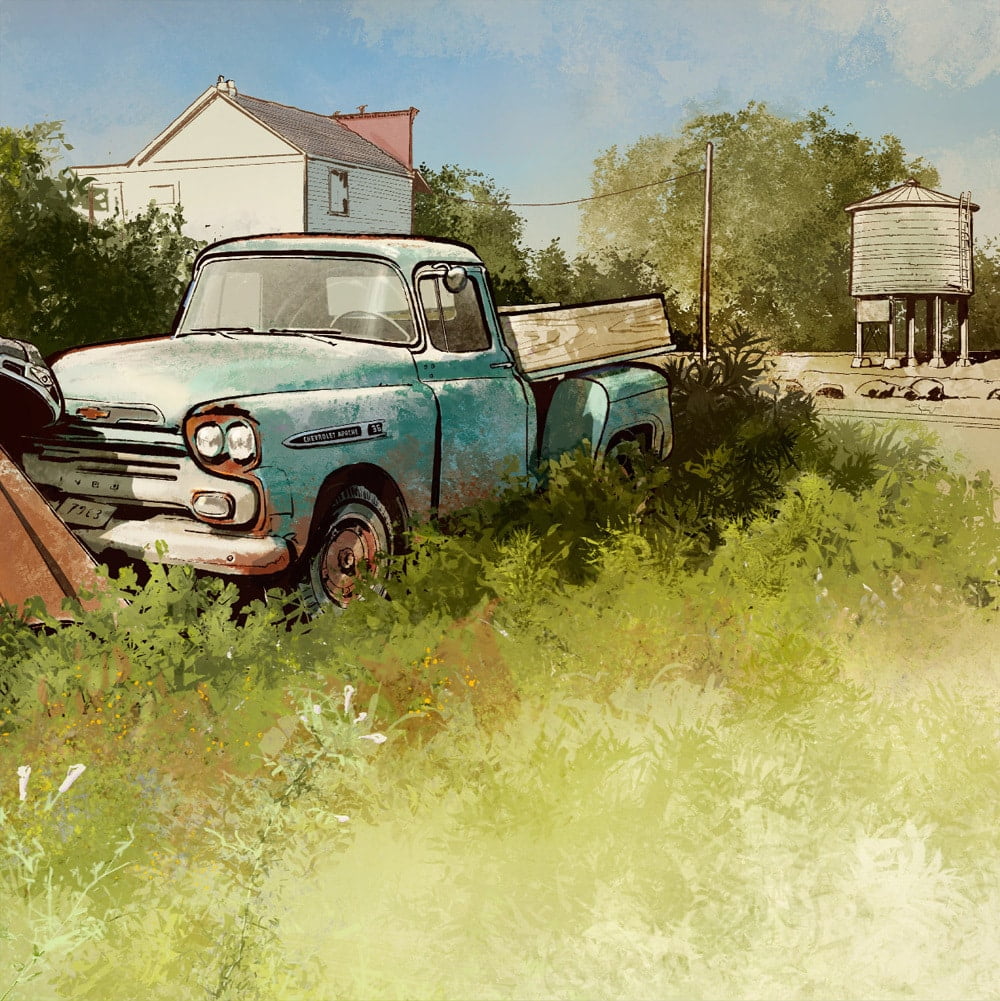 There are a plethora of free brushes for Procreate which is available on the website of designer Missy Meyer. The brushes are perfect for helping you create a graphic script. This dearest dotty set has a unique retro vibe which gives a touch of versatility to your lettering work.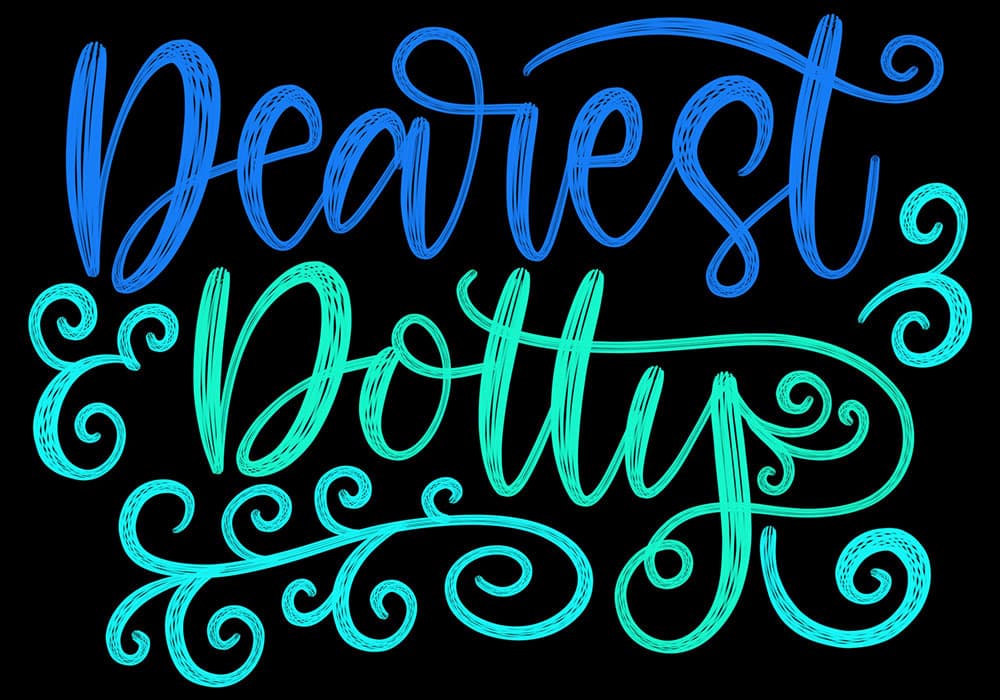 This pack created by Summit Avenue has 12 confetti brushes along with 24 glitter and foil textures, which helps to give a touch of sparkle to your designs. Using this set will help you design different wedding invites and event flyers.
The Nitty Gritty Set of texture brushes by Jammie Bartlett is going to be a brilliant selection to help you add an aging effect instantly and give a fine grit texture to your pieces.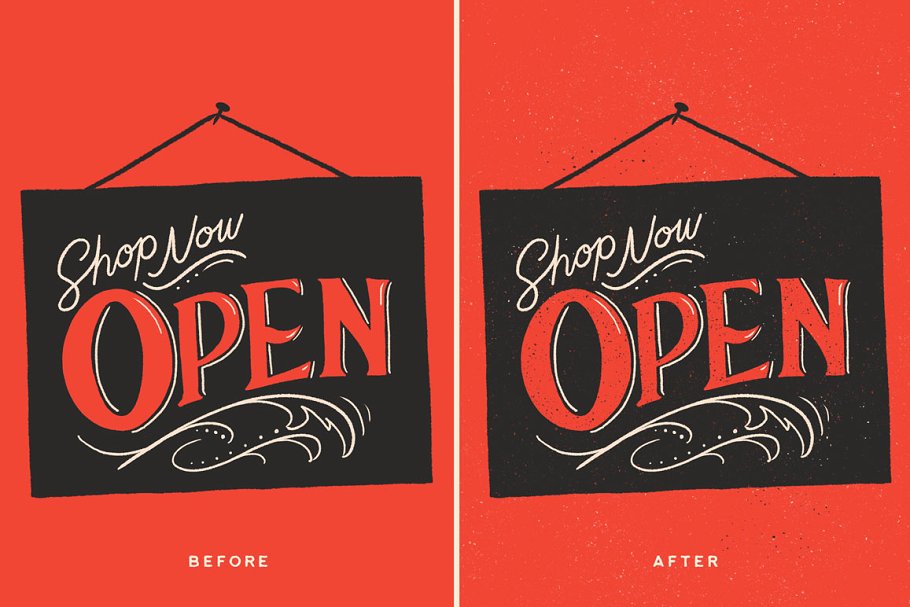 This MilksKS brush set will help you to create the look of the black an white classic engraving. Using this pack of brushes, you will be able to add a delicate touch to your design project or illustration. You can combine a few of the brushes to create a cross-hatching effect with a vintage look while you pick a clean-cut style.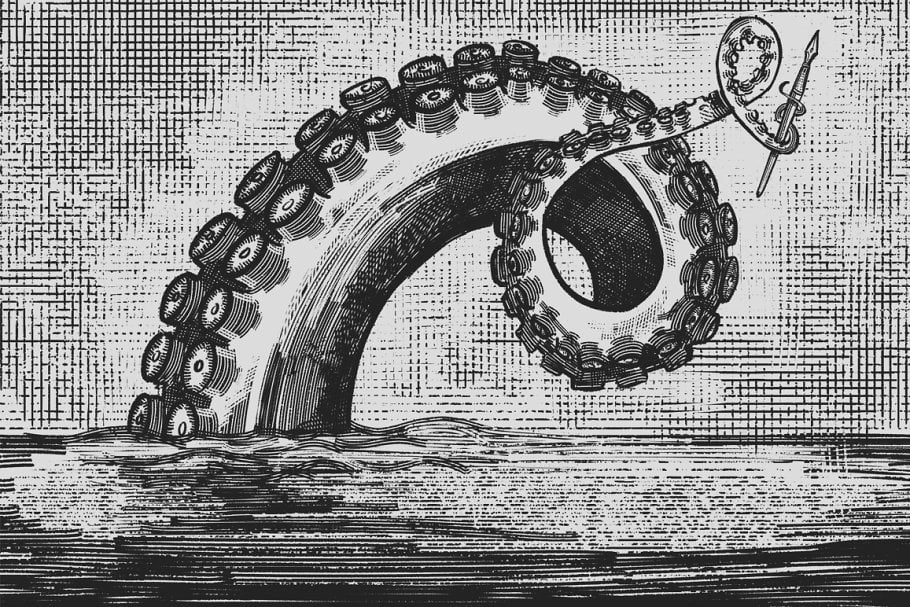 By using this set, you can create different designs of hand lettering, the form and style appear perfect, and you wouldn't require any further illustrations. This bistro marker by Leftyscript is going to be an amazing freebie pen which will help you capture different type-faces of hand-written styles.
This set has three essential freebie brushes such as the round edge calligraphy brush, rough edge calligraphy brush, and the original calligraphy brush. The brushes from this set will help you to get down to the basics will help you to create some simple and beautiful designs.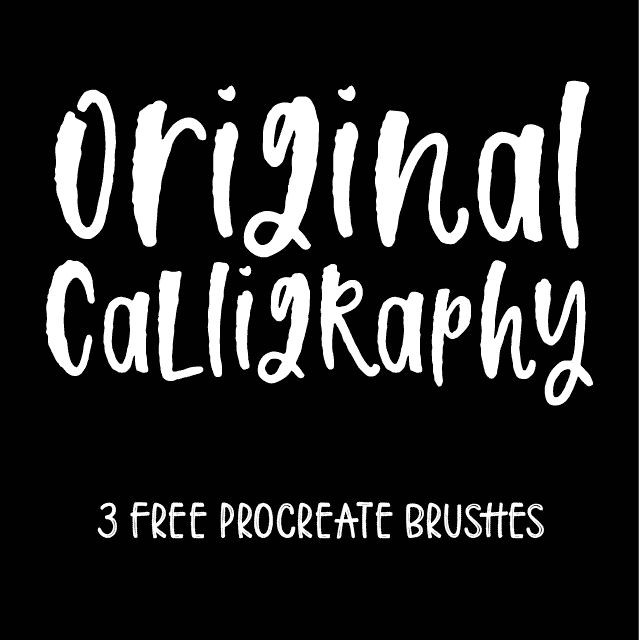 This Procreate brush kit by Nicole Mauloni, who is a reputed calligraphy artist, has over 100 brushes. Getting this set will you to decorate your digital calligraphy works as you can also create different design stamps with various shapes, flourishes and motifs.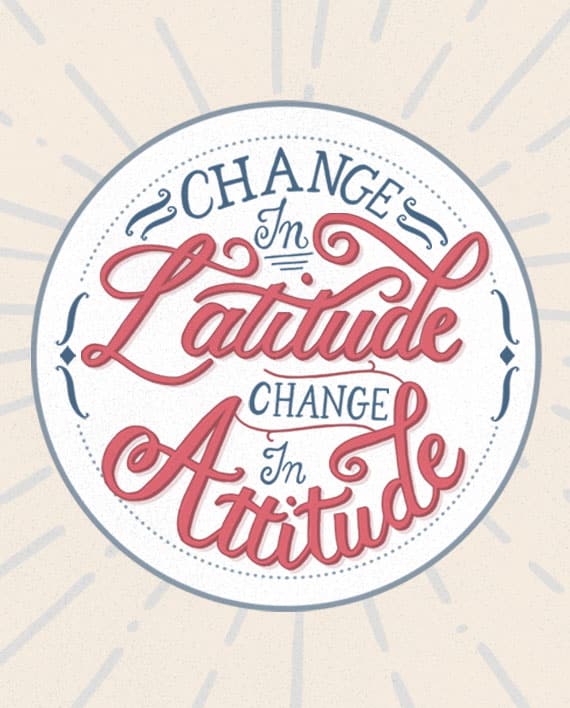 The brush pack by Studio FabianFischer has four brushes for Procreate which are feline-named textured for hand lettering. All of the brushes are pressure-sensitive and will help to give your work a realistic-edge.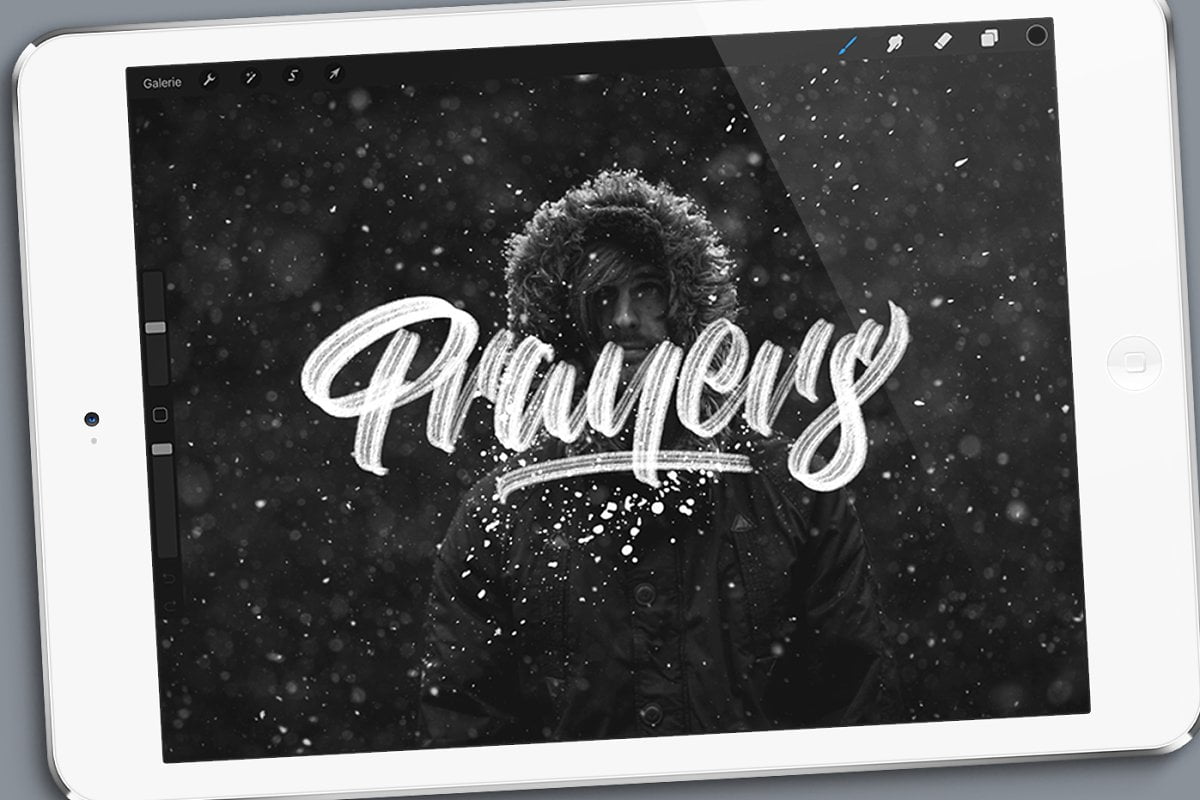 This brush set by Guerilla Craft will help you create different chalked masterpieces on your digital iPad. This pack will help you avoid the dusty hands, and you can select from the different varieties of chalk such as the round chalk, loose chalk, wet chalk, flat chalk, smudge chalk, and more.
Tara, who is the founder of Rad & Happy, has made these brushes for making different lettering designs, and you can download them for free.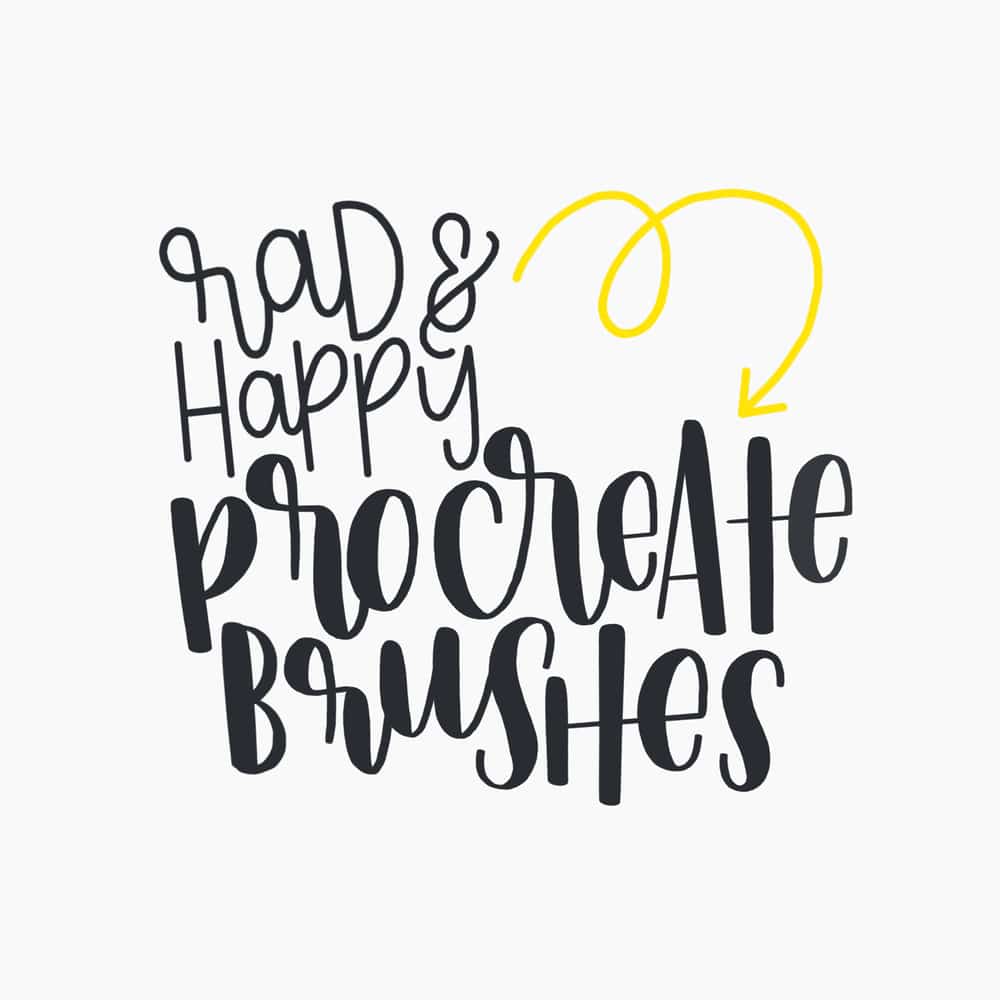 The ' Thin Ink' brushes by Sasha Hickson is famous for making modern and quirky designs. They can easily emulate the thin and thick strokes and help you add the feminine flourishes quickly to your designs.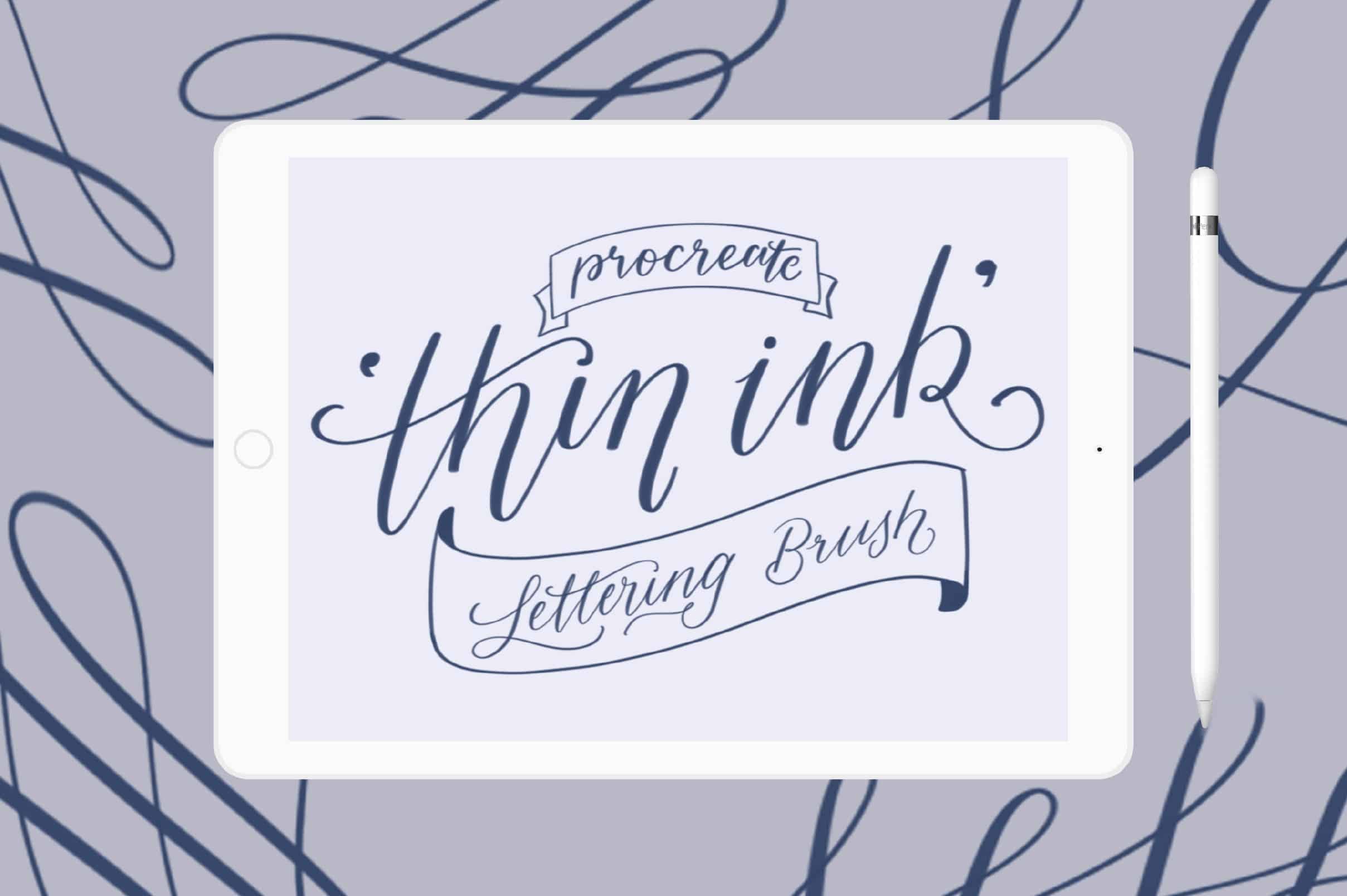 If you're looking for bold brushes which will help your lettering to pop off and stand out then get this pack. This set by Sarahtype comes with a super smooth brush which will help to create a sense of contrast between the thin and thick strokes in your work.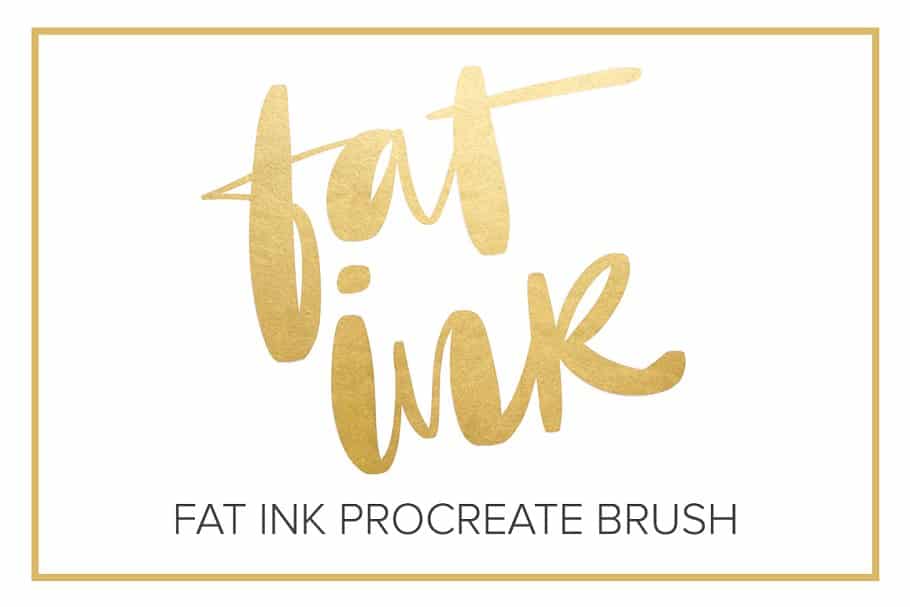 If you love the effortless look of a dry marker, then you'll enjoy using this Ben Ralec's collection of 15 varieties of marker pens that you can select from. This set also has an original calligraphy brush that will help you in creating your calligraphy designs.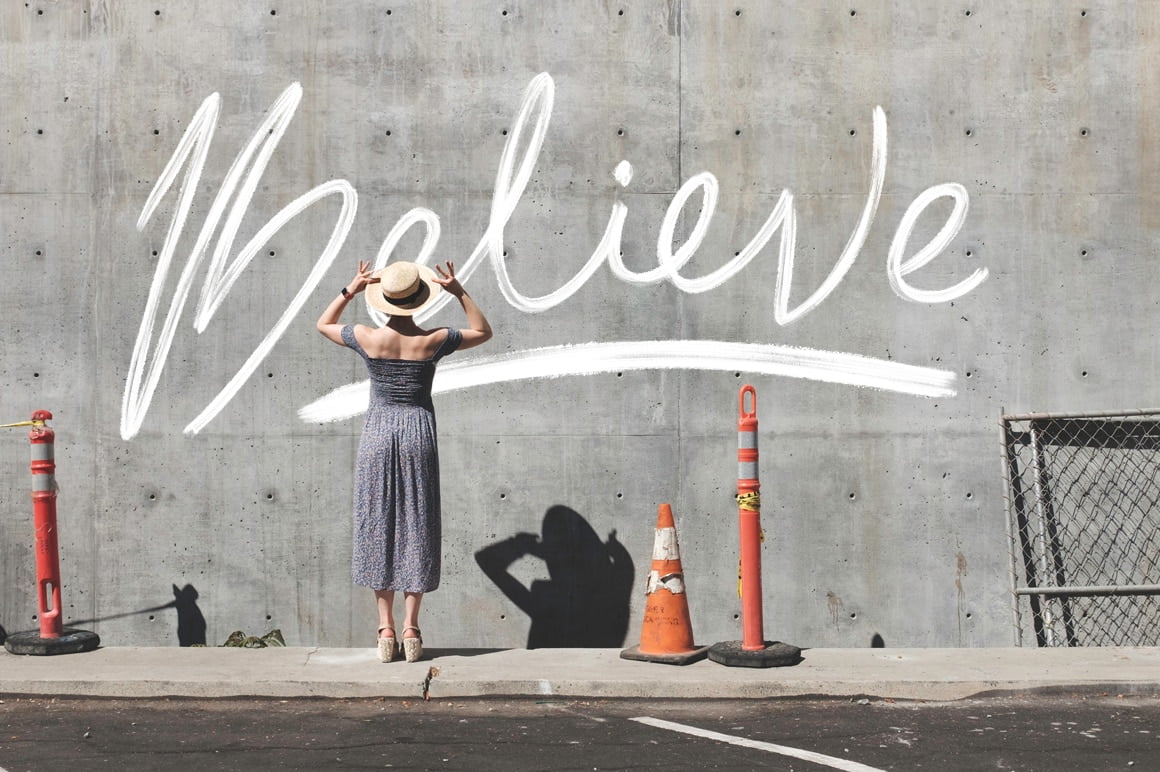 This Matty B's brush pack is suitable for the professional or budding illustrator. You have options for scribbles, dots, lines, marks, and more.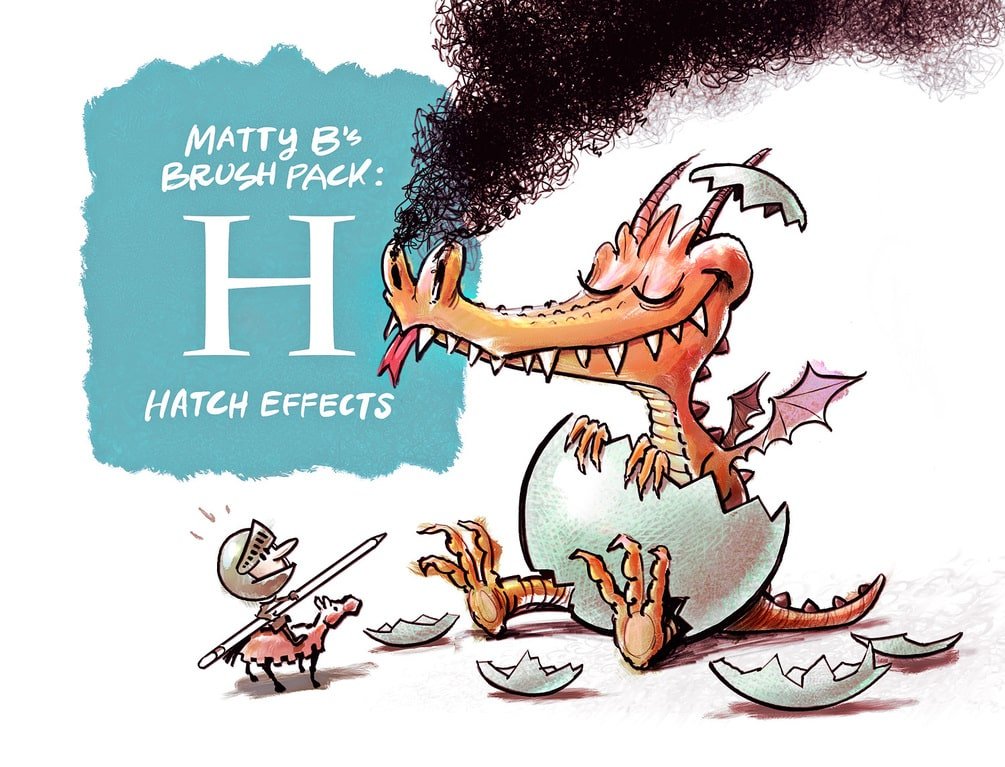 This extensive brush set produced by calligraphy artist Jake Rainis, who is Boston-based has researched different sets that are available on the market to create this collection.
Nikolai Lockertsen is a highly reputed Procreate digital artist, who has made his favorite set of 5 brushes available for you to download. There are some unique designs which you can create using this set of brushes.
This set of 14 custom lettering brushes by Ryan Hamrick will help you to create some high end, lettering work like a professional on your iPad. The collection has been entirely curated by Hamrick, and these brushes have several uses.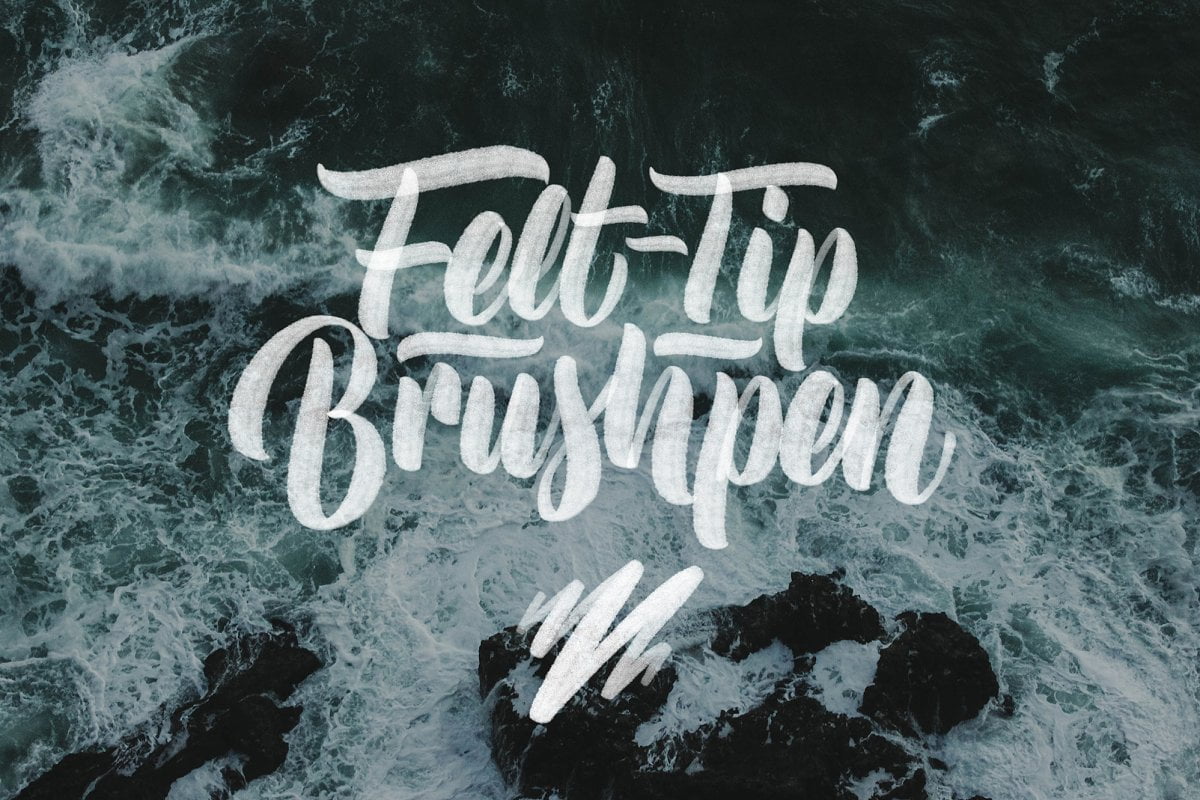 This brush is similar to the quill of the 18th century and its quite sensitive to pressure, which makes it an excellent option for calligraphy. You can also this brush for making your grey and black line drawings.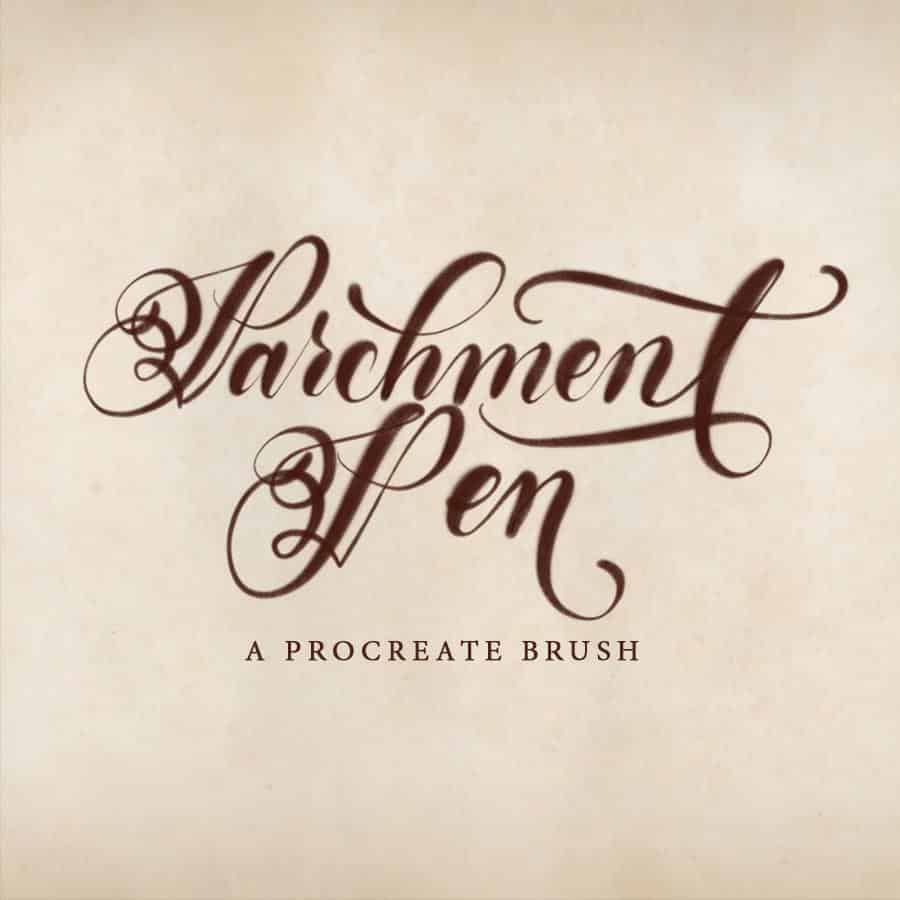 This is a small package of ink brushes by Dizzy Tara which has board marking brushes and different ink shaped pens. You can use this pack of inky brushes for your sketching.
This brush by Inky Hand is a fantastic tiny brush, which is a perfect choice for helping you create scratchy effects, and unique hand-designs. This brush will be suitable to create rough sketches and to add a slight touch of originality to your artwork.
You can find this brush pack here.
Price: Free
Final Words
Each of these brushes can help you create some amazing artwork on paid your tablet. Don't overlook any of these precious tools, as you try finding the right brushes which will help to make your overall work become simpler. You might need to go through them again, to get your hands on the perfect set.
Keep conquering the field of art!
Related Articles
53 Best Medibang & FireAlpaca Brushes & Textures For Digital Artists
25 Best Free GIMP Brushes for Drawing & Painting Digitally
20 Free FireAlpaca Brushes for Digital Painting & Drawing
21 Best Manga Studio & Clip Studio Paint Brushes [Free Download]
Best Free Aseprite Tutorials For Pixel Artists & Game Designers
21 Best Paint Tool SAI Brushes and Textures 
Speed Paintings 101 |What It Is, Tips, Tricks, Tools & Video Tutorials
54 Best Photoshop Brushes | Best Drawing & Painting Brush Packs
14 Amazing Free Krita Brushes and Brush Packs for Digital Art
12 Best Software for Digital Artists [Drawing & Painting]
11 Best Color Theory Books for Artists Everywhere
13 Websites With Copyright and Royalty Free Art to Consider
Types of Digital Art Right Now Explained
25 Best Concept Art Books for Artists Everywhere
22 Best Brilliant Sci-Fi and Fantasy Art Books for Artists
8 Best Cartooning Books For Artists Today
5 Types of Concept Art to Consider Today
10 Epic Tips & Tricks for Concept Art Portfolios Today
51 Enigmatic Forest Concept Art That Will Amaze You
67 Surreal Castle Concept Art Depictions to Surge Inspiration From