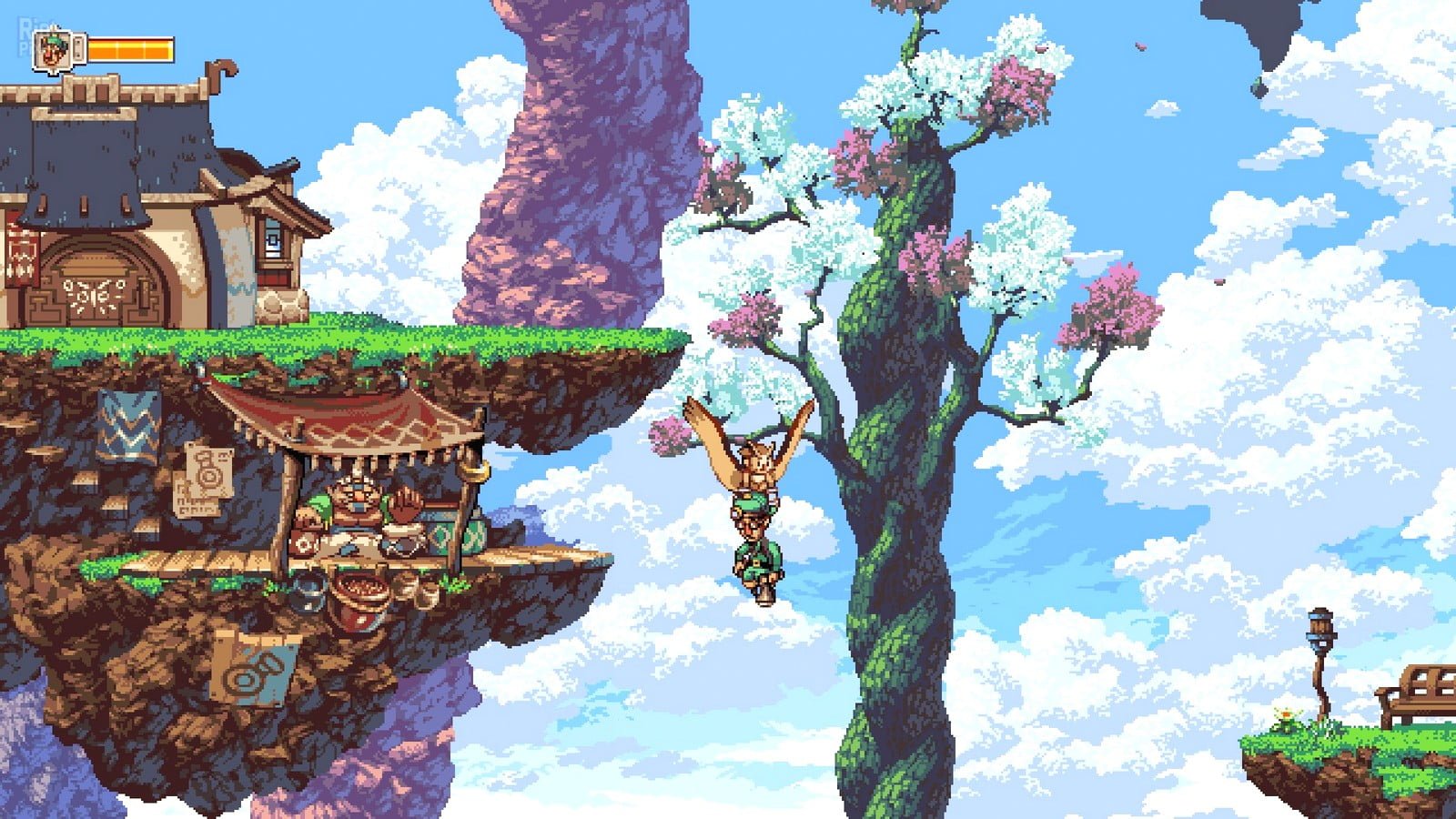 We have seen an increase in the use of pixel art as a method of creating animations.
Many artists in our generation are engaging themselves in this digital art to produce phenomenal creations. As a result, there are many existing as well as upcoming tools to help them out.
Since spotting the right tools can get difficult at times, we have selected 16 of the best programs which are compatible with many operating systems out there.
So if you're ready to start an amazing pixel art session, take a look at what the best pixel art software can offer you!
Best Pixel Art Software Programs
GIF via steamcommunity.com 
Let's kick off this list with iDraw – a simple, yet very popular pixel art program in the world of pixels.
In it you'll find a variety of features including the basic ones such as a customizable palette, drawing and selection tools. iDraw is very popular among the RPG Maker group. It embraces the 90's style of creating pixel art or in other words, the JRPG style.
In recent years, it used to be common for people to use pirated copies of iDraw and RPG Maker 2003 in order to create their own customized versions. However, today the RPG Maker 2003 is available for $5 after getting upgraded, which leaves iDraw still openly available for those who want to download it for free.
Although iDraw does not come with many up-to-date features, it still remains a good pick for those who are starting out with pixel art programs. Some may not find this to be in their favor, but it does come in handy if you want to learn the basic and simple concepts of pixel art.
There are also a tonne of video tutorials available online which can help beginners get familiar with the software. It is, in fact, still a very popular choice among pixel artists at the moment. Plus, 90's pixel art never seems to go out of style as seen on recent movies and video games.
iDraw has been purchased by Autodesk and it is now entitled Autodesk Graphic.
Aseprite is another well-known program created for the sole purpose of designing pixel art.
Here's the deal with using Aseprite – it is available for free if you're someone who can arrange the program yourself, otherwise you can get the compiled and finished software at $15 (which includes as much modern features as you can think of).
If you're wondering why it's a famous software among pixel editors, that's because Aseprite offers artists alluring creations as well as an easy user interface. It is capable of performing heavy-duty tasks effortlessly.
Let's have a look at one of its features – onion skinning – which allows users to add frames both above and under the one they are currently creating. This option makes the work of the artist much easier and faster. Moreover, beginners will likely find the timeline easily accessible on their very first use.
It also contains exceptionally good sprite sheet exporting tools which are useful daily materials for game developers.
One other feature that contributes to its popularity is that it can edit fonts into pixels. A lot of game developers find this feature highly desirable.
Since we are on this topic, we also want to include the wrapping tool which is used for tiling, except that it repeats the process. If you're thinking about a faster way to create roof tiles, Aseprite has got you covered.
Adobe Photoshop is one of the best programs one can use not only for pixel art but also for digital painting and graphic designing. You can say that this software is the total digital editing package.
Because of what it provides, Adobe Photoshop is among the most popular picks when it comes to pixel editors too. It offers users all the important tools needed for creating high-quality pixel animations.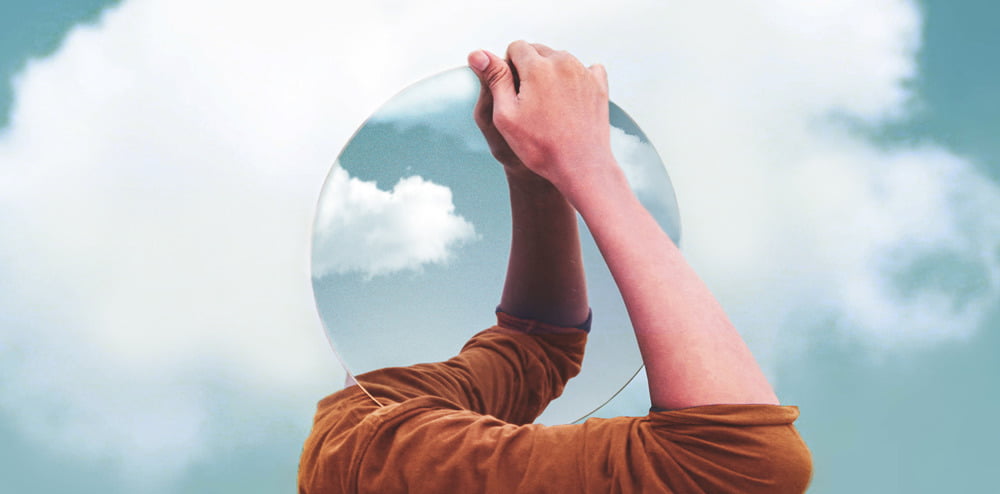 However, keep in mind that Photoshop can be pretty tough to get used to since it contains more features than any other programs intended for pixel art, given that it serves multiple purposes as well. But to make things easier for the absolute beginner, there are numerous online tutorials about designing pixel art to look up.
If your plan includes learning to create more than one type of animations, Adobe Photoshop is  the right software for you. Rather than jumping from one program to the other, all your projects can be done in a single platform.
Among many uses, Photoshop is widely known for its many available resources. And the best part is that there are tutorials for almost each and every single one of them. On top of that, you can also find free plugins and scripts to gain more flexibility for using the program.
Knowing how to operate the program can increase your chances in developing games as a career.
A very similar program to Adobe Photoshop is GIMP. The main difference is that GIMP is available for free downloads.
Similar to Photoshop, it comes with a lot of tools, resources, and features to create digital art including pixel designs. Here, you'll find there are effective tools meant for photo editing as well as digital painting.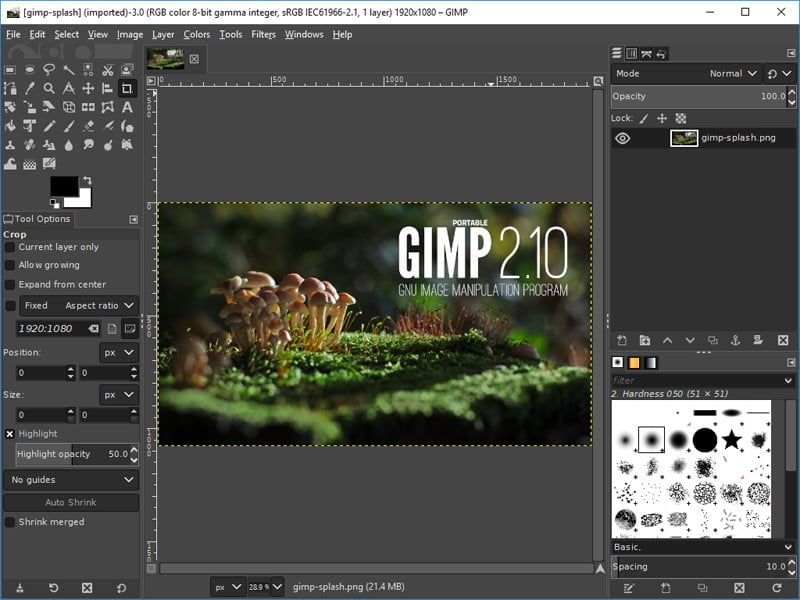 But unlike Photoshop, GIMP has a friendly user interface that's customizable, so it is perfect for starters. However, it includes an animation player and a timeline which are pretty much like those of Photoshop.
Since the program is popular to many digital artists out there, it receives a lot of support from creators as well as experienced users who provide video tutorials on YouTube.
Another important aspect to consider is that it saves money for those on a restricted budget who are searching for a complete package.
The Pixie Engine Editor is available for free download online. It provides all fundamental tools required for creating pixel art.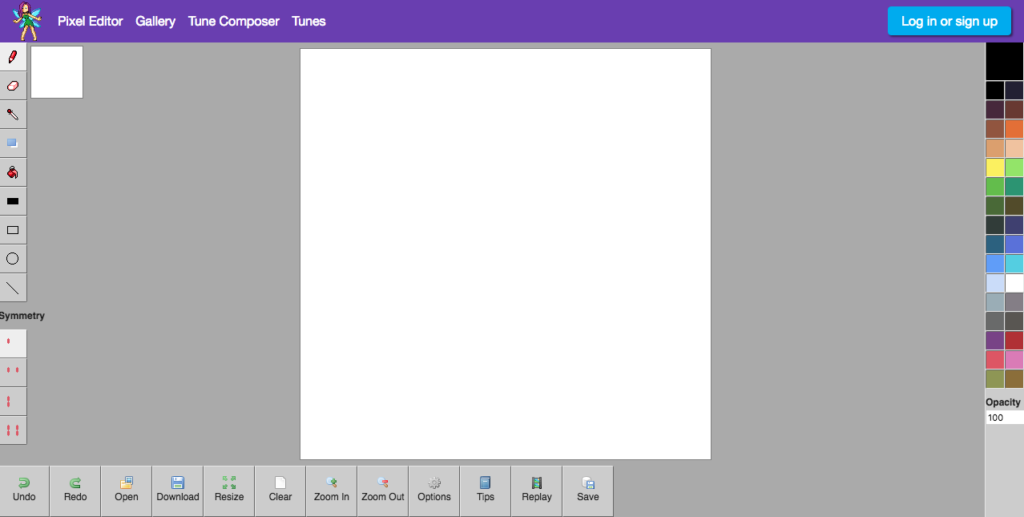 It is true that many professional digital artists may not find it to be completely satisfactory when it comes to doing detailed work because of its lack of resources. However, it is well-suited for beginners who are looking forward to learning pixel art without having to pay any fees.
Although you can only create static animations, there are other benefits that come with this program such as a huge collection of colors and it also allows you to save an image after designing.
If you want to learn how to make proper use of this software, they have a separate section on their site in which you can go through the masterpieces of other experienced artists.
It also offers a tune composer for artists who want to develop games so they don't have to look for this feature elsewhere.
Even the source code comes at no cost and is available on GitHub which you can make use of it as a base to create pixel art.
Here is an open source application which can be used to design pixel art either on Linux or Mac.
PikoPixel is a program that you can work effortlessly on as it provides many useful tools and features such as layering, unlimited undos, a customizable canvas, and hotkey-activated panels that pop up.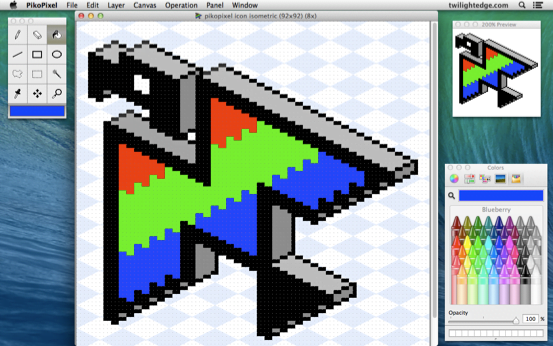 When you think about PikoPixel, think about a fair substitute of pixel editors that run only on Windows. It comes with demos but because it is simple to operate, you probably won't be needing them. It works wonderfully with both Linux and Mac.
Starters will find it easy to use because of its basic features even if it lacks modern ones. But we can say that given to the advanced artist, PikoPixel can provide some of the best quality pixel art.
Tile Studio is a program that focuses on one area of graphics designing – creating tiles.
The software is very helpful for game developers who want to create pixel art and full fledged tile-based games. It has several necessary features such as a bitmap editor which can be used to make tiles and a level editor to design them.
One of the good benefits we get from using Tile Studio is that it is workable with almost any type of programming language. Hence, you have full control over the outcome of the design by using your own code. Because of this, there are many game studios and designers who turn to Tile Studio for their projects. It is available free of cost for Windows.
There are several things you can do with Tile Studio such as importing tiles from other programs and use them for your design. You can also use special effects and numerous drawing tools with the help of the level editor.
Even though Tile Studio does not have as many features as expensive editors do, it still makes creating pixel art pretty easy even for beginners.
When you're done designing frames, you can export them either as a tile sequence or a sprite sheet.
Tile Studio comes with both easy and advanced tools. However, they also provide detailed demonstrations and tutorials to help speed up the learning  process.
The Lospec Pixel Editor is a new online graphics editor which is meant to make the work easier for its users.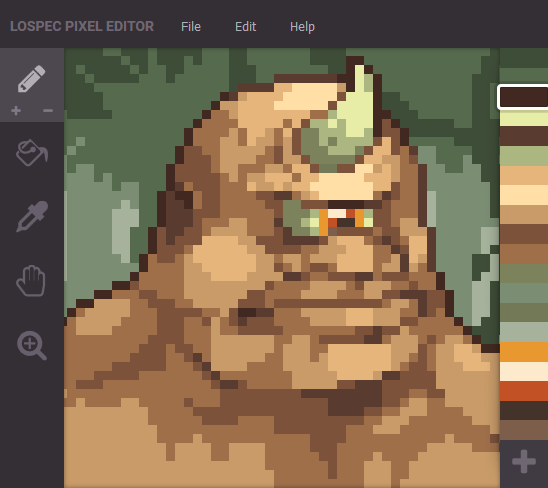 We can say that this program is simple enough for beginners to use and at the same time, will still catch the interest of professionals.
Keeping in mind that the application is relatively new, there are still many features left to be developed. But the good thing is that it already appears promising with its exceptional interface as well as being easily accessible online.
GrafX2 is an application for editing bitmap images. It gained inspiration from Amiga Deluxe Paint. Ever since the program's source code was made available as an open source project, it has been updated with newer features and used for contemporary machines.
The software is loved by many of its users because it has a great toolset that includes a pixel palette and also a very systematic interface. It offers all the required for starting a drawing project with plenty of cool features such as the "spline" that helps the user achieve accurate curves.
There are also tools such as the "histogram" which guides users on using colors and the "merge" option to arrange colors according to their average shades. It provides an option that allows you to repeat tiling as you wish.
Besides, the program has been around for more than 20 years which makes it very popular in the world of pixel art. Therefore, you won't find it hard to learn how to use it since there are numerous tutorials on that topic.
GrafX2 has most of the desirable features in designing pixel art. Some of which are special effects and frames. It also allows easy operation so you don't need to practice to get started with a project.
While some people find the display to be too outdated, others love the vintage looks.
If you are looking for a free and simple drawing app online, check out Pixilart, a digital editor founded in 2013. It does not offer much but it provides cool features for artists who are learning the basic steps of drawing digital animations.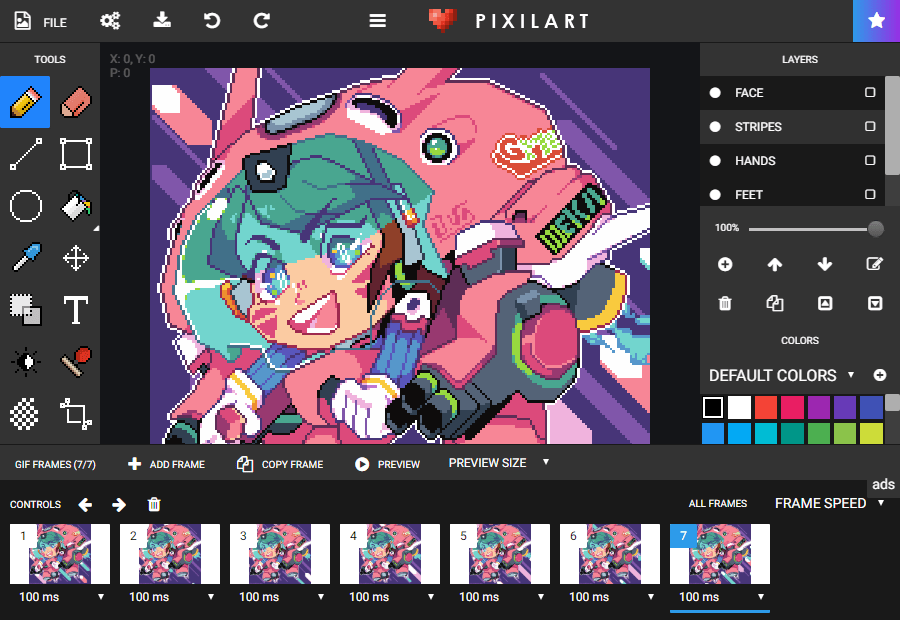 What gets the interest of users is that it hosts contests and provides a solid ground for artists to get together and share their creations.
So if you're searching for a social platform where pixel artists come together, Pixilart is the right place to be.
This application is very interesting to use since it comes with an advanced interface and includes features that you will normally find on any pixel art software. To name a few of its features, they have an autosave option, dithering, pixel drawing, frame designing, and pixel text animation.
We also like the number of settings it offers which allow users to customize it with any kind of workflow. Therefore, it is suitable for both professionals and beginners.
You can always use the social platform to connect with other artists for help. On top of it, there are video resources to help you out with any issue within the app.
Piskel is a digital editor program meant solely for making pixel animation.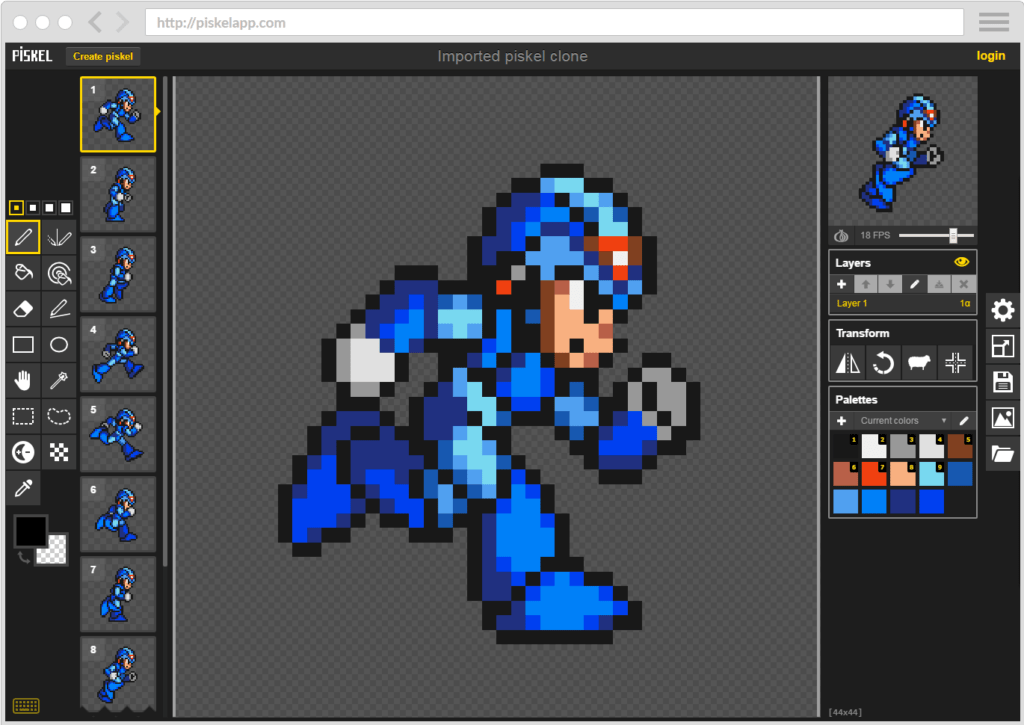 The program is free for download and at the same time, it is also available online for easy access and usage.
Having an interface that's clear and understandable makes this software favorable to many users including learners and professionals. It comes with an animation preview that introduces its users on how to use the software.
Of course, it comes with many different features but the cool aspect about it is that it is simple to use and easy to understand.
With Piskel, you can export Sprite sheets, GIF animations or even static images.
The program has limited resources and features for a reason. They want to include only the most common aspects needed for creating professional animations and. So if you're someone who loves minimalism, this is the perfect choice for you.
For those in the Windows community who are looking for an alternative to GIMP or Photoshop, here is  Paint.NET. It works with all present Windows versions or upcoming ones based on updates.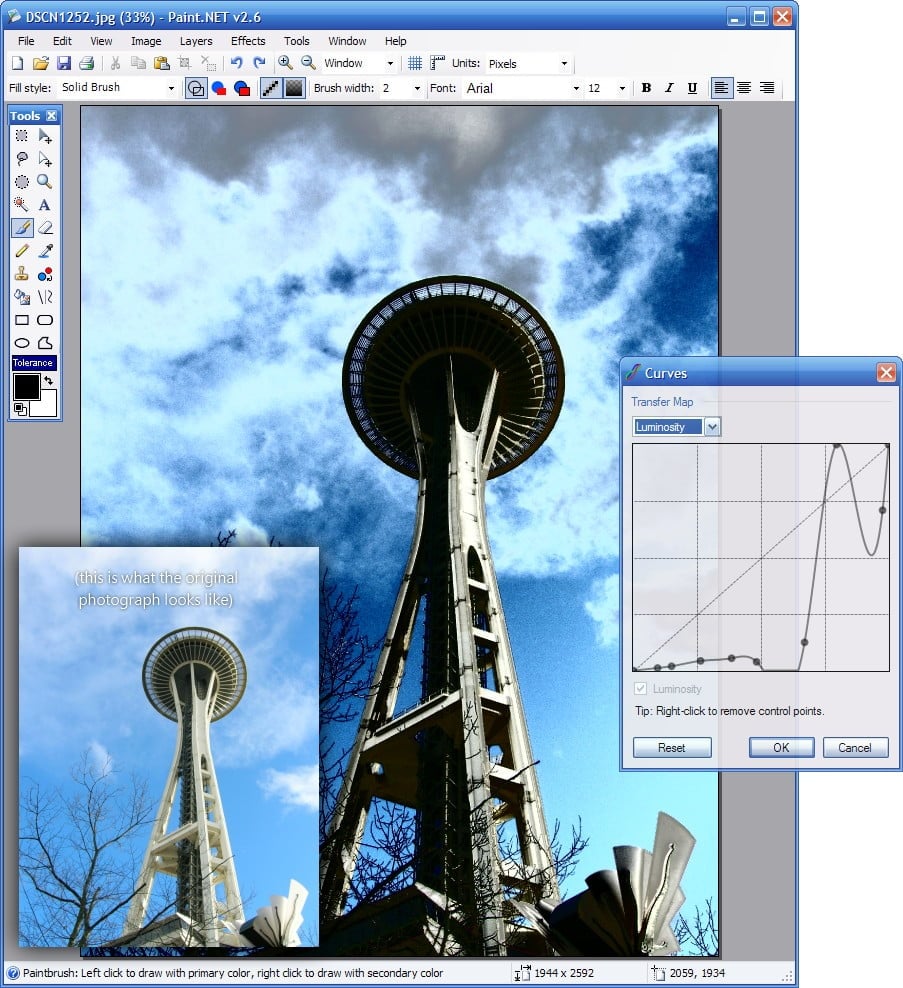 Unlike its superior alternatives, Paint.NET is a lightweight software that supports basic functions such as image editing which serves more than just designing pixel animation.
They have a community in which many of its users interact and share designs with each other. Here you can also find help to finally get started with your projects. But for experienced users, support is available using plugins.
Even though its range of features is not as wide those of GIMP or Photoshop, Paint.NET is pretty simple and allows users to work on it easily.
But some of its limitations include not supporting more than one images for editing. Also, it is only compatible with Windows. This is a huge drawback for those using Linux or Mac.
However, keeping aside those setbacks aside, Paint.NET is beginner-friendly and fun to work on.
Pyxel Edit is one more popular pixel editor that artists all around turn to for completing their professional projects.
A free version is available online for users to download but it has limited features which may not be adequate for most experienced users. So, one would usually opt for the paid version that comes at $9 as it is far better and also suits artists on a budget.
The one aspect which grabs an artist's attention is its wonderful user-friendly interface and the fact that it includes all the basic features one requires to design animations which includes the "onion skinning" to help arrange frames systematically.
The most common reason one picks Pyxel Edit is because of its exceptional tools used for creating tile-based art and games.
Pyxel Edit makes creating tile maps an effortless activity. Its tools help speed things up on the workflow. You can also export/import or even convert file types such as JSON and XML to use in engines.
There are many good reviews from game developers as per time is concerned. It is a quality software for those who are practising or taking up a career in designing pixel art.
Many illustrators, digital painters, concept artists, and even cartoonists love Krita because it is a free open source program which offers more than what is expected.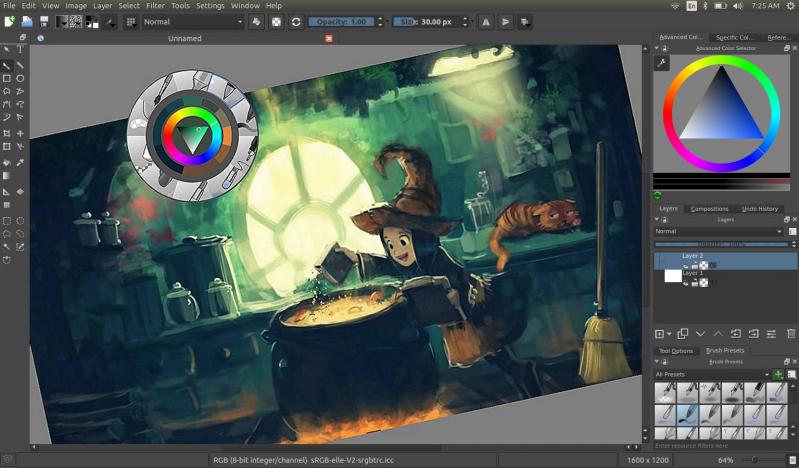 You can use Krita to create amazing art with the help of a few settings that are available on the application. You'll find it easy to operate since the program is meant to serve digital painters and artists.
The program is perfect for use if the artist is well-equipped with traditional painting and makes a shift to digital art.
Krita may not include as many features as Photoshop or GIMP do but it contains some tools which are not normally found in other pixel-based programs. For instance, Krita encompassed motion into pixel art in the past few years.
The software will serve you based on your requirements. If a combination of high-resolution animation and pixel artwork is what you're searching for in a program, then this is the best one yet. Given that it comes at zero cost, you'll be surprised to find that Krita offers some of the best digital pieces.
A few limitations is not entirely unexpected. For example, the demonstration fails to introduce us to some important aspects of the software. But that does not mean it affects the performance of the application. Besides, there are many tutorials available online to help you out with any problems.
GraphicsGale is one of the best digital editors given that it comes with a retro user interface. It is free and has a lot of features for a program that is dedicated only to designing pixel art.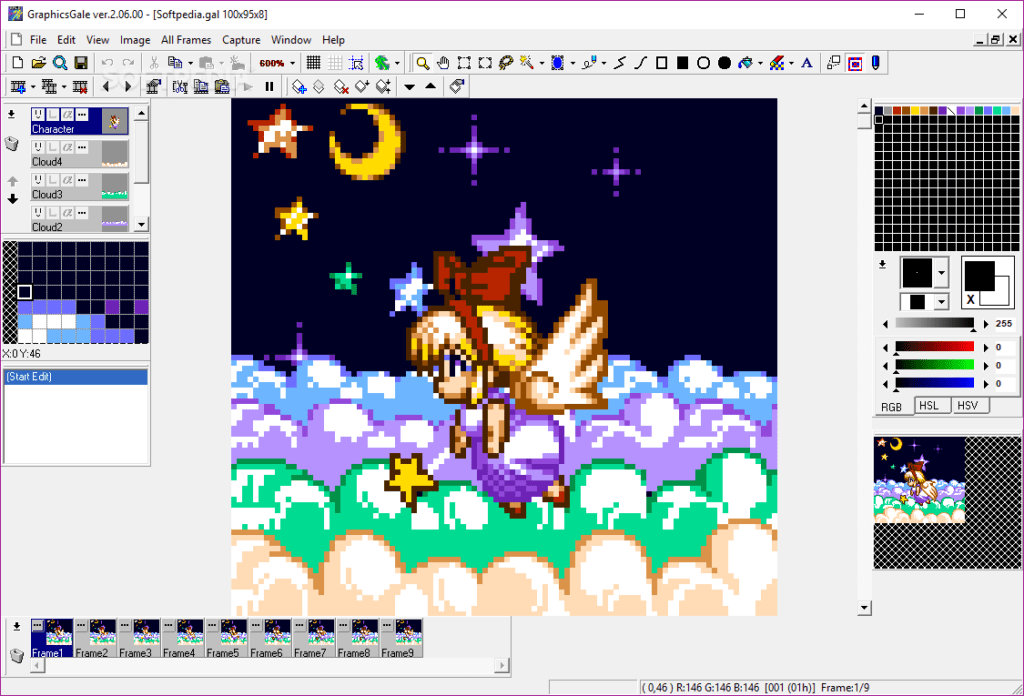 It includes palette control, animation, drawing, layering, and many other features.
It is pretty flexible in that it supports both sprite sheets and GIFs. With GraphicsGale, you are able to export different files.
You can also preview your creations before finalizing them which makes it perfect for those artists with a number of projects in their hands.
One of the best features in the program is that it allows users to import image files from a camera or a scanner with the help of TWAIN imaging. Artists who prefer to first portray their concepts on paper and later convert them into digital prints find this aspect really helpful.
The only drawback is that GraphicsGale works only on Windows, therefore, setting a limit for other users.
Pro Motion is a program which helps create pixel art, animations, and even tiles much quickly.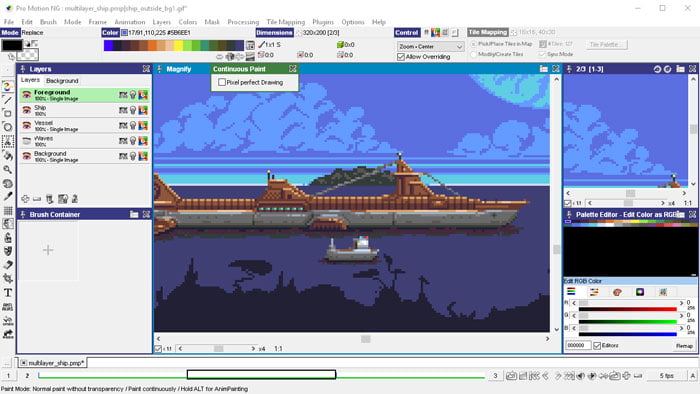 This is perfect for artists who are looking for a software that focuses on details than anything else. Game developers for smartphones and other handheld gaming devices are known to go for Pro Motion in order to get amazing graphics.
It is also a lightweight program used to create light graphics for web games or applications. It supports tile map, bitmap, and sprite sheet designing. Moreover, it works pretty well with most popular frameworks or game engines to get started.
Conclusion
There you have it, the best pixel art software listed! These are some of the most popular and the best pixel art programs that are available for most OS.
We also found that most of the programs are free of cost but have great features, hence, saving your wallet while being a good pixel art editing tool. So, what are you waiting for? Pick the best pixel art software for you and start; let's create pixel art, let's get creative!
Until next time!
Related Articles
53 Best Medibang & FireAlpaca Brushes & Textures For Digital Artists
25 Best Free GIMP Brushes for Drawing & Painting Digitally
20 Free FireAlpaca Brushes for Digital Painting & Drawing
21 Best Manga Studio & Clip Studio Paint Brushes [Free Download]
Best Free Aseprite Tutorials For Pixel Artists & Game Designers
21 Best Paint Tool SAI Brushes and Textures 
Speed Paintings 101 |What It Is, Tips, Tricks, Tools & Video Tutorials
54 Best Photoshop Brushes | Best Drawing & Painting Brush Packs
80 Best Procreate Brushes for the Realm [Free & Premium Brush Sets]
14 Amazing Free Krita Brushes and Brush Packs for Digital Art
12 Best Software for Digital Artists [Drawing & Painting]
11 Best Color Theory Books for Artists Everywhere
13 Websites With Copyright and Royalty Free Art to Consider
Types of Digital Art Right Now Explained
25 Best Concept Art Books for Artists Everywhere
22 Best Brilliant Sci-Fi and Fantasy Art Books for Artists
8 Best Cartooning Books For Artists Today
5 Types of Concept Art to Consider Today
10 Epic Tips & Tricks for Concept Art Portfolios Today
51 Enigmatic Forest Concept Art That Will Amaze You
67 Surreal Castle Concept Art Depictions to Surge Inspiration From
13 Legendary Free Game Engines for Beginners & Professionals
8 Best Landscape Design Software for Mac User