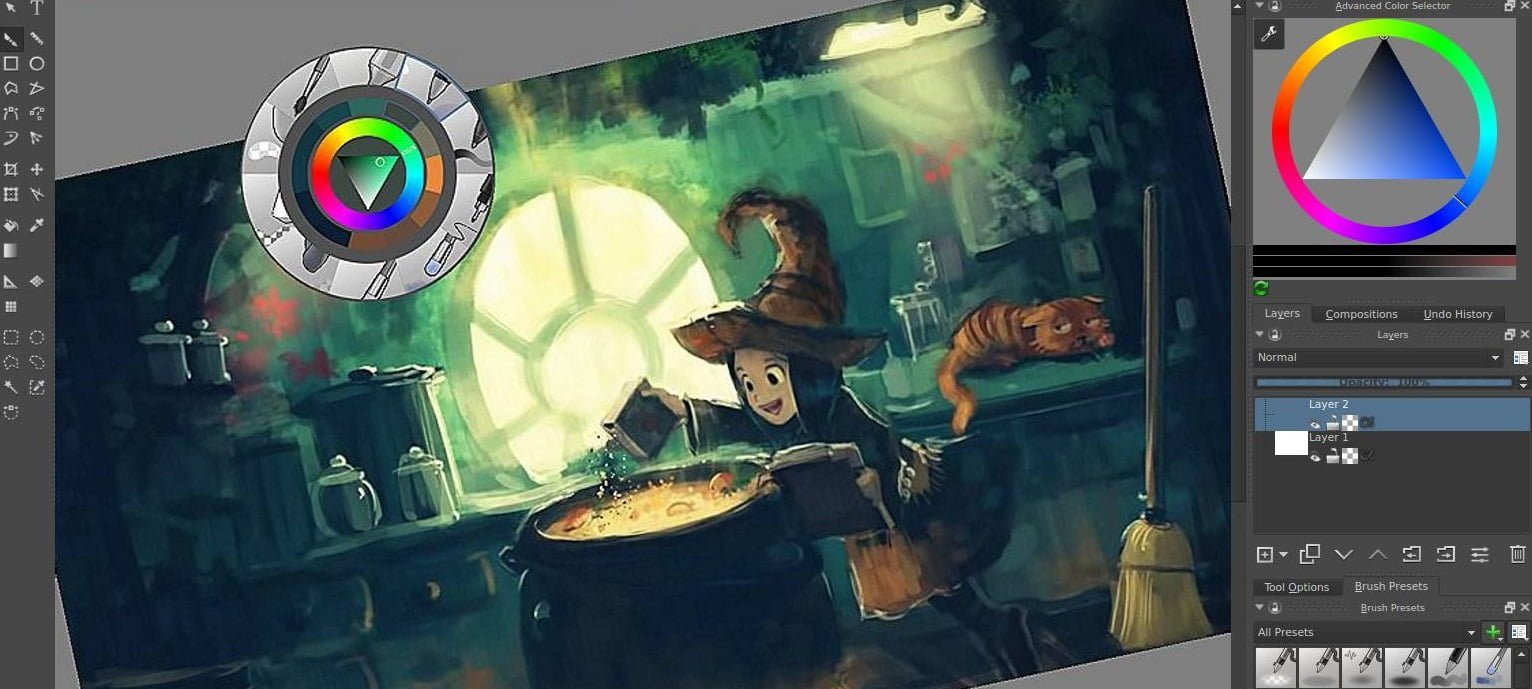 There are a lot of Digital Painting platforms out there which allow artists to paint out their ideas and concepts amazingly well.
Krita being one of the most popular among them.
From being incredibly versatile, to amazingly user-friendly, this platform provides something unique for every user.
So, when it comes to Krita paint brush sets, there is a lot to choose from.
As more and more tool developers and artists are making their very own brush packs every day, it can be rather hard to pick the ones that you need for your project.
So, to help you out, we have comprised a list of some of the best brush packs for the Krita platform, which are sure to appeal to both professionals and amateurs alike.
Krita Brushes and Brush Packs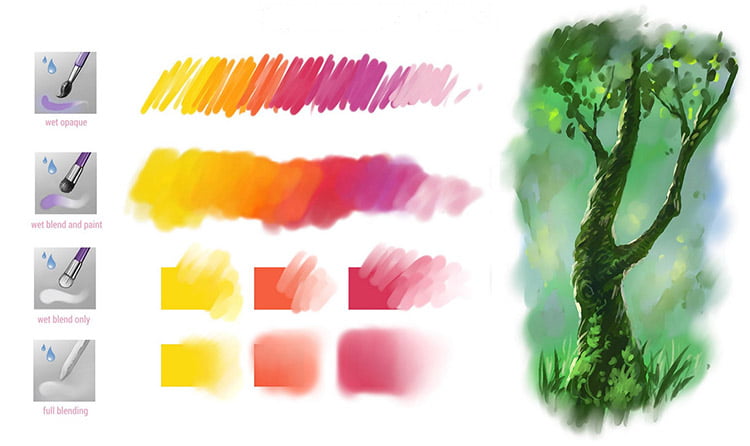 In the Digital Designing world, the GDquest team has done some amazing work with the Krita software. From Making unique and helpful video tutorials to a variety of paintbrush and blending tools, GDquest has for some time now, inspired beginner and adept designers in creating their dream projects.

GDquest Krita brush set is the 'freemium alternative' to their more exclusive game art brush pack, which does cost a hefty sum. However, for the more amateur users, this free brush set is going to be more than enough in helping them achieve exactly what they are looking for.
Their more recent bundle is in v7.0, and you can very easily download it for free from their page.
One amazing thing about GDquest, which we absolutely love is that they update all their tools and features periodically. They hotfix bugs and feature crash as well, and are constantly aware of user feedback, as they try to make their applications some of the more convenient Krita tools out there.
Moreover, this brush set comes with its very own tutorial video and guide. Hence, if you're quite new to Krita and don't have a proper grasp of its brush stroke techniques, then this set can come rather handy.
This a fantastic brush pack made by Radian 1 and released in DeviantArt for the wider community to view and download.
The pack is a bit unique in comparison to some of the other free brush sets out there, as it comes with a lot of customizable options which are more of a characteristic trait for paid brush packs.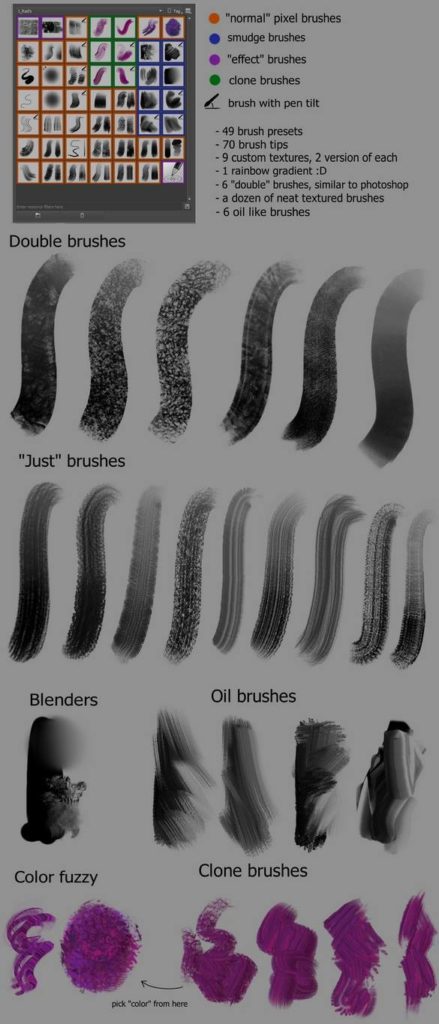 With this pack, you will gain access to a variety of custom patterns, as well as gradients and workspaces to get you fully equipped for your next art project.
As this, brush pack is mostly geared towards painting, it might not be a convenient pick for you, if you're looking to do more with them like blending and surface detailing.
But do keep in mind that you will not be able to directly download the brushes form the DeviantArt itself. Instead, Radian 1 has the pack hosted on Google Drive, and all you need to do is visit that link and download the brushes.
Moreover, it's also important to update your Krita application before downloading and using these brushes. They require a Krita v3.2 or higher to function, so do try and be up to date on it.
The 4th volume of the Modular Brush set series from Grind God is going to be one of the most versatile and varied brush pack set on the list.
It has over 120 brush presets with over a dozen custom styles that will allow you to make those final touches on your artwork to make it a very unique one.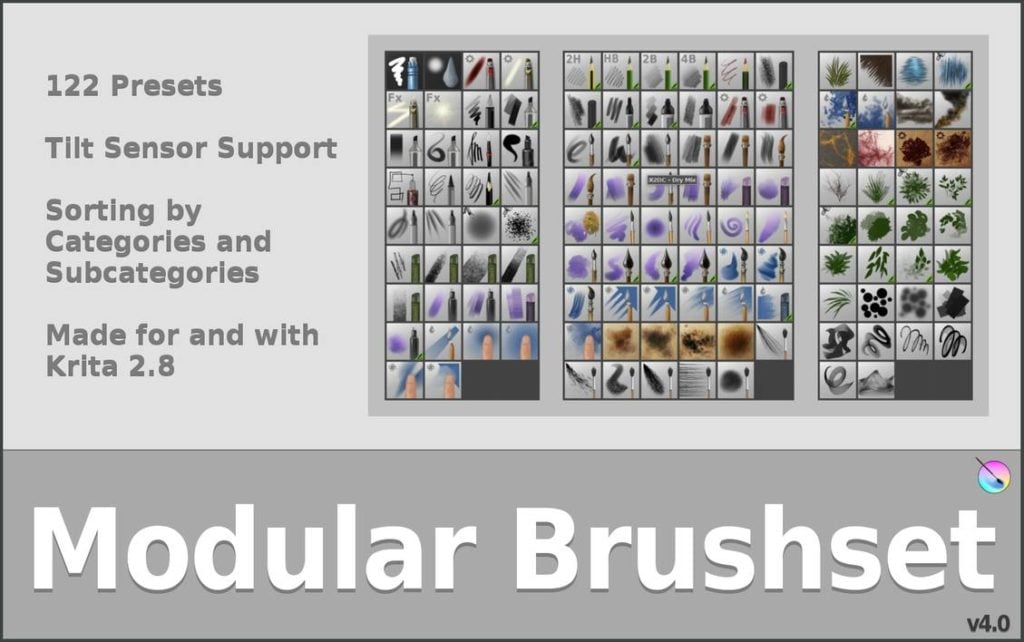 Now, with so many presets and options available, it's really not all that surprising that the download file size is much bigger than average. The 34 MB size doesn't just contain the brushes but some convenient demos as well, to help orient you with the color textures as well as the brush strokes.
The reason why we list this brush set as a very varied one is because it contains a little bit of everything. From containing 'fountain pen styles,' to 'loose worn-out paint brush marks,' this brush set comes very highly recommended from our end for amateurs and professionals alike.
A new V5 version is out now; however, even though it's a significant improvement in quality than the V4, it doesn't have all the brushes that are available in the previous version.
This brush pack is from the Mumbai based illustrator Raghavendra Kamath, which has been there on several art sites for some time now. It supports Krita versions all the way back to 2.0 and is absolutely free to use and download.
You might be thinking that these brushes might just be too old and lacking in quality when compared to newer alternatives, but you will be quite surprised to find how consistent and versatile they are.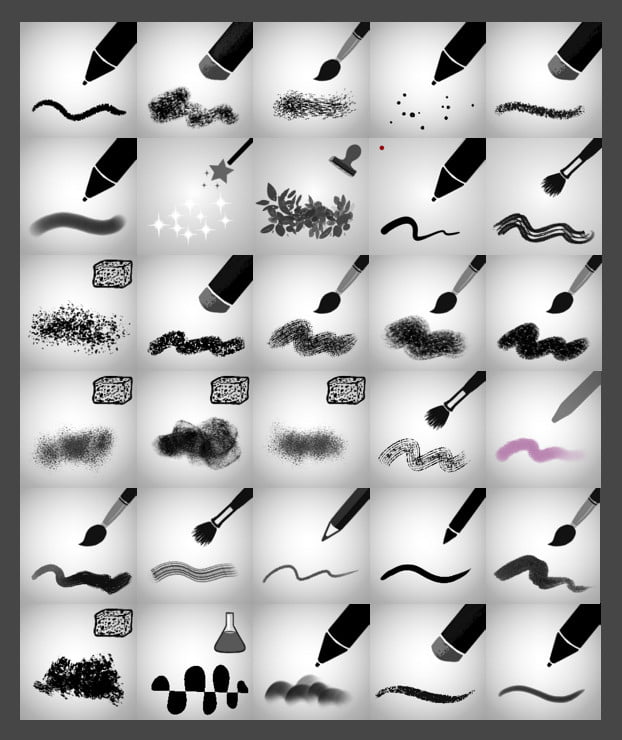 The pack contains a handful of some traditional brush styles like sponge brushes, custom pens, as well as some stamp-styled brushes, which are incredibly high in stroke quality.
Additionally, even though this brush set is up for grabs on so many art sites, it's best to download it from GitHub where it was originally published.
But it's important to note here that this brush set is quite old and the features have not been updated or patched with the latest Krito versions
Hence, some of the applications might be a bit buggy, and you may not be able to get what you want as a result. These are just some of the things to keep in mind when using this brush kit.
Jackpack's Krita brush bundle is the newer design set which we have recently had the opportunity of using.
The presets and the features are pathed with the latest Krita 4.0 version and work seamlessly with the program to help artists have an amazing drawing experience.
However, just because these high-quality features are patched to the latest version doesn't mean that they will not be supported in the older Krita models.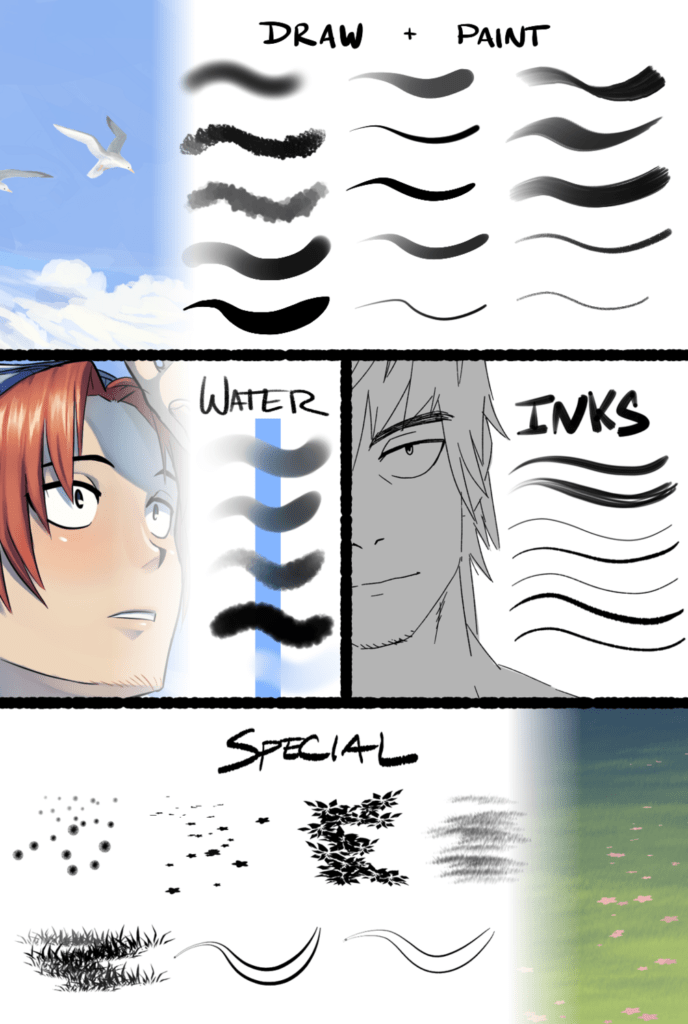 It will effortlessly run without a problem till V2.8, but for anything below that, it's better to test out the compatibility first.
Now, in terms of the advantages: all of the brushes present in this brush kit are designed with 'pixel-perfect' strokes in mind. Hence, it will allow you to customize and resize the brushes in whichever way suits your art and style.
But, not all the brush features will support the same level of mirror symmetry, and you will have to experiment with it a lot to see which ones will work the way you want it to and which ones wouldn't.
The whole pack comes free of cost in the Gumroad main website; and if you do want to make a donation to them, there is an option in the website which will allow you to do just that.
These Hushcoil Brushes are a relatively newer set to the Krita 4 version and pretty unique in how it goes about its brush stroke use and the range of features it houses.
These brushes are quite detailed, to say the least, and contains about 280 different formatting features, allowing one to be very versatile with their art styles and designs.
Primarily, the brush kit has four bundle packs, each representing a different type of classification from Concept to Paintbrush, to the Pen and Pencil and the Basic work set.

Where the Concept and the Paintbrush category appeals more to the more adept professional users, the Basic brush kit, on the other hand, is just perfect for beginners as well as amateur Krita users.
Combining these different categories together, you will be able to create some very unique and different brush strokes and have access to a wider range of art styles which you otherwise wouldn't.
If you want to download these brush sets, then you will find them hosted on Gumroad for free. Gumroad is an amazing site for marketing such brilliant digital painting tools, and it showcases a lot of the sets made by this particular creator.
Making cartoons and anime pages on Krita is incredibly fun and easy. So if you're inner mangaka is itching to make its very own webtoon serial then this brush set is a must-have.
Now, this brush kit is pretty exciting to use. As it mimics the traditional cartooning tools like pens and brushes, it will allow any artist to make those classic comic designs and graphic novel sketches very easily.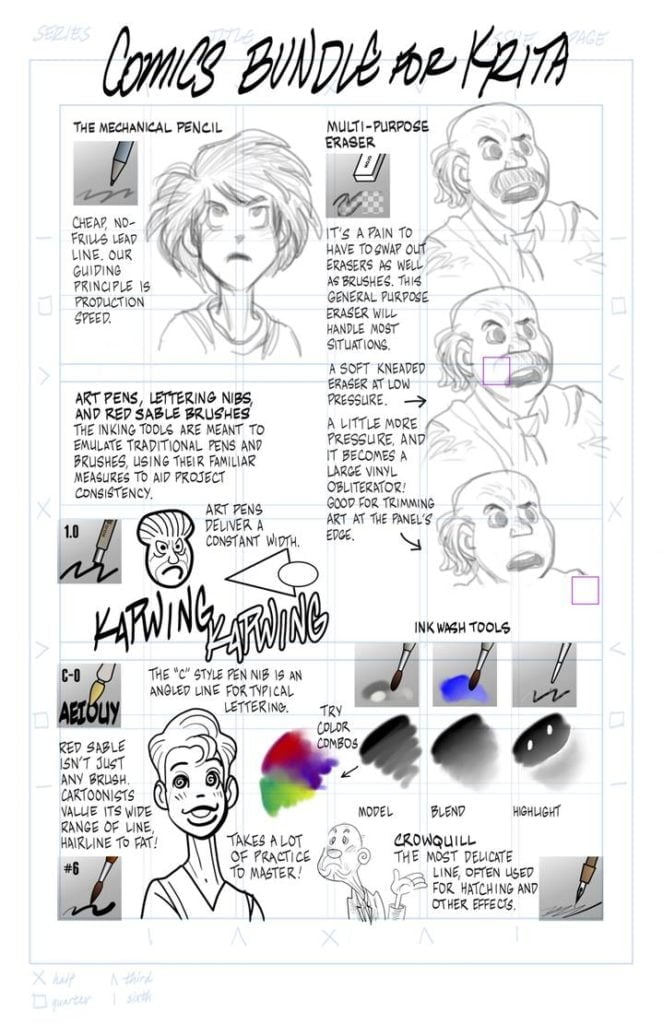 However, even though they might mimic the traditional sets, don't for one moment think that they lack any sort of stroke quality. Every brush in the set works at 300 DPI, and you will be able to design artworks in high-def quality and make unique designs for digital screens.
And if you're not all that sure if you want to use these brushes at all or not, then the Deviant Art main page has a small sample of the brushes which you can use and get an idea about them.
So, do feel free to try out this amazing brush set whichever way you want, and experiment with different styles and stroke settings, to see which of those will match your tastes and which ones wouldn't.
David Revoy is a superstar in the digital designing world. Apart from making high-quality graphic designing tool and brush kits for the Krita platform, he also has a YouTube channel where he teaches newer Krita artists various applications and features that the platform allows.
He helps to inspire them to try out new styles and stroke and also encourages them to learn as they experiment.
This brush set from him focuses more on the charcoal shades and strokes. However, these tools are primarily designed as custom brushes, and not every user will have much use for them, especially the ones who are much more experienced with actual charcoal work.
The brush kit comes with three separate brushes, each catering to a particular art style and art genre.
They are very easy to install and patches rather well with the latest Krita versions and has a set of convenient features as well
In terms of variety, the brushes range from super thin to very thick and painterly. So, if your art needs more detailed strokes or broader outlines, you can rest assured that you will be able to achieve both with this brush kit.
The second version of Nylnook's brush pack series is, without a doubt one of the best sets geared towards the traditional pen and paper style.
This pack is not all that well known and has slipped through the notice of many professional users. It has about 36 brushes and stroke styles available, which may not be much, but the sheer quality of these strokes is just astounding.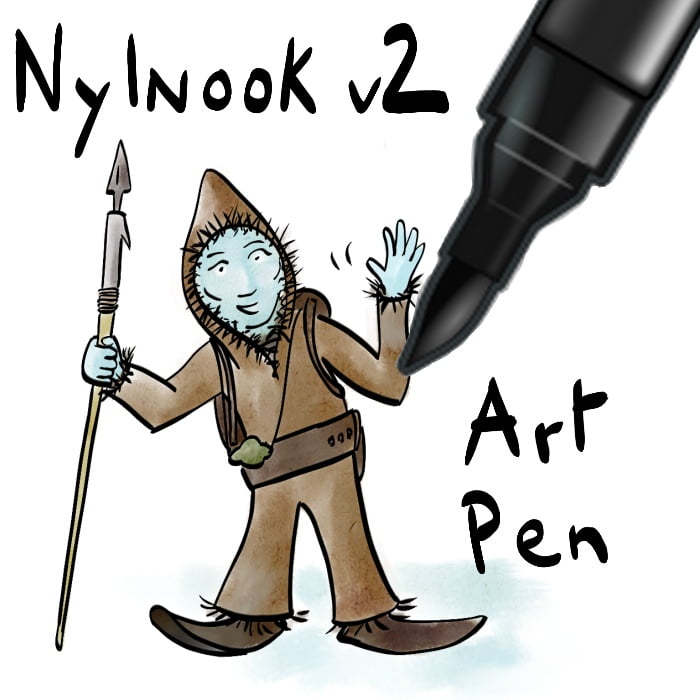 Moreover, we believe that these brushes might just be exactly what a beginner needs to get a better grasp of Krita and all of its various features. The pack also comes with full details about the brushes, as well as the techniques, along with the installation instructions on both the Faramagit page and the original blog post.
The brush tool is well patched by the creator and is regularly updated to fix bugs and compatibility issues which may occur with the improving Krita versions.
However, with the limited amount of brushes and stroke styles, this pack might feel insufficient by the more adept users. But these 36 brushes are ideal for the beginner who is still getting the hang of Krita.
The Krita V2 Brushpack is the more user-friendly brush pack set from David Revoy which a lot of beginners tend to opt into when getting into the Krita platform.
So, what makes the David Revoy beginner set one of the best?
Now, the popularity of this brush set has a lot to do with the variety and versatility of the brushes that are present in them. They are also very easy to use, comes with their own instructions, as well as a tutorial guide to help get you up and going.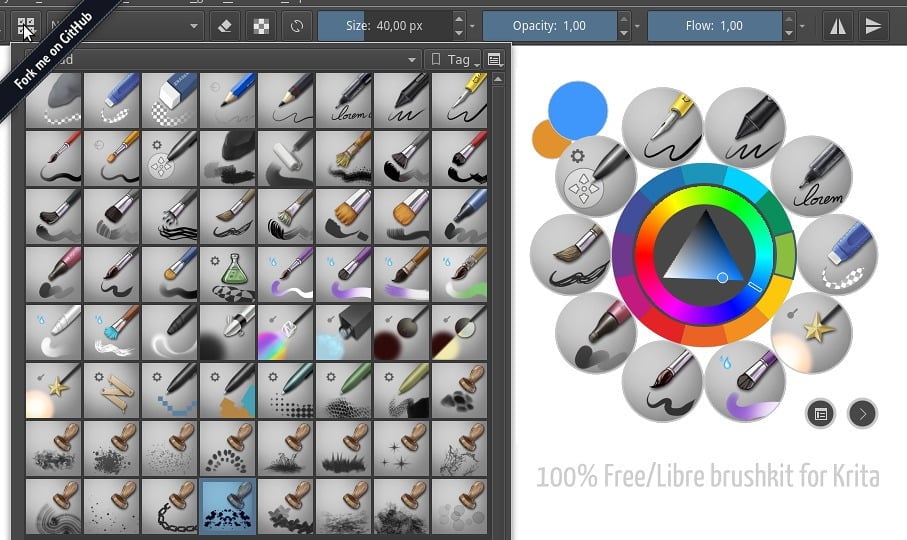 From light sketch pencils to digital inking pen to even eraser styles and paint brush sets, this brush pack comes with a lot of amazing tools and features.
It has around 64 brush styles and is going to be our recommendation if you are new to Krita and want to master the platform as efficiently as possible.
If you want an example of what this brush set is capable of, then you can take a look at David's work on Patreon.
He does the whole work with the brushes available on the set and goes about manifesting the art in such a way that it's going to be rather easy for anyone to mimic and follow.
Though made initially for the Krita 2.9, you will still be able to use the David Revoy Painterly Brushes on any version of the painting platform.
This set of primary brushes are more catered towards the needs of more adept Krita users than beginners really. But the newer users can still try out this set as the brushes here are very easy to use and install, and is very rich in stroke quality as well.

These painterly brushes are modeled after the real bristle brushes and mimic most of their stylistic patterns and strokes.
The pack comes with a handful of brushes that David often uses and showcases on a lot of his Krita tutorial videos. He basically uses them to paint certain art tropes like backgrounds and stock images.
These are also the brushes which he uses in his webcomic series called 'Pepper&Carrot.'
In many of his tutorials, he teaches how one can use these brushes to make a lot of unique color blends. The blending styles is where the real magic of these brushes lie; being able to work with opaque colors as well as lighter ones to create new blends is what makes this set so very fun.
The quite popular digital artist Vasco Alexander Basque has created a very special set of custom watercolor brushes just for Krita users.
The brush set has a varied collection of brushes and stroke styles, with features that support dabbing as well as splattering. Dabbed and Splatter brushes can help you get a wider style range with your strokes, and make certain works like bricolages and abstracts that can truly refine your skills with the Krita platform.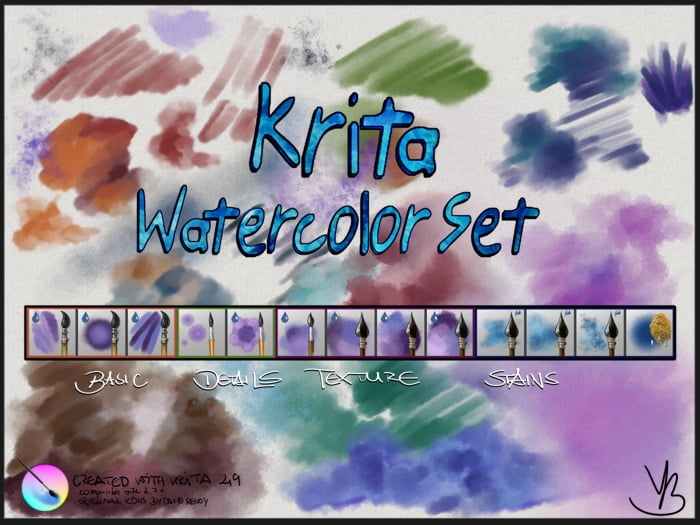 However, these two are not the only brush styles that come in this set; there are other such tools which offer a much-refined stroke for detailed works, which can be easily controlled and used.
If you're fairly new to water coloring in Krita, you can try your hand at small projects with this set. They are free to download from GitHub and is compatible with all the versions of Krita above 2.8.
But, do keep in mind that the strokes of these brushes are designed to be fairly small with a size range of 30px to 100px. They might be a bit low in quality, but the amount of things you can achieve with them is just amazing.
The minimalist brush pack by Aliciane is another brush set which is just fantastic for the newer Krita users.
Elésiane Huve (aka Aliciane) is a freelance illustrator and digital painter who uses Krita as her main digital platform for all her works.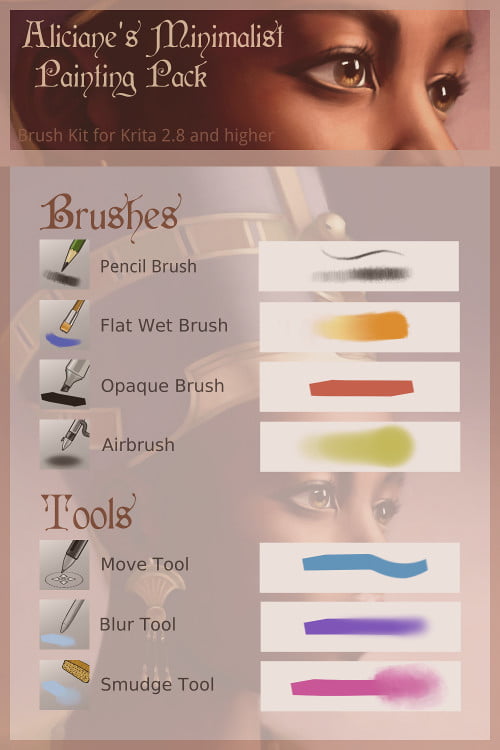 He has made this brush set for the newer users, derived from the David Revoy amateur brush sets, with some changes here and there. She has tried to make this a very basic set which will help the newcomer get an idea of how Krita works and how he/she can go about the platform to make whatever they want.
When compared to David's set, the brushes here have altered line widths, a different line cleanliness, and opacity sensitivity, especially while making marks with more pressure.
It comes with a few unique brush types as well, such as the smudge brushes as well as a custom move tool to add the much-needed versatility to this otherwise simple and minimalist set.
The pack comes with 8 brushes in total, which is pretty small, but considering these are aimed to aid beginners, one can hardly complain. They are also free to download and work flawlessly with Krita 2.8 and higher.
Aldys Brush Pack has been around in Krita for a very long time now, and may just be the oldest on our list today, even older than the Raghavendra set.
Now, what makes them such a popular choice for a brush pack tool in Krita, is how beginner-friendly these brushes are. The brushes are incredibly basic and consist of a little bit of everything, and is just fantastic if you ever feel like flexing your artistic skills and trying out something new once in a while.
From containing airbrushes to oil brushes to smudge graphite as well as some pattern brushes, they have a lot of versatility amongst them.
However, these brushes are quite outdated, and we would not recommend that you do any form of commercial work with them as there might be some compatibility issues with the latest Krita versions.
The DPI is also not all that high, and it may disappoint in certain aspects of your professional work, and you may not be ultimately able to achieve what you set out to.
Final Thoughts
For digital painting, concept creation, or even for making your very own webtoon, Krita is an amazing platform to have. And we hope that our list of brush sets today was able to help you in understanding this platform a bit more.
Till next time!
Related Articles
53 Best Medibang & FireAlpaca Brushes & Textures For Digital Artists
25 Best Free GIMP Brushes for Drawing & Painting Digitally
20 Free FireAlpaca Brushes for Digital Painting & Drawing
21 Best Manga Studio & Clip Studio Paint Brushes [Free Download]
Best Free Aseprite Tutorials For Pixel Artists & Game Designers
21 Best Paint Tool SAI Brushes and Textures 
Speed Paintings 101 |What It Is, Tips, Tricks, Tools & Video Tutorials
54 Best Photoshop Brushes | Best Drawing & Painting Brush Packs
80 Best Procreate Brushes for the Realm [Free & Premium Brush Sets]
12 Best Software for Digital Artists [Drawing & Painting]
11 Best Color Theory Books for Artists Everywhere
13 Websites With Copyright and Royalty Free Art to Consider
Types of Digital Art Right Now Explained
25 Best Concept Art Books for Artists Everywhere
22 Best Brilliant Sci-Fi and Fantasy Art Books for Artists
8 Best Cartooning Books For Artists Today
5 Types of Concept Art to Consider Today
10 Epic Tips & Tricks for Concept Art Portfolios Today
51 Enigmatic Forest Concept Art That Will Amaze You
67 Surreal Castle Concept Art Depictions to Surge Inspiration From