With so many online painting tools to pick from, digital painters do tend to have a very hard time to figure out which ones can actually fit their purpose and which ones cannot.
However, FireAlpaca is one such painting tool that a lot of painters, professional and amateur alike are opting into more and more off-late.
FireAlpaca is very convenient to use; it's one of the easier tools to pick up and has a variety of default brush sets that can help you get started with all your projects.
But, if you feel like adding a few more brush sets to your arsenal, then we have just the right list for you today.
The packs that we have reviewed today are free to use and download and cover a wide variety of uses and art styles, which can help you stay well equipped for any project that may come.
So, sit back and read along.
Free FireAlpaca Brushes
Now, when it comes to the variety of brushes and tools available for the FireAlpaca, not many can compete with what this pack from Cocobunnie brings to the table.
Apart from having a wide catalog of traditional-styled brushes which typically mimic a lot of the pencil works, Cocobunnie brings in something new called the 'scatter brushes.'
These scatter brushes are a lot like stamp brushes which you can very easily replicate on any digital design work. Moreover, these brushes are incredibly easy to customize, and you can edit their settings to best suit your needs and design tastes.
However, if we were to pick the best application for this pack, then it would, without a doubt, be with the FireAlpaca landscape.
If you're familiar with the landscape setting, you're bound to have an amazing time with the 'textured pencil brush' feature. It's the most useful tool by far in the pack and is also one of the reasons why more and more designers are getting more inclined towards the pack.
If there is a brush set which is a must-have for the new and amateur digital painters, then the painterly brushes by Candydesufoox would very easily top that list.
FireAlpaca already being a beginner and user-friendly app is simply one of the best for the up and coming digital painters. And this brush set from Candydesufox makes it all the more convenient and fun for the amateurs to get on with their next art project.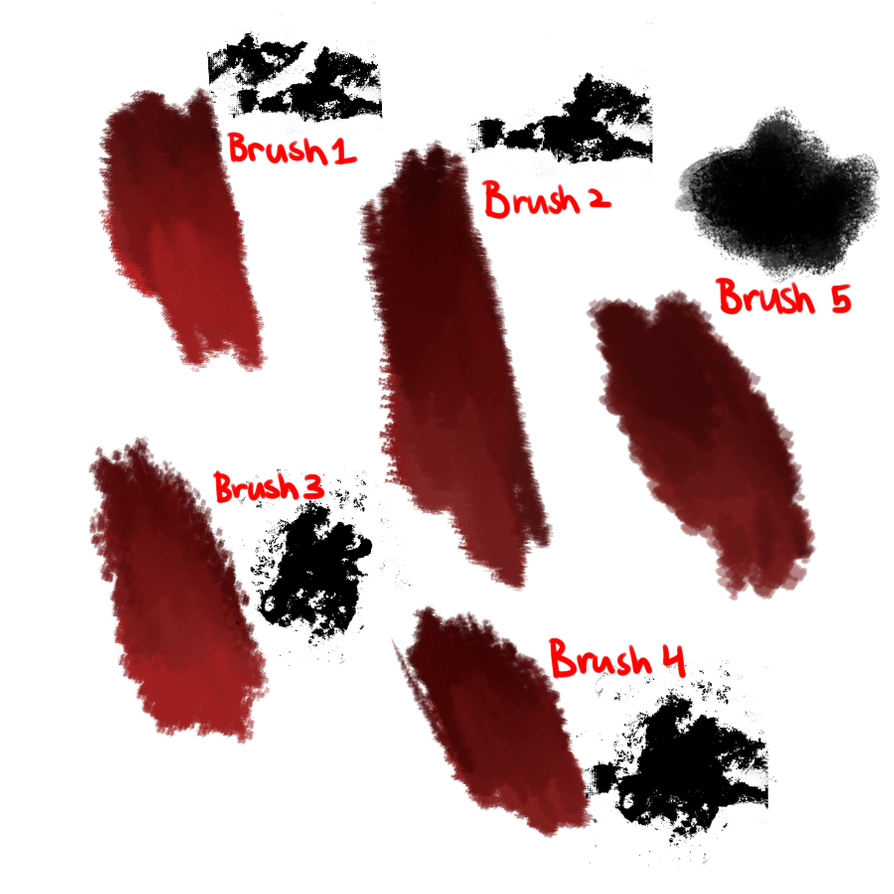 These painterly brushes are amazingly versatile, to say the least, and you will be able to use them almost anywhere and on any project.
Some of the tools here are perfect for making grunge designs, while the rest are exactly like paintbrushes and will help you to produce similar strokes. Additionally, you can even combine the two formats together and get some really unique strokes out of them, which you will not be able to find in any other brush set.
However, not all the brushes are free in this pack, but the ones that Candydesufox has released for free are just more than enough for beginner painters.
Here is another brush pack from Candudesufoox which we absolutely adore. The brushes from this tool set tend to follow a more familiar stylistic pattern to that of airbrushes.
The techniques are quite similar in comparison, and these brushes will be very easily able to produce watercolor strokes, which can go rather perfectly with a lot of designs.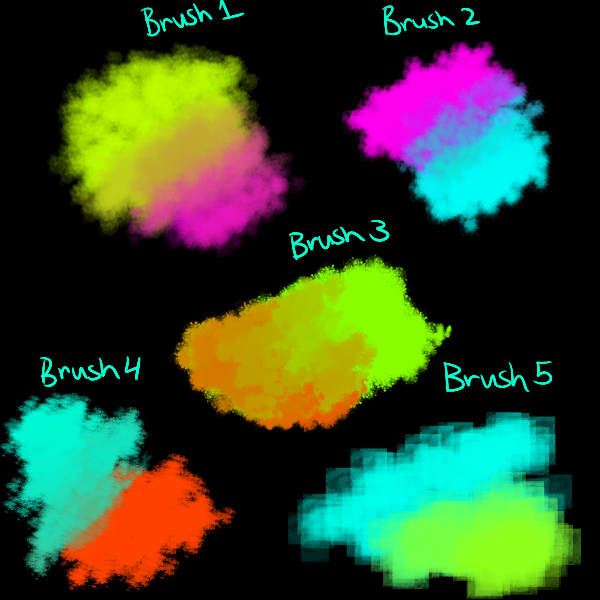 However, unlike the painterly brush set, these ones lack in a lot of variety. This set is a pretty small one and contains only around 5 brush styles to pick from. But the designs that they are able to produce are just fantastic.
There is a lot you can achieve with them, and that's precisely why more and more professional designers are tending to go for this set. The sheer amount of versatile strokes that it can produce allow these brushes to fit almost any art project.
The quality is incredible as well, and we highly recommend this set for all FireAlpaca users.
Cheapkrabs has been a rather new discovery from our part. It was only recently that we have had the opportunity of using their various brush sets, and we wouldn't be lying if we said that we were absolutely sold form the moment the first stroke materialized on the FireAlpaca canvas.
But out of all of their brush sets, the #3 set is what captivated us the most.
Much like the Alternative Brush Pack from Candydesufox, the #3 Cheapkrabs set comes with 5 brushes which again might seem very small and limited at first but has incredible versatility.
You will be able to customize these brushes in whichever way you want to fit your work needs. And as most of the strokes look somewhat generic, you will be able to use them to blend into a variety of art styles and drawings which need a more traditional approach.
So, if you're into painting a lot of anime characters or trying our hand at your very own illustration work, then these brushes can simply be a must have.
The free brush set from Oopoutto is another one on the list today that has an incredible amount of variety in terms of brushes, tools, and strokes.
The majority of the DeviantArt community recommend this set for amateurs and professionals alike and can be a very useful tool to those who are quite familiar with the FireAlpaca.

So, with this pack, you will most definitely get more than 20 different brush, many of them quite unique and not all that easily seen in other brush packs. The strokes they produce are just amazing and of high quality, which goes really well with a lot of drawing styles.
Moreover, the pack comes with its very own setup guide and instructions as to how to use the brushes. The tools are pretty simple to work with and will provide you with a versatile range of options for digital drawing, painting as well as inking.
The Ooupoutto brushes can be perfect if you are just getting into the digital painting field and need an 'easy to use' set of brush tools to get going.
If you love to work with nature and have a passion for representing scenic landscapes in the FireAlpaca digital art medium, then the Brush Pack #9 from DragonLoreStudios is a must have.
This very unique brush pack has a lot of foliage print designs which are as eye-catching as they are user-friendly.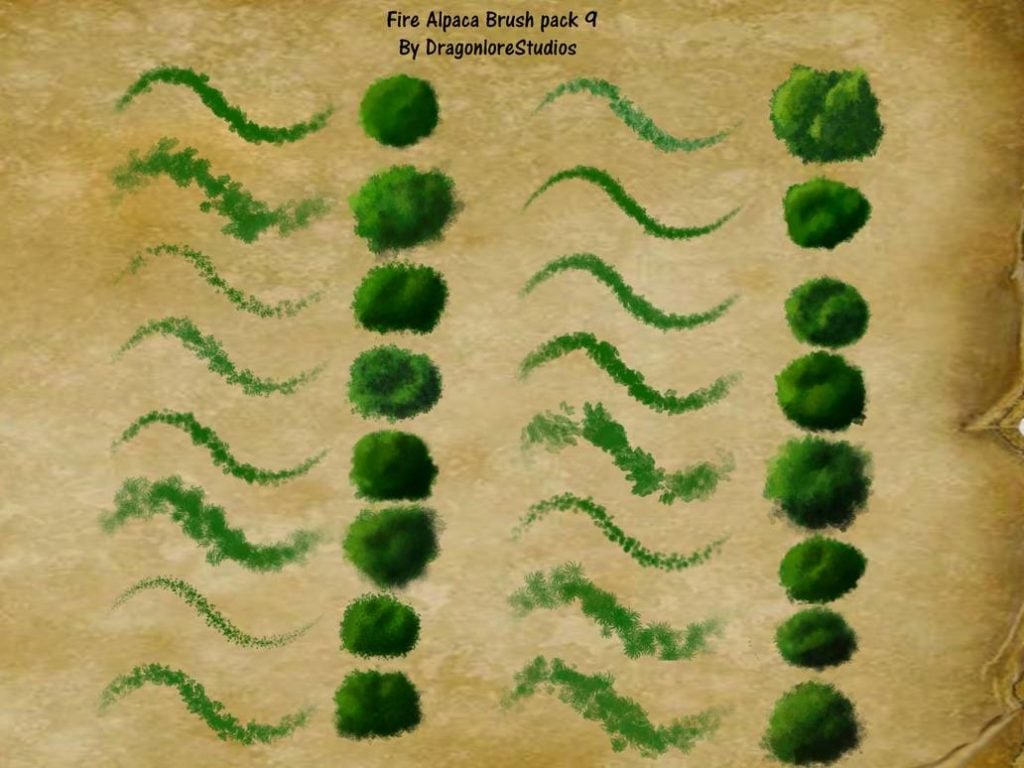 The creator DragonLoreStudios has created a lot of brush packs for the FireAlpaca; however, it is this one which has captured our attention the most.
Presenting nature accurately in digital media can be quite challenging if one is not equipped with the proper brush set that can produce the desired strokes.
This brush set is just amazing when it comes to making things like forests, trees, dense vegetation, clothing, and even hair.
And just like the Freebie Pack by Cocobunnie, one of its best applications is with the FireAlpaca landscape. Mountain ranges and forests can look lifelike with these brushes, and best of all; they are absolutely free to use and download.
The Brokeh Brush Set from Mo-Fox is all about adding the finishing touches and making your art piece as elegant in appearance as possible.
We know that these light stroke brush sets may not be for everyone, and we're definitely not recommending them for beginners as it's more of an adept tool kit. It's more oriented towards helping the professional designers in getting the precise artwork that they are looking for.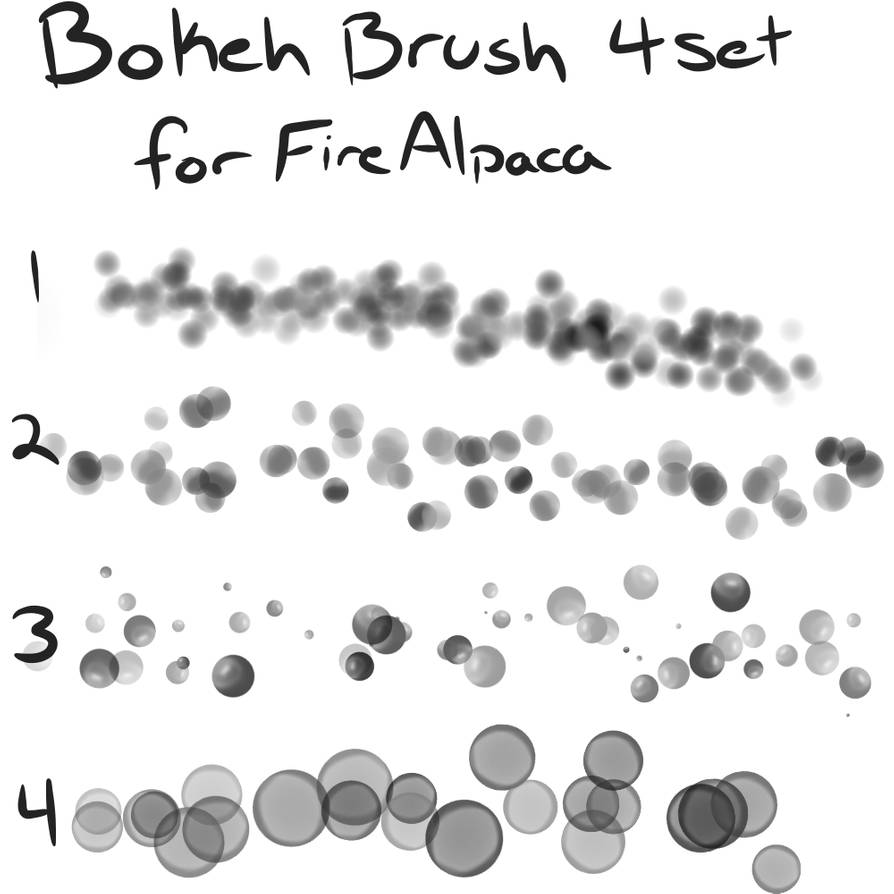 In the field of professional grade graphic designing and custom illustration works, these light brush sets can make or break a piece.
They're perfect in making concept designs that need a certain degree of a magical flair and interesting lighting effects.
So, if your next art project requires a lot of attention to detail and you are in need of brushes that provide accurate light strokes, then these brushes might be exactly what you need.
The quality and versatility is fantastic as well, and have steadily grown to be a must-have in the professional sphere.
These brush sets are a bit different than what most artists are used to. They are highly configurable, and you can customize the set in any way to make a variety of versatile strokes to fit any type of art project.
These brushes will allow you to have complete control over the radius as well as the total stroke sie. It has a ton of fantastic features to pick from in the tool library, as well as opt for repeating patterns if your heart is set on making an intricate mandala.
However, these brushes aren't exactly suited for full blown artworks that involve a lot of drawing.
They are more suited for rough sketching or inking out a finished piece, sketching down the last few touches to round off your project.
These brushes are also very user-friendly; hence if you're are rather new to FireAlpaca; this brush set will help you ease right in.
The is the second brush set on our list today by Cocobunnie and features stroke styles and tools that have to do with creating fantastic aerial landscapes and skies.
Though these brushes aren't exactly cloud patterned, they do mimic cloud styles and can be rather convincing to that effect.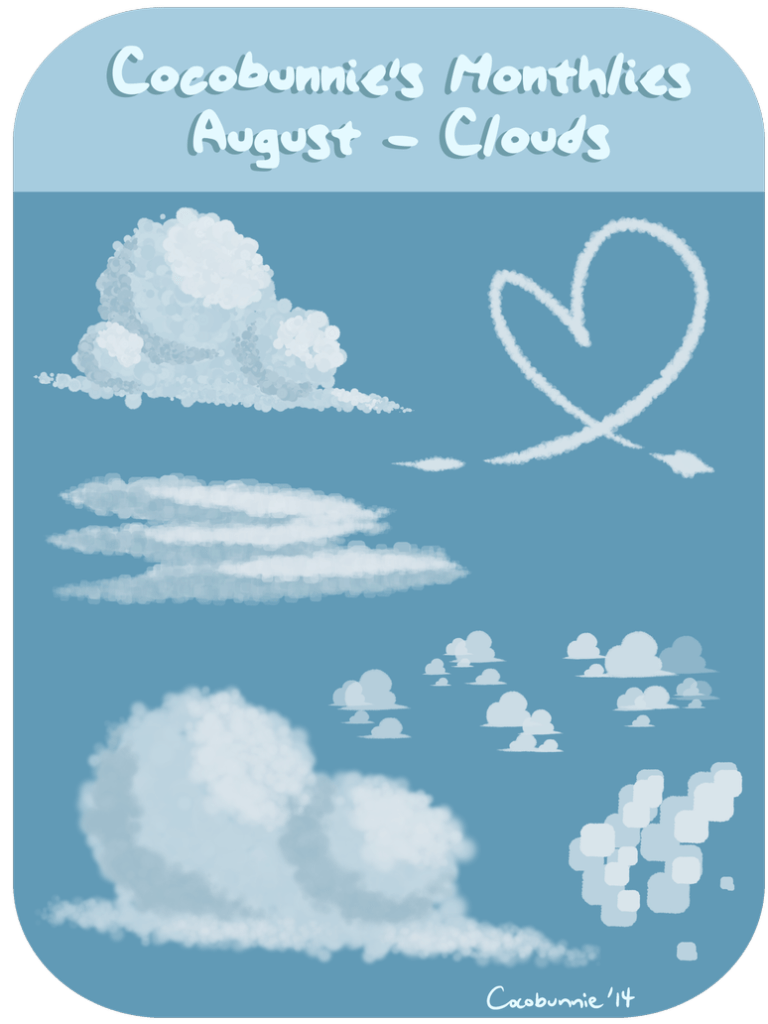 These brushes are perfect if you're planning to draw mountain ranges and landscapes that are covered by a lot of clouds and fog.
However, they are a bit harder to use than some of the other Cocobunnie packs, but they do come with their very own user-guide and explanations to help even an amateur get started on the right foot.
Moreover, these rushes are not going to serve your purpose for all types of painting works. Sure! They may have a lot of common textures and can be amazing to that end, but they are still more suited for landscape works.
Apart from having typical brush styles, the second brush pack series from DragonLoreStudios has a good mix of patterns which offers a unique range of stroke styles.
This increase in variety makes it a very versatile set of FreeAlpaca brushes to have, and these brushes go amazingly well with any art piece or art design that you want to use it for.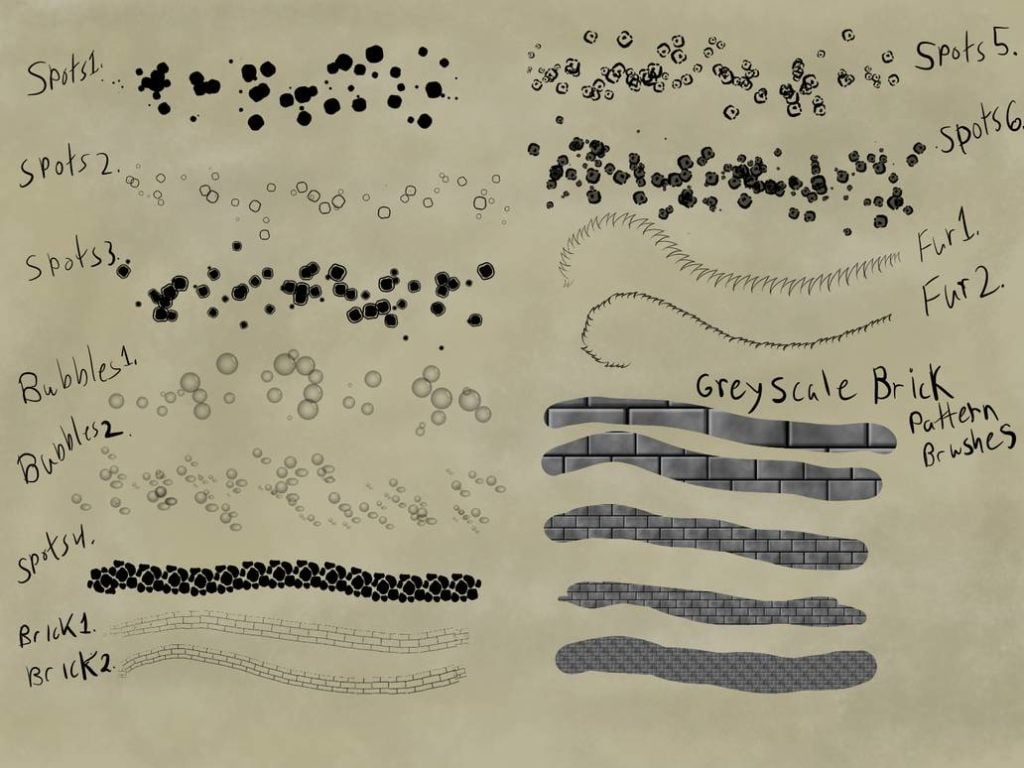 The Brush pack 2 is completely free to download and use and is a much easier tool to use. It comes with a lot of beginner-friendly features that can help get the new FireAlpaca user get oriented with this digital designing software.
The brush set has a mix of splot/splatter brushes along with certain other complex styles, likes bricks, which is a rather unique feature in our opinion.
However, none of the features or strokes are perfect when used alone. You can couple a variety of formats together and lay down the ground works for incredibly detailed art projects.
The spot bruises are just amazing and very fun to use and form a very high stroke quality.
This brush from Mo-Fox is just perfect for making some vegetation in any form of nature or landscape art project.
So, if you're looking for some efficient yet easy to use set of brushes to digitally represent a forest on the FireAlpaca platform, then this brush set has got you covered.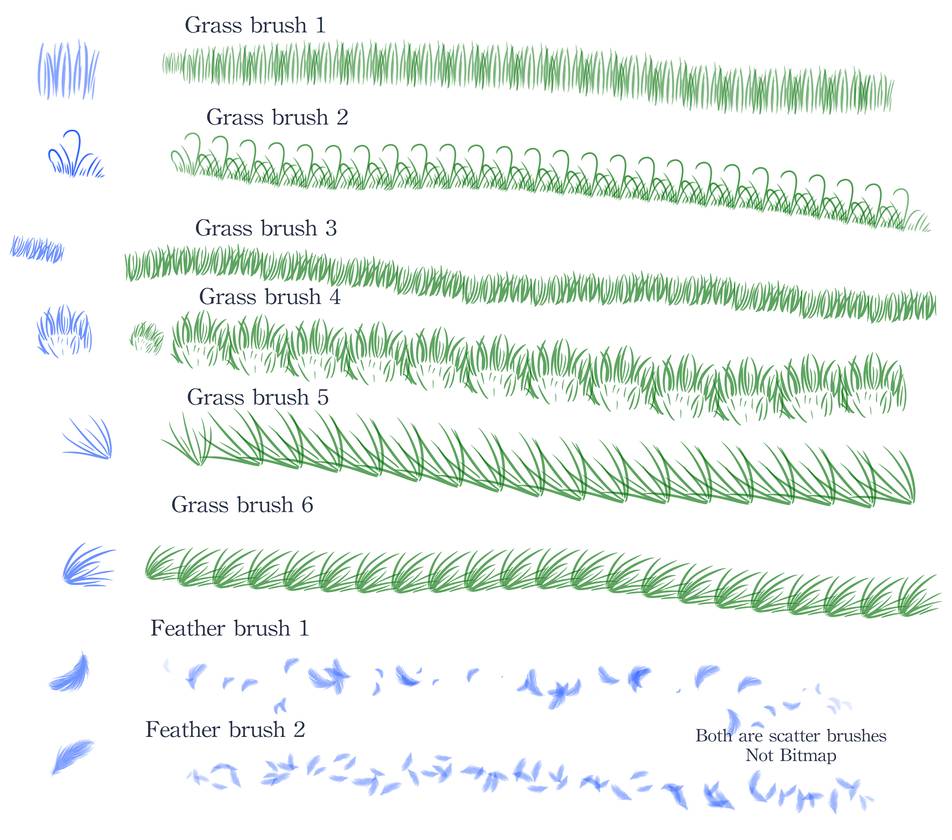 The brushes present in the pack depicts designs of nature amazingly well. As it comes in a variety of patterns, mimicking various species of green grass, or even tree vines is not going to be a problem at all.
Moreover, the floating feather brushes come rather handy if you have to make some minor wildlife in the background. It will help you to draw smaller birds and floating feathers, and allow you to represent a very picturesque view of the natural landscape.
These brushes are patched with the latest FireAlpaca version as well, so you will not have any issues while using it.
Having trouble digitally representing the night sky in FireAlpaca just the way you always wanted to? Then this brush set might just come in handy when painting out your aspirations.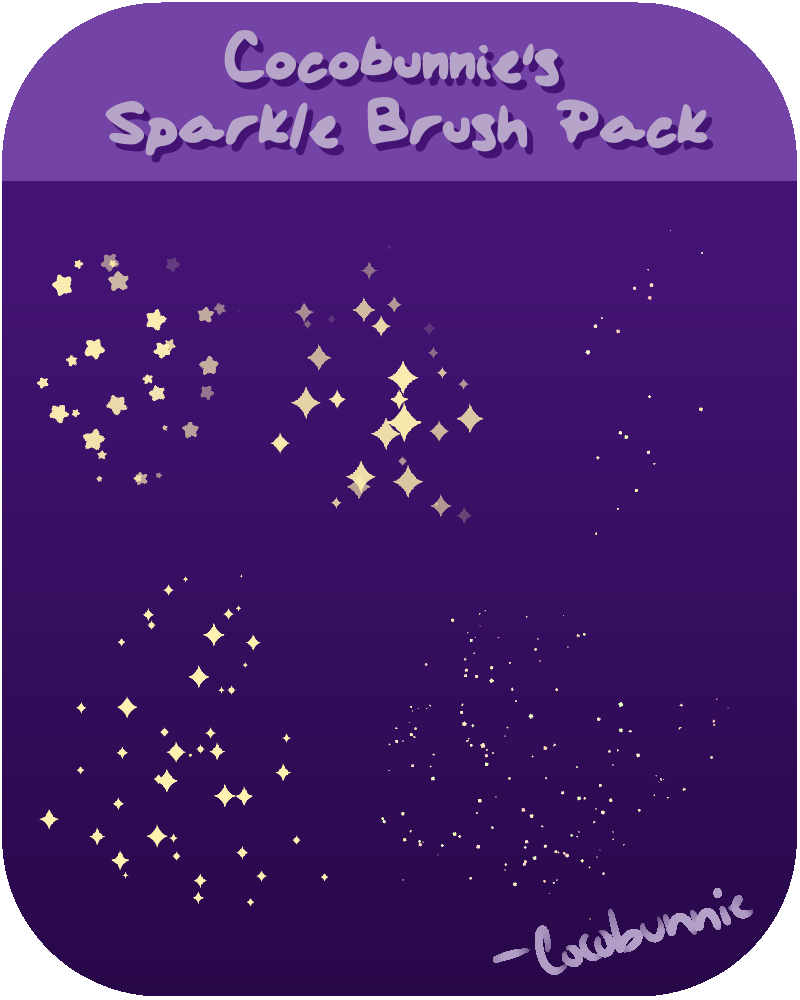 This fantastic sparkle brush set from Cocobunnie is meant to represent the starry night sky as realistically as possible. Each brush in the set has its very own shape, size, and designing pattern, so you will be able to fill up a dark background with a variety of clouds and stars of your choosing.
The brushes will help you make your night sky look as magical as you have always dreamt it to be.
However, realism is not the only thing that these brushes aim to provide. If you feel like going for a more cartoonish look, then this set also comes with brushes that can make more animated looking stars.
Some of the brushes are also capable of making pixie dust, or tiny bright dots in the background to make a complete constellation in the distance.
Making chain like realistic patterns and designs are perhaps one of the hardest things to represent in any digital painting platform, FireAlpaca included.
But this Chain Brush pack from Mo-Fox makes the whole process incredibly easy. So, no matter whatever project you're working on, if it requires chains or even certain blocks just closely connected to each other, then you are not going to find a better set than this to help you out with.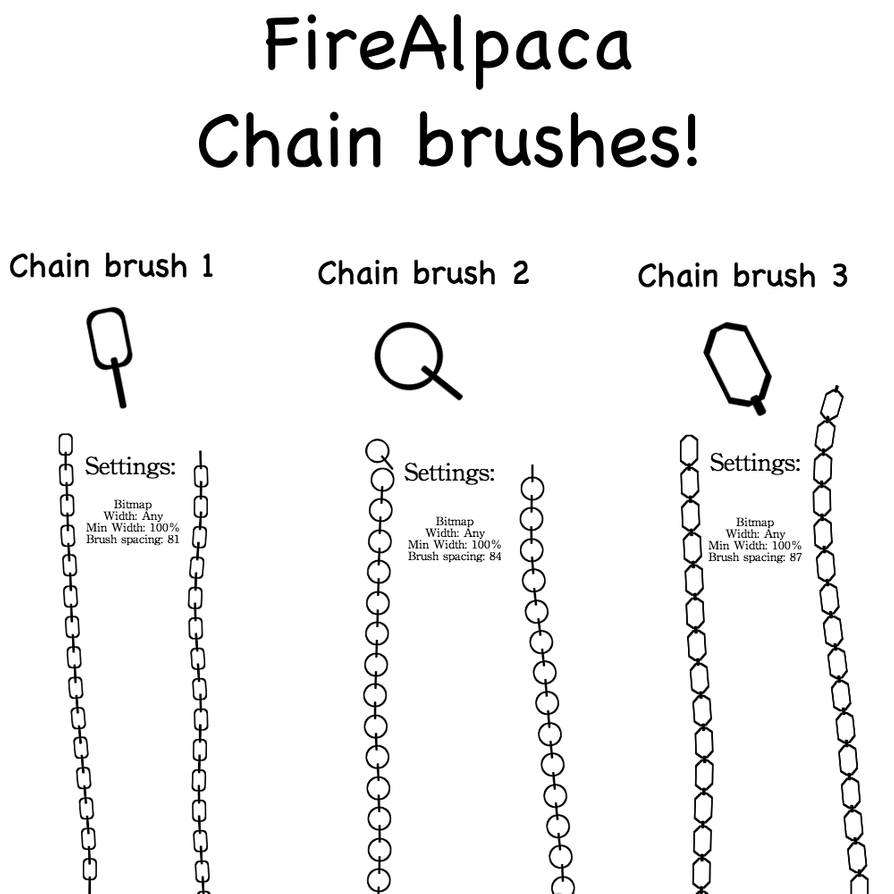 This is indeed the best free option that you can get online and comes with three unique brush types so that you're not stuck with just one single chain style.
All the brushes are quite useful when it comes to adding that bit of uniqueness to your artwork. However, if you're going or a more conventional style, then Chain brush 1 would be the go-to option.
The entire brush set comes under just 1MB, and installing it is rather easy as well.
This bruh set is indeed very popular among a lot of the DeviantArt frequenters and has a lot of positive reviews on how easy to use it is and how great a quality its brush strokes possess.
Another aspect of the brush strokes which the users absolutely love is how unique they are and how their different style is not all that frequently found in any other brush set.
May it be the texture, the stroke outline, the width, or even the appearance, this brush set is indeed very different from some of the more standard packs that you get today.
Sure! You can primarily use the pencil brushes for sketches, but that truly is the highlight of the entire pack is the oil brush set. These oil brushes provide some of the best-mixed brush hues on FireAlpaca; they are not all that difficult to use, and you can make drawings from basic designs to intricate patterns rather effectively.
This is the only free brush set which offers the basics of both painting and drawing.
Randomly throwing paint on the screen might not always help you get that perfect messy splat that you're looking for. However, this brush set can help you get that right amount of mess on the FireAlpaca background very easily.
Now, another thing that this set allows is the versatility and the different type of splat designs that you can get out of it. The pack comes with three separate brushes, each with their own unique strokes with the capabilities of mixing together and creating completely different splat-mess designs.
Moreover, may it be an oil splat or even a liquid mess, this brush set can handle both amazingly well.
So, if you ever feel like doing something new with your splat art designs, then do give this brush set a try. We promise that it won't disappoint.
Stylistically speaking, when it comes to making some of the most intricate designs and artworks, DragonLoreStudios' #8 is simply one of the best options available on the internet today.
This pack is one of the more versatile FrieAlpaca brush sets from the creator and is capable of creating a unique as well as a vast range of artworks from scratch rather easily.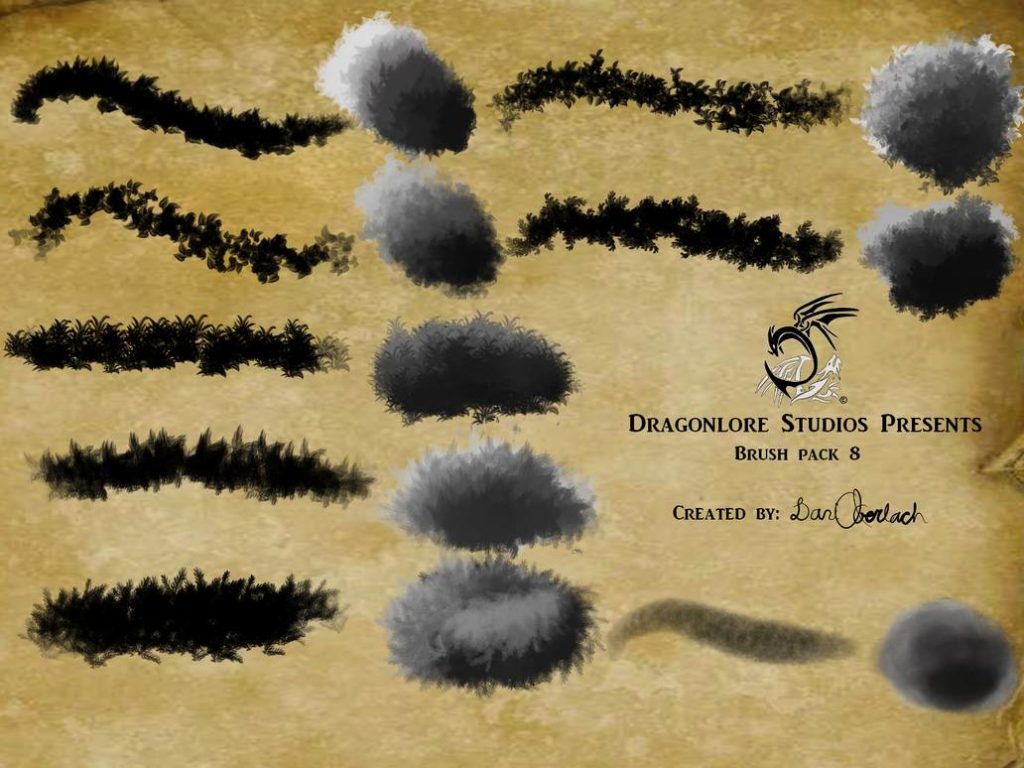 However, the best use of this brush pack is in making certain thematic aspects of a painting like clouds, smoke, and other forms of inanimate objects which are integral to the setting as well as the theme of the painting.
It comes with 8 brushes, each offering a different type of color intensity of dark clouds, or balls of smoke. Due to their diverse textures and appearance, this brush pack is going to be your go-to when you feel like drawing a bit of an urban sky scrape, or a sky filled with dark thunder clouds.
Additionally, another feature of the set we really like is how it can be used to mimic certain species of grass. The unique brush edges on this set can you help do a lot on FireAlpaca.
Feel like having a bit of fun and experiment with the FireAlpaca platform? Then grab this brush set from Relma 2, which is bound to put a smile on your face as you start to lay down your strokes onto the digital background.
'Colorful' and 'kid-friendly' is what best describes the brushes from this set. They act a lot like sketch pens in FireAlpaca and can be a very enjoyable relaxing set of brushes if you ever feel like taking a break from your artwork and do some fun experiments.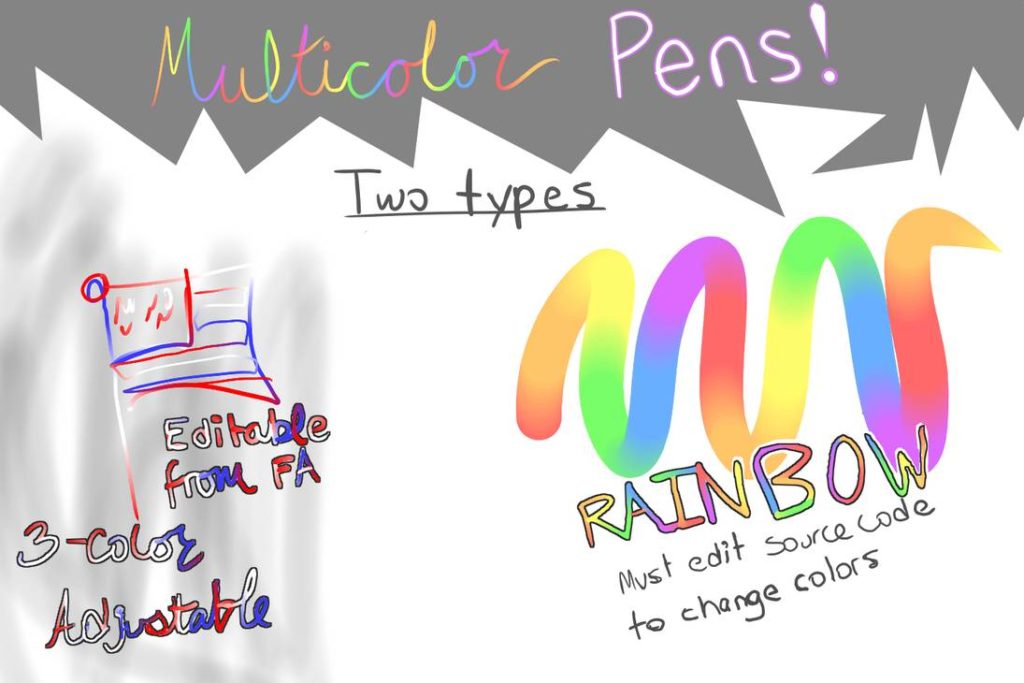 Moreover, these colorful brushes come in two separate types. The initial type of brushes can be very easily edited and is adjustable by three separate colors of red, white, and blue, which again can be mixed together to create separate color strokes.
The second type of brushes offer a rainbow of colors, and can only be changed if you do some editing on the source code.
However, when combined together, this brush set can be very versatile in its uses, and can indeed achieve a lot with them.
If you love making art in FireAlpaca that requires a lot of luminescent balls, then you will probably need an amazing pair of scatter brushes to get the effects just right. And which scatter brush set can be more effective at helping you get what you want than this set from Nuubles.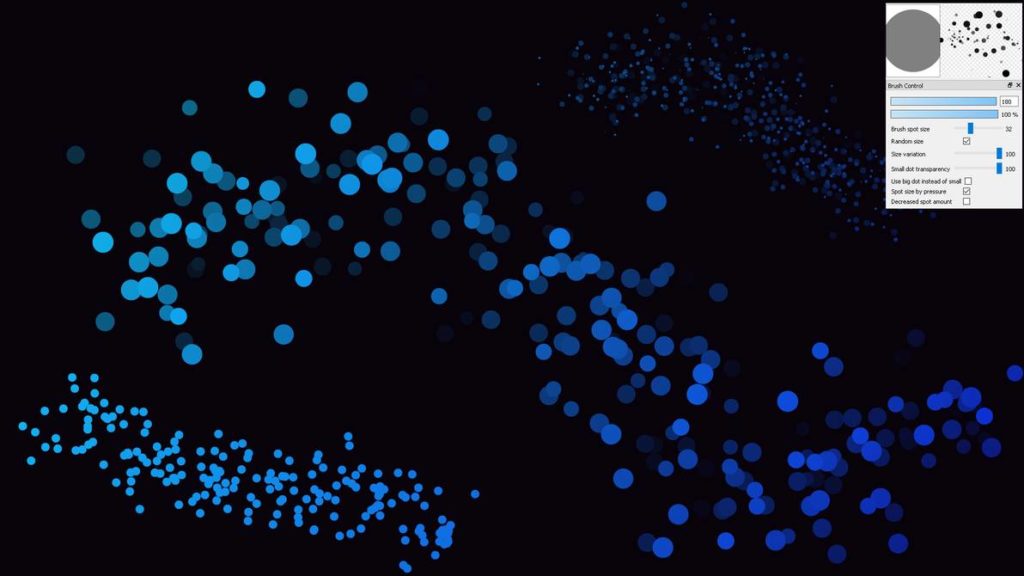 This set has a variety of intensities of light which you can scatter around the screen to your heart's content and make some truly magical artwork out of. But, these brushes are best suited for making nighttime effects, especially seaside lighthouse illuminations, and fireflies streaming the dark side.
This set again comes with three brushes, and all you have to do to use them is just wave them across the FireAlpaca screen and watch as the balls come to life.
These brushes are perfect if you want to give your 'night time setting' artworks, a unique touch.
If you want to make your winter or mountain landscape art look snowier, then the Snowflake Brush set form Mo-Fox will be the ideal pick for such a setting.
Making very realistic winter imagery is not as easy as one would chart it out to be. Apart from getting the right tone and color, you will also have to get the shades just right to make snow look like snow and not melting vanilla ice cream.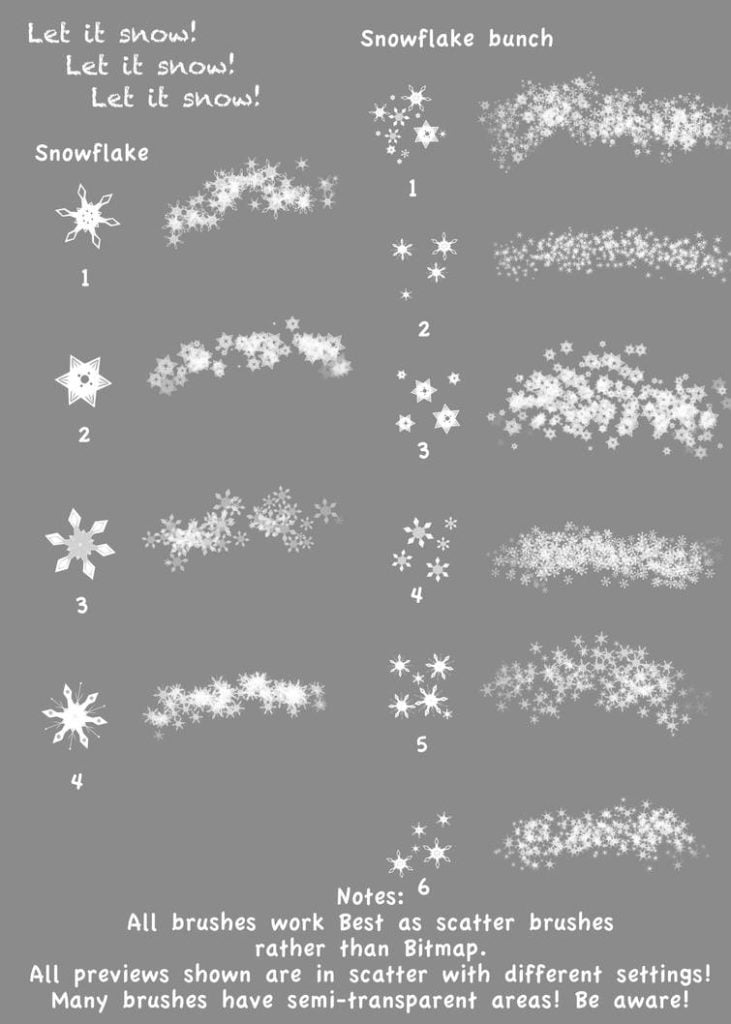 The pack comes with 10 different brushes, each producing a different snowflake mimic which will help you make a very realistic mountain peak art.
The brushes have adjustable settings so you can customize the strokes according to your liking. Some brushes are semi-transparent and can help you make light snow beds on urban streets very easily.
However, one disadvantage of this set is that it's best suited for winter projects alone. You will not get much use out of them outside that.
The Converted brush set from Kittykittykittyzz has a little bit of everything inside the pack. These brushes have been converted from a Photoshop file by the creator and do seem to work amazingly well on the FireAlpaca platform.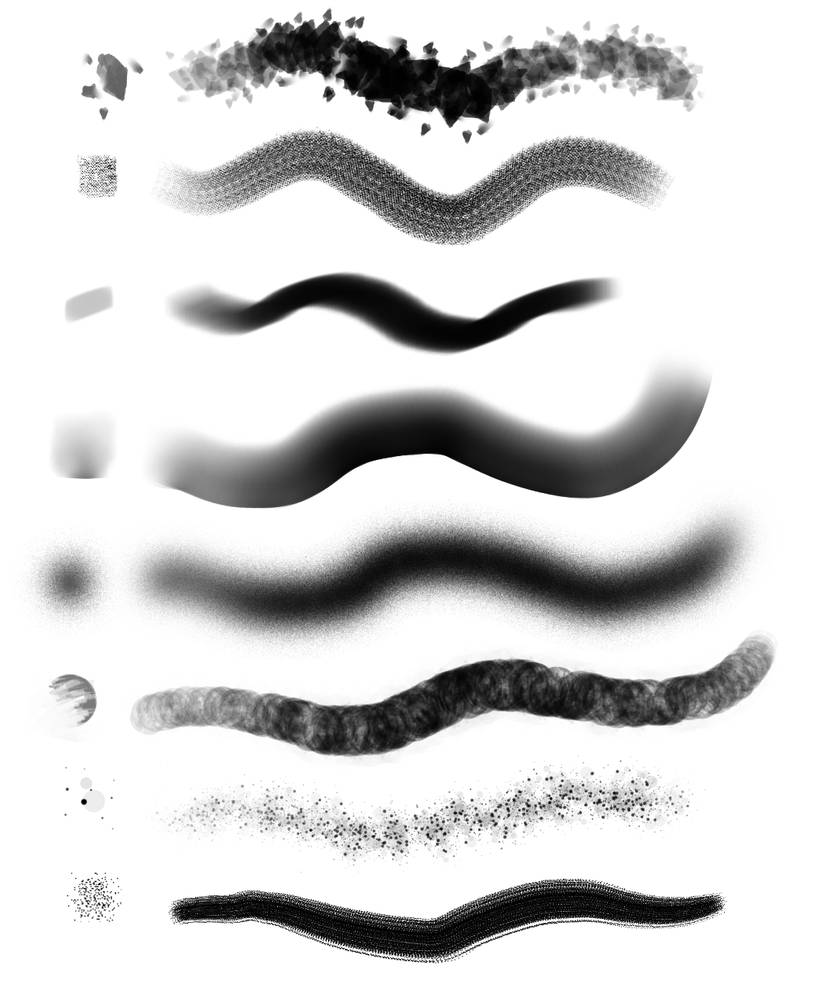 There are some noticeable default options in the set as well, but they are not as versatile or even as useful as some of the other brushes present, but you can still use them if you're looking for some conventional strokes.
But, do try out these brushes before you decide on using them. There are a lot of brush types and models in the pack, and you may not have much use for all of them.
So select the ones that you think you will need and only download those instead of installing the entire set.
Final Thoughts
The world of digital painting has a huge list of painting tools to pick from, each with their own styles and features. But we hope that our list today was able to help you out with all your FireAlpaca brush set related problems.
Till next time!
Related Articles
111 Best, Fun and Cool Things to Draw
14 Amazing Free Krita Brushes and Brush Packs for Digital Art