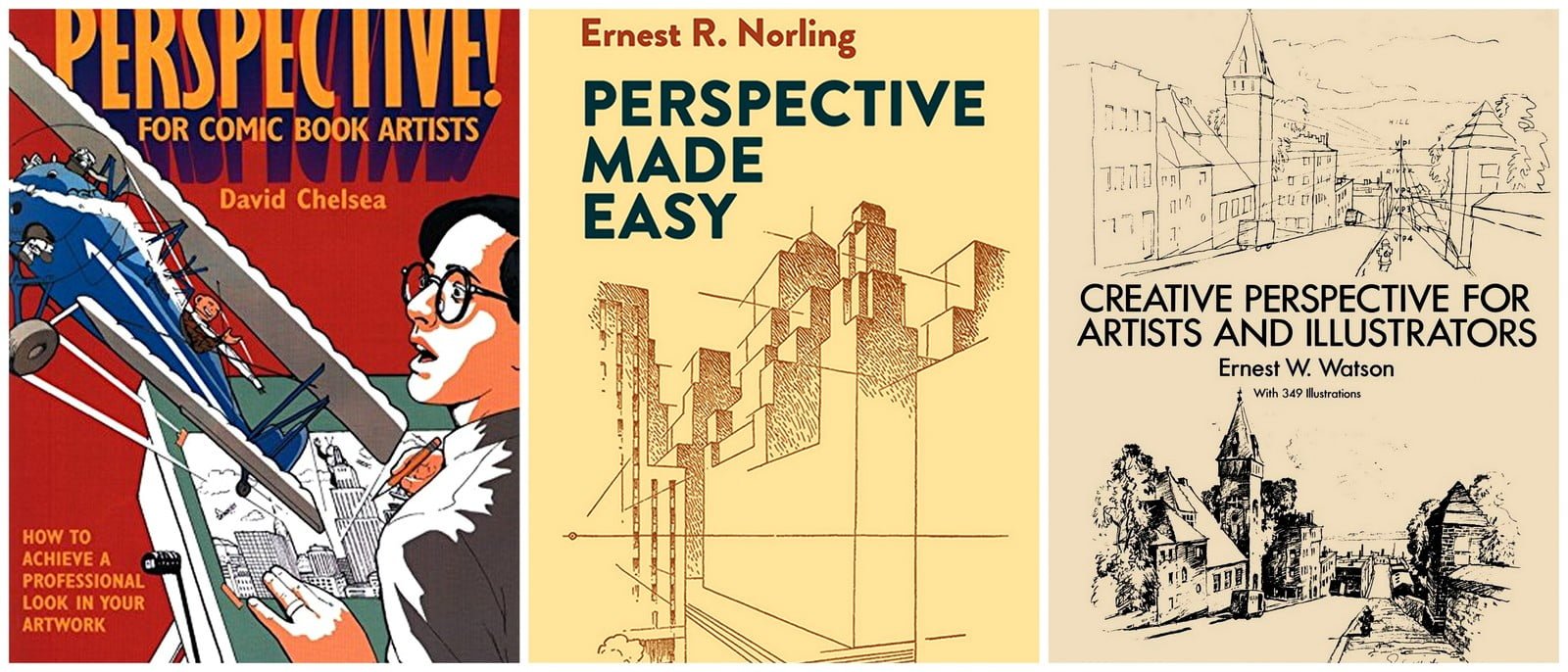 The subject of perspective in art is extremely vast and requires a lot of dedicated studying and even more drawing practice to get a firm grasp on it.
Artists often spend years studying the subject before it fully clicks, and even more on applying the concepts in their artworks. It is not something you learn in a day, but something that you need to study thoroughly and then put your ideas into practice over time. 
If you're a beginner to the world of art, you most likely do not possess a lot of knowledge on this subject. However, it is one of the fundamentals that you absolutely need to learn as an artist. 
Perspective is what defines how your artworks look from different points of view. It applies to everything that you create in your art, be it a character or an environment. 
While the subject is exceptionally detailed, there are plenty of books out there that can help you get a decent grasp on the subject in a fairly short amount of time. 
Mastery will take time, but these books will definitely help you get started!
Best Perspective Books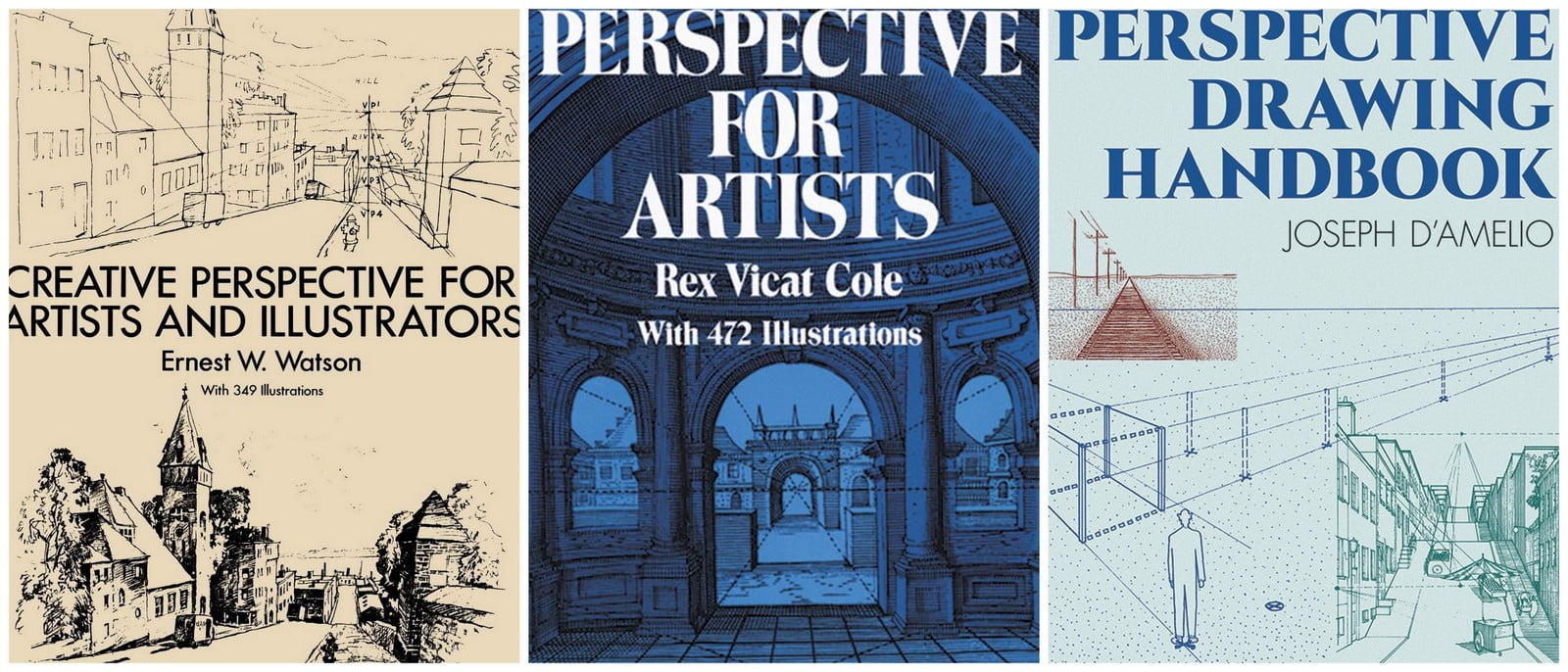 Sale
When it comes to understanding perspective in art, Norling's Perspective Made Easy is one of the best books for beginners to get started with! 
At present, it is widely regarded as the best introductory texts for beginners that wish to master this complicated subject. There are very few books out there on this subject that explains perspective in such a simple and straightforward manner as Ernest R. Norling has managed to do in this book. 
Apart from being an extremely easy-read, this book is also highly affordable. So if you're someone that has no idea where to get started on this topic, I highly recommend you get your hands on this. 
Perspective Made Easy is one of the first books out there that was entirely devoted to clarifying the laws that govern perspective. The book begins with clear and concise discussions on topics such as vanishing points, horizon, and the relationship between eye levels to perspective drawings. 
Irrespective of how much experience or pure talent you possess, you'll almost certainly be able to apply the techniques taught in this book instinctively once you're done studying it! 
Sale
How to Draw by Scott Robertson is a book that I keep on recommending to artists that are looking to get in-depth with the different concepts of perspective. It is a practical guide to constructing and seeing different objects in perspective and is primarily aimed towards teaching how to draw from your imagination while inventing perspective. 
Robertson, who currently teaches at Pasadena's renowned ArtCentre, is one of my favorite authors when it comes to Concept Art. His teaching style is one of the most unique that I've come across, and the vastness of his knowledge becomes evident as soon as you go through a few chapters of this book. 
In this book, you'll learn all the basics of perspective, such as 1-Point, 2-Point, and 3-Point perspective, apart from a lot of advanced concepts that require a lot of dedicated study. Every chapter follows the previous one with each of them building on top of one another. 
While this book is one of the best on this subject, it's not exactly something that I'd recommend to complete newbies. If you have no prior experience on perspective drawing, you'll find it quite hard to go past the first few lessons. But if you've gone past the beginner phase, this is one of the best books to go for! 
The Art of Perspective by Phil Metzger takes a very different route on teaching perspective, making it a must-have for all those of you that want to get a detailed analysis of the subject.
This is a relatively new book on perspective drawing, and also one of the most simple and straightforward ones I've come across in a long time. In this book, you'll be guided through a series of exercises and mini-lessons that will help you grasp the different notions associated with perspective. 
The author has taken a brilliant approach towards demystifying perspective. The book offers simple but effective techniques that will help you achieve a convincing illusion of distance and depth, irrespective of whether it's only a few inches or miles. 
You'll start with simple, intuitive techniques and atmospheric perspectives and then slowly make your way towards more sophisticated challenges such as curves, stairways, and reflections. It is one of the most effective texts for all those artists that are getting started with perspective drawing. 
Sale
This is one of the most concise books on perspective drawing that you'll find out there with only 96 pages worth of information. But don't let the tiny size fool you, this is one of the most effective resources to have by your side when you're doing perspective drawings! 
This short and sweet guide on perspective drawing provides tons of insights and shortcuts to efficiently sketching perspectives. It's also an extremely versatile text that both beginners and experienced users can learn from. 
The early chapters of this book by Joseph D'Amelio cover concepts such as foreshortening, diminution, convergence, and shading. As you gradually make your way deeper into the text, you'll come across discussions on more advanced techniques, and how you can master them quickly. 
Apart from the written discussions, there are more than 150 illustrations throughout the book that explains every single feature in great detail. So irrespective of whether you are an experienced artist or just starting out, this is a book that you should get your hands on. 
Sale
As the title suggests, this book by David Chelsea is primarily dedicated towards comic artists that wish to learn perspective drawing and apply different techniques in their work. It is one of the few books out there that teach perspective with a particular focus on Comic Artists. 
The book was first published in 1997 and is widely considered one of the best texts for learning the fundamentals of perspective art and their subsequent application in comic strips. It teaches various core concepts such as landscapes, characters, animals, and the different techniques you can adopt to draw almost everything from a realistic perspective. 
With this book, you'll learn how to draw the spectacular landscapes and fantastic interiors that you find in comic books. It's one of the best books for comic artists to step up their game and improve their artworks significantly. 
However, I do not recommend this book to total beginners that are just getting started. This is for those of you that have a decent bit of experience with perspective drawing and wish to start doing comic strips. 
Drawing Perspective by Mathew Brehm is one of the newest books on the subject, and offers a unique approach towards teaching the classic concepts. It is a hands-on guide to drawing perspective for pretty much every genre or medium that you can think of. 
It is mainly targeted towards the new generation of artists and comes with a highly interactive layout that makes studying the book extremely fun. It's not filled with tons of dull and dry theory like a lot of books on the subject. Instead, you'll find a bunch of highly practical and fun exercises that will help you learn perspective in a relaxed and effortless manner.
You can put your observation skills to the test with Image Quizzes that require you to draw every single vanishing point on the book. You can also play around with the 'Perspective Chambers' which require you to draw objects on to an existing scene without distorting the perspective.
It is one of the most beginner-friendly books that's out there, and by the time you're done with it, you'll have a decent grasp on the subject. 
For all those of you that are looking to learn drawing and concept art on a budget, Dover Art Instructions has some of the best resources for you to choose from. Perspective for Artists is among a few of the publisher's best books on perspective drawing with over 400 diagrams and illustrations spread throughout the book.
Rex Vicat Cole has managed to make the process of learning perspective a highly fascination and enjoyable experience through this book. The book comes with concise instruction, clear and straightforward language, and tons of illustrations to make learning a lot of fun.
You'll come across over 80 illustrations of drawings by old masters, as well as the author himself that demonstrate how perspective is utilized practically. The illustration problems are so well depicted that you'd not even need to depend on the text references to solve them at all.
However, since the book was written over a hundred years back, some of the illustrations and the language may feel outdated. Apart from that, this is one of the best books out there for beginners to get started with.
Sale
Creative Perspective for Artists and Illustrators by Ernest W. Watson is one of the more advanced books in this list that is targeted mainly towards more experienced artists. This is not a text that you'll be able to grasp without a strong knowledge of the fundamentals of Perspective drawing.  
You might have noticed how most illustrators, animators, and cartoonists exaggerate perspective in their artworks. With this book, you know how you can master this art while still abiding by the rules of perspective drawing. 
The author, Ernest W. Watson, is a master on the subject having taught at Pratt for over 20 years. His style of writing is very clear, and he knows how exactly to reach to his students through this text. 
In this book, he teaches some of the more complicated techniques that can be used to manipulate perspective while still being consistent throughout your art. It is full of diagrams and illustrations by real artists to help you get a firm understanding of complexities of perspective. 
Perspective without Pain is one of Phil Metzger's best works, and also one of the simplest books on perspective drawing that you'll find in the market. This is one of the author's older works and is recommended for beginners looking for an introductory text on perspective drawing.
As the title suggests, 'Perspective without Pain' attempts to teach new artists how to create perspective without the complicated equations, mechanical terms, and T-Squares. The book adopts a hands-on approach with simple instructions to teach students how to create depth and perspective in their drawings and paintings.
The earlier chapters cover different techniques that will help you impart a sense of depth to your paintings by gradually decreasing the distances between similar objects and then decreasing their sizes. You'll learn how to manipulate color and value, and draw from any viewpoint.
It covers pretty much everything that you'd need to learn as a beginner, and a lot more!
Sale
Basic Perspective Drawing by John Montague is one of the most comprehensive guides on perspective drawing that you can find. It is incredibly detailed and covers a vast array of techniques, concepts, and theories that artists of all skill levels can make use of. 
If you're looking forward to learning perspective drawing right from the basics to some fairly advanced concepts, this is one of the best books to go for. There are loads of illustrations, apart from tons of links that lead you to video tutorials to supplement the theories written in the book. 
The thing that makes this book so effective at teaching perspective is the step-by-step approach adopted by the author. The book progresses gradually from simple concepts to distinct tools and methods, illustrating how to create perspective one step at a time. 
Apart from the written theories and illustrations, there are also plenty of exercises wherein the readers can shade and highlight sections to reinforce their understanding of the book's contents. 
Sale
This book by G.A. Storey is considered to be one of the best books on perspective drawing, covering almost everything that an artist should know regarding the subject. This comprehensive guide on perspective drawing will help you understand and examine the theories of perspective from all angles.
G.A. Storey has designed the scores of chapters in this book in a highly concise format, thus covering a wide range of topics on the subject. There are discussions on theories that are both scientific as well as informal, apart from over 300 diagrams and illustrations. 
Once you're done with the text, you'll master how to reproduce distance, shape, shade, proportion, shadows, reflections, and other effects that enhance two-dimensional works with realistic and lifelike qualities. 
Final Words For Best Perspective Books
So there it is!
Some of the best books on perspective drawing to help you get started, and then gradually master this incredibly vast and beautiful concept in art. 
Like with everything worthwhile, you'll need to work hard and dedicate a decent amount of time towards studying and practicing the different concepts and techniques taught in these books. But once you're done, you'll be amazed at the things you'll be able to create through your paintings and drawings.
Related Articles
5 Best Drafting Boards to Enjoy
8 Best Cartooning Books For Artists
7 Best Mechanical Pencil for Architects & Artists
21 Best Manga Drawing Books to Check Out
16 Best Maya Books for Beginners & Professionals Alike
25 Best Concept Art Books for Artists Everywhere
22 Best Drawing Books for Beginners
11 Best Adult Coloring Books That Will Color Your Mood
11 Best Color Theory Books for Artists Everywhere
8 Best Cartooning Books For Artists
Best Watercolor Painting Books Everywhere | Beginner to Expert Grade