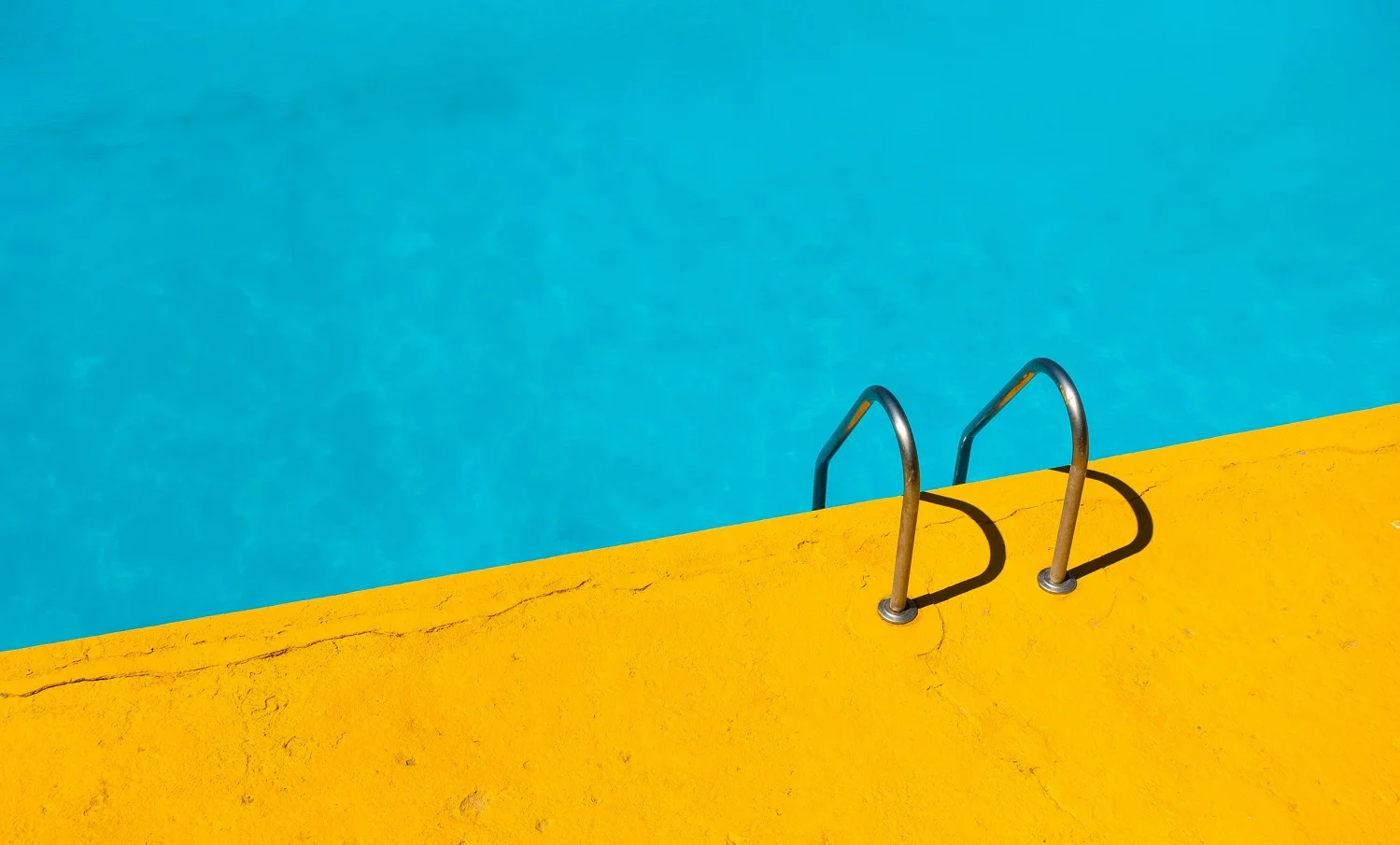 Whether it is a backyard pool or you are running commercial pools and spas, there are some accessories that you always need to take care of. Case in point: pool handrails. It has been noticed that many homeowners consider pool handrails as a redundant in-ground accessory and, thus, don't install them with their pools.
Handrails are the most convenient and instant way to get in and out of the pool. Many homeowners only realize this advantage of railings when they have already constructed the pool and deck and started using it. On the other hand, the pool handrail is more of a prerequisite for commercial pools, in fact, it is the provision of law to install handrails with commercial pools to ensure compliance of Americans with Disabilities Act (ADA).
Even if you didn't add handrails at the time of pool construction, you don't need to worry and regret that gaffe. You can still go with the retrofit installation of top-quality, durable, and ADA-compliant handrails on your pool. Here, we are going to discuss 11 of the best pool handrails that are available in the market right now. We will also pen down a short buying guide that will help you in picking a suitable handrail option outside of this list.
Before we start reviewing the best pool handrails available this year, it is important to mention here that we have numbered them for reading convenience. This numbering doesn't indicate our preference or customer rating.
Best Pool Handrails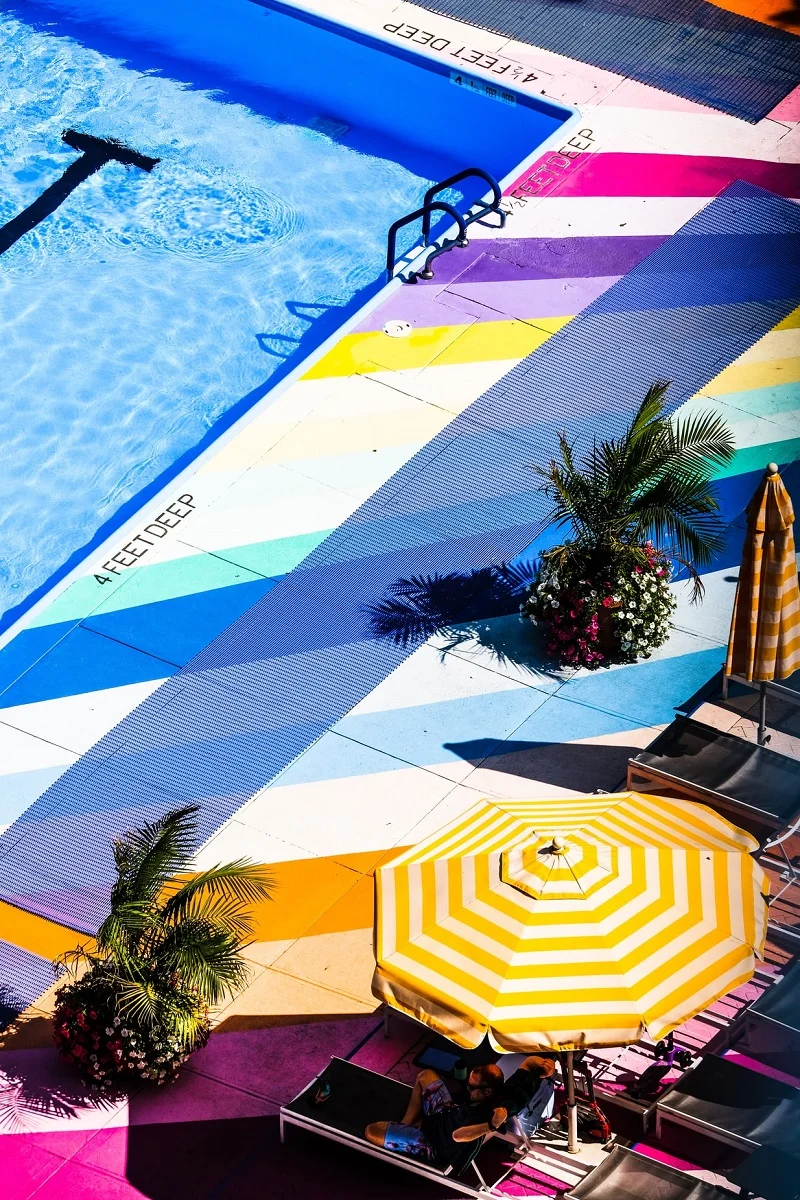 This pool handrail by FibroPool features durable stainless steel construction. If you are looking for a pool handrail that doesn't occupy large deck space and offers durable support for those entering and exiting the pool, then this item should be your pick.
Besides sturdy and space-efficient construction, this FibroPool rail is also easy to install. You can use it on both concrete and wooden surfaces. You have to install its baseplate 10 inches away from the edge of the pool to make sure it comes at the right height. The other impressive bit about this product is that it comes with all the necessary parts of the installation. You get four screws, four lead anchors, and a masonry drill bit with it so that you don't have to go for any aftermarket purchase.
You just need a drilling machine to install it on your own without needing external help. The stainless steel construction of the handrail also makes it exceedingly good against the constant exposure of water. Even after extended use, you won't find even minor rust spotting on the rail. 
Pros
Perfect for all sizes of pools

Suitable for all sorts of pool decks, concrete, wood, stone

Baseplate occupies minimal footprint, best for small deck sizes

Easy maintenance, corrosion and stain proof

Ergonomic shape offers best grip
Cons
The baseplate is thin that can make the rail a bit wobbly if not installed properly

A bit heavy on the pocket
Aqua select has introduced a perfect inground pool accessory in the form of this stainless steel handrail. If you are looking to make the entry and exits to your pools safe and secure, then this strong and durable rail is worth considering.
For instance, it is made of gray-finished stainless steel that is not just corrosion resistant but also stain-proof. These characteristics make it perfect for outdoor use. No matter how high the foot traffic is in and around your pool, this Aqua Select pool handrail will maintain its spark.
The sturdiness of the rail also lies in the fact that the manufacturer has used a 2-inch diameter tubing to carve it out. This tube width gives firmness to the rail and a required grip to the people using it. The length and height of the rail are also set as such that you can use it with all pool sizes without worrying about the mismatch.
Lastly, the sparkling gray finish, along with the dynamic shape of the rail, is also easy on the eyes. When installed, Aqua Select Pool Hand Rail also turns around the look of your pool. 
Pros
Ideal for inground pools of all sizes

Doesn't get corroded and stained even after long use

Well-thought-out tube diameter

Easy installation, only a drill hammer and wrench are needed

Comes in a reasonable price, a good long-term investment on pool
Cons
You will need to buy the installation parts separately e.g. sockets ,rings and plates

Not that good for installing on wooden decks
Truth to be told, a single handrail doesn't look good on the pools that have in-wall steps. In those pools, it is better if you use handrails on each side of the steps to give them a proper look of staircase. S.R. Smith has introduced a top-quality pair of handrails for all those pool owners that don't want to make any compromise on the safety of people using steps to enter and exit the pool.
The stainless steel construction of the pool is pretty carefully planned. You get a 1.9-inch tube diameter with the 6-inch radius bend on each rail so it can provide the required grip and support to the users. Moreover, the steel sheets used to mold these rails are 0.05 inches thick, which makes sure the rail looks and feels the same season after season.
As per the manufacturer's instructions, you need to install the rails 26 inches apart (from center) for giving the required support to both hands of people entering and leaving the pool. However, you can also use other spacing values, especially if you are looking to comply with ADA requirements. 
Pros
Custom-made for pools with in-wall steps

The height and width of railing is ideal for all small and medium-sized pools

Doesn't rust away, stainless steel construction

Dent-proof, thick steel sheets used

Easy on the eyes, glossy silver finish
Cons
Only available in the set of two

You need to separately buy anchors and escutcheons
If your pool has steep entry and you want to add a hand-support to it, then this S.R. Smith's pair of handrail is for you. This set is quite different from the one we have reviewed above. For instance, it doesn't have the elevated curved construction with a prominent bend radius. These pool handrails are longer and have a slight rectangular shape with curved edges.
Like other S.R. Smith handrail models, this one also has impeccable construction. The manufacturer has used 304-grade stainless steel to construct these rails. This stainless steel variant is known for its excellent corrosion resistant qualities. You don't need to worry about how much the rail is going to get exposed to water; it is not going to rust away.
You can also install these rails with pools that have steps. Just make sure you are installing it on both sides of the stairs in a way where they remain reachable to users while entering and exiting the pool. These handrails are also easy to install. If you have bought the anchors and escutcheons, then you can mount it on your pool deck by using the tools available in your home toolkit.  
Pros
Ideal for pools with large concrete decks

Pool looks safe and well-constructed after their installation

Premium-grade steel construction, worry-free use

Easy to install

A great bang for the buck
Cons
Anchors and escutcheons are not included in the package

Large footprint, need more space on the deck for installation

Not suitable for wooden decks
Marine Fiberglass Direct has designed a railing that entails a versatile use. You can use it on marinas and docks as well as besides inground pools and hot tubs. This handrail is quite different in its construction in comparison to what we have seen in the above products.
Unlike the four handrails we have reviewed so far, this one has more of an elevated U-shape vertical construction. It is 18-inch high, which is a perfect height for children entering the pool and looking for safety grab. Moreover, the two strands of U are 13 inches apart. So, there is also enough space for those who want to grab it while getting out of the pool. The pad of each strand has three anchor points in which you can use stainless steel screws and bolts.
The other striking feature of this handrail is its material. Instead of using steel, the manufacturer has used high-quality milled aluminum to carve out this rail. This doesn't just keep the handrail lightweight but also makes it ideal for using around saltwater. 
Pros
Ideal for both salt and freshwater pools

Premium-quality aluminum is used in the making, won't corrode

Can be used as a hand-grab for children standing beside pool

Sturdy yet lightweight

Unique shape that looks good when installed on the pool deck
Cons
Aluminum is not as good as stainless steel when it comes to rust-resistance

A high-maintenance handrail option
This Inter-Fab handrail product is also set of two stainless steel rails that are ideal for using with pools that have in-wall (recessed) steps. These grab rails have the classic shape of a pool handrail. They are straight from one side and curve from the other side that is supposed to face the pool. This curve is neither too big nor too small so that both adults and children can easily grab it.
The other impressive bit about these pool rails is that they have a perfect height and prescribed installation width. It's roughly 24-inch high and needs to be installed 20 inches apart from the center. These dimensions are deemed suitable for both small commercial pools and spas and home pools.
However, the most striking feature of these handrails that also makes them stand apart among other similar products is its varied finishing options. When the majority of stainless steel rails come with the same silver and grayish finishes, Inter-Fab offers its customers to choose between four different finishes of varied colors and patterns.
If you want to add another layer to the aesthetics of your pool and deck, then this Inter-Fab pool handrail is definitely worth your money. 
Pros
Equally suitable for commercial and residential pools

Well-thought-out design, perfect grab rail for pools with recessed steps

Stainless steel construction that doesn't corrode or develop stains over time

You can choose from different finishing options besides shiny gray: earth, light gray, white, coppervein, hammertone gray
Cons
Anchors and other fitting are not included in the package

Residential users might consider it a bit expensive
If you are looking to get one accessory that serves you both as ladder and rail, then this Tiamat treaded pool ladder and rail is up for your consideration. We have to give it to Tiamat that has outclassed many of its competitors by introducing a cost-effectives solution for all those pool owners who doesn't have built-in steps in their pools.
This pool ladder features three treads that are 20 inches wide. This width is good enough for everyone to put both feet on a single tread at the same time. The upper and out-of-the-pool part of the ladder is designed just like any good quality pool handrail.  Tiamat has used 304-grade stainless steel in the construction of this ladder, which is considered an industry standard.
The other good thing about this ladder-cum-railing is it is neither too big for small pools and nor too small for large pools. This makes it an ideal option for both commercial and residential pools without recessed steps or sloped entry points. Even though Tiamat 80103 has a more detailed construction, but that doesn't increase the difficulty level of its installation. You can easily install it just like any other handrail we have reviewed here. 
Pros
A perfect combination of ladder and grab rail

Ideal for pools that don't have recessed steps

Designed to cater to all different sizes of pool

Top-quality steel construction, corrosion-resistant, stain-proof

Best value for money
Cons
May not an ideal safety grab for people entering the pool

Doesn't come with installation parts
This is yet another S.R. Smith product that we think is among the best pool handrails of this year. All the handrails by S.R. Smith on our list have some unique features. And this one is also quite different from other handrails with its shape.
This S.R. Smith handrail has a ring-shaped grab platform that doesn't just offer better, firmer grip to users but also look quite good when installed on the pool deck. The other distinctive feature of this handrail is quite valuable from functional standpoint. S.R. Smith has integrated the baseplate to the rail so you don't have to buy it separately. The baseplate is also already drilled for four 3/8 inch bolts. You just need a wrench and drill hammer to install this handrail next to your pool without purchasing any aftermarket part.
S.R. Smith has also made sure that you can use this ergonomic and complete set of the handrail with both concrete and wooden pool decks. Similarly, you can use it on all sorts of pool construction, whether or not they have recessed steps. The diameter of the rail's tube is also perfect if you are using it as a standalone safety grab on your pool. 
Pros
Highly functional construction, designed for quick installation

Can be used as a standalone safety grab on small and medium-sizes pools

Ergonomic design, doesn't occupy too much of deck space

Corrosion-resistant finish

An Ideal DIY installation tool
Cons
A height is bit low

Price could be lower
This is another product on our list that is more than just a standalone pool handrail. This item of ARKSEN is a top-quality handrail as well as an ingenious 3-step ladder. If you have an in-ground pool that doesn't have recessed steps, then this ARKSEN product naturally becomes a pool accessory that you surely need.
No products found.
Even if your pool has in-wall steps, you can use this ARKSEN ladder-rail to make a second entry/exit point. The best thing about this pool ladder is that its treads are already fitted with non-slip covers. This addition makes the use of the ladder completely failsafe. On top of that, ARKSEN has also used rubber bumps on the ends of the ladder where it meets the pool wall so it doesn't scuff the tiles/stone lining of the pool.
This combo of ladder and rail is carved out of top-quality steel so it can withstand the constant high moisture levels without corroding and rusting away. If you want to buy a single important pool accessory for your inground construction, then make it ARKSEN Swimming Pool Ladder. 
Pros
A through and through rust-resistant construction

A well-thought-out design, scuff-free ends and rubber-covered steps

Utility of two (ladder, handrail) in the price of one

Easy to install given you have all necessary parts

Chrome finish, easy on the eyes
Cons
Not suitable for saltwater swimming pools

Assembling it takes time
If you are looking for a single post for your in-ground pool that can serve as safety grab for all those people who are more careful in entering and exiting the water, then this Saftron product is definitely an option worth considering.
This singe post is 24 inches high and 18 inches wide, making it an ideal standalone handrail option for all pool sizes. The other good thing about this handrail is its compact base. It won't be an overstatement to say that it features the smallest footprint on the block. No matter how narrow your pool deck is, this Saftron handrail can be easily installed there. The Lift and turn base with the 9 inches of clearance is also good from functional standpoint.
The other worth-mentioning feature of this single-post rail is its finish. When the majority of steel handrails come with powder-coated finishing that eventually chips and cracks, Sf-24-Lt-B Pool Rail features a beige finish that is ingrained in its material. The color of the rail won't fade away even after many years of use. Lastly, Saftron has designed this handrail for both freshwater pools and those that use saltwater chlorinator systems. 
Pros
The beige finish of the handrail is not an after-coat, won't chip and flake with time

Ergonomic design and compact footprint, ideal for pools with small deck width

Features non-conductive material that is NFPA compliant

Good to go with saltwater pools as well

A great bang for the buck

Hassle-free installation
Cons
Not suitable for large pools with greater depth
If you are renovating your outdoors with more design-oriented accessories and items, then you need to consider this uniquely-designed pool handrail by Inter-Fab. The shape of this Inter-Fab pool accessory is a major improvement on the traditional handrails. Instead of bearing single curved tubing, this handrail has two curved vertical tubes that support a single bowed banister.
It is important to mention here that the innovative shape of this Inter-Fab rail doesn't affect the function for which you install a handrail in the first place. So, it offers the support and safety-grab as good as any other pool rail.  Similarly, it is carved out of stainless steel that is completely corrosion-resistant. This is the reason why Inter-Fab is offering 3-year guarantee that covers rusting damages as well.
The other good thing about this designer rail of Inter-Fab is its versatile application. You can use it with all sorts of water bodies. Whether it is an in-ground pool or Jacuzzi, you can use this handrail. Similarly, it goes equally good with recessed steps as well as slopped entries. Installing this Inter-Fab handrail is a great way to add style to your pool.   
Pros
The most stylish pool handrail on the block

Equally suitable for commercial and residential pools

Its height and width is ideal for all small and medium-sized pools

Extremely good with rust-proof attributes

A great value for money
Cons
You need to buy anchors and baseplates separately

Not good for wooden decks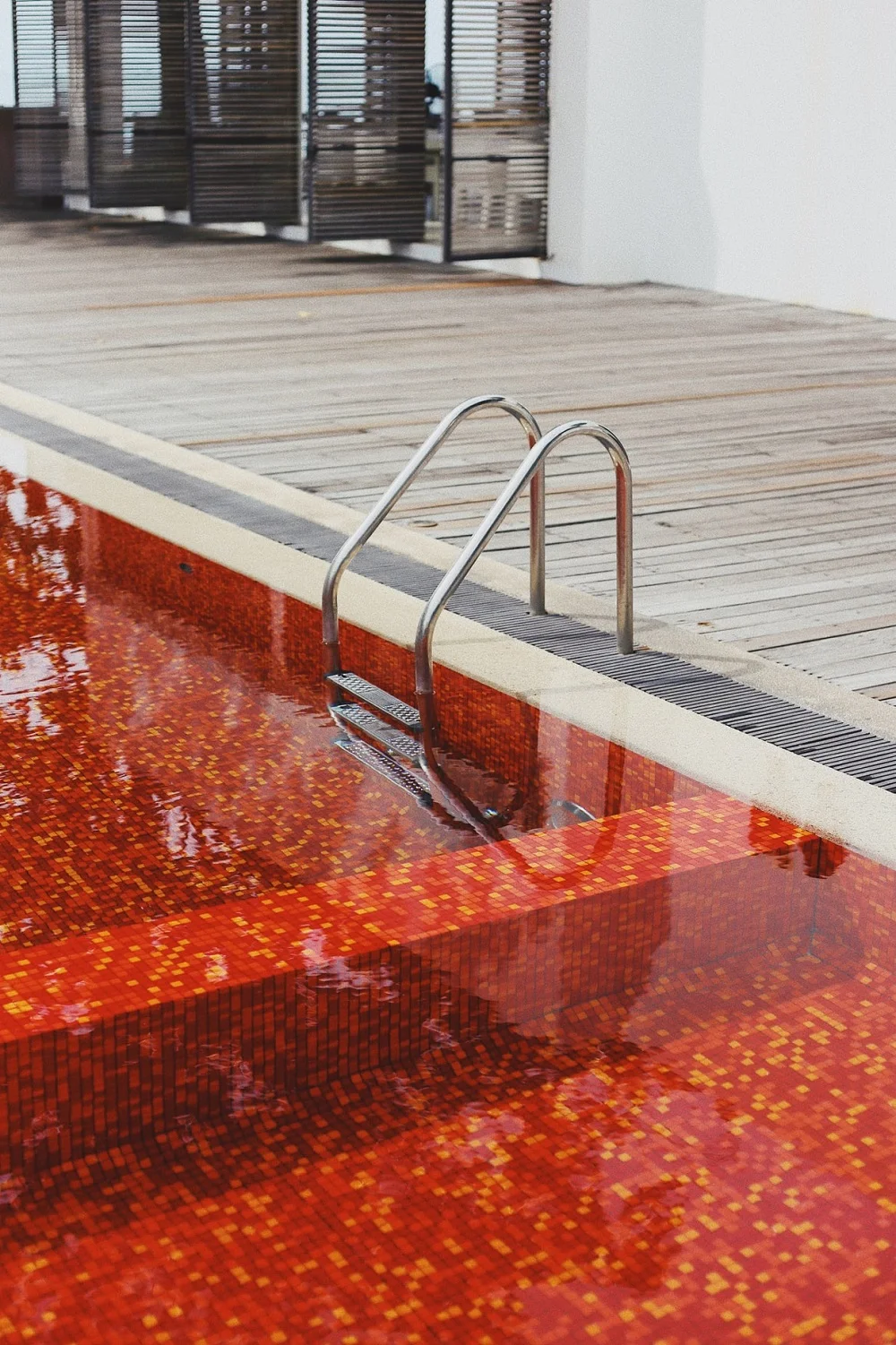 Best Pool Handrail Short Buying Guide
If you want to explore the market beyond the products we have reviewed above, then factor in these elements to make sure you are bringing the right pool handrail home.
Material of the Handrail
This is the first and foremost thing that you need to consider if you don't want to purchase another pool handrail for a long time to come. In most cases, handrails are installed in the settings where they are simultaneously exposed to water and sun. So, you need the rail in a material that can withstand acute moisture levels without corroding away while simultaneously putting up with the shenanigans of sunrays, especially of its UV rays.
Stainless steel is the only viable material that can make handrails withstand rough and tough outdoor conditions. It doesn't corrode or fades under the sun.  So, always try to choose anything that is made of premium grade stainless steel mold.
Aluminum is another option, especially if you are looking for a handrail for a saltwater pool. However, it is not as good as steel with its ant-corrosive properties.
Design of the Handrail
There are two things that you need to consider while choosing a pool handrail on the basis of its design. First, it should offer hand support to those who are entering the pool. Second, it remains accessible to grab from the pool for those who want to exit. A good pool handrail is actually a safety grab. Therefore, its design and form should always follow the aforementioned functions.
Deck Type
If you have noticed in the above reviews, it is pretty clear that the majority of handrails are primarily designed for concrete and stone decks. If you have a wooden pool deck, then you first need to determine if the product you are interested in is compatible with wooden decks.
Installation
Some pool handrails come with fixed baseplates and drilled bolt holes. You just need to place them at the intended location and screw the bolts down.  On the other hand, some handrails come in parts where you first need to assemble them and then need to get aftermarket parts to complete the installation. If you prefer hassle-free DIY installation, then factor in this aspect of handrail products as well.
ADA Requirements
If you are overseeing a commercial pool where you need to fulfill ADA requirements, then you need to be really careful about the dimensions of the handrails you are picking. For instance, ADA requires pool owners to install at least a set of handrails with a minimum spacing of 33 inches. Moreover, each railing must be 34 inches high.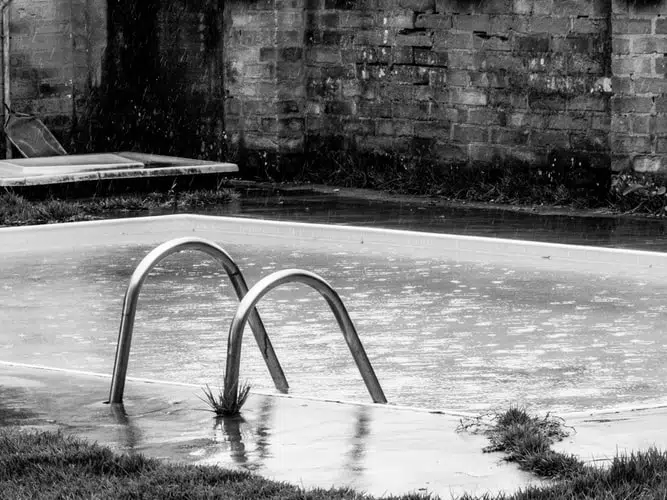 Pool Handrails FAQ
New pool owners usually have many queries and questions regarding handrails. Here, we will try to cover them.
Do Water Sanitizing Chemicals Affect Handrails?
A top-quality stainless steel handrail remains inert to the chemicals used for sanitizing the pool water. However, if you are using some budget handrail carved out from substandard metal ore, then yes, sanitizing chemicals can affect the rails.
What Is the Most Common Type of Handrail?
There is no certified standard set for making pool handrails. However, there are some design details that are recurring in most of the handrails available in the market these days.
Multiple bends

A curve/loop on end facing the pool

One end attached to the pool deck

Other end attached to the edge of the pool or extending over it
Should One Protect and Maintain the Pool Handrails?
Yes, being a responsible pool owner, you must also take care of the handrails no matter how sturdy and weather-resistant they are. The exposure to water, chemicals, and sunrays somewhere affects the finish of every handrail. You can maintain the finish and shine of your pool handrails by occasionally washing them with phosphoric acid gel and giving them a buff of protective wax.
When Is the Right Time to Install Pool Handrails?
Every time is the right time to install pool handrails. You can have them at the time of the pool construction. If you have missed their installation at the time of construction, then go for retrofit fitting. All the items on our list of best pool handrails are ideal for both types of installations.
Is Cover for Pool Handrail Necessary?
If you are using stainless steel handrails with a pool that is in the open air with no shade, then yes, you should consider getting a good quality cover for it. In summer afternoons, the direct exposure of the sun can heat up the steel handrails to scorching levels where they can burn the skin. Also, the glossy finish of the railings makes them slippery. You can get around both these issues by lining the rails with a durable cover.  A colorful, well-designed cover adds a visual layer to the railing as well.
We hope that these reviews, buying guides, and FAQs will help you in picking the right handrail for any residential or commercial pool within the money you want to spend on a pool safety accessory.
Related Articles
5 Best Above-Ground Pool Pad | Buyer's Guide and Reviews
5 Best Epoxy Pool Paint | Buyer's Guide and Reviews
10 Best Pool Cover Pumps | Buyer's Guide and Reviews
Learn How to Install a Spa Cover Lifter
Dolphin M400 with Caddy Review & Buyer's Guide
13 Best Pool Alarms  | Reviews & Buyer's Guide
13 Best Chlorine Tablets for Swimming Pools | Reviews & Buyer's Guide
13 Best Salt Water Chlorinators 
19 Best Pool Lights Reviewed | Buyer's Guide
13 Best Pool Pumps | Buying Guide
13 Best Pool Volleyball Nets to Enjoy This Summer
39 of the Best Pool Toys to Enjoy this Summer
13 Best Pool Test Kits   | Reviews & Buyer's Guide
5 Best Auto Chlorinators for Pool