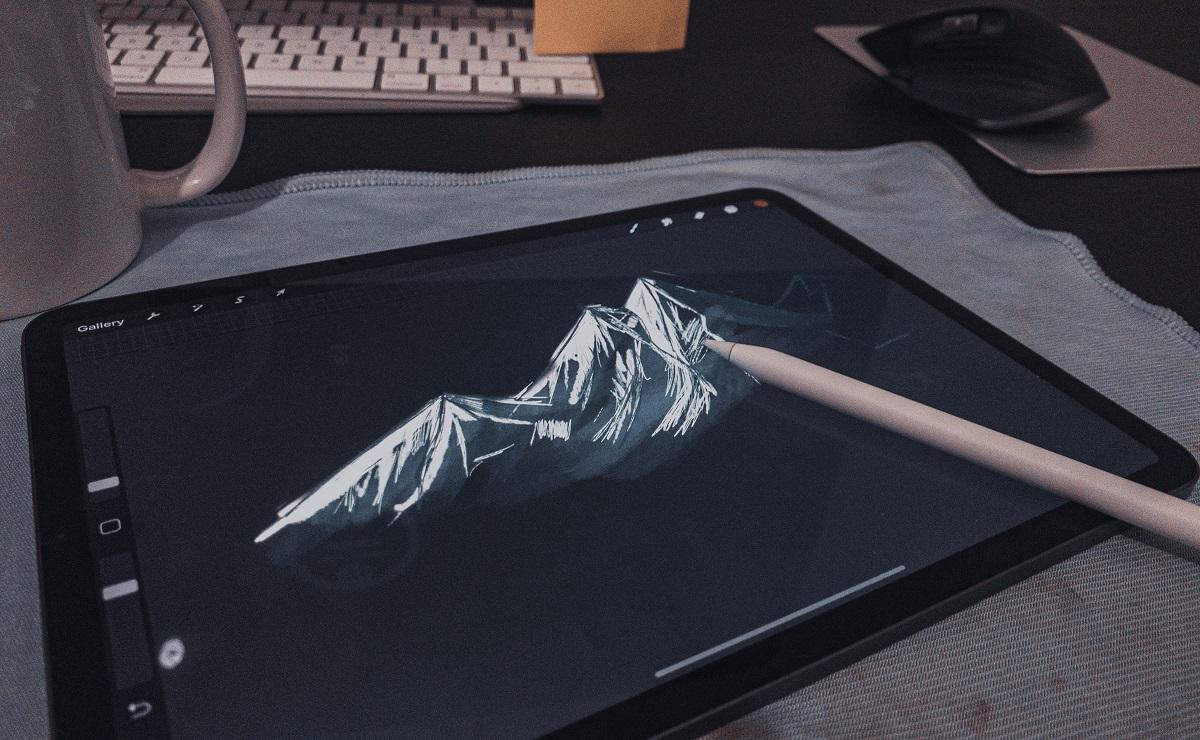 As an artist, you'll love recreating all the beautiful and intriguing sights you spot at any point in time.
And the innovations in technology have made this super-easy, with standalone drawing tablets coming into the picture. They give you the freedom to explore your creativity on the go.
The best instance can be when you're traveling to picturesque locations and feel like recreating the breathtaking landscapes on your canvas. Thanks to this device, you can do it right there with minimum hassle. Just open your standalone tablet, and you can get to work straight away. Soon, your "dreamscape" will be ready!
But the number of standalone drawing tablets on the market is overwhelming, and not all are equally reliable. That's why we have reviewed a range of such devices to compile a guide on the best models, just for you. So, let's get going!
Best Standalone Drawing Tablets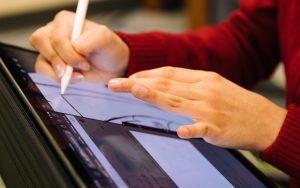 If you frequently engage in insightful discussions in art communities, you'll know that the iPad is gaining popularity among many artists. In fact, they're permanently switching from the traditional models to this one, thanks to its range of impressive features.
When it comes to making truly effective drawing devices, it's essential to design the basics the right way. And that's what Apple has achieved with the iPad Pro series.
Sale
Features To Watch Out For
A. The Apple Pencil 
The stylus of a standalone drawing tablet is the tool that you have maximum control over. So, it must be efficient enough to handle all your projects with the desired accuracy.
And when it comes to determining the efficiency, the response rate is a primary factor to consider as it determines how fast the strokes appear on the screen after they're drawn with a stylus. So, let us tell you that the Apple Pencil is among the fastest operating styluses out there as it comes with a response time of just 7 ms.
Adding to its efficiency is the great tilt and pressure sensitivity, ensuring that the contours in the painting are recreated perfectly. And that's not all; the stylus also comes with a very convenient button on its side that you can use to switch between an eraser and a pen.
B. The Display 
The display is where you catch "the action" and hence, is among the most significant parts of any drawing tablet. And with an excellent resolution of 2732 x 2048 pixels for the 12.9 model, the iPad Pro makes each of your creations more vivid and color-accurate than ever. Furthermore, the display comes with a brightness that's enough to be used outdoors quite comfortably.
Another great feature to look forward to is the ProMotion technology, which makes sure the refresh rate of the screen is boosted to 120 Hz. Thus it contributes to a smoother and faster response while you're sketching with the Apple Pencil.
What Could've Been Better?
The only thing we felt could be improved is the availability of some popular desktop drawing applications, as not all can be found on the App Store. As such, in case you need to handle different programs in combination for your drawing projects, working with an iPad might be difficult.
Pros
Stylus has a great response rate

Produces high-resolution images

Easy to use

Smoother performance
Cons
Fewer desktop drawing applications available
Weighing a mere 1.7 lbs, the Microsoft Surface Pro 7 is super-easy to handle and carry anywhere you like. So, technically, by choosing this model, you can get yourself a highly portable laptop dressed as a tablet. This standalone tablet has a lot of interesting and beneficial features to offer as well, placing it at par with the most high-performing devices available currently.
Its 12.3-inch screen has just the right size to yield clear images that don't feel cramped at any moment.
And here's the best part; this device supports Windows 10, allowing you to utilize all your preferred desktop-grade modeling and drawing applications anytime. This feature puts it at an advantage over the iPad Pro, which doesn't offer many such applications, as we mentioned earlier.
Sale
Features To Watch Out For
A. Multiple Configurations 
A major benefit of going for this standalone drawing tablet is that it lets you choose from different configurations depending upon the storage, processor, and other needs. In the case of multitaskers who regularly switch between graphic designing and digital art, use the Adobe Suite, or seek flexibility similar to a desktop OS, this will be a perfect choice.
B. The Surface Pen 
Interestingly, Microsoft has paid considerable attention to the nitty-gritty of drawing while designing this standalone drawing tablet, as is evident from the rubber tip of the Surface Pen. This is a great feature as it provides an improved grip on the glass screen and thus results in a highly satisfying drawing experience.
What further enhances the effectiveness of this stylus is a combination of the right tilt and pressure sensitivity meant for creating top-notch illustrations each time.
Now, since the Surface Pro 7 is a touch-screen tablet, it's also important to assess the palm rejection feature. And it doesn't disappoint in this area as well, since the feature works perfectly to handle accidental touches anytime.
What Could've Been Better?
A slight disadvantage of purchasing this tablet is its higher pricing since you'll need to buy the stylus separately. This isn't the case with Apple iPad Pro and some other standalone drawing tablets that we'll be discussing later in our guide.
Pros
Offers right tilt and pressure sensitivity

Available in different configurations

Can run all desktop drawing applications

Efficient palm-rejection feature
Cons
Stylus has to be bought separately
For fans of the customizability and artistic freedom that Android offers, the Samsung Galaxy Tab s7+ will be spot on.
Unlike the traditional Android tablets that are way behind models such as Apple iPad Pro, the Samsung Galaxy Tab S7+ can give tough competition to most standalone drawing tablets on the market.
What makes this possible is the combination of a powerful processor and a world-class design that would appeal to all users. In fact, Samsung has a fan base of its own, implying that people really love its range of gadgets.
Sale
Features To Watch Out For
A. Battery Life, Performance, And Power 
When you're buying a standalone tablet, you would naturally want it to be capable of handling multiple drawing tasks, with its battery lasting the entire day. This implies you shouldn't need to charge it frequently as that can be quite a hassle.
The Samsung Galaxy Tab S7+ offers both the features as it consists of a fast processor plus a battery of 10,000+ mAh. Thus, it can handle intensive usage quite easily. Hence, you'll have no problems in finishing up all those projects that need to be completed on short notice.
B. Improved S Pen 
The brand has been improving the S Pen or stylus of its standalone drawing tablets for the past few years. But a major improvement was incorporated this year as the response time was reduced to just 9 ms, making it just as fast as the Apple Pencil.
In addition to pen tracking, its tilt and pressure sensitivity is also praiseworthy as these features together work to lend a natural writing and drawing experience. Lastly, you'll get the S Pen whenever you need it owing to the magnetic charge on the stylus, which makes it stick to the back of the tablet easily.
C. Color And Resolution Of The Images 
Another highlight of this Samsung tablet is its efficient SuperAMOLED display, which is known for providing the best possible color contrast and accuracy to the images. And what we found most significant about the screen was that it could be immensely bright yet super-comfortable to use in environments with abundant light.
Plus, the Galaxy Tab S7 has two variants coming with 12.4-inch and 11-inch screens and offering an aspect ratio of 16:10.
What Could've Been Better?
We were a bit disappointed to find that this model supports only a few of the popularly used desktop drawing applications. Thus, it falls slightly behind our previous pick, which efficiently caters to users who need to work with a variety of drawing applications for their versatile projects.
Pros
High-speed processor

Offers great color accuracy

S Pen has good tilt and pressure sensitivity

Good battery-backup
Cons
Supports fewer desktop drawing applications
Finding the iPad Pro too expensive? Well, there's no need to think you're the only one. Many users often choose to go for other standalone drawing tablets over iPad Pro due to its high pricing. And the most popular alternative currently is a new and improved version of the iPad Air.
It's enhanced with a slew of high-end features, which we'll soon be discussing in detail, yet comes at a relatively affordable price. Not to forget its design with minimum bezels, which makes it strongly resemble the iPad Pro.
Plus, it's quite compact in size, which means you can carry it along with absolute ease. This ensures you can continue with your drawings even on the go.
Features To Watch Out For
A. Improved Performance 
Thanks to the massive upgrade in its specifications which includes the latest generation processor, this tablet lets you enjoy a much smoother and faster overall performance. And you can also work for hours at a stretch without having to charge the device at intervals. This is made possible by its impressive battery that has a longer run-time than many standalone drawing tablets on the market.
Another appealing addition to the features is the availability of stereo speakers, which provides users with a highly enjoyable multimedia experience.
B. Supports Apple Pencil 2 
A great improvement from the older version of iPad Air is that it supports the Apple Pencil 2. Thus, artists who seek a more satisfying drawing experience than what the first-generation Apple pencil offers will find this to be an ideal fit for their projects.
This Apple Pencil sticks magnetically to the upper edge of the iPad Air to charge wirelessly. In addition, there is a touch button on one side of the stylus that can be used for switching between the pen and eraser.
What Could've Been Better?*
This model also doesn't come with the Apple pencil like most other Apple tablets. Also, we felt the response rate offered was slightly lower compared to other standalone drawing tablets.
Pros
Supports Apple Pencil 2

Smoother and faster performance

Highly portable

Comparatively budget-friendly
This improved version of yet another tablet PC from Microsoft can very well compete with the Apple iPad and several conventional laptops in many ways. Coming with a slightly bigger display and a sleeker look than its predecessor, the Surface Go 2 is another reliable option for carrying out all your drawing projects with ease.
 Among the best features of this tablet is the full-fledged and improved Windows operating system that runs efficiently to provide great versatility for your tasks. Notably, it does have several features in common with the Surface Pro and can be regarded as a more compact version of the latter.
We also loved its thoughtful design consisting of a built-in hinge at the back that lets users place the tablet at a suitable angle. In addition, the hinge helps provide a good grip while you're holding it during work. **
Sale
Features To Watch Out For
A. Better Resolution 
Though the Surface Go 2 has just a half-inch larger display compared to its predecessor, it comes with more pixels for facilitating a much better resolution, that is, 1920 by 1280 pixels. Notably, this translates to a 220 pixels-per-inch density, thus offering much clearer images than the first iteration of the tablet PC.
B. Adequate Performance 
Your everyday working experience with this tablet is sure to be quite enjoyable as it's free from the sluggishness observed in cheaper standalone drawing tablets. In fact, it can handle heavy files containing your drawings quite comfortably, something you might not get in every model.
It also does away with the cooling fan present in the original version. So, you'll no longer have to bear the disturbing noise plaguing every laptop while the processor is under heavy load.
Adding on to its efficiency is a great battery backup, which ensures you are able to complete your projects on time and in the best way possible.
C. The Surface Pen And Other Accessories 
We even found the stylus of this tablet to be quite capable of delivering perfect drawings with minimal effort. While it offers sound pen-tracking, you can also customize the pressure sensitivity to meet the needs of different projects. Plus, the tilt support on offer is commendable.
You even get other accessories with this standalone tablet, like the surface dial and the surface keyboard. Each of these works seamlessly to provide a smooth drawing experience to all artists.
What Could've Been Better? 
Like the Surface Pro 7, this model also requires you to purchase the Microsoft Surface Pen separately. This is why some users might find it slightly beyond their budget. In addition to this, we felt the sound quality of the speakers could be improved.
Pros
Better image quality

Customizable pressure sensitivity

Offers additional accessories

Handles large files comfortably
Cons
Stylus must be purchased separately
If a larger drawing space is the primary lookout for you, this standalone tablet from Huion will definitely fetch more bang for your buck. As its name suggests, the Kamvas Studio 22 has a 22-inch screen that's larger than all the models that we've dealt with till now. This way, the device cuts on the screen clutter in addition to simplifying your drawing setup.
Huion is also known for providing high-end features in its range of digital drawing devices despite offering a relatively reasonable price.
Features To Watch Out For 
A. Processor And Color Accuracy 
You'll be glad to know that this tablet is powered by an Intel i5-8400 processor, which is among the latest and most efficient processors found in desktops and laptops. As such, the speed at which it lets you work on your projects is appreciable, with minimal chances of interruption or slowdown.
You also get to choose between an 8Gb or 16GB RAM, with both these options allowing you to run multiple tasks at a time without affecting the speed.
Coming to the color representation on the screen, we were impressed to find that the FullHD IPS screen of the device had a 120%RGB color accuracy. This translates to more than 16 million colors with wide-gamut representation and thereby creates stunning visuals for each of your creations.
B. Dual Touch Bar 
Whether you're left-handed or right-handed won't matter while you're using this tablet, as it's equally convenient for all users. The dual touch bar consisting of 20 programmable keys facilitates such convenience as the keys are positioned symmetrically on each side of the panel.
Plus, these 20 keys are sufficient to complete all your tasks easily, smoothly, and at the right speed.
C. The Huion PW500 Pen 
Like the styluses coming with other drawing tablets by this brand, the P500 offers a commendable performance. In fact, it can be counted among the finest styluses on the market. Coming with 8192 pressure-sensitivity levels, it makes sure all your strokes are on point, and ultimately, the images turn out to be just as you desire.
But the most advantageous feature of this stylus is its battery-free functioning, which is a rarity in the case of drawing tablets. Hence, it does away with the need to charge the pen constantly and lets you work at a stretch as long as the tablet is powered.
D. High-Quality Glass Screen 
The Kamvas Studio 22 consists of a tougher-etched glass screen that prevents scratches and offers a more textured surface to enable a better experience for all artists. Note that this factor is also found in select few drawing tablets as most come with screens that easily get scratches due to regular use.
What Could've Been Better? 
Since it comes with a much larger screen, this tablet naturally loses out on the portability factor. Hence, it's not among those models that you can carry effortlessly. This is why it's essential to keep this point in mind while you're considering the model.
Pros
Faster performance

Stylus is battery-free

Scratch-proof screen

Easier operation
For artists who have just started out with larger projects and are looking to make a mark in the field, the Apple iPad Mini is the best bet. Despite being much smaller in size than the regular iPads, the power-packed performance on offer distinguishes it from other average tablets available out there.
Furthermore, the smaller size naturally enhances its ease of use and portability, as you can fit the tablet in your backpack or handbag and keep working on the go. And since it's so lightweight, you won't even feel any difference while carrying the bag. **
Sale
Features To Watch Out For
A. The A12 Bionic Chip 
At the core of its performance is the highly efficient A15 Bionic chip, which is also found in the iPhone 13 Pro. Since it runs pretty fast, you are least likely to experience any lag or slowdown while working. And it can handle large project files equally well, so you need not worry about the size of the files you're creating. So, keep exploring your creativity as much as you desire.
B. Supports The Apple Pencil (First Gen) 
This is undoubtedly among the biggest upgrades in the iPad mini, owing to which you can work with great speed on this tablet just like the other iPad models. So, you can utilize features of the stylus such as its great pressure and tilt sensitivity and high response rate to their fullest while using this device.
But you must also note here that the Pencil must be bought separately, which naturally raises the cost of this model.
C. Efficient Battery 
Using the iPad Mini for hours at a stretch is never a problem as it has a fairly strong battery that can give tough competition to many small-sized tablets on the market. So, even large projects can be completed quickly and in a hassle-free manner.
What Could've Been Better? 
In our opinion, the slightly cluttered display is the only sticking point, which is the result of the smaller screen size. For instance, two pencil strokes often appear closer than you actually draw them, which you won't find in the case of the larger iPads.
Pros
Supports the First Gen Apple Pencil

Faster and smoother operation

Powerful battery

Portable
The uniqueness of this standalone tablet lies in the fact that it attaches more importance to the quality of your drawings. Its slew of specifications makes the artistic process much easier and more fun. As such, artists who have a taste for quality illustrations often go for this model.
Another feature worth noting is that this tablet functions as a full-fledged Windows computer by itself. This is why you can easily install the latest range of professional-grade drawing apps in it.
Furthermore, the presence of an Intel Core i7-8559U processor enables faster and smoother completion of all your tasks.
Sale
Features To Watch Out For
A. Shortcut Buttons 
The most-loved feature of the Wacom Mobile Studio Pro is the availability of 8 shortcut buttons on one side. You can program these buttons as per your requirements to perform any shortcut.
Another useful addition is the multipurpose touch-ring placed centrally, with four of the buttons on either side. It lets you perform some advanced shortcuts, such as changing the eraser or the brush size. Long story short, operating the tablet becomes as easy as using these nine controls for different functions.
B. The Pro Pen 2 
The Wacom Pro Pen 2 is definitely one of the most high-performing styluses you'll ever come across. When it comes to the feel and ergonomics, only the Apple Pencil can stand a chance against this amazing accessory. It provides a natural feel when grasped so that you derive a fulfilling drawing experience each time.
The high tilt and pressure sensitivity are also spot on, ensuring that every illustration is created to perfection. In addition, this stylus doesn't need charging, so you can devote your attention to completing the drawing smoothly.
C. Display And Drawing Area 
Aside from the stylus, the etched-glass screen of this tablet creates a natural feel and puts forward high-quality images of 4K resolution. Coupled with this is the large drawing area measuring 13.6 by 7.6 inches, which prevents any clutter on the screen, with precise strokes visible in all your drawings.
What Could've Been Better? 
The larger screen size of this tablet naturally limits its portability to some extent, like the Huion Kamvas Studio 22. Another downside is its much higher price than most other standalone tablets we've dealt with. So, for artists who are on a tight budget, this model won't be an ideal choice.
Pros
Shortcut buttons facilitate easy operation

Etched-glass screen gives a natural feel

High-performing stylus

Great image quality
Looking to purchase a larger standalone device for drawing that ranks high both in terms of internal functions and visual appeal? The Microsoft Surface Studio 2 is just what you need. Though this device is larger in size, it still has a much smaller footprint and will occupy little space on any desk.
Notably, its modern and elegant look places it a step ahead of the Huion Kamvas Studio 22, which stresses more on the features and ends up neglecting the design part. Another advantageous feature is the huge display of 28 inches with an aspect ratio of 3:3. This provides larger vertical screen space ideal for professional-grade productivity tasks.
Features To Watch Out For
A. Improved Display Quality 
The Surface Studio 2 offers a more vivid display than its predecessor, with the contrast and brightness of the screen getting a boost of 22% and 38%, respectively. These improvements can surely make your drawings more visible and detailed, plus easier to modify for artists and designers. Plus, the greater contrast enhances the color depth, driving lighter whites and deeper blacks.
B. Hinge Mechanism 
The availability of this feature is a major differentiating factor as it's really rare in standalone tablets. When used in the normal form, it can function as an all-in-one computer.
But you can spot the difference by tilting the monitor using the intelligently designed hinging mechanism, as the monitor can be laid flat on the desk. This way, the tablet seems like a draft table that can be used for making the preliminary sketches comfortably.
What Could've Been Better?
The USB ports on this all-in-one drawing tablet cum computer are positioned on the back of the base, which makes them slightly hard to reach. Besides, this device is much more expensive than most other models, so all artists may not find it suitable.
Pros
Drawings appear more detailed and visible

Hing mechanism enhances convenience

Looks modern and elegant

Much larger display
Cons
USB-ports positioned on the back
In case you wish to explore other options apart from the iPads and Microsoft Surface Pros, a powerful as well as portable alternative is a 2-in-1 Ultrabook. It comes in a very slim and lightweight design that's easy to work with anywhere. So, artists who don't want to stick to a particular workspace will find this alternative to be quite appealing.
Note that you'll find a number of choices for Ultrabooks, including the Lenovo Yoga C940 and the Hp Spectre X360. These models consist of high-performing 10th Gen Intel Ice Lake Processors that are able to run any modeling, 3D art, and drawing applications quite smoothly.
Features To Watch Out For
A. Display Quality 
The Lenovo Yoga 3640 offers two options for the display, viz. a 4K panel and a 1080p version. While the 4K panel creates sharper images and offers greater color accuracy, the 1080p display is great for editing photos or streaming videos.
Likewise, models such as the HP Spectre offer OLED and IPS panels but come with a traditional 16:9 screen and thicker bezels. This makes the images produced slightly more cluttered than their Lenovo counterparts. Another suitable 2-in-1 Ultrabook is the Dell XPS which comes with an improved 16:10 display, though it only offers an IPS panel.
So, you'll have to weigh your needs and preferences and make a choice accordingly.
B. Convenient Hinge 
These devices have a convenient hinge incorporated in the design that makes it easy to convert them into tablets or laptops as per your requirements. An advantage of going for the Yoga C940 is that the hinge is a continuous piece, making the device look sleeker than other models.
What Could've Been Better?
In the case of some models, the screen might not be very durable and might develop scratches owing to the regular use of styluses. Thus, we'd recommend these models for casual artists who like drawing once in a while. **
Pros
Generally offer two options for display

Slim and lightweight design

Runs different drawing applications smoothly

Offers good display-quality
Cons
Screen is not very durable
Lastly, this is another tablet we found suitable for inclusion in our list. It's an improved version of the Samsung Galaxy S6, which was also highly appreciated by users all over. The brand has discarded a few unnecessary features from that version to make the model more budget-friendly.
The 10.4-inch screen of this standalone tablet has a 2000 x 1000 resolution along with an aspect ratio of 5:3. As such, the image quality of the drawings you create is quite appreciable.
Adding on to this is the availability of several advanced Android drawing applications, which would let you complete larger professional-grade drawing projects with utmost efficiency. Not to forget the fast processor and good battery backup, which ensures the device keeps going for hours without any slowdowns or lags.
Sale
Features To Watch Out For
A. Efficient Stylus 
First of all, the stylus for this device is included in the box, unlike many other tablets, which require you to buy it separately.
Speaking of the performance that the S-Pen offers, its tilt and pressure sensitivity are both par excellence, ensuring that your strokes are always on point. Even the response rate for this stylus is quite high, which makes it faster and smoother compared to that of many ordinary tablets.
Moreover, it comes with a sleek design similar to that of a pencil, which makes it much easier to use than its predecessor. All these features contribute to making it one of the most useful styluses we've come across.
B. Convenient Design 
The minimal-bezel design of this standalone tablet gives you larger screen space and therefore keeps the clutter away from your drawings. In addition, it's quite lightweight and sleek, which enhances its portability to a great extent.
What Could've Been Better?
We felt the user interface of this tablet could be improved, as it isn't the easiest to operate. As such, multitasking might seem slightly more difficult too. But the more pleasant drawing experience makes up for these shortcomings to a considerable extent, enhancing its usability as a drawing tablet.
Pros
Stylus with high response rate

Good tilt and pressure-sensitivity

Minimal-bezel design

Good battery-backup
Cons
Multitasking can be difficult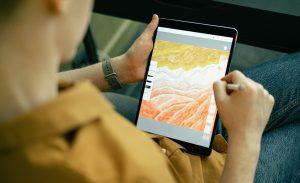 Drawing Tablets Buying Guide
The ideal standalone drawing tablet will have the right balance of various beneficial features. And that's why it becomes important to have a clear idea about each of these features and how they influence the performance of the device. As such, we've compiled all the important features in this section to help you make a better decision.
1. Size
There are two different aspects to consider when you're looking at the size of a tablet:
The overall size of the device
The size of the drawing space
While the first aspect is important from the viewpoint of portability as a smaller overall size would enhance the ease of carrying it along anywhere you want. This is all the more essential for people who regularly need to complete lots of drawings on the move.
However, when you're buying a drawing tablet, the drawing space or active area, as it is often called, is much more important.
A bigger drawing area would help you work on large drawings with greater ease and will cut down on the need for panning and zooming every time. But to select the tablet with the right drawing area, you must consider the types of art that you primarily deal with. Accordingly, you must assess whether a larger active area is needed to achieve such drawings.
You should also not confuse the overall size with the active area, as the former includes the tablet casing and the surrounding area as well.
2. Responsiveness
This term tells you about the speed at which the strokes you draw show up on the drawing area. Note that in the case of high-performing tablets, this is almost instantaneous.
But this is dependent on several specifications of the tablet, including its processors, RAM, and the availability of advanced technologies such as ProMotion. So, before you zero in on a particular model, you should figure out the software it uses and go through the customer reviews as well. This will ensure you don't face problems such as lags while drawing.
3. Pressure Sensitivity
A device with the ideal pressure sensitivity is the key to bringing perfection to your drawings.
Notably, a more pressure-sensitive tablet will easily identify lines with different thicknesses based on the force you apply on the stylus while drawing. This will help you create high-resolution drawings with ease using such a stylus.
For beginners, we'd suggest going for a device with a minimum of 1,024 pressure levels. But if you regularly engage in more advanced drawing projects, the tablet should offer a minimum of 2,048 pressure levels.
4. The Type Of Stylus 
Drawing tablets can have styluses of three types, viz. electromagnetic resonance (EMR), battery-powered, and rechargeable.
Firstly, the battery-powered type is generally thicker and always requires you to keep some extra batteries in storage. It's also much thicker than the other types since it comes with a battery. In comparison, rechargeable styluses can be charged just like your laptop or phone. That's why you just need a power source close by in case the battery dies down.
But the best among these types is the EMR stylus, as it uses an electromagnetic frequency that transmits the power wirelessly from the device to the pen. Hence, it does away with the need to charge the stylus every now and then, and lets you complete your drawings smoothly.
Note that we've included quite a few tablets in our list that come with such styluses. Also, make sure the stylus is comfortable to work with, and easy to hold and grip. This will ensure it never slips from your hands if you're working for hours at a stretch.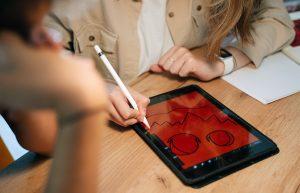 Final Words 
On that note, it's a wrap for today.
We hope finding the right drawing tablet won't be a problem for you now. Just keep in mind your needs, consider each factor we've discussed in the buyer's guide and make your pick!
And do let us know about your experience with the tablet in the comments section below. We'll be glad to hear about it. You can also reach out to us with any other queries that you might have.
Make sure you take proper care of the device you purchase. Don't leave it unused for a long time, and clean it regularly by wiping the screen and surrounding parts with a dry cloth. You may even use the specialized cleaning solutions for gadgets available nowadays.
It's time to say goodbye now. But we'll be back soon with more fun content, so watch out for this space. Till then, happy shopping!
Related Links 
14 Best Drawing Tablets For Animations & Illustrations Today
11 Best Artist Gloves For Drawing Tablets
43 Best Free Gimp Tutorials on Drawing & Painting
13 Best Art Desks & Best Drafting Tables for Artists