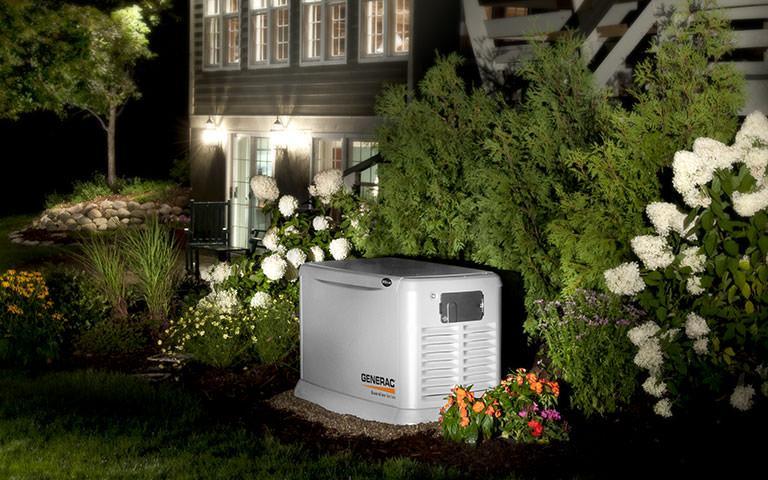 Imagine attending a zoom call for work or using the treadmill for your daily workout, and suddenly, everything just shuts down!
A majority of our tasks in the day are dependent on electricity. Power failure can hamper anyone's daily routine, which can become quite inconvenient. A power outage is all too common for people living in areas that see challenging weather conditions like thunderstorms or hurricanes. This is why having a whole house generator is quite beneficial.
There is no need to worry about the power failing, come hell or high water, with a whole house generator. But, which among the sea of generators is worth considering? That's what we are here for. We have put together comprehensive reviews of the 7 best whole house generators available right now and a buyer's guide to help you make an informed decision.
That being said, let's dive right into it.
Best Whole House Generators
IMAGE
PRODUCT
DETAILS

Our Top Pick

Our Top Pick

Westinghouse Outdoor Portable Generator

12-hour runtime
Rubber covers for safety

VIEW LATEST PRICE →

DuroMax Portable Generator

Dual fuel technology
457 cc engine

VIEW LATEST PRICE →

A-iPower Portable Generator

Electric start button
7 gallon tank

VIEW LATEST PRICE →

Generac Portable Generator

Plug-in battery jack
16 gallon tank 

VIEW LATEST PRICE →

Generac Home Standby Generator

5 year warranty
24 hour customer service

VIEW LATEST PRICE →

Champion Home Standby Generator

10 year warranty
Administers self-diagnostic tests

VIEW LATEST PRICE →

Briggs & Stratton Standby Generator

Front exhaust
Easy conversion from gas to propane

VIEW LATEST PRICE →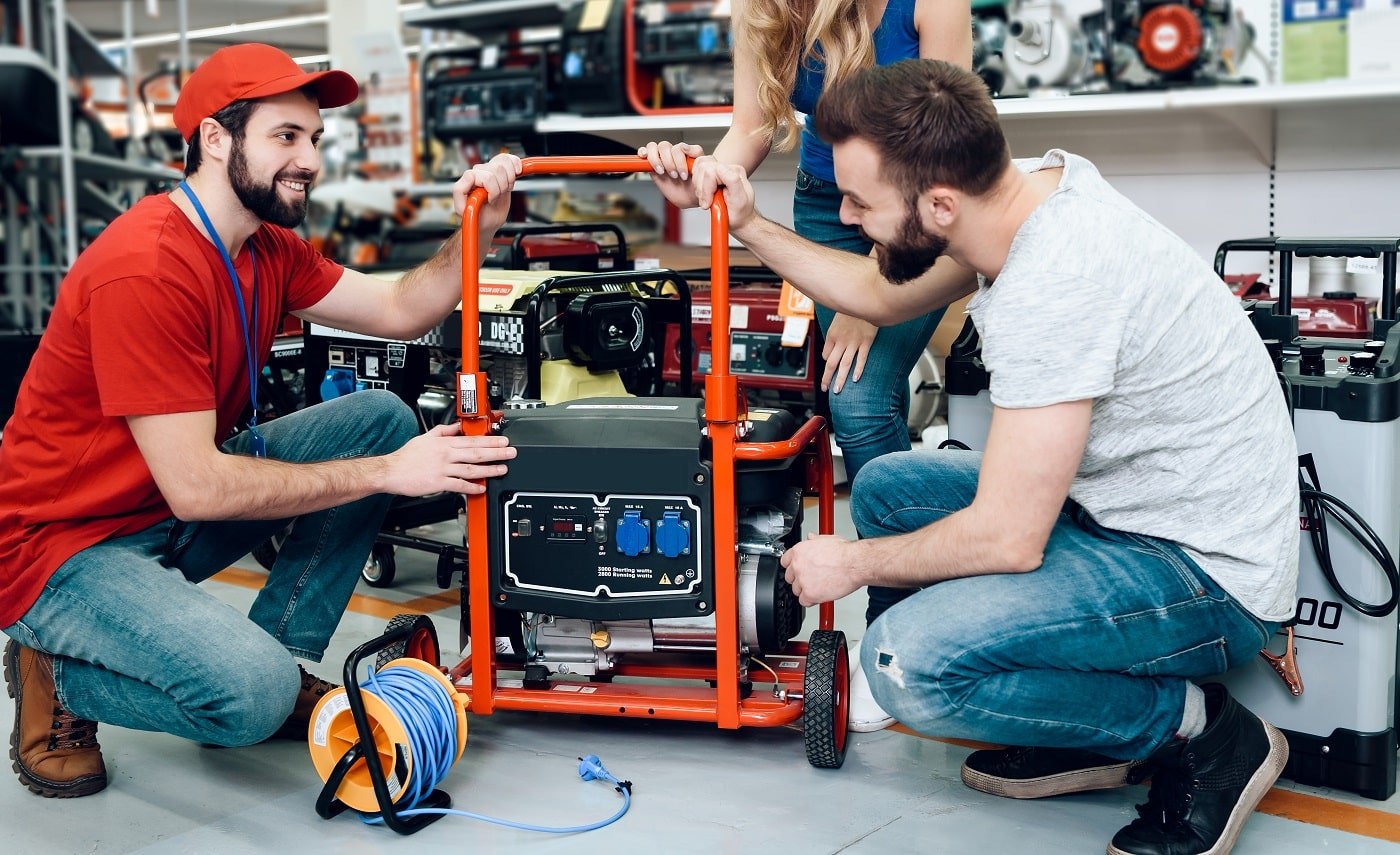 A popular name in the electrical industry, Westinghouse offers quality products with a lot of power, and its generators are no different. It manufactures these generators in a way that focuses on making life easier and more comfortable for whoever uses them. Let's explore a bit more and see what features make this product special.
Sale
Why Did We Like It?
As mentioned, Westinghouse ensures that the generators it produces are high in quality and power. This is what makes it an excellent portable generator for the whole house. This product with 12,500 peak watts and 9,500 running watts of energy will ensure that all key appliances like the fridge, AC, lights, and so on run smoothly.
When it comes to its design, it is quite user-friendly. This machine has a push-button for electric start, so switching it on is as easy as it can get. Additionally, it has a fob key that can start from up to 260 ft. away. Even maintaining it is very easy and requires minimal effort.
Overall, it is very easy to use and will keep key appliances on without you intervening. It also has a 12-hour runtime and a 6.6 gallon tank. It is safe to use as well since all outlets have a rubber cover to protect your hands.
What Could've Been Better?
Among the glowing reviews for this product, there were some consistent complaints about the machine being a bit heavy-duty, though the wheels make it easy to move it around. Apart from that, certain reviewers have also mentioned that the customer care team is not supportive.
Pros
Easy push-button and fob key start

Automatic low oil indication

Easy to maintain

Powerful machine
Another great one to consider is the powerful DuroMax portable generator. Packed with features, this one is guaranteed not to leave you in the dark. It is also quite durable as it has a 100% copper construction. DuroMax prides itself on manufacturing generators that are compact but work like a pro.
Sale
Why Did We Like It?
One of the best things about this generator is that it can run on gas as well as propane. Since it has dual-fuel technology, it offers a certain degree of flexibility and versatility. It is an eco-friendly product that is affordable and long-lasting. Moreover, it is a powerful machine with 12,500 starting watts and 9,500 running watts.
Allow us to elaborate a little more on the power this generator has to offer. This unit has a 7-hour runtime on propane and an 8-hour runtime on gas. Additionally, it is capable of handling all key appliances of the house, from lights to fridges to air conditioners and even medical equipment.
Coming to the make of the unit, it has an all-metal construction. All the windings in this generator are made out of copper, and it is an 8.3 gallon tank. Not only is it ideal for home but also job sites and on camping trips.
What Could've Been Better?
This generator is quite powerful, which is probably why it is also very noisy. Reviewers complain that it does not operate quietly which is surprising since its competitors can do the same thing but with 50% less noise. Some users also mention that the instruction manual is confusing.
Pros
Can run on propane and gas

Powerful engine

Ideal for households and RVs

Durable make
Buying a generator for power back up in the house doesn't always have to cost a fortune. The A-iPower portable generator is ideal for anyone looking for an affordable yet efficient unit. There are many features that make this powerful and easy to use. Let's have a look at some of them.
Sale
Why Did We Like It?
One of the main reasons this unit stood out was because it offered a lot at a very nominal price. It is a powerful generator with a 459 cc engine that offers up to 9,500 running watts. It is ideal for anyone looking for power backup at home. It is guaranteed to support all key appliances.
Now, let's talk about the make. It has a 7 gallon tank and is made out of steel. With the power it has to offer, this unit can run for about 8-9 hours at 50% energy, effortlessly. Although, many users have claimed that it kept running for 13 hours. Additionally, it is safe to use since all outlets have rubber covers.
To sum it up, it is a great generator to consider for people on a tight budget. It has plenty of modern features that make it user-friendly, like an electric start button and a low oil alert. If the oil is too low, the unit automatically shuts down.
What Could've Been Better?
One major downside of this particular unit is that it tends to leak oil after being used for a few hours, which can be inconvenient and unsafe. Another common complaint amongst reviewers is that customer care is not supportive.
Pros
Safe to use

Sturdy make

Adequately sized tank

User-friendly
The next generator we will be reviewing is the one from Generac. This is a great, compact, and powerful unit that is ideal not just in every home but also in commercial spaces like job sites. It has the power of a professional generator but with modern features which make it user-friendly.
Why Did We Like it?
Generac is a very popular brand because the generator it produces is powerful, durable, and very user-friendly. Even though it has a small frame, it offers 15,000 running watts of energy which is ideal for a whole house generator. With this kind of power, it can supply energy to all the key appliances of the house.
Coming to some of its features, it has an x-torq engine which ensures the unit performs to its maximum capability. It also has a 16 gallon tank that gives this unit the capacity to run more than 10 hours. Some of its user-friendly features include a low oil indicator and automatic shut down.
Also, you can rest assured that the unit will not make a lot of noise when it comes to operation. It has a low-tone muffler that lowers the generator's noise blending it into the other noises outside. This unit comes with a bunch of accessories, including a first oil supply and a 2 year warranty.
What Could've Been Better?
A very consistent complaint with this unit is the lack of support from customer care. Many reviewers have mentioned that despite frequent requests, the customer care fails to solve the problems. Plus, it is a heavy machine, and the wheels do not help in moving it.
Pros
Small frame

Large fuel tank capacity

Very powerful

Noiseless operation
Cons
Unsatisfactory customer care
This is another great Generac generator worth considering. If you are looking for something powerful but more advanced with smart features, this is a great option. This unit is the perfect blend of having a machine that works like a pro but is in tune with the times in its looks.
Why Did We Like It?
The main reason why this unit stood out was its energy capacity. This compact unit offers 22,000 watt energy on propane and 19,500 watt energy on gas which is one of the highest we have seen. It is clear that this unit is more than capable of being a whole house generator and supplies energy to key appliances.
Another reason this is highly recommended is because of its smart features. This unit has an LCD to show the battery status. It also tells if the generator needs maintenance. In addition, the unit administers self-tests which ensures that the unit uses less fuel. It also has a quiet operation.
Overall, it is a durable unit that is coated with RhinoCoat to ensure that no part corrodes over time. This also makes the generator perfect for all weather conditions.
What Could've Been Better?
This generator has the capacity to work for a long time in any house. However, there is a significant flaw. The unit does not charge while supplying power to the house, which can be problematic if the generator runs out of battery. Reviewers have also mentioned issues with oil leaks.
Pros
Easy to understand LCD

Self-test and quiet test mode

Powerful unit

Durable make
Cons
Generator does not charge while supplying power
The home standby generator by Champion is quite impressive. It offers smart features that ensure it is user-friendly, powerful, and durable. The company itself has an excellent customer support team who are always ready to help. Let's have a look at some of this unit's features that make it unique.
Why Did We Like It?
The Champion home standby generator is quite powerful yet ideal for any home. While it is compact, it does have a lot to offer. It is fully automatic and can provide smooth and seamless supply of energy to your house. It provides 8,500 watts of energy on propane and 7,500 watts on gas which is enough to power key appliances.
Also, it has a 24-volt starting system that ensures it comes on even in harsh cold or hot climates. There is no requirement to warm it up using any kits. This unit has an advanced low-tone muffler that lowers the noise it creates, making it ideal for any residential space.
Lastly, the unit comes with a 10 year warranty and free tech support for life. This makes it easy in case there are any issues with the unit. However, the generator is weather-resistant and made of steel so there shouldn't be any problems.
What Could've Been Better?
Unlike most other generators that we have reviewed, this one does not have any wheels. So, since it is a heavy-duty unit, moving it around can be difficult. Moreover, the installation might require professional help, which is not an issue since their support team is very responsive.
Pros
Automatic unit

Noiseless operation

Excellent customer support

Can come on in any climate
Briggs and Stratton is a known name in the world of appliances and is popular for superior quality and performance. Their generators are top-notch and will not waste any fuel. Despite being small, they have a ton of features and are long-lasting. Read on below to see features that make it a household name.
Why Did We Like It?
This generator by Briggs and Stratton is small yet impactful. It is, without a doubt, powerful since it offers 12,000 watts of energy which is enough to power key appliances, including a 5-ton air conditioner. It has dual-fuel technology, which means it can run on gas and propane and switching between the two is easy as well.
Now, let's talk about some of the unique features. This unit can manage the debris that accumulates over time, making it easy to clean and maintain. It has a noiseless operation with very minimal vibration as well. A new feature that is added is "idle mode" which also reduces the noise and saves fuel.
Additionally, unlike other competitor generators, it comes with a 5 year warranty covering labor, parts, and travel. To ensure the engine is durable and long-lasting, as it uses a premium state-of-the-art engine.
What Could've Been Better?
While it was challenging to find something wrong with the generator overall, we found one small issue. This unit comes with additional features like power management and monitoring which are very convenient. But, they are only accessible on a subscription after paying a fee.
Pros
Compact yet powerful

5 year warranty

Smart voltage regulator

Easy to clean
Cons
Additional important features only available on subscription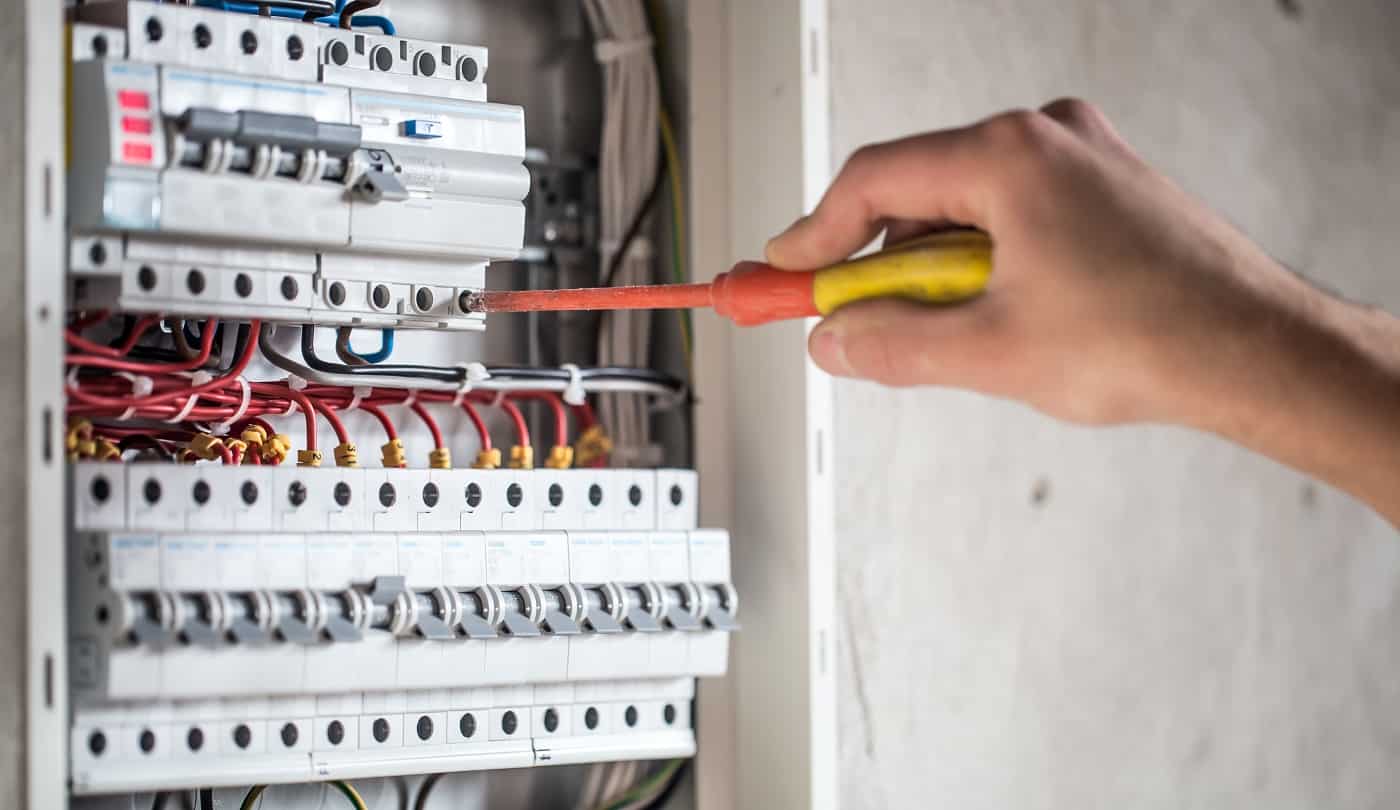 Whole House Generators Buyer's Guide
As you might be able to tell, the generators we have reviewed are similar but also unique in their own way. Each of them has a set of advantages and disadvantages that need to be carefully considered before buying one. It is crucial to look at what it has to offer with great detail and then take a call.
To help you understand what to look at, we have gathered some information on the essential features of a generator. Hopefully, this buyer's guide will give a bit of clarity on the topic. Now, let's get right into it.
Power Requirement
The most crucial thing to consider here is how much power the generator has to supply. And, this is entirely dependent on the house and the appliances. If you plan on running bigger appliances like induction cooktops, or air conditioners, we suggest a unit that supplies more than 15,000 watts of energy.
However, it is a different story if you only want basic key appliances to work like a few lights and fans. In that case, getting something that supplies energy between 5000-10,000 will be more beneficial.
Source
Generators usually work either gas or propane, although some units are equipped with running on both. Propane-based generators are more powerful than gas, but natural gas is more readily available in the house. Either way, it will be more beneficial to have a unit with dual-fuel technology so you can get the best of both worlds.
Voltage
In order for the generator to be compatible with the house, it is essential to check the voltage output. In general, all home generators can be used on a 120-volt and a 240-volt output and sometimes interchangeably in the same unit.
Fuel Consumption
In case you are on the lookout for a high power output generator, it is important to remember it will consume a lot of fuel. In such situations, it can be beneficial to pick a unit with a big fuel tank capacity so that you do not spend exorbitant amounts.
Size Of The Engine
The size of the engine is what determines the power outage. The engine size is usually above 900ccs for high-power generators and can supply more than 18,000 watts of energy. At the same time, mid-range ones are around 700-900cc and supply between 5,000 to 10,000 watts of energy. The choice is entirely yours.
Noise Level
Having a heavy-duty generator does expose you to the possibility of a lot of noise. This can be inconvenient if there are babies or light sleepers in the house. Thankfully, not all generators make a lot of noise. Keep an eye out for the noise each unit makes and ensure it is equal to or less than 60 decibels.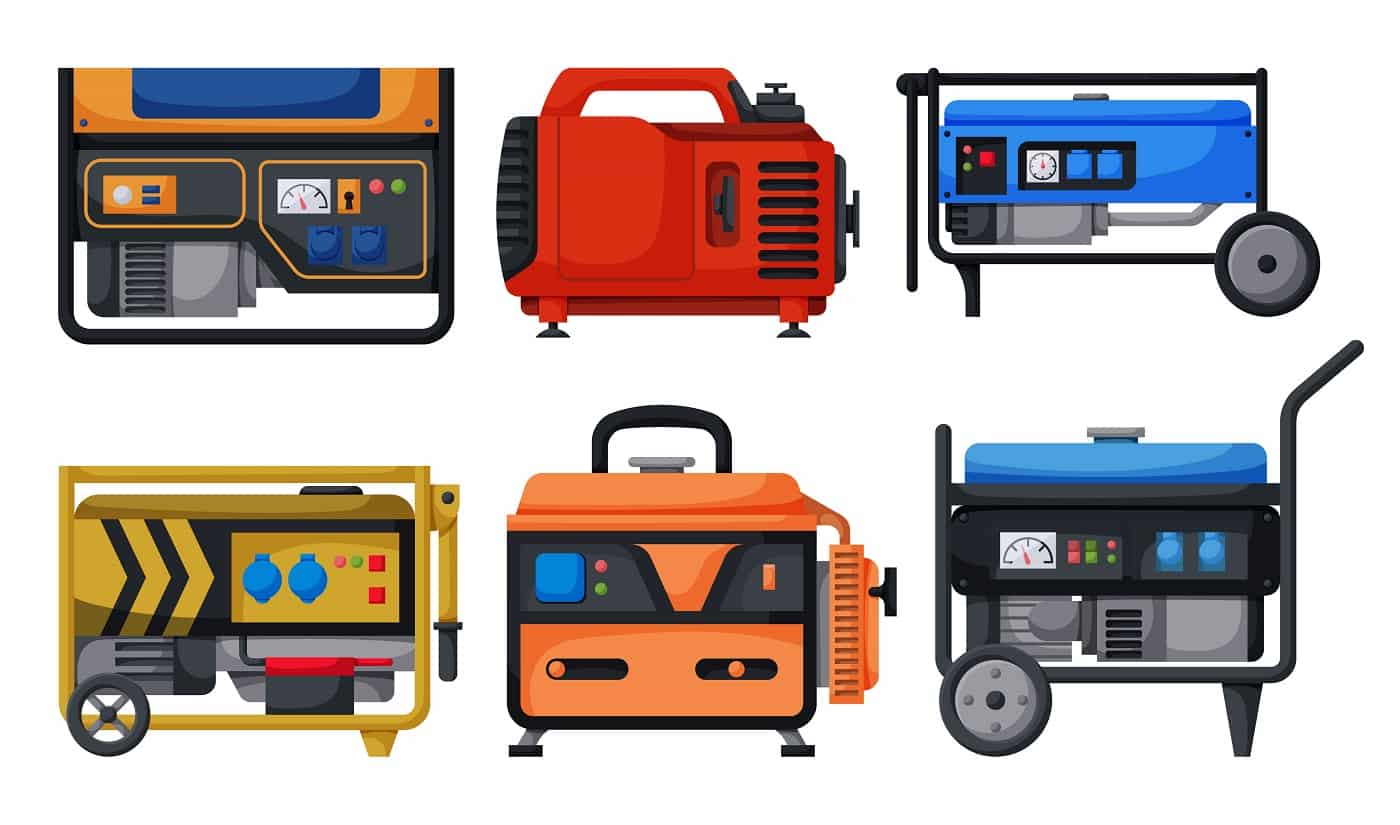 Verdict
With that, we finally come to the end of this review of the 7 best whole house generators. We hope this, along with the buyer's guide, can be of assistance when you pick a generator for the house.
We understand this is a lot of information to process, so allow us to make it easier by telling you our favorites. We love the Briggs and Stratton generator as it is a known and reliable brand with some amazing features. If the add-ons are not vital for you, then this generator is perfect.
However, if you are looking for something with all the essential features, then the Champion standby generator is the best. Just remember to get professional help when moving it around.
We shall now bid farewell to you, but we promise to be back soon with more comprehensive reviews and guides. See you next time!
Related Articles
9 Best Solar Generators for Camping & Home Use 
9 Best Quiet 4000-Watt Generators  
13 Best Silent Generators For Home Use Today
10 Quietest 3000 Watt Generators For RV And Home Use
12 Best Cheap Inverter Generator to Consider Today