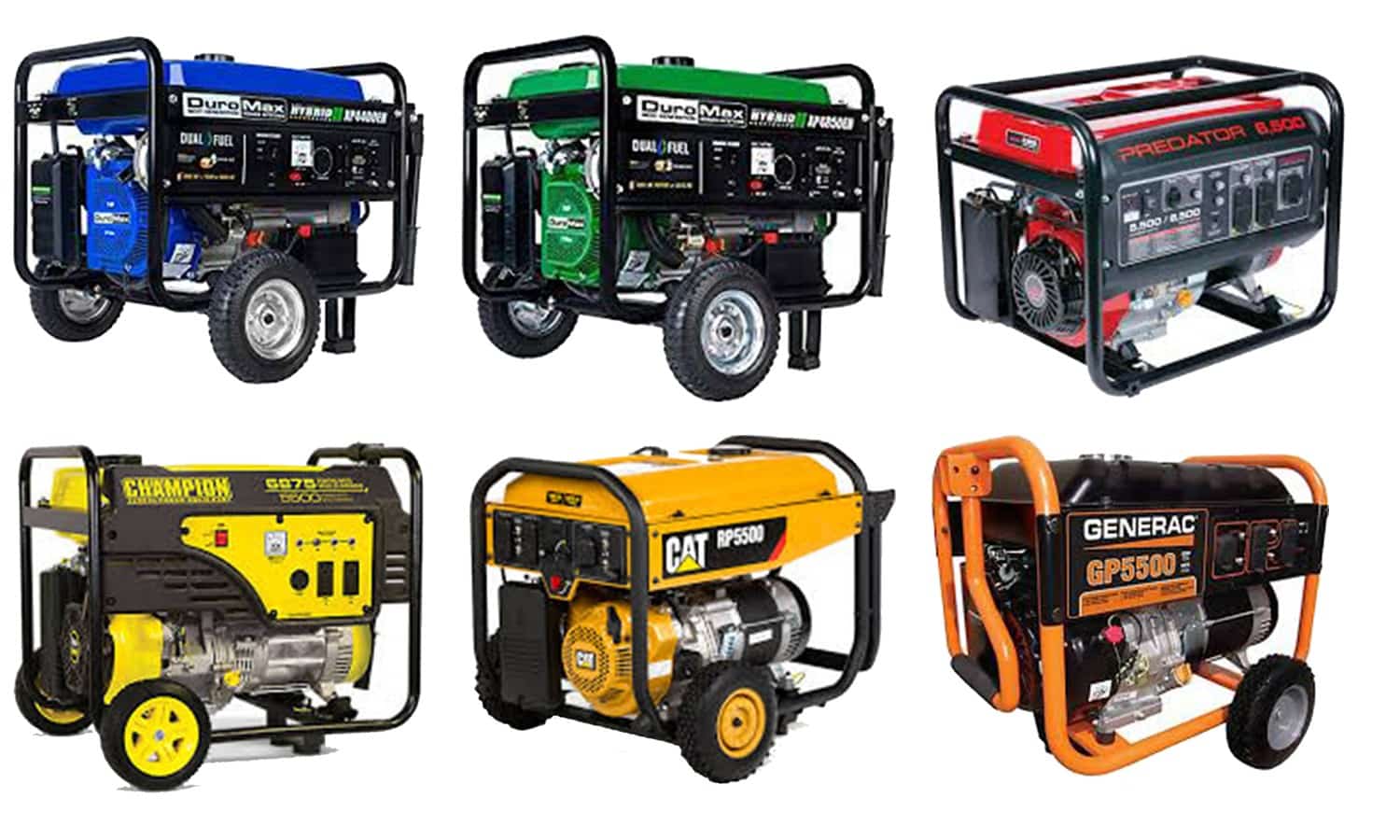 There is no denying that 4000-watt generators can prove to be lifesavers during power outages.
After all, they produce consistent power for extended periods and prevent disruption of activities. Not just that, they are quieter than the traditional units and can be carried anywhere, which makes them ideal for camping, tailgating, and powering RVs. So, going for such a device would certainly be a wise decision.
However, since there are many options and factors to consider, selecting the right model can be quite time-consuming and challenging. 
That is why we have brought together a list of the nine best quiet 4000-watt generators currently available on the market after extensive research and testing. We have also provided a buyer's guide towards the end of the article to help you make an informed purchase. 
Now, without any further delay, let's get started!   
Top 9 Quiet 4000-Watt Generators
IMAGE
PRODUCT
DETAILS

Our Top Pick

Our Top Pick

DuroMax

Powered by a 208cc OHV engine
Output wattage: 4000 watts
Weighs about 90 pounds

VIEW LATEST PRICE →

Champion Power Equipment Open Frame Inverter

Can run for up to 17 hours
Measures 20.5" x 17.9" x 17.7"
Fuel Tank Capacity: 2.9 gallons

VIEW LATEST PRICE →

Westinghouse

Output wattage: 4500 watts
Powered by a 224 cc engine
Sports a 3.4-gallon fuel tank

VIEW LATEST PRICE →

WEN GN400i Inverter Generator

1.85-gallon fuel tank
Engine displacement: 212 cc
Weighs about 66 pounds

VIEW LATEST PRICE →

Pulsar

Fuel capacity: 3.2 gallons
Comes with an electric push start button
CARB-approved

VIEW LATEST PRICE →

Bilt Hard Inverter Generator

Boasts a four-stroke engine
Inverter technology 
Has two USB ports 

VIEW LATEST PRICE →

PowerSmart Inverter Generator

Fuel capacity: 2.54 gallons
Features a 4-stroke engine
Has an RV outlet

VIEW LATEST PRICE →

Champion Power Equipment

Engine displacement: 212 cc
Comes with an EZ start dial
Fuel capacity: 2.3 gallons 

VIEW LATEST PRICE →

WEN GN4500 RV-Ready Portable Generator

Engine type: 4 stroke
Measures 23.25" x 18" x 18.75"
4 gallons of fuel tank capacity

VIEW LATEST PRICE →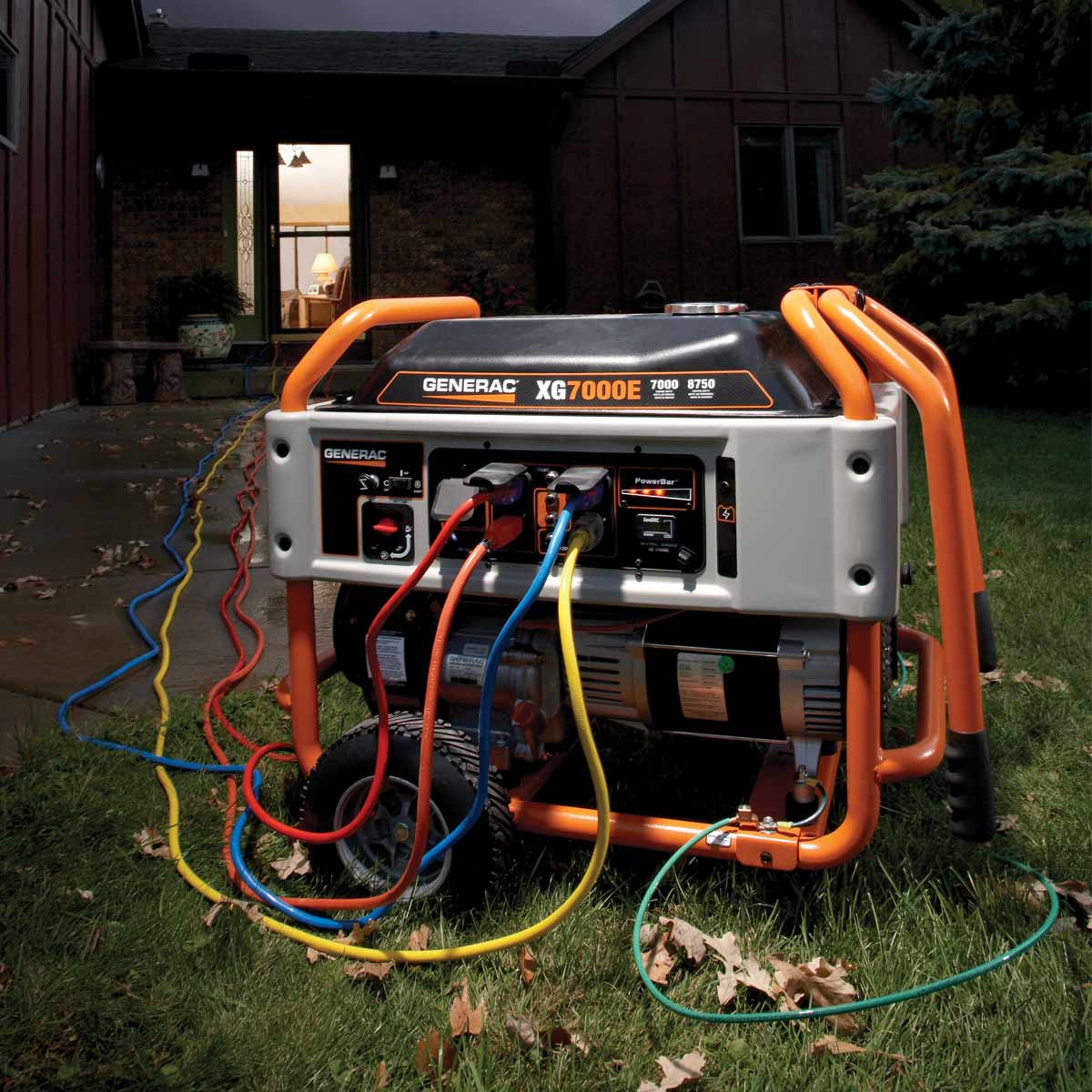 When it comes to manufacturing durable and reliable portable generators, DuroMax is one of the best brands on the market. Thus, it should come as no surprise that the DuroMax XP4000S portable generator is among our top recommendations. Equipped with a robust engine, the product offers sufficient power to deal with multiple jobs.     
Sale
Why Did We Like It?
With 3300 running watts and 4000 peak watts, this portable generator can withstand heavy loads, making it suitable even for power tools and home air conditioners. Additionally, it boasts a robust 208 cc OHV engine to ensure it can handle numerous jobs involving high-voltage appliances with ease. Rest assured, it will fulfill your requirements during a power outage. 
We were also pleased to find out that it features a sensor that automatically shuts off the device when the oil is low to protect the device. We must also mention that all the windings in the device are made of copper for a longer lifespan. 
Apart from that, the generator is approved by the EPA, which means it produces low emissions and is more eco-friendly than traditional generators. Last but not least, it sports an affordable price tag, making it a top choice if you are on a tight budget.       
What Could've Been Better?
We didn't come across any significant drawbacks to this product that would be considered a deal-breaker. However, we have to admit that the power fluctuates once in a while, which can be noticed on the voltmeter. But then again, given the economical price tag, we don't think most users would mind this minor issue.   
Pros
Budget-friendly

Durable and well-built

Can handle heavy loads

Backed by a three-year warranty
Cons
Power fluctuates at times
Founded in 2003, Champion Power Equipment has been dedicated to producing and designing the best power equipment for over a decade. And this open frame inverter from the brand is yet another feather in its cap. Packed with plenty of functional features, the product ranks high in terms of performance and fuel efficiency. 
Sale
Why Did We Like It?
The modern open-frame design is what caught our attention from the get-go, which not only makes the product stand out from other traditional generators but also makes it lighter. Therefore, users should face no problem carrying it from one place to another. 
And thanks to Quiet Technology, the inverter generator operates at under 64 decibels, making it ideal for RVs. 
Apart from that, the product is parallel-ready, allowing you to double the power output by connecting up to two high-watt inverters. We were also quite impressed with its Economy Mode, which makes it incredibly fuel-efficient and extends the engine life.       
Additionally, the inverter generator is backed by a three-year warranty. Thus, you don't have to pay to repair or replace the product during the first three years of purchase. And there's more; the company offers free lifetime technical support, thus providing one of the best customer experiences in the industry.      
What Could've Been Better?
Without a doubt, this product is one of the best quiet 4000-watt generators currently available on the market. However, it may not be ideal for those with a modest budget. Other than the steep price tag, we found a few issues with the instructions, which was a little disappointing.  
Pros
Backed by a 3-year warranty

Quiet operation at 64 decibels

Lifetime free technical support

Highly fuel-efficient
Our next pick is from Westinghouse, a prominent US-based power equipment brand that has been providing clean energy solutions since 1886. Meet the iGen4500 inverter generator that can help meet your various power needs whether you are on the go or camping. Read on to know what all it offers.  
Sale
Why Did We Like It?
For us, the main highlight of this product is the reliable push-button electric start that ensures the generator stops and starts without any hiccups. It also comes with a key fob for wireless remote start, allowing you to stop and start the generator from up to 260 feet away. Needless to say, these features make the product superior to traditional portable generators.
As far as the engine is concerned, it is fuel-efficient, thanks to the active throttle system that regulates the engine speed and power as per the load that's demanded. It also features a low-oil automatic shutdown sensor, which ensures that the product powers off automatically to prevent damaging itself. And the best part? It is exceptionally quiet. 
The inverter generator sports a convenient and intuitive digital data center that displays lifetime run hours, voltage output, power output, and fuel level. Thus, it enables you to track real-time information and maintenance intervals. 
What Could've Been Better?
The hatches for the oil compartments and the battery are small. So, people with large hands may find it difficult to screw and unscrew the oil cap and secure the battery. Other than that, the product may be slightly expensive for some buyers. However, given the features on offer, we would say that it is worth the investment. 
Pros
Sports a big fuel tank

Built-in wheels for easy portability

Powered by a highly fuel-efficient engine

Incredibly quiet
Cons
Small oil compartment hatch
Wen has been manufacturing and supplying top-grade yet affordable power equipment for over 70 years. So, it made sense to add a product from a brand of such caliber to our list. Whether at the campsite, at home, or on the job, the GN400i Inverter Generator makes sure you don't have to worry about outages. 
Why Did We Like It?
We must single out the design as the USP of the inverter generator. At 66 pounds, it is incredibly lightweight and portable, allowing you to carry it wherever you go. Not to mention, it takes up only a small space, making it an ideal choice for trailers. 
Moving on, we were thoroughly impressed with the engine power. The four-stroke engine can generate up to 3500 running watts and 4000 surge watts of reliable power. Additionally, the Eco-Mode feature deserves special mention as it enables the motor to automatically regulate the fuel consumption, thereby preventing gasoline wastage and saving you money. 
You will be pleased to know that the product is designed to prevent voltage drops and spikes, which means it is safe for use with mobile phones, laptops, and other electronics. And lastly, it is backed by a two-year warranty, so you don't have to worry if it malfunctions down the road; the brand has you covered.   
What Could've Been Better?
Unfortunately, the noise level of this Wen generator is relatively high but not as loud as a traditional generator. So, you might want to keep it in mind if you decide to purchase this product. Also, it would have been excellent if the manufacturer had provided a bottle of oil with it. 
Pros
Comes with a two-year warranty

Safe to use with sensitive electronics

Lightweight and portable

Sports an economical price tag
Cons
Not the quietest generator on this list
Now that we are midway through the list, let's take a look at the G450RN portable backup generator from the house of Pulsar. Pragmatic and highly versatile, this product can be your go-to option for an alternative power source on your next adventure. So, let's see what it brings to the table in the next few sections.
Why Did We Like It?
For starters, it is a quiet generator because it operates at only 63 decibels, allowing you to have a normal conversation just 10 feet away. This makes the product a great choice for a power source while camping. Additionally, the product is CARB-approved, which is excellent news for eco-conscious users. 
The fuel capacity of this portable generator is 3.2 gallons, making it capable of providing uninterrupted power at half load for up to 15 hours. Therefore, you can use this product during blackouts and outdoor events without worrying about fluctuations. We also loved its compact construction and never-flat wheels that support easy storage and maneuverability.
Apart from that, the wireless remote start deserves mention; it allows you to control the product from up to 80 feet away. And did we mention that it is parallel-ready? Indeed, you can hook up to two portable generators to enjoy double the wattage from this portable inverter generator. 
What Could've Been Better?
We did not find any information about the warranty offered by the manufacturer. As such, we can't confirm whether it is backed by a warranty or not. Other than that, we found the oil access point a tad difficult to open, which was a bit frustrating. 
Pros
Operates quietly

Convenient to move around and store

Eco-friendly

Ideal for camping
Cons
Oil access point is difficult to open
Bilt Hard is a brand that specializes in the production, development, and research of high-quality gas tools and power tools. And this inverter generator is an ideal example of what the brand is capable of designing. Praised by customers from across the globe for its range of compelling features, this is an option you wouldn't want to ignore.  
Why Did We Like It?
The product features innovative inverter technology, which ensures that it delivers clean power that's safe to use with phones, laptops, and other sensitive electronics. We were also impressed with the built-in casters and the sturdy collapsible handle that make the product easy to maneuver. On that note, this versatile product is an excellent addition to an RV and small homes. 
Additionally, it comes with both recoil and electric start. While the electric start allows you to switch the unit on with a press of a button, the recoil start comes in handy when the engine fails. Beyond that, you will be pleased to know that it operates at just 68 decibels, which means it won't disturb your entertainment and rest, much less the neighbors'. 
Not to mention how it comes with a two-year warranty, proving the brand has faith in the quality of its products. Overall, it is a great backup power option during a power outage and outdoor events.  
What Could've Been Better?
A few disgruntled users have expressed their disappointment over the run time of the unit. They mentioned that it runs just a little over three hours, whereas the brand says it would run for 14 hours. Other than that, we would have liked it if it came with an oil bottle.   
Pros
Backed by a two-year warranty

Easy to move around

Super quiet operation

Provides clean and reliable power
Next, we have chosen this quality unit from PowerSmart, a prominent name in the power equipment industry. It is a great option if you are looking for a gas-powered generator that provides green electrical energy for home power backup, RV camping, and powering mobile phones. So, let's dig a little deeper.   
Why Did We Like It?
Straight off the bat, you get a 2.54-gallon massive fuel tank, enabling the machine to run for 15 hours straight. So, be it a power outage or an outdoor event, you can trust this inverter generator to provide an uninterrupted power supply for extended periods.
It features a digital display, which shows the total runtime, session runtime, frequency, and voltage to help you keep track of its performance and know when it's time for maintenance. Apart from that, we were pleasantly surprised to find out that it runs at 61 decibels on max power output, meaning it's incredibly quiet and a perfect choice for camping.
Now, what makes it a truly powerful generator is its four-stroke, single-cylinder, OHV engine that provides top-notch performance as a reliable power backup option. It is also parallel-ready, allowing you to connect two inverter generators to boost the total power output. Naturally, this unit is one of the most highly rated and sought-after inverter generators.  
What Could've Been Better?
A major gripe that we have with this product is that it doesn't come with built-in casters, which could make it difficult to carry, especially for elderly people. Other than that, we must mention that we couldn't find any information related to the warranty.
Pros
One of the quietest 4000-watt generators

Available at a reasonable price

Boasts a powerful engine

Works for extended periods
Cons
Doesn't come with built-in casters
We will not be wasting any time introducing you to Champion Power Equipment as we have already reviewed an exceptional inverter generator from the brand previously. Now, as for this model, it is a notch above most options on our list. Keep reading to know more about it.   
Why Did We Like It?
In our opinion, one of the most notable features of this generator inverter is the Intelligauge that allows you to monitor the operating hours, frequency, and voltage with ease. Thus, it helps you keep track of the performance of your device. 
Additionally, it comes with the EZ start dial that ensures that the engine starts easy and quick, without the user putting in the effort, unlike generators with recoil starts. Another thing that we liked about this device is that it produces clean electricity (< 3% THD), which means you can connect your mobile phones, laptops, and other sensitive electronics confidently. 
Like most Champion Power Equipment inverter generator models, this one also features Quiet Technology, which ensures it operates at a lower noise level (61 decibels).   
Finally, we must mention that the product is CARB compliant, which means it meets the emission standards set by California Air Resource Board. Thus, you can buy it without worrying about harming the environment.      
What Could've Been Better?
Unfortunately, it doesn't come with a parallel kit. So, be prepared to make additional expenses to buy one if you want to connect it to another inverter to increase the output power during outdoor events or tailgating. Other than that, the product works perfectly.  
Pros
Backed by a three-year warranty

Eco-friendly

Easy to start the device

Ideal for camping and tailgating
Cons
Doesn't include the parallel kit
This list would have remained incomplete had we not included the GN4500 RV-Ready Portable Generator from WEN. Affordable yet with extraordinary features, this generator can provide you the required power where and when you need it most. Want to know more? Well, then keep reading.   
Why Did We Like It?
Firstly, those planning to use it on their RVs will be pleased to know that it comes with a 120V RV outlet, making it incredibly easy to connect with RVs. 
As far as the engine of the generator is concerned, we are pleased to inform you that it couldn't be more robust. In fact, it is a 4-stroke, 212 cc engine that can generate up to 3600 running watts and 4500 surge watts of steady, clean and reliable power. 
Beyond that, the tank needs to be discussed as it is decently large and can hold up to four gallons of fuel, enabling the product to run long (13 hours). And finally, it is backed by a two-year warranty; hence repairs and replacements should be the least of your concerns for the first two years with this product. 
What Could've Been Better?
Although the product is compact, it's not lightweight as advertised. In fact, at nearly 108 pounds, it is one of the heaviest generators on this list. So, make sure you purchase the wheel and handle kit to move it from one place to another.  
Pros
Backed by a two-year warranty

Sports an affordable price tag

Has a highly-efficient engine

Comes with a large fuel tank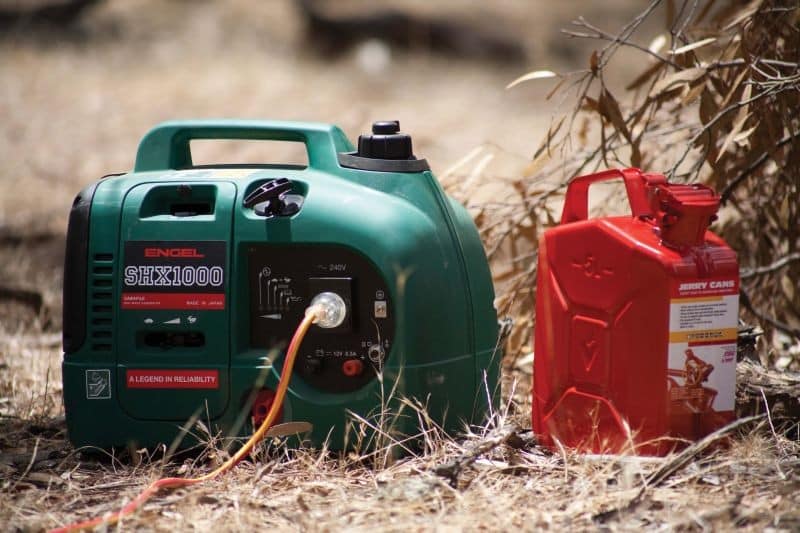 Quiet 4000-Watt Generators Buying Guide
Now that you have gone through our top recommendations for quiet 4000-watt generators, we think a buyer's guide will help you make an informed decision. In this section, we have discussed the important aspects of a 4000-watt generator so that you don't have any problem choosing a unit that works best for you.
Make sure you read the entire thing; otherwise, you might miss out on a thing or two. Also, if required, note these points down on a piece of paper and keep it handy while purchasing.    
1. Runtime
The runtime of a 4000-watt generator is an essential factor that you need to consider while making a purchase. After all, it determines the total time the generator will run on a tank full of gasoline at half the rated wattage. More often than not, the runtime depends on the size of the tank and the engine.
However, it also significantly depends on the load. In other words, the number of electronics that you are connecting at a time. To increase the runtime, make sure you don't power too many devices simultaneously. 
2. Portability
You want to make sure that your generator is portable for transportation and storage. Fortunately, most 4000-watt generators are not bulky and can be carried from one place to another. Also, these days, many models have wheels underneath them that further enhance their portability and ease of storage. We recommend that you choose one such unit.  
3. Noise Level
Generally measured in decibels, the noise level is yet another important factor that you can't afford to ignore while purchasing a portable generator. You wouldn't want the generator to be too noisy to ruin the camping experience or disturb your rest. 
Therefore, make sure that you go with a unit with a lower noise level between 50 and 70 decibels; the lower, the better. Don't worry; all the products we have reviewed are within that range.
4. Warranty
Make sure that the generator you are going for comes with a warranty. This is because a warranty ensures that you don't have to incur additional expenses to repair or replace the generator if it malfunctions in the future. 
Apart from that, a warranty means that the product is of good quality and it will last a long time. Usually, 4000-watt generators are backed by a two or three-year warranty, and some brands may even offer lifetime technical support, but still check before purchasing to be safe. 
Quiet 4000-Watt Generators Frequently Asked Questions ?
Here, we have answered some of the most commonly asked questions about 4000-watt generators. Hopefully, you will find them useful.
Q1. How is a 4000-watt generator better than a traditional unit ?
A 4000-watt generator is better than a traditional generator in many aspects. To begin with, inverter generators don't cause voltage spikes and distortions too often, making them an ideal option for connecting phones, laptops, and other sensitive electronics.
On the other hand, traditional generators tend to cause voltage spikes when there is a sudden increase or decrease in the current. Apart from that, 4000-watt generators are portable and produce low noise levels, while that's not the case with the traditional units.
Q2. What are the items that a portable 4000-watt inverter generator can power ?
A 4000-watt generator can power many electronic appliances such as TVs, refrigerators, and even air conditioners. Furthermore, you can use it as a backup power supply in your home during power outages.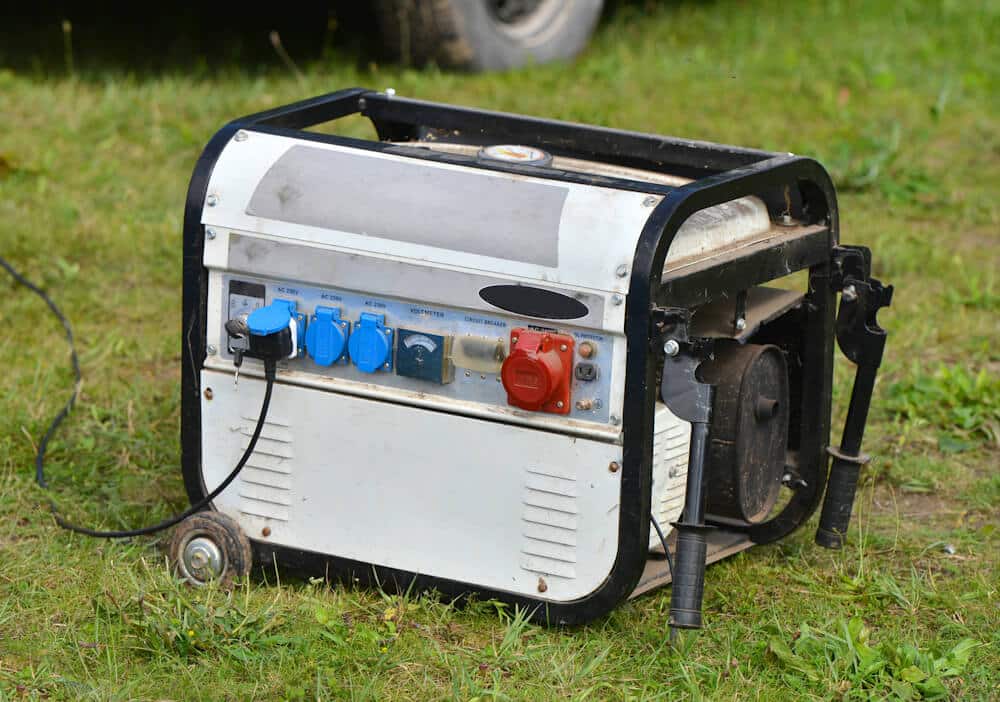 Verdict
With that, we have almost reached the end of our review-based guide. And hopefully, now you are equipped with all the necessary information to get yourself the right 4000-watt generator. However, if you are still confused, then stick around for a couple more minutes as we let you in on our favorites from the list to make things crystal clear.
According to us, the DuroMax is the overall best, simply because it can handle heavy loads and sports a budget-friendly price tag. Additionally, the Champion Power Equipment Open Frame Inverter is also a decent option, as it is highly fuel-efficient and backed by a 3-year warranty. 
And if you are looking for the quietest portable generator, you cannot go wrong with the Westinghouse. 
That's all for today. Until next time, take care!
Related Articles
10 Best Quiet Propane Generators For Home And RV Use
9 Best Solar Generators for Camping & Home Use  
Top 10 Quietest 5000 Watt Generators For Home Use
8 Different Types of Generators for Your Off-the-Grid Cabin
13 Best Silent Generators For Home Use
10 Quietest 3000 Watt Generators For RV And Home Use
12 Best Cheap Inverter Generator