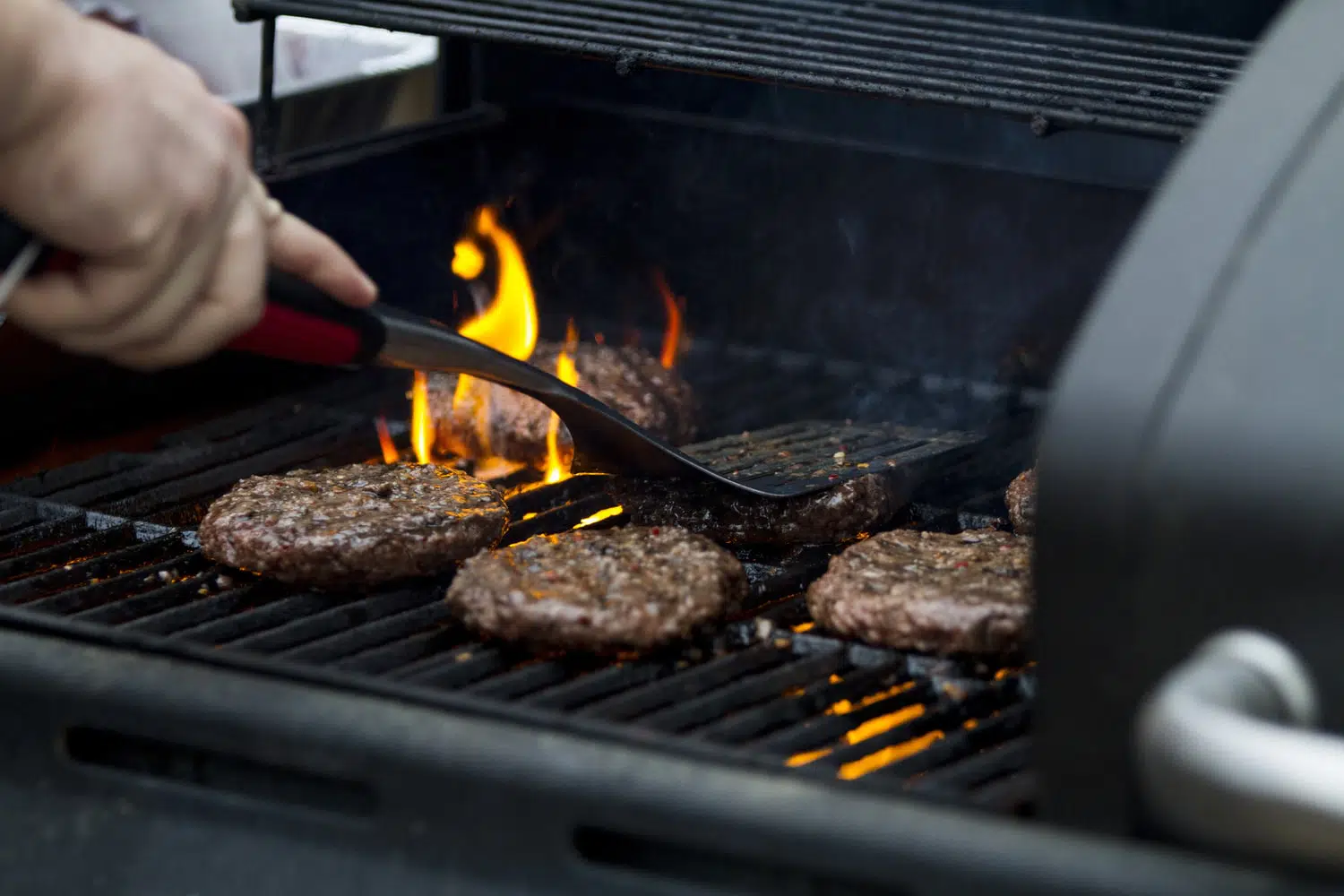 When it comes to grills and BBQ machines, there seems to be a general consensus about bigger always being better.
That's because most of the time, people bring out their grills when there's a party or a small gathering planned. After all, who doesn't want to be surrounded by friends and family, while biting into a juicy piece of a pork rib or roasted chicken breast?
But what do you do when you want a grill that's especially high on portability and ready to be taken along on an RV ride? Well, you guessed it, Traeger has an answer! 
Today, we're going to take you through a guide of the best Small Traeger Grills for Backyard and RV BBQs. And we promise that by the end of this guide, you'll know exactly what to buy from Traeger's best small pellet grills collection so you can enjoy your backyard gatherings and turn the RV into a gourmet zone.
So, keep on reading for the best small pellet grill from Traeger!
Small Traeger Grill For Backyard & RV BBQs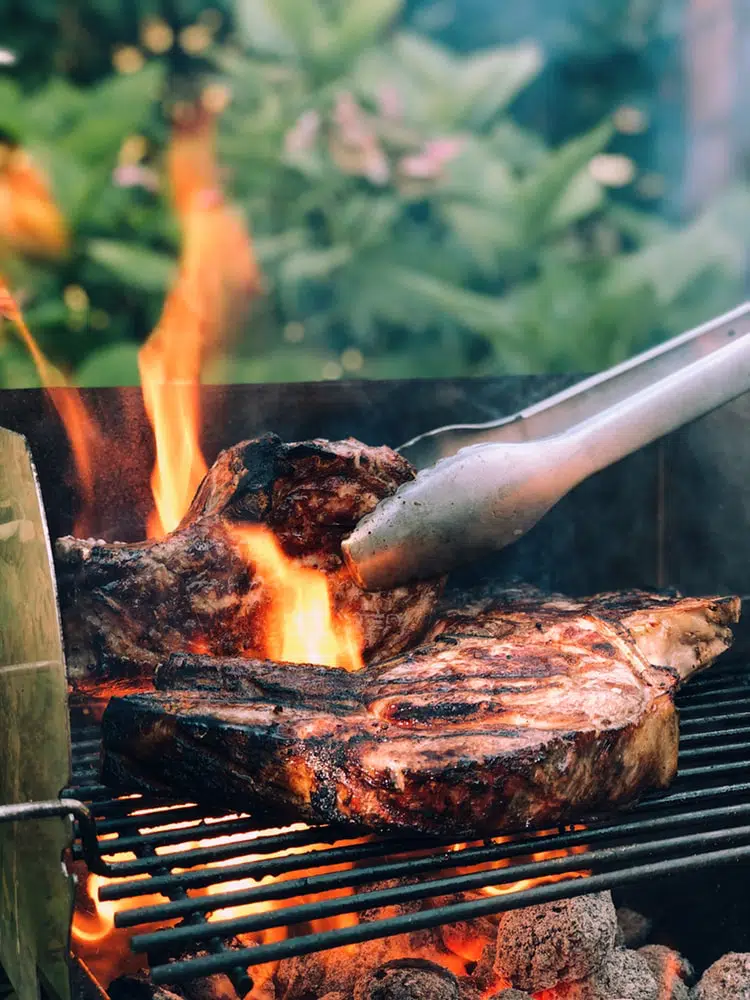 First on our list comes the perfect Traeger model that's advertised to be ideal for small backyard gatherings. And we reckon this should be great for RV's too due to its compact dimensions and easy to use features. The Tailgater 20 is a worthy purchase, no doubt, but you really need to learn why by reading more about it.
No products found.
Why should you buy it?
First thing's first, we call this a great grill for small backyards and RVs because of its rather small rather compact grilling space, being 300 sq.in., whereas most grills from Traeger have over 500 sq.in. The company advertises this product to be great for not only home, but also camping and Tailgating, so there's no reason for us to doubt those claims.
The other features that set this model apart from its competitors are the EZ-fold legs that lets you pack up the grill, Multi-position thermostat control, and Digital Elite controller that makes changing temperature settings as easy as the breeze. And since this product uses wood to cook, you can most assuredly get those smoky aromas you've all been craving for.
We tried smoking, baking, grilling, braising a variety of meat and we got exactly the type of juicy tenderness and aromas we were expecting. For best results, we recommend using pure hardwood pellets only as they're free of fillers or binding agents. You wouldn't want to taste impurities in the cooking, would you?
What could've been better?
Everything is right with this grill…well, almost everything. A couple of times we noticed that the thermostat was failing to keep the temperatures at our desired levels. We don't know what the cause of the problem was, but it seems many have experienced it. I suggest you take note of this issue and bring it up with the manufacturer, if need be.
Pros
Excellent build quality and size

Perfect for small backyards and RVs

Grills, smokes, braises, very well

Very easy to use
Cons
Some anomalies in maintaining temperature
The second product on our list is kind of controversial, not because of its features but because it is rather fresh on the market. We know that people love buying grills that have a lot of positive reviews, but in this case (at least for now), you're going to have to take our word for it. And the word is Traeger TFT18PLDO is a portable grill is indeed a great option to buy!
Why should you buy it?
In the spirit of bringing "the taste and convenience of Traeger anywhere," this product comes packed with nifty features that'll let you cook effortlessly on the go. What you're getting is the company's signature wood-fired aroma and easy to use controls that many high-end models have, but in a compact format.
With a grilling space of 184 sq.in., this item has enough features to let you grill, smoke, and braise a variety of meat types. We were as impressed with the tough lid latches that's meant to protect as we were with the Digital Pro Controller that let us temperature on the fly. We could change settings from the RV's driver seat when the grill was placed at the extreme back.
The Digital Arc controller let's you get the ideal temperature for delicious slow smoked meats that'll tingle your taste buds. And you can even monitor your cooks using the meat probe that comes in the package. Oh, and did we mention that the cast iron griddle is super easy to clean? Yeah, take note of that too.
What could've been better?
Honestly, we didn't find any major flaw in this model. But just once, we faced problems with changing the temperature. We wanted to set it lower, but the grill just wouldn't budge. This is not a recurring case, and one event should definitely not dissuade you from buying it.
Pros
Extremely portable and sturdy build

Easy to use controls to cook meat exactly the way you want

Porcelain-coated grill grate that's easy to clean
Cons
Price could've been slightly lower
Okay, this small pellet grill might not be ideal for grilling on the go, but it does have good potential as long as you're willing to put in a little effort. This grill is NOT marketed for its portability, but for a broad range of settings that lets you cook meat the way you want to. But since the product is not very big in size, with 300 sq.in. cooking space, it can very well be your friend on the road.
Why should you buy it?
Well, this product would be a fine purchase if you wanted it for your backyard parties as it has every feature you'd expect in grills within that price range. However, one aspect of this product we like the most is the precision temperature control that lets us cook meat at the exact temperature that we want to get a specific type of result.
Despite the comparatively larger size, this grill should be easy to move around because it is fitted with all-terrain wheels  that don't care if you drag the thing over grass, rock, or dirt. Oh, and the sawhorse chassis also goes to great lengths to ensure stability. Overall, this product is built to last and will help you make many great memories.
When we're talking about Traeger grills, it would be unfair to skip past the fact that all their models are extremely versatile and easy to use. This one is no different as the electronic ignition completely eliminates the need to use match sticks or fire starters to fire up the wooden pellets. Just a simple flip of the switch and you're ready to go!
What could've been better?
As much as we enjoyed using this model, on a few occasions we found the temperature sensors going haywire. And as a result our cooking didn't turn out the way we expected. Also, on a couple of occasions, the product had difficulty firing up; we don't know the reason why. These issues, however, are not universal and in no way diminish the brand's reputation.
Pros
Easy to transport over shorter distances

Great controls for precision cooking

Flip switch to start the fire
Cons
Inconsistency in temperature pops up occasionally
Next on our list comes yet another worthy contender. The Traeger Junior Pellet Grill is marketed to be ideal for small households and tailgating due to its compact size and pretty basic, easy to use features. With a primary cooking area of 292 sq.in., it will let you cook your meat to perfection. But should you buy it? Read more to find out.
Why should you buy it?
Well, to be honest, when it comes to portable grills from the house of Traeger, you have to look long and hard to find ones worth buying. And this is one of the worthy ones that we're sure you'll enjoy using, be it in the backyard or in your RV. The small pellet grill brings all the goodness of family-sized products into a compact form that everyone will love.
Firstly, we love the smoky flavor this unit lends to the meat we cooked. This is made possible by the combination of the porcelain coated cooking surface and convection technology that efficiently circulates smoky air around the food. Want precise temperature control? You got it! There's also a smoking setting that keeps the cooking chamber's temperature at 150 degrees.
Smoking and grilling is not the only thing you can do with the Traeger Junior small pellet grill, there's the option to bake and roast too. All you need are quality wooden pellets and you're all good to go! And when the cooking's done, make use of the EZ drain grease system to clear out the leftover grease. Easy peasy lemon squeezy!
What could've been better?
As with most portable grills, this one also suffers from minor inconsistencies from time to time. With the temperature not holding to the grill not firing up in one go, we've seen quite a few issues crop up over the two months we've used it. But given we used it on the go (and often in harsh situations), we can overlook the faults.
Pros
Brings all the features you'd need to cook on the move

Excellent value for money

Easy to clean

Durable build
Cons
Occasional performance issues
Okay, this product might not be for your camping trips but it's an excellent unit to have in the backyard if you're a fan of grilled food. The Traeger TFB38TCA is an extremely easy to operate machine that offers you 380 sq.in. of cooking space to feed the entire family. After using it over a weekend barbeque session, we can say that we were mighty impressed.
Why should you buy it?
Coming from a renowned brand like Traeger, it's only normal that you expect nothing but the very best in performance. And this small pellet grill delivers on most of its promises thanks to a collection of intuitive features that lets you cook meat to perfection. This wood pellet grill (like the other models mentioned before) offers features like digital elite controller, Auto-start ignition, porcelain grates and more.
What we admired most apart from the added grill space are some additional helpful elements like the Tool Caddy Rack and Wire Front Prep Rack. While the Tool Caddy Rack helps keep all grilling items like rubs, sauces, and other tools ready, the prep rack makes it incredibly easy to load and unload food items from this small pellet grill.
As far as cooking is concerned, we'd ask you to not expect to get that charred look on the meat because this grill doesn't let the fire reach the food. The heat shield keeps the fire away, but does give your meat a tender, juicy finish to bite into. And that's not a bad thing if you ask us. Also, keep the temperature higher than usual if you're cooking in the cold months.
What could've been better?
Well, if we were to nitpick, we'd say that the heat shield feature is kind of a hit or miss. Someone who truly loves the smoky aroma of flame-kissed meat will definitely not enjoy their food cooked on this grill. We still recommend you always use the best quality wooden pellets to make your meat as that'll lend the most authentic wood fire flavor.
Pros
Sturdy build and durable in quality

Tool Caddy Rack is a nice little add-on

Easy to use and clean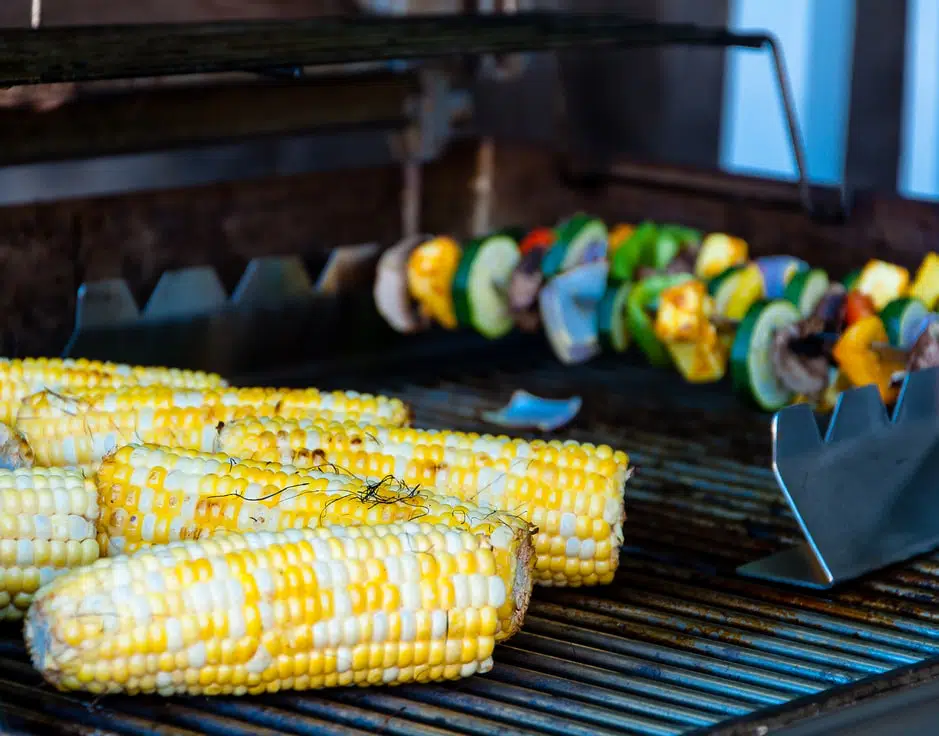 Small Grill Buyer's Guide
We could've included more products, but truth be told, it was our intention to keep this review short and sweet. All the 5 products mentioned in this guide are great in their own right and can be an excellent company for your backyard or RV adventures. However, for those curious souls out there, we've got a buyer's guide on how we picked out the perfect ones.
Whenever you're buying portable grills, there are few aspects you must keep in mind to make sure you're getting money's worth. What are they? Let's find out!
Size and portability
This one is a no brainer because the first thing you need to care about while buying a grill for your RV is its portability factor. Unfortunately, grills are not the type of products that are mass manufactured in portable form. Most people keep them at home and are happy to host BBQ parties in their backyard or near the swimming pool.
However, there are products available from Traeger that you can carry around comfortably, with a bit of effort (as you can see in this guide). Most of the products here are rated based on their portability and size so that people can choose the one that best suits their needs. 
While the Traeger TFT18PLDO is the smallest of the lot (with 184 sq.in. cooking space), it does lack a few features that are available in other larger models. That's a compromise you'll have to make if portability is the #1 aspect you want your grill to have. 
The Traeger Junior (with 292 sq.in. cooking space) is the second ranked portable model in our list and has a few essential benefits that the TFT18PLDO lacks on account of its size and form. The other 3 products are best used for backyards due to their size and features. But that's not to say you can't carry them along; all you have to do is put in a little more effort than usual.
Choice of features
When buying a grill to be used on the move, you must be reasonable with your expectations about the things it can do. Grills that excel in portability are almost never as good as their backyard use counterparts due to the lack of features. Regardless, the grill you end of choosing must at least have the following benefits to let you cook comfortably:
Electronic Auto-start:

When you're going outdoors, on a road trip or for camping, having a grill that fires up easily should save you a lot of frustration. Auto-start grills do not require you to light match sticks or use fire starters that may require some trial and error. The result? You get to start cooking immediately.

Temperature control:

Any grilling, smoking mission is bound to fail if you don't have total control over the cooking temperature. Regardless of how you like your meat, well charred or lightly grilled, having easy temperature control will make things a lot easier. Besides, it's a hassle to worry about fluctuating temperatures when you're on the move or camping.
Durability
This one is also kind of obvious because everyone knows their grill has to be more durable than usual if they're going to take it on the roads. A grill that goes on an adventure with you will undoubtedly face some bumps and scrapes, so it's always good to invest in a quality unit that's meant for the outdoors.
Wind resistance
Since you're likely to cook outdoors on a camping trip, wind resistance of a grill can become a crucial element that makes or breaks your experience. For optimal performance, look for grills having covered burners as these are not directly exposed to the wind. Unfortunately, there is no clear cut way of figuring out which product is wind resistant and to what extent.
Thermometer and hanging rack 
When it comes to accessories, the first thing we recommend is a thermometer. The convenience that comes with knowing what temperature the grill is, makes it much easier to get perfectly cooked meat in one go. Also, a hanging rack for your grilling tools is a nice touch as it lets us keep all the cooking gear within reach.
Price
Last but not least, you have to take into account the maximum amount you'd be willing to spend on a portable grill. The principle of 'better is not always more expensive' stands true here too but there's a good correlation between price and the quality of a grill. Most mini grills cost as much as a home grill, which is quite normal because you're getting additional portability.
The Traeger grills mentioned here are all worth the money and we can testify that you won't find any better in the same price range. Not from the house of Traeger at least. If you want to go for a different brand, well, that's your choice and the same principle applies.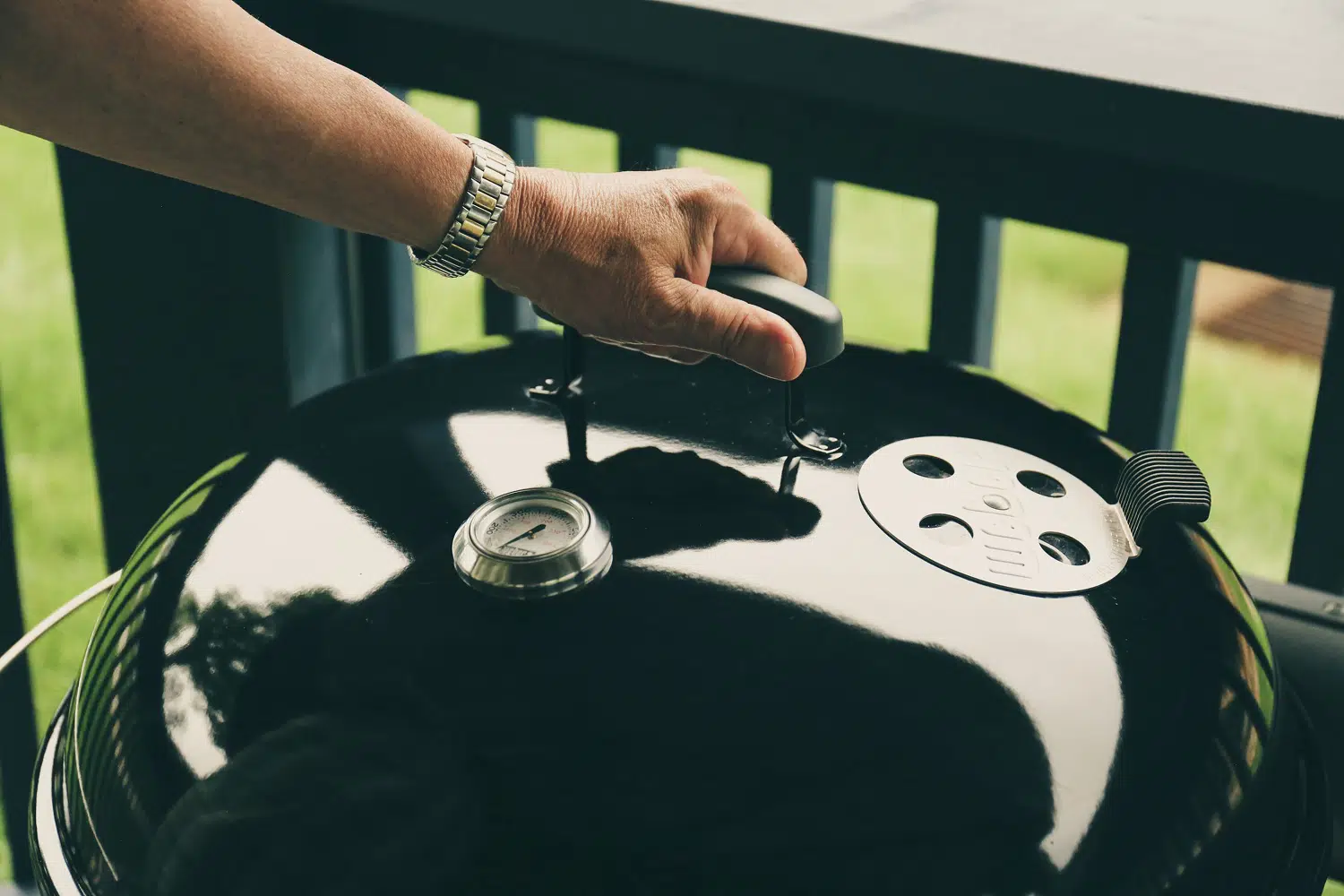 Final words
Regardless of which grill you end up buying for backyard BBQs or RV, ensure that you treat it with utmost care. That means you not only have to care about how it is transported and used, but also how it is stored away after use. Smoker grills, as much as they look sturdy, contain many small bits and pieces that are prone to damage and breakage.
Have you found the best small pellet grill or the best propane grill for you in this Traeger collection?
Well, that's about all we had to say in this guide; we wish you lots of epic grilling sessions in the great outdoors!
Related Articles
7 Best George Foreman Grill Models 
Traeger Renegade Pro Review – Traeger Pellet Grills
Blackstone 28" Griddle Review – One of the Best Flat Top Grill Today
Saber R50SC1417 Gas Grill Review Under the Microscope
7 Best Electric Smokers Reviewed – Buyer's Guide
Nexgrill vs. Weber | Budget Grills Product Comparison
Broil King vs. Weber Grills | Two of the Best Compared
13 Best Grills For Apartment Balcony at Tasty Prices
7 Best Portable Electric Smokers