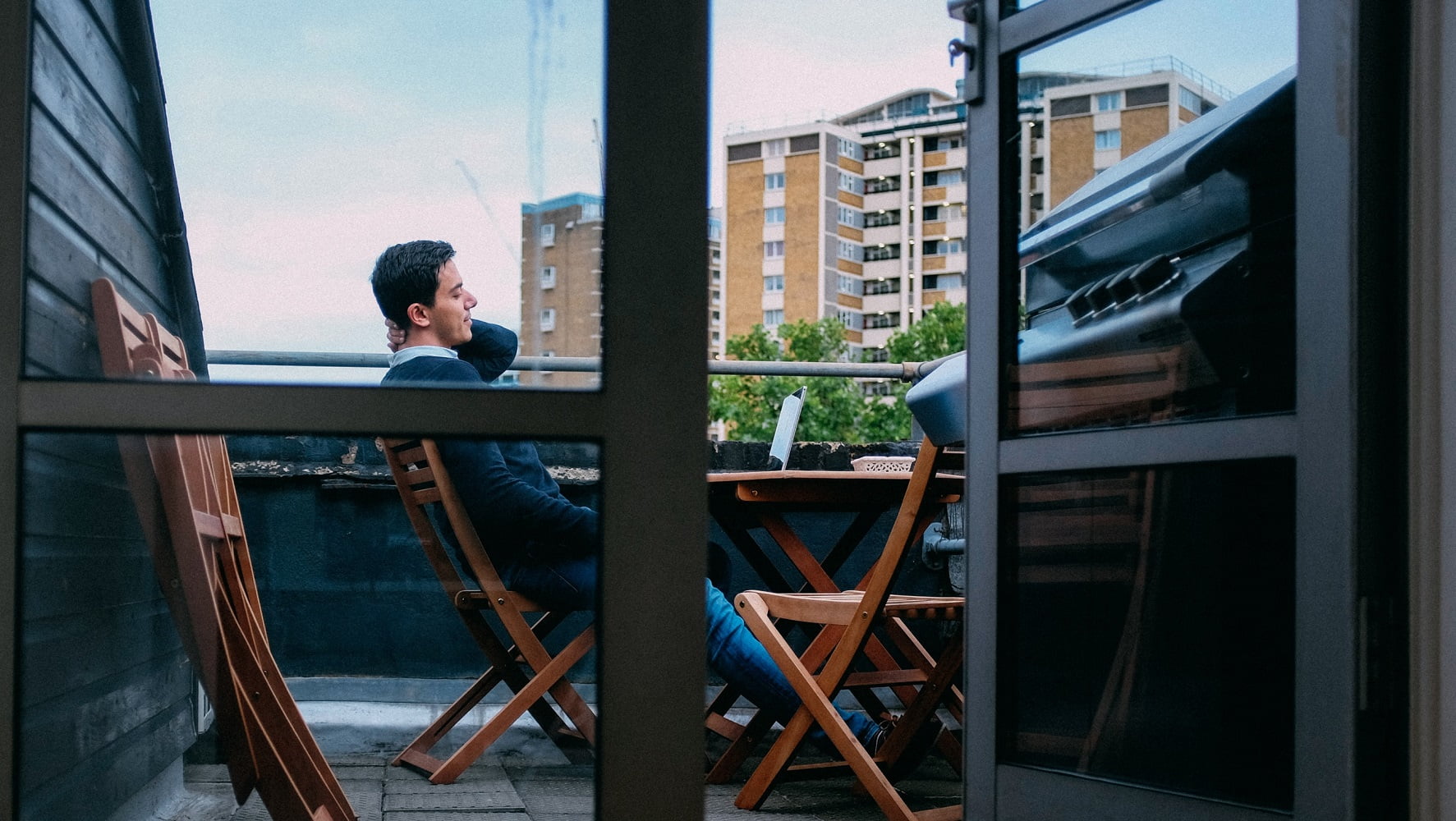 Grills and apartments never used to be the best of friends, at least in the past.
But if you still think it's not feasible to have a slice of one of the biggest American traditions just because of a space-crunch, we're here to prove you wrong!
And with the summers approaching, what's more American than setting the stage for a house party with some glowing embers, searing meat, and laughter? And how about all of this on your very own warm balcony?
We've got a list of some of the best grills for apartment balconies, which will mesmerize you with their outstanding performances.
Hop in, read on, and find what you're looking for because we have something for everyone!
Best Grills for Apartment Balcony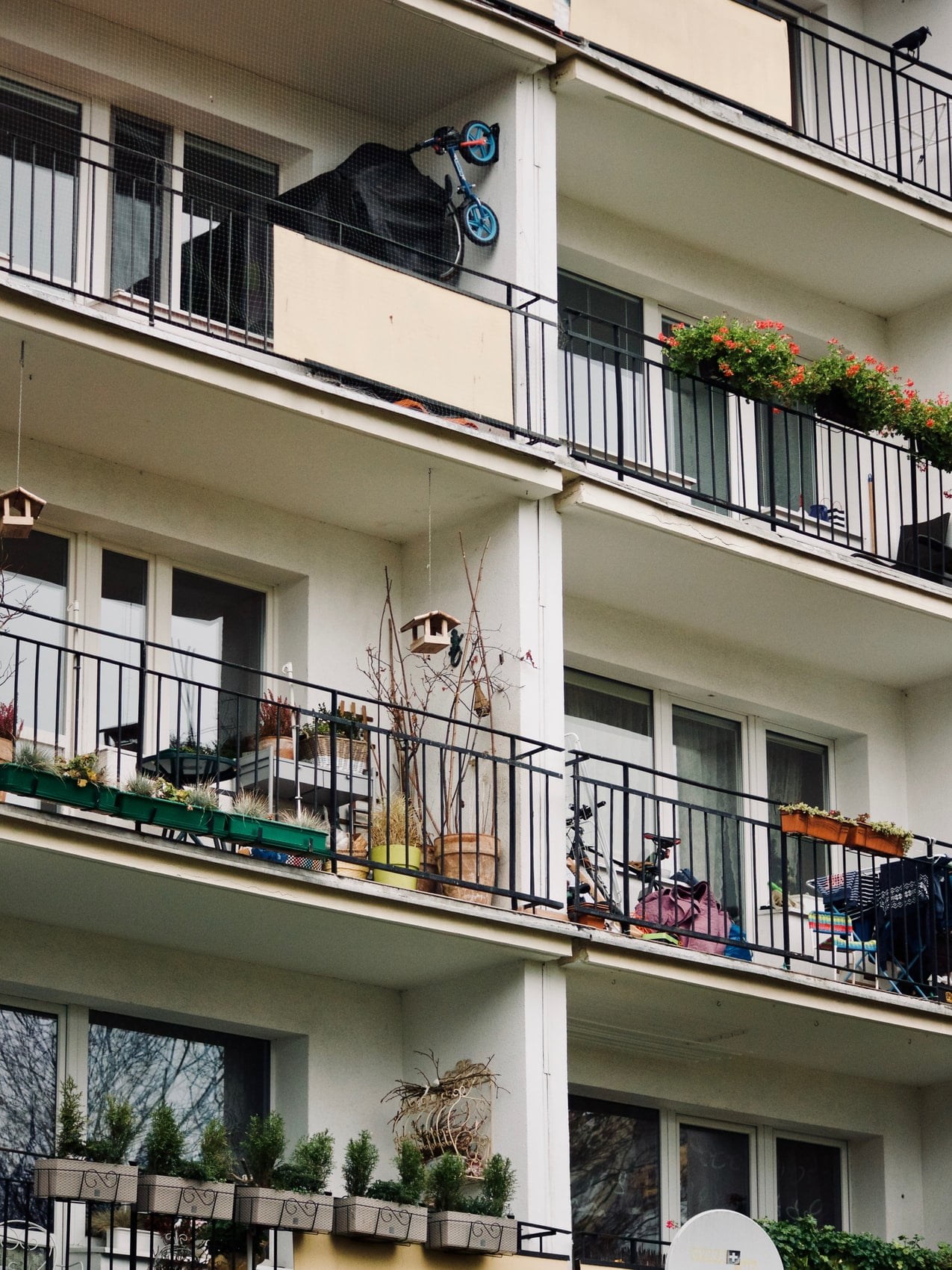 Kamado is one of the most renowned brands in the grill industry whose specialty lies in catering to a variety of cooking needs. If you're familiar with the brand, you must have heard about their monster grills, which may have made you scroll further down. But not to worry as the Joe Jr is one fantastic grill that fits any balcony or patio, while also dishing out great recipes in the traditional Kamado style.
Sale
Why did we like it?
There are 3 different sizes of the Kamado Joe series, the Classic, the Big Joe, and the Joe Junior. The central difference among the models is mainly with capacity, and if you're apprehensive about the quality of the cooking, rest assured that Kamado never falters with that.
Coming to its features, the grill is compact, and its cooking space is 148.5 square inches, and that's enough space to cook a wholesome dinner for a family of four. And if you're looking for the amount of food you can cook at once, it's more than 2 steaks or over 4 burgers put together. Also, most companies won't vouch for it, but Joe Jr can grill an entire 12-pound turkey inside its cooking space, making it one of the best balcony grills to achieve this feat.
On top of that, with an in-built thermometer, durable stainless steel construction, and a convenient ash collector, this grill will give you a lasting blend of taste and durability to complement your balcony.
What could have been better?
While we couldn't find any fault in the grill, the only minor inconvenience that we faced was there were no added accessories such as a warming or an extra cooking rack. Also, some users commented that the grill stand arrived bent, so it seems Kamado needs to take good care of the packaging.
Pros
Durable steel construction

In-built thermometer

Compact cooking area

Can roast an entire turkey at once
It's hard to ignore Weber when you have dipped your toes in the world of grilling. Especially after introducing flavorizer bars in some of their grills, Weber seems to have hit a new high in its sale. And as the company has something for everyone, that classic, a nice old charcoal grill which they call the 'Kettle' still remains one of our favorites.
Why did we like it?
Weber hasn't changed its classic Kettle model over the years, which is why it has gained a good amount of following among those who are on the lookout for small grills. Three words describe this little bird: Compact, simple, and effective. And we believe this is something that you've been looking for all this while.
Well, its cooking area is 363 square inches, while the grill measures around 22 inches in length. Okay, we understand it may exceed the size you're looking for, but Weber has you covered with its even smaller 18-inch version. The ample cooking space can comfortably accommodate over 13 burgers, and its porcelain-enameled lid and cooking bowl are masters of retaining heat.
One of the best aspects of this grill is convenience. Sure, when you're looking at a small-sized grill you're definitely looking at something hassle-free in every sense of the word. And Kettle does that with perfect ease because its one-touch cleaning system gives you a fast and thorough washing of the grill after every cook.
Moreover, there are dampers inside with which you can control the internal temperature, leaving you with the best recipes in the least span of time. And the grill plates are also made of durable steel with easy-cleaning and heat-retaining facility, which means no more waiting in queues for the plates to heat up!
What could have been better?
We didn't like that they missed out on the internal thermometer in this model. Sure, it's a low-priced model, but would a thermometer really increase the production cost way too much? Another point is the lack of working space, which seems like a consistent problem with smaller grills.
Pros
Great heat retaining capacity

Large volume of cooking possible

Very convenient to use

One button cleanup system
Cons
No internal thermometer

No extra working space
We will definitely return to the classic charcoal grills shortly. But we wanted you to have a slice of the E-210 model as well, which is a gas grill perfectly compatible with your balcony. The thing about gas grills is they can give you a cooked recipe really quickly, and with all the latest technological additions, the grilled meat always retains its juiciness.
Sale
Why did we like it?
Previously, we mentioned Weber includes unique flavorizer bars in their grills that enhance any recipe by adding an aroma to the food. It's a part of the patented GS4 technology, which is also a feature of this gas grill. It comes with 2 stainless steel burners, porcelain-enameled flavorizer bars, and an extremely efficient grease management system. This is a combination that makes cooking and post-cook cleaning a complete cakewalk.
Moreover, the 380 square inch cooking space doesn't only hold a whole lot of food at once; its cast-iron build material also retains most of the heat. This allows you to cook several batches of food in a short amount of time, and is best suited for small house parties.
The E-210 also comes with a 114-inch tuckaway side rack, and it comes to great use when you're preparing a whole lot of salads and sauces alongside the main courses. Also, speaking of convenience, the model is iGrill 3 compatible, which means you can control the wifi-enabled device from your smartphone just by downloading the Weber app.
What could have been better?
Well, we'd like to mention this in passing that if you have a tiny balcony, this grill won't be of much help to you. It's 45 inches tall and 29 inches deep, which is why we suggest this grill's perfect for a small terrace or a patio. But this is actually a great grill that will serve all your house parties with pride, provided you have the space for it.
Pros
Side prep storage space

Flavorizer bars

Large cooking area

Efficient cleanup system
Cons
May not fit very small balconies
If the E-210 model was a bit over the top with many extra features and huge size, the Charbroil Classic 280 is the perfect minimalistic design that fits any space and suits you with all its convenient features. Trust us, other than the Kamado Joe Jr., we found the 280 to be the most compact gas grill among them all.
Sale
Why did we like it?
Frankly, we were fascinated by Char-Broil's effective use of space in this design. While most small grills fail to combine convenience and quality, Char-Broil does it with ease. On the one hand, it comes with a decent 280 square inches of cooking space, as well as two metal side shelves which you fold in as per your convenience.
And what's more, the grill also comes with 2 standard stainless steel burners, which means you can stretch your cooking options by setting up different temperature zones for them. And the porcelain-coated steel lid and firebox always manage to grasp most of the heat, helping you to have a decent cook in the least amount of time.
Finally, there are two other aspects of this grill which we liked. One, the push ignition button never fails to hit up a flame with a single push. And two, its oversized handle on the lid keeps your hands away from the heat, adhering to the safety standards of Char-Broil.
What could have been better?
This is a pretty basic grill, and it's really not suited for experiments, as the lack of an internal thermometer and a proper lid depth doesn't give much room for trying out different things. Yet, coming at a mere weight of 43 pounds, it will serve all your house party needs with ease.
Pros
Large cooking space

Two separate burners

Porcelain-enameled lid

Instant ignition with a push-button mechanism
Cons
No internal thermometer

No warming rack
Very few miniature gas grills are as compact as this 3-burner model from Master Cook. The brand doesn't need any introduction, as it's quite a well-known company in the grilling industry specializing in space-saving designs. Master Cook has really mastered the art of packing too many features into a space as compact as possible.
Sale
Why did we like it?
Let's start with the compactness and the shape of the grill as we found them to be quite impressive. Its elongated rectangular structure with a lid of decent depth hides ample cooking space inside it with absolute style. The cooking space it comes with is a massive 339 square inches, and its warming racks measure 138 square inches in total. This easy setup allows you to grill over 15 burgers at a time, or 3 steak bars all at once.
The impressive feature that had us 'grillin n chillin' is its set of 3 burners and an integrated piezoelectric ignition system. While the 3 burners will give out a total of 30000 BTU of heat, the instant ignition system lights up the grill with a single hit. More than convenience, it saves you a whole lot of cooking time, and one thing that got us wondering was, how did they manage to pack 3 burners in this small size!
And what adds to convenience are the porcelain-enameled cooking grates, which are masters of retaining heat. And Master Cook pays equal attention to durability as this model comes with stainless steel burners and a chromium-plated control knob, dedicated to preventing rusting.
What could have been better?
To be honest, we strove really hard to find any particular issue that many users may have faced. But we failed to find any such recurring issue with this grill. It's a compact, 3-burner grill with which you can experiment a whole lot, while it stands on its sturdy wheels either in your balcony or backyard.
Pros
3 burners give a large heat capacity

Built-in thermometer

Large cooking space

Warming racks

Convenient storage space
Till this time, the list has mostly been about features, but for now, we're focusing on space. Although that doesn't mean we're bidding goodbye to some great cooking features for that. No! As we believe everyone has the right to great grilled meat, the Fuego Element F21C is the perfect product for all those who have a severe space crunch at their homes.
Why did we like it?
First, we would like to admit this grill takes away most points with its sleek and unique design. Take our word for it, this propane grill occupies the least space out of all the ones we've mentioned before, and it does this with style. The narrow cylindrical apparatus packs everything inside and stands on 4 sturdy wheels, a design that brought to the company the prestigious Vesta BBQ and Spark Design Award.
But does beauty come without brains? Definitely not! With its 15 pounds porcelain-enameled cast-iron grates, you can reach up to 500 F in a mere 5 minutes, and the highest temperature you can reach with this grill is 650 F.  This massive heat gives the meat fantastic sear marks and a brown-red texture that's a trademark of the high-end grills.
And if you're worried about its cooking space, rest assured that its 346 square inch space is enough to grill over 4 burgers at a time or more than 2 long rods of steak. The design of this grill holds everything together, and we'd like to see more such compact models in the future. And the best part is, it features all the usual features of a gas grill such as a built-in thermometer, easy cleanup system, electronic ignition, etc.
It means lack of space doesn't have to affect the usual functional features, and that's what makes this grill a trailblazing model.
What could have been better?
Well, the only negative aspect that we found about this grill is its unhinged lid that hangs. And we understand why they couldn't attach a work area to the setup as that would spoil the functionality of the streamlined design. But having an arranging work surface really helps.
Pros
Great space-saving design

Reach searing temperatures in 5 mins

Decent cooking space

Extremely portable
Cons
Unhinged lid

No extra work surface
A list of grills isn't complete without a Cuisinart grill shining up with all its features. While this list is about compact grills, how about one that easily fits your tabletop, let alone your balcony? Yeah, you read it right. That's why we thought of including the CGG-200B in our list of most compact grills of the year.
Why did we like it?
Frankly, this isn't a grill from which you can expect a very powerful performance, as it's a tabletop grill. But we can assure you that with all its capabilities, it never fails to give you a decent grilling performance for a small family gathering or a mid-week house party. With its 12000 BTU heating capacity and stainless steel burners, the 200 square inch cooking area will let you cook a decent barbeque for about 4 people.
And if you underestimate the grill because of its small size, we think you'd be missing out on an extremely portable and useful model. It features an easy-start ignition system that eliminates the need for matches, whereas the cast-iron cooking grates are easily washable and have a decent heat-retaining capacity. What's more, Cuisinart didn't forget to include the internal thermometer on the cover, just in case the temperatures get out of control.
And not just for balconies, you can simply pack this little bird for a random weekend picnic. Being a gas grill, it works excellent with 14.1 or 16.4 propane canisters or a 20-pound tank with a hose. So, win-win for all!
What could have been better?
Everything was going fine with this grill until we looked at its bottom. And it was a mess! There's a grease catcher where the bottom fails to drain out grease out of the hole, and the result is the grease clogs around the screws. We hope Cuisinart fixes this cleanup mechanism real quick.
Pros
Extremely compact

Very portable

Great to cook for 5 people

Easy ignition system
Cons
Grease management non-existent
We promised to get back to you with some charcoal grills, and here we are with the E06614 model from Char-Griller. We thought to include something for the traditionalists out there, and Kamado style grilling is something that intrigues anyone inclined towards cooking.
Why did we like it?
Apart from the Joe Jr charcoal grill, the E06614 is another small-sized grill that caters to the famous Japanese Kamado style grilling. For those who don't know, it's a cooking style where the same meat is simmered by maintaining delicate heating temperatures.
The result is a delicious, juicy plate of meat and an aroma brimming with the flavors of all the added spices. Char-Griller has got you covered with its Kamado style grills to bring home that nostalgic mouth-watering taste.
Coming to its other features, the model sports a 153 square inch cooking area with cast iron grates. This space is more than enough for a small housewarming party, or for cooking a hearty meal of four. And because of even heating, you can grill more with less charcoal, while the triple wall steel covering doesn't allow any heat to escape the cooking chamber.
Other than this, the standard grill features such as a heat gauge, convenient carrying handles, an in-built thermometer, are coupled with air dampers. They come to great use for precise temperature control, as Kamado grilling demands slow cooking at a constant temperature for long.
What could have been better?
While they made a highly-functional grill for the price, its ash-catching mechanism is unnecessarily complicated. Its hanging tab connects to the wiring at the bottom of the body, and if you tamper with the tab, the whole bottom piece is welded far out of the center. So, yeah, cleanup is a bit of a hassle.
Pros
Great Kamado style cooking

Decent cooking area

Triple wall steel covering to preserve heat

Very portable

Air dampers keep the temperature in check
Cons
Cleaning up mechanism needs to be streamlined
Before we even start with the review of this wood pellet grill, we can see some raised eyebrows out there. Yeah, we're fully aware that it's a pellet grill, but we assure you it would easily fit your balcony, patio, and definitely your terrace. Just read on, and you'll find so much more about this grill than what meets the eye.
Sale
Why did we like it?
To begin with, this is one of the most premium grills we've reviewed thus far. Add to this some ingenious technology and a compact shape, and you get the best space-saving pellet grill out there. We're really not kidding!
So, let's start with the added technology first. It features Sense-mate, a thermal sensor that allows you to monitor the grill temperature constantly, and with the additional meat probe, you can always check the exact state of the meat. Moreover, its 219 square inch cooking area will easily pack over 6 burgers or 6 racks of steak, while its heat-retaining grates grill the meat to searing temperatures in around 30 minutes.
And the most intriguing aspect of this grill, much like the E 220 model of Weber, is its wifi-enabled system. As it's compatible with both Android and Apple phones, you can monitor the entire cooking process from afar (of course, within the wifi radius!). With this grill, the party is wherever you want it to be, and you could finally bid goodbye to that bickering anxiety of reaching perfect temperatures. Your phone will go 'Ting' when it does.
What could have been better?
Well, the only fact that upset us about this piece is its weight, which is a staggering 57 pounds. Although it's not a dealbreaker, and the grill can easily fit anywhere in your car, carrying it is quite a hassle. But you must note, this weight doesn't affect any functional features of the grill.
Pros
Wifi-enabled

Large cooking area

Thermal sensor for checking temperatures

Various flavors due to pellets
Perhaps, the origin of Coleman lies in making people's lives easy. We propose this because it's a company whose products range from tents to grills, and from furniture to airbeds. The bottom-line of all of them is the same: convenience. This is why we thought of trying out this propane grill from Coleman. Let's see what it has to offer.
Sale
Why did we like it?
We presume when you are choosing a grill for your balcony, you may also like to take it to your backyard, or your terrace at times. For that, you need something that's not just lightweight but also easily portable. This is where Coleman beats every other grill with its flexible collapsible design. Coming at a weight of a mere 44 pounds, toting it around your house is really a very smooth task.
Coming to its features, the dual burners that Coleman fits inside the grill are very durable and of high quality, with excellent heat control. This allows faster cooking, making it one of the ideal grills for tailgating, camping, or barbecuing. The 2 separate temperature zones, 20000 BTUs of heat, and 285 square inches of cooking space give you a complete package for dishing out all your secret recipes for a hearty meal of four or five.
And coupled with a great space-saving design, the instant ignition technology only adds to the convenience quotient of the grill.
What could have been better?
Well, you gotta be very careful with this grill. You shouldn't ignite it when the lid is closed; otherwise, it could cause an explosion. And as the lever and the wheels are made of plastic, the entire arrangement seems a bit flimsy, although we haven't found any user review pointing it out.
Pros
Dual burners

Extremely portable

Quick-cooking

Decent cooking area

Side shelves
If the CGG-200 model from Cuisinart was a tabletop masterpiece, the 240 is like its extended family with a few basic improvisations, with no compromise in the cooking quality. It's another extremely flexible model that collapses into one-third of its size and, therefore, occupies a proud position in our list.
No products found.
Why did we like it?
Aesthetically speaking, the CGG-240 has a lot in common with the Coleman propane grill that we recently discussed. In other words, both the models function similarly with their almost identical space-saving designs, although their features vary.
This grill slightly lacks in certain aspects, such as the total amount of heat when compared to the Coleman model. But the 15000 BTUs of heat that Cuisinart gives you also comes with heat-retaining porcelain-enameled cooking grates that make way for significantly faster cooking.
Moreover, the amount of space that Cuisinart occupies is even smaller than the Coleman model, and they've done an excellent job with the compactness of the product. Some added features include Twist-start electronic ignition, precise temperature gauge, and reliable temperature controls. All of this combined perfectly replicates an authentic grilling experience within just one-fourth the size of monster grills.
What could have been better?
Well, it seems the same old problem with the smaller grills won't budge at all. What affects most major grills of Char-Griller and even MasterCook is the lack of an efficient grease management system, making the cleanup system a mess.
Pros
Great space-saving design

Easily portable

Lightweight

Extremely quick cooking
Cons
Grease management doesn't work
The Lodge family started with manufacturing cast iron in 1896. And since then, it has tried its hands in a whole lot of improvisations, and one of them is the grill industry. For them, it wasn't that difficult because they were already a master of making perfect cast-iron rods, and they just fused that skill with the art of grilling. Check out this charcoal grill that's one of the smallest in the market.
Why did we like it?
While researching so many small grills, we thought, why shouldn't the charcoal grillers have a tabletop roasting of meat at searing temperatures? And the answer was this cast iron tabletop grill from Lodge. Weighing a mere 25 pounds, it's one of the most portable grills out there that give you the traditional smoky flavor you've missed all this while.
Coming to its features, one of the sole reasons to go for this model is Lodge's seasoned cookware. For those who aren't aware, seasoning refers to treating the surface of a utensil with fat to improve its corrosion-resistant ability. Now Lodge does this with pure vegetable oils without any added synthetic chemicals. And with each use, the seasoning will get better, adding to the overall taste of any food you cook inside the grill.
What further adds to the taste is the combination of durable cast iron grates and a 158 square inch cooking area, where the heat penetrates to the core of the meat. With minimal maintenance, this rugged designed charcoal grill is one of our best choices for a compact and clean housewarming dinner for four.
What could have been better?
Well, we understand Lodge was primarily a cast-iron cookware manufacturing company, and this is where it gets murky. Many users have commented that the grates didn't last after 2 years, and this is the only aspect that bothered us a bit. Otherwise, it's a great model to look forward to.
Pros
Excellent heat-retaining capacity

Large cooking space for the size

Lightweight

Extremely portable
Cons
Grates last for about 2 years
Take our word for it, this product is simply a blast from Campfire Defender. Once you get the hang of it, it will be difficult not taking this grill on any occasion that has a bit of cooking involved. Perfect for tailgating, picnics, or just to dish out some of your best recipes for the party while you sip from your favorite wine sitting on the balcony, you name it.
Why did we like it?
Our question is, 'Why shouldn't we like it!' It's not even a question, and we're quite confident that anyone would love this pop-up fire pit cum grill and all that it comes with. It's a trailblazing model that packs a medium-sized grill into 2 separate bags, while the weight of the entire unfolded setup is 16 pounds.  
And once the cooking's done, you can easily remove the grill grates and throw in some logs to make it a warm fireplace. So, you're sorted for the coming winters! Coming to the quality of the food, the 4mm Food Grade Stainless Steel uniformly spreads the heat throughout the 505 square inch cooking space. As it's an open design, cooking becomes more comfortable, and the protective heat shield prevents any harm to the surfaces on which you set up the entire grill.
And the company's patented Fire Mesh technology ensures faster cooking with a consistent flow of hot air. What's more, the Mesh comes with a warranty of 1 year, and don't worry about its customer service because verified users mentioned their experiences to be great!
What could have been better?
Although the protective shield is supposed to save all surfaces from damage, the shield itself isn't that durable. Which is why after a year of heavy usage, burnt coal begins to drop through the guard on to the ground, making the surface dirty and prone to fire. But trust us, it's not a dealbreaker considering the authentic smoky flavor and an added fire pit which you get.
Pros
Great taste of food

Quick-cooking

Durable heat-retaining steel grates

Comes conveniently packed in 2 separate bags
Cons
The protective shield doesn't work well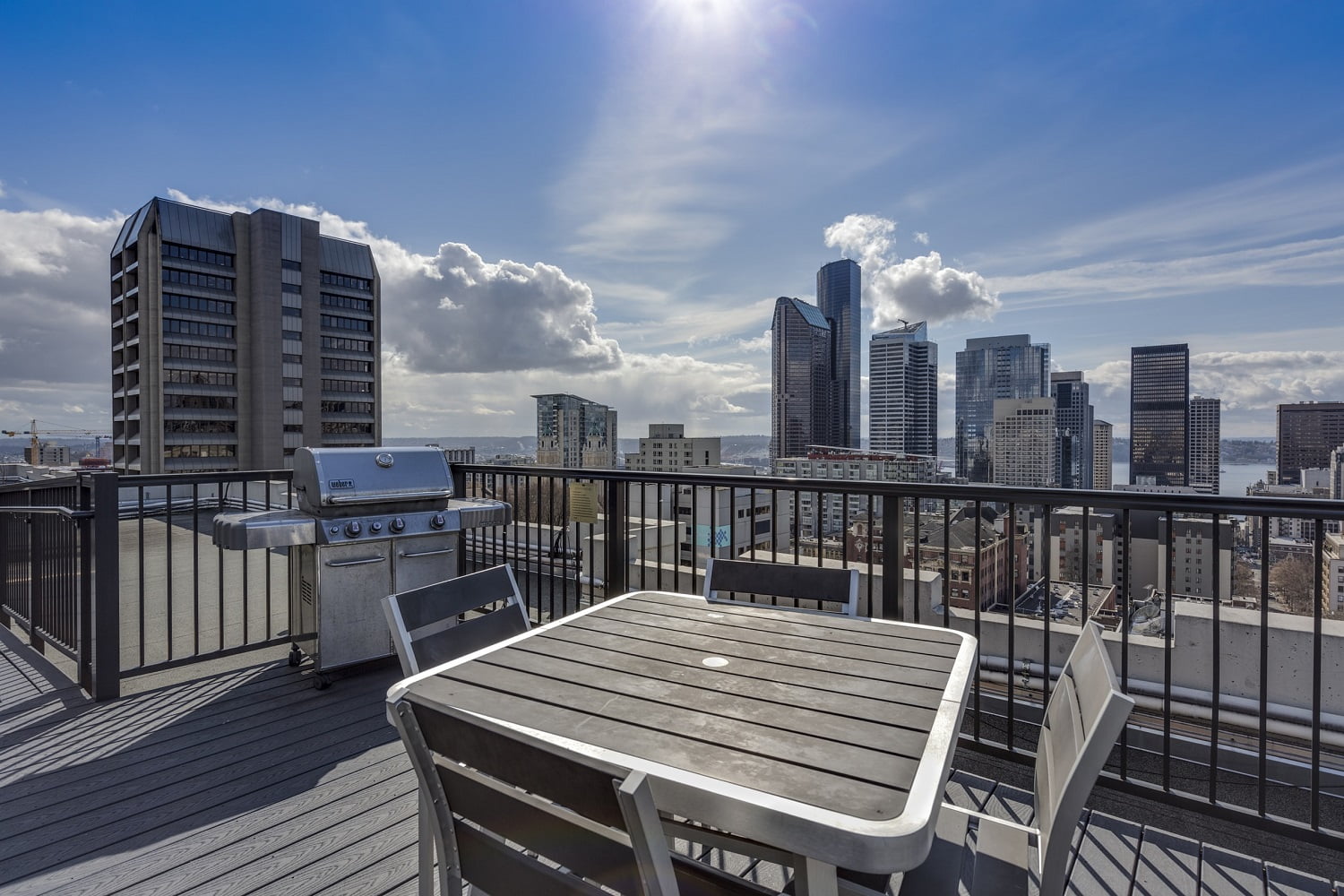 Grill For Apartment Balcony Buyer's Guide
Well, we are quite confident that out of all these products, some of them will definitely suit your style, needs, and cooking aspirations. And as the balcony sizes vary, we have some oversized grills for the spacious homes, as well as some for the average-sized apartment setups. But if our choices didn't suit your needs, here's a buyer's guide to help you out. Read on and jot down the essentials to hit upon the best grill for your balcony.
It's important to note the features you need to look for in a small grill are similar to that of the monster grills. The only extra factor coming in the equation is that of space. So, here are some basic pointers to pay heed to:
Think about your balcony first
Following this tip works great on selecting the right small grill of your choice. That's because your balcony occupies the least amount of space out of all the separate areas such as backyard, patio, garage, etc. And if you find a grill that easily fits there, you can stop worrying about fitting it in any other part of your house. So, that's settled.
Small grills should be portable.
Yeah! No debate on that. The specialty of smaller grills lies in its portability, and apart from looking for the standard grill features, always look for models that have durable wheels.
Always go for 2 or more burners in case of gas grills
After all, you're digging the new smaller models for mini-parties, right? Going for a single burner is a problem as they take a whole lot of time to dish out yummy steaks. So, to take out time from this equation, choose the 2 or 3-burner models, or those with highly-efficient cooking grates that can retain heat. Anything that does the cooking faster.
Going for the details
Well, most don't pay heed to the smaller details of the smaller grills. You gotta remember, balcony grills aren't just miniature versions of their monster counterparts, and that they've got a specific set of characters of their own.
The most troubling aspect of handling a balcony grill is space management. Many grills come with superb features considering their size but lack side shelves. These shelves, along with warming racks, go a long way in neatly managing your cooking space. So, unless you want something specific out of a model, such as Kamado style cooking (well, these grills don't have an option to include racks), always go for the models with shelves and racks.
Verdict
It seems we've arrived at the most critical juncture of this piece, and that's our verdict. It's difficult because making choices for others isn't easy at all, but we gotta do it anyway. So, here it is.
If you're a sucker for traditional cooking styles, out of all the charcoal grills, Lodge gives a tough competition to the Weber 22-inch Kettle model. And if you ask us, we'd prefer Lodge because it's so much more portable than all the ones listed here.
Among propane grills, our stakes go for some juicy steaks of Fuego Element F21C. Apart from its remarkable design, the embedded technology is simply the best of the lot, although Weber's flavorizer bars could also score well. Still, the clear winner is Fuego.
So, we sincerely hope you come to the correct choices soon enough, keeping in mind all that we mentioned. Stay tuned for more such informative reviews. Good luck and great grillin'!
Related Articles
7 Best Smokers for Turkey Right Now [Buyer's Guide]
Nexgrill vs. Weber | Budget Grills Product Comparison
7 Best George Foreman Grill Models of 2022 Reviewed
Traeger Renegade Pro Review – Traeger Pellet Grills
Blackstone 28" Griddle Review – One of the Best Flat Top Grill Today
Saber R50SC1417 Gas Grill Review Under the Microscope
Weber Spirit E-330 Review – Handpicked Gas Grills Reviewed
Napoleon Prestige Pro 500 Under Review 
Weber Spirit E-330 Review – Handpicked Gas Grills Reviewed
7 Best Electric Smokers of 2022 Reviewed – Buyer's Guide
Broil King vs. Weber Grills | Two of the Best Compared
5 Best Small Traeger Grill For Backyard & RV BBQs
13 Best Home Fire Extinguishers Today | Buyer's Guide
5 Best Smokers for Turkey Right Now [Buyer's Guide]
7 Best Smoker For Making Jerky
11 Best Smokers for Summer Sausage
46 Best BBQ Forums, Websites & Broadcasts
6 Best Charcoal for Kamado Joe
Masterbuilt 20078715 Smoker Reviewed
5 Best Cast Iron Hibachi Grill