Nothing sounds better than hosting a BBQ party in the backyard with your family and friends! And that's when you need the best insulated smoker. 
A good smoker will ensure a fantastic meal with smoky and flavorful meat that everybody is bound to love. It should come with temperature control features and enough space to grill food for everybody. 
Also, you should know that there are many types of smokers, like pellet smokers, charcoal smokers, gas smokers, propane BBQ smokers, and electric smokers, to name a few. Some smokers are more affordable but may not come with a long list of features like a grease collecting pan, wood chip loader, etc. 
Now we know the choice can be difficult, and we are here to help you choose the best product on the market. We have used the best smokers on the market and analyzed each to find the right option. Checkout our other article on insulated pellet smoker to know more on pellet based smokers found in the market. 
Read on to know about these smokers. 
Best Insulated Smokers Reviewed
Here is the list of the 11 best insulated smokers that you can use to make incredible barbeque dishes with ease.
Sale
Are you looking for the perfect option for outdoor grilling and smoking for a large group of friends? The Char-Broil 19202101 Deluxe Black Digital Electric Smoker has 725 square inches of space, making it one of the best insulated smokers out there. This electric digital smoker seals with an efficient locking latch keeping the smoke inside. 
Why Did We Like It?
To begin with, we love the doubled-walled construction as it is well insulated and traps all the heat and smoke. There is enough space for four cups of wood chips and 8.5 cups of grease to be collected in the grease tray. Hence, you can enjoy seven hours of grilling without having to clean up or refill the product. 
Moving on, we were able to set the temperature easily and keep a check on it with the LED display. You will also get a removable food thermometer that can be used to check the internal temperature of the meat. We were able to cook meat perfectly every time, thanks to this heat control. 
And the grill smoker comes with a large glass door which provides easy visibility. So, you can keep a watch over the meat as it gets grilled. 
Lastly, the product has built-in wheels towards the back that promote easy movement. There is no need to lift the insulated smoker making it the right option for outdoor use. 
What Could've Been Better?
While we have no questions about its functionality, this insulated smoker cannot be operated from a distance as it does not come with a remote. So, you will have to set the smoking temperature with the help of the control panel on the device. However, this should not be a problem as you will not have to change or monitor the temperature constantly. 
Pros
Clear glass door for easy viewing

Efficient locking latch made of steel

Removable and washable meat probe

Large grease tray
Cons
Does not come with a remote
Dimension: 32.5″ x 18.1″ x 16.5″ | Weight: 58.7lbs | Cooking Space: 725sq in | Power Source: Corded Electric | Material: Glass, Stainless Steel, Steel
We were looking for a small but spacious option to grill food on the weekends for the family when we came across the Royal Gourmet SE2801 Electric Smoker. It offers a cooking space of 457.86 square inches which is sufficient for a nuclear family looking to steam, grill, and smoke ribs and turkeys. 
Why Did We Like It?
Right off the bat, we were pleased with the long-lasting chrome-coated racks lined up one after the other. You will find that they are of the proper height to fit in turkeys and whole chicken as well. Adding to it, the double-walled insulated construction allows the smoke to be retained in the grill, keeping all the flavors in place.
After using the grill for a while, we found the grease management system to be very helpful. Below the grill chamber is a grease cup provided to collect excess oil and grease from the chicken. 
This BBQ smoker also includes a lidded chip box along with a water pan made of steel. The steam rises from the water and passes through the heated wood pellets to give your food the right smoky flavor.
Moreover, you will get two handles on the sides to carry the insulated smoker around. The door handle remains cool to the touch and can be touched after the meat has been cooked. 
What Could've Been Better?
While we were able to get a steady temperature and the perfect smoked meats, the electric smoker took its time to cook. You will have to give it around six to seven hours for the meat to be perfectly grilled, and that means you will have to start cooking early before meal time. 
Pros
Removable and adjustable digital controller

Offers versatile use

Double-walled grill smoker

Heating power of 1500 watts
Dimension: 37.1″ x 19″ x 20.6″ | Weight: 48.5lbs | Cooking Space: 457.86sq in | Power Source: Electric | Material: Stainless Steel
If you are searching for a simple smoker for beginners, then the Char-Broil Analog Electric Smoker will fit the bill. It is made of good quality materials and offers double-walled insulation. We were able to get the perfect smoky flavors from our food, thanks to this electric smoker char-broil option. 
Why Did We Like It?
This electric smoker is quite spacious and will offer you a cooking space of 544 square inches. There are three cooking grates that are chrome plated and safe for use. These grates can be taken out and washed well to get all the grease out. You can use warm soapy water to do the job and then dry them thoroughly before putting them back. 
That is not all; the grill contains a grease cup, water tray, and wood chip tray on the cooking surface area. They can all be accessed from the front making the process all the more convenient.
On top of it, the product has dual latches to ensure the door stays shut at all times. Kids will not be able to tamper with the latch and get accidentally hurt in the process. 
Aside from that, there are dual exhaust ports that will keep the heat and smoke levels balanced. 
What Could've Been Better?
This electric smoker does not come with a drip pan, and that can be slightly annoying during the cooking process. We recommend placing an aluminum sheet above the water pan to collect the grease. 
However, it is a cheaper option when compared to other smokers. So, we will not be holding this as a drawback of purchasing this product for your home.
Pros
Large wood chip box

Steel water pan

Three chrome-plated grates

Front-access grease cup
Dimension: 15″ x 20.7″ x 33.5″ | Weight: 49.5lbs | Cooking Space: 544sq in | Power Source: Electric | Material: Chrome Plated Cooking Grates
Adding wood chips into the device is easy-peasy with this product! The Masterbuilt MB20071117 Digital Electric Smoker comes with a patented wood loading system that will allow you to add wood chips without opening the smoker door. We were able to cook on low heat for hours because of this wonderful technology. 
Why Did We Like It?
The smoker has enough capacity to cook six chickens, two turkeys, four racks of pork ribs, and four pork butts. We were able to cook for family gatherings easily with this. Also, after using this for the last few months, we found the digital panel controls to be very helpful. You can set the on/off timing and heat temperature with the help of this feature.
That is not all; the electric smoker provides thermostat control features so that you can get consistent and even cooking throughout. If you are setting the right temperature and time for the job, there is no need to keep checking the progress. You can rest assured that the meat will cook just fine. 
Additionally, you will get four smoking racks to cook your food. These racks are wide enough to hold entire chickens to feed the family. 
What Could've Been Better?
While you can cook entire chickens, the space is not enough for large briskets. Hence, you will have to cut them down into smaller pieces before cooking. However, the product is very affordable, and smoking meat in it is easy. So, the above issue should not stop you from owning this insulated smoker. 
Pros
Affordable option

Perfect for family gatherings

Four smoking racks

Retains heat for a long time
Dimension: 19.88″ x 20.47″ x 33.26″ | Weight: 45.9lbs | Cooking Space: N/A | Power Source: Corded Electric | Material: Steel
Sale
This next option is for all the tech-savvy people out there. With the Camp Chef 24-inch WIFI Woodwind Pellet Grill & Smoker, you can now connect your phone and control the temperature through Bluetooth and Wi-Fi. This wood pellet grill is super stylish to look at and is one of the most convenient options on the market. 
Why Did We Like It?
This digital electric smoker is equipped with four meat probe ports, and you can easily maintain the right temperature using them. Just download the Camp Chef app to proceed with setting the temperature. The temperature ranges from 160°F to 500°F, and you can grill or cook slowly, depending upon the need. 
That is not all; there is a smoke level dial that will let you control the smoke from one to ten. Then the electric smoker also offers slide and grill technology. This will let you cook on direct flame up to a temperature of 650°F. 
Last but not least, we found the patented ash cleaning system to be very helpful. There is no need to clean the ash by hand as the machine will dump out the ash as soon as you are done cooking. All you have to do is pull a knob that will then drop the ash from the cup inside into the removable cup. 
What Could've Been Better?
We initially found it difficult to set up the grill smoker. Although an instruction booklet has been provided, the instructions were confusing, and we were not able to follow them. Then we called up customer care and asked them for help. They guided us through the process, and we were able to set it up properly. 
Pros
Four meat probes

Firebox made of stainless steel

Smart smoke technology

Stylish black and steel body
Cons
Assembly instructions are not clear
Dimension: 30″ x 42″ x 49″ | Weight: 132lbs | Cooking Space: 811sq in | Power Source: AC | Material: Stainless Steel
Our next option will make the process of smoking meat safe and simple. You can trust the Masterbuilt MB20051316 Propane Smoker because of its patented temperature control features. We were able to grill our meat without having to keep a watch over the cooking process constantly. 
Why Did We Like It?
Let us begin by talking about the thermostat control, which will let you set your desired temperature. So, there is no need to monitor, and you can enjoy your backyard parties. 
Next, the cooking experience is made even better with chrome-coated smoking racks. There are four of them, and they provide an area of 961 inches in total. You can cook eight pork butts, eight racks of ribs, 16 chickens, and six turkeys. Each will be grilled to perfection in the large smoke racks provided. 
Also, it has some top-class safety features, including the safety valve that will turn off by itself in case the flame is extinguished. The propane burner even has doors that seal properly, locking the smoke inside. So, you can also enjoy smokier flavors while eating. 
Lastly, this gas smoker comes with a greased pan to collect the grease and prevent it from dripping on the floor. 
What Could've Been Better?
While you will get an instruction manual to help you put together the parts, it can be a complicated process. You will take time to set it up, and you might find a few missing bolts. Consult customer service and ask for help if you are unable to figure out the process. 
Pros
Chrome-coated smoking racks

Drip pan provided

Tight doors prevent smoke from flowing out

Efficient wood chip tray
Dimension: 22.8″ x 28.7″ x 53″ | Weight: 92lbs | Cooking Space: 961sq in | Power Source: Propane | Material: Stainless Steel
If you are looking for a large-capacity food smoker, then the Bradley Smoker Digital Smoker can be a brilliant option. It comes with a whopping 76-liter capacity, which means cooking for a large group will not be an issue anymore. Hence, this is the perfect barbeque smoker for parties at home.
Why Did We Like It?
This BBQ smoker is designed to accommodate a set of chickens, ribs, turkeys, briskets, and a lot more. There are four racks that are included inside to make sure you are able to keep all the meat easily. Ensure you leave spaces in between the pieces to allow the chicken to be cooked well.
Moving on, the interior is made of stainless steel and can easily be cleaned. We have been using this product for the last few months and noticed that there are no permanent black stains on the body. Smoke causes these, and you can easily clean them after every use. 
Additionally, the BBQ smoker allows one to control the temperature up to 320 degrees Fahrenheit. You can cook for eight hours at a stretch making the bbq smoker the perfect option for slow-cooked meat. The enhanced insulated design will keep the meat hot for a long while. 
What Could've Been Better?
The problem with this smoker is that it does not cook at a constant internal temperature. The food inside will be exposed to different temperatures, and you will have to leave it to cook for a longer time. Also, keep checking with a meat thermometer to prevent overcooking the chicken. 
Pros
Four racks for better grilling

Easy to clean

Eight hours of continuous cooking

Does not rust
Cons
Does not cook at a consistent temperature
Dimension: 32″ x 28″ x 23″ | Weight: 31.7lbs | Cooking Space: N/A | Power Source: AC/DC | Material: Stainless Steel
Sale
With the all-new Bradley Smoker Digital 4-Rack Electric Outdoor BBQ Smoker, you can cook a variety of food within a short period of time. We loved the premium quality double-walled construction that kept the food safe and heated while giving it a smoky flavor. 
Why Did We Like It?
To begin with, the grill smoker offers a large cooking space of 572 square inches. That means you can feed a small crowd with grills, ribs, briskets, and turkey without having to cook in batches. There are four racks on this grill to keep the different food items, and every chicken piece gets cooked perfectly well. 
Moving on, the stainless steel used to make the interiors is easy to clean and does not rust easily. Adding to it, the smoke diffuser system makes sure all old smoke is eliminated to prevent the staining of the smoker. 
Moreover, the smoker is made of carbon steel on the outside and stainless steel on the inside. The color does not fade because of the powerful epoxy formula used for the outer walls. 
Additionally, there is a water basin at the base, which collects all the grease. You can take it out, clean the grease, and then store it. 
What Could've Been Better?
We faced some issues with the assembly of the BBQ smoker, and we reached out to customer care. However, they did pick up our call even after trying to reach out to them multiple times. So, we ultimately checked YouTube videos to learn more about the assembly process. 
Pros
Easy to clean

Made of stainless steel

Four included racks

Comes with a water grease pan
Cons
Inefficient customer service
Dimension: 34″ x 20″ x 18″ | Weight: 55lbs | Cooking Space: 572sq in | Power Source: Electric | Material: Stainless Steel, Carbon Steel
Do you want to cook over 20 pounds of meat in one go? The Smokin-It Model #1 Electric Smoker is all you need to do the job. We loved the heat retention power of the smoker as well as the huge space that is offered to keep your meat or seafood. 
Why Did We Like It?
If you are searching for a smoker to use in a restaurant, then let us tell you that this is an excellent option. It is NSF certified and is made of stainless steel. Also, there are side handles to lift and move the smoker if needed. 
That is not all; the product comes with four caster wheels, which have a diameter of three inches. These wheels are made of rubber and can help you move the smoker over any terrain. 
Plus, the smoker is insulated with the help of fiberglass, which allows heat retention. A power cord measuring 12 feet comes with the device. So, you can place the smoker wherever you want, considering the length. 
To top it all,  this model has a 400-watt heating element along with an indicator light making it easy to operate. 
What Could've Been Better?
Unlike most smokers, this one is an expensive option that can be slightly over the budget. However, it offers some brilliant features and can produce amazing food when used in the right way. So, if you have a little extra to spend, this is a great pick. 
Pros
Temperature range from 100°F to 250°F

Can hold 21 pounds of seafood or meat

12-feet long power cord

LED indicator light
Dimension: 12.5″ x 17.25″ x 13.5″ | Weight: 58.6lbs | Cooking Space: N/A | Power Source: Electric | Material: Stainless Steel
The PIT BOSS PBV3P1 Vertical Pellet Smoker is one of our final suggestions, and it is known for its classic look along with its digital features. This pellet smoker has a 3.5-cup capacity and offers a large space for cooking. Read on to learn why it is the perfect fit for backyard parties. 
Why Did We Like It?
This pellet grill comes with four grilling grates, which are coated with porcelain. These grills offer 902 square inches of cooking space, and you can cook multiple chicken, turkey, pork pieces, and briskets at once. 
Further, a 40 lbs pellet hopper capacity makes it one of the top choices to pick for slow cooking. You can use it for more than 24 hours with the wooden pellets filled to capacity. 
And the temperature heat range of the product is 150 to 450 Fahrenheit. You can program the temperature accordingly and the pellet grill will maintain it throughout while cooking.
Also, it has auto start and auto shut-off features that will maximize performance. You can read the internal temperature on the digital LED display and use the meat probe to measure the temperature of the meat once done. 
What Could've Been Better?
Since this is a pellet griller, it will not provide too much of a smoky flavor that you can expect from an offset grill. However, pellet grills provide a rounded flavor, and the meat should taste good. So, we will not be holding this as a drawback. 
Pros
Hopper capacity of 40 pounds

Can be used for 24 hours

LED digital readout option

Glass for easy viewing
Dimension: 26″ x 22″ x 53″ | Weight: 97lbs | Cooking Space: 902sq in | Power Source: Wooden Pellets | Material: Ceramic, Stainless Steel
If you are setting up an outdoor cooking unit, then the Big Wood Smoker Heavy Duty Charcoal Cabinet Smoker can be a part of it. It is a high-quality model that comes with a fully insulated design and is made of premium quality steel with red accents on the sides and corners. 
Why Did We Like It?
This charcoal smoker comes with three cooking grates and a thermostat measuring seven inches. There are two side vents, a chimney stack along with two slam latches. The side vents allow proper airflow, while the slam latches keep the door shut at all times. You also get side handles to pick up the smoker easily.
Moving on, the smoker allows one to cook for six to ten hours at a go. This improves the smoky flavor and lets you cook the perfect briskets. Also, you can cook three briskets together, making it ideal for large groups you host at your home.
Additionally, customer service needs to get a special mention here. They are very helpful and have answered all our queries after purchasing the smoker. That is not all; it has a smoke deflector, which allows better smoke distribution throughout the smoker. 
What Could've Been Better?
While the model works very well, it is difficult to clean. The interiors get very dirty from grease, smoke, and meat leftovers. And you will have to spend some time scrubbing it all away. We recommend learning about the process from customer care before attempting.
Pros
Contains three grates

Cooks for six to ten hours continuously

Attractive design with accents

Side vents and slam latches provided
Dimension: 20″ x 22.5″ x 31.5″ | Weight: 130lbs | Cooking Space: N/A | Power Source: Charcoal | Material: Alloy Steel, Stainless Steel
Best Insulated Smoker Comparison Table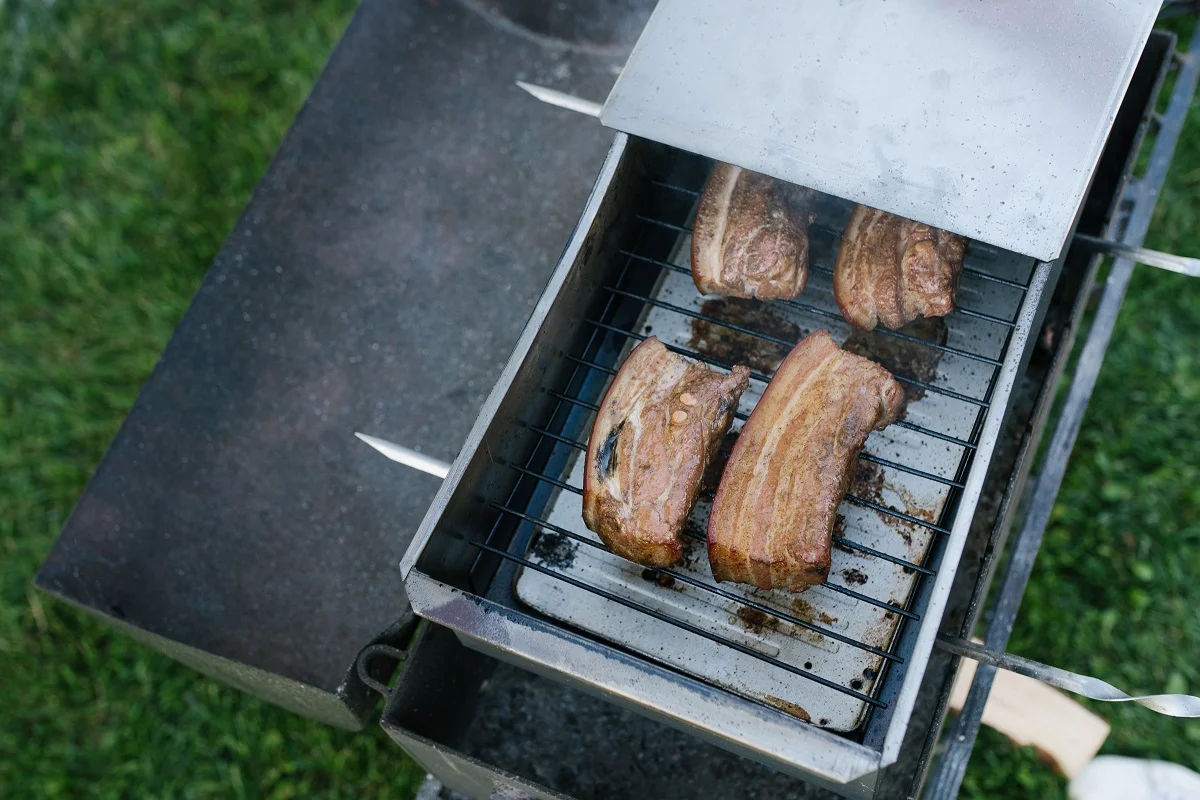 Buying Guide For The Best Insulated Smoker
While you now know about the top smokers on the market, it may still be difficult to pick the best-insulated smoker among them. That is why we have created this buyer's guide from our experience of working with an insulated smoker. Read on to learn about all the factors to consider when purchasing a BBQ smoker grill:
1. Size
Insulated smokers can come in different sizes, and you can choose one based on your requirement. If you are looking for a BBQ smoker for the family to grill food on weekend nights, then a small one with less than 500 square inches of cooking space should do the job. 
However, if you are looking for a BBQ smoker for large gatherings, then you will require a bigger model. Anything more than 500 square inches of cooking space should work for you. 
Also, check the number of racks inside and the space provided for each of them. If you plan to cook whole turkeys, large briskets, and entire chickens, then the space should be such that you can put an entire piece in. 
From our personal experience, we recommend purchasing a BBQ smoker that has at least three racks. They will be sufficient to hold your pies, chicken, and ribs, and you will not have to cook in batches. 
2. Grease Tray
We have spoken a lot about grease trays and grease cups while discussing electric smokers. As such, it is always a good idea to purchase a product that comes with inbuilt grease trays or cups. With these, the grease is collected safely inside a container, and you can dispose of it after the meat is cooked. 
Also, the grease accumulates near the base, making it very difficult to clean without a grease pan or cup. The grease cups and trays are removable, and you can take them out, clean them and place them back. 
Moving on, if you are often going to work with a lot of meat, then make sure the versatile smoker has a large grease cup. Otherwise, you will have to keep emptying it at intervals, which can be too much work. 
3. Digital Controls
While traditional smokers do not have digital controls, modern electric smokers come with these installed. It makes the grilling process so much smoother, and setting the temperature is also easy. All you will need to do is press a few buttons to set the temperature and timer, and the BBQ smoker will start cooking. 
There is no need to keep a watch on the food as well, making it all the more convenient. 
4. Bluetooth And

Wi-Fi

Connectivity
Some electric grills come with Bluetooth and Wi-Fi connectivity making it even easier to control the temperature, heat settings, and timer. You just have to download the app and connect the device to your Wi-Fi. Then you can control all the settings from your phone without even having to reach the dedicated smoker. 
5. Gas Smokers vs Electric Smokers
If you have used a charcoal smoker in the past, you will know that gas smokers are a lot easier to use. You will have to connect the gas source with a hose to the burner. Then you can turn the gas on, which will heat up the meat. While a gas smoker is easier to use than a charcoal grill, know that it is best to choose an electric version if you have an option. 
That is because they are more convenient, and you will not have to monitor the grilling process. However, electrical smokers are more expensive than traditional gas smokers. 
On the other hand, there are offset smokers and pellet grills to choose from as well. Offset smokers will impart a smoky flavor and will give you the traditional braised taste. On the other hand, a pellet smoker will give you a more rounded and less smoky flavor. Both can be used for consistent cooking, and you can pick one on the basis of personal preference. 
6. Wheels
You may have selected the best electric smoker, but it can be very difficult to move if there are no wheels. This is especially true for large smokers, which can be heavy and difficult to carry. So, opt for something with wheels in such cases. It is okay even if the product comes with two wheels, as you can drag it like a suitcase. 
7. Latch
Be it a traditional smoker, offset smoker, pellet grill, or electric smoker, it is important that the door closes well so as not to lose heat. 
If not, the smoke flavor of the wood chips or charcoal will not be imparted to the meat well, and the end result may not be very satisfying. That is why you require a proper smoker door for grilling food. 
In most cases, you will get latches that will keep the grill door in place. 
8. Visibility
A smoker may allow you to watch the meat being grilled. This is not only satisfying but sometimes necessary to ensure that it is not grilled too much or burned. However, offset smokers and pellet grills may not have a viewing window. 
You can always open the top cover and check the meat while it cooks. So, for those chefs or enthusiasts who prefer probing with a meat thermometer often to check the meat, this should not be a problem. 
9. Fuel Type
Previously, wood bark and charcoal were used with BBQ smokers, but today, there are other types as well. You will get wood pellets, electricity, and gas grills that can fit your needs. Every fuel type has its own list of pros and cons, and you should consider them properly before making a choice. 
A. Pellet Smoker
Pellet smokers are the easiest to use as they can do almost everything on their own. The heat levels will be managed, and the fuel level will be regulated. Also, the smoke and airflow will be controlled while you cook the perfect BBQ recipes. 
Additionally, you can control the cooking cycles by pressing a few buttons. These are the best options for beginners who are looking to smoke their food for the first time. 
B. Gas Smoker
Gas smokers are easy to use, and you will simply have to follow the instructions provided with the unit. They have a simple construction and are usually vertical, with an electric coil or a gas burner placed at the bottom. This burner will generate heat that will light up wood chunks and wood chips, providing the smoky flavors of wood or a charcoal smoker. 
Just be careful about the air vents when operating a gas smoker. If the gas-electric smoker comes with air vents, it is best to keep them open while you cook the food. This will prevent soot from accumulating inside the food chamber. 
Also, the internal food temperature can be monitored with a food thermometer that may be provided by the gas smoker. In case it is not, purchase one separately and use it to measure the temperature of the food. 
C. Charcoal Smoker
A charcoal smoker will give you an amazing smoky flavor, which will make the meat very tasty. However, a charcoal grill can be difficult to use for first-timers, and it takes time for people to learn the ropes of using a charcoal BBQ smoker. You will also have to monitor the smoke and fuel level, ensuring the charcoal taste does not overpower the taste of chicken.
D. Electric BBQ Smoker
If you are one of those who want to set the temperature and engage in other activities while the food cooks, an electric BBQ smoker will do the job. Much like a pizza oven, an electric smoker will have a cooking chamber and a thermostat. Wood chips will be burned in a nearby chamber, which will create smoke inside the griller. 
So, maintain the airflow and the smoke, and you should have perfectly cooked meat. Also, most electric smokers will come with a digital display showing the temperature and a timer. 
10. Smoker Type
Today, there are a number of smoker types, and you can pick one from them. There are space-saving models and eye-catching designs to choose from. Let us take you through them: 
A. Vertical Smoker
Vertical smokers have a heat source right below the cabinet-type grilling oven. They extend from the bottom to the top and have a smoker box, wood shelf, water pan, and cooking grates. A water pan is not present in every option, but we recommend purchasing products that have a pan. 
Moving on, because of the vertical design, the heat rises, and so does the smoke. It is easier to manage the temperatures, and the food gets cooked well. You will find that most electric models, including gas, charcoal, and pellet smokers, are vertical. 
But before purchasing a vertical propane smoker, check if you can easily access the firebox or fuel chamber.
B. Offset Smoker
Offset smokers are units where the firebox is placed beside the BBQ chamber. These are horizontal chambers that are shaped like batteries. You can use wood or charcoal to produce smoke and heat, which will then move from the fire box inside the cooking cabin. 
Now, this might require more effort to maintain and cook, but it is very popular among barbeque experts and competitors. If you purchase a model with a temperature controller, then handling the heat and airflow becomes all the easier.
Also, you will have to monitor the smoke production and fuel level while cooking. Offset barrel smokers often have varying temperatures across their cooking surfaces as the heat keeps moving. However, machines that use reverse airflow will allow even heat distribution. 
C. Unconventional Smoker
While we have already discussed horizontal and vertical smokers, it is time to talk about something in the middle. Unconventional smokers do not fit into one category. They have a freestanding configuration and have some of the most impressionable features. Some of them are LED lit display, lit control knob, Wi-Fi, and Bluetooth connectivity. 
11. Temperature And Airflow
You have to make sure that the temperature can be regulated to achieve the right flavors and to cook consistently. Charcoal smokers are also dependent on airflow vents to work perfectly well. The air vents have an influence over the internal temperature and ensure the heat is distributed consistently. 
Also, some smokers will come with a damper system that can be used to set the temperature. Make sure these damper systems are easily approachable and are made of durable materials. They should not rust, and you should clean them often for smooth performance and better durability. 
12. Water Pans
Do you want to add some extra flavors to the meat? The water pan can be used to hold different liquids that can impart a unique flavor to the food. This includes beer, apple cider vinegar, apple juice, and similar other liquids. 
If not for flavoring, the water pans can be filled with water to increase the humidity level inside the device. It will also stabilize the temperature, ensuring the meat is cooked evenly and consistently. 
13. Wood Chunks And Chips
Wood chips and wood chunks have separate uses. Wood chunks are generally used for a continuous stream of smoky flavors needed for longer cooking sessions. On the other hand, wood chips will provide the food with a deep smoky flavor even when cooked for a short while.
Insulated Smokers FAQs
Are insulated smokers portable?
Some insulated smokers are portable, while others might be heavier and more stationary. Factors like size, weight, and design will determine the level of portability. If portability is a priority, consider purchasing a model designed for easy transport.
Can I smoke multiple types of food at once in an insulated smoker?
Yes, insulated smokers are versatile and can accommodate smoking various types of food simultaneously. The availability of multiple cooking racks or adjustable rack positions can help optimize the smoking space for different food items.
How long does it take to smoke food in an insulated smoker?
Smoking time depends on the type of food, its size, and the desired tenderness or doneness level. Generally, smoking in an insulated smoker takes less time than traditional smokers due to better temperature control and heat retention.
Can I use an insulated smoker for cold smoking?
Although some insulated smokers can be used for cold smoking, it's essential to choose a model designed for that specific purpose or has a cold smoking attachment. Cold smoking requires a temperature range of 68-86°F (20-30°C), which is lower than most insulated smokers' default settings.
Are insulated smokers difficult to clean and maintain?
Insulated smokers are relatively easy to maintain, as long as you clean it regularly. Typically, you need to remove ash and grease buildup, clean the cooking grates, and check for any rust. Regular maintenance helps keep your smoker in optimal condition.
Conclusion
The internal temperature needs to be consistent for any well-insulated smoker to cook the meat evenly. Hence, make sure you test the product beforehand. Also, let us take you through our top favorite smokers before wrapping it up. 
If you are going to have a large group of friends coming over often, then the Char-Broil Deluxe Black Digital Electric Smoker is going to be perfect. But the Royal Gourmet Electric Smoker works for a more intimate gathering. 
And if it is your first time using a smoker, then you can opt for the Char-Broil Analog Electric Smoker.
No matter which one you choose, keep the device clean, and they should work for a long time. Happy cooking! 
Related Articles
7 Tips for Smoking Meat with an Electric Smoker
13 Best Grills For Apartment Balcony
7 Best Smoker For Making Jerky
11 Best Smokers for Summer Sausage
46 Best BBQ Forums, Websites & Broadcasts