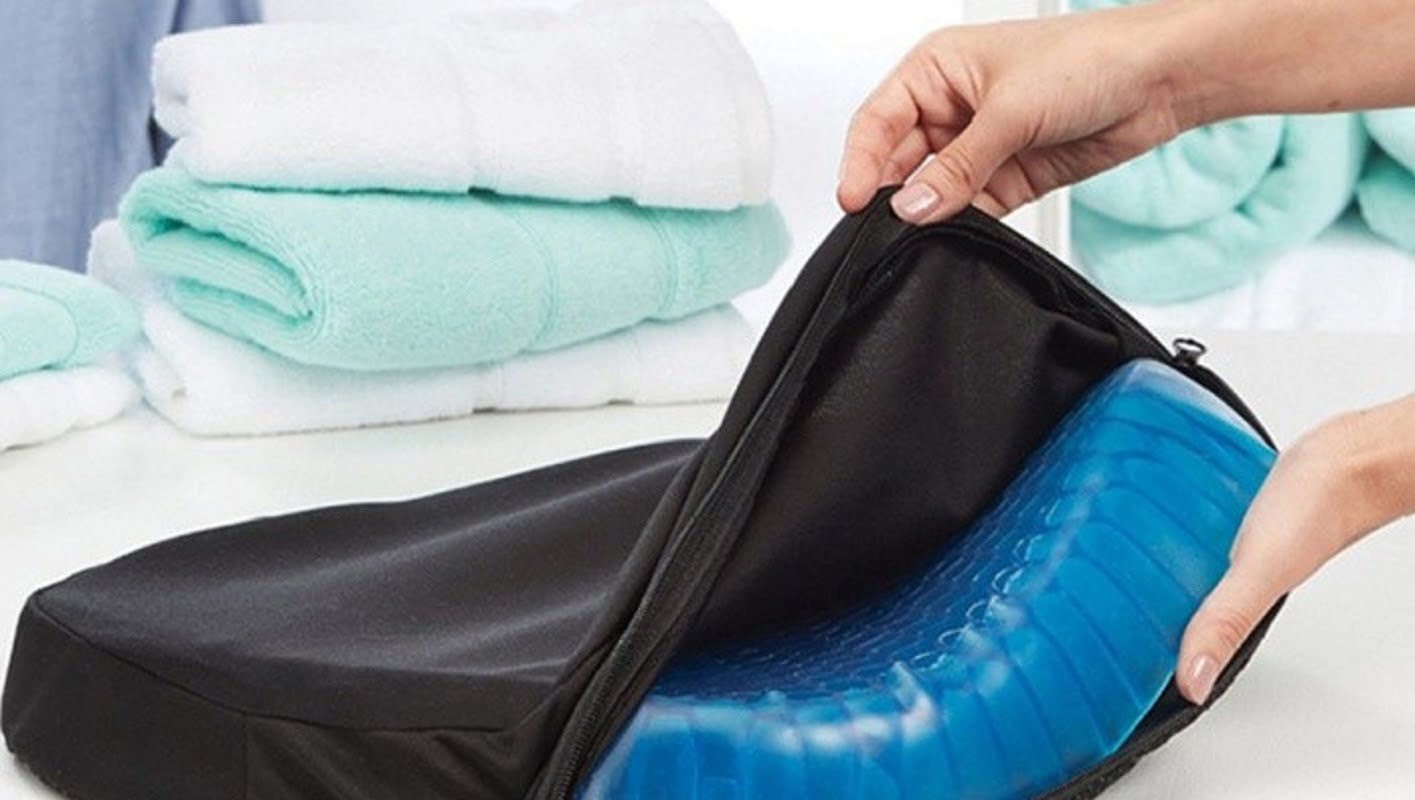 No matter how ergonomic and well-designed a chair is, it is going to hurt your back sooner or later if you are sitting on it all day. Unfortunately, there is no way to get around chairs and all-day sitting if you do a desk job.
In urban centers, the majority of jobs are now about sitting behind desks and different sorts of workstations. Orthopedists agree that this element of excessive sitting in contemporary workplace settings has increased the prevalence of different orthopedic problems.
From degenerative disc order and chronic joint pain to lumbar disc herniation and coccyx strain, all sorts of back problems can set off or aggravate by sitting on chairs for too long. Amidst this predicament, gel seat cushions offer a way to mitigate the brunt of extended sitting.
If you are one of those people for whom sitting for more than 6 hours is an inevitable work condition, then you must get a gel set cushion for yourself. Even seasoned orthopedists now recommend it to all those patients squirm in back pains.
Here, we are going to review of 10 of the best gel seat cushions available in the market right now. Some of them are also medical-grade and often formally prescribed by physicians.
Best Gel Seat Cushions
Sale
Highlights
Column-buckling and open-cell design

Nonslip cleaner-safe covers

High-quality latex-free gel
Vive Get Seat Pad Cushion is designed for all sorts of chairs. Whether its office or plane, you can bring in your Vive pad cushion with you. Its briefcase-like handle makes it a hassle-free traveling item. The cushion is a non-slip fabric frame which is filled with latex-free, medical-grade and non-liquid gel.
The gel helps the cushion to contour to the position of the back on the seat. This contouring helps in relieving the pain from all pressure points on the back. Moreover, its breathable design makes sure you don't get all sweaty. The open-cell design continues to dissipate all the buildup heat from the cushion for keeping its use comfortable. 
Highlights
A 1.2-inch thick base for optimal seat cushioning

A unique gel pocket design for equal weight distribution

Amazon's Choice product in the category "gel seat pad"
Secureguard Gel Seat Cushion is made of hyper-elastic gel polymer. This gel has been chosen after extensive research to make sure the cushion can promote a healthy sitting posture. Like any good gel cushion, it is equally good for all sorts of seats. Whether its bench, wheelchair, plane seat or a reclining office chair, it offers equal bottom and back support.
The high-quality gel also ensures the cushion can get back to its shape even after long hours of use. In other words, the gel guarantees an extended service life of the cushion. With its unique gel pocket design, Secureguard cushion ensures equal weight distribution throughout its surface. This helps in relieving the entire back strain instead of focusing on particular spots. 
Highlights
U-shaped mold for more comfort

Relieves tailbone, leg and back pains

100% memory foam
ZIRAKI has introduced a seat cushion that is designed to relieve your gluteus muscles (hip muscles). Using ZIRAKI Coccyx Seat Cushion can also help in getting pressure off your lower back. If you suffer from chronic or intermittent tailbone pain, then using this seat cushion will turn out to be a blessing.
Like Vive, the gel in this seat cushion also contains cooling attributes. It will remain temperature-neutral under your bottom even after extended hours of use. The velour cover is non-slip, washable and carved out of fabric that facilitates temperature regulation. 
Highlights
Extra thick

Non-slip mesh cover

Amazon's Choice gel seat cushion

Comes with a 100% satisfaction guarantee
Whether your commute involves uncomfortable seating or your office chair is not good for extended sitting, soreness in gluteus muscles is an inevitable outcome. And for that unavoidable hip and lower back pain, you are available with an extra-cushiony Orthopedic Seat Cushion's Coccyx Pillow.
Unlike many gel seats available in the market, it has a thickness of 3.7 inches. Moreover, its dimensions are suitable for all sorts of seats and chairs. For people recovering from tailbone injuries or mothers suffering from pregnancy back pain, this seat cushion can help in alleviating their pains without taking prescription drugs.
Like any other good-quality seat cushion, it is also made of cooling gel pad so you don't get perturbed by your own body heat. The product comes with a 100% satisfaction guarantee and enjoys the tag of Amazon's Choice in the category of "orthopedic seat cushion". 
Highlights
Medical-grade cushion gel

Portable

Column-buckling structure for uniform pressure relieve

Easy to wash
This is another compact seat cushion primarily designed when you need back and bottom support on more than one places. Its non-slip cover has a built-in carry handle so you can easily take it anywhere. FOMI Premium Orthopedic Seat Cushion is made of cooling gel pad with column-buckling structure.
This cushion works like a sponge for the strain released by the pressure points in the lower back. Moreover, the air circulation through the gel-foam structure makes sure the cushion doesn't get 'heat up' even after extended use.
The zipped cover is easy to remove and cleaner-safe. Moreover, the cushion is available in two thicknesses that are usually recommended by the orthopedists.  
Highlights
A foldable design

Comes in a variety of color

Provides extra relieve to the tailbone
GSeat ULTRA Gel Seat Cushion is undoubtedly one of the most plushy and luxurious items on this list. Apart from a variety of colors, its extra thickness, foldable design, and built-in handle also make it a very slick seat cushion. The gel material is also high quality that makes sure all the pressure points in your lower back can easily be taken care of.
From the orthopedic point of view, one of the most striking traits of GSeat Ultra Cushion is its center-relieved groove. It actually helps in the therapeutic suspension of the tailbone and eliminates soft tissue pressure.
The foldable design and weight just above 3 pounds allow you to easily pack it in any luggage. 
7. Wheelchair Cushion by Vive – Gel Seat Cushion with Comprehensive Support Mechanism
Highlights
Water-based adhesive

Non-inflammable

Comes in easy-to-use packaging 
This Vive gel seat cushion is primarily designed for wheelchairs, but it is equally good for those who have to sit 6-8 hours on any type of chair. Vive has used a four-layer support formula in this gel seat cushion for holistic support to the lower back.
The outermost cover is non-slip, water-resistant and soft to touch. Then there is a waterproof seal that makes sure no fluid seeps into the form. Then there is supportive and comfortable foam that retains its shape even after extended use. Lastly, there is a core of medical-grade gel that ensures better weight distribution on the seat.
Apart from its permanent pairing with wheelchairs and office chairs, you can also provisionally use it to alleviate gluteus muscle soreness. 
Sale
Highlights
Extra thick

Ideal for all sitting surface due to non-skid bottom

Breathable and washable mesh cover
Xtreme Comforts have introduced a gel seat cushion that is ideal for all those people who need more cushioning of their chairs. This extra cushioning is a necessity rather than a luxury especially if you are suffering from back pain, strained nerves or aching tailbone.  
Xtreme Comforts Seat Cushion is extra thick and has a square shape with a rounded edge. This structure makes it an ideal gel seat cushion for all cushioned, non-cushioned, reclining and non-reclining chairs. It is a great option but could be better with the addition of a built-in handle. 
Sale
Highlights
An unsophisticated design

Comes in distinctive purple color

Portable and compatible with all sorts of seats
The manufacturer "Purple" has introduced a basic gel seat cushion in a color that we don't often see in such products. And we think it's not that hard to guess what color it would be. The purple-colored gel seat cushion by Purple has one of the most basic designs. It's a rectangular base with a column-buckling structure that offers uniform pressure absorption and ensures air circulation in the cushion.
The first characteristics help in relieving all the stress from the lower back and bottom. Meanwhile, the air circulation helps in regulating the temperature of the cushion during extended use. The cushion cover is cleaner-safe. You can also wash the cushion but only with hands. 
Highlights
An ergonomic U-shape design for better tailbone support

100% memory foam

Amazon's Choice product
Feeling soreness in your hip muscles or pain is reverberating through your tailbone (lower back)? It shows you are sitting too much and require a coccyx seat cushion similar to the one offered by Kieba. It's a state-of-the-art u-shaped seat cushion with memory foam core. The U groove makes sure the pressure can optimally be released from the tailbone.
The high-quality foam doesn't flatten even after extended use. Moreover, its non-skid bottom surface ensures you don't have to adjust the slipping cushion all the time. Apart from relieving your existing back pains, it also promotes healthy posture and optimal spinal alignment.
Besides its easy use, its cleaning is also easy. The velour cover is easily removable and washable. Kieba Coccyx Seat Cushion is an Amazon's Choice product in the category of "coccygeal cushion". 
It is important to mention here that these cushions are not numbered as per any ranking.
Even if you are not suffering from any back pain and strain now, we would still recommend you to get a quality gel seat cushion as a preventive measure for your extended sitting spells. We hope that you can find a seat cushion of your choice and from the above list.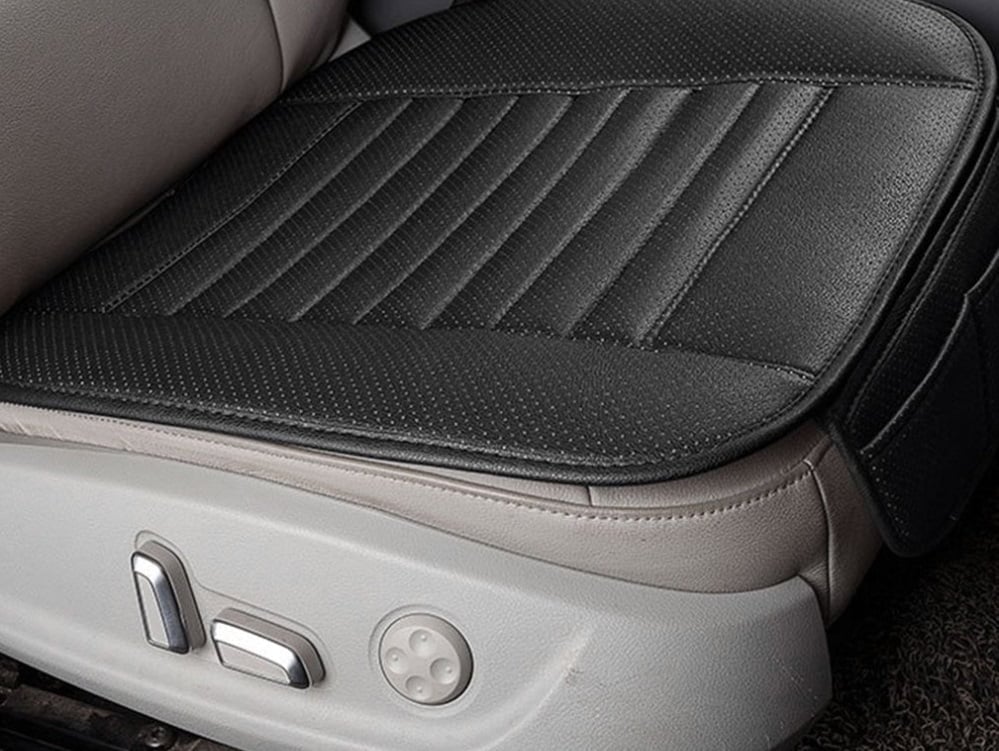 Related Articles