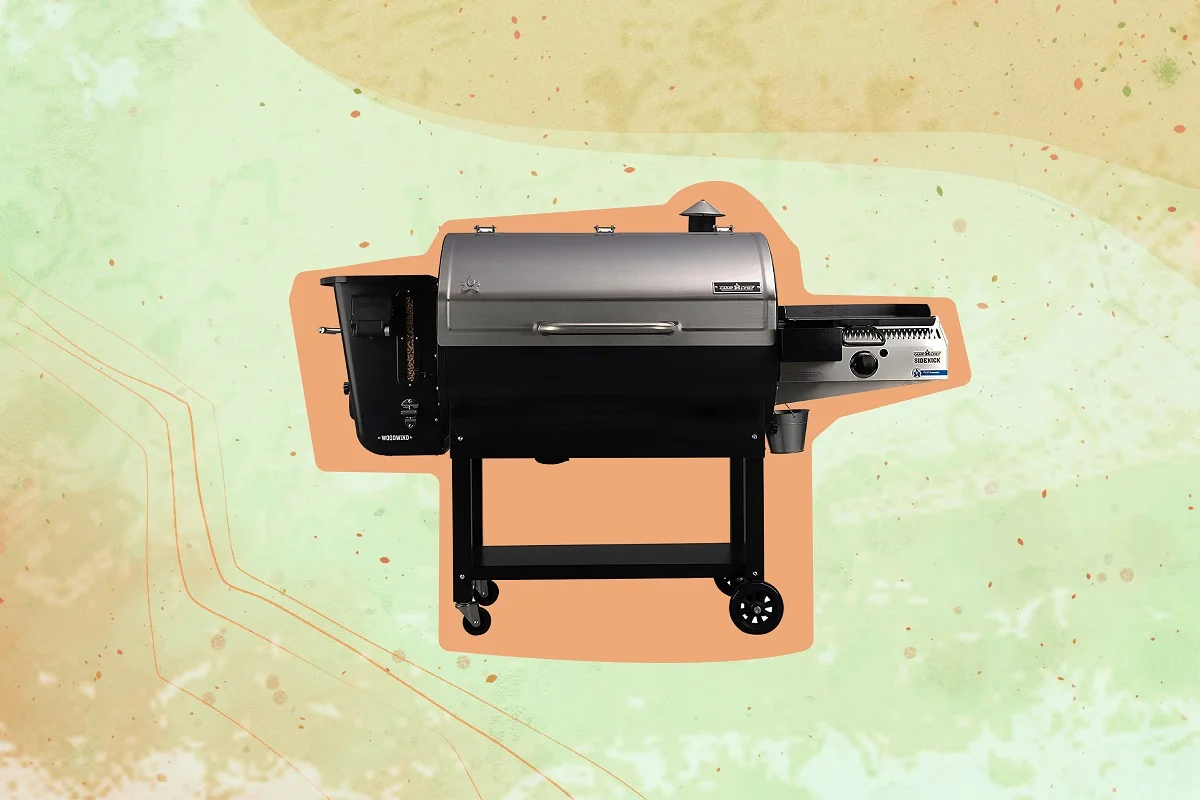 If you're looking for convenience and simplicity, then the Z Grills pellet smoker is your best option. It has intelligent temperature controls, a robust metallic design, and a larger cooking space. 
Insulated smokers and pellet grills are best for cooking large quantities of food without worrying about the heat getting too high or the pellets not burning evenly. 
There are several good choices, but today we want to share the top eleven picks from the available pellet smokers list. These pellet grills offer convection cooking, temperature control, high-capacity grills, and some fancy extra features. 
Our top pick, the Z Grills insulated pellet smoker, impressed us with its innovative design and superior craftsmanship. It burns at a very high rate, producing less smoke and ash compared to other grills in the market. This means it heats up faster, allowing you to cook food in half the time. 
Here are our other top picks for the best insulated pellet smokers. Find out which model best suits your budget and personal preferences. 
11 Best Insulated Pellet Smokers Reviews
Sale
What we like
Even heat distribution
Excellent temperature control
Corrosion resistance
Robust warranty
What we don't like
No app or WiFi connectivity
Very small hopper capacity
The Z Grills 700D2E pellet smoker is a versatile, easy-to-use, affordable grill perfect for backyard BBQ enthusiasts. With the 700D2E model, you can cook anything from burgers to brisket to bacon. The best thing about this product is its upgraded digital controller, which makes it easier to set up and monitor your cooking.
The body of the 700D2E pellet grill is made entirely of stainless steel and has sturdy double-wall insulation. At the same time, its small burn pot is covered with a large deflector lid that absorbs the heat and spreads it evenly on the surface. As such, you can cook your food evenly and season it perfectly. 
The 700D2E smoker has a generous cooking area and a closed storage cabinet under the grill. It also facilitates an accessible pellet cleanout, better temperature control, and versatility in grilling. These features make Z GRILLS 700D2E product one of the best insulated smokers over other products in the same price range. 
Grilling Space: 700 sq. in | Hopper Capacity: 8 lbs | Maximum Temperature: 450°F
What we like
Even heat distribution
Lightweight
Large LCD display
Great portability
Easy to set up
The Traeger Tailgater 20 pellet grill is perfect for camping, tailgating, picnics, and more since it comes with folding legs. It's lightweight and portable, so that you can take it anywhere. The smoker is easy to assemble, with only five screws. It's also easy to clean up after every use. 
The pellet smoker has a large cooking area perfect for grilling large food groups. You can easily ignite and heat the grill with the automatic safety igniter button. The automatic digital starter even allows you to monitor the internal temperature without any worry. 
The Tailgater 20 smoker even has a digital arc temperature control system. This feature allows you to keep the unit stable under turbulent weather conditions. The pellet grill also contains a "keep warm mode" setting to make the most of your smoking time. Though its price is a bit higher than the competitors, all the above features offer quite the back for the buck.
Grilling Space: 300 sq. in | Hopper Capacity: 8 lbs | Maximum Temperature: 450°F
Sale
What we like
Low pellet notification
Accurate temperature control
Heats up quickly
Easily monitor and adjust the temperature using an app
Sturdy design
What we don't like
Small capacity of the pellet hopper
The Traeger Ironwood 650 has a heavy-gauge steel exterior, which is corrosion-resistant. As such, it's more durable than other types of grills. Also, the Tailgater Ironwood 650 is a "portable" smoker you can take on your camping trips.
The smoker has an auto-ignition system that delivers consistent heat, so you don't have to worry about it going out. 
It also has a Wi-Fi pellet sensor and voice control system for customizing your grill. This allows you to control the temperature of the Traeger grill remotely. You can even download recipes using the companion app of this unit. You'll even get notifications on your app if the pellets run low. You can enjoy your time without worrying about smoke odor or grease stains.
The Traeger Ironwood 650 pellet grill has a new D2 drive-train feature that enables it to heat faster. This helps the smoker to hold a consistent temperature without any fluctuations. In addition, it allows you to monitor your food temperature using the meat probe sensor. 
The pellet is made from heavy-gauge steel, which makes it highly durable. The porcelain-coated grill racks are easy to assemble and clean. So, if you're looking for a pellet grill and smoker that can handle anything you throw at it, the Traeger Ironwood 650 Wood Grill is a perfect choice.
Grilling Space: 650 sq. in | Hopper Capacity: 20 lbs | Maximum Temperature: 500°F
What we like
High-quality porcelain-coated grates
Plenty of cooking space
Great value for money
Complete digital control with a large LED display
Automatic shut-off function
What we don't like
Highly suitable for smoking instead of grilling
PIT BOSS 5.5 is a versatile smoker used for smoking, grilling, and baking. Its patented insulation system can keep your food warm for extended hours without additional fuel.
The pellet smoker has ample cooking space, which makes it perfect for large gatherings or catering events. It also has a built-in meat probe and an LED display which helps monitor the temperature inside the smoker so that you can cook your food perfectly every time!
The grill also features an intelligent controller that allows it to set the temperature, handle grilling and smoking simultaneously, and read out smoke volume control. It has a pellet hopper that can hold a large volume of pellets. It is easy to clean the pellet smokers by simply removing the porcelain-coated stainless steel grates.
The PIT BOSS 55 pellet smoker is the best insulated vertical smoker if you are on a budget. It has many useful features you would expect to get at a higher price point. 
Grilling Space: 1548 sq. in | Hopper Capacity: 40 lbs | Maximum Temperature: 450°F
What we like
PID controller for consistent temperatures
Smart WiFi connectivity
Settings to adjust smoke levels
Four stainless steel meat probes
Convenient ash cleanout system
What we don't like
The sidekick unit costs extra
Camp Chef Woodwind pellet smoker is a versatile grill used for smoking, grilling, baking, roasting, and more. It has a large cooking area and a powerful heating system to keep your food warm and juicy. The grill is also easy to assemble, making it perfect for beginners.
The pellet smoker has an insulated design that ensures even heat distribution. This means you can cook your food evenly without worrying about hot or cold spots. 
The smoker also has a built-in "PID" and "Wi-Fi controller" that routinely monitors and adjusts the temperature of your grill. The controller lets you set the smoke flavor from mild to hot through Wi-Fi. Besides intelligent temperature control, the grill uses PID to know when it's time to add more pellets to the smoker box. 
It also has an easy-to-clean ash pan and grease tray, which makes it perfect for people who don't have much time to clean their grill after each use. Overall, the Camp Chef Woodwind Smoker is an affordable product worth your money.
Grilling Space: 811 sq. in | Hopper Capacity: 22 lbs | Maximum Temperature: 650°F
Sale
What we like
Upgraded PID controller for even cooking
All-terrain caster wheels for mobility
Easy to use
Easy to remove the unused pellets
What we don't like
Heat retention is relatively low
Wi-Fi connectivity is not provided
The Z GRILLS ZPG-7002C pellet grill boasts 6-in-1 versatility to handle any grilling situation. This unit can act as a grill, smoker, oven, braiser, and more, allowing you to cook anything you can imagine. It is made of high-quality materials, has a large cooking area, and has a sleek design that will fit in any backyard.
With digital temperature monitoring and easy-to-use controls, this grill is perfect for any grilling enthusiast, whether a beginner or a pro. The smoker also comes with two racks so that you can cook two different types of meat simultaneously. The integrated smoker box adds another layer of flavor to your food. 
The ZPG-7002C pellet grill and smoker provides upgraded caster wheels and locks for good mobility. This durable machine is built to last. You can easily fit it into your car and carry the smoker to your favorite tailgate or camping spot.  
It also has a PID controller for temperature maintenance, two meat probes, and a heat deflector plate to cover the pellet grill cooking chamber. The plate helps tame the heat, so your food won't burn you while cooking. Overall, with this unit, you don't need to worry about flare-ups or burning your food! 
Grilling Space: 700 sq. in | Hopper Capacity: 24 lbs | Maximum Temperature: 450°F
What we like
Highly durable and made of high-quality materials
Large grilling area
Easy to maintain
Sturdy design
Preheats quickly
What we don't like
No wheels for mobility
Does not have an ash catcher to collect the ashes from the pellets
The Monument Pellet Grills and Smoker has a unique octagonal design, making it stand out from the rest of the grills. The octagonal design allows for even heat distribution, ensuring that your food is cooked evenly. It is one of the best-insulated smokers available on the market that has an insulated body to maintain heat and smoke inside the grill.
It is also easy to clean, thanks to the two removable drip trays. These open cooking grates help you have a better smoky flavor and simultaneously cook large batches of food. Plus, the grills are built to last with heavy-duty construction and stainless steel components.
The smoker has a built-in precision temperature gauge and an advanced pellet feed system to cook your food perfectly. Another great feature of Monument Grills is the sear station. It allows you to quickly and easily sear meat, fish, or vegetables, locking in moisture and promising intense flavor. 
This pellet grill from Monument offers you a unique cooking experience perfect for any outdoor gathering. 
Grilling Space: 530 sq. in | Hopper Capacity: 15 lbs | Maximum Temperature: 450°F
What we like
Sidekick for reaching higher temperatures
WiFi and PID enable complete remote app control
Slide and Grill option for faster grill heating
Convenient app notifies you when the food reaches your set temperature
What we don't like
Hard to assemble
Quite heavy
Whether smoking a brisket or grilling a steak, the Woodwind pellet grill will help you achieve delicious results. Unlike the 24-inch Camp Chef Woodwind unit, this 36-inch pellet smoker provides plenty of room to cook up a feast. With the built-in digital temperature control, you can ensure that your food is cooked to perfection every time.
One of the unique features of the 36-inch Camp Chef pellet grill is the built-in slide and grill technology. This grill uses infrared radiation to cook food, so you don't have to worry about hot spots or flare-ups. And because the grill grates are always in contact with the food, you'll get grill marks on your food, making it look and taste even better.
Another great feature of the Camp Chef pellet grill is its adjustable smoke technology. You can remotely choose between different smoke options, change the temperature, or shut down the grill.
This grill is perfect for large families and entertaining guests. While with its four meat probes, you can control the internal temperatures via the Camp Chef app. With the PID controller, you will be able to achieve temperature stability. The unit also has a built-in ash catcher and a removable drip tray.
Grilling Space: 573 sq. in | Hopper Capacity: 22 lbs | Maximum Temperature: 500°F
What we like
Powerful heating system
Easy to control and maintain temperature
Heats up quickly
Simple to setup and use
Very lightweight
What we don't like
Legs are not sturdy enough
Recteq RT-B380 Bullseye Wood Pellet Grill is a versatile product that can be used for smoking, grilling, roasting, or even baking. It sports a cooking space of 380 square inches which is more than enough to cook food for large groups of people.
The pellet grill has a PID control panel, making it easy to maintain a consistent temperature. Other features like RIOT mode and stainless heat deflector lid enhance the smoky flavor of the food.
Additionally, the Recteq RT-B380 Bullseye has a meat probe, which allows you to check the internal temperature of your food without having to open the lid. With its powerful ignition, the pellet grill can reach higher temperatures faster, making it ideal for cooking steak, chicken, or fish. 
The inner cooking chamber of the RT-B380 grill is made from high-quality stainless steel material. That's why these grills are considered to be highly durable and lightweight. 
Grilling Space: 380 sq. in | Hopper Capacity: 15 lbs | Maximum Temperature: 749°F
What we like
Separate side firebox for smoking
Smart remote access
PID system with precise temperature control
Great build quality
What we don't like
Expensive compared to other pellet grills
No provision for the removal of unused pellets
The Recteq RT-590 grill is the best pellet smoker for small to medium-sized families. It infuses food with a natural smoky flavor that can't replicate with other cooking methods. 
Recteq has provided an advanced PID-based Wi-Fi controller with its RT-590 model so that you can monitor the pellet grill at all times. This way, you control the grill temperature remotely with just a single click. Select the desired temperature from your smartphone app and leave the rest to the smoker grill.
Another reason to buy the RT-590 Wood Pellet Grill is its convenience. It has a stainless steel fire pit and drip rack, which makes these grills easy to use and clean. The grills are perfect for busy families or anyone who doesn't want to spend much time cooking. 
With the RT-590 Wood Pellet Grill, you can indulge in yummy meals right at the comfort of your home.
Grilling Space: 592 sq. in | Hopper Capacity: 30 lbs | Maximum Temperature: 700°F
Sale
What we like
Extra space at the front
Easily movable
Convenient to clean
An impressive leftover pellet cleaning system
Compact Design
What we don't like
Setting up the lid holder can be a bit tricky
Like the 530 square-inch Monument Grill, the 698 square-inch Monument unit also has a sturdy octagonal shape. You get two chrome-plated stainless steel grates that cater to multiple food options. It provides two meat temperature settings, which can adjust the smoky flavor of your food. 
The grill features a large LCD screen and control panel that makes it easy to set the temperature. It provides an intelligent temperature and pellet feed control system to monitor the grill's internal temperature.
The body of this pellet is made of powder-coated steel, the fire pit is made of stainless steel, and the cooking grate is made of porcelain-coated cast iron. The coated steel helps to resist rust, while the stainless steel fire pot makes it easy to clean this grill. You can use the ash removal system to dispose of the residual ash build-up and grease.
Further, the product comes with sturdy wheels. So, it is possible to effortlessly move the 698 square-inch Monument Grill and Smoker from one place to another. The pellet grill has a side shelf where you can prep your food or keep frequently-used cooking tools close at hand. 
Grilling Space: 698 sq. in | Hopper Capacity: 20 lbs. | Maximum Temperature: 700°F
Insulated Pellet Smoker Buying Guide
Have you decided which pellet grills you should get? We believe it can still be difficult for you to choose the best fit for your needs. While all the smokers mentioned above have attractive specifications, you should know about some basic features of insulated pellet smokers to make the right choice.
So, the first thing you need to consider before buying your pellet grill is the size. You need to ensure it will fit on your deck or patio. It would be best if you also thought about how much food you plan on cooking at one time and how many people will be eating.
Consider the price range and the features of wood pellets you want the smoker to have. For example, if you want to cook a lot of food at once, you should go for higher-capacity pellet grills. If you are on a budget, consider buying a pellet grill with better features and less capacity.
As such, here are some factors you need to keep in mind when shopping for new pellet smokers:
1. Size
As mentioned before, the grill size is the first thing to look for when buying a pellet smoker. Most pellet grills have a cooking area of around 300 square inches. This is enough space to cook a few meat dishes at a time but not large enough to cook a whole hog or an entire turkey. 
If you want pellet grills with ample cooking surfaces, consider the pellet grill models with a cooking area of 800 square inches or more.
2. Cooking Area
A large cooking surface allows you to prepare multiple items at the same time without having to move them constantly from the grill. When looking for a pellet grill with a large grilling space, you need to consider the size of the grill. Most pellet grills have a cooking surface of around 225 square inches. 
While choosing a grill with a larger cooking surface, you need to look for a pellet grill with a larger size. Another factor to consider is the type of fuel that the grill uses. Pellet grills that use propane or charcoal tend to have a larger cooking area than those that use natural gas. 
To get closer to your final decision, you should go for a grill with a larger size and a type of fuel that uses a larger area.
3. Installation
One of the biggest concerns when purchasing a pellet grill is how easy the installation will be. But now, you don't need to worry about complicated installations. This is because, nowadays, many pellet grills come with detailed instructions that simplify your installation process.
If you are a beginner, consider buying grills that are already assembled. Look for the pellet grills that come with pre-drilled holes, which makes installation a breeze. Such pellet grills also provide the necessary hardware, like screws and bolts, to make the installation process as smooth as possible. 
4. Hopper Size
Looking for a pellet grill with a large hopper size is a great way to ensure you have enough pellet fuel available to cook your food. A large hopper size means you won't have to refill the pellet grill as often. This leads to less time spent refilling the grill and more time cooking your food. 
Some pellet grills, such as Z GRILLS 7002C and PIT BOSS 5.5, have sufficient hopper storage capacity.
5. Temperature Range
When buying a pellet grill, the temperature range is one of the most important things to keep in mind. Not all pellet grills are created equal, and not all buyers are familiar with the available different temperature ranges.
It is essential first to understand the three different temperature ranges available on pellet grills to avoid confusion. These ranges are: high, medium, and low.
A. High-Temperature Range
This temperature range is perfect for cooking thick cuts of meat, such as steaks and racks of ribs, or for searing food. The high temperature will help lock in the meat's flavor and juices.
B. Medium Temperature Range
This temperature range is perfect for cooking most meats. The medium temperature will allow the meat to cook evenly and prevent it from drying.
C. Low-Temperature Range
This temperature range is perfect for cooking delicate fish or vegetables. The low temperature will prevent the food from drying out or getting overcooked.
You need to probe these different grilling temperature ranges and choose the one that addresses your needs. As far as a wider temperature range is considered, the Camp Chef PG24 is an excellent option. This pellet grill has a temperature range of 180° to 500°F, making it perfect for grilling various foods. It even provides an automatic low-heat setting that helps keep your food warm.
6. Ease of Maintenance
Pellet smokers such as Monument Grills have a perfect ash clean-out system. It's easy to take this feature for granted. But we always advise you to look for a grill with a removable ash pan. These types of grills allow you to easily remove the ash residue and dump them into the trash, making cleanup a breeze.
Moreover, the best pellet grill even has a built-in grease management system. This system collects the grease and drippings from the food and funnels it into a drip pan. When it is time to clean the grill, remove the drip pan and discard the grease. 
For the most part, pellet grills with stainless steel racks are easy to clean and won't rust or corrode over time. Consider these elements while picking up your smoker.
7. Remote Access Controlling Capabilities
Many of the newer pellet grills on the market come equipped with Wi-Fi and Bluetooth capabilities. A Wi-Fi connection can be an excellent asset for any pellet grill owner. Why? Because it allows you to control the grill remotely, no matter where you are. 
Whether you're at work, running errands, or relaxing on the couch, you can use a smartphone or tablet to adjust the temperature of the grill. Further, you can set a timer or even check on the status of your food. Not only does it give you peace of mind, but it also allows you to make last-minute adjustments to ensure the food is cooked to perfection! 
So, if you're considering the best pellet grill for your next outdoor cooking adventure, be sure to review the importance of remote connectivity!
Top Insulated Pellet Smoker Verdict
That's the end of our comprehensive buyer's guide! We've reviewed and listed the features of some best-insulated pellet grills, from remote temperature control to grate materials. Therefore, we hope you found this guide helpful and that you can buy a new pellet grill without any confusion. 
All in all, we want you to spend your money on a more functional pellet grill. As a result, we did further research and selected our top pick – the Z Grills pellet grill and smoker. 
The Z Grills 700D2E pellet smoker is exceptionally durable and less expensive when compared to other pellet grills. It even provides a larger cooking area for the price. The grill is excellent for those who want to cook outdoors year-round. With this insulated pellet grill, you can easily prepare tasty foods such as steaks, chicken drumsticks, fish filets, burgers, and hot dogs. 
All things considered, we do not doubt that you'll make the right choice.