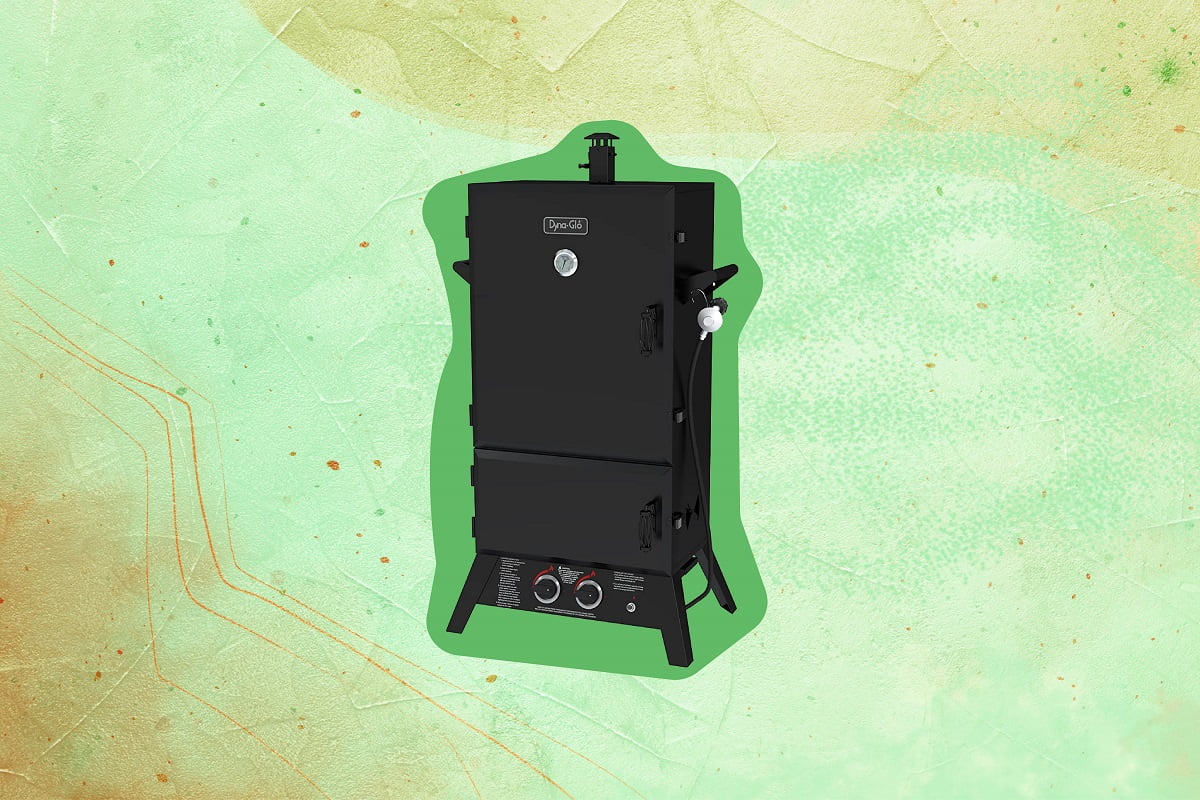 Our top pick is the Cuisinart Cabinet Smoker because of its performance, classic design, and easy-to-use features, like the twist lock handle. It will help you unlock a classic smoky BBQ taste with the adjustable heat settings. 
Smoking meat is a time-honored tradition and if you want to enjoy cooked meats at home, you should consider investing in the best insulated smoker. These smokers are designed to withstand higher temperatures for extended periods to give a smoky flavor. 
They also come with features such as temperature control, heavy-duty construction materials, timers and automatic ignition. Today's guide lists 9 models you should check out, so let's get started. 
9 Best Insulated Cabinet Smoker
1. Cuisinart Smoker – Best Porcelain-Coated Smoker
Sale
What we like
Sealed doors with twist lock handle
Steel tray holds both wood chips and water
Great warranty
Has a hose and regulator
Lightweight
The superior built quality and the ability to burn wood chips for a rich smoky flavor put the Cuisinart 36-inch Propane Smoker at the top of our list. It has an ample cooking area and provides plenty of room to smoke all kinds of meats and vegetables simultaneously.
With the twist lock door seal handle, you can be assured that your food will be exposed to smoke and moisture evenly. While the thermometer mounted on the front door lets you monitor the internal temperature. 
This cabinet smoker features porcelain-coated components that handle high temperatures for a more extended period. It comes with four heavy-duty racks for smoking that can even cook a small turkey. Moreover, it is quite versatile and lets you control the amount of incoming heat or smoke by means of an adjustable gas supply. 
Since a porcelain-coated steel tray holds both wood chunks and water, this cabinet is extremely easy to clean. It also comes with a propane hose and regulator that can be hooked to the propane tank of the Cuisinart Smoker. 
We especially liked the upgraded cartwheels and side handles for ease of mobility. And you can comfortably set up the COS-244 Cabinet Smoker with the help of the simple instructions provided in the manual.
Weight: 69.5 pounds | Maximum Temperature: 275 degrees Fahrenheit | Material: Alloy steel | Cooking Area: 784 square inches | Racks: 4
Sale
What we like
Large cooking surface
Adjustable settings
Very easy to clean and maintain
Insulated body and sealed door
Analog dial
What we don't like
Not suitable for high-temperature cooking
The Masterbuilt 30-inch is the best cabinet smoker for beginners looking to cook food at lower temperatures. It offers a variety of accessories that allow you to cook the meat just right, including three chrome-plated racks, an ashtray, a drip pan, a water pan, and a wood chip tray.
Moreover, you don't have to open the main cabinet to add more chunks but just use the side chip loading system to reach the wood chip pan. In this way, the smoker will be able to maintain its internal temperature and won't lose heat. 
The electric smoker also has an extra grease tray that can trap the excess grease drippings, which makes it easy to clean. We further like the addition of the digital controller and four-wheel castors.
You can use the advanced analog dial to set a fixed temperature and time range. There is even an attached thermostat, so simply plug in the smoker and let it do its work. 
The cabinet smoker is not only easy to assemble, but it can last a long time if maintained properly. It does not occupy a lot of space in your backyard, and since it is medium weight, you can carry or move it with no trouble at all. That's why we ranked it higher in our list and consider it the best insulated electric smoker compared to other models.
Weight: 45.9 pounds | Maximum Temperature: 275 degrees Fahrenheit | Material: Stainless steel | Cooking Area: 730 square inches | Racks: 3
Sale
What we like
Simple push-button ignition
Affordable
Dual cast iron burners
Sturdy steel body and door
Spacious cooking space
It comes with dual cast iron burners that provide excellent performance in all weather conditions. The smoker has six removable, durable and easy-to-clean cooking racks that let you adjust the height of the cooking area as per the thickness of the food.   
This smoker runs on propane gas and warms up quickly. Its double-door design helps you seal the internal heat and reduce the loss of smoke. That is why you can feed wood and water to the smoker without disturbing its main cooking chamber. 
Its internal temperature gauge has a "smoke zone" indicator, which makes it easy to monitor the optimum temperature and achieve a smoky flavor. The other attractive features include an easy button ignition system, quality firebox material, and a large water pan. 
We also appreciate that the Dyna-Glo provides an insulated blanket with this smoker. This cover helps maintain a consistent temperature and reduce fuel usage. You are guaranteed to get evenly cooked food with a classic BBQ smoked flavor on every occasion. 
Moreover, the stainless steel construction provides durability and an easy cleaning solution. To add more flexibility to your cooking, the cabinet smoker has pre-installed sausage hooks and chrome-plated adjustable rib racks. 
The Dyna-Glo is well made, produces great results, and is the best budget-friendly insulated smoker.
Weight: 90 pounds | Maximum Temperature: 350 degrees Fahrenheit | Material: Stainless steel | Cooking Area: 1904 square inches | Racks: 6
Sale
What we like
Easy to control
Large capacity
Grease management system
Lightweight
Occupies very little space
If you are on a budget, then the Royal Gourmet electric smoker is your best choice. This is an all-purpose electric smoker that can be used for smoking, steaming, grilling, and drying.
It has ample cooking capacity integrated with a fully adjustable digital controller. The electric gauge lets you control the temperature while the inbuilt thermometer helps you to manage the smoking time of the food.
This smoker has a timer, auto shut-off feature, and a door fitted with a latch that seals the smoker tightly, preventing the loss of heat. In addition, the spring latch doesn't get heated easily, which means you can open the smoker without scalding yourself. 
Cleaning it is very easy because of its chrome-plated cooking grates. Even other components like an ashtray and grease-dripping plates can be removed and washed properly to keep the unit in top condition. 
It even has a convenient grease management system that lets you collect oil residue in a large tray, and we even liked the removable wood chip box and water pan. In terms of performance, the double wall construction design helps retain maximum smoke and heat to deliver fully cooked meat in the least amount of time. 
Not to mention, with the three large adjustable chrome-coated grates, you can prepare a lot of food.
Weight: 48.3 pounds | Maximum Temperature: 240 degrees Fahrenheit | Material: Stainless steel | Cooking Area: 457.86 square inches | Racks: 3
Sale
What we like
An effective smoke generation system
Fully insulated walls
It can be used as a dehydrator or oven
Large cooking space
Automated feeding of wood chips
What we don't like
No wheels for portability
The Bradley BS611 BBQ Smoker is a fully automatic electric smoker with which you can simply load fuel once and smoke for long hours. It is a perfect smoker for rookies as well as professional home chefs, as the insulated smoker can accommodate four large grates, enough to feed a small to medium-sized crowd. 
Also, its multi-rack design allows you to simultaneously cook a large variety of foods. This smoker is fully equipped with push buttons and its interior is made of stainless steel, while the exterior is coated with epoxy powder. 
Best of all is the digital interface that is integrated with temperature, time, and smoke control functions. Its smoke diffuser system works continuously to get rid of the old smoke before it turns acrid. Because of this, your BBQ-smoked food won't taste bitter or ashy. 
We even found that it is very flexible in terms of its usage and works well at high and low temperatures. Moreover, the cabinet smoker has an automated digital controller that efficiently feeds wood chips to the heating chamber, which allows the briquettes to burn evenly and cleanly. 
That's why the fuel in this smoker lasts for a longer period as compared to some of its other counterparts. What we liked most about this product is that you can control the amount of smoke you need for cooking food – a great feature for getting a perfect smoky flavor.
Weight: 55 pounds | Maximum Temperature: 320 degrees Fahrenheit | Material: Stainless steel | Cooking Area: 572 square inches | Racks: 4
What we like
Rubber casters for wheels
Can consistently hold higher temperatures
Compact and slick design
Long power cord
Made from 100% 18-gauge 201 stainless steel
What we don't like
No remote heat sensor control
The Smokin-It smoker is a certified commercial use and premium-built cabinet smoker. It is a heavy-duty product that can accommodate a large quantity of food and if you are a fan of BBQ parties, you'll love this unit.
This smoker is highly durable since it is constructed with 18-gauge stainless steel material. While the built-in rheostat lets you set and control the internal temperature with ease, the tight seal helps you achieve a proper barbeque flavor. 
Its 400-watt heating element can successfully handle high smoking temperatures. For even better insulation, the Smokin-It smoker is integrated with fiberglass and LED light to protect the internal heat and smoke.
The three meat racks are large enough to hold piles of juicy smoked food. There is even a drip pan placed below the racks and other heating elements that trap the grease residue. Plus, the drip tray, racks, and shelves of this smoker are safe to wash in any dishwasher. 
Smokin-It has provided handles on each side for lifting or carrying its cabinet smoker. You can move the smoker around your backyard comfortably, as its wheels are attached with thick rubber castors for ease of portability.
It is pretty simple to use and operate, which makes the Smokin-It electric a great option for a hassle-free smoking experience.
Weight: 58.6 pounds | Maximum Temperature: 250 degrees Fahrenheit | Material: Stainless steel | Cooking Area: 505 square inches | Racks: 3
What we like
Useful dual door design
Includes 16 stainless steel meat hooks
Attractive, sleek look
High-quality, dual-walled construction
Consistent temperature
What we don't like
No digital settings or timer
When it comes to look and feel, the Broil King provides a sleek designed cabinet smoker that is straightforward to assemble. Moreover, the epoxy finish ensures it is protected from rust and lasts for many seasons.
The cabinet smoker comes with a dual-door design and you can use the first door to cook food while the second door holds wood chips and a water tray. You can access the wood chips box without disturbing the main chamber to prevent heat loss during the smoking process.
It has 4 standard stainless steel cooking grids and one large multi-purpose rack. Unlike other cabinet smokers, the Broil King smoker stands out because it has 16 stainless steel meat hooks. 
Even more pleasing is the advanced root-draft damper technology that regulates the temperature and the amount of smoke in the cabinet. It also has an advanced Ace-Temp thermometer used to monitor the internal temperature of the meat.
Weight: 70 pounds | Maximum Temperature: 900 degrees Fahrenheit | Material: Stainless steel | Cooking Area: 770 square inches | Racks: 4
What we like
Easy-to-clean interior
Red accent hinges
Efficient wood consumption
Large digital temperature display
What we don't like
Not enough space between the shelves
No automatic wood chunks feeder
This cabinet smoker from Big Wood is one of the best insulated smoker cabinets for outdoor cooking purposes. Due to its premium steel build, power and size, it is ideal for cooking large quantities of meats. 
The Big Wood Cabinet Smoker has three standard cooking racks that you can adjust per your needs. It has two heavy-duty slam latches and its tightly twisted door hinges keep smoke from escaping the cabinet box. Moreover, the unit even comes with side handles for ease of carrying. 
Unlike other charcoal smokers built with lightweight materials, the Big Wood Cabinet Smoker is sturdy and has a fully insulated interior. And its interior is made from smoke-deflecting material that allows balanced heat distribution. 
The smoker is split into two sections – the bottom of the unit houses wood chunks and a water pan, with the fuel pan providing heat and smoke. It also maintains a stable smoking temperature, while the top smoke chamber contains food and other accessories. 
You will notice that the large firebox can last for longer hours and the unit has a 7-inch thermostat that monitors and displays internal temperature changes. The most important parts are the two side vents and a chimney stack, as these elements increase the airflow inside the cabinet and reduce the burnt/ashy meat flavor.
Weight: 130 pounds | Maximum Temperature: 510 degrees Fahrenheit | Material: Stainless steel | Cooking Area: 370 square inches | Racks: 3
What we like
Two side viewing panels
Stable high temperatures
Uses less fuel
Good for low and slow smoking
Great for outdoor activities
What we don't like
No side vent to refill wood chunks
If you are a serious barbecue geek, you need this King Kooker Cabinet Smoker, as this heavy-duty smoker cabinet is an excellent choice for camping and feasts.
To add maximum flavor, the King Kooker cabinet smoker comes equipped with a hinged, tight-fitting door and a locking door latch. The exterior of the smoker is made of high-quality stainless steel that offers great heat retention and helps seal the heat inside the smoking cabinet firmly. 
Its high-pressure steel cast iron burner consistently supplies stable heat, which helps cook meat and vegetables evenly from all sides. The unit also has three chrome-plated cooking racks that can easily slide in and out of the smoker. 
A push-button ignition (piezo lighting system) with an LP hose and regulator allows you to adjust the inside temperature and smokiness. Also, a large temperature gauge and smokestack indicator on the front accurately display the fluctuations in internal temperatures.
The cabinet smoker has two side panels for viewing and the large door is fitted with a robust heat-resistant handle. This way, you won't lose much heat when you open the door while the smoking is in progress. 
It further includes a removable porcelain-coated wood chip pan and a water tray at the cabinet's bottom. This is important to enhance the smoky flavor of your food.  
Weight: 52 pounds | Maximum Temperature: 350 degrees Fahrenheit | Material: Stainless steel | Cooking Area: 506 square inches | Racks: 2
Top Insulated Cabinet Smoker Verdict
As you can see, many different types of smokers are available on the market today and while some are designed for indoor use, others are meant to be used outdoors.
We have proposed some of the best insulated cabinet smokers for your home. Our top pick, Cuisinart, produces outstanding cabinet smokers that give a vintage American BBQ flavor to your meat. 
So, if you're a novice and want a versatile, low-priced, and highly-rated smoker, then go for the Cuisinart Smoker. But other options worth considering include the Masterbuilt Electric Smoker for its attached thermostat and analog dial, or the Dyna-Glo Smoker, having an indicator and sausage hooks.
And with that, we'll leave you to make a decision. Enjoy the taste of smoked BBQ!