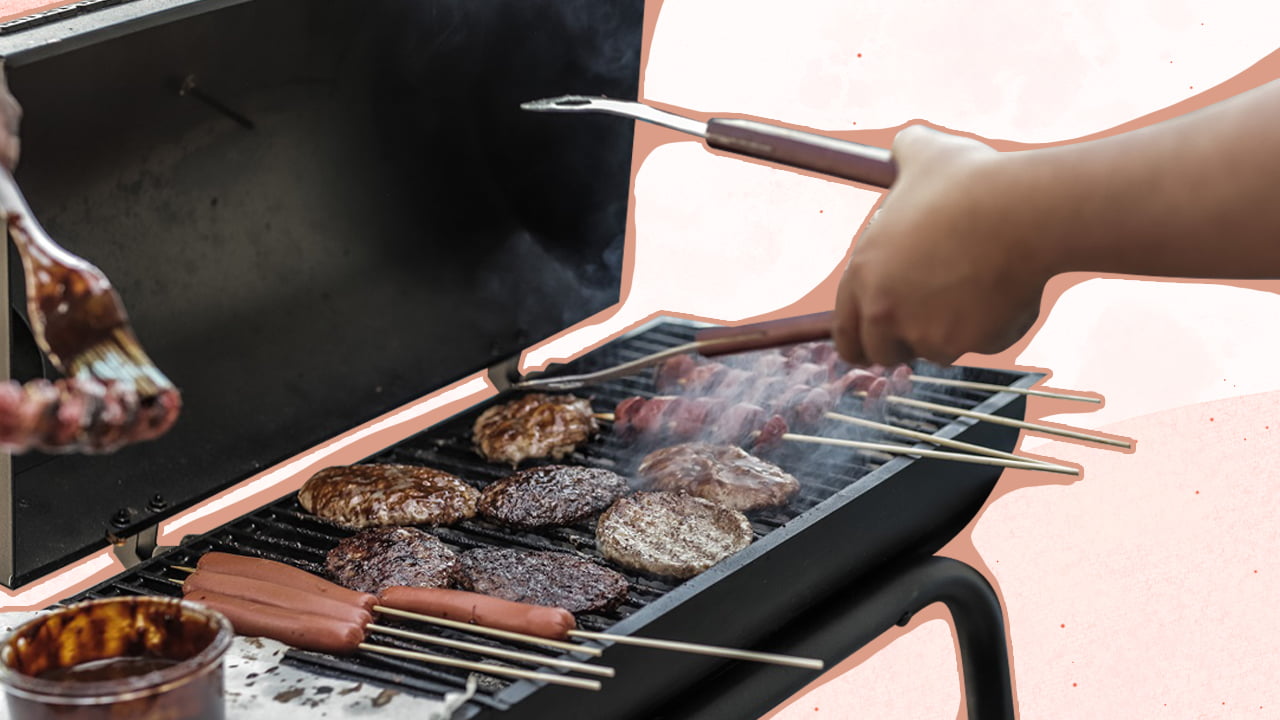 The most common materials for insulating a pellet smoker are insulation jackets, blankets, and cement boards. All you need to do is line up the insulating material, mark it and wrap it around the smoker, ensuring all gaps are sealed. 
Having the best insulated smoker allows you to enjoy tasty food from burgers to beef brisket. 
But what if you spend hours cooking turkey in your smoker, and it turns out half-cooked? Insulating your pellet smoker can save you from the embarrassment of serving half-cooked food to your guests. 
However, not everyone knows how to insulate a pellet smoker– so if you're among them, this guide is for you. Read on to know more! 
Why Should You Insulate Your Pellet Smoker?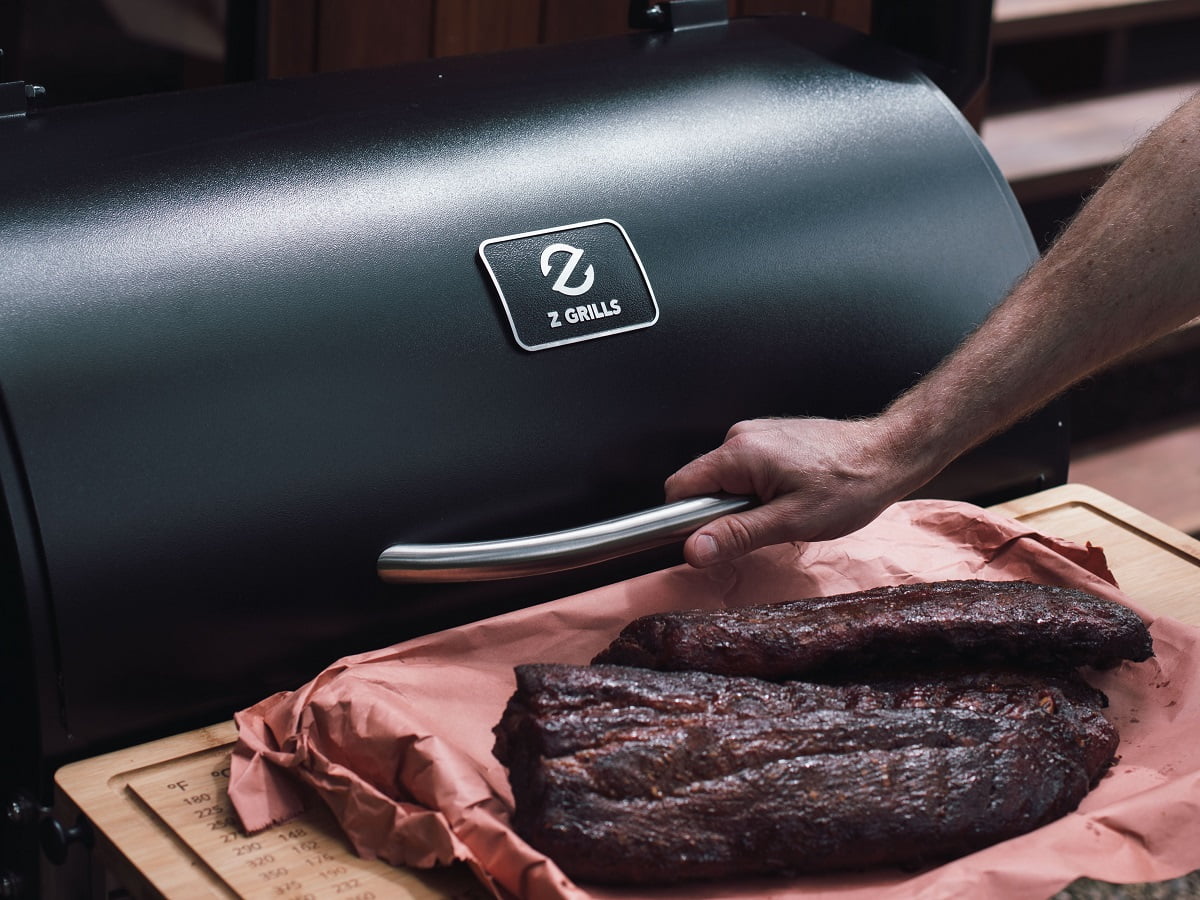 Before getting into the "how" of it, let's understand the "why" of it. Sure, insulating your pellet smoker helps maintain a consistent temperature in the cooking chamber, but there are other benefits too. Take a look:
1. Properly Cooked Meal
Since insulation retains heat in a smoker, it cooks food evenly and does not leave any bit raw. That way, food cooks comparatively faster and has a rich and smoky flavor. If your pellet smoker isn't insulated, you might have to settle for semi-cooked food. 
2. Cook In Any Season
It's difficult to enjoy a good barbeque in winter because the cold temperature doesn't let the pellet smoker heat properly. Therefore, most people find insulating their smokers highly effective during cold months. 
But the reality is insulation can help you cook more efficiently in any weather. Irrespective of whether it's summer or winter, an insulated smoker will always perform better than a non-insulated one.
3. Conserves Fuel
When a smoker is insulated, it doesn't allow much heat to escape, thereby preserving fuel. As such, the more heat it retains, the faster your food will cook, and less fuel will be used. 
4. Reduces Risks Of Burns
Not only do insulated smokers cook food faster than non-insulated ones, but they are also safe for use. Insulation blankets prevent the outer walls of smokers from heating too much. This reduces the risk of your kids or pets accidentally burning themselves by touching the smoker. 
Types Of Smoker Insulators
Knowing the different types of smoker insulators is important to find the best one for your device. As such, there are four different types of pellet smoker insulators, which are as follows: 
1. Insulating Jacket
Insulating jackets are the most convenient and stress-free option for smoker insulation. But the only problem is that finding custom-fit jackets for your pellet smoker is challenging. Made of aluminum-covered fabric, this type of insulation is highly effective for vertical smokers. 
Most manufacturers make jackets for smokers they sell, so it will be easier to find a perfectly-fitting jacket than other insulating materials. Another noteworthy aspect is that they are easy to use, so you won't face trouble installing them on your smoker.
2. Insulation Blanket
Much like insulation jackets, insulation blankets can be simply wrapped around smokers to save them from heat loss. They are also made from aluminum-covered material and are ideal for both vertical and horizontal smokers. Unlike insulated jackets, insulation blankets have an aluminum layer beneath the fabric. 
Also, you don't need to find a custom-fit blanket for your smoker– that's one area where insulation blankets are superior to jackets. Insulation blankets are highly versatile because they are designed to suit most pellet smokers. 
3. Welding Blanket
As the name suggests, welding blankets were initially designed to keep workers safe from sparks resulting from welding. These insulators are made from heat-resistant, inorganic, fibrous material, which can withstand temperatures up to 2500°F. However, we suggest checking the maximum tolerance limit of your welding blanket before using it. 
Welding blankets score high on versatility and can safeguard both smokers and grills. So, no matter which barbecue stove you own, a welding blanket is a reliable insulator. Furthermore, welding blankets are of three types– fiberglass, leather and felt. 
To help you pick the right one, here's a quick rundown of the three varieties: 
A. Fiberglass
Featuring woven fiberglass fabric, these welding blankets can effectively retain up to 700°F of heat and safeguard your smoker against cold temperatures. The best part is that these high-quality insulators are relatively affordable, which is why they are an excellent option for people on a budget. 
B. Leather
Leather might seem an odd choice for insulating your pellet smoker, but surprisingly, it is quite effective. This type of welding blanket is fire-resistant and can keep the surface of your smoker cool.
C. Felt
Made of carbon felt, this welding blanket repels flames and can sustain temperatures up to 1800°F. It is thick and rugged, so rest assured that it will last for many barbecue seasons. 
4. Cement Board
Cement boards are composite sheets made from fibers fortified with cement. They usually have two components – a fibrous core and fiberglass or paper-based covering. These boards are great for insulating the top part of your smoker. 
However, if you want your smoker to retain more heat, use cement boards with insulation jackets or blankets. And the best part is that cement boards can be used inside smokers, which makes them an ideal choice for the firebox of the smoker. 
How To Insulate A Pellet Smoker?
So far, it is clear that smokers are of two types – vertical and horizontal. Let's now understand how to build a insulated bbq smoker of both types.
1. Insulating A Vertical Smoker
As the name suggests, vertical smokers have a vertical orientation and may be either square or cylindrical-shaped. They are also known as cabinet smokers or box smokers owing to their build and can be operated using different fuels such as charcoal, propane, methane, etc. Since they have doors that open sideways, it is feasible to insulate only their bodies. 
A. Materials Required
Here's what you'll need:
Insulating material (insulation jacket, thermal blanket, etc.)

Knife or box cutter

Screwdriver

Aluminum tape

Measuring tape
B. Line Up The Material
Line up the insulating material against your pellet smoker from top to bottom so that the whole body is covered. But don't forget to leave space for the door, as you wouldn't want the material to interfere while opening and closing the door. 
C. Mark The Material
Mark the insulation material where you want to slit it to accommodate the handles of your smoker. Also, don't forget to mark other areas to make sure that the smoker fits snugly in the insulation jacket. 
D. Insulate The Smoker Firebox
Wrap the insulation material around the smoker and place it on top to ensure that heat is secured inside while cooking. You can keep the material a little loose on this part to allow more flexibility. 
E. Seal Gaps
Once you are done, carefully inspect the smoker to check for gaps in the insulation material. You must make sure that every part of the smoker is covered because even tiny holes will lead to heat leaks. 
2. Insulating A Horizontal Smoker
Coming to the second type of pellet smokers, horizontal ones are quite similar to standard barbecue grills. They have a large horizontal grill to place food inside and a lid to cover it, so heat doesn't escape. 
To insulate these smokers, avoid using insulation jackets as they aren't very efficient. Welding and insulation blankets can work wonders for smokers because they withstand heat better. 
You can follow the same steps as vertical smokers to insulate horizontal ones. But keep in mind that the temperature in the corners of a horizontal smoker varies. So, it becomes even more important to distribute heat evenly. Therefore, you can use an insulation blanket on top of the smoker to retain heat in the cooking chamber. 
How Much Does It Cost?
There are numerous ways to insulate a pellet smoker, and the total cost of insulating depends on the size of your device and the type of material you choose. Also, a number of tools are needed to install the insulation material. Some tools can be found in your garage, while you'll have to buy others from a local store. 
Those on a tight budget can opt for water heater blankets, plywood, or old welding blankets. They provide low to medium-heat security, and you can buy them for $20 to $40 to insulate your smoker. 
But if budget is not an issue and you can shell out some cash, we suggest buying insulation jackets or blankets. An average insulation blanket costs between $30 and $150, depending on the material and quality. Also, you must invest in a high-quality insulation material because it will retain heat excellently and last for the coming years. 
How To Insulate A Pellet Smoker FAQs ?
How To Regulate Temperature In Your Smoker?
Regulating the temperature in your smoker might seem daunting, but it's a pretty straightforward task if you know the right technique. Note that different regions of the smoker heat up differently, so approach the smoker accordingly when you want to regulate its temperature. 
To regulate temperature, you'll have to open its dampers and vents to allow better airflow. As a rule of thumb, don't open its lid, as it can disturb the cooking temperature, preventing your smoker from cooking food efficiently.
Is A Smoker Better Than A Furnace?
For people who are wondering, "is a smoker better than a furnace," let us tell you that both have their own pros and cons. While furnaces can cook food faster than smokers, they fail to add as much flavor and richness as the latter. But smokers are less efficient during winter, as they need higher temperatures to cook, which is difficult to attain on chilly days. 
So, yes, it can be said that smokers are better than furnaces in terms of flavor and efficiency; but when it comes to speed, furnaces are superior to the former. 
Can Smokers Be Used When It's Raining? 
Yes, pellet smokers can be used outdoors when it's raining; however, you must avoid using them in heavy rain. At times, chilly winds accompany mild showers, so you must keep your smoker under a tent or other shelter to protect it from water.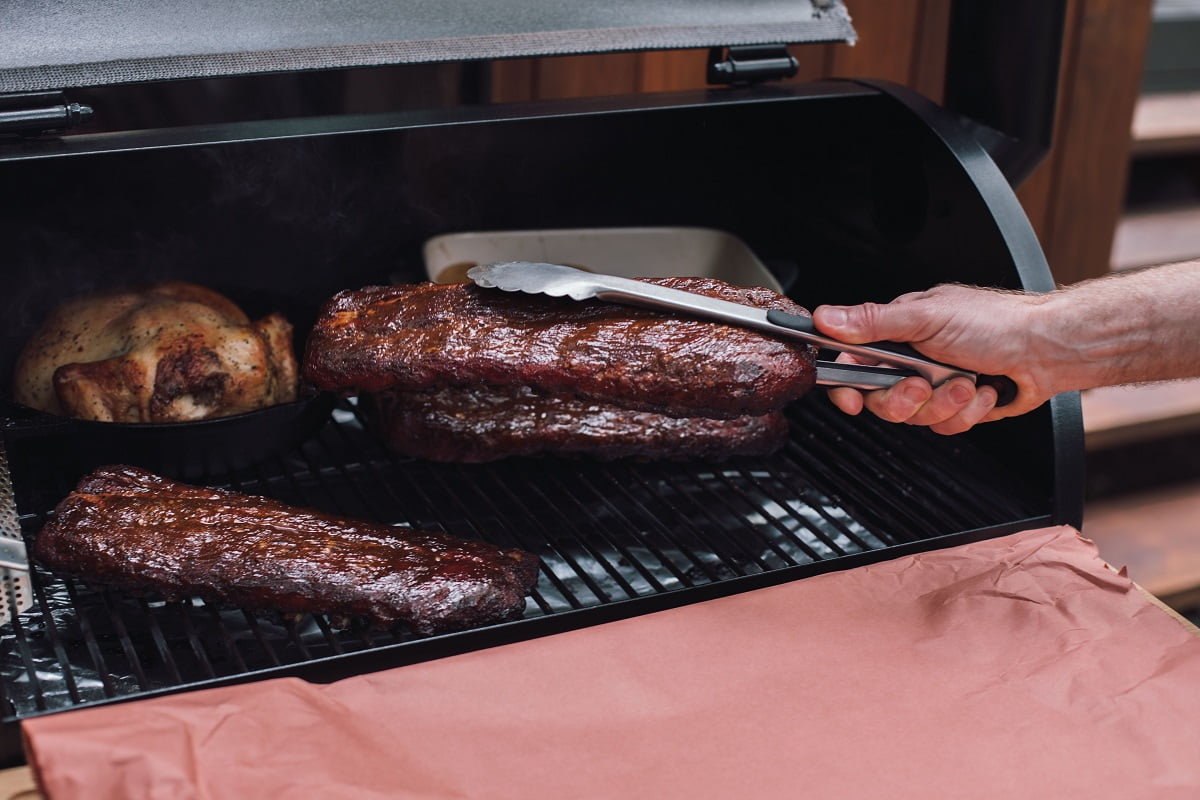 How To Insulate A Pellet Smoker Verdict
Farm-style BBQ ribs, chicken, beef briskets, or Alaskan salmon– pellet smokers allow you to cook tasty meals outdoors, which you can enjoy with friends and families. But if the food isn't as flavorful as you want or is semi-cooked, it can rain on your parade. 
Therefore, insulating your pellet smoker is a must to enjoy rich, flavorful food. In addition, it can significantly reduce cooking time, allowing you to use your smoker all year round. Hence, you can host barbecue parties not just in summer, but also in winter and monsoon. 
Checkout our next article on how to clean a smoker grill easily and efficiently without creating any mishaps.
So, if you are wondering whether buying an insulation material is worth it, think no more. Get a jacket or blanket for your smoker right away!