If you think washing and cleaning are tough jobs, wait till you shop for a water-pressure washer!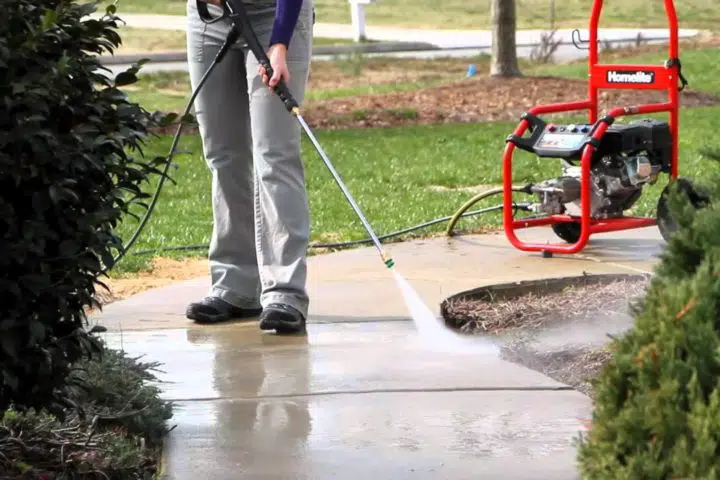 Although it doesn't sound that hard- instead, back in the early 2000s, it wasn't even remotely challenging to buy hot water pressure washers. There were fewer brands, simpler features, and fundamental expectations. But, nowadays, the market is flooded with such a wide variety of products that it makes it impossible to choose. 
And that's because hot water pressure washers have evolved significantly over the years, and now are providing features that we, the average customers, don't have any idea about. So, the question here is- how would you know which product to opt for to satisfy your needs without breaking the bank?
Don't worry; we have enlisted 9 of the most versatile models you'll find in the market under an affordable budget. Also, we have included a brief buyer's guide for your convenience, so don't forget to check it out.
Now, let's begin!
Best Hot Water Pressure Washers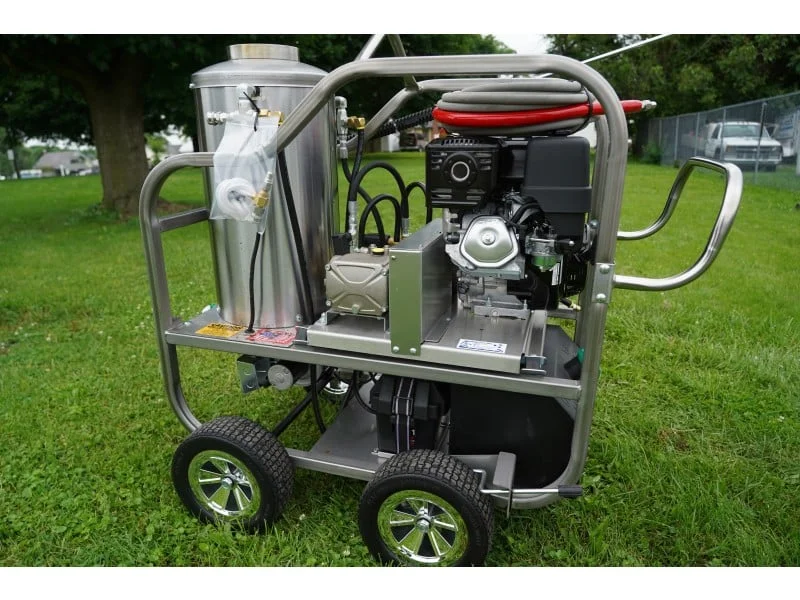 Moving forward to some best-value products, the NorthStar Pressure Washer bridges the gap between professional and personal machines with its standard efficiency. Although we mainly recommend it for heavy-duty professional use only, as its 4000 PSI motor makes it a piece of appropriate heavy-duty washing equipment. Have an inside scoop of this model from us.
Why did we like it?
The main reason why we like this model is despite being excessively powerful for personal jobs; it allows us to tone it down and operate it for standard jobs with precision. If we compare, this model offers a maximum boost of 4 GPM, whereas our top recommendation SGP-353037 offers a striving 3.5 GPM. At the same time, it has a maximum operating pressure of 4000 PSI, whereas the SGP-353037 provides 3300 PSI.
This model can produce up to 250 degrees of heat, which makes it suitable for cleaning mud and debris from harsh surfaces. Plus, its performance can be adjusted according to the task requirements, which enhances its versatility by a great deal. Its strength is also raised by its forged brass manifold, which makes it a sturdy and durable machine to consider.
This diesel-powered model also comes at a lower price than the SGP-353037, despite offering higher performance. So, in case you're searching for a high-powered machine but can not afford one, you may need to give it a try.
What could have been better?
First of all, the critical advantage that the SGP-353037 has over this model is portability, without a doubt. It's quite tricky and stressful to move this heavy machine around, as it doesn't come equipped with a wheeled cart. Furthermore, the manufacturers must fit a drain plug on this model to remove the water, as it's hard to use around colder temperatures.
Pros
4000-PSI operating pressure

Can boost up to 4 GPM

Suitable for cleaning mud and debris

Best-value experience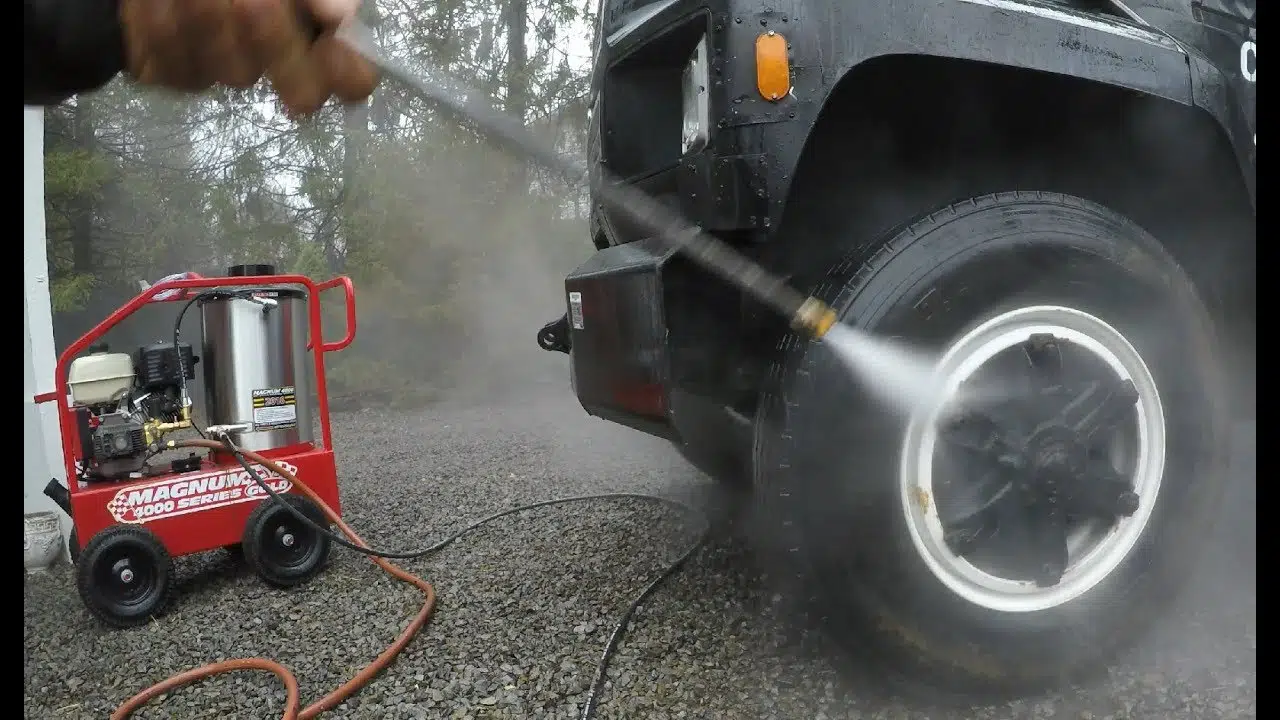 Small Hot Water Pressure Washer Buyers Guide 
Are you aware of what makes a hot water pressure washer qualify as an outstanding model? There are numerous features to cross-check, which helps in deciding whether the product is worth your investment or not.
And that's why we have enlisted the significant factors to keep in mind before you buy one, which is as follows-
Maximum heat
Not many of us know, but if you're planning to clean impurities like oil and grease, the water has to be heated at a minimum of 150 degrees. Likewise, if a product doesn't provide an average heating level of 150 degrees, there wouldn't be much cleaning you can do with it. Just to be safe, buy the ones that offer at least 200 degrees, as those are eligible for versatile applications.
Hose Material
Most of the hose pipes in cheaper products are built with low-quality rubber, which doesn't last long while dealing with higher temperatures on the daily. Just make sure that if the hose is rubber, then it's either Nitrile or silicone rubber; otherwise, it's a waste of your investment. Only these two types of rubber are resistant to extreme temperatures.
PSI level
Being a pressure washer, the machine must offer a higher operating pressure. If you have commercial needs, it'd be wise to opt for a model that provides at least 3000 PSI. Although the ones that offer lower PSI are still ideal, they aren't as efficient at removing oil and grease. The higher the GPM and PSI, the greater the cleaning power the model would be able to generate.
User convenience
Not to forget, hot water pressure washers are naturally huge and bulky. Most of the time, these products are too huge to move freely, for which you'd need a sturdy roll cage. So in case you aren't lucky enough to find a compact and lightweight model, double-check whether the manufacturers are providing a durable steel roll cage with sturdy pneumatic wheels for easy transportation. 
Product type
There are mainly three types of hot water pressure washers, namely electric, gas-powered, and diesel-powered models. The electric ones are quite durable and require low maintenance, although they are utterly inefficient without electricity. On the other hand, diesel and gas-powered models do not require any external source of energy to be operated, although they aren't as compact and portable. Also, although the electric models are the best for indoor use, the latter two are better used outdoors.
Conclusion
Before we take our leave, let's have a quick highlight of what we've learned- NorthStar products offer the highest operating pressure and heat level in the market right now. SIMPSON is the best choice if you're looking for higher user convenience. Last but not least, Shark is your go-to option if you're intrigued by the best values and good-quality products.
On that note, we hope that you've enjoyed going through our top 9 small hot water pressure washers list. Have you learned anything new about hot water pressure washers through our article? Or do you believe we've missed out on something? 
Go down to the comment section below and share your thoughts with us! We'll see you soon with more content on your daily tools, and until then, stay tuned!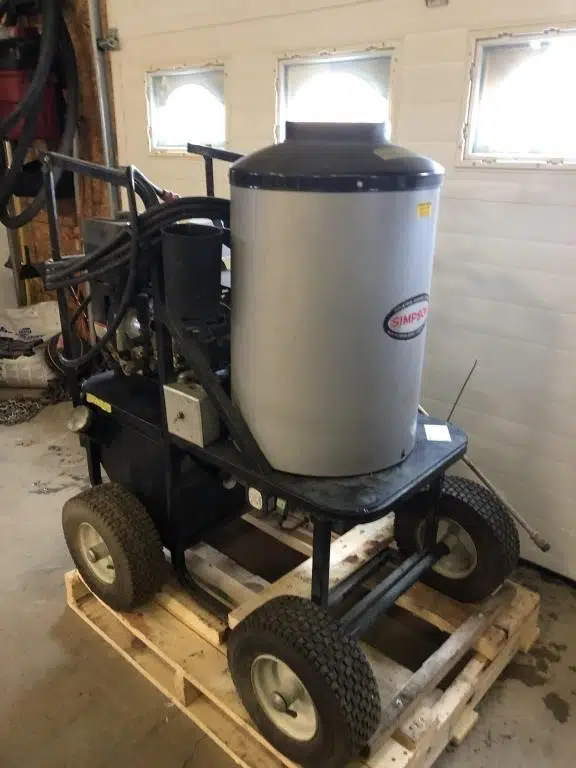 Related Articles
13 Most Powerful Electric Pressure Washers