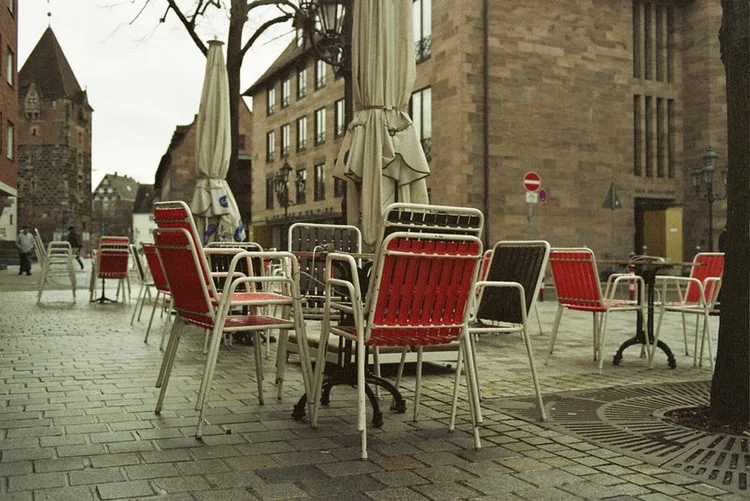 Wondering how difficult it could be to find a patio table? Well, there are a lot of considerations one has to keep in mind.
Our understanding came when we were on the hunt to find that perfect table for our space. A lot of considerations found their way in as we surfed through thousands of reviews. There were details we never thought were vital until we actually began to use the products. 
So to make life a little easier for our readers, here is a list of the ten best options for patio tables. We hope you find the one which fits your needs.
Best Small Patio Tables With Umbrella Hole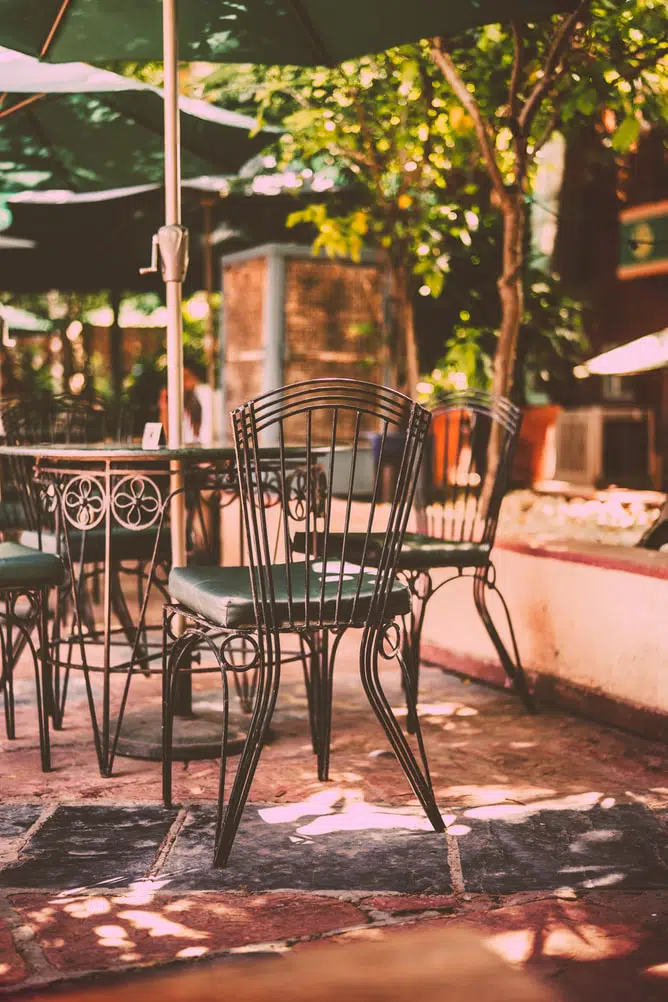 Each table has been carefully selected based on its design, durability, size, and customer reviews. So, if you're ready to transform your outdoor space into a comfortable and shaded retreat, here's the list of the 6 best small patio tables with umbrella holes that will elevate your outdoor experience.
Are you looking for a patio table that you could use indoors as well as outdoors? This one was our go-to choice when we had the same requirements. Made of cast aluminum, this table was a very sturdy choice to make and was easily able to take ample weight.
Why did we like it?
We found PHI VILLA's patio table to be an excellent choice for keeping outdoors as the surface is weatherproof and rustproof. There were instances when we had left the table outside in the rain for over two days, and at the end of it, the table was spotless with no sign of rust. 
Additionally, this patio table is intricately designed, and we were delighted with the artistic expression that it exuded. The unique edged designs and minimalist legs made it a treat for the eyes. And on top of that, the tabletop looks rather lovely with its intricate carving and frosted surface.
In case you are planning to place the table inside, it would match beautifully with teak or dark-colored furniture. In an outdoor setting, you could match it with dark-colored grills or gates.  
With a dimension of 32*32*29 inches, this table had enough space for a pile of books and a flower vase. It is also very sturdy, and we have used it as a leg rest too. 
What could have been better?
We thought this was a very sturdy option to select, but if you are looking at portability or moving and storing this table, it may be a problem as this table isn't foldable. This is one feature that we thought could have been added to the otherwise perfect patio table.
Pros
Weatherproof and rustproof

Exquisitely designed

Very Sturdy
Material: Cast Aluminum | Shape: Round | Size: 32″ Diameter | Weight Cap.: 150 lbs | Hole Size: 1.7″
If you are looking for a metal square table, the Phi Villa patio table is a great choice to make. With an area of 37 inches, this table is broad and can be used to keep four dishes. We had a kid party at our place, and this table worked wonders as four kids could be seated at one table. 
Sale
Why did we like it? 
The simple and elegant feel of this table stole our hearts. Imagine sitting outdoors on a warm summer afternoon under an umbrella with this table holding a glass of juice and the book you are currently reading. This table exactly gave us that level of comfort. 
The metal frame is e-coated and needs no special maintenance. It is rustproof and weather-resistant, too, which makes it a good option for outdoors. We especially loved the smooth metal finish and how it added an extra touch of perfection to our patio.  
 This table comes with bowed legs, which enables it to save space, and you could easily keep something underneath without any issues. Additionally, it was effortless to assemble, and we did it ourselves without any outside help. 
Also, the umbrella hole is 1.57 inches, which fits almost every umbrella available in the market quite snugly. 
What could have been better?
This item exactly gave us what it promised, and we were completely satisfied. The only issue we found in this is the same as the issue we pointed out with the first model. The table is heavy and not foldable, thus making it difficult to store if needed. 
Pros
37 inches table area

Bowed legs save space

E-coated metal frame

Rust and weather-resistant
Material: Aluminum frame, Glass top | Shape: Square | Size: 37 x 37 x 28″ | Weight Cap.: 150 lbs | Hole Size: 1.57″
If you are looking for a table that will enhance the aesthetics of your patio, garden, or pool area, the Lokatse Home Patio table is an excellent choice to make. With a rhombic-shaped grid design, this table looks very different from the beginning three products and will surely leave your guests stunned.
Why did we like it?
We were looking for style and comfort together, and this gave a combination of both. With a sturdy steel frame, this product is rust-resistant. We placed it near our pool, and it often faces splashes of water when the kids come out of the pool. It has been months now, and we have not seen any rust on the product.
Additionally, it is large enough for four people to share the space. The hard surface is easily cleanable, and you do not need to be worried about occasional spills. Also marks left behind by mugs and plates can be wiped off easily and will not permanently stain the table.  
Another feature we will talk about is the empty space below the table. There is a compartment between the grills that could be used to keep magazines in case you need to empty the table suddenly. 
What could have been better?
Since this table came with space below it, it could be used more efficiently if easy access was provided. A slit on top between the grills and the tabletop offers the only access currently, which is a bit of a hindrance to reach. Otherwise, we have no complaints about the product.
Pros
Large tablespace

Rust resistant

Stylish and has intricately designed grills
Cons
No easy access to the bottom space
Material: Steel frame, Glass top | Shape: Square | Size: 21.8 x 21.8 x 18.5″ | Weight Cap.: 50 lbs | Hole Size: 1.57″
If you want to add a classy touch to your patio, balcony, or backyard, the Vingli Dining table gives you the option of a patio table with a glass top. The glass makes the table look very attractive and adds to the minimal decor around it. Place chairs and add an umbrella, and you have the perfect sun-downer to enjoy. 
Why did we like it?
Glass is always a preference when it comes to beautifying your backyard, and this is the reason why we chose the product. The glass used is tempered and is 5 mm thick, which could easily hold up to 160 lbs, which is a lot. We had placed heavy casseroles on the tabletop without worrying about it breaking down. 
Additionally, it has a tabletop space of 31.5 inches, which would suffice for four people comfortably. This table also comes with rubber gaskets below the table frame to prevent scratches. 
To add to all these wonderful features, the glass table is designed to impress. We got this table before a party in our backyard, and we kept a white center mat on it with a flower vase. Tea and snacks could easily fit in with this setting, and our guests loved the look and feel of it. 
What could have been better?
We loved the glass surface and the extra touch it added to our decor, but we should tell you beforehand that the patio table is pretty heavy and not something you would want to move around often. If you're going to keep it in one place, then go for it without a second thought. 
Pros
5mm scratch-proof glass surface

31.5 inches of table space

Non-slip table legs
Material: Steel frame, Glass top | Shape: Square | Size: 31.5 x 31.5 x 28.3″ | Weight Cap.: 110 lbs | Hole Size: 1.8″
If the environment concerns you a lot and you want to choose an eco-friendly product, the Giantex Patio Rattan Wicker Umbrella Side Table is something you can look at. Made with PE rattan material, this table will cater to all your needs without being a problem for the environment.
Sale
Why did we like it?
The best part about using rattan is that it is designed to be UV resistant as well as water-resistant. We did not need to worry about it becoming brittle or coarse.
 Also, white rattan is used for the sides, and this table comes with a steel frame and a metal tabletop. Here again, the metal is rust-free and provides a sturdy surface to place any kind of food and beverages. 
Moving over to the table in general, unlike the previous model, this table is lightweight, and though one cannot fold it, it can easily be moved from place to place. Also, the square shape of the table enables four people to sit on four sides even though it has a smaller table space of 21.5 inches.  
Coming to the umbrella hole, is wide enough to hold any umbrella without the fear of it falling off or bending over. 
What could have been better?
It is a beautiful table to look at, but assembling it took us an ample amount of time. Though instructions are given, it is a little bit of a complicated process, and it would be great if you could get a professional to help. Once the setup is complete, you need not worry about anything else. 
Pros
Use of eco-friendly material

Lightweight

Rust-free metal top and frame
Material: Steel frame, PE rattan wicker | Shape: Square | Size: 22 x 22 x 18.5″ | Weight Cap.: 110 lbs | Hole Size: 1.6″
If you are looking to brighten up your patio space, this is the product to go with. The Flash Furniture 35.25″ Round White Indoor-Outdoor Steel Patio Table has a very quaint look to it and comes with a rain flower printed top, which makes it all the more alluring. 
Sale
Why did we like it?
If a patio table to keep outside your cafe or restaurant is on your mind, this pretty product will impress you. It is versatile and can be used to beautify any place you keep it. 
Made with steel, you do not have to worry about the table breaking or catching rust as it is rust-resistant. We would still recommend you not to leave it outside during the rainy season to be on the safer side. 
Moreover, if you are not looking to spend a lot on a table, this is a budget option to make. The price is comparatively lower than most of the products listed here, whereas it is one of the prettiest out of all of them. 
To add to the features, the umbrella hole is wide enough to hold any type of umbrella, and the table is sturdy enough to not fall from the weight. 
What could have been better?
Though the product itself was satisfying, we faced a little issue with one of the legs. It would not touch the ground, and we had to place a 1-inch wooden block below to adjust it. We could have asked for a replacement, but we did not want to go through the lengthy process of waiting for a new one. 
Pros
Rain flower design

Aesthetically pleasing

Rust resistant
Material: Steel frame, Metal top | Shape: Round | Size: 35.25″ Diameter | Weight Cap.: 150 lbs | Hole Size: N/A
Best Small Patio Tables With Umbrella Hole Comparison Table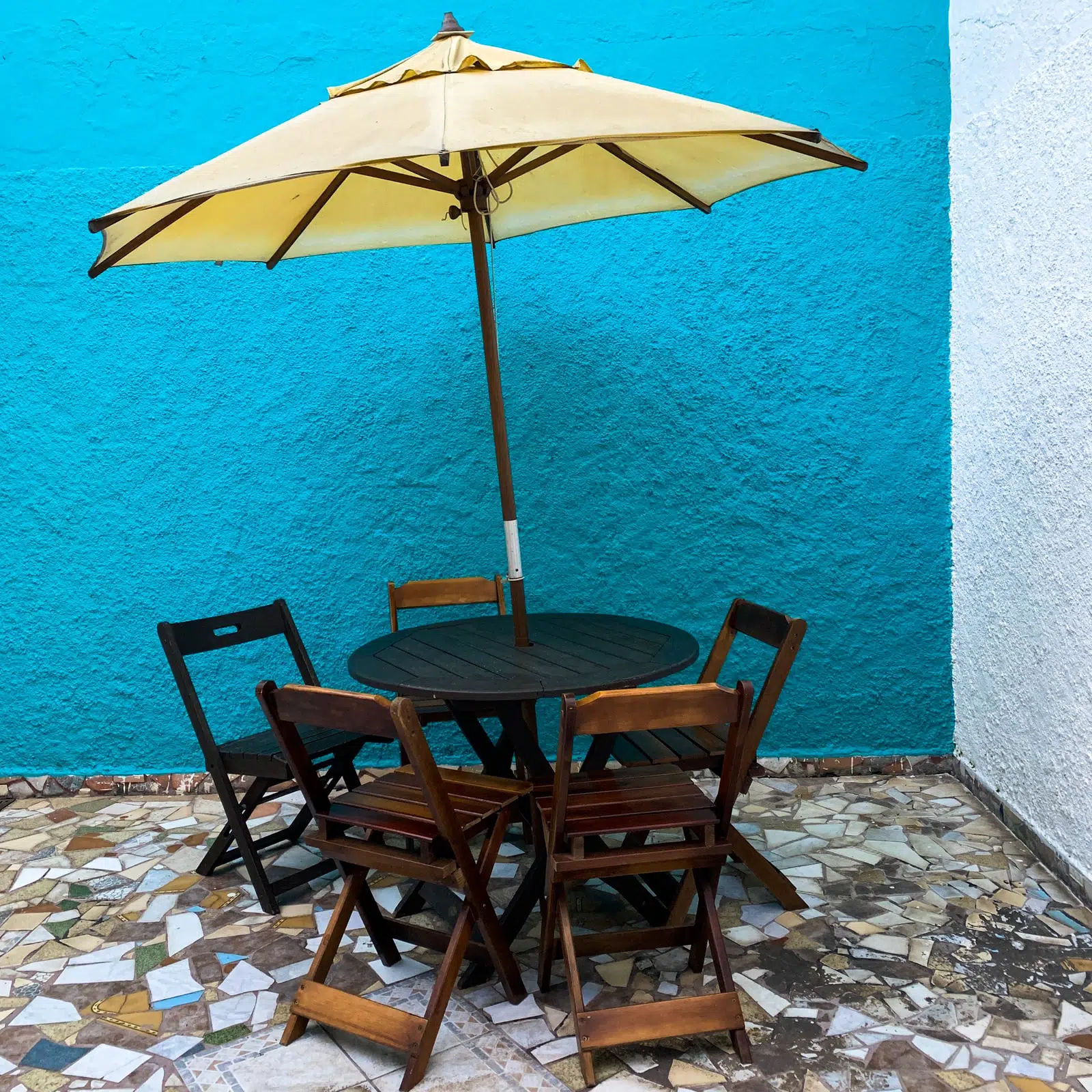 Buying Guide For The Best Small Patio Tables With Umbrella Hole
Now that you are well aware of the different types of patio tables available take the next step and read through the guide where we have listed down the details which you should note down before proceeding. It may seem like an easy task, but buying the wrong table could cause a lot of problems later on. 
Sizing 
Measure the amount of space you have on your patio or balcony. You need to have an estimation of the empty space available before you decide on a product. This is crucial because if you buy one too big, then it would overpower the area and would become a hindrance for people to move around it. A smaller table will clearly not serve the purpose. 
One rule we recommend living by is to allow 18 to 24 inches per place setting and 6 to 12 inches between the settings if you are buying more than one table. Also, remember to consider the amount of space needed by the chairs you will want to place around the table. Only considering the size of the table may be risky. 
Usage
It is crucial to decide why you need a patio table. Determining the usage will help you determine the type of table you need. If you want a table to keep a lot of things or if you are looking at organizing dinners outdoors, you should opt for a table with a larger space. If aesthetics is on your mind, a glass table or a white one would add an extra touch to your area. A smaller table will be perfect for those who want one for personal use or those who mostly work from home and want a cozy corner outdoors. 
Look and feel
Tables are available in many kinds of materials beginning from glass, and metal to resin. It is also essential to see the surroundings and make a decision based on what will match best. If your patio has white furniture, go for a white table to complement it, a black metal one will look like a misfit. 
If you are into dark furniture, go with a darker shade of a light-colored table with dark-colored chairs. Mix and match with colors and opt for one which fits right in.
Safety
If you have kids or pets in the house, it is best not to go for a glass table as there are chances of it breaking or cracking. Also, do not opt for a table with sharp edges as kids might get hurt. A circular metal or resin product might be an excellent option to consider.
Small Patio Tables With Umbrella Hole FAQ's
Can I use any umbrella with a small patio table with an umbrella hole?
Small patio tables with umbrella holes are designed to accommodate standard-sized patio umbrellas. Most tables feature a hole with a diameter that fits common umbrella sizes. However, it is still essential to check the dimensions of the umbrella hole and compare them to the size of your umbrella before making a purchase. Ensure that the umbrella pole fits securely in the hole to provide stability and support.
What materials are small patio tables with umbrella holes made of?
Small patio tables with umbrella holes are available in various materials, each offering its own set of advantages. Common materials include aluminum, steel, wood, wicker, and plastic. Aluminum and steel tables are durable and weather-resistant, while wood tables offer a natural aesthetic. Wicker tables provide a classic and stylish look, while plastic tables are lightweight and easy to clean. Choose a material that suits your preferences, desired level of maintenance, and the overall style of your outdoor space.
Can I use a small patio table with an umbrella hole indoors?
Small patio tables with umbrella holes are specifically designed for outdoor use. While you can use them indoors if you prefer, they are typically designed with weather-resistant materials that may not be ideal for indoor settings. Consider the design, style, and functionality of the table to ensure it complements your indoor space if you choose to use it indoors.
How do I choose the right size of small patio table with an umbrella hole?
When choosing the right size of a small patio table with an umbrella hole, consider the available space on your patio or outdoor area. Measure the area where you plan to place the table and ensure that there is enough room for both the table and the open umbrella. Additionally, consider the number of people you expect to accommodate and their seating requirements. Opt for a table size that allows comfortable seating and movement around the table when the umbrella is in place.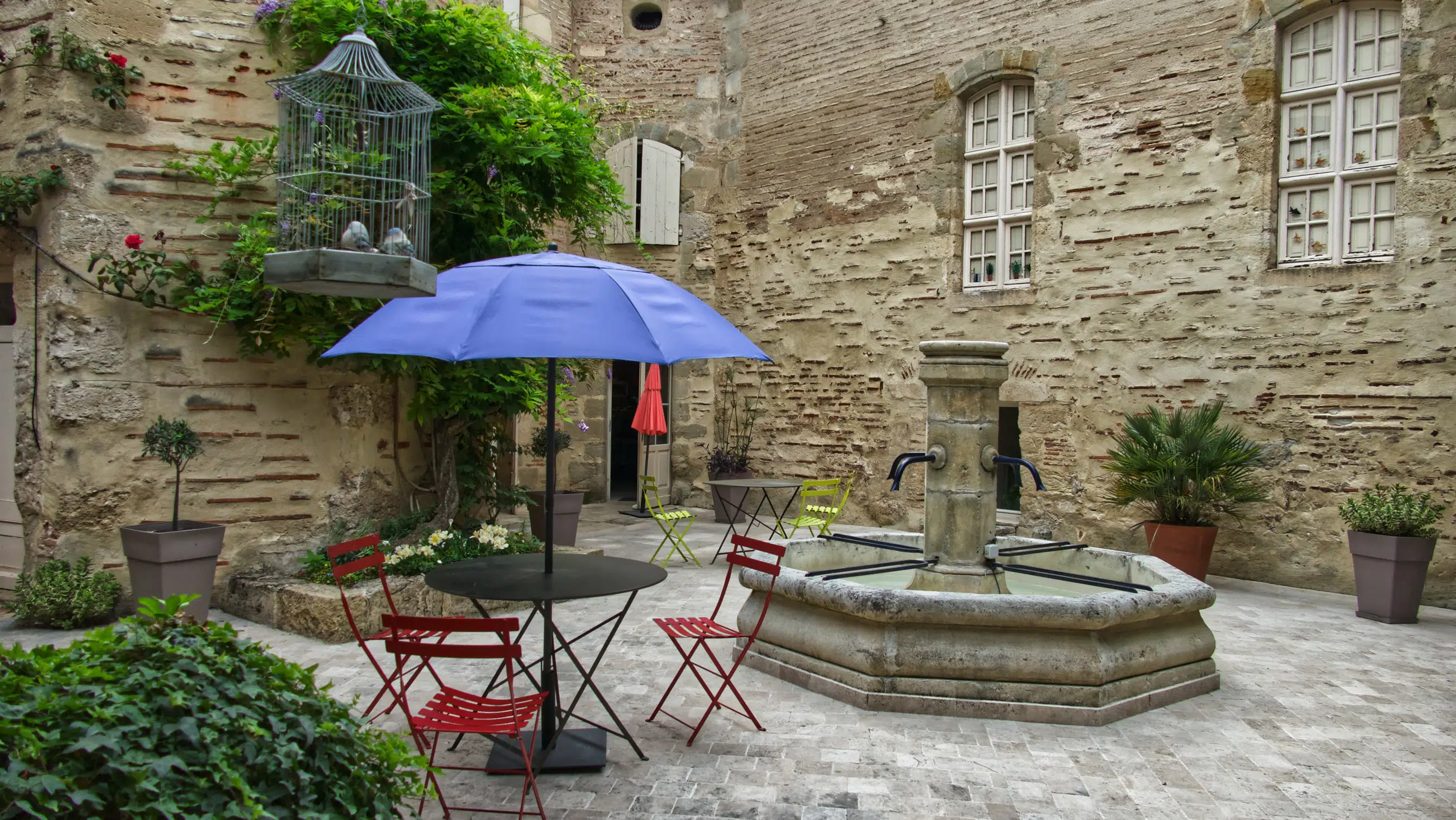 Conclusion
It is a tough choice to make as all of these products have their own sets of pros and cons. But overall, the Giantex Patio Rattan Wicker Umbrella Side Table is our choice if you are looking for an eco-friendly product. Thinking about the environment is a significant thing to do today, and even for patio tables, we have an eco-friendly item listed.
Finally, we have come to the end of this guide. By now, you have a fair idea as to how to go about choosing and buying a patio table. We recommend you to look at the prices too before you decide as the price varies a lot from product to product. 
That being our last suggestion, it is time to hit the shopping website and make a purchase. We hope you select something which fits all your needs. Happy shopping!
Related Articles