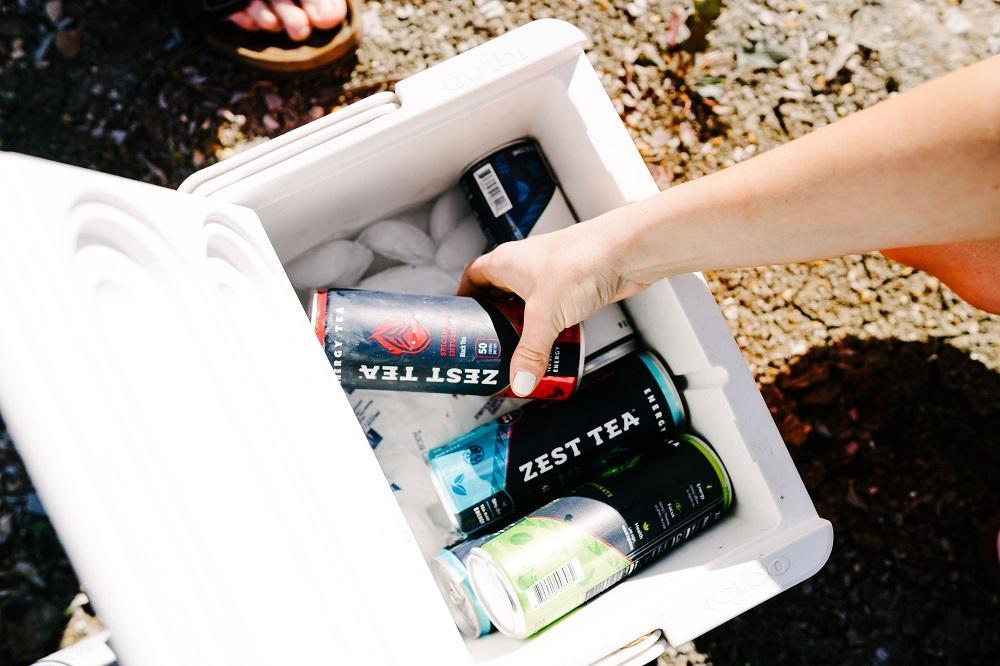 What's worse than a warm glass of beer at an outdoor BBQ party? Absolutely nothing. 
A long week calls for a little unwinding time with friends. From camping in the wilderness or picnic on the beach – no celebration is complete without some chilled drinks for a toast! 
That's when you need an effective outdoor patio cooler. The best patio cooler is more than just an icebox. It should be stylish enough to blend with the patio furniture and offer mobility for added convenience. 
QUICK COMPARISON: Top Outdoor Patio Cooler
And of course, it should be able to retain ice and keep your drinks chilled for a long time. 
However, the market is booming with tons of options, which may get overwhelming if you are looking for a quick solution. Thus, we have done the research for you and selected 11 fashionable yet functional options to cater to different preferences. 
So, without further ado, let's take a look! 
Best Outdoor Patio Coolers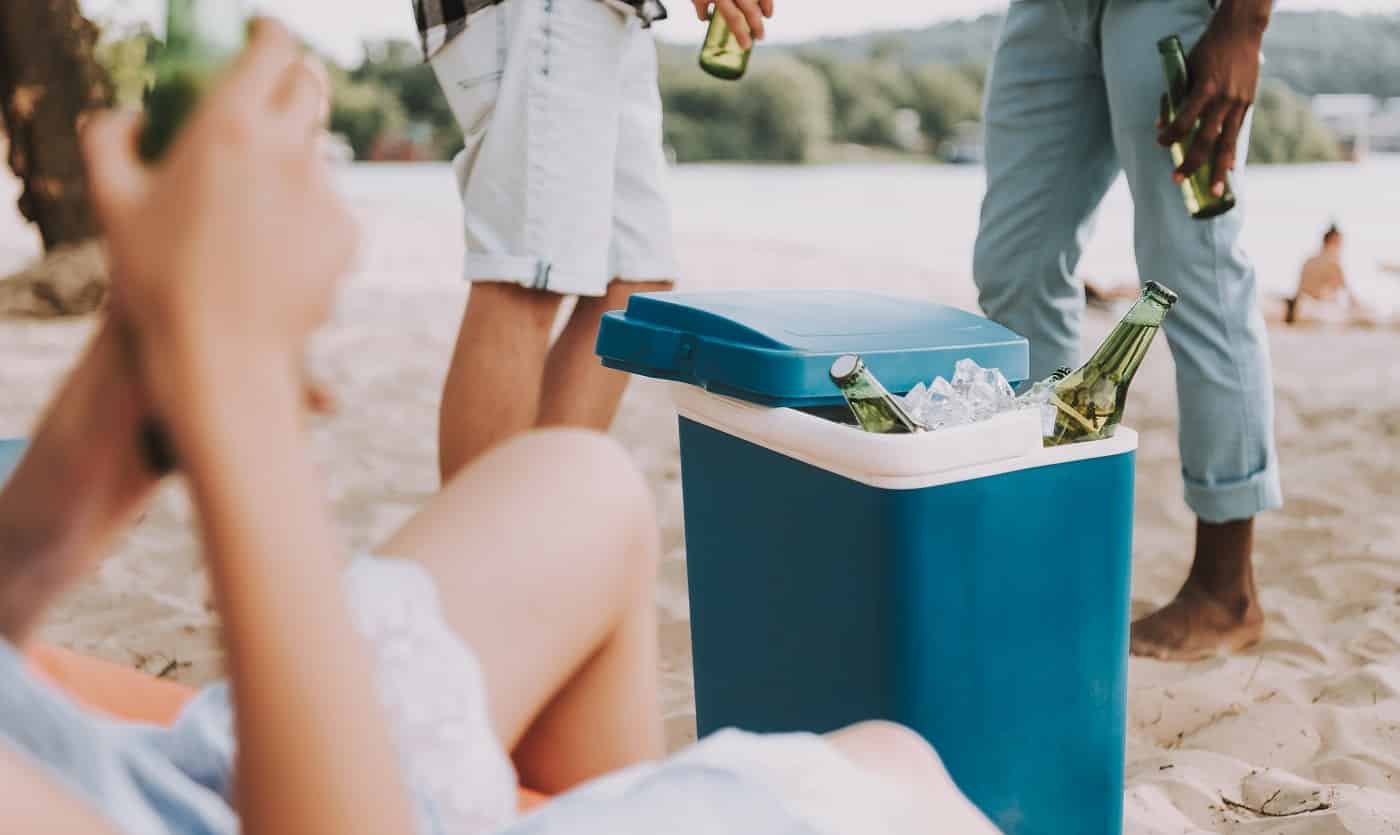 Sale
A large capacity and portability go hand in hand with this polypropylene wheeled cooler. This unit not only looks beefy but also manages to hold and chill a large number of drinks. With a comfortable handle and soft-ride wheels, anyone can carry around this otherwise bulky outdoor cooler with ease.
Why Did We Like It?
Although this outdoor cooler from Igloo is not as attractive at first glance, its features are too good to ignore.
First off is the polypropylene body with its thick Ultratherm foam interior that offers superb ice retention. Its cooling ability lasts up to five days so you will never have to worry about drinks or other food getting warm and stale.
Adding to its robust design are the stainless steel hinges and nylon wheels. Both provide maximum durability and easy maneuverability in the long run. Due to its large capacity, when not being used for freezing, you can even use it as a storage box while traveling.
Igloo proved its place as the leader in wheeled coolers by providing a horizontal telescoping handle, putting less weight and pressure on the user. Also, the handle features a cushiony covering for a comfortable grip.
What Could've Been Better?
Although the hinges are made of stainless steel, the construction is not robust. You have to be extra careful about closing the lid properly, or else the ice melts quickly and drinks do not stay cool enough.
Moreover, if you are looking for a stylish patio cooler, this unit may not be the right choice.
Pros
Value for money

Spacious

Durable built

Ergonomic handle design

Easy to move around
Cons
Weak hinge construction

Design may be too simple for some users
Available in a range of different colors and designs to choose from, this vintage-style patio cooler is a head-turner! But it does not end there. Featuring two handles on each side and caster wheels, you can quickly move and lock this cooler on any surface. Also, this unit is built to last with its weather-proof and rust-resistant coating.
Why Did We Like It?
Of course, its luxurious design was the first thing that caught our eye. Although a bit pricier than the previous products on the list, this patio cooler looks and feels premium. Moreover, Permasteel ensures a lasting first impression with a durable powder finish that makes their product weather-proof and rust-resistant.
Measuring 37.5 x 20.25 x 33.5 inches with a capacity of about 1300 oz., this patio cooler suits bigger parties and events. Its easy-to-open lids and storage shelf ensure quick access with ample storage.
The handles on each side and caster wheels provide ease of movement. Additionally, two of the wheels feature a locking mechanism, making the patio cooler stiff and sturdy when needed.
Lastly, the accessories attached to this cooler come in handy in cleaning and maintenance. A one-stop solution for all your outdoor cooling and storage needs, this attractive patio cooler justifies its slightly higher price range.
What Could've Been Better?
Despite boasting a huge capacity, the weight of the product itself is just 49.5 pounds, and the wheels show a slight wobble. So, users must be cautious before stuffing too many cans/ bottles inside. Moreover, with extended use, the color of the product chips off.
Pros
Beautiful vintage look

Several design and color options

Huge capacity

Weather-proof and rust-resistant

Easy-to-use lids, handles, and accessories
Cons
Paint wears out

Wobbly wheels
Want a beverage cooler that offers a large capacity, durability, and style? Look no further because this product from Clevr checks all the boxes. Suitable for small to medium crowds, this alloy steel cooler features a rattan wicker surface, providing you style that lasts. With a convenient storage shelf and additional features, this outdoor patio cooler delivers excellent value for money.
Why Did We Like It?
One of the best affordable picks on our list, this portable beverage bar is perfect for all of your outdoor dinners and family gatherings. Due to its 80 quarts capacity and strong steel construction, this outdoor patio cooler can conveniently fit in around 100 cans of drinks.
Additional features like a storage shelf, removable lids, drain spout, built-in bottle opener, etc., make the product easy to use, clean, and maintain. Moreover, its multi-directional wheels with wheel brakes help in free movement and sturdiness, as and when required.
This insulated cooling storage features an all-weather woven rattan wicker surface, making it look stylish and moisture-resistant. Providing functionality and fashion together at an undefeatable price, Clevr proves that budget buys do not mean cheap quality.
What Could've Been Better?
A few drawbacks of this patio cooler include the inadequate insulation that does not retain ice for more than 24 hours. Because of this reason, the drain often ends up leaking, which may make a mess if not noticed immediately.
Pros
Affordable

Strong and sturdy alloy steel construction

Sufficient capacity

Dual hinged lids for easy access

Stylish and weather-proof surface
Sale
If you want the patio cooler to be the talk of the town, this one's for you. Permasteel leaves no stone unturned in delivering stylish designs, and this product is no different. Available in a range of vibrant colors, this beverage roller is large, functional, and easy on the pocket.
Why Did We Like It?
With the widest range of juicy color options, this outdoor cooler from Permasteel is a statement piece for your patio. Its powder-coated steel construction resists rust, ensuring good looks that last! The attached bottle opener and drain plug come in handy while serving drinks and add to the overall style of the beverage cooler.
Measuring 36.5 x 18 x 33.5 inches, this unit can hold more than 100 cans of drinks with lots of ice covering it. Lukewarm drinks will never let your party down, as this patio cooler will ensure 36 hours of fresh, chilled drinks.
It features four caster wheels, out of which two come with a lock function, making it easy to roll and stop whenever needed. The large handles on either side are convenient to push and pull while moving the patio cooler. Thus, this Permasteel product is the perfect blend of efficient portability and easy maneuverability.
What Could've Been Better?
Although this unit is affordable and trendy, you will have to compromise on durability. Either be prepared to fix its wheels or be extra cautious with its handling. Also, since the lid is not attached to the main body, it tends to fall off while opening the patio cooler.
Pros
Attractive color options

Sleek and stylish

Easy to move

Large capacity

Affordable
Cons
Construction lacks durability

Lid falls off
This stylish and spacious beverage cooler cart is yet another affordable option for all of your outdoor celebrations. With a steel body and powder-coated finish, its red hot color is guaranteed to last. Easy to clean and convenient to roll around, this patio cooler will ensure your guests never leave the party with a parched throat.
Why Did We Like It?
This powder-coated outdoor patio cooler from Giantex is a stunner in every aspect. Its efficient insulated body ensures chilled drinks for longer hours. So, the next time you want to party till the sun comes out, this one is going to be your companion!
One feature we really liked about this patio cooler is its easy lift-off upper body. Thus, for gatherings that are not just limited to your backyard, it is easy to carry this unit in your car. Also, its steel and brass construction is rugged enough to handle the outdoor environment.
Assembling this patio cooler is as easy as ABC, and cleaning is never an issue with its drain plug and included spout. Measuring 39.37 x 39.37 x 19.69 inches with a capacity to house 80 quarts of drinks, this patio cooler is what your party is missing!
What Could've Been Better?
One drawback that we could not ignore is the low heat tolerance of this product. Not that it does not keep your drinks chilled, but the outer body deforms under the sun. Further, this results in the lid no longer fitting the body.
Pros
Sufficient capacity and storage shelf

Easy to assemble

Convenient attachments

Removable upper body
Cons
Body deforms under extreme heat
Made of high press foaming polyurethane and covered with all-weather rattan, this patio cooler offers efficiency with style. It boasts of retaining chilled drinks for 48 hours and warm drinks for 8 hours. With a capacity of more than 100 cans or 50 bottles, this patio cooler is perfect for backyard parties with loved ones.
Why Did We Like It?
This rolling cooler offers excellent versatility with its unique design and attachments. Firstly, the hand-woven rattan wicker surface is durable and blends well with most types of patio furniture. Adding to that is the eco-friendly polypropylene and polyurethane interior that prevent rust and leakage and ensure ice retention.
With the ability to keep drinks chilled for 48 hours, you can store 80 quarts of different drinks for your guests. Just assemble the patio cooler, place your drinks, and rest assured of your guests being served the best, by the best!
A striking feature that impressed us the most is the stainless cutting board underneath the right lid. Perfect for camping or BBQ parties where you can simply open the right lid and chop some fruits and vegetables to complement the meal.
Moreover, the thick protective cover included with the package prevents the cooler cart from environmental damage.
What Could've Been Better?
The instructions for assembling this product are a bit tricky for someone who has bought a patio cooler for the first time. Additionally, most users have complained about the low quality of the material, which feels a lot like plastic.
Pros
Large capacity

Stylish rattan design

Adequate ice and heat retention

Protective cover included

Practical attachments like cutting board, bottle opener, cap catcher, etc.
Cons
Difficult to assemble

Low quality
This rough and tough outdoor cooler retains ice for up to three days with its thick BlueTech insulation. Equipped with strong handles, cup holders, and a bottle opener, this ice chest promises high functionality at an affordable price. Measuring 27.8 x 17.1 x 16.5 inches, this unit efficiently holds 45 quarts of drinks.
Why Did We Like It?
This ice chest is for those who are looking for a regular outdoor cooler that does its job. Simple and sufficient, this outdoor cooler is equipped with thick insulation, a tough exterior, and a multi-purpose lid. We specifically like the lid that serves as a ruler and features two cup holders.
Unlike some products in the list, this one shows no issues with the lid not fitting the body properly, thanks to the ferromagnetic latch. Also, the high-quality rubber base keeps the icebox sturdy. So, no matter the terrain, this unit will not slip or slide.
Further, it features a dual-equipped plug and valve for better drainage and easy cleaning. Overall, it is a robustly engineered outdoor cooler offering ample storage and durability at a fair price.
What Could've Been Better?
Since this product is pretty beefy, a pair of wheels on each side would have been a good addition for easy movement. The fact that you have to carry this around, along with all the drinks inside, is a significant drawback of this product.
Pros
Built to last

Comfortable handles

Multi-functional lid

Sturdy rubber base
Sale
If you need an outdoor patio cooler quickly, without the hassle of assembling, this product is your best bet. With an exterior made of eucalyptus wood, this beautiful unit comes fully assembled with handles on each side. Sturdy and stylish, it will add oodles of vintage charm to your patio while providing the best service to your guests. 
Why Did We Like It?
Due to its eucalyptus hardwood exterior, we think this outdoor cooler suits any type of patio furniture while being fairly durable. Besides making a statement with its looks, this compact beverage cooler has a lot more to offer.
A major asset of this unit is the fact that it comes assembled and ready to use. Hence, if you order this at the last minute, you will not have to fret over wasting time trying to figure out the assembling process. Just take it out of the package and place it wherever suitable, and you are good to go.
Measuring 17.2 x 23 x 20.5 inches, it can hold up to 48 cans, making this portable cooler perfect for smaller events. Due to its plastic insert with thick walls, there will be no issues about leaking and lower ice retention.
What Could've Been Better?
As compared to other outdoor coolers on the list, this offering by Merry Garden is very small. Unless you are confident about looking for an ice chest with a small capacity, we would not recommend picking this one over the others.
Pros
Classy wooden exterior

Ready to use

Efficient cooling

Convenient handles on each side
This duo-toned rolling cooler is all you need to get your party started! With an insulated 20-gallon basin, it is spacious enough to store plenty of drinks. Its wheels are swift yet sturdy as they can rotate 360-degrees and feature a locking mechanism. Moreover, the main body of the patio cooler comes with handy attachments, which make its usage even more convenient. 
Why Did We Like It?
Practical and chic – this mobile cooler cart brings the best of both worlds to your patio. With a classy black and white exterior, this unit oozes minimalistic, modern charm. Its high-quality construction and stainless steel exterior ensure its longevity, making it weather-proof and rust-resistant. 
The 20-gallon capacity of this patio cooler ensures the best service for all of your party guests. Once loaded with drinks, the unit tends to get heavy. But due to the 360-degree rotation wheels, the cart is easy to move around. Also, the storage shelf underneath features raised edges, preventing anything from falling off while the cart is being moved. 
Further, users can drain the main unit easily with its well-placed plug. Other attachments include a bottle opener and cap catcher to ensure convenient usage. 
What Could've Been Better?
The packaging of this product comes with an inadequate instruction manual. Adding to that are the screws that are required to assemble it, making the entire process complicated. If you are looking for your first patio cooler or do not want to waste time assembling it, this unit is not the one.
Pros
Generous capacity

Built to last

Smooth wheels that can be locked

Useful attachments for easy and convenient use
Sale
Another stylish option, this outdoor patio by Keter features a unique and multi-functional design. Measuring 32.8 x 15.9 x 20.4 inches, this outdoor bar can store sufficient drinks inside while the top acts as a serving tray. A popular choice for gifting, this product serves as a beverage bar, hot tub table, coffee table, and more. 
Why Did We Like It?
Albeit low in rank, the unique pop-up lid of this beverage bar by Keter deserved a spot in this list. Kudos to the brand for the ingenious design that enables this patio cooler to serve as a coffee table, snack tray, hot tub table, etc. So, if you want a budget-friendly, all-rounder product, look no further.
Its dark grey and teal colorway adds to the stylish look, making this product a must-have for all of your outdoor parties. Also, the resin construction seals the chic color combination, preventing it from weather damage.
Offering a capacity of 14.8 gallons, you can store more than 70 cans in the tub. Additionally, you can lift the lid and place about 55 lbs of snacks or anything else to go with your drinks.
What Could've Been Better?
At this price point, we could not complain much. However, a major hitch would be the absence of wheels. Since we are talking about outdoor patio coolers, some mobility would have pushed this ice chest to a higher rank.
Pros
Creative and convenient design

Attractive color combo

Weather-resistant resin construction

Multi-functional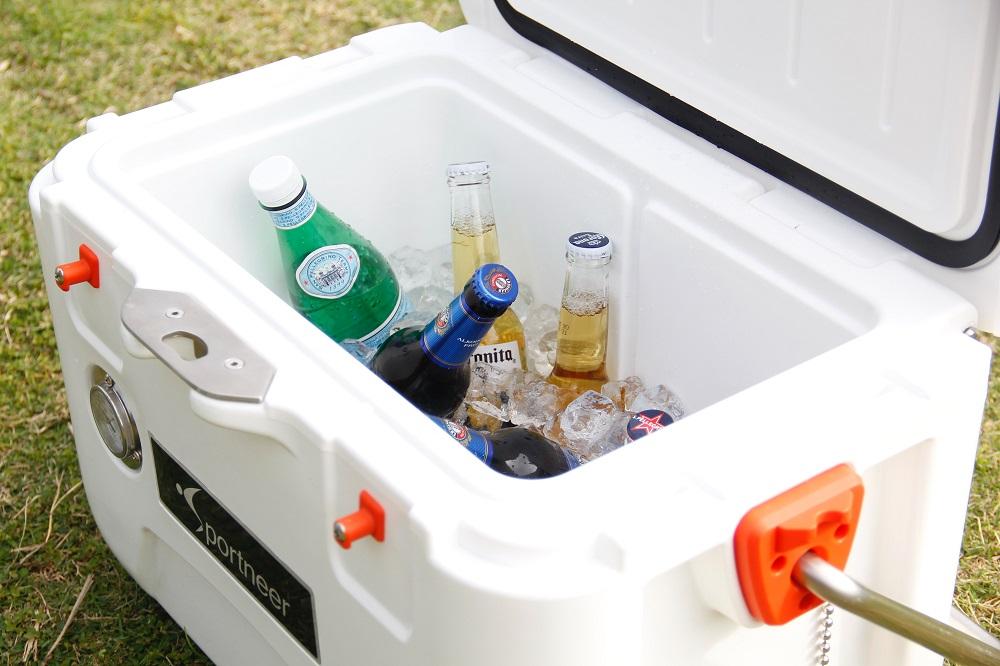 Outdoor Patio Coolers Buyer's Guide
Now, you know all about the best outdoor patio coolers in the market, but which one is the perfect pick for your needs? Of course, it isn't easy to choose one from eleven top-notch options.
Thus, we have listed some characteristics you must keep in mind. We recommend you go through each point carefully and understand your preferences before the splurge.
Read on to find out…
Capacity
Needless to say, you must choose a patio cooler according to the number of guests you usually deal with. Most outdoor coolers offer 20 gallons of capacity which can hold up to 100 cans approximately. For larger crowds, you will have to size up and opt for a unit with wheels.
From our list, the Merry Garden MPG-PC01 is best suited for smaller gatherings. On the other hand, the Permasteel PS-203-TURQ-AM is perfect for celebrations with a large crowd.
Material
The material of the beverage cooler determines its durability. A metal exterior is usually more long-lasting than other materials. Try opting for a unit with a powder finish and ensure it is weather-proof and rust-resistant.
Mobility
Although some efficient outdoor coolers do not have wheels, we think mobility is necessary for anything that is supposed to be portable. We recommend a patio cooler with sturdy caster wheels, which can be locked as and when needed.
For example, the Igloo Glide Pro Cooler is built like a regular icebox but gets brownie points for its wheels and ergonomic handle.
Insulation
It is best to check the thickness of the insulation before investing in a patio cooler. There is no use in spending on a unit with little to no insulation as it will not offer any ice retention at all.
Accessories
An outdoor patio cooler with useful attachment is convenient and versatile in its true sense. From a lid that doubles up as a chopping board to an attached bottle opener and cap catcher, patio coolers have stepped up their game!
For instance, Keter Breeze Bar Outdoor Patio features an impressive pop-up lid that serves as a snack table. Moreover, the RELAXIXI Rattan Rolling Cooler Cart is equipped with a stainless chopping board underneath its right lid. Who doesn't love a multi-functional product?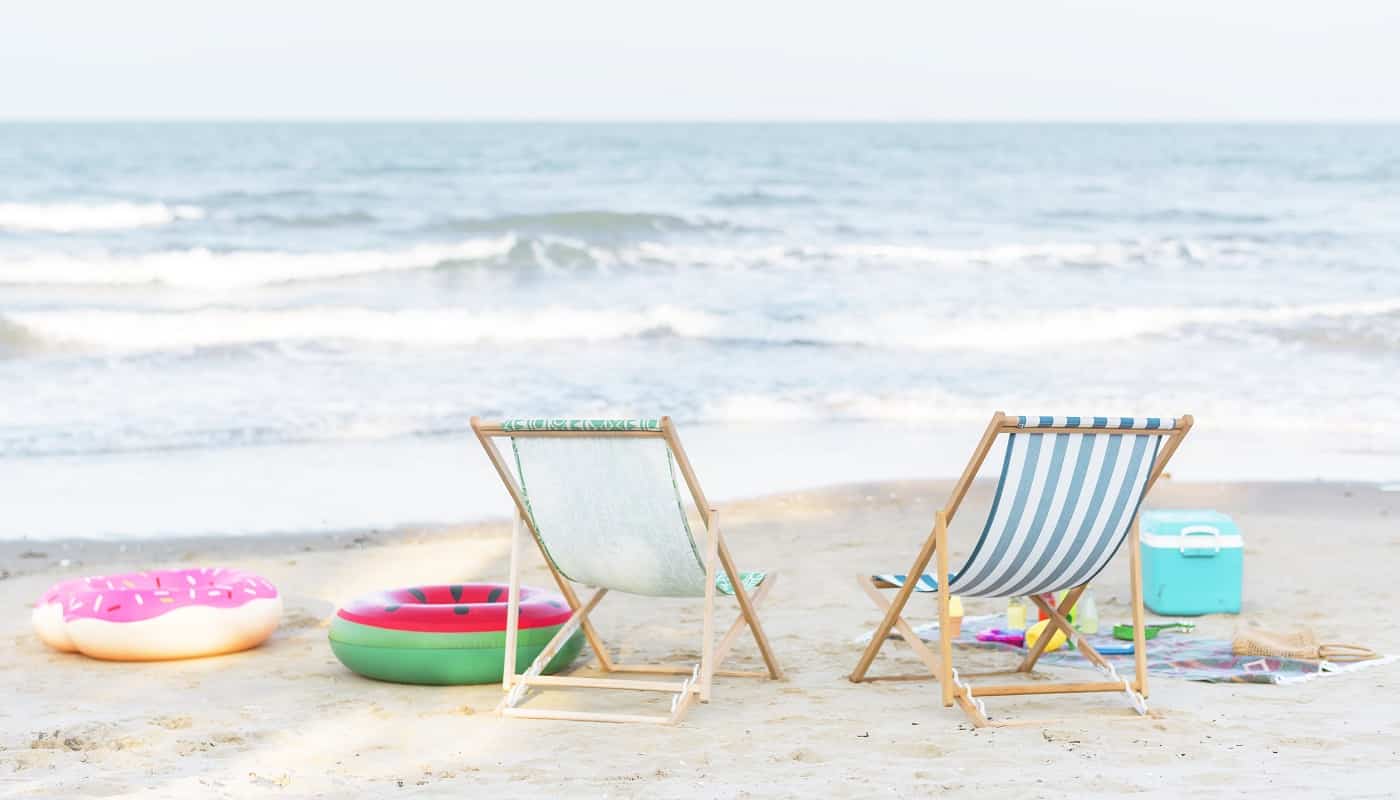 Best Outdoor Patio Coolers Verdict
A bit of unwinding time with friends and family is always a good idea. But such events call for a lot of planning and preparations. Hence, we prepared this informative guide of the best outdoor patio coolers that will serve your guests with style! 
Some of our favorites include the Igloo Glide Pro Cooler due to its compact and versatile design. Another top pick is the Permasteel PS-203F1-BLK-AM with its grand, antique design, while the Cubix Coolers Ice Chest looks simple but offers long-lasting durability. Let us know your favorites in the comments section below. 
With that, we come to the end of this review-based guide. Here's hoping your summer days are accompanied by chilled drinks. Cheers! 
Related Articles
Igloo Iceless Thermoelectric Cooler