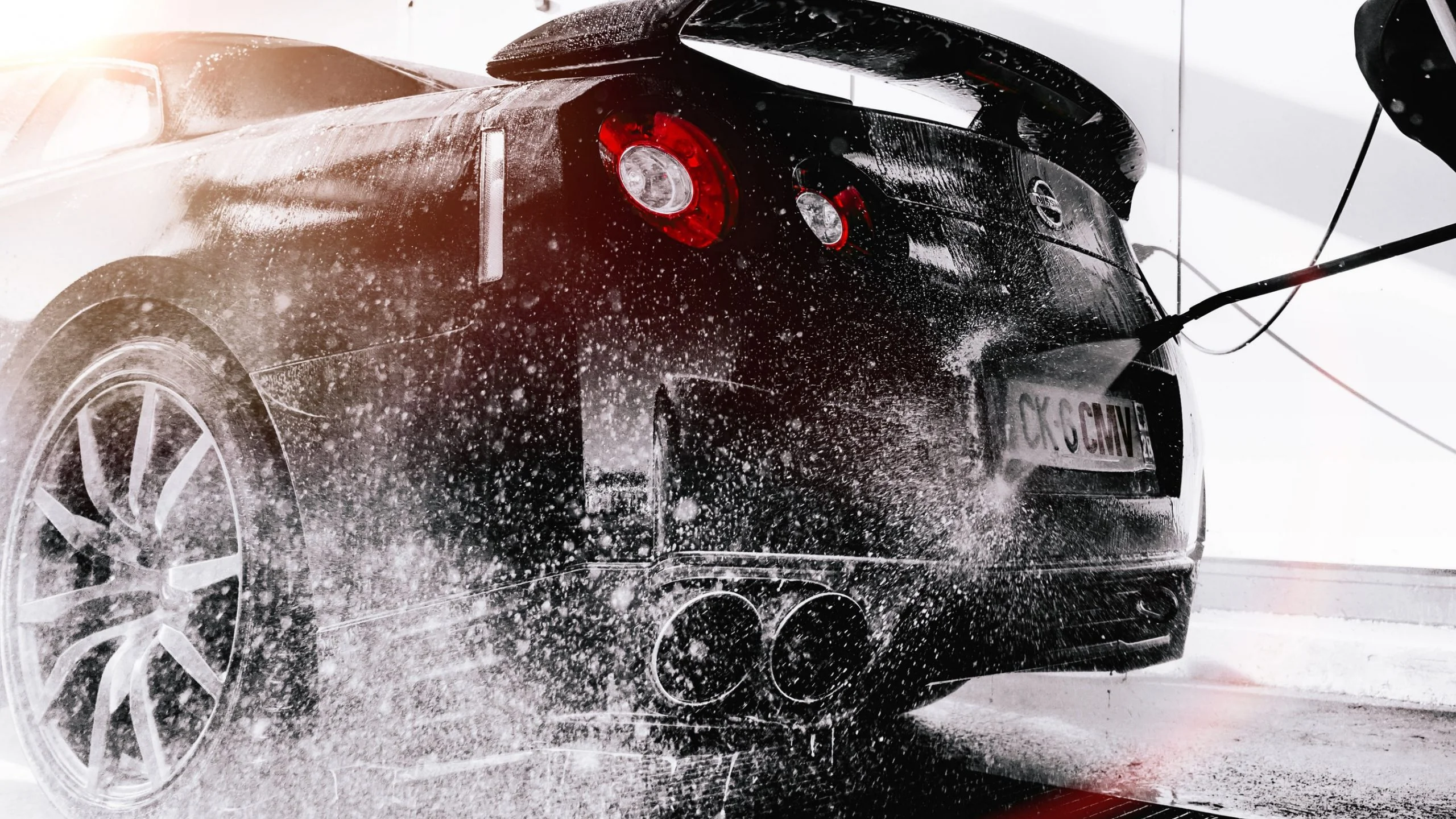 Cleaning greasy surfaces with a standard hose is as stressful as finding an alternative that fits your needs precisely without exceeding the budget.
If you've had any prior experience with an electric pressure washer, you'd know that spraying heated water does an excellent job of cleaning the most stubborn dirt with precision. However, keeping all of that aside, how do we know which model is the best for us?
As buyers, we're often tricked into buying inefficient models due to their low prices, which eventually turns out to be a bad investment. That's why we've handpicked 13 of the best electric pressure washers in the market that offer high-end features at a considerable price tag.
So, without any further ado, let's just dig right into it!
Top Electric Pressure Washers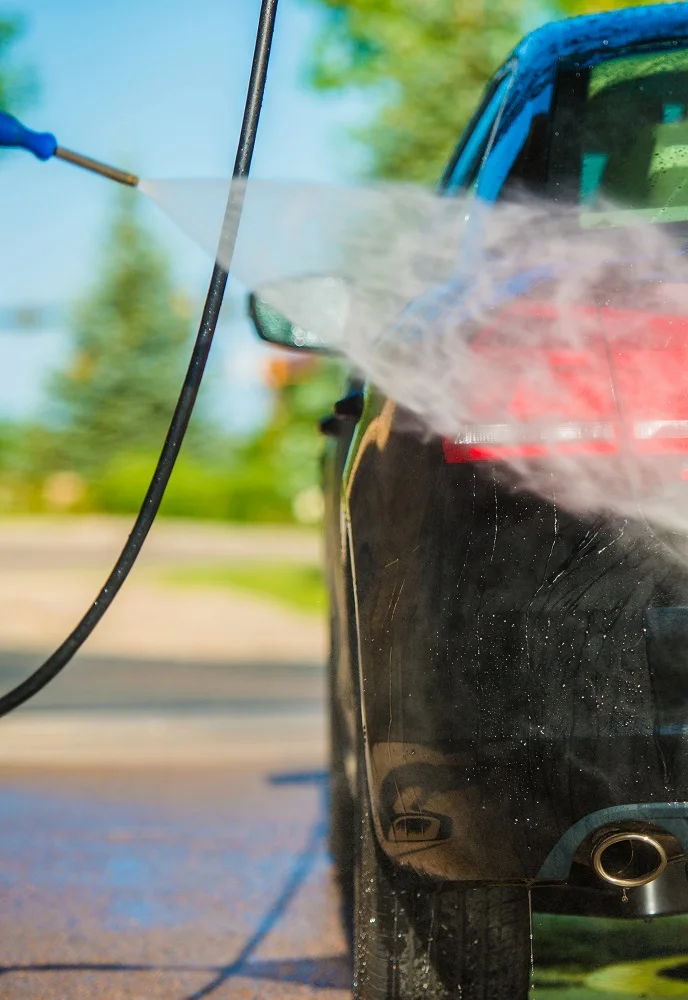 When it comes to groundbreaking innovations at a fair price, Powerhouse International is a brand that every American household can rely upon with their eyes closed. Its all-new electric high power pressure washer range lives up to its name in terms of performance and durability. Read on to get an inside scoop of what it brings to the table.
Why did we like it?
To begin with, this is inarguably one of the most elegant-looking models out there in the market that we've come across. Its sleek industrial-grade design and chrome red/black finish have been quite appealing to our eyes.
Apart from its looks and design, Powerhouse International sets higher standards for user convenience with its 4-wheel steel cart system, making it easier to carry around the washer.
Moreover, this one appears to be quite compact and lightweight, as it weighs merely 32 pounds. Also, it doesn't consume much space for storage, and you can easily keep it in a small corner of your busy apartment without worrying about any damage.
Apart from its steel frame, the motor is covered with sturdy build material that protects it from being disrupted or broken by accident. This brings us to its motor, which is an electrically-powered beast of an engine that can generate up to a maximum operating pressure of 3000 PSI. Ultimately, this product provides a satisfactory 2.2 GPM boost that's good enough for some heavy-duty cleaning.
So, if you have a limited budget and very little storage space, this is one of the most appropriate heavy-duty washers that you can opt for.
What could have been better?
Unfortunately, we had noticed that the soap module was unsatisfactorily small in size, which led us to refill it quite frequently while testing the model. However, it doesn't become a huge problem unless you're using it for regular cleaning. Furthermore, we believe that the wheels could have been a little larger.
Pros
Compact and portable

3000 PSI boost up to 2.2 GPM

Elegant design

4-wheel transportation
It's quite a challenging task to find another brand as established as Sun Joe Co., especially when it comes to electric pressure washers. Its new SPX3500 definitely carries forward the legacy of Sun Joe with its astounding features and perks. Although the best thing we've liked about it is its storage convenience, it has a lot more to offer.
Sale
Why did we like it?
The USP of this electric pressure washer is unarguably its portability, thanks to its ultraslim frame. It's comparatively more compact than an average electric washer, which makes it easier to store anywhere. Also, it weighs around 46 pounds, which altogether makes it even easier to move around.
Although it doesn't feature a 4-wheel design as the Powerhouse International model, its 2-wheeled cart is still good enough for smooth maneuverability.
This model is powered by a 13-amp electric induction motor that can exert up to a maximum operating pressure of 2,300 PSI. This way, it boosts up to 1.48 GPM, making it suitable to handle most of our indoor cleaning tasks with ease.
Furthermore, it also features 5 different quick-connect turbo nozzles, including a soap cleaning nozzle. It extends the product's versatility and provides us with an enjoyable user experience.
To make it even better, its rotary brush helps in cleaning the stubborn impurities with precision. We've also found its detergent tank to be considerably larger than most of the other tested models, which means lesser refills and higher services.
What could have been better?
Although we're quite impressed with its design, there's still a major bug – its upright design results in an uneven distribution of weight. This way, the product tends to tip over quite often, which may create a hazardous situation for the user. That's why we'd recommend you to move it around with caution.
Pros
Highly user-convenient

1.48 GPM exertion

2300 PSI operating pressure

Larger detergent tank
Cons
May tip over and cause accidents
Karcher has been around in the power tools industry long enough to become a familiar household brand. The K5 Premium unit is one of the topmost recommendations by homeowners and DIY enthusiasts. The key behind its popularity is its immense versatility, making it eligible for almost any type of cleaning/washing job.
Why did we like it?
The futuristic design of the K5 premium makes it a total eye-candy, to begin with. Apart from its modern looks and design, this model also appears to offer advanced user convenience. It comes in a vertically-designed sturdy frame supported by 2 mounted wheels for enhanced portability. Moreover, the body features two front legs that distribute the weight of this model evenly, enhancing its stability by a fair deal.
Now speaking of performance, this model is capable of exerting up to a maximum operating pressure of 2000 PSI. This way, the model offers a satisfying 2.4 GPM speed, which is almost double the power of the SPX3500. With so much power, it becomes easier to clean any sort of impurity with ease.
Additional features include a 25-ft high-pressure hose that helps in delivering water to longer distances without having to move the machine frequently. Its advanced spray wand and dirt blaster wand also increase its usability, making it quite a versatile product.
What could have been better?
Although the model comes with varieties of adjustable wands for efficient cleaning, it fails at providing a fundamental requirement. The thing is, this model does not feature any spray nozzles, which need to be bought separately.

Pros
Features numerous spray wands

Exerts up to 2000 PSI

Industrial-grade design

Highly versatile
Cons
Doesn't come with a spray nozzle
Sun Joe has bagged another spot on our top recommendations list with the newest addition to its product range, the SPX4000 model. And after testing, it's safe to say that it's undoubtedly one of the most powerful stationary pressure washers we've come across. Let's check out its core features!
Why did we like it?
Although this product is ordinarily stationary, its frame is designed vertically along with two wheels, making it a little easier to move around. Appearance-wise, it features a very basic yet ergonomic design for higher user convenience. Not to forget, the top handle helps in transporting this machine without any hassle.
We were initially surprised to discover its 2030 PSI operating pressure, which is quite impressive in this price range. The operating pressure is also adjustable, allowing us to use it at a normal 1450 PSI mode and a high-powered 2030 PSI mode. Plus, apart from saving electricity, this feature also prevents the over-consumption of detergent and water during small-end jobs.
Noteworthy to mention, this model also features 5 adjustable spray nozzles, which gives it an instant advantage over the Karcher K5 Premium model. It also comes with a 20-ft high-pressure hose for efficient washing/cleaning, making it a convenient machine to use.
What could have been better?
We're a little disappointed at the size of its detergent tank, as most of its competing products feature a considerably large tank. Although it's good enough for smaller/medium jobs, you may need to refill quite often while being involved in significant tasks.
Pros
Ergonomic design

Adjustable PSI modes

Comes with 5 spray nozzles

Saves electricity
Briggs & Stratton, one of the biggest brands in the global market, has always reshaped the dynamics of power tools with their groundbreaking innovations. Recently, we've had the opportunity to test its all-new 20680 electric pressure washer, and the performance it provided is quite impressive for a reasonably priced model.
Why did we like it?
The unique design of this machine allows it to be used in both stationary and non-stationary modes, thanks to its 2-wheel system and ergonomic handle grip. Also, it surprisingly weighs as little as 26 pounds. Plus, it's quite easy to move it around anywhere without any issue due to its compact and ultralight body.
Now, it'd be unjust to claim that Briggs & Stratton has developed this model as a heavy-duty washing machine. Instead, if compared to most of our recommendations, this product offers very little power. However, what made it worth our consideration is how much it provides at such a bargain-basement price tag. It's adjustable 900 and 1800 PSI modes are good enough to get the small and medium jobs with ease.
Furthermore, it features a set of 3 advanced easy-connect spray nozzles, which is mostly not provided by numerous heavy-duty products priced at a higher range. Not to forget, this product has one of the most convenient turbo nozzles we've tested by far.
What could have been better?
Overheating seems to be a common issue with its motor, as we had to take a break every 20 minutes for it to cool down. Using this model can cause significant inconvenience if you have to clean a larger surface in a short time.
Pros
Higher stability

½ gallon detergent tank

2-wheel system

Easy-connect spray nozzles
Cons
Motor overheats too often
Goplus is a brand that's best-known for its commitment towards offering the most convenient power tools at a meager price tag. Its all-new electric washer is a heavy-duty machine that cleans stubborn impurities such as oil and grease with its efficient 2030 PSI operating pressure. Let's have an inside scoop of its key features!
Why did we like it?
To start with, this product weighs around 19 pounds, making it the most lightweight product we've tested by far. Furthermore, it also features a compact frame and additional wheels that help in making it easy to transport. Nonetheless, its size or weight doesn't affect its performance by the slightest, as the machine can exert up to a maximum operating pressure of 2030 PSI.
This model seems more appropriate for those who aren't somewhat experienced at using electric pressure washers. Its user interface is quite simple and doesn't feature any other button except the on/shutdown switch. It also revs up to 1.6 GPM, which is good enough to clean tough stains. 
The product comes with a free 16.5 ft pressure hose and a spray gun, which altogether provides a very comforting user experience. On the other hand, its portable soap bottle-cum-tank is also capable of holding a decent amount of detergent, resulting in lesser refills.
What could have been better?
We've previously mentioned how easy it is to use, as the model only features a single button. However, on the downside, the model always functions on full blast due to the lack of sufficient power settings, restricting its versatility.
Pros
Extremely lightweight

Fairly portable

Ideal for beginners

Ergonomic design
Understandably, not many are quite familiar with AR Blue Clean, considering that this brand hasn't been around for a long time. However, this new-entrant has been making waves with its powerful AR383 model. Compared to other traditional garden hoses, this machine claims to offer 40% higher power. 
Sale
Why did we like it?
The best thing we've liked about it is how environment-friendly it is as an electric-operated machine. This product consumes around 80% less water if compared to our topmost recommendations, to begin with. Also, not to forget, it features a cutting-edge automatic shutdown feature, which helps in conserving electricity when it's not in use.
Performance-wise, this product can exert up to 1900 PSI, which makes it quite an efficient pressure washer for small and medium tasks. Furthermore, it also comes with a 14 oz detergent storage space, which saves us from the hassle of refilling it constantly while working. The model also provides quick-release wands that give us complete control to make our jobs easier. 
Apart from its vertical design and pneumatic wheels, it also offers a 35 ft extended power cord, adding another star to its portability. However, the cream of the crop here is its auto-reset GFCI option, specially designed to prevent the users from getting electrocuted by accident.
What could have been better?
Like most of our other high-end recommendations, this model doesn't offer spray nozzles as well. Even if we look past that, we can't reason with how it fails at completing heavy-duty jobs without consuming a long time.
Pros
Very eco-friendly settings

Advanced safety features

Consumes 80% less water

1900 PSI operating pressure
Cons
Not recommended for heavy-duty use
If you're facing extreme cleaning challenges daily, you can always take resort to Sun Joe products. The brand has previously amazed us with its SPX3500 and SPX4000 models. However, the all-new SPX3001 sets the bar even higher for storage and user convenience. 
Sale
Why did we like it?
Starting with what new this model brings to the table, its 1800-watt powerful motor makes it efficient for semi-professional jobs. This machine can exert up to a striving 2030 PSI operating pressure and boost around 1.76 GPM, which helps in cleaning stubborn impurities with precision. While testing, we've discovered its overall cleaning power to be 3572 units, which appears to be a good value for our money.
Coming to its design, the model doesn't necessarily feature the most futuristic design we've come across. However, it may be pleasing to the eyes of those who value subtlety and minimalism. Furthermore, it is quite compact in shape and weighs around 36 pounds, which makes it easier to carry around and store. 
Like the AR Blue Clean device, it also comes with an extended 35 ft power cord that altogether enhances its user-friendliness. Also, we have to mention how its TotalStop feature helps in restricting the flow of water automatically as soon as we leave the handle, resulting in higher water preservation. 
What could have been better?
This product will surely provide excellent results if used for small and medium tasks; however, we wouldn't recommend it for extreme commercial washing tasks. It's because the model can show signs of malfunction if used repeatedly for high-end jobs. Also, we wish that its soap dispenser was a little more spacious.
Pros
High mobility and versatility

Can be stored easily

TotalStop Feature to save more water

2030 PSI operating pressure
Cons
Not suitable for heavy-duty cleaning
Karcher K3 Follow-Me Electric Pressure Washer
Karcher has returned on our list with one of its most portable models yet, the K3 Follow-Me electric washer. The USP of this product is, as the name itself implies, that it can follow you around everywhere you go. We've found this product to be extremely convenient and user-friendly, and you must check this one out if you're a fan of advanced technologies.
No products found.
Why did we like it?
Not your average electric pressure washer, the Karcher K3 range takes user comfort and convenience to a whole new level. It's unarguably the most compact device in the market and can be pulled around everywhere with ease. This vehicular-shaped frame is equipped with 4 pneumatic wheels, whereas most of our other recommended products offer a 2-wheel system.
Now before we start speaking on its performance, let us make it clear that the K3 is strictly built for low-end and medium-duty jobs. On that note, this product still offers an impressive operating pressure rate of 1800 GPM and exerts around 1.3 GPM. It also comes with a 34 ft power cord that can help in covering up to a maximum area of 7500 sq ft. To make it even better, its 15 ft pressure hose provides a highly satisfying user experience while giving us total control.
We were quite amazed by its N-COR pump, which is highly resistant to corrosion. The motor is further protected with a sturdy and durable frame, enhancing its durability moderately. Not to forget, this product offers a Vario spray wand for higher user convenience. This helps us change the pressure as per our requirements, which makes it even more versatile. So in case you have a low budget and are searching for a very portable machine for personal use, give this a try.
What could have been better?
Although this model is rather quite efficient as a pressure washer for personal use, it has its flaws as well. Most importantly, the product arrives with proprietary parts and doesn't accept replacement parts from other brands, in case of damage. So, the buyers just have to go through the hassle of dealing with the customer service agents that ultimately consumes more time and money.
Pros
Extremely portable

No storage issues at all

Rust-resistant N-COR pump

Quite versatile
Cons
No replacement parts in the market
Annovi Reverberi, one of the best-known Italian manufacturers of pressure pumps, has been devoted to changing the game with its innovations for the last 60 years. Previously, the brand had surprised us with its AR383 model. Nonetheless, its all-new AR390SS model is turning heads in the market these days. Let's check out why!
Why did we like it?
The brand initially marketed this product as eligible to handle semi-professional and professional tasks with ease. However, after testing it, we do not wholly agree with the statement. Although this product isn't the best at heavy-duty cleaning, its capability of handling medium-scale jobs is quite impressive. 
On that note, let's begin with how the manufacturers have managed to equip this model with their trademark eco-friendly setting. Like the AR383, this product also uses around 80% less water and strives to offer 45% higher performance than regular garden hoses. However, the key benefit here is its 48 oz detergent tank that rids the users from the stress of running out of soap quite often.
Speaking of performance, the motor is designed to generate up to 2000 PSI that enables the machine to boost up to 1.4 GPM. While testing, we've discovered that this product qualifies to provide a satisfying cleaning power of 2,800 units. Also, this product gets ready to be operated quickly; it took us less than 3 minutes to plug the inlet, connect the pressure hose and the trigger gun.
What could have been better?
We're not entirely satisfied with the plastic build material of most of its parts, as it doesn't appear to be reasonably durable. Due to this, we can't guarantee you that the product wouldn't break down easily and last you for years to come. Nonetheless, it's an appropriate low-priced option for short term use.
Pros
TotalStop settings to save water

Excellent performance for medium-duty jobs

2000 PSI motor

Environment-friendly
We can't get over the robust models in the Karcher K premium range when it comes to versatile electric pressure washers. We've recently tested the K1800, unarguably one of the highest-rated products manufactured by Karcher. One thing we can say for sure, this is a total value-for-money product for beginners with a low budget.
Why did we like it?
Like our previous recommendation, this model is also uniquely designed to handle medium-duty jobs at its best. That being said, this model is capable of exerting up to 1800 PSI at 1.2 GPM, which isn't disappointing for a model at this bargain-basement price tag. Furthermore, we've found out that the K1800 provides an average of 20-30% higher performance than most of the products at this range.
In a nutshell, the cleaning power of the K1800 sums up somewhere around 2160 units. Now coming to its build material, this model is protected with a sturdy frame for enhanced durability. Furthermore, the manufacturers have raised the bar higher for portability with its 2 oversized wheels, making transportation and storage very smooth and convenient. This machine isn't tough to set up and gets ready to use within 5 minutes.
Speaking of accessories, this model features a 20 ft high-pressure hose for free. Although it isn't the most extended hose we've come across, it seems sufficient to get medium cleaning jobs done with precision. Last but not least, the model also features an automatic shutdown feature to save electricity when we're not using it, making it more user-friendly.
What could have been better?
There's this common issue with Karcher products in general, which affects this product as well. The thing is, once damaged, it's best to replace the damaged parts with authentic Karcher products. Otherwise, it downsizes the efficiency of this model a lot, which is a bummer. Although it shouldn't be very hard, considering Karcher offers excellent customer support.
Pros
Ultralight and compact frame

1800 PSI operating pressure

Auto-shutdown feature

20 ft high-pressure hose
Cons
Must be replaced with authentic Karcher products
The penultimate brand on our list, Greenworks, had initially established a name for itself in the American market with its Lithium-Ion equipment. Its 1600 PSI electric pressure washer is a meager-priced model that is entirely satisfactory to handle low-duty cleaning jobs. This one is unarguably an ideal option for homeowners to consider.
No products found.
Why did we like it?
Despite being a low-priced model, the industrial looks of the Greenworks 1600 PSI model outshine most of the high-end products on our list. To be more precise, the versatile design of this model enables us to use it both horizontally and vertically. This also prevents the model from tipping over, unlike some of our vertically-designed product recommendations, preventing it from accidental damage.
Now, as the name implies, its powerful motor can exert up to 1600 PSI, enabling it to deliver hot water at a decent speed of 1.2 GPM. We agree that it isn't too impressive, but it appears to be ideal for low-duty personal washing jobs. We believe it's appropriate for homeowners because as it isn't overkill for individual washing tasks. As a bonus, this product features a 35 ft power cord that enables us to cover a larger area without having to move the product too often. 
Furthermore, the model also comes with a durable 20 ft high-pressure hose, which doesn't get damaged if dragged against rough surfaces. Nonetheless, it features a set of spray nozzles and a large detergent tank, which makes cleaning and washing a lot more convenient for us.
What could have been better?
Now, being an extremely low-priced model, it's quite evident that the product wouldn't be long-lasting. Likewise, we believe that the build material could have been as sturdy as the high-pressure hose, as the parts may break easily. Furthermore, the Greenworks replacement parts aren't readily available, so you have to be extra careful while using it.
Pros
Reasonably priced

Suitable for personal use

1.2 GPM boos

Eye-candy design
The final item on our list, the Stanley SHP2150 model, is known as one of the best-selling pressure washers in the market. After testing it personally, we've calculated its cleaning power to be around 3010 units. If you're planning to take a step towards professional gardening, this can be an ideal starter kit.
Why did we like it?
Portability and user convenience are very high in this model, as it comes with rubberized wheels that enable us to move it comfortably. Furthermore, its 13 amp motor is capable of boosting up to 1.4 GPM at 2150 PSI, making it an ideal machine for medium-duty professional jobs. So if you're a beginner professional, this one can be your perfect companion.
Not to forget, this product comes with a 35 ft power cord, which helps in cleaning a larger surface area with ease. We were able to deliver high-speed hot water to numerous hard-to-reach with 25 ft high-pressure hose, which was enjoyable and satisfying. Furthermore, its 26 pounds weighing ultralight body and ergonomic design makes moving this model a cakewalk, which adds to its high user convenience.
Unlike some of our first products, this model offers a set of 4 advanced spray nozzles for an enhanced washing experience. Furthermore, it also comes with a nozzle holder on its ergonomic sprayer gun, which helps in cleaning hard-to-remove stains without any hassle. It's too easy to store, which saves you from stressing over not finding enough space in your garage.
What could have been better?
Don't get us wrong; this model provides sufficient power to complete medium-duty cleaning jobs. However, it's a little disappointing how the model doesn't come equipped with customized pressure control settings, which may result in significant inconvenience at times. This way, its usability is restricted to a certain extent, giving it a considerable disadvantage. 
Pros
35 ft power cord

2150 PSI operating pressure

Suitable for medium-level jobs

Spray nozzles for better cleaning
Cons
No pressure control settings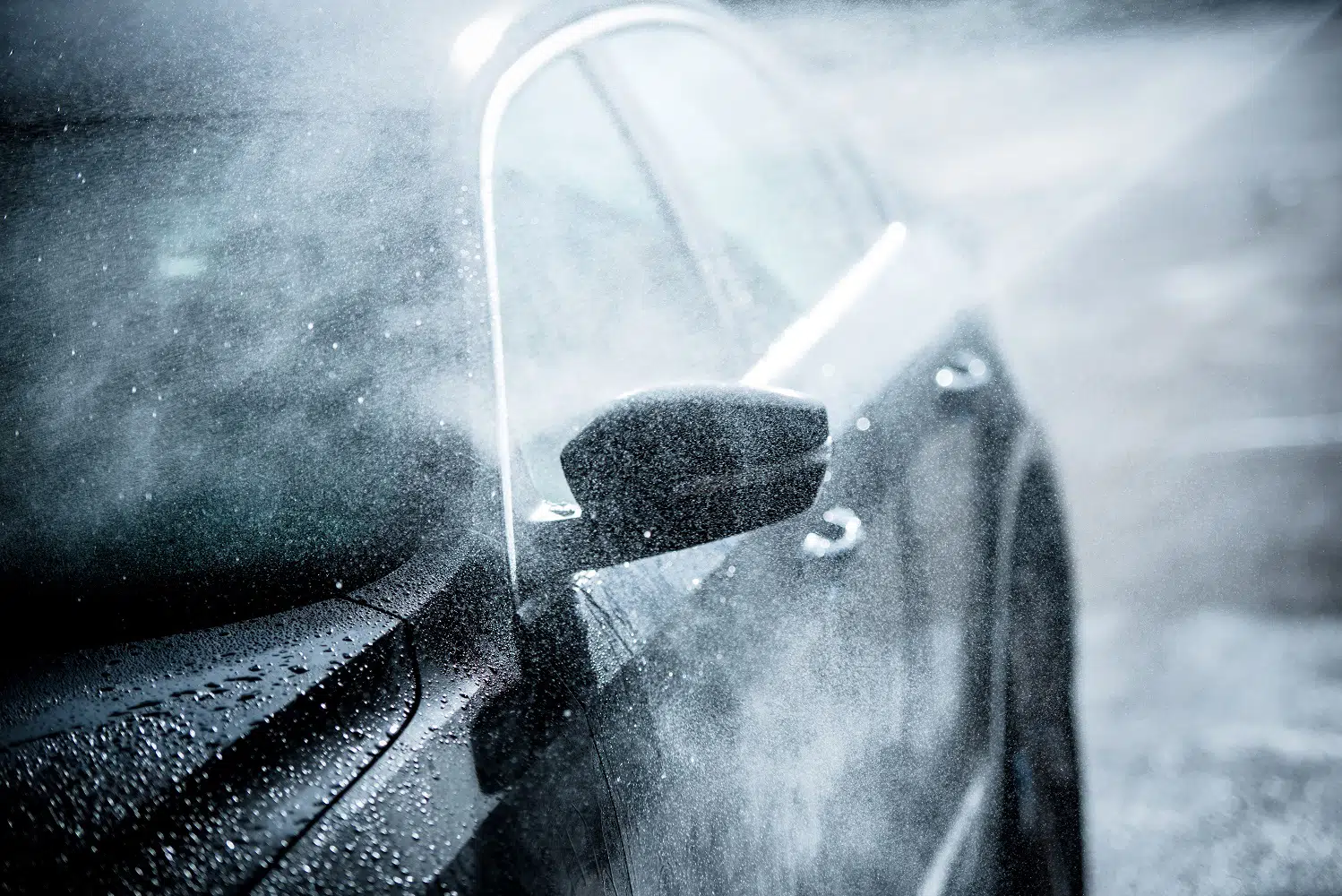 Electric Pressure Washers Buyers Guide  
Although now you're quite familiar with some of the most efficient models out there, let us warn you; it can still be tricky to select the one that fits your needs the best. 
But we don't blame you; it's because varieties are abundant and very less information that helps in understanding the anatomy of the perfect electric pressure washer. Honestly, how many of us even know how to choose which one fits our needs the best? We just search for the cheapest ones and make the wrong purchase.
But that's where a buyers guide comes into action. We've enlisted some of the critical factors that you must check before choosing any model. Keeping these tips in mind may result in a smart investment!
Water Inlet
Commonly known as the central hose, this hose is connected directly to the water supply of the machine. This hose also features a contamination filter that prevents the device from being hindered by any sort of impurity. 
You must cross-check whether these inlets are built with sturdy materials, which prevents it from being scuffed while being used in concrete or similar rough surfaces. Also, you must ensure that the model features a sturdy filter, which may otherwise damage the motor in the long run.
Motor safety features
Being a piece of electric-operated equipment, it's quite evident that motor plays a major role in the functionality of these pressure washers. Now, as it's an electric motor that deals with water regularly, there may be chances of accidental hazards. 
That's why it's wise to choose the models that offer enhanced safety measures such as anti-shock settings. Moreover, the motor must be protected with a sturdy frame. 
High-pressure hose
This is an integral part of an electric pressure washer, considering it shoots hot water to get the washing jobs done with ease. If the high-pressure hose is shorter than 15 ft, you wouldn't be able to deliver water to rough surfaces accurately. 
Fortunately, most of our recommended products offer an average length of 20 ft, giving you a wide variety to choose from. Furthermore, it's even better if the high-pressure hoses come with spray nozzles, as it makes soap cleaning a lot more convenient and enjoyable.
Water pump
If you're planning to buy a washer for low-end personal use, it's wise to settle for a standard 10-13 amp motor. However, you'd need more powerful engines if your job involves heavy-duty cleaning jobs, as it requires higher operating pressure to be completed. 
You'd need to choose the motors that can boost up to an average of 2 gallons of water per minute. Furthermore, you must ensure that the product comes with pressure adjustment settings, which extends the versatility of the motor by a great deal. Otherwise, it may result in major inconveniences, such as causing more time to clean stubborn stains. 
Noise levels
Being an electric pressure washer, you can't expect these machines to work silently. Of course, some of these machines produce loud noises while being used. So if you're not eager to ruin your relationship with the neighbors or damage your hearing abilities, cross-check the noise levels before buying one of these models.
Portability
These machines need to be moved around quite often while in use, which requires it to be extremely portable. Most of the products feature a 2-wheel system, whereas some come with 4-wheel systems for higher portability. Nonetheless, if you buy a stationary electric pressure washer, prepare yourself for the stress you'll go through while using it. 
Verdict
The era of electric pressure washers is here, and you have to upgrade yourself to get along with modern times. The higher user convenience these machines offer make them a must-have in every household.
That being said, we hope that we could help you learn a little more about electric pressure models with our extensive guide. As you're now introduced to 13 of the best products in the market, we hope you'll make a smart decision.
To make it easier for you, the AR Blue models are excellent when it comes to high power and performance. On the other hand, the Powerhouse International washer is undoubtedly the most durable product you'll find in the market. Furthermore, the portability that Karcher units provide is unmatchable.
On that note, we'll see you soon with similar insightful content about your daily power tools. Till then, stay connected!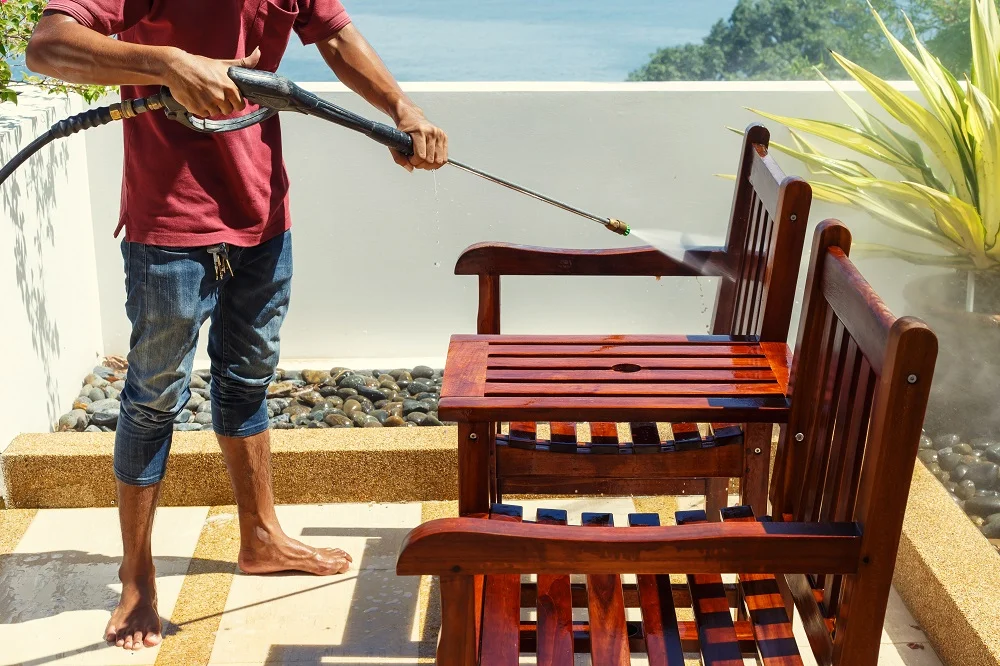 Related Articles
9 Best Small Hot Water Pressure Washers