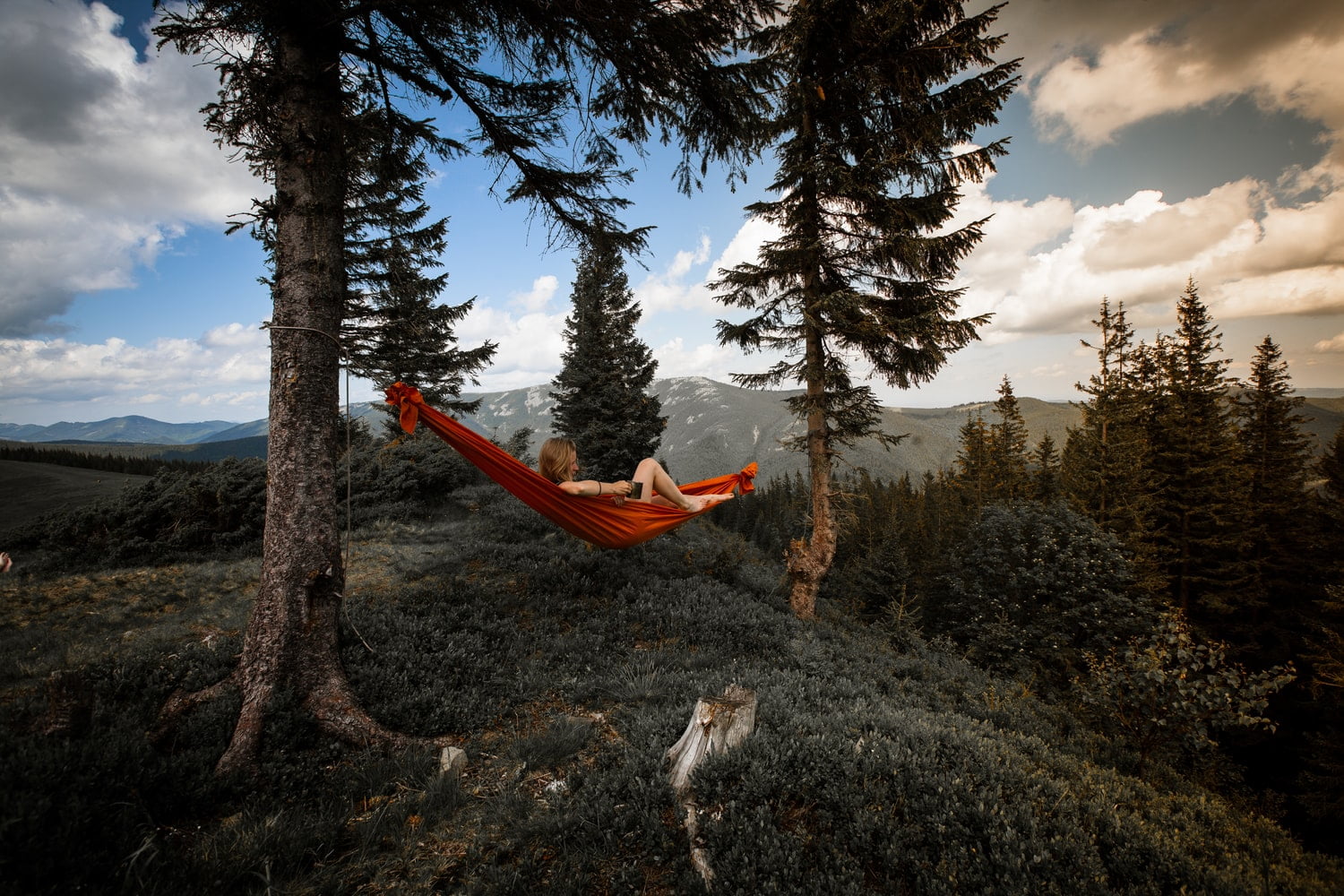 What better way to relax and unwind than swinging on a hammock on a summer evening? If this is on your mind, read on!
We have listed down our favorites when it comes to hammocks with intricate details mentioning the advantages of buying each and what it is meant for. Choosing the one which fits you and your needs will not be an issue anymore.
 Be it a hammock needed for camping purposes or one which you want as a part of the decor in the house, we have got multiple options! Get surfing and take a step towards being the proud  owners of a hammock as you skim through the list of the best hammocks to swing in 2022.
Most Comfortable Hammocks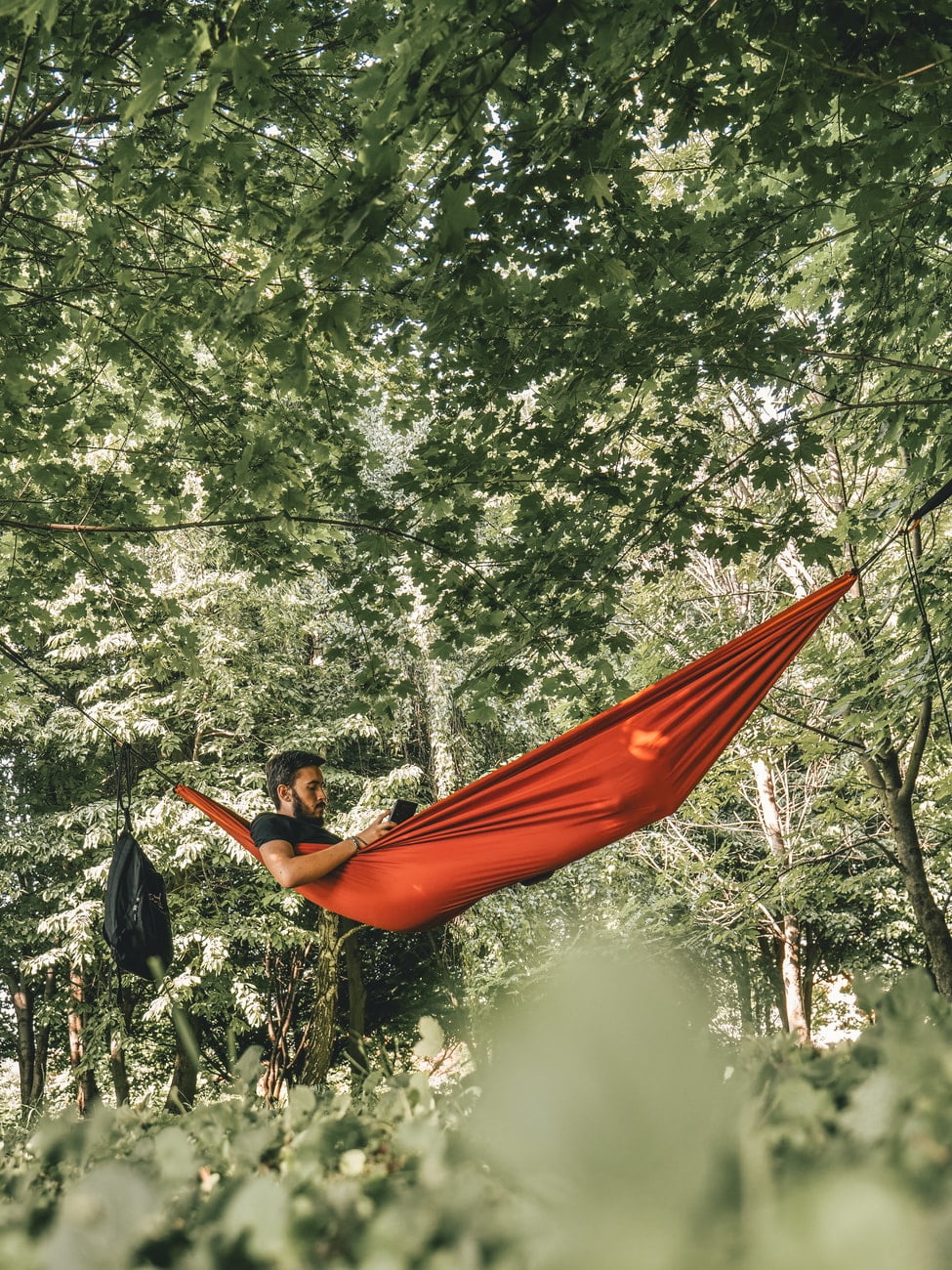 Be it a beach party, a lazy day in the sun, or a picnic in the forest, the highly flexible Honest Outfitters Hammocks are perfect. Being lightweight and comfortable, the hammock is a must-have at every gathering you decide to have.
Why did we like it?
This product came with two options, which we absolutely adored. If you are looking for some personal time to chill with yourself, the single hammock is your best option. If you want to spend some quality time with your special one, the double camping hammock with a 500-lb capacity is what you should be looking at.
The material used is pretty soft while being sturdy at the same time. It is made with heavy-duty triple interlocked stitches, which promises you complete safety. Moreover, the mildew resistant feature allows it to dry off quickly, which makes it an excellent choice for an outdoor excursion. 
With two solid steel carabiners, the hammock will safely hold you and your partner without any safety hazards. And, If you are worried about sharp edges, this hammock has none, thus causing no snag.
What could have been better?
We thoroughly enjoyed the product, but there were a few minor glitches. The single hammock comes with basic straps that are strong, but double straps support would have been preferred.
Also, the material is not waterproof though the bed dries off quickly. This does not become a hindrance if you let it dry out for a while.
Pros
Availability of single and double size

The capacity of double size is 500 lb

Breathable quick-drying material used

Sturdy steel carabiners

Easy to set up
Cons
Not waterproof

Single straps used
If you are looking for a travel-friendly hammock that would fit easily into a bag, the Eagles Nest Outfitters hammock is for you. Be it taking a vacation on a boat, heading out on a hike in the mountains, or exploring the wilderness, this hammock is going to be your best option. 
Sale
Why did we like it?
We loved the parachute design of this hammock. Made with high-strength breathable 70T high tenacity nylon taffeta, this product is sturdy with a capacity of 400 lbs and dries off quickly in case you face a sudden downpour. So, there is no need to worry about unexpected spills because the hammock will dry before you know it.
Those days are gone where you would take an hour to set up a hammock. Now it is quick and convenient, making it feel like a breeze!
Talking of convenience, equipped with a compression stuff sack, the hammock can be packed off easily and rolled into a softball. It can fit into your luggage or rucksack, thus making it perfect for traveling and hiking. 
When the roads are long, and you are tired, what better way to relax than on a hammock letting the breeze play with your hair? This is the exact feeling we got when we took this hammock with us on our hike.
What could have been better?
The product comes in 24 color shades, thus giving one a lot of options to choose from, but the color combinations may vary from the image provided online. Therefore you may not get the exact shade you want. 
Also, the hammock straps did not come with the product, and we had to buy it separately.
Pros
Can hold up to 400 lbs

Strong aluminum Carabiners

Quick-drying material

Compression sack makes it easily portable

24 color choices
This hammock is our choice when it comes to relaxing in utter comfort. Feel the solace of sleeping on a swinging bed when you want to spend a lazy day in the backyard with a glass of your favorite drink. The hammock is known for its 'cocoon' effect making it one of the most comfortable choices in this list. 
Sale
Why did we like it?
Made with high-quality colorfast 65% cotton thread and 35% polyester, this product could be left outdoors without any issues as they are easily washable and dries off quickly. It could survive for years outside in your backyard and still look new. Also, it is fashionable and becomes a pretty nice addition to your decor. 
Coming to how much the hammock can take, it has a 475 lb capacity, which is pretty much a lot, and we did not need to worry about a collapse.
Also, the bed resting area, which is 98 inches long and 59 inches wide, provides enough space for one to roll over while on the hammock. We could easily fit in books and a lunch bag with us on the hammock. You can get your kids or your pet too since they are easily cleanable and dry off quickly.  One does not need to worry about any sort of soiling. 
What could have been better?
It took us a while to get the hammock to accommodate two people. The hammock needs time to stretch, and it took us two weeks to do so.
Also, the hammock cannot be machine-washed, and needs to be washed by hand. But again, one can easily remove spills and you can only wash the specific area instead of washing it completely. 
Pros
Can take up to 475 lbs

Free bag provided

Extremely comfortable

Soft colorplast cotton fabric

Child and pet-friendly
Cons
Cannot be machine-washed

Is not made of waterproof material
Imagine taking a day off to laze in the sun with your partner or cozy up in the evening by the fireside on a hammock; the Lazy Daze Double hammock is the perfect choice to make. Be it a romantic evening or a day of snuggling with a book; this hammock is the coziest choice in the market.
Why did we like it?
We couldn't resist the soft 100% weather-resistant cotton/canvas fabric which this hammock is made with. The supple fabric made it a treat to lie down in. Also, the material is strong and durable, and it could take up to 450 lbs weight. 
You don't need to stress about trees to tie the hammock to because this one comes with two sturdy ropes, which can be linked to two 9 feet heavy rods. The gauges are weather and rust-resistant, and even if you leave it outside, the body will remain as shiny as ever. 
The stands are lightweight and easily portable, thus making it easier for you to handle them and move them whenever needed.
The hammock comes in 12 different shades and designs, and we chose our favorite according to our backyard decor, you can do so too.
What could have been better?
The hammock is massive, and the additional gauges make the package bulky if you are looking to transfer it or take it on a trip. This hammock works best if you buy it for your homes, but it may not be a viable choice to make if you are a frequent traveler. 
Pros
100% weather-resistant cotton canvas fabric

Durable heavy-gauge, rust-resistant powder-coated steel gauge

12 color choices to choose from

Soft spun polyester rope
Cons
Bulky hammock material

Only 30 days warranty is provided
Are you a person who equally enjoys chilling in your front yard or watching the stars from your private patio?  Do you enjoy traveling to different places? Whichever you choose, this is the best choice available in the market. With its versatile design and features, all you need to do is set it up for a beautiful and comforting experience.
Sale
Why did we like it?
We were amazed by the materials used to make the Vivere Tropical Double hammock. You could choose from 100% cotton, polyester, or Sunbrella fabric, all of which are of supreme quality, and it feels lovely to lie down on. The fabric is tightly woven with 100% extra thick and soft material, which provides additional comfort and like the previous option, it can take upto 450 lbs.
We were so excited about the stands which came with the hammock as we did not have proper trees to tie the hammock to in our front porch. The legs are zinc coated for extra strength and are rust-resistant. 
The space here is also large enough for two people to fit in. It is kids friendly too as it is easily washable, so you can leave your kids and pets to play on the hammock.
Talking about the colors, the hammocks come in 12 different shades and designs, which are pretty attractive. 
What could have been better?
The weight is a bit of an issue as it is bulky, considering it comes with gauges. Although there are hooks provided for easy convenience, it can be a little tricky to attach the rope to the hooks. The price of the product is on the expensive side, but you are paying for supreme quality making it worth the price.
Pros
Available in three variants

Space-saving steel stand

Strong zinc-coated legs

Premium Fabric quality

Carrying case provided
Cons
On the expensive side

Bulky
Want to feel like you are lying down in the middle of a dessert observing stars? The same comfort and luxury can be achieved with Pawleys Island Original Collection hammock. You can relax and lose yourself in dreams for hours while the hammock provides you with all the solace you need.
No products found.
Why did we like it?
The Pawley's Island rope hammock is made from hand-woven, mildew-resistant DuraCord soft spun 3-ply polyester rope, which has a continuous weave, thus making it very durable even when left outside.
To add to the sturdiness, the hammock comes with custom-designed spreader bars made from seasoned solid oak. This makes the hammock very durable as well as classy to look at, with a maximum capacity of 450 lbs. 
We were impressed by the heavy-duty zinc plated rings and chains to be used to suspend the hammock. These are also rust-resistant, and all you need are two trees or posts to attach it with.
To add to the classiness, the Pawley's Island hammocks come in 7 color varieties, including oatmeal, brown, coastal blue, garnet, green, meadow, and tan. Some of the colors are uncommon, giving you the option to have a very different but exotic looking hammock in your backyard. 
What could have been better?
After using the hammock for a few months, we noticed that the materials used to make the bed are not meant to be left outside for days. Try storing it inside so as to keep it from wearing away too quickly. Also, the cords are very tightly woven at the top of the hammock, making the bed part slightly stiff. 
Pros
Handwoven soft-spun polyester 3-ply rope

Sturdy design

Solution-dyed colorfastness

Seasoned solid oak spreader bars

Rust resistant
Cons
Expensive

Tightly woven cords add stiffness
If you are looking for a cozy afternoon nap under the sun, the quilted weave hammock is for you. Made from soft all-weather OLEFIN acrylic fabric, this is the bed of your dreams, and it comes in a beautiful shade of navy blue, which makes it look all the more comfortable.  
Why did we like it?
Since the weather fluctuates way too often, we wanted something which will withstand the forces of nature. This product is made with all-Weather and Solution-Dyed Synthetic DuraCord Fabric, which makes it resistant to rotting, mold, and mildew. 
The fiber used to make the padding of the hammock is non-absorbent. It lets the liquid drain off and thus does not make the hammock wet. This makes the hammock an excellent choice for areas with sudden rainfall.
Further, the hardware is zinc plated and would not rust even if kept outdoors. It also helps increase the overall life of the hammock. Brazilian teak hardwood has been used to make the spreader bars adding a very premium feel to the product. 
Also, it is pretty extensive and can hold two people easily considering the upper weight limit is 450lbs. You can relax with a drink alone or with a special one, your choice!
What could have been better?
The presence of padding and spreader bars makes it difficult to transfer this hammock from place to place. Although it is perfect for your backyard or porch, using it for excursions or holidays would be tough. This was the only major glitch we had with this product, which was otherwise a perfect hammock.
Pros
Soft all-weather acrylic fabric

Zinc plated spreader bars

Non-Absorbent fabric

Cumaru Spreader Bar
Cons
Pillows and stand sold separately

Expensive
Imagine lying in a colorful hammock made entirely by hand, sounds exciting? The Amerindian people of the Yucatán peninsula in Mexico are making hammocks by hand without the use of any machinery, and it's a piece of artwork that will light up your backyard.
Why did we like it? 
Being aesthetically inclined, we loved the fact that the hammock was made by hand, and they were all unique as no two products look the same. We could not resist the idea of owning an authentic model, one which is a delight to have in the backyard and can take up to 350 lbs.
Another significant difference that makes this hammock stand out is that one needs to lie down crossways and not sideways like with all the other ones. This helps you attain a very comfortable position while a little push will enable the hammock to swing for long. 
The open weave allows air to flow through, thus not letting your back sweat during summers. You can feel the breeze even on your back while you swing! Our kids loved this hammock and wouldn't want to get down at all. 
What could have been better?
We thought that the hammock could have been a little broader. One can fit in it with a child, but two adults can be a little too much considering that the space is limited. Also, it cannot be machine washed. It is best to use this hammock in dry places where a downpour is not expected. 
Pros
Handmade and Unique

Easy to Swing

Can bear up to 350 lbs

Open weave
Cons
Cannot be machine washed

Not broad
Want to go hiking in the forest but are scared of mosquitos and insect bites? Well, the Everest double camping hammock was our choice when it came to camping and excursions in the wilderness. Equipped with a mosquito net to safeguard you, this one will keep you swinging without any worries. 
Why did we like it?
When we are out in nature, we want the experience to be therapeutic and not stressful. This hammock gave us the pleasure of comfort in places where bugs are inevitable. You get the comfort of home while you are sleeping somewhere in the middle of a forest! 
When it comes to space, this hammock is enormous, allowing two people to easily fit in while a single person will have ample space to turn and roll around. It can take up to 400 lbs and thus will not be a hindrance if you want to take in your pet too.
Another prominent feature would be that it is effortless to install and set up. The hammock can be folded into a bag, and it is pretty light and easily portable and reversible. We could take it camping without having to pull a giant bag with us at all times.
What could have been better?
This is the most viable option for you if you are a frequent traveler, but it is on the expensive side and will cost you more than most other hammocks. Also, the zipper is not ideal, making it a slight hindrance to enter it with the zipper opening only two-thirds of the way.
Pros
Great endurance and versatility

Mosquito and bug-free hiking

Attached side pouch

Detailed instruction manual
Cons
Expensive

Zipper doesn't unzip completely
This is one of the most advanced hammocks in the hammock universe! The Hennessy Explorer Ultralite model not only has a mosquito net but also a rain tarp making it feel like you are camping on the product itself. The manufacturers take camping very seriously and have come up with the safest model possible. 
Why did we like it?
We thought this hammock was a complete shelter system with all the features you would look for in a camping tent. Be it staying in a dense jungle or deep inside a cave, this has helped travelers survive for long now, and we vouch for the fact.
They have kept the minutest of details in mind beginning from multiple entry points to having an asymmetrical design that supports the back and knee like a perfect mattress.
Coming to the build, the suspended ropes are six times stronger than the rated weight limit, which gives you peace of mind and a night of great sleep. They can hold 250 lbs and thus are perfect for a single person to lie down in. 
The bottom fabric is very dense, thus not allowing mosquitos to pass through. We were delighted with the safety measures, and though one of our friends got injured during the hike, he slept very comfortably in this hammock.
What could have been better?
This hammock is pretty much from out of your dreams. The only thing we thought could have been an added benefit is if there was more space inside. A single person can fit in comfortably, but it cannot hold two people or maybe a kid alongside. Thus every person needs to carry their tent while on the hike. 
Pros
Complete shelter system

Protection from rain and bugs

Extremely sturdy suspension ropes

Lightweight and compact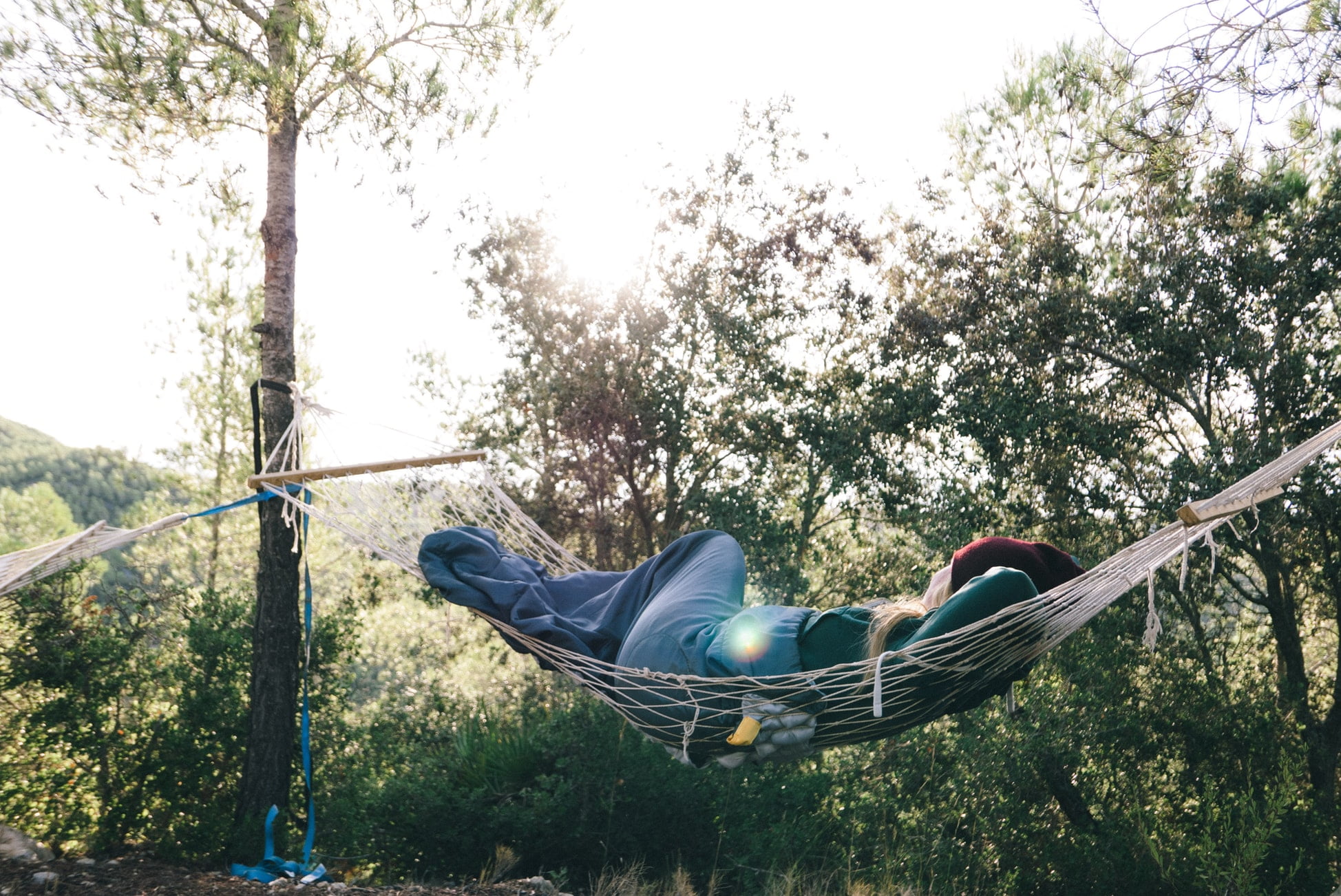 Comfortable Hammock Buyer's Guide
Now that you know the top ten hammocks available in the market today, you have taken a step towards getting your hammock. To make the final step, equip yourself with the buyer's guide, which will give you details of the factors to keep in mind before you finalize on a hammock. 
Portability
Some hammocks are meant mostly to be kept in one place as the gauges become too heavy to take with you on the move, while others are portable and lightweight and could easily be carried. Depending on your purpose to buy the hammock, make an informed decision. 
If you are looking to decorate your backyard, go with a hammock with beautiful wooden gauges that you do not need to move often. If you want easy mobility, go for a lightweight model. 
Single v/s Double capacity
One of the most important things to keep in mind is if you need the hammock for yourself or do you plan to share it with someone. If you are undecided, it would be safer to go with the double model as it comes with ample space in case you change your mind later.
 Again, if you like to travel and hiking is on your list, then it is best to buy a single hammock, which is more portable and is easier to carry.
Rain tarps and Mosquito Nets
There are hammocks where you can lie down under the open sky without any form of hindrance and then there are those that provide you mosquito nets and rain tarps. If you plan to be going to a beach or partying in your backyard, the open hammocks would be your best choice.
 This is because you do not want the view of the open stars being restricted in any way. If you are looking at going to deep caves or forests, hammocks with layers of protection are what you should opt for.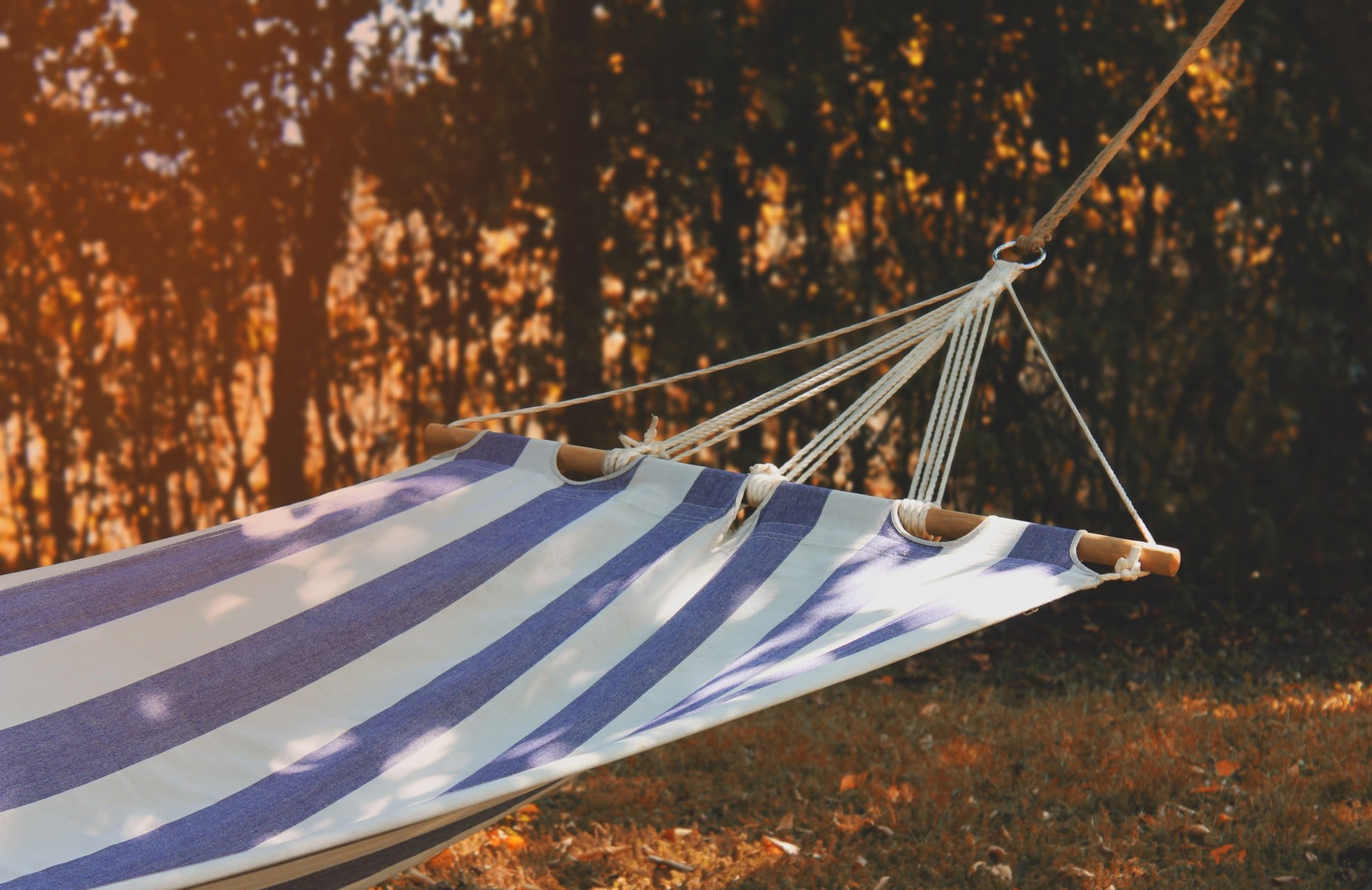 Water-resistance capacity
Keep this in mind, especially if you intend to travel a lot with the hammock. If the material used to make the hammock does not dry quickly, it will cause a problem for you. Look at quick drying or water-resistant materials to have a hassle-free hike. 
Single strap v/s double straps
Some hammocks come with a single strap, which may be sturdy but still invokes a risk if a lot of weight is put on the product. In such cases, tie it lower. Double straps ensure double the safety, and thus you can tie the hammock higher as there is no fear of falling.
Spreader bars v/s non-spreader bars
Hammocks with spreader bars are stretched out, and it is good to relax for a while, chill by the pool or sunbathe. But it may get a little uncomfortable if you intend to sleep on it.
Hammocks with no spreader bars will mold to your body, thus giving you a cocoon-like feeling, and you can rest much more comfortably in it. If you have issues with getting into a hammock, this is your best bet, as it is pretty simple to climb into it. 
Verdict
It is challenging to decide upon one considering the fantastic range of options that we have available in the market.
Although we are spoilt for choices, we think that the Hennessy Hammock Explorer Ultralite is your best bet if you are buying a hammock for traveling purposes. If chilling in your backyard is what you have in mind, the Mayan Hammock is a very aesthetically pleasing choice. 
Now that you have a clear understanding of how to go about buying a hammock, it's time to order your favorite. Get the vacation mood on as you destress on a hammock of your own!
Related Article
19 Excellent Indoor Hammocks to Soothe Your Nerves Swinging
11 Best Backyard Hammocks to Enjoy
13 Best Hammock With Stand Right Now