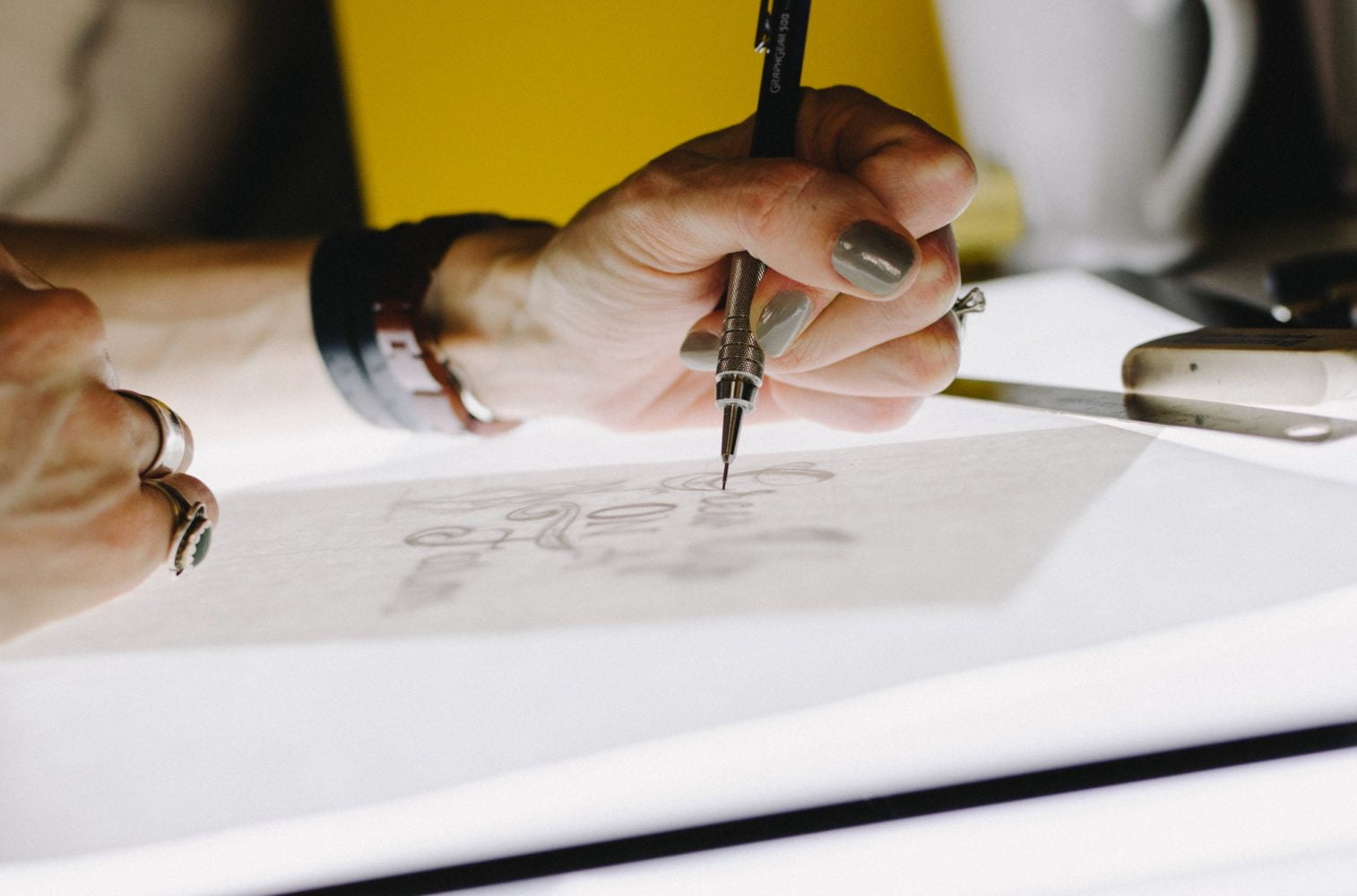 All artists desire to have an excellent table or desk to get their work done correctly.
When you use an artist's desk, you'll be able to maintain a  drawing grip along with a good vantage point over your work. Not only does a quality drafting table help to ensure comfort after long hours of work, but it also secures your work.
Art desks and drafting tables come in various sizes and shapes, but picking the right one as per your needs can appear like a daunting chore! Each type of a desk/ table has its pros and cons, so weigh it out carefully by asking yourself these questions:
How much space you have for keeping the table?
Do you need a table with adjustable height or not?
Do you have a stool/ chair or you need to buy one?
How much inclination or tilting angle do you need?
What type of style (traditional or modern) do you prefer?
Once you answer these questions, it will not be challenging to select your art desk or drafting table. We have carefully researched and analyzed the different art desks and drafting tables according to their specific features and design.
Let's go through the list of the best art desks and drawing tables:
Best Art Desks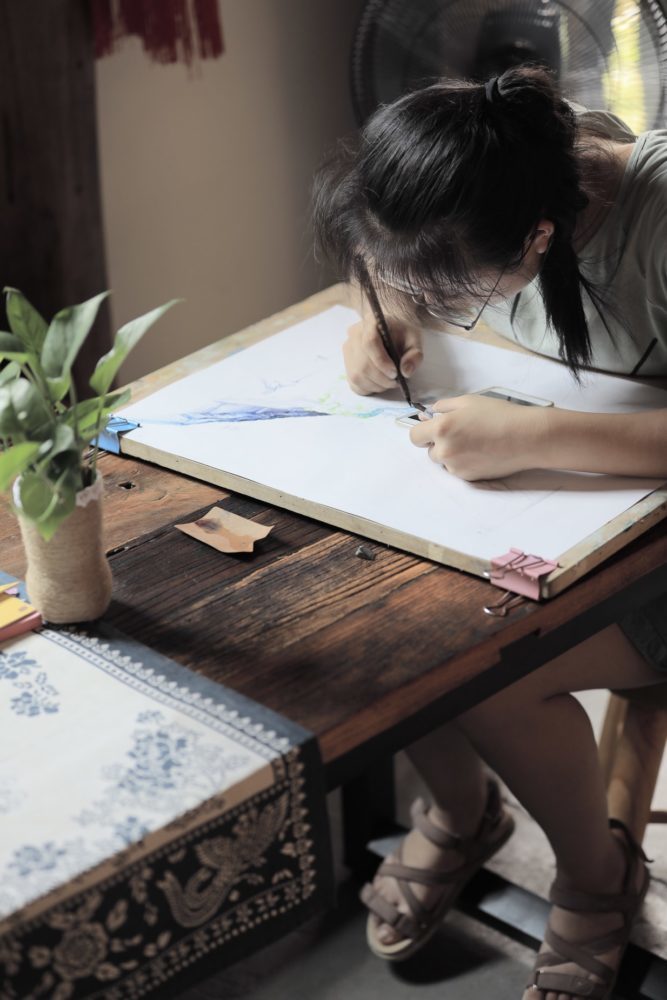 If you want to pick a table that will compliment your home, then you should select this desk by Futura Design. It goes well in both traditional and modern homes.
The style is perfect, and so are the materials that have been used for constructing this piece. Since its cut from solid wood so you can rest assured that the desk will withstand the heaviest of use.
But, with a complete wooden frame, there can be few limitations that you might face, such as- the height and storage.
The table comes with a fixed height, which is under 35 inches. It means that you will just be limited to the comfort of your chair and table. But, if you don't have a chair which matches your desk, then you will have to purchase it separately.
You will have to store your art supplies separately because the table doesn't come with any attached trays or drawers. But there is a 24-inch pencil ledge to prevent your papers or drawing supplies from sliding off.
This wooden desk features a unique tilt which stands out apart from its stunning aesthetics.
The drawing surface can be angled up to 90 degrees so that you can adjust it according to your level of comfort. You can keep the drawing surface in the top angles for your charcoal or pastel drawings.
Overall, this table will be perfect for aspiring artists, hobbyists, and others who paint occasionally. And even with a few limitations, this desk can function exceptionally well for all your artworks.
The design and structure of this unit are quite similar to the Futura desk, and you can use this piece as an art desk as well as an office desk. It comes with the same type of base- extruded aluminum, while the drawing surface has reinforced glass.
The height is more than the Futura table as it comes with a corkboard, a top shelf, and some supply holders that can be used for other office supplies (e.g., scissors, staplers, etc.). We don't advise you to keep the heavy items in your plastic holders as they tend to spill over.
The corkboard is detachable, while if you don't prefer this design, you have an option for the simple Futura model.
The drawing surface is quite spacious as it measures approximately 33 inches wide and 21 inches deep. Since the working surface is low and doesn't come up to a higher altitude, so we advise you to get an office chair that can sink low. The height of this table is the flaw in the design as it can take a while for you to get used to using this table.
Moreover, the drawing surface can tilt to a maximum of 45 degrees. This helps to raise the height of the table by about 1ft without the corkboard getting in the way.
A pencil ledge comes along with your drawing surface to store your pencil or paper when you're drawing at a tilt. You can remove the ledge if you want and instead use the table as a flat desk.
But if you want to keep things on the top shelf, then you should make sure that the table is the correct level. It should not be unstable or slanted by placing it on the bubble in wood or uneven carpeting.
The desk stands at a distance of 2.5ft from the wall, but the sliding drawer and chair can make it appear larger. If you like the design and have enough space to keep this table, then you can pick this up.
If you're looking out for a see-through drafting table than getting this piece will be perfect. You'll get this unit along with a foldable side desk area that can be used to store your knick-knacks, eatables, supplies, and everything with a compact size. The extra shelf can also be folded when you don't need to use them. However, you can also get the same Futura Drafting Table without the side shelf.
The legs of the table are correctly built, and they have been designed well. To keep the table well balanced on wood paneling or carpet, the base has been carefully made with extruded aluminum and plastic caps.
The drawing surface is about 38 inches, and it has been strengthened with tempered glass, which can hold a weight of up to 50-70 pounds. This indicates that this drafting table can also be used as a real desk because you can customize this piece easily.
You can choose to shift the cubby and the foldable shelf to either side, and you can also leave them out altogether. And the drawing surface can also be tilted with a tilt of a maximum of 35 degrees.
Some plastic holders have been kept on both sides for keeping rulers, pencils, t-squares, and any other similar supplies. The drawing surface also has a raised lid on the bottom to keep your papers secure when you choose to work at a tilt.
You'll find this workstation perfect for professional use, and it has been crafted exquisitely. The glass surface can be the only reason why some people might not want to select this table. This table has been a popular choice among people like artists, or architects who need a see-through surface with an ample amount of space.
The table does not come with a chair or stool. If the price of this unit is within your budget and you like the layout, then we advise you to get the piece.
Studio Designs is known for their quality work and the variety of sizes, materials, and styles of their products.
The drafting table from Studio designs is probably the best drafting table or drawing desk. It comes in a modern design with pretty heavy steel construction. You'll also find a side table that has cubby storage which is attached to your desk, and a cubby stool also comes with this set.
The table will stick out for around 2ft from the wall, but if you consider the tool along with it, then it will be about 3ft of space from your wall. The storage cubbies that are provided are not detachable so it will be taking up to 4ft of total area.
You can angle up the desk area to a maximum of 15-degree tilt. It will be perfect for any artistic work such as- storyboarding, drafting, or sketching. There is a detachable pencil ledge which is around 2-foot, and you can keep your paper and pencil secured even when the table is tilted.
There are different measurements for height as it depends on the extent to which the table is tilted. After the table is at a tilt, it measures to a maximum of 40 inches from top to bottom, which is a max of around 3 ½ feet tall.
The drawers are squared shape which measures a size of just under 13 inches. You can fit your ruler and other similar supplies, but if anything is longer than 12 inches, then you would have to fit it in tightly. The drawers are not very strong as they are made of fabric, and come with a cupboard base.
But you can fit in your art supplies such as your rulers, paper, pencils, sketchbooks, and similar products. The drawing area measures about 36 inches wide(3ft) by 24 inches tall(2ft).
The drawing board is either made of plywood covered with a vinyl finish or particleboard. This might not be the best-crafted table, but it's a good bargain for the price. You'll be just using this table for drawing purposes, so there is a need for it to be strengthened for heavy machinery.
The height of the table will be suitable for a 6ft adult to a 3ft child. If you're not comfortable with the stool, then you can also use an adjustable computer chair. And if you do like the fabric and the design, then you'll enjoy using this table for your work.
Many artists want their desks to also function as a home office, and if you're one of them, then you might like this piece.
In the Sauder Maple Computer Desk, the woodwork appears to be flawless. It comes with many storage drawers for helping you stock your art supplies, paper, ink, or office and art-related materials.
There is a sliding keyboard tray kept under the table, and grommet holes at the side/back of the table to feed the wires from your computer.
This unit has one of the widest desks (5ft) among the other tables that have been mentioned in this list. You need to make sure that there is sufficient room for it before you purchase this piece. It is also a heavy table weighing around 120 pounds. To assemble this desk will not be difficult, but due to the weight, you might not prefer to move it around quite often.
Other measurements of this table are surprisingly small as it's 3ft from the wall and the drawing surface stands at a distance of 3ft from the ground. The finishing of the entire piece appears excellent, and you'll be getting different storage options in the drawer placed on the left side of the table. You can store all your files, folders, the big art supplies, and all the other more substantial items in this drawer.
You might be wondering whether this is a computer table or a drafting table?
Well! We have presented all the possible options for you to pick from, and you can decide which unit is best according to your use. The Sauder desk is the best choice for people who want to have a single desk for their computer, paperwork, and art time. This stunning all-in-one unit also provides you with enough space for drawing and to keep your computer.
The Sauder table will last you for decades, as the wood is of good quality and it's a versatile piece.
The Coaster Artist is a perfect pick if you want a simple drafting table with a stylish design and bright display. It has a look from the 50s, with a retro-modern finish that gives this piece an edge over the other tables in the list.
Design-wise, this table does appear a little similar to the drafting table by Studio Designs. There is a difference in the height and size of both tables. The Coaster Artist table is a bit smaller in width and with a better height.
The drawing surface measures up to 36 inches (about 3ft), which is the right amount of space for you to set up your drawing sheet or your sketchpad. On using this table, you'll understand how it feels incredibly secure due to the tempered glass surface.
Even though the drawing surface appears to be fragile but it takes up a decent amount of load such as 100 pounds when it's laying flat. If you like to work at a proper angle, then you'll enjoy working on this as you can tilt the work surface to about 50-60 degrees in total.
There are some collapsible cup holders, which you can when you prefer to have a smaller table. If you're a drafter, you might find it challenging to use your t-square without removing these cup holders.
The best feature of this table is the adjustable legs, which can be altered to deal with uneven floors, and it's also made wobble-free. These table legs have been constructed with tubed steel along with screw-on bottoms.
You'll enjoy using this piece by Coaster because the design is not fragile but sturdy, and it appears like an artist's workstation.
For an artist who is looking out for a wooden desk that can also be used for office purposes, should check out this desk made by Studio Designs Ponderosa.
You have the option of getting this table with either a wood top or a glass one. However, you'll get the same pivot for tilting in both of these styles; it has around 16 types of settings which range from going flat to a maximum of 30 degrees.
There is a chance that you'll face issues when you have placed the table on uneven flooring. This problem arises due to the design of the legs, which looks like straight bars that have risks of wobble.
Under the drawing area, you'll find a sliding drawer that has five slotted regions, which you can use for storing pens, pencils, a sketch pad, and other art supplies. If you tilt the table, you don't have to worry about the drawer rolling out as it tucks away with the right fitting.
Drawing surface comes in the same size as the desk. Moreover, in the sliding drawer, there is a big rectangular pocket which is wide enough for you to keep the keyboard.
It is undoubtedly a good table with suitable construction and a fair amount of drawing space. But, it is not an excellent unit for placing it on uneven floors. And try to avoid the glass model because the glass has a slight tendency of shifting (a little) in the frame. This piece is otherwise excellent for artists who prefer to work at a tilt, and they can also choose to use it as a computer desk.
Anyone looking for a compact drafting table will undoubtedly love this desk by Safco. This table is an expensive one, but it has been designed especially for the draftsmen and for artists who use the traditional mediums (charcoal, watercolors, oil painting, etc.).
You can completely adjust the height of the table while there is also a single tilting surface and a smaller drawing area on the right side. You might find the desk a little fragmented, as the two different drawing surfaces are not connected.
The drawing surface on the left side can be angled up to 50-degree tilt, while it measures about 31.5 inches wide by 20 inches deep. And the table surface on the right side is much smaller and doesn't tilt. It measures up to 16 inches wide by 20 inches deep. But the distance from the wall is the same for both these surfaces.
When the table is laying flat, you can quickly draw one surface to the other. And when it's tilted, you can keep your drawing equipment and other supplies on the small surface.
Since the surface has a split, it makes this desk useful for only specific purposes. But the width (4 ft) of the entire tabletop is the same as the other desks.
We have kept this table in our list for the distinct split tabletop design which is preferred by many and will technically work correctly as a drafting table.
Studio Designs has been the market leader for the art furniture industry and art accessories for over a decade. The items manufactured by this company have a contemporary style, and they are known for their outstanding customer service. The Graphix II Workstation is perfect for producing beautiful, high quality, and meaningful work.
The height of the table can be adjusted from 27-38.75 inches. Even if you're buying this table for your kids, you should know that the varying height will be suitable for children and adults. This drafting table is also available in two sizes: small and medium so that you can pick the size according to your requirements.
You can work on several projects at the same time because of the dual-top surface feature. The larger tabletop adjusts from flat to a tilt of up to 30 degrees; the smaller one can be used for keeping your art supplies while you're working at an angle. This desk is built to last because of the heavy gauge steel construction that can handle the right amount of weight (50 pounds).
Drawing surface measures up to 42 x 30 inches, when it's at a tilt, while the flat top is around 11.5 x 30 inches. It is also easy to assemble this table, as each part is labeled, and it comes with clear instructions. This table doesn't come with a set of wheels, but caster wheels can be attached to the flat bottom.
The smooth and sleek design gives the table a professional look, and it will enhance your working mood. This unit is best for aspiring architects, graphic designers, and young professionals.
Best Art Desk by Category
Best Budget Art Desk
Finding the right art desk requires a lot of effort, and it gets costly at the same time. If you're on a tight budget, then this desk by Martin Ashley is one of the best options we have for you.
It's incredibly sturdy and comes along with a lipped edge, which is the best feature for tilted drawing. You will also be getting a free stool with this unit, so you don't have to go searching for one with the right measurements.
The storage space is not great, and you can't keep your heavy items in there. You'll need to keep your art supplies in some other storage area as the plastic cubbies do not have an ample amount of space.
But this Martin Ashley art table also has adjustable legs, so you can change the height of the table from 26-36 inches. The weight of this table is like the standard desk chair, which is around 35 lbs so that you can move this unit around quickly. This art table is undoubtedly the best budget option to select without burning a hole in your wallet.
Best Art Desk For Animation
When you are in search of a drafting desk for animation, you will get several options, but it depends on whether you're into digital animation or traditional animation.
If you're working with the traditional medium, then your choice would be a desk with a tilted drawing surface. A glass tabletop is what you'll mostly prefer to backlight your drawings for tracings or cels.
We recommend the Futura Advanced Drafting table that comes with a side table for keeping your extra cels, paint, or whatever else you will require for your drawings. One of the inexpensive alternatives is the Coaster Artist with a higher range of motion as it can tilt up to 50-60 degrees.
But with digital animation, things are a little different. If you're working on a tablet, then you can choose to work at a tilt, but if you have kept your monitor on the desk, then you can't tilt it.
The Sauder Maple Top Design, which is a standard computer desk, is the best option for a digital animator. There is enough space to keep your computer, and the sliding tray can be used to keep the keyboard with an ample amount of storage options.
However, if you want that inclined angle then grab one of the adjustable drawing boards. It will give you the same experience as working on a titled tabletop, while you also have the flat workspace for the laptop or the monitor screen.
Best Art + Office Desk
If your accommodation is small, then you might not have enough room for storing a computer desk and a drafting table. This indicates that you'll need to find a unit that will support the uses of both. But if you need a tilting workspace, then you probably can't opt for the standard computer desk.
The best combo of an office desk and art desk is the Ponderosa Wood Desk, which is made by Studio Designs. This brand is known for making products of high quality that also comes with a range of features. And you also have the option to either select a clear glass top or a wood top. Both these table tops can be used for computer work and drafting purposes.
You can keep your keyboard and the mouse in the sliding drawer, which is placed underneath the tabletop. If you're only using a laptop for work, then this is the desk that you should check out for sure.
However, the working area can also be tilted up to a maximum of 30 degrees, which makes this desk perfect for drawing or drafting work. The under-top storage drawer and the simple design of this unit make it an ideal fit for your art studio and home office.
Art Desk Buyer's Guide
If you're trying to select the best drafting table, then here are a few guidelines that you'll need to know for making the best choice:
Dimensions of the Table
The best drafting table for you should have the right dimensions in terms of height, depth, and width. It also depends on where you want to place the table and the amount of space that is available there to fit it correctly.
You have to focus on the measurements to have a hassle-free shifting process. The table should also come with an appropriate height that will be comfortable for the person who is using the desk.
Storage Options
You should check the number of storage compartments or cabinet drawers that is there in the drafting table. If the unit comes with several storage options, then you need to make sure that the bottom of the table has enough legroom for you.
The size of the compartments should also be taken into consideration depending on the products that you want to store probably. The drawers should also be well secured and simple to open.
The Material

Most of the drafting tables are made up of wood, but there are several which have the glass top. The tables with the glass top have an edgy and luxurious appearance. Irrespective of the type of table you're selecting it should last you for a reasonable amount of time, so choose wisely!
Eco-friendliness
Finding an eco-friendly drafting table will be an excellent measure to take. This technically means that it should not be constructed with any harmful chemicals that can pose a threat to your office space or your home.
Adjustability
You should consider picking a drafting table that will be easy for you to adjust according to the design. The drawing surface of the drafting tables is generally flexible except for a few models. You need to ensure that the tabletop does properly lock when it has been set up.
The height should also be easily adjustable so that both children and adults can use the desk. There are also a few drafting tables that have the dual top design (angled and flat), which you can use at the same time for different tasks.
Paper Size
The dimensions of the drafting table surface should be suitable enough for your paper size. If you use big paper for your project, then you should consider a drafting table which has a big enough tabletop. Since the paper size is not the same all around the world, so this is a crucial point to consider while selecting your unit.
Purpose
The art desks and drafting tables are used for different careers like- engineers, architects, illustrators, animators, and other similar types of artists.
You need to pick the right desk according to the career that you are pursuing at present. For instance; a drafter will benefit from a desk that is backlit and comes with a clear top. Therefore, this serves as a lightbox and a drafting table.
Chair
When you're buying an art desk, you'll find some that have a chair included while for others you might have to buy separately.  This leads to added expense, which will make you extend your budget.
If you're buying a chair separately, then you have to consider the height of the armrests, if it's applicable. Moreover, there are few small desks, so you would have to make sure that there is enough space to slide your chair under it.
Final words
With an excellent art desk or drafting table, you'll have no problem painting, drafting, drawing, crafting, and doing everything that pertains to your trade. However, you'll find a variety of options to choose from when you consider the design and material. You need to patiently review the features to see a unit that will suit your needs, and it should give you excellent comfort, grip, perspective, and secured work.
Till next time!
Related Articles