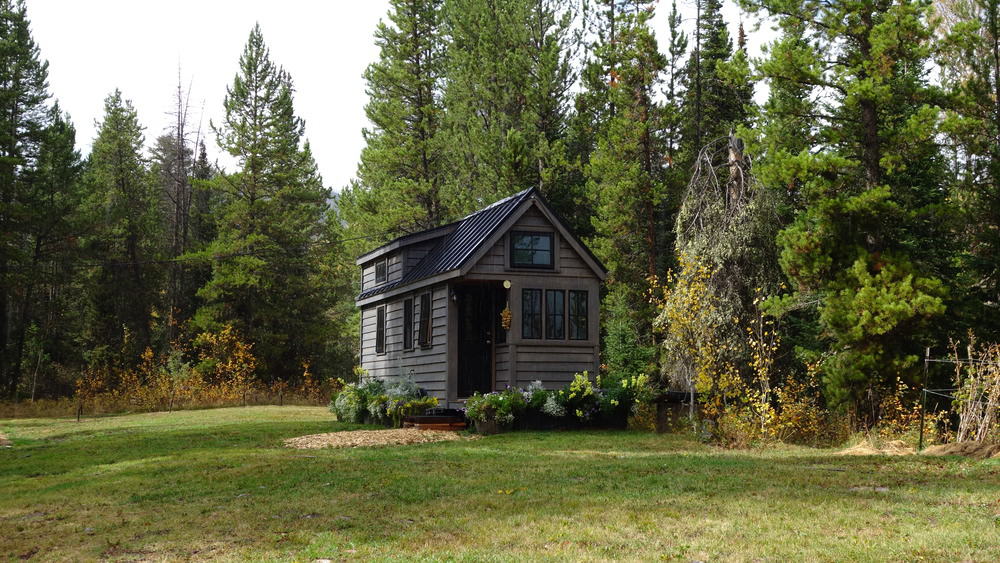 Are you thinking of efficient ways to build a home? It's time you went beyond the concept of modular houses, and thought out of the box.
Focus your creative mind on a specific metal building, reflecting barn-style living spaces. What are we talking about? A barndominium, barn home, or whatever you may call it.
Well, the term can be alien for those who are new to the housing markets, but you can rest assured that this building-type is a trend that's here to stay. That's why we've decided to help you get familiar with the concept of a barndominium.
Through this guide, we'll be providing relevant information on all there is to know regarding this type of building. Furthermore, we'll elaborate on what you can expect in terms of its floor plans and pricing. You'll also gain valuable insight on its benefits in the long-run.
So, without further ado, let's begin.
What Is A Barndominium?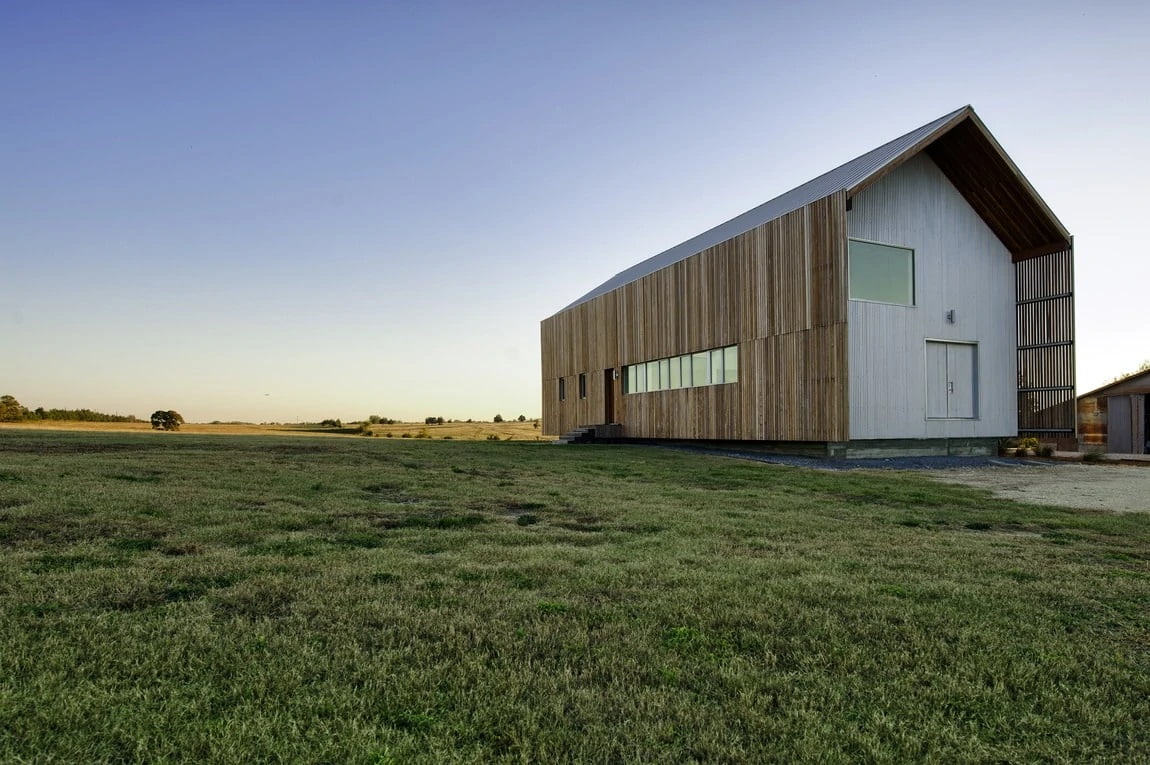 and that the term "barndominium" itself can be quite confusing, especially if you're not familiar with building types. So, let's make it simpler for you, and for this, we'll start by breaking up the word.
A barndominium is composed of two words, namely – "barn" and "condominium." Earlier, the name was given to barns that were converted into living spaces. In other words, it is basically a metal or steel building with living quarters.
However, nowadays, designers and planners are incorporating several features into these houses to ensure sustainable living. Some of these features include:
Energy-efficient windows to help block the sun's rays, keeping the heat trapped inside during the cold winter months and outside during the summers.

Stained concrete flooring to meet your style preference and budget requirements.

Spray foam insulation to enhance the thermal insulation value of the house without air filtration.

Plumbing fixtures, tanks, pipes, and other apparatuses for easy access to water.
Barndominium Floor Plan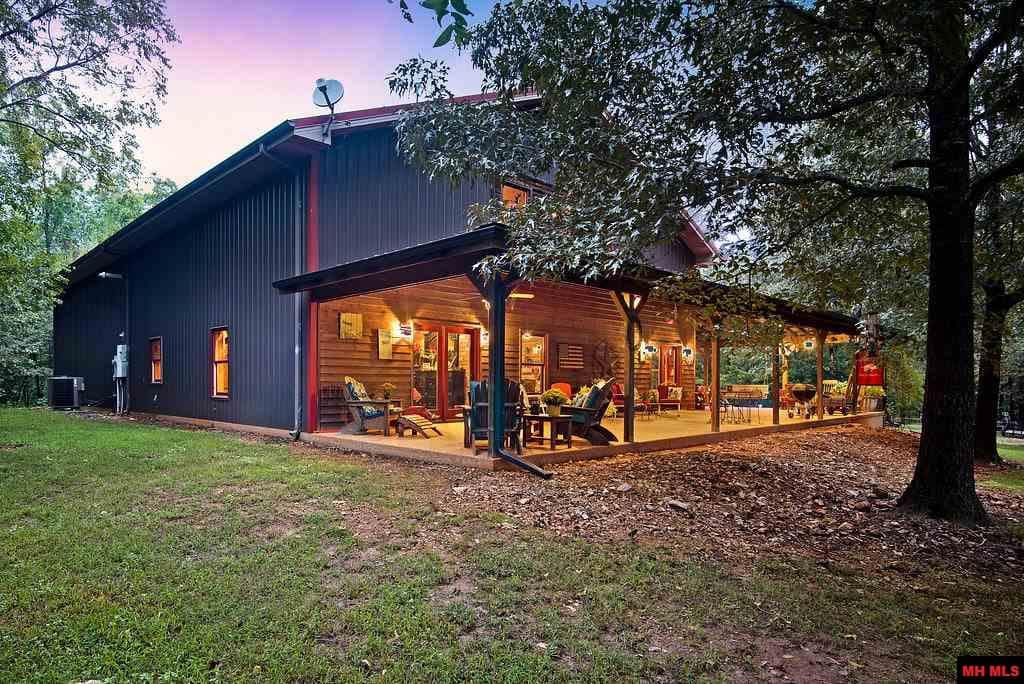 Now that we're fully acquainted with the term "barndominium," it's time we elaborated on its floor plans to create a better understanding. On that note, barndominium house plans feature country home designs, strongly influenced by barn styling.
The best barndominium floor plan differs from the popular "farmhouse" trend! Instead, the designs usually feature an open concept floor plan, a gambrel roof, and of course, the rustic aesthetic appeal of repurposed pole barns.
Earlier, the floor plans of a barndominium were limited, but people saw its potential as a living space with time. As such, today, there are a variety of barn homes for you to choose from, ranging from year-round homes to carriage houses.
But then again, is it worth the investment? Let's answer this question in the following section of our guide.
Should You Buy A Barndominium?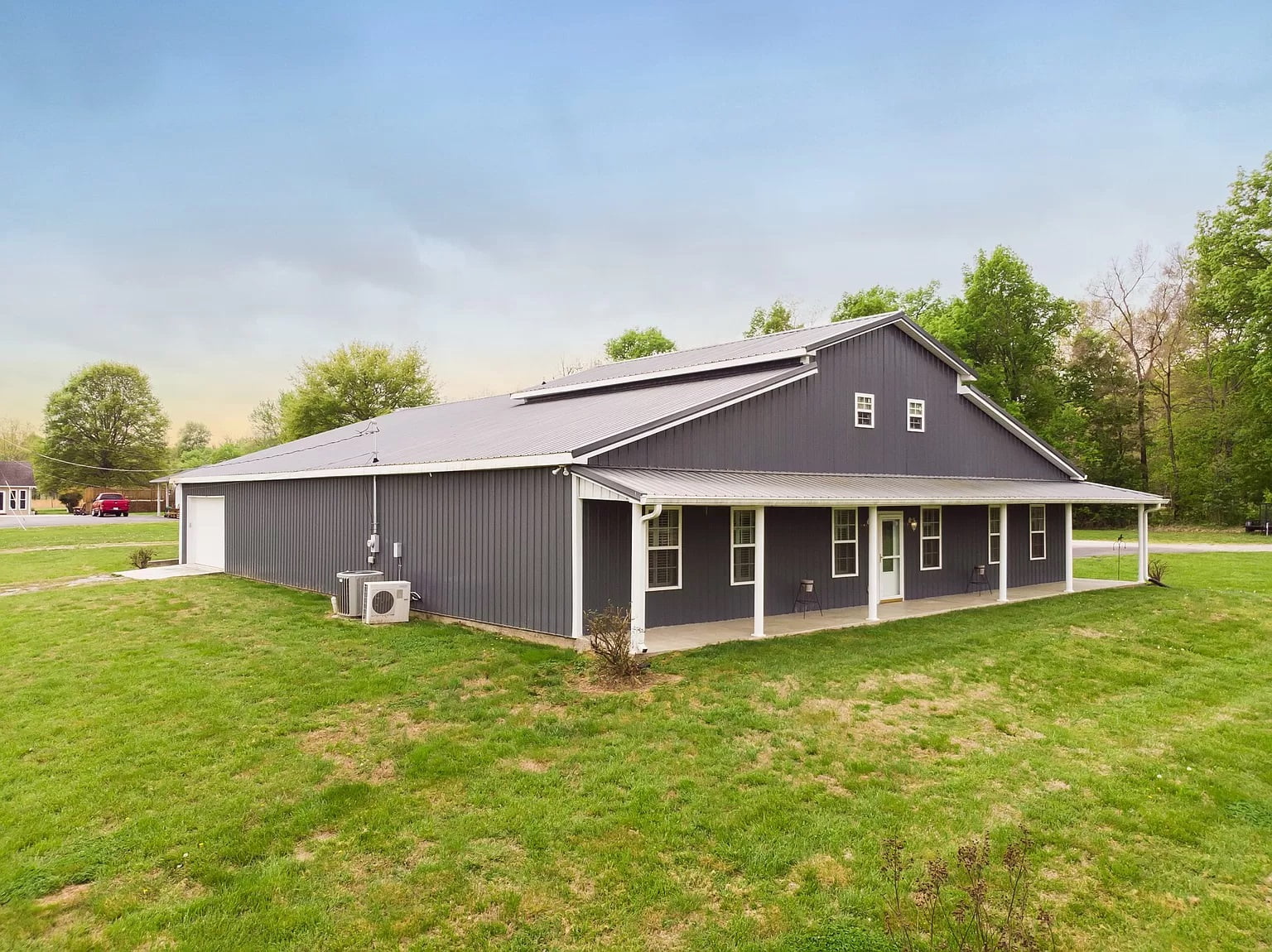 Well, owing to its open concept floor plan, the answer to this question is pretty straightforward for those tired of the daily hustle in big cities. If you're one of those people, a barndominium can be a great place for a weekend getaway.
That's not all; there are plenty of factors, which make barndominiums a reliable investment option. In this section, we'll be highlighting some of their benefits to help you come to a decision. Let's take a look.
Versatile Design
The best quality of a barndominium is undoubtedly its open and customizable floor plan, which makes it suitable for a wide range of purposes. You may use your living space as a restaurant, garage, shop, community center, entertainment area, or even a church.
Easy To Build
You need not wait for months or years to move into your new home as barndominiums are easy to build with or without the help of a contractor. So, if spending money isn't a feasible option, we'd definitely recommend you to do it yourself.
Moreover, material kits for the construction purpose are already available in the markets, making your task simpler and less time-consuming.
Additional Space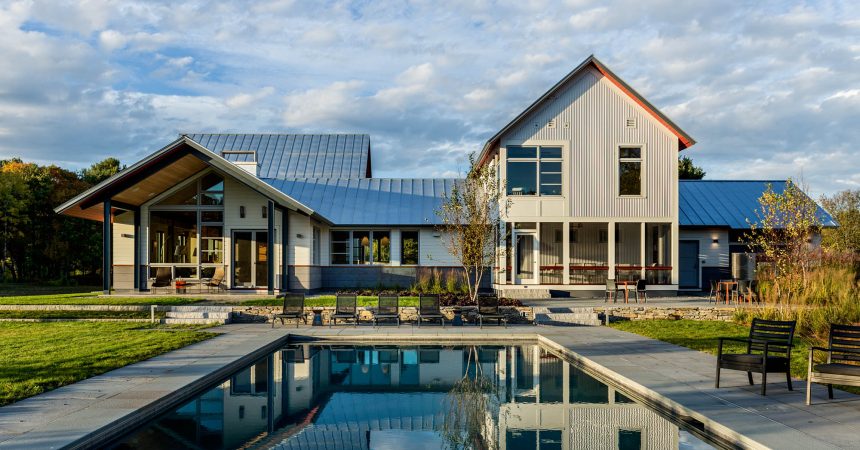 Thanks to its versatile design, you can easily increase the available space of a barndominium when required. In other words, it allows you to add walls to the living space or leave it open, depending on your requirements.
Barndominiums are, in fact, known for their spacious design and high ceilings, which ensure the uninterrupted flow of air and light. So, you can easily arrange and customize their interiors as per your preference without having to worry about them being too crowded or stifled.
Durability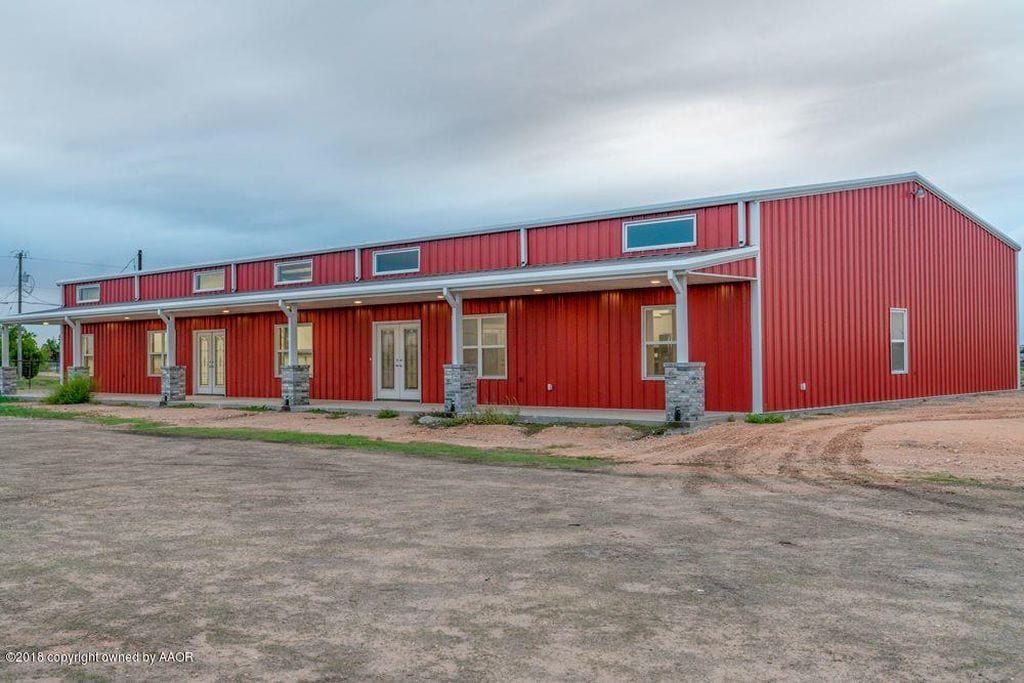 We all seek durability when it comes to finding houses, and the same goes for barndominiums. Luckily, you don't have to worry much about the building's maintenance as it's sturdy and offers protection against troublesome elements, such as pests. So, rest assured it won't wear out over time, giving you complete peace of mind both during and after purchase.
You must be thinking about what makes a barndominium more durable than other buildings. The answer's simple – they're steel buildings and thus have a steel or metal construction.
 Protection From Elements:

Metal, being sturdier than wood, is capable of withstanding storms and earthquakes better.

 Insurance Costs:

Steel or metal barndominiums come with better rates from insurance providers.

 Keeps Pests Away:

Pests can never damage a metal structure; as such, your barndominium will last you through the years to come.

 No Combustion:

There's no need to worry about fire hazards since metal barndominiums may deform due to high temperatures and fire but will never catch on fire.

 Won't Rot:

Moisture and mold are the two primary concerns when it comes to a wooden structure. You'll have to protect your home from damage by taking the right preventive measures. Fortunately, steel or metal structures don't face these issues; they're easier to maintain and have a longer lifespan.

 Strength To Weight Ratio:

Despite being robust, metal is quite light, so you won't have to spend a fortune on material transportation costs. That's not all; the basic assembly of a barndominium is not as labor-intensive as traditional houses.
Cost-Effective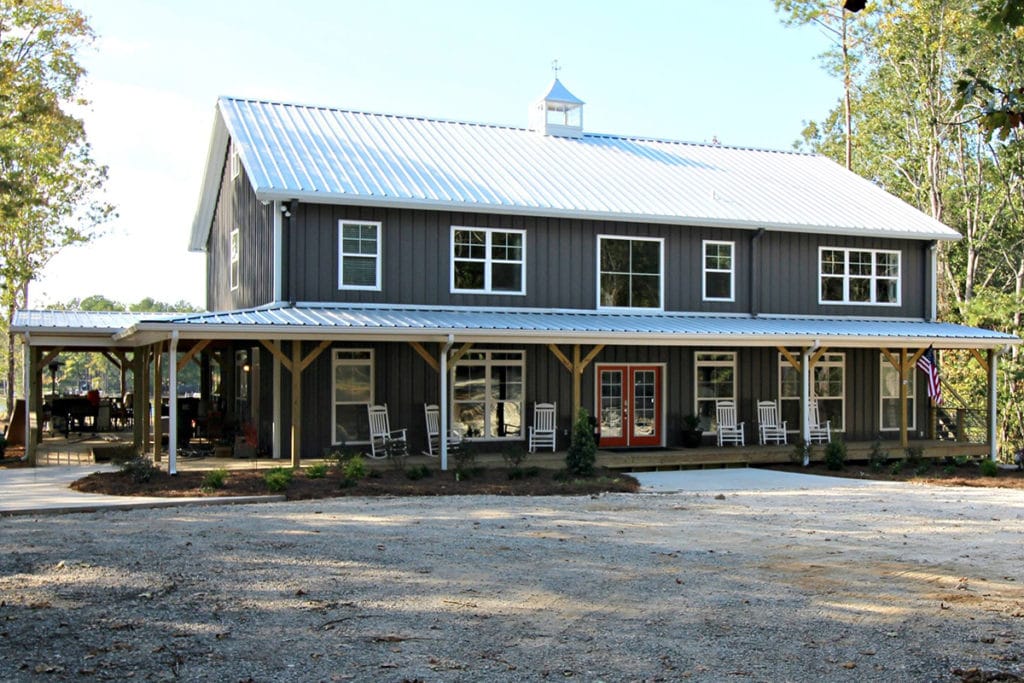 One of the primary reasons why people don't mind investing in a barndominium is because it's quite cost-effective. Rest assured, you won't be burning a hole in your pocket for it.
Conventional homes are more expensive than these buildings, costing something around $290,600, i.e., $145 per square foot for a 2,000 square feet building. However, when buying a barndominium, you can expect unlimited exterior doors, premium windows, an engineered foundation, metal shells, and so much more for only $38,000 approx.
You'll only have to pay $75 or $90 at most for a 5000 square feet barndominium. Now, to help you invest in a suitable barndominium at a price under your budget, we've come forth with a pricing guide.
Barndominium Pricing Guide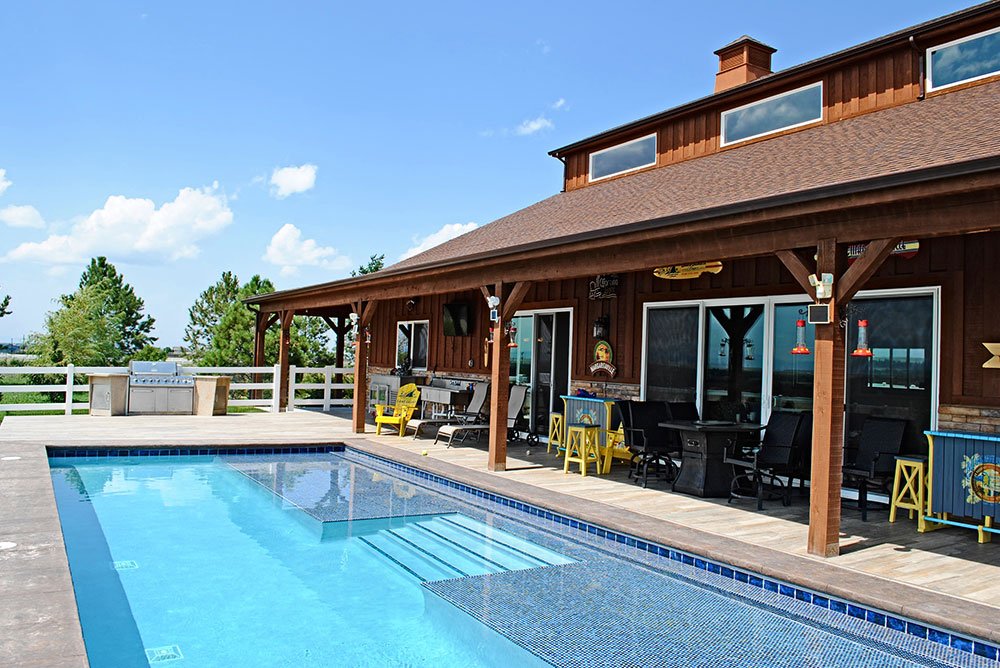 Here we'll be addressing a few crucial concerns related to the average price and customizable home kit of a barndominium. Other than this, we'll be helping you learn how to calculate its final price.
What Is The Average Cost Of Barndominiums?
As mentioned earlier, barndominium costs for large high-end buildings are quite expensive, costing around $25,000 or more. The price is inclusive of the building materials, slabs, and high-grade finish but exclusive of appliances or any other essential that you may need.
However, if you're in search of a basic shell with living quarters, just a shell, you'll easily find a barndominium that's completely built and ready for finishing at a price less than $26 per square foot, the barndominium cost is in direct correlation with its quality as you would expect but considering the resilient nature of the establishment one could consider the average barndominium cost to be inexpensive.
All the hard work in putting the building together will already be done, so you'll just have to put your finishing touches on its interiors. For instance, putting up the windows and doors, painting the walls, and more. But for these barndominiums, you'll require a cheap and custom barn home kit, which brings us to our next point.
Why Do We Need A Custom Barn Home Kit?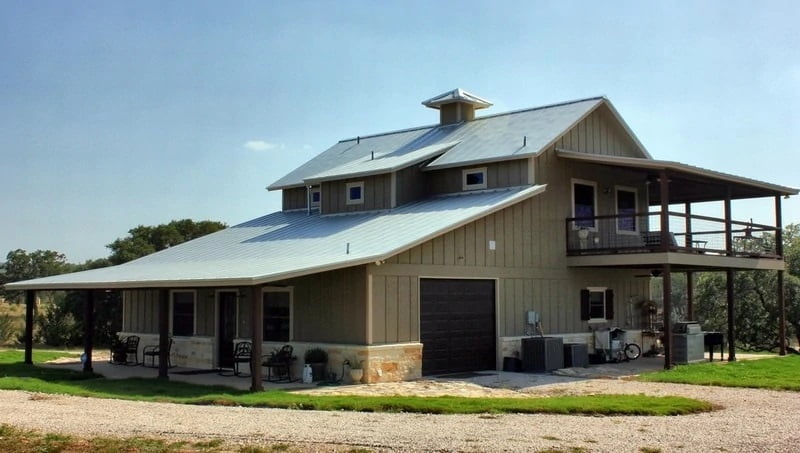 If you plan on building your barn home from scratch, we'd suggest purchasing a prefabricated barndominium kit. It can save up to 50% of the total costs of building a barndominium without the help of a builder.
What are these kits? They are predesigned plans and materials available at reduced prices to help you build a barn home. That's not all; these kits come with everything you'll need to build your barndominium within no time.
You can choose from the different plans and square foot sizes to find a suitable match for your home. If not, you may also customize the size and floor plans according to your specific requirements. But keep in mind that these changes will be reflected in the overall construction price.
Several companies specializing in barn homes offer plans or fabrications, depending on where you live. This is because some of them only serve regional areas within a specific mile range when working with a client.
Ideally, they prefer having clients within a 100-mile range to deliver barndominium kits without much of a hassle. However, with the demand for barn homes on a continuous high, larger builders in Texas are extending their service into New Mexico and Oklahoma.
They no longer just deliver the shell of a building but also offer exterior doors, stained concrete floors, engineered concrete slabs, energy-efficient windows, spray foam insulation, and a continuous roof.
To sum up, investing in a custom barn home kit reduces the cost of building a barndominium. It is the most cost-effective way of building a home and highly beneficial for first-time homebuyers who can't afford homes in today's market.
How To Calculate The Final Barndominium Cost?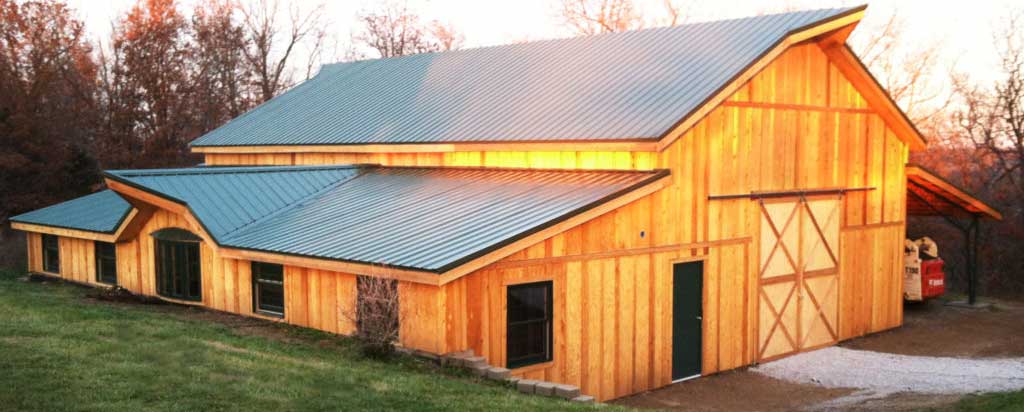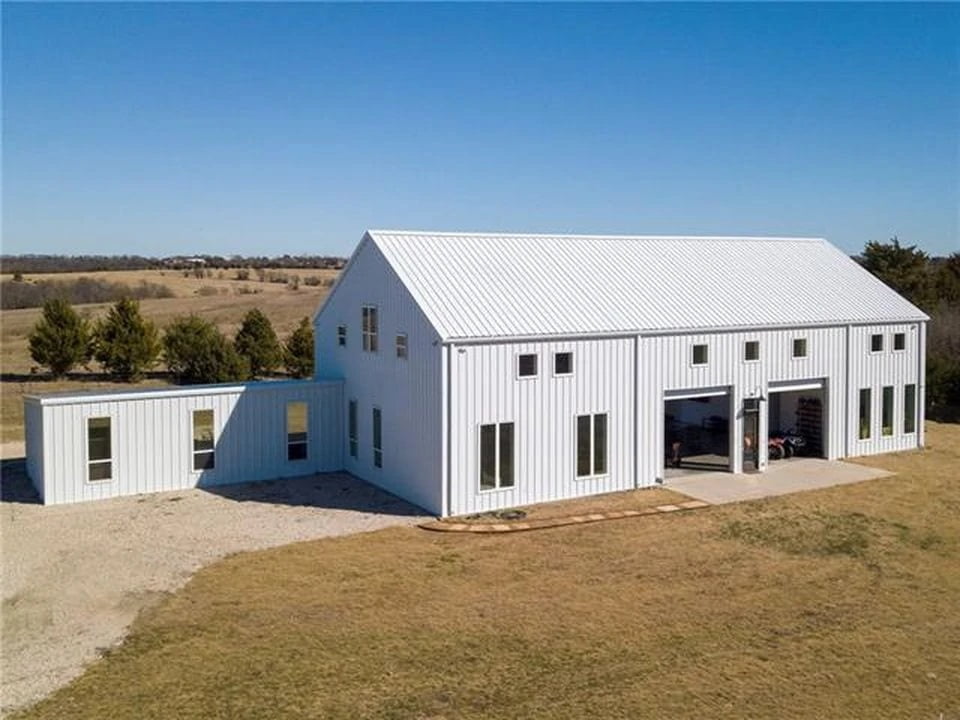 As you already know, there is a wide range of barn home floor plans and sizes to choose from. And depending on what you specifically want in your living space, the barndominium cost can vary by a huge margin.
So, if you want to calculate the total average cost of completing the project, you have to take three variables into consideration, i.e., the price of the barndominium kit, labor costs, and the price of the finishing materials (drywall, cabinets, insulation, and paint).
Needless to say, the total cost of building the barndominium will be the sum of the three variables: the kit price + material costs + labor costs.
For example, suppose the final cost of building the barn home is around $45,000, and it's built on a 1000 square feet area. In that case, the cost per square foot of the area would be around $45.

Final Words
As more people have started seeing the true potential of a barndominium, its popularity has significantly increased over the years. That said, the best part about investing in a barn home is that it offers long-term returns without burning a hole in your pocket.
What's more, you're able to design it however you want while preserving its spacious feel. And you don't even have to use it for the purpose of living. There are multi-functional uses of a barndominium; it's up to you to choose what you wish to do with this safe, durable, and affordable home.
On that note, we have reached the end of this guide. And we hope you were able to find all the information needed to build your very own barndominium.
With this, we'll take your leave. Till next time!
Related Articles
30 Portable Chicken Coop Plans You Can Easily Move
Barndominium 101 | Floor Plans, Pricing Guide & Pictures
57 DIY Chicken Coop Plans in Easy to Build Tutorials – 100% FREE
47 Free DIY Swing Set Plans for a Happy Playing Area in Your Backyard
49 FREE DIY Router Table Plans For an Epic Home Workshop
43 DIY Duck Houses Plans and Duck Coop Plans to Build Now
57 DIY Bookshelf Plans and Ideas For Healthy Home Libraries
163 Free DIY Pole Barn Plans and Designs That You Can Build Easily
37 Free DIY Tiny House Plans for a Happy & Peaceful Life In Nature
27 Insanely Cool DIY Rocket Stove Plans for Cooking With Wood
39 FREE DIY Bat House Plans to Shelter the Natural Pest Control
19 Adorable Free Cat Tower Plans For Your Furry Friend
23 Awesome Free Deer Stand Plans You Can Start Right Now
13 Epic Free Rabbit Hutch Plans You Can Download & Build Today
23 FREE Detailed DIY Garage Plans With Instructions To Actually Build
101 Simple Free DIY Coffee Table Plans
The Rise of Barndominiums and Why You Should Buy One