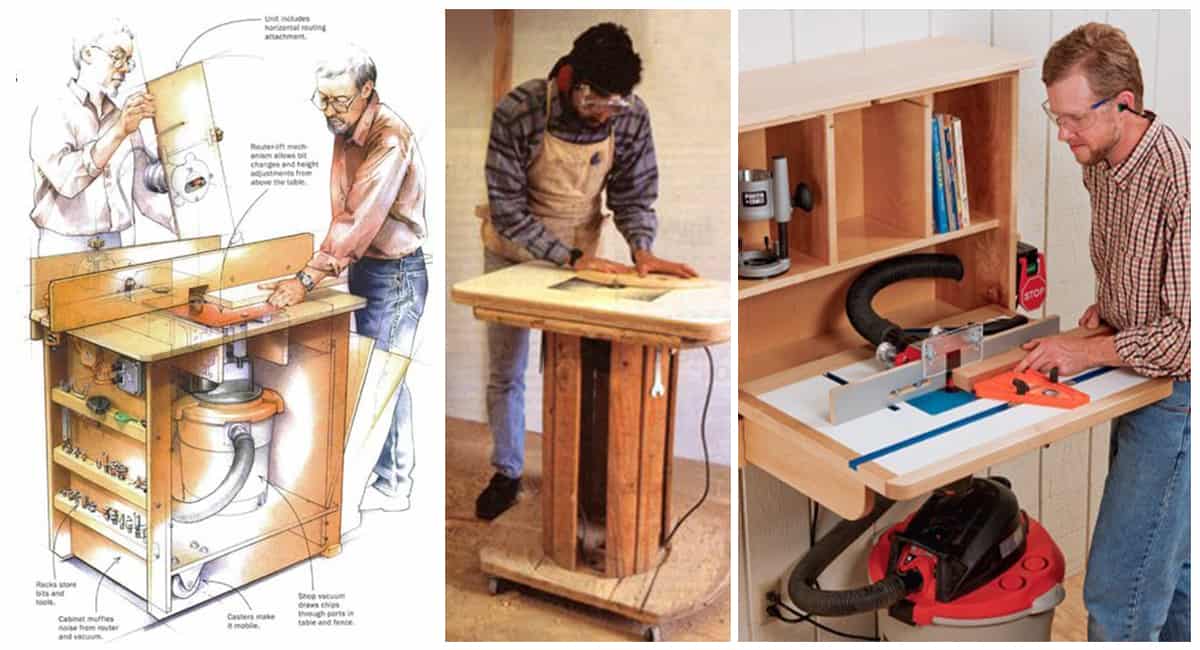 Every woodworker needs a router. Without one, it isn't easy to do a lot of finishing work, like cutting the angles of the wood, shaping and molding and other things that are required to give your woodwork a neat finish. But, even though a router is usually used by hand, having it installed on a table makes it a lot better because you have a better angle to work on and it isn't taxing on your back as lumbar support is important in the long run. Plus, a handheld router can be hazardous if you lose focus as opposed to a mounted router.
But, router tables can be quite costly. So, what if you could make one for yourself? These DIY router table plans will help you do just that. With these 49 designs, you can easily build a router table on your own, for less than half the price of a manufactured router table.
If you`ve found the router table plans below interesting we invite you to check various other free woodworking plans, we have curated lists that will show you how to build a duck house, deer stand, bat house, tiny house, rocket stove, diy tree house, cat tower, garage, fire pit, porch swing, greenhouse, small cabin, farmhouse table, pole barn, rabbit hutch, diy dog bed, a playhouse, a chicken coop, a coffee table or a gazebo.
FREE DIY Router Table Plans
Patrick's Router Table
This large router table looks fantastic and is very practical. Not only does it give you a big working space, but it also enables you with enough storage space. It resembles an old-school television stand and has four wheels to move it around. There are four drawers, with two small and vertical and two very large and horizontal ones. It is easy to make and looks great! So, why wait? Go create this table by following these easy steps.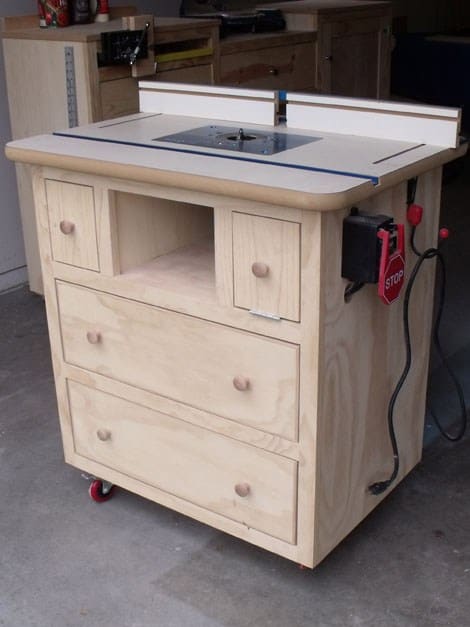 More details at ana-white.com
One Project Closer Router Table
This lovely and petite router table falls into the category of router tables that have no add-ons and are just meant for you to do what you're going to woodworking. It has four neat wheels to move it around and a lovely white finishing on the top with blue accents. You can set up this rig in a short time following this very visual how-to guide.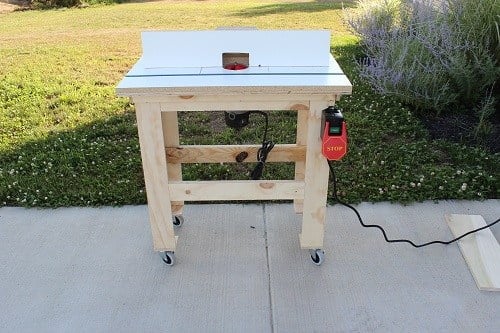 More details at oneprojectcloser.com
Wall Mounted Router Table
Wall mounted router tables are great for lumbar support. You don't have to bend too much to work on the wood. Plus, they are great space savers and also look lovely installed on the wall. This router table is very functional and even though it is wall mounted, provides enough storage space with four large shelves to keep the tools in.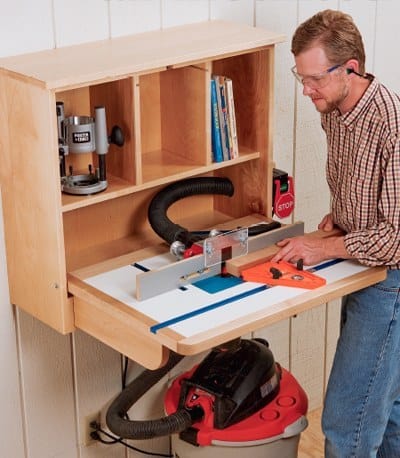 More details at rockler.com
Table Saw Router Fence
This is a very compact and comprehensive router table which can be created from a pre-existing table saw. By following the guide, you can fix the table saw to the router fence to create a table saw and router table, thus providing you with two options to work rather than just one. Plus, it looks very neat and has a generous storage space for all your tools.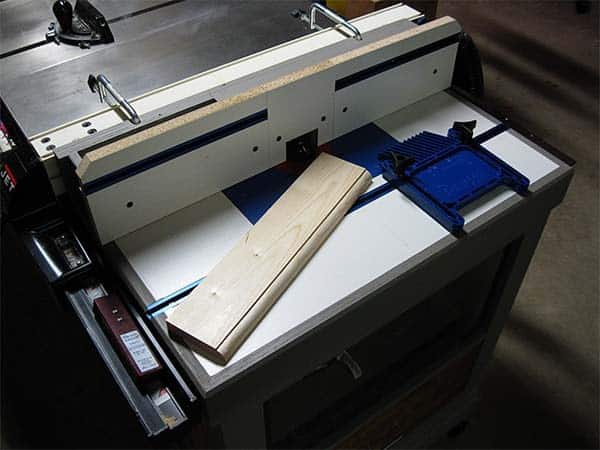 More details at jeffbranch.files.wordpress.com
The DIY Router Table
This is a very neat looking router table with some lovely accentuated edges to appeal to your aesthetic sense. Thanks to the plans provided, you can not only build this router table with ease but also give it the finish that will make it look more like a decor and less like a tool kit. It isn't elaborate and doesn't have cabinets, but is still efficient and great to look at.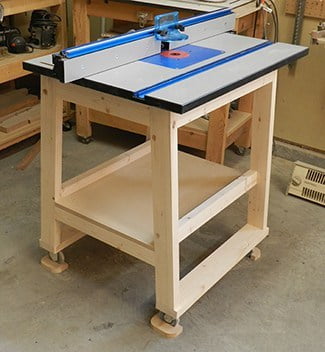 More details at dowelmax.com
Trash Can Router Table
This is the most do-it-yourself and cheapest of router table ideas on the list. Trash cans are used for pretty much a lot of things other than storing trash, but using a trash can as the base for a router table? Who would've thought that? By drilling a hole at the bottom of the trash can to pass the cord, and putting a sandbag at the bottom for the dust collection and for the stability of the can while you work at the top. You can attach the router top to the trash can by fixing it to the holders and voila! Your router table is ready.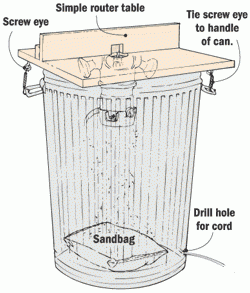 More details at woodworkingtips.com
The Family Handy Man's Router Table Plans
The family handyman always has great designs. This route table is another one of a list of lovely DIY appliances. It is a little more elaborate than other tables on the list and can cost you up to 500 dollars, but the result is fantastic and very satisfying. It has a large storage space and a single cabinet, with the option of making multiple ones inside.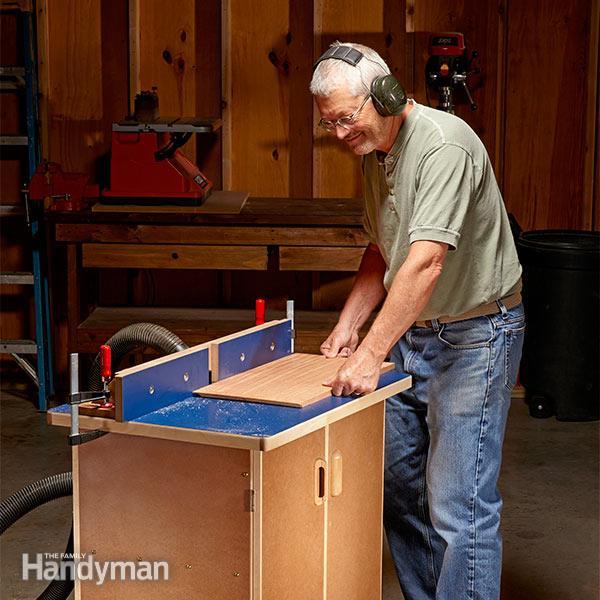 More details at familyhandyman.com
Bench-Mounted Router Table
This bench mounted router table has more space than you can ask for. It is installed over a workbench and hence doesn't require you to set up a separate router table and waste both your time and space. It is a neat design, and the workbench already covers your requirement for storage space.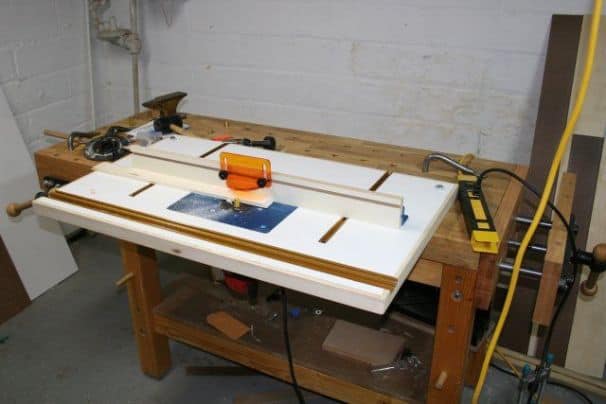 More details at instructables.com
The Rolling Router Table
Wire spools look cool, but they can be put to use for many creative projects once they don't have a wire wrapped around them. So, if you do have one in your store room that's waiting to rot and invite termites, then take it out of its misery and put it to use by turning it into a router table. It is sleek and looks unique and offers the table enough base to sit on. Plus, this is quite simple to build.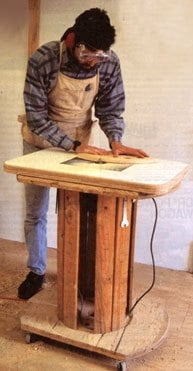 More details at motherearthnews.com
Simple Router Table
This is a rectangular router table which is long rather than tall, and it is pretty simple in its design. It has a pretty thick working table and a long drawer right below it. There is extra space at the bottom to keep more tools, and the height is right enough for good lumbar support.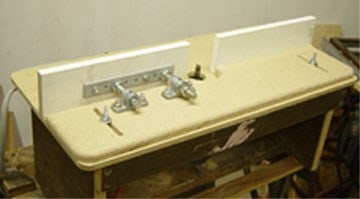 More details at sawdustmaking.com
Stow-And-Go Router Table
This portable router table is lightweight and looks great. Because it is portable, you can shift the router from one place to another in case you feel like you've worked enough in a single spot and the monotony is creeping upon you.
Another plus point of building this DIY router is that it is very affordable to make. Just for less than hundred dollars. Moreover, the instructions are detailed and quite simple, so it shouldn't be difficult for you to follow them.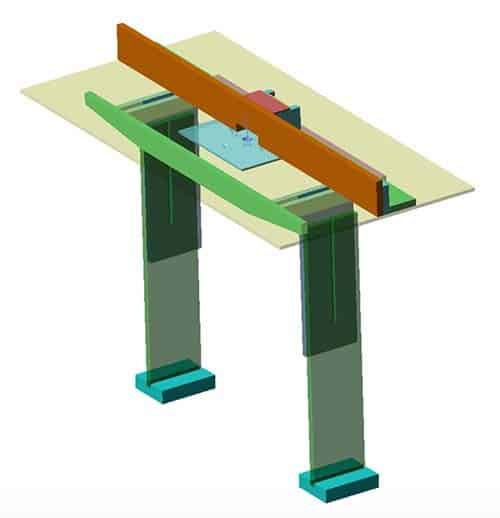 More details at finewoodworking.com
Creston Wood Router Table Plans
This is a beautiful and vintage looking router table. It has enough space for your router to be mounted on and also has three large drawers and eight small drawers for you to keep little and medium-sized tools and other miscellaneous stuff in. It has four standard wheels to move the table around. I like the vintage knobs and holders for the drawers and the color scheme of it. You can make this router table on your own with as little money spent as possible and then you can get onto shaping and molding wood for more elaborate woodworking endeavors.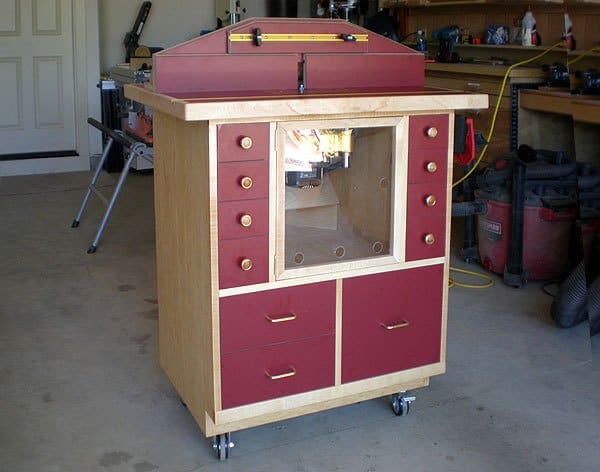 Quick and Easy Router Table
This is a box-shaped router table with an enormous space underneath and a drawer to keep your tools in. This is installed on a metal stand which you will most likely need to purchase. Nevertheless, the storage space and the space on the surface are enough to provide you with the requirements you need to get working on wood shaping.
More details at woodsmith.com
Wood Smith Router Table
This is a pretty simple and standard router table that does the job it is meant to without providing you with any extra options. You have no drawers in this nor do you have any place to store your tools, but if you are new to carpentry, this build is just right for you.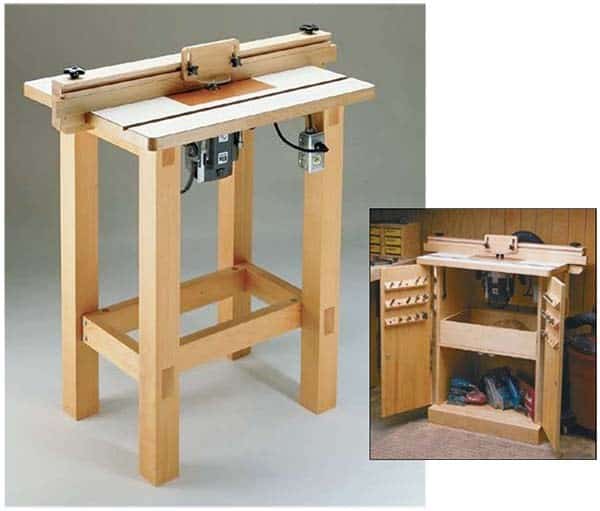 The All Around Router Table
If you have a router table that is basic and doesn't have a cabinet, then you might think of going for this one. It is not too different from the standard router table design but it is tall and thus provides good lumbar support and has a large cabinet space that utilizes everything from the table for your storage needs. This way you won't need to keep your tools elsewhere and pack up everything neatly at the end of the day.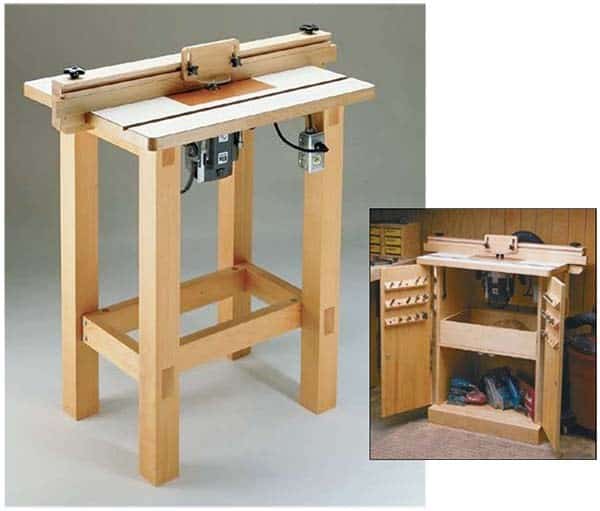 More details at woodtools.nov.ru
Router Table and Organizer
It isn't a basic model, and so it might be a little difficult for someone who isn't a bit experienced on the carpentry side, but the plans are detailed enough for you to get a good grip on the make of it and give it a shot. It has a rectangular shape with six drawers, and two cabinets, one open and one lidded. The space on the top is pretty standard. If you want to organize all the tools and essentials properly, you ought to try this one out.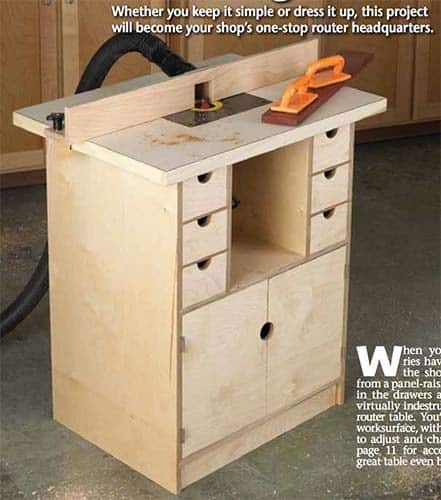 More details at images.meredith.com
$100 Router Table
If you're real short on budget and want to build something that won't cost you much, then this router table is for you. It can be made in just $100, and it still looks uber cool. It also has a single storage space, big enough to store the tools yet not compartmentalize them. The paint job on this router table makes it look neat and furnished. It is also pretty space saving.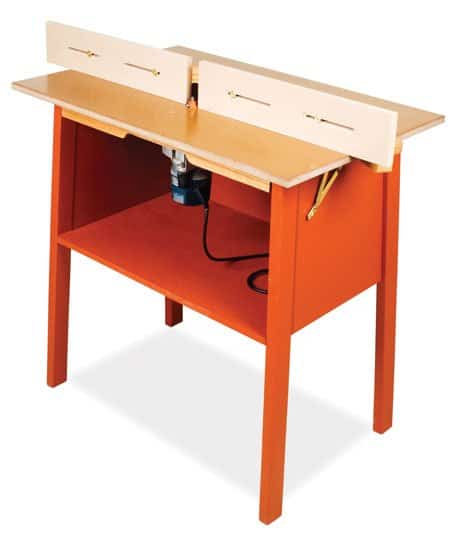 More details at popularwoodworking.com 
The Ultimate Router Table
This is the router table that will satisfy your every woodworking and routing need. It has such a large storage space, with drawers and cabinets ample enough to keep every tool on the table at the end of the day or to access them easily. It's easy to make and looks pretty great.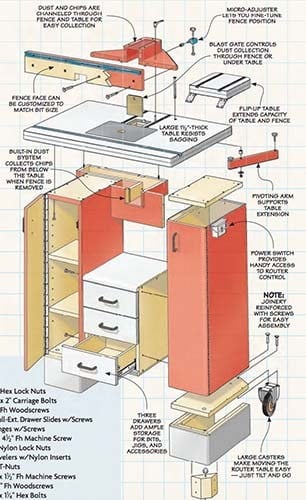 More details at lakewoodies.asn.au
Garbage Can Dremel Router Table
Trash can router table idea has been discussed before in this list, but this one is even simpler than the previously mentioned idea. All you need to do is place the router table top onto a trash can, even one that is presently in use for its actual purpose.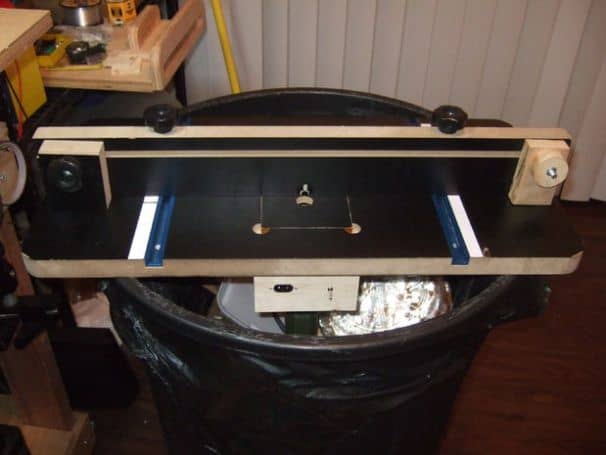 More details at instructables.com
The Country Classic Router Table
This router table also works as a decorative piece, in case you plan to retire it someday and still don't want to discard it. It resembles a vintage dresser, and the cabinet is pretty stylized and great to look at. Not only can you build this but you can also give it a neat finish and a polish with a paint job to make it look more appealing. It has enough storage space apart from giving you a big enough space to woodwork at the top.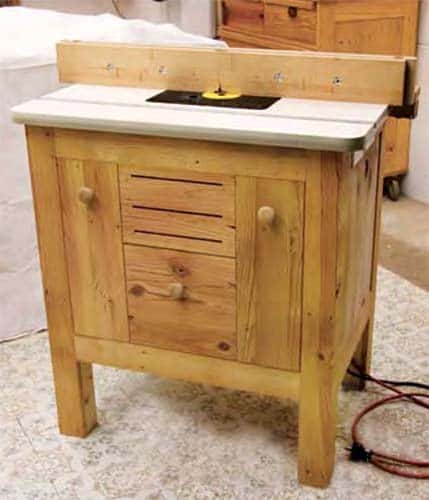 More details at popularwoodworking.com
Jane's Router Table
This is a very stylish router table. Its white color and blue accents are a standout. It is tall and with a big space on the top. Containing four drawers and two uncovered large cabinets, it provides enough space under the table to keep all your essentials. This router table was made by Jane, a blogger, and you can make it too.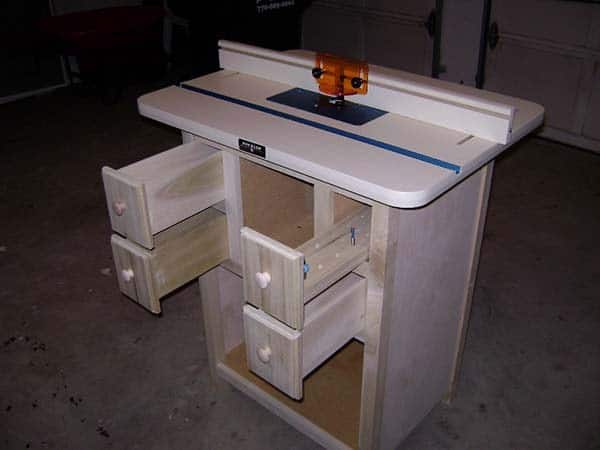 More details at scottmoore.net
American Woodworker Router Table
This DIY router table is out to prove a point. It intentionally resembles a readymade router table, and once you go into the details, you will see the resemblance is very intricate indeed. It has a neat fence, a large cabinet, and a sag-free top and it is something you can create for far less than what you'd spend at a store.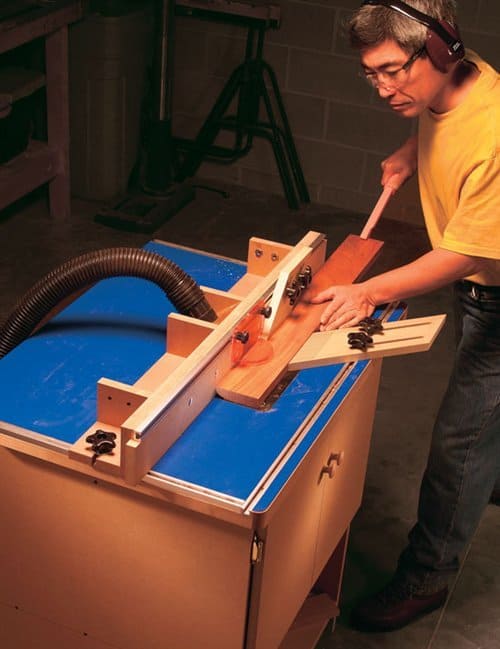 More details at popularwoodworking.com
The Ultimate Router Table #2
This router table looks beautiful. It has an H-shaped design and has three drawers installed at the bottom, painted white, contrasting the lovely orange on the sides. It also has a protruding space on the top which is both functional and decorative. I would love to have this router table in my workshop and especially because, for all its polished appeal, it is easy to make on my own.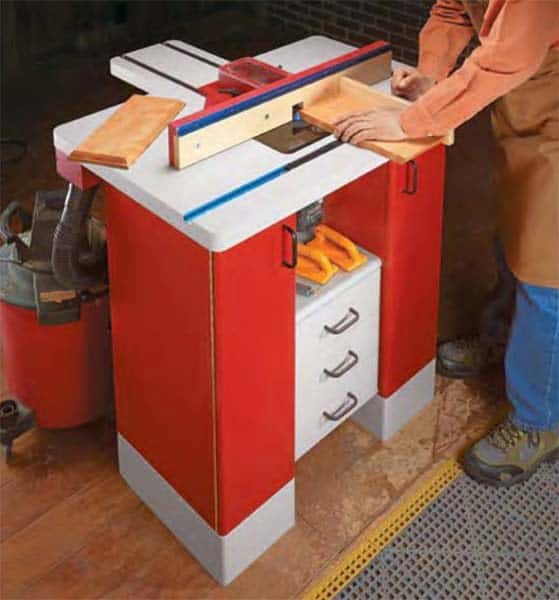 More details at sawdustmaking.com
Fold Away Router Table
I love foldable furniture. There is something very clever about it, and it also feels good just to fold up and hide away something that was just the past moment standing out. This foldable router table helps you save on storage space. At the end of the day, once you're done with creating amazing wood stuff, you can just fold up the table and retire for the night.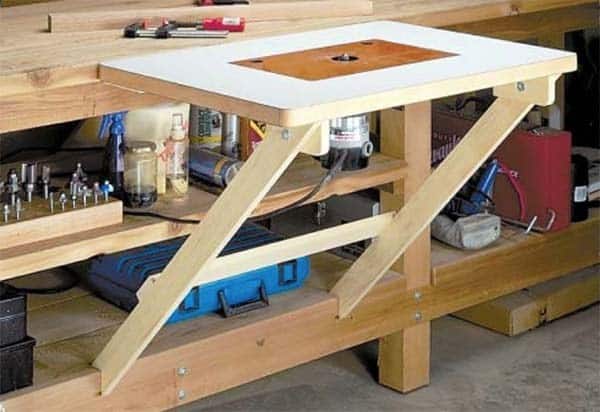 More details at woodsmith.com
Router Table Pressure Jig
You can create stopped cuts on this router table because of the adjustable pressure option provided by the pressure jig. So, when the wood is routed at the edge of the table, the cuts are easy to make. Even though it is a DIY, it resembles an IKEA build due to how neat it looks. There is ample space to set up your woodworking rig.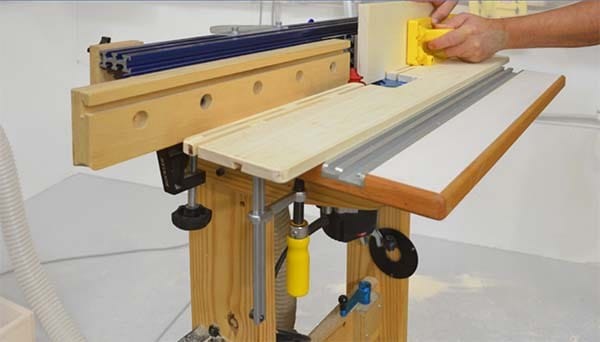 Cheap and Easy Storage Router Table
This one's for you if you are short on storage space and also are short on budget. This is a small router table that can be mounted on another table and yet does its job well. Even though it does not provide you with extra space for storing tools and isn't as movable as other router tables, when it comes to the platform, it has more than enough space for woodworking.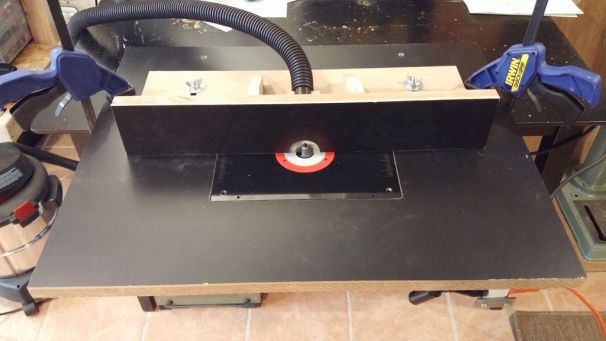 More details at instructables.com
Router Table-Mate
A table mate is a friend your router table needs to have its back and keep it clean. This dust collecting appliance is also easy to make and can be built with as cheap as fifty dollars. This guide will show you how to make it in simple steps.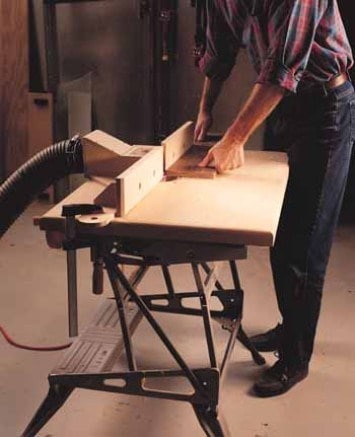 More details at popularwoodworking.com
Quick and Easy Router Table
On the outset, it looks like a TV table or a clock table, but this different looking router table also has a very special and convenient function, one that will help you with your lumbar comfort. It had an adjustable height option, so you can determine its height and set it according to your preference. Plus, it offers a lot of cabinets and shelves so that you don't need to put your tools and other essentials elsewhere and can access them anytime.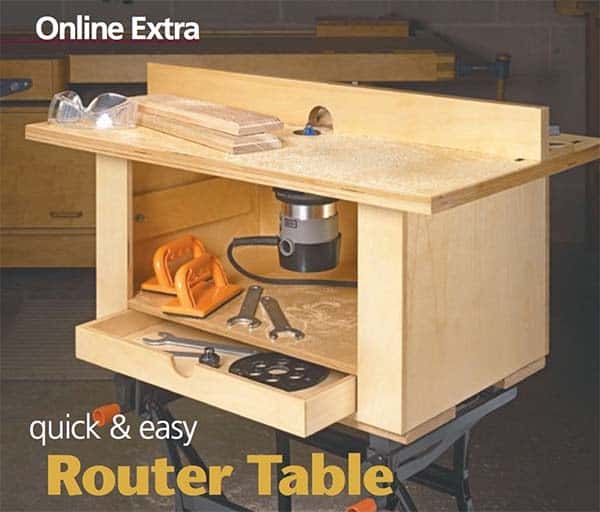 More details at shopnotes.com
Router Table Cabinet
This is a gorgeous router table. It also has a very organized cabinet space that will come really handy for you. The instruction manual is far too detailed and covers every single aspect of building this router table, mentioning every cabinet space utilization separately. Give this one a try.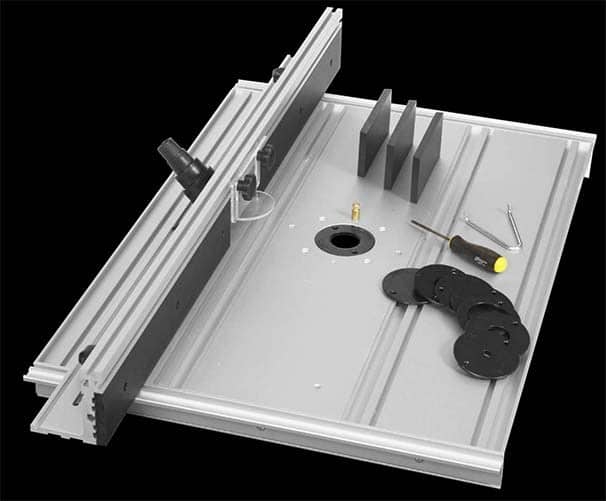 More details at sommerfeldtools.com
Woodworker Router Table
I love this router table. It looks like a perfect piece of furniture to have in my home. Its finishing and its design afford it the luxury to be of use even after retirement as it can work as a lovely table in the house outside the workshop. It is delightful to look at and offers a lot of storage space and crafting it with the guide is not that difficult a task.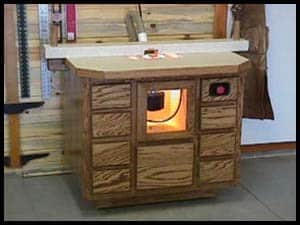 More details at woodworking.org
Mounted Router Table
Wall mounted router tables are extremely convenient. As is known, even though they are fixed to a wall, they provide you with some moving space around it and help you work with a correct posture. Lumbar support is really important. Otherwise, spasms and exhaustion can cause a lot of back ache and other back issues.
Plus, a wall mounted router table can be folded and closed off when not in use and hence save space for you.
But, this one might require a more experienced carpentry know-how, so be wary.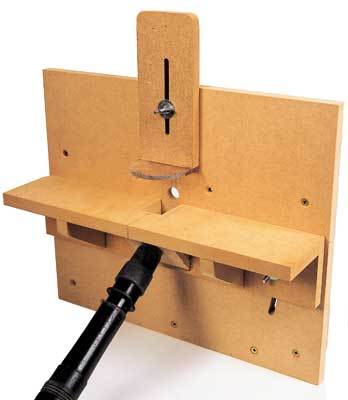 The 3-in-1 Router Table
This one's made for more than just routing. This advanced router table does a far more intricate job for you, and if you are a carpenter with some pretty elaborate woodworking methods and ideas, then you will absolutely adore this one. It has a circle saw and a jigsaw installed into it apart from the router, and that is a big plus. Moreover, it has a pretty standard design and has no drawers but does have enough storage space below.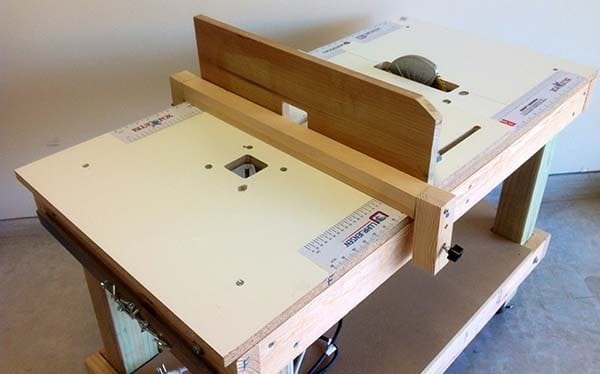 More details at thinkingwood.blogspot.com
Another Ultimate Router Table
A woodworker's friend, this router table has so much to offer to you, given that you decide to build it first. Not only does this router table have a big working space for you to dremel, shape, and chisel away your wood easily, it also offers a lot of additional storage space with multiple cabinets and tool storage shelves, including shelves for keeping small tools.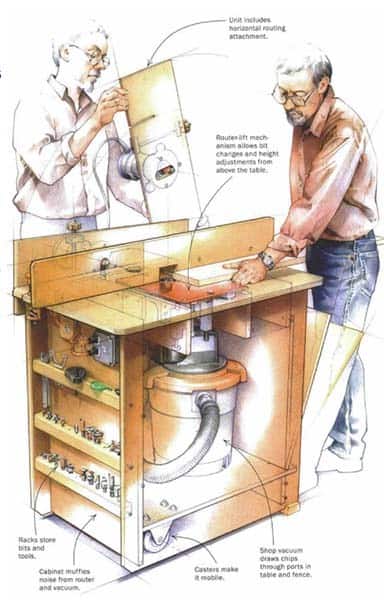 More details at here.
Router Table Plans with Storage
This is a solid wood router table with a very retro design. It has a large working surface area, and it can also be used to lay out, and design plans when you're not working on wood. But, apart from the working area, it also has abundant storage space and will help you store all the essential tools and miscellaneous stuff with ease. And though it looks pretty complex, building it should not be a tough task once you follow the guide.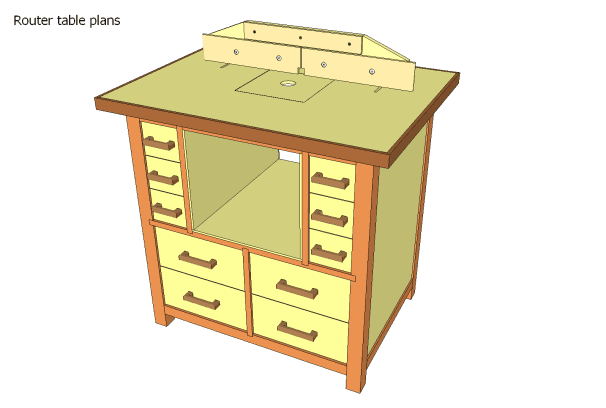 More details at woodgears.ca
Almost Free Router Table
This one's a pretty ingenious way to build a router table. Not only does it save you a whole lot of man hours and a lot of dollars, but it also makes your work incredibly easier. All that you need to do is take a wardrobe base that is out of use and retrofit a cupboard door with it to build this beautifully vintage router table.
With this table, you get a working area that is bigger than usual, and you also get cabinets to store your tools. Sounds like something I would go for.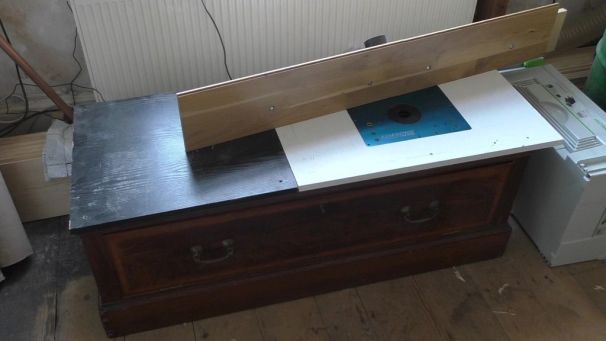 More details at instructables.com
One Project Closer Router Table
This is a very simple router table plan that won't burden your pocket all that much. It's quite a basic design really. Just a square shaped table with a router installed in the center. So, it won't really need an expert hand to build. It does compromise a bit on the space side, and also doesn't really provide you with any actual storage space for your tools, but its minimalistic design fits budget constraints, and its size saves space in your workshop.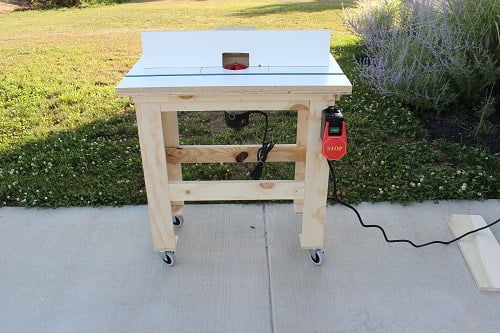 More details at oneprojectcloser.com 
Router Table from A Reclaimed Desk
You don't always have to start from scratch. Sometimes you can just recycle and make use of something that you already have. In this case. An old study or work desk will work best for your workshop. Even if you aren't an experienced in carpentry, you can retrofit your desk into a router table with a big working area, just by following these easy plans. What you get in the end is a lot of saved time, a lot of saved wood and a lot of saved money and a fully furnished router table.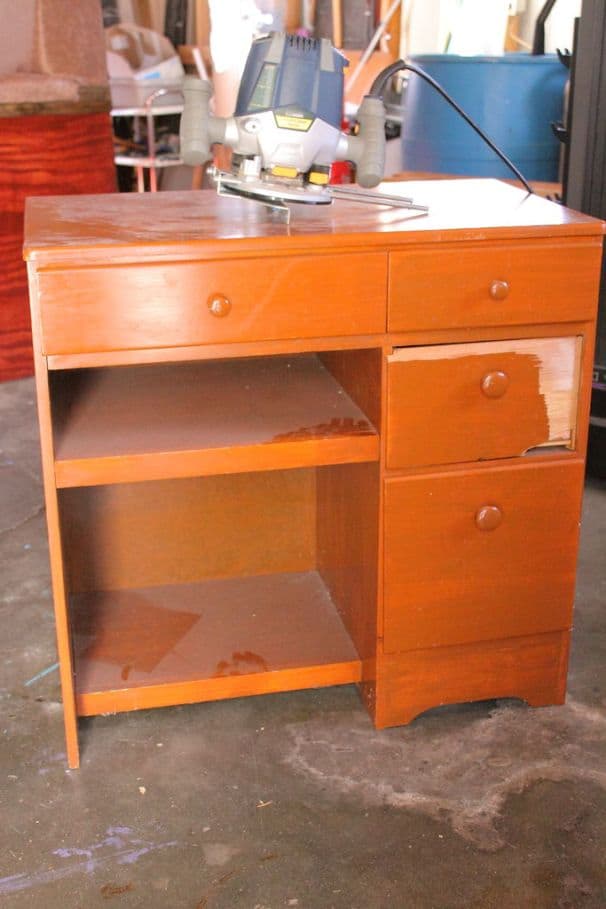 More details at instructables.com
A Shop-Made Router Table
This router table looks like it was sold in a shop and made professionally. But, it is actually a DIY project in its finished state. That's the advantage of having a highly detailed and orderly how-to guide. What's more? The finished product will have cost you half of what you'd spend on buying the same in a shop. Of course, you could just buy the thing in the first place, but where's the fun in that when you're venturing into carpentry?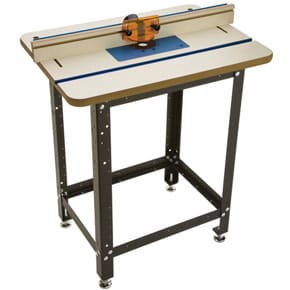 More details at rockler.com
Horizontal Router Table for the Slot Mortise
This DIY router table is incredible in its shape and design. It has some complex mechanisms, and the build looks more like a miniature futuristic industrial complex and less of a router table. So, it's safe to say that this will require an above average carpentry skill to construct. But, the plans have a lot of images for visual reference, and the instructions are comprehensive and yet easy to understand. So, you won't be struggling with the understanding part.
If you do build it, the result will be fantastic!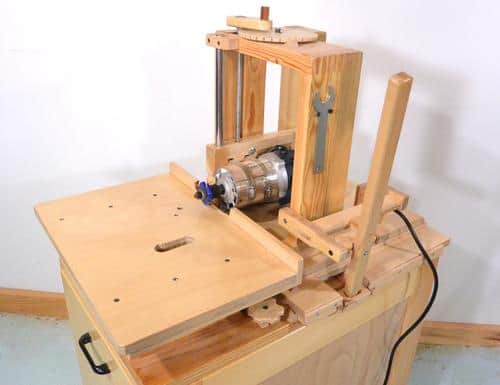 More details at woodgears.ca
Quick and Easy Router Table
This is a box-shaped router table with a large woodworking area on the top and ample space on the bottom for keeping your tools. There is a large space and below it a slim and retractable drawer. This is mounted on a metal stand, the height of which can be adjusted as per your requirements. It is pretty simple in design and won't be difficult for even a beginner to make. Plus, it won't cost you much to create.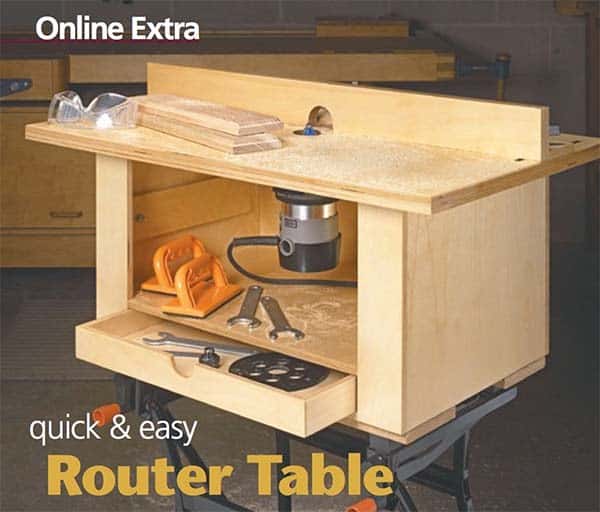 More details at woodsmith.com
Basic Router Table Plans
I love this table top look alike router table. It is small, accentuated and adorable to look at. It does provide space to keep your tools, even though it isn't enough for a lot of them. But it does not compromise on the working space. The how-to guide is very helpful too and will show you how to build this pretty router table in the best and easiest way possible.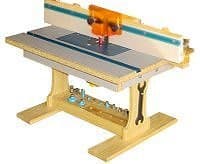 More details at bobsplans.com
Fence Router Table
This is a router that becomes easier to make if you already have a table at your place. What's more amazing is that it also works as a table saw, and not only as a router table. By building a two in one router and saw table, you're saving on money, on time and on space, and your work becomes more efficient as you don't have to work on separate tables for sawing and shaping. Moreover, the plans are pretty comprehensive and are easy to understand, with a simple language and mode of instruction.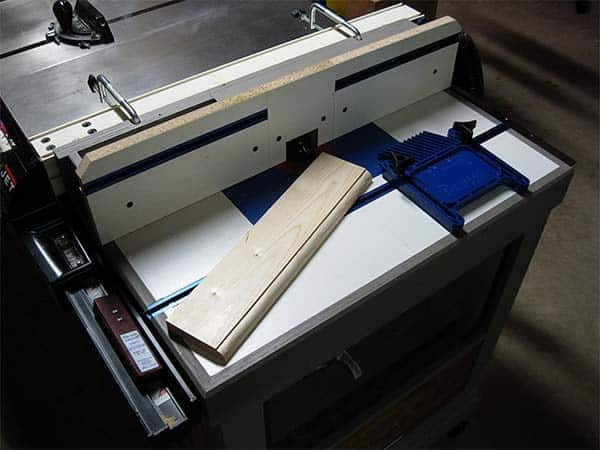 More details at jeffbranch.files.wordpress.com
Simple Router Table Plans
This is as simple as it gets. This is a router table that does not offer you any storage area, no cabinets, no compartments, no drawers or shelves. It is just a table with a router set up installed at the top. But if it is something that you want, then it does its job quite efficiently. Plus, it has a decent size for you to work on. And because it is simple in its make, it is as easy to create. So, you'll be done making it before long.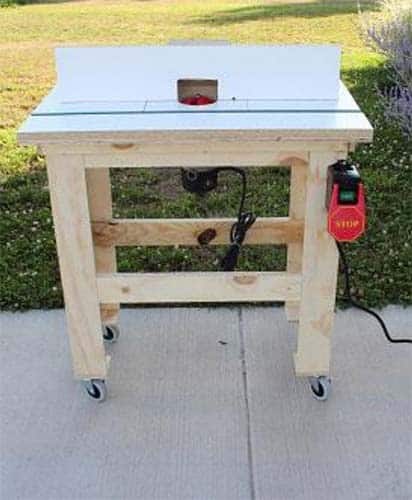 More details at ourhomefromscratch.com
Utilitarian CNC Router Table
This particular router table looks extremely hi-tech, but isn't too difficult to make. What I really love about it is how different it looks. A very modern and mechanical design, but also efficient, it looks professional and readymade. Because it is mostly made out of materials that aren't wood, it does come on the costly side of DIY options for you. But, ultimately, the price and effort are worth the finished product.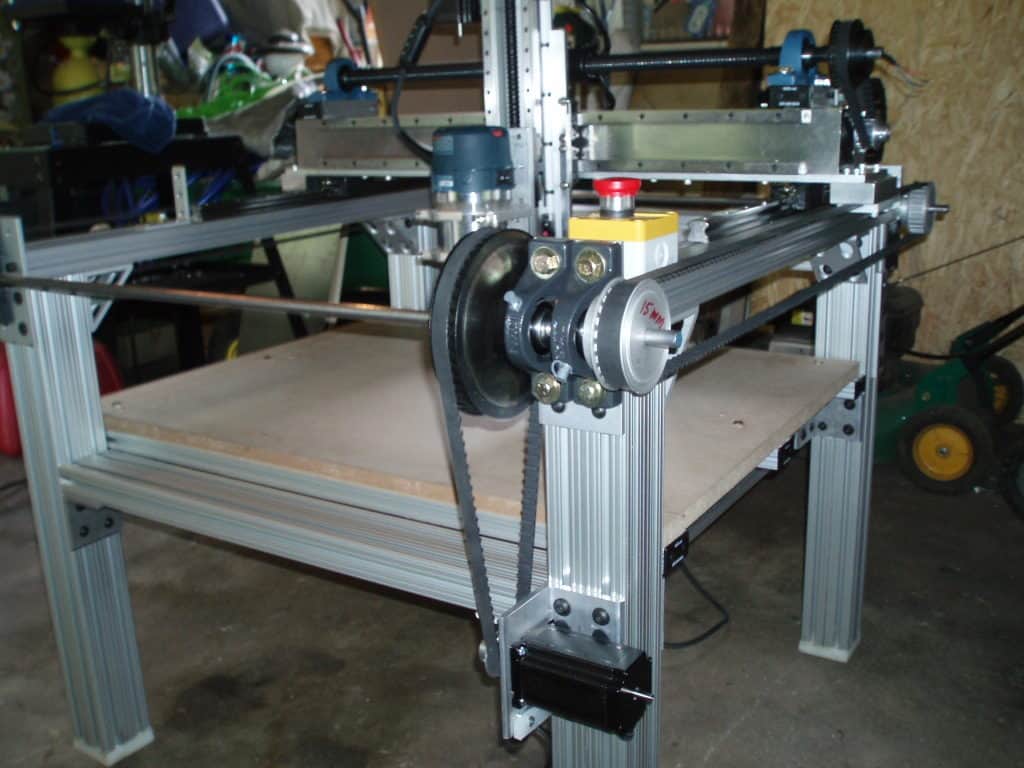 via pinterest
Dan's Benchtop Router Table
This a stunning DIY router table plan. It looks fantastic and has such a steampunk appearance to it. But, it is not really difficult to make. Plus, it won't cost you a lot of money to make because it can be made for less than fifty dollars. It's installed on a table stand that has a height adjustment option, and it is quite lightweight, so you can carry it around if you plan to work on the go. It's also pretty small, so it will save on your space and the plans to construct it are easy to follow.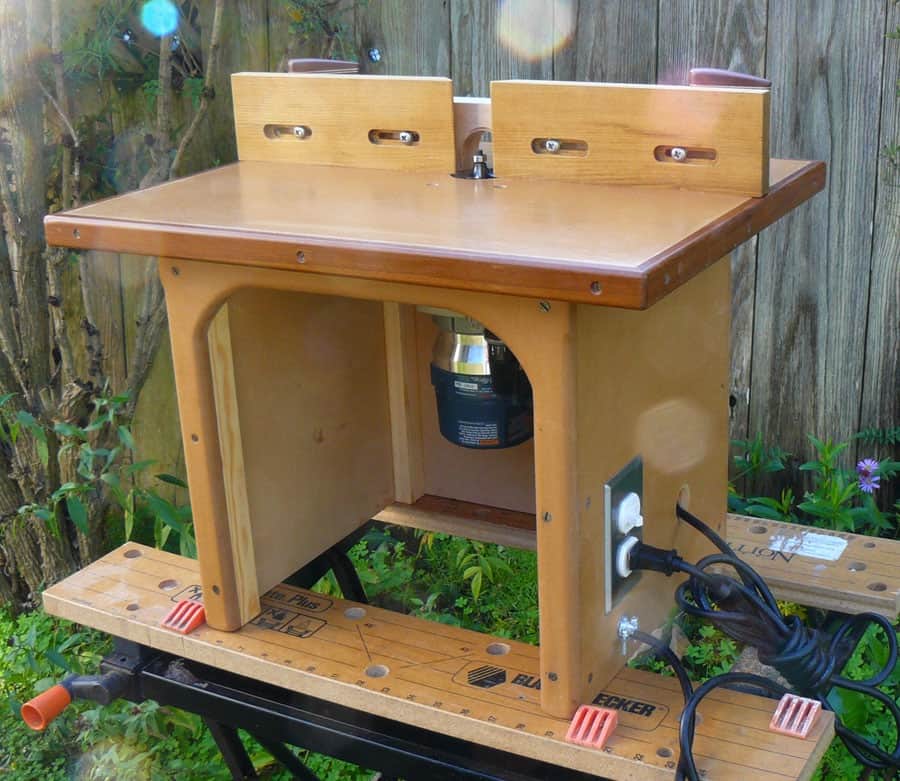 More details at thewoodwhisperer.com
The John Heisz Router Table
There is a unique component in this particular router table. On the outset, it looks like a standard router table with its vintage design and a few cabinets, but it has a router lift built into it, and that helps you with wood processing. This does require an adept carpentry skill level, but you can give it a shot even if you're a beginner. That's because the how-to guide for this has extensive plans that are easy to follow and will help you not only with detailed steps, but also with reference images. Though not supercheap on the cost side, the finished product is satisfying.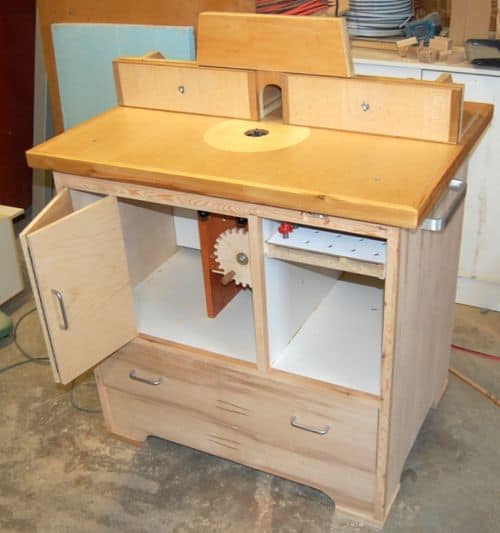 More details at woodgears.ca
Three Shop Built Router Tables
Instead of giving you a single option to go with, this how-to DIY guide gives you three lovely options to choose from. These router table designs are fantastic and have unique design elements that make them look appealing.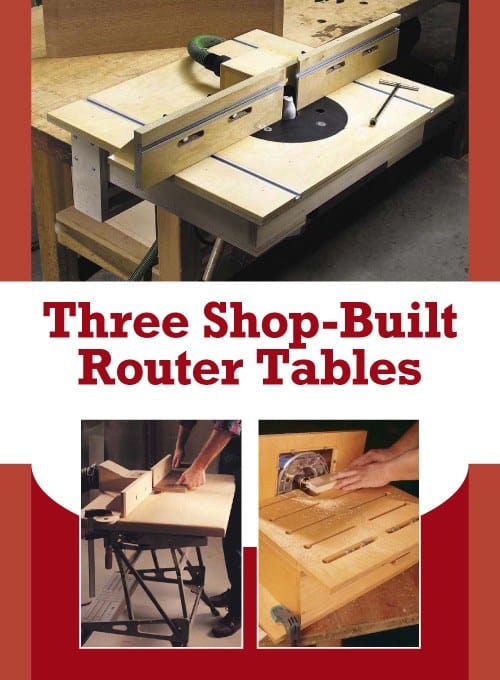 More details at popularwoodworking.com
So, what DIY router table plans impressed you the most and which one did you find the easiest to make? Is budget a constraint for you or the skill required? Do share the design you ultimately choose to build!
Related Articles
13 Best Hydraulic Bench Presses
53 100% FREE DIY Farmhouse Table Plans for Your Rustic Dinning Room
13 Best Portable Table Saws for Fine Woodworking | Buyer's Guide
13 Best Wood Routers for Professionals & Amateurs Alike
13 Best Saw Horses on the Market Today
11 Best Budget Bandsaw Reviews 
9 Best Benchtop Jointer for Woodworking
7 Best Concrete Grinder, Planers, Scarifiers Reviewed
11 Best Table Saw Fences [Reviewed & Buyer's Guide]
DeWalt DW735X Planer Review [Should You?]
Bosch 4100-10 Jobsite Table Saw [Reviewed]
Hack Saw Vs Bow Saw [All You Need to Know] [Explained]
9 Best Compact Circular Saws Of 2022 [Reviewed & Buyer's Guide]
How To Sharpen A Bow Saw And Bow Saw Maintenance
Radial Arm Saw vs Miter Saw [Differences & Winner]
ROCKWELL VersaCut RK3440K Mini Circular Saw [Review]
23 FREE Detailed DIY Garage Plans With Instructions To Actually Build