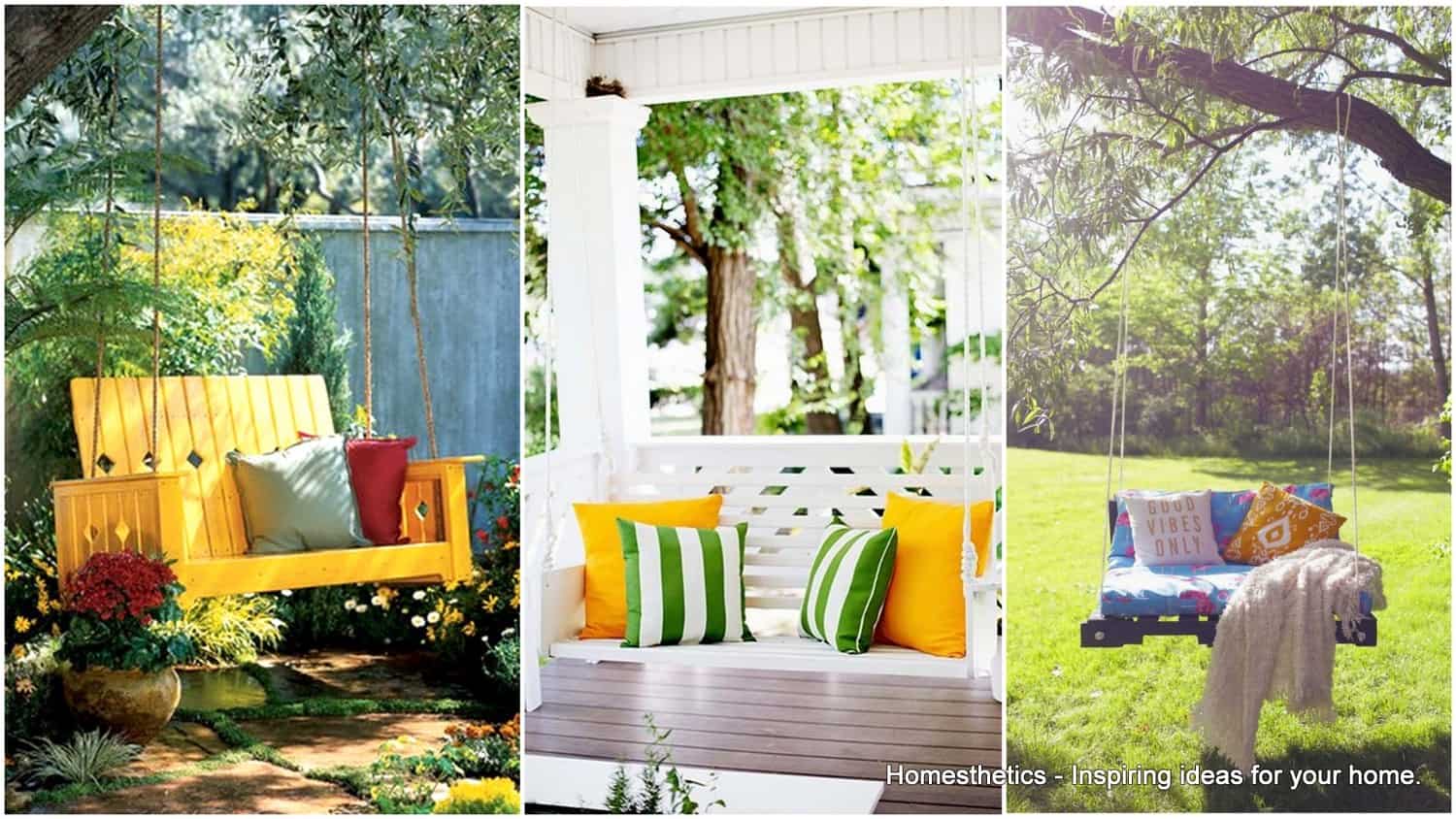 I love porch swings. They are beautiful yet simple, comfortable yet small enough, and swinging is an extremely relaxing thing to do. Most ready-made swings cost a lot and I would love to make them on my own instead. The experience and the effort put in are rewarding. So, here are thirty porch swing ideas for me and you that we can most definitely do, all by ourselves.
If you`ve found the porch swing plans below interesting we invite you to check various other free woodworking plans, we have curated lists that will show you how to build a fire pit, garage, cat tower, a rocket stove, tiny house, duck house, deer stand, bat house, diy tree house, cat tower, greenhouse, small cabin, farmhouse table, pole barn, rabbit hutch, diy dog bed, a playhouse, a chicken coop, a coffee table or a gazebo.
DIY Porch Swing Plans & Ideas
1. The Elegant White Porch Swing
White always stands out and goes with almost anything. This particular porch swing has a porcelain hue to it which is striking to look at. Cleverly using white rope for it only adds to the appeal. Contrasting the all white subtly are yellow and green pillows, striated and vibrant.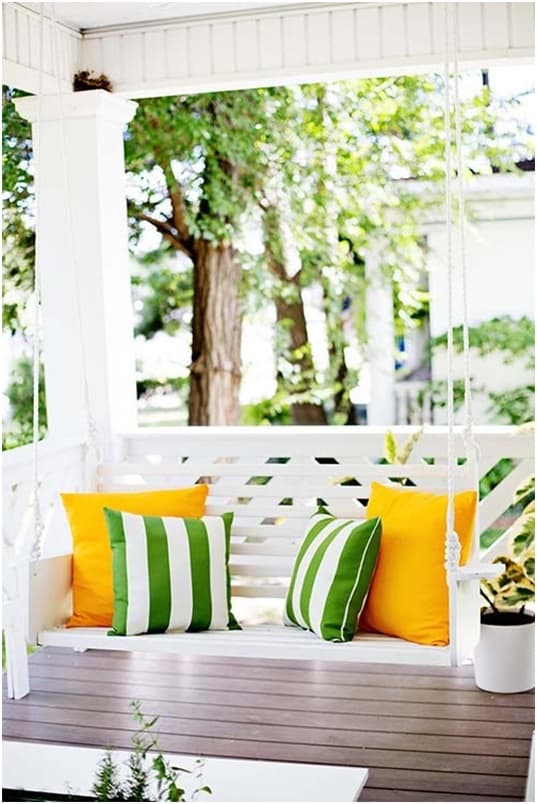 More details at abeautifulmess.com
2. The Stocky Little Porch Swing
This swing has a really simple yet bold design. I especially love the arms. They look robust and imposing yet very aesthetically pleasing. The backrest, on the other hand, is a little too low and might be deemed inconvenient by some. But, if you're someone who doesn't have a problem with it, then this will be a lovely addition to your porch.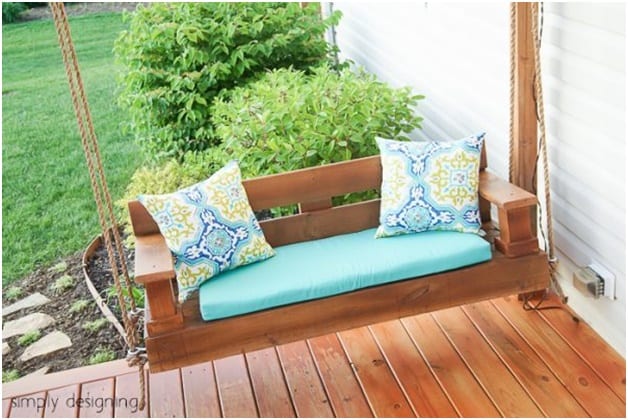 More details at simplydesigning.porch.com
3. The Blue Bench Porch Swing
I adore the color of this porch swing. It reminds me of Greece. I also like how this swing is so simple in design yet has such a unique appeal to it. Moreover, it can be used as a bench too and is easy to build.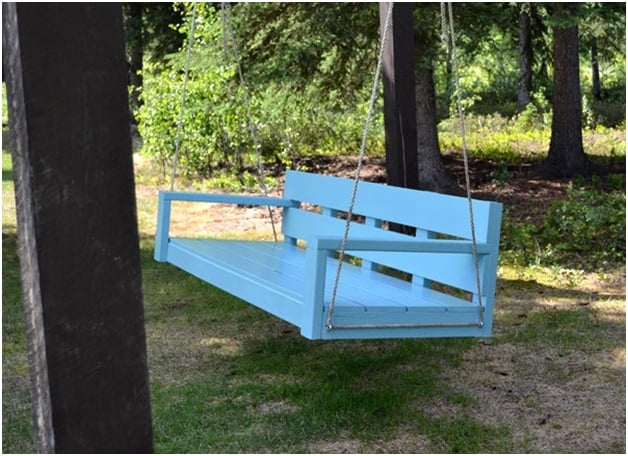 More details at ana-white.com
4. The Rustic Porch Swing
This beautiful porch swing has such an antique allure. I love the large pieces of wood that make the porch swing look like a block and bulky. Using a crib mattress and a lot of fluffy pillows makes it look so comfortable that I'd love to sleep away on it. Plus, you can use this swing as a living room installation. I would personally love to do that in winters, with a quilt to complete it.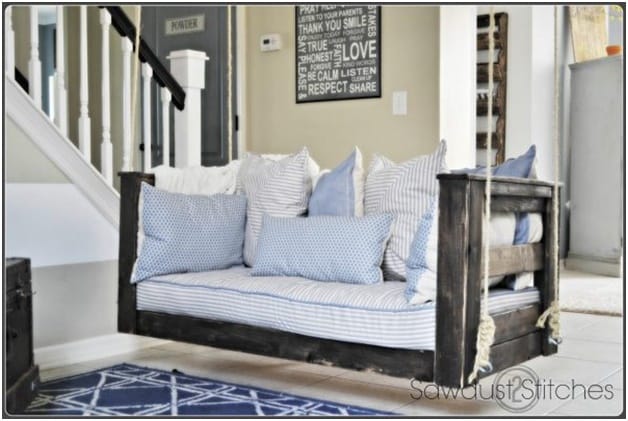 More details at sawdust2stitches.com
I love the color of this swing. It perfectly complements the abundance of white in its environment. A very sailor like color scheme, I believe. It is also quite simplistic in its design and is something you can make on your own very easily.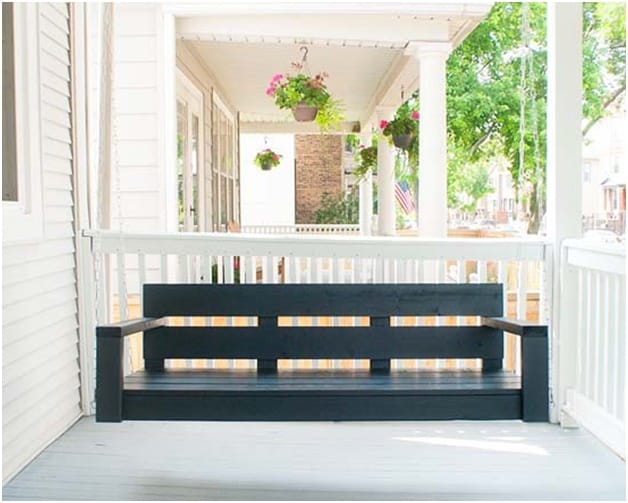 More details at yellowbrickhome.com
6. The Brown Slanted Porch Swing
Ah, brown! A color that blends into anything and everything seamlessly. This swing has a very earthy appeal and I like the subtle yet accentuated design of it. It is something I'd love both on the porch and indoors, and like many porch swings on this list, it is incredibly simple to make.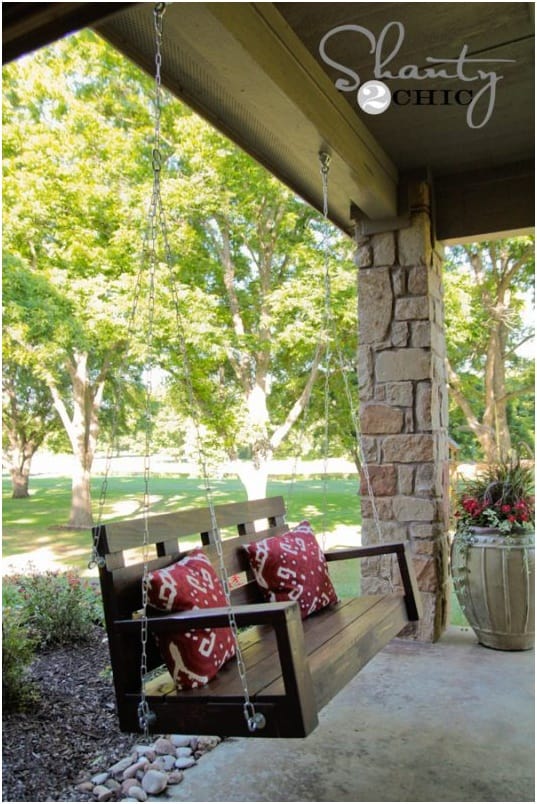 More details at ana-white.com
7. The Headboard Porch Swing
Turning a headboard into a porch swing is an idea that does not strike someone out of the blue, yet it is something that somehow makes perfect sense. Not only is a headboard elaborate in its design and when added to your swing makes it stand out, but it also offers a really good back support. Again, it isn't too tough to do it.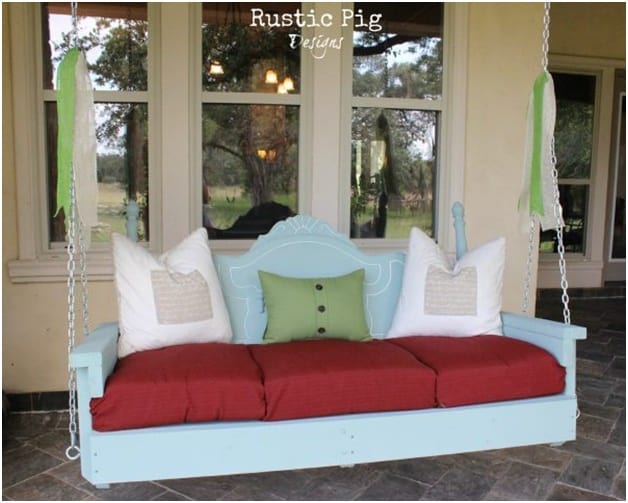 More details at therusticpig.com
8. The Carved Heart Porch Swing
I want this swing on my porch. It is beautiful in every way possible. I love the curve at the lower end of the seating area and the shape of the arm rests. I like the empty spaces on them and the heart on the backrest. It is neat and looks very aesthetically pleasing. Even though it is traditional, it has a few modern elements that blend well with the other style.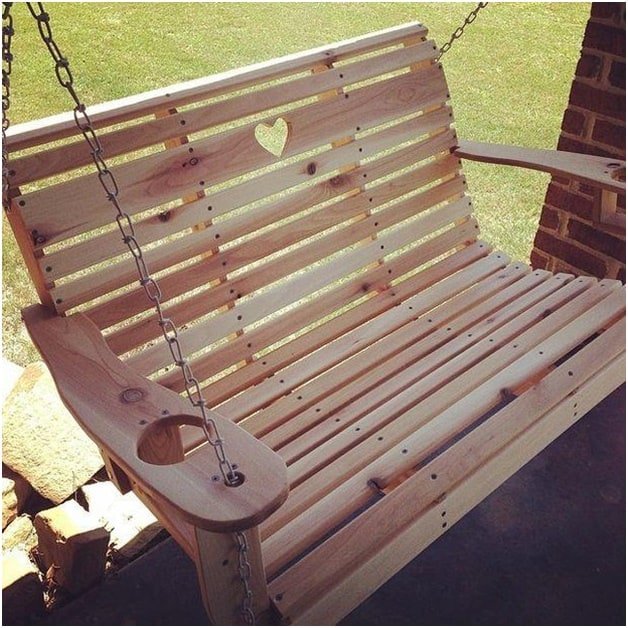 More details at instructables.com
9. The Lover's Porch Swing
A very minute variation of the other porch swing, this cedar porch swing has an added element of couple names engraved on either side of the heart.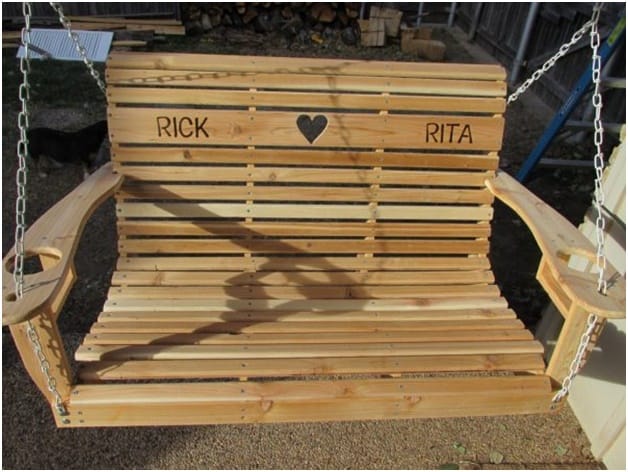 More details at wilkerdos.com
10. The Perfect Commune Porch Swing
By far the prettiest and most outlandishly innovative porch swing idea you can come across, this porch swing setup is complemented by the beams, the roofing and a fire pit in the center bring an exotic and mystical charm to the swing setup. You can very easily experiment with the swings regarding their shapes. You can also add curtains, blinds, cushions and pillows to the mix and color the setup vibrantly.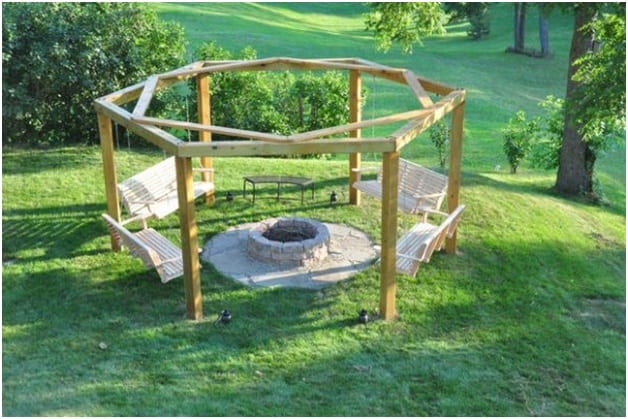 More details at instructables.com
11. The Small And Adorable Porch Swing
This is an adorable little porch swing which can fit in almost in any corner. It looks like a lego piece designed by Ikea but you can make it on your own following easy steps.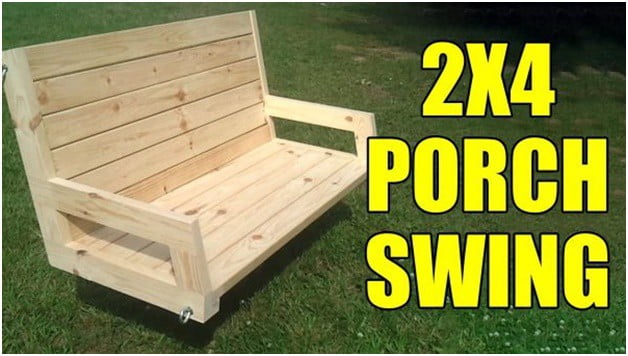 More details at jayscustomcreations.com
12. The High-Back Carved Porch Swing
I need a good lumbar support system in my swing. Dealing with back issues, I need something to completely lean on and a porch swing with a high backrest is most welcome. I also like the rustic dual color scheme and the unique design on the back.
More details at buildeazy.com
13. The Tall Folk Porch Swing
This particular porch swing is great for those who are tall. Moreover, it has a very neat design with the wooden strips being narrow and the same element replicated for the armrests.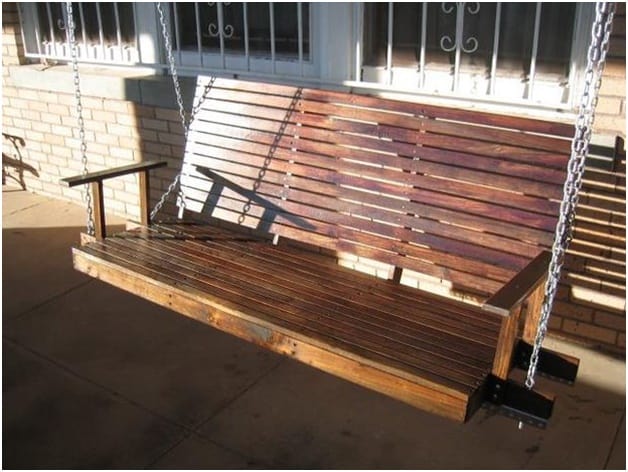 More details at instructables.com
14. The Old-fashioned Porch Swing
This neat little porch swing has a lovely backrest and armrests, carved in a more old-fashioned way. It feels right at home in your backyard. It is a lovely option to sit and swing on during the evening and enjoy the mild breeze.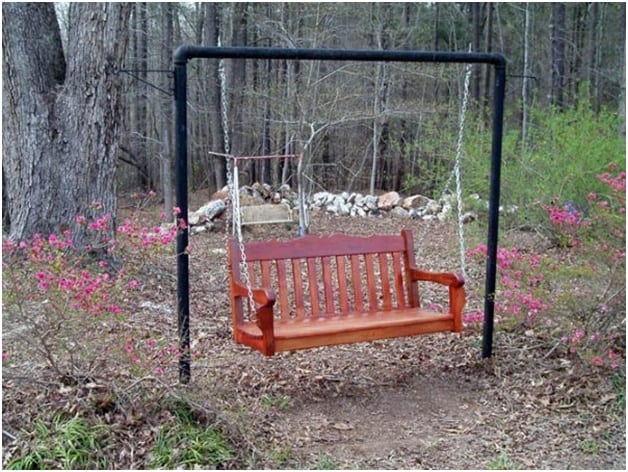 More details at portercalls.com
15. The Simple Two Seater Porch Swing
A very high backrest makes this porch swing a good purchase. Its seating area is compact and gives you a comfortable posture. But, it doesn't look like something you can make on your own right away if you're doing it for the first time.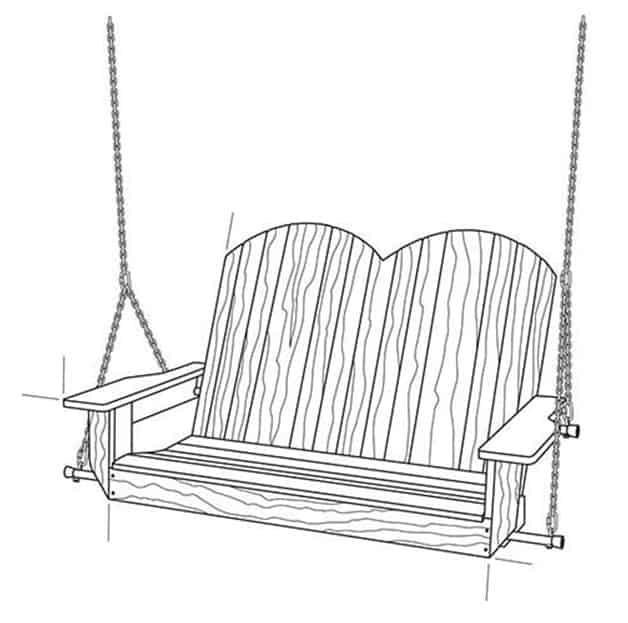 More details at minwax.ca
16. The Placid Porch Swing
Nothing too elaborate and quite simple to make actually, this swing has been hung from a tree and instantly makes you remember old tree swings. I like the simplicity and the ease of make.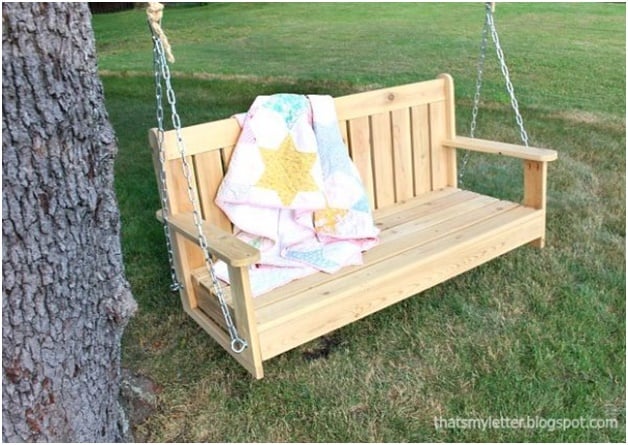 More details at thatsmyletter.blogspot.com
17. The 100 Dollar Swing
This porch swing has a beautiful backrest with a neat curvature and the marble white finishing looks perfect for your porch. And you know what else is great about this? You can make it for under $100!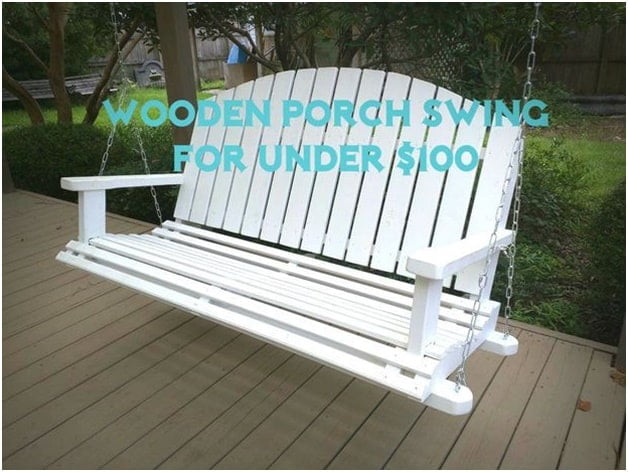 More details at instructables.com
18. The Retractable Cup Holder Porch Swing
This particular swing comes with something that is more of a bonus than a standard, but a bonus you really do wish you had sometimes. We don't just sit on a swing and swing along with it all the time. We might like to have something to drink while doing so. Maybe a soda, or a glass of tea, or perhaps a cup of coffee. With this swing you don't have to hold it all the time. With a retractable cup holder, this swing just solved your problem.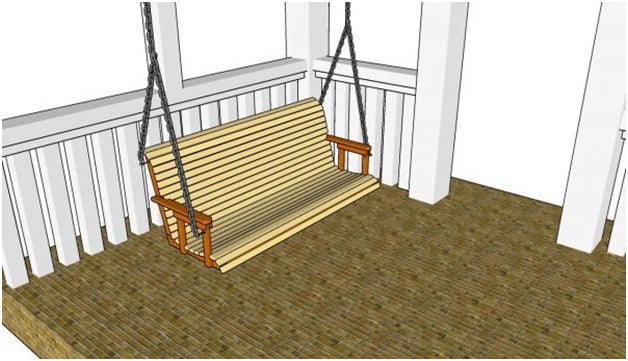 More details at myoutdoorplans.com
19. The Adirondack Porch Swing
This lovely swing is made in the vein of adirondack chairs, which provide maximum comfort and look stylish while doing so. This swing has subtle accentuated arms that go well with the overall design. Wouldn't you love to have it?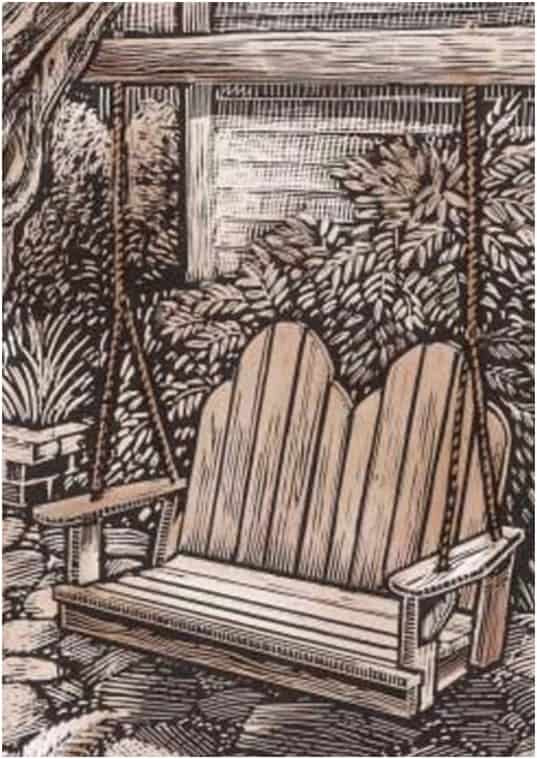 More details at getredwood.com
20. The Comfy High Back Porch Swing
I always prefer high backrests. It can get a little disorienting for me to swing when my upper back and especially my neck has no support for resting. I am one of those paranoid people who fear injuries, so I like the insurance a full back swing provides. It is also better for me to just rest my head and fall into a slumber sometimes. If you want the same, then you should go ahead and build this one.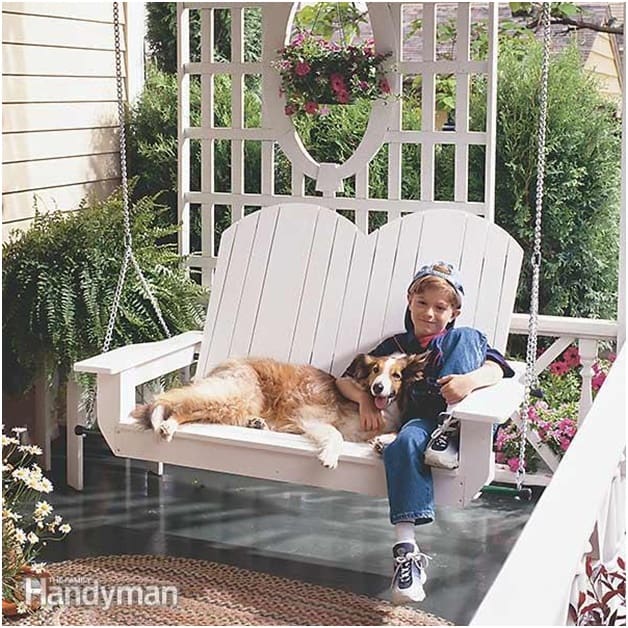 More details at familyhandyman.com
21. The Garden Porch Swing
I love gardens. I love their sweet smell and the gentle wafts of air that brush my face and hair. I would love nothing more than rock gently in a swing in the breeze. This simple yet lovely swing is something I'd install in my garden for doing so.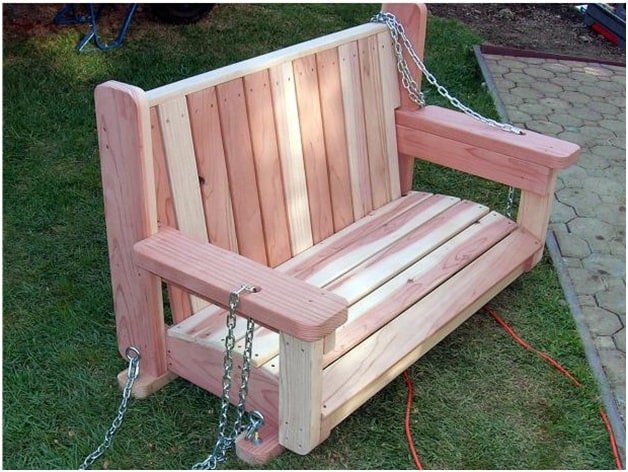 More details at diynetwork.com
22. The A-Frame Porch Swing
I adore elaborate designs. Be it cars, interior decor, sculptures, paintings or architecture. And this swing? It is an absolute winner in my book. The amazing A-frame is a refreshing change from the same old simple frames I see for swings. It has a sense of style that appeals to me. Moreover, the swing itself has a two toned color scheme with very accentuated border design with beautiful carvings on it. If you think you want this in your home, then you can make this porch swing on your own.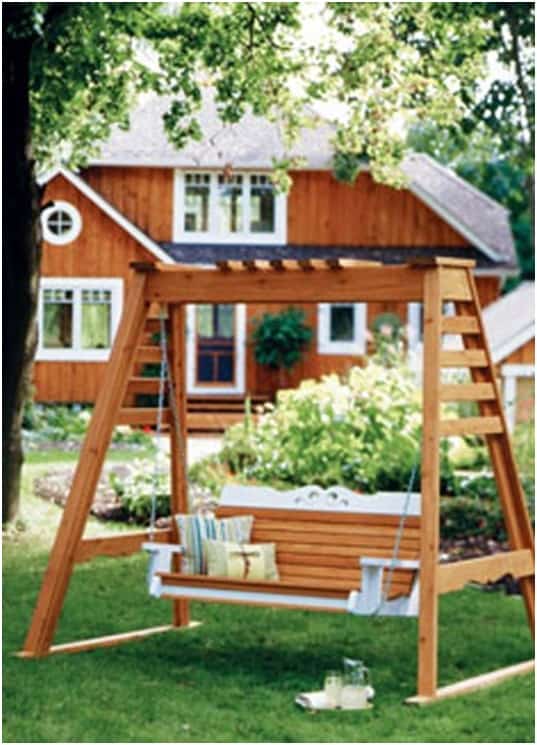 More details at motherearthnews.com
23. The Alaskan Round Logs Porch Swing
Alaska is a sweet place to be. It is a perfect getaway for any adventurer and romantic. The breathtaking landscape never fails to mesmerize. But, the way people in Alaska use logs to make just about anything fascinates me even more. And an Alaskan styled porch swing is right up my alley. The lovely rounded logs for arms and for the borders are just so very appealing. And you can make it from scratch!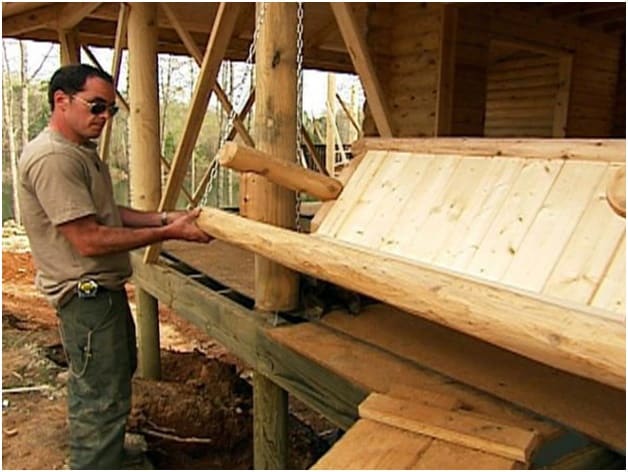 More details at diynetwork.com
24. The Dandelion High-Back Porch Swing
This porch swing not only fulfils my high-back criterion, it also has a lovely dandelion color that is so striking to look at. I would love to make this swing and I guess you would too. The plan for making this swing has everything you would need while building it.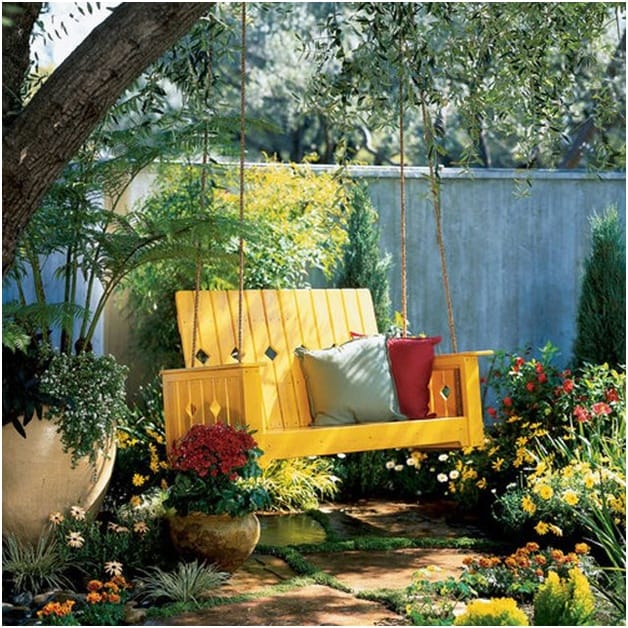 More details at sunset.com
25. The Redwood Porch Swing
Redwood is gorgeous and if you want to make a porch swing out of it, you should definitely go for this particular design. It is beautiful and will be a favorite of any visitors.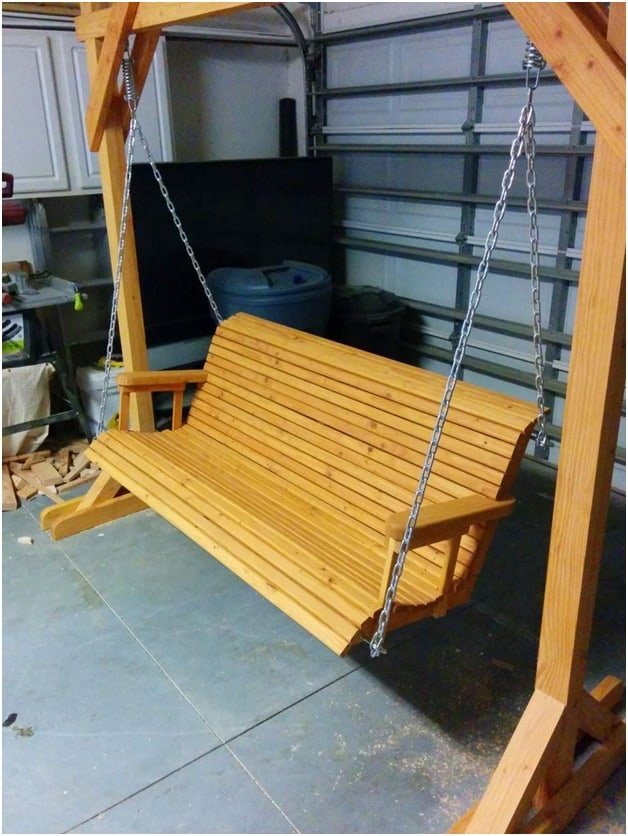 More details at myoutdoorplans.com
26. The Build Eazy Porch Swing
It is not too difficult to make this porch swing. You can build it even if it is your first time making furniture. What helps is the guide gives you detailed instructions on how to make it.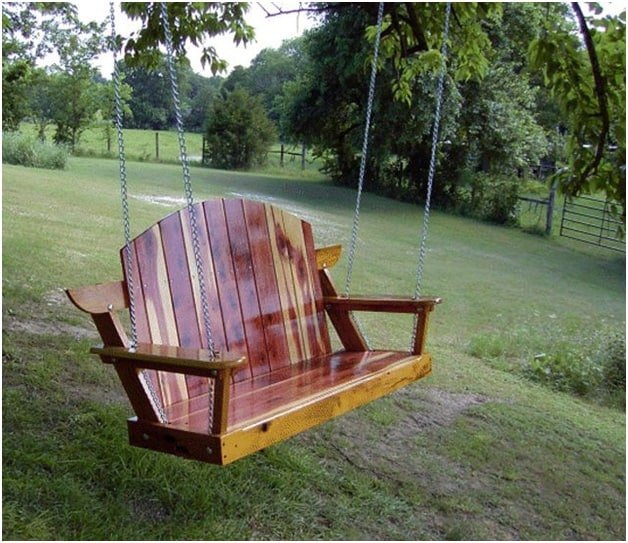 More details at buildeazy.com
27. The Elegant Skil Porch Swing
If you want to go with a longer and smaller yet a high back porch swing design, this one is for you. I love the mud red color of this swing and it definitely stands out, complemented by the curved edges. You can make it too with the detailed list of plans.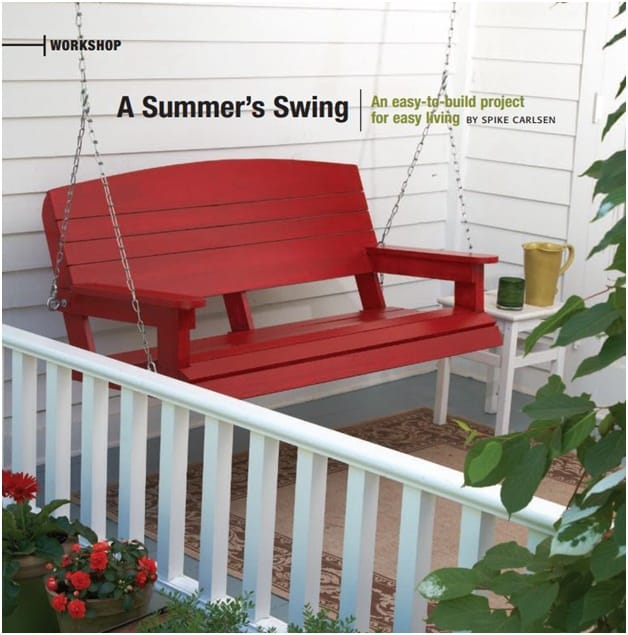 More details at skiltools.com
28. The Pallet Swing
I love pallets. I love making things out of them and the one thing they are most useful for is the porch swing. The great thing about pallets is that they are extremely cheap to buy, which is why making a porch swing out of pallets is as cheap as $30.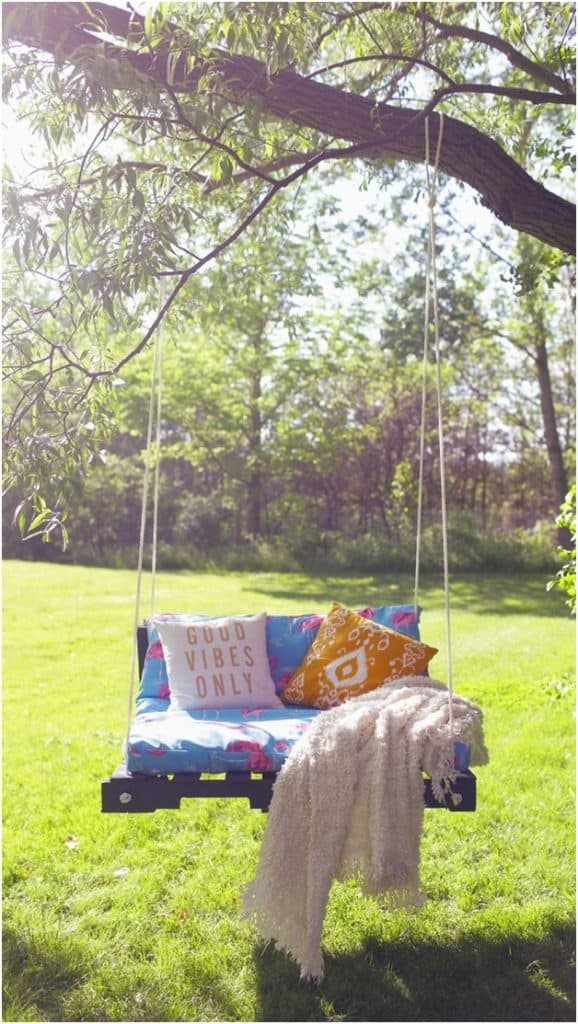 29. The Royal White Porch Swing
I am in love with this porch swing. Not only does the gorgeous white appeals to me and the comfortable cushions relax me, the rope work with the golden chains for this swing is a piece of art and I want this swing in my house. Wouldn't you too?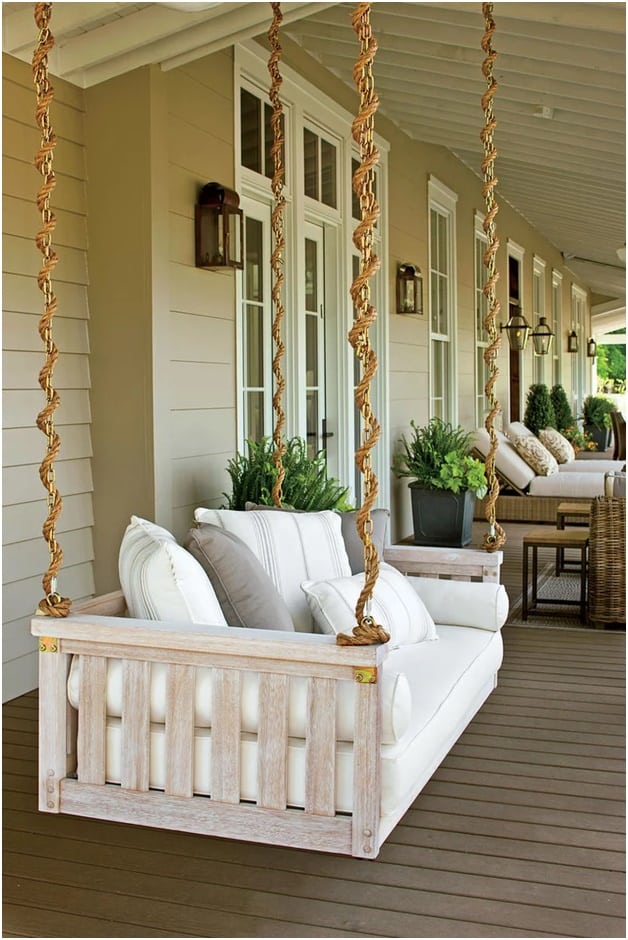 Source Unknown
30. The Placid Porch Swing
This porch swing is tailor-made for ultimate relaxation. It is essentially a long, single person swinging bed with a beautiful combination of blue and green. It's something I'd definitely love to have in my home.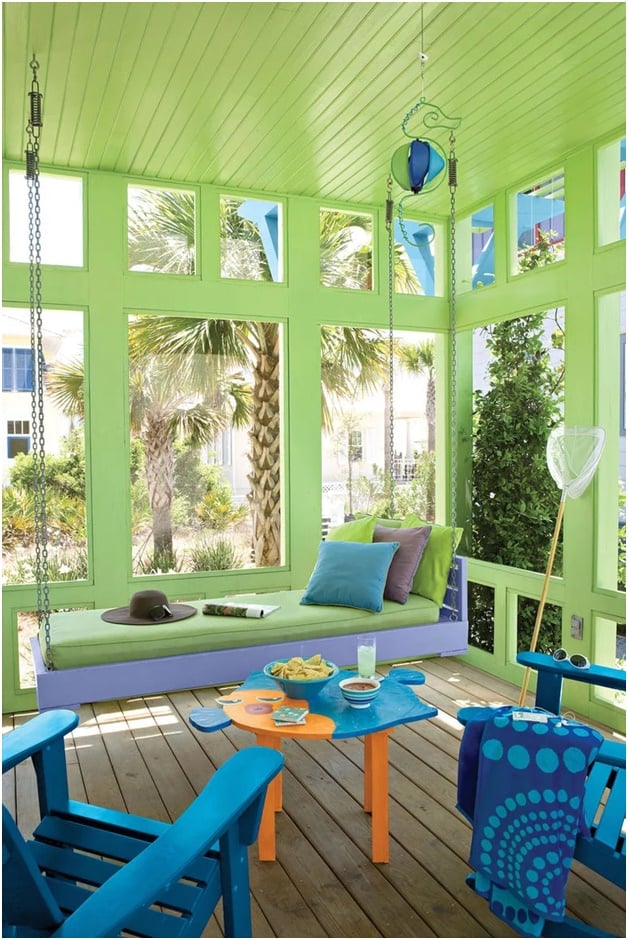 Source Unknown
So, which porch swing plans appealed to you the most? Would you like to come up with a new design inspired by these? Let me know your ideas!
Related Articles
30 Portable Chicken Coop Plans You Can Easily Move
Barndominium 101 | Floor Plans, Pricing Guide & Pictures
57 DIY Chicken Coop Plans in Easy to Build Tutorials – 100% FREE
47 Free DIY Swing Set Plans for a Happy Playing Area in Your Backyard
49 FREE DIY Router Table Plans For an Epic Home Workshop
43 DIY Duck Houses Plans and Duck Coop Plans to Build Now
57 DIY Bookshelf Plans and Ideas For Healthy Home Libraries
163 Free DIY Pole Barn Plans and Designs That You Can Build Easily
37 Free DIY Tiny House Plans for a Happy & Peaceful Life In Nature
27 Insanely Cool DIY Rocket Stove Plans for Cooking With Wood
39 FREE DIY Bat House Plans to Shelter the Natural Pest Control
19 Adorable Free Cat Tower Plans For Your Furry Friend
23 Awesome Free Deer Stand Plans You Can Start Right Now
13 Epic Free Rabbit Hutch Plans You Can Download & Build Today
101 Simple Free DIY Coffee Table Plans
The Rise of Barndominiums and Why You Should Buy One
53 of the Best GreenHouse Plants for Happy Gardeners and Gardens
Effective Tips for a Weed-Free Landscape Design Today
5 Best Weed Barriers and Landscape Fabric for Happy Gardeners
7 Best Greenhouse Plastic | Buyer's Guide and Reviews
13 Best Poison Ivy Killer Reviewed