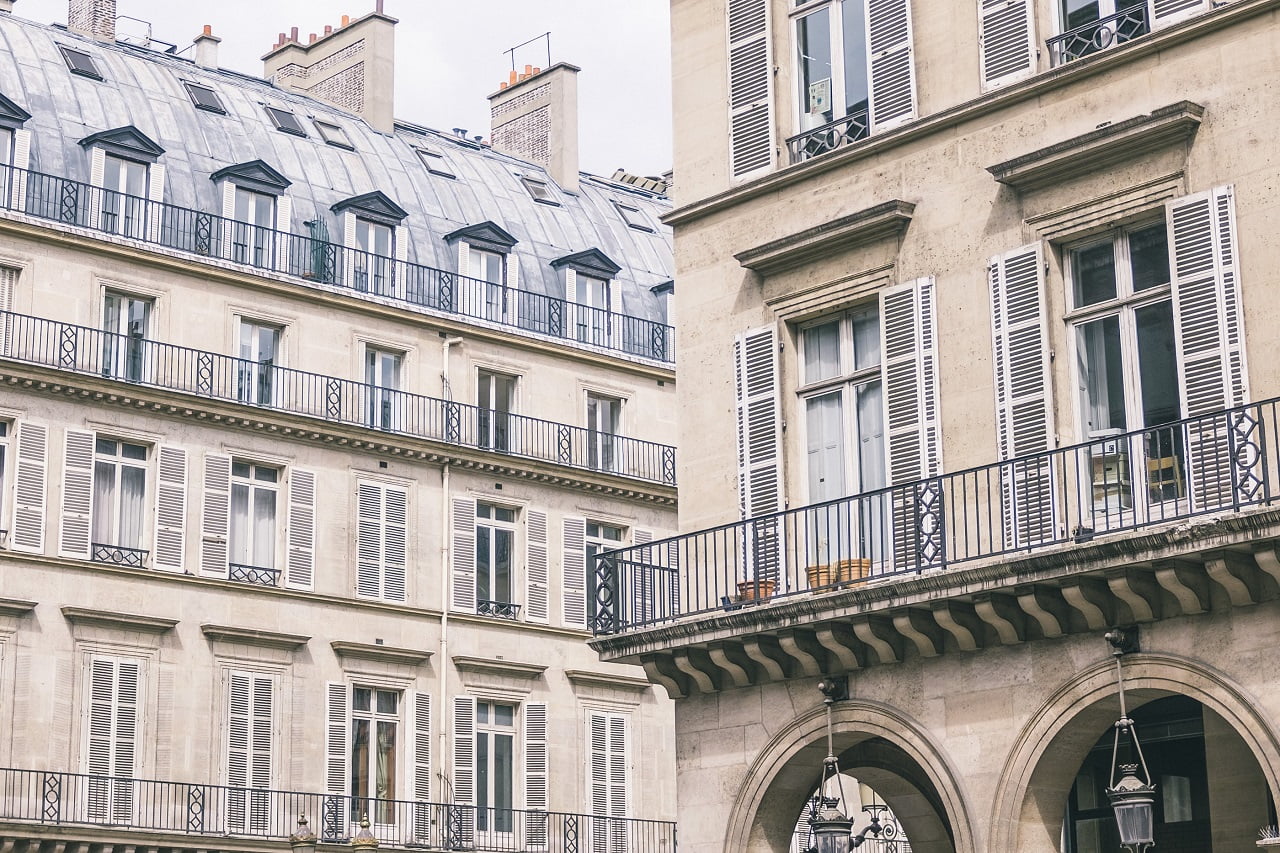 When it comes to architectural design, it is not simply engineering; it is an art.  For this reason, buildings do not look similar though their sole purpose is to create a living space. A roof of a building is essential both aesthetically and structurally. A roof is the most vulnerable section of a building which protects against environmental hazards like ice, snow, rain, hail, fire, and heat.
There are various roofing styles like Mansard, and different roofing styles became extremely popular. Though the Mansard roof style came into existence in the 16th century, it was widely popularized in the early 17th century and made many comebacks even after the period. The Mansard roof is also referred to as a curb roof or French roof.
What is a Mansard Roof?
Definition

of

Mans

ard

Roof
A Mansard roof is a type of roof characterized by having four slopes, two of which are nearly vertical and two of which are much more shallow. It is often used to create additional living space on the roof, especially in older and more traditional buildings.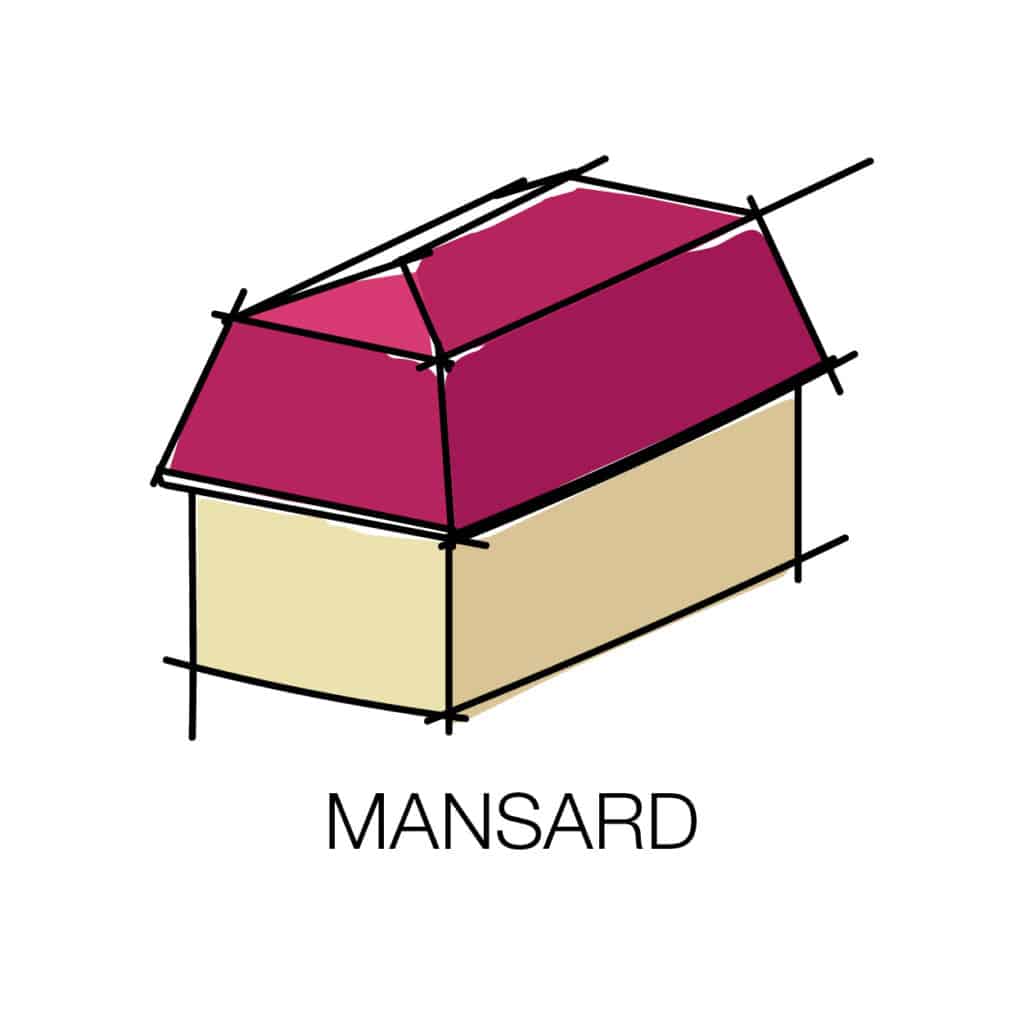 When it comes to technical terms, you can call a Mansard roof to be a four-sided hip-style gambrel roof. A gambrel roof has two sides with two slopes, and the bottom slope is much steeper than the upper slope. The hip roof style features straight, gentle slopes extending downwards on all four sides to the walls. This structure is more like a tent. So, if you combine these two styles and have a four-sided roof with two slopes with the upper slope flatter than the bottom one, a Mansard roof is created.
Being flatter, the upper slope of the Mansard roofs can rarely be seen from the ground, and it provides maximum space beneath the roof. The dormer windows extend on the lower slopes of the Mansard roof typically like the gambrel roof architecture which creates a habitable area often referred to as a garret. The Mansard roofs can be convex, concave, or straight-angled in shape.
This structure gives you a traditional look and is most commonly used in barn houses. In Germany and France, both Mansard and gambrel roofs are referred to as Mansards.
The steep-sided style and the double-pitched styles are the two primary styles of Mansard roofs. The drainage system of water and snow makes the key distinction between these two styles. The longer and sharper the slopes are the better will be the drainage system. The double-pitched style, on the other hand, forms a reasonable drainage system as compared to the former.
Slate tiles and wooden shingles are the stereotypical materials used for making a Mansard roof and people who love the conventional way, prefer to use these materials while other types of tiles and shingles can also be used for increased durability and cutting down maintenance costs. So, you can use zinc or copper shingles for the steeper part of the roof. If you are using asphalt shingles, you need to use them in a regular pattern.
This design of Mansard roofs is not only used in some famous historical buildings, commercial buildings, or private homes but also used in locomotive designs as well because it gives an added usable space in a typical train car. The Australian Commonwealth Railways CL class and two Victorian Railways hopper wagons featured Mansard roofs.
History of Mansard Roof
The Mansard roof was popularized by the famous French architect, Francois Mansart (1598 – 1666) who used this distinctive style in many of his works. During the Baroque period (1600 – 1750), he used this technique of roofing extensively to create chateaus and grand townhouses which caught the eyes of the people. The term "Mansard" means a roof that has two slopes on all four sides where the lower slope becomes steeper than the upper one and was named after him. You can also use this term to refer to space or attic under this kind of roof structure and not just only the shape of the roof.
However, Francois Mansart was not the creator of this unique style. This accreditation goes to Pierre Lescot (1510 – 1578) who used this roof style in 1550 as a part of the Louvre Museum, the largest art museum in the world in Paris, France. After the initial popularity, the Mansard roof was revived during the re-building of Paris and became an extremely fashionable feature in architecture for most of the buildings during the Second Empire (1852 – 1870), a period during the rule of Napoleon III.
The usage of the Mansard roof in architectural designs became so increasingly popular that it was not limited to only in France. It was used in England and Italy and later spread in the entire Europe. Slowly, the Mansard roof style was adopted to construct buildings in many other western countries including Canada and the United States of America since it was relatively easy to repair hail damage to roofs due to its design. It was commonly used on Victorian-style mansions and other grand homes. The roof has become less popular in recent years but is still seen in some modern homes.
The roof is favored for its distinctive look and its ability to provide extra living space at a smaller cost while still offering increased living interior space, insulation, and footprint efficiency combined with unique aesthetic value. The roofs are also a good choice for areas prone to heavy snowfall since the steep pitch helps to shed snow.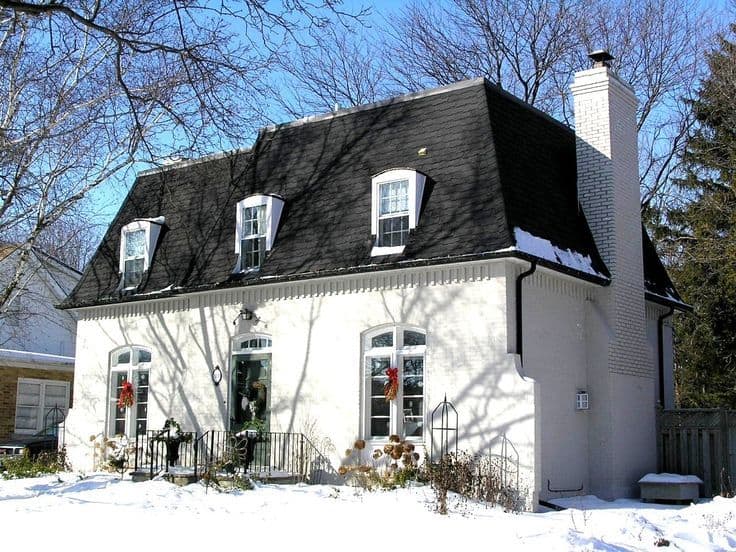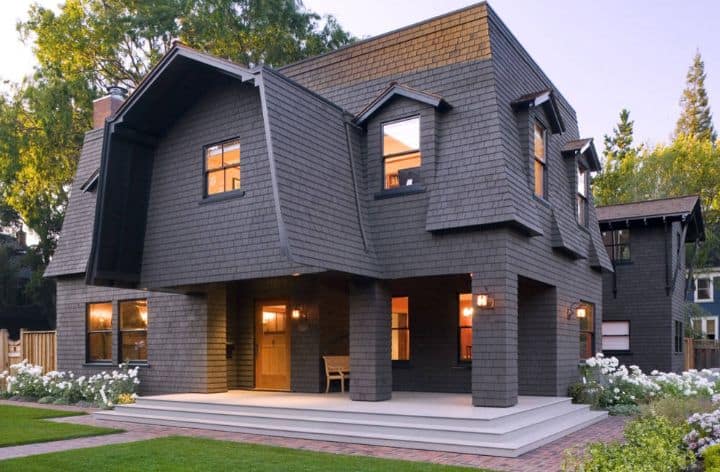 Mansard Roof Advantages 
Extra usable space – You will always want to add a few stories or make an attic inside an existing building with almost zero need for extra support and masonry. The Mansard roof gives you that luxury as it provides you the additional space because of its virtually vertical slopes. Even if you need an extra master bedroom, you will have the flexibility to include one when it comes to comparison with using other popular styles of roofing like Hip roofs or Gable roofs. So, if you are planning to add rooms in the future to your existing home, choosing the Mansard roof will be a perfect choice which will give you that extra space required.
Suitable for both rural and urban areas – The Mansard roof is ideal for both rural and urban areas as it suits well in any kind of property creating a usable space. This style is primarily preferred in urban areas as it gives you the option to expand upward because you will generally not get the space to expand your building outward.
More light and better heat distribution – The dormer windows are most commonly used as they stretch along the full length of the bottom slope allowing more natural light to enter. Also, this additional space created with the use of the Mansard roof supports efficient and superior heat distribution which makes the building more comfortable.
High-class look with modern design elements – This classical and elegant style of roofing which is an important part of the French architecture that became increasingly popular during the period of the Renaissance not only gives you the option of the flexibility of adding more rooms but also gives sophisticated look. Modern builders use quality insulation and specialty materials to create Mansard roofs which can last longer than other roof designs while the Mansard roofs of older times primarily used non-resistant and heavy materials. With no need to worry about rusting or parts falling off from the roof, you can enjoy the modernized Mansard roof in your business or home.
Cost savings – The Mansard roof not only helps a lot to save your costs from building a separate room or attic in the usable space which it creates but also cuts down your heating costs as it distributes the heat evenly in your building with proper shape and sealing. If the framing is made of metal shingles, it increases durability and also maximizes the sealing of the roof. Though initially, it would cost more for the setup, it will save a lot of money for maintenance in the long run. Also, the modern design elements of the Mansard roof make it affordable for homeowners.
Mansard Roof Disadvantages 
Challenges from local laws – There might be different requirements for getting a permit to use this Mansard style of roofing depending on your area. There may be different taxes that are implemented in various locations as the Mansard roofs add to the total square footage of the building. Also, in some locations, there is a restriction set in the height of the Mansard roofs in order to protect against any structural damage. So, if you are planning to use the Mansard roof design, you need to research thoroughly the local laws that apply to this style of roofing.
Long-time involvement and high installation cost – It takes longer to install a Mansard roof with more materials and labor as compared to other roofs. Also, the process to build a Mansard roof is quite complex and requires the involvement of specialists in the field because you will not want the quality to be of a lower standard. These things add to the increased installation costs and difficulties which can be a huge problem for homeowners wanting a Mansard roof with a low budget. If you are using metal shingles for building a long-lasting Mansard roof, it will lead to even higher installation costs though it will support your maintenance costs in the long run.
Low weather resistance – The Mansard roof is not ideal for resisting extreme weather conditions like areas receiving heavy rainfall or snow. Due to the flatter upper slope, the drainage system of the roof is not good enough. Water or snow can accumulate which can result in dampening or leakages from the roof. The roof may even fall off in case heavy snow gets accumulated which can be tragic.
So, homeowners will have to keep an eye during heavy rainfall or snow in order to protect their roofing and building.
High maintenance and repair costs – With low resistance to extreme weather conditions, this roofing system also needs to be well maintained and kept in regular check which adds to high maintenance costs. In stormy areas, a lot of debris will get collected on the flatter portion and if not cleared over an extended period of time, it might cause damage in the long run. As you need experts with this roofing style, it not only adds to higher maintenance and repair costs but for some it might become a hassle too.
The protruding design of the dormer windows causes more exposure to the environment, so they will often require maintenance. They are prone to develop structural problems or damages if neglected. This will add to increased maintenance costs and will become a burden on your energy costs as well if you have faulty dormer windows.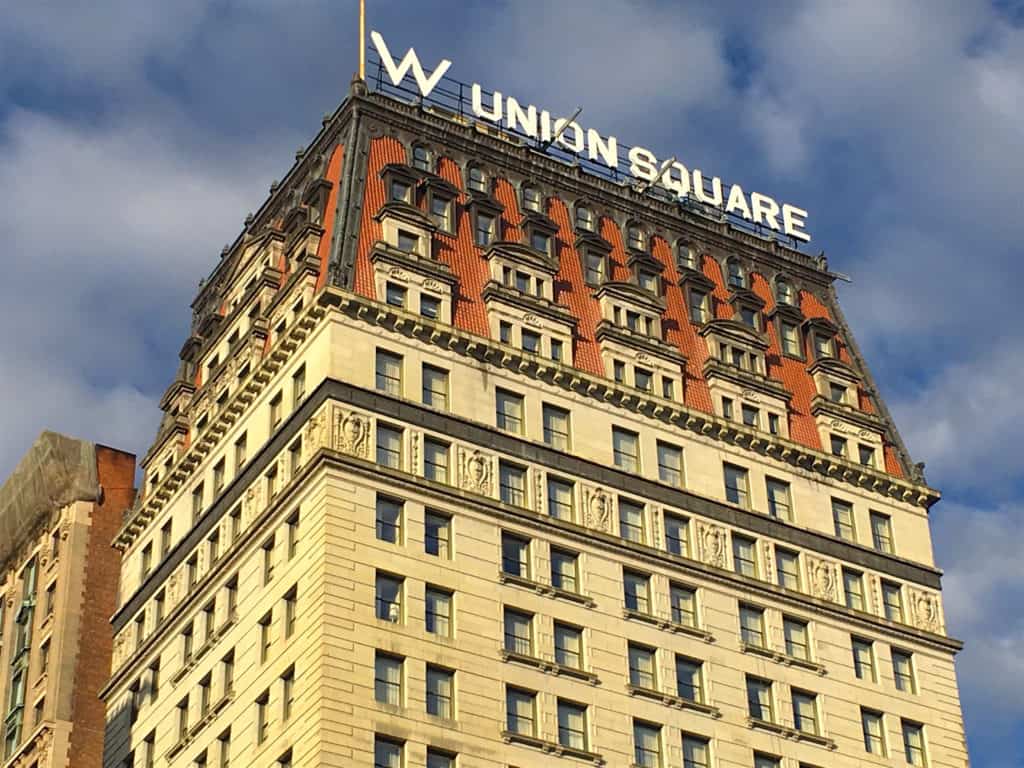 Mansard Roof vs Gambrel Roof
Many people confuse the mansard roof type with the gambrel roof type; however, these two roof types have distinctive features that you can recognize when you look closely. Gambrel roof architecture is a version of a gable roof, but the gambrel roof has two slopes on each side, rather than the one slope on a typical gable roof. 
This style of roofing is not common on homes, but you can see it on barn houses and on Scandinavian design homes occasionally.
 A mansard roof is a hipped roof, similar to the gambrel roof in that it has two angles on each side, but it has a roof on all four sides of the house, rather than just two, like a gambrel roof.
Types of Mansard Roofs

There are four main types of mansard roof designs that are commonly used:
Straight mansard roof – This type of mansard roof has a nearly vertical lower slope and a smaller upper slope that may not be visible from ground level. Dormer windows are often added to provide natural light and ventilation to the upper floor.
Convex mansard roof – With this style of mansard roof, the lower slope curves outward, resembling the shape and curvature of a bell. This design provides extra space in the attic rooms which makes the interior space feel airier, and cozier too.
Concave mansard roof – This French Roof type features a flat upper slope and a steeper lower slope that curves inward and thus it doesn't offer as much space as other mansard styles. Regardless, it has a rich architectural history and was commonly used in historic mansions and heritage buildings.
S-shaped mansard roof: This roof style combines the convex and concave roof lines, starting with a curve inward and finishing with a curve outward.
Mansard Roofs Design Considerations
Types of shingles on the mansard roof
Roofing materials are different from house to house but mansard roofs require a specific type of roofing material due to their slope, and exposure to harsh weather conditions, waterproofing needs on this type of roof are extremely important, and a bit more difficult to create a tight seal between shingles on steep surfaces.
Traditionally, mansard roofs were covered with slate tiles, which could be precisely positioned by the roofer to facilitate water drainage and also provide an aesthetically pleasing look. Thanks to the advancement of manufacturing technology, in recent years, synthetic shingles or lightweight wooden options like cedar shakes have gained popularity thanks to their reduced weight and resistance to sliding down the roof over time.
Asphalt shingles or metal tiles are options as well but although they may be cost-effective, some experts caution that asphalt shingles may be too heavy for a mansard roof's slope.
Climate
Mansard roofs are ideal for areas with cooler climates as they allow for extra insulation and boost extra protection against the elements but are not ideal for extreme conditions with a lot of rainfall and snow as the flat portion at the top can cause water infiltration issues.
The extra attic space and the slope of a mansard roof can help keep a building warm in the winter and cool in the summer. 
Building

Height
The height of the building is an important factor when considering a mansard roof. The roof's steep pitch will require a taller building for it to look aesthetically pleasing but it also maximizes the interior space of the building.
The extra height provides more usable space inside the building, as the slanted walls of the mansard roof provide additional storage and living space, this aspect is the driving factor behind the popularity of the mansard roof since its inception.
Cost
Mansard roofs are more expensive than traditional roofs due to the extra materials required for their construction such as additional insulation. The labor costs associated with building a mansard roof can also be higher than those for a regular roof but so is the interior space obtained, the extra height of the building necessary for a mansard roof will also add to the overall cost but it maximizes the interior space without changing the building footprint.
Homes with Mansard Roofs
The mansard roof type stands out from all other roofing styles due to its regal beauty and unique aesthetics and brings to the table the potential for more interior space.
We have gathered some stunning photos of mansard roofs, both outside and inside to exemplify that mansard roofs have an elegant, familiar look worth considering, cast a glance.
Mansard Roof Exteriors
A mansard roof is easily identifiable due to its distinctive design and iconic look, the mansard-style roof has been around for centuries and is still popular today, appearing on both old and new buildings, let's take a look at some examples.
Concave mansard roof

A large historic home built in red brick cladding stands tall. A front porch, bay windows, and a splendid blue metal roof add to the charismatic home above showcasing its concave mansard roof. Several large windows bring natural light into the loft area of the concave French roof.
Straight mansard roof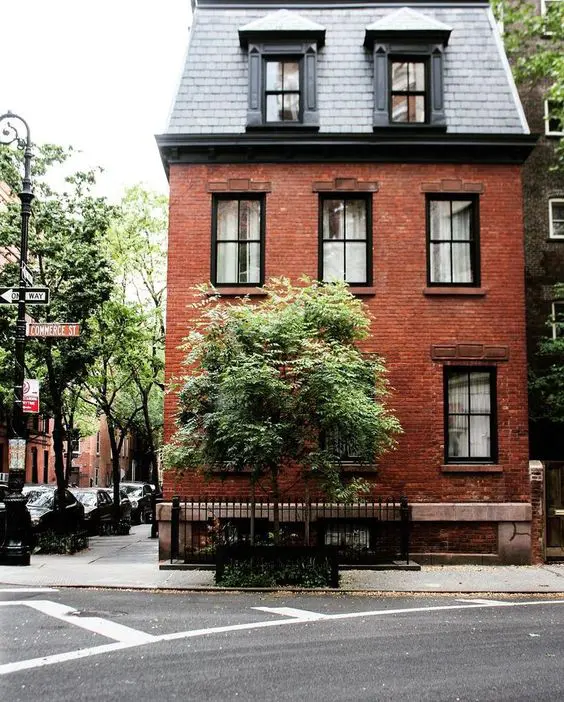 Another red brick urban home, now with a straight mansard roof featuring grey shingles, the straight mansard roof featured on this modern town house has a small upper slope not visible from the street level. This mansard roof one could argue misses the historic charm but it's an extremely fitting roof style for a modern home, one that many architects are embracing today.
Convex mansard roof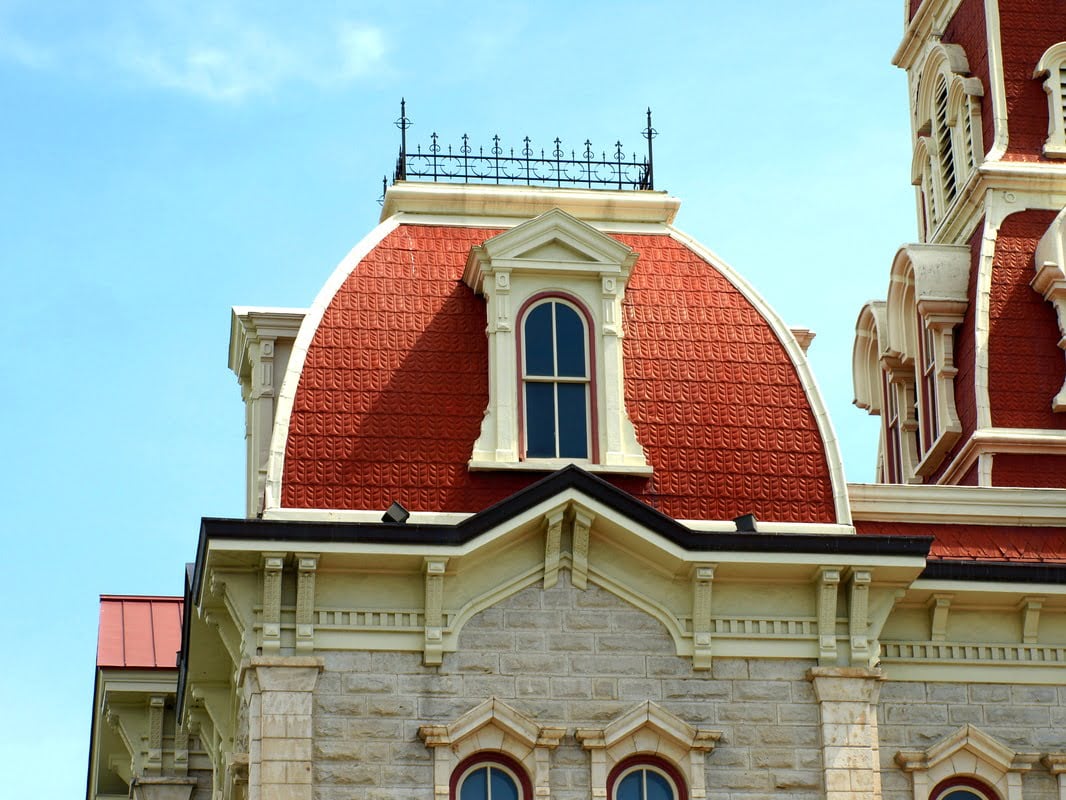 A rounded mansard-style roof is an example of how architectural design changes the built environment, a simple curvature adds extra space in comparison with a straight roof and is embellished greatly with roundness. 
via civiconcepts
Modern mansard roofs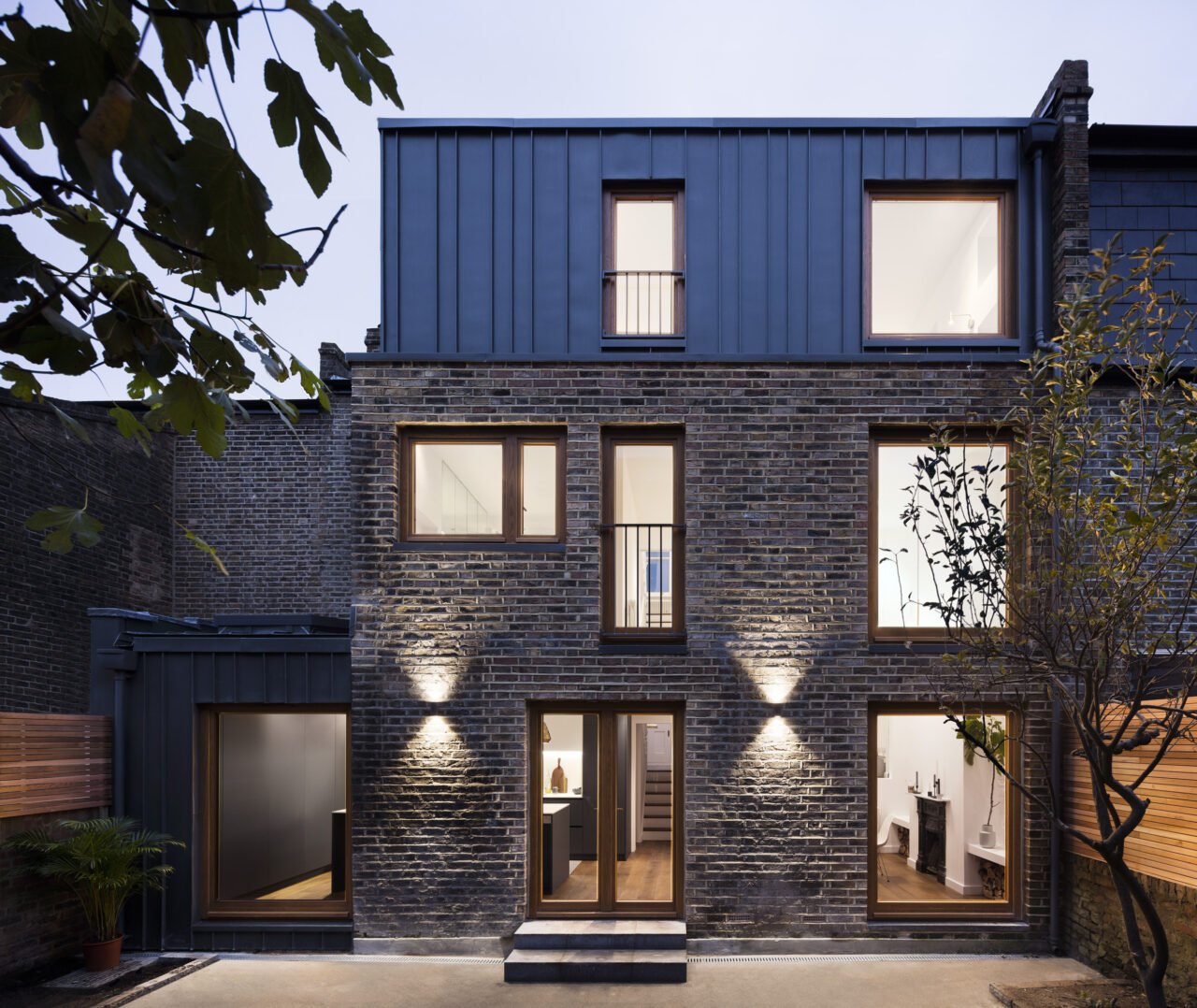 Copyright ©Rory Gardiner 2017
To say that mansard roofs are not used that much anymore is not an understatement, but the historic style still is extraordinarily present in heritage sites and is popular still in Europe, where square footage is more expensive and the cost of a single mansard might be lower than a regular roof.
In the example above the straight mansard roof with gray metal slates allow the addition of rather large windows and creates linearity in the vertical plane, greatly emphasizing the windows below through the contrast of the metal sheets whilst complementing them with the window proportions.
Mansard Interiors
Mansard roofs have come into existence to boost interior spaces, and here they are today, doing just that. When you add a mansard roof, you encounter advantages and disadvantages but you certainly gain additional living space that can be anything, from storage to artist studios, you name it.
Mountain chalet with mansard roof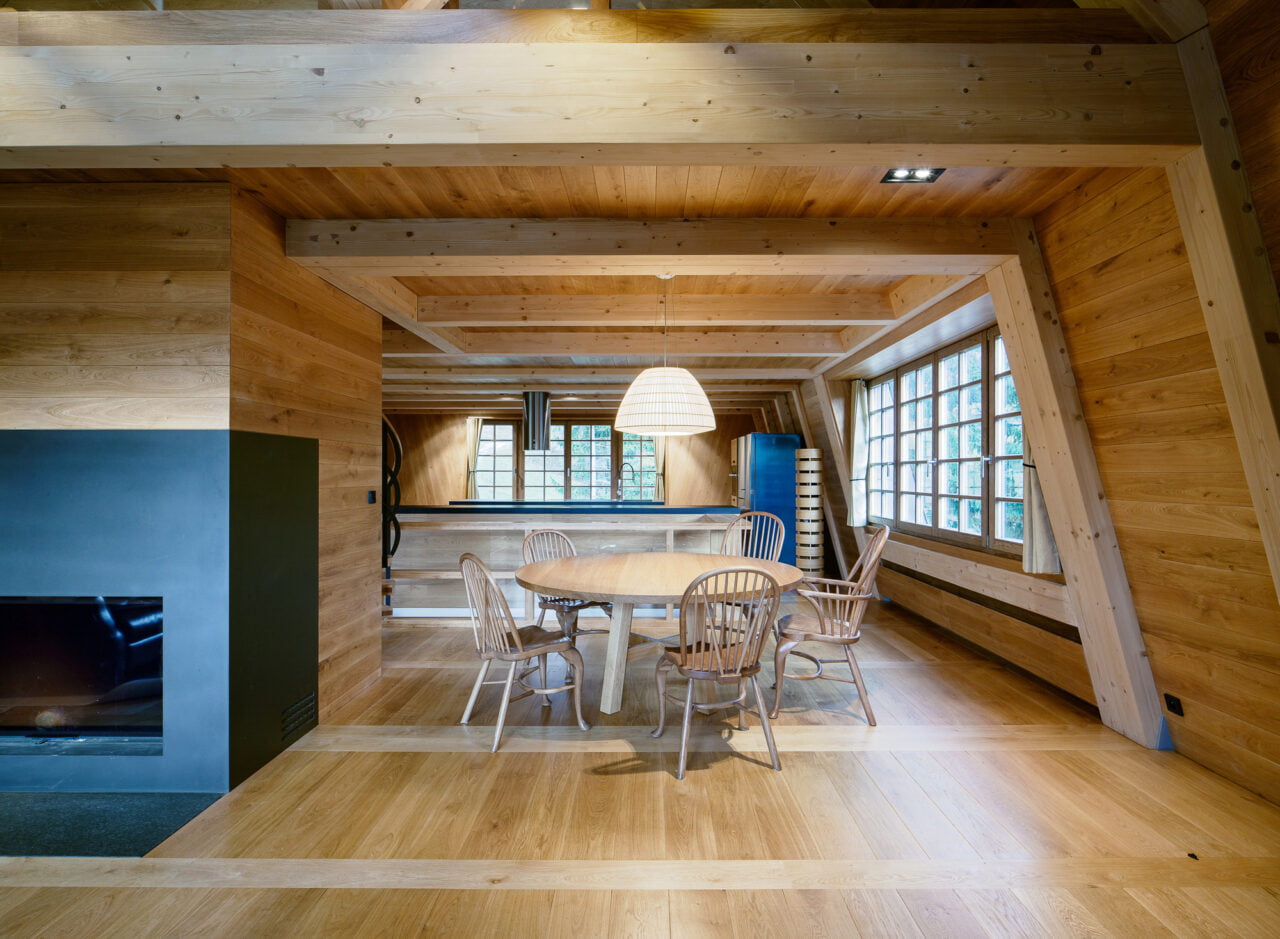 Copyright © Tomas Soucek
In this Chalet in Krkonoše designed by Znameni Ctyr Architekti, small bedrooms can be found on the higher levels, most of which are attics and mansard roofs. These bedrooms receive natural lighting through smaller windows in the gables and dormer windows, while technical windows in stone pedestal walls complete the overall look.
Office in an upper loft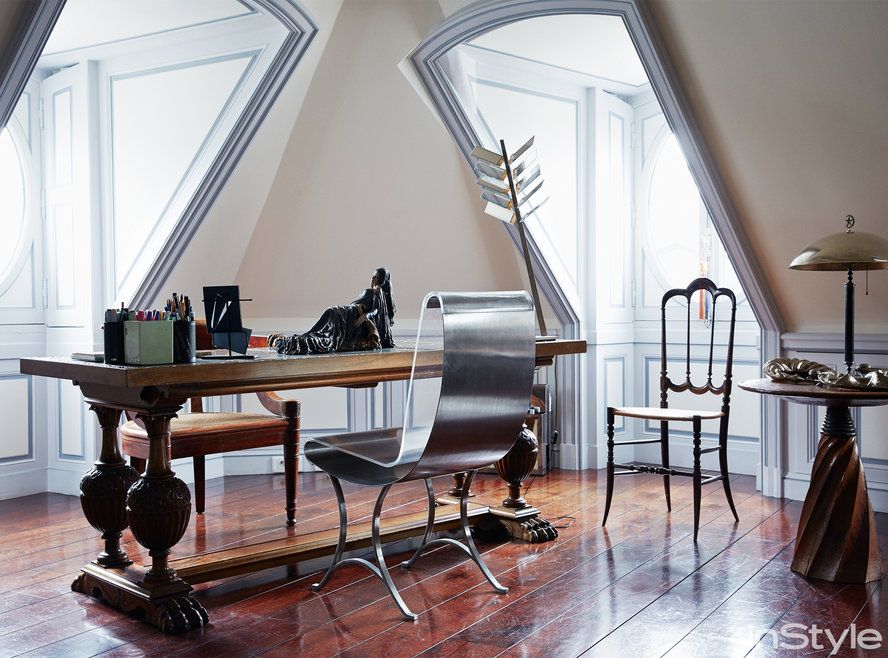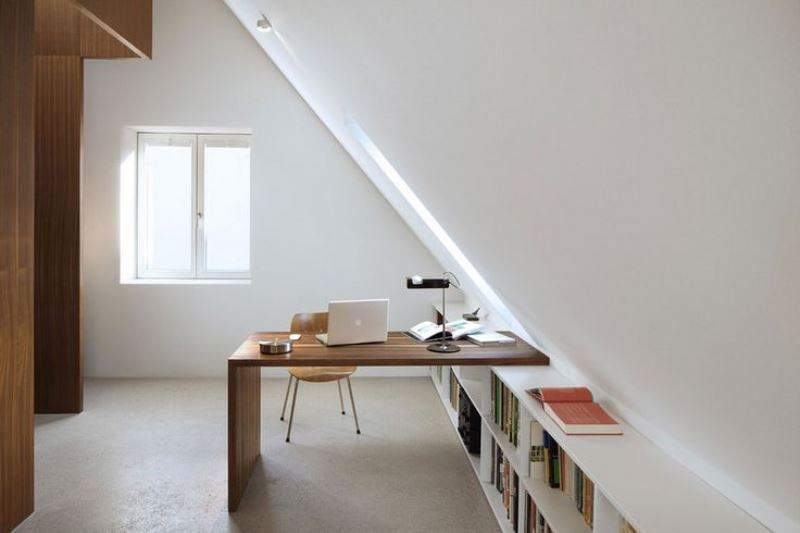 via InStyle
These days, a single mansard roof space can become an open space office, as people often take advantage of the extra square footage to create a sensible, secluded workspace. The flat roof can be fitted with large skylights, making this space incredibly bright and perfect for pretty much anything.
Benefits

of

Inst

alling

a

Mans

ard Roof
The French roofs or Curb roofs are known for their energy efficiency, as they are designed to keep heat in during the winter and keep it out during the summer. This can help to reduce energy bills, as the roof will act as an additional insulator. Mansard roofs also have a longer lifespan than other roofing materials and are not as susceptible to damage from severe weather. A françois mansart is relatively easy to install as it does not require complicated framing or engineering and adds additional interior space with reduced costs.
Last but not least, thanks to its unique design, a mansard roof can add a sense of style and character, and charm to a home, and thus it still is a desirable choice for homeowners today, centuries later.
What is the Mansard Roof FAQ
What is the purpose of a mansard roof?

Mansard roofs were created and designed to maximize upper-story space while minimizing the amount of taxes paid due to the height of the building. Therefore, builders were able to add additional room without increasing the overall height of the building and thus, reduce the amount of taxes they had to pay.

Mansard roofs provide extra loft space compared to hip or gable roof designs, making them an attractive option in terms of aesthetics. However, there are some drawbacks to consider before investing in a mansard roof, as with any other kind of roof the biggest of which is the added building complexity and the need for better waterproofing and overall superior, more expensive construction materials.

What is the life expectancy of a mansard roof?

Mansard roofs equipped to sustain snow and rain can last up to a century, whereas asphalt tends to last between 20 to 30 years. Copper is often used due to its resilience to damage caused by heavy snow and rainfall.

Why are French mansard roofs gray?

The primary roofing material for most French roofs is sheet metal, either zinc or copper, when these materials are exposed to the elements they are weathered, zinc takes on a gray color and copper will become light green in hue.

Is a mansard roof a hip roof?

Yes, a mansard is a type of hipped roof, consisting of four sides with a gambrel–style design.

No, a mansard roof is not flat but it does have a smaller slope of around 30 degrees, which cannot be seen from street level, thus appearing flat. The small portion at the top, the flatter portion at the top, which is not flat, is the reason why mansard roofs are not recommended in areas with a lot of snow.

What pitch is a mansard roof?

The mansard roof has two slopes to consider – the lower one with an angle of about 70 degrees, and the upper one with an angle ranging from 30 to 36 degrees.

Do mansard roofs need gutters?

Gutters are the best way to control drainage from upper roofs, but not all mansard roofs were built with gutters at their base. Therefore, at times, we must find alternative methods to direct the water away from these roofs or spread it out over a larger area when working with a historic building equipped with a mansard-style roof.
Mansard Roof Conclusion
As we come to a conclusion, it is pretty evident that the biggest advantage you get with Mansard roofing is the flexibility of adding rooms in the future due to its distinctive design. Even after knowing all the disadvantages, many people in the modern world prefer Mansard roofs for their advantages and a traditional classy look.
Undoubtedly, mansard roofs have stood the test of time and are now, centuries later, architectural heritage.
Related Articles
23 Hip Roof Types & Styles for Your Future Home
Learn About the 20 Most Popular Roof Types for Your Future Home
6 Eco-Friendly Roofing Materials and Why You Need Them
How To Clean Gutter Guards Efficiently
Shur Flo Gutter Review | All You Need to Know
EasyOn Gutter Guard Review 101 | All You Need to Know
5 Best Foam Gutter Guards [Reviewed & Buyer's Guide]
9 Best Micro Mesh Gutter Guard Today | Buyer's Guide
13 Best Gutter Guards For Pine Needles [Buyer's Guide]
23 Extraordinary Beautiful Ways to Repurpose Rain Gutters in Your Household
LeafGuard Review | Everything You Need to Know