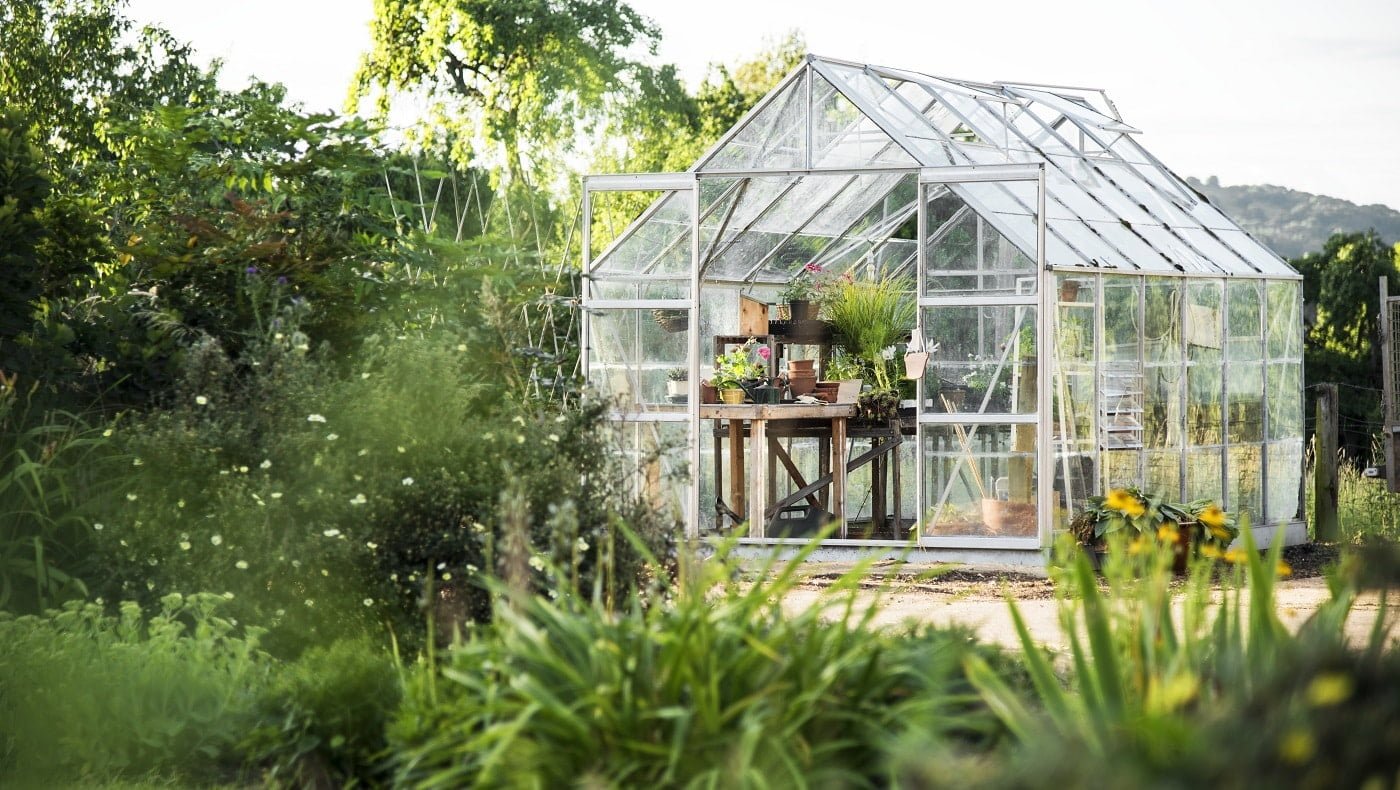 Want to grow fresh produce in your garden but don't want to invest in an enormous greenhouse?
We know that building a greenhouse on your own can be pretty time-consuming. Not to mention the hassle of hiring a gardener if you don't get it right the first time. 
So, instead of stressing over building a greenhouse, try purchasing a greenhouse kit online. Whether you need a petite greenhouse kit for indoors or a larger, sturdier option for building a vegetable garden, there is no shortage of options. So, today we're going to introduce you to the best greenhouse kits on the market.
Without further ado, let's get started-
Best Greenhouse Kits
IMAGE
PRODUCT
DETAILS

Our Top Pick

Our Top Pick

Home Complete Heavy-Duty Greenhouse Kit

Eight durable shelves
See-through greenhouse
Steel frame and PVC cover

VIEW LATEST PRICE →

Gardman Store Mini Greenhouse

Tough alloy steel material
Mini greenhouse for compact spaces
Zippered door for easy access

VIEW LATEST PRICE →

Ohuhu Walk-in Greenhouse Kit

18-pound weight capacity for shelf
Two velcro side windows
Roll-up door feature

VIEW LATEST PRICE →

Eagle Peak Portable Greenhouse Kit

Roll-up zipper door
Anchoring system
Provides extra headroom

VIEW LATEST PRICE →

Quictent Large Walk-In Greenhouse Kit

Two doors with independent zippers
Ten vents for ventilation
Reinforced mesh PE cover

VIEW LATEST PRICE →

Homewell Greenhouse Kit With Shelves

Four strong shelves
Clear plastic cover
Roll-up door with zipper

VIEW LATEST PRICE →

SV Scool Value Walk-In Greenhouse Kit

Eight shelves
16 clip-shelf fixers
Aging resistant PE cover

VIEW LATEST PRICE →

Ohuhu Upgraded Greenhouse Kit

Rustproof tube frames
Anti-aging cover
Simple screw assembly

VIEW LATEST PRICE →

Palram Hybrid Hobby Greenhouse Kit

Snow load capacity of 15 pounds psf
Blocks 99.9% of UV rays
Withstands winds of 56 mph

VIEW LATEST PRICE →

FDW Large Walk-In Greenhouse Kit

Large tunnel style greenhouse
High quality steel frame
One rolling door and two vents

VIEW LATEST PRICE →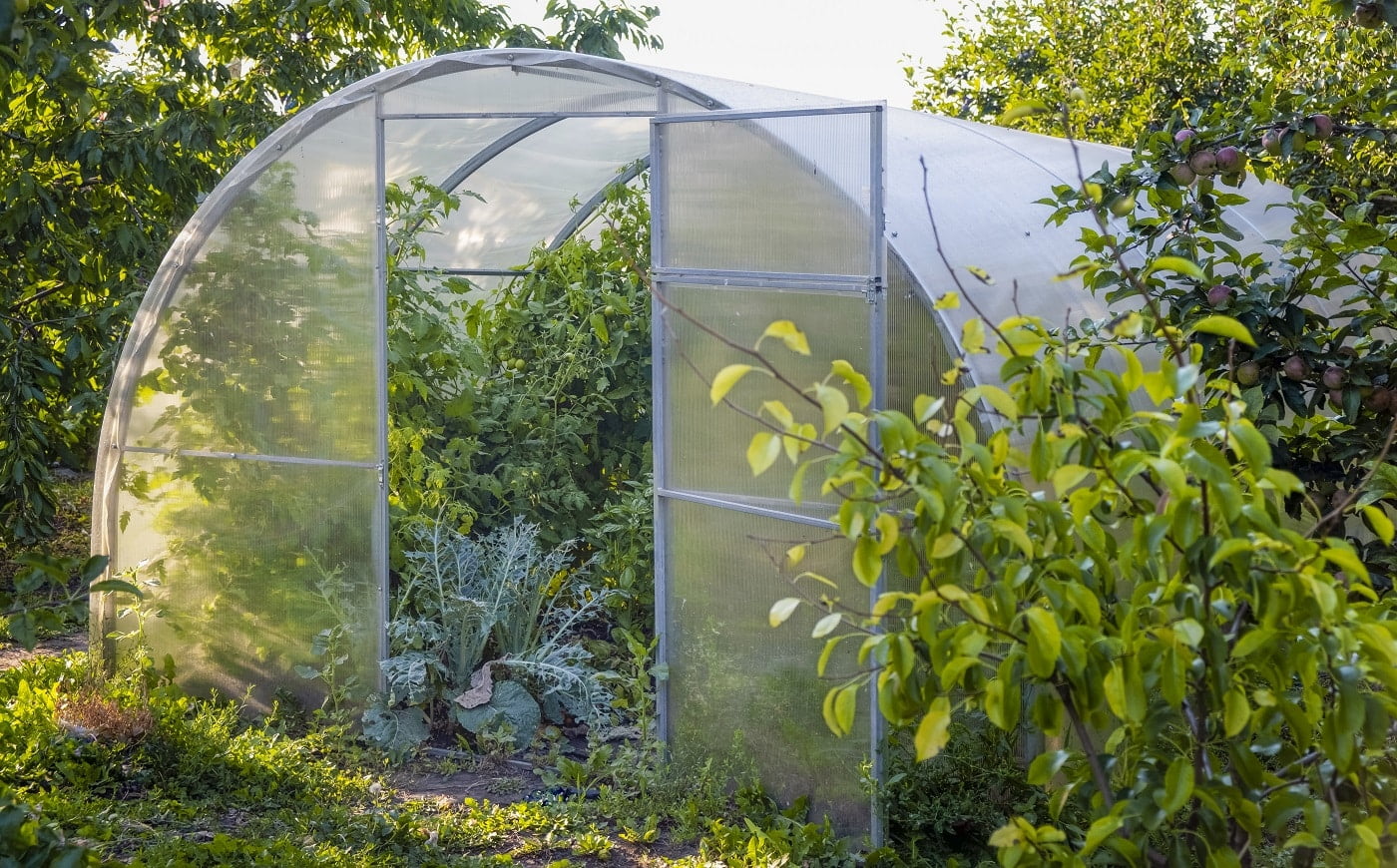 To begin with our list, we have a heavy-duty greenhouse kit by the brand Home Complete that is constructed out of steel and polyvinyl chloride. This all-season see-through greenhouse could be the perfect addition to your backyard garden. With no tools required to assemble it, you can start planting the day it is delivered.
Why Did We Like It? 
Right off the bat, we liked the fact that this product could come into use throughout the seasons. We know several garden and plant enthusiasts who would love this walk-in greenhouse for this very reason. With this greenhouse, gardening fruits, seeds, vegetables, flowers, or herbs for everyday cooking will become much more convenient.
Moreover, this kit comes with all the parts required to set it up, which means you don't need any tools to install this greenhouse. The greenhouse kit comes with a steel frame and weather-resistant PVC cover and is ideal for growing plants. With a dimension of 56 inches in length, 56 inches in width, and 76 inches in height, there is ample space for you to fit in and water the plants.
Besides, this medium-sized greenhouse kit can be used indoors as well. In case you don't have a backyard, it will work equally well in backyard patios, garages, or even the basement. Equipped with eight durable shelves, you can place multiple plants in pots and spread them out as you like. 
What Could've Been Better? 
Greenhouse kits are ideal for temperature control and blocking harmful UV rays, and this model does just that. In fact, out of most backyard greenhouse kits, this one is much easier to assemble and comes with a set of rods, rope, and anchor. We only wish this model was slightly bigger to hold more plants.
Pros
Useful indoors and outdoors

Easy assembly

All accessories are included

Protects from direct sunlight
The next option is a tiny one for those of you wanting to set up an indoor garden. The Mini greenhouse kit by Gardman Store is one of the smallest options available on the market today. This four-tier greenhouse is compact, lightweight, and portable, and you can assemble it on your patio without using any tools. 
Why Did We Like It? 
When we think of traditional greenhouses, a large green structure of plastic that you can walk into comes to mind! But not everyone has large spaces at home, so Gardman Store has developed a mini version that will fit in any house. In fact, the 27-inch long, 18-inch wide, and 63-inch high greenhouse is as small as a cupboard.
Let's say you have a small balcony, patio, or backyard that looks a bit bare, and you wish to stock it up with herb plants. That's when this model will come in handy, but that's not all this mini greenhouse kit can do. Before planting your young seedlings and plants in a bigger greenhouse, you can give them an early start indoors.
Also, the model comes with a clear polyethylene cover and roll-up style zippered door for quick access. And you will have no trouble assembling the pieces because the strong-fit tubular steel frame is light and needs no tools for installation.
What Could've Been Better? 
With a few delicate plants, they require extra care during the growing season and need protection from cold weather and heavy snow. Until they are mature plants, you can allow the new plants to propagate in this mini greenhouse. On the downside, this model might be too small if you have many plants to grow at once.
Pros
Compact greenhouse

Durable material

Lightweight

Four tiers for plants
Up next, we have a walk-in greenhouse kit by the brand Ohuhu which comes with roll-up doors for easy entry. Consisting of three tiers on two sides, this option should be good enough to hold more than a few potted plants. If you are looking for a larger greenhouse, consider this model for your backyard. 
Why Did We Like It? 
Sometimes you need a larger greenhouse to hold all your delicate plants to prevent heating on hot summer days. This model by Ohuhu is by far one of the best options you can buy if you want to protect plants but also provide ventilation. Since this high-quality greenhouse kit has two side windows, there is a constant supply of fresh air for plants. 
Additionally, it also has an observation window to monitor plants from the outside, something missing in most greenhouse kits. With 12 wired shelves and dimensions of 56 inches in length, 55 inches in width, and 76 inches in height, you can easily walk in to maintain the plants. 
What Could've Been Better? 
While we liked how spacious this option was and the rock-solid stability it provided, we felt it could improve on one aspect. The material might not be able to withstand very windy areas on open fields. So, if you live in an area particularly susceptible to storms, consider placing this greenhouse near the boundary walls to protect it.
Pros
No tools required

Warm yet ventilated greenhouse

Durable PE material

Come switch hooks and ropes
Cons
May be thin for windy areas
The canopy-style portable greenhouse kit by Eagle Peak is pretty lightweight, weighing merely 35 pounds. Thus, if you need to change greenhouse locations often, this model might suit you. Available in four different sizes, this foldable greenhouse has a solid steel base that comes with an anchoring system to hold the structure in place. 
Sale
Why Did We Like It? 
Firstly, we think people who need a lot of space for their precious growing plants will love this model. It is a large greenhouse that allows one to move around freely without feeling cramped in the area. The plants have ample space to grow in all directions, and you can even find a corner to store your gardening tools.
Since this portable greenhouse is spacious, it allows natural sunlight to fall upon the plants at certain times of the day. The PE protective cover keeps the plants safe from the harsh local climate. 
Installation is a piece of cake that requires merely three simple steps – you set up the steel frame, lock the canopy, and adjust the angle. This gives you easy access through the door and helps the plants with the perfect coverage.
What Could've Been Better? 
The good thing about this model is that once you have the frame installed, the setup is quite sturdy with a steel ceiling. It is rigid enough to withstand outdoor temperatures and protects the plants from harsher climates. However, the steel frame requires some muscle to set up in the first place. 
Pros
Breathable windows

A single person set up

Reliable steel frame

Four sizes available
Cons
Frame may be heavy for some people
Yet, another large walk-in greenhouse we have is this superb model by the brand Quictent. This one is for those with a huge backyard or lawn space and can accommodate a greenhouse of such massive proportions. Despite being huge in size, the structure remains relatively light at 26 pounds. 
Sale
Why Did We Like It? 
What makes this model unique is its upgraded features of two mesh zipper doors and ten vents for airflow. Since the doors are wide, you can shut them off with a mesh door to prevent small animals from entering the greenhouse. The PE covers manage to keep the enclosure warm, yet the ten vents or windows support airflow. 
Apart from that, the heavy-duty PE mesh cover has two layers of reinforced mesh, making it completely water-resistant. This layer is also UV resistant but allows for 85% of the light to fall through to nourish your plants. The layer prevents plant burn and helps young plants to grow in a safe and temperate environment. 
Due to the powder-coated steel frame, you can expect the poles to keep the frame standing for a long time indeed. It consists of 10 bases and 20 stakes that stabilize the greenhouse while simultaneously keeping out the snow and wind. 
What Could've Been Better? 
Those who have already purchased this greenhouse kit claim that it turned out to be the best investment. And we agree that its size, strong frame, and mesh make it highly durable. All this at an affordable price too. But, extremely windy places will require more stones to keep the PE mesh in place.
Pros
100% waterproof

Maximum Light transmission

Sturdy steel frame

One year warranty for poles
Cons
Not suitable for windy areas
Another alternative you can select is this greenhouse kit with shelves from Homewell. This model comes with four spacious shelves that store potted plants for an ideal greenhouse environment. The medium-sized greenhouse is made of two components – the heavy-duty steel frame and the clear polyvinyl chloride plastic cover.
Why Did We Like It? 
Since this greenhouse is moderate in size, it will fit equally well in the outdoor garden or inside the house. You can place it on the deck, patio, balcony, and other indoor spaces to keep the plants out of harsh sunlight. With an easy-to-assemble design, light in weight, you can shift the greenhouse spot quickly whenever you please.
One thing this band does not compromise on is the quality of the components. Powder-coated steel frame and polyvinyl chloride plastic cover help keep a pleasant temperature in the greenhouse and protect against frost in colder climates. What's more, the plastic cover does not crack or fade even when exposed to direct sunlight.
What Could've Been Better? 
If a small walk-in-style greenhouse is what you need, go for this option, but there is one thing you should remember. This model is well suited to warm and moderate temperatures and may not be able to withstand freezing climates. One reviewer mentioned that the plastic portion developed holes after heavy rainfall. 
Pros
Resistant to fading and cracks

Shelf holds 15 pounds each

Maintains moderate temperature

Disassembles without tools
Cons
Not suitable for harsh climates
SV Scool Value has developed a robust and stable walk-in greenhouse that stands firm with the support of steel pipes. With an eco-friendly PE cover, this model is an excellent choice for placing several small plants in the same greenhouse. This model would be ideal as a garden or outdoor greenhouse.
Sale
Why Did We Like It? 
Larger greenhouses like this one are pretty convenient because one actually has space to walk in to water or fertilize plants. This option might be one of the best greenhouse kits to gift to someone because it is reliable and cost-effective. Place this affordable greenhouse next to your garden bed and promote delicate plant growth by moderating the temperature. 
Also, the PE cover is odorless, non-toxic, and low temperature resistant, so one can use it for several years to come. Moving on to the shelf stability, it is interesting to see the addition of 16 clip-shelf fixers that prevent the shelf from wobbling. Speaking of which, the ground nails and ropes provide additional stability to the greenhouse cover and prevent it from blowing away in winds.
What Could've Been Better? 
Since the PE material is resistant to corrosion, it makes for a much more durable alternative to PVC. Anyway, there were many complaints regarding this model, and most buyers were satisfied with its performance. But, a few complained of losing the greenhouse to strong wind.
Pros
Comfortable for tall people

Affordable

Lightweight

Accommodates two people
Cons
May not withstand strong winds
The second product by Ohuhu we decided to include in our list is the upgraded version of the large walk-in greenhouse. Available in four sizes, all of them will make for perfect outdoor greenhouses because they are all pretty large. Grow a variety of plants with this reliable model that lasts all year round.
Why Did We Like It? 
If you want to give your plants a better growing condition, get this walk-in greenhouse kit without thinking twice. A greenhouse that works well and lasts for a long time should have a smart design and proper ventilation. This model has expansive dimensions with screen doors for easy access and roll-up windows to maintain the greenhouse's temperature.
Enjoy growing tropical plants or out-of-season plants all year round with this large greenhouse. The greenhouse keeps the warmth inside even on cooler days giving you the opportunity to continue growing your favorite plants. 
Additionally, while most types of greenhouses are UV resistant, this model is also resistant to aging. So, you can boast about maintaining a new-looking greenhouse even after years of purchase. The other component that makes this greenhouse durable is the rust-resistant steel frame that forms the base. The kit comes with ropes to keep the structure in place in case of strong winds. 
What Could've Been Better? 
The new and improved Ohuhu greenhouse model seemed to work well for plenty of customers. Most of them found the structure easy to install, resistant to water, and durable for the most part. However, a few of them were not happy about receiving faulty packaging with inadequate response from the customer service team.
Pros
Controls heat and light

Resistant to frost and snow

Windows for ventilation

Roll-up entrance
Cons
Slower customer service response
Up until now, we explored the world of plastic covers in the form of PVC or PE, but there are other common types of greenhouses too. Palram greenhouse kits make polycarbonate greenhouses that are incredibly tough and resistant to outdoor climates. If you live in frigid conditions, you might want to look at this option.
Sale
Why Did We Like It? 
When it comes to super durable materials, it doesn't get better than walled polycarbonate panels. This material is virtually unbreakable and handles much more impact than a plastic cover ever could. It is no wonder that polycarbonate is a common sight in places with plenty of snowfall. In fact, the panels are capable of withstanding snow weight of 15 pounds per square foot.
Apart from that, these panels can diffuse the sunlight eliminating UV rays entirely from reaching the inside. And, despite UV protection and permitting diffused light into the greenhouse, the panels remain crystal clear in appearance. Once you purchase the kit, it comes with a rain gutter, adjustable roof vent, and lightweight aluminum frame. 
What Could've Been Better? 
There is no doubt that this polycarbonate greenhouse stands the test of time no matter the climate around it. But, we found a few shortfalls that we'd like to discuss. Firstly, the product is quite pricey, so it may not fit everybody's budget. Secondly, the customer service team usually took some time before responding. 
Pros
Adjustable roof vents

Allows light diffusion

Transparent polycarbonate panels

Rust-resistant frame
Giving your plants better living conditions does not have to be hard. Invest in a large walk-in greenhouse kit like the one from FDW. This model is designed to be like a canopy and installs pretty easily. All you have to do is assemble the frame and cover it with the tarp material.
Why Did We Like It? 
A distinctive feature of this large greenhouse kit is the tunnel-style build the makers have chosen. This gives the greenhouse a completely curved ceiling apart, not to mention the fact that it is pretty large, allowing several people at the same time. This outdoor greenhouse has a heavy-duty, powder-coated steel frame that is resistant to rust.
As far as the covering is concerned, the high-quality fabric protects against harsh sunlight and rain. An added benefit is its waterproof nature, which avoids excess moisture from flooding the herbs and plants. This PE fabric has one rolling-up door and two vents to allow sufficient airflow indoors. Larger plants can thrive comfortably in such an environment. 
Besides, the greenhouse is easy to assemble and transport. Don't worry about getting out your toolbox and repair kit since all tools required to set up the frame are available in the kit. Follow the instruction manual to get clear directions for the frame, and it should be ready in no time. Even though it takes merely ten minutes to install, at least two people are required.
What Could've Been Better? 
This option is the perfect cover for growing tomatoes and herbs away from harsh sunlight. But, we found a downside to this model as well. While this greenhouse model may protect against sunlight and rains, it does not fare well in windy areas. A few customers complained about the cover tearing after a strong gust of wind. 
Pros
Easy to assemble

Fits several people

Spacious and well ventilated

Protects against harsh sunlight
Cons
Does not tolerate strong wind
Up next, we have a waterproof greenhouse-in-a-box by the brand ShelterLogic that is available in three sizes. This product is opaque or translucent and comes in all-white with roll-up side panels. Its triple-layered thick cover is ideal for keeping plants warm in cold seasons.
No products found.
Why Did We Like It? 
To begin with, this walk-in greenhouse is ready to build right out of the box. With three layers of protection in the covers, this thick layer is absolutely waterproof and UV-treated. Since it was designed for plants, the covers exclusively block out harmful UV rays to help plants grow properly. As mentioned earlier, the roll-up panels along with half-moon screen vents improve indoor ventilation.
Additionally, it consists of patented metal ShelterLock steel stabilizers that add strength and stability to the structure. Besides, its powder-coated metal frame is resistant to chipping, peeling, corrosion, and rust. Included in the kit are 15-inch auger anchors for a secure base.
What Could've Been Better? 
Certainly, this model had some brilliant qualities, making it fit for any large backyard. Its easy assembly is another point that customers seem to appreciate about this product. However, this model is quite bulky and heavy, so you may not be able to move it around often if you need to.
Pros
Promotes air circulation

Stable anchoring

Durable plant shelter

Protects against UV rays
Lastly, we have a mesh-style greenhouse kit that is medium in size and has a total of four shelves. Try this greenhouse model if you are a garden enthusiast and wish to grow your favorite plants all year round. It is not very large, but big enough to walk into and care for your potted plants.
Why Did We Like It? 
We selected this greenhouse kit as the final pick for this list for its simplicity. The design and structure are a perfect fit for a small backyard and garden, and its see-through design makes it easier for sunlight to reach the plants. At the same time, the mesh protects from harsh summer or afternoon heat that could damage plants. 
With a frame made of heavy-duty powder-coated steel, the shelves are also strong enough to hold heavy potted plants. The kit also comes with a velcro hook and loop connection with ties to hold the greenhouse in place. Its assembly is also pretty easy and does not take much time due to its being lightweight.
What Could've Been Better? 
This medium-sized greenhouse goes well on patios and can be placed in areas with full sunlight without fear of damaging plants. It does a great job of blocking sunlight, but not much can be said about its wind, rain, or snow resisting features. A few customers noticed that the covers developed tears after heavy rain or gusty winds.
Pros
Protects against direct sunlight

Hooks and ropes provide stability

Big enough to walk in

Strong shelves can hold large plants
Cons
Mesh cover is not weather resistant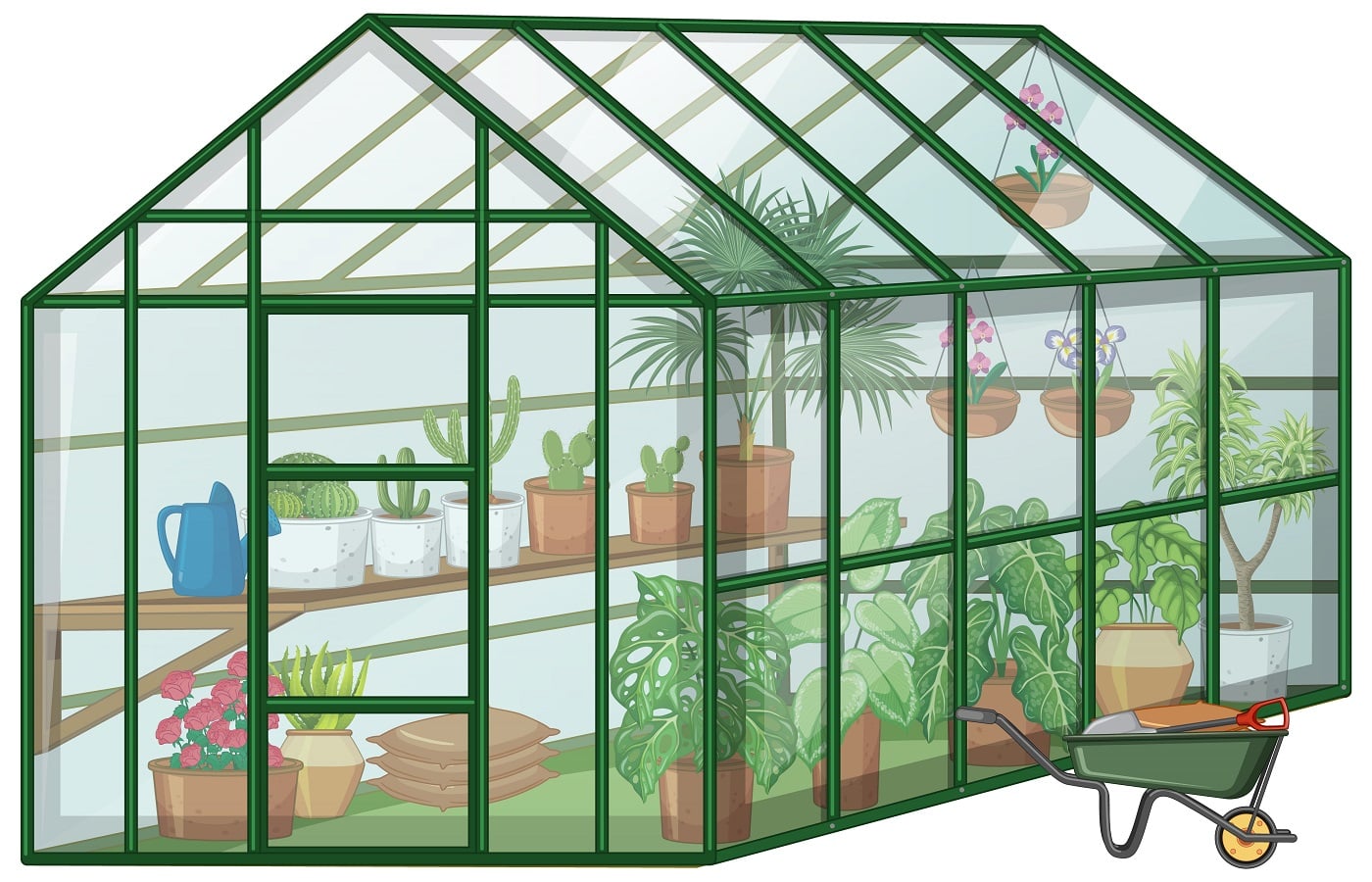 Greenhouse Kits Buying Guide
1. Available Space
Before you consider any other factor, take a look at the space you have for a new greenhouse. Whether you plan to install one in the garden, backyard, patio, or even indoors, you need to measure the area before buying anything. This will prevent silly mistakes like buying a very large greenhouse for a tiny backyard. 
Alternatively, with a large and spacious area, it would not make sense to get a small greenhouse as the space will not be used effectively. If measuring does not give you a clear idea, mark the area with tape to get a visual representation of the area the greenhouse will cover. 
2. Greenhouse Shape
While this might not be the most important factor, some people can be quite particular about the shape. On the market, you will find three shapes that are more common than others – the traditional, octagonal, and the lean-to style. Anyway, you should always compare the available space and judge which greenhouse shape will fit best.
3. Plant Growing Space
You may already have a list of flowers, vegetables, fruits, tubers, or herbs you want to grow in the brand new greenhouse. But, what's more important is figuring out how many plants you wish to raise at a time. 
In case you don't plan on growing too many, a 4×4 feet greenhouse could be enough. But, if you are sure about cultivating crops on a larger scale, a greenhouse of about 10×20 might be more fitting. Again, this will correspond with the space available for growing plants too. 
4. Materials Used
Glass greenhouses look spectacular because you can see through them and observe the plants without stepping in. Also, it allows more sunlight to enter the greenhouse, thus making the interior warm and comfortable for plants. Apart from lasting a long time and having easily replaceable panels, they are also eco-friendly and do not contribute to pollution.
The strongest greenhouses are built of polycarbonate material, so it is no surprise that they are a popular option for building greenhouses. Glass will shatter upon impacts, such as the weight of heavy snow or a branch colliding due to strong winds. But polycarbonate material remains indestructible no matter the weather. 
However, they are prone to scratches that do not disappear unless you replace the panels. Also, the material is not particularly good for the environment. 
Wood is a lovely material to use for greenhouses because it can reinforce the natural aesthetic of your home and yard. Cedar, pine, maple, and oak and good choices for making the frame for your greenhouse. However, the problem with wood is that it is susceptible to rotting and insect infestations. You may have to purchase chemically treated wood to use for this purpose. 
Most greenhouse kits will include metal frames instead of wood because they are far more durable and easy to install. Within the metal category, there is a range of options to choose from depending on the company. Steel and aluminum are the most popular among them all. 
Even though they are cheaper and last longer than wood, you have to be careful to prevent them from developing rust. 
5. Ventilation
Improper air circulation is a massive problem in bad greenhouses, and mismanaged ventilation can suffocate the plants to death. Most medium to large greenhouse covers will have at least one door and a couple of vents to allow constant air circulation. 
Some massive greenhouses even install fans to force air indoors, but this might not be necessary on a residential plot. 
Greenhouse Kits Frequently Asked Questions ?
Q1. Which Direction Should My Greenhouse Face ?
According to a rule, people living in the northern hemisphere should place the longer side of the greenhouse southwards. This isn't set in stone; instead, it's just the ideal direction for maximizing sunlight for your plants. Alternatively, people in the southern hemisphere should point the broader part of the greenhouse towards the north.
Q2. What Is The Perfect Greenhouse Size ?
As we mentioned earlier, greenhouse size will depend on the number of plants you wish to grow combined with the size of your backyard. Usually, people do not like to buy anything smaller than a 6-foot wide greenhouse because you can barely fit anything in there.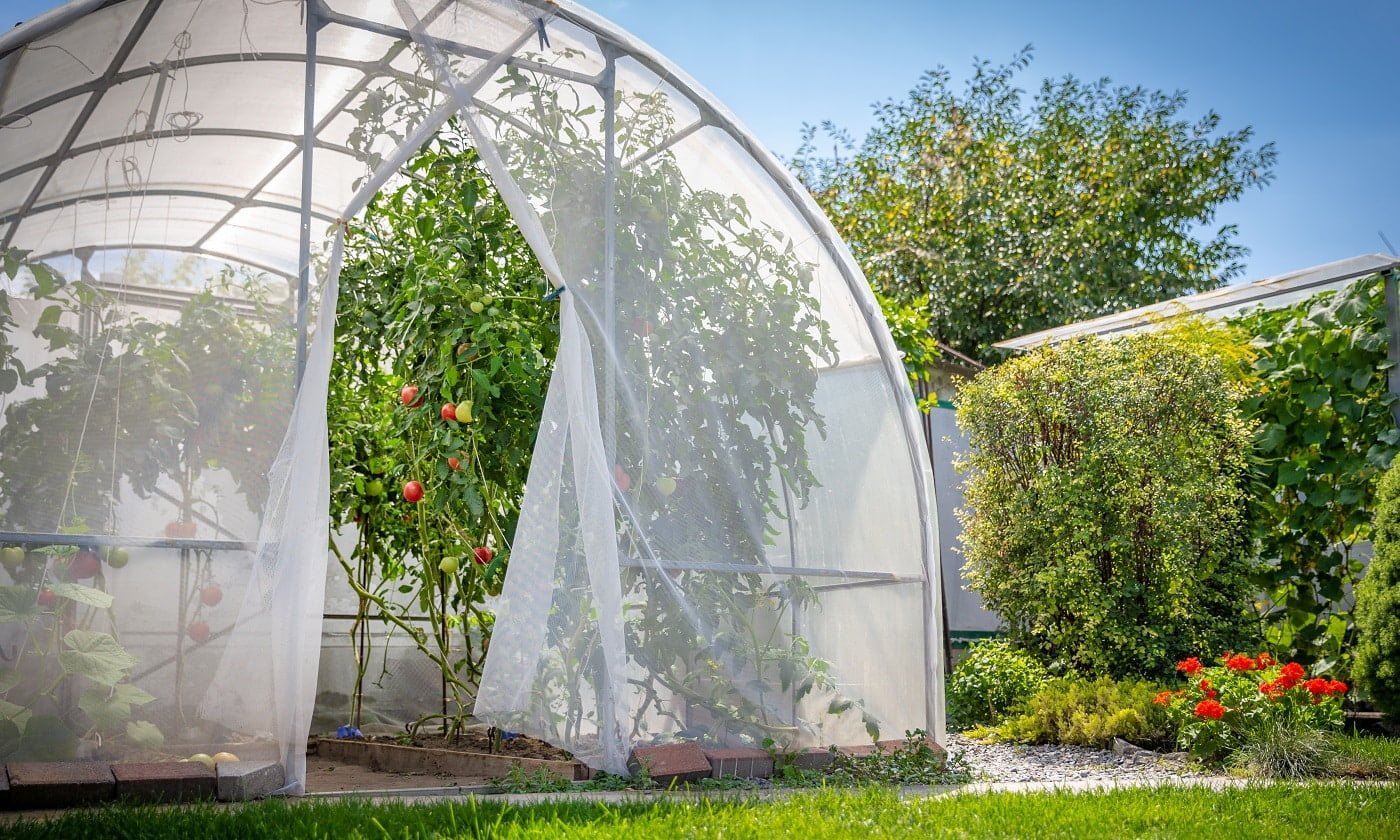 Verdict
All in all, if you are keen on gardening organic produce for your family, a greenhouse is a must-have for the backyard. And the kits presented here should save you a lot of time and effort in building a new one. However, the question arises- which of these greenhouse kits should you select?
In our opinion, the most versatile option remains the Heavy Duty Greenhouse Kit by Home Complete. This easy-to-assemble option is sturdy and the perfect size for a small garden. Another convenient option is the Gardman Store Mini Greenhouse  which is ideal if you are looking for a smaller greenhouse. Either way, we hope this guide helps you select the best greenhouse for your home.
See you next time, bye!
Related Articles
13 Best Soil for Raised Garden Bed
11 Best Full Spectrum LED Grow Lights
13 Best Fertilizer for Tomatoes
72 DIY Greenhouse Plans to Build Easily in Your Own Garden
53 of the Best GreenHouse Plants for Happy Gardeners and Gardens