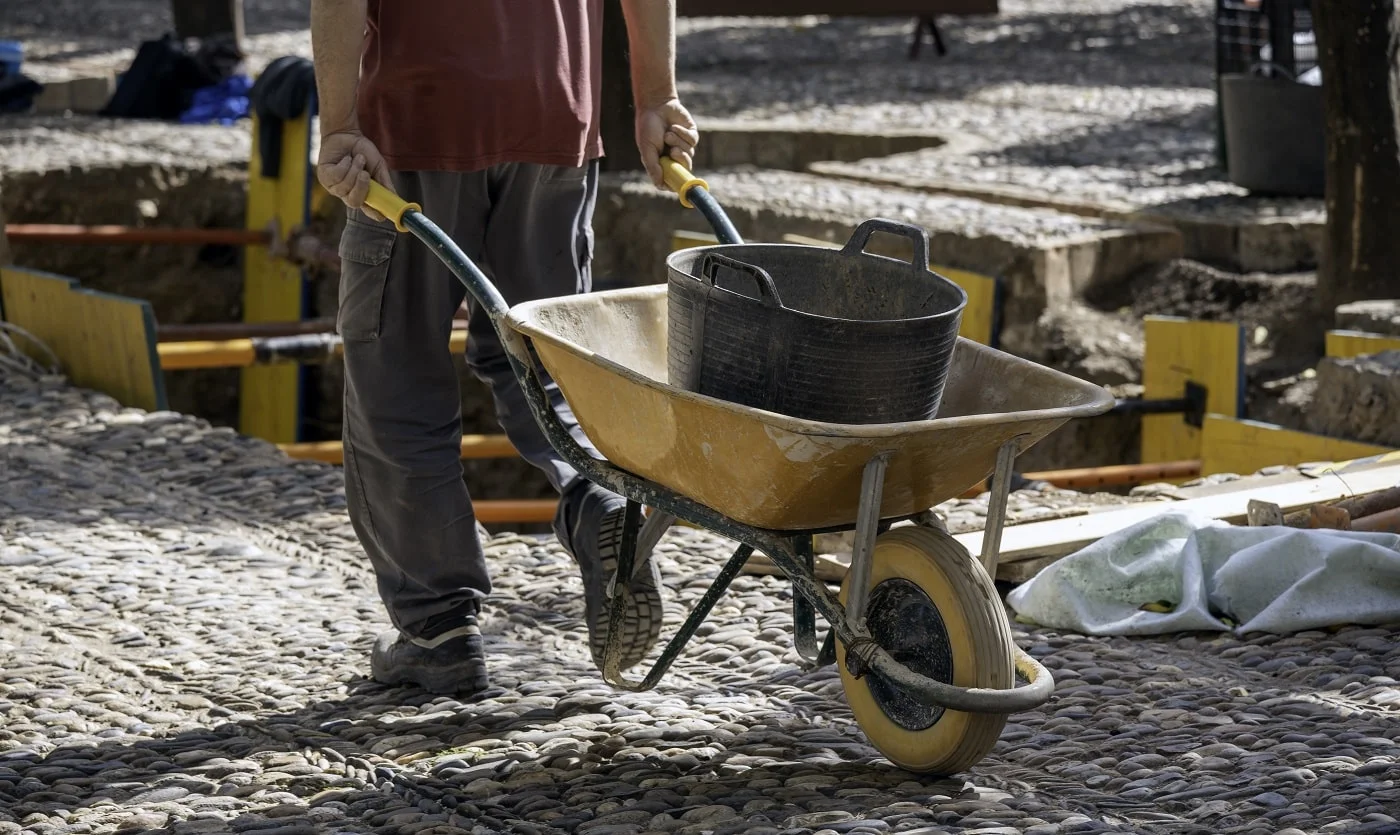 While none of those answers are incorrect, an indispensable piece of equipment would be the wheelbarrow. We know you might be reading this with raised eyebrows but let us explain. These simple units have tremendous capacity, allowing you to carry heavy loads from one spot to another. 
Apart from that, they're low maintenance, thanks to their innovative tires, while the sturdy construction provides much-needed longevity. You can use it for numerous purposes, and best of all, the incredible comfort reduces fatigue, allowing extended periods of work. 
But the question is, how do you decide which unit is ideally suitable to fulfill your needs? To help, we've narrowed down nine quality options that are taking the market by storm. 
Without further ado, let's start with the reviews. 
Top Wheelbarrow For Concrete
IMAGE
PRODUCT
DETAILS

Our Top Pick

Our Top Pick

WORX Yard Cart

200 lbs carrying capacity 
Flat-free tires 
Eight carts in one 

VIEW LATEST PRICE →

Marathon Yard Rover

5-cubic foot capacity 
Rust-resistant 
Impact-resistant

VIEW LATEST PRICE →

Ames 2463875 Garden Cart

4-cubic feet capacity 
Integrated tool tray 
Four sets of wheels 

VIEW LATEST PRICE →

Garden Star Garden Cart

4-cubic foot tray 
Rust-resistant 
Loop handles 

VIEW LATEST PRICE →

True Temper Wheelbarrow

8-cubic foot poly tray
Rust-resistant 
Dual-wheel design 

VIEW LATEST PRICE →

Polar Trailer

Weighs 35 lbs 
The load-carrying capacity of 400 lbs 
High-impact polyurethane tub 

VIEW LATEST PRICE →

Goplus Wheelbarrow

Heavy-duty steel frame 
PP container 
5-cubic feet capacity 

VIEW LATEST PRICE →

Best Choice Products Dual-Wheel Yard Wheelbarrow

5-cubic foot poly tray 
Rust-proof tub 
13-inch wheels 

VIEW LATEST PRICE →

Ames CP6PS Wheelbarrow

Pour spout mechanism 
Double-coated American ash handles 
Corrosion-proof poly tray 

VIEW LATEST PRICE →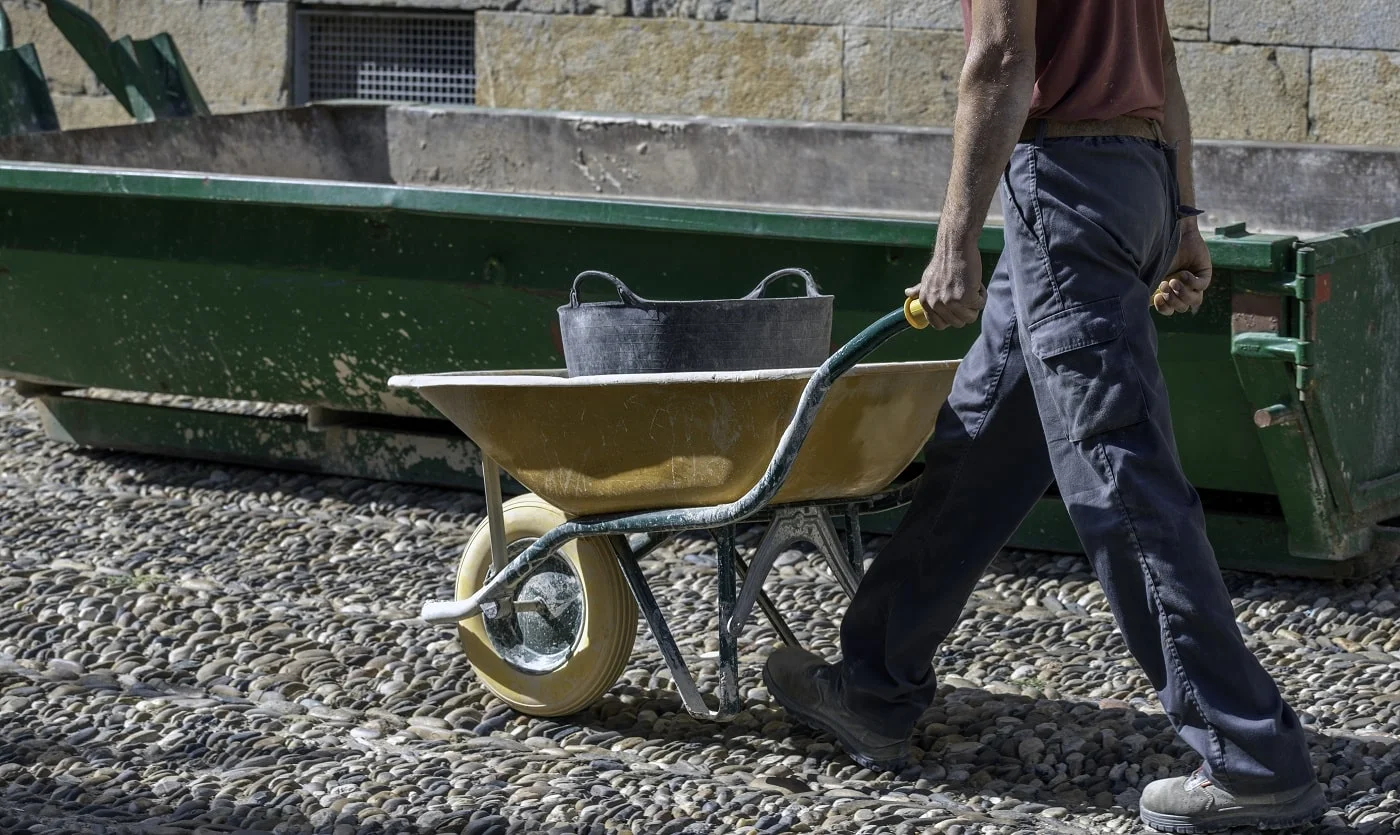 Sale
The WORX Yard Cart has quickly made its way up the charts to cement a place among the top brands. There's a lot to like about it, including its refined look, which is sure to grab your attention. So, let's get down to brass tacks. 
Why Did We Like It? 
The striking aspect of the model is the remarkable capacity of 200 lbs., making it suitable for various purposes. We loved how the designers have kept the weight within reasonable limits despite having numerous functions. 
But don't worry because you can use it as a heavy-duty model since it has combined eight carts in one. Users can employ it as a yard cart, bag holder, extended dolly, and cylinder carrier, among other things. It delivers much-needed comfort and significantly reduces stress, allowing you to quickly complete any task. 
We also need to talk about the flat-free tires, which saves you the trouble of inflating them. It features a rugged design and provides smoothness on various surfaces. You won't have trouble maneuvering it, while the smart two-wheel placement provides easy access to all functions. 
Whether it's your first time using a cart or you need it for professional purposes, this wheelbarrow takes care of most situations. 
What Could've Been Better?
Some users have found the unit too narrow, which can be inconvenient. It has several advantages, but if you're unaccustomed to using a narrow cart, it'll take time to get the hang of it. Also, you may need to purchase additional components, driving up the overall cost of the model. 
Pros
Innovative two-wheel placement

Lightweight

Doesn't need inflating

Sturdy construction

Versatile
Cons
Narrow

Doesn't include all components
Sale
Those of you who liked our earlier recommendation, don't make up your mind just yet because the products keep getting better. Next up is the Marathon Yard Rover, which comes with several exciting upgrades, making it suitable for numerous tasks. Rest assured, you'll get your money's worth. 
Why Did We Like It? 
Straight off the bat, the large capacity allows you to handle a wide range of tasks with ease. The 5-cubic feet tray is well-supported by the polypropylene construction, having several benefits. It's both impact and rust-resistant, delivering much-needed longevity to provide reliability at work. 
Furthermore, the contoured design makes work more manageable, ensuring you can carry large loads and dump them in any suitable spot. In fact, it has a total carrying capacity of 300lbs, permitting you to work with bark bags, debris, mulch, and yard waste. In that regard, the loop handles provide exceptional maneuverability, allowing you to push or pull with ease. 
Once work is over, you won't have any trouble storing the unit. If you don't have sufficient room in the shed, there's no need to worry simply hang it from the wall. Finally, we can't end this discussion without mentioning the air-filled tires for smooth movement. 
What Could've Been Better?
The primary problem users faced is installation since, in some cases, the bolts and holes don't match-up to the instructions. So, it'll take longer to arrange and fit all the components, and you may have to redrill the holes for better alignment. If you haven't done something like this before, it's better to seek professional help. 
Pros
Loop handles

Easy to store

Air-filled tires

Highly maneuverable

300 lbs carrying capacity
Ames 2463875 Garden Cart has been making all the right noise, and a closer look at the model reveals why. It may look like a simple unit but don't be fooled as Ames has made the necessary upgrades, delivering improved performance. So, read on to find out more. 
Why Did We Like It? 
One of the first things that you notice about the wheelbarrow is the ease of use. It comes in an easy-roller yard cart, making it convenient for first-time users and seasoned professionals. But what's exciting is the multi-purpose nature of the tray given that it's divided into several compartments. 
The cart has a total capacity of 4-cubic feet and comes with an integrated tool-tray to store all necessary items. Therefore, it's highly convenient for carrying out numerous tasks and allows you to quickly complete work, highlighting its efficiency. Additionally, the tray is rust-resistant and lasts a long time for the best results. 
Apart from that, what grabbed our attention are the four sets of wheels, including two smaller wheels, and two larger wheels for more portability. It provides even weight distribution and reduces fatigue as you navigate harsh terrains. Therefore, you can work for prolonged periods made possible by its comfortable performance. 
What Could've Been Better?
Depending on your preference, the handle might seem slightly lower, making it inconvenient for tall users. But this isn't a significant issue and certainly feels better once you start working. Apart from that, you should be wary about overexposure to the sun and other natural elements, causing the color to fade. 
Pros
More balance

High efficiency

Wider wheelbase

Rust-resistant

Multi-purpose model
Garden Star Garden Cart has many similarities with some other models available out there, so why should you opt for it? The primary reason would be user-friendliness, but that doesn't mean it compromises on other aspects. We guarantee you'll get a reliable performance during tasks, making it stand out. 
Why Did We Like It? 
Firstly, several factors need to be considered when buying a wheelbarrow, but capacity and maneuverability are perhaps the most important. This product does well in both these aspects, thanks to the 4-cubic foot tray and loop handles. Further adding to the convenience is the impact-resistant and anti-rust construction, ensuring it lasts a long time. 
You can carry various materials, be it hay, debris, rocks, or mulch and then deposit them in any suitable spot. This is made possible by the innovative handles, permitting you to pull or push the wheelbarrow quickly.  
But the significant upgrade is the pneumatic dual air-filled tires, providing excellent balance and weight distribution. This ensures stable performance in most situations. Also, once work is over, it's exceptionally convenient to store the unit as it can be hung from the wall or placed in the shed. 
What Could've Been Better?
You must keep the loads closer to the handle; otherwise, the wheelbarrow tends to flip. It's not an ideal scenario and may make prospective buyers hesitant about the purchase. Besides, the installation procedure takes time because certain nuts and bolts aren't best suited for the purpose. 
Pros
Air-filled tires

Even weight distribution

Accurate

Fast performance

Provides stability
Cons
Installation takes time

Tends to flip
We're at the halfway point of our list, but there are several quality products we're yet to review. Next up is the True Temper Wheelbarrow, primarily focusing on versatility so that you can handle several tasks with ease. You'll love all that it offers, and it makes for a wonderful addition to the workshed. 
Why Did We Like It? 
First and foremost, you've got a lot of options to choose from, highlighting the unit's incredible versatility. True Temper has added all relevant components, meaning there's no need for additional purchases; you can quickly complete the installation. Among all the upgrades, the dual-wheel conversion kit is extremely convenient, making work more manageable. 
It has an 8-cubic foot poly tray, which shows the fantastic capacity you get on most tasks. In that regard, the anti-rust coating proves useful and ensures that it'll last a long time to deliver consistent performance. You won't have to worry about it breaking down in the middle of work, providing much-needed reliability. 
Furthermore, thanks to its quick maneuverability and fast performance, the wheelbarrow reduces work time without compromising on accuracy. We also loved the dual-wheel design well-supported by the all-steel undercarriage, allowing users to work for long hours. So, it's suitable for all age groups and comes in handy irrespective of the job at hand. 
What Could've Been Better?
For all that's good, there's one point of contention for buyers, which is its higher price. The cost of a unit is one of the most important considerations for customers, and given the range of available options, we understand why. You need to be flexible with the budget or choose a different model. 
Pros
All-steel undercarriage

Conversion kit included

Flat-free tires

Suitable for all ages

Fast installation
The Polar Trailer has most bases covered, and you can use it on various terrains while getting a superb output. Designers have paid a lot of attention to the details, making it suitable for first-time users and professionals alike. No surprise, it has mostly received a positive response from prospective buyers. 
Why Did We Like It? 
Let's begin by discussing the weight of the model to give you a clear idea of the load-bearing capacity and versatility. It weighs 35 lbs and consists of a high-impact polyethylene tub, which is sure to last a long time. Therefore, you can use it for construction work or gardening activities to carry a substantial load of 400 lbs. 
Once you start working, you'll see that the tub has 7-cubic feet of space, sufficient to hold an array of materials. It's well complemented by the suitable dimensions of the wheelbarrow, providing several benefits. So, you won't have any trouble moving it over different terrains to pour the contents over the desired spot accurately. 
In that regard, we must talk about the wide-rugged, wide-track rubber tires, which proves highly useful in managing the weight. You can work for long hours as it reduces fatigue while the shielded ball-bearings provide a seamless experience. 
What Could've Been Better?
Like some other units, you'll have problems with the poor instructions, making it difficult for first-time users to complete the installation. On top of that, some holes haven't been drilled; you'll need to do it yourself, which can be cumbersome. We suggest you take your time and call someone to help you. 
Pros
7-cubic feet space

Suitable dimensions

Wide-rugged wide-track rubber tires

Shielded ball-bearings

Ergonomic design
Cons
Holes need to be drilled

Poor instructions
Even a cursory glance at the Goplus Wheelbarrow will leave you coming back for more, meaning it's on most people's wish list. There's a lot to like about it, and if you're searching for a feature-heavy model, it's hard to look past this unit. So, let's take a closer look at the details. 
Why Did We Like It? 
There are several fantastic features we need to cover, so let's get right into it. The unit is highly versatile and features a glossy design, well-complemented by its lightweight nature. You can use it for numerous tasks and in various places such as the patio, warehouse, or farm. 
What's more, a lot of attention has been given to sturdiness seen with regards to the heavy-duty steel frame and PP container. Now, if you're wondering how to maneuver the wheelbarrow, let us tell you that the 13-inch pneumatic rubber tires provide the answer. You can quickly turn, lift, and navigate across the bumpy terrain. 
Other than that, it has a large capacity of 5-cubic feet, capable of carrying a load of 330 lbs without hassle. We should also let you know that the container won't bend or break under substantial weight, delivering a long-lifespan. You get much-needed reliability during tasks while the ergonomic design permits extended work hours. 
What Could've Been Better?
Price is one of the first things that users notice, and given the range of functions, we understand the higher cost. However, if you've got a tight budget, it might be difficult for you to make the purchase. In such a scenario, it's better to opt for a different unit. 
Pros
Loop handle

13-inch pneumatic tires

Doesn't get deformed

Fast installation

Easy to maneuver
Sale
While narrowing down our choices, the one product that immediately grabbed our attention was the Dual-Wheel Yard Rover. Manufacturers have focused primarily on the tires, and there are several variations of the model at your disposal. It's a highly convenient unit suitable for numerous tasks, and we assure you won't be disappointed. 
Why Did We Like It? 
At first glance, this model may not seem like the ideal choice but let us reassert the saying – ''looks can be deceiving''. Not only does it have the necessary sturdiness, but manufacturers have done well to keep the weight within reasonable limits. As a result, you can use it for various tasks and navigate harsh terrain, making it highly maneuverable. 
It'll please you to note that the 5-cubic foot poly tray is suitable for carrying heavy loads, well-supported by the innovative wheels. We also loved the two 13-inch solid polyurethane flat-free wheels, making it incredibly user-friendly. Besides, the tub is rust-proof, meaning it'll last a long time to keep the contents safe for excellent output. 
Also, keeping in mind that you might need to use it for extended periods, the comfortable wheel handle proves useful. It makes work more manageable while ensuring that your hands are well-protected even during  heavy-duty projects. 
What Could've Been Better?
We must tell you that the tub sticks out a long way from the front part of the unit, which makes dumping the contents difficult. Another cause for concern is that the assembly isn't a single-person job and it takes considerable time to set up the model. So, it may not please a section of buyers. 
Pros
Polyurethane flat-free wheels

Comfortable handle

Efficient turning

Smooth operation

Sturdy steel frame
Cons
Long tub

Assembly isn't easy
While choosing any unit to feature on our list, we've had to ask ourselves what makes it stand out? With regards to the Ames CP6PS Wheelbarrow, the answer is the fantastic range provided by the model. It strikes the right balance between various functions, turning quite a few heads in the market. 
Why Did We Like It? 
At the very outset, what grabs your attention is its refined look, which isn't usually seen for a wheelbarrow. Good looks are the least of your concerns for a product that's designed to work in construction sites or gardens. However, Ames has backed-up the elegant design with sturdy and efficient features. 
The significant addition comes in terms of the pour spout mechanism, ensuring you get more accuracy in your tasks. Whether it be for heavy-duty work or small-scale purposes, the precision performance allows you to complete any task for the best results. In that regard, the double-coated American ash handles prove useful, permitting you to work for long hours. 
Coming to robustness, we liked the corrosion-proof poly tray, delivering long-lifespan and much-needed reliability. Since a significant part of the work is situated outdoors, designers have carefully chosen the components, so the wheelbarrow doesn't break down.
What Could've Been Better?
There are a couple of issues with the model, and we found that the instructions aren't suitable for first-time users. If you haven't assembled something similar, you might feel lost, which doesn't bode well for the unit. Plus, the axle needs improvement and may not perform well under a heavy load. 
Pros
Ergonomic design

Excellent wheels

Highly maneuverable

Weather-resistant

Long-lifespan
Cons
Poor instructions

Axle needs improvement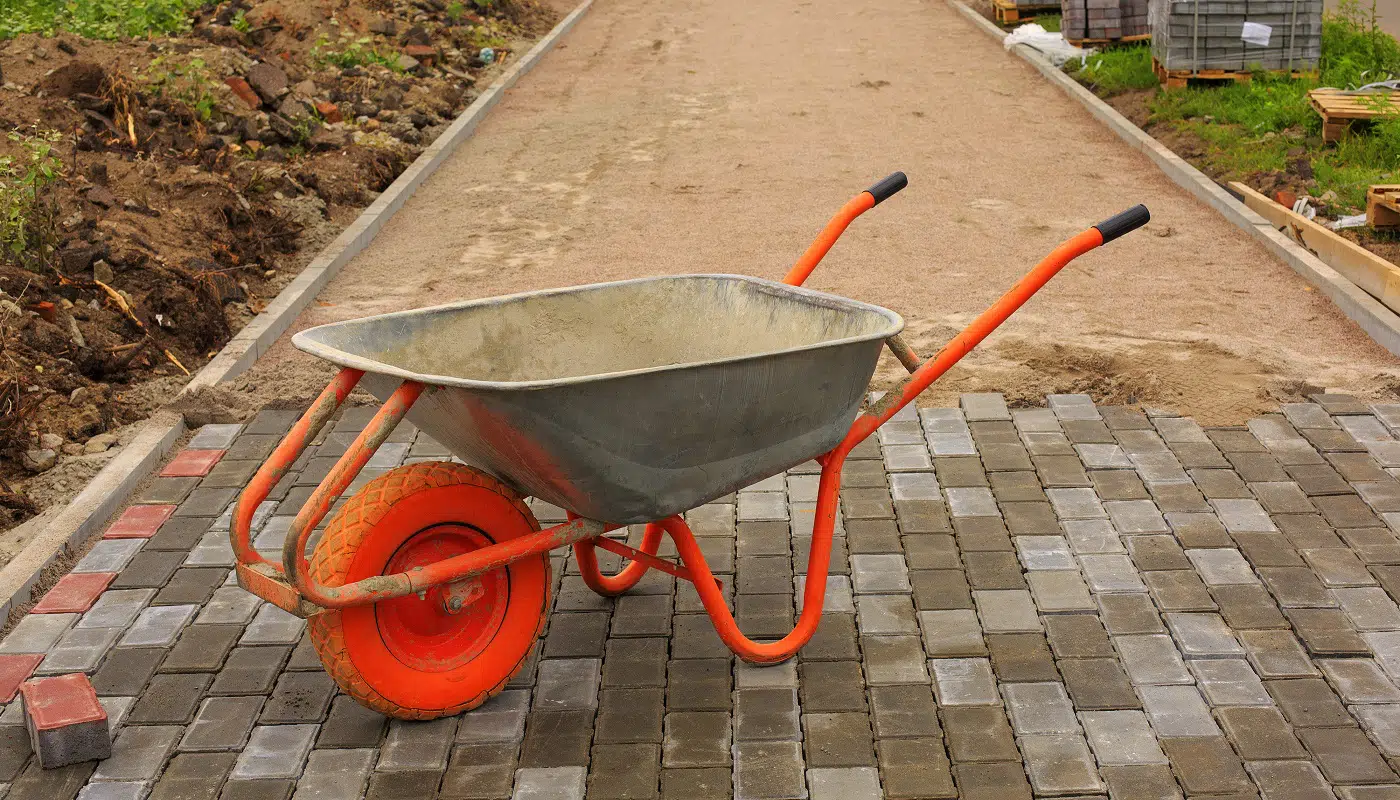 Buying Guide On Wheelbarrow For Concrete
We're done with our reviews, but that doesn't mean the guide has come to an end. Now, we arrive at the most exciting part where we'll divulge the secret of how to choose a wheelbarrow.
If you get confused between two top products, keep the points listed below in mind to make an informed decision. 
Portability 
Firstly, a wheelbarrow has to be portable and must carry numerous items from one place to another. You've got a lot of work to do, and it's not possible to lug around heavy material. So, to reduce fatigue, designers should add flat-free wheels that can handle multiple terrains with ease. 
Price 
Price is an essential factor for many people, especially those who are on a tight budget. Therefore, manufacturers have to find a way to add relevant functions while keeping the cost within reasonable limits. It'll allow a larger-section of customers to make the purchase. 
Robustness
Finally, the wheelbarrow has to be robust. There can be no compromises on durability because the last thing you need is for it to break down while working. It should last a long time for a seamless experience, ensuring you get your money's worth.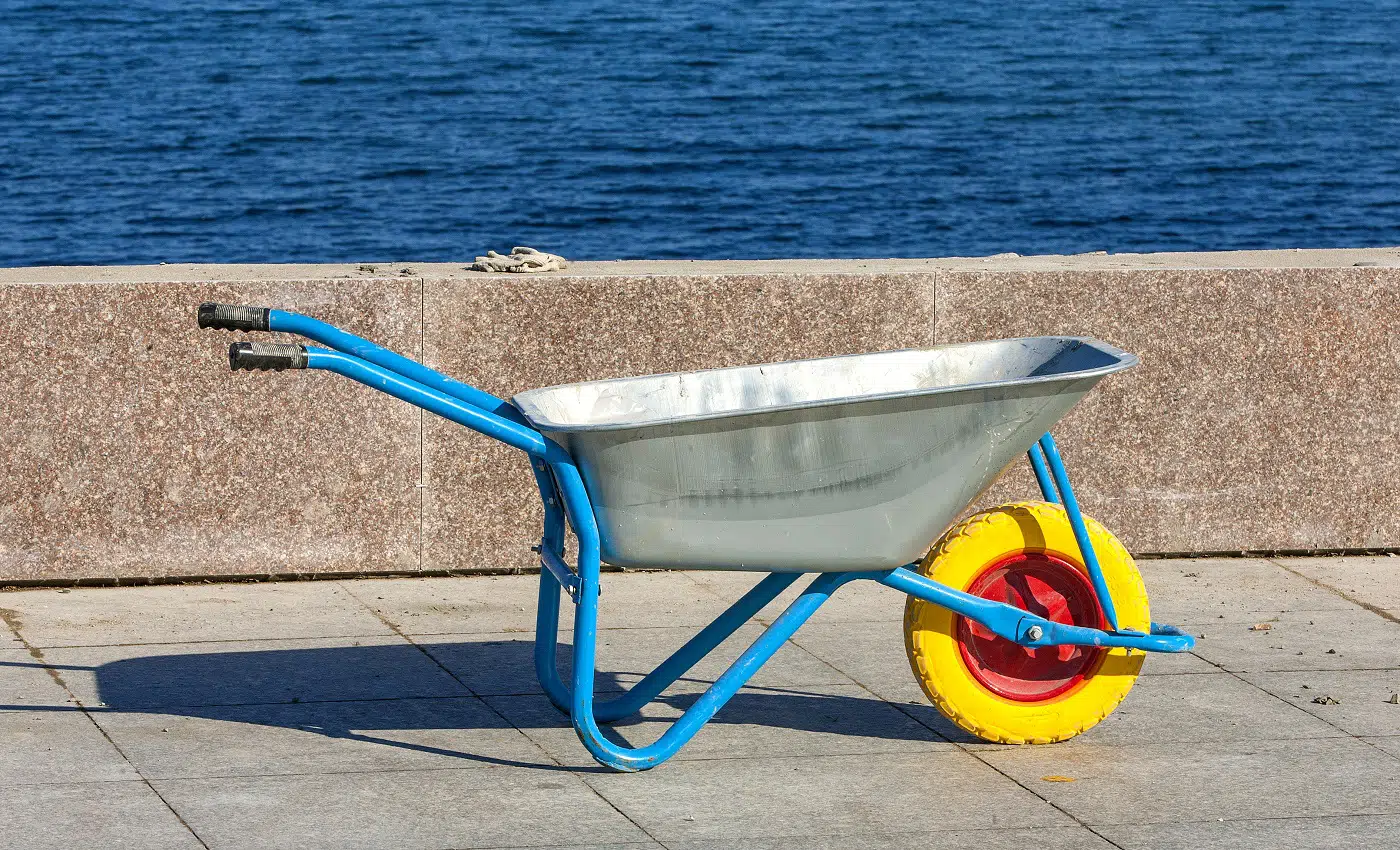 Verdict On Wheelbarrow For Concrete
Those were our picks of the best wheelbarrow for concrete, but our guide isn't over yet. 
Although we've listed down our 9 top models and discussed the essential points in our buyer's guide, there's one last thing that needs highlighting. Before signing off, we've decided to assist you a bit more by narrowing down our favorite models in different categories. 
For instance, the WORX Yard Cart delivers the best overall performance, achieving the right balance between various functions. However, when it comes to durability, there are very few units better than the Marathon Yard Rover, making it stand out. 
Apart from that, the Ames 2463875 Garden Cart is incredibly user-friendly, thanks to its versatile functions. 
Well, now it's time to take your leave, but we'll be back soon with more exciting reviews. Till then, enjoy working with your cart and stay safe. 
Take care and goodbye! 
Related Articles