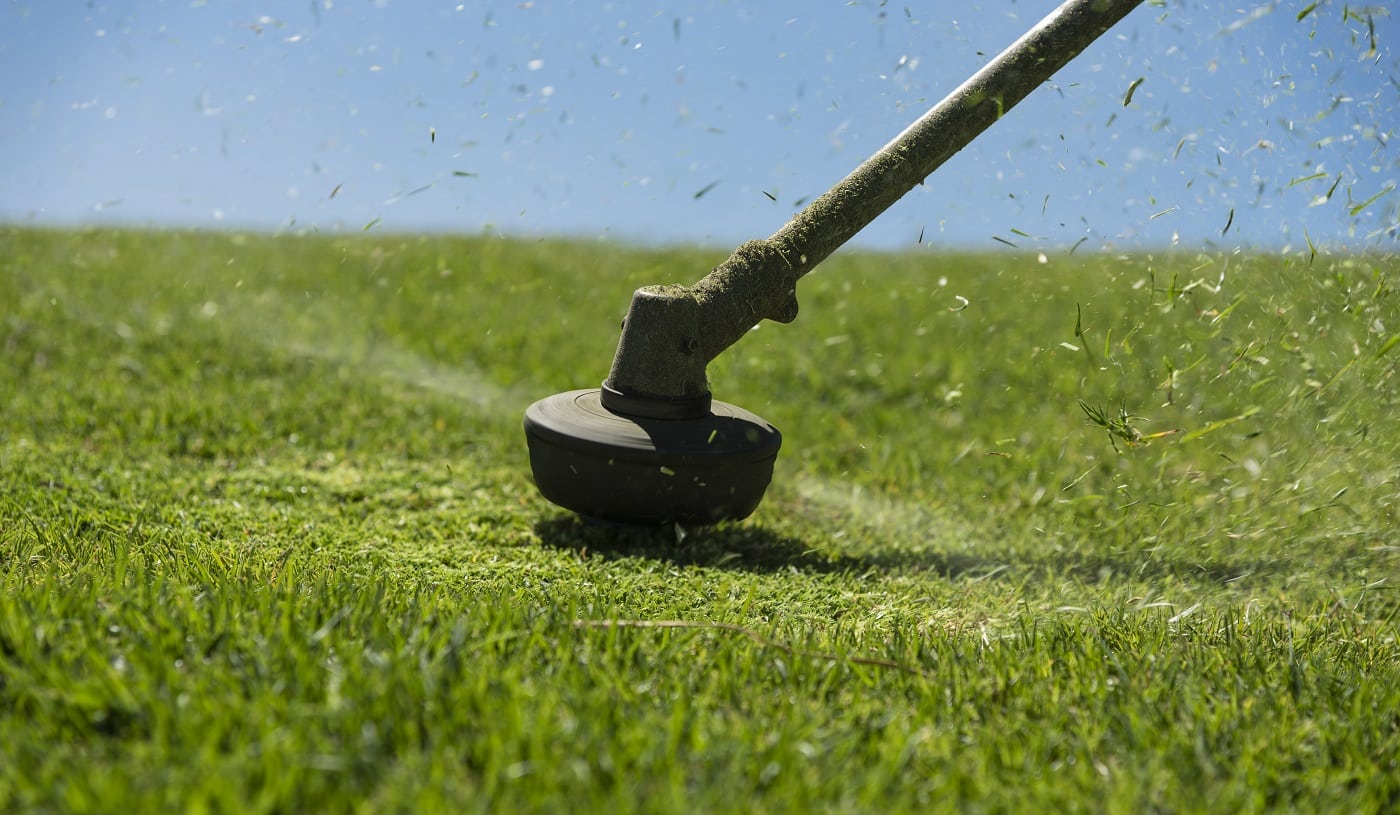 Are you troubled by weeds threatening the well-being of your garden?
While there are several garden tools, a weed eater string is all the rage right now. It's easy to use, compatible with most units, and most importantly, gets rid of weed within no time.
It proves to be an efficient solution for your gardening needs and is more manageable than a lawn-mower or heavy-duty device. Significantly, with the help of scientific advancements, there are better, more powerful models that have come up. But the question is, how do you choose from the numerous tools available out there?
To help, we've narrowed down the 13 best weed eater strings to make gardening more manageable. We've discussed the essential aspect of these units while the buyer's guide section highlights intricate attributes for you to keep in mind. 
So, wear your gloves, strap on the mask, and let's dive into the reviews.
Top Weed Eater Strings
IMAGE
PRODUCT
DETAILS

Our Top Pick

Our Top Pick

BLACK+DECKER Replacement Spool

0.065-inch diameter 
Auto feed system 
30-foot replacement line 

VIEW LATEST PRICE →

A ANLEOLIFE String Trimmer

Multi-side cords 
Nylon 66 copolymer 
Plastic materials 

VIEW LATEST PRICE →

Arnold Maxi-Edge Trimmer Line

140-foot trimmer line 
0.080-inch diameter 
Seven refills 

VIEW LATEST PRICE →

Husqvarna String Trimmer

50% noise reduction 
Free line cutter 
Weighs 10.6 ounces 

VIEW LATEST PRICE →

WORX Trimmer Line

DNA2 DoubleHelix cutting line 
60 feet line 
0.065-inch diameter 

VIEW LATEST PRICE →

DEWALT String Trimmer

225 feet long 
0.080-inch diameter 
Impact-resistant 

VIEW LATEST PRICE →

Weed Warrior Trimmer

Twisted design 
Latest aerodynamics 
15% extended runtime 

VIEW LATEST PRICE →

Oregon Supertwist Trimmer

Magnum Gatorline
Twisted trimmer line
High strength inner core

VIEW LATEST PRICE →

Maxpower Trimmer Line

Three-pound spool 
42 refills
0.095-inch diameter  

VIEW LATEST PRICE →

Rotary Item Trimmer Line

0.095-inch diameter 
Five-pound spool 
Weighs 4.54 pounds 

VIEW LATEST PRICE →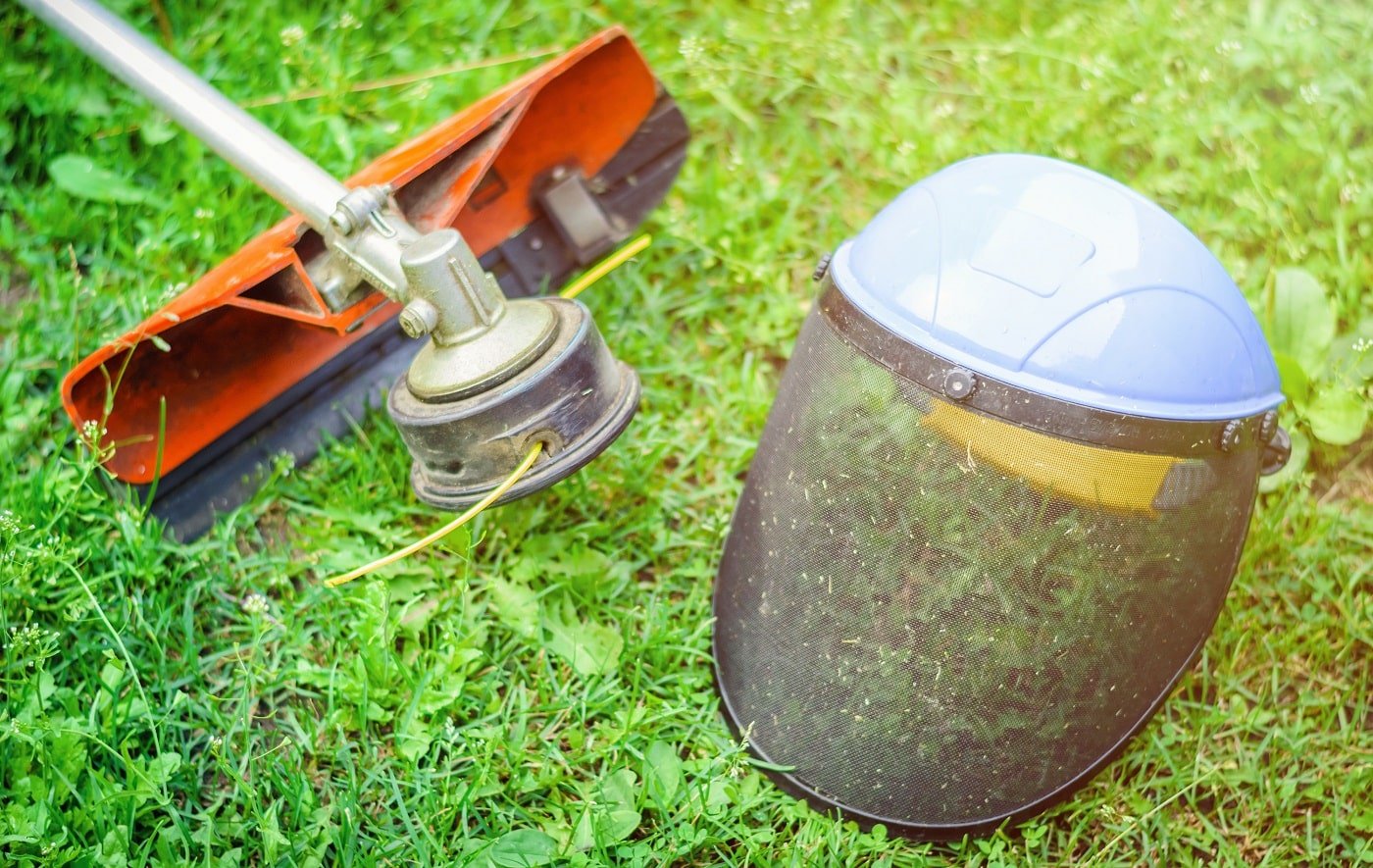 One of our top recommendations is the BLACK+DECKER Replacement Spool, and with good reason. It's highly compatible with most trimmer heads, leading to a positive response from users. You'll love all that it offers, so read on to find out more.
Sale
Why Did We Like It? 
We start with one of the most crucial aspects of a trimmer line: compatibility. The significant advantage BLACK+DECKER has over other models is that it's compatible with a wide range of trimmer heads. While it may not seem important, it's, in fact, useful for customers and saves you the trouble of buying new components.
Coming to the details, the Auto feed system changes spools and eliminates the need to do the same by hand. It's a significant advancement in terms of gardening and reduces the time taken to complete your task, in addition to eradicating human errors.
The replacement line runs for 30 feet and has been factory wound for terrific feed. Additionally, the 0.065-inch diameter is suitable for delivering a complete performance. It produces sufficient centrifugal force to rip out weed and clear the path for fresh grass to grow. Furthermore, it promotes healthy grass growth throughout the year irrespective of the weather conditions. 
What Could've Been Better? 
You're going to need several spools of string to cover even a regular-sized yard. It uses up the existing line quickly; consequently, users had to purchase more than one roll of string for daily activities. Therefore, it might cause an inconvenience and increase the overall expense of the model.
Pros
Centrifugal force

Compatible with standard trimmers

Reduces human error

Easy to use

Pre-wound
Cons
You'll require several spools of string

Increases overall expense
If you liked our earlier recommendation, let us assure you the remaining units keep getting better. The A ANLEOLIFE String Trimmer is a multi-purpose model, having a series of fantastic functions to make work more manageable. Users have had positive things to say about it, and a closer look reveals why.
Why Did We Like It? 
At the very outset, you'll notice it can handle an array of tasks since it's available in numerous sizes. But irrespective of the size, you're sure to get an outstanding output as the multi-side cords are ideal for slicing through thick weeds and grass. It highlights the incredible efficiency by allowing you to cut more in less time.
The line is made from nylon 66 copolymer, making it super tough and is further supported by plastic materials, which have several benefits. They provide strength while improving resistance to damage, and you can use your tool for a long time without any hassle.
Another major attraction is the compatible nature, ensuring it works with the latest gas and electric trimmers. You can choose the preferred component and then get to work with this spool. In no time, your garden will have a tidy look, thanks to the cutting tools available with the unit.
What Could've Been Better? 
It would be best if you were vigilant while using this weed eater as customers faced interruptions within the first thirty feet. It's necessary to be cautious because if the interruption occurs later along the line, you might lose a lot of material. Therefore, buyers may think twice before investing in it.  
Pros
Fast

More power

Damage resistant

Highly compatible

Efficient line cuts
If you're looking forward to a smooth experience, then you'll love working with the Arnold Maxi-Edge Trimmer Line. You can choose from various versions of the model as the designers have added all relevant tools for excellent output. No wonder it has quickly climbed the charts to cement a place among the top products.
Sale
Why Did We Like It? 
First and foremost, thanks to the universal design, it's beneficial and works with various types of curved and straight shaft trimmers. There's no need for any extravagant purchase since it's easily compatible with your existing trimmer head to deliver faultless output. You can quickly rip out weed and keep your garden clean.
You'll notice it's among the popular options, thanks to the 0.080-inch diameter. Plus, the overall length of 140 feet means you're likely to get an uninterrupted experience under most situations. 
The green color also makes it stand out and ensures you can check the length of the trimmer line to make the necessary adjustments. It comes with seven refills ideal for covering most lawns and yards.
Further adding to the convenience is the inclusion of relevant cutting tools. You get to choose from the numerous available sizes, highlighting the versatility of the model.
What Could've Been Better? 
Depending on your preference, you may feel that the line is soft, which doesn't make it suitable for commercial purposes. However, even for residential projects, users have found the line runs out quickly or snaps when used near concrete. Therefore, bear in mind the type of task you need to perform before making the purchase. 
Pros
Universal fit

Green color line

Cutting tool included

Weighs 0.53 pounds

Polymer material
Cons
Not for commercial purposes

The line runs out quickly near concrete
The Husqvarna String Trimmer has used state-of-the-art technology to deliver consistent output. But that's not the only good thing about it; once you start working, you'll experience its incredible efficiency. You can use it on numerous tasks, which makes it stand out in the market.
Sale
Why Did We Like It? 
Before delving into the details, let's highlight three vital aspects: acceleration, improved output, and sturdiness. It appears that Husqvarna has done their homework by enhancing these crucial characteristics needed to deliver terrific results. So, it has taken the help of technology to provide a superb balance of functions.
You'll get high cutting efficiency to clear your garden of weed and promote healthy grass growth. It doesn't take much effort to get a lush green covering of grass, making it an economical option for most people.
The significant upgrade comes in terms of reduced noise emission, made possible by the patented design. It lowers noise emission by 50% to make work more manageable, allowing you to use your product for extended periods.
Apart from weed removal, it performs well on regular gardening tasks such as trimming. It'll also please you to note that it comes with cutting tools, so you don't have to make additional purchases.
What Could've Been Better? 
It's a round-line trimmer, so you need to be patient while cutting through thick grass. You must remember that though it trims well, it doesn't deliver straight cuts, which can be frustrating. Moreover, be careful when operating near concrete as the line tends to snap quite easily.
Pros
Reliable performance

Long lifespan

Improved acceleration

High efficiency

Well-balanced
Cons
Snaps of near concrete

It takes time to cut thick grass
If you're looking for a feature-heavy model, then you can't go wrong with the WORX Trimmer Line. With attributes like its aerodynamic shape and DoubleHelix cutting line, you're guaranteed to get nothing short of the best. It has generated substantial buzz among potential buyers, thereby leading to a positive response.
Sale
Why Did We Like It? 
Even a cursory glance draws your attention to the DNA2 DoubleHelix cutting line, which is as fancy as it sounds. Given that designers have used the latest aerodynamics, the unique shape reduces drag and provides a sharper edge for various tasks. You can cut, trim or scythe through weed and grass with aplomb.
Interestingly, it comes pre-wound to save you the trouble of lengthy installation. Thanks to the user-friendliness, you can take it out of the box and get it running within seconds. Plus, the tool collection has been improved with cutting-edge technology, allowing users of various age-groups to do the work themselves.
The entire line runs for 60 feet, with each spool containing 10 feet of trimming line. It's well supported by the 0.065-inch diameter to precisely cater to WORX trimmers and deliver exceptional efficiency. Hence, you possess a useful and modern device for gardening.
What Could've Been Better? 
For all that's good, you're likely to encounter issues related to the feeding line. People have found the spool incorrectly wound, causing it to stick and the line to snap. So, you'll need to change the wounding pattern. Furthermore, the gears need an upgrade, which is another reason for frequent interruptions.
Pros
State-of-the-art technology

Pre-wound

Quick installation

Reduced drag

Sharper edge
Cons
Incorrect wounding

Poor gears
The DEWALT String Trimmer may have many similarities with some of the other units, but it also comes with the necessary improvements. No surprise that it's turning quite a few heads among prospective buyers, which has led to its increasing demand. You're sure to get your money's worth.
Why Did We Like It? 
The striking aspect is its exceptional versatility due to the availability of numerous sizes. You can carry out a range of tasks from cutting to trimming to keep your garden in top shape. What's more, it features the latest aerodynamic design allowing you to quickly complete work.
We especially loved the trimmer line since it's made from flexible yet impact-resistant fabric. You can cut the grass from several angles without being limited by a straight or curved cutting path. In that regard, the durability proves useful and keeps the line from snapping too often.
It's easy to use, and you're guaranteed to get consistent performance in most situations. We must also mention the compatibility; you can use it with most trimmer heads, which gives it an advantage over other models. You won't have to waste time looking for the right components, making it an affordable option for most people. 
What Could've Been Better? 
The issue you're likely to face is that the line tends to jam, thereby causing it to break. Regular maintenance is essential to keep the line nice and smooth for the best results. Also, you might need to restring the line to maintain the quality of performance.
Pros
Aerodynamic design

Flexible

Numerous sizes

Weighs 9.6 ounces

Consistent output
Cons
Needs to be restrung

Line may jam
We're at the halfway point of our list, but there are several quality products we're yet to review. Next up is the Weed Warrior Trimmer, which is one of the most durable units right now. However, it has a lot more on offer, so let's check it out.
Why Did We Like It? 
Staying true to its name, the Warrior Trimmer can endure daily demands to deliver a fantastic performance. It's a bi-component weed trimmer, working well on commercial projects, thanks to the inclusion of nylon resins. The components have been carefully chosen to produce the perfect combination of sturdiness and output.
A significant improvement is seen with the cutting line as it enhances the output on numerous tasks. It makes the tool versatile; you can trim, cut, use it for edging or take care of yard maintenance with ease. Hence, it's incredibly efficient due to the twisted design, making it aerodynamically superior to other models.
It reduces line flutter to keep vibrations in check, which has several benefits. You get 15% extended runtime, and it helps eradicate uneven cuts by leveling the garden. Meanwhile, it's compatible with all leading head trimmers to ensure you get consistent performance under various conditions.
What Could've Been Better? 
Frankly speaking, the instructions aren't suitable for first-time users. It fails to mention the steps you need to follow to attach the trimming line and get the desired output. But the silver lining is that it gets better with time, and once you get the hang of installation, it becomes easier to work.
Pros
Universal fit

Reduces flutter

Lowers vibrations

Highly efficient

Nylon resins
The Oregon Supertwist Trimmer offers the perfect combination of efficiency along with user-friendliness. It's compatible with all the latest models, and features like the Magnum Gatorline makes it a desirable acquisition. You can complete your work quickly, owing to which it has secured a spot on most wish lists.
Sale
Why Did We Like It? 
Straight off the bat, the trimmer's high strength inner core is useful for enduring the demands of work. You get reliability while performing tasks as the line can withstand breaking, which allows you to get faster and cleaner cuts. You won't need to spend much time winding spools, considerably speeding up performance at work.
Further adding to the efficiency is the twisted trimmer line, which has numerous advantages. It reduces noise emission as it generates less drag and comes in handy for operating around flower beds. Also, you get straighter cuts to keep the garden in top shape.
We must also touch upon the incredible versatility, thanks to its 0.095-inch diameter, which is handy for heavy-duty tasks. You can cut heavier weeds with ease while it delivers quality output even for commercial jobs. Plus, it's compatible with most units available out there, producing terrific performance.
What Could've Been Better? 
Like some other models, it's plagued by similar issues whereby the line runs out quickly. Users reportedly went through three spools on one tank of gas, which doesn't bode well for the unit. Additionally, you need to even out the line by soaking it in water as bumpiness affects performance.
Pros
Lowers decibel

Straight cuts

Compatible with most units

Works well in tight spots

User-friendly
Cons
Bent trimming line

Spools run out quickly
Maxpower has been around for a long time, thanks to its range of fantastic products, and the Maxpower Trimmer Line is no different. It's sufficiently long, highlighting its versatility and ensures you can work uninterrupted. You've numerous versions to choose from, complemented by fantastic components.
Sale
Why Did We Like It? 
There are several quality features we need to cover, so let's get right into it. It comes with a three-pound spool of round trimmer line, allowing you to quickly complete work. Plus, it delivers excellent coverage and has the necessary durability to withstand regular use.
Not only can you remove weed, but it also ensures fresh grass growth in the vacant spot. Thus, it's an ideal tool for maintaining the garden in proper shape all year round. Moreover, thanks to the 0.095-inch diameter coupled with the 855-inch length, you get much-needed versatility, making it suitable for cutting, trimming, and edging.
It includes 42 spools, which is sufficient for most tasks and assures a smooth experience. It's also compatible with various trimmer heads and saves you the hassle of buying new components. But what takes the cake is the orange-colored line, making it stand out against thick weed.
What Could've Been Better? 
We noticed the string ends splitting, which is an inconvenience. While it may not be a significant problem and does involve a quick fix, you'll be frustrated if it happens too often. Another point of contention is that the price is slightly on the higher side.
Pros
Weighs 3.1 pounds

Round cut trimmer line

Nylon components

855-inch length

Compatible with standard trimmer heads
Cons
Slightly pricey

The strings tend to split
The Rotary Item Trimmer Line has most bases covered and delivers a power-packed performance under various situations. There's so much to like about it, and no surprise, it has made quite a name for itself. It has all the necessary functions to top rival brands.
Sale
Why Did We Like It? 
For starters, it has a diameter of 0.095-inches, helping to deliver the best result on several tasks. You can effectively remove weeds while improving the health of your garden. You'll find a lush green covering of grass in no time, which is why people talk positively about it.
Furthermore, the adequate length makes it ideal for covering most spots to keep your lawn in prime condition. Significantly, it provides a smooth experience, and you won't be frequently interrupted by the line running out. In that regard, the five-pound spool proves useful, highlighting its excellent reliability. It also considerably reduces the time taken to trim different areas.
Coming to the compatibility, you'll find it works with most units, making it highly convenient. There's no need for additional expense as it includes all components to put your mind at ease. You can get it running in quick time, highlighting its user-friendliness.
What Could've Been Better? 
One mistake Rotary Item committed is making the trimming line black, and many users have expressed concerns over visibility. So, you may find yourself searching for the trimmer line, which isn't the ideal scenario. Also, the spool is wider than some other models, which takes some getting used to.
Pros
Extensive coverage

Reliable

Includes all components

Sufficient length

Durable
Cons
Wider spool

Black trimmer line
If you're looking for a lightweight model, we suggest you give the Echo Cross-Fire Line a try. The designers were smart enough to incorporate the essential features from other models and have then made the required upgrades for a seamless experience. So far, it's been making all the right noises.
No products found.
Why Did We Like It? 
The first thing we must discuss is the robustness of the trimmer line, making it suitable for heavy-duty tasks. It reduces the probability of breaking, which serves to deliver more fluency at work. You can swiftly get rid of weed while clearing the space for thicker grass growth.
Another major upgrade is the reduced vibrations, which, in turn, limits noise emission. It makes work manageable, and you can use it for extended periods for a complete performance. Irrespective of whether you use it for trimming or maintenance, there won't be any downfall in output.
We must also talk about the excellent compatibility, ensuring you can use it with the latest models. Simply choose your preferred unit or attach it to your current trimmer head and let it do the rest. It will last a long time to make your gardening activities easier.
What Could've Been Better? 
It would help to keep it away from concrete or cinder block because the line tends to snap on such occasions. If it does break, you'll have to rewind the line, which is cumbersome and increases the time it takes to complete work. So, it's best to exercise caution.
Pros
Versatile

Easy to use

Reduced vibrations

Efficient

Eliminates noise
Cons
May snap against the concrete
The Makita Trimmer Line is incredibly flexible and has the necessary durability to handle the demands of work. It has several quality functions and is compatible with the latest trimmer heads to provide a fantastic performance. Rest assured, you'll get the best results to make your project stand out.
Why Did We Like It? 
When it comes to round trimmer lines, it's difficult to leave out this product. It delivers a professional performance, well backed by outstanding efficiency. You'll notice that it's made from nylon copolymer, which provides fantastic stability and ensures it has the necessary strength to handle several tasks.
The versatility is on full display when you use it for cutting, trimming, or lawn maintenance. In that regard, most standard trimmer heads work well to deliver terrific output under different conditions. It also eliminates the need to make additional purchases since there's no need for extra components. So, it has an edge over other models. 
Meanwhile, despite having sufficient durability, the designers haven't compromised on flexibility. You can rip out thick weeds from various angles while it's wear-resistant property ensures longevity. There's no dip in performance, enabling you to keep your garden in prime condition all year round.
What Could've Been Better? 
One of the first things people see is price; in that regard, this unit falls behind some of the other products. You shouldn't compromise on the price and choose a lower quality trimming line. However, we understand if you've got a tight budget and need to consider a different option.
Pros
Highly flexible

Multi-purpose

Fits standard trimmer head

Durable

Round trimmer line
The Grass Gator Trimmer Line may seem like a simple unit but don't be fooled since it has the relevant functions to pack a punch. It's incredibly compatible, making it suitable for users of all age groups; you'll get the desired output on most tasks. Consequently, it has received positive reviews.
Why Did We Like It? 
Firstly, the suitable dimensions serve you well when attaching it to different trimmer heads. It speaks volumes about the versatility on offer and allows you to use the product with some of the top components in the market.
Plus, complementing the versatility is its outstanding sturdiness, thanks to the use of professional-grade nylon copolymers. It delivers the requisite strength to produce consistent results, ensuring you can trim the garden as per your needs. Adding to the robustness is the impact-resistance, which prevents the line from snapping frequently.
You'll see it has five cutting edges supported by directional aerodynamics to deliver clean cuts. The latest design helps reduce wind resistance, which, in turn, eradicates excessive noise. Not only does it swiftly remove weed but also promotes healthy grass growth for a tidier looking lawn.
Meanwhile, the trimmer line is color-coded according to its diameter to make work easier.

What Could've Been Better? 
The primary concern is that you might run out of line quickly, which could interrupt work. You'll have to stop and rewind a new line, which isn't an ideal scenario. Therefore, users may second thoughts about purchasing it, so we recommend patience because rest assured the performance wouldn't disappoint you.
Pros
Clean cuts

Nylon copolymer twisted trimmer line

More power

Color-coded according to the diameter

Reduces noise
Cons
You may run out of line quickly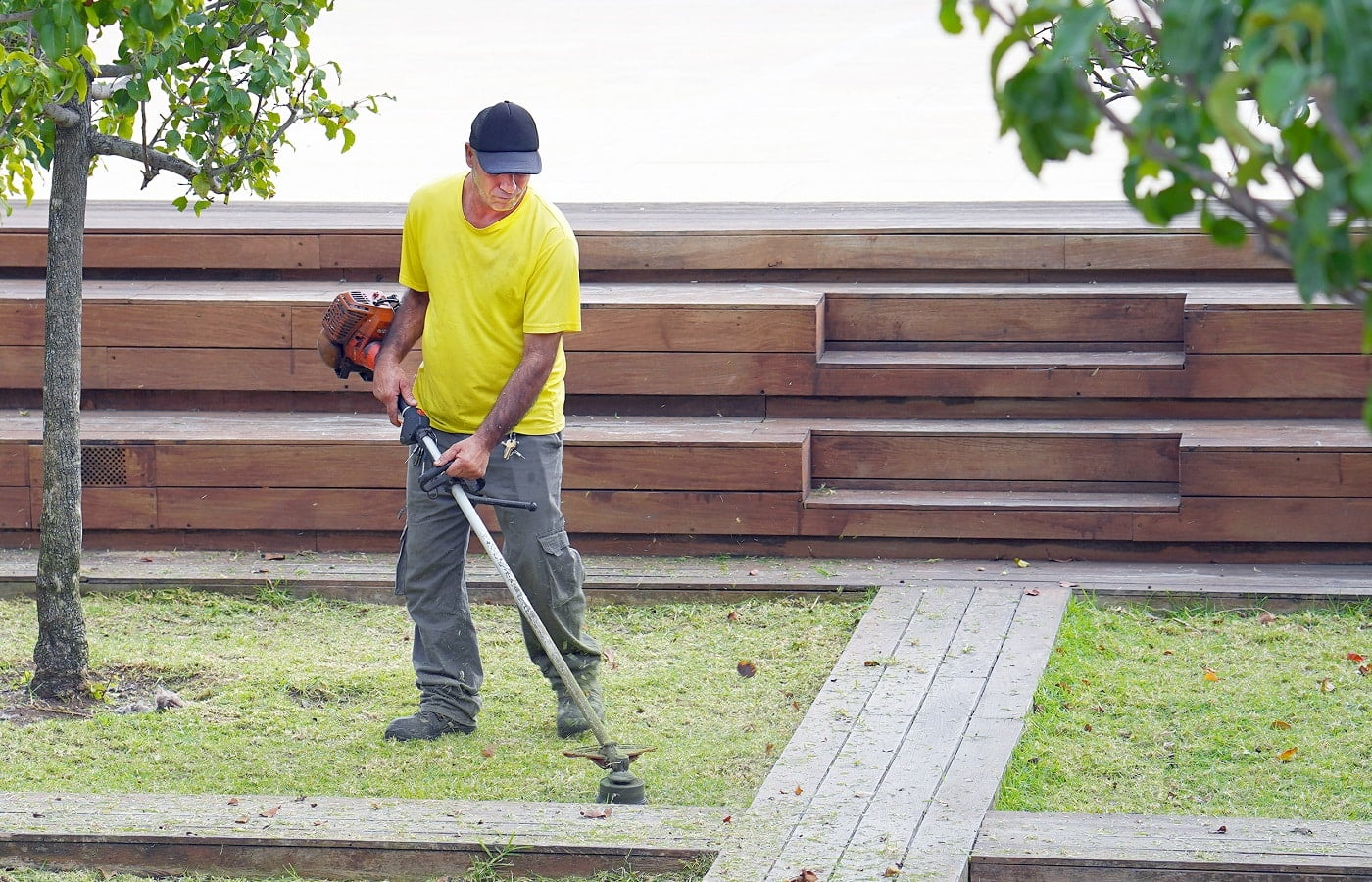 Weed Eater String Buyer's Guide 
Those were our recommendations for the best weed eater strings but we've a few more exciting aspects left to cover. In this section, we would like to discuss everything that makes a weed eater string special, making the product stand out. There are several gardening appliances available but why should you choose a weed eater string? 
Also, how do you differentiate between similar products? While the external appearance does reveal specific features, the only way to learn more about it is to delve into the details. For your benefit, we've explored the world of weed eater strings and come up with the following indispensable features. 
Durability 
Although a weed eater string isn't the sturdiest piece of gardening equipment, it must be sufficiently robust to rip out unwanted growth. You can't afford to be plagued by frequent interruptions and for that the string must withstand various outdoor conditions.
It's not only a matter of tackling weed, but the integrity of the product must remain intact even in different weather conditions. It has to deliver the required reliability for a smooth experience, so designers must research materials that work well for a weed eater string. 
Ease of Use 
While it may appear user-friendly, using a weed eater string requires patience and practice for best results. Manufacturers need to ensure first-time users don't encounter problems switching from some other form of machinery. 
It mustn't be too challenging to use, otherwise it defeats the primary purpose of the unit. Your gardening activities must become more manageable, allowing you to complete work quickly. Plus, all possible instructions must be mentioned in an uncomplicated manner for you to grasp the nitty-gritties of the weed eater string. 
Cutting Ability 
Also, what's a weed eater string without substantial cutting ability which is the main focus for a lot of buyers. It must rip out weed completely and not just chunks of it which won't serve the purpose. For you to get a lush, green lawn; weed must be completely removed, allowing fresh grass to grow. 
Compatibility 
Finally, it should be compatible with all standard units, making it suitable for various users. You need not purchase a new model to accommodate the string and designers must keep this in mind, during construction. It provides a more comfortable experience and makes weed eater strings extremely convenient for various gardening activities.
Verdict
We've reached the end of our guide, and hopefully, you've got a better idea regarding weed eater strings.
It's a simple tool but packs a punch, and thanks to the latest designs, you can complete your work faster irrespective of the changing conditions. What's more, you may even use it for lawn maintenance, and you'll be rewarded when the first signs of lush green grass appear underfoot.
Before signing off, we've decided to narrow down the top products in different categories. You can use the BLACK+DECKER Replacement Spool for the best overall performance, while the A ANLEOLIFE String Trimmer outperforms others in versatility.
Furthermore, the Arnold Maxi-Edge Trimmer Line is incredibly user-friendly, making it stand out. That's all the time we've had. Try to ascertain how you want to use the trimmer line to make it easier to choose a unit.
Be it a mask or trimming line, never compromise with quality. Bye!
Related Articles
11 Best Crabgrass Killers Right Now
13 Best Weed And Feed For Lawns
13 Best Weed Killer for Flower Bed Reviewed
How to Install Landscape Fabric for Weed Control
13 Best Broadleaf Weed Killer for Lawns & Gardens