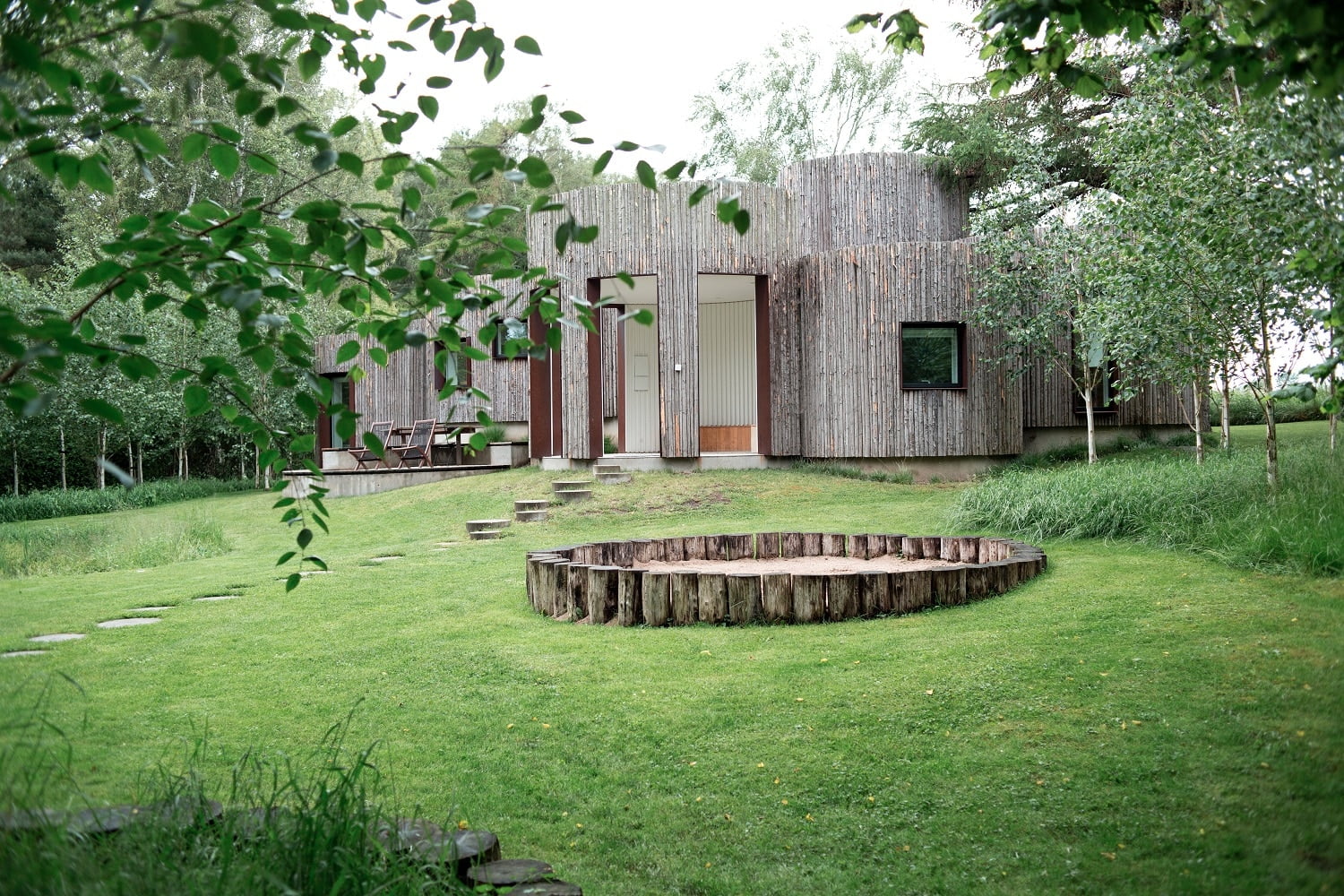 The soul of every gardener is a lawn dethatcher. 
And when it comes to lawn dethatchers, we have plenty of options to pick from. But guess what? Picking the right one can be tricky. It took us a while to come to the right decision, and we don't want you to lose your precious time. That's why we have curated this guide to make your search as easy as possible. 
QUICK COMPARISON: Top Lawn Dethatchers
After performing thorough research, we were able to narrow down the top 12 lawn dethatchers that are worthy of investment. Our recommendations come with a clear, unbiased understanding of their pros and cons. So, you can relax and enjoy this read. 
Without any further delay, let's proceed to the next section. 
Top 12 Lawn Dethatchers Reviews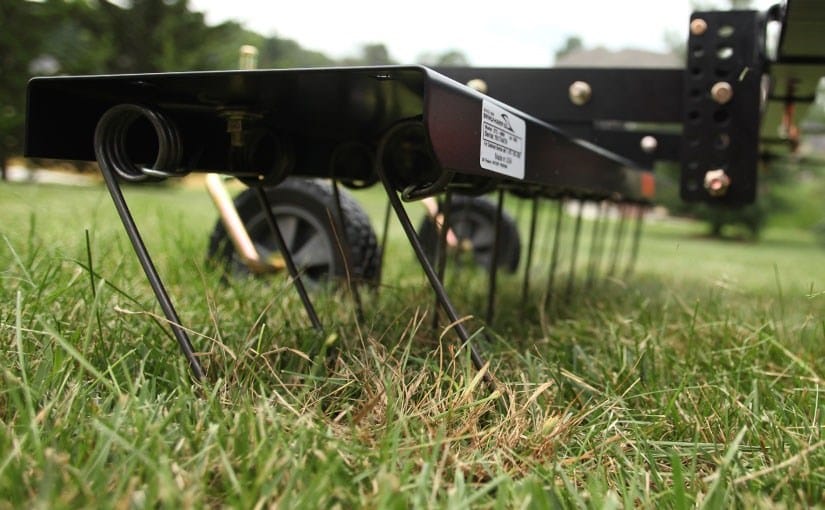 We start our list of best lawn dethatchers with an amazing product from Greenworks. This is one of the best-reviewed products on the list. It comes with a 14-inch dethatching path which is perfect for the job. You may choose to buy it with or without tines and other accessories. 
Why Do We Like This Product?
Right from the beginning, we start our list with this functional product from Greenworks. It is lightweight and easy to maneuver while performing any lawn work. Besides this, they have earned impressive customer satisfaction and a ton of positive reviews. 
When it comes to storage, Greenworks came up with a cool solution to tackle the problem. The handles are easy to fold, and that helps in compact storage. 
Moreover, Greenworks products have zero carbon footprint. Hence, they are a greener alternative to other lawn dethatchers. And if you ask us, we definitely recommend investing in something more premium and eco-friendly. 
What Could Have Been Better?
While looking into this product, we did stumble across some downsides. The tines that come along with it can wear out. So, you might have to replace it. Besides this, the instruction manual can be quite confusing. We recommend watching a full tutorial before using the product. 
Pros
Lightweight and easy to use

Cheap and affordable

Eco-friendly and sustainable

No need for a battery or charge
Cons
Tines need to be replaced (replacements are available)
Sale
Ranking second on our list is an exceptional product from Sun Joe. It comes packed with a robust 12-amp motor and dethatching path of 13 inches. It also comes with a Scarified feature that allows you to cut grassroots and dead grass from thicker lawns. Affordability and versatility make this a must-have for every gardener.
Why Do We Like This Product?
Being one of the top products, the lawn dethatcher from Sun Joe caught our attention. It is super easy to assemble and use. You wouldn't need extensive technical experience to use it. 
Another cool feature is the Scarified function, which helps in cutting thick grassroots. Plus, the 12-amp motor gets your job done in no time. This product also comes with a built-in child safety switch to keep you stress-free.
Coming to cleanliness, the Sun Joe's lawn dethatcher doesn't miss a beat. The product comes equipped with a detachable collection bag for your thatch, making it easy to collect and dispose of the waste. For this price, we feel this is a highly functional option to invest in. 
What Could Have Been Better?
No matter how perfect a product is, it always comes with some drawbacks. As such, the disposable collection bag for thatch is rather small for most lawn purposes. A bigger bag would have made this product a perfect pick.
Pros
Convenient thatch collection and disposal

Easy to assemble and use

Dethatcher and Scarifier rollers are easy to swap and use

Built-in safety switch makes this product safe from accidents
Cons
Thatch collection bag is too small
Sale
Coming in third place is a dethatcher from Agri-Fab. This product comes with a 40-inch lawn detacher patch so you can cover a bigger area in less than the usual time. It also comes with a universal hitch to attach to any tractor, regardless of the brand. What's more astonishing is the 20 rust-proof tines are heat resistant and, thereby, more durable. 
Why Do We Like This Product?
Agri-Fab immediately caught our attention with its 40-inch dethatcher. It is excellent for uprooting dead and matted grass within a short period. Moreover, the durable and premium built makes the product appealing to the masses. 
Along with a sturdy build, the product also comes with 20 rust-proof and heat-treated tines. So, you can worry less about the harsh weather while focusing more on productivity. 
What makes this product even more appealing is the universal hitch. The unique design allows the hitch to attach to any tractor, irrespective of the brand. At this price range, this is a total bargain. 
What Could Have Been Better?
Motors play an important role in a lawn dethatcher, but this product doesn't come with one. However, the universal hitch comes as a blessing in disguise. So, we recommend using it to get the job done. 
Pros
Durable heat-treated spring tines

Universal fit hitch for better productivity

Simple to use

40-inch thatcher covers a wider area in less time
The Lawn Master GV1212B is another notable product due to its unique design. Its 19-position height adjustment feature allows you to clear the thickest of lawns in no time. Apart from this, the 2-in-1 swappable feature comes in handy, especially when you want to switch from lawn detaching to scarifying. Also, the foldable handle is an excellent solution for your storage problems. 
Why Do We Like This Product?
One of the most unique features of this product is the 19-position adjustable height which is best suited to tackle all sorts of terrains and lawn surfaces. It is excellent for thick matted layers and dense gardens that need professional grooming. 
What makes this product an essential in every gardener's arsenal is the lightweight and foldable handles, which help in easy storage and maneuvering. So, if you are looking for something extremely versatile, then the LawnMaster is a feasible option for you. 
It also comes with a pre-attached 7.4-gallon collection bag to collect all your weeds and dead grass from the garden. 
What Could Have Been Better?
Overall, the LawnMaster is a well-balanced lawn dethatcher that serves the purpose it was built for. Despite its perfection, the poor quality cable is the only drawback that keeps it from shining ahead of others. We would recommend using a high-quality cable for efficient power consumption and saving. 
Pros
Lightweight and portable

Swappable cylinder for scarifying or dethatching

7.4-gallon collection bag

Foldable handle for easy storage
Earthwise is an eco-friendly product that focuses more on keeping the Earth clean from harmful fuel emissions. Its powerful 13-amp corded electric dethatcher is a good alternative to the gas-power lawnmower. Plus, it comes with a 16-inch cutting width dethatcher and a 4-gallon grass catcher to collect all your lawn grass. 
Why Do We Like This Product?
Right off the bat, we were impressed by the green Earth initiative of this product. The corded electric cable serves the purpose of keeping the environment clean from harmful fuel emissions. Moreover, less maintenance is required since the product doesn't depend on fuel. 
Additionally, the height adjustment is ideal for small and large yards which makes this product extremely versatile for different lawns and gardens. It also comes in handy when you need to deal with various degrees of matted grass layers or entangled debris. 
Besides this, the electric rake is designed to keep lawns healthy and beautiful throughout the year. 
What Could Have Been Better?
Earthwise is highly dependent on extension cords, but the retainer is too small for thicker cords. Keeping this in mind, we would recommend using a thinner extension cord which would help in the easy maneuver of the dethatcher. 
Pros
Planet conscious

Low maintenance

Adjustable working depth

Ideal for small and large yards
Cons
Short extension cord retainer
If you are looking for something more durable and well-built, then Brinly is an excellent option to choose from. The entire design is made of steel and heavy-duty trays that can hold up to 70 lbs of additional weight. It also comes with a 40-inch working width lawn mower and muller to promote a healthier root system. 
Why Do We Like This Product?
Brinly's strong and sturdy design immediately caught our attention. It is extremely durable and capable of working in an aggressive operation or tough terrain. Plus, the tines are made out of durable spring steel and are unlikely to break at any time. 
To promote versatility, the product has multiple settings to choose from. Each setting is designed to suit your needs and purposes in gardening. It also comes with a universal hook that can be mounted to any rider or tractor for easy maneuvering. 
Brinly has been one of the most trusted products since 1839, and you can be assured of its quality, durability, and innovative design. 
What Could Have Been Better?
Straight out of the box, Brinly is simple and easy to assemble, but the instruction manual can waste a lot of time and energy. The instructions and illustrations are unorganized and confusing. We recommend watching some YouTube tutorials before assembling the product. 
Pros
Easy-to-engage transport wheels

Simple assembly

Multiple settings for different tasks

Maximum thatch removal
Worx corded electric dethatcher is designed with a 14-inch cutting width and a 12-amp motor to get your lawn dethatched in no time. The 3-depth adjusting feature will even the lawn grass according to your liking. It also comes with a lock-off switch to keep things safe and more power-efficient. 
Why Do We Like This Product?
Worx immediately impressed us with the lock-off switch, which is not only power efficient but also extremely reliable. The switch is designed to keep things safe, and it also helps in preventing any accidents. So, you can worry less while enjoying your gardening hobby. 
The lawn dethatcher also comes with Worx tools that are designed from cutting-edge technology. You can buy them separately, however, fret not because they are extremely cost-effective and durable. Along with this, the foldable handles are well suited for easy storage, making this a compact product. 
Another cool feature was the lightweight design and premium build, which allows the users to operate through the lawn and mow the grass easily. 
What Could Have Been Better?
While going through this product, we realized that the wheels were inefficient and poorly constructed. Grass can easily get stuck between the wheel, causing the dethatcher to stop moving. However, periodically cleaning the wheels can solve the minor problem. 
Pros
Easy to maneuver over the lawn

Foldable handles and easy to store

Convenient lock-off switch

Promotes healthy lawn growth
Looking for something more versatile and affordable? VonHaus Electric Lawn Detacher is just the right option for you. It comes with a 2-in-1 design for swapping between scarifying and aerating functions. Plus, it is well suited for mowing small and medium-sized lawns. 
Why Do We Like This Product?
One of the most beneficial features of the product is the large capacity collection bag. It is capable of collecting all your lawn debris and unwanted dead roots and grass. Also, the adjustable heights are well designed to even the grass according to your liking. 
If you're worried about storage, VonHaus comes fully equipped with foldable soft grips and a removable grass box for easy storage in your garage. Moreover, it can also be easily transported to different places by using the built-in handle. 
The lawn dethatcher also comes with five operational heights for all seasons of lawn maintenance and purposes. Just adjust the height according to your liking, and it will get your job done in no time. 
What Could Have Been Better?
At this price range, the lawn dethatcher is well balanced and suited for most tasks, but it falls short in heavy-duty tasks. A bigger attachment blade would be ideal for larger lawns that have thicker matted grass. 
Pros
2-in-1 swappable feature

Adjustable height

Large capacity collection bag

Foldable soft-grip handle and removable grass box
Cons
Attachment blades could be bigger
Moving on to the next product, Goplus 2-in-1 Corded Lawn Dethatcher is another cool alternative to choose from. It comes fully equipped with a 15-inch cutting width and 13-amp scarifier. Moreover, we were impressed by the built-in security switch and tool-free foldable handle that makes lawn dethatching easy and stress-free. 
Why Do We Like This Product?
First off, the Goplus 2-in-1 dethatcher and scarifier features make this a well-balanced product. You can easily switch between the modes, and it will serve its purpose according to your need. Plus, it also comes equipped with 5-position depth control for more flexibility and versatility while gardening. 
Keeping this in mind, the safety switch is efficient and highly reliable when it comes to preventing accidents and unwanted disasters. 
Also, the tool-free foldable handle can be easily adjusted according to the user's liking, so you can store it wherever you like. 
What Could Have Been Better?
While reviewing this product, we found a minor issue with the cutting width of the lawn dethatcher. It is ideal for small and medium lawn sizes, but a larger lawn would require more time and effort. As such, a larger cutting width would be ideal for a larger lawn surface. 
Pros
Multifunctional

5-position depth control

Security switch and comfortable grip

Tool-free foldable handle
Cons
Could take a while to clear a large lawn
Dethatching and sweeping are both key elements of maintaining a beautiful lawn, and Brinly has got you covered. It comes combined with a premium lawn sweeper as well as a durable tine dethatcher to get the job done faster and easier than before. It also comes with two years of warranty and an assured guarantee of its durability and productivity. 
Why Do We Like This Product?
The 2-in-1 approach is what makes this product stand out from the rest. It can take care of cleaning the lawn while mowing your lawn into perfect shape. Moreover, a simple pull on the handle raises the dethatcher's tines up and gives you complete access to its sweeping mode. 
Another notable feature is the transportation mode that makes this a portable choice. The 12" X 13" tread-heavy wheels are ideal for tough terrains and wet grounds. Along with this, the durable steel tines are perfectly secured by a safety wire to prevent any damage or breakage from the mower blade. 
Lastly, the patented foldable storage design makes this a convenient pick for those who have minimum storage space. 
What Could Have Been Better?
We really liked the overall design and functionality of this dethatcher; however, we faced some difficulties while assembling the product. When we attempted to contact the customer care service, we received no response even after multiple attempts. 
Pros
Multiple uses

Convenient transport mode

Durable steel tines

Fast pick-up pace
Cons
Difficult and lengthy assembly
Sale
The final entry on our list is the excellent lawn dethatcher from SuperHandy, which comes equipped with a 40 V rechargeable lithium-ion battery motor. Its lightweight and ergonomic design is best suited for professional dethatching and maximum comfort. 
Why Do We Like This Product?
One of the key highlights of this product is its ergonomic design. Basically, it is extremely durable for any type of rough terrain and uneven lawn surfaces. In addition to this, the ergonomic design adds to the comfort and efficiency of the product. 
Yet another compelling aspect of this device is the eco-friendly rechargeable lithium-ion battery motor which is completely safe for the environment. It doesn't release any harmful fumes, and the maintenance cost remains negligible. 
Lastly, it comes with a safety lock button which prevents accidents from taking place. Just turn on the safety switch, and you can leave it anywhere without needing to worry about your child's safety. 
What Could Have Been Better?
The dethatcher comes with a pre-attached collection bag for collecting all the dead grass and debris. But in our opinion, the quality of the collection bag could be improved for better functionality and convenience. Also, the collection bag easily falls off from the dethatcher, which could be annoying on certain occasions. 
Pros
Built to last

Eco-friendly

Safety lock button

Lightweight and ergonomic
Cons
Collection bag could be improved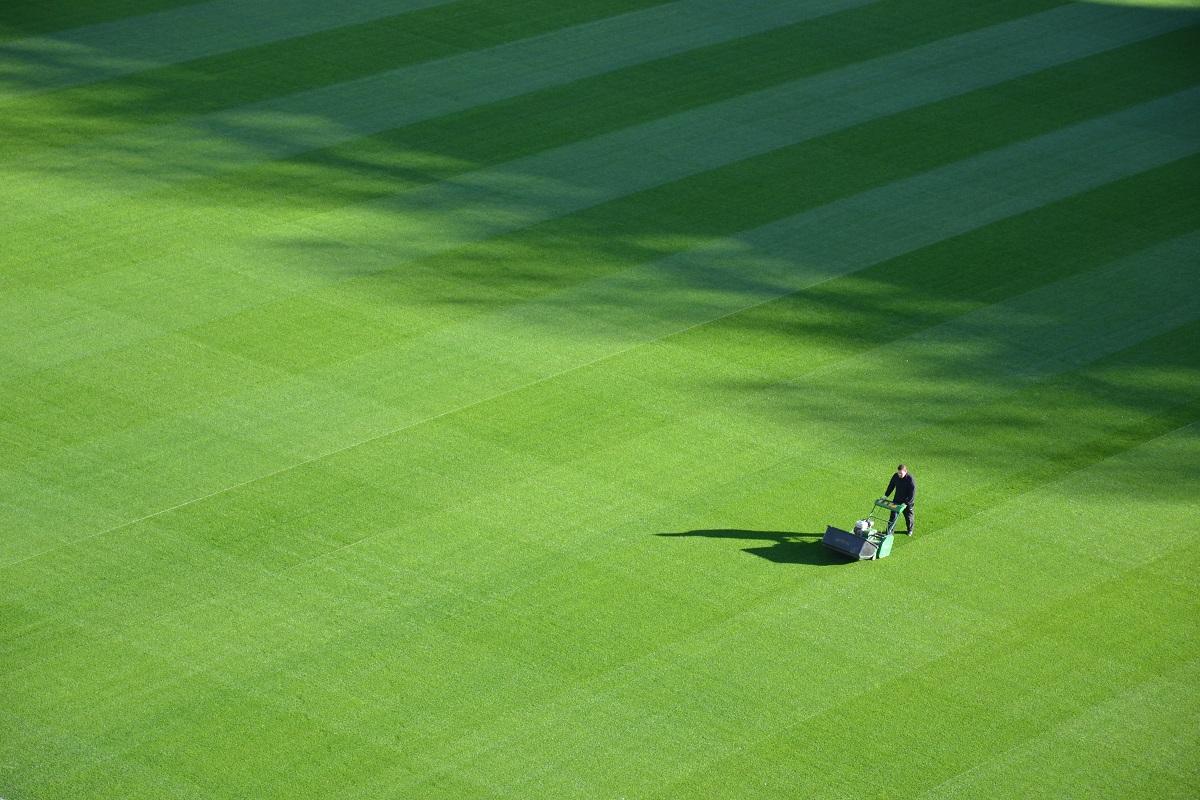 Lawn Dethatcher Buying Guide
While you are getting a lawn dethatcher, you should keep certain factors in mind. We have carefully summarized these important factors to make your task easy and stress-free: 
1. Design
When it comes to lawn dethatchers, there are a variety of designs to pick from. Some are extremely durable and built for heavy-duty tasks, while others are lightweight and portable. If you have a small lawn, we recommend something more lightweight and easy to move around, while heavy-duty lawn dethatchers are best suited for larger lawns with tougher terrains.
2. Types Of Lawn Dethatchers
Another important factor to keep in mind is the type of lawn dethatcher you would like to use on your lawn.
Electric lawn dethatchers and gas lawn dethatchers are best suited for small to medium-scale lawns that require less time and energy. On the other hand, tow-back lawn dethatchers are ideal for larger lawns with uneven surfaces. They are durable and get the job done in no time. 
3. Working Width
You should also keep in mind the working width of the lawn dethatcher you're planning to buy. It represents the number of thatch it can collect at one go. The larger the width, the more area it can cover. We recommend selecting the working width according to the size of the lawn. 
4. Warranty
Investing in a lawn dethatcher can be a costly ordeal. Thus, we recommend selecting a brand that offers warranty coverage for a long period of time. As such, if something were to happen to your dethatcher, you can claim free repairs and services. 
5. Functionality
Different lawn dethatchers come equipped with different functions. Some have a built-in lock switch to keep your children safe from danger, while others have 2-in-1 swappable modes for different gardening requirements. Overall, each lawn dethatcher serves its basic purpose of dethatching the lawn, but note that additional functions often come with a higher price tag. 
Best Lawn Dethatchers
What Is The Best Time Of The Year To Dethatch Your Lawn ?
Based on our research, dethatching is usually performed during mid-Spring and mid-Fall. The weather in these months is ideal for dethatching as it promotes healthy grass recovery as well as favorable conditions for new grass growth. 
What's The Difference Between Aeration And Dethatching ?
Dethatching is a method of removing the dead layers of grass from the soil surface as it allows room for new grass to grow. On the other hand, aeration is the process of sucking out plugs of compacted soil as it promotes better saturation of light, water, and nutrients to the plant. 
Can You Dethatch Your Lawn While It Is Wet ?
While dethatching the lawn, one should be aware of the weather conditions. If the lawn is wet, we do not recommend dethatching your lawn as it could damage the healthy grass by pulling out its root. This would eventually lead to lawn thinning. 
Which Dethatcher Is The Best ?
Under most circumstances, we recommend going with a corded electric lawn dethatcher which is more eco-friendly and beneficial for the environment. But if you are looking for something more durable and heavy-duty, then we recommend trying some of the heavy-industry tow behind lawn dethatchers. They can easily mount on any tractor or vehicle. 
How Often Should Your Lawn Be Dethatched ?
We recommend dethatching your lawn every one or two years, depending on the grass type and weather conditions in your area. Cooler and heavier grass types require dethatching either once in a year or less. At the same time, the heat-loving grass type requires a more frequent dethatching routine. 
Why Does The Lawn Look Bare After Being Dethatched ?
When you dethatch your lawn, it removes all the dead grass from the lawn surface. This tends to leave the soil exposed; thus, your lawn appears barer than usual. But fret not because this makes more space for new grass and promotes a healthy lawn. 
Is It Important To Mow Before Dethatching The Lawn ?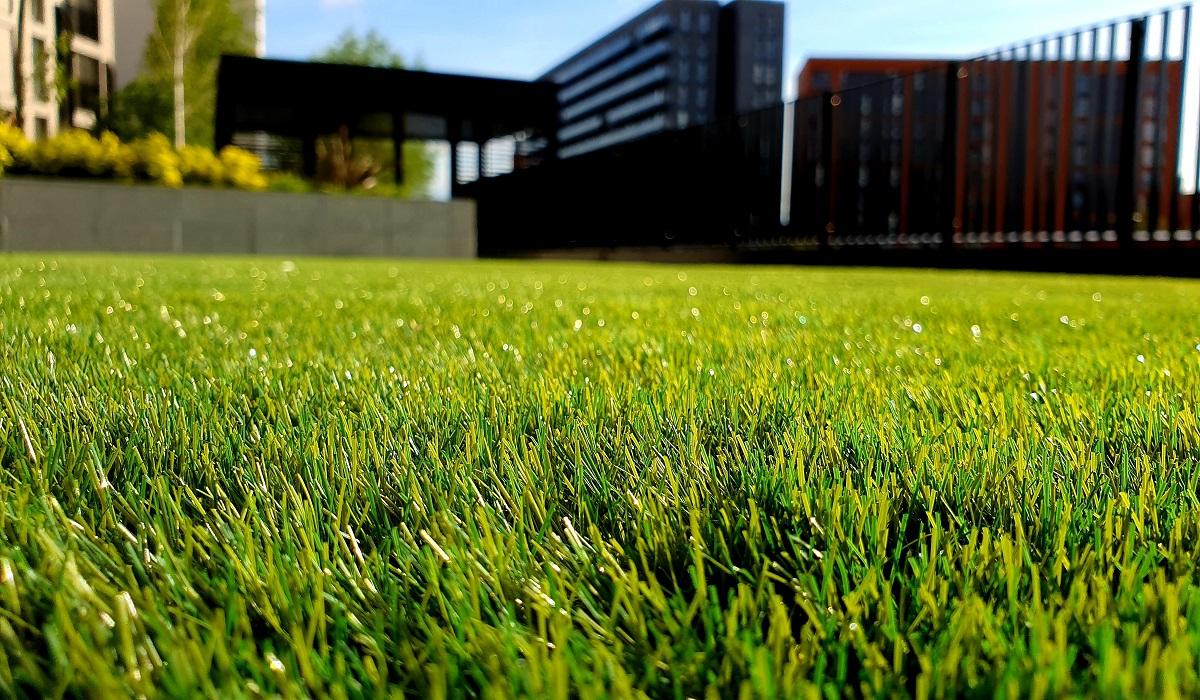 Top Lawn Dethatcher Verdict
Since the time of modernization, technology has played an important role in our lives. As a result, modern lawn dethatchers have kept themselves updated on the latest norms, allowing you to experiment all you want in the garden! 
On that note, we have come to the end of our comprehensive guide about lawn thatchers. We hope you were able to pick the ideal product from our review-based guide. 
But before parting ways, let us sum up our top three picks. The Greenworks dethatcher is an ideal eco-friendly option, whereas the one from Sun Joe comes with a built-in safety feature for children. Finally, Agri-Fab is a durable pick if your city often experiences harsh weather conditions. 
Let us know in the comments section below if you found our verdict helpful. See you next time! 
Related Articles
How to Sharpen Reel Mower Blades?
5 Best Self-propelled Lawn Mowers
The 5 Best Lawn Mowers for St Augustine Grass
Best Lawn Edging for a Legendary Garden
4 Best Walk Behind Brush Cutter
11 Best Battery Powered Lawn Mower
13 Best Lawn Tractor Batteries
Who Makes The Best Lawn Mower Engine?
How to Clean the Lawn Mower Carburetor Without Removing It?
13 Best Brushless Cordless Lawn Mower
13 Best Potting Mix For Orchids