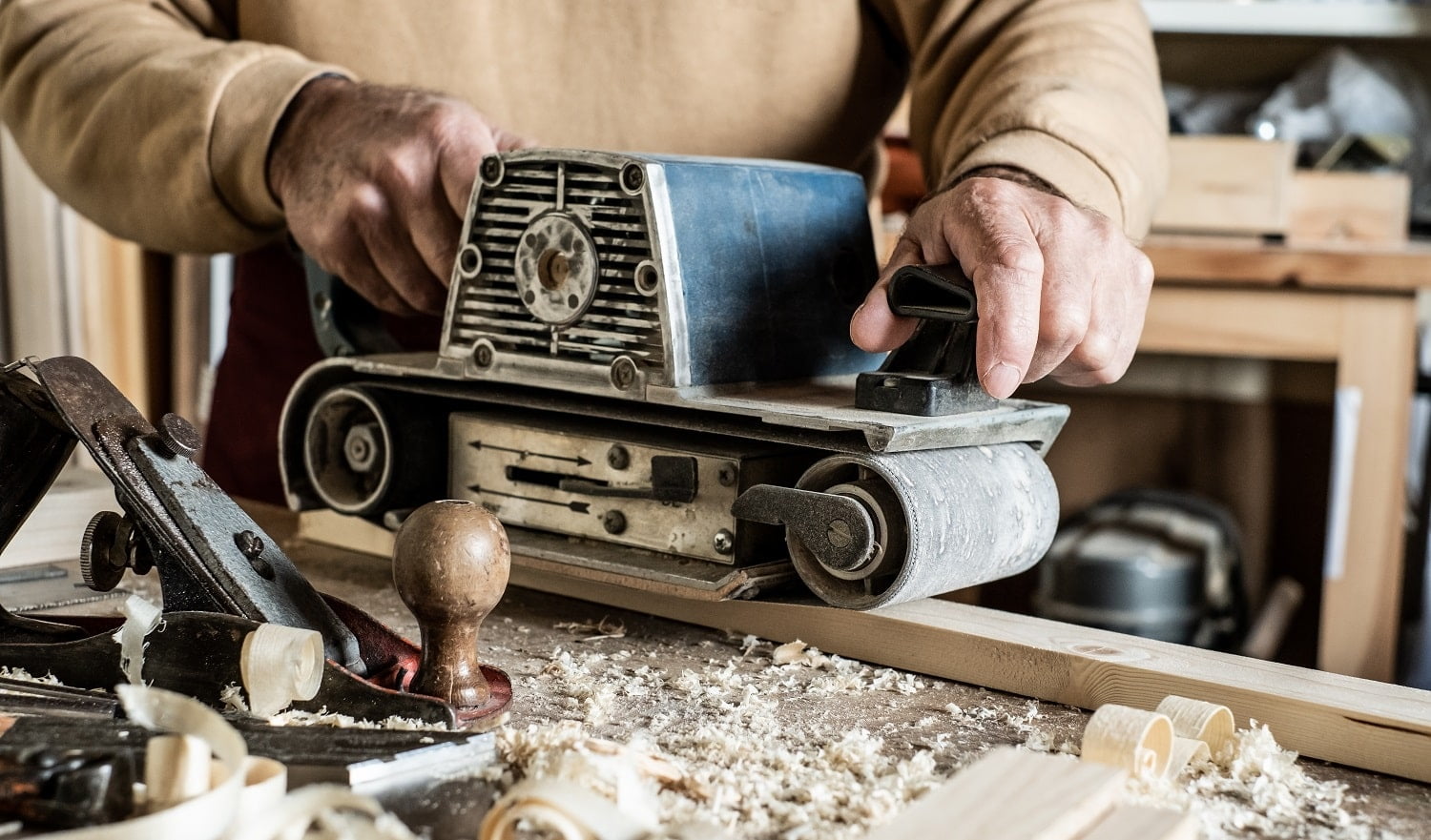 What do a polished surface, intricate woodwork, and a rusted appliance have in common? All three can be transformed beautifully using a belt sander!
Although a straightforward tool, the capabilities of a belt sander are versatile. You can shine any surface anew, or by lowering down the speed, you can engrave complicated patterns on wood.
Basically, this tool is a motor that rotates sandpaper really fast. And, owing to the variable speed levels that it offers, the different rates of movement suit a varied range of surfaces.
Most utility product companies claim their belt sanders are superior than the rest. But, in this world of gimmicks, you are bound to get confused with so many alluring advertisements around. Because, it's easy to fall for the wrong items that only 'look' good.
Fortunately, we have provided in the subsequent paragraphs some of the best belt sanders in the market right now. We took a detailed test of the most trending products, and here are the results we got.
Best Belt Sanders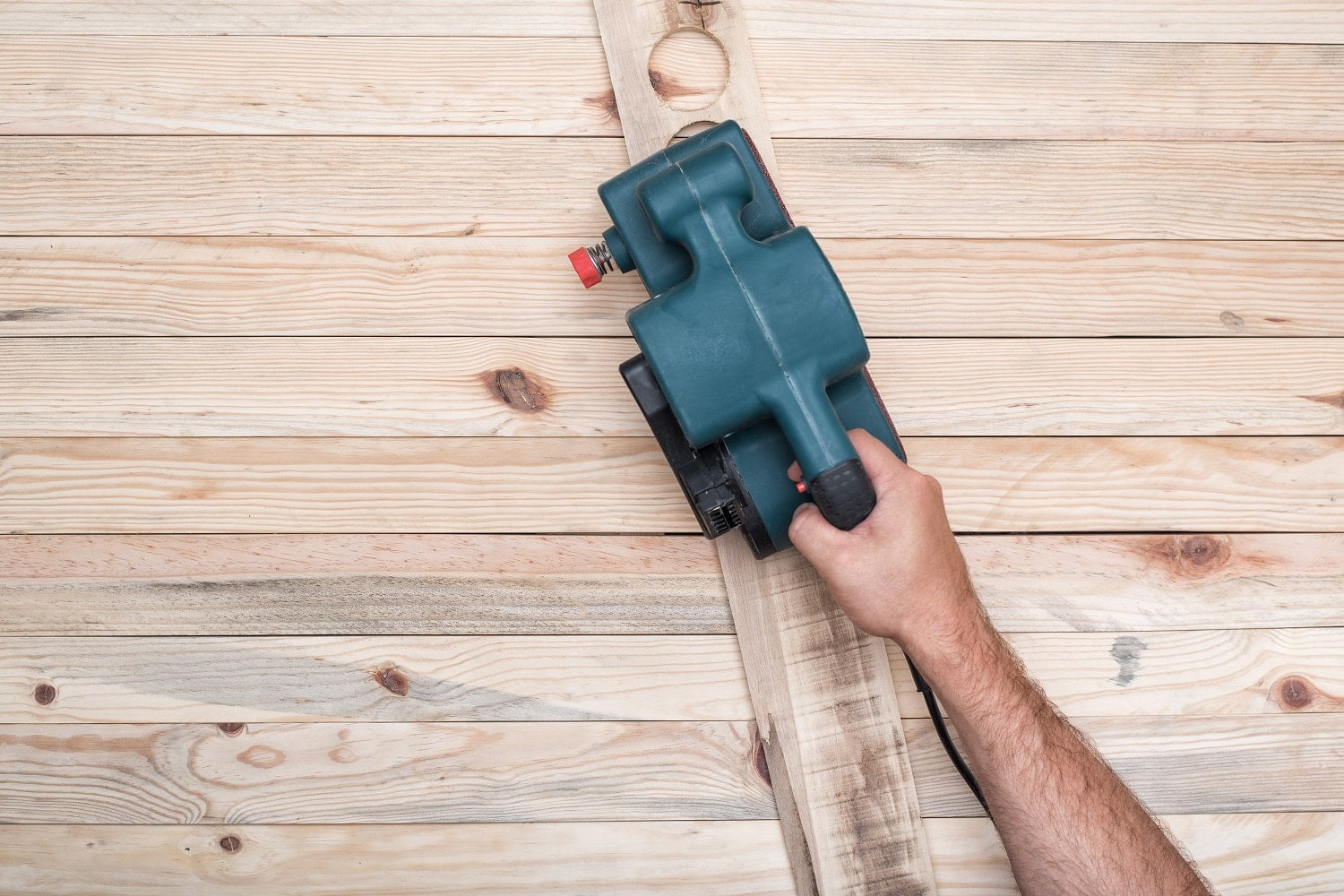 When it comes to the fields of construction, utility tools, and the like, Makita is a famous name. And this belt sander, with its powerful motor, and versatile features shows us why that is.
So, can this product be the one for you? Read on to find out.
Experience
The 9403 belt sander is a little beast. Armed with a powerful motor of 11 amperes, it gave us a massive output of 1,640 square feet per minute. This is a tool that is best suited for heavy-duty works like working on hardwood, metal surfaces, etc.
Another aspect that we noticed and something that the company boasts is the low noise level. We found that the 9403 model makes a mere 84 dB sound compared to others, which are mostly above 110 dB. This considerably increases the functionality of the machine since it can be used inside as well as outside.
As mentioned before, it is a heavy-duty machinery, and that makes it suitable for sanding hardwood floors or even grinding through sturdy angle-iron for hours. Its weight is 13 pounds, which, compared to its functions and utility, is not that bulky.
The entire package represents the meaning of heavy-duty design. Apart from a powerful motor, there are seals specially engineered to combat dust infiltration. These seals, if absent, will have an adverse effect on the belt sander. Dust will enter the motor, jam the bristles, and its prolonged exposure to massive quantities of dust every day will reduce its longevity. Thus, the addition of seals is a significant benefit for heavy-duty workers.
Pros
Made for heavy-duty work

Replaceable ceramic platens

Easy to use
Cons
Not suited for intricate projects
The Porter-Cable belt sander is a 362 V unit with a large 4″ surface area, which makes it suitable only for professionals who do heavy-duty work. They require that extra power and the 12-ampere motor would give them just that. Now, let's see what more is there to this product.
No products found.
Experience
Let's talk about the features first. Well, at a quick glance, this device could seem a bit bulky. The saving grace is that for a bulky machine like this, they have provided a trigger grip for the hand. Other machines usually come with a forward grip. So, we were quite impressed by the ergonomic design of the tool.
Now coming to the motor, the total 362 V drives a massive current of 12 amperes. That's even more than the Makita 9403. Moreover, this current will lead the belt to run 1,500 square feet per minute. Also, the motor is positioned right on top of the appliance for maximum application of force and pressure.
Moving on to the sanding belt, it measures 4 x 24 square inches. Compared to most belts, this is quite large. The standard dimension of a sanding belt is 3 x 16 square inches. The extra area makes way for high-end jobs that require better technical training. Some of these jobs deal with flooring, a large number of cabinets, and so on.
Moreover, the belt comes with a quick-action lever for replacement. And the best part is it comes with a variable-speed motor ranging from 1,000 to 1,500 squares per minute. The variable speed increases the flexibility of the device, as wood pieces may get damaged by higher speed rates.
The final hit is the efficient dust collection system. At the back of the motor, you will find a cloth bag where a one-inch port will shoot out all the collected dust.
Pros
Ideal for large projects

Efficient dust collection system

Variable speed motor

Easy belt accessibility and replacement
Moving from high-end tools, we tried a bridge product. The Craftsman 10A Belt Sander is a product that suits mostly heavy-duty jobs, but owing to its low current capacity, it is also suited for some intricate jobs.
It comes in a lightweight structure and a durable build that helped us handle tough and delicate jobs without any worry. And the dust cleaning mechanism is just apt!
Sale
Experience
Well, as we mentioned before, this tool suits a more extensive variety of jobs than the ones mentioned previously. For heavy-duty jobs that demand aggressive sanding applications, the 4 x 24 sq. Inch sander belt suits perfectly.
What we liked most about this machine is its variable speed technology to accommodate a variety of materials and surfaces. The speed varies from 800 to 1600 FPM. This leads to a higher amount of control over our work surfaces.
The polish and finish of all the sanded materials turned out to be great. We tried the product on floors of marbles, bathroom floors, doors, panes of windows, etc. Each time the output amazed us, and so did the variable speed technology.
The Vibra Shield Grip is a unique addition of this company that facilitates smooth handling of the sander. Also, owing to its less power and current drawing capacity that comes to 10 A, the design is lightweight.
Additionally, there is a 3-position handle that lets you hold the machine comfortably. All these reasons led us to conclude this is the best machine for pros and semi-pros.
Finally, if you are worried about dust collection, rest assured that there is an efficient dust collection system featuring a dust bag like the previous models. And last but not least, the toll-free belt release works superb! We replaced the belt without any hindrance at all.
Pros
Better handling for Vibra grip shield

Variable speed technology

Efficient dust-collection system

Great handling capacity

Cons
Not suited for big or complex projects
After catering to professionals in the spheres of construction, carpentry, etc., we have chosen a product for experienced hobbyists and amateur DIY'ers. There are many features that Tacklife has included in this model that aren't available in this price range.
So, let's check out all the exciting features this product has to offer.
No products found.
Experience
Let's inform you about what comes with the box. Most budget sanders do not come with any accessories to cut short on the production budget. But Tacklife PSFS1A comes with a dust collection bag, a metal screw clamp, a vacuum adapter, and a user manual.
Moreover, we were excited to see the 2-year warranty that comes with the product, which does assure you of a safe investment and value for your money's worth.
Now moving on to the specifications, one USP of this product is its multiple-speed dial. There are a total of six different speeds, suited for all kinds of medium to low scale jobs at home or your workspace.
The maximum rotating capacity of the belt is 840 FPM, which is much higher than the ones within the price range. One utility aspect that we got excited about is the lock-in switch. Sanding jobs require time. Holding on to a switch for 4 hours straight is tough.
Even many high-end sander tools lack this built-in lock-in feature, and that prevents your hands from straining. What we like the most about this Tacklife product is that all its specs are designed for amateurs and professionals alike. Thus, it is also pretty easy to use.
This is a corded model, and the length of the power cord that comes in the package is 9 ft. It's a quite long extension that works on all job sites equally well. It makes way for proper mobility despite being a corded sanding tool.
Pros
Excellent speed and power

Lock-in on/off switch

Also acts as a bench sander

Detachable dust collection system
Triton is one brand that never disappoints with its products. And, the TA1200BS form its lineup is the perfect bridge product between professionals and household enthusiasts.
Coming with a powerful 10 A battery and variable speed control, this is one of the best models to suit all your sanding jobs. Let's see what other features it has to offer before adding it to our wish list.
Sale
Experience
Before starting with our experiment, we would like to declare that this belt sander caters to intricate details. This would be an excellent addition to your workshop as most belt sanders available in the market cannot get into the finer details.
The sander has a small roller situated at the front, which allows you to refine and smoothen rough edges, as well as to perform detailed work on wood.
On top of that, to facilitate better control and also not weigh down on the user's hands, the product comes in a mix of plastic and magnesium casing.
The upper body comprises a casing made of plastic, and the lower body has the magnesium casing. This combination marks this product a class apart. It could easily endure a fall from about 12 ft and still work correctly.
Apart from these superb features, the sander also has a very powerful motor with a 10 A battery and a lock-in feature for more prolonged usage. The tracking adjustment helped a lot in having full control over our work.
The variable speed technology only adds to the versatility of the product. As this sander caters to a broad array of materials and surfaces, the variable speed coupled with the front roller manages the output intelligently. Thus, for detailed woodwork, this is the best option.
Finally, this model has a neon light that glows when the battery is about to die. It also has a slow-start feature giving you better control over all surfaces.
Pros
Easily replaceable sander belt

Variable speed technology

Powerful 10 A battery

Suited for intricate jobs
Here we have listed another belt sander, designed especially for the intricate works. Miniature intricate works require a lot of patience, and most of all, a stable machine. This is our second suggestion from the company Makita, and this comes with a variety of exciting features.
The variable speed control will completely blow you over, and so will its adjustable pivots that reach any angle or any difficult position effortlessly. Read on to know more!
Experience
All the features of this belt sander suit the art of intricate woodwork. We mention woodwork here because that's one of the most commonly pursued jobs involving details like paneling. Well, even intricate furniture polishing or tile polishing will give excellent output with this sander.
The 4.4 A motor that the device comes equipped with is pretty powerful! We were amazed to find that this motor gives off a massive range of variable speed, that suits all levels of expertise and jobs at hand.
From 980 FPM to right up to 5,400 FPM, there are over ten-speed controls that can be easily adjusted with a control dial.
One important element of impression is the 100-degree angular feature of the sanding arm pivots. For those who were having doubts about whether this is cutout for detailed work, here's the evidence. We could reach all the tight spaces with absolute ease!
Moreover, for increased flexibility and more delicate works, the package comes with three different sized arms and their respective sander belts. They are ¼", ⅜" and ½ ". And what's better is that the straps are replaceable by a simple push of a button.
All these features of this model have convinced us that it is dedicated to beautiful woodwork, artistry, and detailed carpentry.
Pros
Superior handling

100-degree sanding arm rotation feature

Three sizes of arms and sander belts
We come back to catering to the needs of professionals. Hitachi, or what they call Metabo, is a brand synonymous with durability, power, and excellent customer support. Consequently, in the world of sander belts, they didn't shy away from leaving a mark.
The SB8V2 is a model whose power speaks for itself. With a 9 A motor giving off a massive 1020 W power, all your sanding jobs will be done in no time. And to know about all its interesting features, simply read on.
Experience
Before starting with the product details, we would like to tell you that this sander is especially suitable for professionals. You won't be able to do the finer tasks of the woodwork with this.
It is a handheld belt sander that allows forceful removal of wood, steel, paint, and works its way through most of the hard materials. The output is always smooth and leaves little room for complaint.
The variable speed control works like a genius! It can also be easily switched between various speeds from 820 – 1475 FPM. This gave us an ultra-smoothness to control the product.
We were so delighted to find that this sander comes with a 5-year warranty. This solves the age-old problem of rushing through the market, looking for spare parts. The 5-year limited warranty and the company's website selling spare parts are significant reasons to go for this product.
The gripping mechanism needs no other word. It is designed with the idea in mind that the product will be used mainly for longer hours and in difficult positions. It's for this reason that the soft rubber grip has been designed to keep your hands comfortable at all times during use.
A unique feature that blew us entirely is that the product comes with a front window to view the projects as you sand them. It's like you can watch your product shape and transform in all its minute details!
This greatly increases control and improves consistency. Fused with a stable tracking and easily replaceable belts, this is a must-buy for all professionals out there!
Pros
Unique front window view

Push lever to replace belts

Easily replaceable brushes

Variable speed technology
Cons
Left-sided motor causes dis-balance

Bulky built
Till now, we have listed belt sanders only. But this product is the most unique out of all the rest, as it is a disc and belt sander.
It will smoothen any material and remove all the irregularities on the surface to give you a shining, refined overall result. It suits plastic, metal, and wood. Coming with a powerful 4 A motor, the belt tilts till 90 degrees and reaches tight spaces very quickly.
Sale
Experience
Let's talk about the feel of the product. It gives a feeling of sturdiness as the base is made of heavy-duty cast iron. We observed that the machine doesn't move or wobble because of the robust outer body construction.
Coming with a 4.3 A motor that has ½ Horsepower, the machine doesn't stop even under heavy load. The entire system is built with the idea that during work, it must not shake or tremble at all!
The belt and the sandpaper grits are also easily replaceable. As mentioned above, the belt tilts till 90 degrees, and this contributes to the versatility of the product. Apart from the belt, this product has an incredible element, the sanding disc.
It is a 6-inch disc that can sand anything, be it plastic, metal, or wood. Underneath the disc there is a small work table of cast-aluminum. This keeps the sanding material in place and makes way for a cleaner operation.
If you are worried about dust collection, let us assure you that this product has all your queries covered. There is a built-in dust port of 2.25 inches that connects to a dust collector, preventing any sawdust from getting into your eyes during the operation.
The blades of the sander last longer than the conventional ones. This prevents unwanted materials from spreading into the nearby air and directs all the sawdust into the collection bag.
Finally, the product comes with a 2-year warranty, and all the spare parts are available from the company online. This is a significant benefit in every way.
Pros
Has both belt and disc sanders

Dust extraction port

Disc sander is more precise

Blades are more prolonged than ordinary sanders
Cons
More caution needs to be practiced with the disc
After using all of these belt sanders, we thought we had run out of the good ones.
Then Porter Cable answered the call with this brand new 352VS model of theirs. The uniqueness of this product lies in its all-metal design. We cannot vouch for anything else more than the sturdiness of this product.
But that's not all. There is so much more to this product apart from its sturdy build. Let's check those out right now!
No products found.
Experience
We couldn't get over the beautiful metallic body of the product. Not just because of its appealing aesthetics but due to the increased utility and life span of the product.
Most belt sanders have a body made of hard plastic. After a few months of usage, the bodies wear away and cannot endure hard falls. The Porter-Cable 352VS, on the other hand, endures massive impacts, and the hard exterior maintains the longevity of the product.
It works in this way: the metal body controls the heat of the internal elements and keeps the individual parts cooler than those whose units that are made of plastic.
Although the look and feel of the product may be professional, it can also be used by amateurs. They supply you with a motor of 8A, which makes it suitable for most kinds of industrial sanding.
But the product can also be used for intricate and detailed work such as wood carving and making furniture. We tested sanding on vertical surfaces as well, and it worked wonders there.
This wide range of work dynamics is owed to the variable speed technology that lets you choose any speed between 850 and 1,300 FPM.
The final points of appreciation involve an adjustable belt tracking knob, a quick-release lever for changing the belts, and a ceramic aluminum oxide belt. The model also comes with a large dust bag that can rotate up to 360 degrees.
Last but not the least, as the belt and the gear systems are adequately done with mesh covers, it gives a noise-free operation.
Pros
It doesn't get heated easily

Easy belt changing mechanism

Variable speed technology

A versatile sanding tool

Easy to use
We return to the DIY'ers again. But this time it's the semi-professional ones. The SKIL 7519-01 is a sander that best suits those who already know what they're up for.
If you are looking for a machine to start playing with your ambitious projects, then this belt sander will serve all your purposes. We make these claims because we vouch completely for its ease of use. Read on to know more about its interesting features.
Sale
Experience
First, we would love to talk about its extremely efficient dust capturing mechanism. Coupled with a pressure control mechanism and a micro-filtration system, it effectively collects even the finer dust particles, making your first-time experiences clean and mess-free.
The pressure control mechanism will handle your sanding pressure. If you increase the strength, the sensor in the machine will light up the indicator to remind you of the inability of the surface to handle it. For starters, this will increase your confidence manifold!
With six amps of power, you wouldn't have to worry about the suitable sanding surfaces. Different kinds of wood and plastic would quickly get polished by this machine. So, line up all your ambitious projects.
Coming to the dust-filtration system, it is one of the most efficient within the price range. One of the most tiresome jobs while sanding is cleaning up. Not just the workspace around you, but the machine as well.
The excellent dust-filtering mechanism of this model filters out the dust very efficiently and removes all the debris. We tried and tested the belt sander over different materials, only to get similar results each time.
The dust container that's connected to the bag does the trick. Moreover, if the dust container stops working all of a sudden, you could also attach any standard vacuum hose to fit the purpose.
Additionally, for more extensive and time-consuming projects, it has a power switch lock, so you won't have to hold the switch all the time and strain your hand.
Pros
Efficient dust cleaning mechanism

It has a separate dust container

Has a power switch lock
Cons
No variable speed technology

Doesn't suit metals
The Genesis GBS321A comes with a host of features that makes this sander one of our top choices. It's a major time saver due to its easy belt swapping mechanism, while also fitting into tight spots due to its low profile design. But what are the other features that make this sander qualify among all its competitors? Let's find out.
Sale
Experience
The Genesis GBS321A belt sander is one genius of a product. Made for professionals as well as semi-pros and DIY'ers, it has a powerful 8 amp motor.
Before getting into the motor details, let's talk about the size. This is one of the many USP's of this model. It's sleek and small design will fit into the tight spaces where cumbersome and more professional tools cannot get into.
Compared to its utility, the weight of the product isn't much. It's 8.5 pounds only. Coupled with a potent motor, the variable speed technology, and its efficiency blew our minds. The speed limit range is diverse, starting from 390 to 1,180 FPM.
You can control it with an electronic speed dial. A critical aspect that many belt sanders lack is the balanced proportions of the body. It comes handy when one would use it for more time-consuming projects.
Other than these, the usual belt sanders facilities are available here, as well. The front grip handle is adjustable, and the dust collection system is quite efficient. The belt sander also comes with a comfortable belt changing lever for hassle-free replacements.
Finally, we tried the belt sander on a variety of surfaces and materials like wood, jammed doors, wall cabinets, bathroom floors, and each time the results satisfied us to an enormous extent.
Pros
An efficient dust collection system

Work great in tight spaces

The front grip handle is easily adjustable

Has a comfortable belt changing lever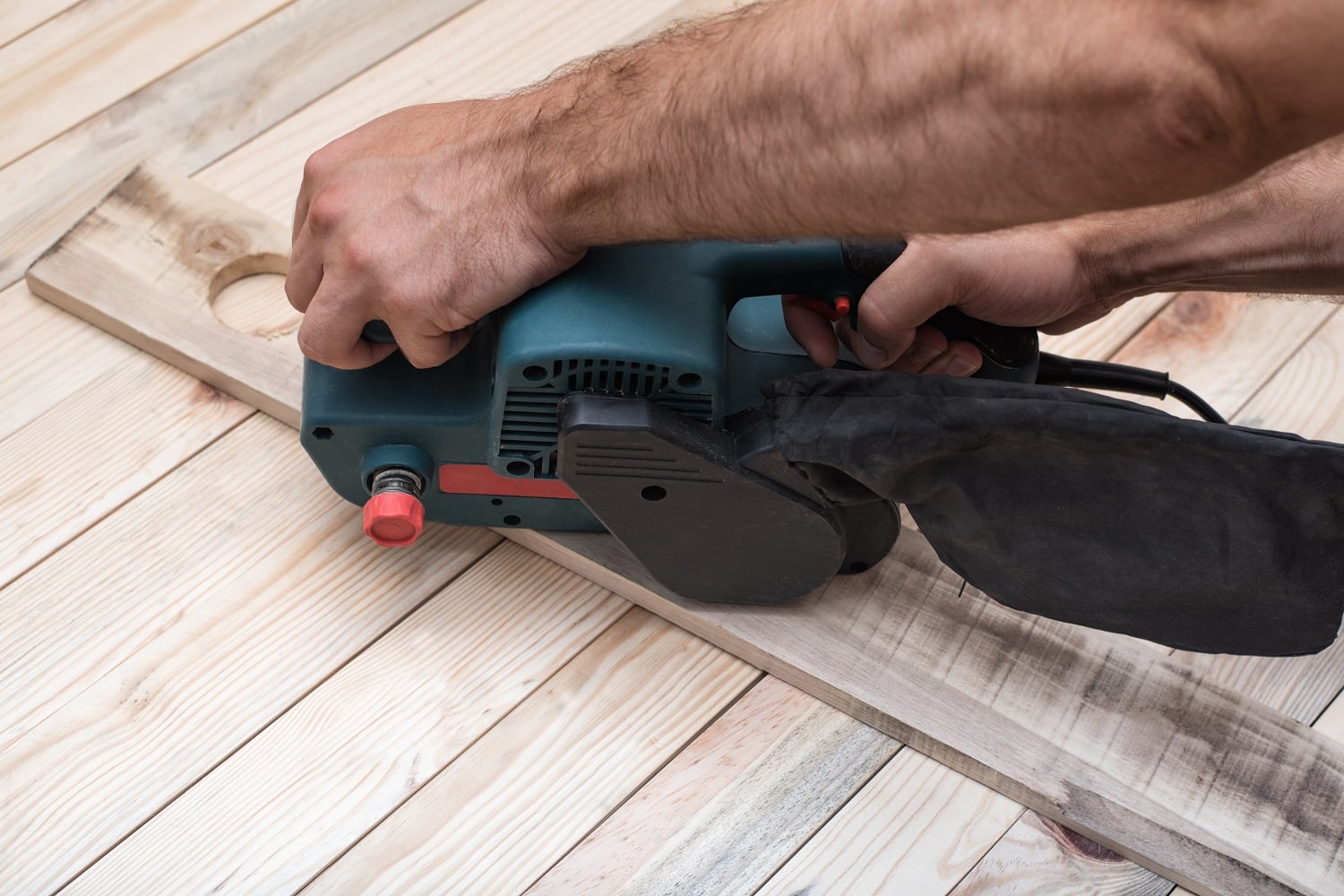 Belt Sander Buyer's Guide
How to choose a belt sander?
Now, although we have covered most kinds of belt sanders, there's always some confusion left in choosing products, right?
This post would be incomplete if we didn't include a definitive guide about how to choose a belt sander. With so many alluring advertisements and products boasting the best of their capabilities, it is difficult to know what's right and what's a simple gimmick!
This is why we have provided some basic guidelines on how to choose the best belt sander for you. Or you could also read it as the necessary things to consider while buying a belt sander.
What are stationary belt sanders?
The first kind are stationary belt sanders. As the name suggests, they are fixed in one place. The sanding material needs to be brought close to the machine instead of being the other way round.
And How to choose stationary belt sanders?
For stationary sanders, one must look for wide belts that will sand larger pieces easily. And here are everything that you should consider while getting one:
The body should be cast aluminum or steel for stability.
The working table should be adjustable.
Adjustable belt frames help to adjust the belts from horizontal to the vertical position for convenient sharpening of tools, whenever required.
Most importantly, there should be a dust port on it or, if possible, more than one with which you can easily attach a vacuum cleaner bag to the unit.
Finally, a stationary sander should ideally contain both a disc and a belt. This increases the versatility of the product.
Now we will move on to the handheld belt sanders.
What are handheld belt sanders?
They are the ones we mostly covered in our list. These sanders are way more powerful and versatile in terms of work efficiency, variable speeds, and flexibility of the material. You may already know that these aren't fixed sanders, but mobile.
There are many advantages to having a handheld belt sander. First of all, they cost a lot less, and they are more readily available in most work stations. Second, they give you better control over your material and the final results. The work becomes significantly easier with this tool.
Now, the question is, how to know which handheld sander to choose? There are some yardsticks which you can keep in mind:
Soft rubberized grips prevent strain on your hands even after long hours of operation.
Also you should look for a lightweight model unless you do not find one, including all the features you need.
Another point of concern is the sandpaper changing facility. Always go for the sanders which have a user-friendly interface. This will increase your productivity manifold.
A useful feature on mobile belt sanders that is easy to miss is the built-in lock-in switch. With this, you wouldn't have to keep pressing the 'on' button while working.
And yes, do not forget the dust collection system. When you are moving over different kinds of surfaces, all materials will generate a significant amount of sawdust. This is where efficient dust collection systems for sanders come into play.
Most belt sanders aren't cordless. As the appliance tends to be a bit on the heavier side, sturdy conducting power cords will ensure your complete safety. So, do look out for that.
Also, something that you should always check whether it has variable speed technology. This option increases your machine's versatility exponentially as the setting capacity of up to 5 different speeds will cater to different kinds of works and surfaces.
And finally, for safety, always look for longer blades and the two-step activation switch. The latter facility will prevent the machine to jump-start as soon as you plug it.
Final words
So remember, it's a must to make your workspace more compact and tidy. With an excellent workbench, a solder iron, and a belt sander, you will finally have the most efficient and minimalist workspace you ever desired.
That brings us to the end of this comprehensive guide. We hope we could answer most, if not all, of your questions about belt sanders, and that you can now go ahead and get the ideal one for yourself!
Till next time!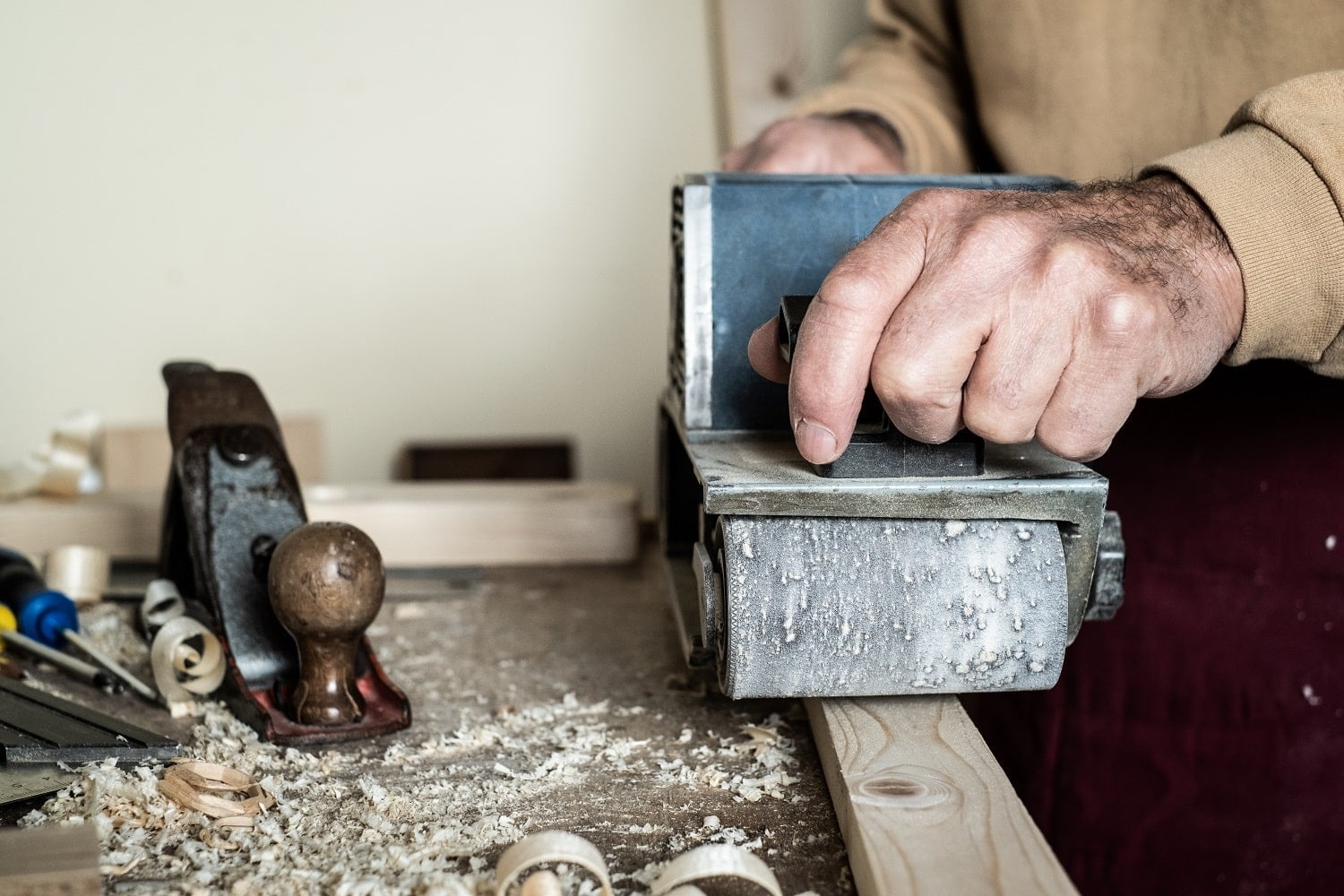 Related Articles
Table Saw Vs. Circular Saw [Differences & Winner]
Single Bevel Vs. Double Bevel Miter Saw  
13 Best Cordless Oscillating Tools 
13 Best Wood Routers for Professionals & Amateurs Alike
Simply the Best Stained Glass Ring Saws Reviewed
49 FREE DIY Router Table Plans For an Epic Home Workshop
10 Best Shop Vacs For Dust Collection 
11 Best Hammer Drills on the Market Today
11 Best Tap And Die Set on the Market Today | Buyer's Guide
13 Best Tile Saws Reviewed | Buyer's Guide
6 Best Chainsaw Brands to Consider 
Simply The Best Cordless Power Tool Brands
11 Best Sliding Compound Miter Saws
Different Types of Saws & How to Use Them 
11 Best Budget Bandsaw Reviews
13 Best Random Orbital Sanders 
7 Best Concrete Grinder, Planers, Scarifiers Reviewed
19 Different Types Of Hand Planes & How To Use Them