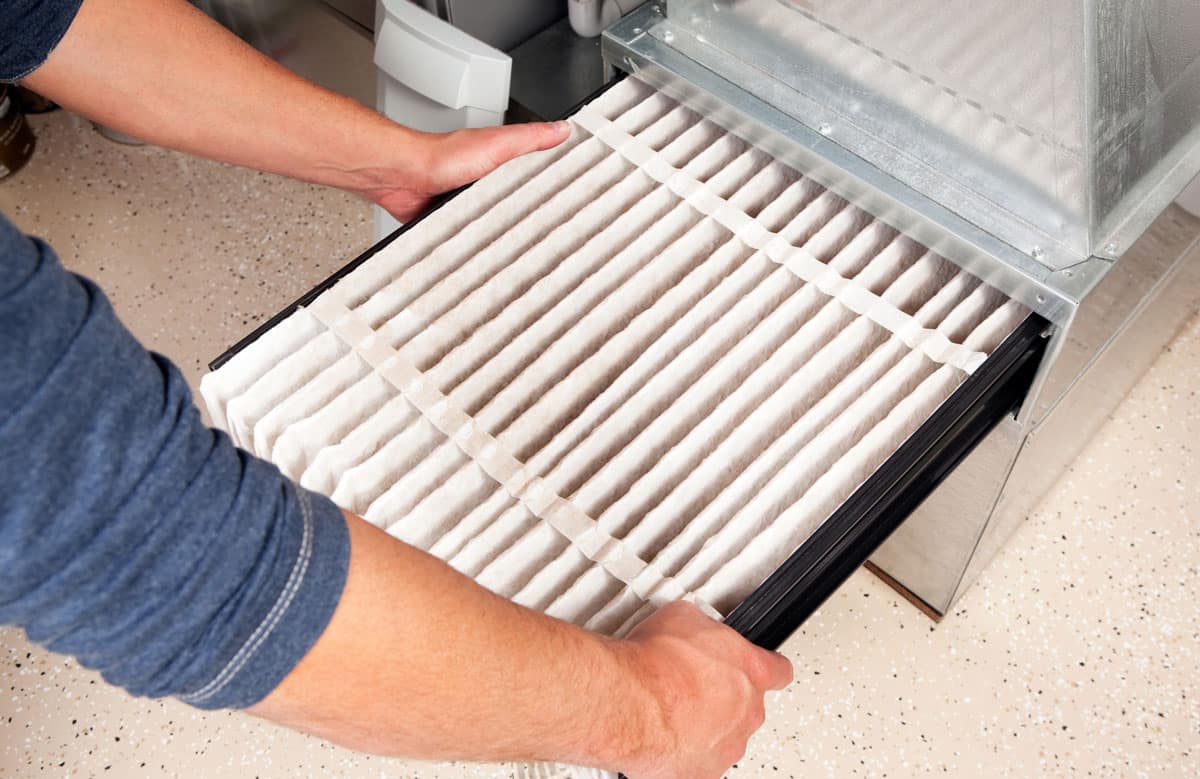 Your home is comprised of many crucial components, but one among the noted few is the furnace filter. It works without creating any fuss while allowing the furnace to complete its job efficiently.
It's because of the furnace that those of you who have been suffering because of poor air quality can rest easy. And even more so if you have asthma or allergies. If you didn't know already, the primary function of this filter is to keep hair, dust, debris, and other pollutants from entering the return duct of the furnace
Even though changing the filter frequently seems like an addition to your already long list of household chores, it has a ton of benefits. Now, that brings us to the burning question- which furnace filter will be the best for you?
Well, let's move to the following sections to check out the reviews of some of the best furnace filters that are ruling the market now.
Best Furnace Filters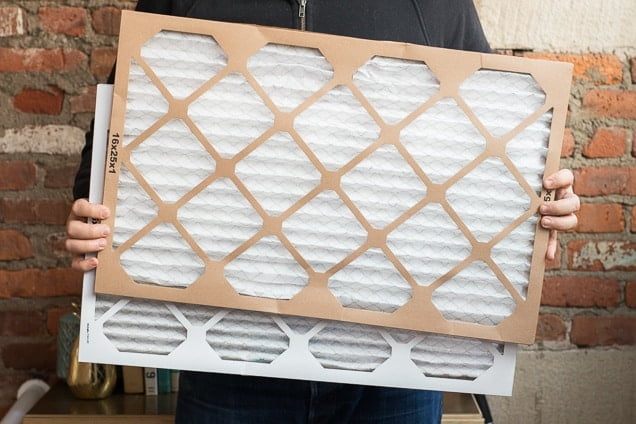 It might feel like a lost battle when you're putting in a lot of effort to keep the house clean, especially with pets around the house. But when you invest in a quality furnace filter, it makes the job easier. One such unit is the FilterBuy Pleated AC Furnace Air Filter, which works to capture pet dander. It offers many other benefits that you'll learn now.
Experience
When we were looking for a furnace filter, our main search criteria was to ensure that we pick a durable model. FilterBuy is known for offering the best value for money products and our AC service provider suggested this unit to us. We received a set of two products that lasts up to three months each. 
It comes with a MERV rating of 8, which means that it can effectively remove lint, pollen, dust, debris, and pet dander from the air. And the best part, we had the option to select from numerous sizes that made it simple to find the right size. 
Since it comes with 12 pleats per foot and offers several creases, it gradually improves the process of filtration. Thus, it manages to filter the indoor air by a drastic rate thanks to its airflow capacity of about 350 CFM.
We have also managed to seal the frame accurately to the furnace by using some extra weather stripping foam. All in all, this is an excellent product for our home as it helps reduce pet hair and dander.
Pros
Features 12 pleats per foot

Reasonable price tag

Last for about three months
Cons
The size is slightly smaller than the given measurements
If you're on a limited budget, then you should consider one of the most sought after models- Rheem Basic Household Pleated Air Filter. This unit has garnered a lot of positive reviews from most regular users. The size of the product is such that it can comfortably fit all standard furnace brands without having to worry about it rattling around. 
Experience
Most of the high-end filters are pretty expensive, with each unit costing about $20, which was way beyond our budget. This is why we opted for the basic household pleated air filter by Rheem. 
It not only has the right measurements but also comes with a cardboard frame making it simple to install the filter. The filter has a MERV rating of 8 (or an FPR of 4), which keeps the dust of our home and help minimize the allergy symptoms. 
Despite its affordable price tag, it doesn't compromise on the quality and works efficiently to remove pet dander, dust mite debris, and pollen from the air. 
We generally change our filters quite frequently, so it was important to find a budget option. Moreover, according to the manufacturers, we can use this filter for a maximum of 90 days, which is considered to be a great deal.
Pros
Catches small particles that other units might miss

Last for up to 90 days

Easy to replace
Cons
Some users complained about the efficiency
This furnace filter is considered to be one of the best selling units and has some good ratings. It comes in a range of sizes that comfortably fits most furnaces. The filter is made with reinforced pleated media that is designed to capture the tiniest of particles in the air. Let's get to the following paragraphs to see whether it lives up to the hype or not.
Experience
After having tried a range of furnace filters over the past few years, we can say this has been a wise investment. It has a MERV rating of 13 ( or an FPR of 10); this indicates that it can capture particles that are as small as 0.3 microns. 
On top of that, it's equipped with an electrostatic charge, which further attracts microscopic particles. The large surface area of this filter helps to improve its dust holding capacity.
It works to remove pollen, dust, pet dander, lint, bacteria, mold spores, virus carriers, microscopic allergens, smog particles, and odor from the air. When it comes to the overall build quality, it has a moisture-resistant frame that manages to last for up to 90 days.
Since we have switched from poor quality models to this unit, we can feel the difference by seeing how well this filter performs. Finally, it manages to significantly reduce the allergy symptoms around the house by reducing the dust build-up.

Pros
Heavy-duty, moisture resistant frame

Electro-statically charged

Can filter down to the microparticle level
If you're looking for a furnace filter that is specially designed for keeping the air free from allergens, then this makes for an ideal choice. The Micro Allergen Defense Air Filter by Filtrete is known for its purifying and protective qualities. It's a washable unit that manages to keep different allergens from circulating inside the house.
Experience
During the monsoon and winters, we have to ensure that we have a quality furnace filter offering protection. With children around the house, it's important to keep the air clean to protect them battling cold and flu in the allergy season. This unit is particularly famous for its allergen blocking properties. 
It comes with a MERV rating of 11 and works efficiently to capture the fine particles because of the electrostatic charge features. Moreover, it removes household dust, dust mite debris, lint, pollen, spores, smoke, and pet dander from the air. 
Since we live in a pretty dust prone area, we need to change the filter before it even completes the three-month duration. This helps to prevent putting too much strain on the heating or cooling system. We also got to choose from a variety of sizes, which is a bonus. Overall, it works brilliantly to provide relief from seasonal and pet allergies.

Pros
Reduces allergens in the air

Easy installation

Lasts for about 2 to 3 months
If you're someone who finds it difficult to breathe with cigarette smoke around the house, then you should check out this unit. This Pleated AC Furnace Air Filter by Nordic Pure helps in removing smoke particles before it manages to settle in. The filter also boasts a high MERV rating that showcases its efficiency.
Experience
If you struggle to get rid of tobacco smoke from our clothing and furniture, then try investing in a quality filter. This unit has a high-quality furnace filter that removes smoke particles even before it starts settling in.
We had the option to choose from a range of different sizes, this is why it was easier to pick a unit that fits our furnace accurately. The MERV rating of 13 is also pretty impressive because it's the highest on the scale.
It can remove mold spores, airborne dust, pollen, smog, pet dander, dust mite debris, and fireplace and tobacco smoke from the air. The electrostatic charge feature also ensures that it manages to capture the fine particles that pass through the filter. If we manage to change the filter every 90 days, then it works to the best of its capability.

Pros
Removes fireplace and tobacco smoke

MERV 13

Made of synthetic materials
Finding a furnace filter for a mobile home must have been tricky. Until now, we've heard many tiny homeowners complaining about the lack of small size filters. Thanks to Miller Polly, a company that has focused on designing this unit, especially for mobile homes. So, let's find out more about the benefits of this unit in the following paragraphs.
Experience
This furnace filter by Miller Poly measures about 19" x 54", and it comes in a pack of four for better convenience. So, we don't have to worry about ordering new sets every two or three months. It was tricky for us to find a filter that would fit the furnace door in our mobile home. 
However, we had to trim the edges slightly to ensure that it fits correctly. Since it's made to be used in our mobile homes, we had to mount it on the furnace door with the help of built-in retainers. 
One drawback that is worth mentioning is that the manufacturers have not mentioned about the MERV rating. But there is no issue with the efficiency, because the filter has been coated with a sticky substance to catch more dust. 
Even though the filter is a bit thinner than what we expected, it manages to keep the indoor air clean in small homes. Overall, it's a quality product, considering its reasonable price.

Pros
Suitable for mobile homes

Can be trimmed to fit the door accurately

Reasonable price range
Cons
The filter is much thinner than other models

cons

cons
If you had checked out some of the older filters, you must have seen that fiberglass was one of the most frequently used materials. And the the top-rated options that come under this category is the PrecisionAire Nested Fiberglass Filter by Flanders. You don't have to extend your budget to purchase this unit, which makes it a suitable choice for many.
Experience
We have been using fiberglass filters for over a decade, and finding such an affordable piece has been a great advantage. It's available in a set of few standard sizes, which makes it easy to order for the right size. 
The MERV rating of 4 is pretty minimal, but we generally don't face too many issues with the accumulation of dust or debris around the house. So, even if the rating is low, it helps to keep the indoor air quality in an optimal state. We can't recommend this unit for homes with too many pets or if people are suffering from allergies.
Nevertheless, it features a quality filtering medium that is made with continuous filament spun glass. The filter frames are constructed with chipboard, makes it easy to install the unit. It also offers minimal airflow resistance, and the manufacturers claim that the filter should be changed every 30 days for better energy efficiency. 

Pros
Made from fiberglass

Low airflow resistance

Easy to set-up
Cons
Require replacement after 30 days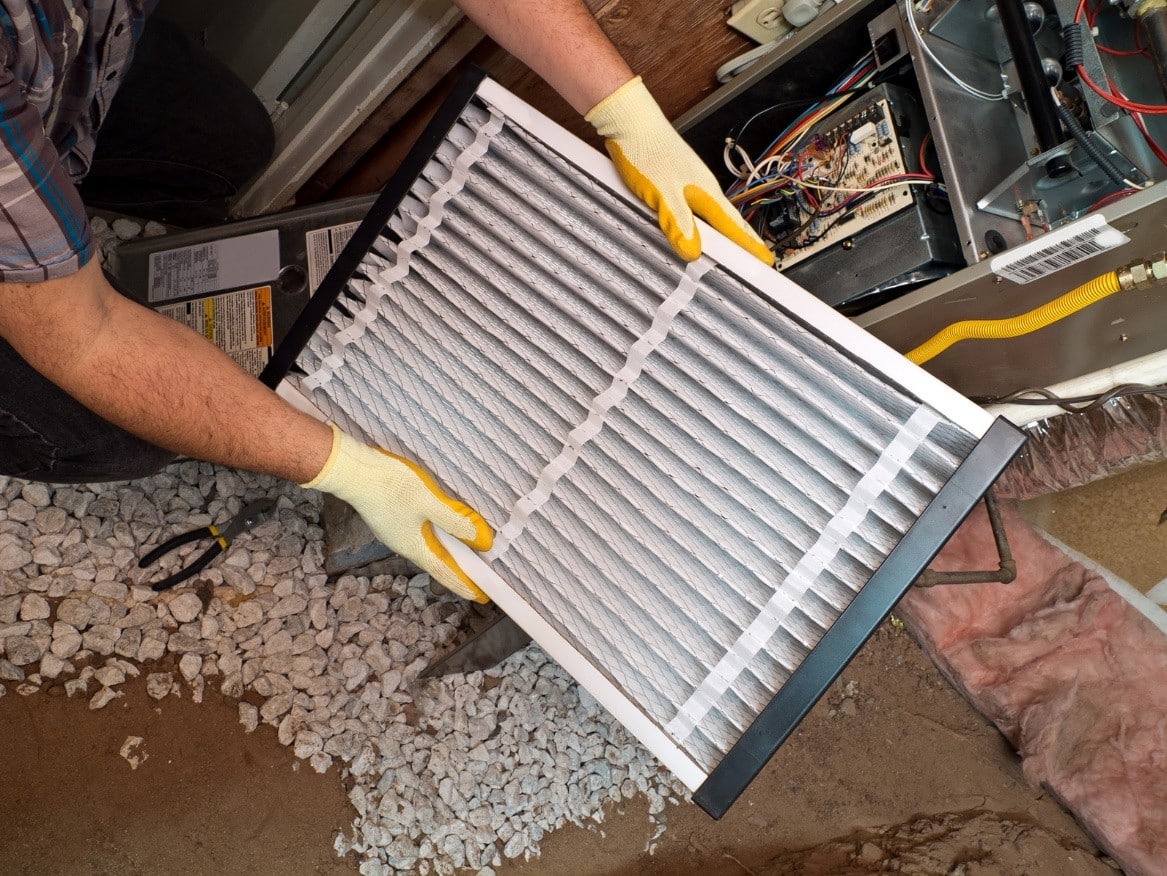 The Lennox Healthy Climate Box Filter is an excellent option if you've been looking for a highly-rated filter that can keep your home safe and clean. It comes with an innovative design, which can trap dirt particles and helps to prevent them from entering the house. 
The main advantage of using this filter is that it lasts for six months, which is pretty high compared to other units. 
Sale
Experience
Just like when shopping for any household products, the main factor that we consider is the sturdiness and overall construction. Most other filters that we have used over the past few years usually last for about three months. Thus, a filter that has a durability of 6 months was a pleasant surprise. 
The design is also unique, but it's functions are on point because it traps dust particles and helps prevent them from entering the house. These panels are made with expanded aluminum mesh that has a clay coating to absorb and hold moisture. 
So, when warm and dry air passes through the filter, it efficiently allows the water vapors to enter the house. And the wet pad helps to trap mineral pollutants found in water.
It has a MERV rating of 11, and the filter is made with electrostatically charged media. This again allows it to trap pet dander, mold spores, allergens, and pollen. The filter is build to trap irritants measuring as small as 0.3 microns. 
Plus, it ensures that there won't be any additional damage to the heating or cooling system, which is because it's made with synthetic materials. This provides a large surface with minimal air resistance and maximum area to hold dirt and other pollutants.

Pros
MERV rating of 11

Needs to be replaced after six months

Great build quality
Cons
Might not fit all furnaces
If you're concerned about the indoor air causing harm to your health, then it's best to get a furnace filter that comes with a MERV rating of 13. This unit by AIRx is highly effective at trapping some of the major pollutants that are present in the air. The price is pretty reasonable for its quality. So, let's check out whether this unit lives up to the expectations or not.
Experience
This AirX Health pleated air filter is one of the most efficient models that comes in a pack of six for better convenience. The functional properties of this unit ensure that it can dramatically reduce respiratory irritants, bacteria, smog, viruses, and mold throughout the entire house.  
On any given day, this unit can outperform the fiberglass models. It protects the home from mold spores, dust mites, pollen, smog, and pet dander. Plus, it can also trap respiratory irritants like the ultrafine particles, which affect our health.
It protects the air conditioning and heating equipment from getting clogged with dust. This further allows for better airflow along with reduced maintenance and energy costs. Since this filter is equipped with more pleats, it allows for improved particle holding capabilities and airflow. All in all, this is a quality furnace filter that can be washed for better efficiency.  

Pros
MERV rating of 13

Features electrostatic filter for trapping bacteria, smog, and viruses

Maximizes energy efficiency

Fair pricing
Cons
Requires frequent changes
This 14x24x1 pleated air filter is made by a renowned company that focuses on making quality items at reasonable prices. It's suitable for people with allergies, and especially for the ones suffering from asthma. The efficiency of this product is mainly because of the high MERV rating and its sturdy construction.
Sale
Experience
We had used several other filters by Aerostar that has lower MERV ratings; with this unit, we could understand how high efficiency makes a difference. This unit comes in a box of six, which is sufficient enough to last for about two years or more. 
According to the manufacturers, the filter should be changed within thirty to ninety days. Especially during the extreme summer and winter months, we need to change the filter more frequently because it tends to work at the optimum level.
The filter also comes with more pleats that reduce the airflow at a drastic rate. Also, it's equipped with an electrostatic charge that makes the filter efficient enough to capture bacteria, dust, debris, and other pollutants that are as minute as 0.3 microns. 
Lastly, the product helps to reduce the strain from a central cooling and heating system that improves the durability of the system. This helps to ensure that the indoor air quality is under control.

Pros
Large surface area

High-efficiency rate

Easy to install

Value-added product
Cons
Low airflow resistance

cons

cons
If you want to purchase a unit that has incredible construction, then do check out this Electrostatic filter. It's crafted to improve the ventilation in the house. It also helps to remove tobacco smoke, dust, and other pollutants. This filter is manufactured in the US, so you can trust the long-lasting quality and overall longevity.
Experience
We were selective about the build quality, after having tried a host of different models that didn't live up to the expectations. This unit comes with enhanced HVAC effectiveness that ensures proper airflow by reducing the airflow resistance. 
The build quality is excellent; it boasts of premium craftsmanship with four layers of top-grade aluminum and a pair of electrostatic media for better reliability. 
It has a unique combination of woven polypropylene that comes encased in a metal frame. The structure of this filter is such that it efficiently removes substances that contaminate the air and causes allergies.
The installation was relatively simple, and each electrostatic air purifier slides in effortlessly into the HVAC system. Thus, we don't have to seek professional help when we want to change the old filters. We have been using this unit in a heavy-duty environment, and other than having to clean the filter monthly, the functions are up to the mark. 

Pros
Uses industrial premium-grade material

Durable construction

Suitable for heavy-duty environments
Cons
Requires monthly cleaning
This filter is best suited for eliminating odor. So if you have been trying to find a way to get rid of tobacco or pet dander, then give this product a whirl! It's known to be one of the best high-grade pleated filters that's suitable for allergies and is mainly popular amongst most homes that have furnaces.
Experience
We ordered this odor eliminator filter because it's capable enough to remove odors from pets, smoke, cooking, and more. It can capture about 90% of the airborne particles that are found in most of our homes. This includes dust, lint, debris, and pollen.
It also comes with a MERV rating of 8, which makes the best choice for residential homes. We wanted to opt for pleated filters because it's best for households with a lot of pets around. The filter is designed to last around three months, but this again differs according to the frequency of usage. It also depends on how fast the filter surface gets dirty.
With about 12 pleats per foot, it has ample surface area for trapping more airborne particles that can withstand exposure to dampness and moisture. Overall, this is a great unit considering its efficiency and affordable price.

Pros
Suitable for homes with pets

12 pleats per foot

Efficient in trapping different allergy triggers
Cons
Users have complained about not finding the right size
The Filtrete Clean Living furnace filter is a pretty impressive product that improves the efficiency of the HVAC system. It prevents any unwanted particles from entering into your living space and keeps the machine clean. The main advantage of purchasing this unit is its affordability that comes without compromising the product quality.
Experience
We have been using Filtrete air filters for quite some time now because it's compatible with most heating and cooling systems. This unit comes with electrostatically charged fibers that can capture large airborne allergens like lint, pollen, and household dust. 
The MPR is 316, which is standard, considering that we are not using the filter in a heavy-duty environment. Since the MERV rating is 6, this showcases the efficiency of its filtering power. 
We received this unit in a set of six, and each piece can be used for about three months. So, we don't have to worry about purchasing a new set within the next two years. And the installation was also relatively simple; we didn't take anything more than 10 minutes to set it up.
Overall, it delivers excellent performance and helps in protecting the health of all the members in the house. But we do need to change the filter frequently during the high-allergen seasons and when there is any construction work around the house.

Pros
Easy to install

Made with high-quality materials

Effective in filtering dust, gunk and allergens

Affordable price
Cons
Frames might fall apart if it's not installed correctly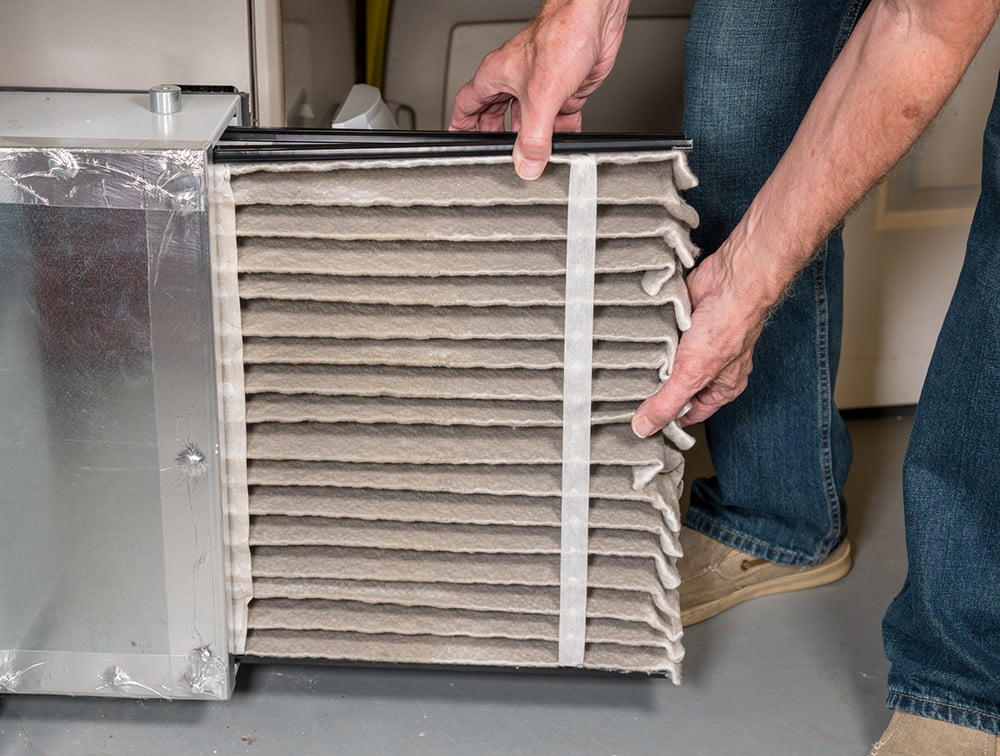 Best Furnace Filters Buyer's Guide
Here's a list of the factors that you need to consider before purchasing a furnace filter:
Filter size
You need to opt for a filter that fits accurately into the system to ensure better efficiency. To find the furnace filter size, you should check out the manual, or it might be highlighted along the edge of your new device.
MERV rating
This is another important factor that you need to consider because the MERV rating determines the system's efficiency in trapping dust and other pollutants. The higher the rating, the better is its ability to remove dirt and contaminants. Try to select a model with the highest MERV, which your HVAC unit can comfortably accommodate.
System specifications
Although the ideal choice for filtering out pollutants is generally the HEPA filter, many of the residential units can't handle it. But, if you don't pick the right filter for your HVAC unit, then it can damage the system and drive down the energy efficiency. So, it's always advisable to check the manufacturer's instructions before placing the order.
Cost
If you buy a high-quality filter, then you'll receive a good return on investment over time. However, the low-cost filters require frequent replacement, which further adds up to make a huge budget.
Final words
We understand that deciding as to which model will be the best for your home must have been a bit challenging. Especially with the range of available options. 
But it's essential to go through the buyer's guide carefully to ensure that you make the right choice. After all, putting in a little effort to pick the best furnace filter goes a long way in reducing your expenses. 
And mainly it helps to protect the air quality in the house. So, what are you waiting for? Go ahead and place the order.
Till next time!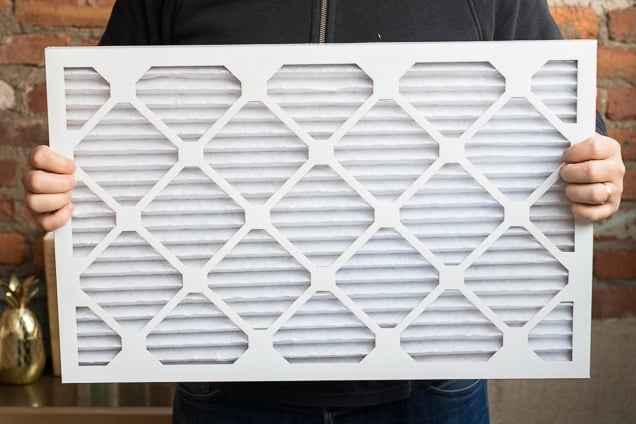 Related Articles
6 Best Wood Stove Fans in 2022 | Buyer's Guide
11 Best Rocket Stoves for Camping and Survival Enthusiasts
27 Insanely Cool DIY Rocket Stove Plans for Cooking With Wood
10 Best Heat Powered Wood Stove Fans  
11 Gas Stove Safety Tips Everyone Should Know
10 Best Small Pellet Stoves | RV & Tiny House Compatible
13 Best Home Fire Extinguishers Today | Buyer's Guide
The 10 Most Efficient Wood Stoves For Home Heating