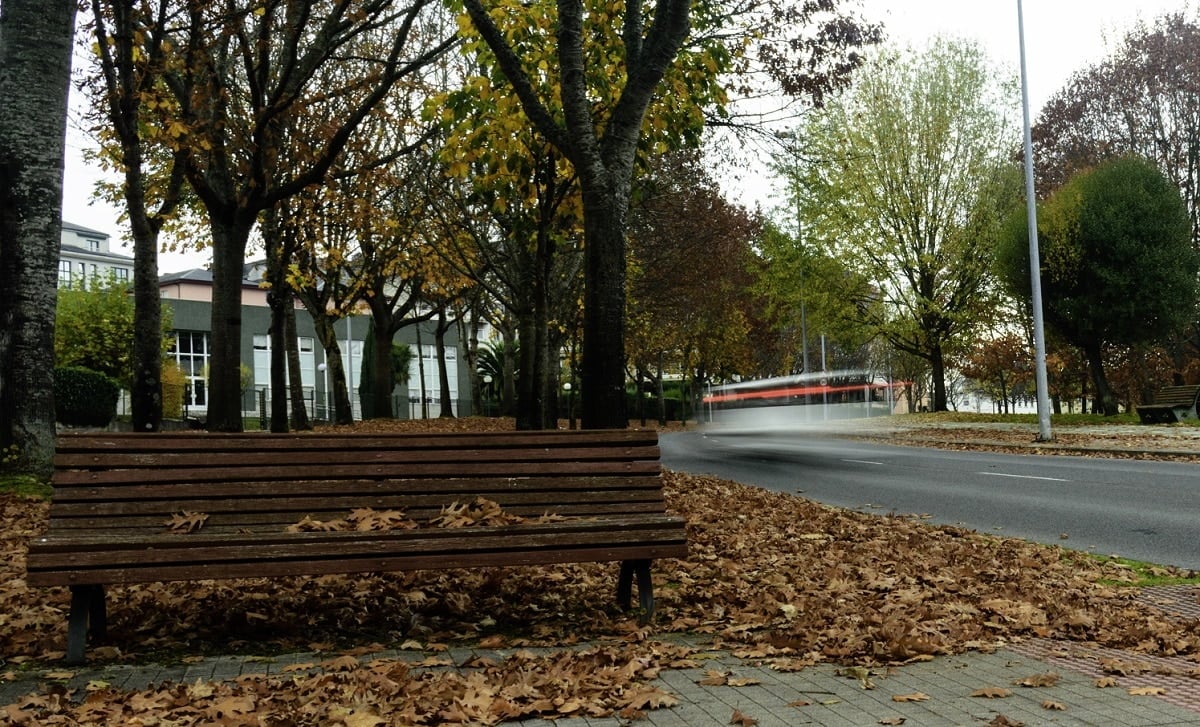 Gardening is all fun and games until you wake up to a humongous pile of shredded leaves in your backyard.
Moreover, the leaves begin to shed a lot more frequently during the fall season, which makes yard-cleaning an everyday task. Nonetheless, leaf mulchers and shredders always come in handy at ridding us from this stress without forcing us to put in extra hours.
But, there are so many variants out there in the market that it becomes tough for a first-time buyer to know which product is the best. And that's why we have handpicked 13 of the best leaf mulchers and shredders so that you can choose which one serves your needs correctly.
So, let's dive deep into the list!
Best Leaf Mulchers & Shredder 
IMAGE
PRODUCT
DETAILS

Our Top Pick

Our Top Pick

Super Handy Electric Wood Chipper Shredder Mulcher

Reversible and double-sided blades
Polypropylene exterior for longevity

VIEW LATEST PRICE →

Earthquake 9060300 Chipper Shredder

20:1 mulch ratio
Can chip tree branches up to 3" diameter
One year extended warranty

VIEW LATEST PRICE →

WORX Trivac 3-in-1 Electric Blower/Mulcher/Vacuum

Shoulder-strap for higher portability
Suitable for users of all heights

VIEW LATEST PRICE →

Earthwise GS7001515 15-Amp Electric Garden Chipper/Shredder

1.2-bushel collection bin
Powerful 15-amp motor

VIEW LATEST PRICE →

Patriot Products CSV-3100B 10 HP B&G Wood Chipper/Leaf Shredder

Side discharge tube for higher user convenience
Powerful B&G for quick and smooth shredding

VIEW LATEST PRICE →

Sun Joe SDJ616 Electric Leaf Shredder

A dust-minimization motor cooling system
16:1 mulch ratio

VIEW LATEST PRICE →

Worx Trivac Blower and Mulcher

Multifunctional blower/mulcher tool
26-gallon collection bin

VIEW LATEST PRICE →

Toro 51621 UltraPlus Leaf Blower Vacuum Mulcher

Multiple speed modes
410 CFM for excellent vacuuming

VIEW LATEST PRICE →

Flowtron LE-900 Electric Leaf Shredder

Shreds directly into the bin
11:1 mulch ratio

VIEW LATEST PRICE →

Black and Decker BV6000 High-Performance Blower/Vac/Mulcher

50% quieter than other leaf vacuums
16:1 leaf to mulch ratio

VIEW LATEST PRICE →

Eco-Shredder ES1600 Leaf Mulcher

Rounded discharge chute for easy disposal
Very environment-friendly

VIEW LATEST PRICE →

Tazz 18493 K32 Leaf Mulcher

Multiple mulch and chip modes
5-year warranty period

VIEW LATEST PRICE →

WORX 13 Amp Electric Leaf Mulcher

11:1 leaf to mulch ratio
Can mulch 53 gallons of leaves in a minute

VIEW LATEST PRICE →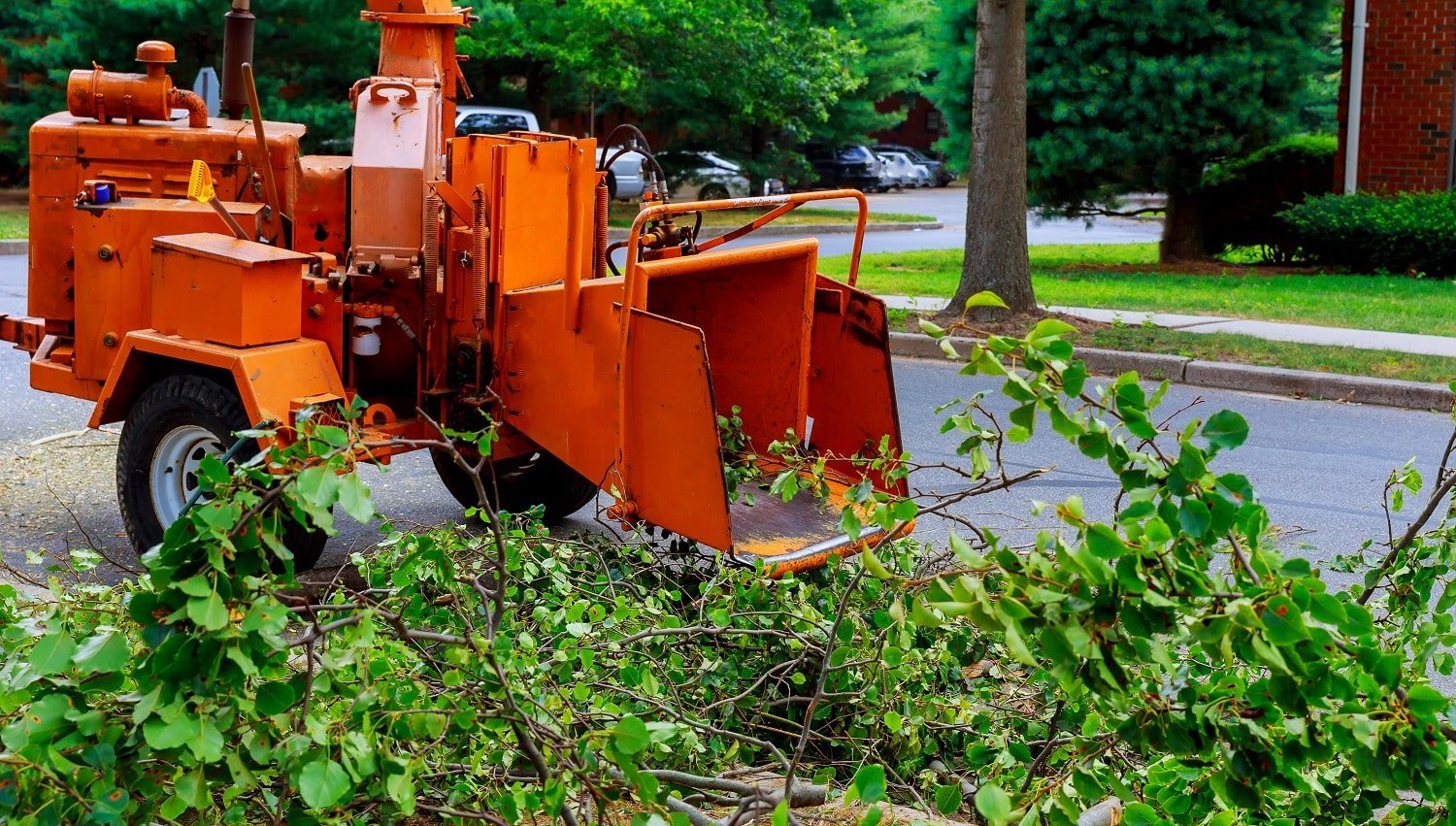 As the name implies, we've found this unique product to come super-handy while handling medium-duty mulching and chipping jobs. We're quite impressed by its 15-amp motor that has the potential to go head-to-head against notable brands such as Sun Joe co. If you're searching for superior performance without surpassing your budget, give this unit a try.
Why Did We Like It?
This product leaves a lower carbon footprint as it's powered by electricity, which makes it a lot more environment-friendly. Also, it's quite powerful for a medium-duty product, and its efficient 15-amp motor is one of the quietest and smoothest engines we've tested so far. Furthermore, we've found that its motor is belt-driven, and can also chip wood along with mulching leaves.
Well, thumbs up for higher versatility! You don't have to separate the leaves from small branches while sending them for shredding, as it takes care of it all. Although it isn't as good at chipping as the WORX Trivac, it can still chip branches with a staggering 1.5" diameter. At such a meager price, this is an excellent value-for-money experience.
As a bonus, it offers a 17:1 mulch ratio, which gives it a slight advantage against the WORX models. Also, the blades embedded in it are reversible and double-sided. It means you can always flip the belt once one of the sides is worn out, instead of fitting new ones.
Lastly, we're in love with its long-lasting polypropylene exterior, which makes this product 100% rust/weather-proof. With so many durability features, the Super Handy electric shredder is guaranteed to last for a lifetime.
What Could've Been Better?
While testing its chipping limits, we've discovered that this product isn't as efficient when it comes to chip wet twigs and branches. Also, we couldn't find any warranty period info on the case it arrived in, so we're not sure if the unit comes with any warranty at all.
Pros
15-amp electric motor

Durable and sturdy frame

Meager price tag

17:1 mulch ratio
If you're a professional searching for heavy-duty products, the Earthquake 9060300 Chipper Shredder is worth your consideration. It comes with a beast of an engine that can mulch an entire tree branch worth of leaves in no time, making heavy-duty jobs look like a walk in the park. Let's find out what more this unit has to offer!
No products found.
Why Did We Like It?
It's fair to say that the Earthquake chipper shredder lives up to its name because the performance it offers is "ground-breaking" (pun intended). This product is built in collaboration with Briggs and Stratton, which is the reason behind it's super powerful motor. It's quite impressive how this product boasts of a staggering 20:1 mulch ratio, outshining most of the competing products when it comes to efficiency.
Professionals can rely on this mulcher without a doubt, as its power is second to none. And along with such monstrous power, this product also features a sturdy and industrial-standard frame. Portability wouldn't be an issue with the Earthquake Chipper Shredder either, as the model comes with a set of wheels for easy transportation.
Coming to its USP, the manufacturers claim it to offer a 20:1 mulching ratio, which makes it highly appropriate to take on extreme professional jobs. The unit gets a thumbs up for versatility, as it can also shred tree branches along with leaves. And while finishing the job, its two-bushel bag helps in minimizing dust by a fair deal.
What Could've Been Better?
Unfortunately, this product is a little too expensive. Although we'd say that it's reasonably priced from an industrial perspective, it may be a tad bit pricey for customers that need a mulcher for personal use.
Also, so much power is undoubtedly an overkill for small-duty gardening tasks. We further hope that the manufacturers would work on reducing its body weight and noise levels a little.
Pros
Suitable for heavy-duty jobs

Briggs and Stratton engine

Industrial-standard design

Wheels for portability
If you're still not convinced by the Trivac Blower/Mulcher, here's an even more compact and portable alternative- the WORX Trivac 3-in-1. Although there isn't much difference between these two products, the 3-in-1 unit raises the bar even higher for portability with its carry-on bag feature. On that note, let's check out why we liked it!
Sale
Why Did We Like It?
The WORX Trivac series boasts multiple best-selling products, one of which is the popular Trivac 3-in-1 Electric Blower/Mulcher/Vacuum. If you're searching for an inexpensive machine for everyday use, we cannot have a more appropriate recommendation than this unit. As for us, we became an instant fan of its ultra-ergonomic design, which also features a shoulder strap feature for increased mobility.
You can wear it as a bag and walk around while cleaning your garden or yard with only one hand. It's incredibly lightweight, so we didn't face any shoulder fatigue while carrying it around for a lengthy cleaning session. It offers an average mulch ratio, which suffices for small cleaning tasks.
Furthermore, its tube is specially designed at a curved angle, which helps it penetrate hard-to-reach bushes and drains to ease up your vacuuming jobs. The product also features soft-grip handles, which makes it comfortable for users of all reach length to use it. Overall, it may not qualify as an industrial-use product, but it rules when it comes to personal jobs.
What Could've Been Better?
The Trivac 3-in-1 turned out to be surprisingly loud, which is a significant disadvantage for a tool that you have to wear while working. Unlike the former Trivac mulcher, this unit doesn't mulch the leaves straight into the garbage bin.
Pros
Very lightweight and portable

Ergonomic design

Decent mulch ratio

Reasonable price tag
Although Earthwise isn't one of those names that we come across too often, its out-of-the-box innovations can surely give major brands a stiff competition. Likewise, its GS7001515 unit comes with an advanced 15-amp motor that makes leaf mulching look like a cakewalk. However, this unit has a lot more to offer than that, so let's check it out!
Sale
Why Did We Like It?
We were looking for a powerful-yet-affordable leaf mulcher when we came across the Earthwise GS7001515 unit. Surprisingly, this product seems to offer a lot more than what we pay for it. It beats most of the WORX leaf mulchers in terms of power and efficiency, and the credit goes to its long-lasting 15-amp electric motor. It offers a satisfying all-in-one mulching/vacuuming experience with its mobile dust collection bin.
Similar to the WORK Trivac, this product is capable of transporting the shredded leaves directly into its collection bin. Apart from leaves, you can also use this product to clean almost any kind of waste. However, the icing on the cake here is its 1.2-bushel bin, offering you enough space to mulch heaps of garbage at once, without consuming a lot of time.
This machine further makes an appropriate companion for composting jobs, because it can chip small tree branches and twigs too. We're also a fan of its advanced safety features, including a leaf chute and tamper tool.
If you're new to mulching and shredding, you can prevent accidental hazards by using its overload protection feature. Not to forget, its sturdy rear wheels make it reasonably convenient to move around.
What Could've Been Better?
Although it can mulch small twigs, it would've been better if the product was capable of chipping large branches like the WORX models. Also, we personally find it a tad heavy for a medium-duty leaf mulcher. The manufacturers should further consider issuing a warranty period for this product too.
Pros
Multi-functional leaf mulcher

Spacious disposal slot

Value-for-money product

Easy to use and store
Patriot Products is one of the most reliable brands in the market when it comes to high-performance tools at a meager price tag. Its CSV-3100B leaf shredder stands out from its competition with a powerful 10 HP motor. If you're looking for professional-grade tools under a budget, this may be your cup of tea!
Why Did We Like It?
Not your average tree mulcher, the CSV-3100B redefines top-notch performance with its powerful and long-lasting motor. It's heavily recommended by the Handyman Club of America, which caught our attention in the first place. And after testing this product for a while, we've felt that it can give a stiff competition to the Earthquake Chipper Shredder. 
Similar to our former recommendation, this unit can also mulch any tree branch with a 3" diameter, which makes it an efficient professional tool to consider. Another similarity that we've found is its 10 hp motor, which is also powered by Briggs and Stratton. It enables the product to mulch, and shred leaves with utmost precision under a short time. 
However, unlike the Earthquake Chipper Shredder, this unit features a swinging Y-hammer system to provide a more efficient shredding experience. 
This unique design enables us to shred the leaves as per our mulch needs, giving us another reason to love how it works. Furthermore, this one gets the upper hand in competition because it can be availed at a comparatively lower price. 
This product also comes equipped with a side discharge tube, which raises the bar too high for user convenience. To make it simple, the tube eliminates the need to move the chipper around everywhere while working all day.
What Could've Been Better?
The Earthquake Chipper Shredder beats this product on the ground of portability. It isn't very easy to move around, because it doesn't come with pre-attached wheels or similar mobility features. Also, it's best to wear noise-cancellation headphones while operating this machine because it's pretty loud.
Pros
Recommended by professionals

Heavy-duty mulching machine

Value-for-money experience

Unique Y-hammer design
Sun Joe is one of the most popular power tools brands that every American household can blindly trust. Its SDJ616 unit has caught our attention with its iconic 13 amp electric motor, which combines eco-friendliness and high-end efficiency to provide a satisfying user experience. Let's check out what more this product brings to the table!
Sale
Why Did We Like It?
To be honest, the SDJ616 serves as a suitable alternative to those who aren't impressed by the WORX 13 amp leaf mulcher. Similar to the WORX unit, this product comes equipped with a powerful 13 amp motor that helps in finishing small-duty household jobs with utmost precision. However, the cream of the crop here is that this machine offers a 16:1 mulch ratio, which beats its competition by a fair range.
This product is capable of shredding around 55 gallons of leaves within a minute, giving it another win against the WORX unit. We also didn't find it hard to operate it- all thanks to its beginner-friendly user interface. To make it even better, the shredder features an easy-to-read control dial, which we found highly convenient for amateur gardeners.
It's also compact, so storage shouldn't be an issue unless you have an entirely stacked garage.
Noteworthy to mention, this product has amazed us with its trailblazing dust-minimization motor cooling system. Not only does it relieve us from the post-use cleaning hassle, but it also extends the motor's longevity by a great deal. Last but not least, this product comes with an extended two-year warranty period.
What Could've Been Better?
This product doesn't come equipped with disposal bags, which gives a slight disadvantage against its competition. Also, we've found multiple users complaining about how complicated it is to assemble. However, it shouldn't be an issue if you follow through the instruction manual, line by line.
Pros
Can mulch 55 gallons of leaves in a minute

Two-year warranty period

Long-lasting and durable motor

Compact and ergonomic design
Cons
Need to purchase bags separately
Globally established brand WORX Tools co. has bagged another position on our list with the latest addition to its Trivac product range. It's popular among DIY gardeners as an efficient leaf blower-cum-mulcher tool under a reasonable budget. If you're trying to hit two birds with one stone, you should aim for this product. Let's dive deep into its core features!
Sale
Why Did We Like It?
The Trivac range has undoubtedly redefined user convenience with such a vast palette of features that it offers without costing a fortune. It's pretty impressive how this product can mulch the huge piles of leaves straight into your trash can while giving you the 100% user control. Honestly, it feels like a mini-me version of the popular WORX 13 amp leaf shredder- only a lot lighter and quicker.
It comes equipped with an adapter bag and an extended vacuum tube, which can be directly attached to the opening of your garbage bin. While being used, the machine automatically transports the mulched leaves into the garbage container through the tube. Not only does it save you plenty of time by disposing of the shredded garbage automatically, but it also leaves very little post-work cleaning work to do.
Furthermore, you get a brand-new 26-gallon garbage bin with this machine, which saves you from buying a new bin if you don't have one already. Also, its electric motor is specially engineered to produce very low noise levels, which was a much-needed upgrade since the loud WORX 13 amp unit.
What Could've Been Better?
We're a little disappointed that the product doesn't come with any warranty. Also, as we've said, it's a compact mini-me version that may not deliver as much power as our other recommended leaf shredders. And on the flip side, it appears a little pricey for the product category it falls in.
Pros
Extremely compact and lightweight

Transports mulched garbage into the bin

Quiet and smooth motor

Easy to use and carry
We've recently tested the 51621 UltraPlus, one of the best-selling leaf mulchers manufactured by international power tools brand, Toro co. All we have to say here is that if you're not looking for a leaf mulcher that'll cost a fortune, this product can be a smart short-term investment you can consider.
Why Did We Like It?
Some of us usually look for low-priced products that come handy during seasonal yard cleaning, and the Toro leaf blower is a perfect option for those people. It's probably the most inexpensive unit on our list, so you can always go for it if you're running short on cash. Also, we found it pretty appropriate for beginners to use- that's how easy it is to operate.
The manufacturers haven't compromised with the product efficiency for cost-cutting either, which is proven by its multifunctional usability. Although it's a decent mulcher, it's also pretty good at leaf-blowing and vacuuming yard waste.
In fact, the manufacturers claim that this product can offer a 97% size reduction from leaf to mulch, which is pretty amazing. It also uses a dual metal propeller, which gives you finely shredded leaves every time. Also, this unit offers a maximum capacity of 410 CFM, when it comes to vacuuming.
However, what we've liked the most here are its multiple speed modes. In other words, this product offers a high-speed mode for large-scale cleaning and low-speed mode for small tasks, giving total control to the users. You can use it anyhow and anywhere you want because it's also very lightweight and easy to carry around.
What Could've Been Better?
As we've mentioned before, there's no guarantee whether this product will last you for a long time. Considering that it's manufactured in China and is available at a surprisingly low price, it may not even last for a few months. Neither could we find a lot of customer reviews for this product, which makes us seriously question its reliability. 
Pros
Meager price

Lightweight frame

Can blow leaves at 250 mph

Suitable for beginners
Commonly known as "the ultimate mulcher" among professionals, the Flowtron LE-900 surely has a few heads turning with its top-notch power and performance. This product offers a huge variety of useful features in a lightweight and portable frame, which makes it an ideal household tool. Let's find out more about this product!
Sale
Why Did We Like It?
This product doesn't miss out on a single useful feature that a leaf mulcher must have. If you're stressed out by cleaning out your garden and porch daily, this is a quick purchase that you can consider to make your daily life a little more comfortable. Also, we've found several similarities amongst this unit and the WORK Travic product, the biggest of which is the direct garbage disposal feature. 
Yes, the Flowtron allows you to dump the shredded leaves straight into a garbage bin too. In case you don't have a bin, you can hang the mulcher on the included stand right above your compost pile for better results. However, it gets an advantage here, as it weighs around 17 lbs. Being a lightweight product, it's a lot easier to carry around without stressing your arms. 
Also, we're a fan of its detachable air filter, which extends the longevity of its motor by minimizing dust and dirt. It mulches leaves swiftly and precisely like a ninja- all thanks to its authentic double cutting line design. Noteworthy to mention, we were able to reduce 11 bags of leaves into a single bag of mulch, which shows that this unit offers a decent leaf to mulch ratio.
What Could've Been Better?
There's honestly not much to complain about this product, except for how often the wire cutters need to be replaced. Also, we wish that it could be a little more compact because it can be a bit troublesome storing this equipment. And we've found most of the buyers complaining that the switches on some models tend to malfunction, which can be a manufacturing defect.
Pros
Lightweight and portable

Decent mulch ratio

Reasonable price tag

Ergonomic design
Any conversation about high-performance power tools is always incomplete without a Black and Decker product. We were fortunate enough to have a hands-on experience of the much-talked-about BV6000 multifunctional mulcher/vac/blower; we can't wait to share our experience!
Sale
Why Did We Like It?
B&D is one of those brands that don't need any introduction when it comes to premium household tools. And its all-new 3-in-1 electric mulcher easily stands out as one of the best leaf mulchers, regardless of pricing categories. Despite being ridiculously inexpensive, it surpasses most of our recommended products in terms of the leaf to mulch ratio. Yes, its 16:1 mulch ratio is surprisingly too good for a product at this price bracket.
Speaking of performance, the BV6000 features a 12 amp motor, which can be used both for blowing or vacuuming. Furthermore, it also works as a decent mulcher that can shred around 16 bags of leaves into one, giving a very close competition to the Super handy electric mulcher. 
However, we'd say that it features the most efficient vacuum on our list, as it's proven to operate 50% quieter than most of the leaf vacuums available in the market.
Operating this device is easy as cake because it comes with fewer buttons. It features a large center button, which turns on the vacuum in a single click. We're also pretty impressed by its ergonomic design and portable frame and would recommend it to any household owner looking for a quick fix to their yard-cleaning nightmares.
What Could've Been Better?
We're a little upset that this product isn't available as cordless, as the long wires can get in your way while working and cause an accidental hazard. And although it's pretty good for small-duty jobs, it isn't as powerful as the stationary products on our list. 
Last but not least, we've noticed that the machine tends to get heavier while vacuuming leaves, which is a little inconvenient. 
Pros
Speeds up to 250 mph

Low price tag

Ergonomic body

12 amp motor
The penultimate product on our list is one of the most environment-friendly tools you'll come across in the market. The E3S1600 unit is best-known for its electric-powered 14 amp motor, which makes leaf mulching a rather enjoyable task. Let's check out its other features!
Why Did We Like It?
In case you're looking for an overall eco-friendly product to handle your cleaning jobs, the ES1600 features a fully-electric motor that does not pollute the surrounding air by emitting harmful gases. Also, we've noticed it produces very low noise while working, which gives it a slight advantage compared to the other products on our list. 
Its 14-amp 2.5 hp motor comes handy while chipping small twigs or mulching leaves and acorns. The machine features a razor-sharp metallic blade, which helps in getting the job done with precision. Also, the manufacturers offer a set of replacement blades to increase user convenience beforehand, in case the factory blades wear out after some point.
Also, compared to its biggest competitor, the Earthwise GS7001515 unit, this one appears a bit more lightweight and easier to operate. The product comes equipped with a set of 7" wheels for higher portability, which makes moving it around a lot more comfortable. Overall, the ES1600 makes a decent machine that you can consider buying for DIY composting.
What Could've Been Better?
We've found it a little complex to assemble and disassemble this leaf mulcher, which may raise some storage problems if you don't have enough space in your garage. Also, while testing, this product just couldn't offer a satisfying user experience while mulching wet leaves, so there's that.
Pros
Fairly meager price

Lightweight frame

Decent mulch ratio

Suitable for beginners
Cons
Not good at mulching wet leaves
The final recommendation on our list is none other than the popular 18493 K32 Leaf Mulcher, one of the best-selling Tazz Tools products so far. We're in love with its multifunctional wood chipper/mulcher capabilities. However, this product has a lot more to offer.
Why Did We Like It?
This product features a 212cc engine that gives a stiff competition to the WORX 13-amp leaf mulcher in terms of the leaf to mulch ratio. Besides, it can also chip twigs and branches up to a maximum 3" diameter. In other words, it converts hours of labor into a few minutes of easy work with its trailblazing features, making it quite efficient as heavy-duty equipment.
The USP of the K32 unit is its multiple mode feature, which enables you to mulch and chip the leaves and twigs in different motor settings. Mulch disposal shouldn't be an issue with the K32 either, as its reusable collection bags are pretty easy to fit. These bags come with a zipper at the bottom, so that it's easier to empty it directly on a compost bin. 
Furthermore, this unit also features an industrial-grade design and easy-to-operate system, which makes it an ideal machine for semi-professionals opting for medium-duty mulching jobs. Its 11" wheels make it a lot easier to transport this machine around your garden or porch. Last but not least, the manufacturers offer an extended 5-year warranty coverage with this product. 
What Could've Been Better?
To begin with, this product is almost as expensive as the Earthquake Chipper Shredder; however, it isn't nearly as half as powerful. It is also nearly impossible to disassemble this product, which may raise storage issues for many. Finally, it's relatively louder than the other electric mulchers on our list, as it runs on gas.
Pros
Can function as a wood chipper

Powerful motor

Detachable collection bag

Long-lasting and durable
As we move on with our list, let's have a quick peek at one of the most easy-to-use leaf shredders that we've tested recently. The 13 Amp electric leaf mulcher by Worx has been making waves in the market with its impressive 11:1 leaf to mulch ratio. Besides, it also makes an ideal companion for those who haven't used this sort of equipment before.
Why Did We Like It?
First and foremost, big ups to Worx for packing such a vast array of features within this unit, making it one of the most powerful equipment in the gardening tools market. Apart from that, this product also features quite a compact and lightweight frame, which makes it easier to carry around and store. In case you're having storage space issues in your garage, you can opt for this product with your eyes closed.
Moving forward, we have to mention how strong its 13 amp motor is; it can mulch around 53 gallons of leaves within a minute. No matter how large the heap of leaves is, this product is guaranteed to clean every last bit within a few minutes. Now that's fast!
The Worx leaf shredder also comes with a leaf disposal bag for higher efficiency and is capable of reaching up to an 11:1 mulching ratio, which is quite impressive.
This product is also quite user-friendly and features a singular button that shuts it down and turns it on with only one press. Also unlike the typical leaf mulchers, instead of using metal blades, this product is equipped with a heavy-duty grass trimmer line. Not only does it save this model from rust or dullness, but it also makes it a lot safer for the user.
What Could've Been Better?
Unfortunately, we're a little annoyed by how the model produces unbearably loud noises while being used. And that's why it's best to use protection for your ears while operating this machine. Also, we're not a fan of how this product relies on extension cords. But then again, electric machines are not all rainbows and butterflies.
Pros
A compact and lightweight frame

13 amp electric motor

Enhanced safety features

Easy shutdown button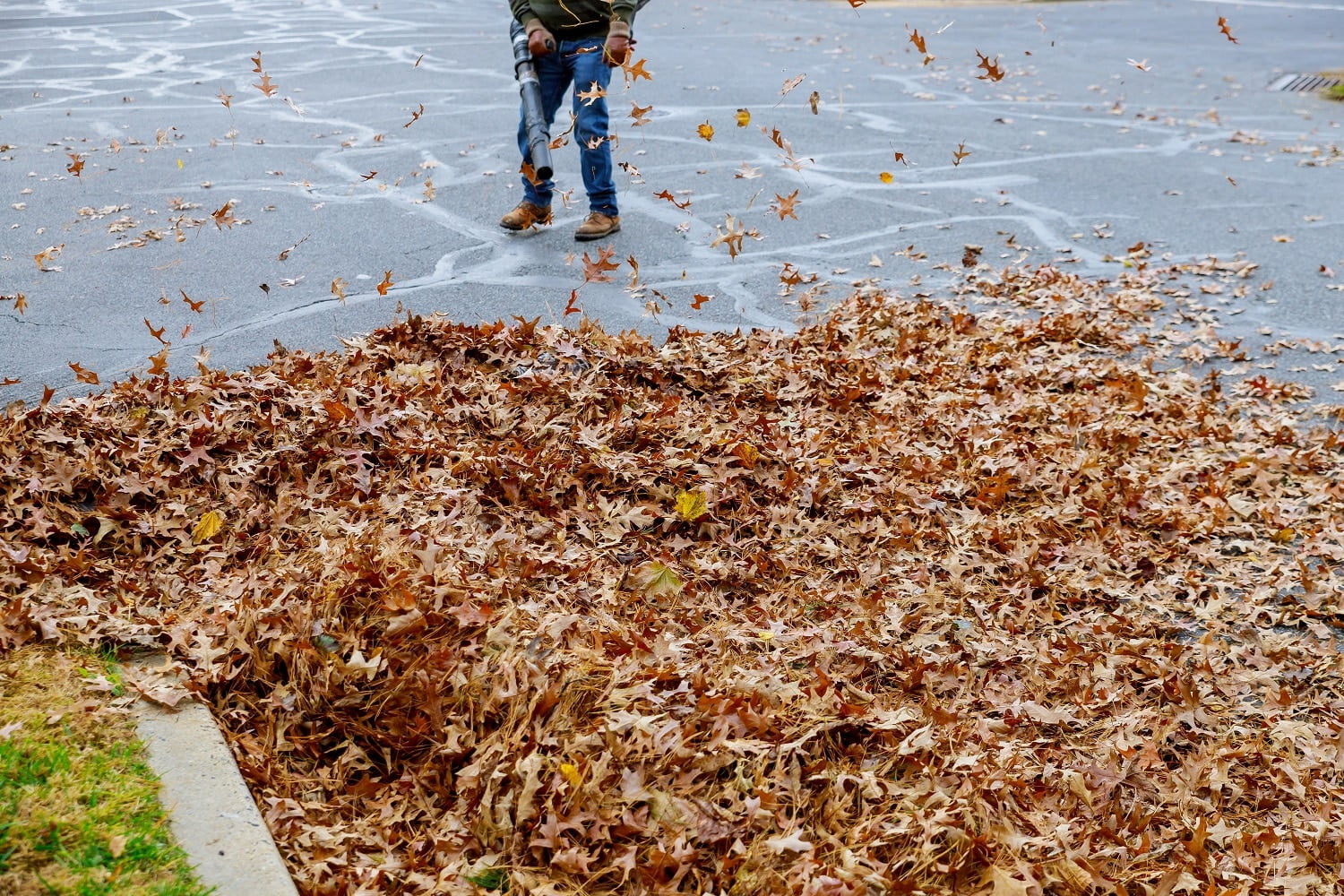 Leaf Mulcher and Shredder Buyer's Guide 
Leaf mulchers and shredders aren't something we buy every day. And most of us are unaware of the main features to evaluate before purchasing these products. On that note, we've enlisted some of the critical factors that you must cross-check before buying a leaf mulcher.
Motor Efficiency
The central aspect of any machine is its motor efficiency, without a doubt. Similarly, you must ensure whether the motor is powerful enough to serve your needs. If you're searching for a mulcher to finish personal jobs, a standard 12-amp engine may suffice.
Safety Features
These machines work with sharp blades, and some of these products are powered by electricity. With that being said, always check whether the product comes with sufficient safety features before buying. For instance, even an automatic shutdown feature can enhance product safety by several notches. 
Storage
Mind you, some of these products are large and stationary. It may be troublesome to store these products if you don't have sufficient space in your garage/workspace. And in case you don't, it's wise to opt for a non-stationary/wearable leaf mulcher.
Leaf To Mulch Ratio
The higher the leaf to mulch ratio, the lesser time it would take to finish heavy-duty jobs. If any product offers a mulch ratio of less than 10:1, it shouldn't be worth your investment or consideration.
Environment-Friendliness
Usually, gas/oil-powered leaf mulchers tend to have a higher environmental impact due to its powerful engines. Such high emissions aren't suitable for the air we breathe in, and that's why you should mainly opt for electric mulchers.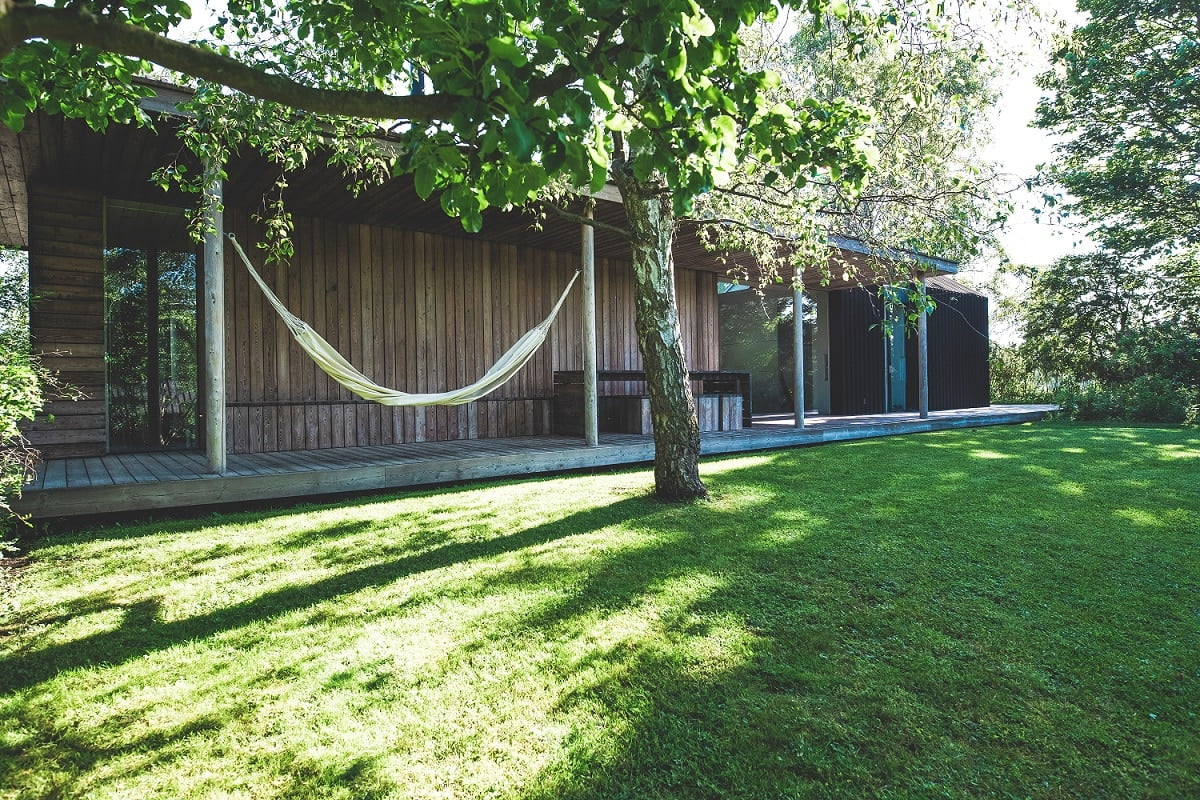 Verdict
Not only do leaf mulchers and shredders help you collect fallen leaves, but they also make disposing of the garbage easier by shredding it down into bits. So, if you have trees in your porch or backyard, a leaf mulcher/shredder makes for must-have equipment you should always keep within an arm's reach.
On that note, we hope that you've enjoyed going through our 13 best leaf mulchers and shredders list.
But before we sign off, let's go for a quick recep. If you're looking for high-end performance, then the Super Handy leaf mulcher should be your pick. If you're searching for portability, then the WORX Trivac 3-in-1 is the smartest option there is. And if you're looking for a product that does it all, then go for the Earthwise GS7001515 unit!
We'll return soon with more useful product reviews, so stay connected!
Related Articles
8 Best Blowers For Drying Cars This Year
10 Most Powerful Leaf Blowers to Consider 
13 Best Leaf Blowers of 2022 | Buyer's Guide and Reviews