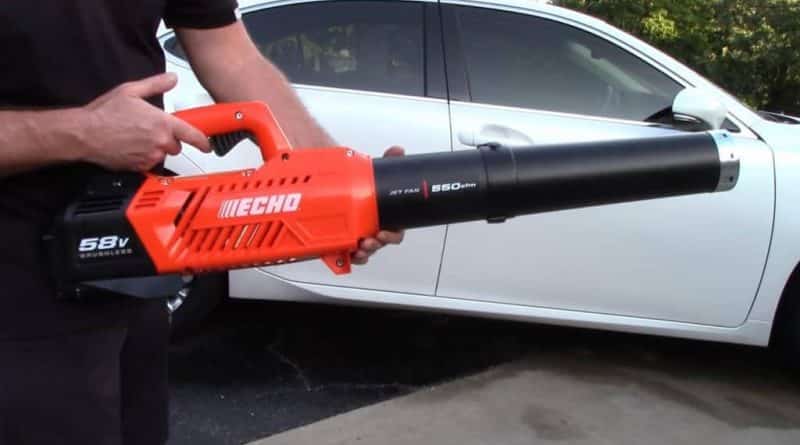 Perhaps the one thing more harrowing than washing a car is drying it properly.
And as all car owners know, drying your car with a towel or any kind of cloth can lead to scratches. So, to avoid direct contact with the car surface, you should use a blower to dry the water beads off your car.
But there is a mind-boggling variety of blowers available in the market. And not every blower is made the same, and the one you buy may not be suitable for your needs. So which is the one that you should go with?
To help get over this problem, we have brought forward a list of the eight best blowers that can be used to dry a car. We've covered multiple technologies and purposes, so you can be sure to find something of use here. 
Further, to make your job of choosing the right blower even more comfortable, we've gone ahead and added a drying car blower buyer's guide to help with your purchase.
Let's not wait further and get going with the best car dryer blower reviews!
Best Blowers For Drying Cars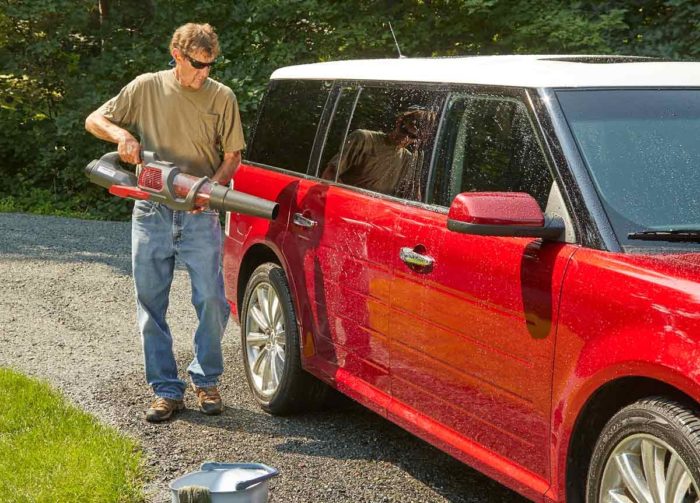 Greenworks is an established brand in the blower industry, and the 24252 model is just perfect for blow-drying cars. Although primarily designed to blow leaves from yards, this device also works equally well as a car dryer. The following is a detailed analysis of why you should consider this.
Why Did We Like It?
With over a dozen years of experience backing its products, Greenworks is one of the best brands in the outdoor tools industry. And the 24252 model is a testament to its expertise. Affordable, lightweight, and cordless, this device can be the perfect aid to dry off those errant water beads from your car surface.
This blower comes equipped with a GMAX 40-volt 2.0 Ah battery that provides higher power output. And due to the large capacity, it also holds a charge for a longer time and allows hindrance free operation over more extended periods. 
The variable-speed motor provides a maximum speed of around 150 mph, which means you can control the intensity of the wind speed that is being used. There are six different speeds to choose from, so no matter the blowing force required, you can always be sure to get what is needed.
And for those hard to reach corners, use the extension tube, which maximizes the blower efficiency. Finally, the lightweight and portable design make this model very easy to carry, and hence perfect for outdoor use.
What Could've Been Better?
The one thing we found a bit troubling about this device is the rather long charging time. For achieving operation times of about 35 minutes, the battery needs to be charged for a full hour; this is a long time for most people. Also, the price is a bit on the higher side.
Pros
Portable and lightweight design.

Extended running time.

Variable motor speeds.

Large sweep area.
Cons
Long charging times.

Slightly hefty price tag.
If you are looking for a device that's well-built, powerful, and serves the purpose perfectly, then the Toro 51585 is just for you. Perfect for drying cars, this blower can also allow you to clear away leaves and lightweight debris from your backyard. What's more, it also comes with a reasonable price tag. But why did it catch our attention? Read on to find out.
No products found.
Why Did We Like It?
Car drying is simple with the Toro 51585. At only 4.6 pounds, this is one device that's lightweight and simple to use. With a dual-speed air control, the 51585 gives you greater versatility and more power for drying moisture from your car surface.
The decent air volume enables quick and easy drying of any vehicle, and the hard, plastic nozzle allows the air to be concentrated for more focused air volumes. And due to its convenient handheld design, it can be easily used to direct the airflow as per your requirements. 
What Could've Been Better?
This was one of the devices that checked all the right boxes, except one: it doesn't come with a power cord. This means that customers are going to have to shell out the extra cash for purchasing one. However, since the product itself is pretty reasonably priced, this might not be a deterrent for most buyers.
Pros
Low Price Tag.

Complete air control.

Portable design.

Efficient nozzle for directing airflow.
Cons
Power cord must be purchased separately.
Sleek and powerful at first glance, you might mistake this great product from WORX as a tool from the future. WORX is a well-established brand when it comes to car accessories, and the WG520 is one of their best products. But what makes it so unique? Let's explore.
Sale
Why Did We Like It?
The highlight of this product has to be its motor, which is comparable to that of a jet engine. Just imagine, the power of a fighter plane in the palm of your hand! Combined with a wide-mouth nozzle, this device is powerful enough to drive 600 cubic feet of air per minute for blow-drying your vehicle. The nozzle also makes it easy to direct the air as and where required.
With such a powerhouse motor, you would expect the device to be a noisy one; but WORX engineers surprise you there as well. The low sound means your neighbors can't complain about your blow-drying escapades.
When it comes to portability, the device scores full marks in that quarter. At a mere 6.4 pounds, it's one of the lighter tools available and allows for single-handed operation. Also, the product has been designed keeping ergonomic considerations in mind. This means the wind is funneled in a convenient way that's easy to control. And adding to the ease of use, the device comes with an extension cord retainer, which means minor snags can't disconnect the power cord.
What Could've Been Better?
When you buy a blower, you expect the device to be always ready and functioning. And while this device delivers on every respect, it falls short when it comes to the charging times. WORX would do well to improve the time in which the battery charges, along with paying attention to the lifespan of the battery itself.
Pros
Air speeds of up to 110 mph.

Versatile nozzle.

Lightweight design.

Variable speed control.
DEWALT's products are known for their versatility, and the DCBL720P1 doesn't disappoint. The first thing that drew our attention to this product was the ergonomic yellow-on-black design that has a distinctly industrial feel. Then, as we delved deeper into the details of this product, we found lots more to delight us.
Why Did We Like It? 
As mentioned before, the first thing that catches your eye about this product is the lightweight and versatile design. Perfect for single-handed use, this product takes the stress out of drying a car and makes the process enjoyable.
This product is equipped with an efficient and durable brushless motor that delivers wind speeds of up to 90mph at 400 cubic feet per minute (CFM). This means dried vehicles in a fraction of the time it would require to wipe off the water manually. As the device does not incorporate any spark plugs and carburetors, it's very low on maintenance and can be used for longer without servicing. It also comes with a variable speed controller and trigger lock that enhance its usability.
The highlight of this device is, however, the axial fan design that contributes towards increasing the air output and maximizes the run time. This not only allows you the freedom to charge it once and use for long but also ensures that your device can be used for multiple purposes apart from drying cars. 
The battery behind this powerhouse of performance is the 20V MAX 5.0 Ah battery that runs on lithium-ion technology. This guarantees that your device delivers the same level of performance each time it's used.
What Could've Been Better?
Considering the feature-set that this product boasts of, it's no wonder that it comes with a hefty price tag. Also, the multiple features make this device a bit heavy, and non-professionals might take some time to get adjusted to the heavy handling.
Pros
Brushless motor for optimal performance.

Variable trigger mechanism.

Lightweight and ergonomic design.

Cordless operation.
This is a gem of a car dryer, and we don't mean this lightly. Lightweight, well-built, and robust in design, this is one device that you can use for car-drying with ease. Much better than taking a towel and rubbing your car's paint to oblivion.
Why Did We Like It?
Most car dryers are suitable for smaller vehicles, but often falter when it comes to drying SUVs or trucks. This is where the McKee's model scores over the others. The Turbo model packs enough power to dry all the nooks and crevices of even larger trucks. This means you don't have to deal with the annoyance of water spots hiding behind emblems and in-between body panels. 
McKee's has also succeeded in eliminating the one problem that most corded car driers suffer from- short power cords. Shorter power cords require the device to be used only near the power source. This naturally restricts their usability.
 That's why this model includes a 35-feet long power cord for extended range. Also, the vinyl-coated nozzle ensures that the air is directed perfectly, and the shoulder strap allows the device to be carried easily to where your vehicle is stationed. 
What Could've Been Better? 
 With so many stunning features, it's expected that such a device will have a hefty price tag. But we expected the product to cut a better deal to its loyalists. Other than that, there's nothing that should stop one from making the purchase.
Pros
Long power cord.

Convenient shoulder strap.

Blows filtered air.

Vinyl-coated nozzle.
If you are looking for a powerhouse performance that's sure to 'blow' others away, then the Air Force Master Blaster revolution is your best bet. Built with the resilience of a tank, the Master Blaster pushes more significant amounts of heat and circulates air faster than any other blower in the market. But that's not all there is to this beast!
Why Did We Like It?
For anyone looking at blowing power, this is the device to consider. The Master Blaster comes with a pair of twin fan motors that peak at four horse-power(HP) each. This means you get a total of 8HP under your belt when using this monster, that allows drying vehicles within minutes. Each fan motor is controlled by separate switches that provide three different airflow and temperature settings. 
The Master Blaster uses warm and dry air that's filtered to remove particulates that can scratch and damage your car surface. Thus, the device not only helps to dry the car but also protects the surface texture and paint. 
One of the most annoying things when drying a car is missing those small spots of water hiding in nooks and crannies. To take care of this problem, the Master Blaster incorporates multiple attachments that can help you reach the tightest corners and weed out the water. And the 30-feet hose certainly helps in this regard.
What Could've Been Better?
The most significant change that we'd like to see is a reduced bulk. Notwithstanding all it's excellent features and useful attachments, the device is a rather heavy one that can't be easily stored or transported. This is somewhat offset by the rather convenient swivel wheels, which give the product much-needed mobility. Also, the power cord is not very long, and you might need to use an extension cord if you're planning to use it far from the power outlet.
Pros
Powerful twin motors.

Long hose with attachments.

Convenient wall mount bracket.

Blows filtered air.
Certainly not as powerful as the Master Blaster, the Blaster Sidekick is better maneuverable due to its compact size and weight. It's easier to take out and handle, and also simpler to transport and store. Designed primarily for smaller tasks, this is a perfect portable drier to carry on those long road-trips.
Sale
Why Did We Like It?
Perfectly lightweight and convenient to handle, the Blaster Sidekick is perfect for motorcycle aficionados and car enthusiasts. Easily portable, even in your car itself , the durable all-steel body makes this one of the sturdiest products available in the market. The 1.3 HP motor is powerful enough to drive forceful air to those tight spaces where towels can never reach.
Along with that, the smart handheld design of the device lends an absolute ergonomic versatility to it. This provides for a unique combination of power and portability that is sure to lessen your strain while drying. 
The device comes with a heavy-duty power cord, air flare, and neoprene nozzle, which focuses the air exactly where you want. And to top it all off, the product incorporates an EZ change foam filter that guarantees clean air and scratchless drying.
What Could've Been Better?
 Despite all the great features of this nifty device, two points of concern stood out for us. The first is the noise. As this product has to move a large volume of air within a relatively small space, the motor gets cranked up. This leads to the production of a higher amount of noise. Along with that, the hot air feature takes some time to get going, which makes the presence of the function only slightly beneficial.
Pros
Long power cord.

Filtered and heated air.

Neoprene nozzle and air flare.

Long power cord.
The final item on our list is a monster of a car drier, and we were amazed by the power it was able to deliver. Enough to dry large vehicles, the Air Cannon is one of the best products in this segment to hit the market.
Sale
Why Did We Like It?
Once you get a load of this beast, you'll love it too! The product is powerful enough to move over 58,000 feet-per-minute of clean, warm, and filtered air over your vehicles, thereby drying them with perfect precision. The advanced control system lets you adjust the amount of air that is moving through the dryer system. This gives you greater control over the air volume that is expelled through the nozzle.
And while we are on the subject of the nozzle, it would be best to mention that the device comes with a range of rubberized attachments. These attachments can be used to achieve a better precision of drying.
Adam's Air Cannon is a veritable tank on wheels, but mobility can never be an issue with this device; the swivel wheels allow it to be easily taken from one point to the other. But even if you don't want to move it, there's actually no need to! The product comes equipped with a 30-foot hose that makes car drying a breeze, and with a power cord 15-foot long, there's no need to be tied down near a power source.
What Could've Been Better?
Need we say it? This is one of the pricier models on our list and is best for use in professional settings. But if needed, it can be used for personal vehicles just as well. Just be prepared to shell out more than for regular blowers.
Pros
Foam air filter.

Expandable hose.

Adjustable speed.

Swivel Wheels.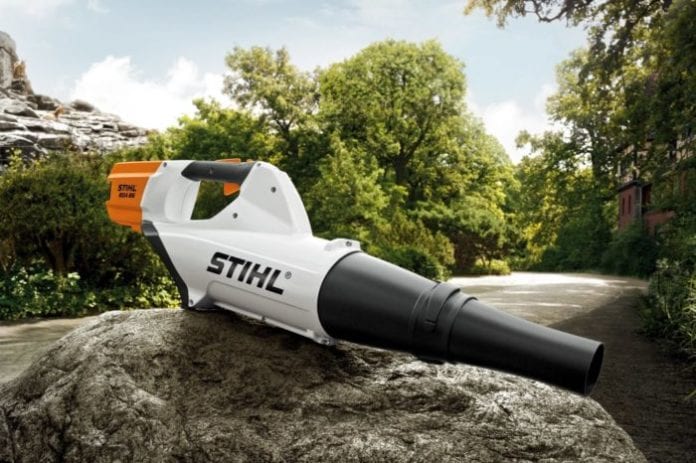 Blowers For Drying Cars Buyers' Guide
Still not sure which way to go, are you? Don't worry; the problem doesn't lie with you. Even after narrowing the choice down to the top eight blow dryers in the market, the decision of which one to buy isn't an easy one. The sheer number of factors to consider can make the task a mammoth one.
Therefore, to help you with the task here's a handy buyers' guide that can aid in making the right decision. Once you've gone through this guide, all your questions regarding car dryers will be taken care of. 
So why wait? Let's dive in.
The Weight & Portability
The weight of the blower is the first factor to consider when choosing the right one. If you are comfortable with lugging around a large device or want more power from your product, then go with Adam's Air Cannon or the Air Force Master Blaster. And if portability is your key deciding point, then the Blaster Sidekick can be the best bet.
The Level Of Noise Produced
 Car blow-dryers are known to produce a lot of noise, and this can often be an irritant. So before you take the leap and settle on one, be sure to research well on the noise levels of your choices. Usually, gas blowers are noisier than electric variants, so if noise is a concern, test and choose wisely.
Length Of The Hose

 
This is an important point, as the hose length determines whether you have to move the central unit around a lot or not. The hose length primarily denotes the range of the device, and a longer hose makes it easier to access the hard to reach spaces of your vehicle. However, based on your preference, you might want a shorter hose for better maneuverability.
In-The-Box-Attachments
Attachments are an essential part of blow-dryers and must be considered when making the right decision. Blow-dryers that come with regular nozzles are often not able to penetrate the tight corners and dry the moisture hidden there. As a result, attachments become a necessity.
Verdict
Finally, we have reached the end of our journey of the eight best blowers for drying cars, and we sincerely hope this has been a worthwhile read for you. Before we leave, however, we'd like to take time out and tell you a bit about our picks from the list.
For those looking for the most portability, the Blaster Sidekick is the best choice, though it's a noisy product. Another great portable option might be the Greenworks 24252, though it's heavier than the Sidekick.
If, however, you have a high budget and would like to opt for a professional device, then we'd advise you to go with Adam's Air Cannon model, or, better yet, the Master Blaster Revolution.  
With that, we bid adieu.
Till next time!
Related Articles
10 Most Powerful Leaf Blowers to Consider
10 Highest CFM Air Compressors  
7 Best Paint for Interior Garage Walls Right Now
23 FREE Detailed DIY Garage Plans With Instructions To Actually Build
19 Garage Makeover Ideas To Transform Unused Spaces
9 Best 6 Gallon Air Compressors for Your Home & Garage
13 Brightest Light Bulbs For Garage 
10 Best Tire Pressure Gauges on the Market Today
13 Lightest Weight Leaf Blowers For Home Use
13 Best Leaf Mulchers & Shredder