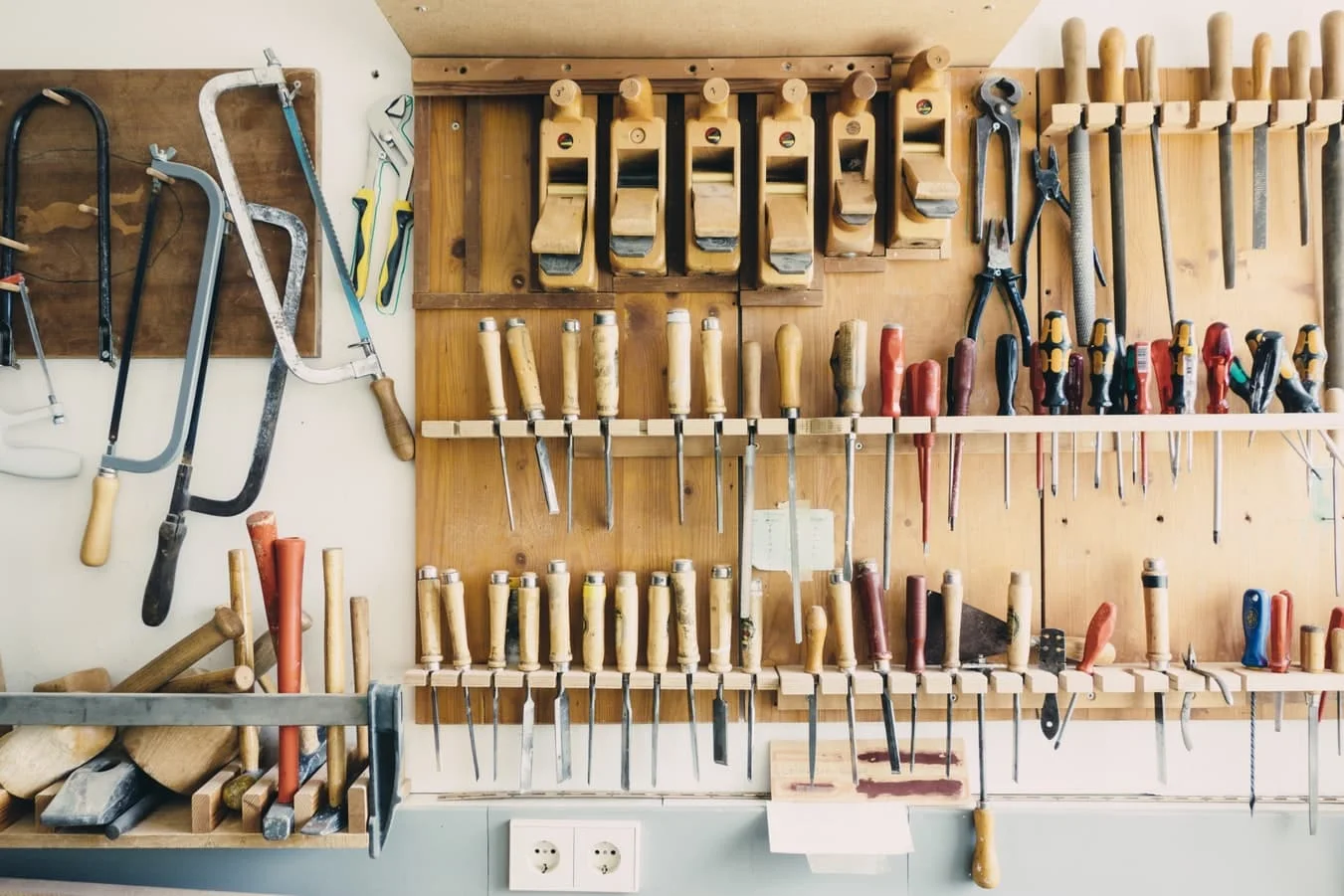 Wood Chisel kits are not something that we buy every day, and it's quite apparent that the majority of the buyers aren't professionals or experts in this case. Most of the time, we indulge ourselves in buying the cheapest product we can find, only to figure out that it's of poor-quality and an absolute waste of our investment. 
However, nobody is to blame here. There is a wide variety of alternatives in the market, but there isn't enough buyer information out there that helps in telling a good chisel kit from a bad one. 
That's why we've enlisted some of the best wood chisel kits you'll find in the market these days, with a detailed breakdown of their core strengths and areas of improvement. Also, we've added a brief buyer's guide so that you know which criteria to consider while buying a wood chisel kit.
So, let's get into it, shall we?
Best Wood Chisels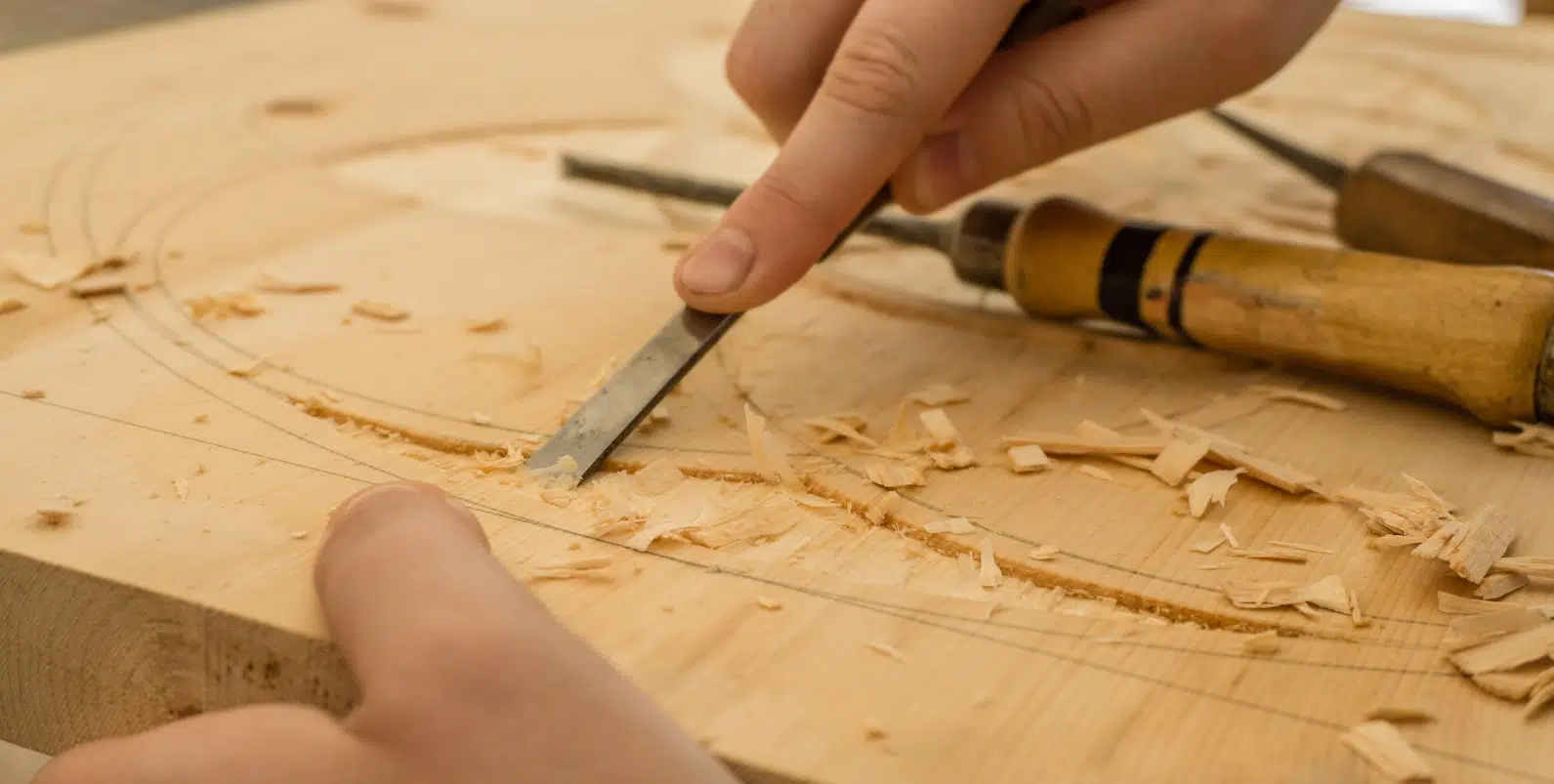 It's less likely for professional woodcutters not to be familiar with the goodwill of Vonhaus, one of the best-selling manufacturers of high-quality furniture and homeware. On that note, the first item, and possibly our best suggestion for the professionals, is the all-new VonHaus 10 pc Wood-Chisel Set.
Let's dive deep into its core features!
Why did we like it?
This one's our top recommendation for the hardworking professional woodcutters, as it packs exceptional performance at a reasonable price. This chisel set is built with high-quality chrome vanadium steel that undergoes heat treatment for increased sturdiness and durability.
This unit is designed quite ergonomically and features a rubber grip that makes it comfortable to hold while working. On top of that, the iron cap on its bottom also makes it an appropriate hammer, increasing its multifunctionality. 
However, the USP of this product is its sharpening stone and a honing guide. The honing guide helps in getting perfect bevel cuts, whereas the sharpening stone makes the job quicker. 
As a bonus, this unit comes with a high-quality industrial wooden case that assures more extended durability along with great looks. Overall, it doesn't get any more professional than what VonHaus offers with its ten pc Wood-Chisel set.
What could have been better?
Although this unit offers industrial-grade performance and durability at a meager price, there's one flaw that holds it down from being the perfect wood chisel kit. That is, we have to sharpen the chisels by ourselves. Now, although it does sound tiring initially, we wouldn't lie- we found it fun.
Pros
High-quality steel material

Rubber grip and ergonomic design

Industrial-grade wooden case

Blade guide and Sharpening stone
Cons
Have to sharpen the chisels manually
When it comes to safety and accuracy at woodcutting, the brand that the masses trust is none other than Stanley Tools Inc. We've recently had the opportunity to test the Stanley 16-401 chisel set, and we can't wait to share the deets with you. Apart from its sassy looks, this unit also promises impressive durability and performance.
Why did we like it?
To be honest, if it weren't for the VonHaus unit, this would have been our first recommendation for you. That being said, the most significant advantage that this product has over the VonHaus chisel kit is that these blades arrive at you pre-sharpened, which saves you from all the hard work before the actual woodcutting job.
Furthermore, these blades arrive protected with a temporary high-quality lacquer coating, which prevents it from being damaged from corrosion, or while being transported. In terms of usability, these blades are quite efficient and durable. 
Now, although the VonHaus kit comes with a wooden case, this product comes with a leather pouch for storage. So more or less, it gives decent competition to our previous suggestion and makes an ideal chisel kit.
What could have been better?
To begin with, we found this device a little pricey for a 5 pc chisel kit as VonHaus is already offering a 10 pc kit at a much lower price. Furthermore, it upsets us that the blades need to be sharpened too often. Unluckily, the package does not come along with a sharpener, which makes the job a little harder. 
Pros
High-quality build material

Leather pouch for storage

Lacquer coated blades

Ergonomic design
Cons
A tad pricey

Blades require frequent sharpening
We don't expect everyone to be familiar with Narex, as this brand hasn't been one of the most famous names in the market. However, if you care less about brands and more about durability and efficiency, you have to give the Narex 4 pc Wood Chisel kit a try. 
Not only does this unit assure you professional-level strength and accuracy, but it is also one of the best looking blades we've come across till now.
Why did we like it?
For those who aren't ready to settle for anything less than premium-quality chisels, the Narex 4 pc Wood Chisel set stands out as a significant option to consider. These blades are built with industrial-grade chrome manganese steel, which itself speaks for the durability of this product.
We were warned that we might need to sharpen the blades, but luckily the blades came to us pre-sharpened with a magnificent edge. This was a rather surprising situation for us, as the manufacturers advertise the blades to be otherwise. Nonetheless, it's a delight that there are such exceptions with this particular unit.
Now coming to the design, it's pretty ergonomic and comes with a wooden handle that lessens the risk of hurting yourself while using the blades. So, although it isn't the best chisel kit out there, it's good enough to satisfy your basic needs.
What could have been better?
What good is a kit without a decent storage space? Yes, the biggest inconvenience of this product is that it doesn't come with a storage case, unlike our previous recommendations. This way, storing the blades becomes a hassle. Who knows, you may even lose a few in the course if you're not careful enough.
Pros
Chrome manganese build material

Wooden handle

Often arrive pre-sharpened

Lightweight body
After testing the Stanley 16-150 3 pc chisel kit, we were quite eager to test the 16-150 kit. We believe that it's safe to say this product is every bargain hunter's delight. So, if you're looking for the best value products for a while, you should consider trying this product.
Why did we like it?
First things first, it is nearly impossible to find a chisel kit as efficient as the 16-150 unit within such a low budget. Due to its low-budget, we won't mislead into believing that this kit would last you a lifetime. However, it is a good option to consider if you're searching for chisels for a short-term project or two. 
Frankly, the Stanley 16-150 is more or less the compact version of their 16-401 unit. The biggest similarity that we've noticed is just like the 16-401 unit; the 16-150 unit also comes with a lacquer coating for temporary protection.
This product comes with polypropylene handles, which is apparently due to its lower budgetary constraints. Although it isn't as durable as wood, it's good enough for short-term work. The blade is also built with good-quality metal that allows us to sharpen this blade up to its hilt. 
What could have been better?
As we know that this product is seriously cheap, it's somewhat futile to expect any fancy features from it. However, after using this product, we've noticed that the chisels are not the best at holding an edge. We're guessing maybe that's why the manufacturers have allowed the blades to be sharpened up to the hilt. 
Pros
Meager price

Blades are uniformly hardened

Comes with lacquer coating

Value for money experience
Cons
Polypropylene handle

Cannot hold a proper edge
For those who are always intrigued by the best value products, the Marketty 12 pc Professional Chisel Kit is an efficient unit that comes under a very reasonable price range. This chisel kit comes packed as an ideal option for professional woodcutters, considering how versatile it is.
Sale
Why did we like it?
The Marketty chisel kit is unarguably one of the most versatile professional kits you'll find under a considerably low price range. For starters, this kit comes with 12 different chisels, which guarantees higher versatility than our topmost recommendation, the VonHaus 10 pc kit.
Coming directly to its nitty-gritty, this chisel kit arrives at you with a sharpened factory edge. The product is also considerably durable, thanks to its high-quality carbon steel build material. Overall, it's guaranteed that despite its low price, this product will last you for a long time.
As a bonus, unlike the Narex 4 pc chisel kit, this unit comes with a carrying case for storage. Now we wouldn't say that it's the best-looking case we've across yet; but on the bright side, it's not disappointing either. 
What could have been better?
We've noticed that although the kit comes with a pre-sharpened edge, it is not sharp enough to get the job done with precision. Ultimately, we had to sharpen it on our own to have the blades working at its best. On top of that, the product comes with very short handles, which makes it difficult to hold and use for a long time. 
Pros
Highly versatile

Best value for money

Comes pre-sharpened

Carrying case included
Cons
Unsatisfactory factory edge

Handles are too little
Dewalt has become one of the most popular brands out there when it comes to high-quality professional tools. To begin with, the Dewalt 3 pc chisel kit makes an ideal compact kit for beginners, and quite useful for shaping their skillset. Although this product does not qualify for professional use, it can be a decent alternative for completing personal tasks. 
Why did we like it?
These blades (although they aren't the best quality of steel in the market) are built with carbon steel material that manage to assure us a long-lasting product life. Also, due to the standard carbon steel blade material, the product doesn't cost us a fortune. 
However, the cream of the crop here is the versatility that this product offers. In short, apart from cutting, this product also comes with serrated edges that can be used for scraping. So no matter what you do, the ergonomic design of this product gives you total user control. 
Furthermore, it also features a bi-material handle that helps in minimizing vibration while assuring us a comfortable grip. Overall, this product is one of our top recommendations if you're looking forward to turning your hobby of woodcutting into a full-time job.
What could have been better?
To be honest, this kit offers a set of serrated blades, which were the reason why this product had our undivided attention. It increases its versatility up a notch, making it one of the most efficient chisel kits we've seen. However, not everything is perfect. Likewise, sharpening the serrated blades is harder than one can imagine, which makes the user experience a little uncomfortable.
Pros
Comes with serrated blades

Built with carbon steel

Handles offer a comfortable grip

An ideal option for beginners
Cons
Serrated blades cannot be sharpened easily
Irwin tools, one of the best-selling global manufacturers of carpentry tools, has recently launched their Marples Woodworking chisel kit. After having the opportunity to test this unit personally, we can say that it's one of the most versatile tools in the market right now. 
Sale
Why did we like it?
To begin with, this kit offers a wide range of blades that altogether assures us high precision and convenience. This way, you can easily make shape tenons or mortises or make dovetails with this product.
We've noticed that the robust structure of this unit allows it to withstand the force of hammers or mallets, making it more convenient for woodcutting jobs. Furthermore, this product is built with carbon steel, which gives it decent strength and lengthens your durability by a great deal.
What we've loved the most about this product is how much user control it provides us, every time. The blades are also not very hard to sharpen, which is unfortunately not the case with most of its competitors.
What could have been better?
The main disadvantage of this product is that although the handles make this product quite ergonomic, it needs to be tuned too often. Otherwise, it creates inconvenience while the chisel is being used.
Pros
Versatile tool kit

Long-lasting product

Handles lessen vibration

Can withstand the force of hammers
Nobody understands the essentials of craftsmanship better than WorkPro Tools. The brand has recently launched its new 3 pc compact wood chisel kit, which is already competing with the major players in the market. So, what exactly makes this product so demanding these days?
Let's find out.
Why did we like it?
Not all of us are professional woodcutters. Some of us are just looking for low-budget tools that can be useful at completing our tasks in a short time. This product stands out as a potential option for personal use. However, just like the Irwin Tools kit, we do not recommend this product for professional use.
The tool is heat-tempered, which is instrumental in maintaining the blade's sharpness by assuring that the bevel edges are adequately inclined. On top of that, we are also quite impressed with the materials that this blade is built with. The proper mix of vanadium steel and chrome makes this unit one of the sturdiest blades we've tested by far. 
We've found one more similarity between the Irwin tools kit and this unit, i.e., these blades can also withstand the driving force of hammers. That being said, convenience is undoubtedly the USP of this product. If you have basic expectations and a medium budget, go for this product. 
What could have been better?
The first thing that we expect when we buy anything is durability. However, the WorkPro unit thumbs its nose in this elementary criterion. It's because the product doesn't come along with protective caps to safeguard the blades. Neither does this product come with a carrying case, which is a little disappointing.
Pros
Built with vanadium steel

Bevel-edged chisels

Can withstand the force of a hammer

Ergonomic design
Cons
No protective caps and carrying case
Our topmost recommendation VonHaus has returned to the list with its new 8 pc Craftsman Woodworking Chisel Kit. We were lucky enough to have a hands-on experience of this exceptional tool kit, and we were pretty satisfied with its efficiency. For those who are looking for a piece of efficient equipment under a fair budget, this product is pretty low-priced and allows both personal and professional use.
Why did we like it?
After testing the VonHaus 10 pc professional chisel kit, we thought about giving this unit a try. And surprisingly, we've found numerous similarities between these two chisel kits. To begin with, these blades are also built with premium-quality vanadium and chromium steel than guarantees us a long-lasting product life. Furthermore, it also comes with a stylish plastic case that saves us from the stress of losing these blades.
Similar to the 10 pc kit, the blades in this set are also heat-treated that increases its durability by a great deal. Furthermore, the narrow side-bevel edge of the blades also helps in delivering precise bevel cuts every time. The handles are further rubberized for a stronger grip so that it doesn't slip from our hands while working.
Now, what separates the Craftsman 8 pc chisel kit from our previous VonHaus product recommendation is that you can use this kit for both personal and professional use. The sturdy quality and ergonomic design of these blades altogether gave us a pretty satisfactory user experience. 
What could have been better?
One major feature that we've noticed among most of our recommendations is that the blades can be hit with a hammer without being damaged. However, the unique design of this chisel kit restricts it from being with mallets or sticks. Otherwise, this product doesn't seem to have any disadvantages.
Pros
Heat-treated vanadium steel blades

Narrow side-bevels for utmost precision

Rubber handles for better grip

Ergonomic design
Cons
Can't be hit with mallets and hammers
The penultimate recommendation of our list, the REXBETI 10 pc Premium unit, is one of the most preferred wood chisel kits by professional woodcutters. It offers a wide array of features under a reasonable budget, which gives it a higher advantage against most of its competing products in the market.
Sale
Why did we like it?
The REXBETI Chisel kit, one of the highest-rated products in the markets, features a set of 10 versatile blades and tools that come quite handy for professionals. The blades are built with industrial vanadium steel, which is one of the highest quality steels in the market. 
We've tested the chisels on the toughest of wooden materials we could find, and we're delighted with how the blades cut through them with precision. Furthermore, the blades also come with bevel-edges that makes trimming a lot quicker and simpler. Overall, the chisel kit offers a very satisfying user experience.
Now, the most important similarity that this product shares with the VonHaus 10 pc chisel kit is that these tools can also be hit with hammers or mallets. Just to be sure that it doesn't inflict any damage to the blades, a durable metal cap has been added for protection. Overall, if we compare, this kit is the stiffest competition the VonHaus 10 pc Chisel Kit could face in the market.
What could have been better?
The main reason why the product can't beat the VonHaus kit is that although both feature a sharpening stone, it is challenging to use the stone that this kit offers. This way, it becomes harder to restore the sleek sharpness of the blade, which is a little disappointing.
Pros
Built with vanadium steel

Cuts through hard wooden materials precisely

Rubberized handles

Can be hit with hammers
Cons
The sharpening guide is difficult to use
The PSI LCHSS8 unit is best recommended to the beginners who are looking forward to honing their skills for a brighter career in woodcutting. The tools in this kit are designed very ergonomically, and its versatility allows us to cut, trim, and carve wooden materials into a variety of shapes and sizes with precision.
Why did we like it?
The 5-¼ inch blades are sturdy enough to take on large woodcutting tasks with ease, as they are built with M2 high-speed steel. Now, if you have a good experience at woodcutting, you're most likely familiar with the fact that nothing beats M2 high-speed steel blades when it comes to durability, strength, and precision of cuts.
Coming to its additional features, its handles are designed uniquely for the user to have a strong and comfortable grip. Also, we have to mention how easy it is to carry around, considering that the entire kit is exceptionally lightweight and compact. Overall, it appears as a value for money product that is guaranteed to serve you for years to come.
What could have been better?
Although the blades are quite efficient at what they do, it's a little disappointing that they do not arrive pre-sharpened. This way, the users have to go through the stress of sharpening the blades properly before diving into the actual work, which is a little time-consuming. On the other hand, most of its competing brands deliver their tools pre-sharpened to us. 
Pros
M2 high-speed steel blades

Ergonomic design

Unique handles for a better grip

Long-lasting product life
Cons
Need to sharpen the blades before use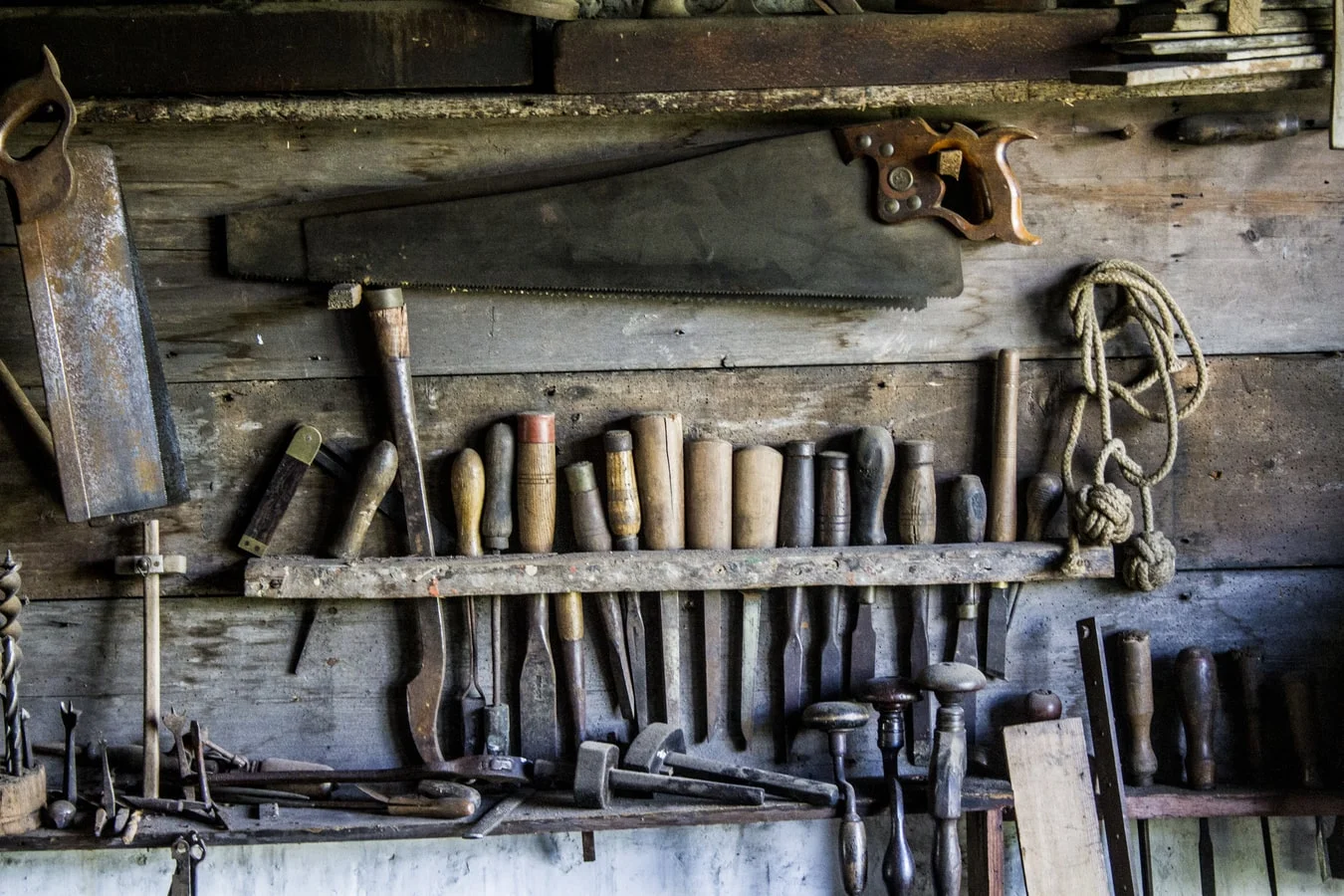 Chisel Kit Buyer's Guide  
We've created this buyer's guide for your convenience so that you can take note of the most important factors to consider before you select a chisel kit. 
We'll be starting with the purpose of using a wood chisel kit, followed by a brief breakdown of its essential features. So, grab a pen and a pad quickly!
Purpose of a Wood Chisel Kit
We'd start by reminding you that woodcutting is one of the most versatile jobs one can find, and it requires different tools to address specific tasks with precision. On that note, let's not generalize wood chisels as a standard tool, as there are levels to it.
Bench Chisel
Before getting into the complex ones, let us introduce you to the standard chisel, aka the bench chisel. These come handy at more or less every type of work. However, it may appear a little big for small-scale woodcutting jobs.
Butt Chisel
These are compact versions of the standard bench chisels. However, they are nothing less efficient. These are rather more comfortable to use for completing small projects. 
Chopping chisel
A chopping drill is what you'd call a portable alternative for an electric drill or a mortise machine. As the name itself implies, these chisels are used to make chopping wood easier and quicker.
Corner chisel
Now, a chopping chisel cannot be used to smoothen out the square corners of a wooden showpiece. This sounds like a job for, you guessed it right, a corner chisel. Although they aren't our best recommendation for heavy-duty tasks, they come quite handily while adding the subtle finishing touches.
Crank-Neck Chisel
This is a unique sort of chisel that, although it isn't recommended for either cutting or trimming, is useful at getting rid of excess materials from wooden surfaces. Moreover, it removes the excess materials pretty quickly in comparison with the other chisels, due to which it is a must-have item in every kit.
Skew Chisel
The truly passionate and determined woodcutters mainly use this one. The USP of this type of chisel is its angled blade, which helps it in reaching smaller and tighter areas to highlight the details and add finesse to your project. Also, these types of chisel can be further divided into two types, i.e., left-sided and right-sided skew chisels. 
Now, let's have a look at the main features that make an efficient wood chisel kit.
Size
First things first, the size of the blades is essential, as you'd be needing different sizes for different purposes. If you're working on smaller woodcutting/carving projects, you must not go for large-sized chisels and vice versa. Overall, the significance of size is best recognized while working on small and large-scale projects.
Quality of the blade
As evident as it is, a chisel kit shouldn't be worth your attention if it doesn't offer you high-quality blades. Mind you, when we speak of quality, we are not only referring to its build material. It is also crucial for the chisel to have a non-slip handle grip as well. 
Although, it's also imperative for the blades to be built with good quality steel material so that it lasts for a longer time.
Edge
Fundamentally, the blades need to provide and, most importantly, hold a proper edge. If the chisel fails to excel at these essential criteria, its overall efficiency value drops by a great deal in an instant. I mean, what good is a blade that fails at being sharp?
Verdict
Woodcutting isn't an easy job, and it requires a ton of patience and skills. However, your skills won't be of any use if you don't have the right equipment to practice your talent. This is why owning a great wood chisel kit is very important.
On that note, we hope that you've enjoyed going through our top 11 recommendations and that it has helped you make a smart decision. Do not hesitate to communicate with us and share your experience or thoughts about our extensive. Did we miss anything? Let us know.
We'll see you soon with more and more info about the best products that you can use in your daily life. Till then, stay tuned!
Related Articles
How To Cut Wood Without A Saw Using Different Wood Cutting Tools
11 Best Multi Tools Reviewed | Buyer's Guide
19 Different Types Of Hand Planes & How To Use Them