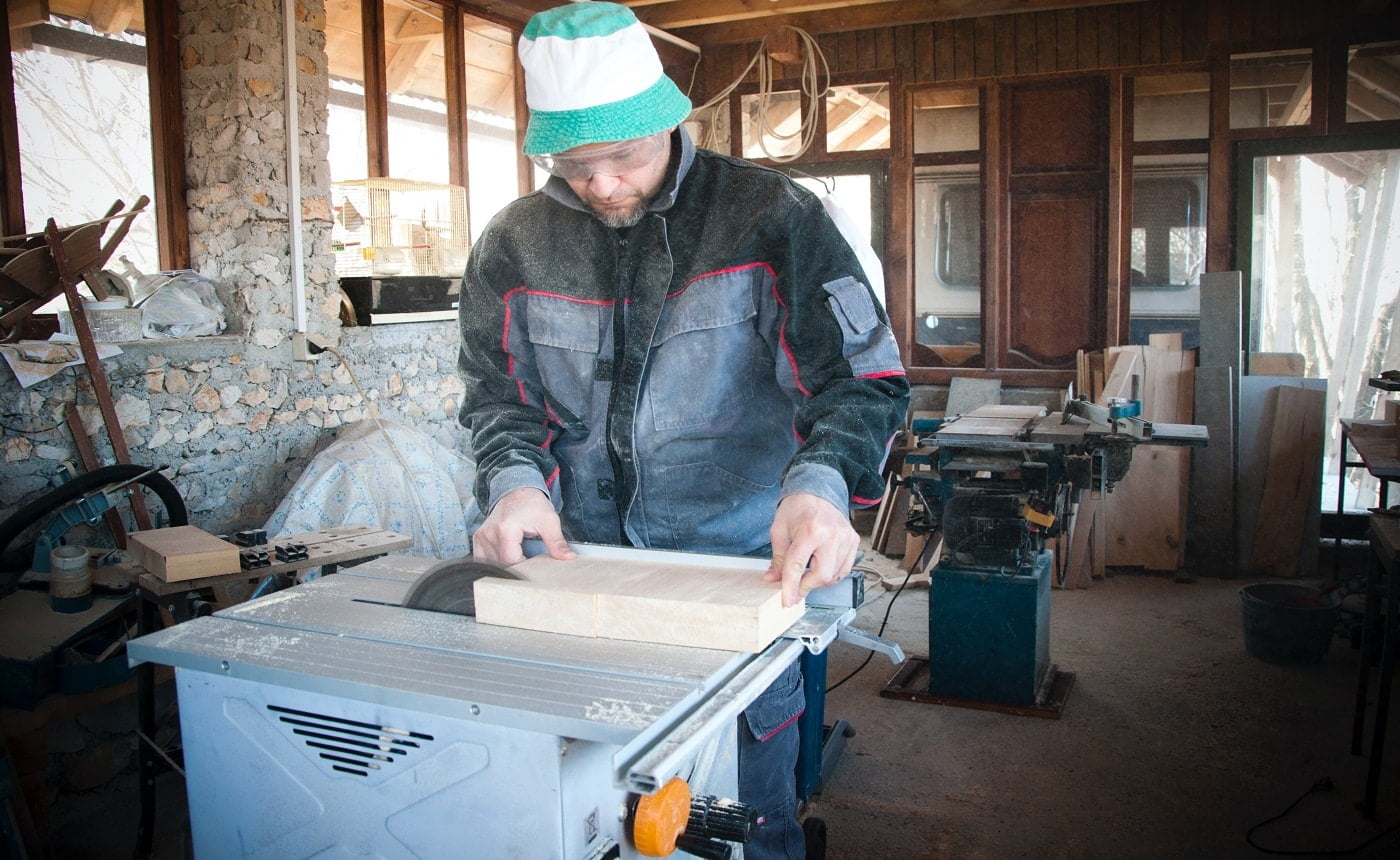 It goes without saying that DeWalt is one of the best tool manufacturers in the world. But how do you choose between two of their most outstanding table saws?
DeWalt has been a favorite of professional woodworkers and enthusiasts alike. Plus, when you are looking for an option that is fast and portable, you are most likely to end up with either DW745 or the DWE7480. 
Honestly, both these products are incredibly well-built and robust. And if you acquire the correct expertise, you can easily get the sharpest and the most refined cuts with these two devices. But if given a choice, which one do you pick?
Today, in this guide, we take you through the features, what's good and what's bad, and also help you compare the two products. Our goal is to help you make an informed choice, one without any biases.
So, without any more delay, let's check them out!
EDITOR NOTE | Both of these products are now discontinued and the latest model is the Dewalt DWE7485 which greatly outperforms the previous models.
DW745 vs. DWE7480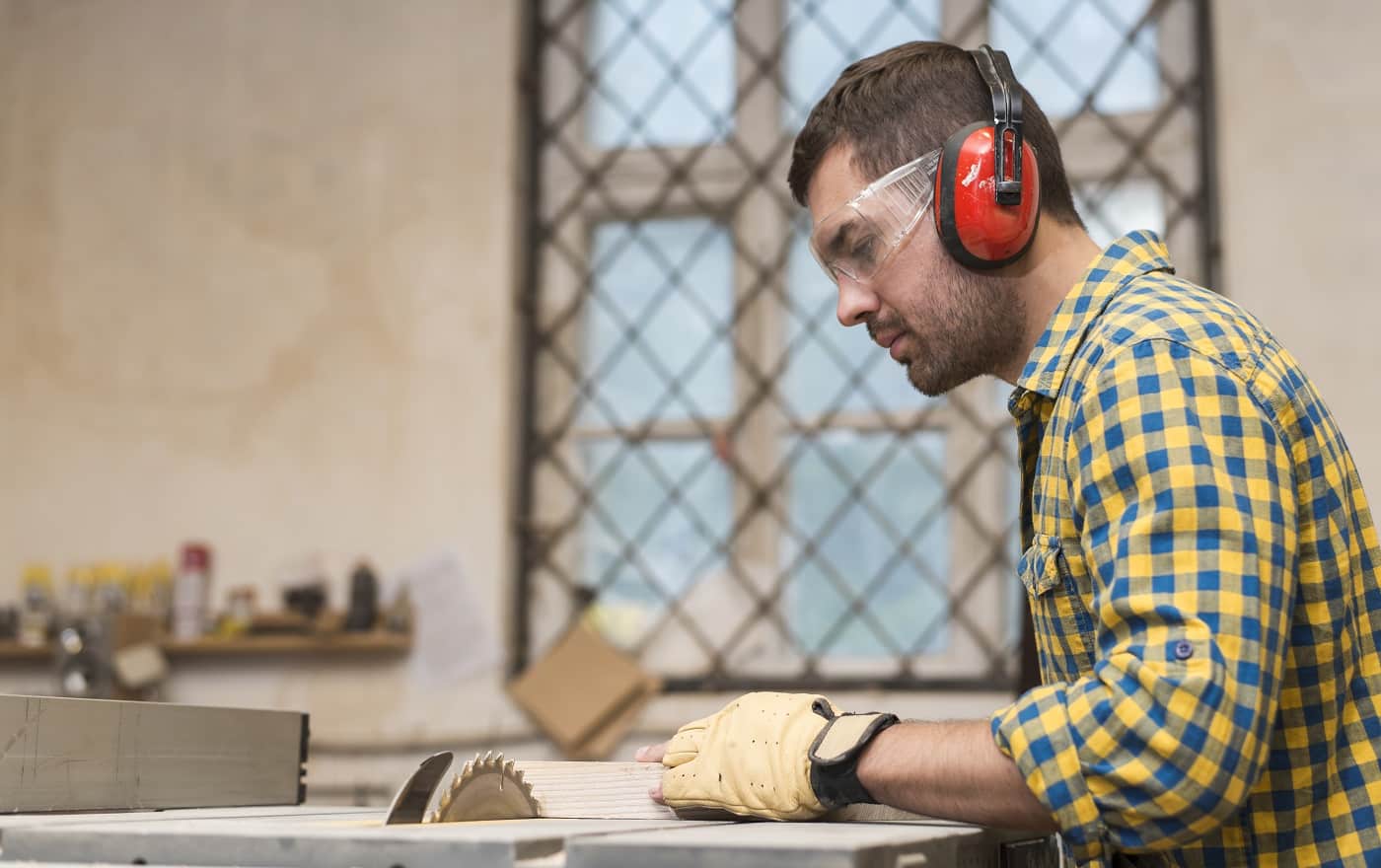 Before diving right into comparing the two products, it is essential that we give you a brief overview of the features of these two items. Some of you may be using table saws for the first time. So, to make this choice simpler for you, we will discuss their basic features before moving on to the comparison. 
Let's take a quick look at the products!
A Glance At DeWalt DW745
The DeWalt DW745 has been a favorite of many users for the last few years and has been a go-to option for many who prefer robust and sturdy table saws. It has been in the market before DWE7480 and has won the trust of many woodworkers with its sharp performance. 
Now, let's move on to why we called it powerful. This machine runs on a 15-amp motor and can easily generate speed as high as 3,850 RPM. Now that's not the highest that you get on the market; however, it is more than sufficient for the typical cutting and chopping required of a table saw. 
Moreover, it comes with a high-tech railing system that enhances the portability of your everyday woodworking tasks. So, it allows easy attachment of any application of your choice to increase the accuracy and efficiency of work. The lightweight design further adds to its convenience. 
Also, many DIYers are pretty impressed with how it enables you to perform a 0 to 45-degrees bevel cut with much ease. The adjustable rear feet make it super simple to keep the machine well-balanced on any surface. 
A Glance At DeWalt DWE7480
DeWalt has tried and improved the shortcomings of DeWalt DW745 in their upgraded model, DWE7480. This item comes with a brilliant metal construction that makes it one of the best heavy-duty table saws currently available on the market. 
The 15-amp motor is highly efficient and delivers a speed of up to 4,800 RPM. This is what allows you to experiment with unique cuts that are often not possible with standard machines. 
With our research, we found out that the professional woodworkers are pretty impressed by the large rip capacity of this item. All these features combined make it possible for the cuts to be on point. It also makes the process much smoother and faster. All thanks to the telescopic fence rail system, you can efficiently perform 0 to 45-degree bevel cuts. 
The overall design of the device allows high portability and ease of movement according to your tasks and requirement. 
DW745 vs. DWE7480 Compared
Now that you have a slight idea about the design and basic features of these products, we guess you are prepared to delve right into the comparison. 
Both these DeWalt products are excellent choices, but you need to know what really sets them apart if you have to select one. And in this section, we will discuss the crucial factors you should watch out for when picking between the two.  
Power
At first glance, the power difference between the two does not seem to be too big.
For instance, both the devices use the same kind of motor that produces a power of 15 A. But after testing both, we can say that due to its sturdier inner construction, DWE7480 gets an edge over DW745. It can easily spin the 10-inch carbide blade better and at a speed of 4,800 RPM. 
Now, this is relatively faster as compared to the 3850 RPM speed that DW745 manages to produce. So, if your requirement is for a high-powered table saw that offers excellent speed, DWE7480 is any day a better option. We cannot overlook the difference of almost 1,000 RPM speed. 
You might be wondering what a higher speed implies. Let us break it down for you! It means that DWE7489 is better equipped to produce much cleaner cuts when working on the hardwood. It also makes it easier for you to cut through thicker pieces of wood with much ease and comfort. 
Other than earning high scores for its ease of use, it is significantly faster too! Unfortunately, this implies that this power-packed device is quite noisy. But we excused this issue since you are most likely to be using this in a workshop or a garage, where noise is not too much of a problem. 
Machine's Weight And Size
When it comes to the size, we have to say that both the devices are again pretty much similar. However, DWE7480 is a little larger than DW745 and is also comparatively slightly heavier. So, if portability is your major concern, it is pretty evident that DW745 is a better bet any day. 
Some professionals need to shift from one workshop to another quite often, and unless their table saws are portable, it becomes a huge fuss. DW745 comes with a compact design and weighs about 45 lbs, making it quite convenient to move and store. 
DWE7480 is around 48 lbs., which is not too heavy either. But its construction is a little cumbersome, which is a major deterrent when it comes to storage. Unless you have a big workshop where you can easily keep your appliances, it might become difficult to store this item. 
Accuracy And Simplicity Of Use
In this category, DWE7480 outshines its competitors because of its much larger rip capacity of 24.5 inches. For those who are not familiar with rip capacity, it is basically the space available on the table saw's surface that can be used to cut different types of wood. 
So, a larger capacity simply means that you can fit bigger wood pieces on the surface to work on them. This allows you to become experimental and offers enormous versatility when you engage in woodworking and sawing tasks. 
However, both the devices come with a telescopic and high-quality rail system that makes them very easy to move around. So, when it comes to the issue of portability, both the products get a good score.
Moreover, both have a significantly large measurement indicator placed on their surfaces that allows you to make the cuts more accurately. It helps you adjust the fence guard properly, quickly and efficiently as and when required. 
But what gives DWE7480 an edge is that it comes with a specially coated surface. When you're using this device, you can rest assured that it will not get scratches on the surface. This also ensures that the wooden pieces do not get stuck to the surface and glide smoothly. 
This factor, combined with the high RPM offered by its motor, makes it a stellar choice when it comes to accuracy and the ease of operating DWE7480. 
Arbor Size
After testing both the items, we realized that we should shed some light on how similar these two are on certain grounds. Both of these come with the same arbor size of 5/8-inches. 
It is true that not a lot of woodworkers actually put much emphasis on the arbor size. But if you are a professional in the field, knowing about this factor can be crucial. In case you are likely to make an adjustment to your table saw, it is essential to know the capacity. Since the arbor size is the same, you can understand that the blade used in both devices are of the same size. 
So, if you plan on upgrading from a DW745 to DWE7480, instead of buying a new blade, you can transfer the old blade. However, we suggest that you do this only when the old blade is in good shape. 
Size Of The Blade
If you have worked with table saws before, you would know how vital the blade size is in determining your work quality. What kind of wood a saw can cut is highly dependent on the size of the blade that the device comes with. 
Small 8-inch blades are not very suitable to cut large wood pieces. However, if you would like to opt for a larger than a 12-inch blade, you must keep in mind that the device should also have a powerful enough motor to support it. 
DeWalt, as you know, is an old player in the market and they take good note of this aspect. Both these options are equipped with a 10-inch blade which is suitable for professionals and DIYers alike. The size is especially perfect because it can handle thicker wood logs without having the need for an extremely strong motor. 
And it is not just the size but also the build, which makes the blades incredible. They are both constructed of carbide, and that is one strong material! The durability is significantly high and keeps the blade sharp for a long time. Additionally, the blades are equipped with 24 teeth, which further adds to their versatility of their performance. 
Maximum Depth Cut
With the same motor strength and the same blade size, it is pretty evident that the max cut depth will also be the same. Or, at least, something close.
When kept in a vertical position, the blades on these two devices offer a cut depth of 3 ⅛ inches. However, when it is placed at a 45-degree angle, the maximum cut depth that you can expect is 2 ¼ inches. 
While it is true that these are not the deepest cuts that you can make with table saws, for compact devices like these, the capacity is pretty decent. Plus, after our research and understanding of the woodwork DIYers indulge in, it is highly unlikely that you will require deeper cuts than this. 
Bevel Angle
If you manage to get your hands on either of these two devices, there will be no need to ever buy a separate machine for making bevel cuts. Both the devices are equipped with bevel capacity. 
For those who are not familiar with what bevel capacity is, we'll explain it to you. This feature enables you to adjust the blade between 0 to 45 degrees, depending on the cut that you want. And as we have mentioned before, both come with high-quality blades, which makes the bevel cuts much more manageable and smoother. 
Maximum Rip Capacity
This is one area where the devices end up differing from each other. DW745 offers you a maximum rip capacity of 20 inches on the right side of the blade and that of 12 inches on the left. On the other hand, DWE7480 comes with a rip capacity of 12 inches on the right side of the blade. It has an edge over DW745 on the blade's left side, where the rip capacity is 24 inches. 
Honestly, their performance is incredible as compared to other products in their class. We recommend that if rip capacity is of major concern to you, it's better to go for DWE7480, even if it costs you a few extra bucks. 
Accessories
Coming to accessories, both DE745 and DWE7480 pretty much come with the same sets of tools and accessories. In the package, you will find a miter gauge, a blade guard, and a push stick. 
If you are new to using table saws, let us explain how using these tools will make your woodworking task a lot easier. You can use the miter gauge to fix the blade at a certain angle and lock it down. This will enable you to cut the wood in any manner you like and give it a precise edge. 
The push stick lets you maneuver the wood parts that you are working with. You can consider this more of a safety device as it keeps your hands away from the blade. Additionally, the blade guard is what protects you from accidentally hurting yourself when the blade is not in use. It also makes sure that the blade stays sharp even when you do not use it for a long time. 
Dust Port
If you have engaged in woodworking before, you know the amount of cleaning that is needed after the work is completed. And this seems to be a headache for many. So, in order to save time, DeWalt has included a dust port in both DW745 and DWE7480. This helps you save a lot of effort and time that you otherwise have to spend on cleaning the wood curls. 
As we mentioned, both the items come with a 2.5 inches dust port that stores all the dust generated as you work on the table saw. The size is quite sufficient to capture all the dust. On top of that, the size is ideal for getting adjusted on all types of shop vacs. So, most likely, you would not be required to use an adapter or any other kind of modification. 
After testing, we have to say that both the products are pretty efficient when it comes to managing dust.
Warranty and Price 
When buying a decent table saw, price should be the last consideration unless you are on a very modest budget. Instead, things like product performance and durability should determine your decision. 
Coming to price and warranty, DW745 clearly wins on both grounds. Irrespective of where you look, DW745 is slightly cheaper as compared to DW7480. However, it is a little smaller, and the motor is not as powerful. 
So, it is pretty justified that the price is relatively affordable. However, we have to say that for a compact product, DW745 provides excellent versatility and power capacity at an affordable price. 
But the real and significant difference gets visible when we consider the warranty. In this case, the difference becomes quite evident. DW745 offers a 3-year extended limited warranty covering issues of replacements and repairs and basic manufacturer's defects.
Moreover, it provides you with an additional year of service and a 90-day money-back guarantee. From the customer's viewpoint, that's an incredible amount of protection for an affordable product like this one. 
On the other hand, DWE7480 only offers a 3-year limited warranty to the customers. We are not complaining here, but we have to agree that it is simply not as good as the protection provided by DW745. To conclude, we can say that in order to get the best of the manufacturer's support, DW745 is an impressive and inexpensive choice. 
Why Did We Like DW745?
When it comes to DW745, the first thing to catch our attention was the durable construction. It offers a powerful internal structure that allows you to easily engage in heavy-duty woodwork. Every component of this item reeks of sturdiness that helps it last for a long time, and makes it suitable for a variety of projects. 
Moreover, its compact build and lightweight design makes the device not only portable but also very easy to store. So, you can travel with it without worrying about its bulk and space.
Additionally, the motor capacity is also quite remarkable. To compliment that, the in-built miter gauge and bevel adjustment help you carry out a range of unique cuts on wood. Because of the accessories and tools included in the package, you can achieve a high level of accuracy and precision. 
To be honest, with fencing and guards as excellent as what is offered by this item, we can safely say that it is excellent for professionals and enthusiasts alike. You can safely practice your skills without any major worries.
What Could Have Been Better With DW745?
After using this item on a variety of wood, it is safe to say that the rip capacity calls for improvement. The 20-inch capacity is not much to fit in large chunks of hardwood and can restrict your options of experimenting with a variety of wood. 
Moreover, the blade comes with 24 teeth, which is not the most suitable number to make precise and refined cuts. However, you can always add a new blade to your system in order to combat this drawback. 
Why Did We Like DWE7480?
We agree that the construction of DWE7480 is slightly bigger and heavier than DW745. However, as compared to other standard options available on the market, this item is relatively lightweight and portable. Also, considering the incredible motor function that it offers, secondary factors like size and weight shouldn't define the worth of this product. 
What needs a special mention is the enhanced RPM. The 4800 RPM is extremely powerful and increases the smoothness of your woodcutting activity. It also helps you achieve more delicate and refined cuts. 
What Could Have Been Better With DWE7480?
We have noticed that the more traditional woodworkers complain how the portable version like this one is often restrictive when it comes to project-specific work. Another minor drawback is the fact that this device is costlier than many of its contemporaries. 
DW745 vs. DWE7480 Frequently Asked Questions
We understand that you might still have some doubts and queries regarding the two products that we are discussing today. Here, in this section, we are talking about a few of the most commonly asked questions. Let's take a look!
How To Replace The Blades?
As we have mentioned before, the package comes with all the essential tools that you might need while changing a blade on either of these table saws. All you need to do is to adjust the wrench fitted on the side of the saws and loosen or tighten them as required.
It might sound easy, but we always recommend that you use proper gear while adjusting the blades. Also, make sure that you switch off the machine before you start replacing the blades. For more details on how to replace the blade, go through the user manual carefully.
Are The Machines High-Maintenance?
Working with wood is one messy affair, but with the built-in dust collecting mechanism, you won't have to spend too much time on maintenance. Post-work cleaning is minimal, and all you need to do is clear out the dust collection tray.
Similarly, both the items require little to no maintenance. Thanks to their durable construction, wear and tear will be at an all time low.
Are Stands Included in the package?
DW745 doesn't come with a stand included in the package. However, if you are going for the DWE7480, you can add a stand while purchasing the unit. It helps to achieve better stability and also makes it quite convenient to store the item.
How Can The Fence Be Adjusted?
The unit comes with a built-in gauge in the front portion of the machine and knobs that make it convenient to adjust the fence. You can modify the knob settings to make sure that the fence is exactly how you want it. Again, we would suggest that for more detailed instruction, you should refer to the user manual included in the package.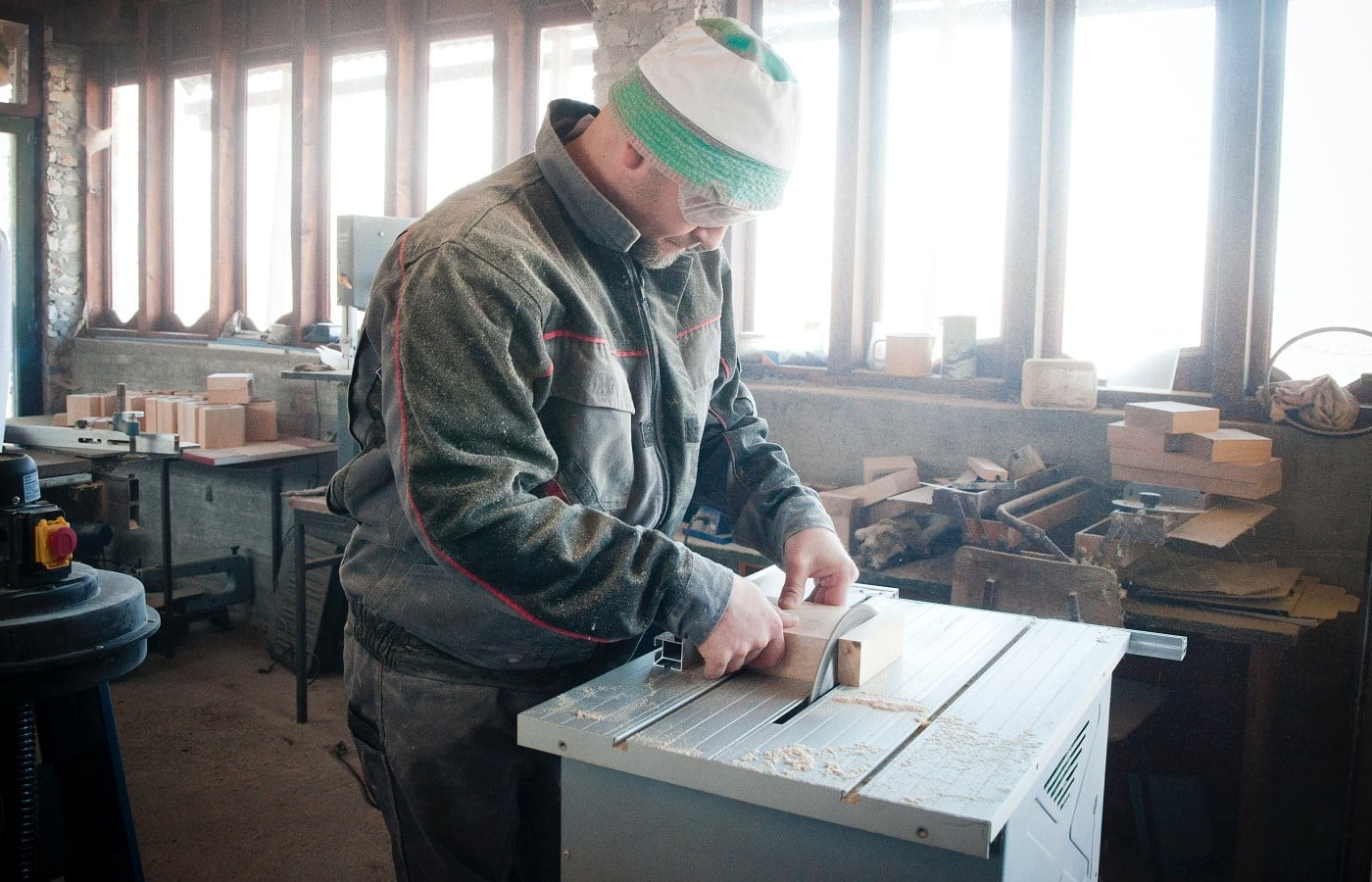 Final Words
When it comes to table saws, the most important thing is quality and performance, and DeWalt is a pro on both grounds. We hope that after reading this comprehensive informational guide, you will be able to decide which option to pick. 
While it is true that DW745 is more compact and portable than DWE7480, not everyone actually looks for lightweight designs. For some, a powerful motor like the one offered by the latter might be more crucial. 
Honestly, we have to say it is a tie! DeWalt has put immense effort into making both the items incredible in their own ways. However, it goes without saying that both come with their own set of demerits too. The quest is to figure out your needs first and select an item that would best suit your requirements. 
That's all for today, folks! Keep a watch on this space for more such interesting reads. And we'll see you next time.
Until then, take care!
EDITOR NOTE | Both of these products are now discontinued and the latest model is the Dewalt DWE7485 which greatly outperforms the previous models.
Related Articles
Different Types of Saws & How to Use Them
9 Best Hybrid Table Saws Under $1000
13 Best Portable Table Saws for Fine Woodworking
Bosch 4100-10 Jobsite Table Saw