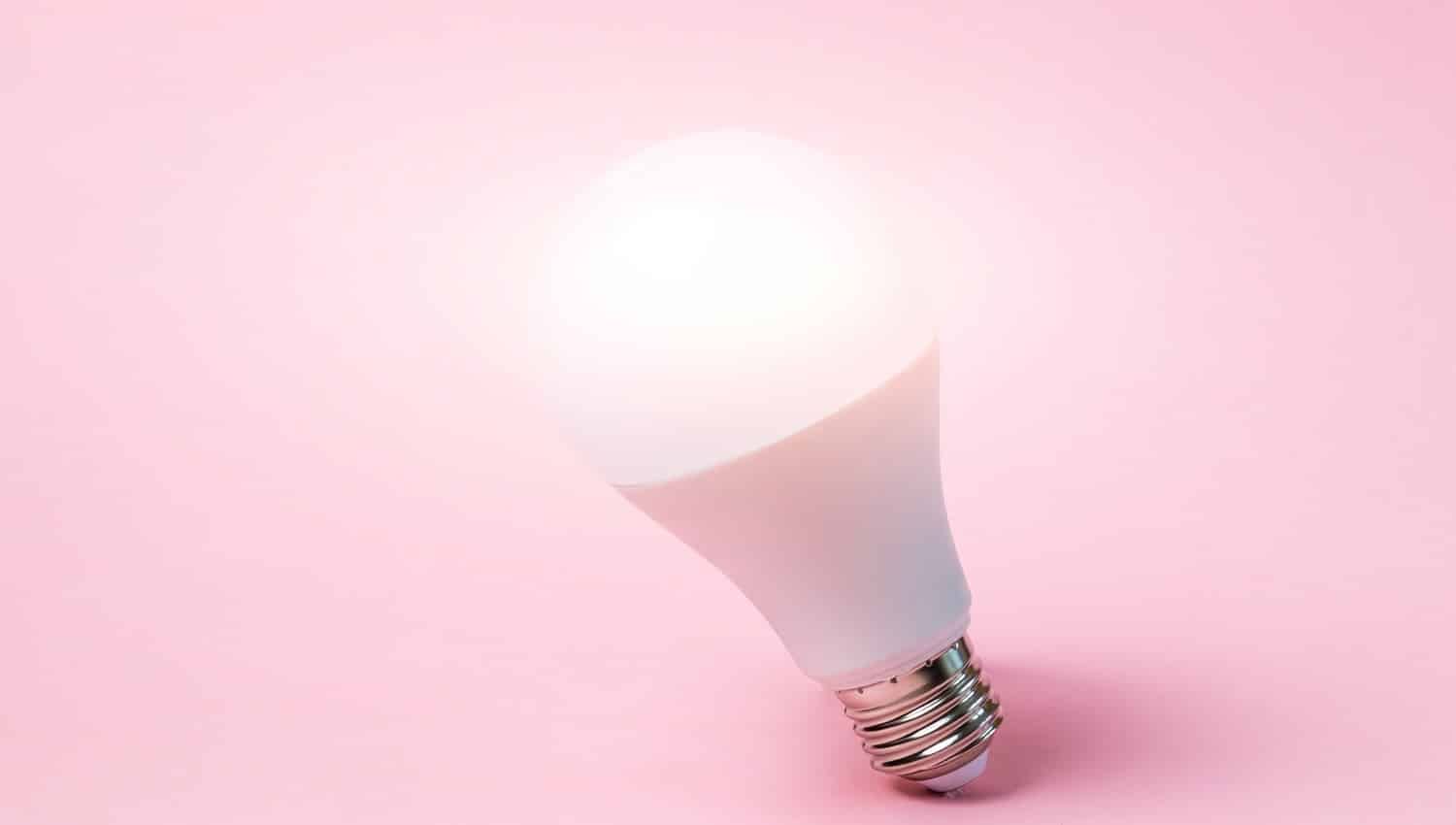 Be it your home or office, a light source is an indispensable part of the establishment.
Who doesn't like walking into a well-lit space? The kind of lighting may change as per taste and preference, and what better choice than an LED bulb for illuminating your favorite zone!
Low watt LED bulbs are the undisputed leaders for that desired lighting set-up. Not only do they save you some precious bucks, but also protect the environment from harmful radiation. However, there's one problem- the options are abundant.
Our hunt for the best product that suits our needs made us scratch our heads, and like always, we decided to save you the trouble of scrutinizing. Sit back and relax as we review the 13 best LED light bulbs available today. Also, don't forget to check out our buyers' guide and final verdict.
Let's start with the proceedings!
Best Low Watt LED Bulbs
IMAGE
PRODUCT
DETAILS

Our Top Pick

Our Top Pick

SYLVANIA General Lighting 74765 A19 LED Light Bulb

800 lumens output
-20 degree to +40 degree operating temperature
80+ CRI for better color rendition

VIEW LATEST PRICE →

Philips LED Non-Dimmable A19 Frosted Light Bulb

2700-kelvin color temperature
Mercury-free emission
High CRI

VIEW LATEST PRICE →

Govee Dusk to Dawn Multi-Use Light Bulb

Each bulb is equivalent to 70-watt traditional bulb
Built-in smart photocell

VIEW LATEST PRICE →

Hudson Lighting LED Flame Effect Light Bulb

Automatic rotation
Low watt consumption
Equivalent to 60-watt incandescent bulb

VIEW LATEST PRICE →

Philips Hue Single Premium A19 Smart Bulb

Minimal 10-watt power consumption
16 million color range
Simple to set-up

VIEW LATEST PRICE →

SGLEDS 36W Dusk to Dawn Security Lights

In-built motion sensor
Ceramic heat dissipation technology
Daylight brightness

VIEW LATEST PRICE →

Peteme Smart LED Light Bulb E26

Energy saving
Multicolor
Supports DIY and scene modes

VIEW LATEST PRICE →

TCP 6-Pack A19 LED Light Bulbs

Less power consumption
Longer lifespan
Quick installation

VIEW LATEST PRICE →

AmazonBasics Non-Dimmable A19 LED Light Bulb

High lumen output
Eco-friendly
75 watt equivalent

VIEW LATEST PRICE →

Luxrite A19 Dimmable LED Light Bulb

EnergyStar rated
85 percent less power consumption 
Dimmable

VIEW LATEST PRICE →

Luxon Vintage Style LED Edison Light Bulb

Gold filament
Antique look-and-feel
Dimmable

VIEW LATEST PRICE →

SGLEDS Enclosed Fixture LED Bulb

Ceramic Heat Dissipation Technology
No UV/IR radiation
5,000 Kelvin daylight white output

VIEW LATEST PRICE →

GE Lighting Soft White 3-way A21 Light Bulb

Flexible
Up to 2155 lumens
Standard design

VIEW LATEST PRICE →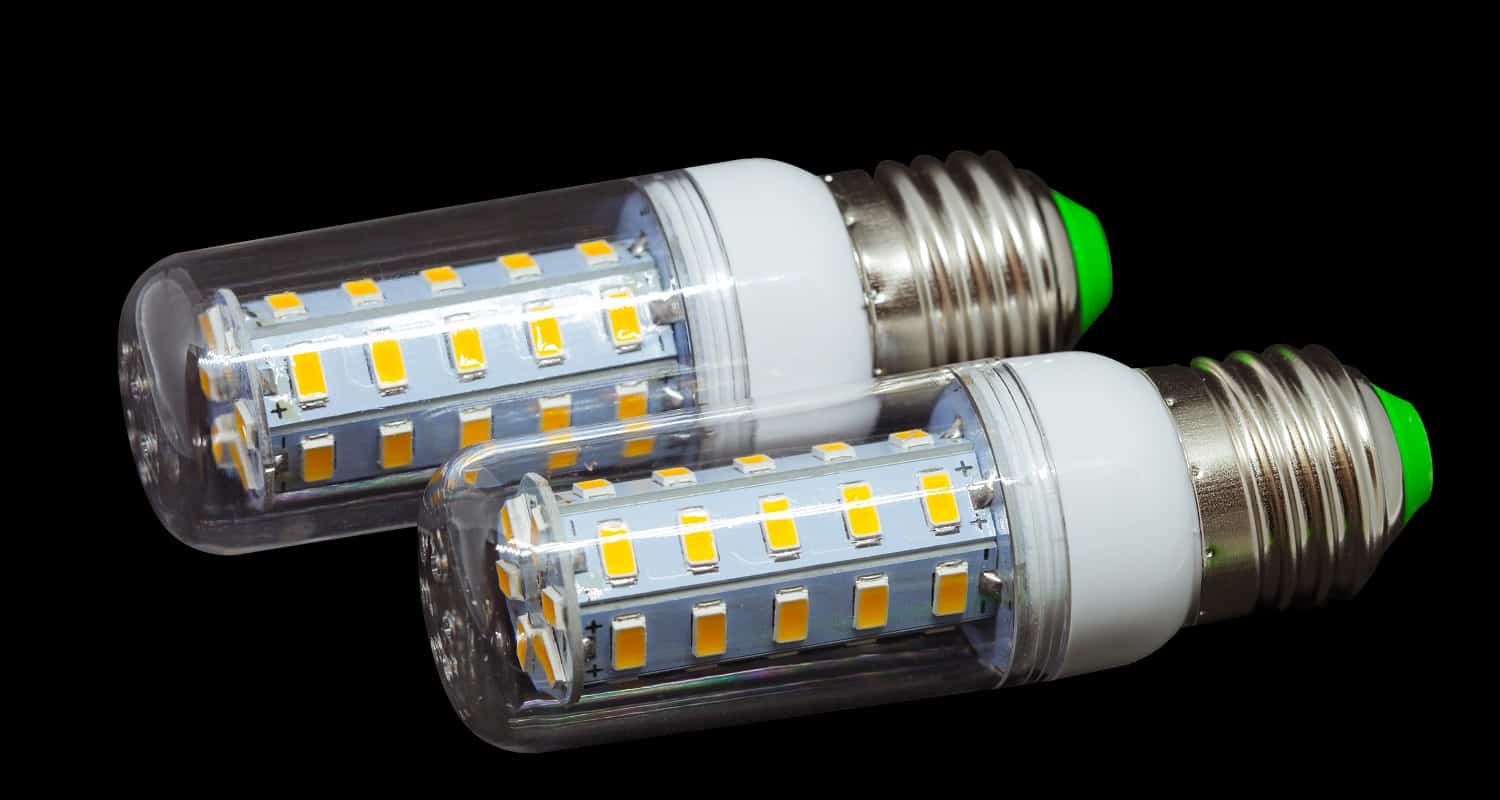 The Sylvania 74765 A19 LED Bulb acquires the top position in today's list. At 8.5 watts, this LED light bulb is one of the most energy-efficient options that are currently available. Its luminous output makes the Sylvania A19 LED Light Bulb a worthy replacement for the traditional incandescent bulbs.
Sale
Why Did We Like It?
To begin with, we were tempted by the positive customer feedback. The 2,700-kelvin color temperature is capable of efficiently emitting a soft, white light that is pleasing to the eyes. Such warmer tones help to relax, and therefore are most suitable for bedrooms. However, the Sylvania LED light bulbs are a great choice for practically any room.
In addition, a high CRI score means that the A19 LED light bulbs make the reds, blues and greens in the house appear more accurate.
We were highly impressed with the effective bulb design. For our 90 minutes usage time, the bulbs lost only about 10 percent of their initial brightness, suggesting its reliable utility in closed spaces where heat tends to get trapped.
Apart from being energy-saving, these bulbs are also environment-friendly in the sense that there is no UV or IR radiation involved. A shatter-resistant feature prolongs the service life of the A19 LED light bulbs.
What Could've Been Better?
As much as our eyes relaxed in the soft, white light of these bulbs, our minds were distressed by the short lifespan of 11,000 hours on 3 hours run-time each day. Also, the A19 bulbs are non-dimmable.
Pros
Up to 85% saving on the electric bill

High steady-state

Eye friendly

Shock and vibration resistant
Cons
The lifespan is a tad bit short
Phillips is a reputed name in the LED light bulb category, and its A19 Frosted Bulb takes up the second spot. The 16 pack LED light set brightens every corner of the house with its pleasing white light. These energy-saving and eco-friendly bulbs have been designed for the comfort of your eyes.
Sale
Why Did We Like It?
The faith on Phillips stands justified with its A19 Frosted light bulb range. A proper colour temperature takes care of the soft white light that is both comfortable and bright at the same time. We used these light bulbs for room ambiance and specific area lamps, and loved its performance for both of our needs.
Much like the Sylvania A19 LED light bulb, the Phillips LED lights also have a high CRI score, thereby emitting crisp and accurate colored light. Each of Phillip's lights are built to be resistant to flicker, strobe and glare disturbances, and its A19 LED light bulbs are no exception.
The natural white light output ensures maximum eye comfort. Furthermore, by using only 20% energy of incandescent and halogen lights, the A19 light bulbs produce mercury-free and eco-friendly lighting for optimum clarity.
The shatter-free plastic construction renders the look-and-feel of a classic light bulb without compromising on durability. Also, these lights have been designed to be compatible with E26 medium screw bases for convenient fitting.
What Could've Been Better?
Surely, we did not face any flickering or glaring of the lights. However, once switched off, they have an illuminating appearance which can be annoying to look at, especially during the night.
Pros
Affordable

60-watt equivalent

800 lumens illumination

Environment friendly
Cons
Not suitable for circuits with illuminated switches
The Dusk to Dawn Multi-Use Light Bulb by Govee is a set of two LED bulbs that come with an automatic switch on/off mechanism for enhanced convenience. Its smart technology saves you the hassle of manual operation, without putting any extra load on your electricity bill.
Why Did We Like It?
Govee has earned a reputation for being reliable, and the high customer ratings of the dusk-to-dawn multi use bulb set is a prime example of its dependability. The biggest highlight of this LED bulb set is its smart photocell for light sensor control. 
What this mechanism simply does is it automatically turns on the bulbs in the dark (for conditions less than 15 LUX) and switches it off during the day (when light condition is more than 35 LUX). It is important to note here that the bulb doesn't just light-up, but fully takes up the role of accent lighting with a bright output of 800 lumens.
Additionally, its latest LED technology means that the Govee Multi-Use light bulb set has a no-flicker, no-glaring policy, making it suitable for a variety of both indoor and outdoor spaces. All in all, the dusk to dawn multi-use LED light bulbs have paid equal importance to both smart technology and quality of output.
What Could've Been Better?
Given its user-friendly automatic operation, we wished we could have it functioning for a bit longer. Sadly, the short lifespan of these bulbs hinders its long-term utility. But that's not a deal-breaker, given their affordable pricing!
Pros
Saves 90% energy

9-watt power source

Easy to mount

Does not require extra wires or motion detector
Cons
Comparatively shorter lifespan
From the house of Hudson Lighting, the Flame Effect HLFL01 light bulb is perfect for those who are looking to add a touch of decor to the otherwise regular light set-up. These energy-saving LED bulbs are a top-notch product for home refurbishing or seasonal decoration needs.
Sale
Why Did We Like It?
Without a doubt, the light flame effect of these Hudson Lighting bulbs was the star of the show. The blend of orange and yellow hues seamlessly imitate a flickering flame to induce a warm and cosy ambiance. We used the HLFL101 to recreate the look-and-feel of an indoor fireplace, and it did not deliver anything less.
Hudson Lighting has done a commendable job to render efficiency to what may seem like simple decoration lights. Firstly, these LED lights consume a nominal 3-watt power, thus making these lights one of the most energy-saving bulbs in the price range. Furthermore, the HLFL101 is equipped with a standard E26 base for easy mounting on frosted lampshades, lanterns or salt lamps.
Another striking feature of this flame effect light bulb is that the 'flame' automatically switches orientation once the bulb is turned upside down. 
To sum up the entire experience, we will say that this product is quite a bargain!
What Could've Been Better?
If you are looking for something that is a little more luminous, the 200-lumen output may not be suitable for your needs. That being said, the low lumen does not affect its flickering simulation.
Pros
Affordable

Less power consumption

Sturdy outer shell

Works up–side down
The fifth place in this list belongs to yet another LED bulb from the Philips A19 range. The Philips Hue Single Premium smart bulb is compatible with almost every smart device out there-from Alexa, Apple Homekit, Google Home, to Samsung SmartThings and a lot more. 
Why Did We Like It?
Over the years, the Philips Hue products have become quite synonyms to smart light set-up. The Premium A19 smart LED bulb is sturdy, reliable and comes with a range of 16 million warm and cool colors, including 50,00 shades of white to choose from. No matter what your desired theme is-be it disco, game room, or a simple relaxing set-up, this smart light can work for all.
Apart from a voice activation feature that allows you to control the lights with any voice-recognition product or software, these A19 smart lights support easy installation for enhanced user-convenience. All we had to do was to simply screw the bulb-base into the desired light location. Additionally, you can also download the Hue app on your smartphone and pair it with Hue Hub for effortless control.
This bulb comes across as the ultimate 'smart' partner for all your ceiling fans, table lamps and floor lamps for illuminating every part of your space.
What Could've Been Better?
In accordance with its name, we had no issues with the premium pricing of the bulb. However, we were required to purchase a separate Hue Bridge to access the full range of hues. Furthermore, you need seperate accessories like switches and motion sensors for dimming and motion control, respectively.
Pros
Voice-activated

Easily fits into the existing lighting system

Flexible utility

Bright output of 800 lumens
Cons
Additional costs involved
The SGLEDS Dusk-to-Dawn lights are the perfect security lighting solution for homes and offices. With a compact and easy to install design, this couple of highly luminous motion-detector sturdy lights is meant to be the ultimate replacement for your more traditional and bulky floodlights.
Why Did We Like It?
The strong build of these dusk-to-dawn lights assured us of its reliability, especially for the variety of tasks it performs. Its plastic outer covering has an IP65 waterproof rating, thus making this pair suitable for outdoor use. 
Further, the in-built motion sensor technology is accompanied by 4 working modes that make the SGLEDS a true all-rounder. Its test mode allows you to check its efficiency, where the lights, on detecting motion, switch on for about 5 seconds during the day or night. The auto mode, on the other hand, operates the light at night for 1 to 10 minutes, according to a pre-decided time setting.
In addition to the dusk-to-dawn mode, which sets off the light according to the outdoor brightness, there is also an on-time setting, just in case you wish to manually control the lights sans motion sensing.
The SGLEDS' motion sensor angle can cover up to 180 degrees, within a maximum distance of 50 feet. All things considered, these dusk-to-dawn LED lights are a cost-effective workhorse.
What Could've Been Better?
As compared to the Govee dusk-to-dawn lights, the SGLEDS consume almost four times the power. Having said that, these lights are more versatile than the Govee's, thus compensating for its high power intake.
Pros
3600-lumens

Equivalent to 250-watt traditional lights

2 adjustable light heads

3 setting knobs
Halfway through the list and we present another smart LED bulb that comes in a pack of 4. The Peteme Smart LED light bulb is a more affordable and simple alternative for upgrading to or expanding the smart-light set-up of your home.
Why Did We Like It?
First and foremost, we liked the number of things that these smart bulbs can do for its affordable price tag. Apart from providing a wide array of colors for selection, each of which is dimmable, these 75-watt equivalent energy-effective smart lamps are easy to install and convenient to use.
Unlike the Philips Hue range, the E26 smart LED bulbs do not require a separate hub or bridge for hands-free control. A downloadable app called 'Smart Life' directly connects these bulbs to the existing Wi-Fi network. Furthermore, you can control their operation through the various voice-recognition systems.
The Peteme Smart Led Light Bulb set also enables switch-on/off schedule through an app called 'Home Away.' In addition, there are many other features like the DIY mode, color palette, sunrise and sunset modes to be explored. We enjoyed the varied light settings that create the perfect ambiance for almost all rooms and occasions.
What Could've Been Better?
The Wi-Fi control is indeed a user-friendly way of controlling the lights, but the efficiency of the lights depend on the consistency of the network available. Thus, it may not have an overall uniform performance.
Pros
10.5-watt power consumption

Additional accessories not required

Enables both single and group light control

Standard E26 light base

Cost-effective
Cons
Not compatible with Apple HouseKit

Less whole-house friendly
Another popular choice in the A19 category is a pack of 6 A19 light bulbs from TCP. Its 2700 kelvin color temperature produces a warm shade of white light for a well-lit and comfortable ambiance. The TCP light bulbs are competent for both indoor and outdoor set-ups.
Why Did We Like It?
The TCP A19 bulbs have flexible utility, meaning that these LED light bulbs work just fine for a range of spaces, from closet to kitchen and bathroom. Consuming a minimal 9-watt power, these bulbs perform exceedingly well as worthy replacements of the traditional 60 watt incandescent lights.
Despite its quality performance, the TCP A19 bulbs have a high-quality outer shell that accounts for a longer lifespan, as compared to some other LED bulbs in the price range. The bright and crisp natural white light output makes it a suitable choice for activities like sewing that require better lighting conditions.
Easy fitting is yet another highlight of these cost-effective LED bulbs. The standard A19 shaped TCP bulbs have a medium E26 screw base, giving it a sturdy foundation on any medium screw-base light fixture. 
Overall, the TCP A19 bulbs are definitely a value-for-money package. 
What Could've Been Better?
The natural white light, which has a daylight-like effect, might appear as a little too bright for people who want something more subtle. Also, we are not too sure about its performance in close fixtures, as the bulb-surface tends to get warm.
Pros
Moderately priced

Seamless installation

Lifespan of 20,000 hours

Luminosity of 800 lumens
The AmazonBasics A19 LED light bulb set of 6 units is next in line for today's list. Its 1000 lumen output is probably the highest in the price range, emitting a natural daylight glow for optimum illumination. This unit is a cost-effective and energy-saving revamp for your favorite space.
Why Did We Like It?
For its humble design and affordable price, the utility of the bulb is worth considering. If you are a fan of clear, bright day-like light set-up for activities like reading and writing, then AmazonBasics may serve your needs with its A19 range.
Using just 11.5-watt of power, each of the 6 lights is equivalent to a 75 watt traditional incandescent light. This configuration will not only save on your electric bill, but will also reduce the unwanted radiation by manifolds. The luminosity of these bulbs makes them a nice pick for your dining hall, kitchen, bathroom or entertainment space.
We had a hassle-free fitting experience with the AmazonBasics A19 LED light bulbs. Also, these lights come with a humidity-resistant outer shell to make them sturdy. A long lifespan means that the AmazonBasics save you from frequent replacement costs. Honestly at the given price, we couldn't have been more satisfied!
What Could've Been Better?
For all its advantages, there is but one big downside. Compared to other A19 LED light bulbs, the AmazonBasics A19 units are larger in size and thus may not be compatible with every light fixture.
Pros
Better lifespan

Humid-resistant

Higher luminosity

Economical alternative to incandescent lights
Cons
May not be suitable for every light fixture
The ninth entrant on this list is a pack of 4 Luxrite A19 dimmable bulbs. With a high CRI score for better looking RGB hues, the Luxrite A19 bulbs are durable and competent to withstand long hours of illumination. Its 2700 kelvin color temperature delivers a soft and eye-soothing white light output.
Why Did We Like It?
After testing a lot of both standard and smart non-dimmable LED lights, this dimmable unit was a much-needed breather. At its brightest, the Luxrite A19 radiates 800-lumens of sharp and clear soft white light, equivalent to 60-watt traditional incandescent lights at about 85% less power. Talk about saving on the big bucks!
As much as we were pleased to finally be able to test a dimmable LED light, we were equally impressed with the extent to which the brightness of the Luxrite LED bulbs can be controlled. 
Furthermore, these A19 lights are compatible with a wide range of dimmers. Hence, we did not have to put in any extra effort to find the right brand and model of dimmer. Along with a quick and easy installation ability, these lights are truly user-friendly.
There has been no compromise with the quality of the light either, as these flicker resistant bulbs create a comfortable and relaxing atmosphere.
What Could've Been Better?
Similar to the Peteme Smart LED light bulbs, these A19 bulbs also do not appear to be suitable for closed lighting fixtures.
Pros
Energy-saving

Longer lifespan for continuous use

Superior quality output

Standard E26 bulb
Cons
Not competent for closed fixtures
The Luxon Vintage Style LED Edison light bulbs are yet another energy-saving light source that adds value to the interior or exterior decor of your preferred space. Though these bulbs have a retro look, its energy-saving design makes these bulbs a notable name in the modern-day LED bulb category.
Why Did We Like It?
Beauty is for admiration, and so is the look of these vintage Edison bulbs. These Luxon bulbs render an old-world charm to your home or office, while simultaneously saving energy consumption and emitting low-heat light for increased productivity.
We totally loved its pleasing, amber-yellow tone that creates a warm and inviting ambiance, perfect for both occasional decor or everyday use. The brightness is just about perfect to illuminate the space, without creating any harsh shadows or flickering. In addition, you can always dim the luminosity as per your preference.
Also, these have a standard base that fits into any E26 or E27 lighting socket for fast and easy installation.
What gives these bulbs a long service life is their distinctive sturdy gold filament and an inert gas filling. This combination works to create a low-pressure state which not only minimizes light decay but also reduces the overall temperature so that the bulbs don't turn dark despite having continuous usage.
What Could've Been Better?
The only room for improvement in the otherwise flawless design is its dimming feature, which may not be the smoothest among other similar dimmable LED bulbs. 
Pros
Equivalent to 40-watt incandescent bulb

4-watt power consumption

Less heat emission

360-degree stereo illumination
The penultimate product on today's list is a specialized LED bulb from the house of SGLEDS. Its A21 design is specially built for functioning in close light fixtures, with temperature as high as 150-degree celsius. The eco-friendly and power-saving set of four bulbs has a hassle-free installation for wider application.
Why Did We Like It?
As the name suggests, this range has been designed for enclosed fixtures, and we were happy with its specialized application. With a high CRI score of 80, these A21 lights are capable of emitting accurate RGB hues for enhanced lighting.
Closed fixture lighting systems have a tendency to emit high heat, and these bulbs are equipped to deliver efficient performance in higher temperatures. The in-built chips with latest LED technology reduce the power and lumens of the bulb, once the temperature in the fixture reaches above a certain level. As a result, these A21 LED bulbs have a longer lifespan as compared to some other models in the same price range.
On top of everything else, these lights have a typical E26 base that is mountable on all E26 light circuit bases. The hollow rugged housing design, in tandem with its A21 shape makes it a reliable and sturdy choice for illuminating all your enclosed fixtures.
What Could've Been Better?
It is important to mention here that closed fixtures, for these lights, are not synonymous to refrigerators as the humid conditions can reduce its lifespan.
Pros
Sturdy

In-built chips for heat control

2200 lumens output

16-watt power consumption
Cons
Not resistant to humidity
Our last product of the day is a set of 12 3-ways LED bulbs by GE Lighting. Each unit has a 2800 kelvin color temperature, in accordance with its soft and warm white light emission. These energy-efficient LED bulbs are compatible with almost all related lighting fixtures.
Sale
Why Did We Like It?
Our search for a moderately priced 3-way LED bulb led us to this pack by GE Lighting, and we were not too mad about it. This soft-light source becomes gradually equivalent to a 50 watt, 100 watt and 150-watt incandescent lights in its 3 light levels. All we had to do was tap our 3 way light compatible lamp once, twice and thrice to achieve the desired setting of low mood, bright task and general-purpose mode, respectively.
While the lowest setting delivers 315 lumens of luminosity, the bright task mode is capable of 1540 lumens and the general purpose setting has an output of 2156 lumens. In other words, each mode justifies its purpose with utmost efficiency.
Despite its multi-purpose utility, the 25,000-hour lifespan makes it one of the most sturdy options in the price range. Also, these lights can also be controlled with dimmers.
On the whole,the A21 lights are quite reliable for frequently used light fixtures.
What Could've Been Better?
Not every bulb from the set of 12 units had the same lifespan. Some may outlast the others, thereby affecting uniformity.
Pros
Economical

Easy to dispose

Good color rendering

Medium base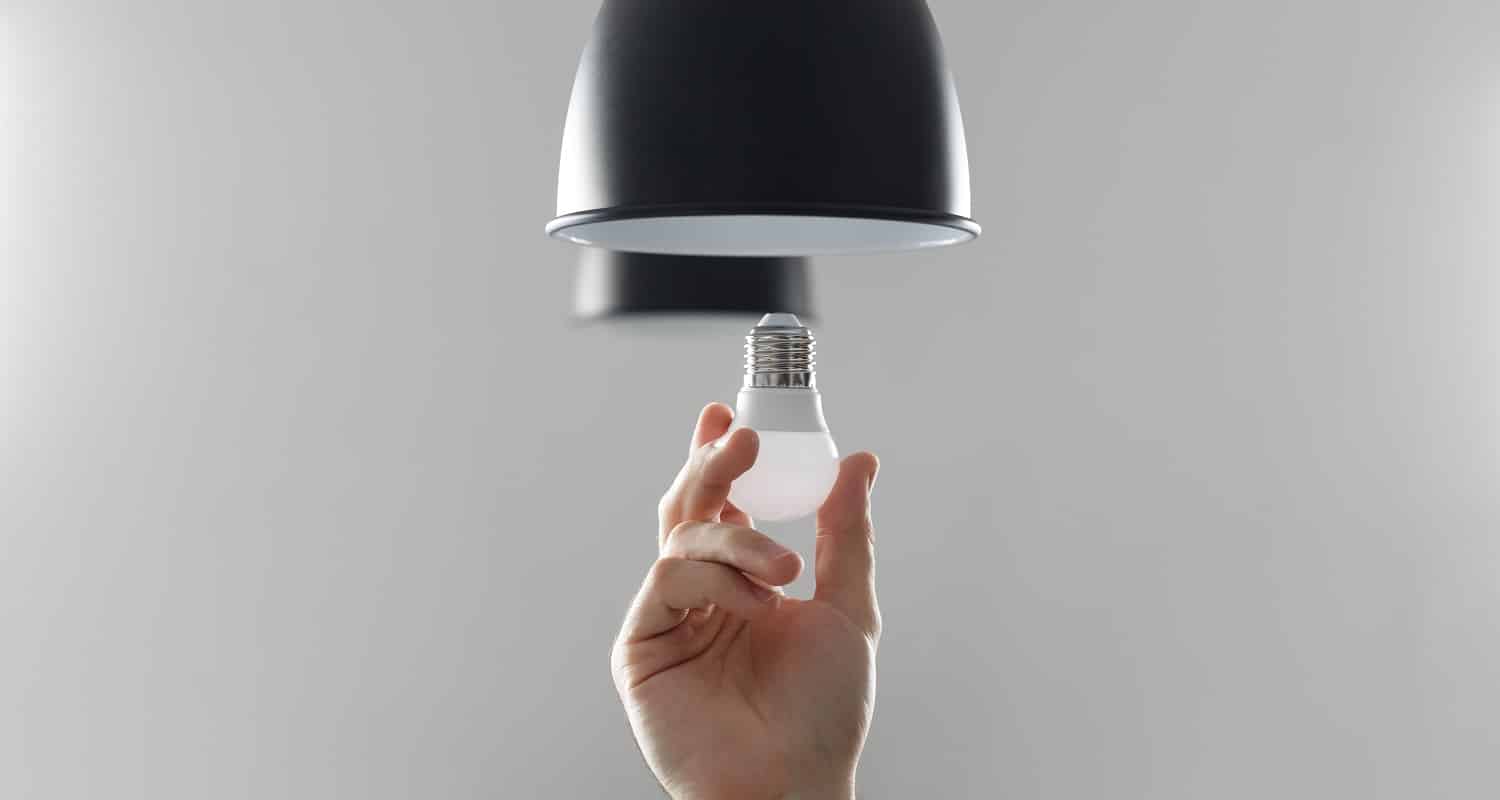 Low Watt LED Bulb Buyers' Guide
It didn't take us long to figure out that buying a suitable low watt LED bulb is not as easy as switching on the lights in our room. 
Though our main criterion was to opt for a low watt LED bulb, there are a lot of other features that need to be considered before buying one. 
So that you have all the important factors one after the other in a single place, we have this buyers' guide to help you understand why the said features are important to be considered.
Read on to know more!
Watt
Undeniably, the watt consumption is the key factor for choosing the right LED bulb. In general, such bulbs are preferred over and above the traditional incandescent or halogen lights due to their low power consumption. However, some LED light bulbs, like those in dusk-to-dawn outdoor lights consume relatively more power due to their flexible utility. 
If additional features like flexibility or motion-sensing are not on your list, we suggest you choose an LED bulb that has low watt consumption. It is also helpful to know here that a lot many LED bulbs perform a variety of tasks while operating on low watt.
Lifespan
Though most LED lights have an average lifespan of 10-20 years, it is useful to note that bulbs that are meant to render some specialized effect or designed for decoration purposes may have a lower service life. If you do not want the hassle of frequent changing and maintenance, we would recommend a more simplistic LED light bulb with high lifespan.
Color and Tone
The ambiance and look of a space has considerable dependence on the color of the light. In general, the two main colors available for selection are yellow and white. While white LED lights are preferred for day-like effect, the yellow ones are desired to produce a more warm and cozy environment. 
Furthermore, the colors have softer or warmer tones, depending upon their corresponding kelvin temperature. Higher temperatures produce a soft and subtle tone, while lower temperatures have a cooler tone, suitable for work that demand greater alertness.
We suggest a cooler tone for activities like reading, writing or cooking that require greater attention to detail. On the other hand, warmer tones are preferable for bedrooms or areas dedicated to relaxation.
Dimmable vs. Non-Dimmable
The brightness of the LED bulb depends upon its lumen output. In simpler terms, high lumen output will produce a brighter light stream, irrespective of the color. However, if you are not sure about the lumen calculation or want to be able to control the brightness, we recommend investing in a dimmable bulb.
Having said that, dimmers are not generally included in the LED bulb set-up, and need to be purchased separately.
Alternatively, you can choose a non-dimmable LED light bulb if your lighting set-up does not require flexibility.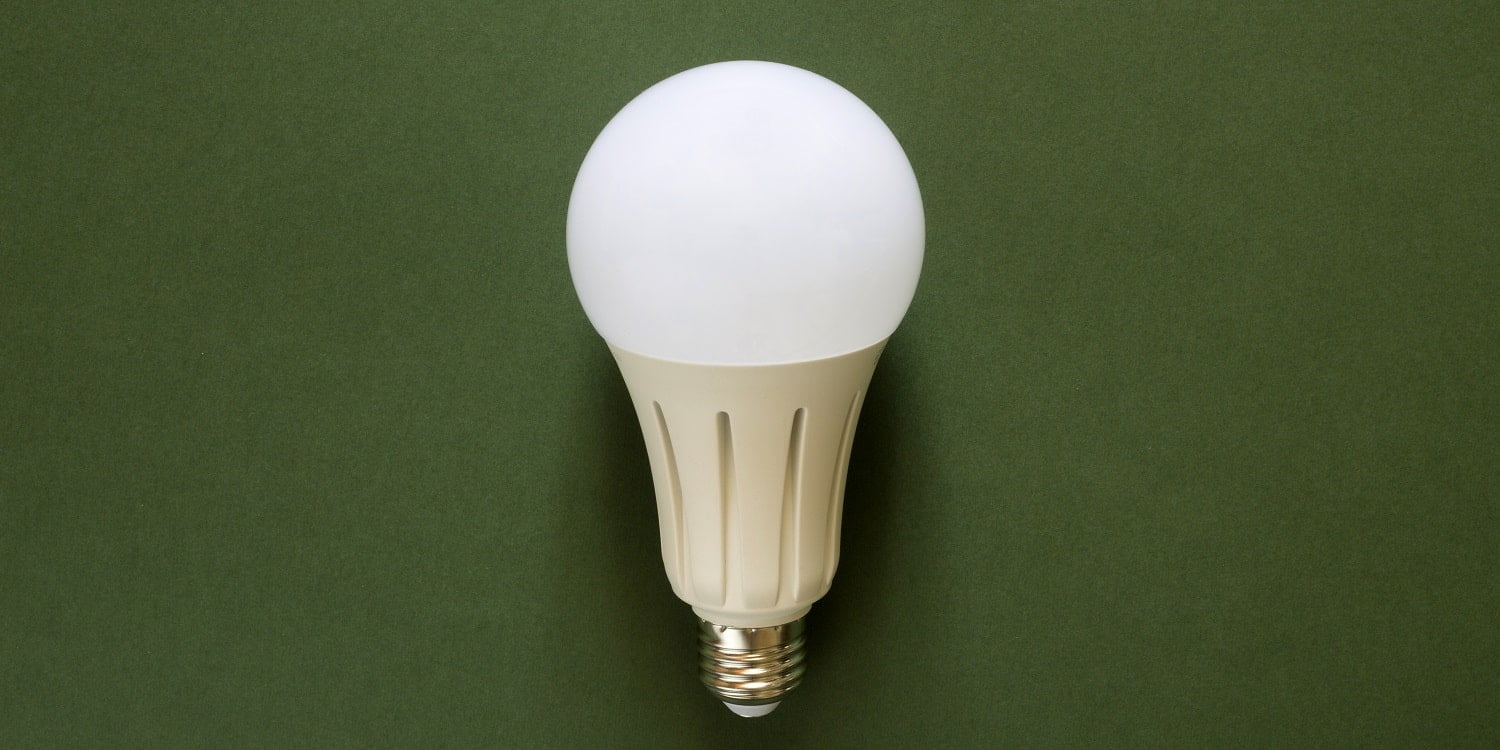 Verdict
Low watt LED light bulbs are a preferred power-saving and cost-effective light source for personal or professional use.
Today's list included the top 13 LED light bulbs that we felt stand the test of efficiency, power consumption and of course, making substantial cuts on the electric bills!
But before we bow out, here's a quick recap of our extensive reviews.
The Sylvania 74765 A19 LED Bulbs and Philips A19 Frosted Bulb are both power-saving and shatter-resistant.
While the Govee Dusk to Dawn Multi-Use Light has only one automatic switch-on/off feature, the SGLEDS Dusk-to-Dawn lights come with 4 light setting modes.
Unlike the Philips Hue Single Premium Smart Lights, the Peteme Smart LED lights do not require additional bridges or hubs, and can be connected to the Wi-Fi directly.
With this, we have come to the end of today's top 13 list. Hope your decision making becomes a lot more trouble-free
Let us know in the comments whether or not you agree with our verdict.
See you another day!
Related Articles 
10 Best Solar Powered Shed Lights  
19 Best Pool Lights Reviewed | Buyer's Guide
13 Brightest Light Bulbs For Garage 
10 Brightest Solar Spot Lights for a Shiny Yard
How To Choose Pendant Lights For Your Home
13 Best Outdoor Motion Sensor Lights Today | Buyer's Guide