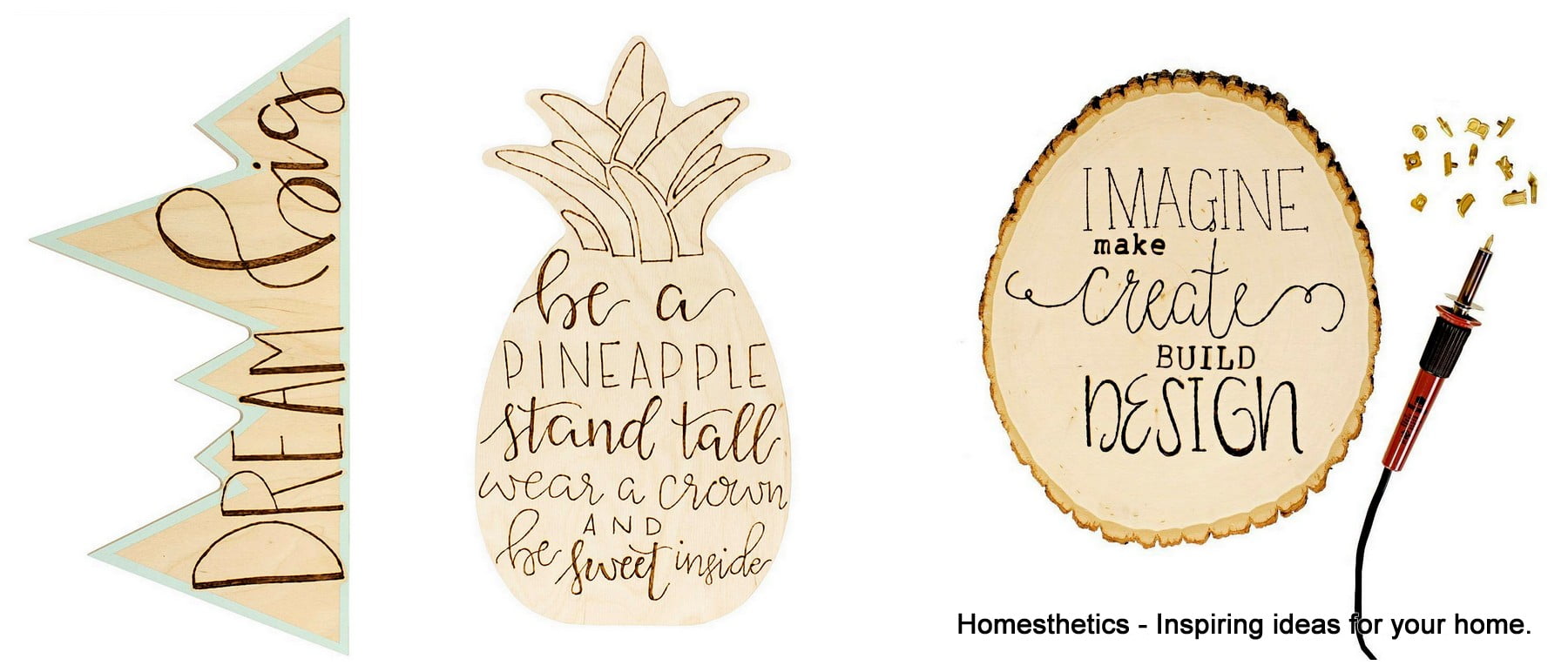 Pyrography is the art of burning wood or leather to write something. The part "pyro" comes from the Greek word "pur" meaning fire, and "graphy" comes from the Greek word "graphos" signifying the act of writing. Therefore, pyrography literally means the act of writing with fire and the best pyrography pens and wood burning tools are here for the big show.
Pyrography may seem new to you but it's an art form that originated centuries ago. Back in those days it was performed using metal pokers on wood or leather pieces but now we have wood burning tools that look like pens. Much like soldering equipment.
I found pyrography pens pretty straightforward to use as most of them come equipped with temperature monitors and controls, and have a very convenient design.

But if you are new to the art then you can be pretty confused about getting the right equipment for yourself.  Don't worry though, I have undergone the experience myself and took the trouble to make an entry just to help you, a fellow pyrographic artist.
Here are some best pyrography pens that will be perfect for you to get crafty!
But first some guidance to help you decide what product is right for you.
Best Wood Burning Tools & Pyrography Pens
This is a great tool for the beginner. In my review, I found that it had a really comfortable design which was easy for me to hold and work with.
I started out my adventure with this tool and I found that on multiple occasions its safety guard protected my hand from burning. Such a welcomed feature, especially for the newbies. It also comes with a variable temperature control which made the pen very versatile to work with. I'd  generally start etching with a lower temperature in the beginning, then gradually move to a higher temperature for darker shades.
In my experience, the temperature control was really convenient to let me get into more complex designs. I soon found myself trying out flowers and pattern designs instead of making blobs on a piece of wood. Also, the multiple heads helped with getting creative with my artwork.
It's also inexpensive, adding to the feature list that is meant for beginners. Get your hands dirty and get crafty with this pen right away.
The tool comes with 14 pieces, loaded for perfectly executing any type of project you may want to. Wood burning, shrinking or maybe even area heating; everything can be done with this tool.
It even does soldering as it comes with a butane torch that is really easy to use. It has its own ignition trigger and it also has a feature called "flame lock".This feature is especially helpful when soldering and it made it so easy for my wrists.
The temperature control was more tactile and responsive in my opinion. And the quality of the product is a bit better in my opinion than the previous entry. It also comes with a storage case which is very handy in my opinion.
I found it extremely versatile for working on different projects and also this one seems less flimsy and more long-lasting.
The "10-in-1" Wall Lenk Woodworker pyrography pen comes with seven tips for wood burning, two for fusing and cutting and one for soldering. Of course, this pen doesn't mess around and is great for any form of pyrography. Not just wood. Although I have only used it for wood-based pyrography, other users have mentioned that it's great for leather pyrography as well.
What I loved the most about this simple tool is that it's loved by both beginners like me and more experienced pyrography peers I have. It's practical and functional every time you need it to be.
It also comes with a storage case like the last entry, which I find really convenient. It's maybe a budget-friendly tool, which is great for beginners, but it doesn't mess around as it has 30 watts of power that reaches over 1000 Fahrenheit.
I'd recommend it to beginners to start with something simple and for experts as well to add it to their arsenal.
This is a tool meant for the experts. The amount of control of the craft I got with this tool is immeasurable to any of the tools I have yet mentioned in this list.
It has a refined temperature control that has a marking range from 1 to 10, which is incredibly helpful when doing more complex multi-layered artwork.
Not only that but it also comes with more than 800 pens and tip combinations which is etremely versatile for pyrography. There's no match to its versatile nature. At least not in any of the products I got to use, including the ones I didn't bring up on this list.
If that is not impressive enough for you then consider its 10-amp output which results in one of the fastest temperature recovery times of the tip, aided as well by its wire style design.
This is a serious tool for artwork, that is meant for serious business. But that doesn't mean that it's not meant for beginners as well. As a beginner myself, I found this tool a great investment in enhancing my artwork capabilities.
The fact that it also works with tips of other brands made it so easy for me to get used to it as I'd use the tips of my previous pens to mimic the designs I've got handy with. This pen is all about modularity, ease of use and functionality.
Since, all the pyrography pens are relatively inexpensive products, it doesn't hurt the wallet to go for a more expensive entry like this. It's also really durable and long-lasting by design. Even long time users of this pen are satisfied by its durability.
It was impossible to find a negative review of it, online or offline. Instead of shipping issues, that very few people had, it seems to have no downsides. Amazing temperature control, safe design and pen-tip modularity makes this the best product to go for on this list.
I may have been chanting too much praise for Razertip's pen but this one takes the top spot in every regard. This one is meant only for professional use. And getting this pen means that you are ready for some serious pyrography as well.
It has a 60-watt wood burner which results in incredibly quick tip recovery time. I feel as if I am using the Ferarri of pyrography pens.
Its light-weight design made it comfortable and made it possible to work on finer designs as if you were holding just a ball-point pen. There are 20 tips included in the bo as well. It made it so flexible to use for me that I don't think any professional would have a problem with inadequacy of any sort.
This pen can do incredibly detailed artwork on any medium, such as wood, gourds, leather and even paper. And I didn't have any problem with its reliability or safety. Especially because of its light weight and straightforward design.
The temperature control is precise well with no room for any complaint.
But in all seriousness, as a new pyrographer I felt as if I didn't deserve to use this for my small projects. Using the same car analogy, it felt as if a Prius driver is driving a Ferarri on a street instead of a racetrack.
Which Pyrography Pen You Should Use?
The primary categorization of pens is done on the basis of the type of tips, namely,  solid tip burners and variable temperature wood burners.
Solid tip burners, also known as craft style wood burners, are great for beginners. It's excellent for filling up big chunks of designs which you can use to make signs or simple designs. Corollarily, on the other hand, these fail at creating complex or highly detailed designs.
Copper tips that are usually thicker.

Heating and cooling takes a lot more time, about 5-10 minutes.

The handle is much larger.

Mostly come equipped for a hand shield to prevent the user's hands from burning.
For executing complex designs, artists use variable temperature wood burners instead. These have finer tips and come in different shapes and sizes, much like brushes, for burning different strokes of design.
These come with finer pen tips for much more detailed work.

The handles are smaller for writing and drawing on wood.

The heating and cooling time is much lower.

These also have electrical temperature control which is great for detailed work.
Working and Performance Parameters
There are several parameters that can judge the performance of the pen. Here I have listed some of the key factors that you should be taking a look at before making the purchase.
Of course, you should know what's your use case before making your mind with any pen. But that maybe even harder to do if you have no idea what specifications you need for the usecase. So let's get started.
Power
Manufacturers will make advertise that higher the power the better. But professionals know that isn't true at all. And as a beginner myself, I can also say that it's about the right balance. If the pen has more power, of course, it'll get hot faster and it'll be easier to etch faster. But if you don't know what you are doing or not used to doing the design fast, you may end up burning the material being used to the point it has black spots.
Hence, it's a no-brainer that lower power pens are great for doing more detailed work than the more powerful ones. Keeping an arsenal of differently abled pens is also a great idea, especially if the pens you buy don't have temperature control.
Comfort
One of the deciding features during my purchase of the pens, was comfort. Sometimes, I work on longer projects for hours. Even when I don't have elaborate ideas and designs, I often like to practice for a long time on scrap pieces.
For that I always consider if the pen is easy to hold and if it's light-weight. Higher end pens pay more attention to comfort so I generally have a bias towards that. After shelling out few extra dollars from my wallet, I can definitely say that comfort is a worthwhile investment for serious beginners and professionals alike.
Kinds of Tips for Pyrography Pens
To execute the art work without any error, the artist must know the types of tips availaible and which ones to use for the particular design.
Fixed tips
These tips are designed to heat up faster and is incredibly helpful for more consistent art work.
Polished tips
These are smooth tips, which run easily over the material than its non-polished counterparts. These are extremely helpful for working on more detailed parts of the project. Variable temperature wood burner tools usually come with polished tips.
Non-polished tips
Rougher tips are great for blacking out bigger parts of the design and it is great for etching and making rougher textures on the surface. But keep in mind that it looks less refined and has more imperfections than its polished counterparts. Solid tips are usually equipped with non-polished tips.
Interchangeable tips
If it were to me, I'd only recommend interchangeable tips. Versatility is great for detailed artistry. Using different types of tips on the fly is incredibly necessary for more detailed projects. Especially if they are more elaborate.
Cost
Pyrography pens are generally inexpensive but they can range from $20 to $200 dollars. In my opinion, it only depends on what use you have of the pen.
I don't think the cost matters much if you know what the use case is as all the tools prices are defined by what it can do. Hence, the value proposition is consistent across the board.
I'd rather recommend to find your use case before investing too much time into the cost of the product.
Final Words
So, there you have it. All the facts you need to know to adopt pyrography as a hobby.
Even though I am a beginner myself, with the help of my more professional peers I also laid out some facts that even pyrography veterans might find new and useful.
Some key facts that you shouldn't forget. More power doesn't necessarily mean better use. Also, don't bank in researching cost more than determining what you exactly want.
With that I wish you well in your pyrographic endeavors.
Related Articles
The 5 Best Soldering Irons for Stained Glass Work