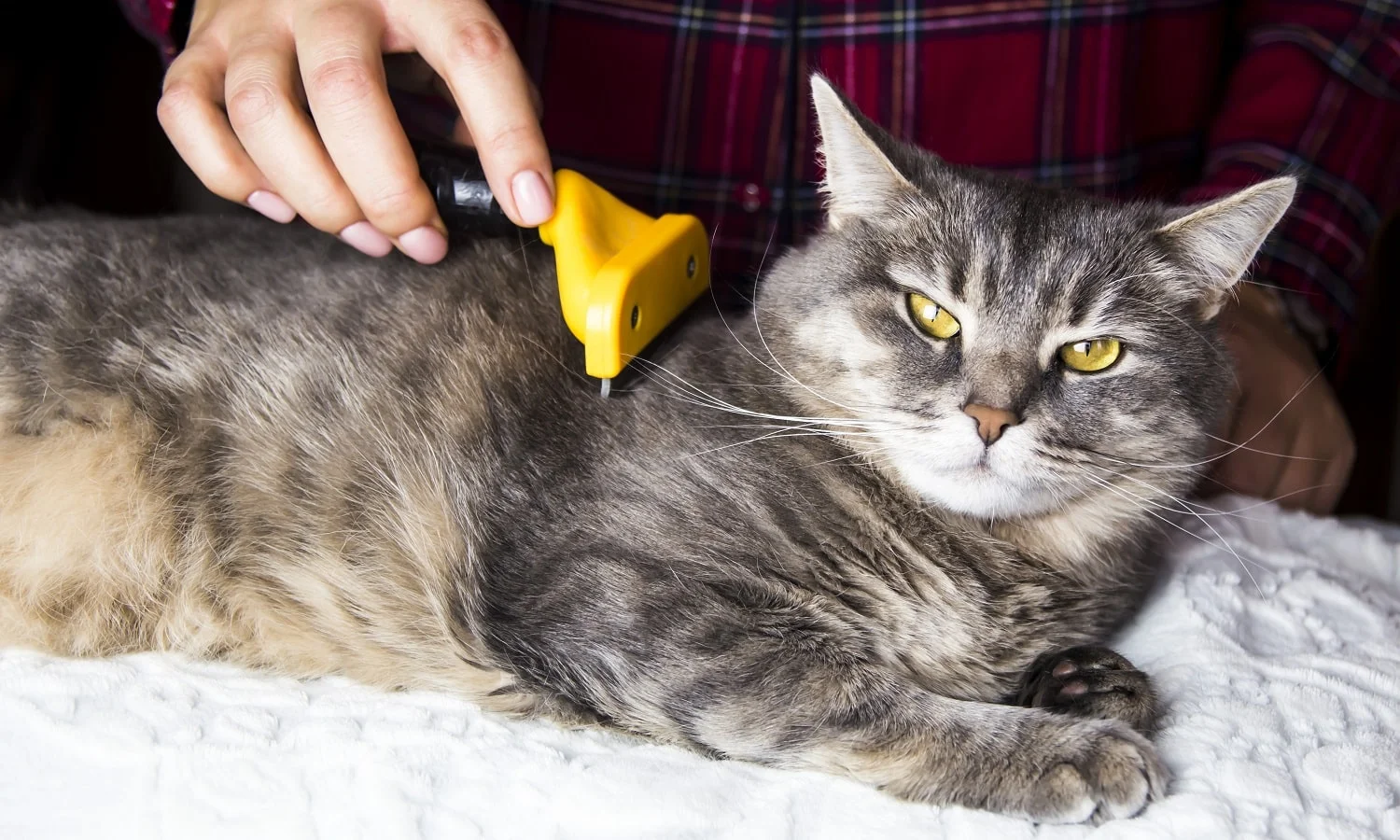 Having a bunch of cute little cats pouncing around in your home is very fun and exciting, only until they begin shedding and matting!
If you've ever owned a cat, you probably aren't a stranger to the stress of having your ungroomed pals suffering from mats. After all, their fur coats call for day-to-day grooming, which is your responsibility as the owner!
This is where dematting tools come into action – they can be beneficial while handling these tasks, which explains why these products sell like hotcakes. However, do you know which one meets your needs in the best manner?
If you're still reading, you probably haven't found the one yet. Don't worry, we've handpicked 5 of the best models in the game, that too, under a very affordable budget. Also, don't forget to check out our buyer's guide for more info.
Now, without any further ado, let's dive into the list!
Best Dematting Tools for Cats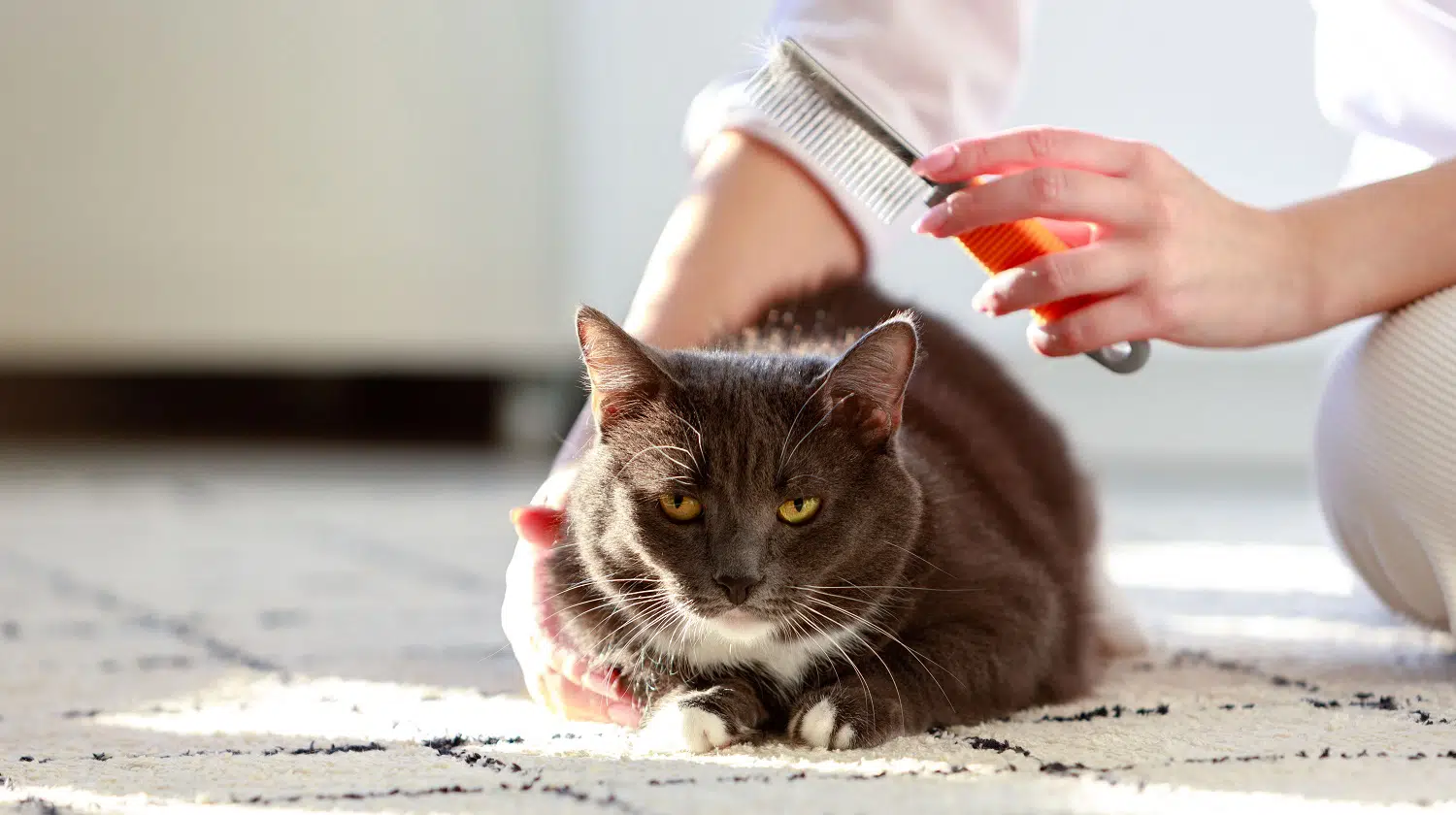 When it comes to caring about your furry friends, nobody understands the deets better than Pet Republique. That's one of the biggest reasons why the brand has topped our list with its all-new pet dematting tool. At a very affordable price, this product offers quite a few versatile features to offer your pet cats a royal treatment!
Why Did We Like It?
Pet Republique is usually known for its premium-class innovations, but this particular dematting brush takes quality to an even higher level.
It's one of the highest-rated mat/tangle removers we've come across, as its dual-sided pattern is designed to give the best results on every use. To be precise, the product comes with a 12+23 teeth pattern that makes it a lot easier to clean the densest coats of your furry pets.
However, despite being equipped with such an intricate blade design, this product is very comfortable to use. Although the blades are a little sharp from the inside, don't be worried about hurting your pets while giving them a quick brush. That's because the outer edge of the blades is rounded for added safety. Due to this, it's highly recommended if your pet cat has sensitive skin.
Speaking of durability, this tool is built with world-class stainless steel for long-lasting life. The brand also takes quality control very seriously while manufacturing, which explains why it's becoming the number-one choice of many pet lovers.
Last but not least, Pet Republique donates 15% of every product sale to the American Animal Rescue Society, which shows how deeply they care about pet welfare in general.
What Could've Been Better?
We tried and tried, but some products just don't give you any room for complaints. That said, the only disappointing fact about the Pet Republique dematting tool is that it's not always in stock. Get one while you can!
Pros
High-quality make and materials

Very safe for regular grooming

Ergonomic handle for better grip

Appropriate for animals with dense fur coats
Despite being a new name in the market, Pat Your Pet is one of those brands to launch products that go head-to-head against big-league alternatives. If your pet has sensitive skin, the Pet Grooming 2-sided grooming tool is the safest option for their day-to-day dematting treatment. Let's take a more in-depth look at its core features!
Sale
Why Did We Like It?
Like our previous pick, this product also features a dual-sided brushing pattern for deep and thorough cleaning. It comes equipped with an incredible nine-side-teeth design that enables you to disentangle the most stubborn fur with the utmost ease. 
You also get another 17 side-teeth designs on the outside, which comes in very handy while dealing with thinning and de-shedding. Overall, it raises the bar higher for grooming at such an affordable price.
Furthermore, as we've already mentioned, this product stands out to be 100% safe for your pets, even if they have sensitive skin. You can use it not only for dematting but also for offering them a relaxing massage on a lazy afternoon. The blades are specially designed not to harm their skin while cutting through the mats, knots, and tangles.
However, it's not only convenient for pets but also for users. To be precise, it comes equipped with a very ergonomic handle that enables you to use it for long hours without facing any arm fatigue. And to our surprise, it also stands out to be one of the easiest-to-clean products.
Nevertheless, the real catch here is that the manufacturers offer a refund policy to set a benchmark for quality. If you're not satisfied with the product, you can have your money back.
What Could've Been Better?
The only flaw that we've noticed here is that the blades tend to lose efficiency a little too quickly, as they're not built with solid materials. Apart from that, it's a pretty good deal for the price.
Pros
Best for long-furred cats

Doesn't cause any injuries on sensitive skin

Very easy to clean

Dual-sided blade design
Cons
Blade quality could've been improved
With more than 4,000 happy and satisfied customers, GoPets is rapidly emerging as one of the biggest names in the pet care market. This brand has amazed us with its ultra-professional dematting comb, offering premium features at a slightly higher price. If you're looking forward to grooming your cats like a pro, this should be your go-to option.
Sale
Why Did We Like It?
Can we take a moment just to admire the sophisticated design of this product? Indeed, it's one of the most stylish combs that you'll come across in the market. We're fans of its matte grey finish, which adds class to its outlook. Not to forget, the wooden handle brings in all the sass!
Moving on to its efficiency, the product doesn't disappoint when it comes to smooth and uninterrupted brushing. It is designed with a dual-sided blade pattern that enables it to clear different types of mats and tangles while maintaining the utmost comfort. 
Being a professional tool, it also comes with different modes for dematting and combing. You can use the lower-density side to deal with the tangles that aren't quickly resolved. Afterward, you can switch to the higher density side to control the fur thinning of your furry pals.
Furthermore, we're also amazed by how this product can be used to control quick shedding, making it quite a versatile option. 
Finally, it's entirely safe for animal skin, no matter how sensitive it might be. If you don't like to compromise with safety when it comes to your pets, this is the one-stop solution to your many pet grooming requirements.
What Could've Been Better?
We've noticed that the wooden handle tends to get dirty a little too quickly, which is pretty annoying in the long term. Furthermore, we believe that the handle could have had a better grip, as its inconvenient shape might stress out your palms.
Pros
Excellent for dematting

Stylish and modern design

Sharp edges for ease of use

Can be used to control shedding
Cons
Handle grip needs improvement
The penultimate name on our list is none other than Hertzko, a brand that always focuses on bridging the gap between entry-level user-friendliness and superior performance. The technologically advanced mat remover/grooming comb has been making waves in the market with its vast array of features. Let's have a closer look!
Why Did We Like It?
Starting with its design, we've noticed a chain of mixed reactions from the customers. You'd either be a massive fan of its razor-shaped matte purple outlook or detest it- there's nothing in between. And although the design might seem a little too animated to the average person, don't mistake it for its efficiency.
Speaking of which, this comb does a pretty job of disentangling stubborn fur at this price point. We're pretty satisfied with its dematting capabilities, thanks to its iconic blade pattern. 
If your cat has had a busy day in the dirt, all you need to do is use it on them for cleaning without all the unnecessary hassle. The sharp edges slide through the hardest of knots very smoothly, making pet grooming a cakewalk. 
We're also in love with how the product remains exceptionally safe for use, which is an excellent sign for the owners of pets with sensitive skin. The fine-curved blade edges run through the fur without making any direct contact with their skin, which stands out as a great safety feature.
Last but not least, this product is also ideal for massaging your pets and enhances their blood circulation on every stroke for better health. 
What Could've Been Better?
Here's a small problem- if you're left-handed, it might appear a little hard to use initially. Also, we're a bit disappointed with how the product comes with a single-side design, whereas most of its alternatives feature dual-sided blades.
Pros
Comfortable user experience

Suitable for massaging your pets

100% satisfaction guarantee

No-scratch teeth for safety
Cons
Single-sided blade design
The final pick of the day is PAWABOO, another rising name in the American pet accessories market. Although stainless steel dematting combs used to be quite expensive, this brand has changed the game with this pocket-friendly and efficient tool. Choose it if you're running low on budget but can't afford to compromise with quality.
Why Did We Like It?
Let's begin with how, despite being a high-performance dematting comb, the manufacturers have prioritized user comfort the most while designing this product. It's too lightweight for a regular pet care tool, making it more convenient to use for long hours.
Adding to that, we're fans of its non-slip ergonomic handle that makes it a lot more comfortable to hold without stressing out your palms. The overall design of this product lets you put less effort into cleaning your pets while getting the job faster. And in this course, it doesn't hamper the accuracy of results by the least.
Like our other top picks, this unit also features a dual-sided design for optimal efficiency and performance. The 9+17 both-ended blade setting enables it to deliver the best results, even when used on extremely dense furs. Apart from that, it's also an ideal tool to help your pets reduce shedding.
Finally, the edges of the blades are uniquely designed not to harm sensitive pet skin, which ranks high on safety. With all being said, although it's not the best in the game, it's quite a profitable deal.
What Could've Been Better?
To be honest, we believe that the overall product could've been a little wider, which would've enabled it to cover a larger area in a short time. Apart from that, it's a bit upsetting how it creates a huge furry mess while dematting, so you better be ready for the post-use cleaning.
Pros
Excellent for dematting

Stylish and modern design

Sharp edges for ease of use

100% safe for sensitive skin
Dematting Tool For Cats Buyer's Guide  
Although dematting tools aren't very complex in general, it's still better to always learn more about the products before buying. Check out our detailed buyer's guide to learn about the key features to consider before buying one of these models.
Both-ended functionality
Although we wouldn't label it as a fundamental criterion, having both-sided blade designs are always advantageous. For starters, it doubles up the tool's versatility by making it eligible for both dematting and thinning control. Not to forget, it also enables the comb to be used for massaging your pets. On the other hand, single-sided functionality only restricts its efficiency till dematting.
Handle grip
As it's a hand-held product, you have to be careful about how convenient it is to use for long hours. Speaking of which, the tool must have a non-slip ergonomic grip handle. This prevents it from causing heavy stress on your arms while being used for a considerable period. 
Effectiveness on dense fur
Most of the market variants fail at elementary criteria, which is being equally effective on thick hair. If your cat has a dense coat, you'd need to opt for models that are equally as smooth and efficient on any type of fur. That said, always try to choose the one that fits this fundamental criterion.
Overall build quality
Let's not forget that it's always smart to invest in products built to last for years. When it comes to dematting tools, the blade edges must be made with premium-grade materials to ensure years of longevity.
Safe on sensitive skin
As we know, these tools come equipped with sharp blades for quick dematting and disentangling. That said, it's imperative for the brands to ensure that the pet skin wouldn't face any harm in the action. That's why almost every product comes with unique rounded settings to avoid any direct between the animal body and the sharp edges.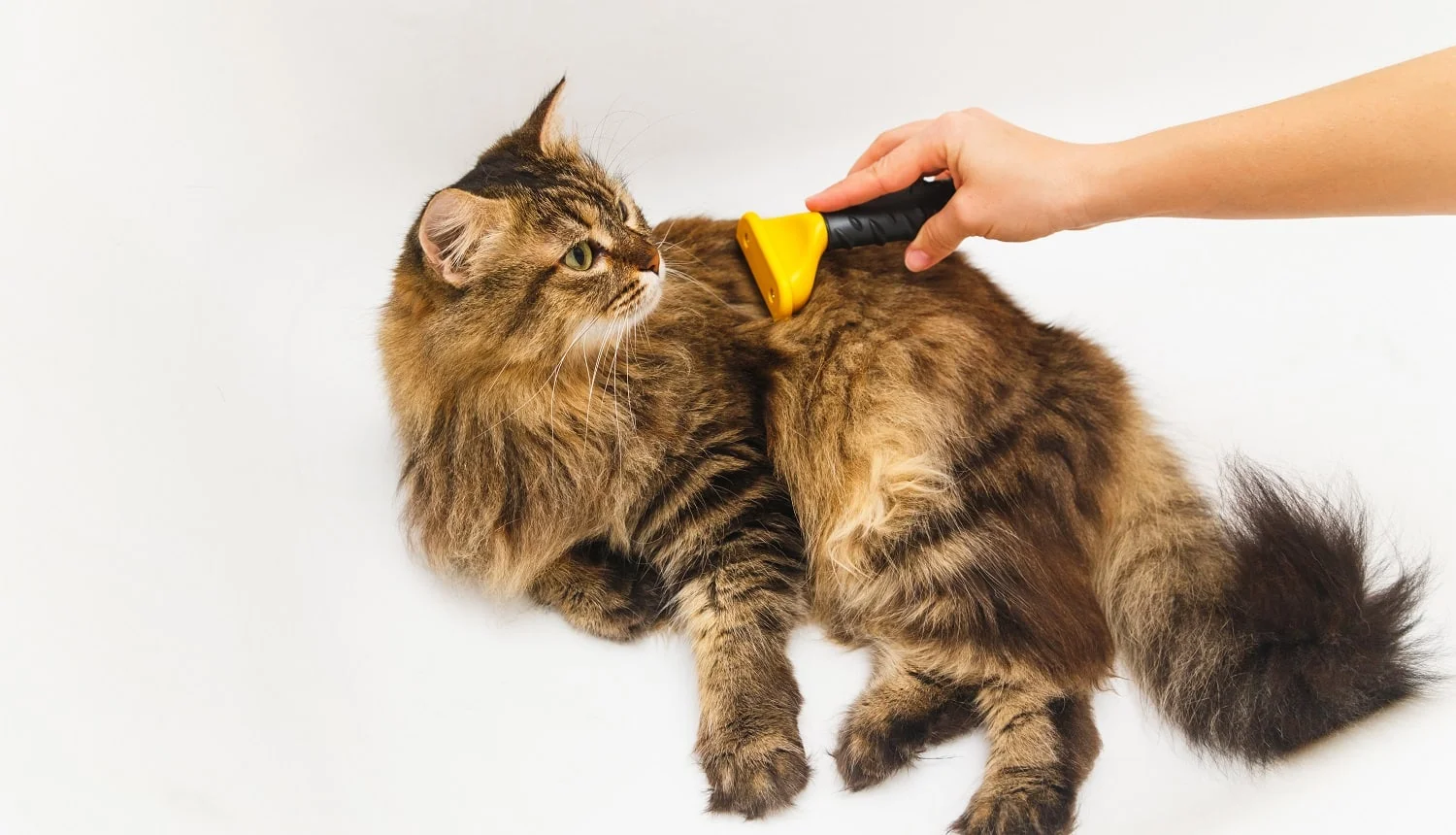 Verdict
This concludes our brief guide to the five best dematting tools for cats, and we hope that our recommendations have helped you make a smart choice. In case you haven't chosen one yet, let's take a quick sneak peek at our editor's top choices.
The Pet Republique dematting tool has everything you'd need from an ideal model. However, the Pet Grooming 2-sided comb is also somewhere close in efficiency, at a lower price range.
That said, we will see you soon with more fun-filled articles. Till then, stay connected!
Related Articles
6 Beautiful Houseplants Safe For Cats And Dogs That You Should Know About
47 Brilliant Easy Homemade DIY Cat Toys for Your Furry Friend