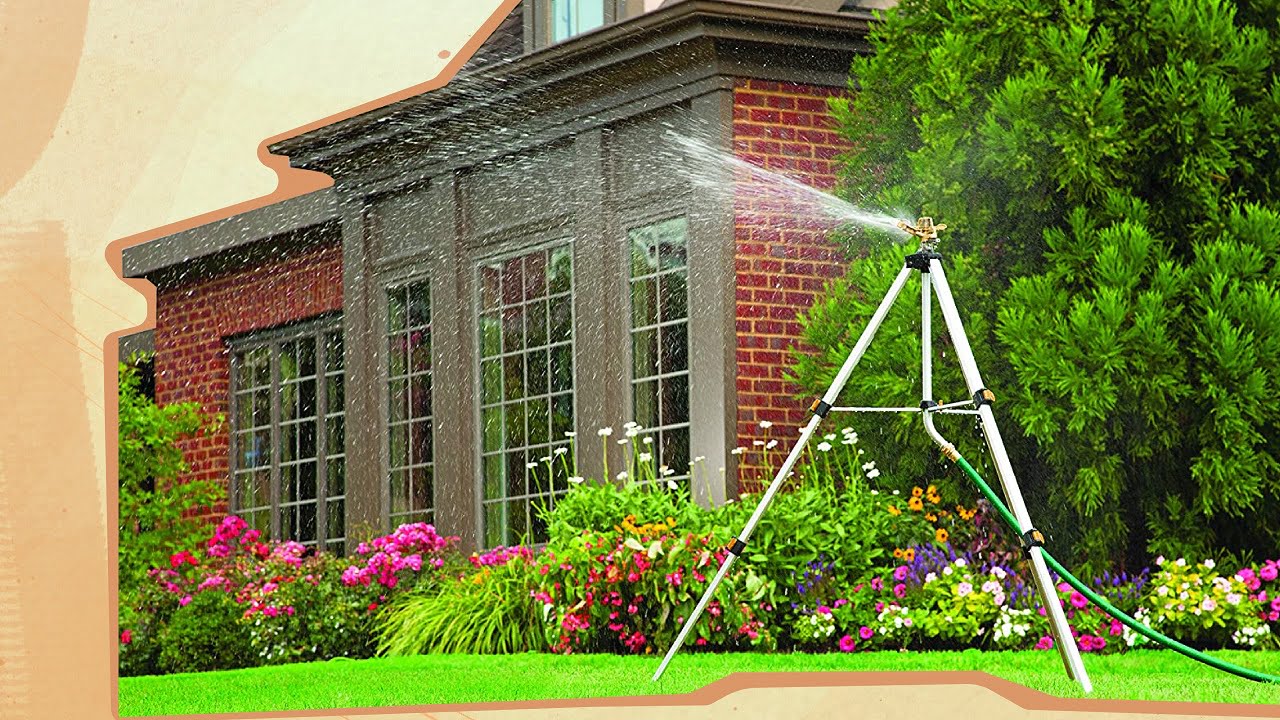 Impact tripod sprinklers are irrigation and treatment tools with a sprinkler head attached to a portable tripod, similar to that of a camera. They are easily collapsible for better storage and very durable to work for a long time.
Watering elevated farms and confined garden spaces with a simple garden hose are challenging. The best impact sprinkler for low pressure can help you reach those places without any added effort or high investments.
Replacing my in-ground sprinklers with an impact sprinkler on a tripod has drastically reduced my expenses on many fronts. It covers more distance at less cost without the need to install it or buy more sprinkler heads for better coverage. 
10 Best Tripod Sprinkler Reviews
To find tripod sprinklers that are efficient and convenient to use, I have tested and carefully reviewed a number of them. In the end, these ten tripod sprinklers made the cut with their smart features, ease of use, and durability. Here's the list:
Sale
What we like
High coverage

Affordable

Durable material

Customizable settings
Orbit 58308Z Brass Impact Sprinkler on Tripod Base is a durable product that comes at an affordable price and highly favorable customer reviews. 
The body of the sprinkler head comes with a heavy-duty brass construction that can withstand high water pressure and bad weather without the risk of any damage. The metal tripod stand has a fully adjustable height ranging from 22 to 46 inches with uniform stability. Moreover, it is made of durable yet lightweight material that is anti-tipping and anti-rust.
This model of brass tripod sprinkler offers a spray distance of 20 to 40 feet radius that can be used for partial or 360-degree coverage. Even in terms of diameter, it can spray water up to 90 feet in a full circle. That is really impressive if you ask me!
I found that this sprinkler also provides quite a few customizable features. You can use the additional diffuser screw and deflector shield to adjust the radius and preferred coverage. 
Furthermore, its anti-backsplash arm and flow-through designs ensure a consistent water flow and adjustable coverage without any risk of clogs and blockages. The goose-neck connection that comes with the sprinkler makes it easy to plug in the water hose before usage.
Material: Brass, Metal | Coverage Area: 90 ft. | Adjustable Height: 22 to 46 inches | Weight: 5 pounds
What we like
Sturdy metal construction

Gentle water spray

Versatile

Warranty for manufacturing defects
Melnor's Metal Pulsating Sprinkler is a versatile tripod sprinkler with a durable metal body and adjustable height. This is the right sprinkler for you if you want high coverage with gentle watering.
Its heavy-duty metal body is rustproof and can endure bad weather without sustaining any damage. Moreover, its adjustable height offers a coverage of up to 48 inches, ensuring widespread watering in a consistent pattern for your backyard and gardens.  
This tripod sprinkler offers maximum coverage of 85 feet in diameter. I could easily adjust the spray coverage limit by customizing the height according to my desired radius or diameter. 
Also, when I tested it out on my lawn, it sprayed quite gently, even with inconsistent water pressure to avoid water loss. This gentle spraying can benefit those suffering from high water bills. It also offers advanced features like a Connect Product Adapter that is included to connect and disconnect the sprinkler head quickly.
This tripod lawn sprinkler is also versatile since it is compatible with different irrigation and farming systems.
Furthermore, to ensure customer satisfaction, the company offers a limited lifetime warranty for product failures due to defects in mechanical parts and craftsmanship. I further checked the company website to read the clauses of the warranty. It states that they will either replace the product or initiate a refund to the customer in case of manufacturing issues.
Material: Metal | Coverage Area: 85 ft. | Adjustable Height: 48 inches max | Weight: 5.19 pounds
What we like
Corrosion-resistant

Rubber filter O-ring

Easy connection

Versatile
Twinkle Star Impact Sprinkler is a durable tripod lawn sprinkler ideal for yard and grass irrigation.
The sprinkler head is made of heavy-duty brass and alloy metal that ensures long-lasting usage along with water and corrosion resistance. I have noticed that, unlike the previous model, this newly designed model looks good and sturdier than other plastic sprinklers.
It offers a 360-degree rotation with an adjustable water range and arc for more controlled watering. Further, the tripod has an adjustable height ranging from 16 to 37 inches. The quick-release clip of the tripod securely locks the legs into place before storing them away.
I really appreciate the built-in rubber filter O-ring that filters sand and gravel often present in the water to reduce nozzle clogs. Further, the gooseneck hose attachment makes connecting your garden hose much easier!
Besides covering an area up to 40 to 70 feet in diameter, it is also an ideal tripod sprinkler for lower water pressure. And lastly, there's no need for a connecting adaptor since it comes with the US standard ¾ thread fitting that is compatible with most garden hoses. 
If you require a tripod sprinkler to use both as an irrigation tool and for recreational activities like swimming pool misting, this is an excellent choice. 
Material: Brass, alloy metal | Coverage Area: 40 to 70 ft. | Adjustable Height: 16 to 37 inches | Weight: 3.91 pounds
Sale
What we like
Durable zinc material

Large area coverage

Fully collapsible

Affordable
What we don't like
Balance issues due to high water pressure
Orbit 56667Z Zinc Impact Sprinkler is one of the best tripod sprinklers that is affordable and offers high coverage of 85 feet in diameter or 5670 square feet of area.
This worked wonders for my entire lawn since it effectively covered most of the area with a gentle water spray. Its body is made entirely of high-quality zinc materials, making it extremely durable and corrosion-resistant. 
The tripod legs can extend to a maximum height of 37.5 inches; since the tripod base is weighted, it can also act as an anchor. When collapsed, the sprinkler measures 16 inches which is perfect for landscaping.
Its ½ inch male threaded impact head can be fully adjusted for partial or full circle coverage. Moreover, you can use the diffuser screw and deflector shield to alter the spray distance or stream pressure.
This model, similar to Orbit's brass model, also comes with an anti-backsplash arm for more consistent and even water spraying. Connecting my standard garden hose to the tripod sprinkler was also easy due to the gooseneck attachment. 
Overall, it is a durable tripod sprinkler with a unique zinc body and excellent coverage. 
Material: Zinc | Coverage Area: 85 ft. | Adjustable Height: 37.5 inches max | Weight: 4.05 pounds 
What we like
High-quality build material

Adjustable coverage

Swivel lock

Rubber filter O-ring
Hourleey Impact Sprinkler on Tripod Base is a heavy-duty sprinkler with an impact head that adjusts the coverage depending on the prevalent water pressure.
The impact head is made of high-quality brass with premium alloy material. Its tripod stand is a mix of alloy metal and plastic components that are rustproof, water-resistant, and corrosion-resistant, making it long-lasting and sturdy. 
With a coverage of 20 to 35 inches in radius, Hourleey's tripod sprinkler base can extend up to 16 to 27 inches for versatile usage. 
I personally liked two features of this tripod sprinkler. First, it has a trusty swivel lock bolt on the gooseneck attachment for conveniently closing the water supply. Second, the rubber filter O-ring filters sand and gravel in water and provides comparatively clean water for the plants. 
Suitable for all standard hoses, its ¾ inch US standard internal thread fittings make it an ideal sprinkler for lawns, gardens, and even advanced farms. 
Moreover, Its sprinkler head has four different adjustments for spray distance and angle for a part and full circle coverage. To achieve freer rotation in both part and full circle, I used an additional Rain Bird sprinkler. To learn more about Rainbird sprinklers, read my article on "Orbit Vs Rainbird Impact Sprinkler."
Material: Brass, alloy metal, plastic | Coverage Area: 20 to 35 inches radius | Adjustable Height: 16 to 27 inches | Weight: 3.85 pounds
What we like
Good distance adjustment to spray water

Alloy metal tripod

Safe locking system

It can be used as a tripod sprinkler for commercial agriculture
What we don't like
It doesn't work well with low pressure
Biswing Impact Sprinkler Head on Tripod Base is one of the best tripod sprinklers with rustproof materials and high coverage.
Built with a brass sprinkler head and a premium alloy metal tripod, this product delivers a polished look, durability, and convenient usage. I had a lot of fun watering my lawn because of the sprinkler system, which is a first! Moreover, this lawn sprinkler can rotate freely in part and full circles with adjustable spray patterns and water radius. 
Equipped with quick-release leg clips, the tripod legs can extend up to 16 to 37 inches and safely retract. These tripod sprinklers by Biswing also come with a rubber filter O-ring to provide clean water for irrigation.
Since the spray distance depends on the pressure, a high water flow is recommended for this irrigation tool. It offers coverage ranging from 20 to 35 feet in radius. This sprinkler system can also work with low water pressure, but I suggest using at least 20 to 60 psi. 
It has the US standard ¾ inch internal thread fittings that make it compatible with any standard garden hose. You can also use it as a commercial tripod sprinkler.
Material: Brass, alloy metal | Coverage Area: 20 to 35 ft. radius | Adjustable Height: 16 to 37 inches | Weight: 8.31 pounds
What we like
Impressive height reach

Wide coverage

Anti-tipping

Less water consumption
SYTDDI Heavy Duty Tripod Impact Sprinkler is ideal for a large yard and agricultural farm with various obstacles like fences, tree limbs, or vines. 
The tripod sprinkler is constructed with heavy-duty brass zinc alloy, making it durable, sturdy, and rustproof, suitable for extreme weather conditions. It also has an anti-tipping feature that helps stabilize the tripod sprinkler in case of high winds.
Its tripod base adjusts to different heights ranging from 21 inches when collapsed and 50 inches when fully extended. However, I used the average height of 36 inches, and it did a good job. Such easily adjustable height makes it ideal for every irrigation need.
These tripod sprinklers can be adjusted so that the rotating head sprays in a part circle or 360 degrees. It has a maximum coverage area of 5,600 feet when fully rotating. I really like how easy it is to hydrate the specific areas of my lawn that need more hydration.
This is also an excellent choice if you want to reduce your water bills. These tripod sprinklers cut down the watering duration to prevent increased water consumption. Furthermore, its impressive height reach offers a wide coverage area; hence, you do not need to buy other impact sprinklers. 
Material: Zinc, metal | Coverage Area: 5,600 sq. ft. | Adjustable Height: 21 to 50 inches | Weight: 5.69 pounds
What we like
No noise while working

Solid plastic body

Gear-driven sprinkler

Six spray patterns
If you want to splurge on a gear-driven sprinkler, Orbit 56481 H2O-Six Gear Drive Yard Sprinkler is the one for you. 
It is made of durable, weather-resistant plastic material that is corrosion-proof. It also offers a gear-driven feature with six adjustable spray patterns that allow you to adjust the tool according to your personal preference. The three-legged tripod can extend from 25 to 48 inches to water long distances.
These luxurious tripod sprinklers spray up to 80 inches in diameter in full and partial rotation. You can adjust both the height and spray with the easy-to-use control tabs that work with a gentle press. 
Unlike most tripod sprinklers, this does not make any noise while watering the lawn area. I could even read my book while the tripod sprinkler did its job. 
Moreover, it also comes with four-position diffuser pins for increased spray control so that you can use this even for pool parties and other recreational activities. However, this tripod sprinkler may be a little expensive for the average user who does not require gear-driven irrigation tools.
Material: Plastic | Coverage Area: 80 inches diameter | Adjustable Height: 25 to 48 inches | Weight: 4.5 pounds
What we like
Suitable for large area coverage

Easy to set up

Anti-rust material

Affordable
This tripod sprinkler by Malxs is an easy-to-use, simple irrigation tool suitable for a larger lawn or garden. This tripod sprinkler comes at a very low price compared to other sprinklers and has an easily understandable manual.
To set up this tripod sprinkler, I screwed the impulse sprinkler to the base, attached my standard hose, and placed it in my desired location. It's that simple! Moreover, the rotating sprinkler head is made of heavy brass and superior metal construction, including a flapper valve and stainless steel springs. 
You can adjust the built-in metal tab for full or part circle coverage, along with a diffuser screw that can change the spray pattern according to your needs. The weighted legs of the tripod are made from anti-rust aluminum, lightweight metal with plastic tension adjusters. 
Its three legs are fully collapsible and extend from 25 to 48 inches, making it too easy to transport and store in cramped areas. Also, its gooseneck attachment is compatible with all garden hoses.
Further, this tripod sprinkler has a quick change nozzle set up, with a ½" male standard pipe connection for better water flow. And while there is no fixed diameter or radius for this tripod sprinkler, you can achieve your desired coverage depending on the pressure of the water supply.
Material: Brass, plastic | Coverage Area: Not fixed, flexible | Adjustable Height: 25 to 48 inches | Weight: 5.49 pounds
What we like
Low-pressure coverage

Durable against bad weather

Rubber filter O-ring

Quick-release leg clips
The MORATER Impact Sprinkler Head on Tripod Base is a lawn sprinkler with a durable tripod suitable for grass irrigation.  
Its rotating head can trace angles up to 360 degrees for various ranges and water arcs to make watering fun! The spread of water was easily adjustable, making it very easy for me to water separate portions of my lawn on separate days.
The sprinkler has a heavy metal construction with sturdy brass and premium alloy metal. This model, too, has been upgraded from the previous one. While the previous model had an average performance, this one has better coverage and customizable settings. 
This tripod sprinkler caters to low-pressure areas and can cover 40 to 80 feet in diameter. It can withstand a maximum pressure of 80 psi. It is also very durable, water-resistant, and anti-corrosion, helping it withstand bad weather when left in the lawn or garden. 
Equipped with quick-release leg clips, the tripod base can extend from 25 to 48 inches when fully released. It also comes with my favorite rubber filter O-ring that cleans the water of sand and gravel particles before spraying. 
The standard ¾ inch internal thread fitting and gooseneck attachment can work with all kinds of garden hoses without any issues. 
Material: Alloy metal, brass | Coverage Area: 40 to 80 ft. | Adjustable Height: 25 to 48 inches | Weight: 5 pounds
What To Consider When Purchasing A Tripod Sprinkler
Given the variety of brands, features, and prices available on the market, choosing the tripod sprinklers that work for you may be challenging. As such, there are several factors that you need to consider before purchasing. Here's a list of what worked for me:
1. Material
Durability and weatherproofing highly depend on the make and material of the tripod sprinkler. Sprinklers can be prone to corrosion and rust since they are mostly outdoors and deal with water. 
To avoid such damage, buy a tripod sprinkler that is made of heavy-duty brass, zinc alloy, alloy metal, or aluminum. These materials are mostly waterproof and corrosion-resistant, making them more durable in the long run. I also suggest buying a tripod sprinkler with rustproof and waterproof coatings alongside paint. 
2. Coverage Area
The water coverage you need depends on the size of your lawn, yard, or garden. I recommend measuring your area properly before making the purchase. After doing so, select a tripod sprinkler with the optimal area coverage, both in radius and diameter.
Moreover, this will also help you select the maximum extendable height of your sprinkler. If the lawn or yard concerned is obstructed by shrubs, vines, or fences, you will need a sprinkler that reaches a higher height. Read the product descriptions, and purchase them accordingly.
3. Customizable Features
Having additional features that help you adjust the spray pattern, water spread, or distance is always advantageous. Diffusion pins and diffuser screws help adjust the water flow, while metal tabs change the water pattern.
Some modern tripod sprinklers are gear-driven that make no noise while functioning for battery conservation. Others have intelligent sensing technology like motion detection that stops the sprinkler if someone enters the area. Dials and automatic watering cycles also make watering much more comfortable without frequently adjusting the tripod settings. 
4. Installation
The installation process often requires more effort than the actual operation. Consider avoiding tripod sprinklers that have a complicated installation process or too many mechanical parts to attach. There's no point in buying an affordable sprinkler if money is eventually wasted on professional installation.  
Buying a tripod sprinkler that is easy to install in a few steps is the best option. Some tripod sprinklers just require setting up, and they are ready to use. A proper installation manual is a plus. 
5. Price
The price range for a typical tripod sprinkler is very wide, although the price often determines the quality. While I want to save money, purchasing ones at a very low price does not guarantee good features. This will only increase expenses in the long run.
I suggest noting down all the features you need and choosing the sprinkler that fits the criteria. After that, choose the tripod sprinkler that is most affordable among the ones on the list.
6. Warranty
The warranty of an irrigation product also depends on its price. Tripod sprinklers that are higher in price often offer a lifetime warranty, while ones at a lower price offer a limited warranty. You can choose a tripod sprinkler based on your warranty preference. 
However, you should note that all warranty, whether limited or a lifetime, only stands for manufacturing defects and issues with design and craftsmanship. For other problems, you will need to fix them using your own money.
7. Stability
Lastly, since most areas are undulated and rocky, finding a tripod sprinkler that has good stability is essential. Weighted legs and ground spikes that can penetrate the soil and hold the sprinkler offers strong balance and stability. This is especially required for sloping or uneven terrain.  
Maintaining A Tripod Sprinkler
If you want your tripod sprinkler to last for a long time, regular maintenance and proper aftercare are crucial.
I like to frequently check the sprinkler head for clogs due to dirt, soil, or lawn clippings. Similarly, sprinklers with nozzles without a rubber filter need to be unclogged in case of blockages. Often, I find that my tripod sprinkler is spraying water with lower pressure, and this happens due to leaks.
Leaks can be found in both the garden hose and neck connections where the hose is supposed to be attached. The solution for the former is a garden hose replacement, and the latter may require sealant putty or similar water-blocking tools.
Adjusting your sprinkler according to the local temperatures is also essential. For example, if you live in an area with very cold winters, consider winterizing the sprinkler system to avoid frosting or pipe bursts. This process includes emptying the water from the system and turning it off.
You can also collapse the tripod and stow it away in a dry, warmer place to protect it from freezing temperatures. 
Finally, since the tripod sprinkler has a lot of mechanical parts, regular lubrication can further increase its longevity. Since they work with water, there are high chances of rust and corrosion. To avoid this, use an effective lubricant oil or grease to fully cover the tripod base, sprinkler head, and other screws or pins.
Precautions For Using Tripod Sprinklers
While tripod sprinklers are mostly harmless, sometimes, not using them properly can lead to unforeseen accidents. Since the sprinklers work with a garden hose, one should prevent kids and older people from stepping near the hose. Tripping over hoses can lead to serious injuries in vulnerable people, so keep that in mind.
Moreover, tripod sprinklers are collapsible, and without secure locking systems like leg clips or safety claps, it can be quite dangerous. Fingers can get stuck or injured if it's not carefully handled. For this, I recommend purchasing tripod sprinklers with safety mechanisms.
Impact Sprinkler On Tripod Final Thoughts
In this article, I have carefully tested and reviewed the best tripod sprinklers. And according to my research, Orbit Brass Impact Sprinkler on Tripod Base is the best tripod sprinkler in terms of features, durability, and ease of use.
The other nine tripod sprinkler reviews have been listed based on my personal preference and the important criteria they fulfill. Among these, Melnor's Metal Pulsating Sprinkler and Twinkle Star Impact Sprinkler are good competitors to my top choice.
Finally, consider following my buyer's guide for purchasing the tripod sprinkler with optimal features and performance that caters to your needs.
I hope my detailed reviews and tips help make watering your lawns much easier. If you want to read similar information articles, check out my feature titled "How To Adjust Impact Sprinkler?"
That said, I'll be signing off now. Till then, happy gardening!