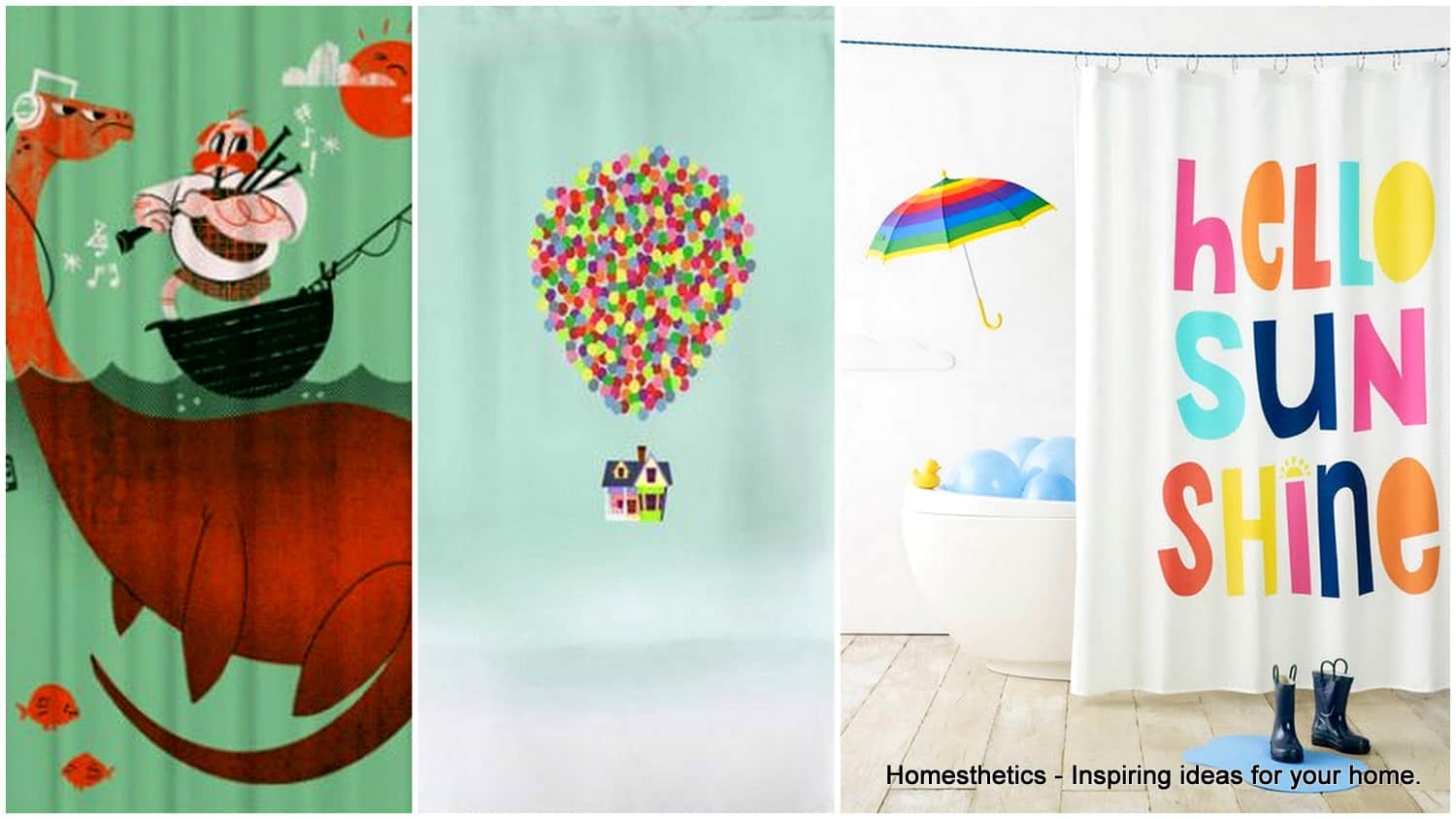 Often under-recognized and underrated in the early steps of home decorating, bathrooms are playing quite an important role when it comes to our house plan as a whole. It is a place where we can take a long soothing warm water shower after a tiring day at work, or run a salt bath when we need some pampering.
It goes without saying that for one to find peace and relaxation in a chamber, in case, the bathroom, the place itself has to be comforting, positive and inviting. There is one small trick that can change your bathroom rapidly and inexpensively, the shower curtain!
Take a minute and thing about it, it wears out quite easily but we hardly spend time on the maintenance, it is always present and it occupies a quite big chunk of the bathroom when opened, what would be a better jump-start than changing the shower curtain?
If you don't know where to start, worry not! I am here with some amazing ideas which could be the perfect curtain for your shower.
Cool Shower Curtains
This cool shower curtain with circus characters, trained animals, the strong man and a trapeze artist retro show for its design is perfect for your kids' bathroom. Created by Ambesonne, these shower curtains are a multicolored 2 panel set comes in a width of 180 and a length of 90 inches.
This vibrant curtain set with high-resolution 3D like images, adds a bold style statement to your bathroom and can fit in perfectly with the rest of the ambiance of your washroom. The fabric is Turkish made, neither too thin nor too thick, and is produced from high quality tight woven polyester with a silky satin feel. Furthermore, it has no artificial dyes which have harmful substances that can affect your family.
So, if you are into customizing even the tiniest little details of your home, or a fan of digital prints, then this is the one you could go for. Also, this curtain said would be brought in multiples and can be used as curtains for other rooms in the house, so that the interiors are a match.
Black and White is the ultimate color combination. People cannot get enough of it even today. It is also the first choice for all those designers in haute couture. So, if you are a connoisseur of high fashion and if black and white together is your favorite color combination, then there's no way that you wouldn't fall in love with this classy models-on-ramp curtain set.
The material is water proof, and the curtain set comes in a width of 69 inches and three different lengths. The digital printing results in a quite crisp image which doesn't fade easily. So you don't really have to bother changing your shower curtains quite often. The thickness of the material is just perfect, and the overall look of the curtain set is so chic that it can add a whole new facet to your little washroom.
Now flaunt off the fashionista in you, by reflecting your love for couture, even in your washroom and turn the heads in awe.
Here's another one for the fashion lovers again, only this time, a lot of colors added to it. This chic design works well with the color palettes of your towels, bathroom mats and other accessories, giving everything a luxurious feel on the whole.
No products found.
The curtains are made of polyester, and are not too thick or thin, and can be dried quite easily after the shower. Also, its water proof, soap resistant, mold and mildew resistant. Coming to the design, it's a graphic print that's hard to fade. The curtain also comes with hooks so you don't have to go through the trouble of visiting a store and purchasing them.
To give your washroom a different look altogether, and that too in a quick and easy way, just get this ultra modern super model curtain set and fix it in your washroom, because all those colors and gorgeousness, makes up for a great bathroom interior.
Bathrooms are definitely places where you spend a significant amount of time in your everyday life. So be careful of what you choose when you are decorating your bathrooms.
If you are not into all the pomp and grandeur like the ones shown above, then you could play safe and go for a shower curtain set that's simple and elegant, like this. This waterproof shower curtain set comes in 5 different sizes, and is produced with an anti-microbial technology. That means, the curtains are treated to resist mold and mildew, and repel water, so as to keep it clean for a longer period of time.
Furthermore, the design reflects class, and is printed with the help of a high quality digital technology, which ensures the longevity of the print. And the material is of high quality ecofriendly polyester and is suitable for machine wash. Also, the sellers are giving a full refund or return in case you aren't satisfied with the product. So, I am sure it is worth giving a try.
This little sheet of hearts is perfect for the newly weds or the couple that just moved in and started to make a living together. The curtain comes in a full standard bath size, that is, works well with the standard sized bath tubs and shower areas. Its fine polyester material is durable, easy to clean and water repellant. So, rest assured your shower curtain will be good to go for many long years.
No products found.
The design consisting of hearts in various sizes and hues is quite stunning and is right for all those people madly in love, or if you are simply a lover of hearts. The design is made by qualified artists and is printed with a dry sublimation digital printing technology so as to ensure that the design stays on for quite a while. Also, the design is carefully printed on to both the sides so that you can use it either way.
The cool shower curtain also comes with its own curtain shower rings so that you can directly fix it to the shower rod, with no extra fuss of buying other supplies.
At first glance, I thought this was a curtain made with pieces of leather suspended from the shower rods with the help of rings. Then I looked again with intent, and then it hit me that's it is a black and white curtain with stripes that are perfectly symmetrical.
So, if you're into perfectly shaped geometric designs, you might want to give this one a shot. It is a waterproof shower curtain of 72 x 72 inches' width and length respectively and is made with a high-quality Turkish fabric that is mold, mildew as well as soap resistant.
The curtains come with the hooks, and the fabric is safe for machine wash. The design, which is the best part of the curtain set uses state-of-the-art digital printing technology so that the print doesn't fade easily and the curtains last through the years.
I mean, who doesn't love Jazz? It is one of the most soothing genres of music. Imagine lighting some scented candles, adding some bath salts to your tub and indulging in a warm bath listening to some Nina Simone! Absolute bliss, right? When just the element of music can make your time so relaxing, why not add something to up the feel a little bit by adding this Jazz themed shower curtain?
This 75×69-inch curtain set with hooks is made from a high-quality Turkish polyester fabric, which is waterproof and resists soap, mold and mildew. The high quality 3D like printing give realistic feel to the whole thing, whilst ensuring the longevity of the print, thus pampering the music lover in you.
The material is environment friendly, and can be easily cleaned with the help of the washing machine.
For all those who love everything old school, including the rustic art and the tinge of wooden design in everything, this rustic old barn wood art shower curtain set might be the right choice.
The curtains are made with polyester which is of high quality, and is available in different sizes as per your choice. The antimicrobial technology based treatment makes sure that the curtain is away from mold, mildew and other health-related threats. The material is free of any kind of smell, doesn't harden and can be easily cleaned in the machine.
And the print is so realistic that it looks like you've actually placed a slim wooden wall for your shower area. The digital printing technology also makes sure that the print doesn't easily fade.
So if you own a big house with rustic interiors, it's high time to use the same kind of interior in the bathrooms too.
We've spoken about retro art, music and fashion and love inspired curtain sets; now is the time to talk about one whose design is inspired by something that most of us adore – nature!
This pretty shower curtain fits standard bath tubs and shower areas perfectly. The waterproof nature of the material keeps the water from splashing onto the other side. Further, the curtain set is environment friendly, and is handy enough to be cleaned in the washing machine.
The beautiful design, which involves natural elements like flowers, stones, leaves and bamboo stalks, is printed with the help of a state of the art technology.
The shower curtain set is best fitted with the C-shaped curtain hooks and is quite easy to install by you.
I've already established the point about bathrooms being the places of relaxation. So, while you're at it, why don't you arrange for something that gives you a feeling of escaping to a desert, or say, an ocean?
No products found.
If you're game for the latter, then go with this shower curtain which has the image of a serene ocean touched by the hues of sunset and a pair of dolphins are diving into the deep blue waters, printed in a 3D like technology, that aims to give you the best feel of being escaped to those mesmerizing dollops of nature.
Like most of the shower curtains, this one too, is made of high-quality water, soap, mildew and mold resistant polyester. It comes in various sizes, and fits all the standard sizes of the bath and shower areas.
The product comes with the hooks, and can be easily cleaned in the washing machine.
Now that you've seen a curtain set inspired by the water surface, let's venture into the depths of those oceanic waters, with beautiful coral reefs and aquatic life.
No products found.
That's exactly the kind of experience this coral reef inspired shower curtain set promises, while you're having a calming bath. Although just an image, it is printed with a cutting edge technology to give a realistic feel.
The material used is a high-quality waterproof polyester which keeps all the mildew and mold away, making your shower curtains last longer. Cleaning the curtains is also easy, as you can just throw it into the machines for a wash. And last but not the least, it comes in various sizes as per your demand.
For all the plain Janes and Joes out there who embrace simplicity and minimalism, this shower curtain set with a natural herringbone pattern might just be what you are looking for.
It is made with 100% water-repellent polyester that keeps all the mold and mildew away. The hem with an additional weight keeps the curtain in place, not letting the water splash onto the other side while the rust resistant metal grommets on the top keeps the hooks from rusting, thus keeping it new.
As for the safety and eco friendliness of the product, an independent certification system followed by the OEKO-TEX Standard 100 factory, the manufacturing center, ensures that all the checks are conducted properly.
If you are going through a dark grunge phase in your life and your room is full of gothic décor, then this shower curtain would be a perfect addition to your grunge interior collection.
This multicolored shower curtain is made with a fully water resistant polyester fabric and can be washed in a machine without any apprehensions. The vibrant color scheme gives your bathroom a stylish look while the curtains keep your floor clean and dry.
Furthermore, this is easy to install as all you need to do is insert the clothing hooks into the holes of the curtain and suspend it from the rod.
Show some love to your mom by gifting this pretty pink shower curtain with a printed heart and a love message on it. What's special about this design is that the background is printed to its last detail to give a high definition rusty wooden look, although with a pink hue to it.
The curtain is of 70 inches' length and 69 inches' width, and is made with a quality Turkish polyester fabric, which is water resistant. It is also eco-friendly, and is safe from all the mold and mildew as the water dries off super quickly from the shower curtains.
So, if you're a lover of pink, or need something to compliment your bedroom theme, or just present something to the loved ones, opt for this rare combination of retro and pink wooden shower curtain without further thought.
Circuses are super fun. They remind me of my childhood days where my dad would take my brothers and me to see all the fascinating stunts performed by the magician, gymnasts, and other animals. This amazing circus themed shower curtain is sure to take you down the memory lane, while pepping up the look of your bathroom.
The 75-inch-long and 69-inch-wide shower curtain comes with free hooks and is made of a high quality imported waterproof Turkish fabric, and is resistant of mildew, mold, and soap.
The print of the image is done with a high-end technology, so you don't have to worry about the durability and longevity of the print.
For all the musicians and rock stars out there, this is the perfect way to bring in their passionate spirit, even while they take a relaxing shower.
This stage décor curtain with a vintage background is of 69 inches' width and 71 inches' length. It is made out of water-resistant polyester, which also keeps away soap, mold, and mildew.
The most interesting thing about this curtain set is its design, where the guitar, speakers, and mic are printed accurately to the last of details, giving it an almost real 3D look.
The shower curtain comes with a set of hooks, which makes it easier to attach the curtain to the rod, without any external help.
If beaches and its ambiance light up your mood, then you must try opting for this beach themed shower curtain set. The design is studded with the starfish and seashell prints, against the background of a pleasant white color.
No products found.
The material is eco-friendly, water resistant and can be cleaned off by wiping with a damp cloth. Since it is also mold, mildew and soap resistant, you are spared from any smell coming out from the cloth.
It also comes with 12 hooks, which can be easily fixed to the shower rod by yourself.
If you want to keep the festive spirit, irrespective of the holiday season, then you must definitely install this snowman shower curtain in your bathroom.
It fits all the standard sized shower spaces and bathtubs, and is made with a waterproof polyester fabric. It is easily cleanable and comes along with a set of plastic hooks with which you can suspend it from the rod.
The curtain is sure to live up your spirits, especially if you love snow and Christmas. However, since it is white in color, the transparency of the curtain may differ based on the amount of lighting you have in the bathroom.
Ombre has been in vogue for quite a while now. I mean, how cool does a transitioning gradient look? So, if you are looking to make your bathroom in sync with the theme of your house, especially if your walls and décor have purple as a major standing element, then you can go for this purple ombre shower curtain set to compliment the look of your shower area.
No products found.
This ombre curtain is made of good quality imported Turkish Polyester which is water resistant. It's dimensions of 75 inches' length, and 35 inches' width makes it perfect for all the standard bathtubs.
The coloring scheme of the curtain set is vibrant and does not contain any dying substances that are harmful to your health. Also, the fabric is easy to clean and can be easily washed with the help of a washing machine.
Who needs King Kong when there's an animal much cuter, leaning from a huge high rise, protecting you from prying eyes, when you are bathing? If you are someone who puts laziness before everything else, then this Sloth bear and King Kong fused shower curtain set is the perfect match to be your shower time companion.
Now, you can slowly take a bath, and relax down, sipping on some Chardonnay or reading a book, while your soul animal Mr. Sloth makes sure that you have your privacy in tact.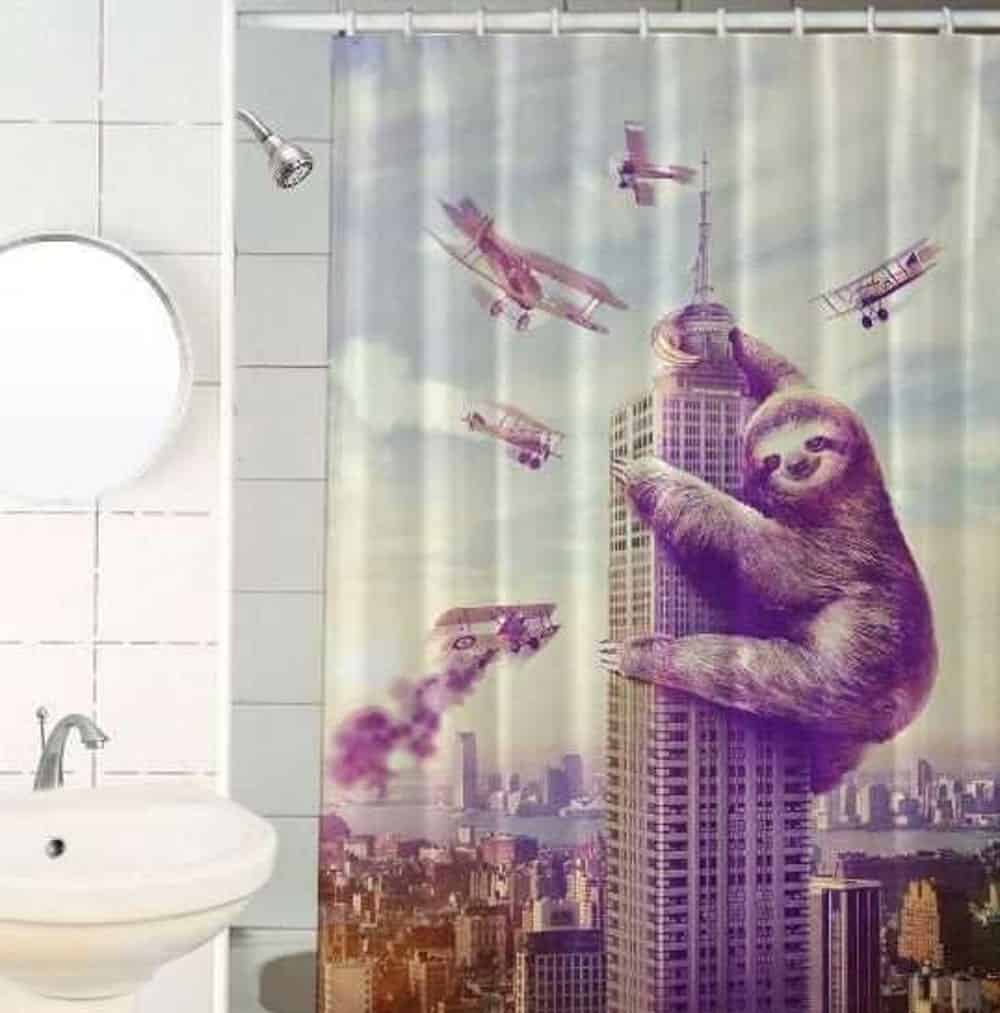 More details at ranker.com
WakeyWakey! Bacon and Bathey!
I'd definitely be wrong if I'd say that there are not a lot of bacon lovers out there. In fact, the love for bacon has been so deep instilled in a many a man, that they actually dream of this delicious strip of meat at all times.
If that's the case, you should go for a shower curtain with a life-size picture of bacon printed on it. I mean, who wouldn't love to take a shower looking at the most mouthwatering meat in the world?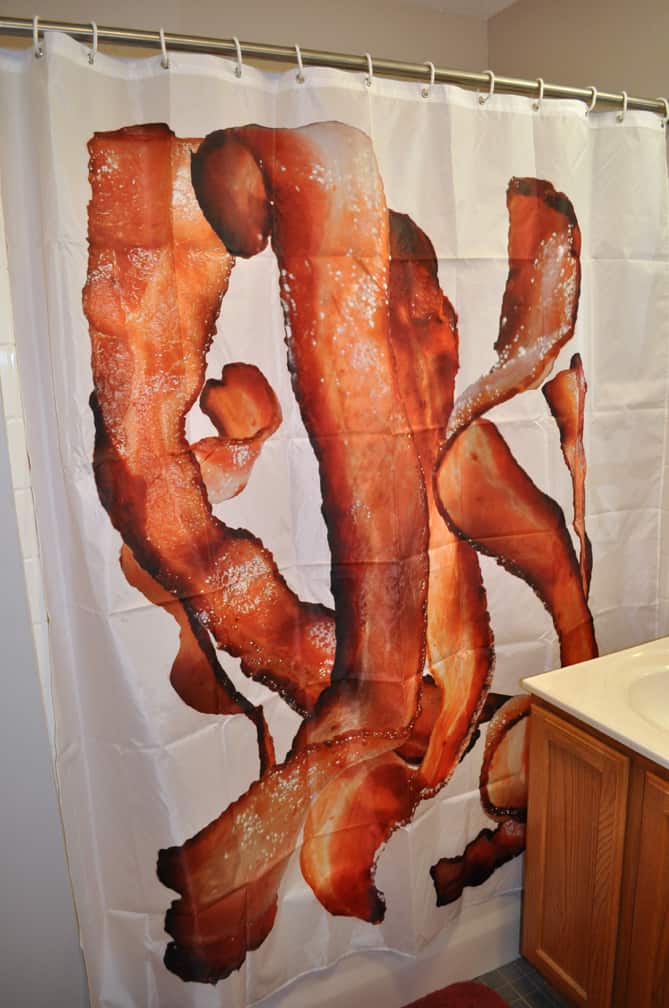 More details at diply.com
I swear I have never seen something so confusing and clueless, yet a shower curtain that's so awesome like this. If you are someone like me, who embraces the weird craziness in life, then something like this would be an insane way to chill out while you relax in the bath.
I mean, have you ever seen a giraffe with a sunglasses and a sword happily swimming the ocean on the back of a shark? How cool is that!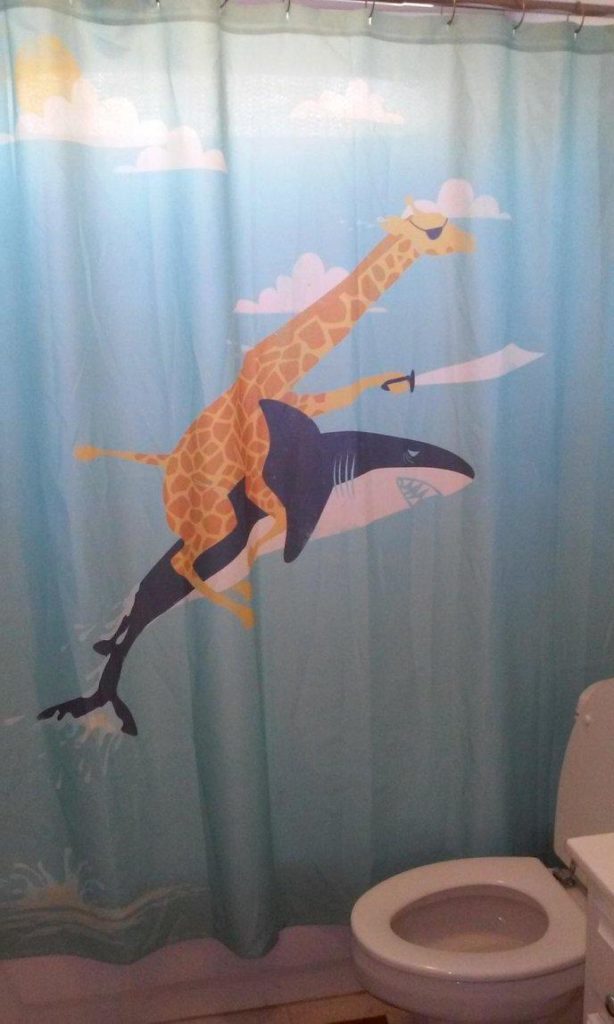 More details at diply.com
The Shower curtain we all want
Burger, cat, and taco are foreboding a background of galaxies and mysteries of the universe – how can something get better than this? This amazing shower curtain has something we all like. Be it the purry kittens, a big fat burger, the sumptuous Mexican tacos, or the endlessness of the universe.
I am sure the designer made this to make the day of any person stepping into the shower much more awesome, by catering to his likes. I mean, I'd definitely have a smile on my face if I get to look at something like this everyday.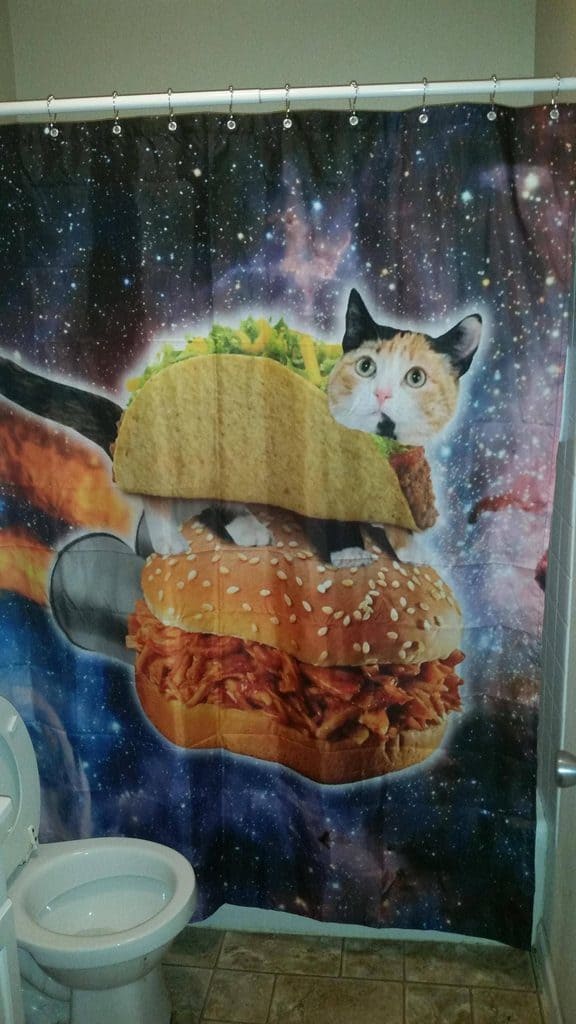 More details atdiply.com
Shower Curtain for the Comic Lovers
Anything with a picture or reference remotely relating to the comics hold my attention. If you are someone like me, then this is definitely a great idea to amp up your shower space. All that bright colors and that lettering with a retro dotted background is just an amazing way to reflect all the nerdy traits in you, even during the time of showering.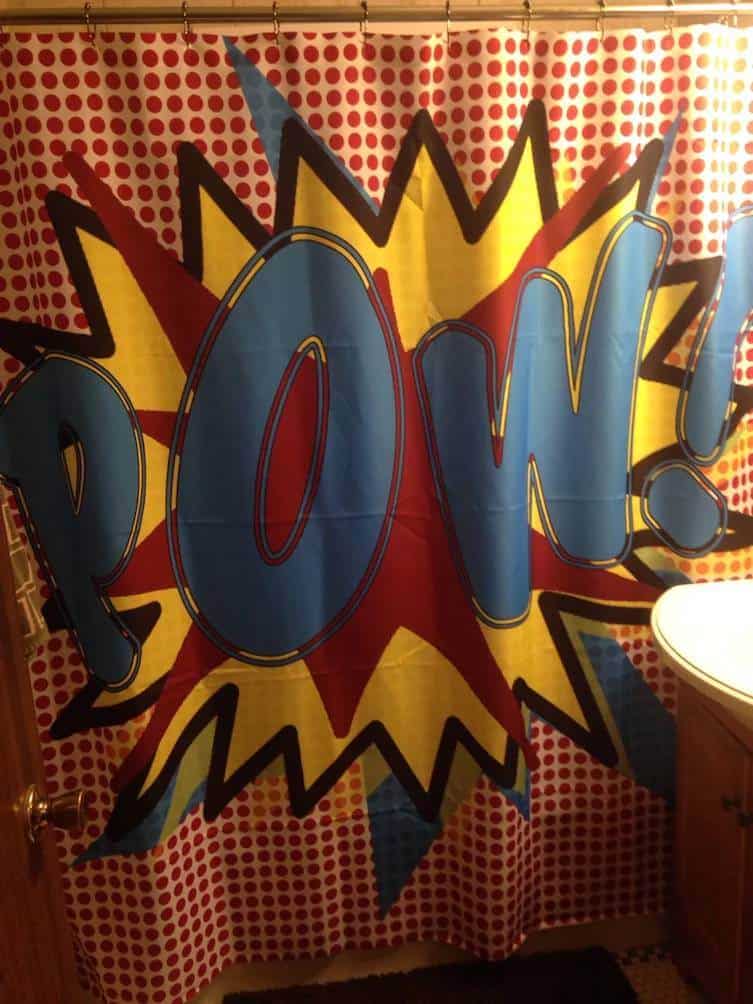 More details at diply.com
Shower Curtain Matching Your Bath Mats
When you are going shopping for the bath mats, try and look for the shower curtains in the same color and pattern. This will give co-ordination to the complete washroom, this giving it an elegant look.
The light teal and white striped curtains are one of the combinations you could go for while decorating your bathroom spaces.
More details at roundecor.com
Ruffled Shower Curtains
Try and add some class to the shower curtains by giving them a makeover. Don't just go for a plain shower curtain with holes for the hooks, or the digitally printed ones. Instead, try opting for the ones with some ruffles sewn at the bottom. This shows that you have actually given some thought to designing the shower spaces of the home as well, and not just the living room, bedrooms, and the kitchen.
After all, a cozy bathroom does make for a lousy day!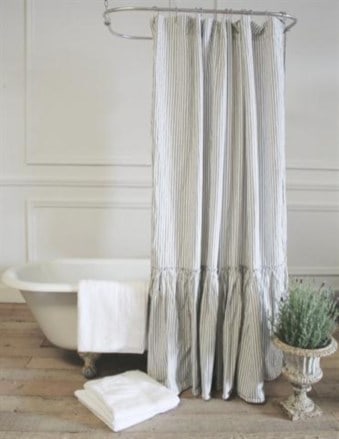 More details at roundecor.com
Chevron patterns are known for their elegance and can easily add to the beauty of your washroom. This zigzag shaped shower curtain by Rexlambo is made from 100% water resistant high-quality polyester and can help you personalize your bathroom as per your taste.
No products found.
What makes this curtain stand out is its buttonholes which can be manipulated according to the need and hung easily.
If you are looking to include a Wow factor in your bathroom with the help of a shower curtain, then this is it. This lovely curtain works well with all the standard bath tubs and shower areas, and can be easily cleaned thanks to its high-quality, water-resistant polyester fabric.
There is no written rule established that showers don't need extravagant décor and upholstery. If you have a home that oozes Victorian charm, then you must perhaps go for this ruffled shower curtain embellished with beautiful lace, which leaves the whole ambiance in the washroom absolutely ravishing. For the lovers of sheer, lace and elegant, this will be the right pick for the shower curtain.
However, you must make a not of the change in transparency levels according to the lighting.
For all the lovers of literature and inspirational quotes out there, being able to look at this 'Believe' shower curtain by KessInhouse every time they bath would be nothing short of bliss.
It is simple, elegant and at the same time, aesthetically pleasing. The soothing tranquility in the picture will not only help you relax during the bath time but can also help you feel fresh and inspired throughout the day. Amazing, right?
The Thinker Funny Shower Curtain
This is a classy way to turn your bathroom's humor quotient up a notch. Featuring a person in his most primal thinking state, now you are going to have permanent company while you do your thinking on your commode. This simple design leaves a lot to the thought, literally, so that you may get started to think on your own.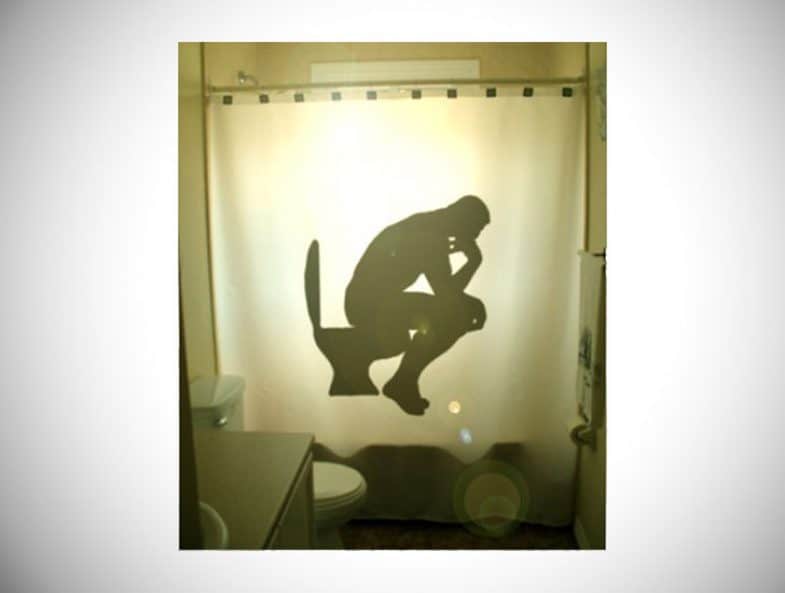 More details at etsy.com
Funny Pig Shower Curtain
Oink Oink! Revisit the kid inside you, with this curtain featuring a cute, pink pig enjoying a bath. Take a trip back in time with this whimsical pig. I mean, who can stay grumpy when you have this little guy around. With its bright color pattern, this curtain is a must have if you happen to have kids around. Rest assured, you will be reeling in this little pig's cuteness for quite some time, after you use it to drape your shower area.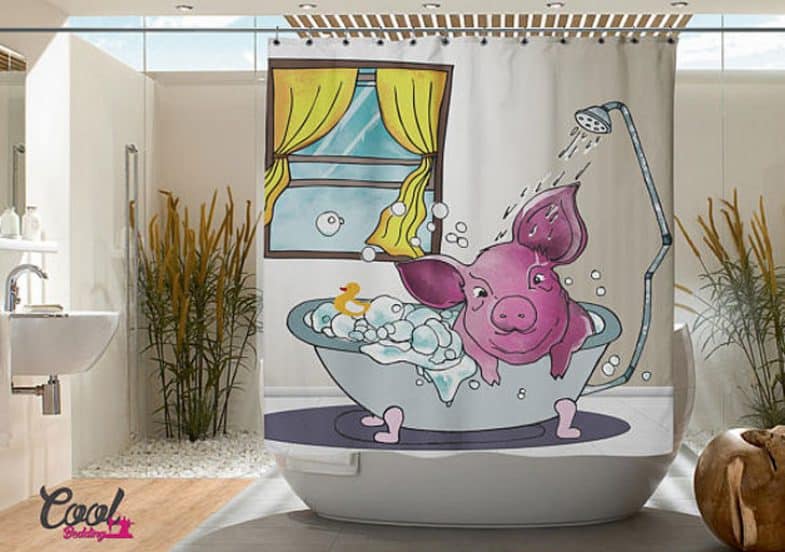 More details at etsy.com
Peek A Boo Dog Shower Curtain
Looking for some naughty fun? Give your guests a creepy time in the bathroom with this Peek A Boo curtains. With those huge binoculars, you can be assured that your guests will be uncomfortable about their privacy to the maximum levels. Add to that, the cuteness of our peeping tom, this curtain gives your bathroom a perfect blend of naughty and fun!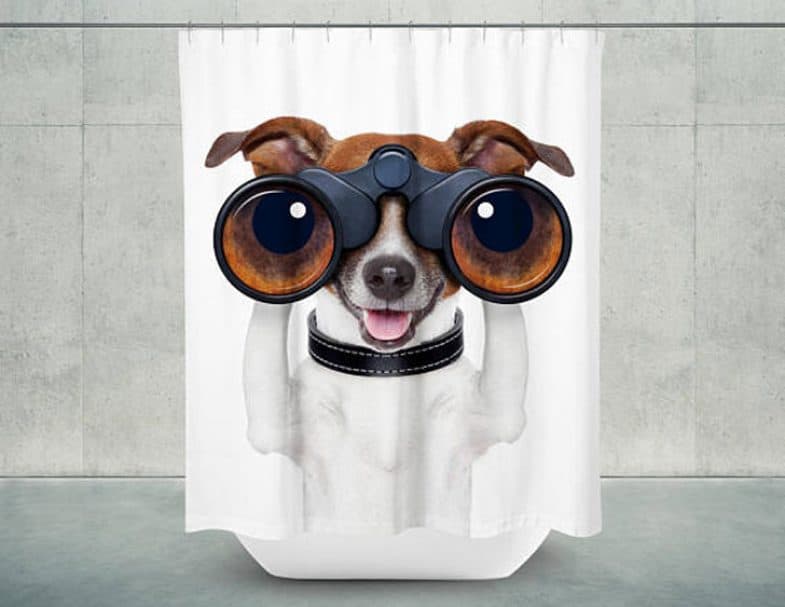 More details at etsy.com
Unicorn Silhouette Shower Curtain
If your kids have a bathroom of their own, this is the perfect go to shower curtain for you. Start building your kid's world of fantasy by introducing them to the most glorious animal of them all, the Unicorn! Also if you know someone who is a kid at heart, try gifting them this, watch as they turn into a kid again, drooling over their most favorite animal of all times.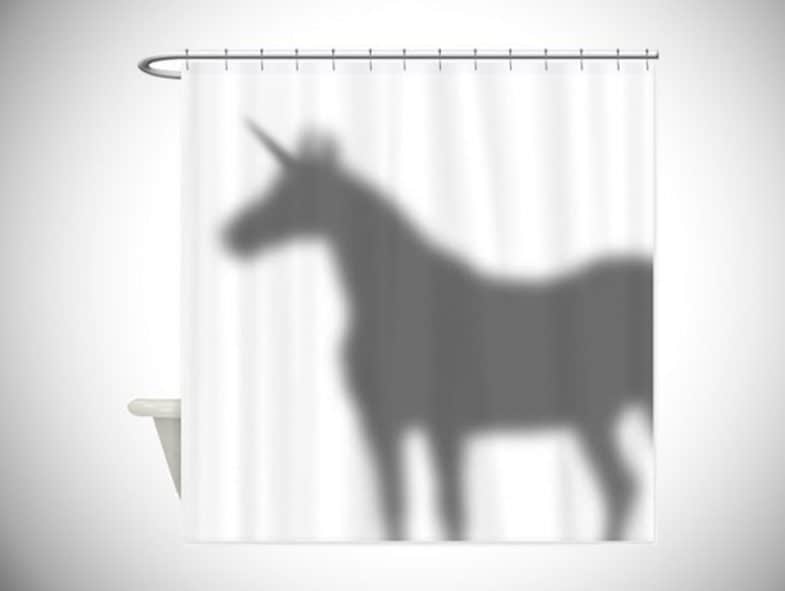 More details at cafepress.com
Mona Lisa Chewing Gum – Shower Curtains
Give a big boost to the humor quotient in your bathroom with one of the funniest concepts around. This meme turned shower curtain is guaranteed to get lots of laughs from your guests. This curtain acts as a 3 in 1 combo – an art masterpiece, an attention grabbing meme and a lovely shower curtain which gives a comforting ambiance to your shower space.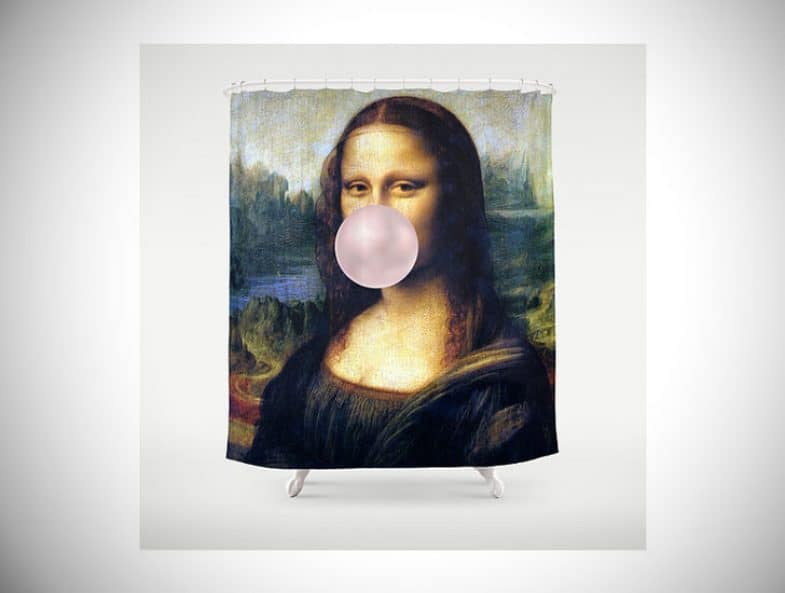 More details at etsy.com
Circus Elephant Shower Curtain
Does the memory of your childhood visits to the circus still bring nostalgia back? Why not bring circus home? Gets this shadow shower curtain of an elephant balancing on top of a ball? Apart from being one of the most impressive tricks the circuses had up their sleeves, this curtain also has a very sober color pattern, which gives your bathroom an elegant feel.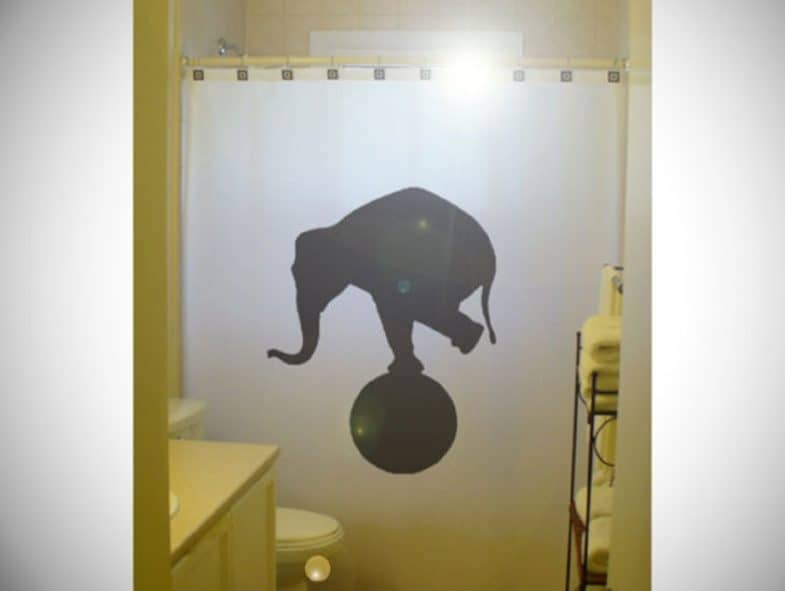 More details at etsy.com
Vintage Red Truck Shower Curtain
Steer away from the conventional curtain styles, with the Vintage Red truck shower curtain. If you or your loved one happens to be a fan of vintage cars, this design would fit perfectly you shower curtain need. Printed with a woody masculine background, this shower curtain adds a complete vintage feel to your bathroom. So shower away with your all masculine vintage beauty from Anderson's Garage.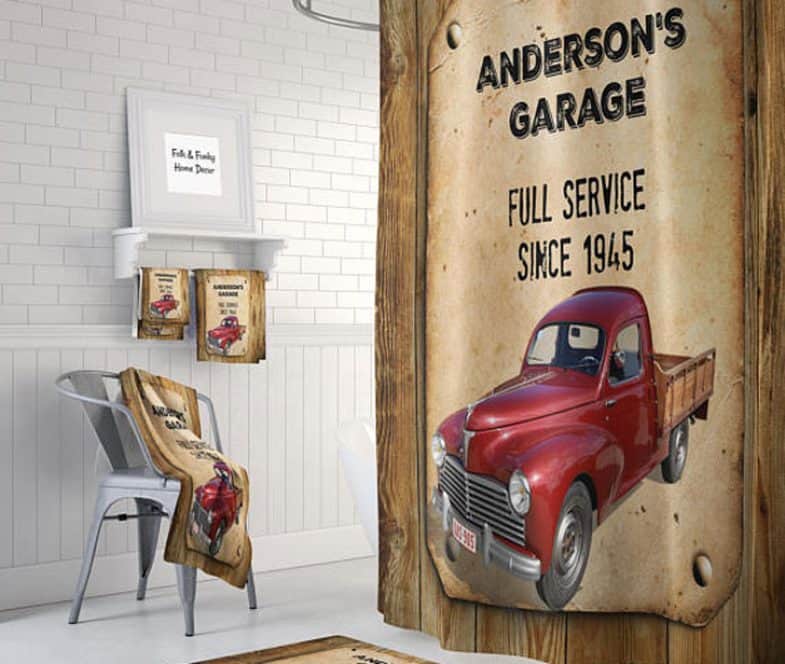 More details at etsy.com
Jellybean Giraffes Shower Curtain
Have you heard of the latest fashion trend in the giraffe world? Why not witness it first hand with the Jellybean Giraffes Shower curtain. Find a vibrant and colorful addition for your bathroom in this beautifully colorful curtain. The yellow background of the curtain adds an additional funkiness to the overall theme. The curtain would make a very good gift for someone who is still a kid at heart.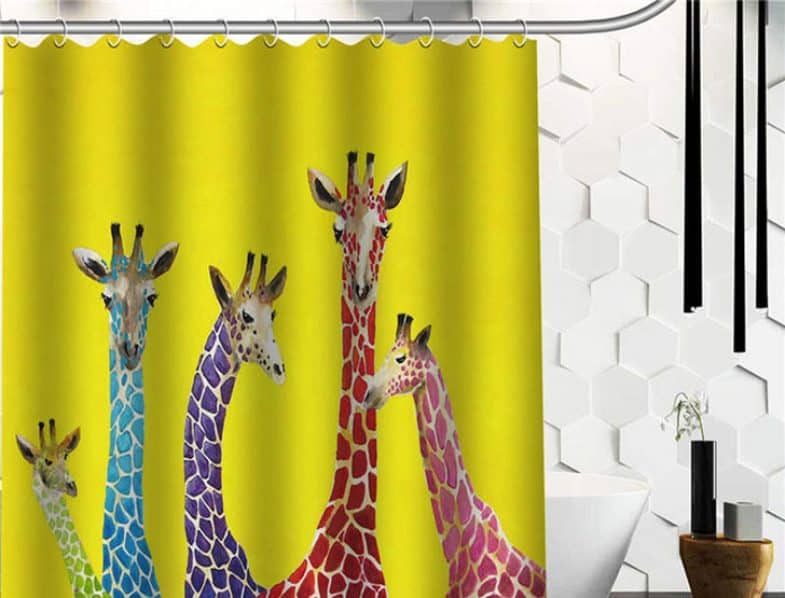 More details at allmodern.com
Funny Goat Farm Shower Curtain
This humorous goat farm shower curtain takes a very simple design idea, and takes it to next level by inserting clever imagery and a funny tag line. This curtain is bound to be amusing to the guests in your house, as they get used to its subtle sense of humor. A jute bag theme background gives it a rugged look which serves as a cherry topping to its already minimalistic design.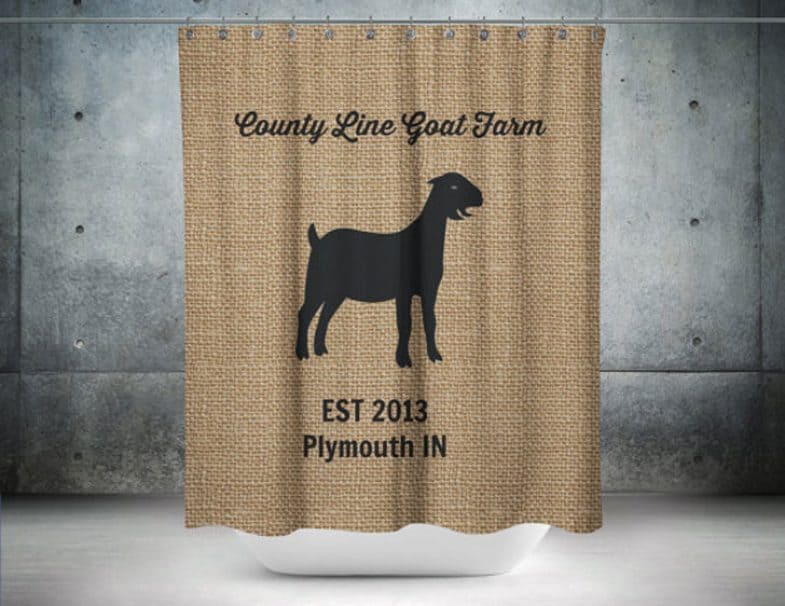 More details at etsy.com
Hot Red Lips Shower Curtain
In mood to spice up your romantic life? Add this Hot Red Lips Shower curtain in your bathroom to take the mood to the next level. Designed to transform the ambience of your shower space into a duo of romantic and naughty, this curtain is an absolute eye catcher. Apart from creating a romantic setting, this curtain is also an artistic masterpiece, which is ideal for a re-modelling of your shower space.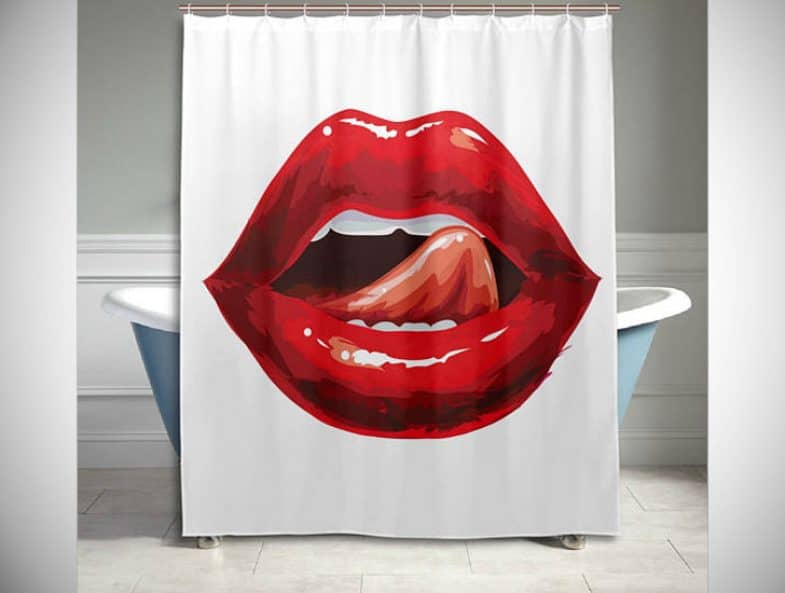 More details at etsy.com
Ferm Living Shower Curtain – Spear
What's special about this shower curtain that's designed in a perfectly symmetric geometrical pattern in multiple hues is that unlike almost every curtain in the article, it is made with cotton and coated with acrylic.
Embellishing your bathroom with this shower curtain would give it a modern and minimalistic look that soothes your mind.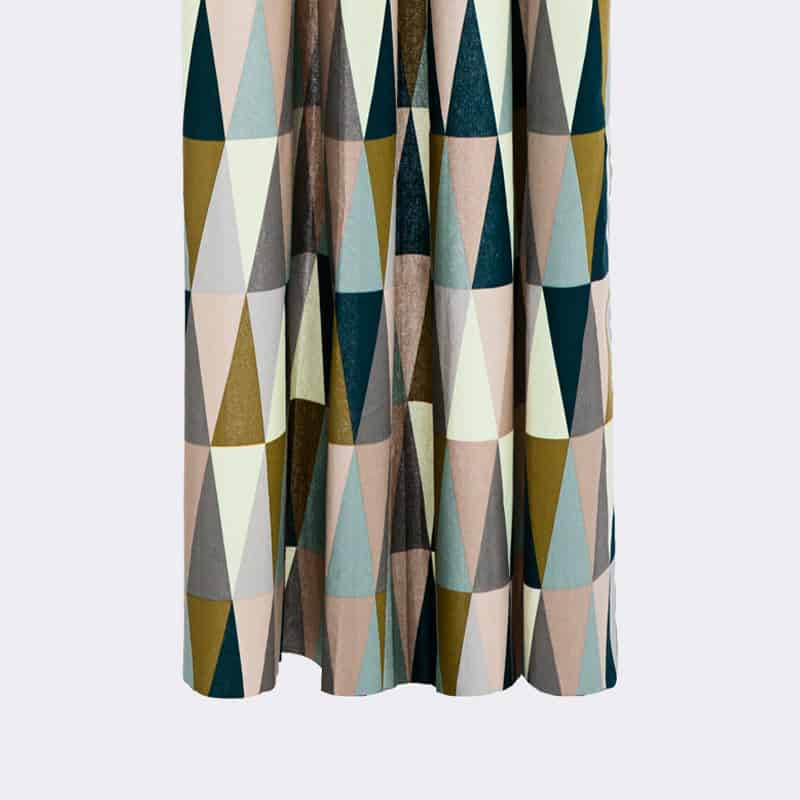 More details at amazon.com
This plain black shower curtain doesn't need to boast about it design or everything, but grab the attention of anyone with its finest elegance and sophistication. It is designed with a slight sheen, complemented with tuxedo pleats at the above.
No products found.
The material is waterproof as well as has mold, mildew and soap resistance and is available in other solid colors like soft brown and midnight brown.
Black and White Triangle Shower Curtain
Like I said, I love black and white. And this pattern is those colors at their finest. It's modern, chic and extremely sophisticated. And that insanely attractive triangular pattern will jazz up any shower space, without any other embellishments. What's more, the fabric used to make the curtain is cotton, which is later covered in a fine acrylic coating to make it water resistant.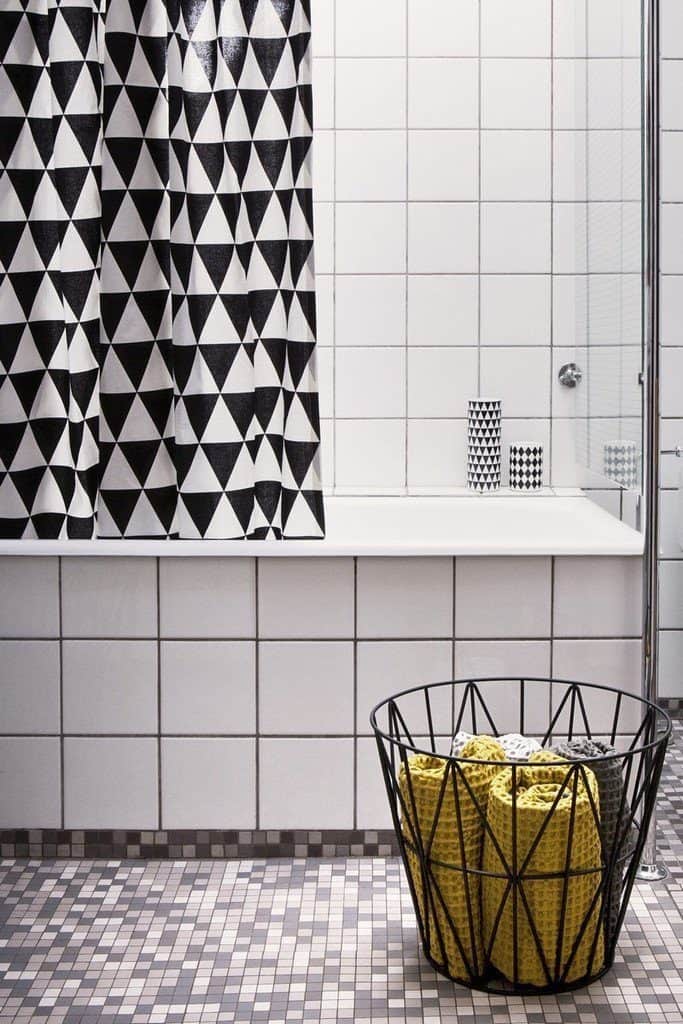 More details at amazon.com
Glitter and Sequins are not just for dresses and other craft projects. If used carefully, they can also make for really awesome shower curtains. For instance, like the one shown in this image, which is designed by Lisa Argyropoulous. She chose a high quality polyester fabric and covered it in teal colored sequins which reflect the aquatic theme without any hard guesses.
If used in bathrooms with light hued monochromatic walls, it adds the right amount of brilliance and beauty to the whole space.
Fabric Black and White Shower Curtain
This horse themed black and white shower curtain designed by Paul Thomas is something that will be liked by every equestrian lover. Made with pure cotton and completely hand screened, this simple yet elegant shower curtain welcomes you as you jump into the bath to take a shower. Naturally toned washrooms and shower spaces will complement this curtain perfectly.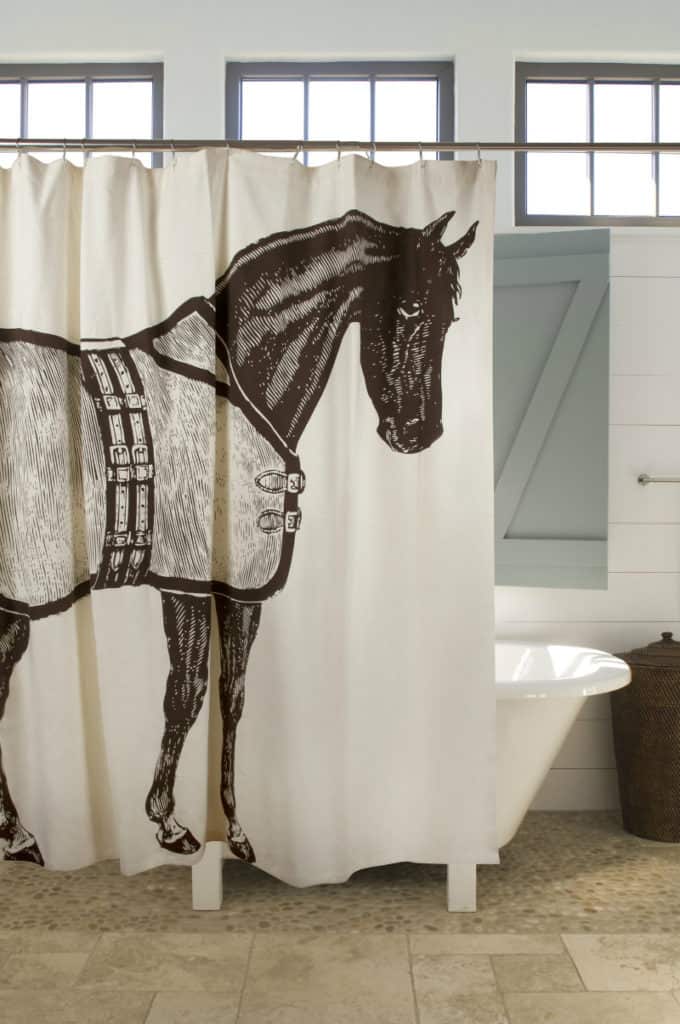 More details at amazon.com
Slate Horizon Striped Shower Curtain
This stylish and futuristic look of the shower curtain can definitely be accredited to its bold stripes in multiple solid colors. It's aesthetically pleasing and works with any kind of bathroom décor as long as you are going for simple, and not something flashy. This pure cotton curtain is perfect for those who yearn for sophistication in their house décor.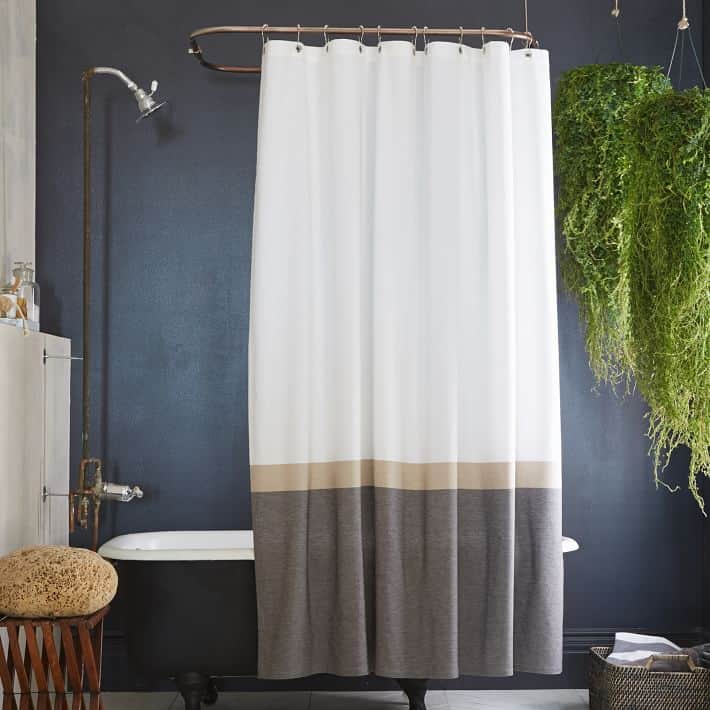 More details at westelm.com
Shabby Rustic Chic Burlap Shower Curtain
Tones that show delicateness, feminine accents, the sheer, natural tones and soft textures – that is what this beautiful Victorian looking burlap shower curtain is about. What's amazing about this shower curtain is that it is completely designed by hand and will be perfect for the bathrooms which are made with a rustic theme in mind.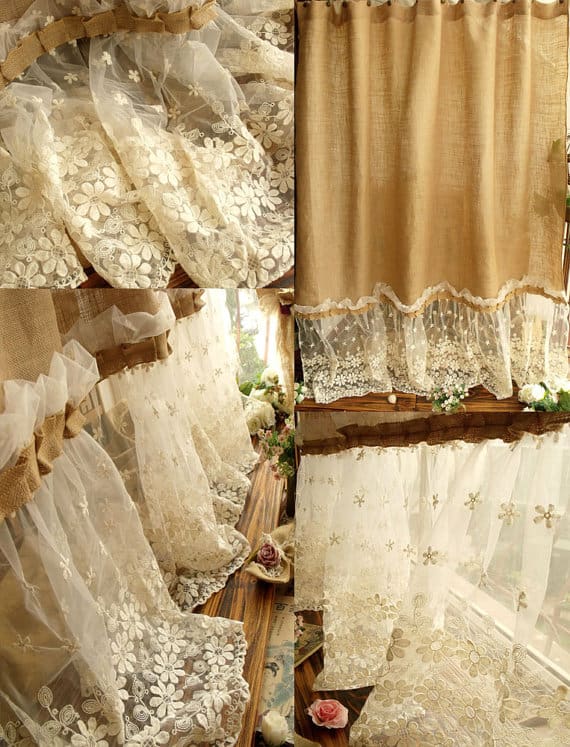 More details etsy.com
Another handmade masterpiece by Thomas Paul, this octopus themed shower curtain is made with 100% pure cotton, and like mentioned above, is completely made by hand. A part of Paul's limited collection, this one is designed to remind one of the deep waters and all the mysticisms within.
Embroidered Linen Shower Curtain
Now, this is for those who love to embrace subtlety and minimalism in their home décor. The mild color of the linen fabric and embroidery in contrasting color is what made it a treat to the eyes. If you want a soothing and tranquil mood in your bathroom, then this is the one to choose, at any given time.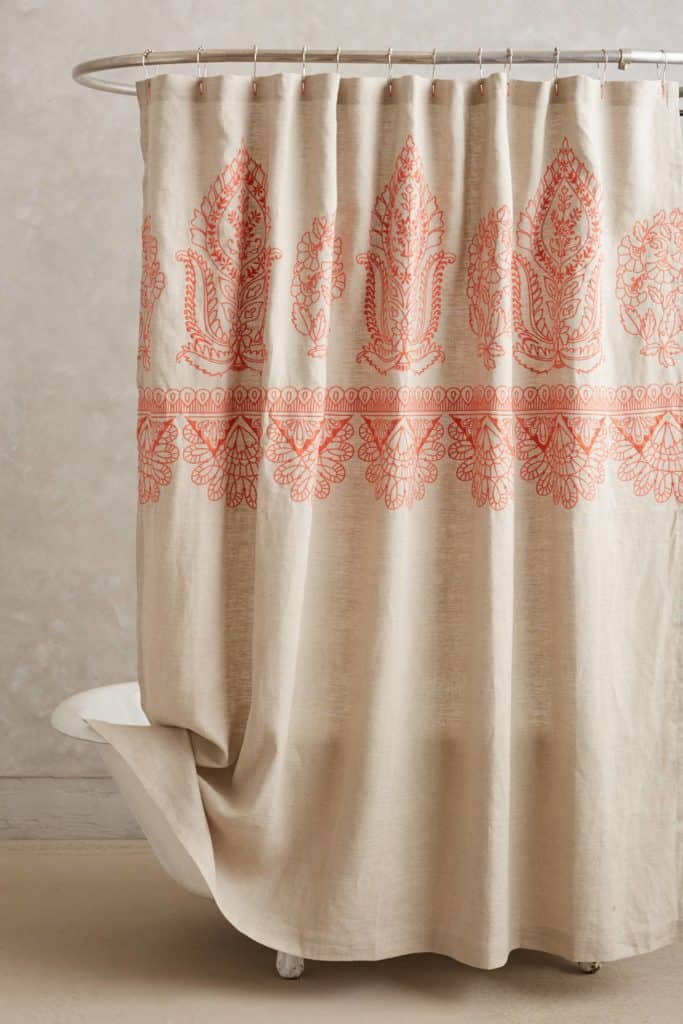 More details at anthropologie.eu
Vintage Garden Themed Ruffled Shower Curtain
This is another great handmade shower curtain that can jazz up your bathroom completely. This vintage styled curtain is made from nylon and cotton fabrics and is perfect for the washrooms which have a bland color tone and theme.
More details at etsy.com
Plain White Ruffled Shower Curtain
This is a simple shower curtain in plain white, only covered in layers of ruffles in the bottom. It is made from pure cotton and can easily go with any kind of washrooms, irrespective of its theme, color and the kind of décor. It is modernist, minimalist and oozes an elegant charm. Furthermore, it can also be personalized according to your needs.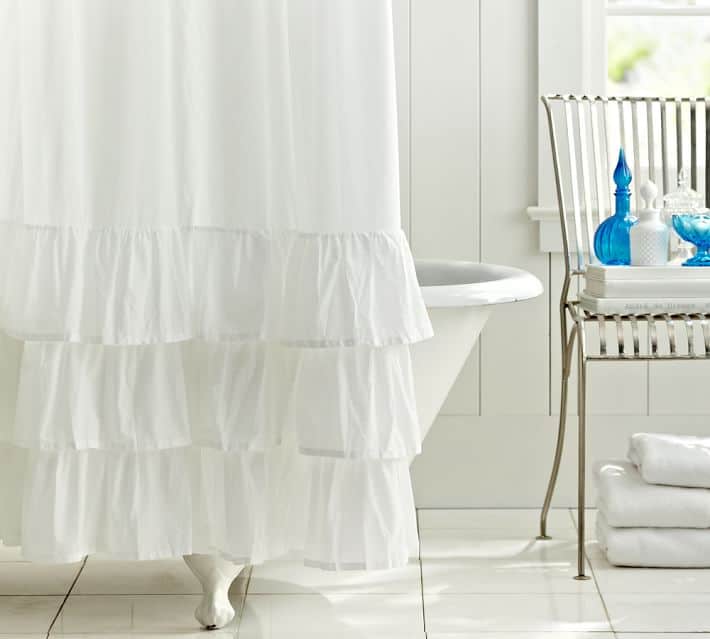 More details potterybarn.com
A design that looks like an elegant fish with doodles all over its body, swimming in the aquatic wilderness reflected by the subtle teal, this shower curtain will definitely look outstanding in your bathroom. The design of this curtain is credited to Valentina Ramos, who made this with high quality polyester and fixed in a few buttonhole openings at the top of the curtain.
Ticking Striped Ruffled Shower Curtain
This striped curtain is made from 100% cotton and gives quite a modernistic look. In addition to that, the tiny ruffles at the bottom not only give it a more elegant look, but also give the curtain the right amount of weight to stay at place. This super awesome shower curtain works well with the bathrooms built on monochromatic or plain white themes.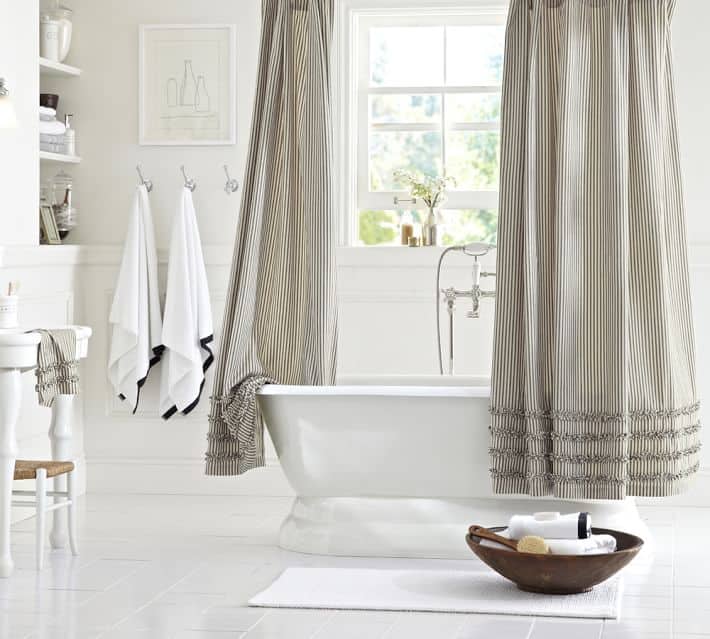 More details potterybarn.com
Coyuchi Organic Rustic Linen Shower Curtain
These plain shower curtains with metal grommets that are rustproof are a clear example of perfection in bathroom décor. It is made by Organic Bath Linens with their top notch quality fabric, which is generally made from the flax harvested in France and Belgium. The look of the curtain is completed by the stripes which are yarn dried and give the whole product quite a distinct character.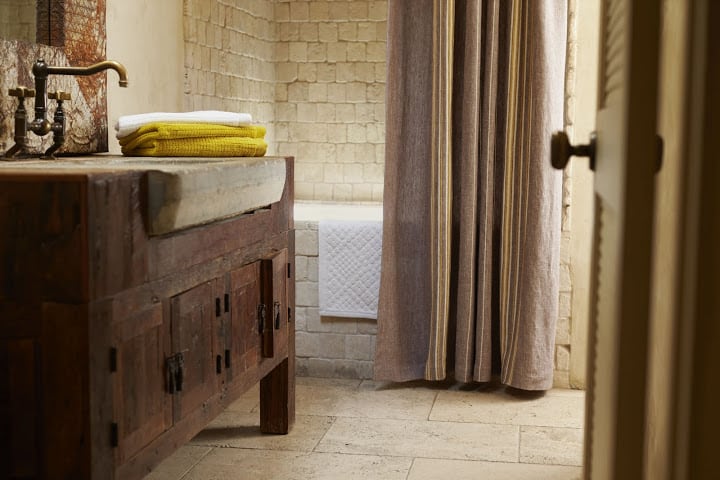 More details at amazon.com
Purple Lush Décor Lillian Shower Curtain
There is no doubt that purple is the color of luxury, elegance and sophistication; and if you want to add any of it to your bathroom, just choose a plain solid purple shower curtain. It is made with pure polyester and doesn't really need any embellishments to make it more beautiful, but a few circular ruffles won't hurt.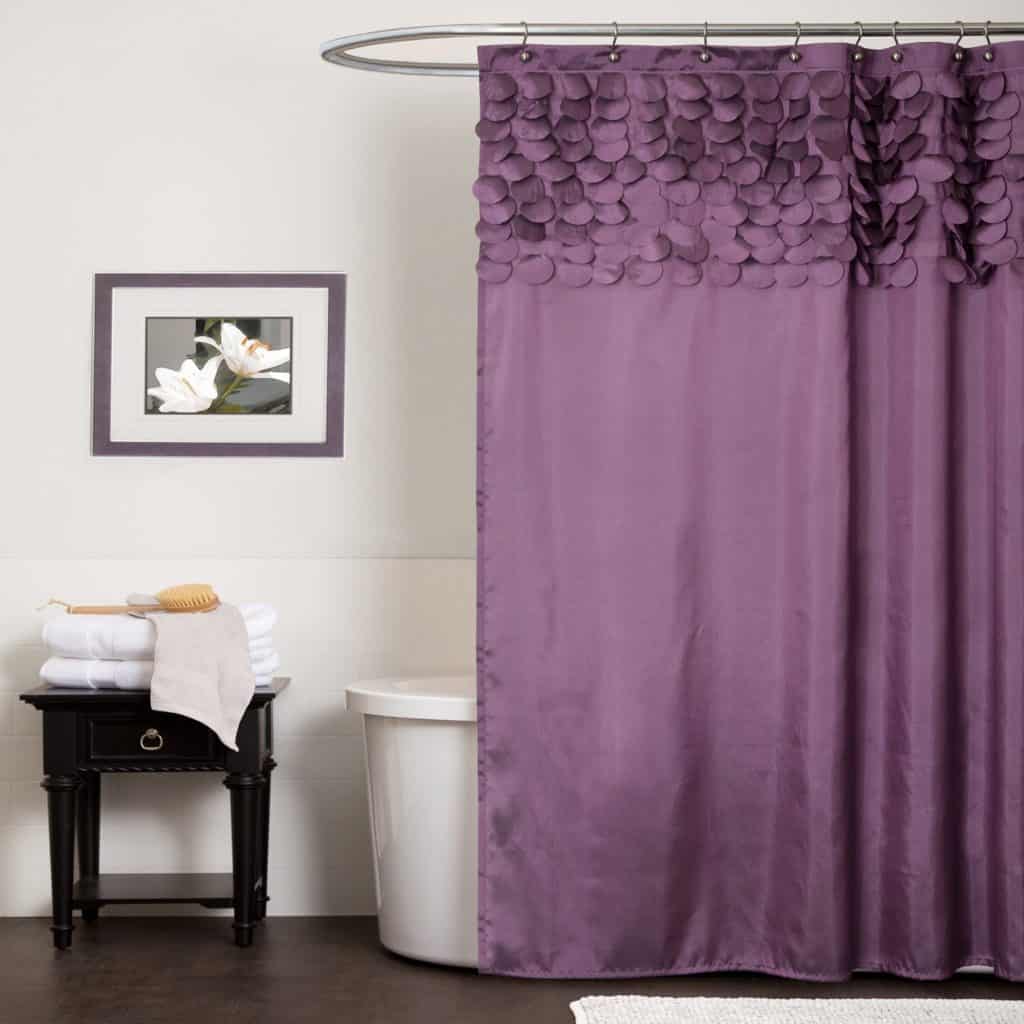 More details at amazon.com
What if you come across a solid white shower curtain, completely covered in ruffles? You will fall in love with it. This fancy curtain made with 100% polyester works well with any kind of bathroom décor, only giving it a much better look.
Light Pink Shower Curtain
If you are into all pink themed for your daughter's room décor, then you can probably opt for this light pink shower curtain that perfectly goes along with the theme of the whole room. The pink colored curtain definitely works well with white colored walls and bathroom accessories.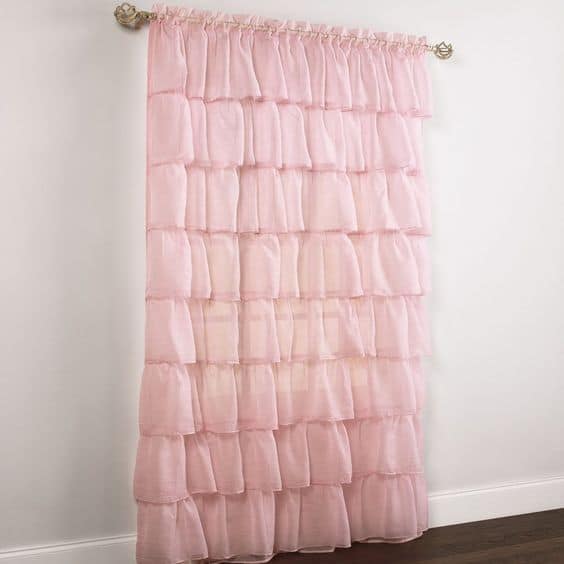 More details at pinterest.com
Up Themed Shower Curtain
Up is definitely one of those movies which came to stay with us in your mind. A movie about love and hope, this could always leave you with positivity. So, a shower curtain with its theme is definitely not a bad idea if you can actually get your daily dose of inspiration. Besides, look at that beautiful print of house and balloons against that ombre background.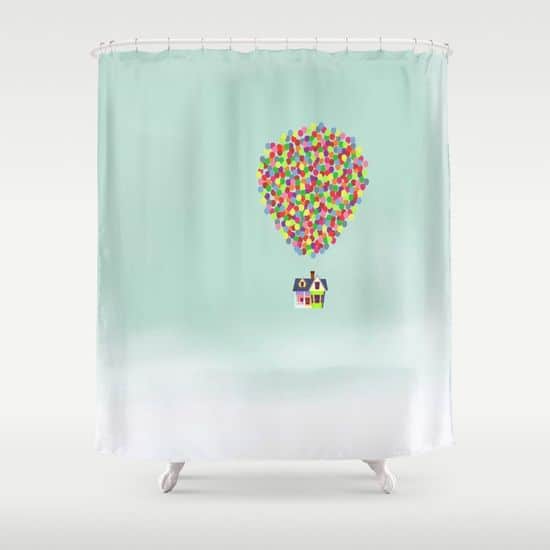 More details at society6.com
Plum and Bow Bessum Stamped Shower Curtain
This white colored shower curtain with a boho design stamped all over only made it more elegant. This shower curtain is perfect for monochromatic or dark-color themed bathroom décor and accessories.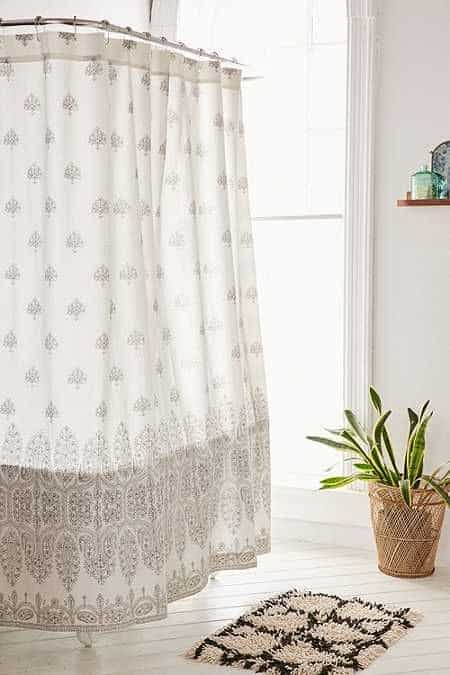 More details at urbanoutfitters.com
Striped Shower Curtain
This striped curtain is absolutely adorable and comes in three different colors – pink, blue and green. It is simple, elegant and can go with any color theme or bathroom décor. And what's more, these stripes are always in vogue!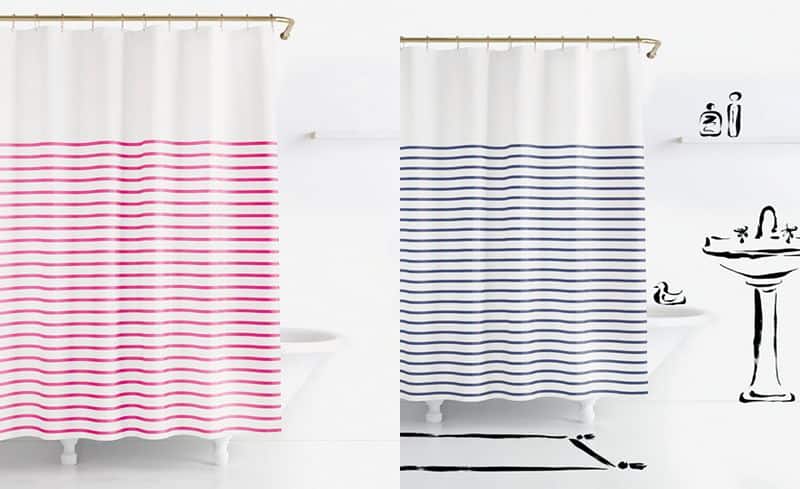 More details at rstyle.me
Palm Leaves Shower Curtain
Feel the effect of wilderness with this chic palm leaves themed shower curtain, which comes in 72 x 72 sizes. This curtain with prints of leaves in different hues of green can perfectly complement the bathrooms in the accents of pink color.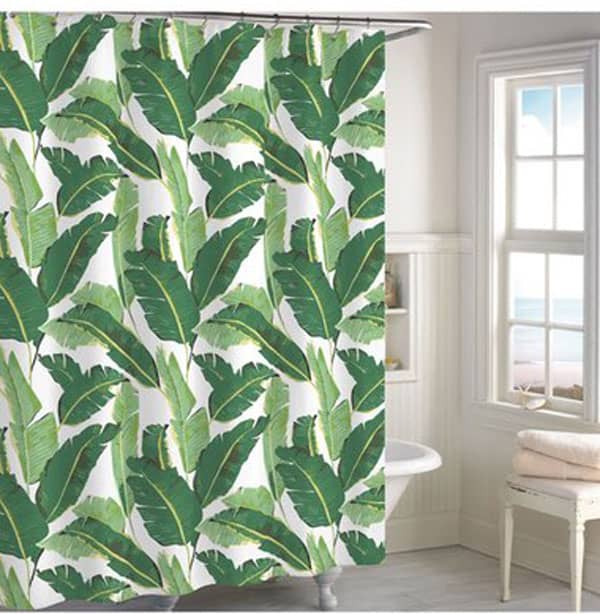 More details at rstyle.me
Disney Inspired Shower Curtain
Now, this is perfect for your kids' bathroom or even yours if you are a fan of Disney. A light marble style background with a silhouette of Mickey incorporating all major characters from the Disney universe is perfectly complemented by Walt Disney's quote in this supercool shower curtain.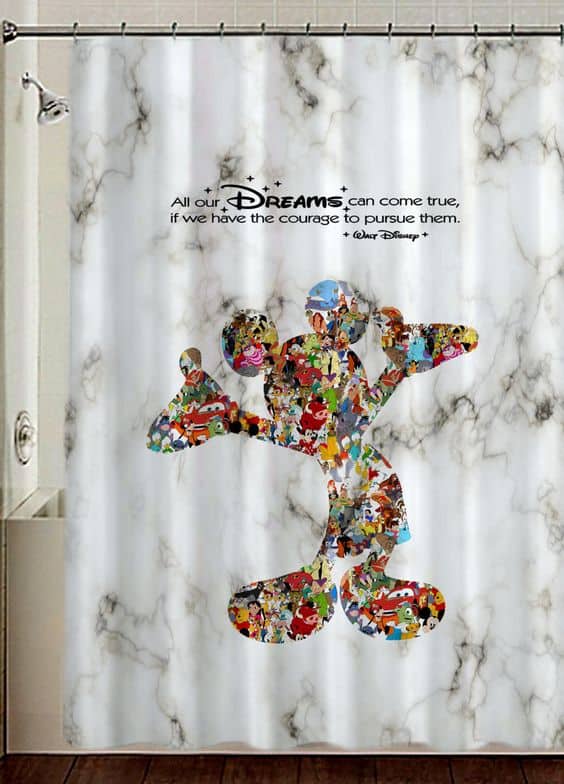 More details at pinterest.com
Badback Shower Curtain
This budged shower curtain by IKEA can be perfect if you're looking for something playful for yourself, or for your kids' bathroom. It has multiple pictures at random, but has a good look overall that can help you keep up a cheerful mode.
More details at ikea.com
If you are looking to bring in a little bit of nature into your washroom, then you can go for this shower curtain with plain white background and a silhouette of a tree as the foreground. It is simple, minimal and can work with any kind of bathroom décor without too much fuss.
No products found.
Structure Shower in Burgundy
At the first look, I though this shower curtain would be extremely expensive. But to my surprise, it comes at a price of less than $10. Besides it's elegant color complemented by half-white stripes would definitely make any bath space look ten times better.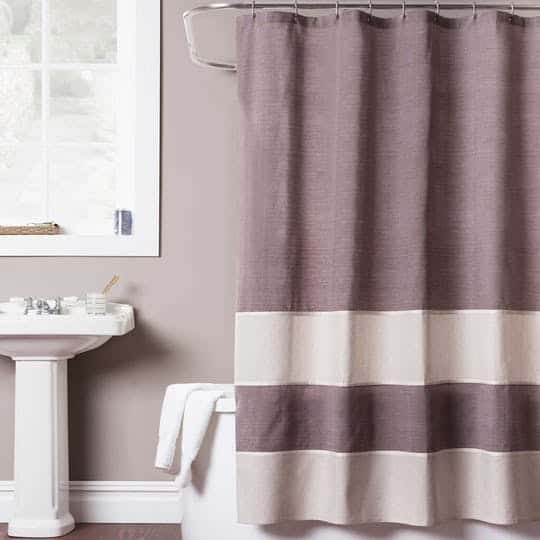 More details at thekitchn.com
Celeste Shower Curtain
If you're looking for something with more of a traditional look, then you should go with this shower curtain in white with a block print of a traditional elegant design. It is simple and will work with solid-themed bathroom décor.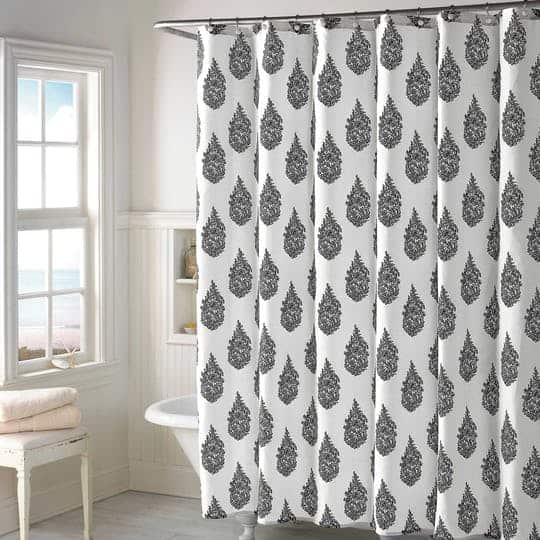 More details at thekitchn.com
City Sketch Shower Curtain
For all the city life lovers, this might definitely be a great design to go with. These sky scrapers and building doodles printed on a plain white background can sure work with wooden décor in the washrooms and can make bring in the effect of city into your bathroom.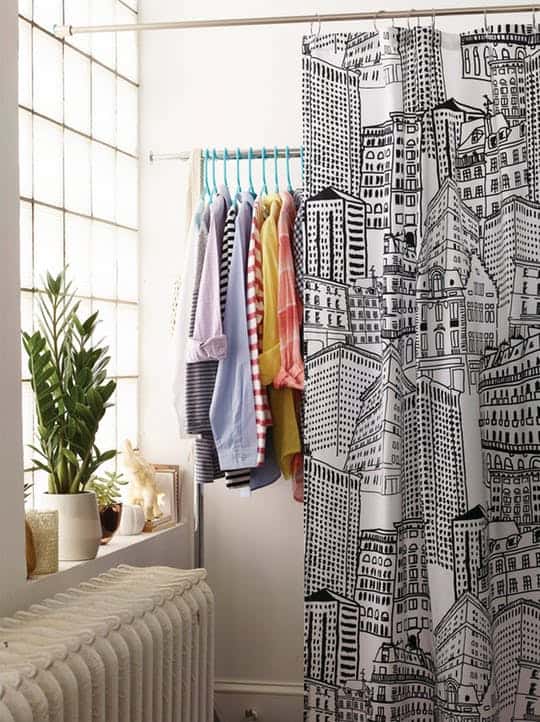 More details at apartmenttherapy.com
Hello Sunshine Shower Curtain White
This simple yet colorful shower curtain will ensure that you have the brightest smile on your face every morning you step into your bath. After all, it's one positive message that could be enough to make the day of a person.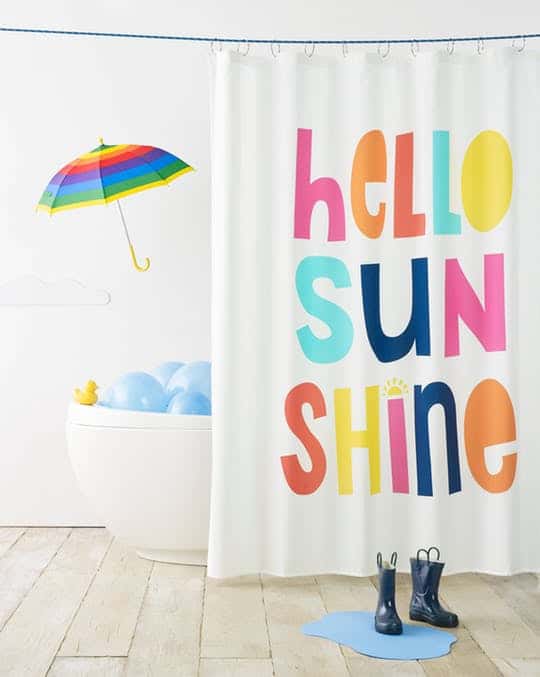 More details at apartmenttherapy.com
Black Arrow Shower Curtain
Can anything be cute yet minimalist at the same time? The answer is this arrow themed shower curtain by target, which not only doesn't burn a hole in your pocket, but also gives a better look to your existing bathroom décor.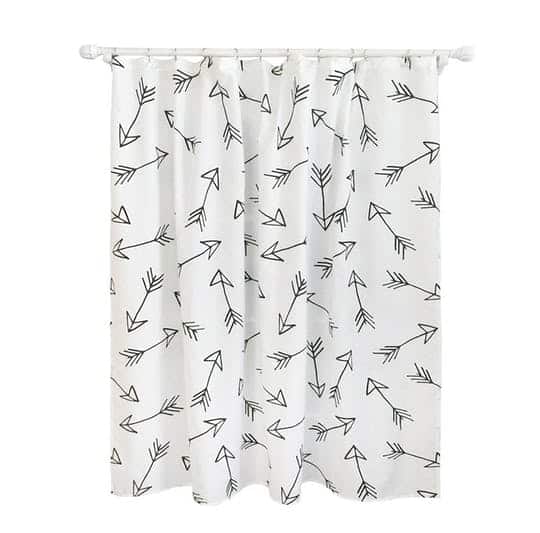 More details at apartmenttherapy.com
Ombre Shower Curtain
I have already talked about the beauty of ombre in the interior decors. Here's another budget friendly teal colored ombre shower curtain that can perfectly work with any color schemes of your bathroom.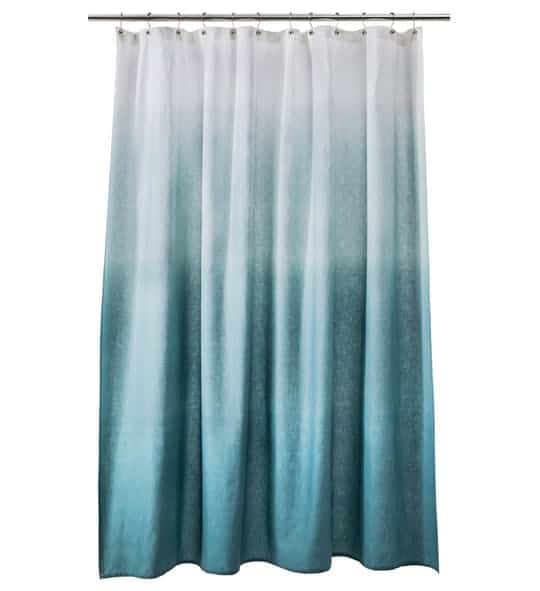 More details at apartmenttherapy.com
Superhero Cat Lover Shower Curtain
Cat people will never get enough of their adoration for those furry little creatures. If you are one of them, then take your purry love to the next level with this uber cute supercat whose special powers include purring and meowing.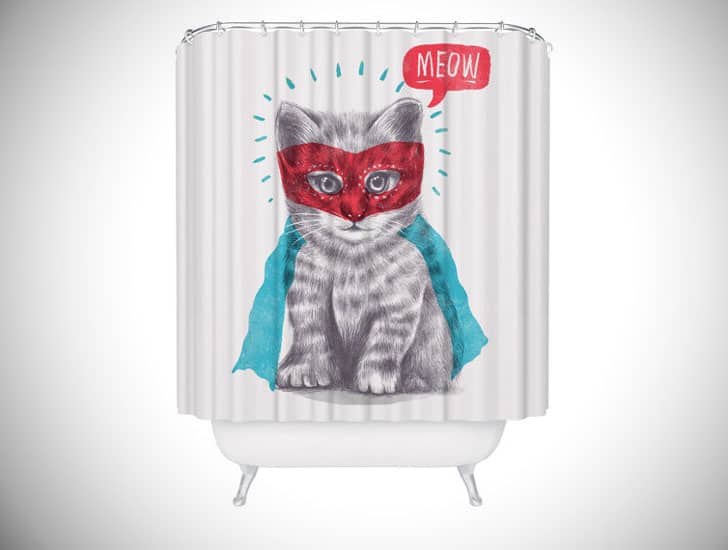 More details at etsy.com
Shark Silhouette Shower Curtains
Teach your young ones about marine creatures with the help of these shark themed curtains which can help with adding visual interest to your bathroom spaces.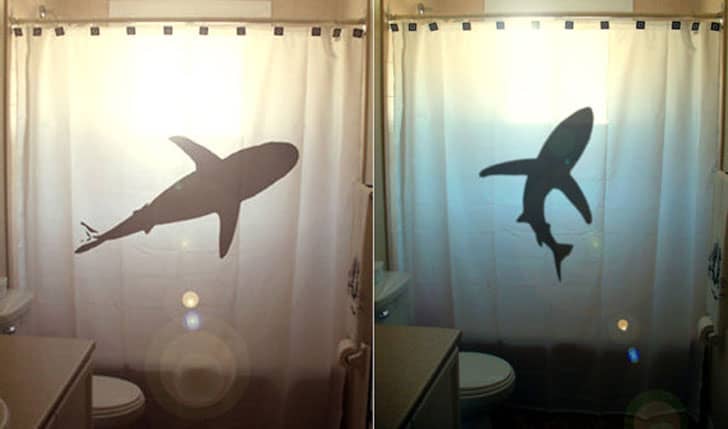 More details at etsy.com
Pug Dog Shower Curtain
Not only cats, even dogs make for an adorable shower curtain. This picture of a cute little pug taking a shower perfectly camouflages your bath tub, giving it an impressive outcome. This would be a great addition to your child's bathroom.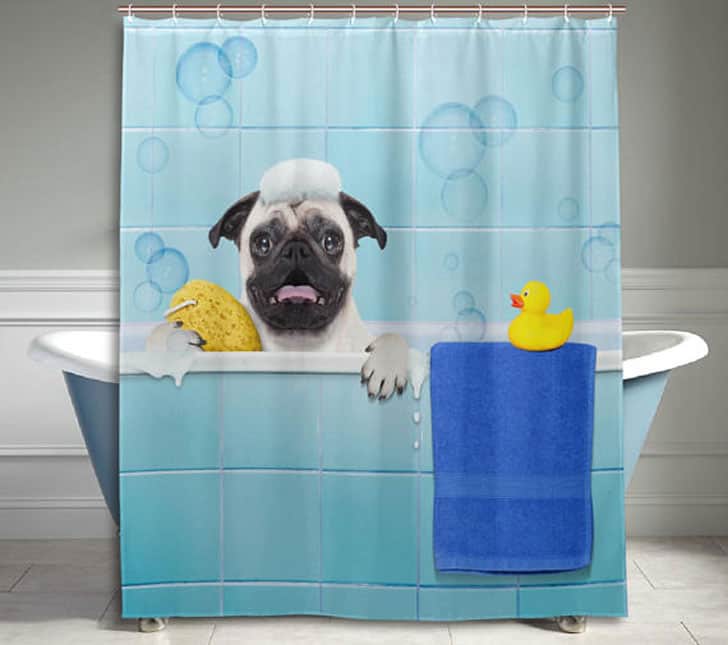 More details at etsy.com
Crazy Psycho Shower Curtain
This curtain design is so realistic that it could scare anyone into thinking that they are under attack. Install it in your bathroom, or gift it to your friends to play pranks or scare them away with an amazing practical joke.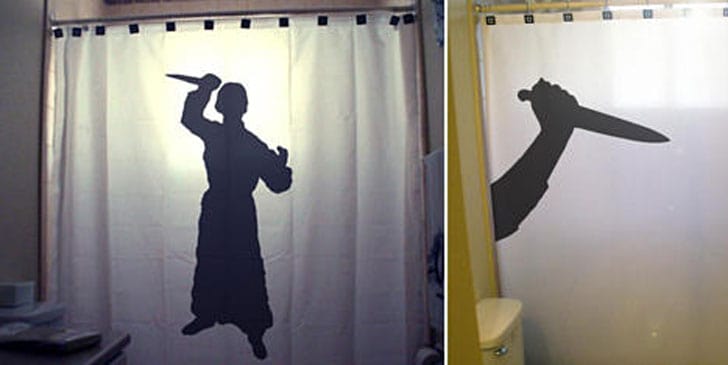 More details at etsy.com
Social Media Shower Curtain
For everyone who is addicted to social media, and do not leave their phones even during their trips to the bathroom, this might just be the perfect shower curtain. If you're looking to buy present for them, then this would definitely make a great gift for all those friends of yours who are social media buffs.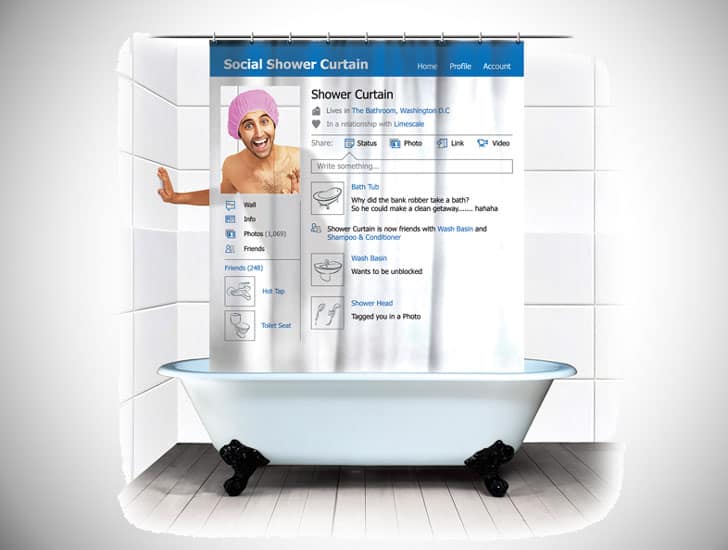 More details at firebox.com
Lazy Sloth Shower Curtain
Yes, my spirit animal is back to save me from prying eyes, only this time it's on a tree, and he brought a friend along.
Jokes aside, sloths can never go wrong when it comes to soothing your restless mind. So, it is good to have this shower curtain if you are sure that this is one of those animals that can bring a smile on your face. What's more, this one comes along with matching bath mats and towels.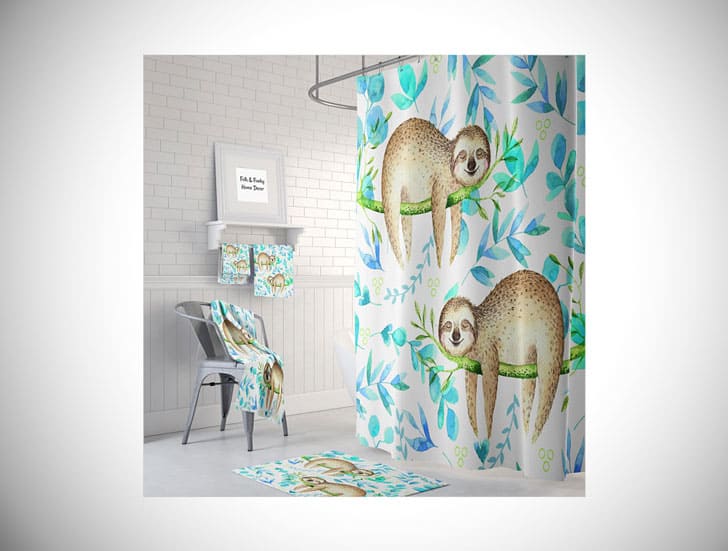 Modern details at etsy.com
Shakespeare Shower Curtain with a Twist
If you are a literature enthusiast and a connoisseur of puns like me, then this is a great choice of a shower curtain for you. It has a word play on most famous words of Shakespeare, only with a twist. So, if you are into some language humor, then it is good to get yourself one of these.
Modern details at etsy.com
Polygon Fashion Bear Shower Curtain
The most appealing thing about this shower curtain is its usage of colors. The fancy splash of vibrant colors here in the picture gave the bear a dapper look. And those glasses and jacket, definitely gave him a character.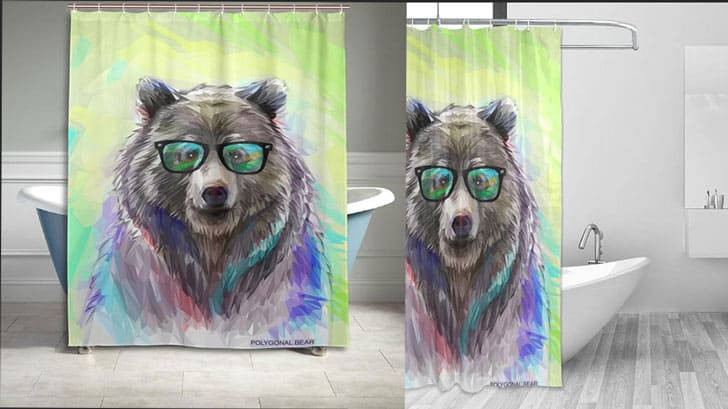 Modern details at etsy.com
Personalized Monogrammed Shower Curtains
Each one of us has at least one friend who is into sports – be it basketball, soccer, baseball or football. This personalized sport themed curtains would definitely make them happy, as there's nothing better than walking into washroom every morning and just be reminded of the game they've loved and adored the most.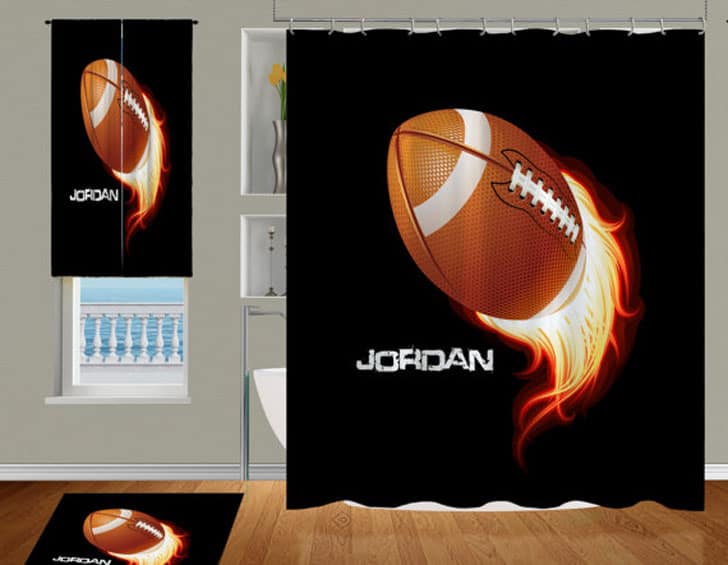 Modern details at etsy.com
Dapper Kitty Shower Curtain
The Gentleman Kitty! If you are a cat lover, or have friends who love cats, this curtain is a must have for you. Get this vintage gentleman to increase the humor quotient in and around your place? Who can have a bad mood, with this smarty pants around. The black and white look of the curtain further enhances the elegance of your shower space.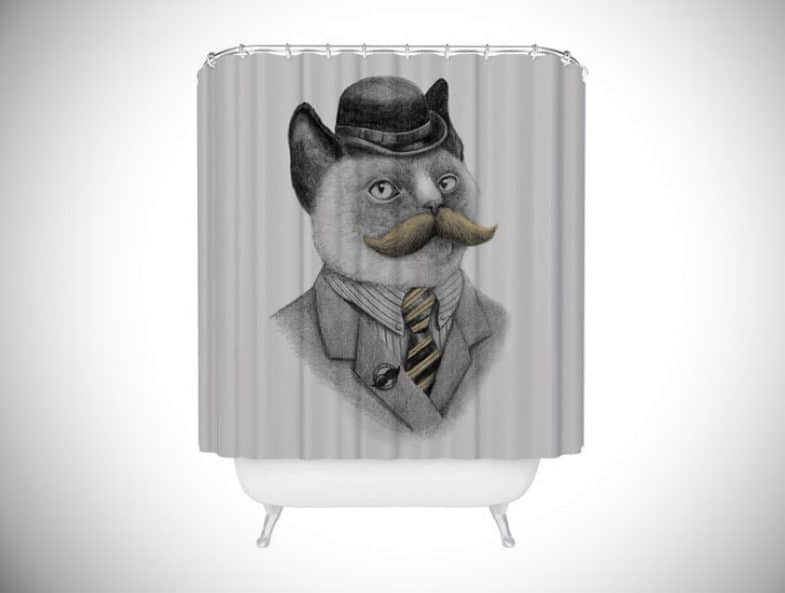 More details at etsy.com
Funny Peeking Cat Shower Curtain
Add a pinch of feline humor to your shower space with the giant peeking cat. The big cute eyes of this enormous cat assure to lift your mood, not matter how bad things are. The black background adds charm to the overall design of the curtain. Good for gifting an old time friend who has seen hard times and who could use a little cuteness and humor in their life.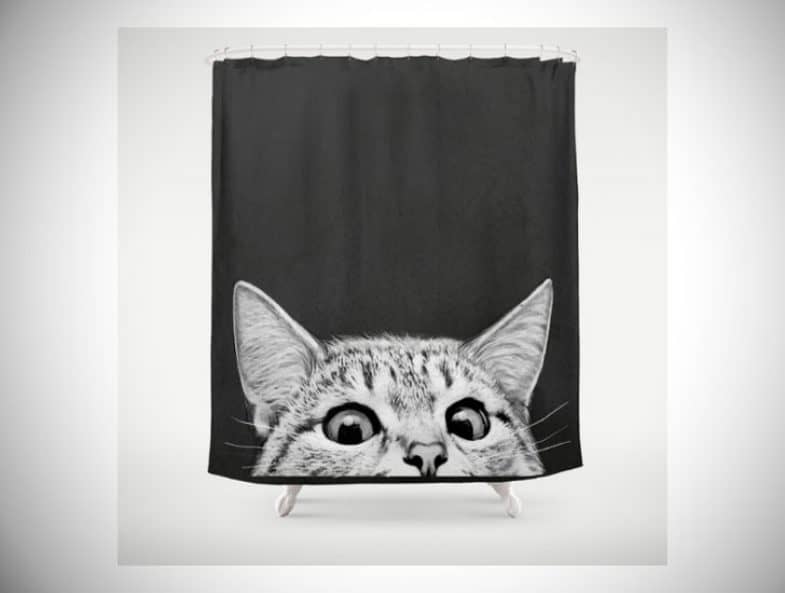 More details at society6.com
Tightrope Monkey Shower Curtain
This should be your go to shower curtain if you are looking to create a lively atmosphere for kids. This shadow art based curtain will surely evoke curiosity in kids, making sure that they look forward to outdoor activities such as hiking and camping. Use lighting to alter the look and feel of the curtain as per your moods and requirements.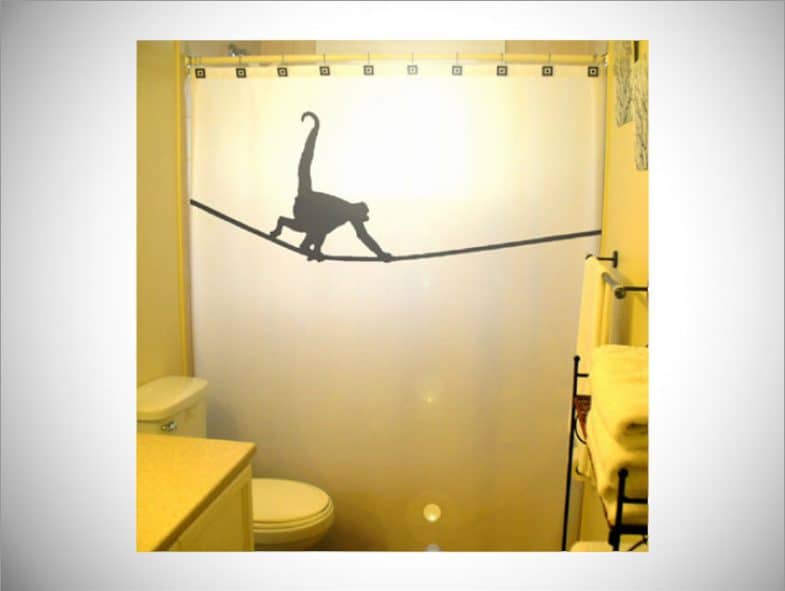 More details at etsy.com
Scary Psycho Shower Curtain
These curtains are the perfect tools to startle anyone out of their wits. Perfect for you, if you are going to have guests over, and are planning a little surprise fun. Use these curtains to plan the most exciting and elaborate pranks. These curtains are sure to generate fits of laughter after your naughty plans have manifested.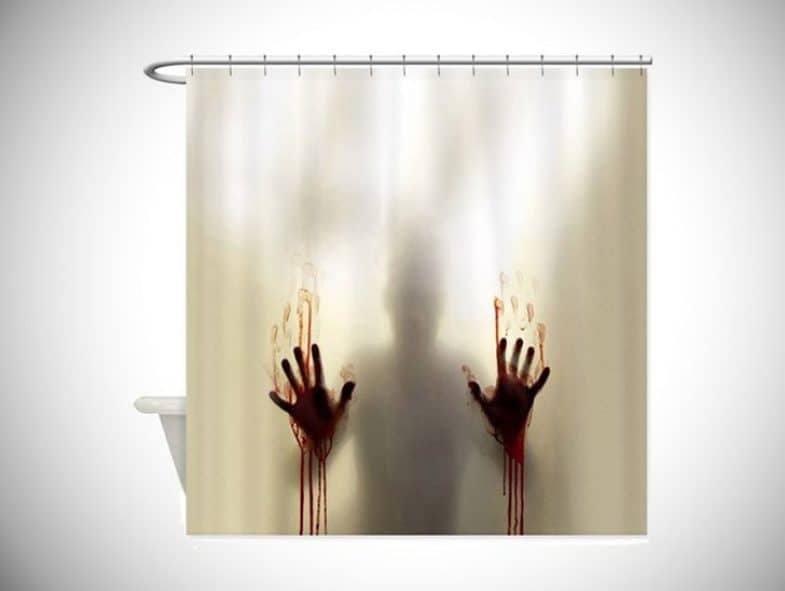 More details at etsy.com
Han Solo in Carbonite Shower Curtain
An absolutely must have for any Star Wars fan. A fulcrum point of one of the most iconic scenes of the original trilogy, the Han Solo in Carbonite shower curtain is sure to keep the fan boy alive in you, even if it is 'a galaxy far away'. A perfect gift if you know another die-hard Star Wars fan, be assured that Han Solo does not have a 'bad feeling about this'.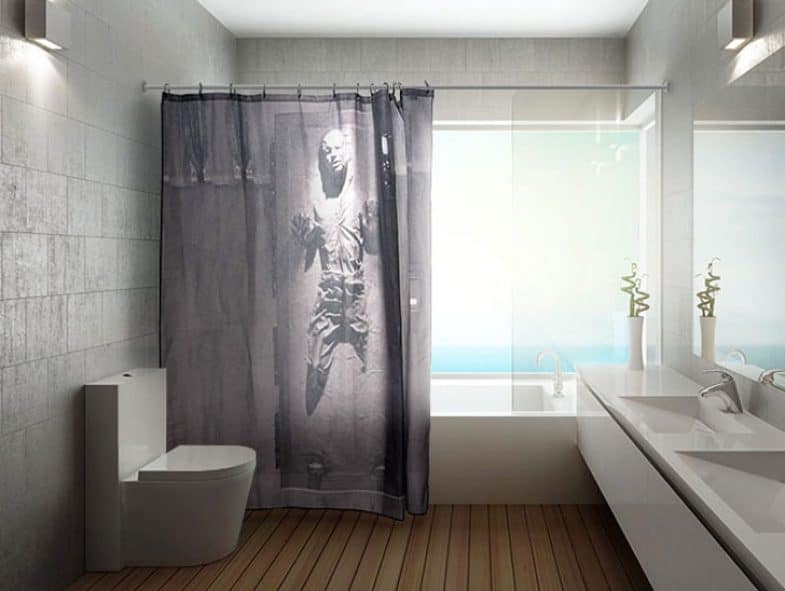 More details at thinkgeek.com
Cowgirl Shower Curtain Horse
Keep your spirit of adventure alive with the Cowgirl shower curtain. The shadow themed ambience renders a class to the shower space, while serving as a constant reminder to break the barriers and conventions of the society. Adding to the already rustic and rugged theme of the curtain, use lightening to play around with the mood the feel of the ambience around the curtain.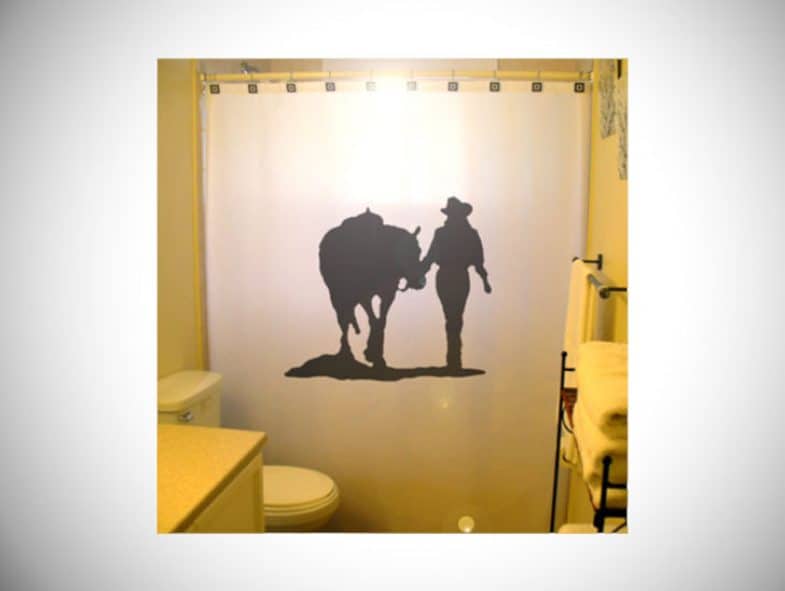 More details at etsy.com
Out of Wall Dinosaur Shower Curtain
Travel back in time to witness the majestic beasts that ruled this planet once, in a 3D rendition, coming out of a wall. The Dinosaur Shower Curtain is sure to startle any guests you might be planning to have over, and to be the topic of discussion at your dinner table. Use this curtain to give a dynamic look and feel to your shower space.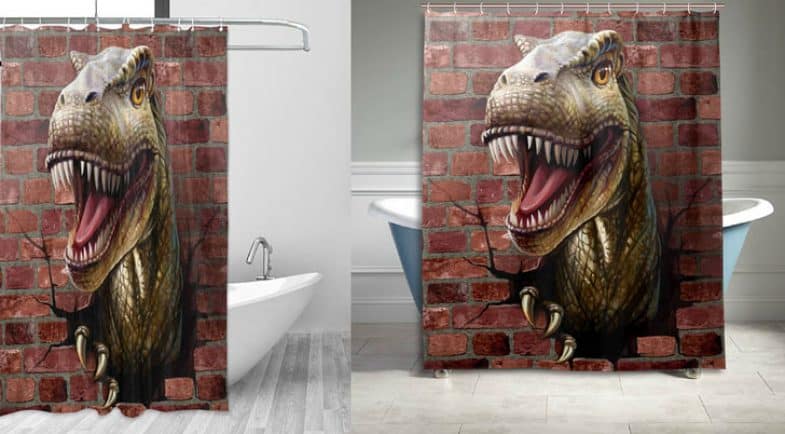 More details at etsy.com
Funny Frog on Green Leaf Shower Curtain
Up the humor quotient of your shower space by placing the funny frog on green leaf shower curtain.  The curtain is a distinct artistic masterpiece, apart from being a funny rendition of a shadow of an enormous frog. The detailed and intricate painting of the leaf, along with the realistic shadow impression of the frog place the art work in a league of its own.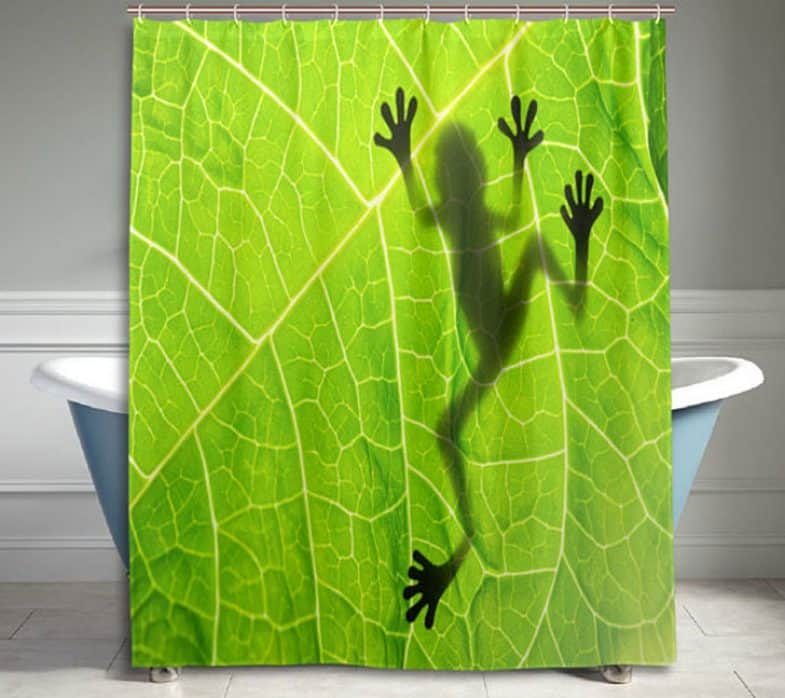 More details at etsy.com
Loch Ness Monster Shower Curtain
Loch Ness monster shower curtain makes its mark in the list of cute and fanciful bathroom décor. Complete with Scottish bagpipes, this piece of art is perfect if you are looking for something bright and colorful to decorate your shower space. The subtle humor and the quirky design are designed keeping such tastes in mind. The background green hue provides a soothing feel to the overall grandiose artwork.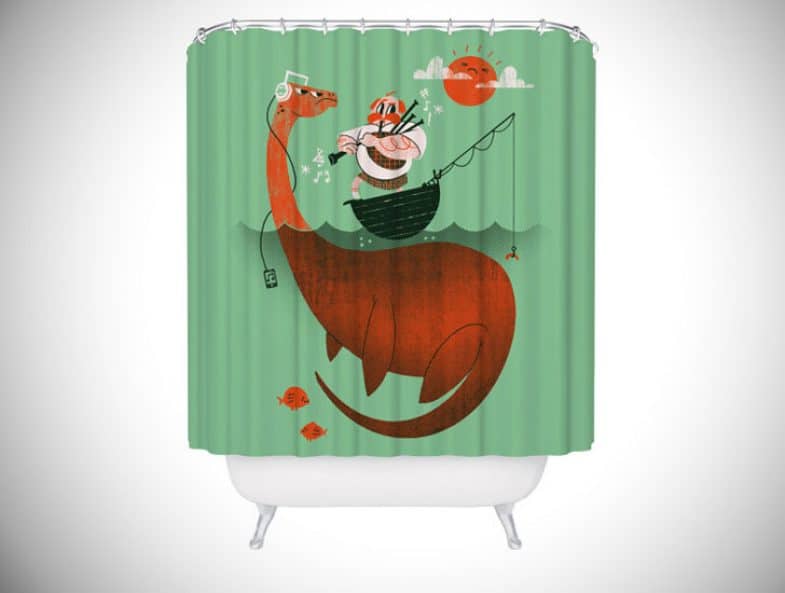 More details at etsy.com
Karate Kid Parody Funny Shower Curtain
This Karate Kid Shower curtain design is a humorous take on the original karate kid concept. Featuring a minimalistic design, the curtain art features a tranquil blue color, which gives it an elegant look, and at the same time, ensures that it blends well with other bathroom décor options. Use lightening to adjust mood and ambience according to needs of the décor.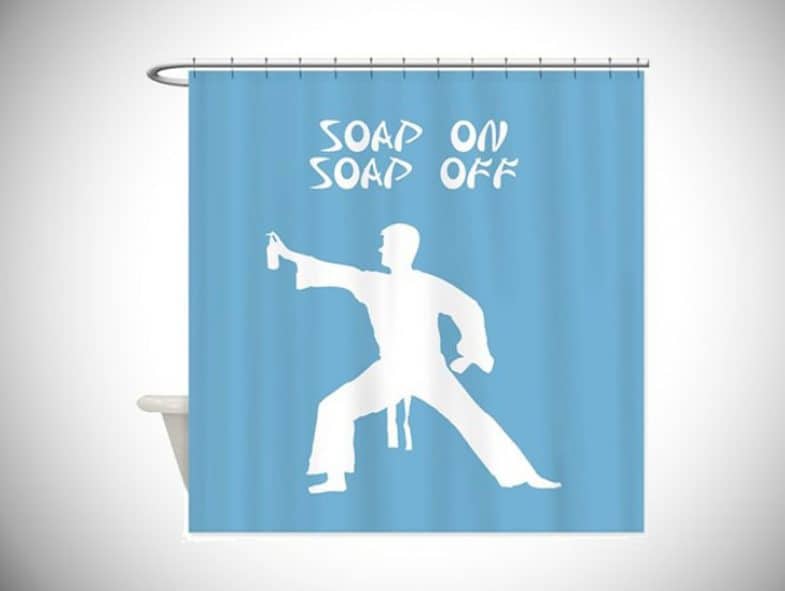 More details at cafepress.com
Funky Octopus Tentacle Shower Curtain
Even been fascinated by the weird 8 legged creatures of the ocean? Well, now you have the option of having them right beside you when you shower, with the Funky Octopus Tentacle shower curtain. The vibrant mix of colors with a dark background creates just the perfect blend of contrast which gives the Octopus, the attention it deserves. Add to that the minimalistic sense of design, and this curtain becomes the perfect visual buffet.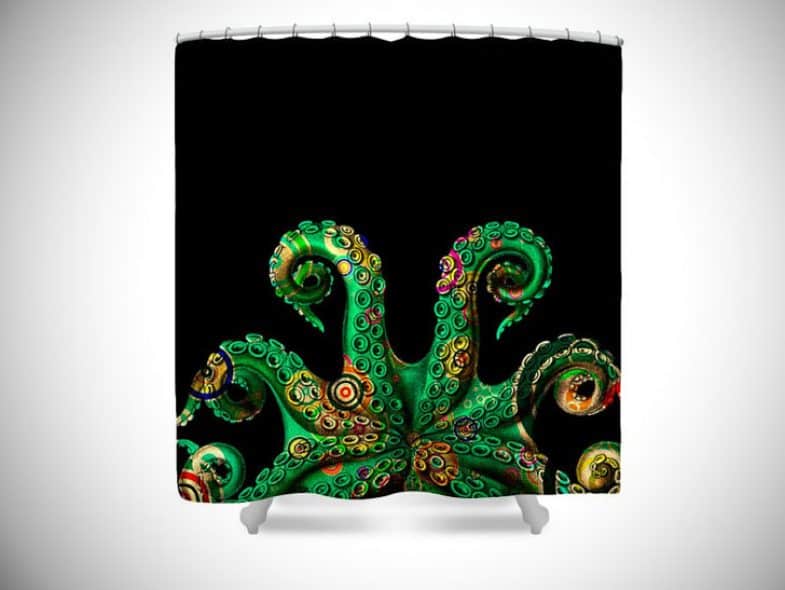 More details at etsy.com
The Whale Shower Curtain
Bring the most majestic animal on the planet to your shower space with the Whale Shower curtain. This funny depiction of a whale side by side a boat, fills one with a sense of awe and wonder. Perfect to have if you have kids in the house. Expect a barrage of questions coming at you, as curiosity surges in those little minds thanks to these curtains.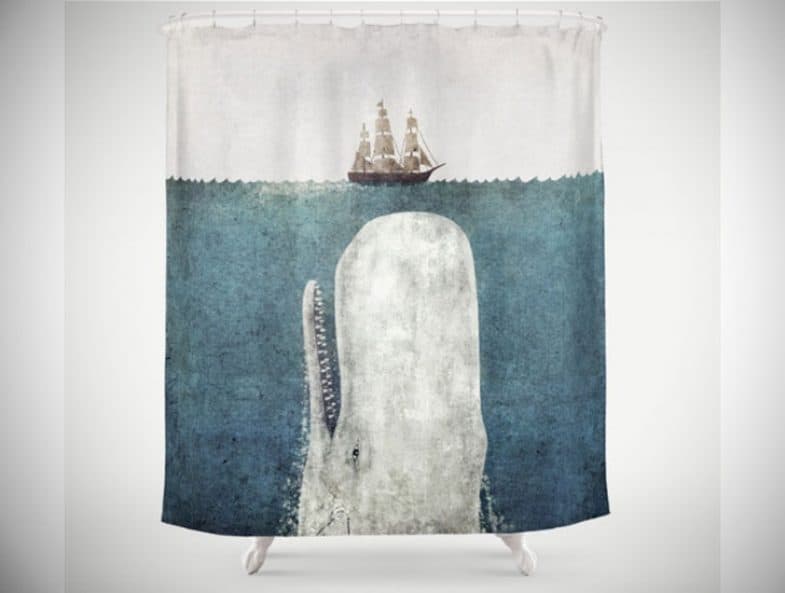 More details at society6.com
Hipster Deer Shower Curtain
If geeky is the new sexy, this hipster Deer raises the bar to a whole new level. With its funky glasses and striped t-shirt, the Hipster deer adds a whole new level of funkiness to your shower space. So get cozy and enjoy a hot shower in the presence of the Hipster deer, because geeky is the new sexy. The curtains' sober color combination adds an elegant look to the classy design.
More details at etsy.com
Barber Shop Shower Curtain
Tired of the quirky, fancy stuff and looking for something novel? We have you covered. The barber shop curtain is just the fit for your needs. Along with a sober design, the curtain also gives an ironic twist to the idea of a shower space, thus being the perfect match for your novel taste. The red-blue stripe combination serves as a sober background to hexagonal board proclaiming the entrance to the barber shop.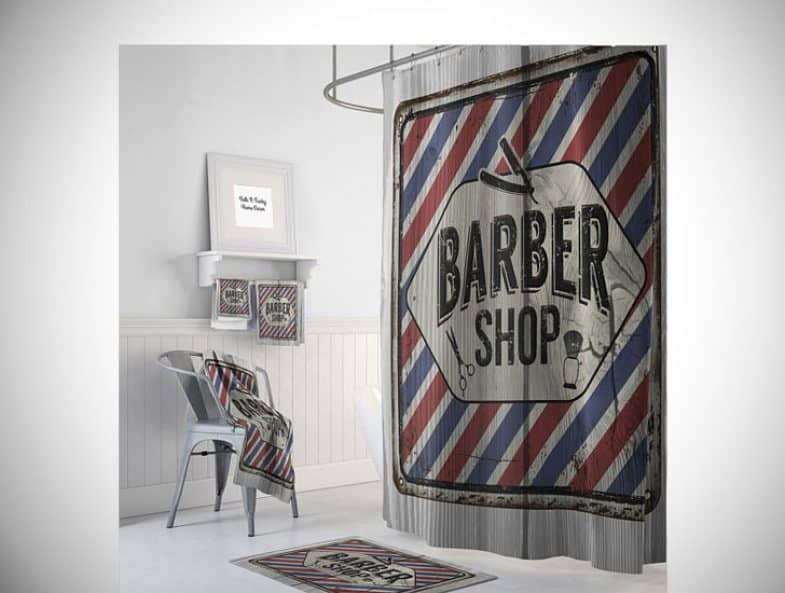 More details at etsy.com
Zombie Halloween Shower Curtain
This Halloween themed design is meant to invoke the spirit of festivity all year round. Apart from a scary twist to your shower space, this curtain is also great to scare unsuspecting guests who might end up getting scared unknowingly. Add this to your shower space to keep the nostalgia of Halloween alive, and to enjoy scared faces of your guests when they stumble upon this masterpiece work of art.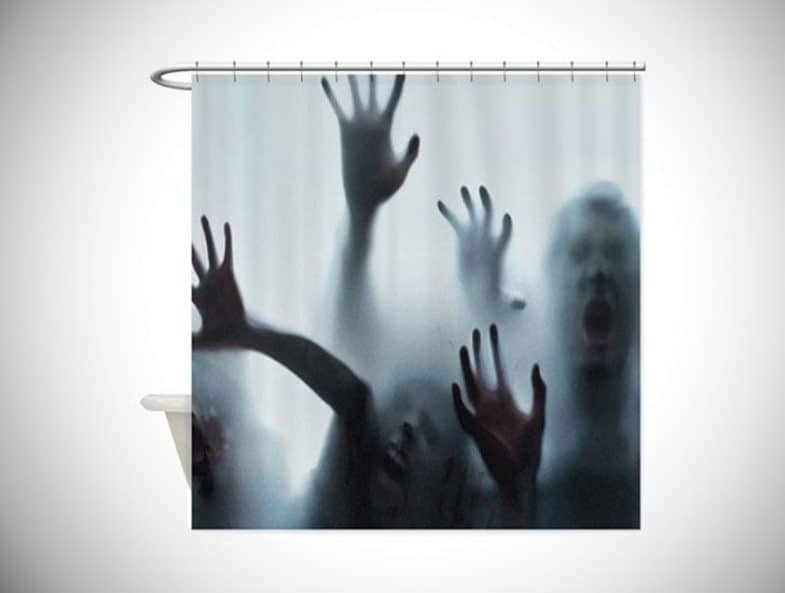 More details at etsy.com
Funny Cat Scratch Shower Curtain
Make your mornings bright and cheerful, with this funny art of a struggling cat. The scratch marks complete the humors portion of the design, while the minimalistic design lends and elegance to the entire art. The black and while theme is fitting for any shower space, which along with the green eyes complete the appeal of the curtain.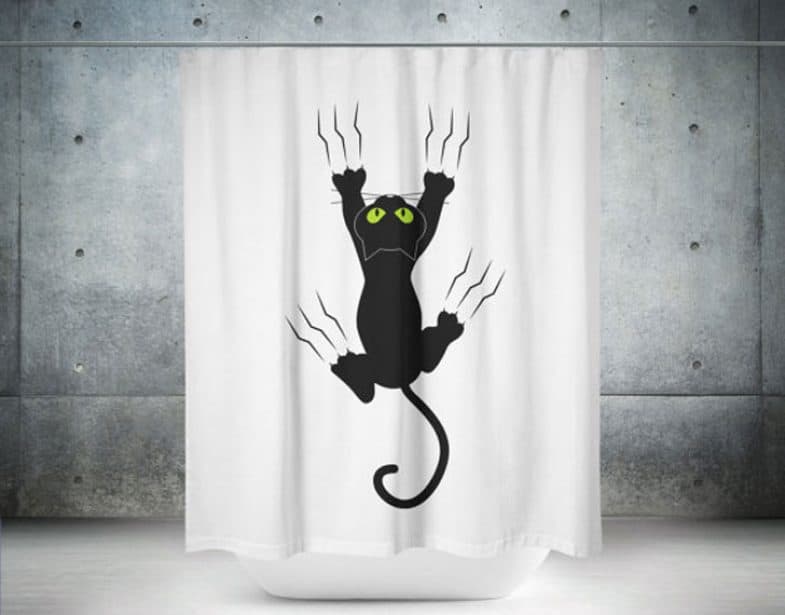 More details at etsy.com
Funny Hippo Shadow Silhouette Shower Curtain
This shower curtain's design is as creative as it is humorous. The design mystique come from the hippo that has his mouth open. The shadows based design adds elegance to the charm that this curtain already is. Place this curtain in your kids' bedroom shower to give them a sense of curiosity and responsibility towards wildlife.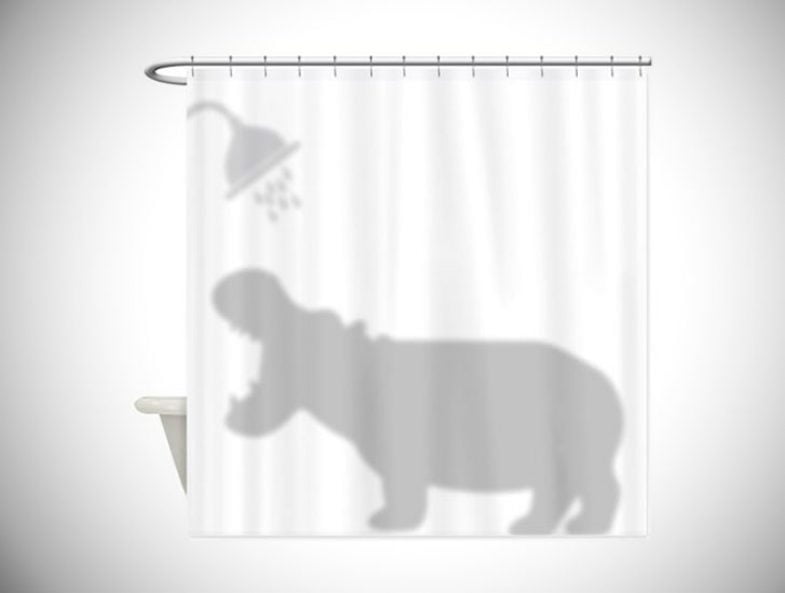 More details at cafepress.com
Double Heart Shower Curtain
Get this Double Heart Shower curtain to add a vintage look to your shower space. The color and design of this curtain assure you of a rustic look for your shower space. If you are looking to add a hint of personality and pinch of class, this curtain suits your needs perfectly. The inviting theme of the curtain is an added plus to the already rugged design.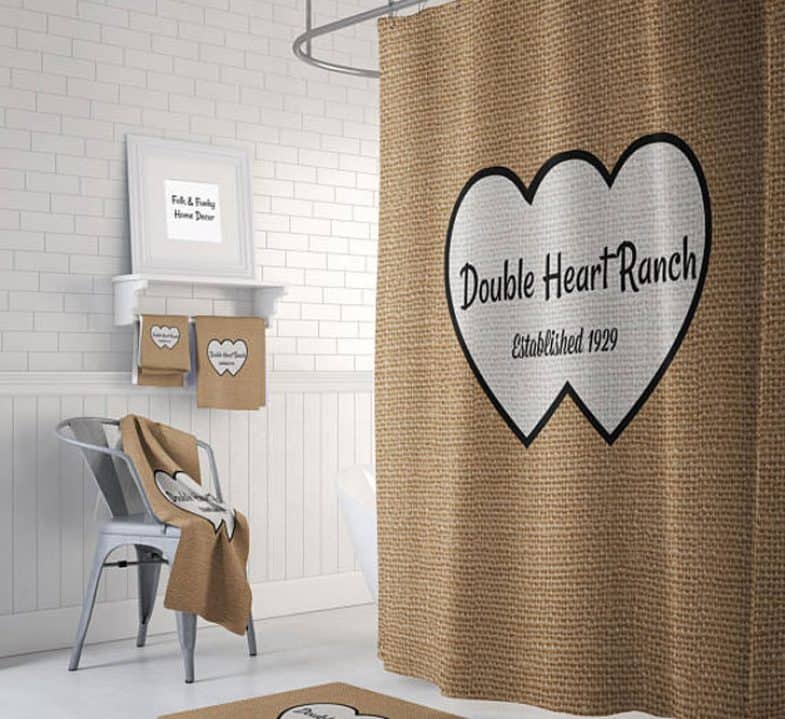 More details at etsy.com
Hawaiian Tiki Head Shower Curtain
The Hawaiian Tiki head shower curtain depicts cartooned versions of the fabled Tiki gods of Hawaii. This brilliantly colored curtain has a mix of bright colors such as blue and orange, and a few sober colors such brown. Bestowed with impeccable detailing, the curtain shows different tiki heads in different states of emotions, ranging from sad and happy, to jolly and happy. The mystique themed background further adds charm to this already peppy curtain.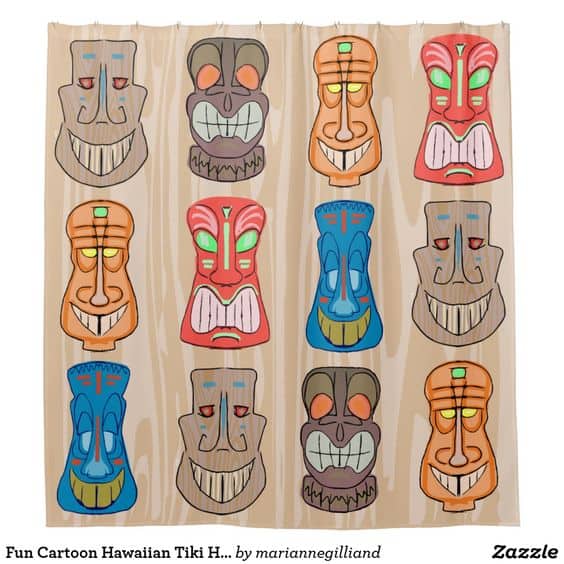 More details at zazzle.com
Favorite TV Show Based Shower Curtain
This sober themed curtain comes with pictures of your favorite cartoon characters. Relish this Rick and Morty themed shower curtains, which has Rick enjoying a drink while he takes a shower, along with Morty, as his usual scared self. Furthermore, the curtain has a square blocks background, which gives a soothing and calm feel to your cherished shower space.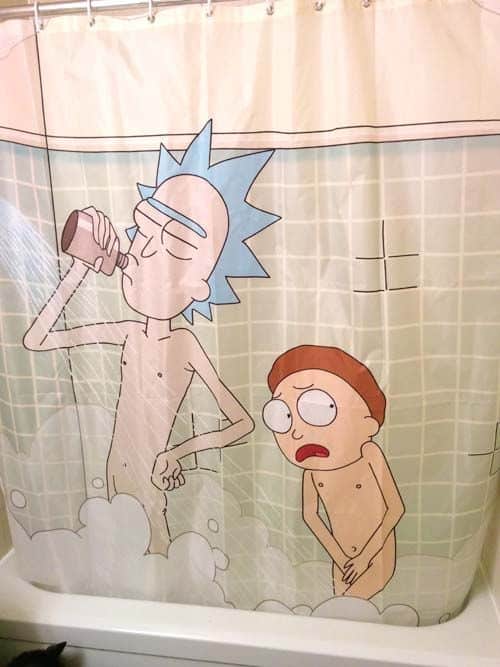 More details at pinterest.com
So, these are a few pointers for to give you a boost so as to figure out what to buy the next time when you want a new cool shower curtain. You can go beyond and look for something that suits or personality or would may be work well with the bathroom décor or the color scheme of the hours.
Related Articles 
10 Affordable Blinds to Transform Your Room Instantly
13 Best Energy Efficient Curtains & Blinds 
How to Remove Calcium Deposits from Shower-heads With Vinegar
Top 10 Best High Pressure Shower Heads
Walk-in Showers 101 | Pros & Cons, Tips & Tricks, Design Ideas