Over the past couple of years, a lot of interior design enthusiasts and home architects are leaning towards walk-in showers. In fact, they've become a fad among users to give their washrooms a sleek and trendy look. In addition to the visual and aesthetic front, these walk-in showers are also said to be efficient in terms of space usage.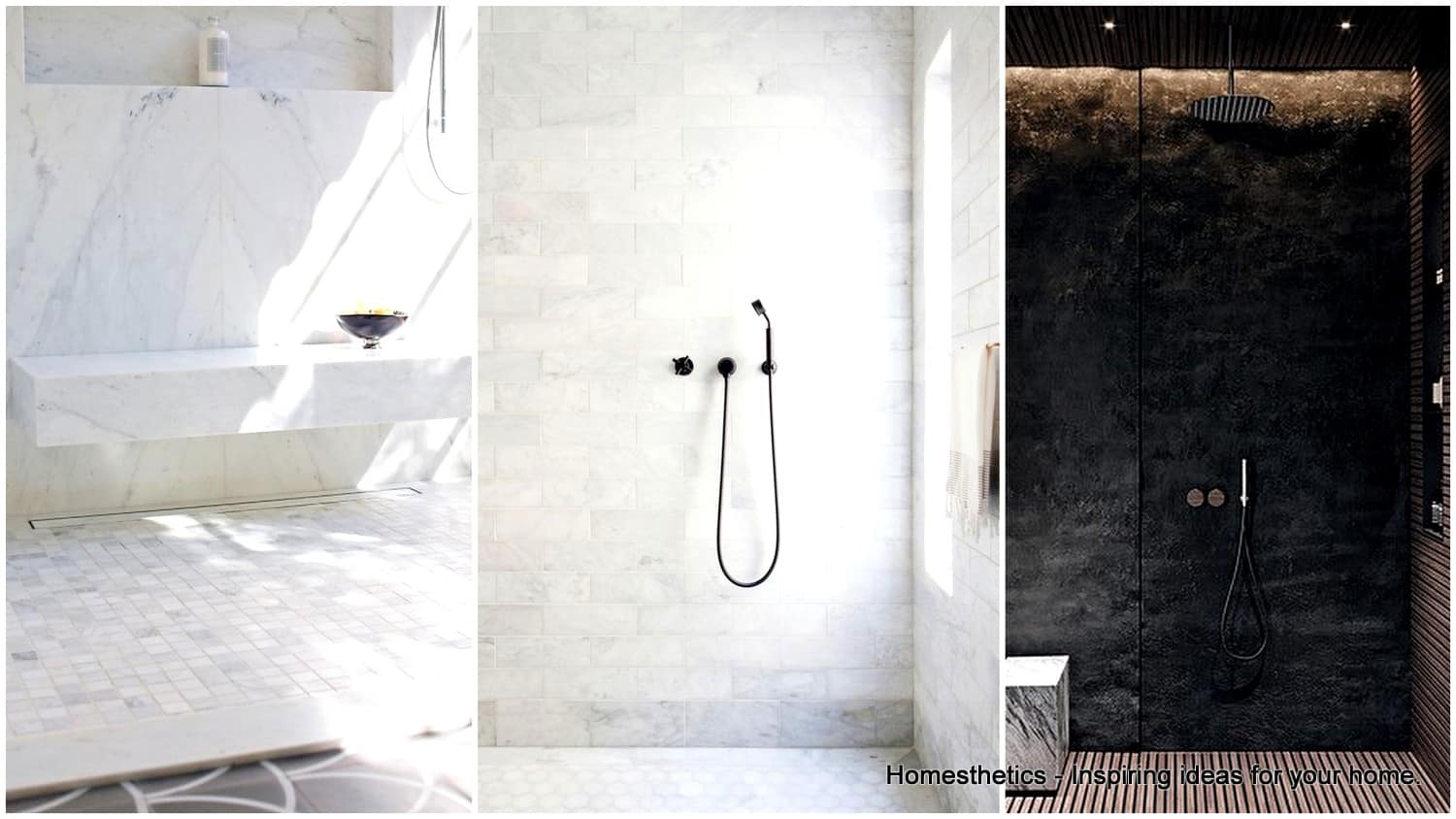 However, a question remains. Are walk-in showers really as functional as people claim them to be? Come, read along as we list down the pros and cons of Walk-in showers along with a few tips and tricks. And don't forget to look out for some amazing ideas we're going to talk about today. Who knows? This might probably help you with your bathroom design or your next washroom remodeling project.
Walk-in Showers 101
What is a Walk-in Shower?
For those who aren't aware, walk-in showers are those showers where you don't have to jump in, step up or tip right over to get to the shower space. Neither are they a combination of a tub or a shower curtain. These are spaces in the washroom with a glass enclosure, and plastic flooring. Usually, these walk-in showers are doorless for easy functionality, but there are some people who opt for a simple glass door to not let the water out into the rest of the washroom area or to make them look tidier.
There are a lot of shower designs you can find in the market these days. Each one is unique in its construct and can be customized as per the requirements of the individual. But, there are both benefits and limitations to the design one needs to be aware of while considering this option for their washrooms.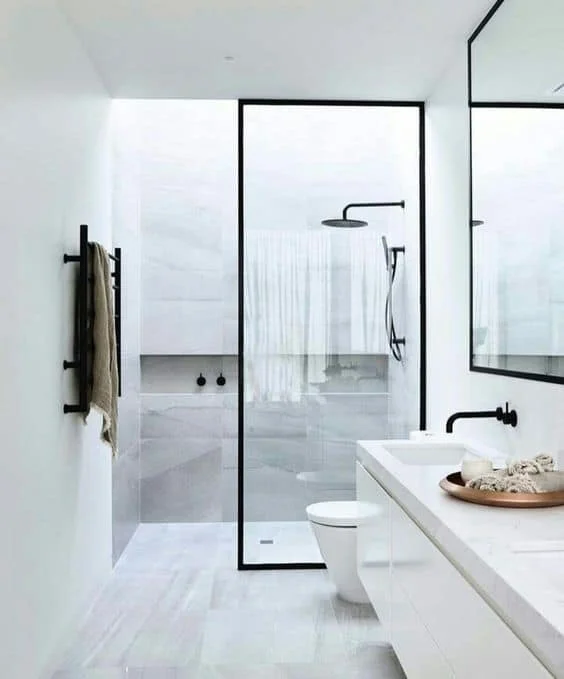 via Pinterest
Pros of Walk-in Showers
Easy to Get In
One thing we have to have to admit is that these walk-in showers are amazing when it comes to mobility. You don't have to step in, as you do in a bathtub here. Neither do you have to climb onto an elevated platform and step down into that shower space behind the curtain? And for a typical walk-in shower, there's no barrier of a door too.
So basically, you're getting rid of everything that becomes a hurdle between you and that water faucet. Imagine coming back home after a stressful day at school or work, and walking straight into the shower without having to deal with any headaches. Pure bliss, right?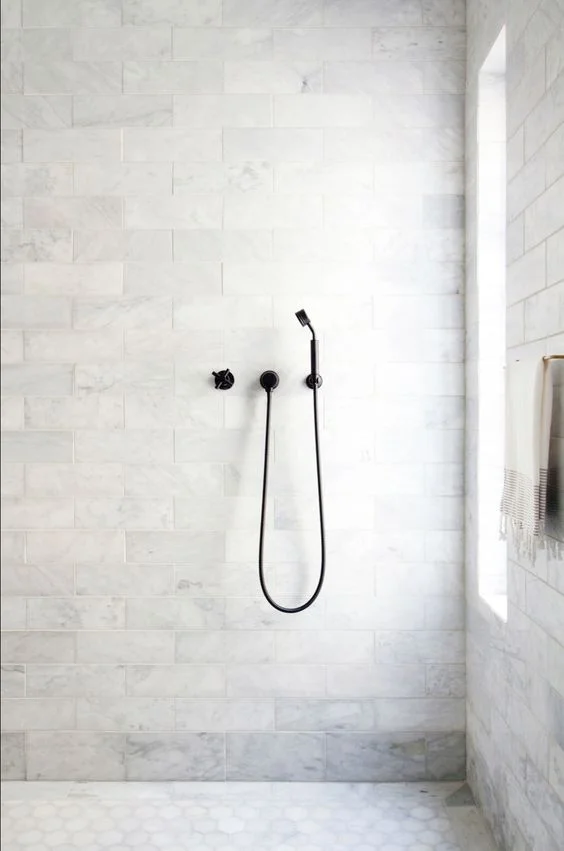 via Pinterest 
Gives the Bathroom a More Spacious Look
Be it any kind of bathroom; a walk-in shower can make it looks bigger and more spacious, as you can just see through the shower, without any opaque hindrance. in between. This works especially well when you remodel your bathroom by replacing the bathtubs with open glass shower doors.
And since the shower itself becomes visible to the individual, the bathroom looks almost double the size. This happens due to the footage being covered by the shower area being contributed to the whole bathroom in a visual sense.
You Cannot Believe How Durable They Are
A lot of people think walk-in showers are fragile; given they are made of glass. But in reality, these showers are designed in a way that they can endure all the wear and tear that comes with years of usage. Then there's the continuous flow of water, which also needs to be taken care of. So, if you manage to get your walk-in shower installed properly, rest assured, you don't have to worry about changing it for a long, long time. Just consider it a long-term investment, and relax.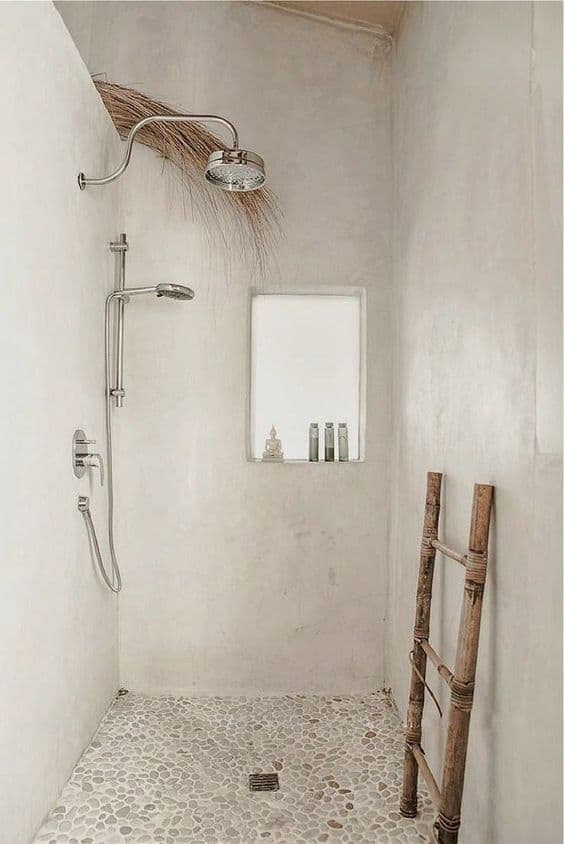 via Pinterest
The Maintenance is Low
Walk-in showers are easy to clean and have lower requirements for maintenance when compared to the other shower spaces. You can quickly get off the dirt, as there are not a lot of curves on the glass where the water can get trapped. Also, you can work on the maintenance yourself, since it is spacious and functional.
The Minimalist Contemporary Design
The usage of glass and plastic flooring itself gives a stylish look to the whole bathroom. And you don't have to worry about the rest of the décor.
But if you want to make it more elegant, you can always customize the tiles, walls, shapes, textures, and the type of glass (tinted, glazed, transparent, colored, frosted, or tempered glass. The perfect design is right at your creative disposal.
Ditching the Door Can Save Some Dough
The whole enclosure setup using glass in the walk-in shower could be expensive. And if you opt for low-quality alternatives, they will make your entire bathroom décor look cheaper. Also, the curtains can get dirty and nasty – just imagine all the water, soap, and dirt over them. Getting rid of the door could save you from all these troubles while putting a reasonable amount into your savings jar.
Doubled up as a Walking Space
This might sound strange, but you can actually put your walk-in shower to good use as a walkway. You might say that you would need a lot of space to take a walk, but that's not necessary. In a lot of Asian and European countries, where houses are much smaller, people use to walk in showers as a continuous space, and double it up for other purposes, like you know, taking a walk.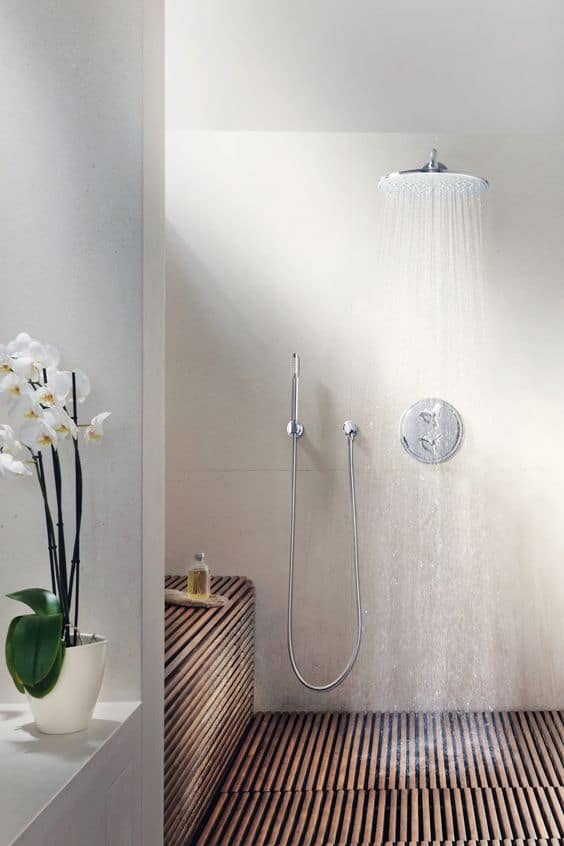 via Pinterest
Cons of a Walk in Shower
There is Less Privacy, Of Course
This could be singled out as one of the two most prominent cons of a walk-in shower. Given the usage of glass, and the no-door thing in the shower, you might not really have the kind of privacy you would have wanted.
For example, in situations where you share your apartment with some other, only one of you would be allowed to use the restroom at a time. And if you're a parent with a tight schedule, you would definitely not want your kids to barge into the door during your moments of relaxing solitude.
So, it is better to get your glass frosted and invest in getting a translucent glass shower door to make the required amends.
Water Here, Water There, Water Everywhere!
What can you expect when there's no door in the shower? The water can splash out of the shower area, into the whole bathroom. So, it is necessary to plan carefully and install small drainage by the splash guard to avoid the situation as much as possible.
Slippery Slopes
This is related to the point above. All the water splashing doesn't just make the ground wet; it can also trigger the hazard of getting slipped in the washroom. This could probably mean a broken rib, bone, or something else, and of course a big fat hospital bill.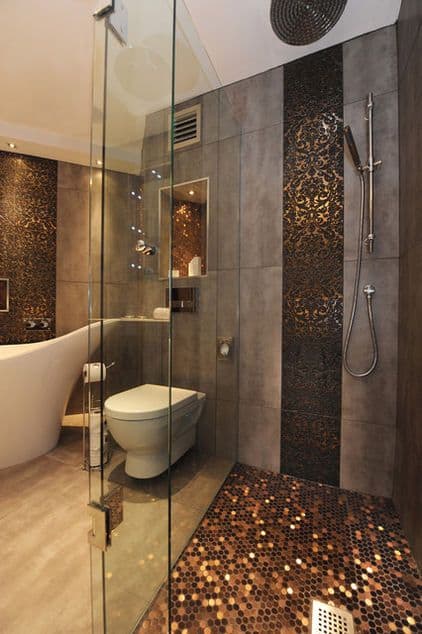 via Pinterest
It Could Be Hot and Steamy
Let's admit it, you would not want to walk into a shower after a long day and see everything steamed up and look hazy. This is due to the circulation of hot air, and moisture build-up in the shower area. To avoid this, you could install a heated flooring system, so that the overall heat and temperature of the enclosure are balanced. Else, you could not just end up with hot steam and water droplets not only on your shower glass but also the entire bathroom.
Not Really Cost Effective
When compared to bathtubs, or shower spaces with curtains, walk-in showers could be quite expensive. This is not just because of the usage of glass for the construction, but also the necessity of having an advanced drain system, which could cost you a bomb.
But if you are hell-bent on having a Walk-in-shower, it is better to have it installed by professionals ones, so you don't have to go over the renovation and other expenses after a short while
Renovation Can Be a Pain
Getting a walk-in shower at a new home is quick and easy. But if you're remodeling your washroom and want to turn that large bathtub into a walk-in shower, you might need to plan ahead carefully. As there are a lot of things that need to be taken care of, like the placement of the drainage system, the slant angle and direction of the floor, and methods to avoid mold and mildew.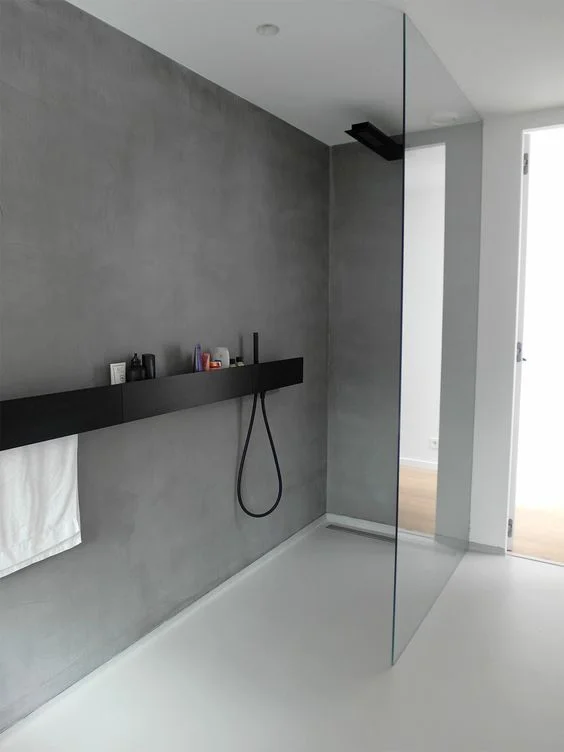 via Pinterest
Tips and Tricks to Get the Perfect Walk-in Shower
If you looking at getting a walk-in shower for your place, then you might want to consider looking at these few tips by design experts. After all, who wouldn't want their bathroom to look classy?
Go with a Corner Placement
Walk-in showers can be much less intrusive if you decide to keep it in the corner of the bathroom, than in other areas. When you go with this design, you can make use of the surface of the wall to give the whole place a much more spacious look and feel.
Pick the Perfect Showerhead
The right kind of showerhead can easily get you rid of the splashing trouble in the shower. So, when going for showerhead shopping, try and choose the ones that aim right above your head, instead of traditional showers, or tilted ones. Going with a rain-mount option can be a good choice for this kind of shower space.
Strategically Place the Drain
I have been emphasizing the importance of drain placement in a walk-in shower in the article before. This is because it is much simpler and less messy to place the drain where the pipe is located, rather than setting it elsewhere in the shower area.
Go with a Non-Slippery Flooring
More often than not, people do tend to choose a different kind of flooring for the walk-in shower, which is from the rest of the washroom. This could be irrespective of whether the shower has or not having a door. So, it is better to go with a non-slippery floor for the whole space, and not just for the shower area to take a measure beforehand and save yourself from all the skidding and falling.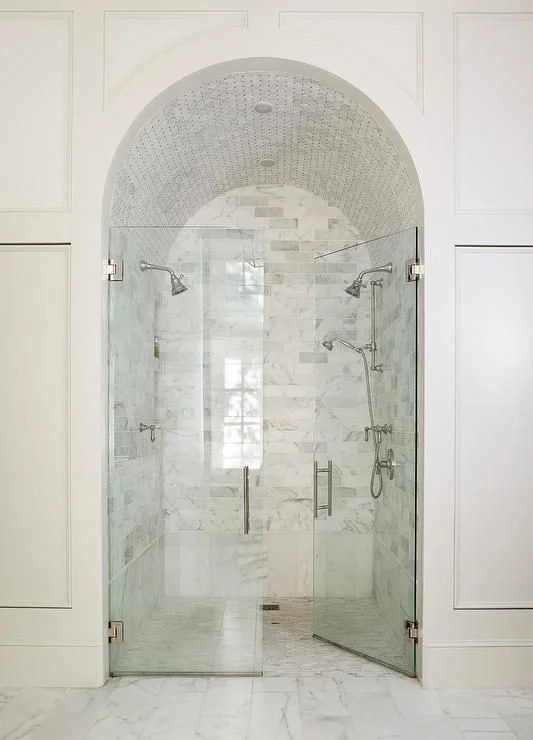 via Pinterest
Build a Half Wall
Building a half-wall or a raised platform, especially for the walk-in showers without doors, could help with all the splattering and scattering of water. But this could be a little tricky when you're in a hurry, as you could easily trip and fall.
Try and Allow the Water to Flow into the Shower Drain
This is one of the simple yet effective strategies to keep the whole washroom as dry as possible. All you have to do is construct your washroom slope at such an angle that all the excess water can directly flow into the drain rather than placing a new one elsewhere in the bathroom. Efficient, isn't it?
Pick Different, Albeit Matching Materials for the Washroom and Shower Space
You have all the freedom in the world to experiment with the choices and combinations of materials used in the shower area and the rest of the washroom. But make sure whatever you choose is not entirely contrasting and distinct, but complements each other well.
For example, you can install your shower components like faucets, showerheads, etc. in a sleek metallic shade, while you can always make use of earthy tones and wood-colored material elsewhere. This can add incredibly well to the look of the whole washroom.
Keep it Straight and Simple
There's only one mantra for you while designing the washroom. Keep it as simple as you can. The simpler your design is, the better the chances are of your shower area looking chic and elegant. It's as easy as that!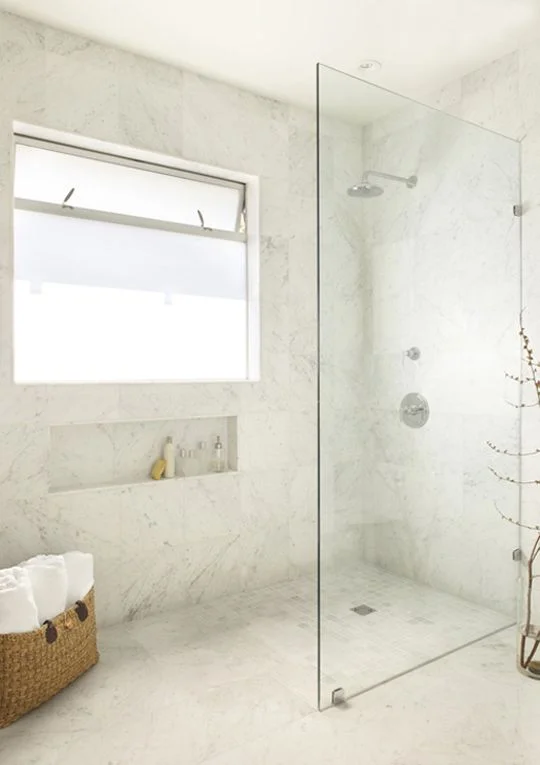 via Pinterest
A Few Ideas for Walk-In Showers
Here are a few ideas for the walk-in showers, that you can easily get installed at home, to give it an incredible look and make the showering experience all the better for you.
Combining Glass and Light
Using glass with lighting can give your shower space a bright and airy look. Good quality transparent glass panels mounted from the ceiling to the floor, and lighting – both natural and artificial – working on the brightness and other ambiance-related aspects can give your walk-in shower a great look.
Adding a window, or a skylight, regardless of the dimensions, can also make a huge difference in the feel you want to give your washroom. Also, throw in a little bit of décor to give it a more edgy feel.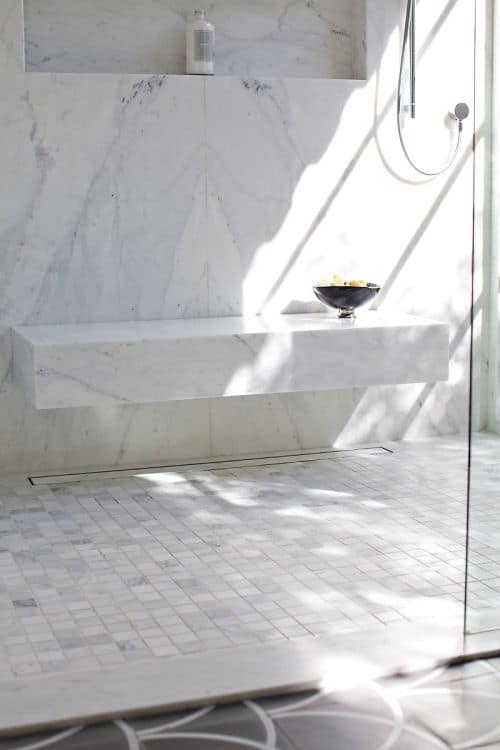 via Pinterest
Installing Shower and Steam Room in the Same Place 
You don't have to worry about the space of the shower area for this. Just choose a small steam generator and get it installed in the walk-in curtain. Now you can get a relaxing steam bath before hitting the shower – a complete spa experience, right from the convenience of your own bathroom.
Smaller Shower Unit
If you have an incredibly small space for a washroom and are still inclined towards getting that walk-in shower space, just get one with a smaller surface area instead.  It works almost as well as the regular long ones.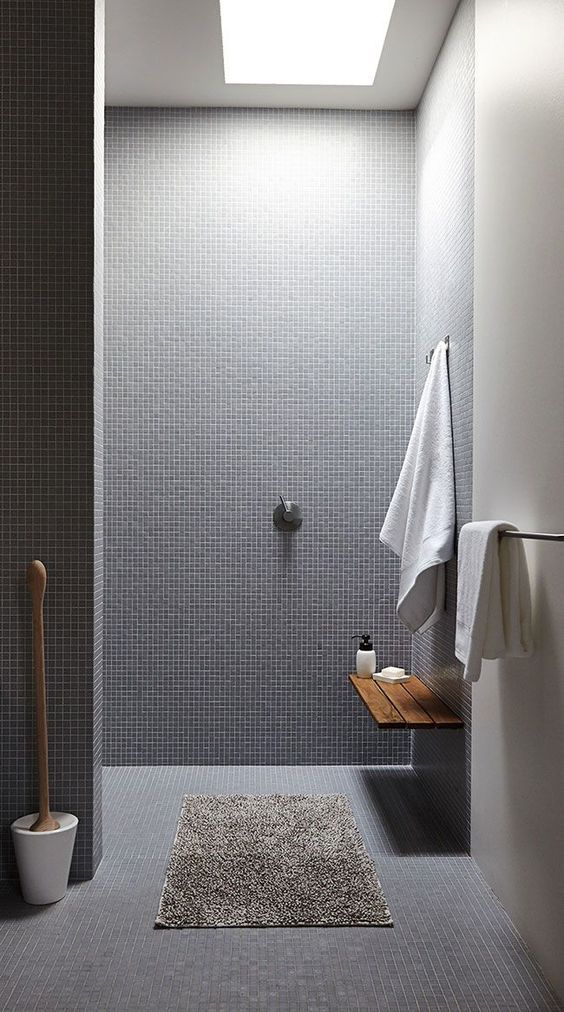 via Pinterest
But if you aren't satisfied with the look and feel of the space, you could simply create an illusion of making it look bigger by making use of simpler materials and glass that makes sure that the whole transition is seamless. Also, glass-free doors would make for excellent mini shower units.
Round Shower Walk-Ins
These have come into trend more or less recently, but have grabbed quite a few eyeballs. Round showers are more stylish, and glamorous, and can change the look of your whole bathroom. They would look incredibly pretty, especially when designed with clear glass. But of course, do note that these kinds of showers are not compatible with larger bathroom spaces.
Nature Inspired
This might come off as too ambitious, but if you have an extensive bathroom footage area, you could actually bring in some log frames for your shower enclosures and frame the glass panels in those. Furthermore, you could use stone flooring to give the whole shower space a chic nature-inspired look.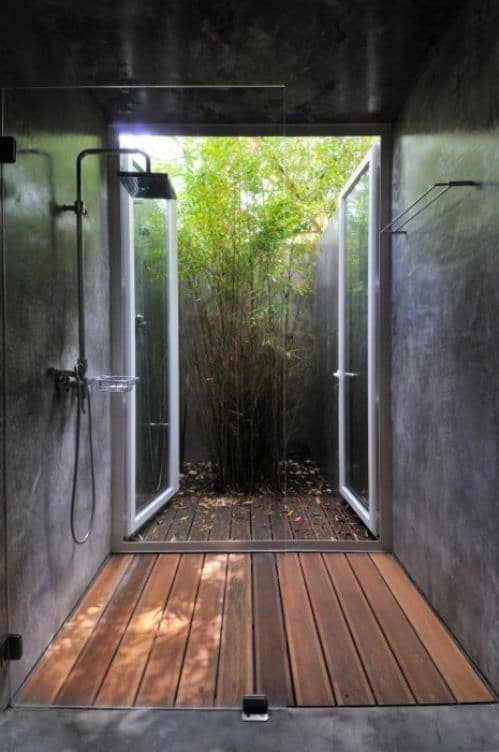 via Pinterest
Luxury Showers
You can't quite put the finger on what makes a shower space look royal, but a perfect blend of décor, materials, and flooring can never fail to elevate the overall ambiance to get the desired effect. So, if you're into all that classy and elegant stuff, try to experiment with the color scheme, shade, and material choices of the shower space.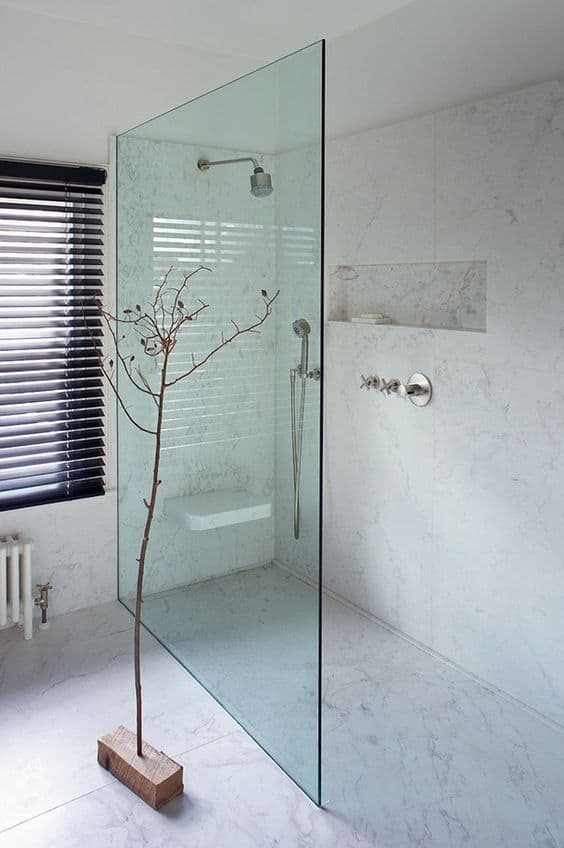 via Pinterest
Are Walk-in Showers Worth In The End?
In the end, walk-in showers can offer you a great deal of versatility in efficiency, design, and functionality. They can be personalized be made to look as per your choices – be it colors, patterns, materials, door types, etc. Just go with your gut, and pay a trained professional to get the job done according to your desires. And in no time, you'll be all set to enhance your overall showering experience!
Related Articles
Top 10 Best High-Pressure Shower Heads    
7 Best Grout Sealers For Shower
How to Remove Calcium Deposits from Shower-heads With Vinegar 
99 Super Cool Shower Curtains to Transform Your Bathroom Today