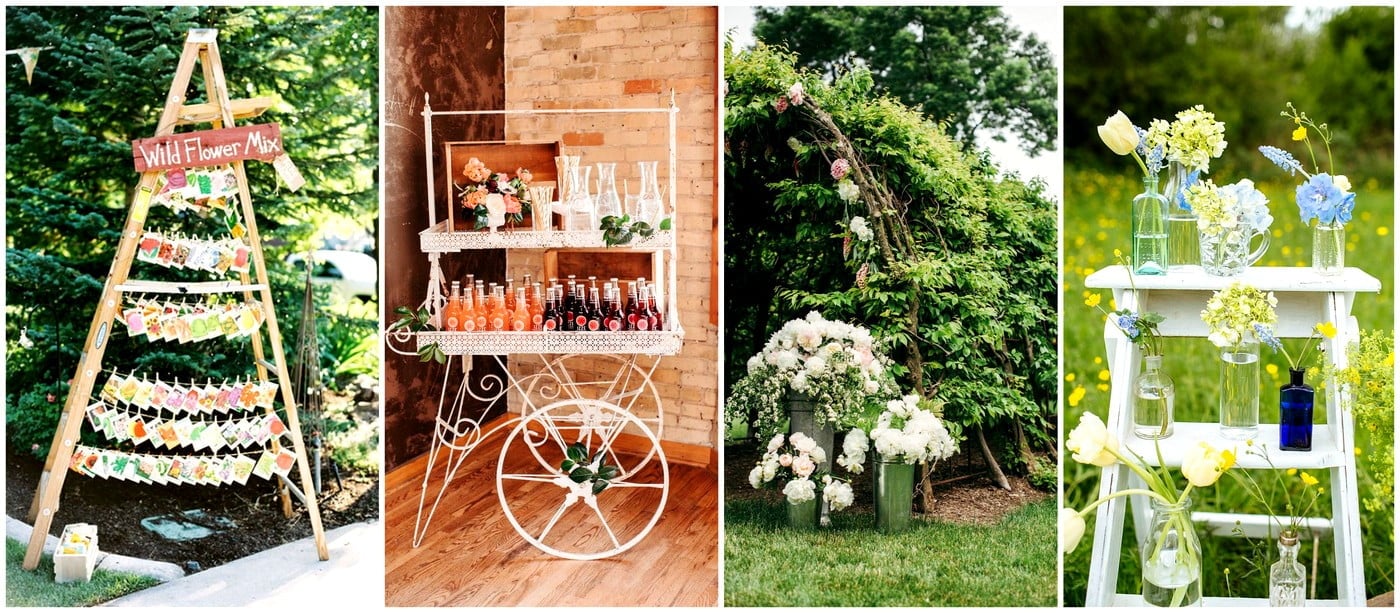 A wedding is one of the biggest events in one's life and we sure want it to be perfect.
In recent times, rustic weddings have gained a lot of popularity and needless to say, they are a treat to the eyes. If you are worried about the budget, we have the perfect solution for you. 
Here's a list we have curated where you can find innovative ways to DIY rustic wedding decor. With this guide in hand, enchant your guests with a rustic charm that will blow them away. 
The materials we have suggested are readily available, and most things could easily be bought at a dollar store or on Etsy. Get reading and weave your perfect wedding!
Related Articles
Splendid Photo Wedding Backdrops Projects To Pursue
23 Stunningly Beautiful Decor Ideas For The Most Breathtaking Indoor/Outdoor Wedding
19 Charming Wedding Centerpieces For a Magical Celebrations
31 Simply Breathtaking Cloche and Bell Jar Decorating Ideas For Magical Weddings
25 Of The Most Gorgeous Bridal Bouquets For An Autumn Wedding
Elegant And Dreamy Floral Wedding Centerpieces Collection
17 Wedding Centerpieces You Can Use On A Low Budget For Any Season
19 Splendid Summer Wedding Centerpiece Ideas That Will Beautify Your Event
27 Simply Charming and Smart Unique Outdoor Wedding Bar Ideas
15 Simple DIY Wood Slices Crafts To Replicate
57 Tea Party Decoration Ideas for a Delightful Event
DIY Rustic Wedding Decorations
Rustic Floral Ladder Display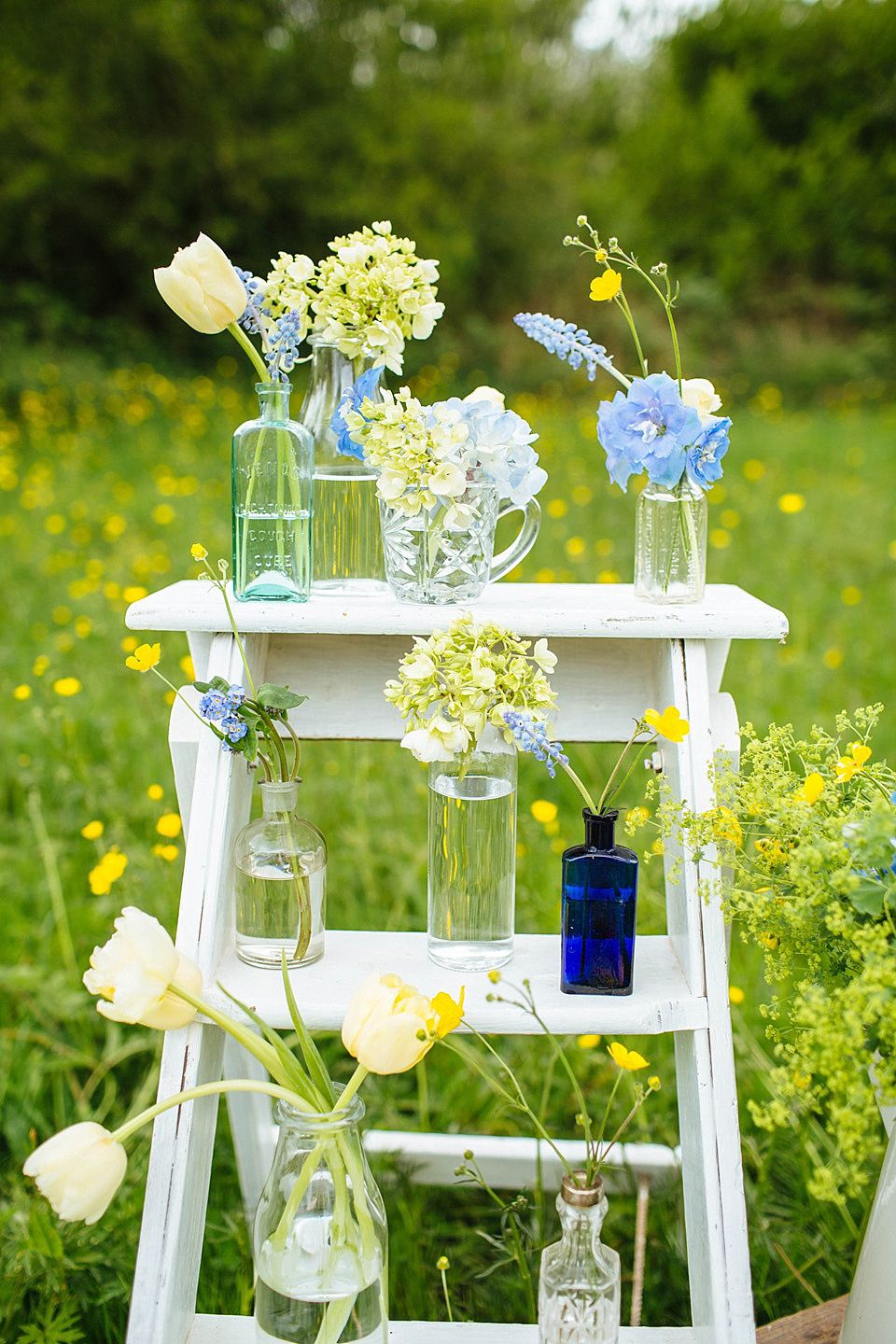 Imagine walking into your wedding venue and seeing rustic wooden ladders displayed with your favorite orchids or tulips placed in bunches. The ladder would be painted white to add to the aesthetics while the flowers will be in a contrasting pastel shade. Short blooms will look the best as we do not want extravagant floral arrangements.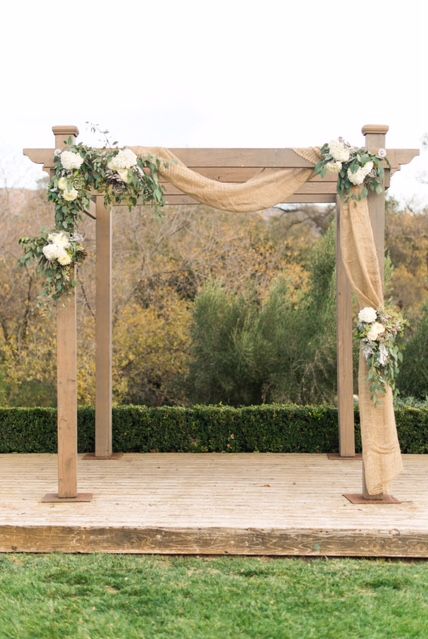 Just when you thought that wooden arbors would look too dull, we have a suggestion for you. Drape the light shaded wood with beige or peach linen and add flowers at regular intervals to bring out the elegance. Shades of white flowers with green leaves can be used to achieve the perfect color balance.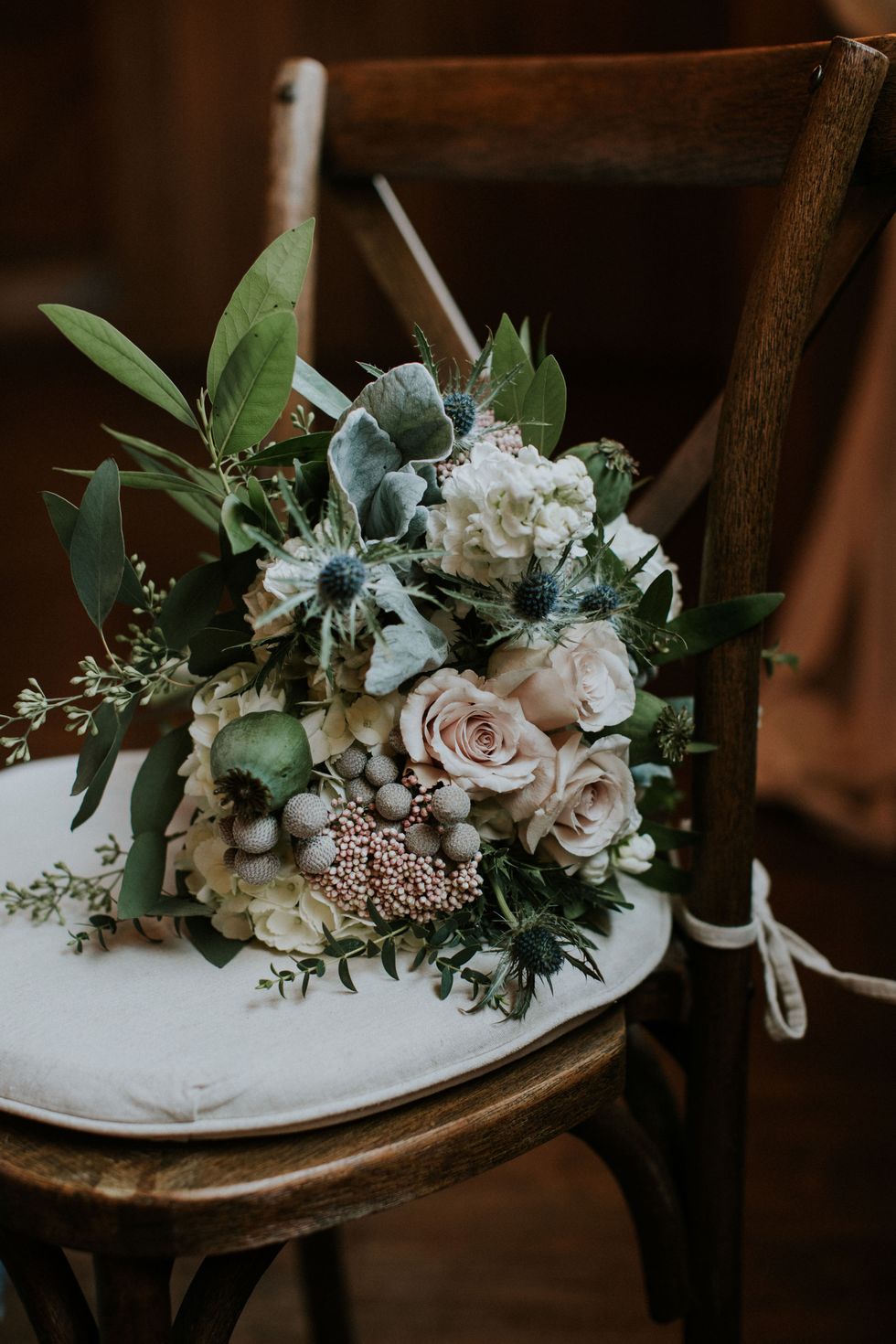 The blush, green, and ivory tones look very rustic and would be a perfect fit while making the bridal bouquet. These shades paired with jute strings and white ribbons to tie up the bunch will add to its uniqueness. 
Choose a white or beige paper to use for tying and do not go for anything plastic. Anything too glazy would not fit the theme of the party.
Rustic Wedding Escort Cards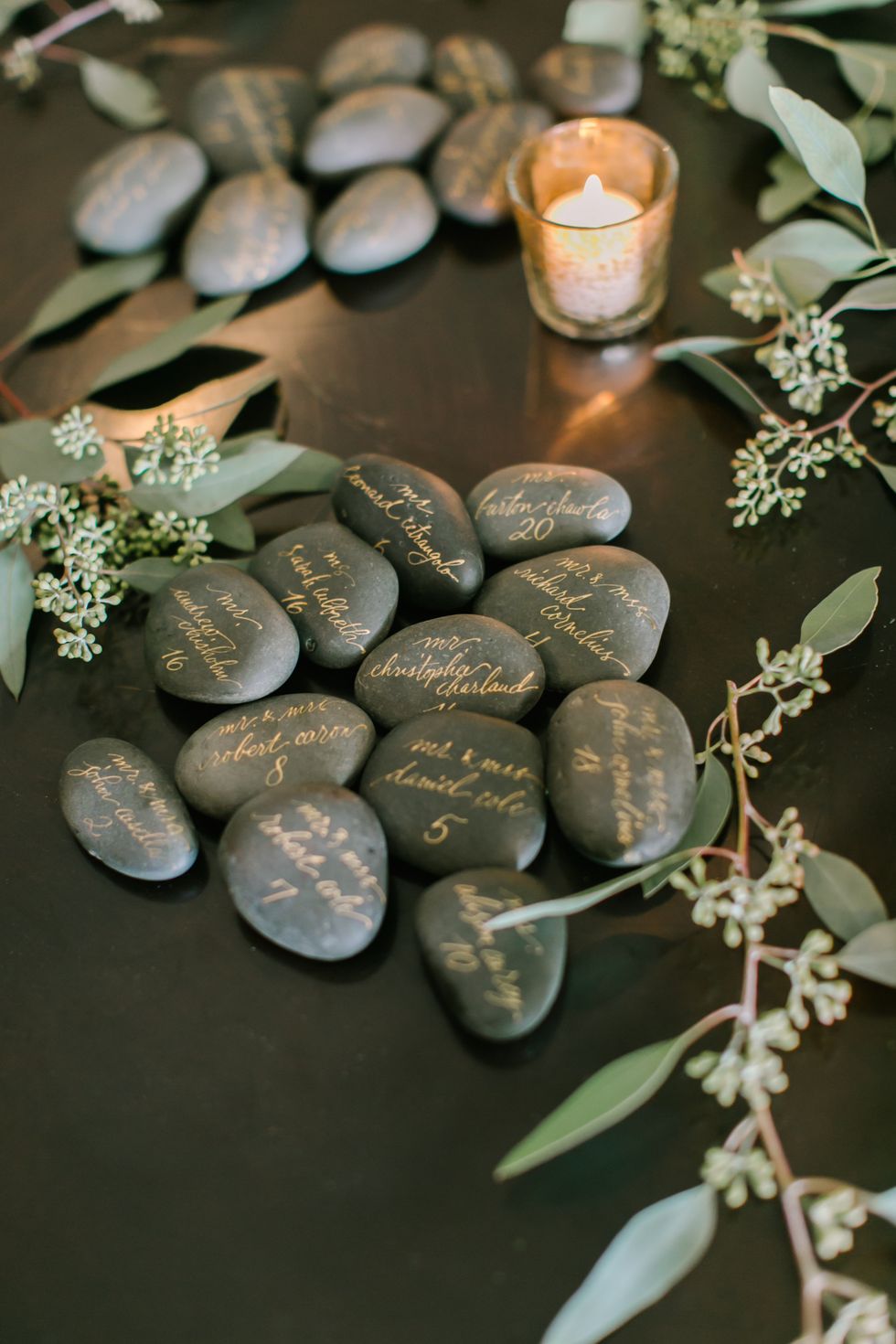 Imagine taking your guests by surprise when they are expecting to be handed paper place cards and instead are given beautifully painted stones with their names written in calligraphy. 
The stones could be of a dull green or bluish shade while the writing could be in gold etched letters. These stones could be placed on a black background with lighted up scented candles around it to embrace the tranquility and peace that the rustic look emanates.
Simple Rustic Centerpieces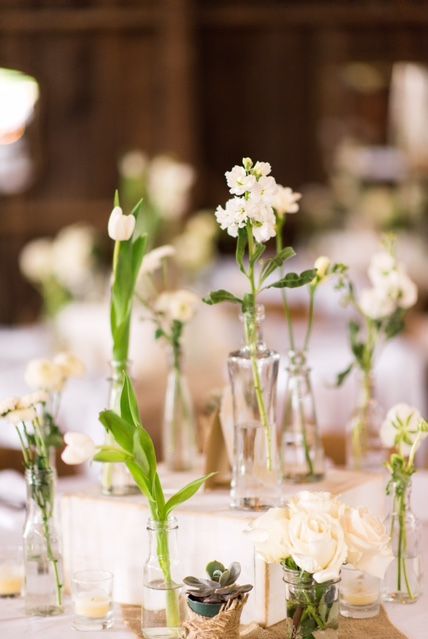 You can go with a very budget-friendly option here. Instead of intricate designer pieces, go for simple glass jars and milk bottles. Place white and pastel-shaded blooms in them. Wrap a jute string around if you wish to, and have something your guests cannot ignore.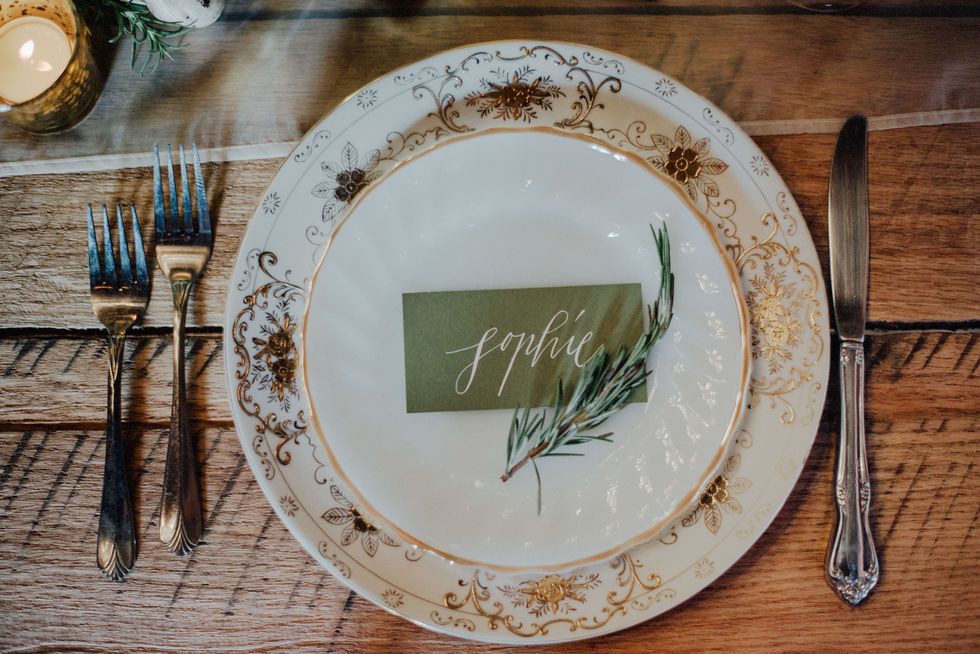 When you are looking to set up tables, do not go for exquisite tablecloths. Sure, they look nice, but the rusticness of the venue would come about better if you leave the tables uncovered. Opt for wooden tables, and it would be great if you would stick to light wooden tones. The shiny china on wooden surfaces is sure to enthrall your guests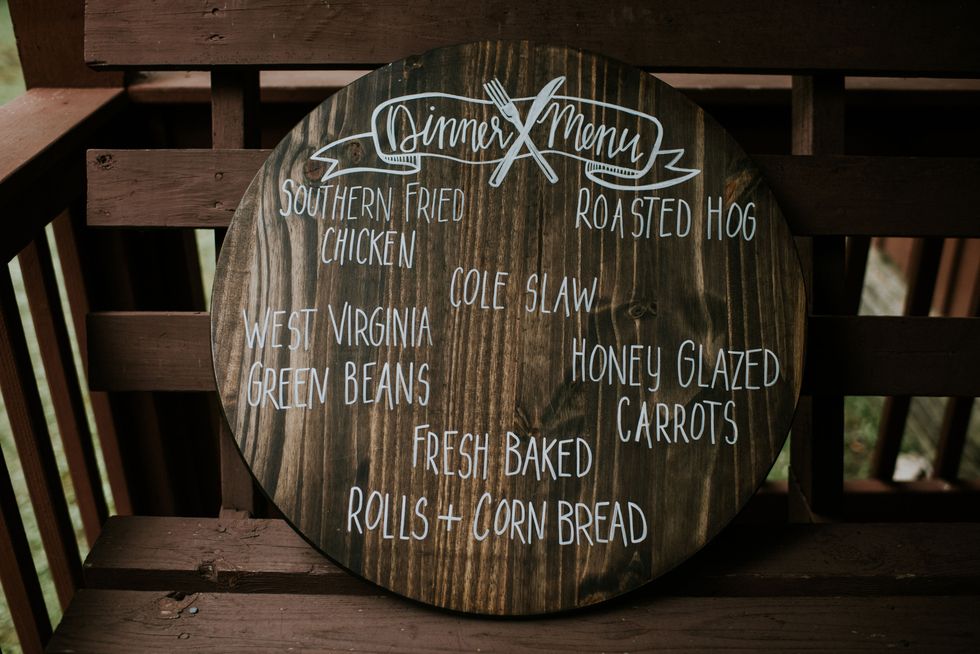 Imagine a giant slice of wood placed on a wall near the dining area, where the menu is carved out onto wood. It sounds fascinating, right? That's exactly how it will be if you replace the standard paper menus for each table with one big piece of wood! Also, go for cursive or calligraphic font to write out the list. That would add to the uniqueness of the whole affair. 
Rustic Floral Arrangement
Flowers are a wedding's best friend, and we all admit that! The wrong choice of flowers can destroy the whole decor single-handedly. So one should be very careful while choosing the type of blooms to go with. 
Also, choose blooms that would survive throughout the wedding and not look stale or dead after a while. 
We would suggest that you stick to one color theme or play with two colors where both the shades are light and compliment each other. White would compliment peach, beige, dusky blue, and shades of pastel green.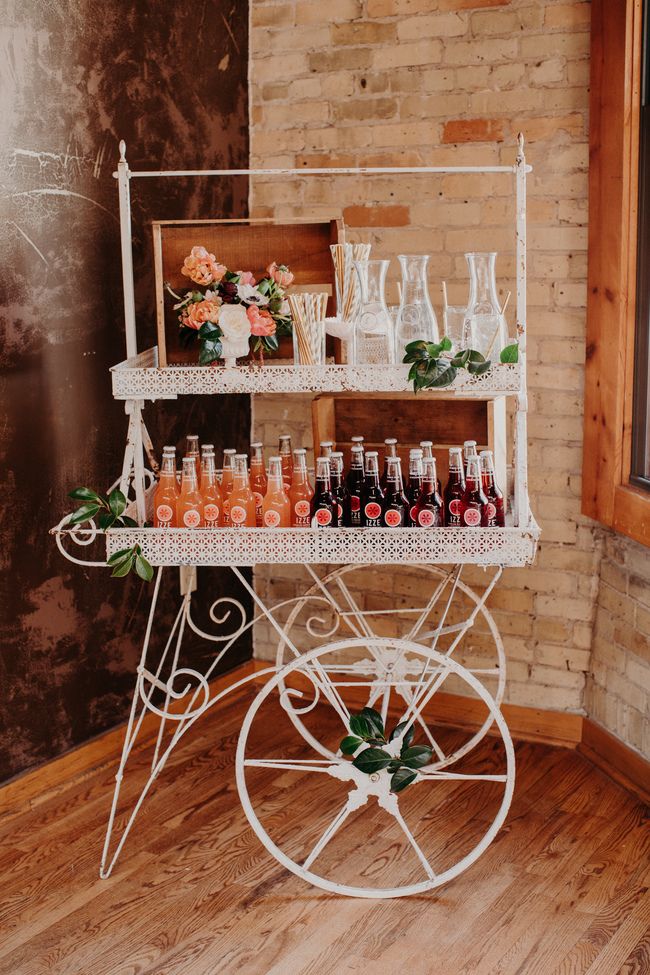 Guests will want to have a drink before the ceremony making the drinks corner an essential deal. What if we replace the drink corner with a white cart? The cart could have decorative wheels, and the top part could be divided into shelves so as to increase the serving area.
 If you are on a budget, opt for a simple cart and paint it white. Add a few green or olive branches here and there, and you have a beautiful piece that will leave the guests in awe.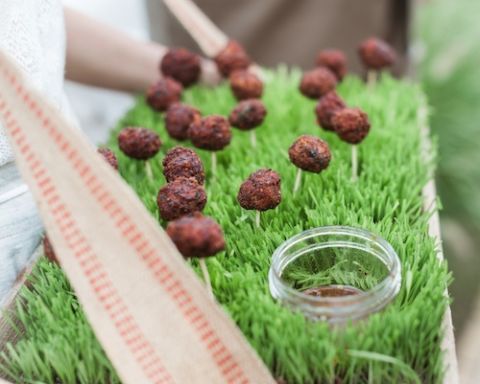 Once you have a nice drink cart, compliment it with appetizers to go with. You could go for placing finger food on toothpicks and sticking them into fresh grass or fabric topped floral foam. 
Place baskets in which you use the material or grass and stick in the finger bites at intervals. Go with items that one can pick up and eat comfortably.  
People love desserts and will be amazed if you can serve it differently. We would suggest you use round glass cake plates and add a personal touch to it. A few leaves and a single flower tied to the base of a dish will add the much-needed distinctiveness to it. Use a white string if the glass is transparent while go for a jute string if white glass is used. 
Another way to serve desserts will be if you do it on white boat-shaped plates. Arrange the plates in concentric circles on a large table with a centerpiece in the middle. This will look extraordinary while it will not raise the costs at all.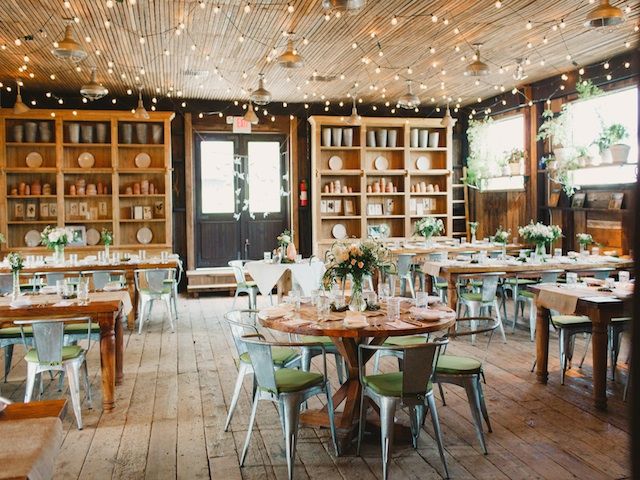 What kind of chairs do you usually see at weddings? The ones covered in white with a big bow behind or white lounge chairs, right? Choose something different. Go for industrial metal chairs, and you would not believe the difference it can make. It will add the much needed rustic touch as well as enhance the seating arrangement. 
To add an extra touch, do not place seat numbers on the table, instead carve or write the number in calligraphic font on a small piece of wood and hang it behind all chairs. The wood will be hanging behind the chair and will not be a hindrance to anybody sitting down. 
Also, use jute strings to tie the wooden pieces and hang them. Jute looks the best while also being an environment-friendly option to go with.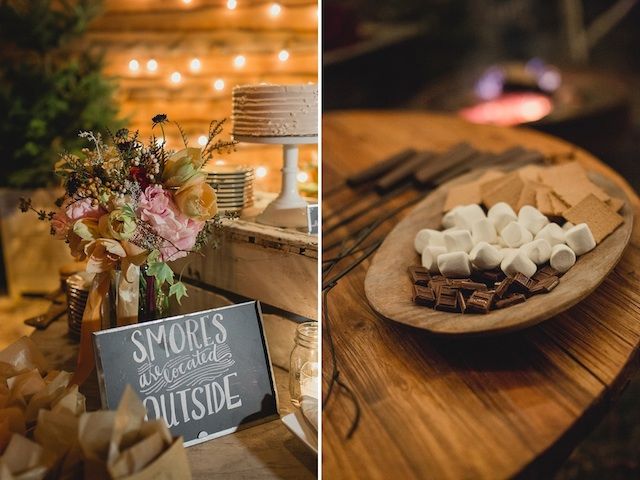 Keep a refueling station for your guests. Arrange for a fire pit outside where you could keep a smores counter. Make sure you have the classic items, including graham crackers, marshmallows, and chocolate. If you want to make it unique, elevate the snacks with hazelnut spread, molasses, and mint chocolates. 
You could keep a pile of cookies too alongside, this wedding theme idea invites guests to sit, have a snack before going back to dancing inside. 
The corner will provide for a place where guests can come and chill beside the fire.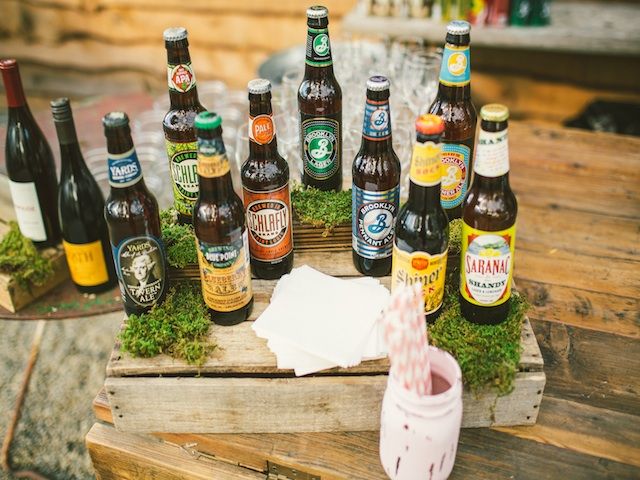 Get big wooden crates and arrange them by placing one on top of another to reach staggering heights. Ask the bartender to display all the fantastic wine bottles and craft beer you are planning to serve. 
You can line the crates with sheet moss, which will add greenery to the boxes, thus making it look rustic. You could also add a few bunches of white flowers at the edges of the decoration.
Baby's Breath Wedding Globes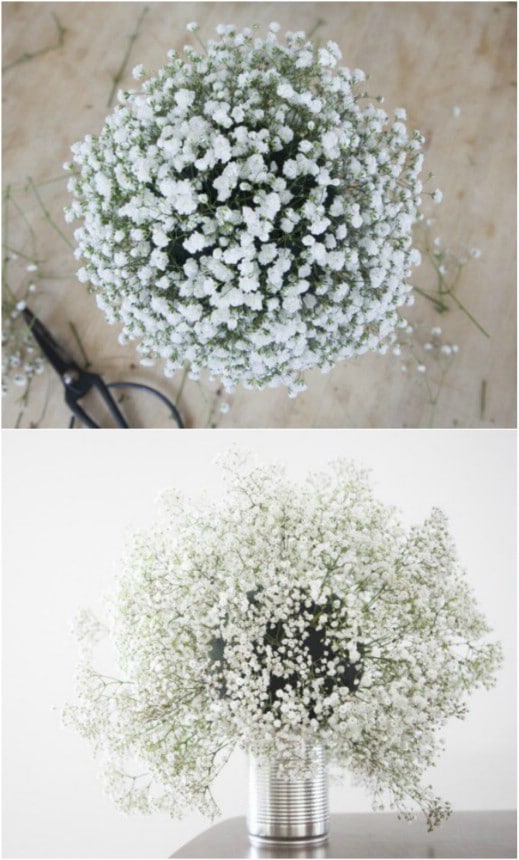 Baby's breath is something that is almost synonymous with weddings. These flower arrangements are not a complicated affair but will add the much-needed touch to the wedding. You will require foam globes, floral wire, and fresh or silk baby's breath, and that's all. 
The wedding globes could be hung all around the venue from the beautifully done up ceremony area to the reception area. For when the sun sets, be a little innovative and add fairy lights around these globes. Keep them switched off in the morning while you light them up as dusk falls.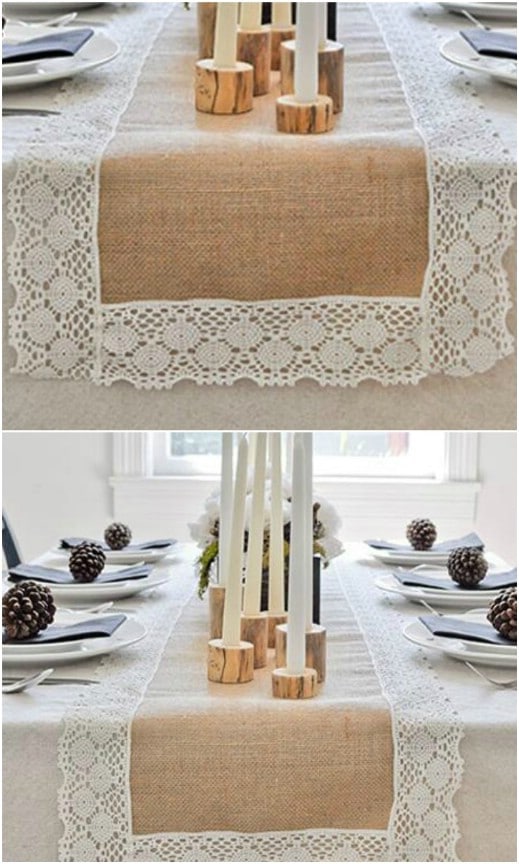 Be it a wedding you are planning outdoors, in a barn or in the traditional way, adding a burlap table runner will instantly lift the decor. You could go for plain wooden tables as we suggested before and add a beautiful table runner to add to the country's vibes.
 The table runner could be lined with white lace, which matches the flowers that you use. To keep with the rustic theme, the color of runners could be in earthy tones. Pair it up with the centerpiece you keep on every table, and you are set! 
Burlap and Lace Chair 

Décor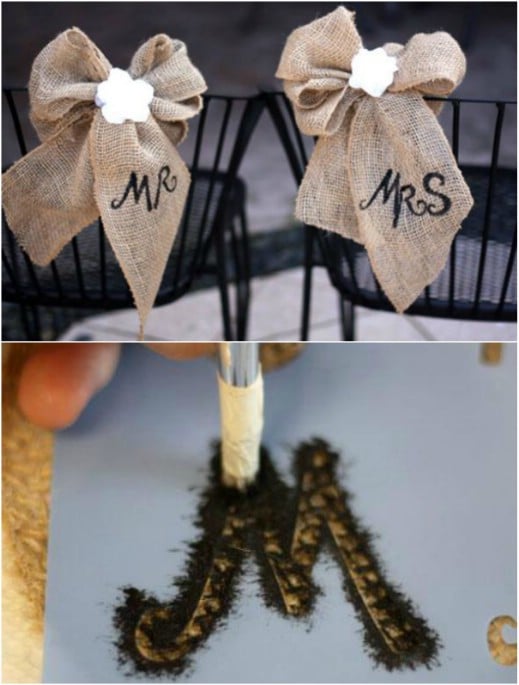 Burlap is the ideal material to use for a rustic themed wedding and imagine burlap combined with white lace. The combination is perfect to use for chair decorations. Instead of the wooden number plates for every table, you could also decide upon this.
 All you would need to do is get large burlap bows and tie lace in the center. Write the name or number on the lace, and you have a beautiful art piece to add on to it.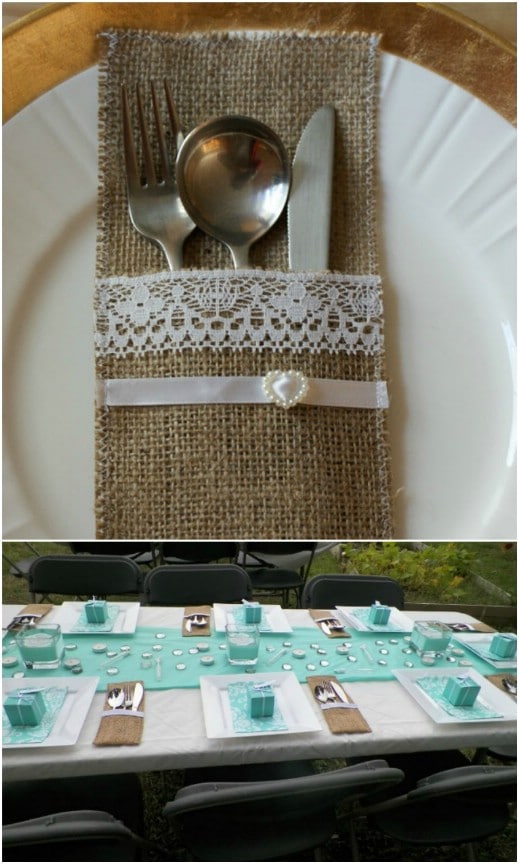 These make a great addition to the table. Make burlap pockets and put your cutlery inside. You can ask the caterers to do it for you, or you could get them made separately. It is not an expensive affair, and you can pretty well afford it. 
Rustic Twig Letter Banner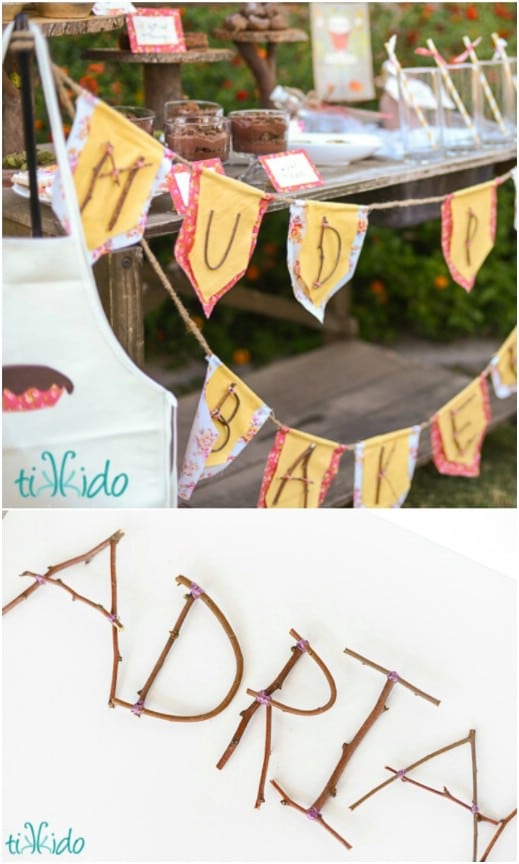 Twig letters are a great addition to the wedding and would make people wonder in awe looking at the beautiful idea. You basically need to use twigs to create fonts and then stick them on a banner.
 You could use these letters to write the bride and groom's name at the entry point, or you could just write 'Love' or something similar which would fit the mood of your wedding and then hang it up near one of the gates.  
If you have a hashtag that you have specially created for the wedding, you could also write it down with twigs and place it at different locations around the venue. This will remind the guests to use the hashtag, and they can add it when they are posting pictures from the big day.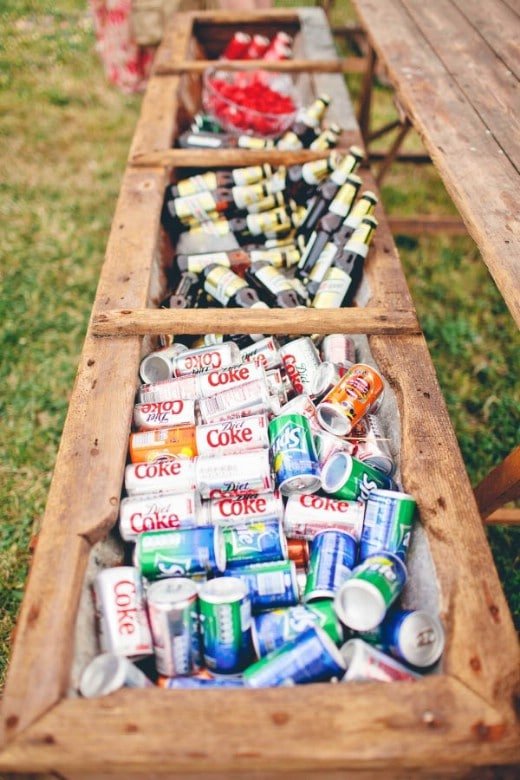 This is an excellent use of wooden flower boxes. You could use the flower boxes in which your blooms arrive and turn them into coolers. Add dry ice into it, and keep your cold drinks and juice cans. The arrangement will look unique and rustic. Try keeping this outside in the lawn or yard for a more significant effect. 
In case you do not have flower boxes, they can be made very easily with wooden planks. Get a carpenter to do it, and he can get it made in half a day.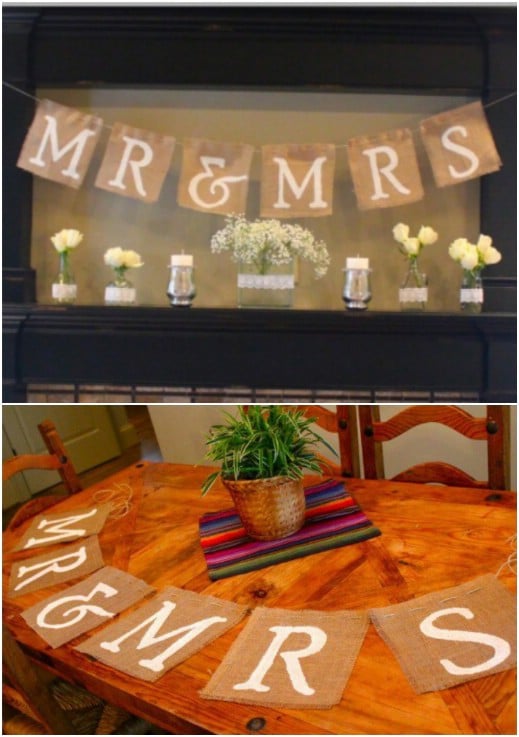 Burlap makes an entry again here with this very lovely and homespun banner that one could put up above the main table at the reception. It is as simple as it gets as you buy a large burlap cloth and paint out the letters in white. 
If you think it is looking too dull, paint a few flowers at the corners and hang it in such a place where you could keep flower vases just below it. This would look amazing if you could hang it over a rack. Place decorations on the shelf, and you are good to go. 
Mason Jar hanging Aisle 

Décor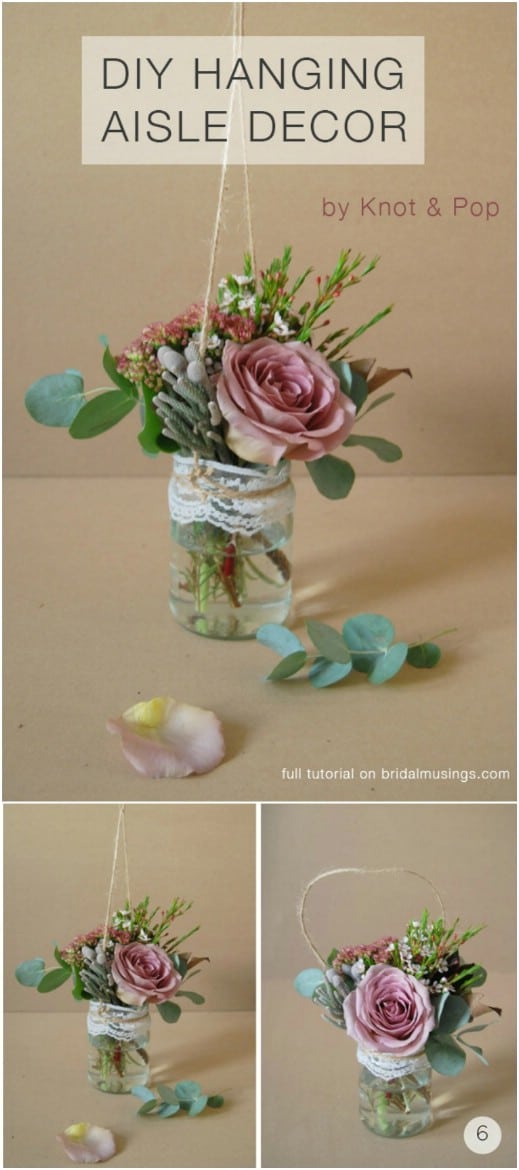 Mason jars have the country look to them already. All you need to do is take pieces of burlap or pretty lace and tie it around the middle. Add a few twigs and leaves or flowers and stick them to the lace. Now place flower bunches inside the jars and top it with a piece of twine on top. 
You have got a masterpiece which you could hang around the venue. Guests would not be able to figure out how easy it was to make them, yet they will look like a thousand bucks! This could also be used as a table decoration at the reception dinner. 
Homemade Rustic Wedding Wishing Tree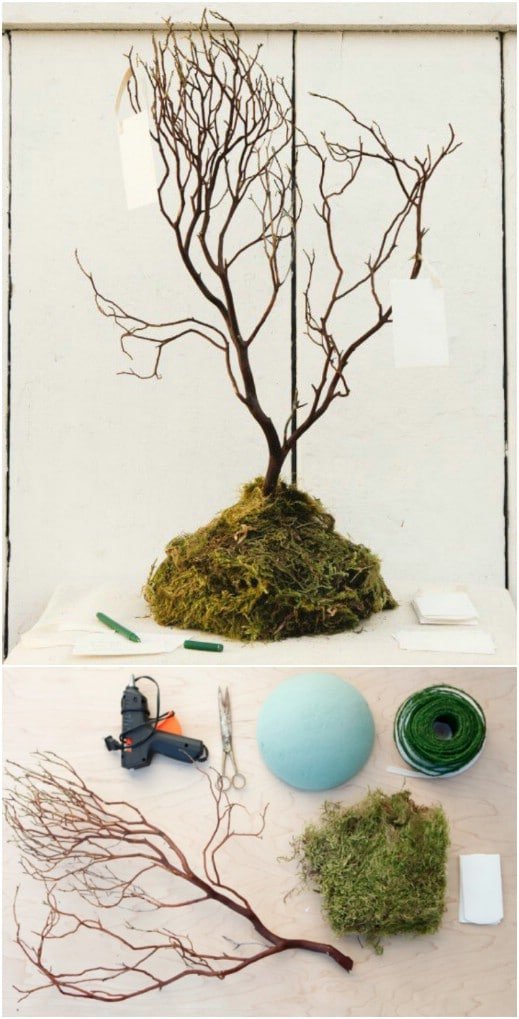 This tree is meant to add to the rustic décor and inspire guests to leave a note or cash as they please. The wishing tree is very easy to make with a long branch cut from a tree. Remove all the leaves, and you have a branch base in your hand.
 Now you can hang tiny envelopes and cards which the guests could fill with their message, a note showing love and maybe add money with their words. Place the branch in a wooden frame and attach it so as it does not come off. Place this near the entry so as it is one of the first objects that guests notice on arriving.
DIY Rustic Driftwood Candelabra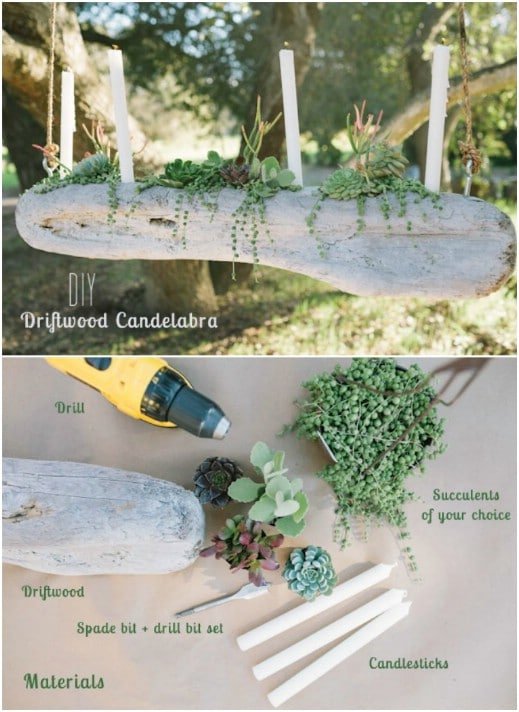 Ever thought of using driftwood to enhance your décor? Well, it is time to try it out, and you are in for a surprise. Take a piece of driftwood, add some moss and fern on it, and attach a few tall candles. This would make a fantastic centerpiece, or you can even hang it at places. Light up the candles and let the glow add a yellowish hue to the surroundings. 
After the party, you can actually take it back to your houses and use it for years. This piece would add to the countryside vibes of the marriage venue and would also be a great addition if you are going for a beach wedding theme. 
Lighter Hula Hoop Chandelier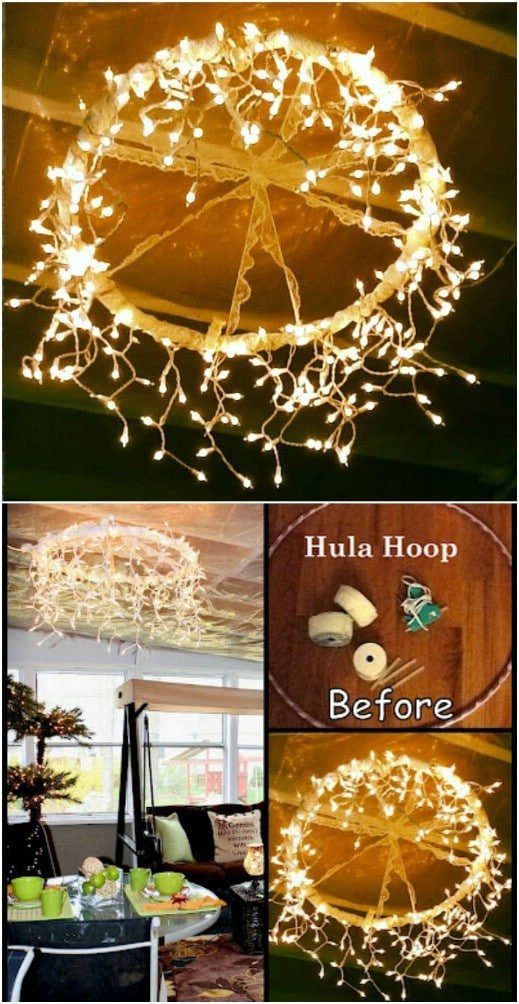 Hula hoops can do wonders for the décor! Buy hula hoops from a dollar store, and you would get it for very cheap. Add in some Christmas lights or fairy lights that could be twisted around the circles. 
This already makes for great lighting as well as adds to the décor. If you want to go the extra mile, buy some silk or burlap sashes and wrap them around the hoop. You could even add some artificial flowers to it. Tie them with burlap bows, and you have a startling piece.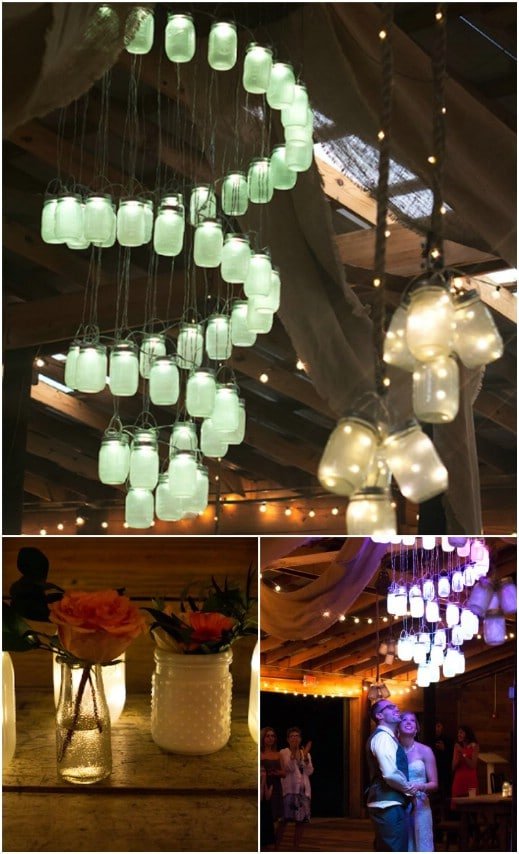 Mason jars are a hit when it comes to rustic decoration. Place led lights inside mason jars and try buying from a dollar store to save money on this. You already have a perfect light to hang. 
Make a few of these, add multicolored lights, or you can stick to warm lights too to give a uniform hue to the place. This will work best if the wedding is post-sunset. 
You could also paint the jars for added effect. If you want to hang mason jars before sunset, replace the lights with artificial blooms, and you have a fantastic piece again. Make sure you are attaching the jars in a pattern, be it horizontally, in a crooked line or in a circle, there should be a pattern you follow. 
If making wedding signs is on your mind, regardless of where the wedding is, make sure you make these rustic arrow-shaped signs. They will add to the country look that you are attempting to bring about. The signs should look like they are written on a wooden surface, even if it is plastic made to look like wood.
 Place them wherever you need to show the guests the way. You could use it to direct people to the reception area, food carts, photo booths, or even the restroom.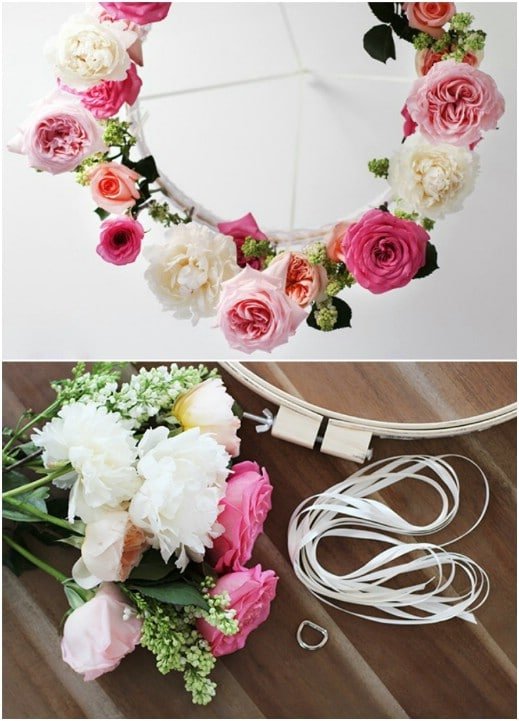 This one is super easy to make while they look extremely attractive. Take a wire and twist it into a circle, attach flowers all over, and you have your flower chandelier. You could use real flowers but if the weather is not fine enough, go for artificial silk flowers. These flowers almost look real and will give off the same vibe. 
When it comes to hanging the flower chandeliers, you could go for two designs. One is where you hang them horizontally, one beside the other, creating a large design. Another way you could use these chandeliers is by placing them vertically and hanging them at different heights, building a wall of sorts.
Both the designs will look excellent, and guests could use them as a backdrop to click pictures
Birch Wood Wedding Cake Topper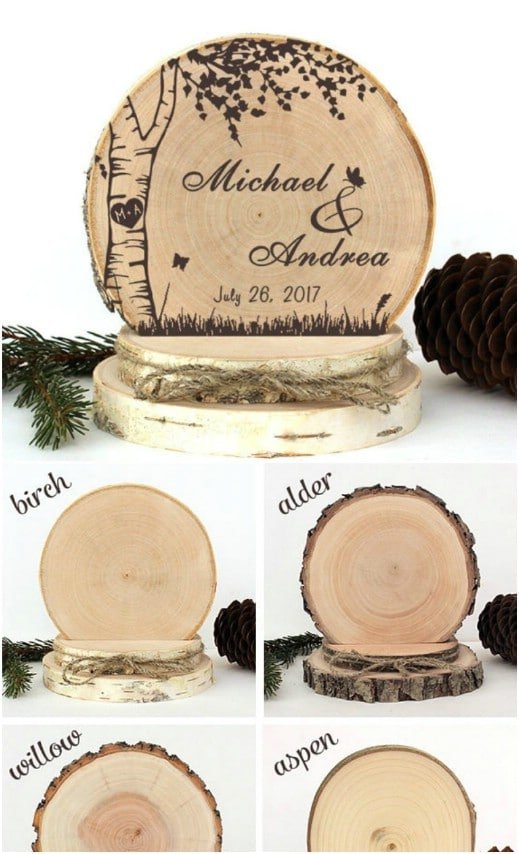 Cake toppers can be pretty expensive, and if you are on a budget, spending too much on a single product needs to be curbed. But again, you would not want to compromise on the earthy feel of the wedding. This birch wood wedding cake topper is an excellent option for you. 
It does not cost too much, and it looks perfect for a rustic wedding. Buy it from a local vendor or Etsy and get it personalized with your names. 
Distressed Candle Holders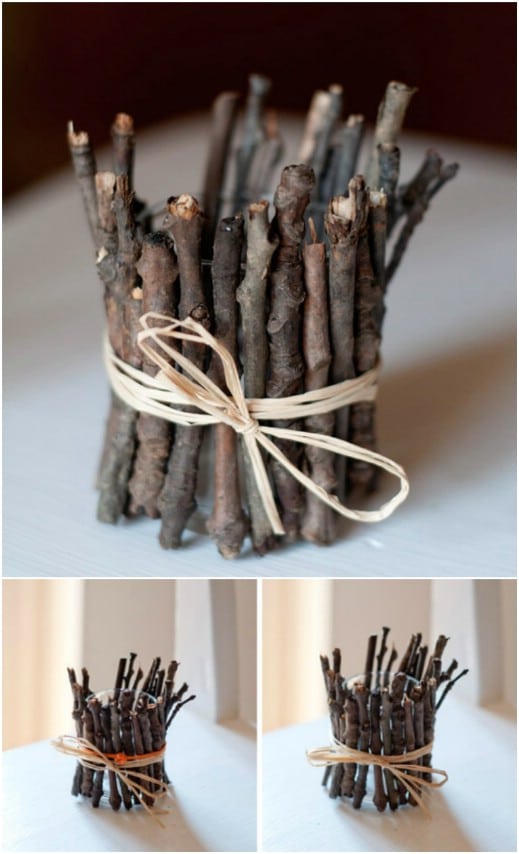 Nothing can replace the warm glow of candles to add to the warmth of love on your wedding day. Go to any local thrift store and get simple candle holders. Work your magic on them by adding twigs all around the holder.
 The twigs can literally be plucked from a tree in your backyard and will fit absolutely well with the décor. As you light the candles up at night, the light will peak from within twigs and look like tiny fairy lights.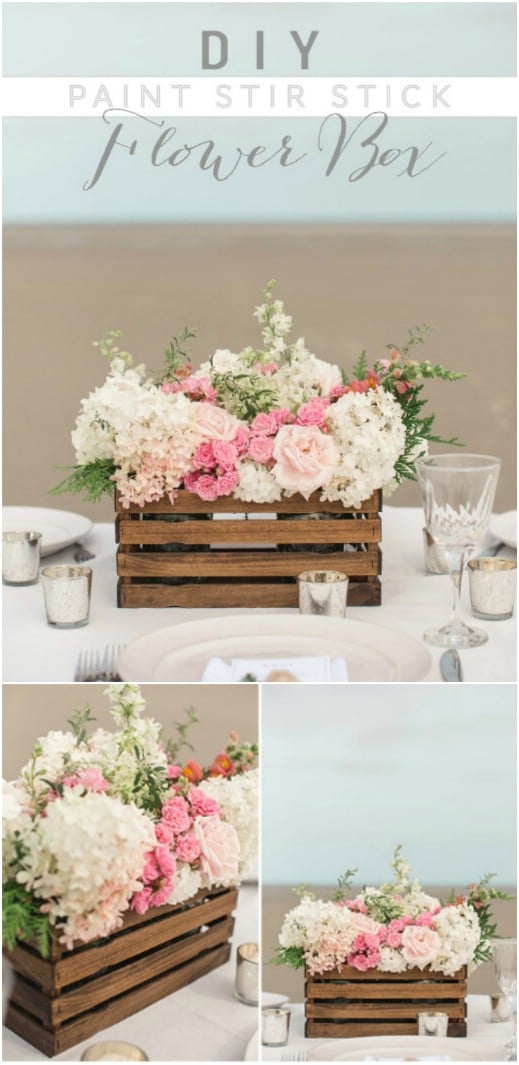 This beautiful flower crate can be made very easily with paint sticks. You just need to get hold of a lot of these sticks, and they will be readily available at your local thrift store. Sit with a bottle of glue and make a crate out of it by sticking the paint sticks together
. Once you are done, tie a silk ribbon around it, or you could just leave it like that. Place flowers inside, and you are done! These crates could be used on tables to keep beside cutlery, or they could be used near the finger foods. 
While selecting the flowers, again, make sure you stick to the color theme. Do not go for bright colored flowers, or you could place one bright flower in a bunch of pastel blooms.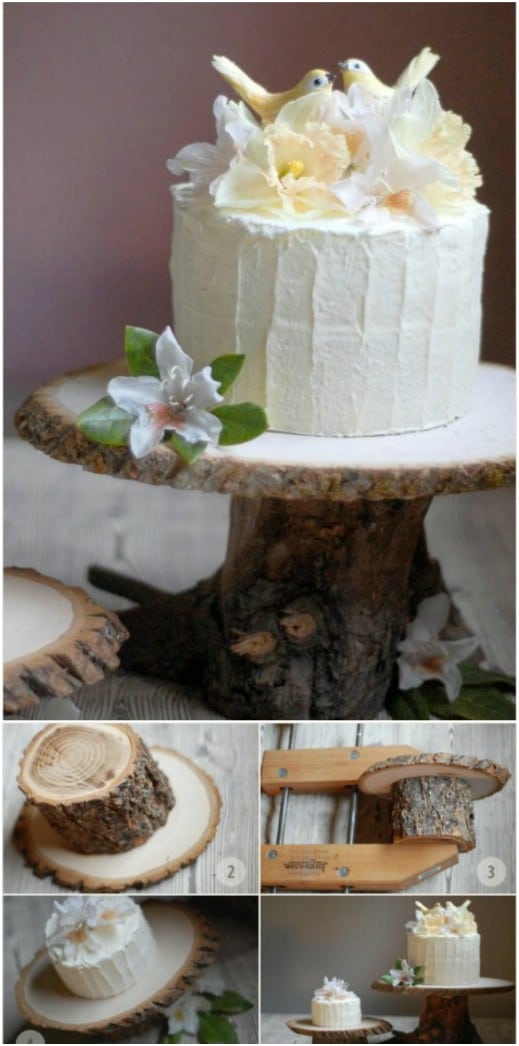 Wood is something that already has a very rustic feel to it and would help build the country feel of the wedding. Wooden circles can be used to make the cake stands.
 This is a great idea for smaller cakes and even cupcakes, but if you are looking for a base for the wedding cake, opt for a wooden circle with reliable support, which would be able to hold the weight of the cake. We suggest you go for a wooden stand as a base. 
Rustic Wood Bride And Groom Chair Signs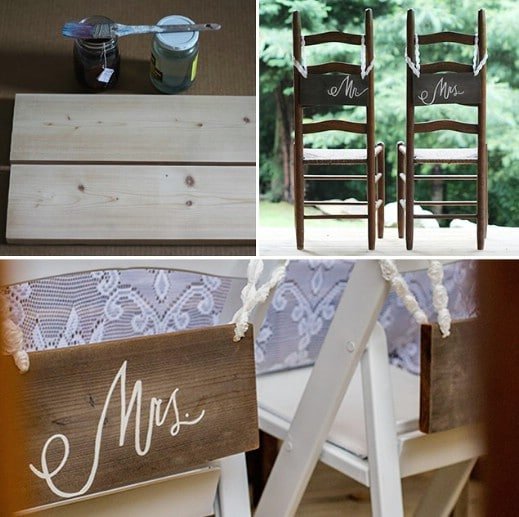 All you need is a couple of wood pieces and some paint, and you can make your own bride and groom signs. We love the idea of having 'Mr' and 'Mrs.' painted on to these wooden pieces and hung. 
It makes the seats look unique and remains reserved for the select two. You can also add burlap or a giant silk bow and use twine to tie it to the chair. This will add to the rustic look of the wedding you are planning.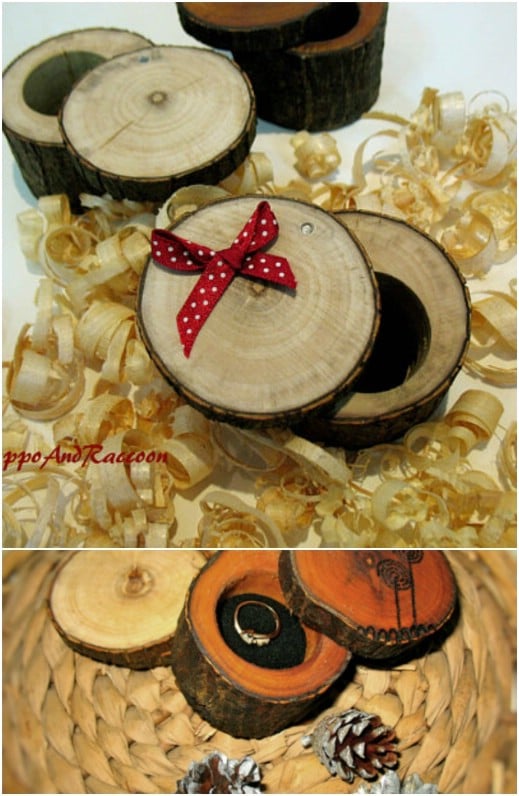 Have you ever thought of using a wooden stump to create a ring holder? Remember those fairy tales from your childhood where the prince and the princess got married in the woods? If you want your wedding to look and feel like that, this is an extra touch you can provide. Begin with the ring bearer being a wooden stump with a perfectly created hole in it to hold the ring. 
Get a carpenter to make this for you, or you could do it yourself with the proper equipment to carve out wood. If you want to leave the holder as it is without polishing it or making it shine, you can. That will look more natural as if nature itself is keeping the ring safe in its lap. 
Tissue Paper Pom Pom Flowers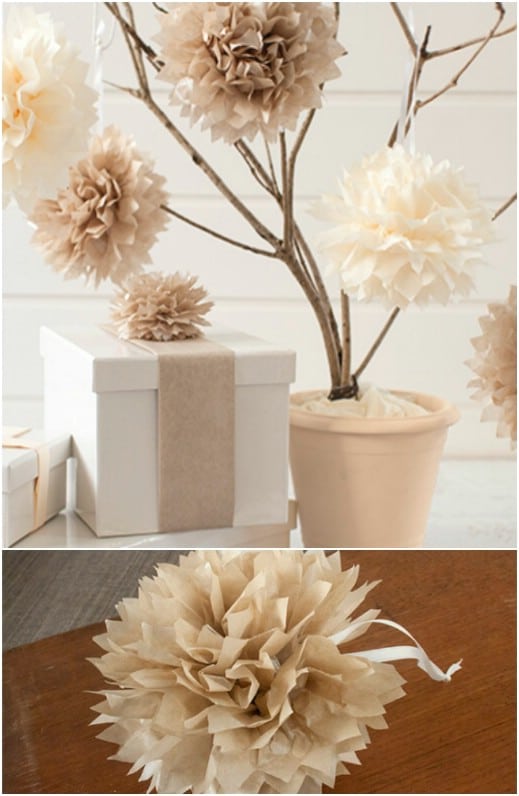 These easy to make tissue flowers would be a great addition to the wedding. They look exquisite and need only tissue papers to create. You can buy a few packs of tissues from a dollar store and then get to making these.
 A full bouquet of these blooms could be made with only a pack or two of tissues. The only crucial decision would be while buying the tissues, decide upon the colors you want to use. Painting these flowers later would not be a feasible option as the paper is fragile and will become soggy. 
To make large bouquets, you could attach twigs and branches to the flowers to make it long. Make sure you glue the bases properly because you do not want the blooms to fall off in the middle of the ceremony. 
Rustic Ladder Favor Display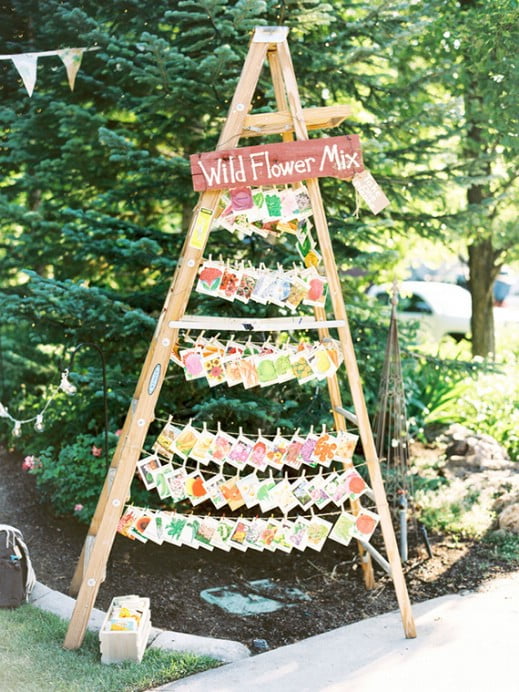 End the event with a very rustic display of wedding favors strung on an old ladder. Get hold of a giant ladder and paint it white or beige. Add strings and twine and clip flower seed packets on to them.
 We personally love wildflower sachets and would like to choose these over rice or bird seeds, but again, it depends on the availability and the climate of your town or city. If wildflower is not possible, then go for bird seeds.
 Make sure every packet is colorful, and you could even add a thank you note with every package. This will be the perfect goodbye that none of the guests will be expecting. See to it that the clips you use match the color of the ladder. If this is going to be placed in the evening, you could even line up the strings with fairy lights. 
This would not only highlight the ladder but also make it convenient for guests to spot it. We would prefer that you place this outside.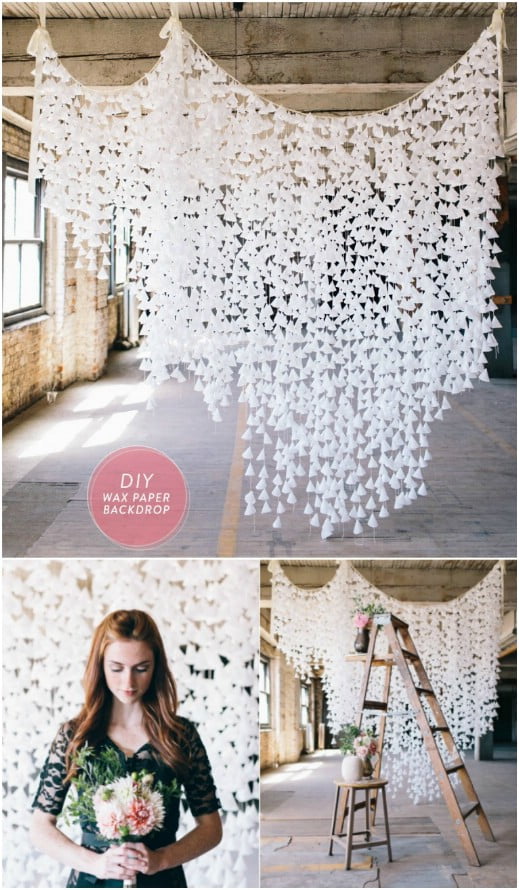 Want a backdrop that will stand out and be very different from the rest? This wax paper background is an attractive choice to go for. The backdrop is pretty intricate and will take some time to make and assimilate, but once you are done with it, the results are fantastic. This could be your wedding ceremony's main backdrop, or it could also be used to take pictures after the event. 
Hang it carefully and make sure it is long enough to cover the background even if groups of 6-8 people stand at once. For hanging the paper, use twines or jute strings and wooden support. This will complete the look and will make the wedding very picturesque.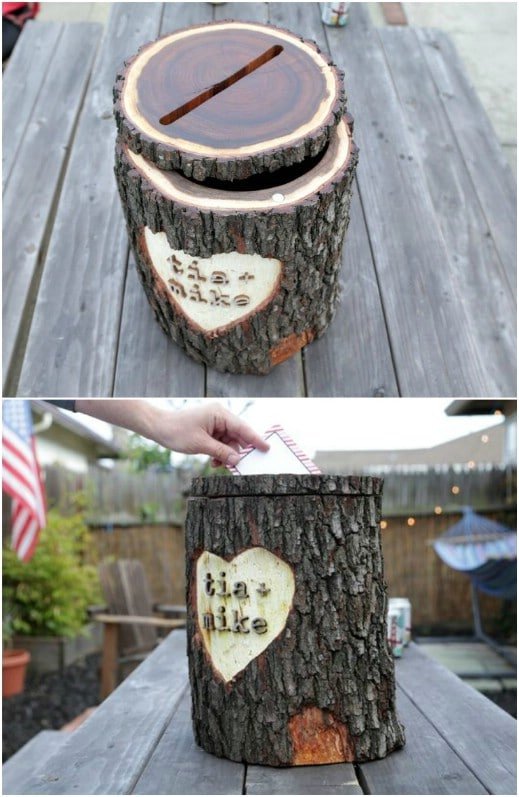 Often guests bring cards to the wedding which convey their love and warm wishes. What we create a log wedding box with a hole to drop the cards into? This will add a quaint country touch to the occasion. It is best if you could get help from a professional to carve out the log.
 If not, ask one of your friends to help you with this. You just need to carve out a huge hole inside with a lid on top. Carve the names of both, bride and groom on the outside, and you are done. Additionally, you could keep the log on a fake moss and attach a few twigs at the base on the moss. This will make it feel more real and natural.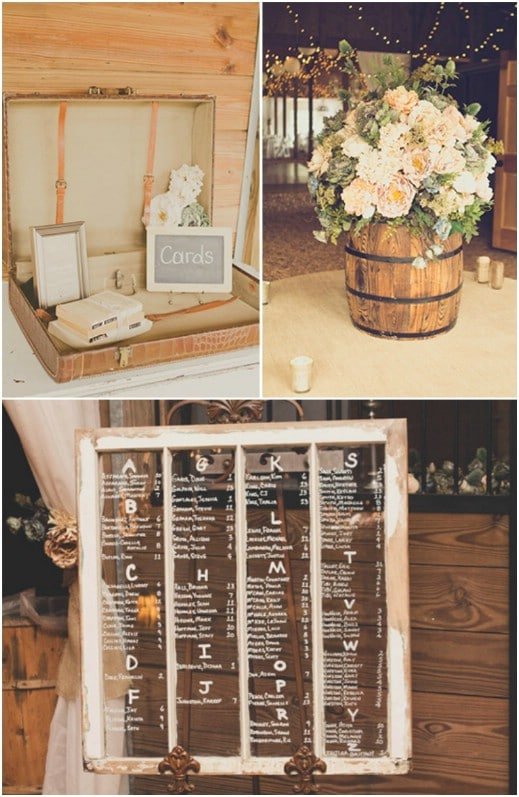 We are sure this idea never crossed your minds! It did not happen for us, too, until we started drinking wine one day, and we were closely observing the barrels kept behind the counter. The idea struck us then that we could use these to showcase flowers. 
Barrels could come in various sizes, and you would probably have a number of them because wine is almost essential at any wedding event. Do not let the caterers take away the barrel, instead ask them to put it around the venue. 
 Big ones could be decorated and kept at significant places like where the guests enter and the reception area. Smaller ones could be put on tables at the entrance, with starters or, at the reception area. You would find the smaller ones at art stores or hobby and craft stores. Use these to display beautiful blooms with a few added leaves and branches. 
Rustic Wooden Guest Registry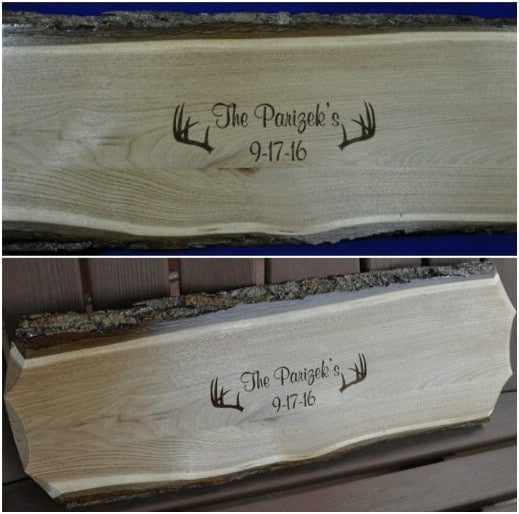 Do you want to keep a registry where the guests leave their names? If so, opt for a wooden version of it. A sizable wooden surface with your name etched will serve as a very folksy way to welcome guests. 
Also, something as innovative as this would make the guests want to sign their names on it. The only thing you need to keep in mind is that the surface should be smoothed out because otherwise, writing on it will be difficult. 
Etsy has these wooden registers where you could also get your name, and the wedding date etched.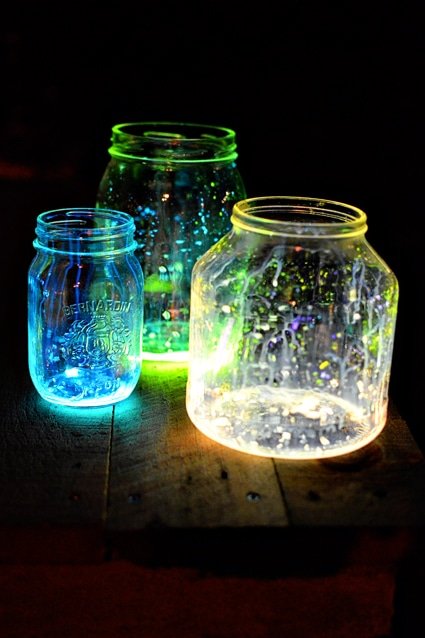 Weddings are already a very pricy affair, and if you are planning one, the costs must already be worrisome to a great extent. Well, what you could do is stick to making most of the decorations on your own and save a lot of bucks.
 Buy things off Etsy or a thrift store and paint it out. The beautiful glow jars are an example of luxurious decorations done without losing a kidney. 
Buy these jars from any dollar or thrift store where you would get more than two jars for under a dollar. All you need is some glow paint, and these masterpieces can be created in a jiffy. Buy colorful paint so as there could be a burst of colors when these jars are on display. 
DIY Rustic Wooden Table Numbers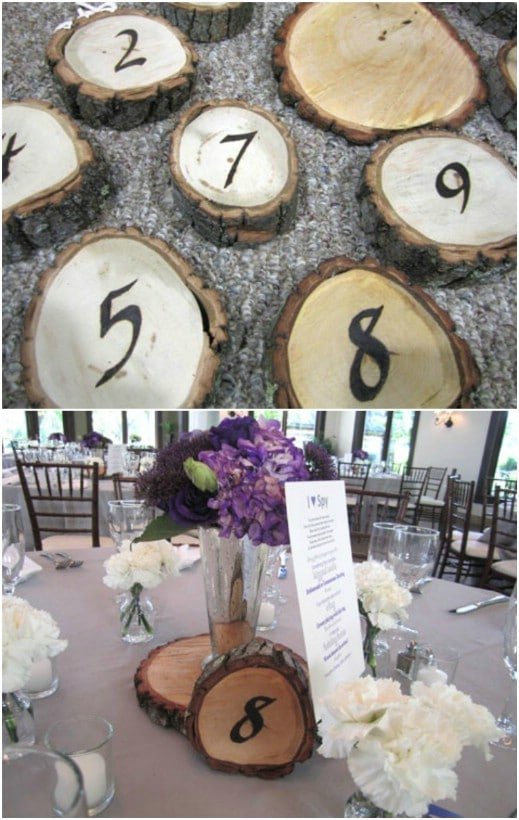 When you are planning the wedding according to a specific theme, it is very essential to take care of every minute detail. Detailing is crucial, and you should try and look at every aspect of the décor. Every table is numbered, and you can go the extra mile by using circular wooden slices to do that. 
Slice off wood from a tree nearby, but make sure you have permission to do that. You can either use a Cricut machine to make the stencils or buy them off the internet. Now all you need to do is place them and etch the numbers onto wood slices. The results will surprise you as they look very vintage and rustic. 
DIY Pallet Picture Collage

This pallet collage is a great idea to go with if you want to introduce you and your spouse's life together. Take them on a walk through the memory lane, tell your story of how you fell in love, how the proposal happened, and places you both have seen together through pictures.
 The pallet is a very nice way to paint your story. Simply get photos of you and your spouse printed and glue them to the board; however, you wish too. If you want to add small texts alongside, do so with stick-on notepaper. Add in a few twigs and leaves at the edges and hang it with twine.
To add a feather to the wedding theme ideas, you could create a photo walk if there is ample space where you dress up a wall with burlap and place these pallets one after the other horizontally. This could be the walkway that leads from the gate to the main event area. The wall will have your story in parts, and guests could experience it as they walk past them. 
Rustic Twine and Lace Unity Candle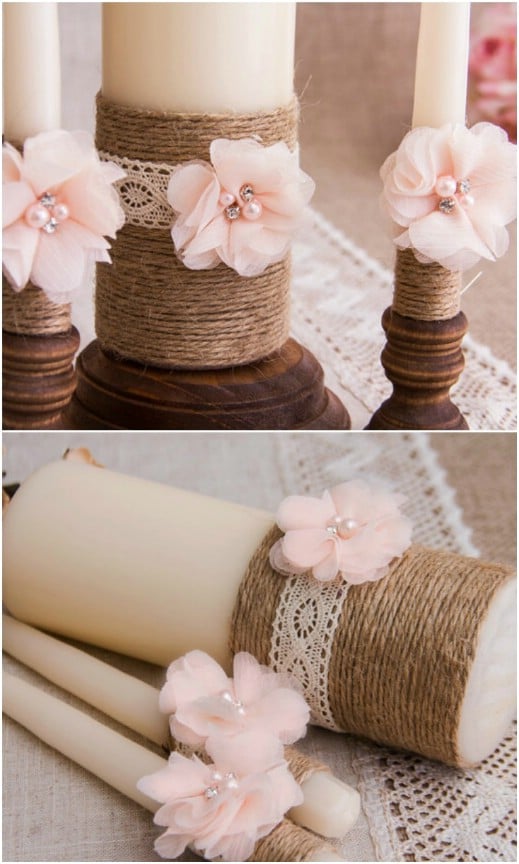 If the unity candle is mandatory at the wedding, you might as well choose a pretty looking one. Etsy has some very cheap choices where you can get a pack of large and small candles for an impressive price. But if you plan to make these yourselves, buy some little flowers from an art and craft store and some jute rope to go with.
 All you need to do is tie strings around the base of candles. Continue doing it till you reach one third the height and glue flowers on it. Imagine how inexpensive yet enthralling they will look! A bit of lace could also help beautify it further. Play with these items and let the inner artist create wonders. 
Rustic Lace and Burlap Garland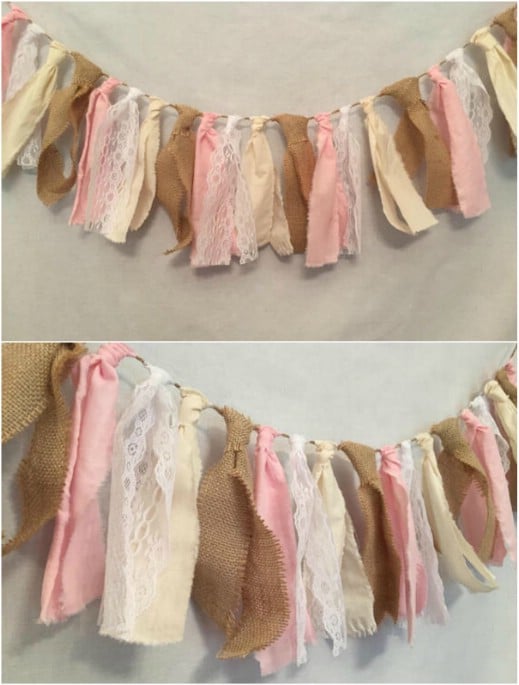 To add the final touches to the venue, these rustic looking garlands could be hung at intervals. The garlands have pieces of burlap and lace that are sewn together on a big string. The easiest to make, these would look beautiful, and with lanterns in between, they would add to the aesthetics of the event.
 If you have a shortage of time or resources to make it, these are also available online on Etsy, and they are not sold at a very high price. You can easily pick them up off the net and give your wedding the look it deserves. 
You are ready to take a step forward and begin planning the best rustic wedding of the year. Begin from scratch and chalk out the decor items which you want for the upcoming big day.
 Start preparing to keep ample time in your hand so as the pieces can be assembled and created. Ask your friends and bridesmaids to help plan this big day of yours. Go ahead, have a fairy-tale wedding!