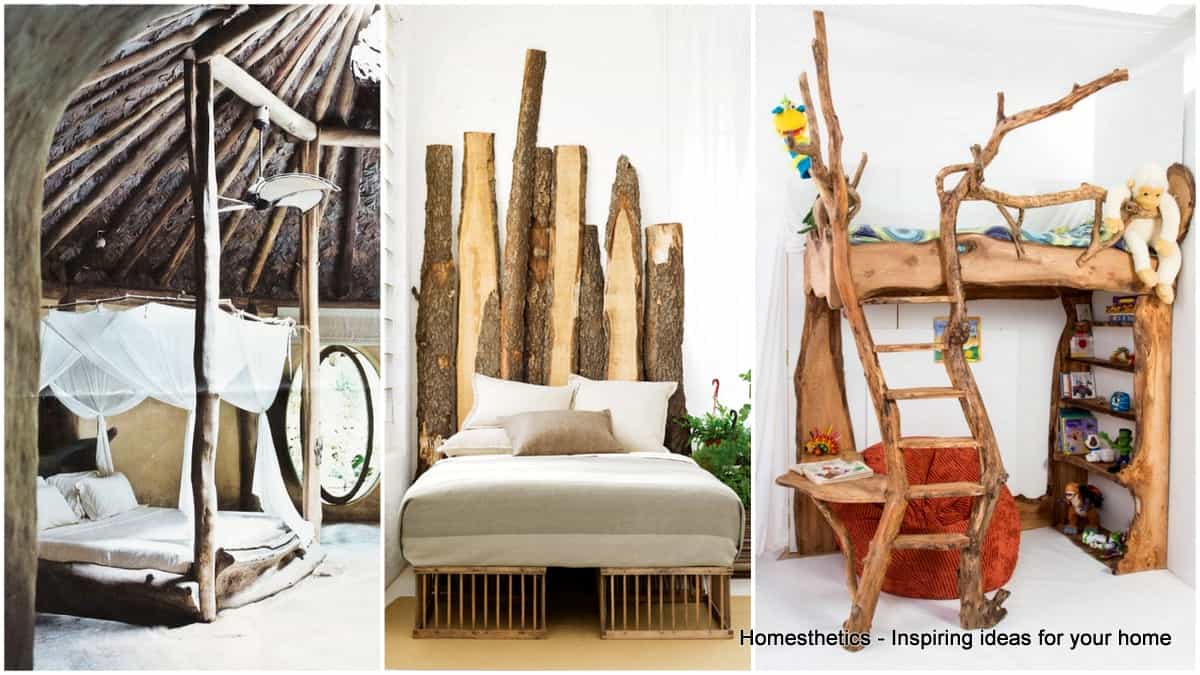 No place in our home we can call more relaxing then the bedroom, the warmest part of our home, a place to refresh and rejuvenate.
In this short article we are going to niche down in some really spectacular ideas wrapped around tree bed designs; a solution mainly aimed at children that will easily make a lot adults shiver with joy too. The focus is to create a small  awe-inspiring fairy tale atmosphere into the bedroom, a place in that creates a child feels inspired and encouraged into his pursuit of the incredible, a place in which creativity flourishes.
Without further ado, let's get started!
Tree Bed Designs to Pursue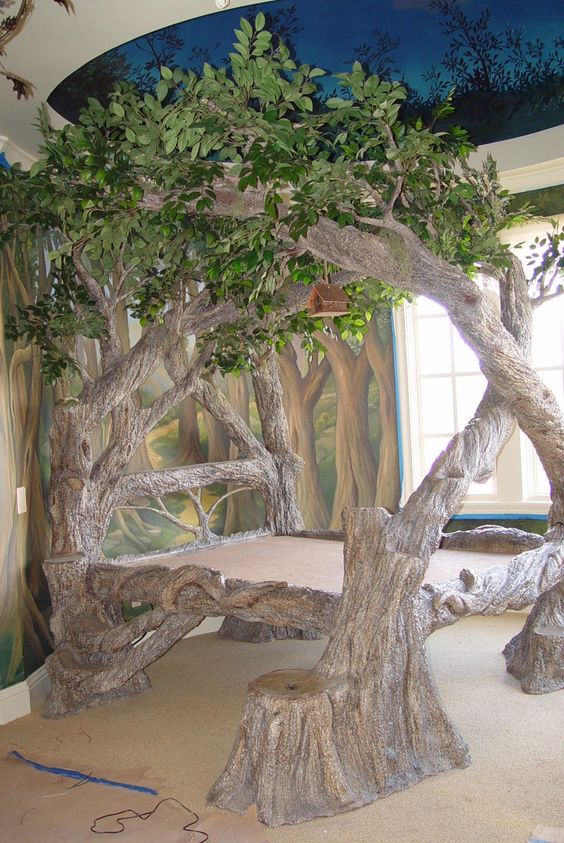 This design looks like it came straight out from a fairy tale dream. Along with some painted trees at the back or all around the room, this would look like a place where you would go to and rest your tired mind.
Imagine coming back from a long workday to enter another realm in your very own room. You can always add other accessories to make it seem more like a real forest.
via typepad.com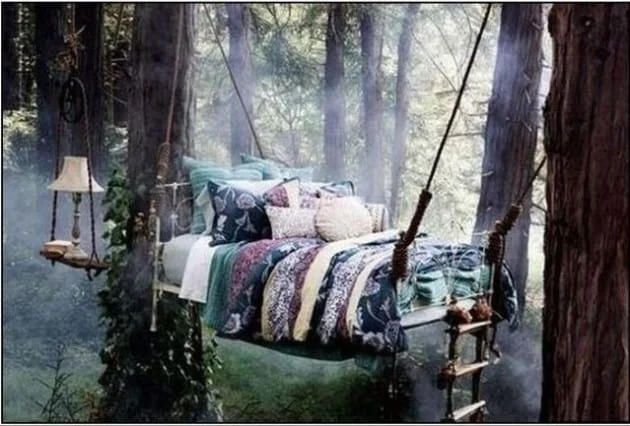 If you like spending your alone time in the woods close to your house, you'd love having a hammock like this.
Being with nature and enjoying every moment of it while lying down on a comfortable, rocking bed… that sounds like a perfect day to gain some peace of mind. We can't think of a better option that's closer to a vacation in the woods than this.
via www.luuux.com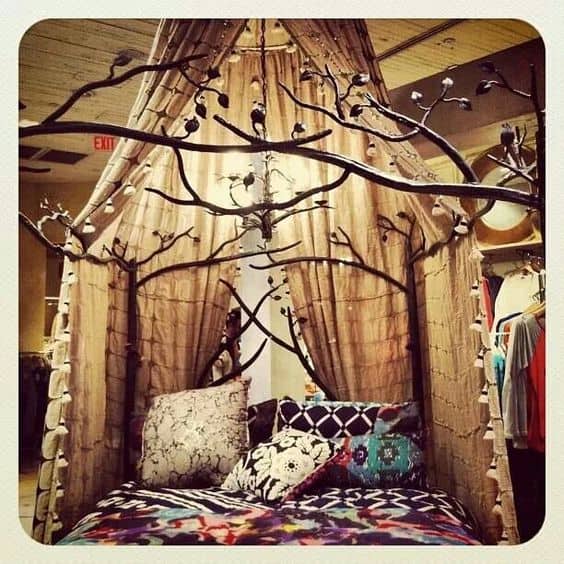 Here is a bed tree design that's perfect for those who want to combine style and nature at the same time.
Going well with a single color, this looks very similar to a beautiful autumn scenery when leaves have fallen, allowing you to see the details of each naked branch and falling asleep to it.
Picture having this bed when living alone in an apartment that's waiting on your mind's creativity to give life to it.
via domain.com.au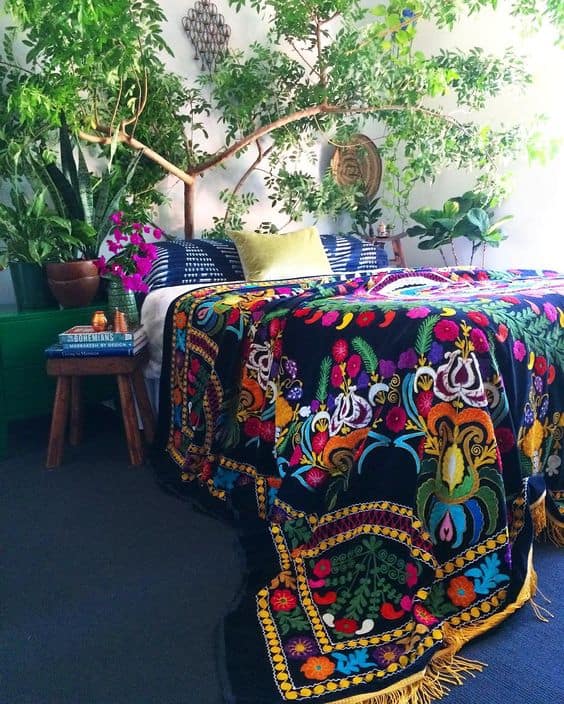 If you like minimal greenery designs, you'll definitely love this idea.
It has nothing to do with the bed, yet makes it appear bright with plenty of energy to brighten up all your days by reminding you about the beauty of nature and life.
If you live in a city that has no resemblance to the serenity of forests, having plants by your bedside brings you closer to nature, soothing your mind every night while energizing it every morning.
via instagram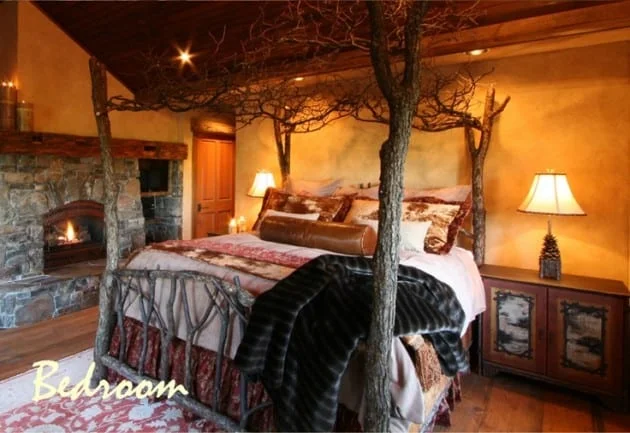 If luxury is what you're into, yet still go crazy about nature, take a look at this one. It reflects someone who has a taste in both an expensive lifestyle and nature's simplicity.
Living a great, sophisticated life does not necessarily mean losing touch with things closest to your heart; and seeing them before going to bed will give you a sound sleep throughout the night.
With natural branches and twigs, one can only feel like sleeping under an old rugged cottage in the woods.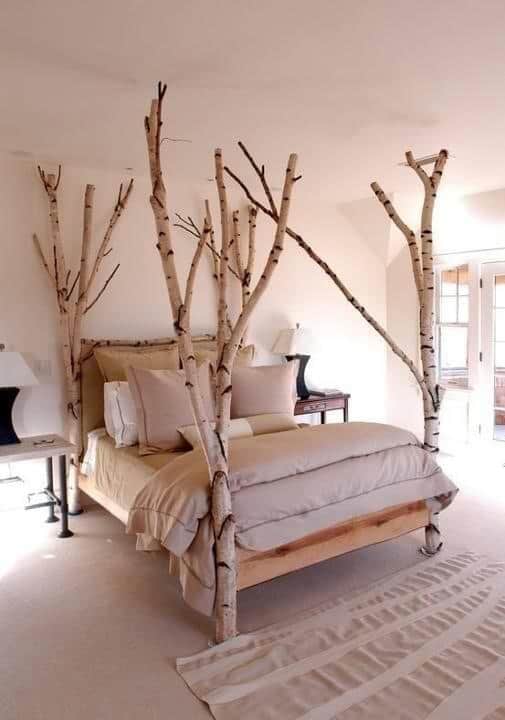 Craving for the warm cuddle of birch trees every night? Take a look at this bed frame design and see how they make a bed look beautiful effortlessly.
If you are inspired by simplicity, you'll love using this idea for a room. It may not look much but it maintains that grandeur feeling. As Chanel would say, "Simplicity is the keynote of all true elegance." – which truly applies here.
Matching walls, bed sheets, and pillowcases give a modern chic look to the whole bedroom.
via womenwhodesignthewest.wordpress.com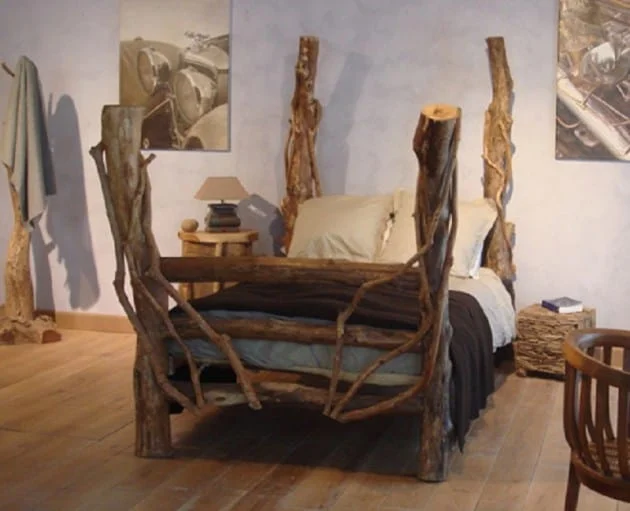 The next one is very cozy. It provides a homely feeling to those who love closed, warm spaces.  
If you're living in a crowded city and don't get too much peace, then you'll be happy to come home to a bed frame like this with your favorite book on the side table waiting just for you. Enjoy your nights living a vintage life.
Feel the comfort and belongingness which the bare naked logs give you every time you lay down on the bed.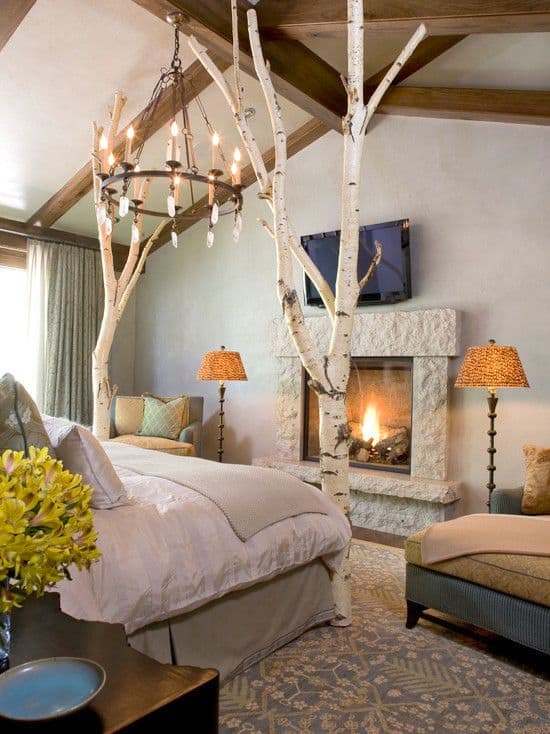 Here's another bed frame design with birch trees surrounding your bed. And this one has got a touch of little extras to it.
Match up the colors in the room and throw some decors, making it look a bit more sophisticated.
What would make it perfect is if you add some of your favorite collection of antiques and a pair of antlers to give the rustic look that it craves for. It's like you get a private vacation in your own home.
via interiorsbystudiom.com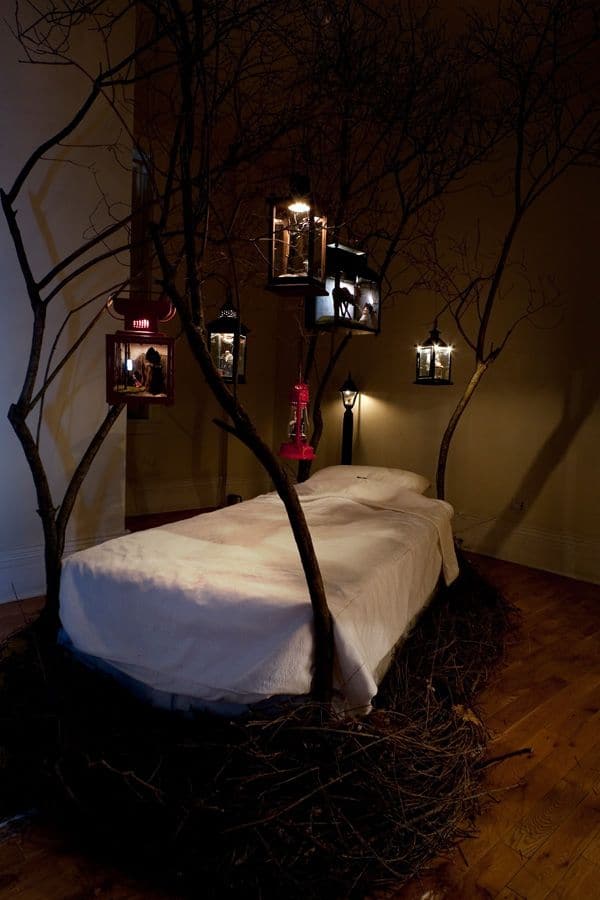 Love the embrace of dark rooms? This one looks like a Halloween theme.
With a bed that's designed like a nest, you'll be safe and sound underneath the sheets, with either lantern (as shown in the picture) or your favorite lights tucking you in.
It gives you a kick even to imagine sleeping through a thunderstorm in this bed and feeling protected and comfortable.
Not many would be into this idea but if you're someone who loves the aesthetic pleasure of darkness, you'll get what we mean.
via indulgy.com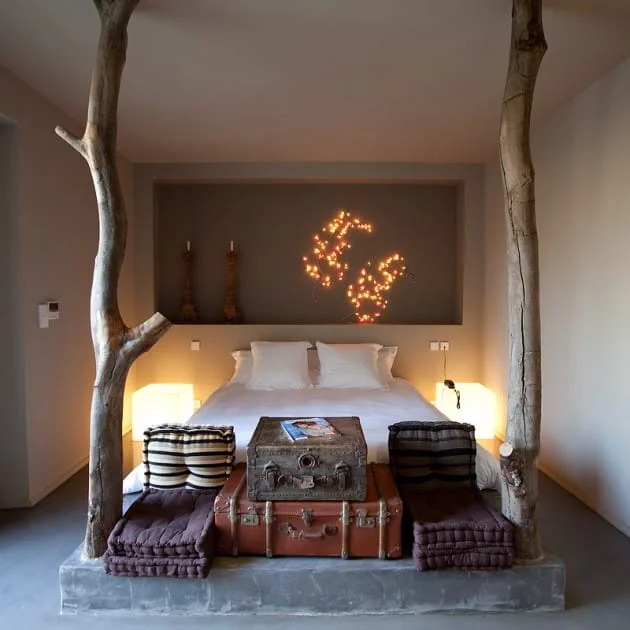 The first thing that comes to mind when we see this is that it suits people who are frequently on the go – they can just crash in it whenever they've had a long trip. It is pretty simple, yet it holds a lot of modern beauty with it.
But most importantly, we love that there is not too much stuff lying around. It's a free space with no other furniture. The bed frame design here shows that 'less' is better. It looks neat, tidy, and pretty easy to maintain.
via www.nsmbl.nl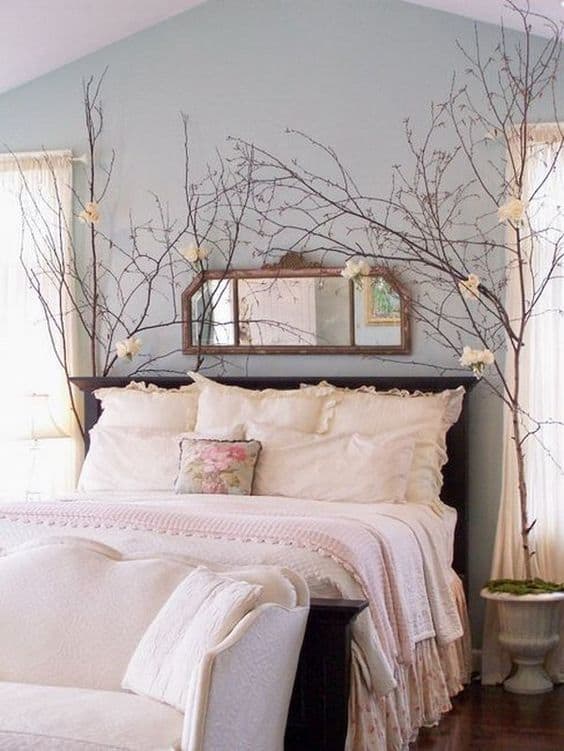 If you are looking for a bed frame design that spells 'family', we have this one. Just a look at this bed, we can picture a kid waking the parents up while their dog is running around doing the same thing. That's a beautiful sight to see.
And the flowers will enhance your mood anytime you go to bed, which is important especially in the morning to have a good mood.
via 1decor.net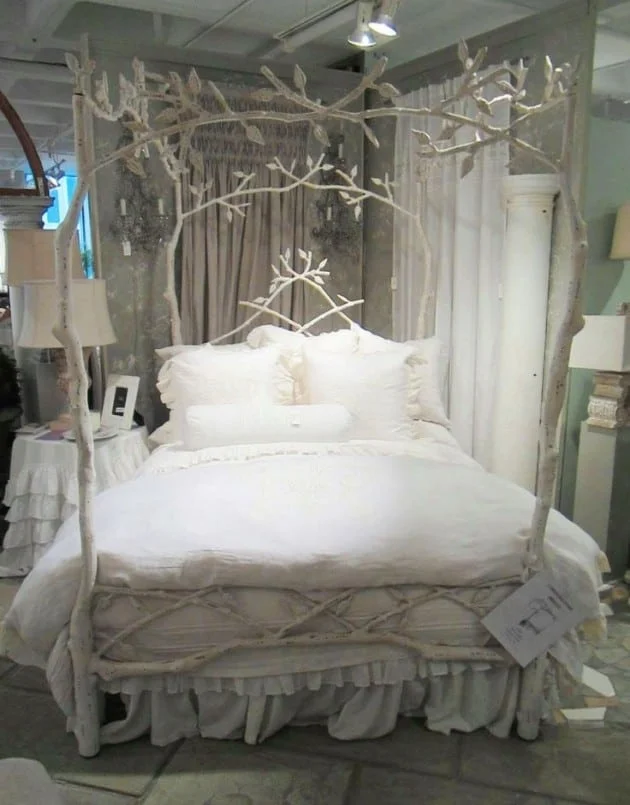 Whether we want to deny it or not, this one looks like a bed where the Ice Princess would sleep on. We are also sure if you surprise your little girl with something very similar, she will start going to bed early from now on.
Plus, every girl's dream once was to become a princess, so we guess something like this will help you relive that dream even if you're not a little girl anymore.
via www.gnibo.com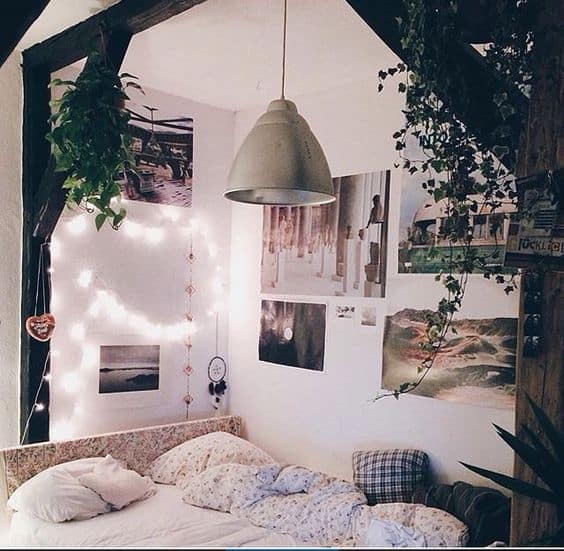 Are you more of an indie gal? What do you think of this idea?
There is actually no right or wrong way when it comes to styling an indie bedroom. Everything depends on the creativity of the owner. Also, don't be afraid of trying out colorful extras and mix-matching them.
Add any kind of decors which complement your spirit and you're good to go!
via shopstyle.com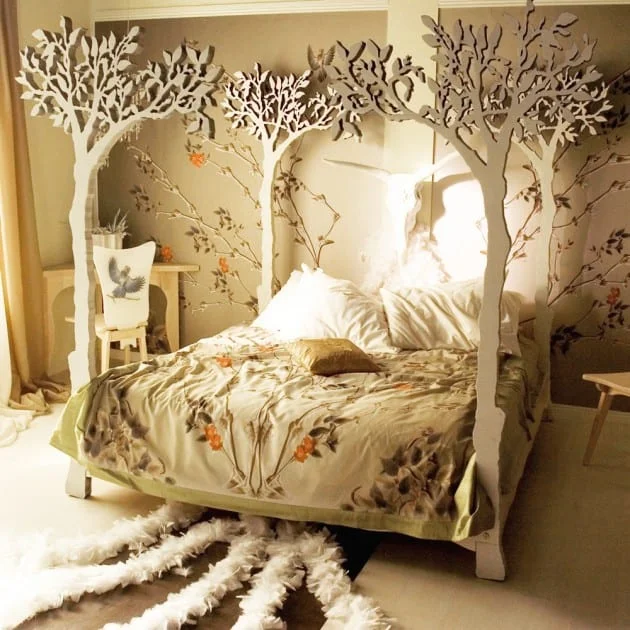 This next one will make you feel like you're on stage performing a musical. Children will probably love it for its cut-out appeal. But even if you're an adult with a young heart who enjoys fun bed frames, you'll love this bed idea.
Make yours look fancy by accessorizing it with what you like most.
via interiorexterior-design.blogspot.com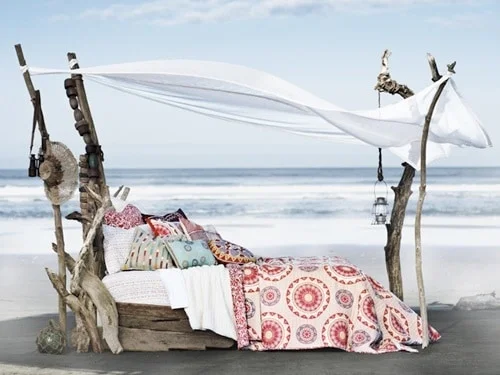 If you wanna feel like you're living in the Bahamas every day, get a bed with this bed frame or something very similar.
We'd recommend getting a stuffed toy piggy if you're considering the Bahamas look to complete the theme. Otherwise, add more seashells and other ocean accessories inside the room and bring your little sea world to life.
via loveobsessinspire.typepad.com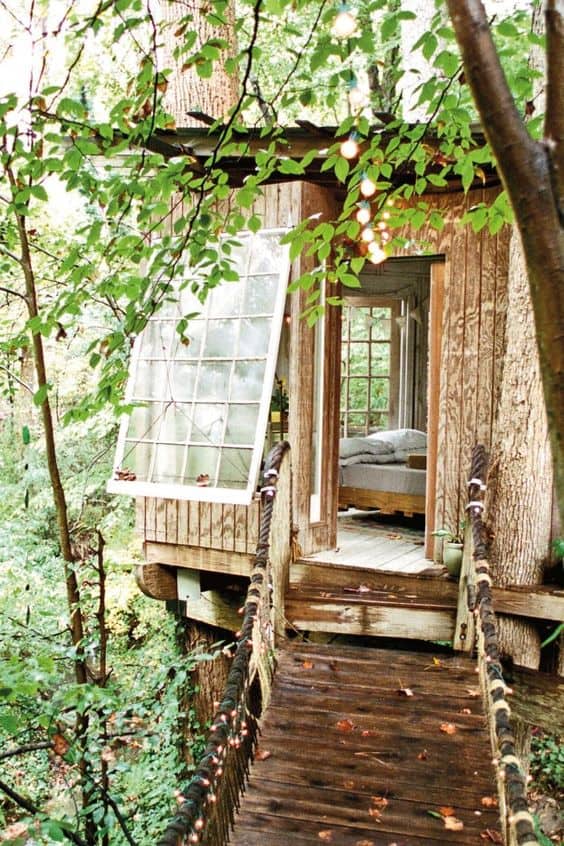 Next up, we have this crazy idea of making your bedroom or your bed look like it's on a tree house.
At least, it's more exciting than a normal bedroom could ever be. We will suggest a theme that appears more outdoorsy and adventurous. The right decors and paints will play an important role in making the theme realistic.
via theeverygirl.com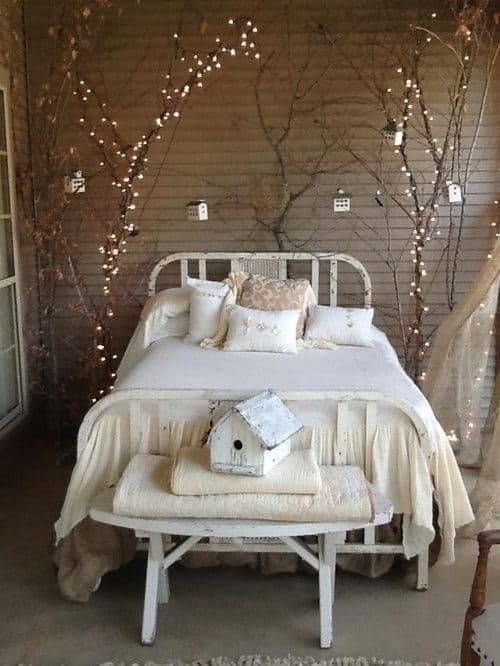 \
Are you the girl who is enthralled at the sight of fairy lights? Or perhaps, you love daydreaming and any kind of art? You might like this idea for your bed.
The room does not need to be very big; the average one is enough for this bed frame. You can enjoy your personal space.
via ideasforho.me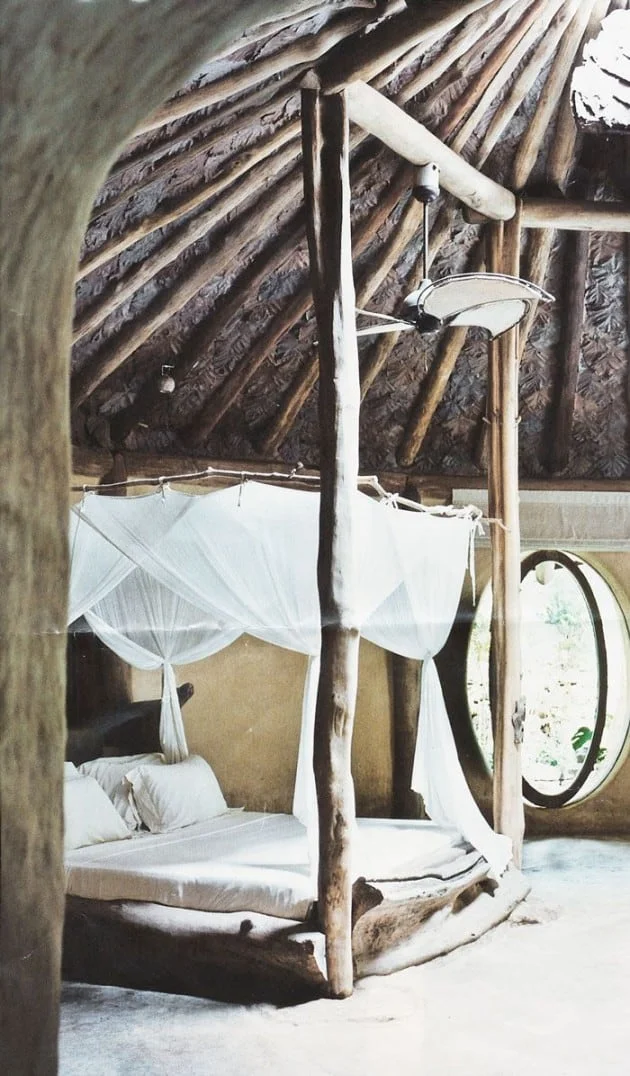 We think this one looks like some room you'd find in an exotic Bali house. Make your room look like you're living on the other side of the world.
This is a light theme in which there is not much to add to the room, therefore, creating a more relaxing environment which is perfect when you've had a day surrounded by people.
The idea is to make the room look as plain as possible.
via www.themarchcollective.com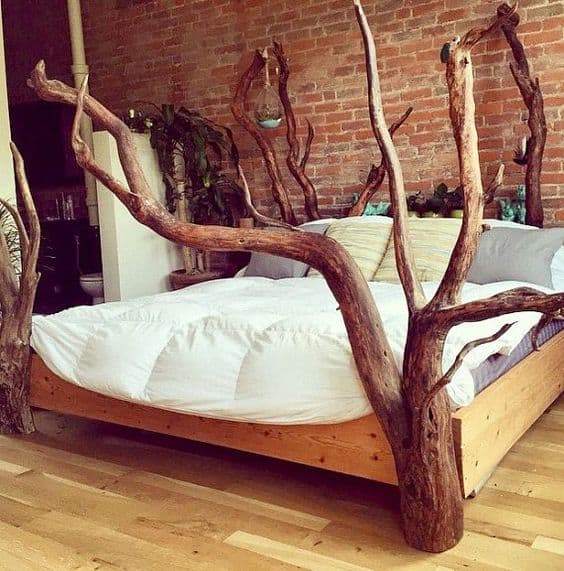 What do you think about a room that looks like a hunter's den? If you love going outdoors for a good hunt, then you might just consider this theme.
Set up your room with polished branches, especially for the bed, and just throw them anywhere you feel like it. It may look disorganized, but isn't that the beauty of forests?
When you're done, add more extras that go well with the overall theme so that it reflects your passion for hunting.
via etsy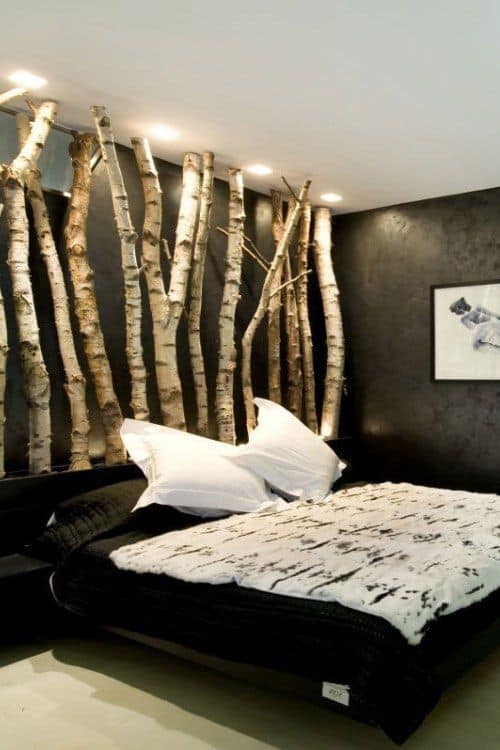 Alright, so this one is a blend of modern design and the beauty of nature. You're most likely to see these types of designs in hotels and expensive guesthouses.
There are people who love the idea of making their home look just as posh. The minimalistic environment will make you feel as if you are living the life of a celebrity or a millionaire.
Birch trees will look perfect for this idea, but if you want to be creative and explore more ideas, feel free to do so!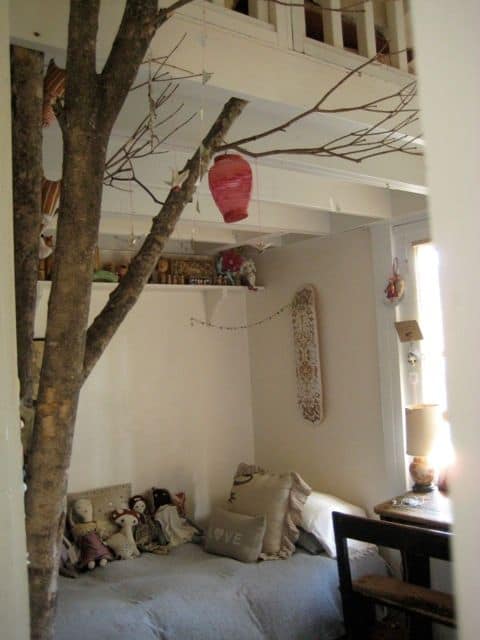 We have here a very simple, average-looking bedroom. Unlike the rest on the list, this one is what you will mostly find in many houses.
But the idea is to add some wooden décor so that it adds more style to the home environment. Maybe you don't like making yours or the kids' room look too fancy but you'd love to add just the right amount of accessories which will reflect your appreciation for nature.
If that's the case, then having a plant or a branch like the one in the picture can elevate things a little bit more.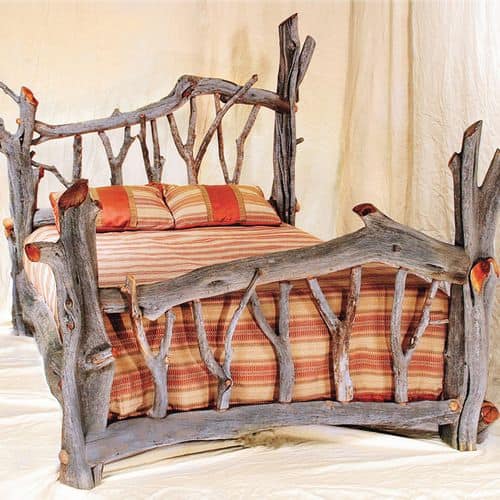 And now we have a very cute bed frame which is suitable for both kids and adults.
As you can see in this picture, the bed is made up of multiple branches which aren't polished. And that's the main idea of it – it has to look like a cot inside a cottage in the middle of the woods.
The picture depicts a tiny bed but it actually depends on your preferences to choose just how big you want it to be. All you have to do is gather more wood if you want a king-sized version. So, chop-chop!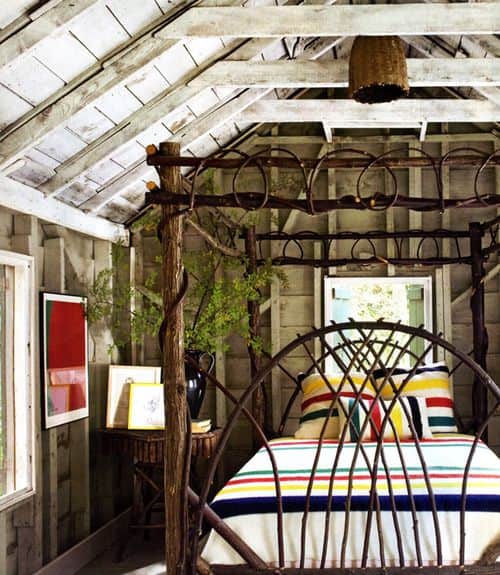 We personally love this one. It has a touch of rural life to it and it doesn't seem to show anything off, yet it displays tranquility – something anyone would want to come home to after a hard day's work.
The environment inside the room will be welcoming with the simple decors. The bed would be carefully crafted with wood branches and perhaps a few twigs as extras.
And to create a pleasant experience inside, there should be enough windows for the sunlight to pass through.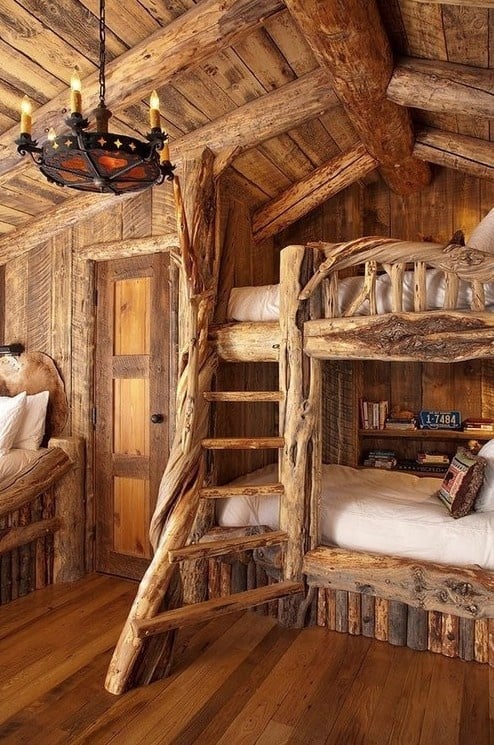 Here's another one which resembles a small cottage in the wood. This is a perfect idea for summer or winter homes, mostly.
However, that doesn't mean it won't work for an actual room. A shared bedroom for kids will be amazing with this idea. It probably will cost a lot since everything is made of wood, but the concept is unique.
And let's not keep aside the fact that this room looks magical – as if a lost princess used to stay here (maybe you get the reference). The point is that kids will fall in love with it.
via imgfave.com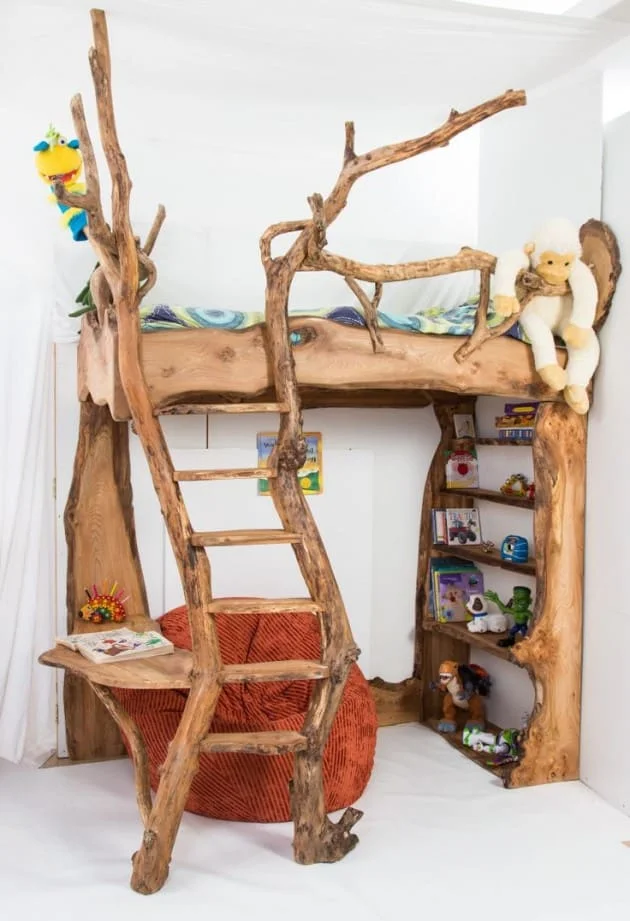 Similar to the above, this bed is also meant for kids but younger. If you see that your little one loves sports and adventure at a young age, why not start off by personalizing the bed?
There is also a high chance that your kid will have more appreciation towards nature later in life.
Anyway, coming back to the bed… If you have an apartment space in the city, this would be more convenient because it consumes less space and you can store multiple things underneath.
Moreover, you can always choose to paint it or not. Either way, it will look amazing.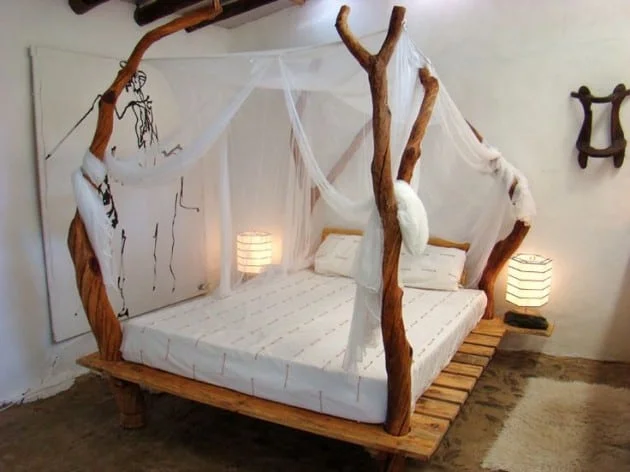 If this one doesn't look like a honeymoon bed to you, then we don't know what does.
Boost up the romantic mood with this idea or something similar to it – all white with just the right amount of lighting. And yes, this will also work if you're looking for ideas to dress up your bed and surprise your significant other.
For achieving that classy look, it's always safe to match the sheets color to that of the room. And as you can see in the picture, a large painting will complete the whole look.
via imgarcade.com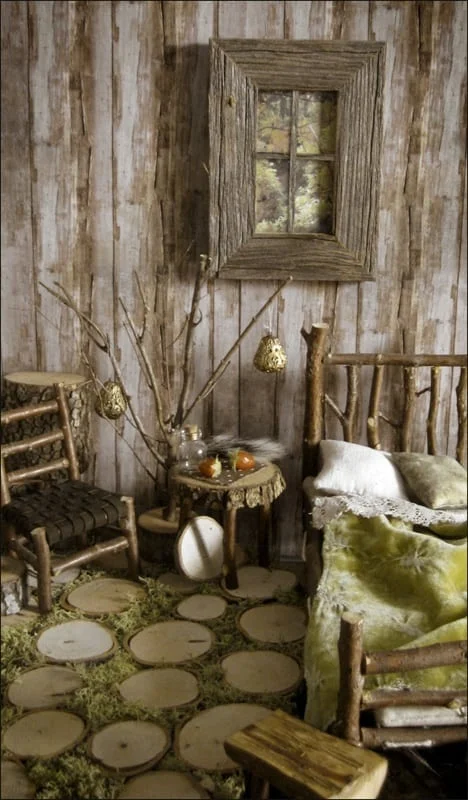 So we have already seen a few cottage-like bedrooms before, but nothing beats this one.
If you like the idea of building things from scratch and not use a single ready-made item (including decors), then step up your DIY game and get ready for this bed frame.
Of course, you will need to have enough knowledge about carpentry to come up with something like this. But once you get a hang of making furniture by yourself, we assure you it will be one of your favorite hobbies. Most people who get into DIY projects love expressing their own creativity every time.
via chasingthegreenfaerie.tumblr.com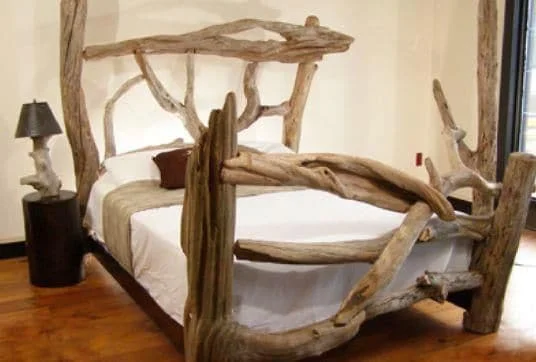 Want an odd wood bed frame for your bed? Check this one out.
There are people who love things that appear organized, while there are people who find messy bed frames to be more aesthetic. And this option is for the latter group.
The bed you see here looks as if it's just been constructed 5 minutes ago using whichever wood we could find. But the thing is, there's beauty in it.
And the best thing is that you can have it made however you want it to be – it does not have to look exactly the same as the one in the picture.
via manualidades.facilisimo.com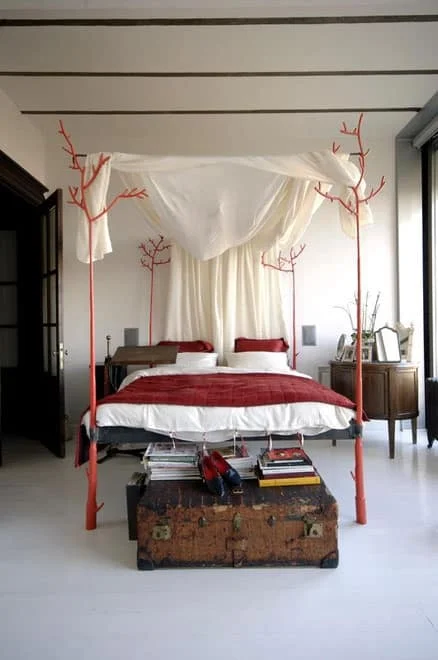 After speaking about messy bed frames, here's an idea for those who love symmetrical ones. Everything is uniform and in place.
The idea is to not make the bed too fancy and instead, use simple tree designs (as seen in this picture) which add enough beauty to the room.
The best trick to execute an idea like this successfully is to maintain a level of minimalism. If you feel that there's too much stuff lying around in your room, maybe it's time to consider decluttering?
via collegecandy.com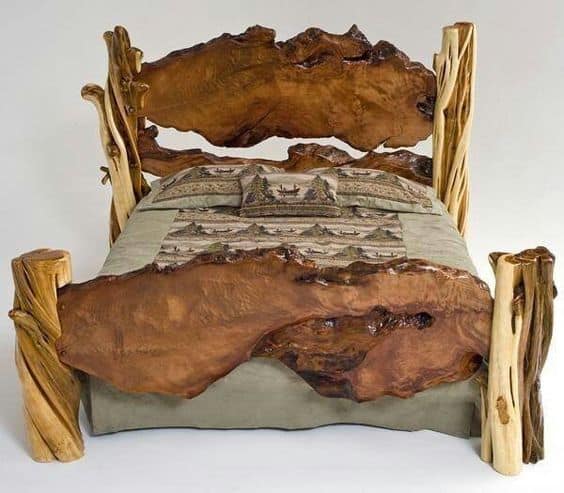 The next bed frame we have is entirely made of polished wood.
This one has a lot of details which make it look unique. Of course, you can also have yours made according to your unique preferences.
Well, something like this would go better with a room that has a fair amount of antiques and plant decors. Let's also not forget to match this with other wooden furniture such as wardrobes, chairs, and tables. This will give your space somewhat of a Victorian-era touch, hence, making it look highly expensive.
Source Unknown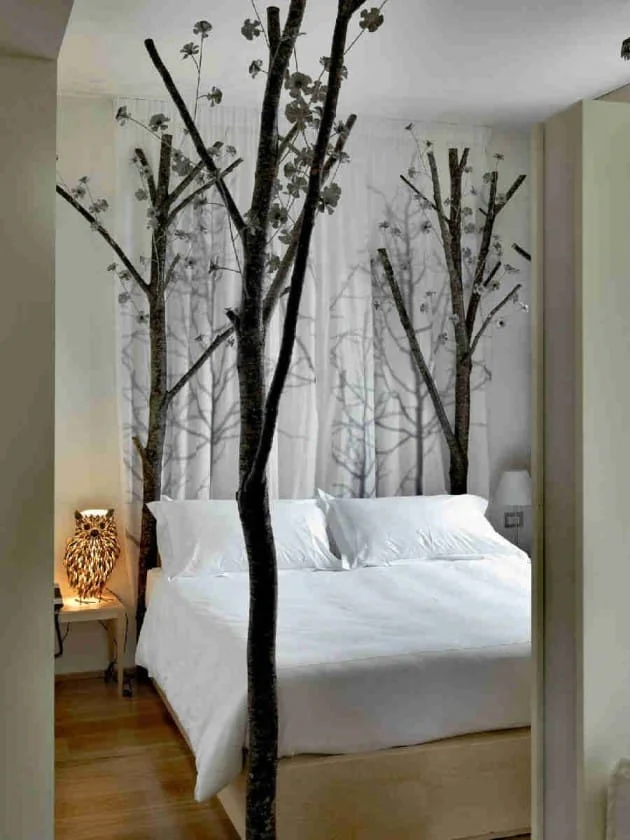 If you like the idea of having a normal-looking room without too many extras, yet with a few nature-related decors, we can suggest making it look something just like this.
As you can see from the picture above, both the room and the bed look just like any normal bedroom would. But with the presence of the tree bed frames as bedposts, it looks more defined and beautiful.
via www.hotelphilosophy.com
Okay, so we have chosen this bed frame for those who do not like to include anything else in their bedroom except for a giant bed and a couple of side lamps.
If you like to have more space in your bedroom (at least around the area where the bed is), you might just need something like this.
We would understand if you find a big room with monochrome matching to be boring. That's why we will suggest opting for a different wall color so that the room looks balanced, lively and a bit colorful.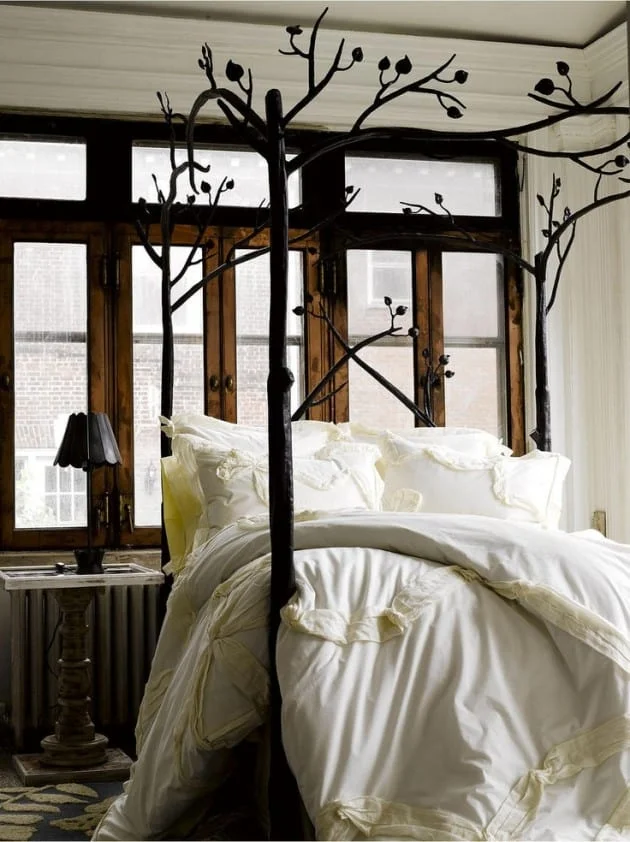 Our next bed frame looks like it came straight from the 18th c period. With its black-painted tree designs, thick sheets, and fluffy pillows, you'll feel like you're living in the classical era every single time you step into the bedroom.
If you would like to experience what it's like to sleep in a bed like that, try out an idea like this. Make sure to decorate your walls and have some expensive-looking vase (which you can get for cheap in thrift stores) inside the bedroom.
via interioralchemy.tumblr.com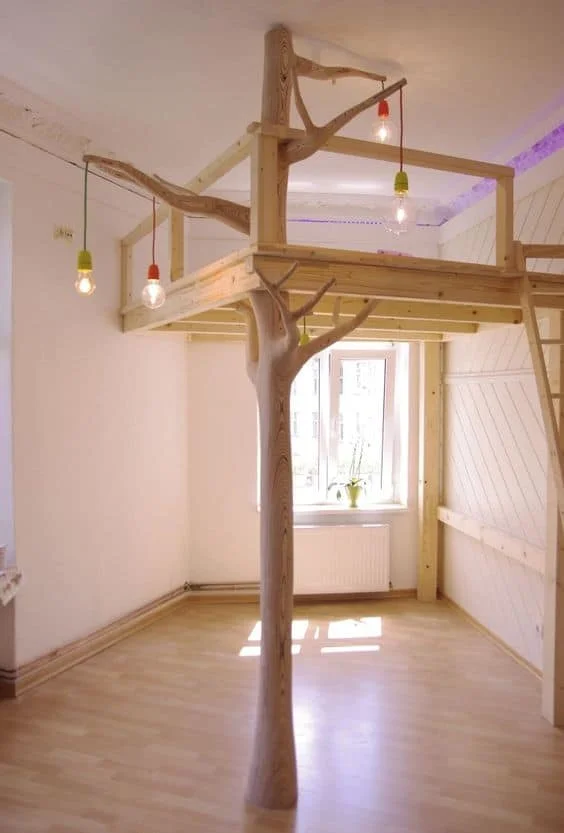 Want one more bed frame specifically for kids? Check this out.
If you live in a small house with not enough room to move about, consider having something like this installed. Children love extraordinary beds, so you might as well need to give them one. In which case, it will be a win-win situation for both you and the kids.
There will be plenty of room underneath where you can make good use out of it. Take the place from the photo, for example. There is enough space for a tiny living room with a bookshelf opposite to it.
via artaurea.de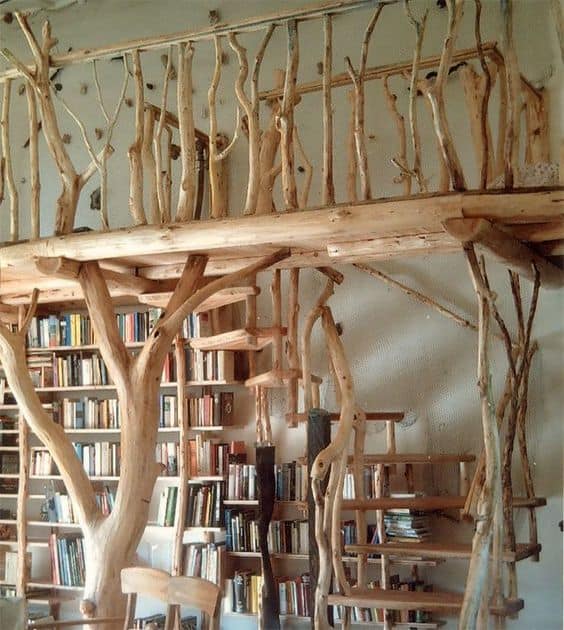 Well, here is another design with stairs. This is great for both kids and adults to lay down on a hot sunny day.
If you want something similar to the picture, keep in mind that there is not a lot of room for storing other things underneath it. It is more of a fancy bed which is suitable for a house with a large space.
Rather than just leaving it as is, we would recommend either painting or polishing it so that it looks less messy and more attractive.
via ecosia.org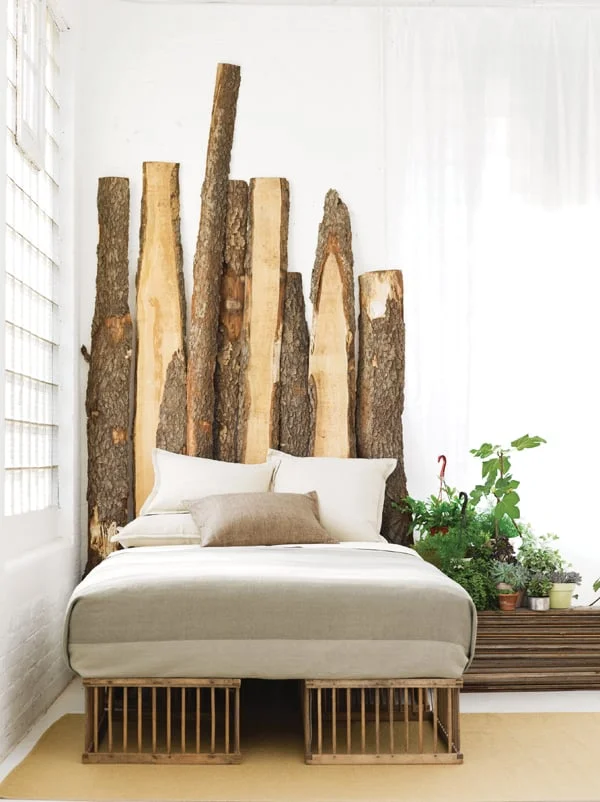 We know what you might be thinking: This looks as if someone just chopped big logs and kept them there.
Well, that may be true but we think this has to do more with being artistic than anything else.
If you have a creative mind which does not like to follow traditional designs, you'd love this idea at first glance. These logs don't necessarily have to be attached to the bed as bed frames, but instead, can be set up as decors.
And as we mentioned that this is just an idea, take this as a sample to make use of your creativity and explore new designs.
via findingshibusa.com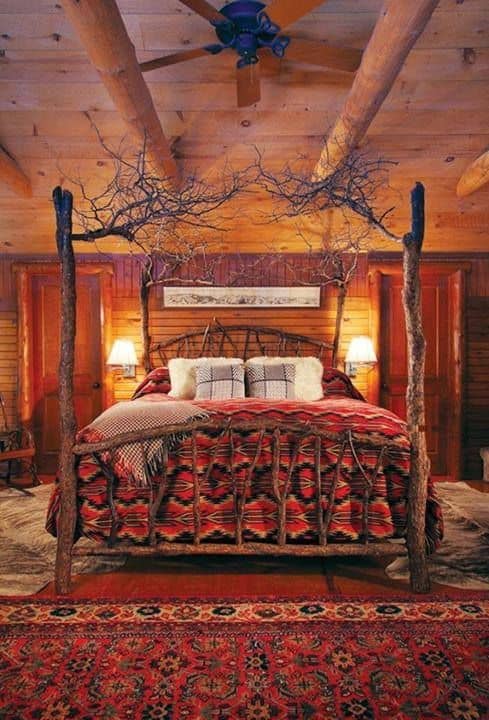 Last but not least, we have this design that spells 'Christmas' all year round!
With a red theme, wooden bed, and a pair of night lamps besides, you'll feel like you're on winter holidays every time you step into the bedroom.
The best way to create this bedroom theme is to have a fireplace inside the room, some fluffy pillows or cushions, and some tree decors, of course! You might just fall in love with the idea of having your own Christmas theme inside your bedroom to turn any sad day around.
via dresscodefinder.com
Related Articles
12 Ways To Put Your Bedroom Corner Space To Good Use
39 Spectacular Tree Logs Ideas for Cozy Households
29 Brilliant Easy to Build DIY Platform Bed
21 Mindbogglingly Beautiful Fairy Tale Bedrooms for Kids
21 Super Small Nightstands Ready to Fit in Petite Bedrooms
Recycled Pallet Bed Frames – DIY Pallet Collection
15 Creative Small Beds Ideas For Small Spaces
30 Small Bedroom Interior Designs Created to Enlargen Your Space
37 Smart DIY Hanging Bed Tutorials and Ideas to Do
Bedroom Christmas Lights Ideas For A Cozy Atmosphere
32 Dreamy Bedroom Designs For Your Little Princess
100 Inexpensive DIY Headboard Ideas for Your Bedroom Design
47 Stylish Floating Bed Design Ideas
53 Incredible Hanging Beds to Float in Peace
33 Epic Navy Blue Bedroom Design Ideas to Inspire You
6 Best Vacuum Cleaners for Mattress  
13 Best Loft Bed with Slide Reviews
10 Best Full Size Bed Frame Reviews
8 Best Headboards for Epic Bedrooms Reviewed