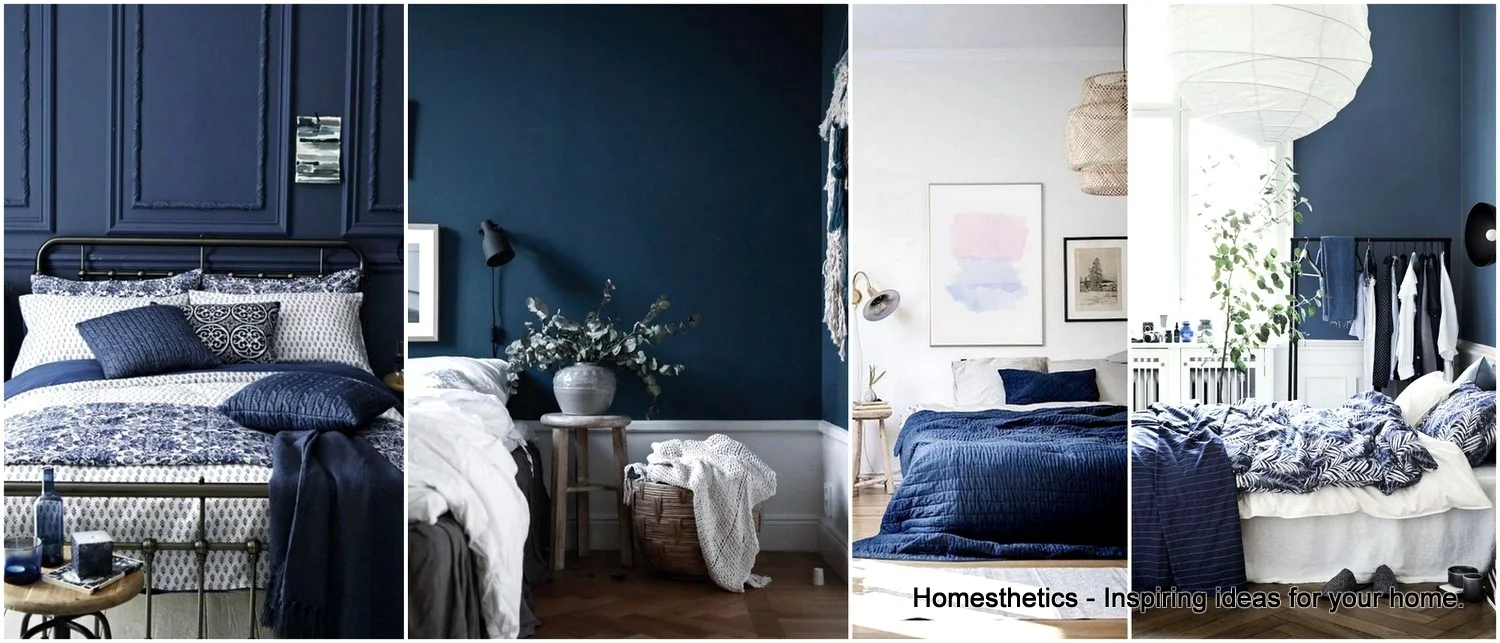 Awe-inspiring bedrooms overall are easy to find in the internet era yet finding something tailored to your chain of thought remains difficult to find; we are all unique, it is known, it is natural to seek unique solutions.
More often than not we overlook the great importance of the bedroom yet today we address this exactly and you're here because we have a common point of interest, and one of great beauty that is, we're searching for inspiration on navy blue bedroom ideas!
Yep, this awesome color has inspired a lot of people, the very dark shade of blue is timeless and thus here to stay!
If you are wondering, the name of navy blue in contrast with white was worn by officers of the British Royal Navy ever since 1748 and was subsequently adopted by other navy groups rapidly, in the 19th century already being the usual color of sailor's uniforms back then entitled marine blue.
The earliest use of the term navy blue goes back to 1840, when Oxford English Dictionary surfaces a citation from 1813.
In the meantime, the former blue uniforms of the United States Navy and many other navies around the world changed to black as better response to combat fading.
So after this brief history you still have an interest in this awesome color?
Brilliant, let's proceed, cast a glance on our collect of navy bedroom ideas and please do leave your valuable feedback in the comment section below!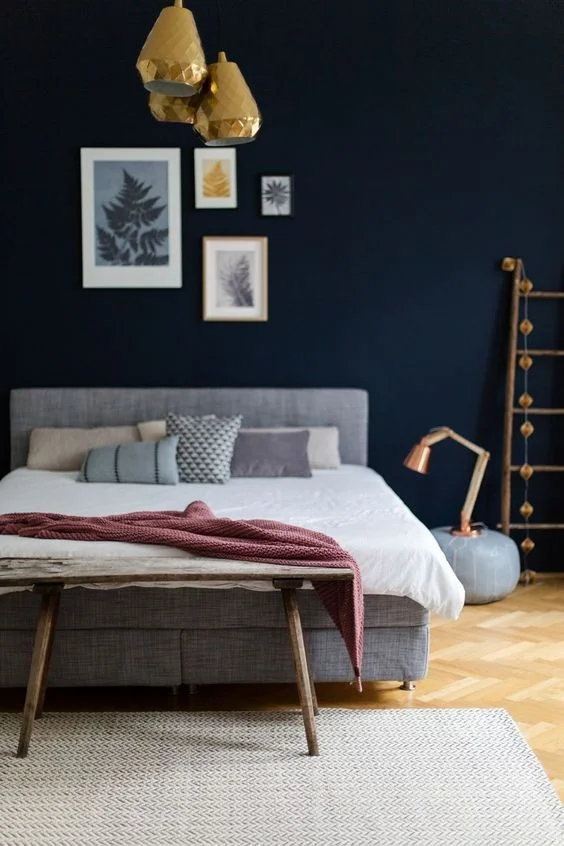 The elegance and stability of the navy blue is here enhanced by herringbone patterned wooden floors and herringbone gray rug both adding dynamic to an otherwise still interior, neutral palettes are used on textiles while rose copper and golden accents are being inserted on the light fixtures to increase the sumptuousness of the interior.
Image via nighslee.com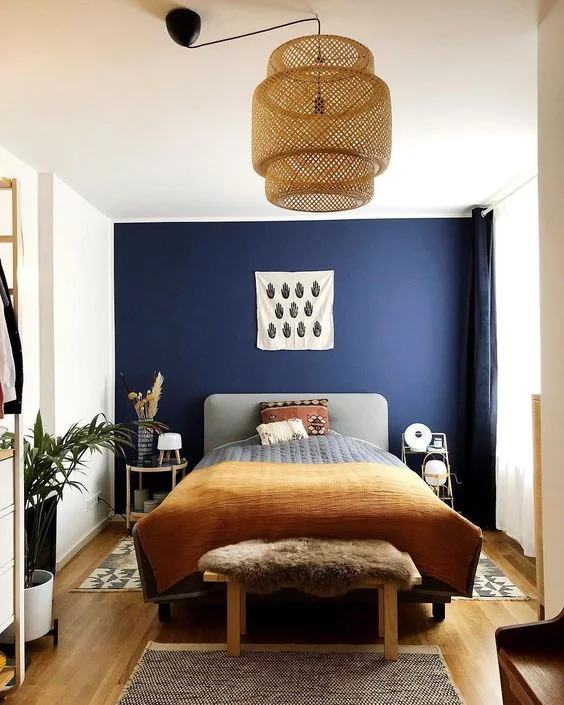 A very earthy interior anchors the bedroom above to the ground, ochre tones earthen the bottom half of the picture while navy blue contrast the stark white walls contrasting the bottom half with the vastness of the oceans and/or the skies, one limit defines the other, one elements supports the other.
Image via Instagram
Yes, navy blue might be a difficult color for small spaces but there are solutions, in the example above, wooden floors anchor it while stark white embrace it with airiness, an additional glass gallery offers a small storage space backed by a mirror that bounces the light through out the interior even further emphasizing the feeling of space.
Image via bobedre.dk
4. Blue Palettes Throughout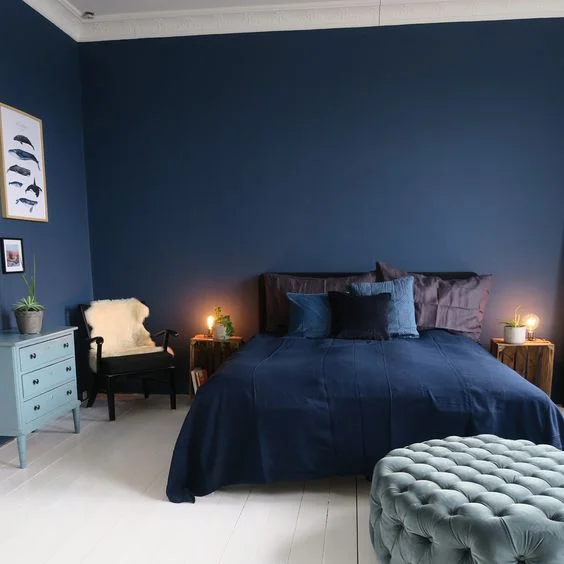 One ought to have an affinity for the blue color palette to express it throughout the bedroom so epicly. The interior above exudes elegance and sophistication beautifully. White wooden floors support it along with white fur and a white painting swimming in blue; together they bring airiness in heavy yet splendid interior.
Image via Instagram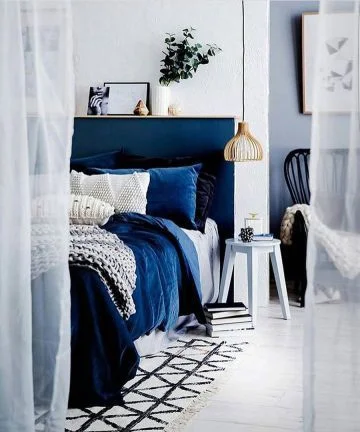 Navy blue can be translate into sheer luxury, the right palette beautifully tied to an airiness ambiance with golden accents creates an image like nothing else, cast a glance over the image above. Nothing looks unattainable or hard to find right? The deep blue bedding here beautifully highlights and accentuates the whole.
Source Unknown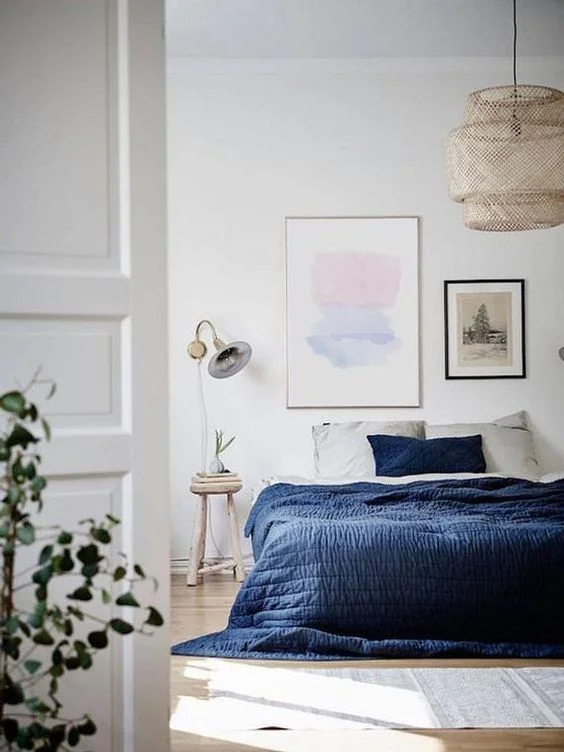 All white, light wooden floors, birch airy nightstand and rattan light fixtures create a space that breathes and exude light in  superb atmosphere. In this setting, the royal navy blue steps in through two elements, a bed cover and a pillow and that's it, a versatile insert with superb aesthetics.
How do you see it?
Image via Etsy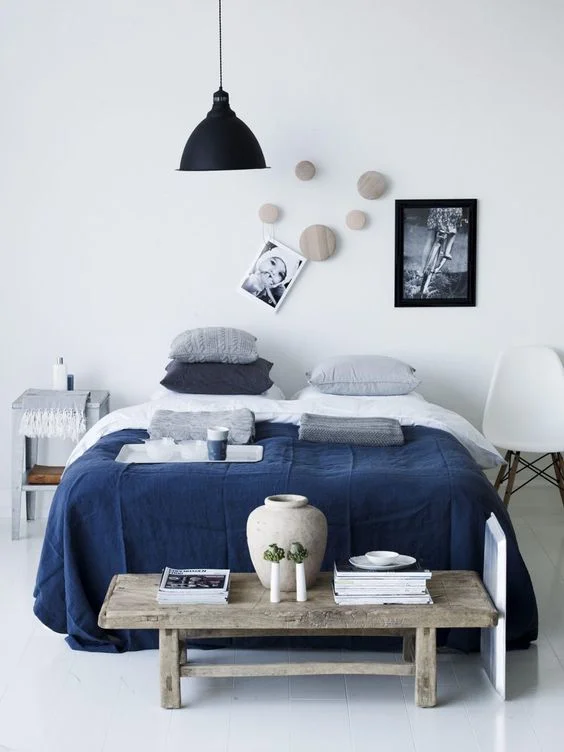 A rustic bench holds magazines and candles modern round wall art, wooden pieces contrast black and white picture frame. Neutral tones are used throughout yet everything comes together aggregated by the navy blue, subtle wooden textures and neutral textiles support with airiness beautifully.
Image via deavita
8. Rustic Tones, Timeless Elegance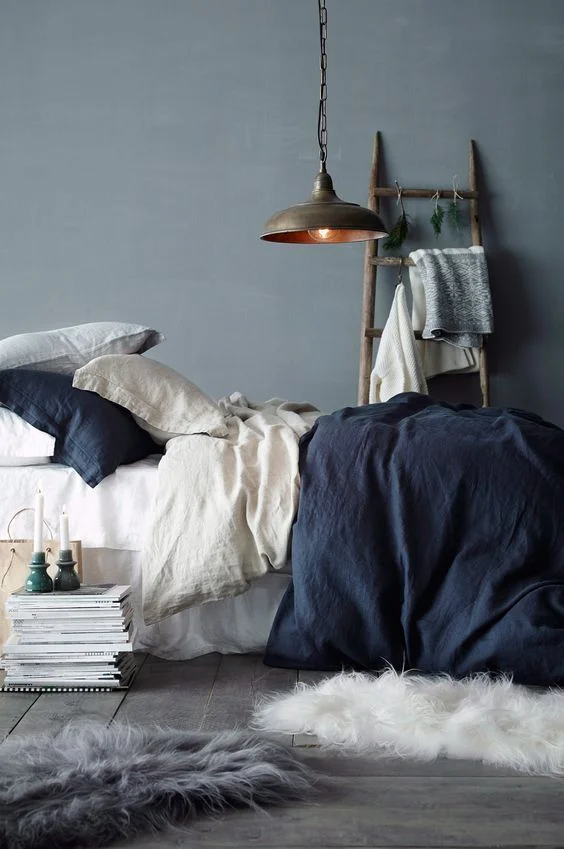 A simple bedroom that highlight it's Scandinavian inspiration through a splendid ambiance, everything is simple yet everything matters in here, textiles, furs, chromatic balance and rustic wood in equilibrium.
Image via blog.apartminty.com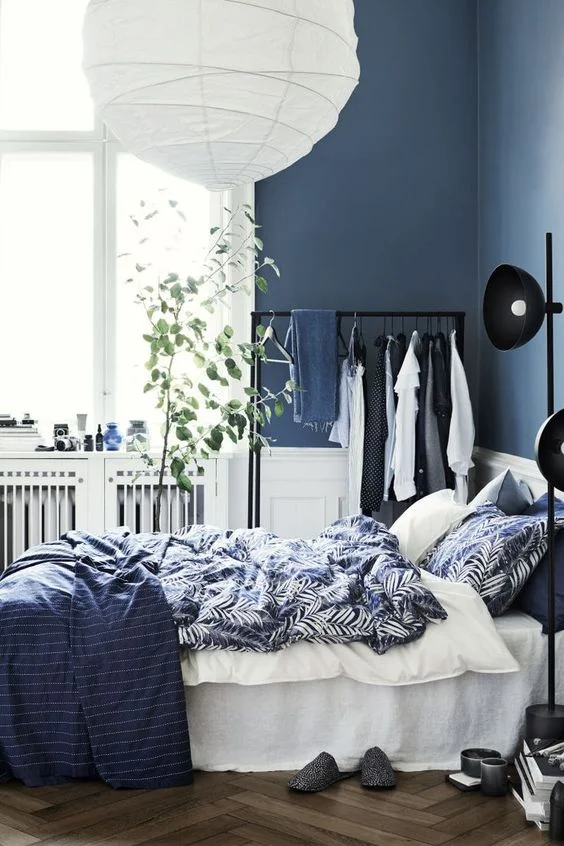 A youthful vibration is of-course brought in by the floral duvet and pillow covers, this is anchored into elegance with the herringbone wooden floors and stripped navy blue bed, everything screamss sophistication, everything is flooded by light.
Image via H&M
10. Roots of Blue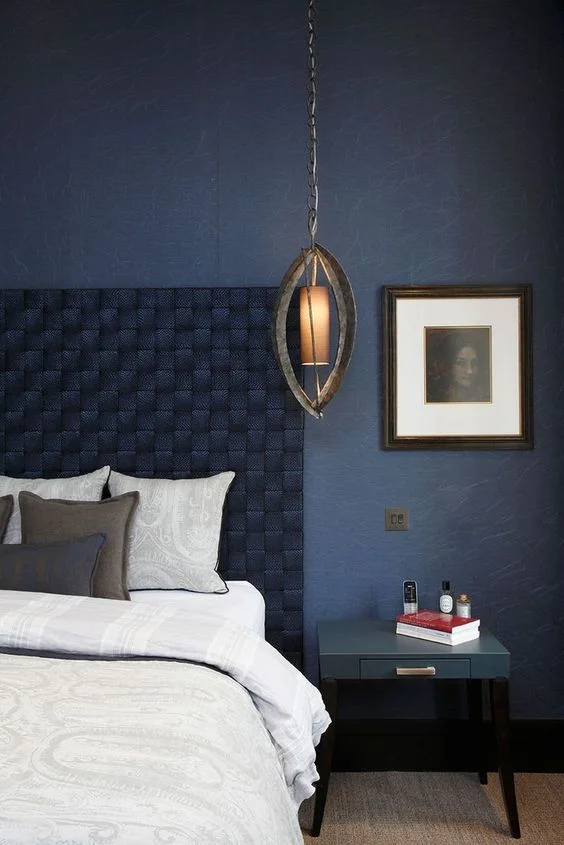 The right colors are sometimes enough yet when they're doubled by the right texture, things change. Gaze for a second on the vibration of the wallpaper in the image above, it seems far away, old yet dynamic, a sober elegance that enhances other shades of blue.
Source Unknown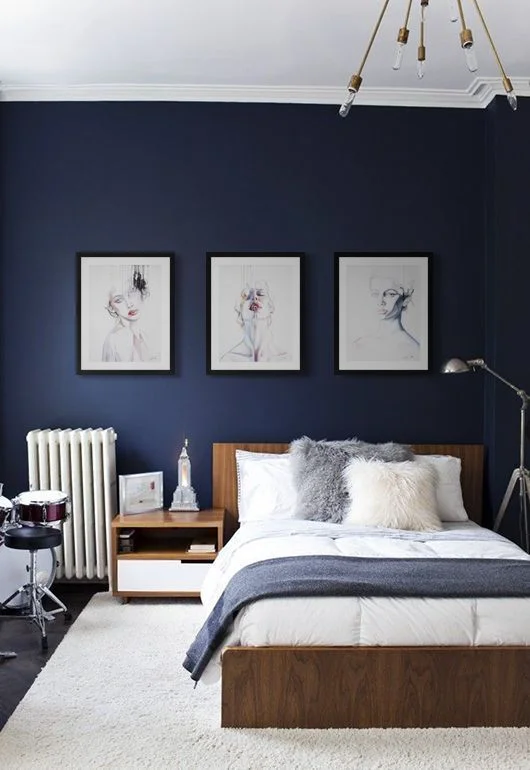 Yes, the radiator brings the retro accent in but the rest of the furnishings are modern, simple and elegant. Navy blue contrasts white and wood here too, natural matches of the tone. In the bedroom above, the splendid drawings subdue everything and rightfully.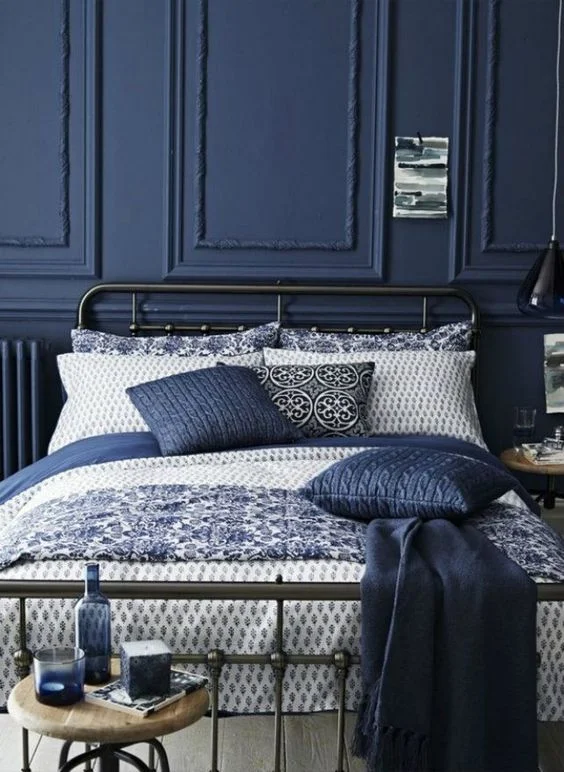 A rather simple interior is here spiced up but small intricate details at textiles level and material level, notice the light wooden floors paired with the wired bed frame and lightness of the room. Despite the amount of dark shades, the interior remains balanced, light on its feet.
Image via Pinterest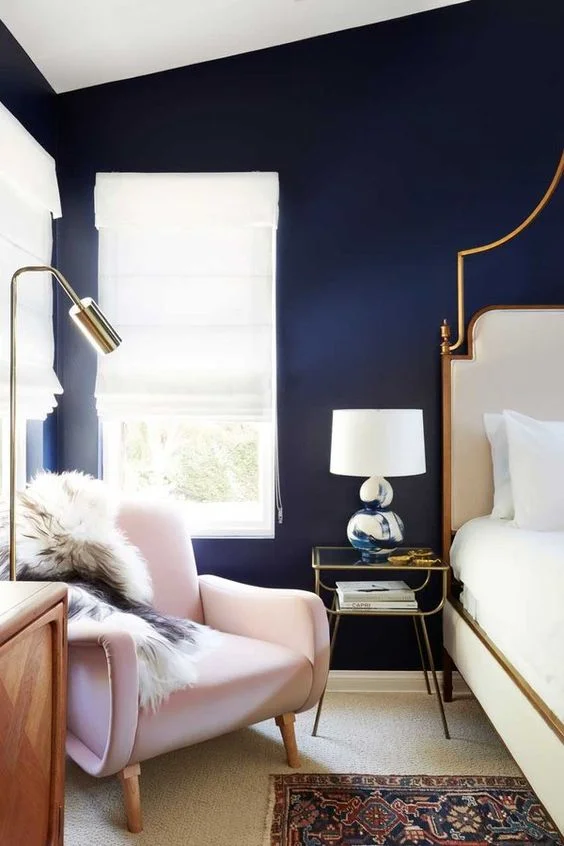 Chic interior brought in which really exquisite one of a kind looking items shine; navy blue walls are flooded by light, golden accents complement beautifully where white bedding and pink armchair create contrast.
Image via Hunker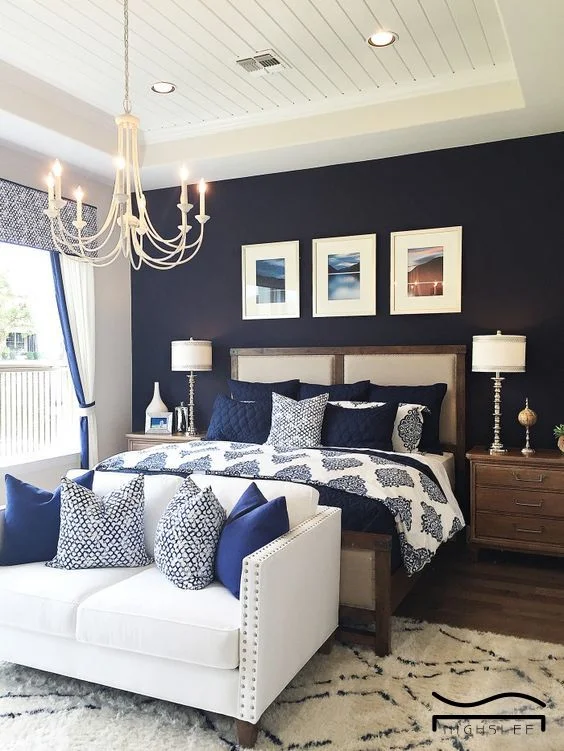 Spices, spices all over isn't it? A multitude of different complementary blue patterns sparkled the interior above, they are different but they work somehow without blending one into the other, a fact that might distress one and please the other, how do you feel about it?
Do note the beautiful vaulted ceiling and the immense amount of light, great assets to blue spiced up interior!
Image via Pinterest
15. Golden Retro Accents Defining a Dark Blue Bedroom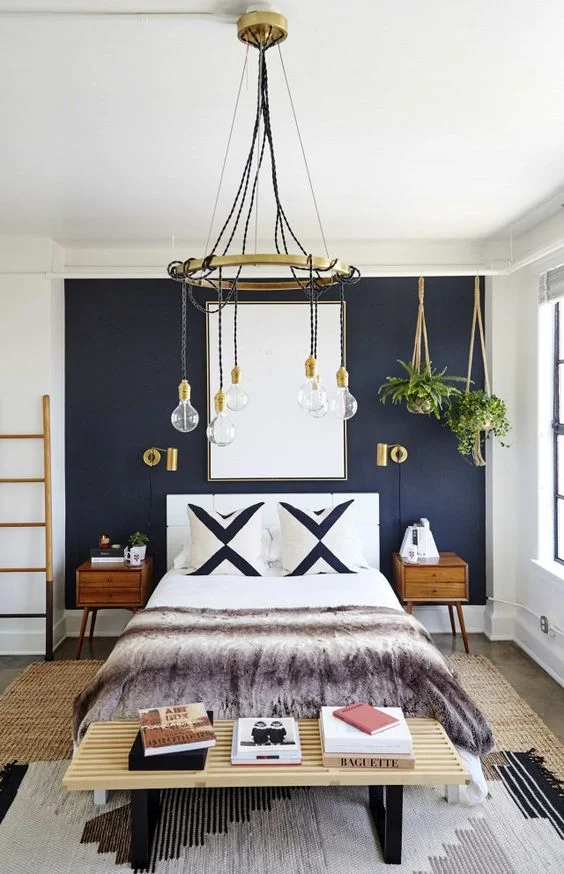 Yes, the golden accents are key here, they're the cherry on the top of a balanced natural materials and royal colors, notice the rug and how the multitude of wooden textures blend together to serve the navy blue god and his golden trinkets!
Image via mydomaine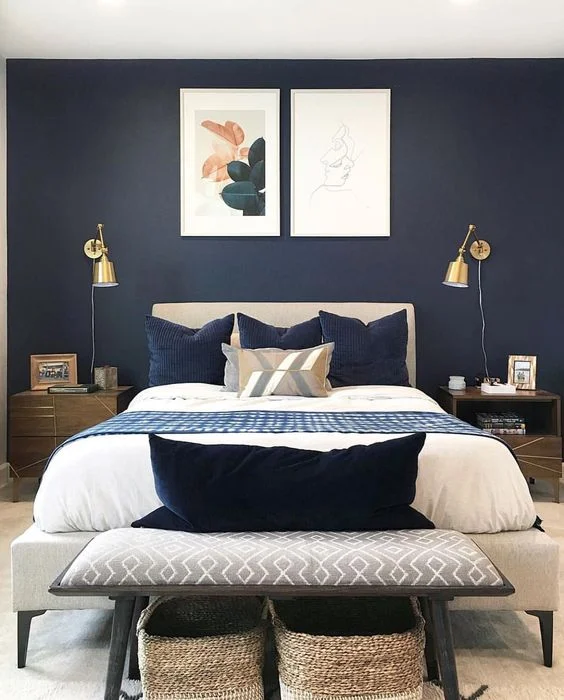 Wooden nightstands and white taupe tones complement really beautifully a navy blue accent wall, golden nightstands once more add a pinch of glamour to a sober ambiance.
Image via Pinterest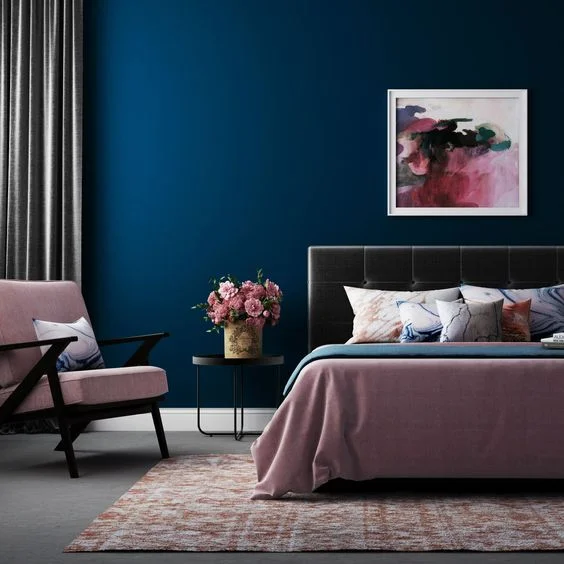 Two really sophisticated tones tones that exude sophistication in a dance of colors. A combination hard to pull off and easy to love and hate; what do you think?
Source Unknown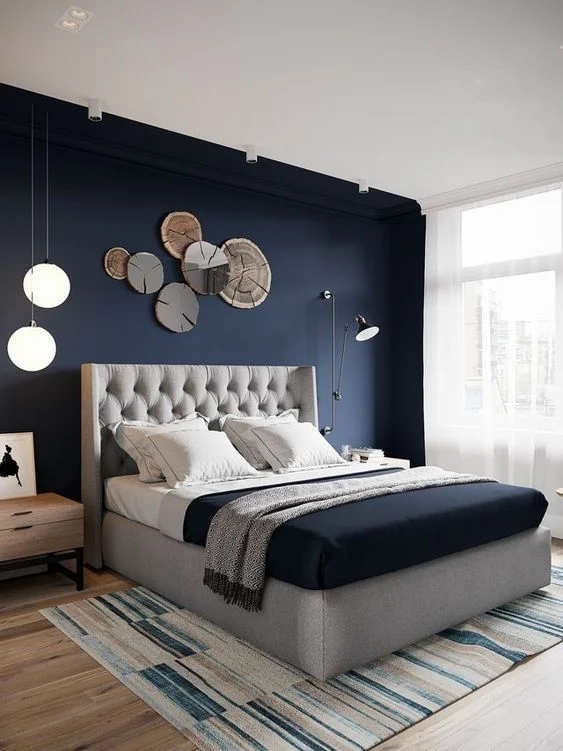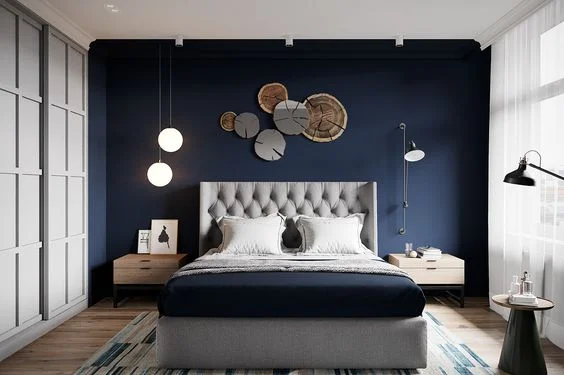 A recipe of wood, gray and lightness paired with navy blue is bulletproof and here too it fits like a glove. Notable, the wooden trunk slices of wood art enhance with coziness and warmth.
by Denis Krasikov
Source Unknown
19. Gray, White and Blue Bedroom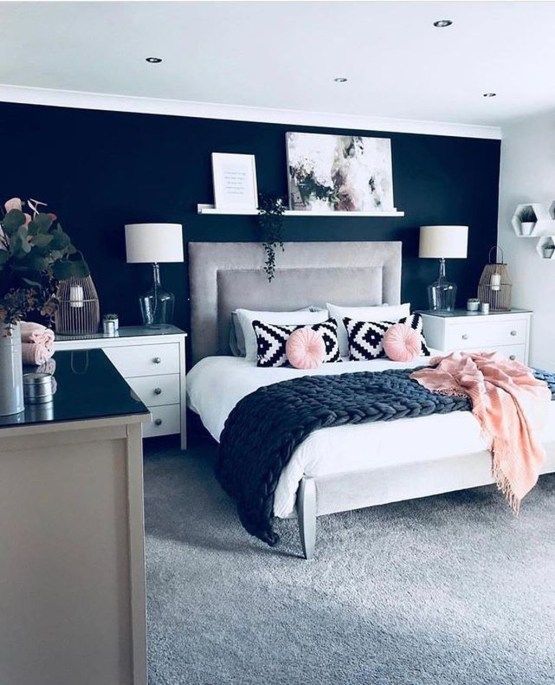 Gray on the floor, white on the ceiling, navy blue in the back in a room flooded by light; everything simply spectacular. Accents here are brought through texture, black and white at pillow level; through color on the blanket and small round pillows and through materiality at the giant knitted duvet end on the bed. Flowers add organicity all around.
Balanced, what do you think?
Image via Pinterest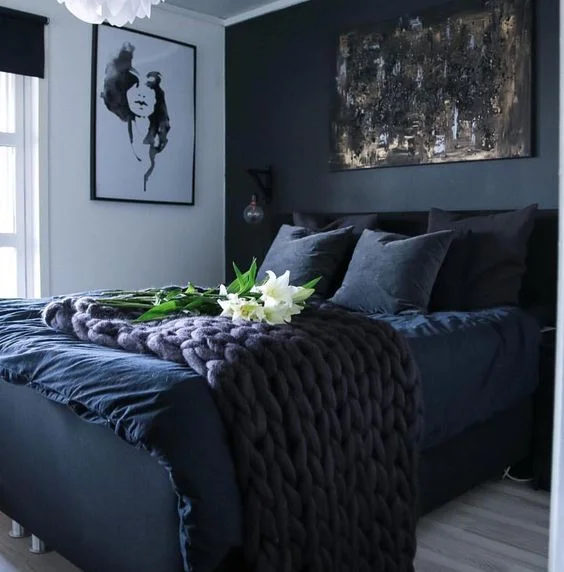 The humongous knitted blanket strikes again! In this setting  it meets different tones of dark blue that leave little room of anything else; in here artwork  receive more attention and the atmosphere is extraordinary sober, elegant, masculine.
Image via Instagram

In the image above, the bedroom is defined by the stark contrast between white and navy blue splendidly enhanced by light and a small pattern on the bed cover, despite the small interior, the high contrast unloads the dark navy color easily in a splendid ambiance.
Image via Pinterest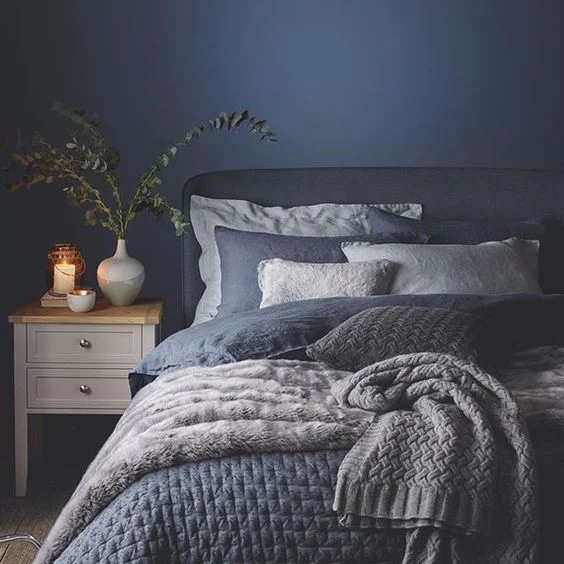 The color palette here is a far more more mature, the navy tones are a tad more subdued, in a more elegant balance with the grey and wood presence around.
Image via Pinterest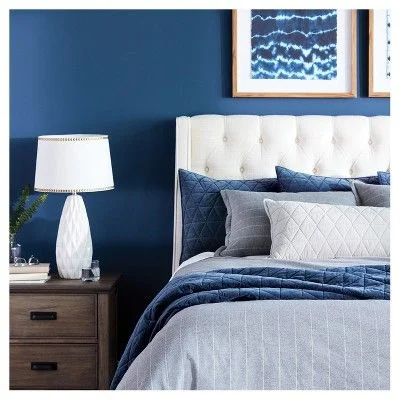 With a lighter tone of navy blue, one can can find the contrast with white and gray in a less intense, more delicate bedroom interior design. The vibrant interior is supplemented by geometric patterns a great deal, note the pillows, bed cover and nightstand lamp.
Image via Target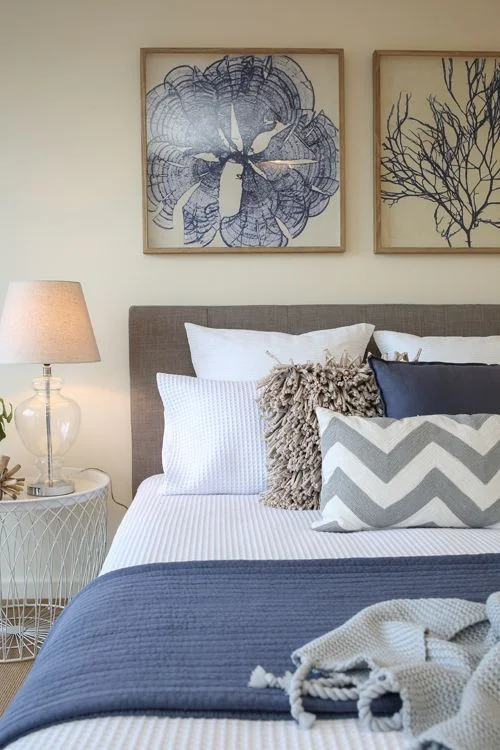 Simple interior design, wire-frame nightstand emphasizing the airiness and feeling of space along with white wood bedding where simple navy accents create contrast.
Source Unknown
25. Delicate Textures Enhance Bedroom Interior Design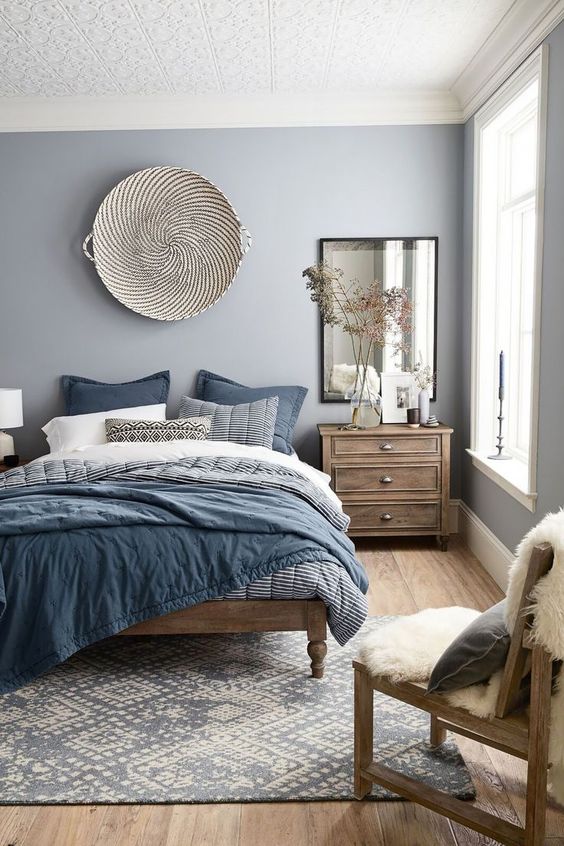 Natural materials and extraordinarily elegant, delicate patterns define a bedroom above, one in which the navy blue color handles the contrast at a chromatic level without taking the first seat in the space. Note the density of natural elements, wooden textures, fur on the chair, vegetation by the mirror.
Image via mydomaine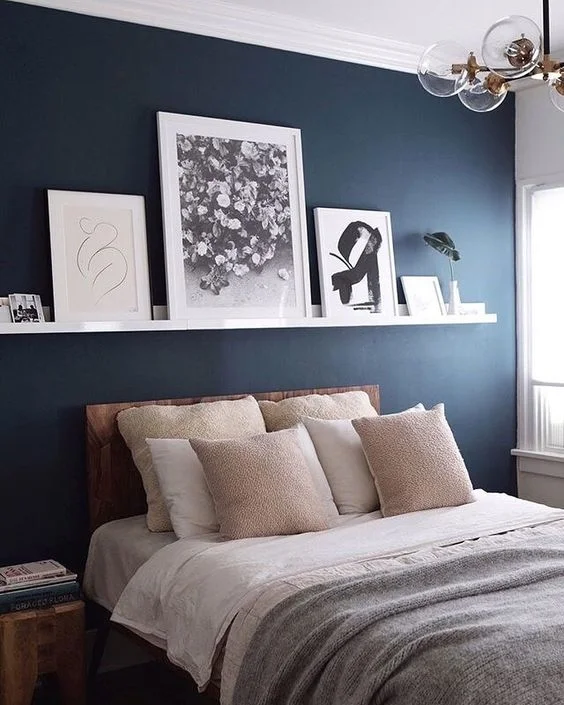 Earthy tones on the small half slide into shades of pink to create a more feminine presence near a masculine navy blue color, artwork make their presence felt in an epic position, note that all art pieces are white or black and white.
Image via Pinterest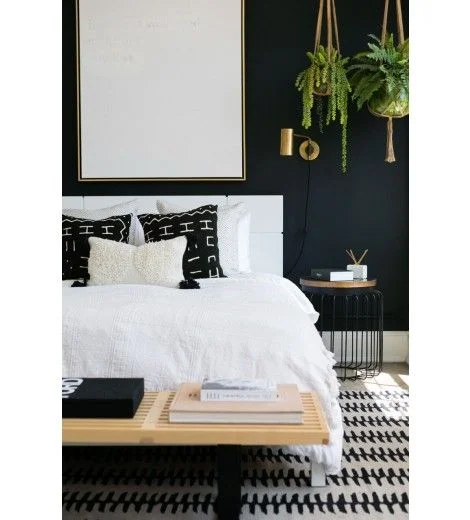 This is a splendid bedroom that aims to create focus on a couple of great elements: the black and white rug, wire-frame nightstand with wooden top, blank wall art on navy blue wall, suspended greenery in rope and small but golden nightstand by the bed, have you seen the pillows too?
Image via luluandgeorgia.com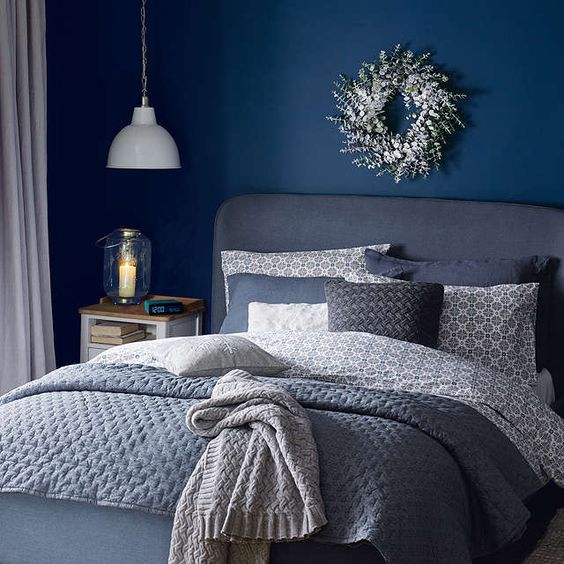 Gray dominates the interior, the intricate bedding details also create a great focal point, the navy blue wallpaper become a background.
Does that make it less relevant?
Certainly not, sober and elegance create a superb backbone for the bedroom above!
Image via m.johnlewis.com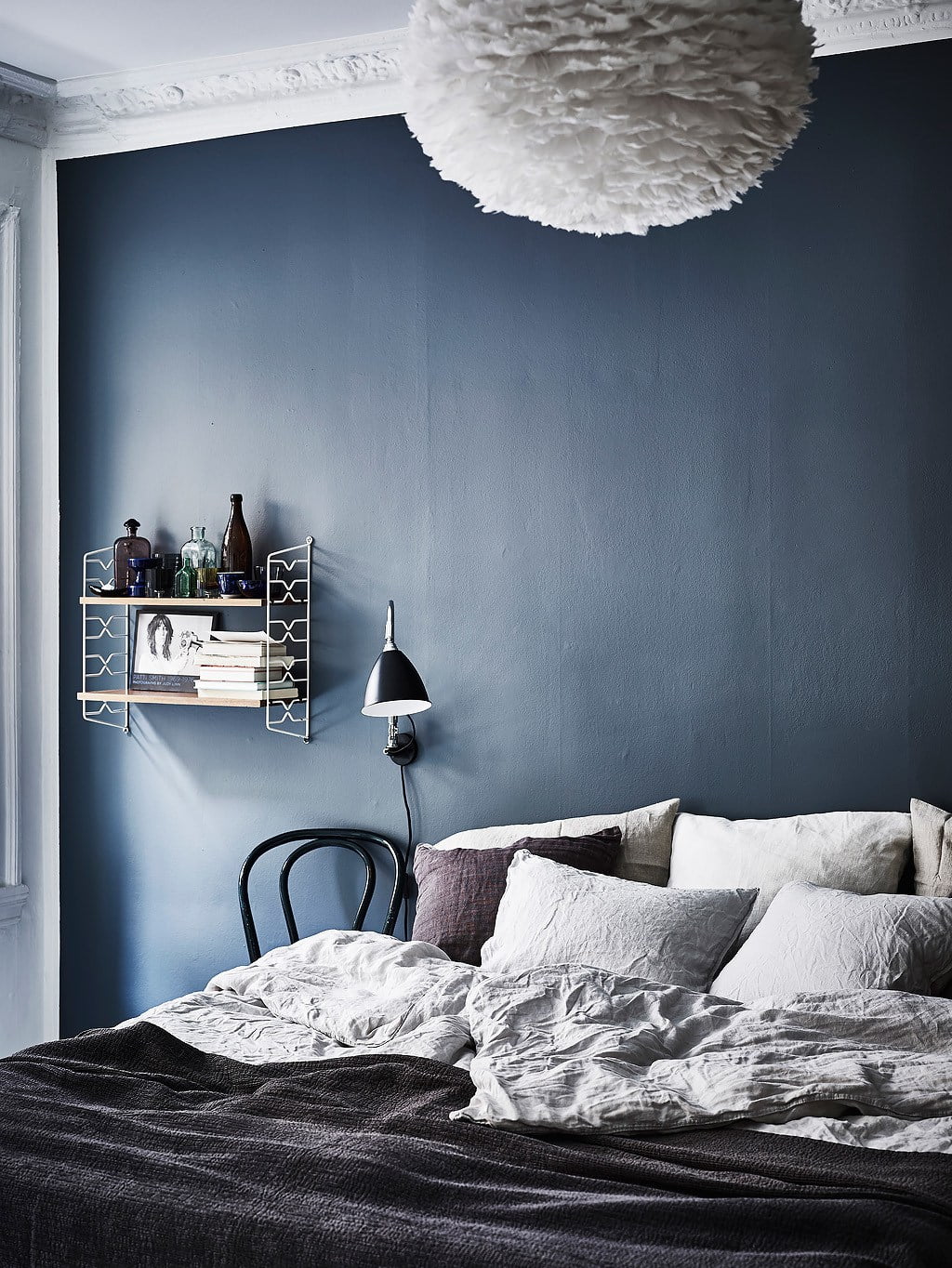 Note the wall to ceiling detail, the bedding, the fluffy cloud lighting fixtures and even the texture on the navy blue, they all bring in a unique, familiar vibe to a rather simple but certainly not dull interior. How much do you think the navy blue wall contributes to this ambiance?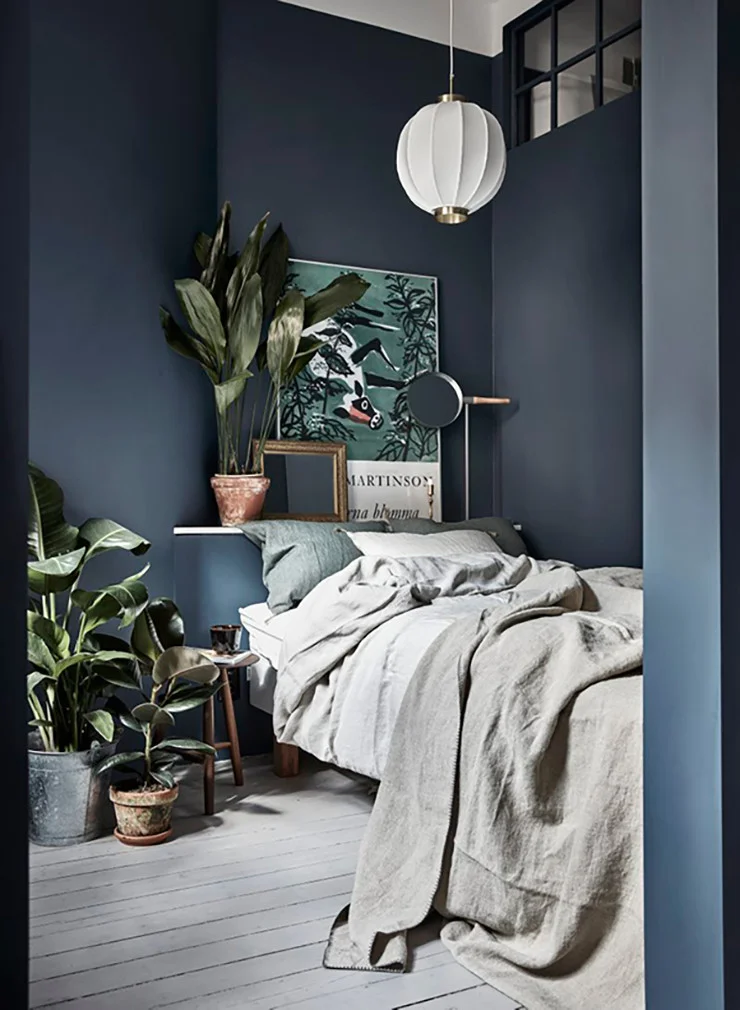 The greenery, rough floors and powerful contrast make the whole space, gaze at how little it takes to create an extraordinarily powerful, vibrant atmosphere!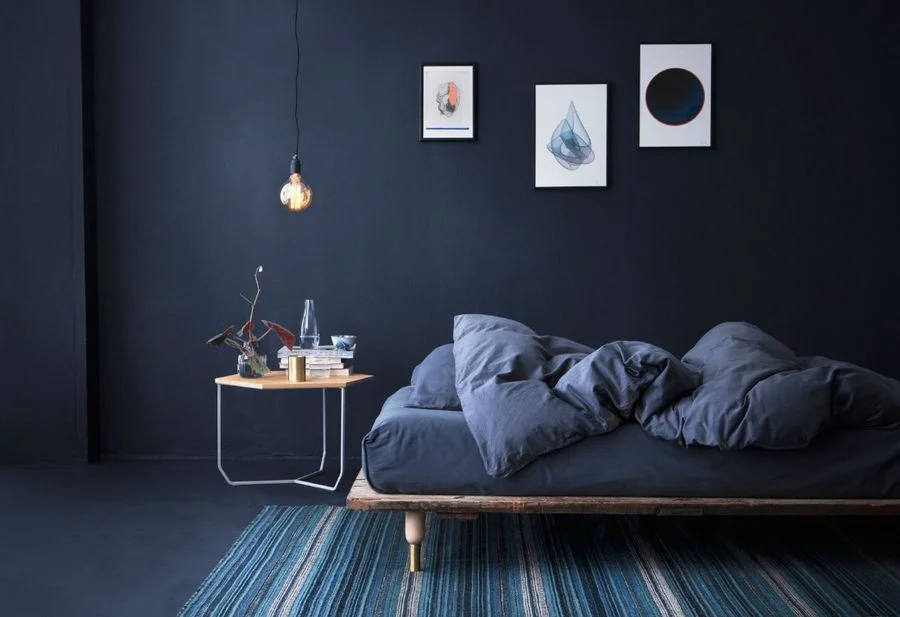 This might not be everyone's cup of tea but it certainly is extraordinary beautiful and shatteringly beautiful space. It is dense, masculine and extraordinarily elegant! One could argue that the nighstand in this picture is unfit for the interior, what do you think?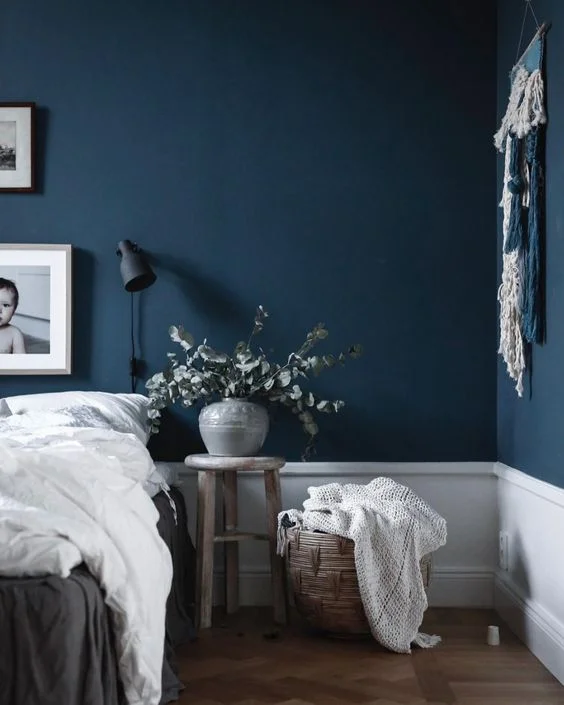 Here a tall white base breaks the connection between splendid wooden floors and a great shade of deep blue, note how all the tree elements now enter in contrast one with the other, an harmonious contrast for which the wick basket and super plant as a nightstand has only words of praise, just like us.
33. Earthy Tones in Blue Bedroom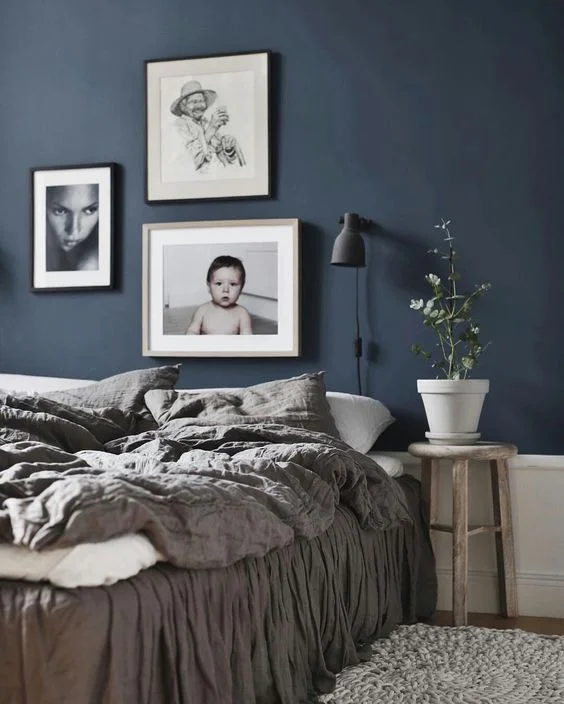 Neutral taupe tones come in to root a room down to the ground, a white base disrupts the between wooden floors and navy blue wall yet here the rug stops the contrast abruptly further enhancing the taupe presence in bottom half of the room.
Source Unknown
By now you should have an idea of what is trending around the navy blue color and how you would like to proceed.
In short, navy blue works extraordinarily when contrast is created around it or when it dominates the room completely, it is a tone far too powerful color to sit in a position of uncertainty.
The most common mixtures include natural materials, wooden floors, stark white walls and a lot of light to balance the darkness brought by this serious tone. If you would like to create more sophisticated contrasts, rose gold and golden accents are brilliant, a more feminine presence that complement and contrast the scene at the same time are the pink shades!
Navy blue whether it's as a dark blue, deep blue or marine blue hue, is difficult but beautiful and sophisticated color, what do you think?
How would you use it?
Looking forward to hearing from you in the comment section below, happy redecorating!
Related Articles
5 Japanese Bedroom Ideas | Design & Themes
The Best Colors for Master Bedroom
12 Ways To Put Your Bedroom Corner Space To Good Use
29 Brilliant Easy to Build DIY Platform Bed
21 Mindbogglingly Beautiful Fairy Tale Bedrooms for Kids
21 Super Small Nightstands Ready to Fit in Petite Bedrooms
37 Simply Spectacular Tree Bed Designs to Pursue
Recycled Pallet Bed Frames – DIY Pallet Collection
15 Creative Small Beds Ideas For Small Spaces
30 Small Bedroom Interior Designs Created to Enlargen Your Space
37 Smart DIY Hanging Bed Tutorials and Ideas to Do
Bedroom Christmas Lights Ideas For A Cozy Atmosphere
32 Dreamy Bedroom Designs For Your Little Princess
100 Inexpensive DIY Headboard Ideas for Your Bedroom Design
47 Stylish Floating Bed Design Ideas
53 Incredible Hanging Beds to Float in Peace
6 Best Vacuum Cleaners for Mattress