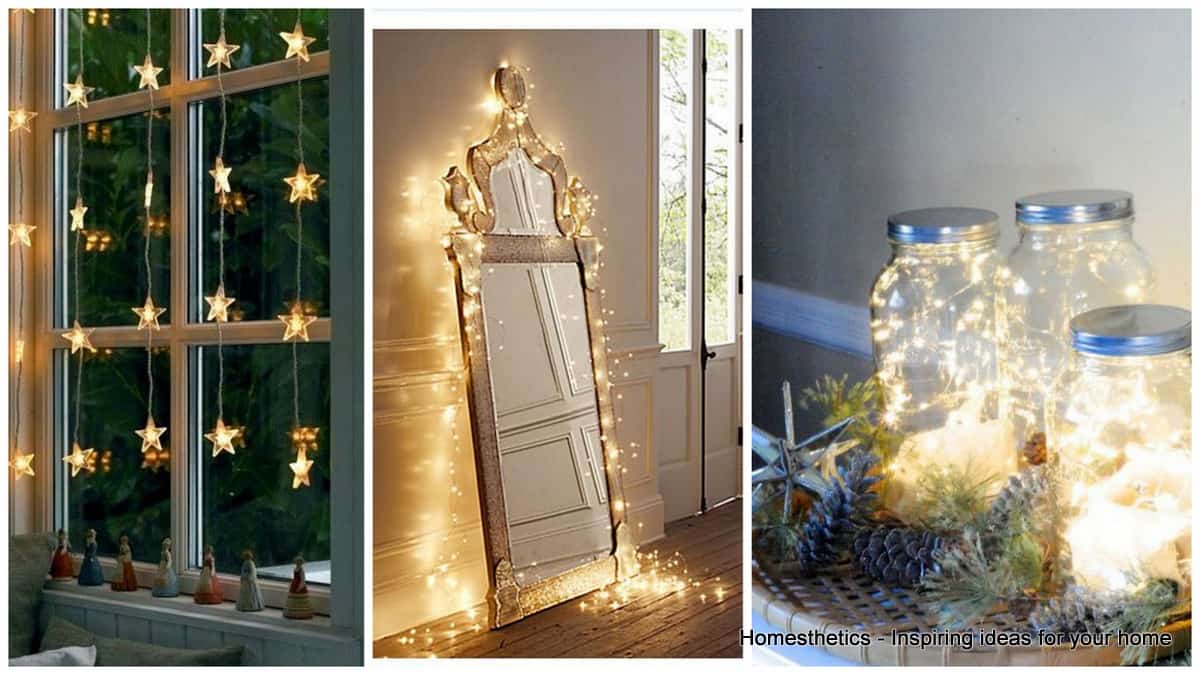 Christmas lights are usually kept hidden and tucked away until the Christmas season kicks in as they are used to decorate around the home or the Christmas tree. These dainty lights create a lovely glow emphasizing other decorations as well. The usage of these lights does not stop in the living room or outside the home -they can also be used for creating stunning and dreamy bedrooms that can be worth a photo op each day.
Bedroom Christmas Lights Ideas
lightly hang on the ceiling and replace the boring bulb
Most rooms will have the usual pin lights to light up the room, but this use of Christmas lights creates a stunning effect for the entire room, one that no pin light can achieve. The light can lull anyone to sleep and evoke a dreamy effortless look.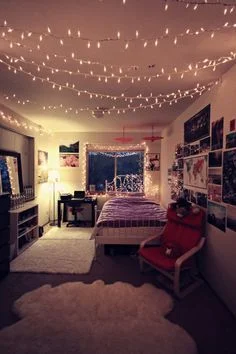 hang around the corner and maximize space
While putting Christmas lights on the entire ceiling is appealing, the idea is not suitable for everyone's taste. Having curtain Christmas hanging on the corner of the room, particularly on the bed side, creates the illusion of a bigger room. Add a neutral color and you have a room that looks great even on low light.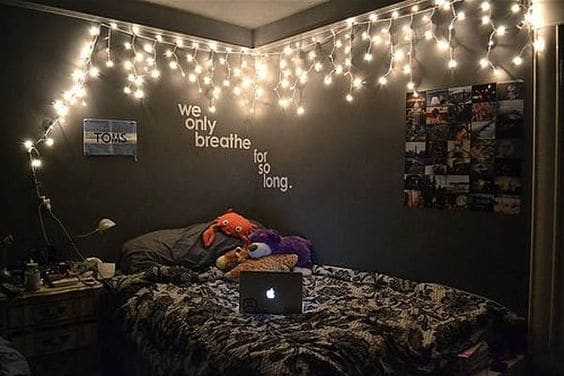 replace the usual lamps with mason jars
Bedside lamps are not usually taken into account when it comes to design as their role is limited each day.Nonetheless, mason jars can replace the classical bedside lamp and throw an unique twist to your bedroom. The idea of Christmas lights in mason jars is very chic and suitable for a more relaxed, mild atmosphere.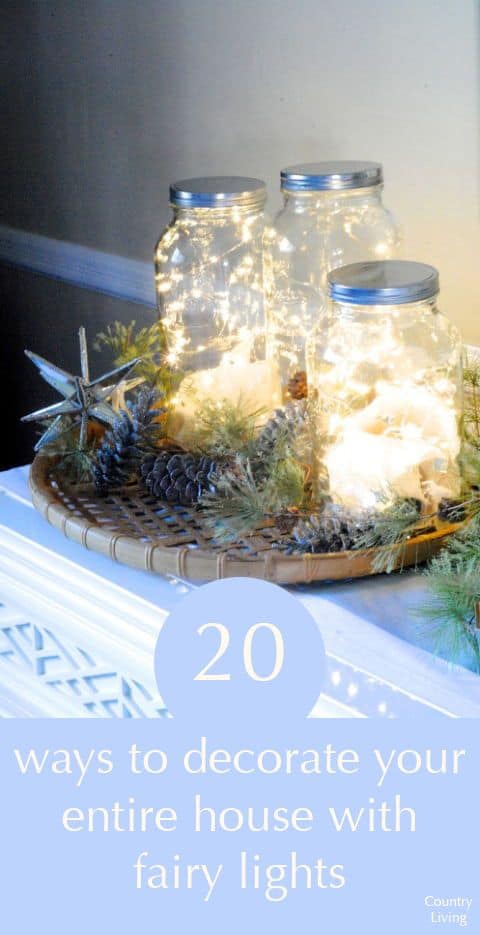 swirl around in the center of the room
While chandeliers is a very dreamy idea for the bedroom, not many can acquire such an expensive item. The Christmas light idea below, however, can create a wonderful possibility for people who want to achieve something unique for their bedrooms. The swirling lights create the same effect as any classic chandelier while casting a more comfortable light to the whole bedroom.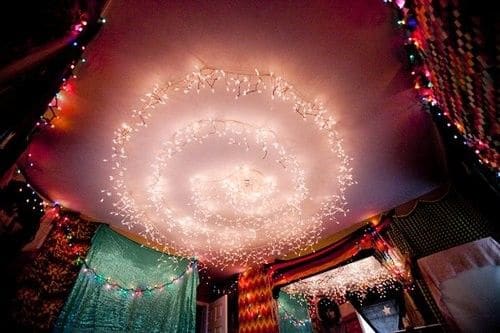 decorate your tall mirror with string lights
Mirrors are essential to a room. They create a lovely effect that makes the room appear bigger while also allowing a person to marvel on the beauty it creates as an accessory inside the bedroom. Making a mirror look classic and dreamy is easy by adding Christmas lights on the sides.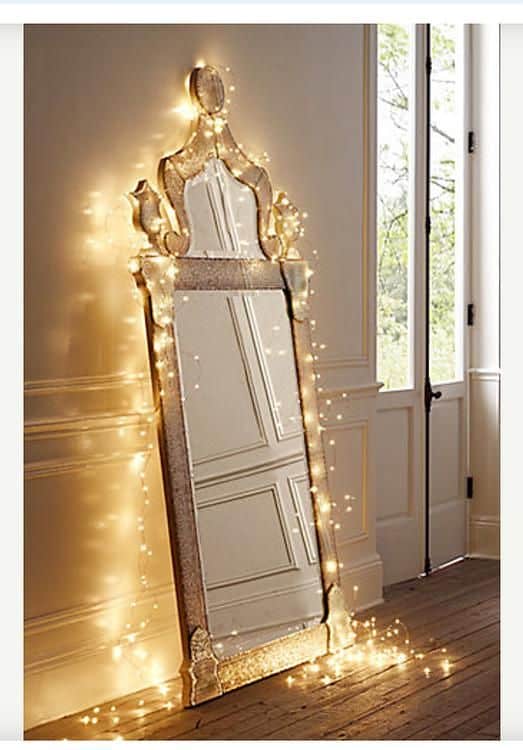 dreamy branches with lights to capture your dreams
Renovating a room and making it more interesting need not be complicated. A simple use of what nature has in abundance decorated with dainty Christmas lights can create a stunning effect in a bedroom. This branches with Christmas lights are a perfect alternative to the usual bedside table décor.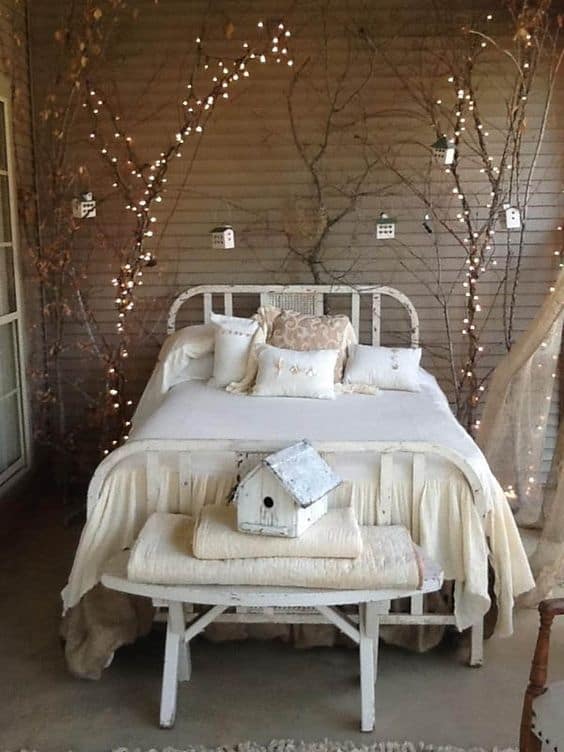 bluer hue for soothing effect
While white Christmas lights are fairly common, getting more experimental in colors can also be great for the bedroom. Blue can calm the senses and can help promote sleep, below a platform bed has been embellished with splendid blue lights.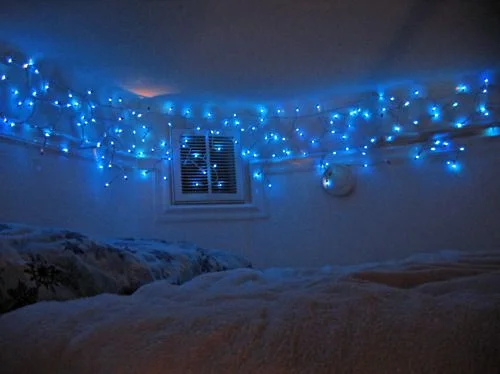 beautiful reflection from a gorgeous mirror
A mirror can be so lovely with a simple tweak on the design here and there. And even with a single row of Christmas lights, a simple mirror can become the most stunning piece of decoration inside a bedroom. Adding a little detail, like white ribbons, will complete the dreamy mirror.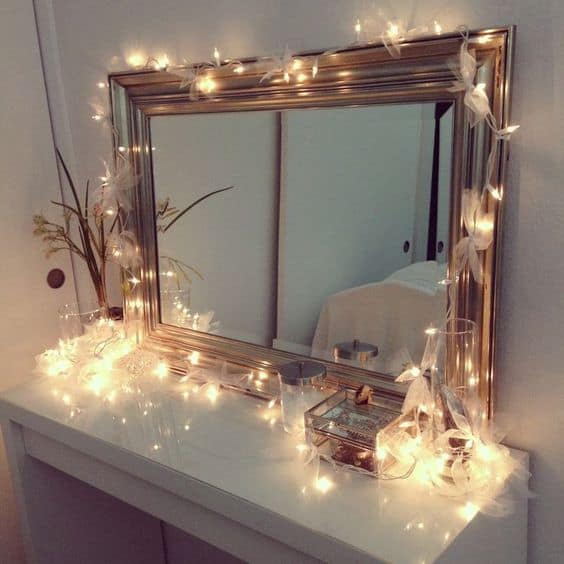 drapes and Christmas lights for a mix of classic and modern effect
Bedrooms with drapes are always in season and never go out of style. Bedroom drapes were also considered a sign of nobility, but modern-day bedrooms usually acquire them for privacy control. The effect of the Christmas lights on the lovely drapes is outstanding.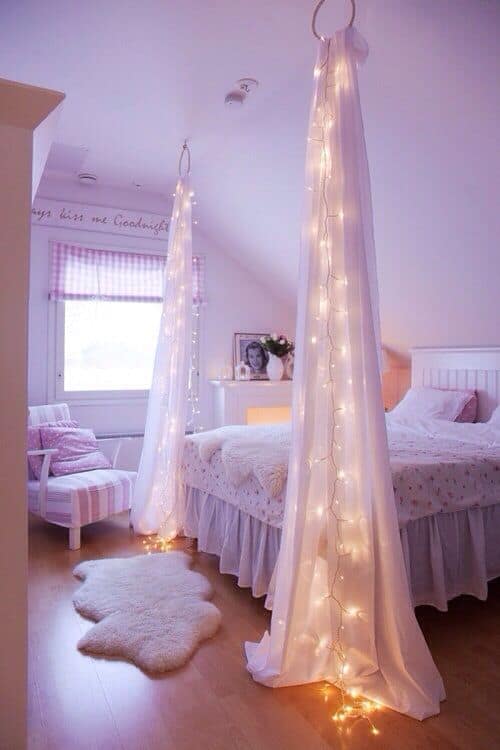 light the way in a more magical way
The ceilings and walls are not the only parts of the bedroom that can be transformed with Christmas lights. Placing lights on the doorways and hallways can transform these dull parts of the bedroom into something more lively and interesting.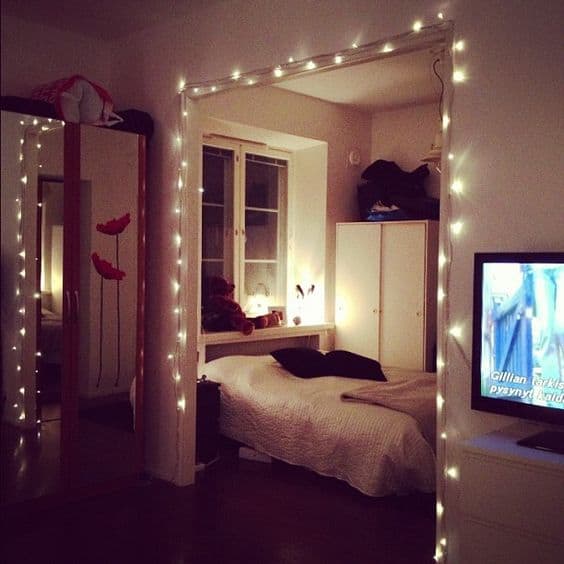 light up the memories on the  wall
Photographs are always the best decoration pieces inside a room, especially inside the most intimate room of the house. Photographs highlighted by the Christmas lights create a livelier bedroom.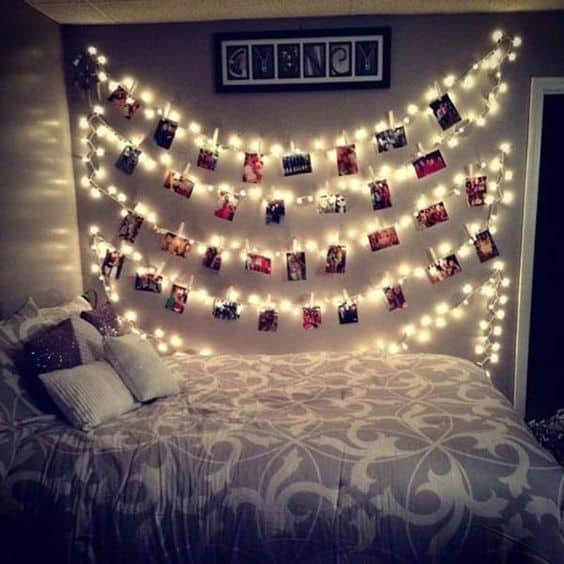 create your own strobe side table lamp
Strobe lights inside a bedroom is a new way of lighting a room creatively, but these lights can be fairly expensive. Having Christmas lights, an old can and a little creativity can create a strobe lamp that will fit your funky bedroom. This is a perfect addition for a modern home that can be used for a bedside lamp.

let them know what lights up your life
Creating an accent wall with a personal message inside a bedroom can produce a lovely effect. An accent wall inside a bedroom makes it more intimate expressing the personality of the owner in an unique way.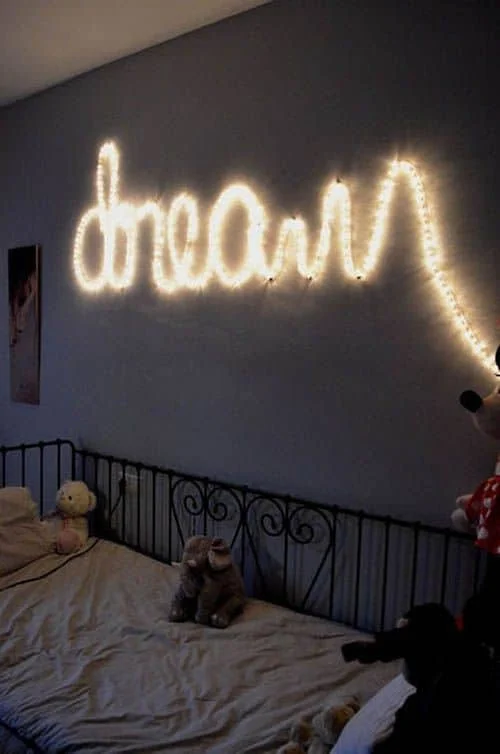 effective way to light bedroom closets
Transform a mundane bedroom closet into something entirely different by making it stand out with the usage of string lights. Place them on the door frame or inside the actual closet as a safe light for nighttime.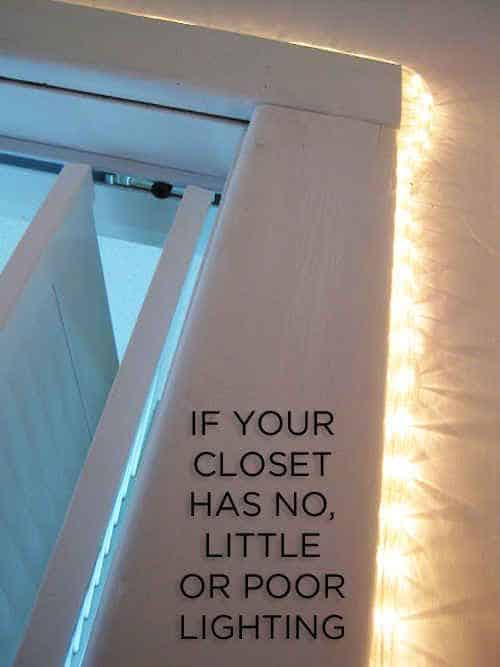 snooze in a magical world of curtains and lights
Create a natural dimmer for your bedroom from curtains, the simplest and  most lovely accessory inside the room. Adding Christmas lights on curtains make them translucent and can create a magical surreal effect.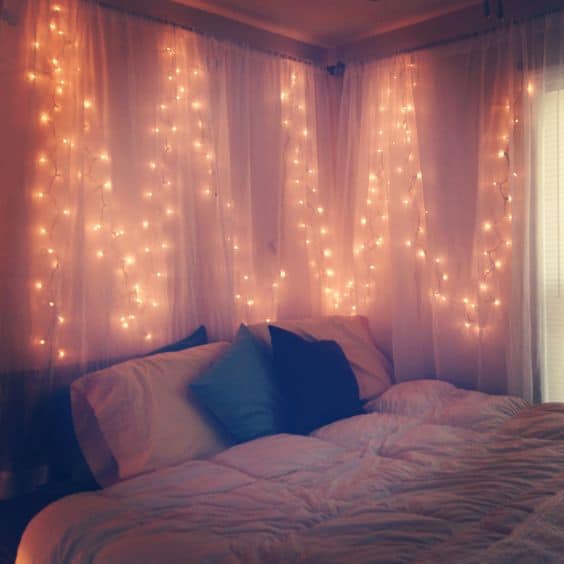 upgrade the side lamps into these stunning beauties
Mason lamps on the side table is a stunning enough project, but these hanging flower and lights mason lamps add more sophistication into the bedroom. This hanging mason jar vase shoudl be on your next to do list.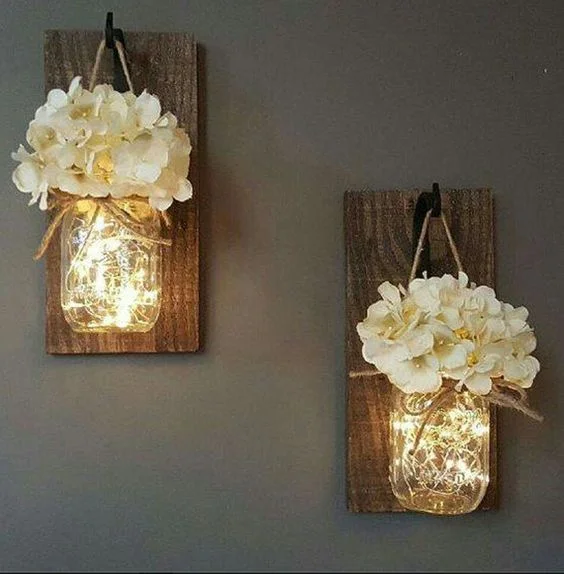 make the bedroom Christmas ready every day
Prepare for the Christmas season early by adding a curtain of starry string lights. For that cozy atmosphere we recommend you to leave the curtain on all winter long.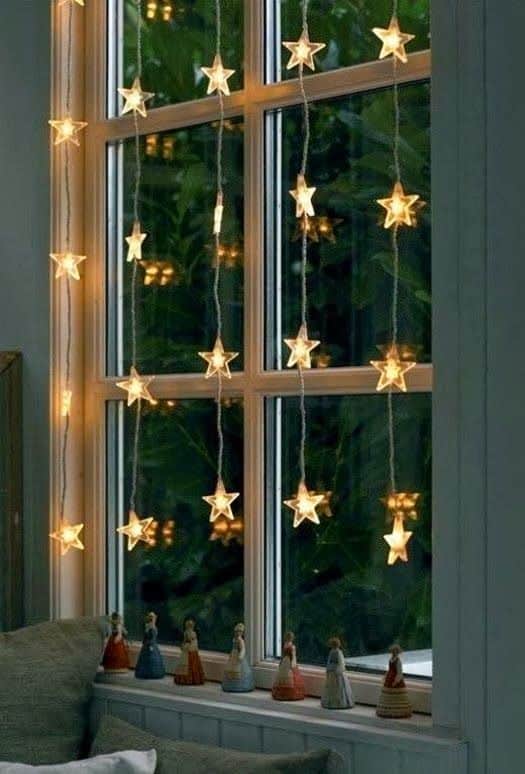 highlight the best side of the bedroom besides the bed
Bedrooms are the one place where you can freely add personal touches display personal intimate belongings freely. Books, though very common, are also considered and are usually placed in the bedroom.Use the bookcase created to display a string of lights.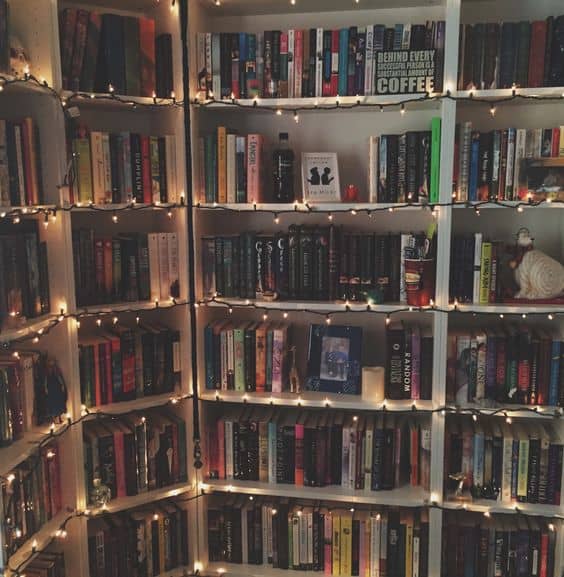 clever Christmas light chandelier
Chandeliers are usually used to make a room look stunning, and creating one for a bedroom definitely does the trick. It shines just enough to offer the room the perfect glamour and dreamy look.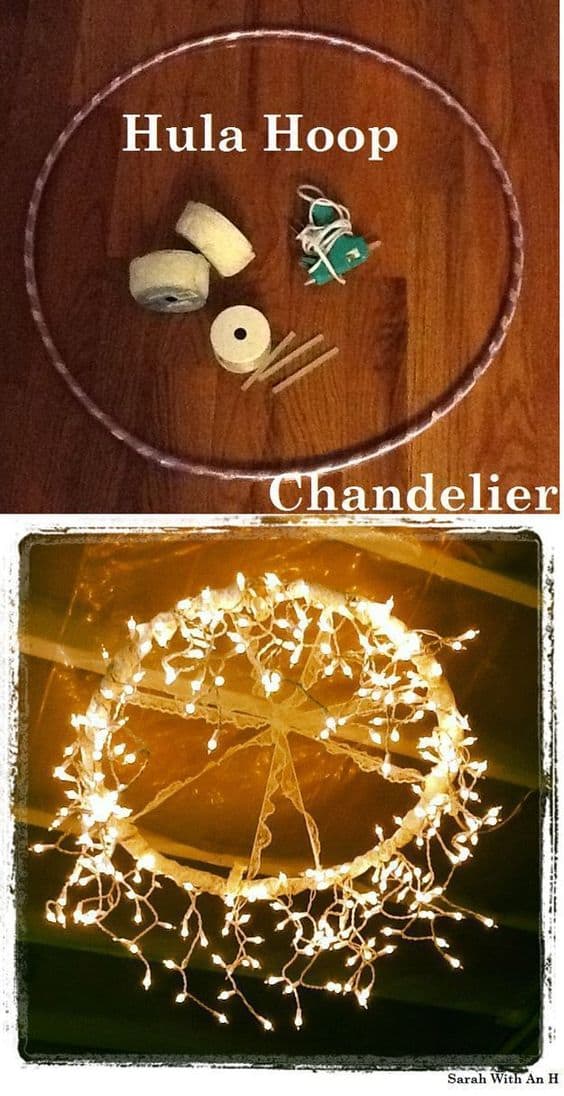 lovely little lights transformation
It may be a bedroom, or even the outdoors, but the magical feeling Christmas lights bring in is amazing. Experiment with Christmas lights inside the bedroom and create that stunning bedroom worth boasting to family and friends.
Source
How do you use string lights in your household? Feel free to share your ideas in the comment section below.
Related Articles
The Best Colors for Master Bedroom [All You Need to Know]
12 Ways To Put Your Bedroom Corner Space To Good Use
29 Brilliant Easy to Build DIY Platform Bed
21 Mindbogglingly Beautiful Fairy Tale Bedrooms for Kids
21 Super Small Nightstands Ready to Fit in Petite Bedrooms
37 Simply Spectacular Tree Bed Designs to Pursue
Recycled Pallet Bed Frames – DIY Pallet Collection
15 Creative Small Beds Ideas For Small Spaces
30 Small Bedroom Interior Designs Created to Enlargen Your Space
37 Smart DIY Hanging Bed Tutorials and Ideas to Do
Bedroom Christmas Lights Ideas For A Cozy Atmosphere
32 Dreamy Bedroom Designs For Your Little Princess
100 Inexpensive DIY Headboard Ideas for Your Bedroom Design
47 Stylish Floating Bed Design Ideas
53 Incredible Hanging Beds to Float in Peace
33 Epic Navy Blue Bedroom Design Ideas to Inspire You
6 Best Vacuum Cleaners for Mattress